Scroll down for English explanations - alternates with German explanations.

Ein Bild sagt mehr als tausend Worte... Das nachfolgende Bild ist damals auf der JEWEL OF THE SEAS 2007 entstanden. Damals habe ich noch nicht geblogt und gab nur "seriöse" Reiseberichte. Daher fand damals das Bild nie eine Verwendung. Aber es zeigt mich bei der ersten Mahlzeit an Bord der JEWEL OF THE SEAS. Und danach habe ich es nie geschafft Freundschaft mit Royal Caribbean zu schließen. Mit Sicherheit lag es aber auch an deren Kundendienst und das gleiche Verhältnis habe ich zu Costa, MSC und Celebrity. Darum haben wir uns oft dann immer zu Gunsten von NCL entschieden, ob es sogar preislich günstigere Alternativen gab.

A picture says more than thousand words... It was taken on JEWEL OF THE SEAS in 2007. At this time I did not bloged and there were only "serious" reviews in German. That is why this picture was never used before. But it shows me with my very first meal on JEWEL OF THE SEAS. After that I never became friend with Royal Caribbean somehow. It was for sure because of their customer service and the same relation I have with Costa, MSC and Celebrity. That was why we often picked NCL although there were cheaper cruises around.

We had so far very good reactions from Cunard, Holland America, Princess and of course NCL. One part of the critics they find in the blog and one part in a personal letter. But always presented in a very constructive and polite way. As usually you get an very individual reaction from Miami which made us putting always NCL very top of our prefered cruise lines. That they are really top is due to their crew-members who are not afraid to send us friendship requests on Facebook or accept our friendship requests. They are really happy to be marked in our pictures and when we tell the world how great they were.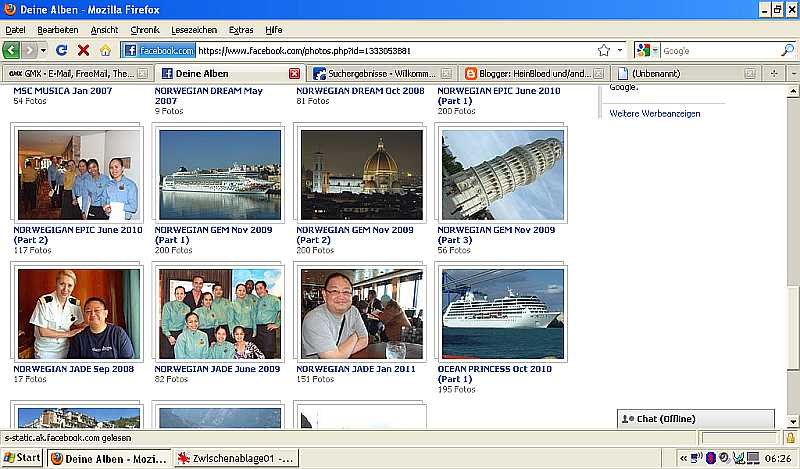 Sehr gute Reaktionen gab es bislang von Cunard, Holland America, Princess und natürlich NCL. Ein Teil der Kritik findet sich im Blog und ein Teil in einem persönlichen Brief. Insgesamt wird aber immer sachlich-konstruktiv vorgetragen. Und wie immer kommt eine sehr individuelle Reaktion aus Miami, mit dem Erfolg, dass NCL immer sehr weit oben auf der Liste steht. Dass sie aber vor allen anderen weit vorne ganz oben steht, liegt an mehreren Crew-Mitgliedern, die sich auch nicht scheuen von sich aus den Kontakt zu uns zu suchen oder auch unsere Freundschaftsanfragen akzeptieren. Sie freuen sich darüber, wenn wir sie in unseren Bildern namentlich markieren und der Welt erzählen, wie toll sie waren.
Über Facebook bleiben wir in Kontakt mit vielen Mitfahrern und erleben deren Reisen und Leben mit. Über Facebook haben wir erfahren, dass Andrew dafür öffentlich gelobt wurde, weil er mir das T-Shirt geschenkt hat. Und das obwohl der Hotel Director zwischenzeitlich gewechselt hat. Damals habe ich versucht dieses Bild inkl. Rahmen als besondere Art der Nominierung für den NCL S.T.Y.L.E. Award einzuwerfen. Aus Facebook habe ich erfahren, dass der Rahmen "veredelt" wurde und der Kapitän Andrew dann das Bild persönlich übergeben hat. Die Folgen meines Briefes nach Miami mit den Reaktionen der über Facebook zu sehen, bestätigt, dass NCL unsere Nummer 1 ist.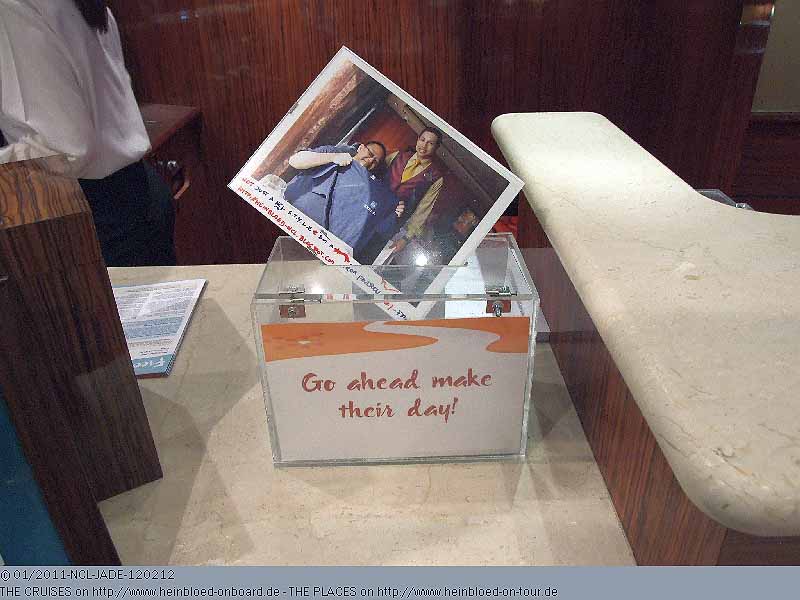 On Facebook we keep an eye on our cruise-mates and experience their voyages and lifes. On Facebook we learned that Andrew was honored during a public event because he gave me his t-shirt. And although meanwhile the Hotel Director changed. Then I tried to use this framed picture to nominate Andrew for the NCL S.T.Y.L.E. Award just in a special way. On Facebook I learned that they replaced the frame by a more elegant one and that Captain handed over the picture personally to Andrew. To see the consequences to my letter to Miami and the reactions on Facebook confirm that NCL is our No. 1.