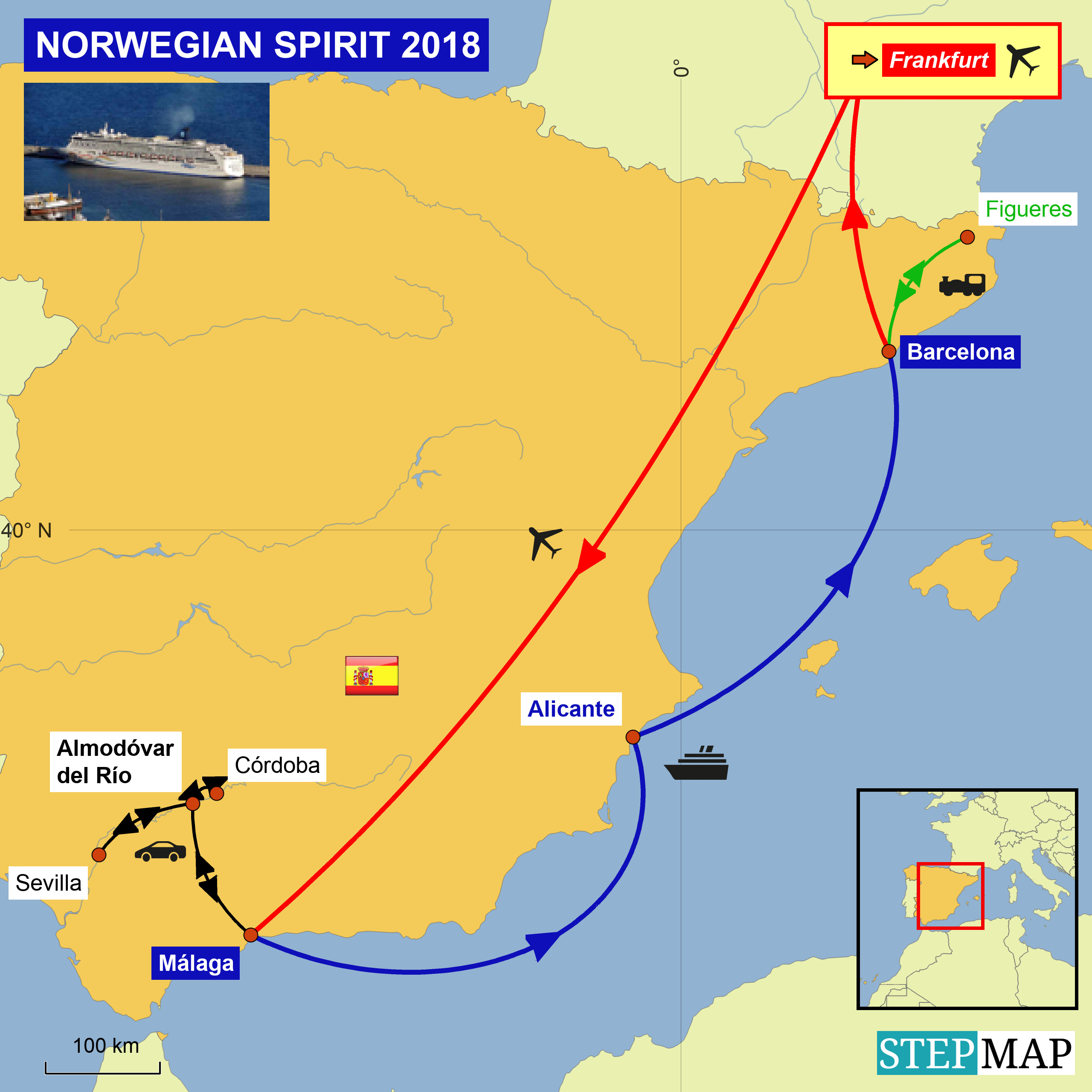 Die Rechnung kommt. Hält sich in Grenzen.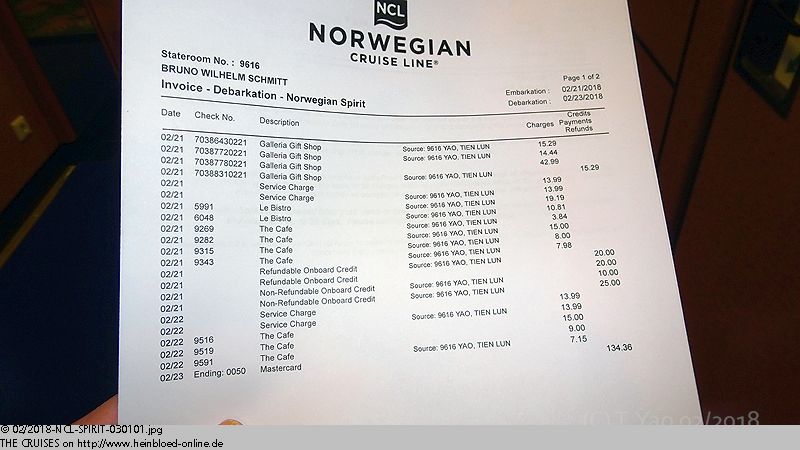 The invoice came. It was not really surprising.

04:30 hrs I need all ready to walk out.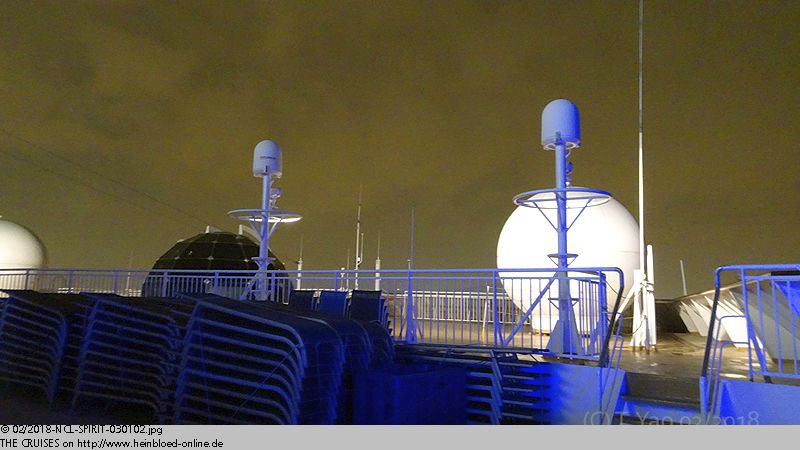 Um 04:30 Uhr geht es bereits raus.
Ganz nach vorne. Ohne Sichteinschränkung. Kann jemand nachvollziehen, warum ich dieses Schiff liebe?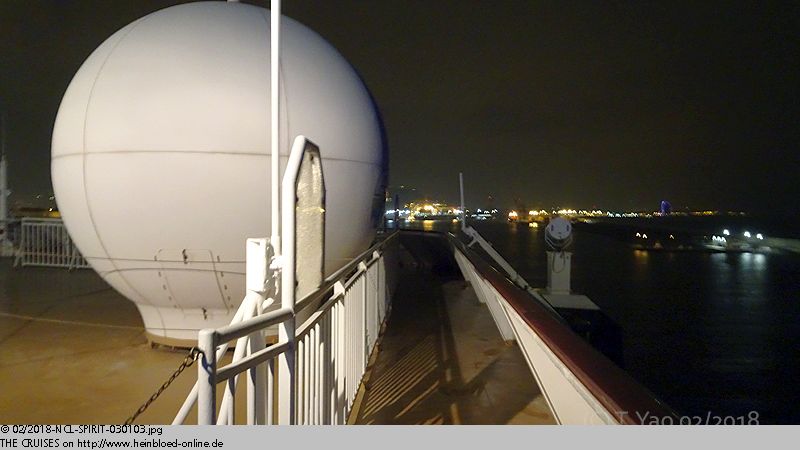 To the bow. No obstructed view. Could anyone understand why I loved this ship?

It was only freezing outside.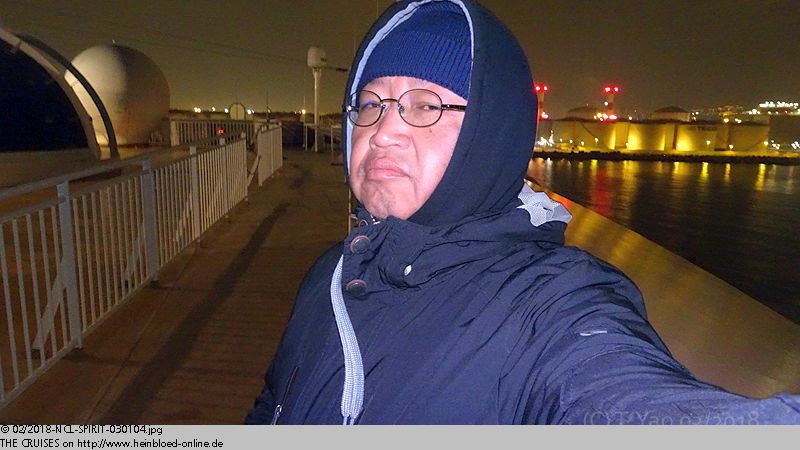 Es ist bloß arschkalt.
Und jetzt wird auch noch saubergemacht.

And now they started to clean here.

They had some progress with Terminal E since our last visit in Barcelona on MSC MAGNIFICA 2017.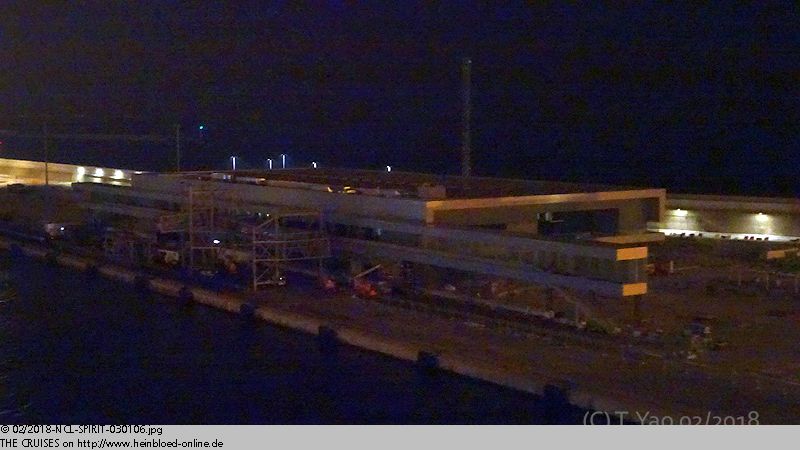 Sie sind ein Stückchen am neuen Terminal E weitergekommen seit unserem letzten Besuch mit der
MSC MERIVIGLIA 2017
in Barcelona.
Ich muss mich beim Seemann Joy Briones bedanken: er hat mich nämlich nicht einfach nass gemacht, sondern hat seine Arbeit gestoppt und mich gebeten, woanders hinzugehen. Viele andere behandeln mich einfach als "Luft" und "ignorieren" meine Anwesenheit. Noch ein letzter Rundgang nach hinten. Währenddessen laufen bereits die Vorbereitungen für die Ausschiffung.

I need to thank with Seaman Joy Briones: he did not make me wet but stopped his work and requested kindly to move somewhere else. Many just treated as "air" and "ignored" my presence. A very last round to the aft. Meanwhile, they started to prepare the debarkation.

VIKING STAR. Unfortunately no: Captain Mikael Hilden was not onboard. Unfortunately no: Cherryl Reyes-Gironimo was not onboard either. With both of them we had wonderful memories on NORWEGIAN JADE 2014 (2) and NORWEGIAN SPIRIT 2013. We met Captain Mikael Hilden in Tallin, Estonia on our voyage on NORWEGIAN GETAWAY 2017.

VIKING STAR. Leider nein: Kapitän Mikael Hilden ist nicht an Bord. Leider nein: Auch Cherryl Reyes-Gironimo ist nicht an Bord. Mit denen verbinden uns sehr schöne Erinnerungen an
NORWEGIAN JADE 2014 (2)
und
NORWEGIAN SPIRIT 2013
. Mikael Hilden haben wir aber zuletzt während unserer Reise auf der N
ORWEGIAN GETWAAY 2017
in Tallin getroffen.
Danach kommt AIDAprima. Obwohl es mittlerweile günstige Kurztrips ab Hamburg gibt: Ich kann mich immer noch nicht aufraffen AIDA zu buchen.

Then AIDAprima came. Although they had really cheap short-trips out of Hamburg: I still cannot gather up to book AIDA.

Up in the Raffles, they had already full speed operation. The section with congee was not open yet. But Chef Tournant Romel Soliva was so kind and got me some congee.

Oben im Raffles läuft bereits alles auf Hochtouren. Der Congee-Bereich ist noch nicht geöffnet. Aber Chef Tournant Romel Soliva ist so nett und geht mir eine Portion Congee holen.
Wir gehen wieder zum Cagney's frühstücken. Man merkt, dass Ausschiffungstag ist. Karin kümmert sich um die Gäste und verabschiedet sich und sorgt dafür, dass alle gut von Bord kommen und dieses Mal müssen wir auch nicht selbst unser Gepäck vom Promenadendeck ins Terminal tragen. Schade, dass Restaurant Hostess Ildiko Vida schon weg war, als wir gestern Abend das Gruppenfoto gemacht haben.

We went again for breakfast at Cagney's. You noted well that it was the day of debarkation. Karin took exceptional care of her guests and made sure that everyone would get in a good way off the ship, and none need to carry the bags himself from the promenade deck to the terminal. Sad that Restaurant Hostess Ildiko Vida was already gone last night when we made the group picture.

I would never leave the ship without taking pictures of MY MSC MERAVIGLIA. It was totally great in the Yacht Club on MSC MERAVIGLIA 2017. There was no reason to compare MSC MERAVIGLIA and NORWEGIAN SPIRIT because NORWEGIAN SPIRIT has no The Haven. Other hands for me the whole NORWEGIAN SPIRIT felt like the Yacht Club. Even compared to The Haven on NORWEGIAN BREAKAWAY 2013 which we knew personally: The product Yacht Club was better than NCL The Haven. Maybe it was of the (missing) concierge service that I did not have it in good memories, and we had to carry ourselves our bags and "died of thirst" in our cabin...

Ich verlasse das Schiff nicht, bevor ich nicht auch noch Aufnahmen
MEINER
MSC MERAVIGLIA machen kann. Das war schon klasse im Yacht Club auf der
MSC MERAVIGLIA 2017
. Die Frage eines Vergleiches zwischen der MSC MERAVIGLIA und NORWEGIAN SPIRIT stellt sich nicht, weil NORWEGIAN SPIRIT kein The Haven hat. Andererseits nehme die gesamte NORWEGIAN SPIRIT schon als Yacht Club wahr. Selbst im Vergleich zu The Haven auf der
NORWEGIAN BREAKAWAY 2013
, die wir persönlich kennen: Das Produkt MSC Yacht Club ist schon besser als NCL The Haven. Vielleicht lag es ja damals an dem (fehlenden) Concierge Service, dass ich es nicht in so guter Erinnerung hatte und wir selbst unser Gepäck schleppen mussten und in der Kabine "verdurstet" sind...
Da ist die "Berliner Mauer" zwischen uns. Bruno ist es zu kalt, um auf den Balkon zu kommen.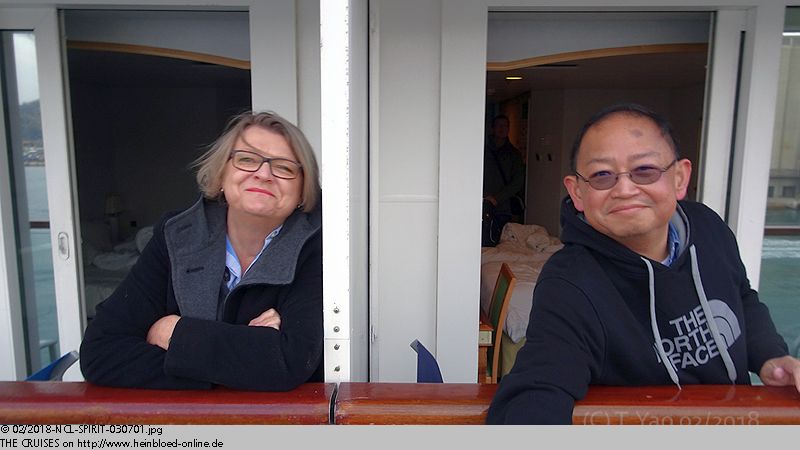 The "Berlin Wall" between us. Bruno found that it was too cold to come to the balcony.

A very last good-bye from Bon, whom I knew sind my voyage on NORWEGIAN SPIRIT 2009.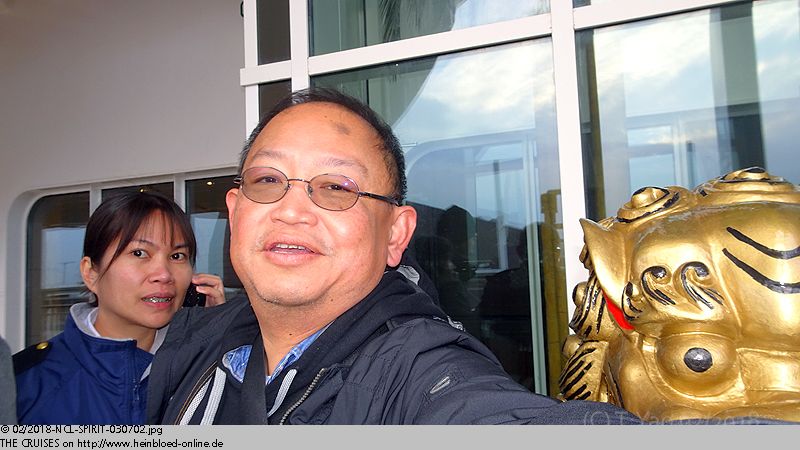 Noch ein letzter Abschied von Bon, die ich übrigens von der
NORWEGIAN SPIRIT 2009
her kenne.
Sie hat damals für Frances und Eddie den Gepäckservice organisiert, den es in New York nicht gab. Sie fuhren back to back und hatten daher Gepäck für mehr als eine Nacht dabei.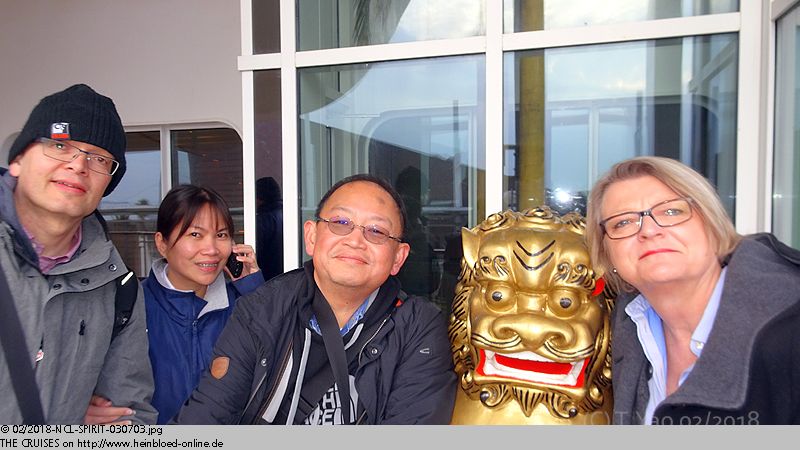 Then she organized the baggage service for Frances and Eddie which they did not offer in New York. They booked back to back, and so they had baggage for more than a week with them.

The crew was as usually totally great with NCL. So it was hard for me to bid farewell. And the crew was always the reason why we are still checking bookings with NCL although I totally disagree with their company policies. We are waiting for the 2019 itineraries of NORWEGIAN SPIRIT. She should move to Northern Europe. Would she fit through the Kiel-Canal like NORWEGIAN DREAM then? If this would happen: the first booking would be mine!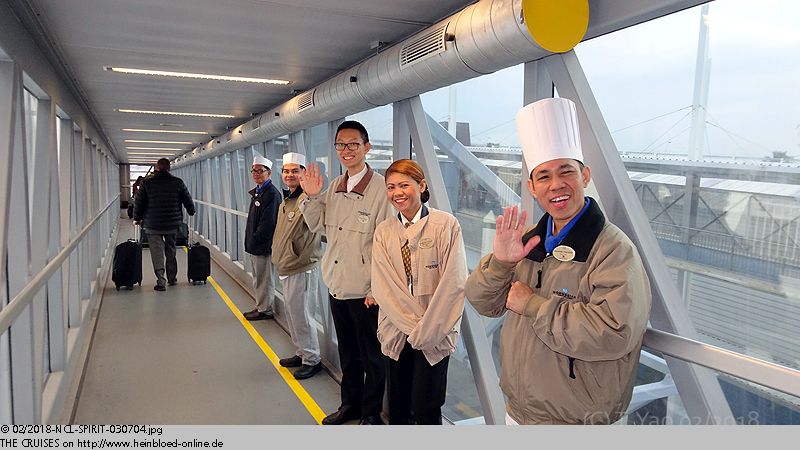 Die Crew ist wie üblich absolut toll bei NCL. Daher fällt uns der Abschied immer ein wenig schwer. Und die Crew ist immer noch der Grund, warum wir NCL buchen, obwohl ich die Firmenpolitik mittlerweile überhaupt nicht mehr mag. Wir warten darauf, was NORWEGIAN SPIRIT 2019 anbietet. Sie soll ja dann nach Nordeuropa. Passt die durch den Nord-Ostsee-Kanal wie damals die NORWEGIAN DREAM? Wenn das der Fall wäre, dann wäre meine Buchung die allererste!
Und Concierge Karin hat unser Gepäck in der Gepäckausgabe schon alles bereitgestellt. Vielen Dank. Nun fehlt nur noch Guest Service Manager Shenny... sie könnte ja wieder vorbei kommen, und unser Gepäck wie damals auf der
NORWEGIAN GETAWAY 2017
noch zum Parkplatz bringen... Übrigens noch ein feiner Unterschied zu MSC Yacht Club... hier wären die Butler gewesen und hätten das Gepäck noch zum Auto gebracht und im Kofferraum verstaut...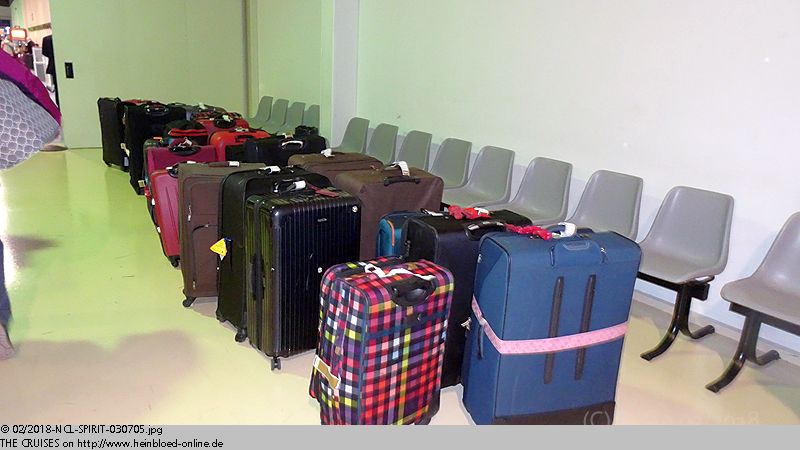 Our Concierge Karin kept our bags ready in the baggage hall for us. Thanks so much. Now only Guest Service Manager Shenny was missing... she could come by and move our bag to the parking like she did on NORWEGIAN GETAWAY 2017... Another little difference to MSC Yacht Club... the butler was in charge to have your bags loaded into your trunk of your car...

We prebooked: Bags & Go. Our bags would be transfered to the airport.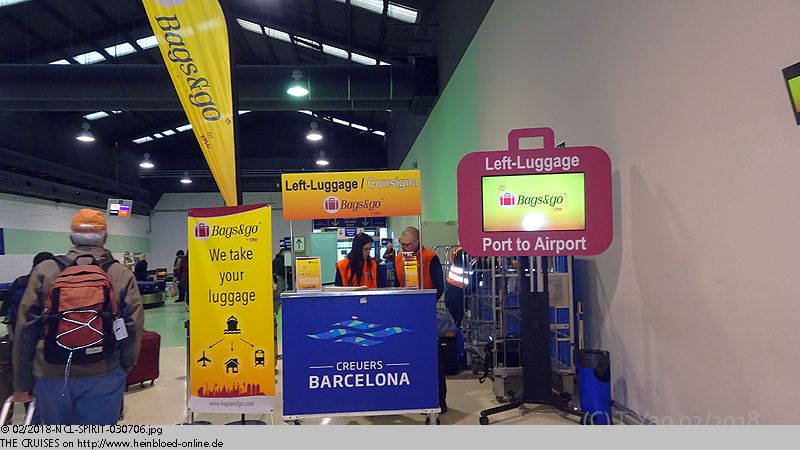 Wir haben vorgebucht:
Bags & go
. Unser Gepäck wird zum Flughafen gebracht.
Und es ist schon alles bezahlt. Ist etwas günstiger im Internet. Wir hatten bereits gute Erfahrungen von der Fahrt auf der
NORWEGIAN EPIC 2012
.

It was all paid off. Was a little cheaper in internet. We had already made good experience on our sailing on NORWEGIAN EPIC 2012.

We went to the taxi rank and waited for Eva. We were faster off the terminal than expected.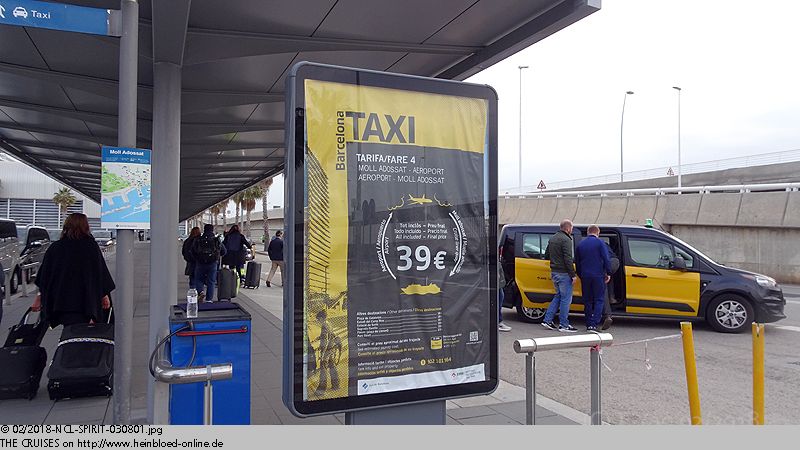 Wir gehen zum Taxistand und warten auf Eva. Wir sind schneller aus dem Terminal raus, als erwartet.
Und schon ist sie da, um uns zum Bahnhof Sants zu bringen. Unterwegs machen wir unsere üblichen Fotostops und sie erzählt uns, wie die Stimmung nach der aktuellen Wahl in Barcelona ist. Eva kennt meine Marotten seit der
NORWEGIAN JADE 2011 (1)
. Und auch nach der
NORWEGIAN SPIRIT 2013
und
KONINGSDAM 2016
waren wir mit ihr ganz toll essen.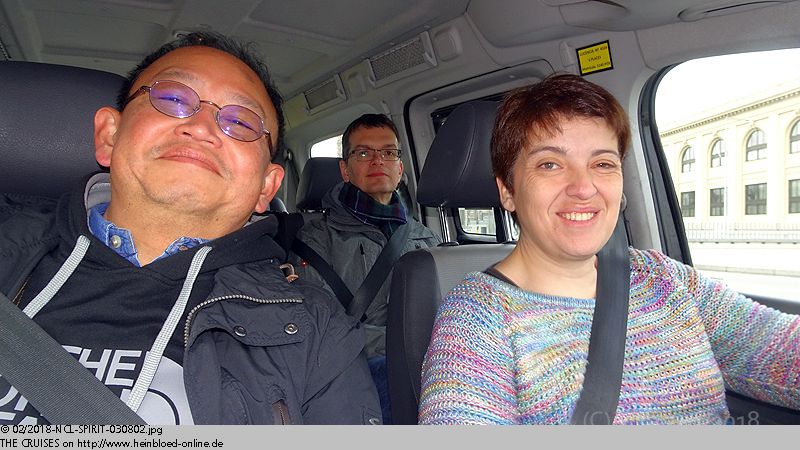 And there she was to get us to Sants train station. On the way we made the usual photo stops and she told us how the atmosphere was after the actual election in Barcelona. Eva knew very well my expectiations since NORWEGIAN JADE 2011 (1). And after our sailings on NORWEGIAN SPIRIT 2013 and KONINGSDAM 2016 we had great meals with her.

And en route the last view on MY NORWEIGAN SPIRIT.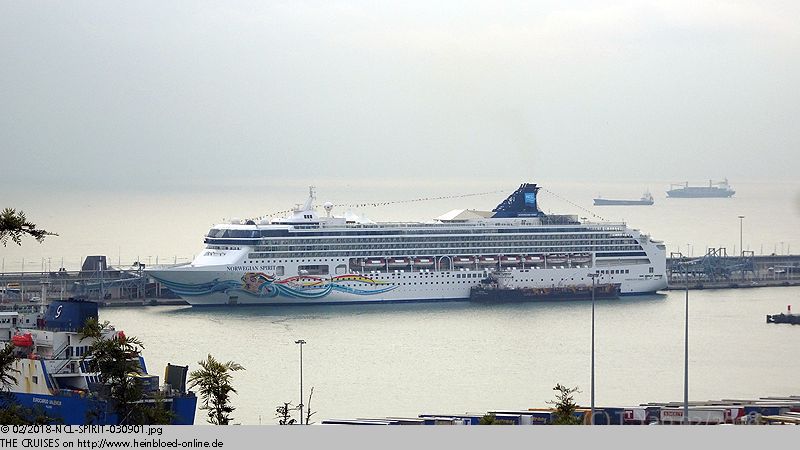 Und unterwegs zuvor noch ein letzter Blick auf
MEINE
NORWEGIAN SPIRIT.
Sie hat uns direkt vor dem Eingang zum Bahnhof rausgelassen.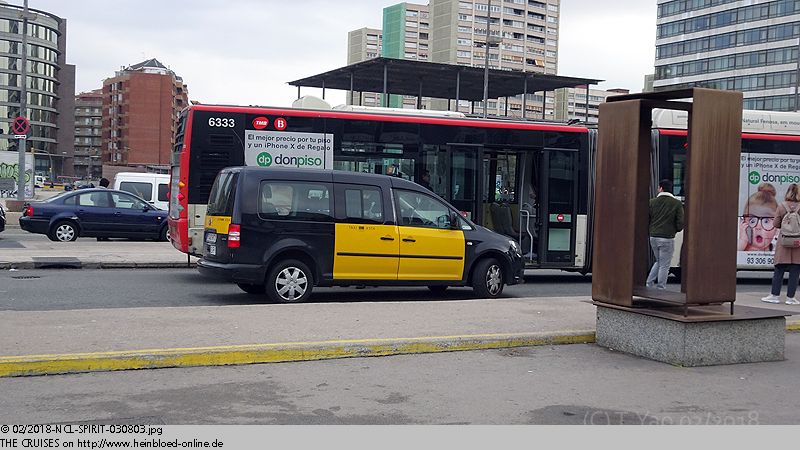 She just released us in front of the terminal building.

Barcelona Sants was like the Central Station.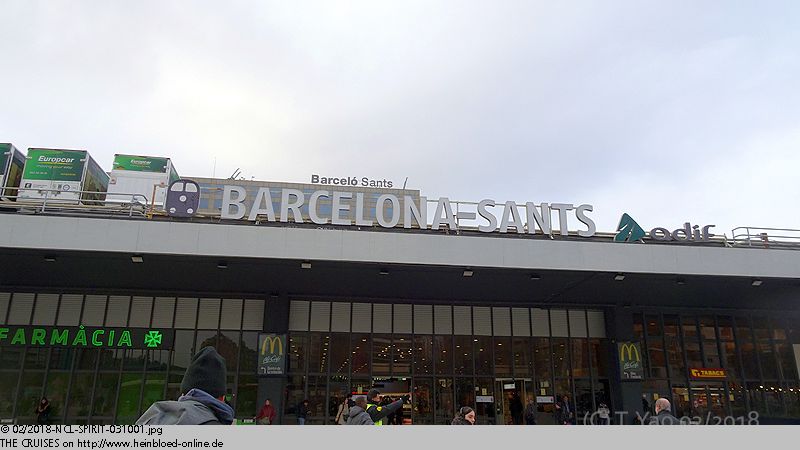 Barcelona Sants
ist quasi der Hauptbahnhof.
Von hier aus wollen wir nach Figueres. Auf der Hochgeschwindigkeitsstrecke nach Frankreich liegt der Bahnhof Figueres-Vilafant.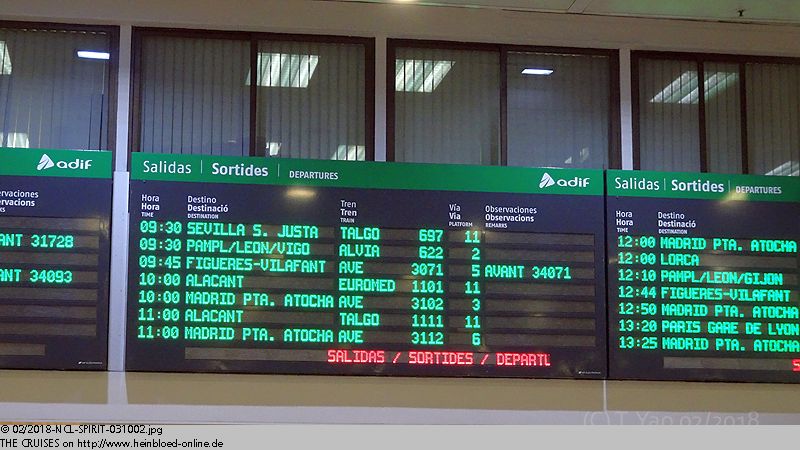 From here we wanted to get to Figueres, Spain. On the high-speed-train line towards France, there was the station Figueres-Vilafant.

As usual in Spain: Security control of the baggage at the access points to the platforms for long distance services.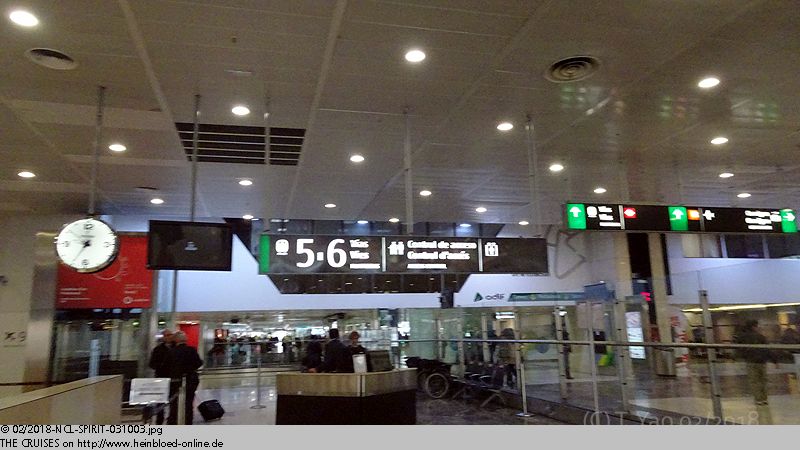 Wie in Spanien üblich: Sicherheitskontrolle des Gepäcks bei den Zugängen zu den Bahnsteigen des Fernverkehrs.
Gebucht haben wir alles bei RENFE. Eigentlich fahren wir im Avant. Der ist billiger als der AVE (Premium Hochgeschwindigkeitsverkehr). In diesem Fall wird ein Teil des Triebfahrzeuges als Avant-Dienst verkauft. Allerdings mit dem 1. Klasse-Standard des ICEs der Deutschen Bahn. Und alles etwas großzügiger: größere Toiletten, mehr Steckdosen, Fächer für das Gepäck. Er darf sich nicht ICE nennen, weil die Deutsche Bahn es nicht will. In einer Stunde sind wir bereits da - für 150 km.

We booked everything with RENFE. Actually, we went to the Avant-train. That was cheaper than AVE (signature high-speed service). In this, a part of the train was sold as Avant-Service. But with a 1st-class-standard like we used to have in the High-Speed trains in Germany. And everything a little more generous: larger toilets, more electric power outlets, racks for the bags. It was not allowed to call it ICE (InterCity Express) like in Germany because the German Railways did not want it. It took us only one hour for 95 miles.

Arrival at station Figueres-Vilafant. Here you were tuned for Dali. A bus linked the station which was outside the city center. But we took a taxi. When we left, we noticed that we forgot our bags in the trunk. No taxi office you could call. We did not notice the number of the taxi. So other taxi driver helped us to find our taxi driver Jose Maria and guided him to the central taxi rank in the city. So we asked him later to collect us at the museum and took us back to the train station. Would it be very ruthless to ask him just to come later and keep our bags with him until 14:30 hrs to meet us for the return ride. We could not be so bold.

Ankunft am Bahnhof
Figueres-Vilafant
. Hier wird man schon auf Dali eingestimmt. Ein Bus verbindet den Bahnhof, der außerhalb liegt mit der Stadt. Aber wir nehmen ein Taxi. Als wir aussteigen bemerken wir, dass wir im Kofferraum unser Gepäck vergessen haben. Eine Taxizentrale gibt es nicht. Die Nummer vom Taxi haben wir uns nicht gemerkt. Das machen wir garantiert auch nicht wieder. Allerdings habe ich mir gemerkt, dass die Tür einen Schaden hatte. So helfen uns die anderen Taxifahrer unseren Taxifahrer Jose Maria zu finden und lotsen ihn zum Taxistand in der Stadt. Dafür bitten wir ihn später uns wieder vom Museum abzuholen und uns wieder zum Bahnhof zu fahren. Wäre es eigentlich sehr unverschämt gewesen ihn zu fragen, ob er nicht hätte einfach, um 14:30 Uhr mit Gepäck wieder am Museum erscheinen zu können. So dreist bin ich dann doch nicht.
In Spanien gibt es sehr viele Bäckereiketten. Hier sind wir bei
PA FI
. Es duftet. Wir fühlen uns wie bei Hänsel und Gretel und müssen rein.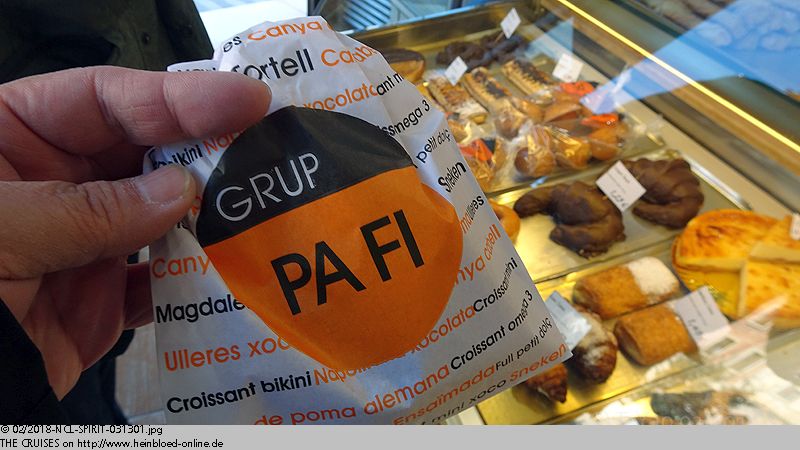 In Spain they had many bakery chains. Here we were with PA FI. It smelled great. We felt like with the fairy tale Haensel and Gretel, and so we had to walk in.


So we could not say no.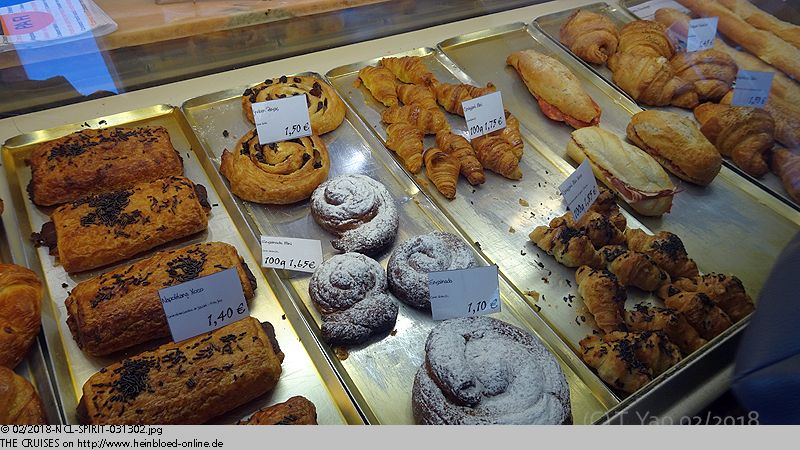 So können wir nicht nein sagen.
Speziell die schwarzen Croissants lachen einen an. Aber wir sind brav: es gibt nur ein Mini-Schoko-Croissant für jeden.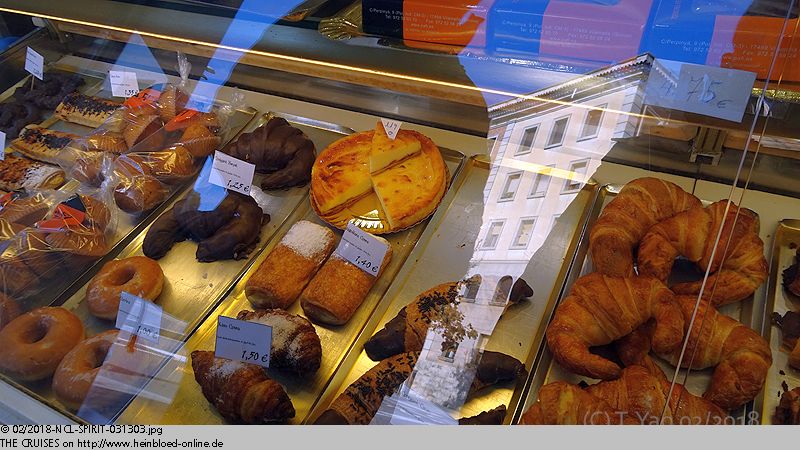 Especially the black croissants were smiling to me. But we were brave: we only bought one single mini-chocolate-croissant for each of us.

The tickets for the Dali-Theater and the Jewelery-Exhibition I bought already on the internet and so I could just walk to the extra-counter to collect the tickets without queuing. Even you did not want to enter: from outside the buildings looked great. What seemed like dog poos on the wall were little turtles - or? No limits for your own phantasies...

Die Tickets für das
Dali-Theater und für die Juwelen-Ausstellung
habe ich im Internet vorbestellt und so kann ich sie am Extra-Schalter ohne anstehen einfach abholen. Auch wenn man nicht reingeht: von außen sieht es toll aus. Was aussieht wie Hundehaufen an der Hauswand sind kleine Schildkröten - oder? Der Phantasie sind keine Grenzen gesetzt...
Na gut: ich bin Kunstbanause. Das ist ein tolles Gebäude, das man unbedingt gesehen haben muss. Dali ist bestimmt ein großartiger Künstler. Nur ich kann mit vielen Kunstwerken von ihm nichts anfangen. Einige wenige gefallen mir. Mit den meisten kann ich jedoch persönlich nichts anfangen. Mir hat es nun mal im Garten von
Monet in Giverny, Frankreich
besser gefallen...

Well: I am an art philistine. It was a great building which you must see. Dali was really a great artist. But it was me who could not really deal with something with his objects. Few of them I liked. Most of them I just did not know how to handle personally. I liked it more in Monet's Garden in Giverny, France...

We went out and looked a little around in the small town: 63 F and Bruno and Sigi did some exercises to warm up: the wind in few corners of the city made it a little more chilly.

Wir gehen raus und sehen uns ein wenig in der Stadt um: 17°C und Bruno und Sigi machen Übungen, um sich aufzuwärmen: der Wind ist an manchen Ecken der Stadt doch etwas kühler.
Wieder gehen wir zu einer lokalen Bäckereikette
Maia
in deren Caféteria zum Mittagessen. Das ist genau das richtige und richtig lecker. Die Speisekarte auf Katalanisch. Wir fragen nach, ob sie die Karte auch in Fremdsprachen hätten und bekommen eine Speisekarte auf Spanisch.

Again we went a local bakery chain Maia into their Caféteria for lunch. It was exactly the right choice, and it was really yummy. The menu was in Catalan. We asked if they could give us a menu in a foreign language and we got one in Spanish.

After that, we went into the Jewellery-Collection. It found it was much more impressive.

Danach geht es in die Juwelen-Sammlung. Die fand ich doch sehr viel beeindruckender.
Zuletzt in Málaga besucht:
Bäckereikette Granier
.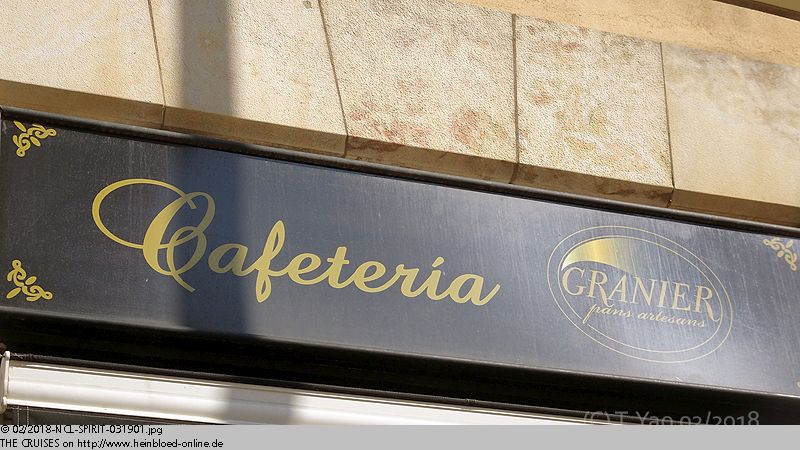 Recently visited in Málaga: Bakery Chain Granier.

Here we needed to have our next break and enjoyed the sun in the streets of Figueres with a pastry and some coffee.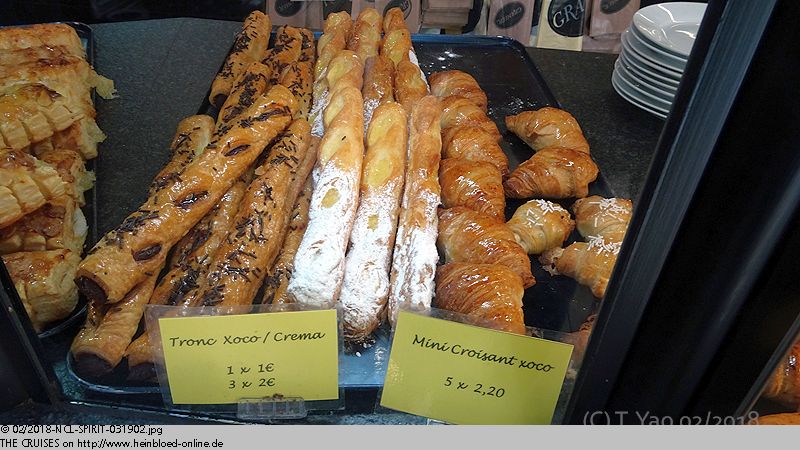 Hier müssen wir die nächste Pause machen und genießen die Sonne in den Straßen Figueres' mit Kaffee und Gebäck.
Und Vitamine tanken. Sie haben keine schwarzen Croissants.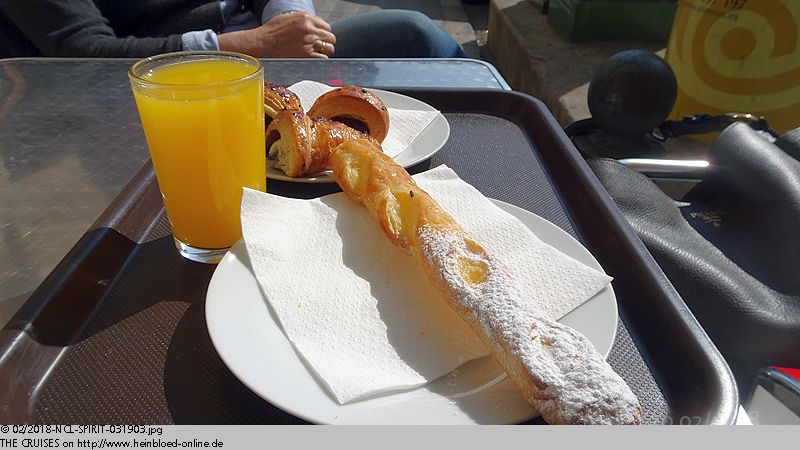 I had to refill my vitamins. They had no black croissants.

Back to the Barcelona Sants train station where we need to change to the short-haul area of the terminal. Here we changed to the commuter train (Rodalies) of the route R2Nord towards the airport. I could not get a through-price for Figueres to the airport, and the direct bus would need about three hours. So we need to buy new tickets. 4.20 EUR (2018). Somehow I had it in my mind that it was much cheaper to take the commuter train to the airport, but that was many years ago.

Zurück im Bahnhof Barcelona Sants müssen wir zunächst in den Regionalverkehrsteil des Bahnhofs wechseln. Hier wechseln wir auf die S-Bahn (
Rodalies
) der Linie R2Nord zum Flughafen. Ich bekam keinen Tarif durchgehend von Figueres zum Flughafen und der direkte Bus hätte gut drei Stunden gebraucht. So müssen wir zunächst neue Tickets kaufen. 4,20 EUR (2018). Irgendwie hatte ich es in Erinnerung, dass es eigentlich mal sehr günstig war, mit der S-Bahn zum Flughafen zu fahren, aber das ist lange her.
Offensichtlich gehört der Flughafen jetzt in die Zone 4 und auf der App steht sogar noch der alte Preis. Die Fahrt selbst dauert nur 17 Minuten, aber ich mag die Züge nicht besonders.

But apparently the airport counted now to Zone 4, and on the app, you still found the old price. The ride self-was only 17 minutes, but I did not like the trains too much.

They had a lot of construction works at the Airport El Prat. So they had a new bridge connecting Terminal 2. Here we had to catch the shuttle to Terminal 1. But it took about 10 minutes until we were there. Here they still had signs for Air Berlin which went bankrupt recently.

Am
Flughafen El Prat
wird fleißig gebaut. So gibt es auch eine neue Brücke zum Terminal 2. Hier müssen wir zum Shuttle zum Terminal 1. Das dauert gut 10 Minuten, bis wir da sind. Hier gibt es sogar noch Hinweise auf Air Berlin.
Im Terminal 1 müssen wir zunächst unser Gepäck holen. Ganz einfach den Schildern zur Metro folgen. Da in Barcelona der Mobile World Congress stattfindet, ist es am Flughafen sehr voll. Unser Gepäck bekommen wir sehr schnell bei der
Excess Baggage Company
zurück.

In Terminal 1 we need first to collect our baggage. Just simply follow the signpost for the Metro. As Barcelona was hosting the Mobile World Congress, it was quite busy at the airport. Our bags we got very fast back at Excess Baggage Company.

We dropped off our bags with the counters of Lufthansa: new was that you got your baggage claim tag by e-mail.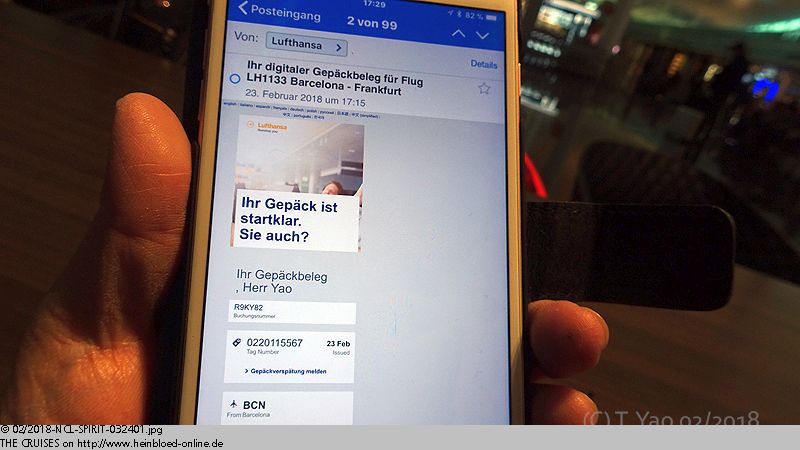 Unser Gepäck geben wir am Lufthansa-Schalter ab: neu ist der Gepäckbeleg per E-Mail.
Dann werden wir über die Änderung des Ausgangs informiert.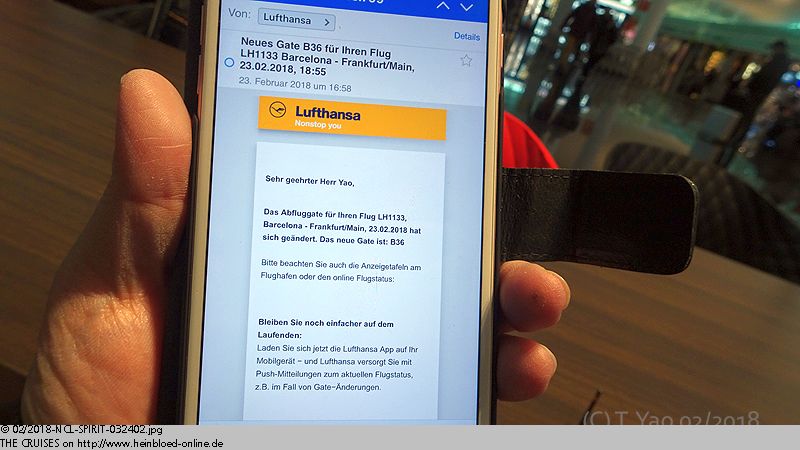 Then they kept us informed that the exit was changed.

We went to the Caffé di Fiore.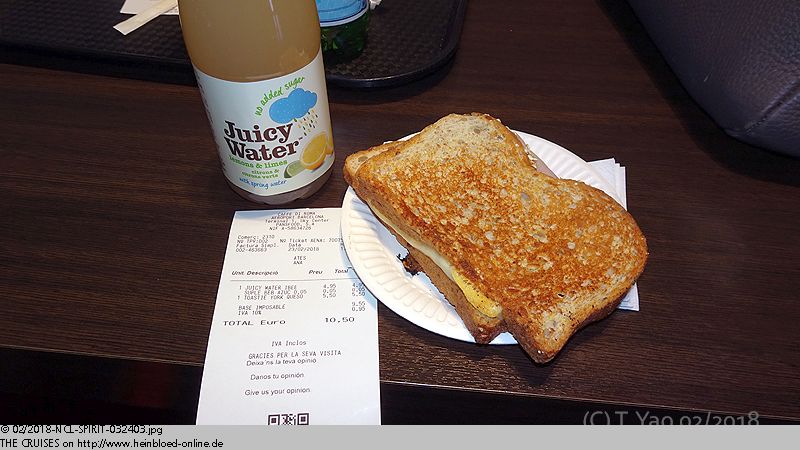 Wir gehen noch
Caffé di Fiore
.
Aber hier sind mittlerweile Preise, wie an jedem anderen Flughafen der Welt.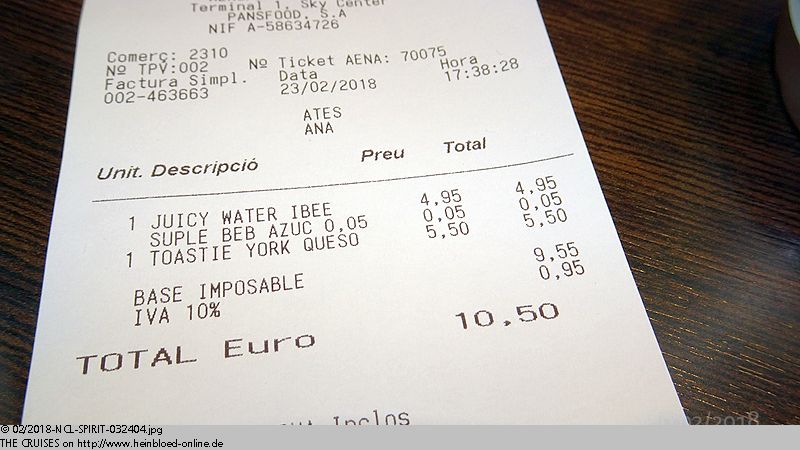 Here they had the same price level meanwhile as on every other airport in the world.

LH 1133 was waiting.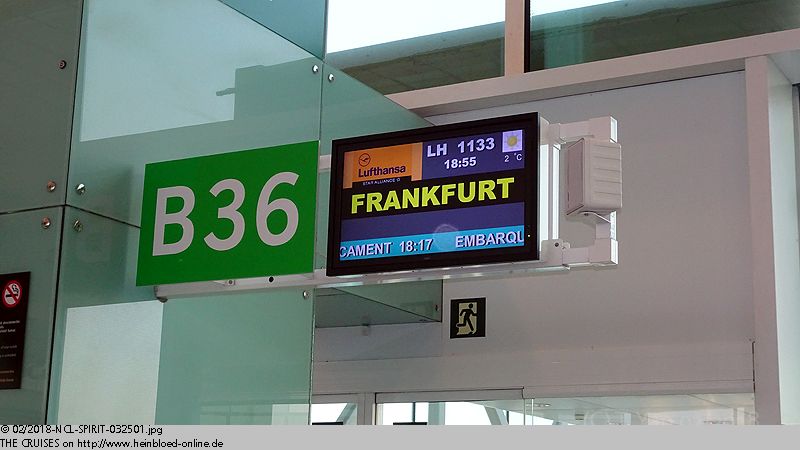 LH 1133 wartet.
Es gibt ein Sandwich.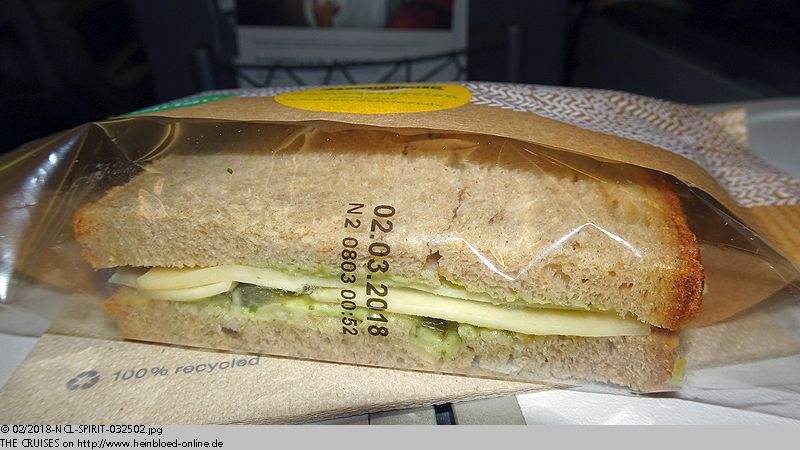 We had one sandwich.

When we arrived in Frankfurt, Germany a bad surprise was waiting for us. After collecting our bags, we called to ask for the delivery of my car. Instead of that, I got the message that they could not get my car running and we should come out. Bruno and Sigi sat on the rear seats with a dog basket and part of our bags. We were taken to my car which was not on parking behind a fence, guarded and only accessible with staff members but it was on a public road open accessible in Gateway Gardens (Industrial Estate around the airport). In the Hotel Moxy we were waiting for the breakdown service of the automobilist club ADAC. Here we bought something to drink. Whatever they meant with "I'm cheap": it was costly.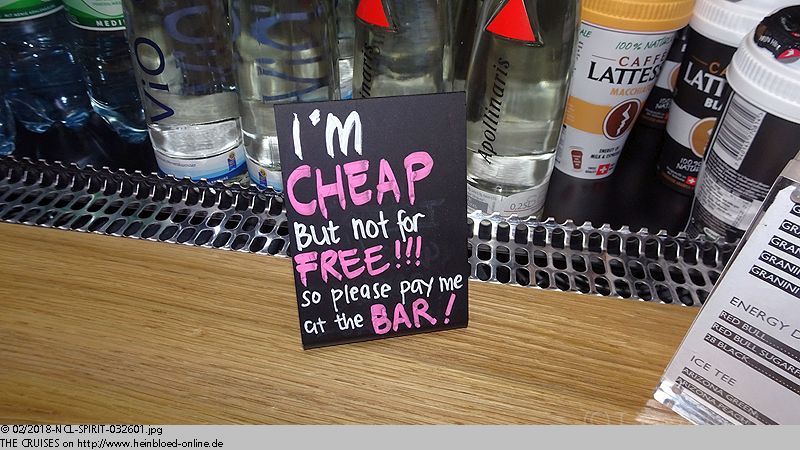 Als wir in Frankfurt ankommen erwartet uns eine böse Überraschung. Als wir unser Gepäck haben rufen wir an, damit mein Wagen vorgefahren wird. Stattdessen bekomme ich die Mitteilung, dass sie meinen Wagen nicht anbekommen haben und wir rauskommen sollen. Bruno und Sigi sitzen auf der Rückbank mit einem Hundekorb und ein Teil des Gepäcks. Wir werden zu meinem Auto gefahren, der nicht auf einem eingezäunten, bewachten und nur mit Personal zugänglichen Parkplatz steht, sondern auf auf der Straße öffentlich zugänglich im Gateway Gardens. Im
Hotel Moxy
warten wir auf den
ADAC
. Hier kaufen wir uns etwas zu trinken. Was immer sie mit "I'm cheap" (Ich bin billig) meinen: es ist richtig teuer.
Ich nehme das, damit ich mich wieder an die Schweiz gewöhne: sowohl Produkt als auch Preis.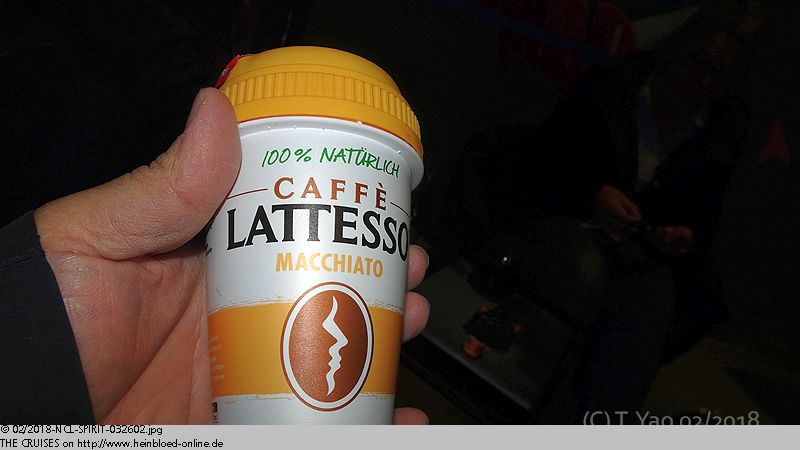 I assumed that was to make me familiar again with Switzerland: the product and the price.

Here we sat and waited in the warmth.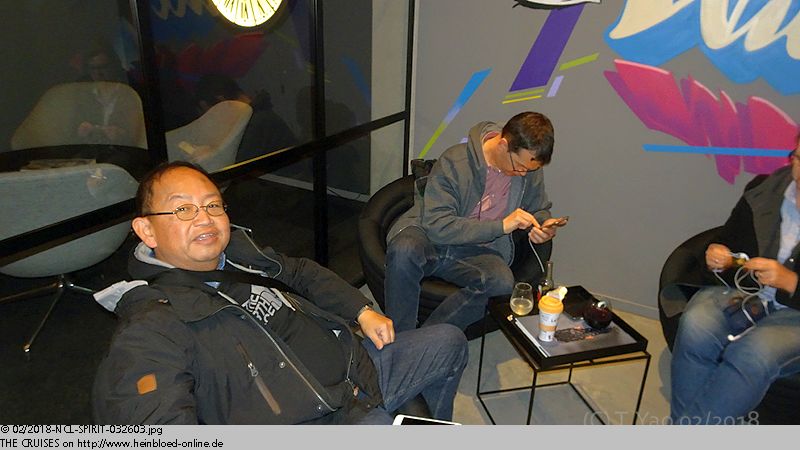 Hier warten wir im warmen.
Ich kann leider nicht erkennen, dass es sich angeblich um einen gemieteten Parkplatz handeln soll, um die Fahrzeuge schneller zum Flughafen positionieren zu können. Kein Zaun. Keine Bewachung. Zugänglich ohne Begleitung.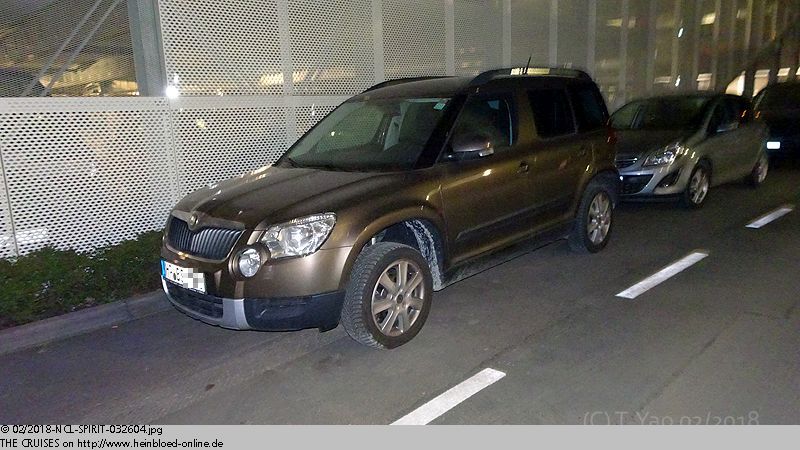 I could not see that this was rented parking to get faster the cars repositioned to the airport. No fence. Not guarded. Accessible without an escort.

After 45 minutes ADAC came. Mr. Altschuk bridged over - something the driver of the valet service did not like to offer. After the engine worked again, we found out that someone did not switch off the interior lights and so the battery ran empty. Although I called them multiple times and wrote multiple e-mails: neither the broker nor the provider gave comments. The next parking were booked again with Fraport and in the Platzhirsch Parking and we also got a discounted parking for The Squaire. I went to the online police station of the local police and reported fraud. Someone who offered fenced, guarded parking but parked on public parking was just fraud in my eyes.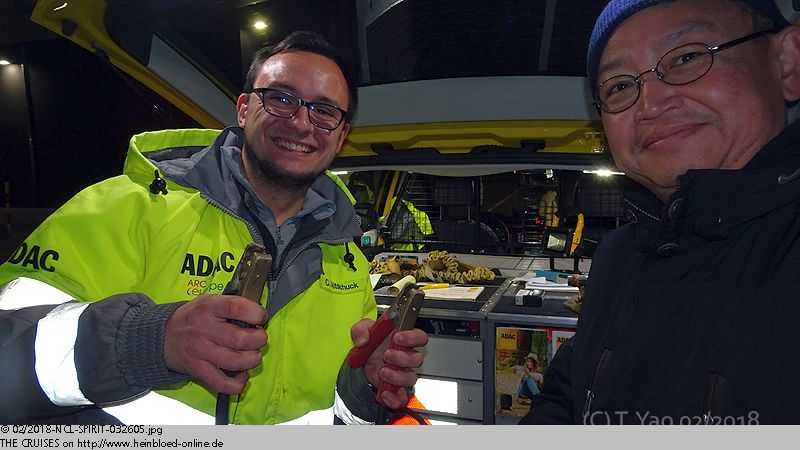 Nach ca. 45 Minuten kommt der ADAC. Herr Altschuck überbrückt - dazu hatte der Fahrer vom Valet-Dienst keine Lust. Nach dem der Motor wieder läuft, stellen wir fest, dass sie das Innenraumlicht nicht abgeschaltet haben und deswegen die Batterie dann entladen war. Bis heute nehmen trotz mehrmaliger Anrufe und E-Mails weder der Vermittler noch der Anbieter inhaltlich Stellung dazu. Die nächsten Parkplätze sind wieder bei
Fraport
und im
Platzhirsch
gebucht und eine Prepaid-Karte mit 10% Rabatt für
The Squaire
haben wir jetzt auch. Gegen den Anbieter habe ich kurzerhand auf der
Online-Wache der Polizei Hessen
Strafanzeige wegen Betrugs nach §263 StGB gestellt: einen eingezäunten, bewachten Parkplatz anzubieten und dann einfach auf öffentlichen Parkplätzen zu parken, ist für mich schlicht und einfach Betrug.
Am nächsten Morgen bei uns zu Hause freuen wir uns über die Mitgaben von Magdalena und Pepe.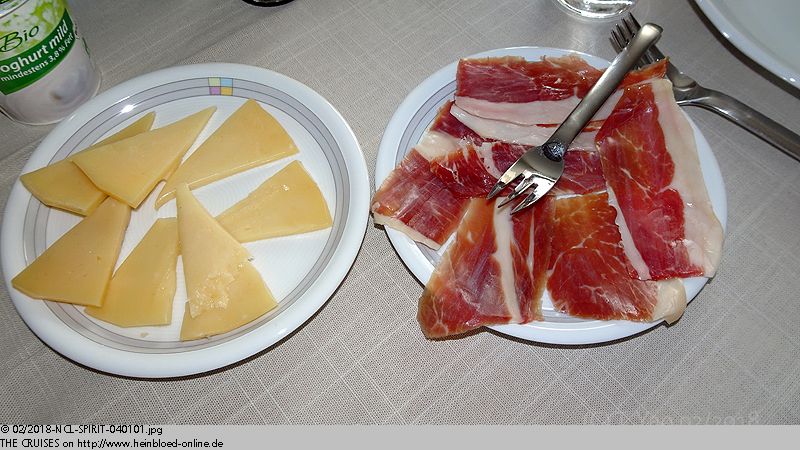 The next morning at home we were happy to have the goodies from Magdalena and Pepe.

For lunch we met at Restaurant Büttner. My newest discovery in Bensheim, Germany. True homemade traditional German cooking. Here we met with Rossita and Ekkehard. Rossita and I are both working in Basle, Switzerland and occasionally we met on the train. They will join us in 2019, and it was a good chance they could make already the acquaintance of Sigi. Both women found the respective subjects like purses and hockey. This really could become fun. Apart from this, we all enjoyed the traditional homestyle cooking like you could get 30 years ago at every corner, and unfortunately, nowadays it was not possible anymore. Really yummy!!!

Mittags treffen wir uns im
Speisehaus Büttner
. Meine neueste Entdeckung in Bensheim. Echte Hausmannskost. Hier treffen wir uns mit Rossita und Ekkehard. Rossita und ich arbeiten beide in Basel und treffen uns gelegentlich im Zug. Sie kommen 2019 mit und so bietet sich die Gelegenheit, dass Sigi schon mal die beiden kennen lernt. Die beiden Frauen finden sehr schnell gemeinsame Themen: Handtaschen und Eishockey. Das kann ja noch heiter werden. Ansonsten genießen wir alle Hausmannskost, wie man es vor 30 Jahren noch an jeder Straßenecke bekommen hat und es leider heute kaum noch gibt. Richtig lecker!!!
Und so bringen wir Sigi zum Flughafen Frankfurt und haben auch noch Glück: Dank Tom Tom werden wir über die A67 geleitet. Die A5 ist komplett nach Weiterstadt gesperrt. Das sehen wir erst auf der Rückfahrt. Der Check-in läuft grauenhaft. Die im SB-Bereich ausgedruckten Gepäckanhänger können nicht eingelesen werden. Die "Helfer" können inhaltlich nicht weiterhelfen. So nutzen wir meinen Status als Frequent Traveler und checken im Business Class-Bereich ein. Sigi sehen wir bereits in wenigen Wochen wieder, wenn wir anlässlich der QUEEN VICTORIA in Hamburg sind. Eine schöne kurze Reise geht hier dann auch zu Ende. Es folgt die Kältewelle mit Minustemperaturen in Mitteleuropa. Wären wir bloß in Spanien geblieben. Hier im NCL-Blog geht es weiter im Juli 2018 auf der NORWEGIAN JADE.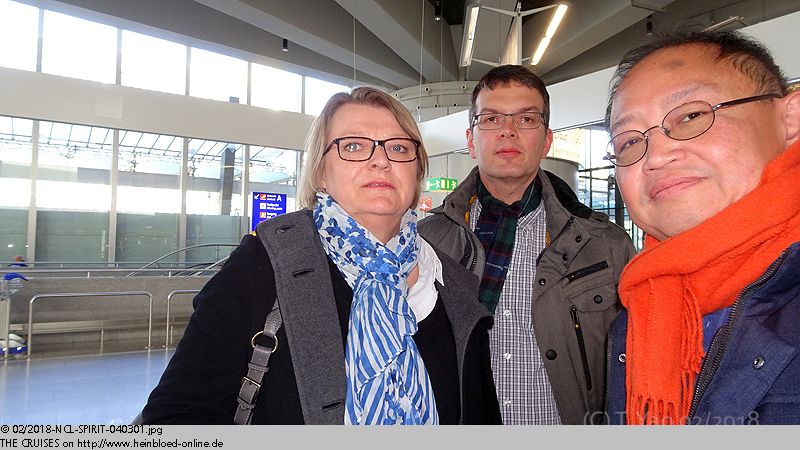 And so we took Sig to Frankfurt Airport and we had luck: Thanks to TomTom we were taken a different way. The regular route was completely closed. But we could see it when we got home later. The check-in did not work properly. We had a self-print-out label, but no scanner could read it. The "assistants" could not really help with their knowledge. So we used my status as a Frequent Traveler and checked-in with the Business Class area. We would see Sigi very soon back due to our embarkation in Hamburg on QUEEN VICTORIA in Hamburg. A pleasant short voyage came to the end of this place. A cold wave supposed to follow with all the minus temperatures in Central Europe. Why did not we just merely stay in Spain? Here in this NCL-Blog, I continue in July 2018 on NORWEGIAN JADE.
Die anderen Reisen in diesem Blog/
The other voyages in this blog: