Scroll down for English explanations - alternates with German explanations.

Nach dem Verkehrschaos wenige Tage zuvor, sind wir froh, dass alles in Frankfurt ruhig läuft. Gegen 13.30 Uhr verlassen wir unser Haus, um nach Barcelona zu fliegen. Geparkt haben wir dieses Mal direkt im Terminal 1, da es nur 10 EUR mehr war, als die Parkhäuser rundum. Wir hatten dieses Mal rechtzeitig gebucht und so können wir auch mit leichter Jacke reisen.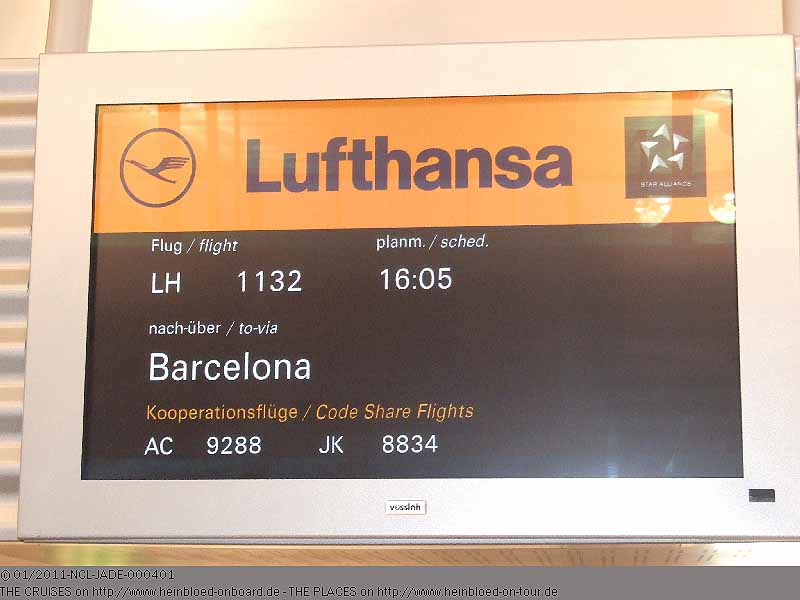 After the chaotic traffic conditions the days before we were quite happy that Frankfurt was smooth operation that day. Around 13.30 hrs we left our house to head to Barcelona. This time we parked directly at the Terminal 1 as it was only 10 EUR more than for the parkings around the airport. We booked this time right ahead of time and so we could travel with lighter jackets.

At the airport we had the first surprise. Again we got an upgrade. How I will miss my Senator-tier with Lufthansa. But due to economic crises I was not very often on business trip.

Am Flughafen wartet eine Überraschung. Wieder bekommen wir ein Upgrade. Was werde ich meinen Senator-Status bei Lufthansa vermissen. Aber wegen der Wirtschaftskrise zuvor, bin ich sehr wenig geschäftlich verreist.
Am Schalter wurde behauptet, weil Jahreswechsel ist, hätten wir das Upgrade erhalten. Aber wenn man 3 von 6 geplanten Maschinen streicht, bleiben auch ein paar Gäste auf der Strecke, die hier auf der Warteliste erscheinen. Auch unsere ursprüngliche Maschinen wurden gestrichen.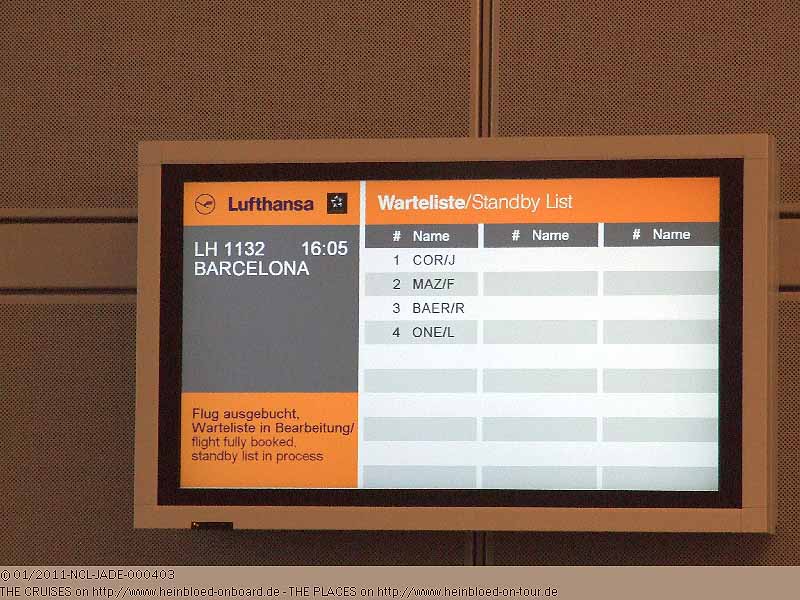 At the counter they said it was due to New Years Eve that we were upgraded. But if you cancel 3 of 6 original flights you have more stranded passengers who appear here on the waiting list. Our original flight was canceled as well.

So we had our seats in the front cabin in Business Class.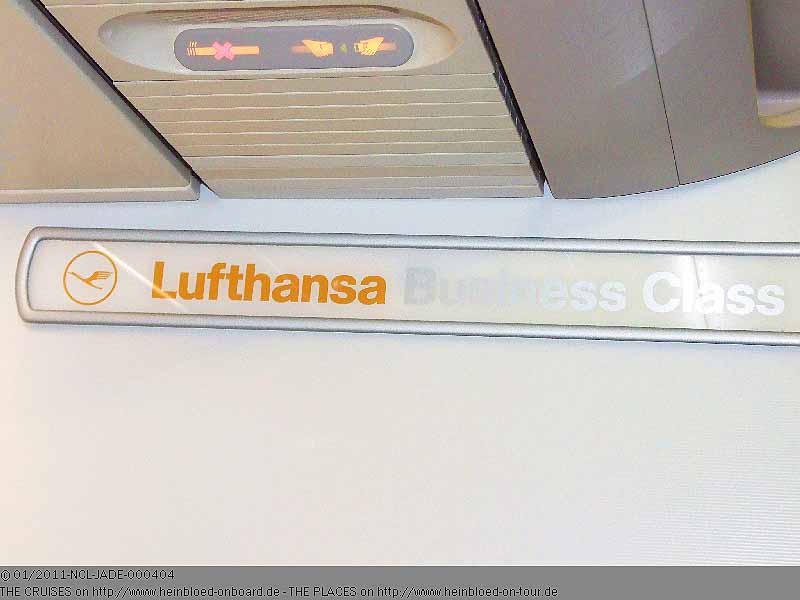 So sitzen wir im vorderen Teil der Kabine in der Business Class.
Der Vorteil bei Lufthansa: der mittlere Sitz bleibt frei.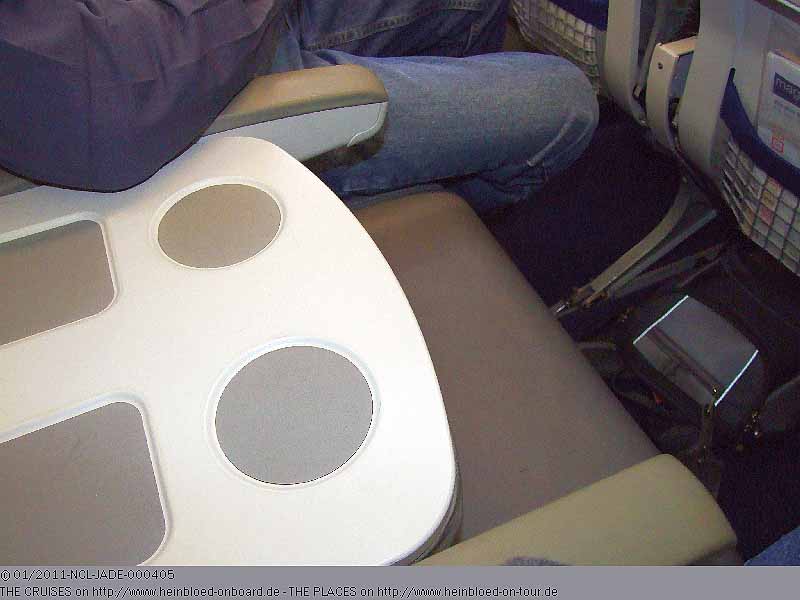 Good with Lufthansa: the center seat is always vacant.

Our Captain decided that he would like to be de-iced. We were lucky as Frankfurt does not just count on Clariant as supplier so they still had enough de-icing-material available.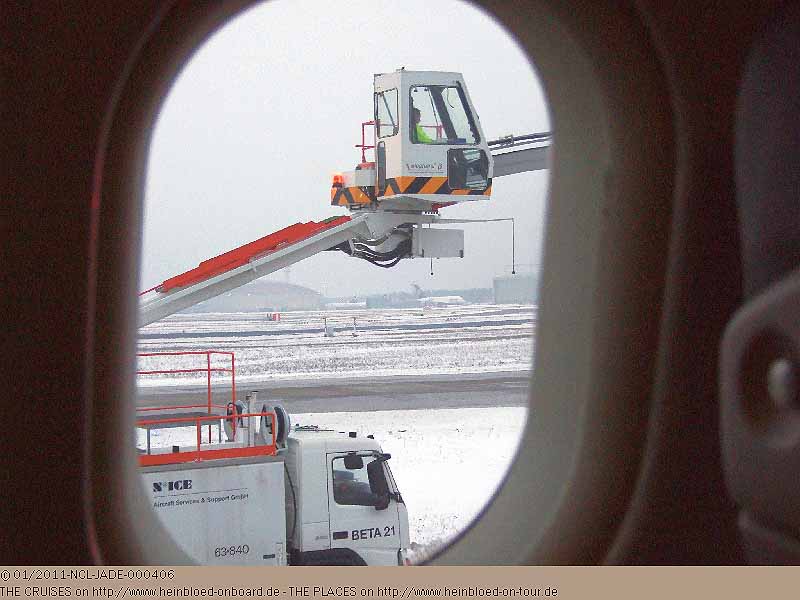 Unser Kapitän entscheidet sich dafür, dass er enteist werden möchte. Zum Glück wird jedoch Frankfurt nicht nur von Clariant beliefert, so dass noch ausreichend Enteisungsmittel zur Verfügung steht.
Als die Kinder mit Spielzeug versorgt werden, fällt mir das hier auf. Ich dachte, dass es eine Zahnbürste wäre und wollte auch eines haben... Stattdessen habe ich einen Stift mehr, mit dem ich etwas ausmalen darf...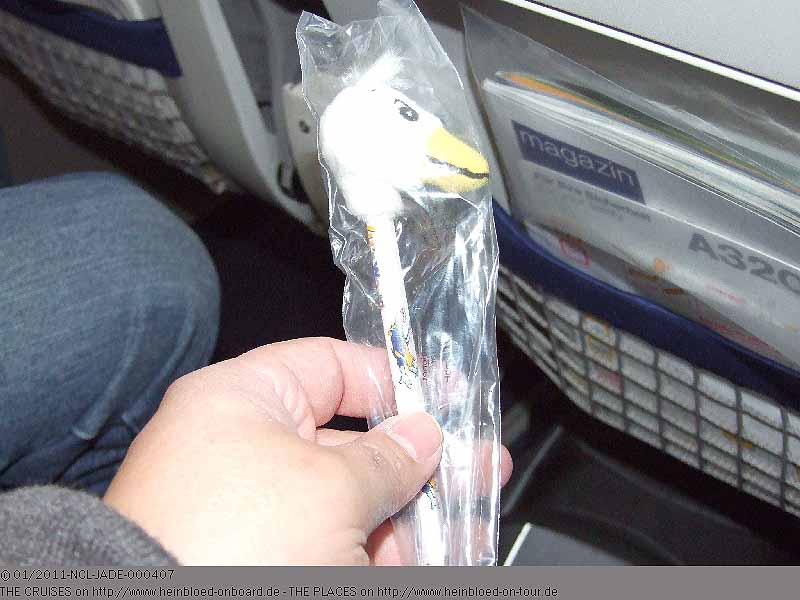 When they supplied toys to the children this part attracted my attention. Looked for me like a tooth-brush and I wanted to have one too... But now I have a pencil more which I can use for some paintings...

They got in Economy Class a nice piece of cake while we had a Salad which was seasoned by Heiko Antoniewicz with high-value macedemia oil. But we had to "kill" this flavor by a plant-made dressing so we cannot taste the oil. Anyhow someone should explain why there was carrot, lettuce and cheese in my desert...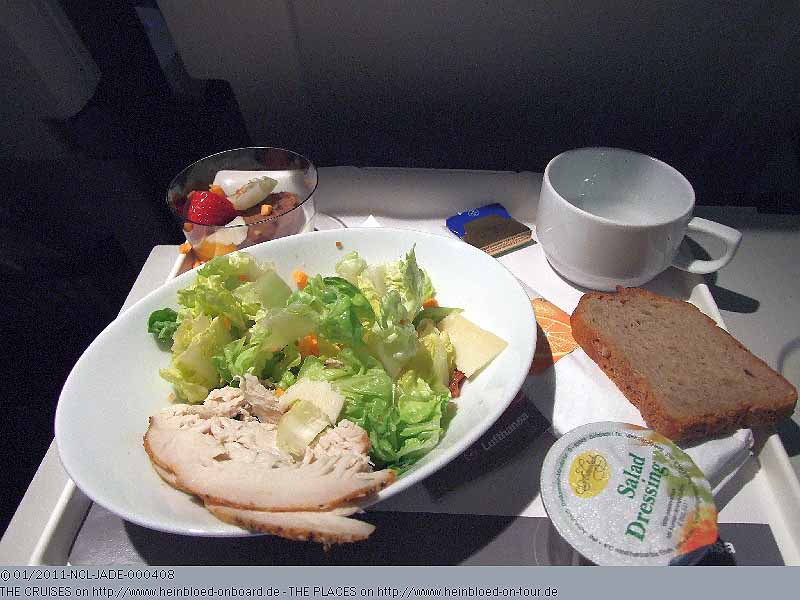 In der Economy Class gibt es wohl ein lecker Stück Kuchen, während wir einen Salat bekommen, der nach den Aromen von
Heiko Antoniewicz
, mit hochwertigem Macademiaöl zubereitet wurde. Nur müssen wir diese Aromen mit einem Fertig-Dressing "erschlagen", so dass wir es nicht rausschmecken. Außerdem frage ich mich, was die Karotten, der Parmesan und der Salat im Nachtisch machen...
Dieses Mal sind wir im
Hotel 54
in Barcelonata abgestiegen. Nochmals wollten wir nicht mehr in den Bereich Parallel, in dem zuletzt übernachtet haben. Und wir wollten gerne den Blick über die Stadt genießen. Die Fahrt vom Flughafen Terminal 1 mit dem Taxi inkl. Gepäck hat uns 30.00 EUR gekostet. Wir fragen direkt an, ob Eva uns am 14.01.2011 wieder am Schiff abholt, da ihr SEAT Alhambra genügend Platz für uns unser Gepäck geboten hat. Auf Umwege, um die ARCADIA zu fotografieren haben wir verzichtet. Von der Stadtautobahn haben wir gesehen, dass sie so unvorteilhaft für mich zum Fotografieren lag, dass es keinen Sinn machte, meine üblichen Punkte anzufahren. So sind wir erst mal auf das Zimmer gegangen: 104.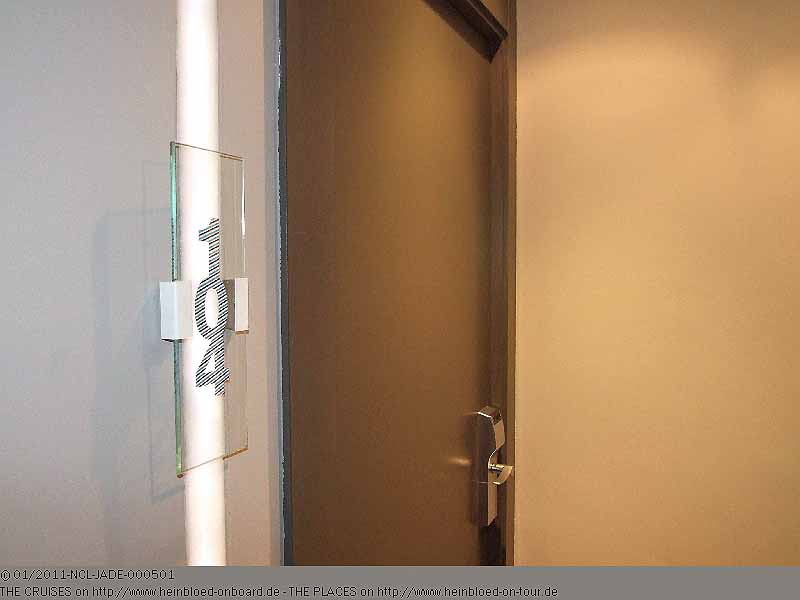 This time we stayed at Hotel 54 in Barcelonata. Not again in Parallel-area where we stayed the last time. And we wanted to have an enjoyable view over the city. The ride from Terminal 1 of the airport incl. baggage was 30.00 EUR. We asked directly if Eva can come and offer us the transfer for the return from the ship on January 14, 2011, as her SEAT Alhambra van had enough space for our baggage. We did not make any detours to take pictures of ARCADIA which was in town. We saw from the highway that she berthed not very well for me to take pictures from the usual points in the city. So we made directly to the hotel and got room 104.

Looked very modern and stylish.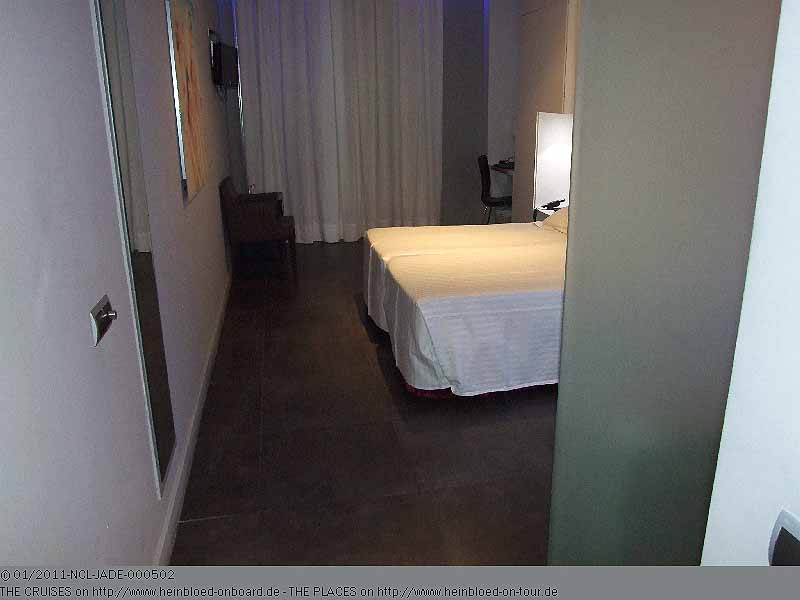 Modern eingerichtet.
Leider nicht mit den klassischen Decken, sondern typisch spanisch Laken.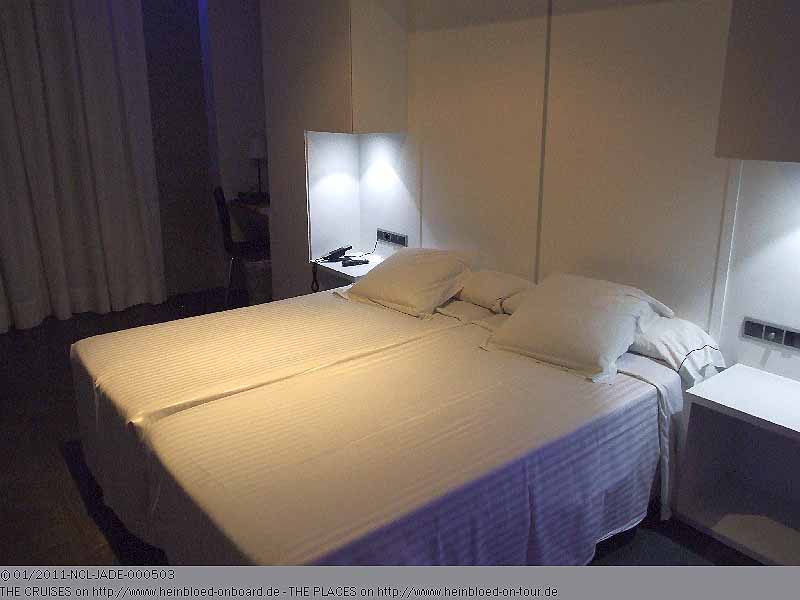 But unfortunately not with classical duvets but typical Spanish sheets.

Safe in laptop-size but no power outlet.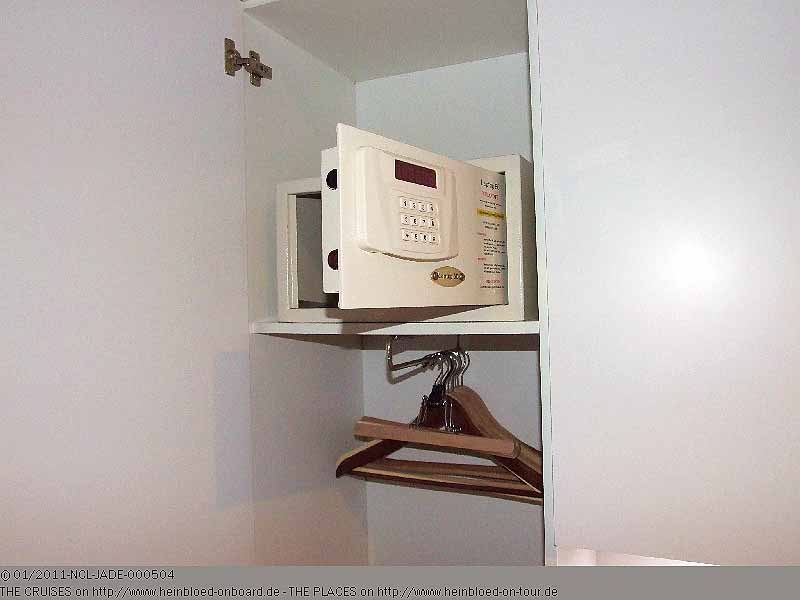 Tresor sogar in Laptop-Größe - nur leider ohne Steckdose.
Das Designer-Bad. Etwas eng. Aber dafür konnte man sich aussuchen, ob man sich mit dem Luxus-Massageduschkopf oder mit Regenwaldduschkopf morgens duscht. Das Duschgel mit dem Aroma aus grünem Tee und die weichesten Handtücher, die ich bisher erlebt habe, waren richtig klasse.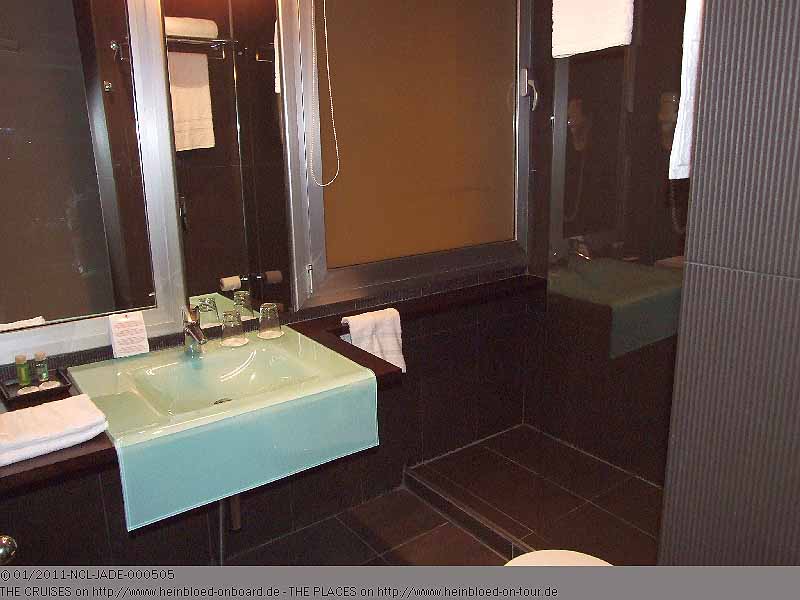 The designer bathroom. Somehow a little narrow. But you could choose to have your morning shower with the luxury massage shower head or the rain forest shower head on the ceiling. The shower gel with the green tea flavor and the softest towels I ever had were totally great.

From our balcony we can smell the restaurants in the neighborhood.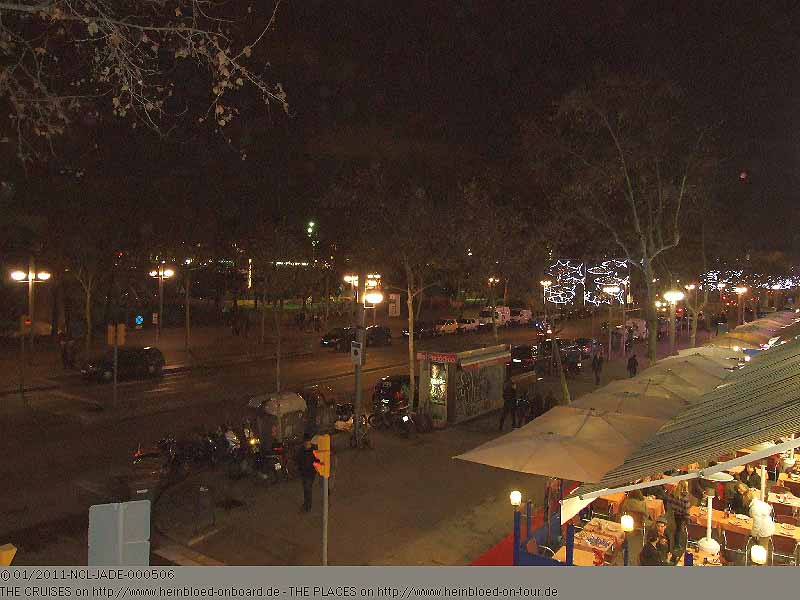 Vom Balkon erleben wir den Duft der umliegenden Restaurants.
Oben im 5. Stock der Dachgarten, der allen Gästen zugänglich ist.

On top on 5th floor there was a roof garden accessible for all guests.

But I did not like the many restaurants in our street as someone always tried to pull you into their places. Most of them looked very touristic. That was why we went to Casa Alfonso which we know from our previous cruise on NORWEGIAN GEM in fall 2009.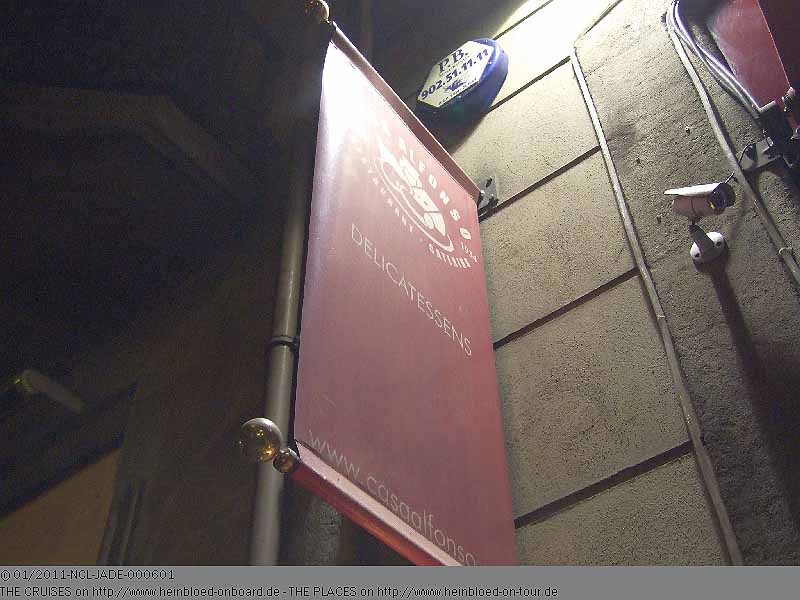 Was mir nicht gefallen hat an den zahlreichen Restaurants entlang unserer Straße: zuviele, die versucht haben einen reinzuziehen. Und die meisten Restaurants wirkten auf mich zu touristisch. Deswegen gehen wir wieder ins
Casa Alfonso
, das wir von der
Anreise zur NORWEGIAN GEM im Herbst 2009
kennen.
Alles, worauf wir Appetit haben, und niemand vor der Tür, der uns versucht reinzuziehen. Gegen 20.15 Uhr bekommen wir den letzten 4-er Tisch.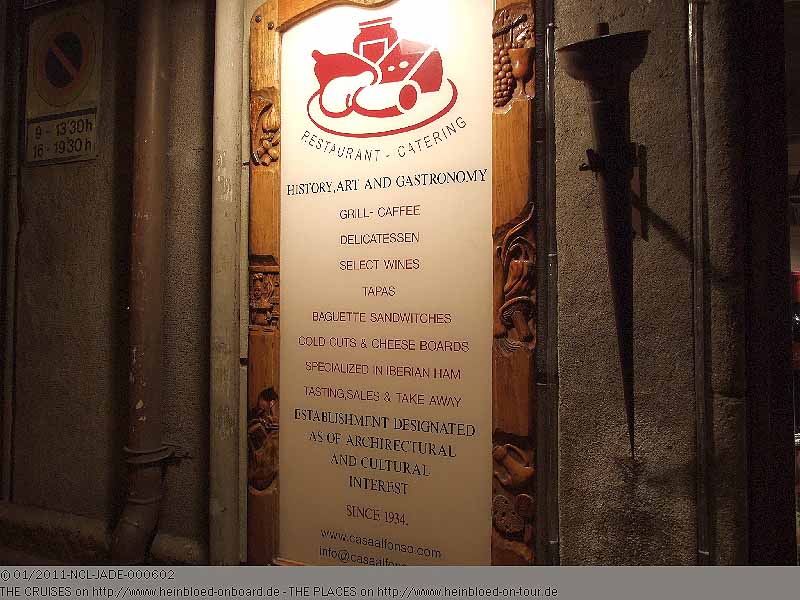 Everything we loved to eat and none in front of the door who tried to get us in. Around 20.15 hrs we got the last table for 4.

By the way: we are travelling again with my landlord from my place during the weekdays: Charlie and Katie. They were with us last year on CELEBRITY EQUINOX. After their return the 1st day they said: never cruising again. After the 1st week: never cruising on a US-ship again. After the 1st month they asked if we would let them come again on a cruise with us. You are becoming addicted to cruises. Many regards to all cruise-mates who still knew them and reading the blog. Special greetings from me to those who are in Facebook and are in touch with Bruno as I do not attend too much to Facebook...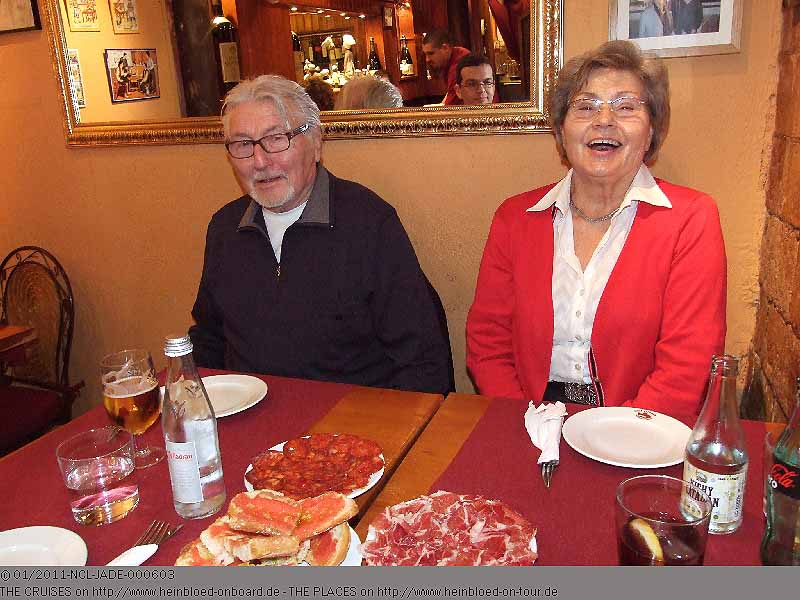 Übrigens mit uns reisen wieder meine Vermieter aus Salzgitter mit: Karl-Heinz und Käthe. Sie waren im vergangen Jahr mit uns auf der
CELEBRITY EQUINOX
mit. Nach ihrer Rückkehr damals hieß es am 1. Tag: nie wieder Kreuzfahren... dann in der 1. Woche nach der Rückkehr: nie wieder ein US-Schiff... dann im 1. Monat nach der Rückkehr: ob sie nicht doch wieder mitfahren dürfen... Kreuzfahren macht süchtig. Sie grüßen alle herzlich, die sie von damals kennen und hier mitlesen. Besondere Grüße auch von mir an die Freunde im Facebook und sich bei Bruno gemeldet haben, um mitzuteilen, dass sie mitlesen, weil ich zu selten dort reingucke...
Wir genießen die Tapas, die wir an der Theke ausgewählt haben.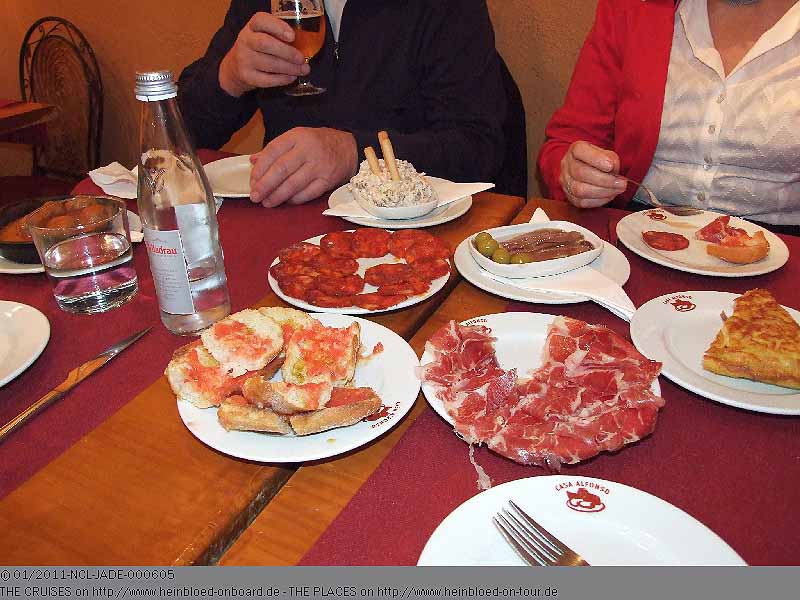 We just enjoyed the Tapas which we selected at the bar.

Casa Alfonso does not look like a restaurant... more like a shop...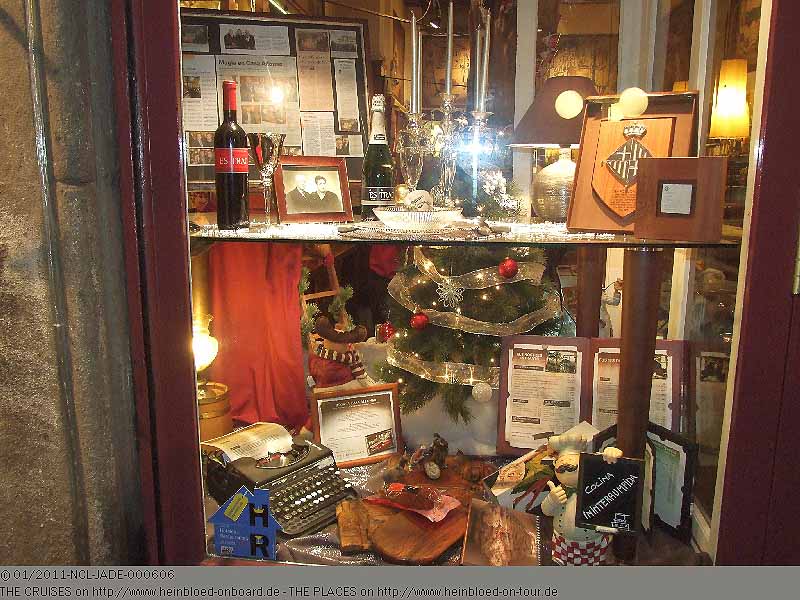 Casa Alfonso wirkt nicht wie ein Restaurant, eher wie ein Geschäft...
Wir gehen Richtung Placa Catalunya, weil ich für den folgenden Tag Fahrkarten bei FGC kaufen will. Überall ist noch die Weihnachstbeleuchtung zu sehen.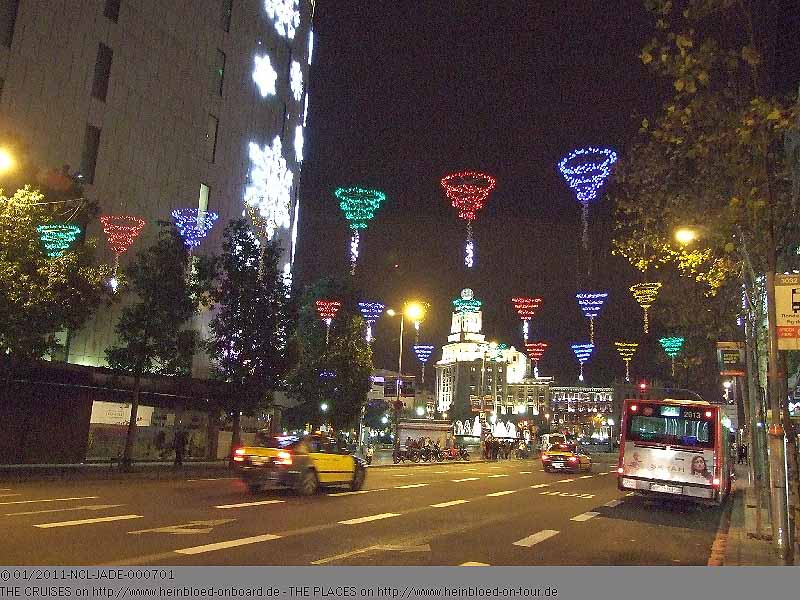 We headed to Placa Catalunya as I wanted to buy the tickets for the next days with FGC. Around you still find the Christmas illumination.

Even the illumination at the El Corte Ingles department store was still running.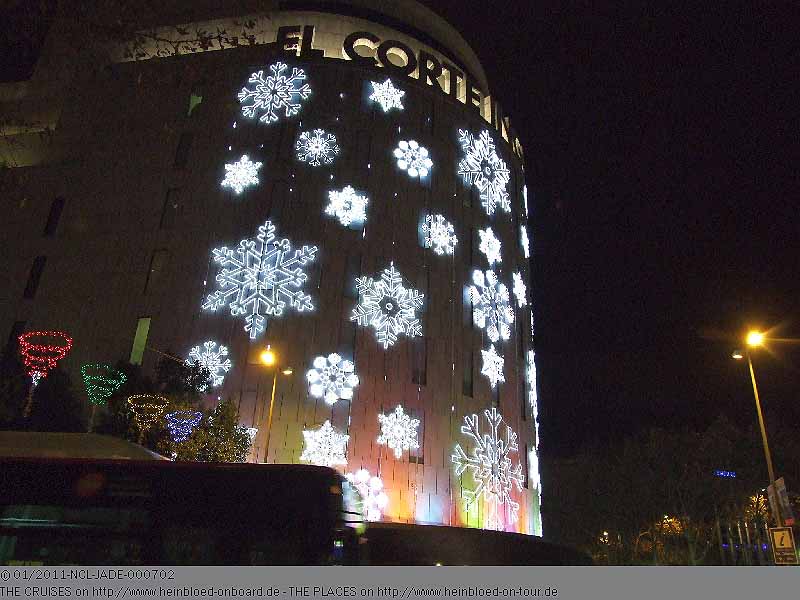 Auch die Dekoration am Kaufhaus El Corte Ingles funkelte immer noch.
Wir waren verwundert, aber der ganze Placa Catalunya war abgesperrt. Nur ohne Flaschen und Dosen kommt man auf den Platz. Leider sind auch die Zugänge zu der FGC-Bahn geschlossen, so dass wir nicht im Vorverkauf die Karten für Montserrat kaufen können. Das bedeutet auch, dass wir am nächsten Morgen unbedingt eine T-10-Karte noch brauchen. Ärgerlicherweise findet jedoch eine Tariferhöhung in der Nacht zum 01.01.2011 statt. Unsere alten für 7,85 EUR dürfen wir nur bis zum 28.02.2011 aufbrauchen und die neuen zu 8,25 EUR gibt es noch nicht. Dann werden wir wohl einem Crew-Mitglied eine Freude machen...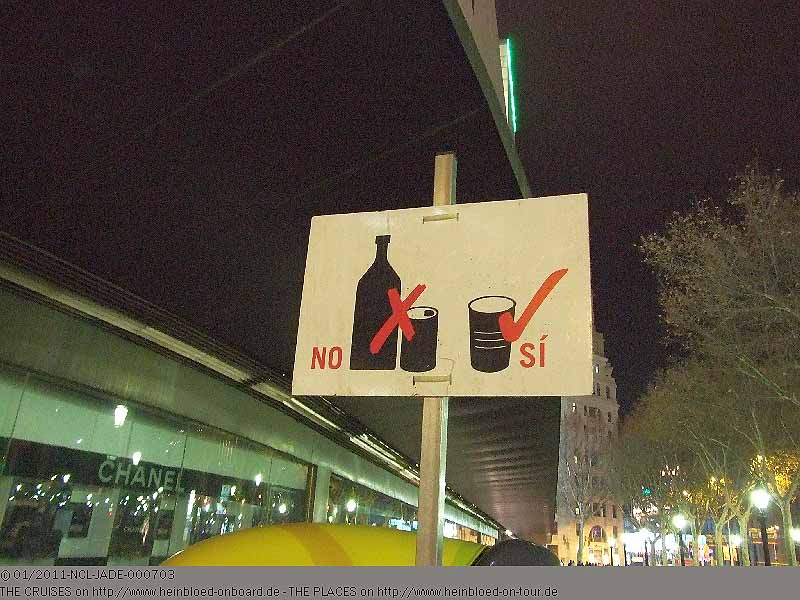 We were surprised that the whole Placa Catalunya was closed by fences. You can get only in without bottles and cans. Unfortunately the access to the FGC-trains was closed as well and so we cannot buy our tickets for Montserrat in advance. I. e. that we need one more T-10-ticket. It was bad that this night to January 1, 2011 the ticket prices will rise. Your old one for 7.85 EUR you can only use by February 28, 2011 and the new one for 8.25 EUR were not on sale yet. So we hope to do a favor to a nice crew member.

Around 22.00 hrs it was not overcrowded but you can feel the mood of the special night.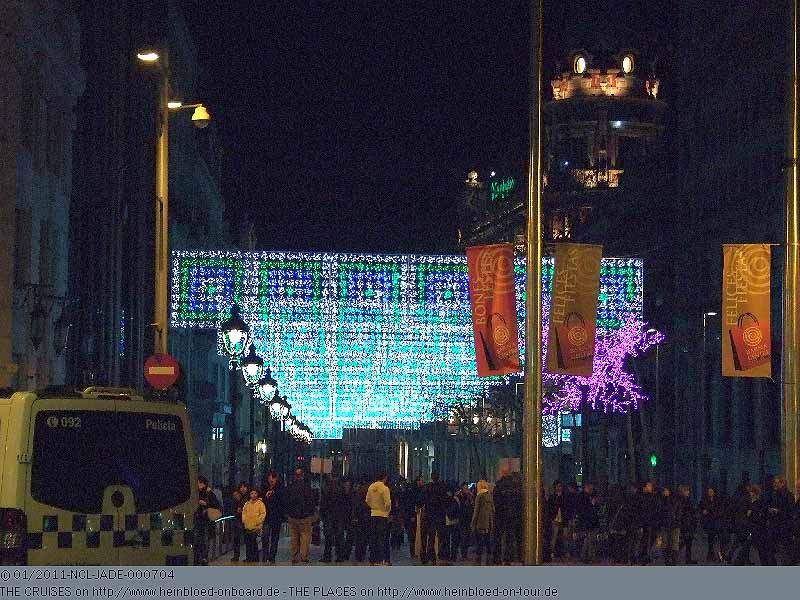 Es war gegen 22.00 Uhr immer noch nicht viel los, aber sehr stimmungsvoll.
La Rambla wurde komplett für den Straßenverkehr gesperrt.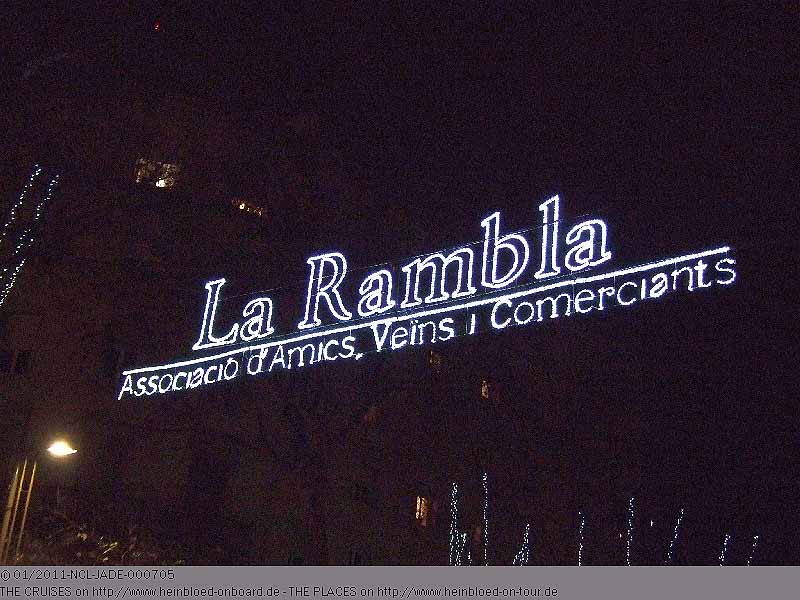 La Rambla was closed for the complete street traffic.

On the top of La Rambla it was quite busy.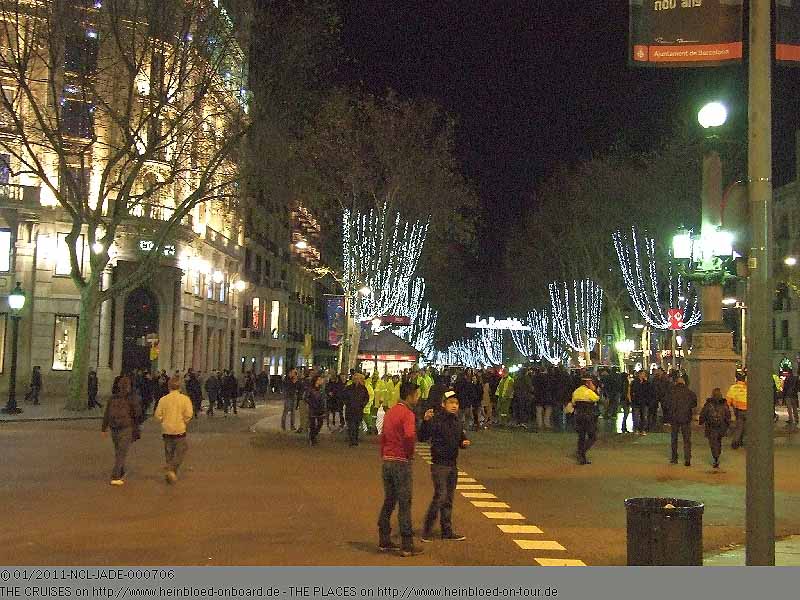 Oben am Placa Catalunya war es noch ziemlich voll.
Weiter unten an der Kolumbussäule war nichts los. Wir mussten so weit laufen, weil die Busse zurück zum Hotel erst dort wieder hielten und weiträumig umgeleitet wurden. Hier lernen wir auch, dass man sich einem Bus in den Weg stellen muss, damit er hält oder einfach zuwinken: sonst fährt er durch.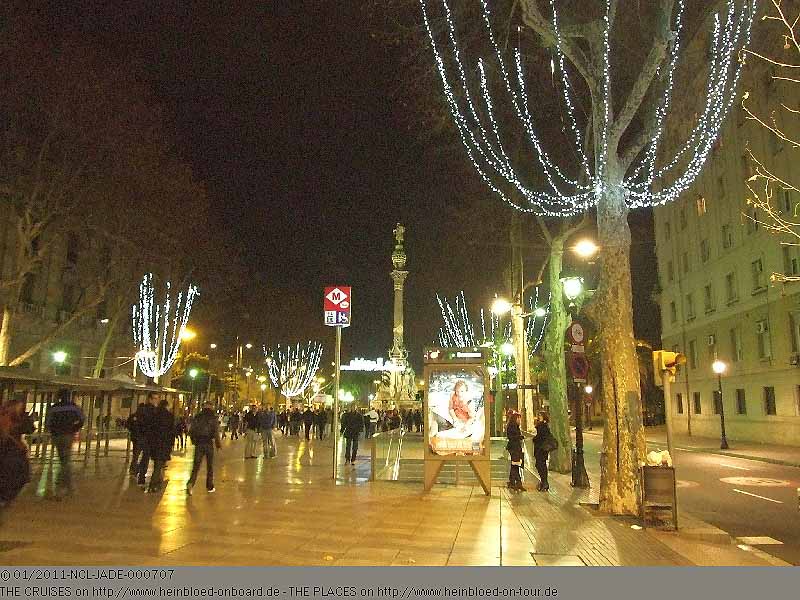 Around Columbus Column it was more calm. We had to walk all the way because our buses to the hotel were diverted with a longer range. So we learned that you have to stand on the street to stop the bus or just give him a hand signal to stop: otherwise he will just continue without to stop.

From the roof terrace we did not experience too much from the firework over the city of Barcelona.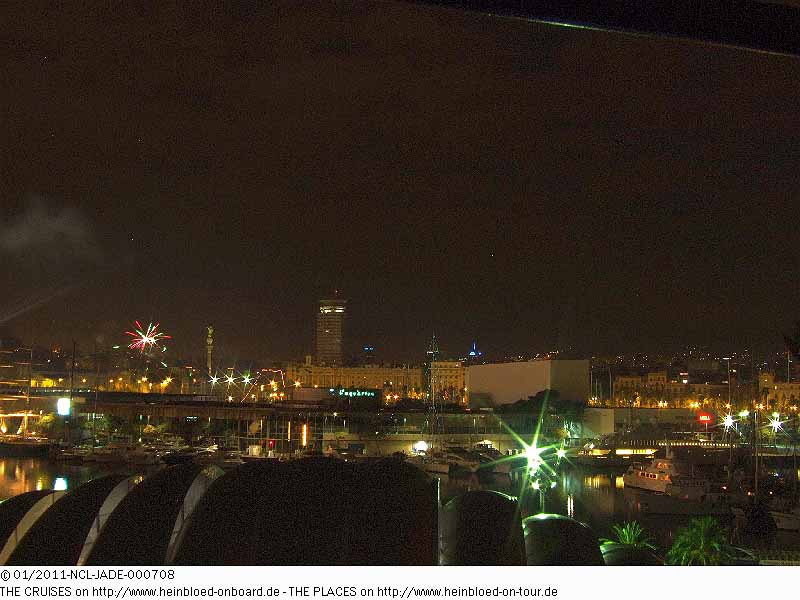 Von der Dachterrasse sehen wir nicht viel Feuerwerk über der Stadt Barcelona.
Aber auf unserer Seite wurde wohl am Strand das große Feuerwerk gezündet: Alles Gute zum Neuen Jahr...

But on our side at the beach there was a giant firework: All the best for a Happy New Year...