Scroll down for English explanations - alternates with German explanations.

Endlich.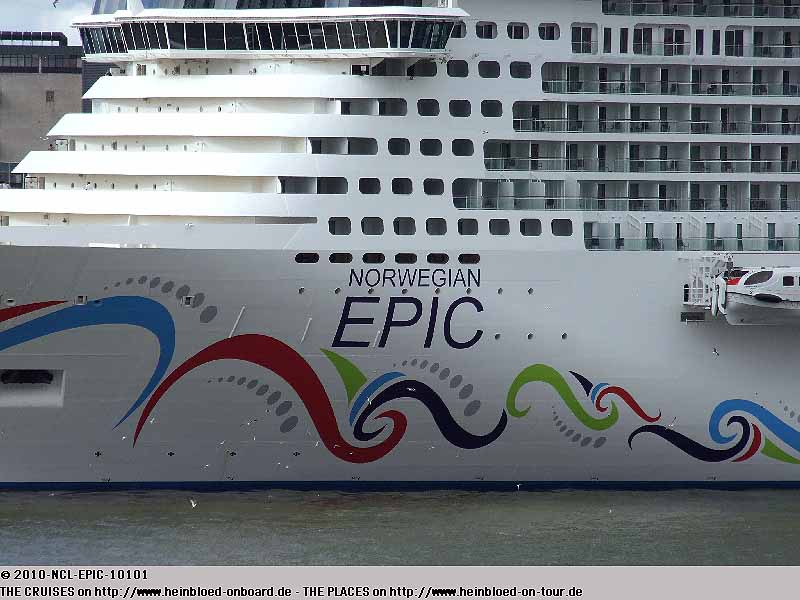 Finally

After the first AIS-Signal came for eta 03.30 hrs and later for 05.30 hrs she arrived at the time which was published by the Port of Rotterdam: 09.00 hrs. So I was very tired as I had to set the alarm for 02.30 hrs (arrival at hotel 00.30 hrs) and I need to check all the night where she was.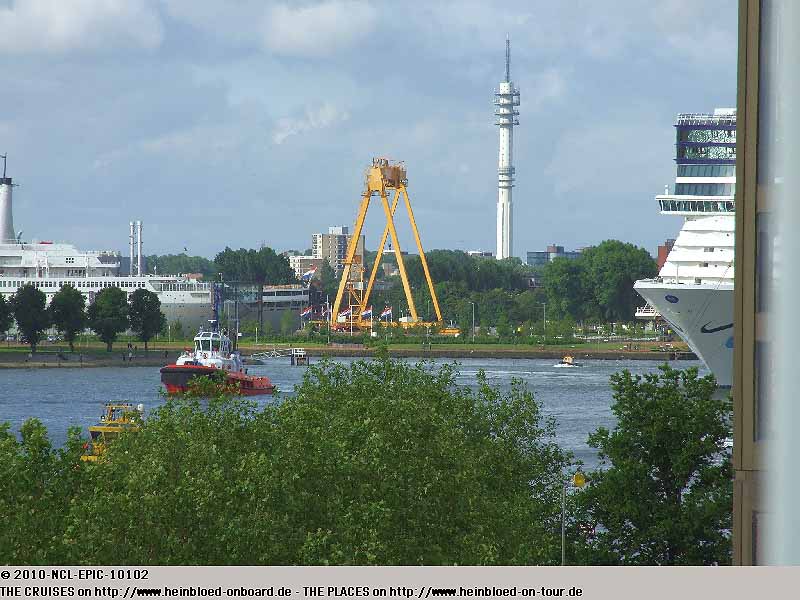 Nachdem das 1. AIS-Signal 03.30 Uhr Ankunft angezeigt hat und dann mal zwischendurch 05.30 Uhr, war sie jedoch wie vom Hafen Rotterdam angekündigt gegen 09.00 Uhr da. Endlich. Daher war ich ziemlich müde, da ich den Wecker seit 02.30 Uhr (bei Ankunft 00.30 Uhr) immer wieder gucken musste, wo das Schiff ist.
Aber von diesem Hotelzimmer aus, war es einfach großartig: ich musste mich nicht umziehen und konnte sofort danach wieder ins Bett und weiterschlafen und hatte Blick beim Aufwachen auf die NORWEGIAN EPIC.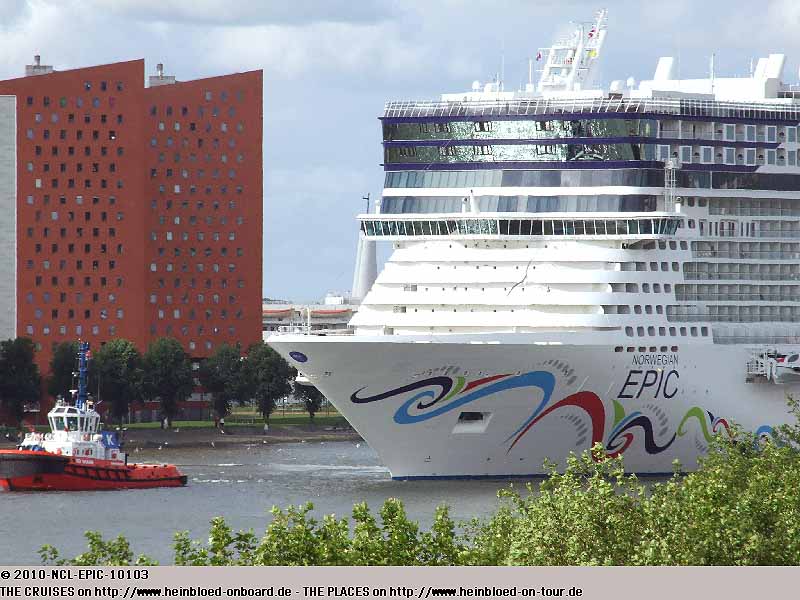 But from this hotel room it was just great: I did not need to dress up and could return asap to my bed and continued my sleep and had view to NORWEGIAN EPIC when I woke up.

It was a difference to know her from pictures only. Or if she was in full length in front of your window.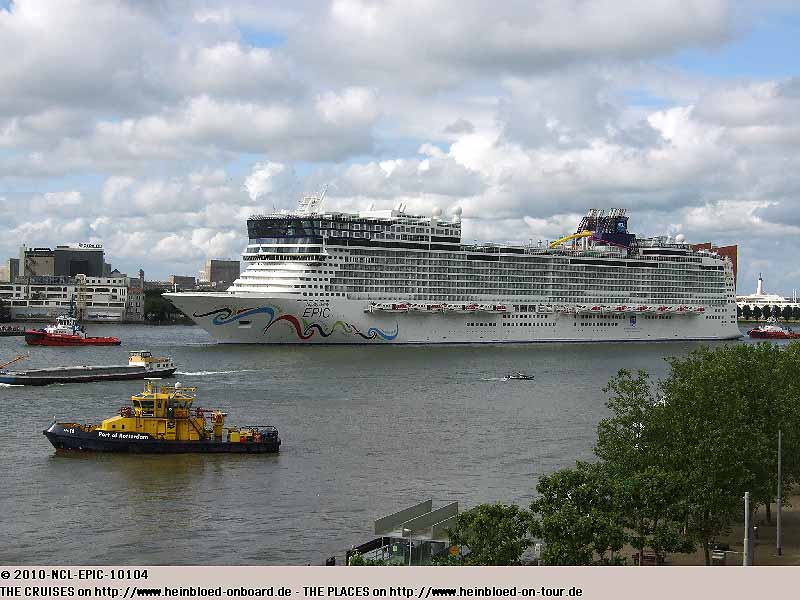 Es ist schon ein Unterschied, ob man sie bislang nur von Bildern kennt. Oder ob sie in voller Länge direkt einem vor dem Fenster steht.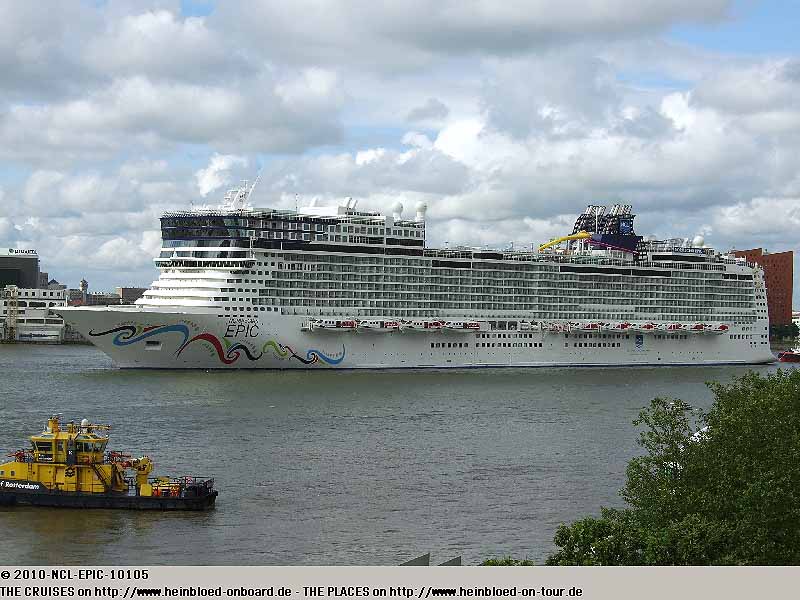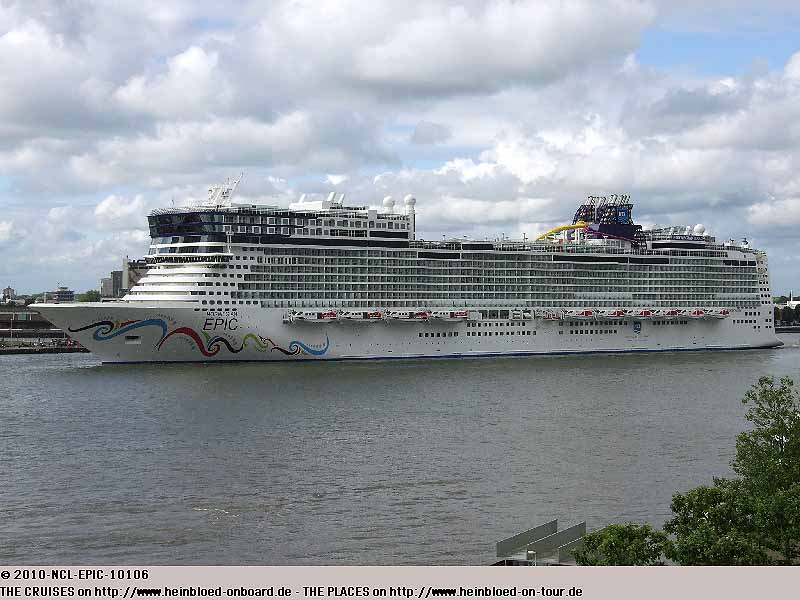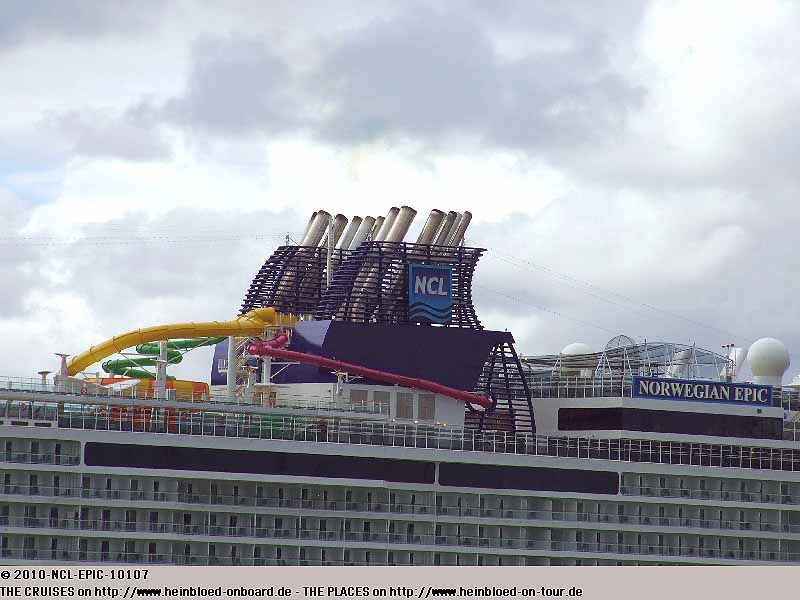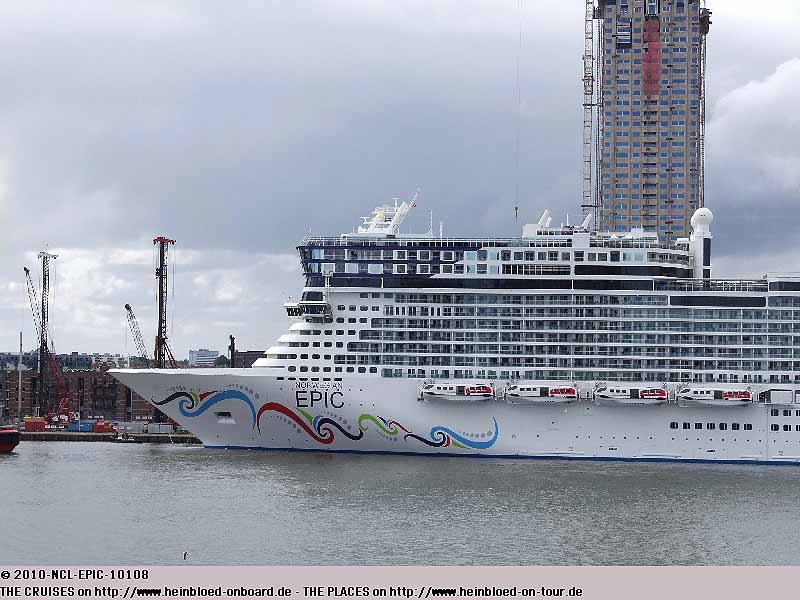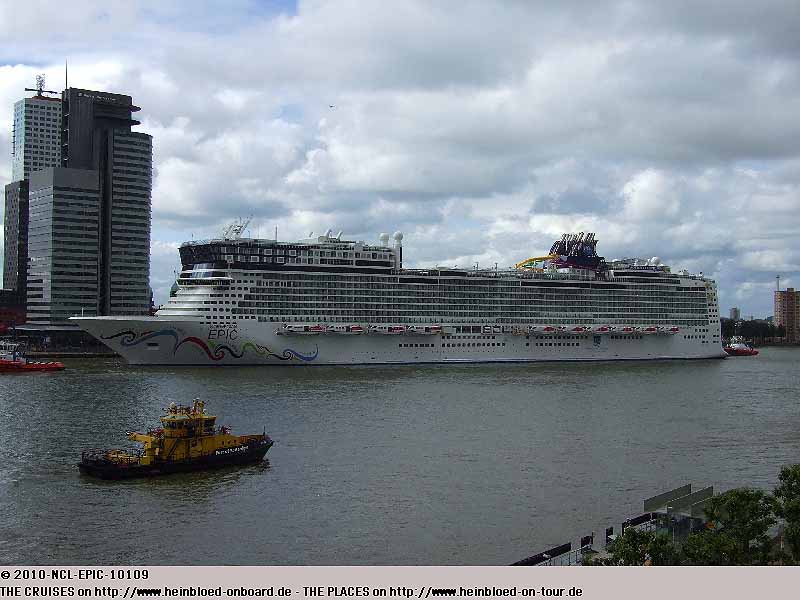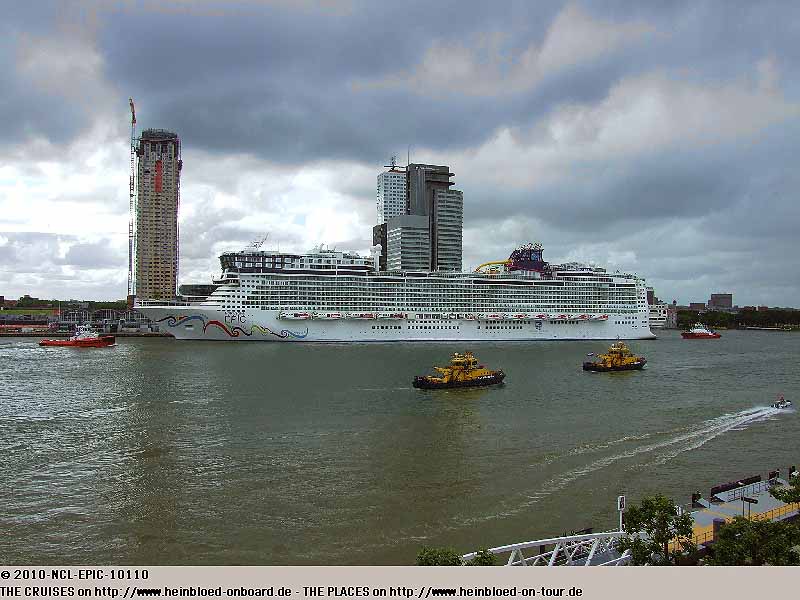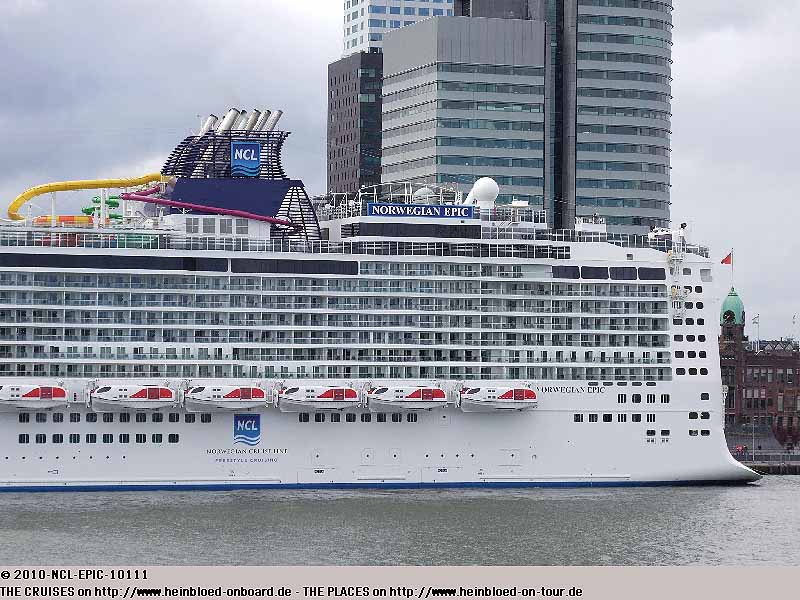 We need to order our taxi for 11.45 hrs since our hotel did not accept us to stay until 12.00 hrs. Journey took only 5 minutes and we payed the initial fee only 7.50 EUR (incl. tip 9.00 EUR). Since our last cruise unluck on DELPHIN VOYAGER we did not want to show up too early. But we were not the first. The beginning of the check-in was rescheduled to 12.30 hrs from originally 10.00 hrs.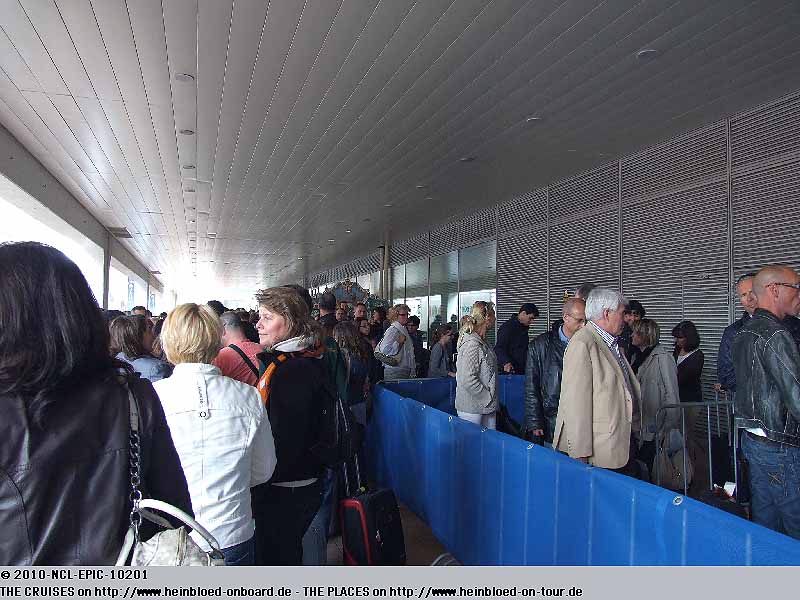 Das Taxi mussten wir für 11.45 Uhr bestellen, weil uns das Hotel nicht bis 12.00 Uhr bleiben lassen wollte. Die Fahrt dauert nur 5 Minuten und kostet den Einstiegstarif: 7,50 EUR. Nach dem Reinfall beim Check-in zuletzt auf der DELPHIN VOYAGER wollten wir nicht zu früh kommen. Aber wir waren nicht die ersten. Der Beginn des Check-ins wurde auf 12.30 Uhr von ursprünglich 10.00 hrs verlegt.
Nur wegen Bauarbeiten konnte man sich nicht endlos dieses Mal aus Richtung Wilhelminaplein anstellen, weil dort am Ende des Ganges eine Baustelle beginnt. Außerdem war es laut, kalt und zugig.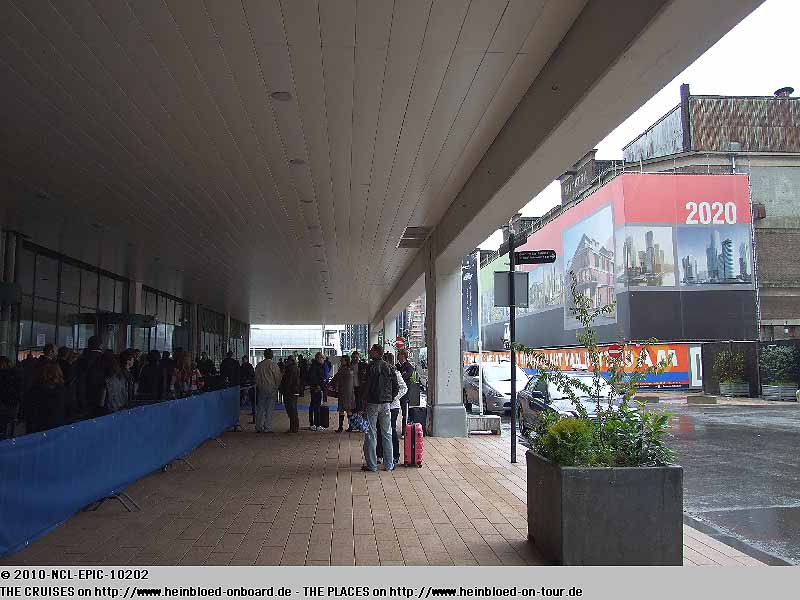 Due to construction work it was this time impossible to form an endless queue towards WIlhelminaplein because at the end of the way there was a construction side. So it was loud, cold and breezy.

Here we had "typical Dutch" melodies from ABBA etc... but also the very first chaos as two different lines merged here for one queue.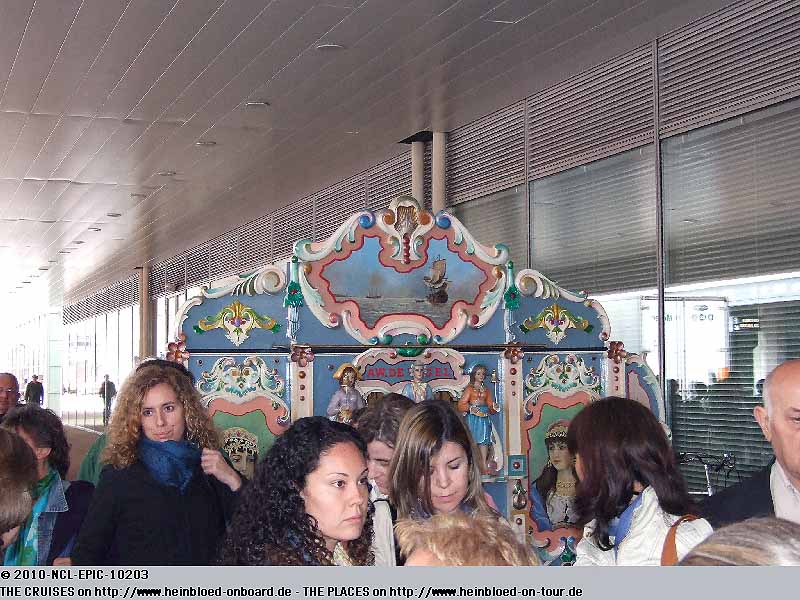 So gibt es zwar hier "typisch holländische" Melodien von ABBA usw..., aber leider auch schon das erste Chaos, da aus zwei Richtungen sich für eine Schlange angestellt wird.
Unser großes Gepäck (wir reisen insgesamt eine Woche) wurde uns abgenommen und erwartete uns nach der Sicherheitskontrolle, damit wir damit nicht durch die Schlange manövrieren mussten. Danach so richtig in klassischer Uniform wie in einem großen Luxushotel... Sind wir etwa wieder auf einem Luxusschiff (jetzt kann sich jemand wieder über den Begriff aufregen...wobei er allerdings im Recht ist.)...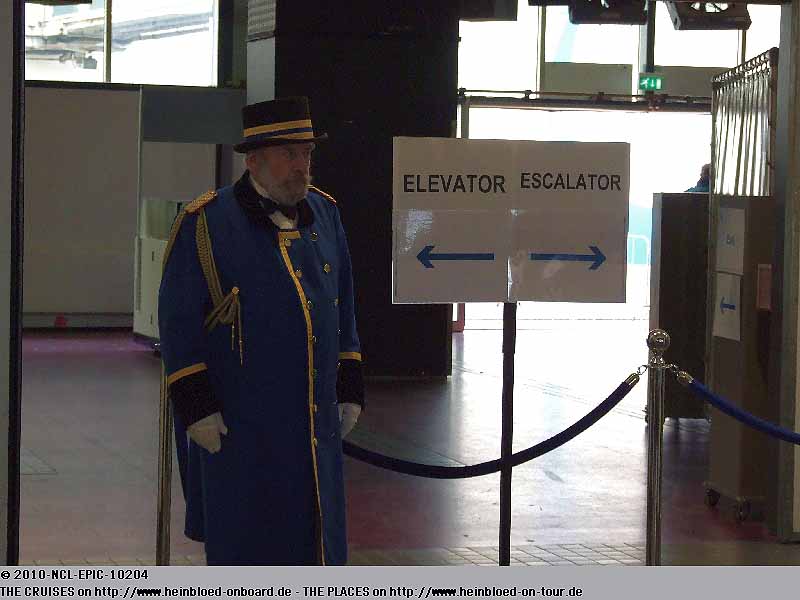 Our big luggage (we were travelling for a week) was taken away and they expected us behind the security so we did not need to handle all our big bags through the queue. After that in a classical uniform like in a big luxury hotel... Are we again on a luxury ship (now someone from the German forum who dislike this expression - and he is right - can be upset...)

As Latitudes-Gold-members we got yellow tags which allowed us to use the VIP/Press-Line. They were also misused by group leaders who had issues with their "trouble-makers" so it took a while. A new thing we observed: one arrived at the check-in desk and called by mobile phone the others. So you had not just one at the counter but six. And also all "Super-VIPs" which were by-passed while we were waiting.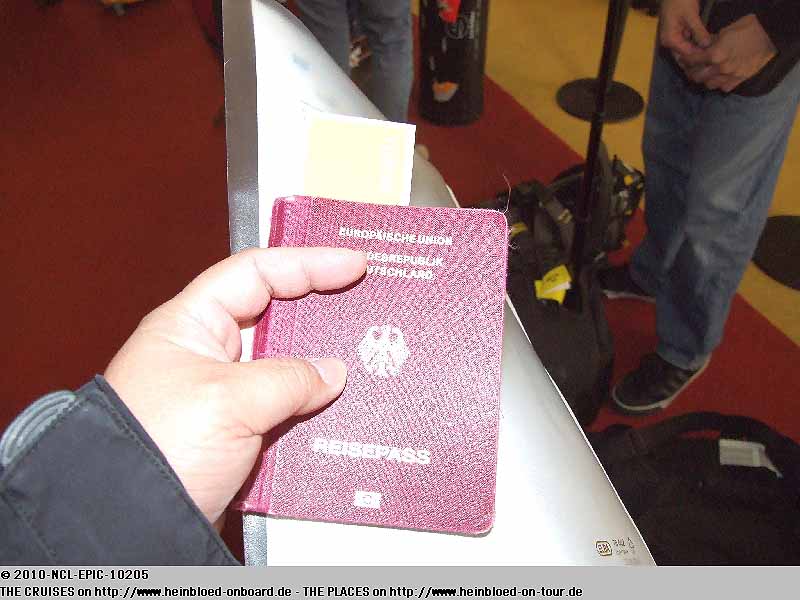 Als Latitudes Gold-Mitglieder bekamen wir für die Einschiffung die Farbe gelb zugeteilt, die uns berechtigte die VIP/Presse-Reihe zu benutzen. Sie wurde aber von vielen Gruppenleitern missbraucht, um die "schwierigen Fälle" zu klären, so dass es sich hier doch etwas hinzog. Eine andere neue Marotte: wenn man angekommen ist, ruft man per Mobiltelefon seine Mitreisenden an, und auf einem hat man nicht nur einen am Check-In vor sich, sondern sechs. Und noch die ganzen "Super-VIPs", die auch noch vorbeischleust werden...
Nach dem Check-In geht es wieder sehr schnell an Bord. Die üblichen Einschiffungsfotos (20 USD) und schon geht es grüppchenweise rauf, weil wohl die Brücke es wohl sonst nicht gepackt hätte.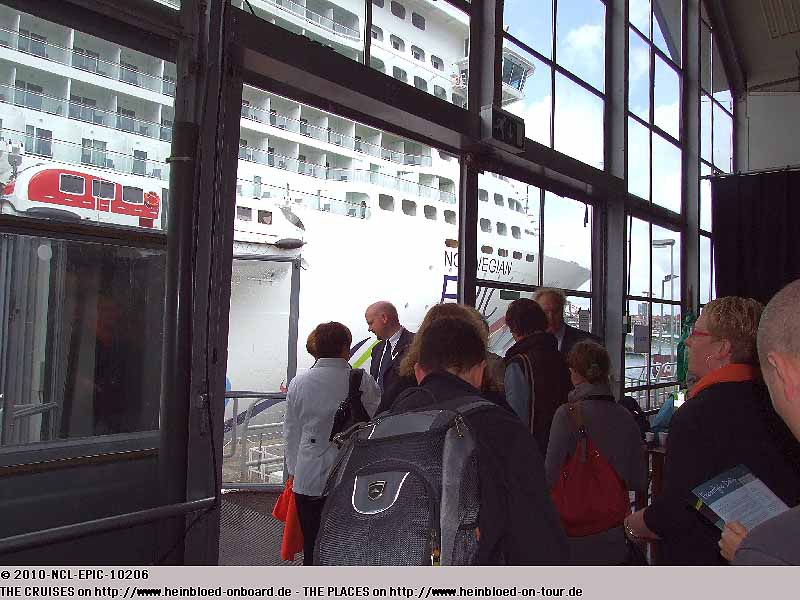 After the check-in we got very quickly into the ship. Die embarkation pictures (20 USD) and you get group-wise on board to avoid too many guests on the bridge.

I did not want to travel anymore with a lanyard but I am still waiting for my leather cover from Celebrity... but here we all got one.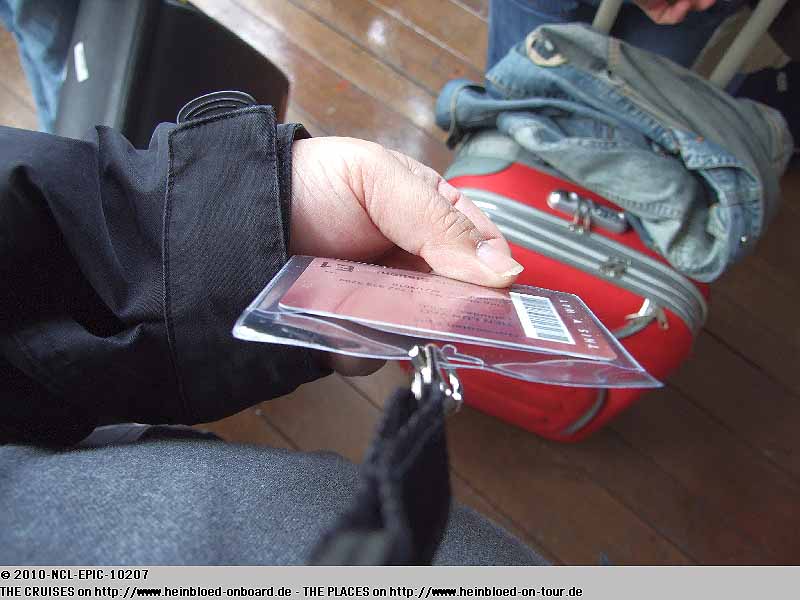 Ich wolte ja nicht mehr mit Lanyard reisen, weil ich ja immer noch auf mein Leder-Etui von Celebrity warte... aber hier bekamen wir alle eines.
Endlich fast an Bord...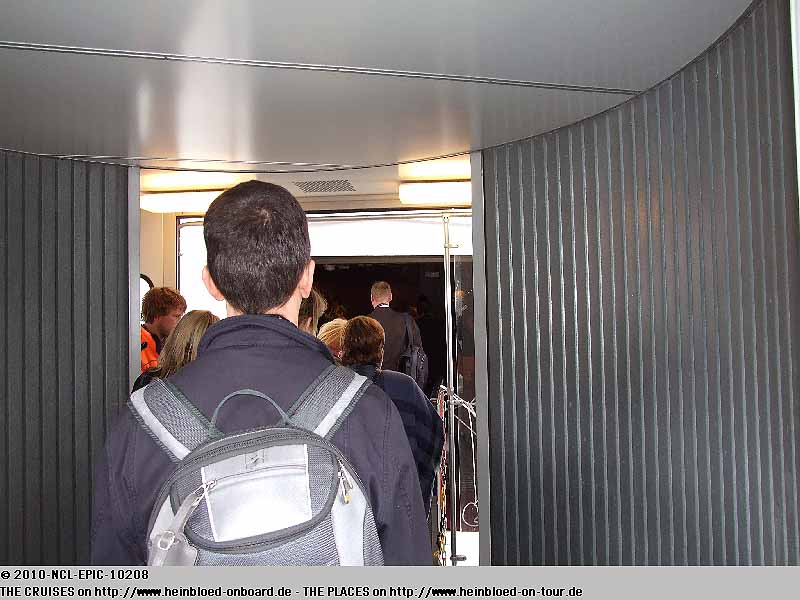 Soon we will be on board...

You have never a second chance to make first impression... here are ours when we board the ship... you arrived in the center of the art gallery.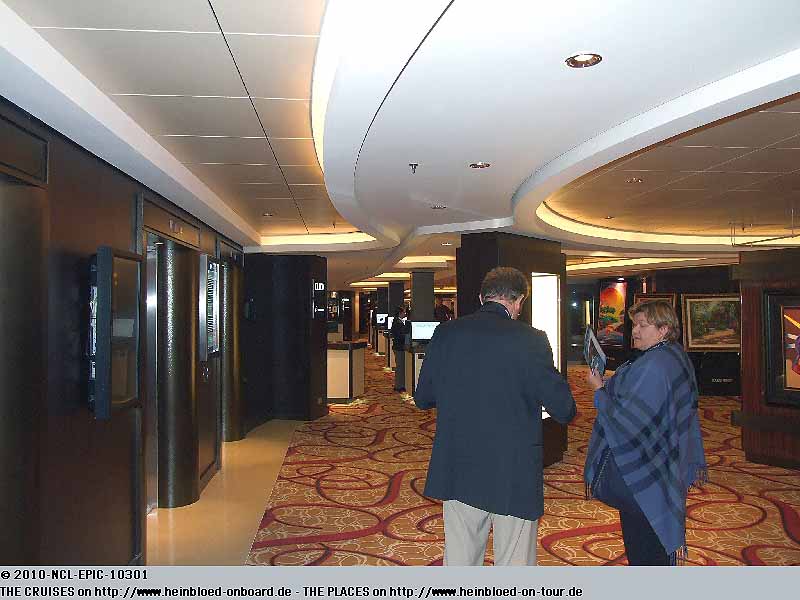 Man hat niemals die 2. Chance einen ersten Eindruck zu machen... hier ist er, als wir das Schiff betraten... Man kam mitten in der Bildergalerie an.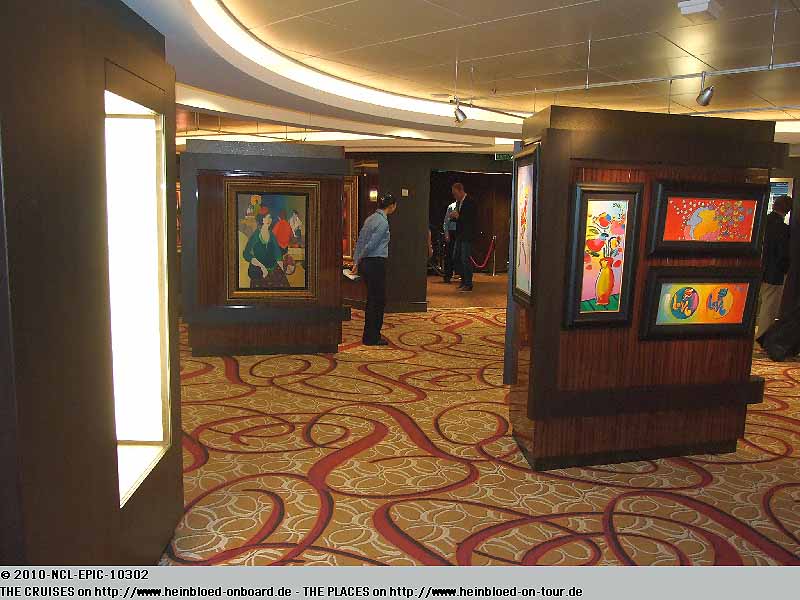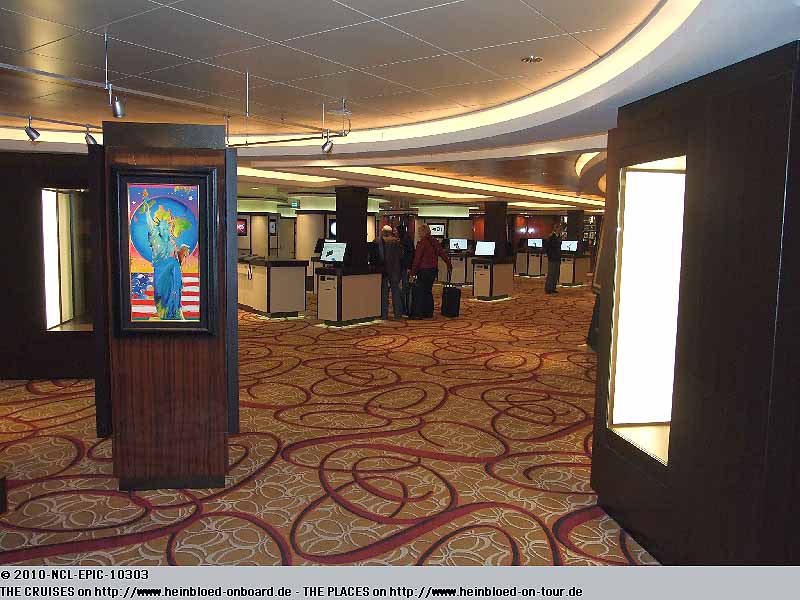 Niemand der einem so richtig den Weg zur Kabine weist...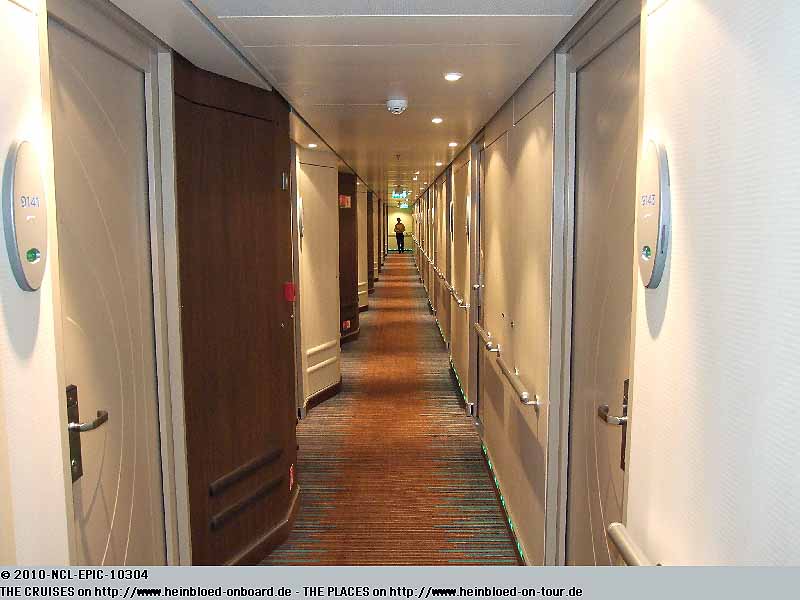 None who is showing you the way to your cabin...

But especially: even I do not drink champagne: where were they??? Is Freestyle 2.0 "dead"???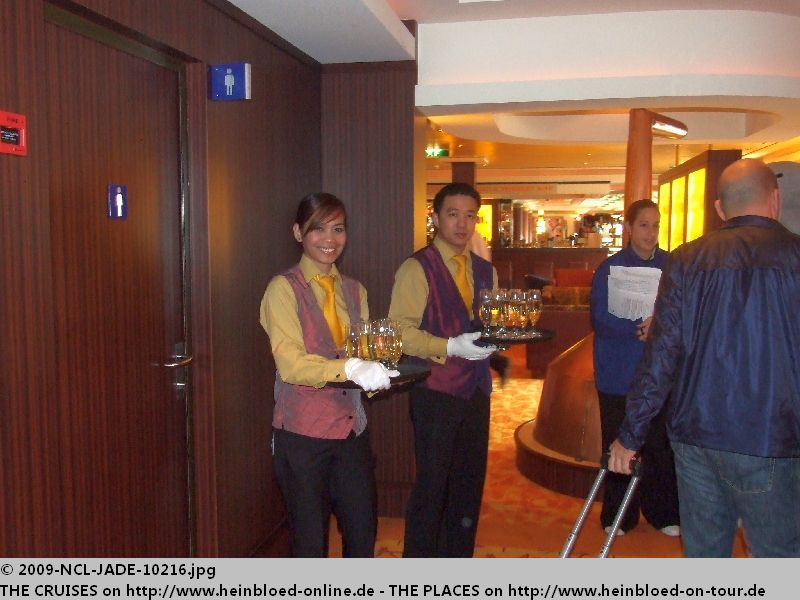 Vor allem, auch wenn ich keinen Sekt trinke: wo sind sie geblieben??? Ist Freestyle 2.0 "tot"???