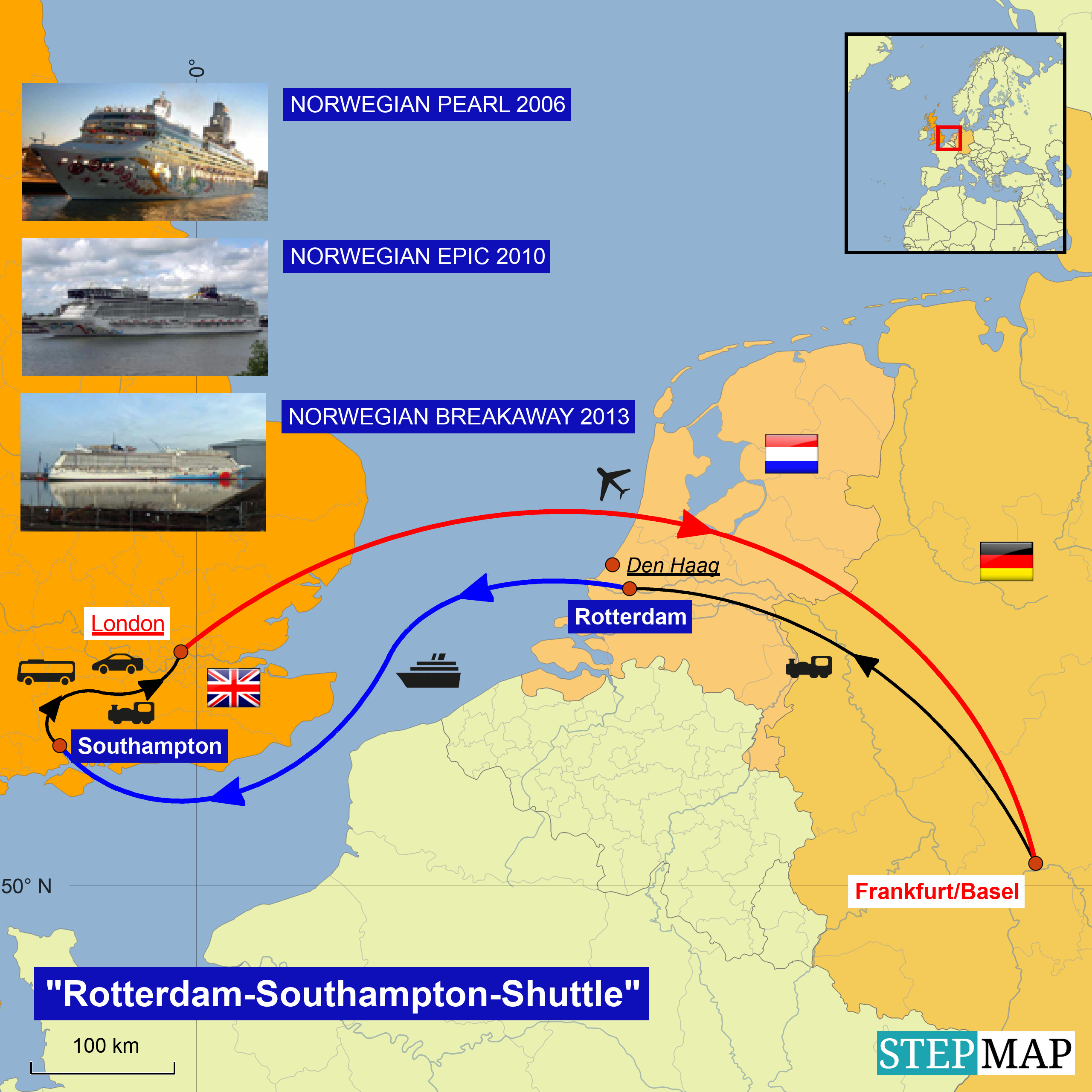 Da wir etwas von der Stadt sehen wollen, nehmen wir einen Zug von London Tower nach Charing Cross. Das war eine gute Idee, da wir so auch London Eye und Big Ben sehen konnten.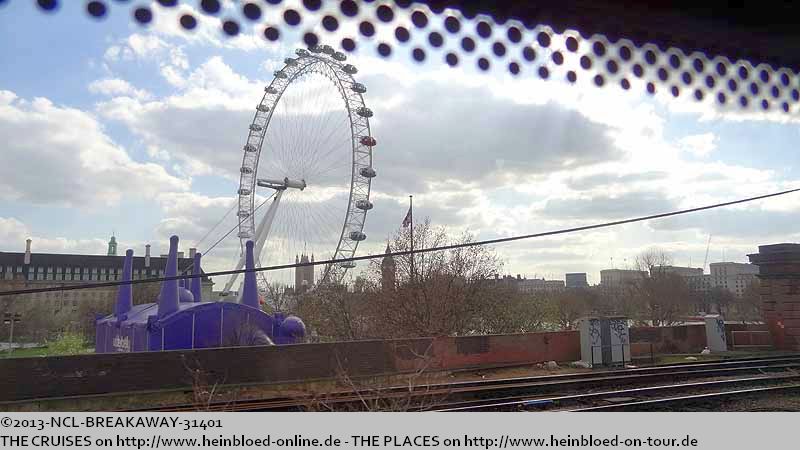 As we wanted to see something from the city we took the train from London Tower to Charing Cross. A good idea because so you could see the London Eye and Big Ben.

Anyhow it was quite pleasant to be on the platform to take pictures. To get better pictures we had to leave the station, but due to the lack of time we could not do so.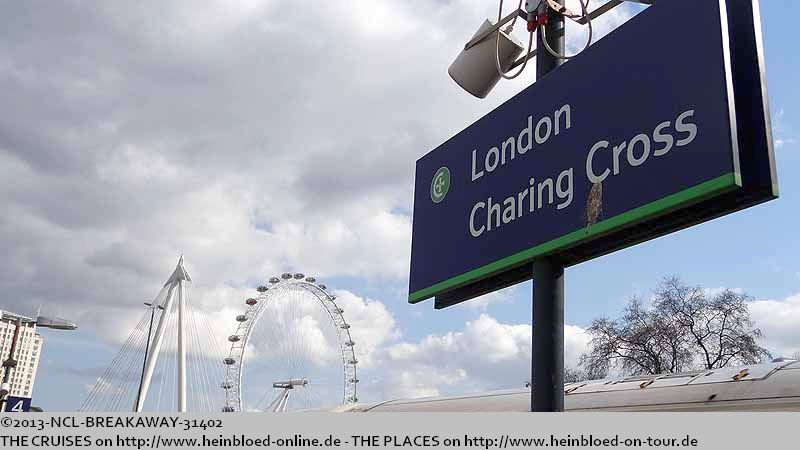 Überhaupt war das Fotografieren vom Bahnsteig sehr praktisch. Nur um bessere Bilder zu bekommen, hätten wir den Bahnhof verlassen müssen und dafür fehlte doch etwas die Zeit.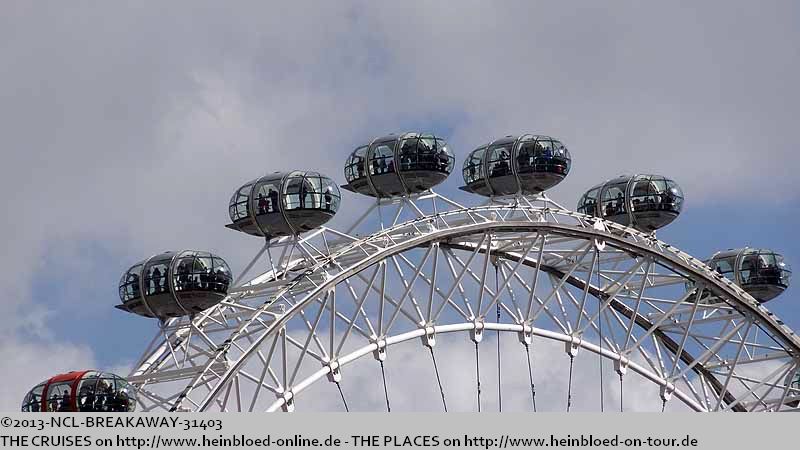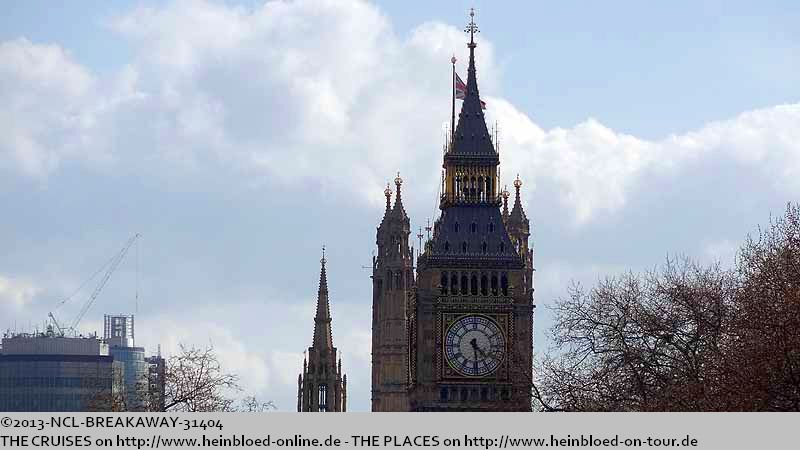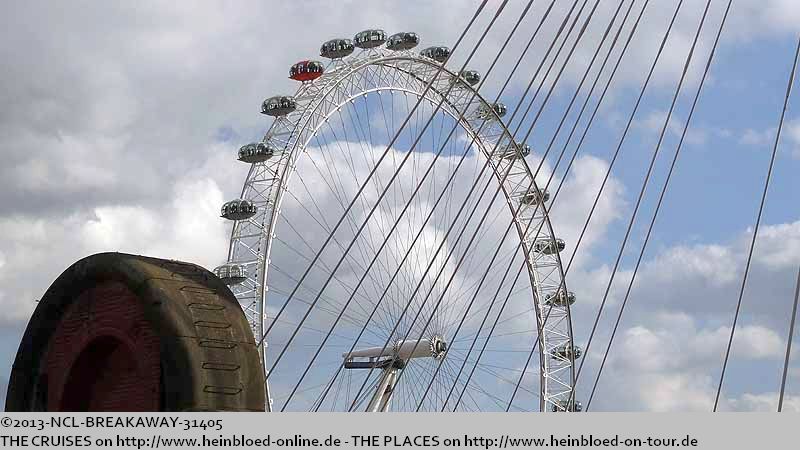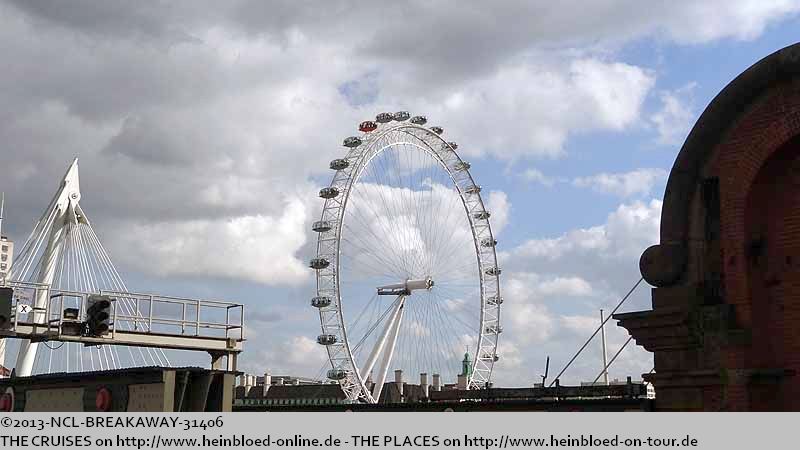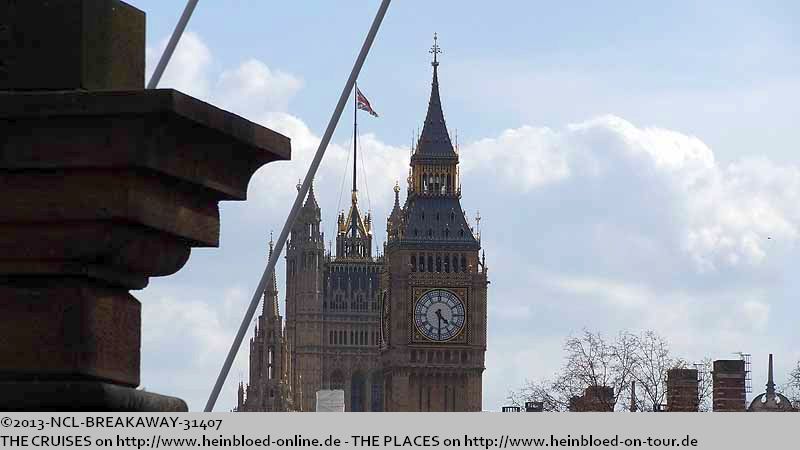 We headed back to Paddington.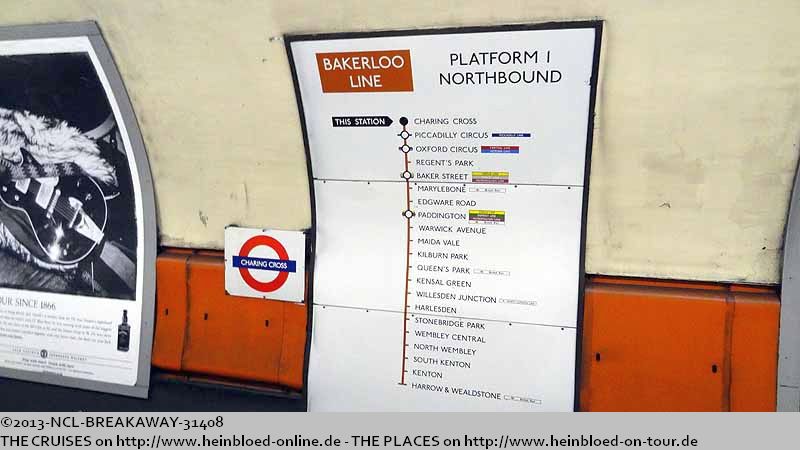 Es ging jetzt wieder zurück nach Paddington.
Bei den Pasteten aus Cornwall bei
The Pasty Shop
musste ich zuschlagen - Diabetes hin oder her... Wie oft komme ich schon nach England, um sie essen zu können... Das nächste Mal in sechs Wochen...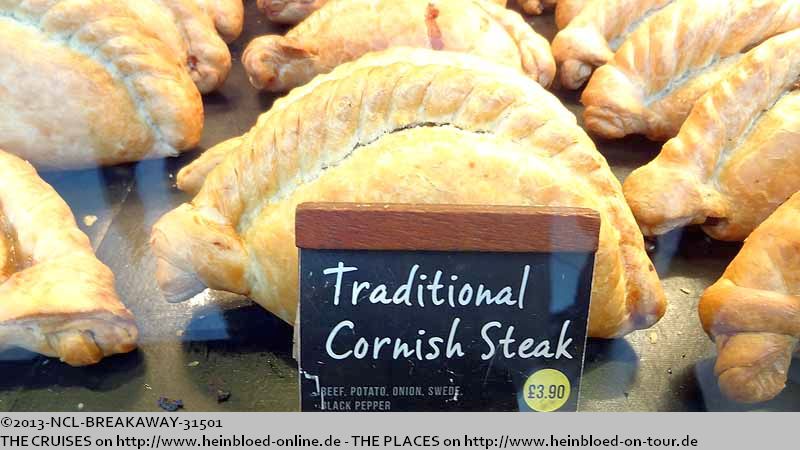 With the Cornish Pasties at The Pasty Shop I could not say no - No matter if I have diabetes or not... How many times I am coming to England to have one... Next time in six weeks...

Reason No. 5 for Paddington. You had here the Heathrow Express. But it costs 20.00 GBP (2013) but is at Terminal 1 in 15 minutes (National Express need from Victoria 45 Minutes). So we could stay longer at The Shard to see the arrival of FRAM. But we missed 16.50 hrs from Paddington...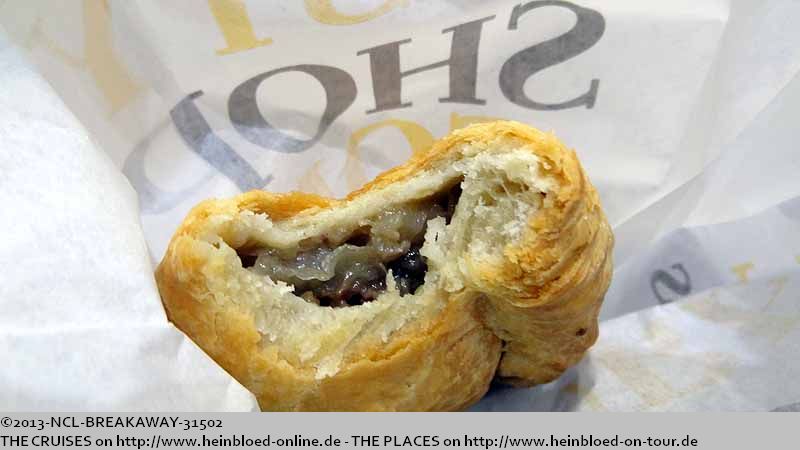 Grund Nr. 5 für Paddington: von hier fährt der
Heathrow Express
. Zwar kostet das ganze 20,00 GBP (2013) aber dafür ist man in 15 Minuten am Terminal 1 (National Express braucht von Victoria 45 Minuten). Daher konnten wir auch länger in The Shard verbleiben, und die Einfahrt der FRAM abwarten. Nur den 16.50 Uhr ab Paddington haben wir leider verpasst...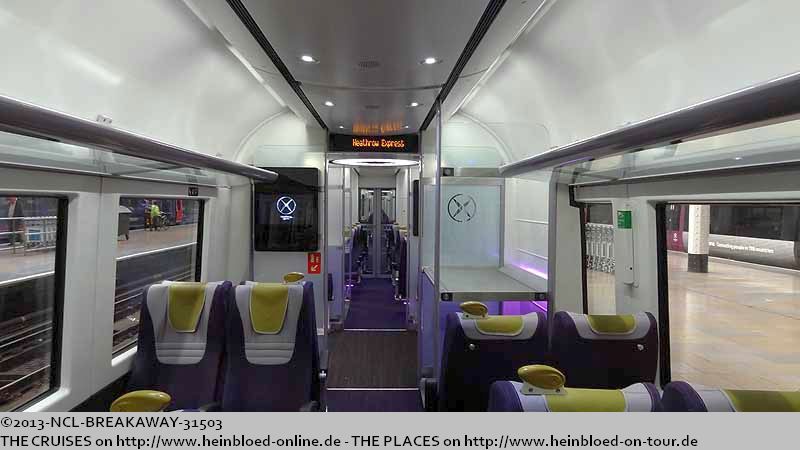 In the Star Alliance Lounge we need to recharge our smartphones. You had no signal in the 92nd floor of The Shard. And so he seeks until he had no more energy... and our boarding pass was on Passbook...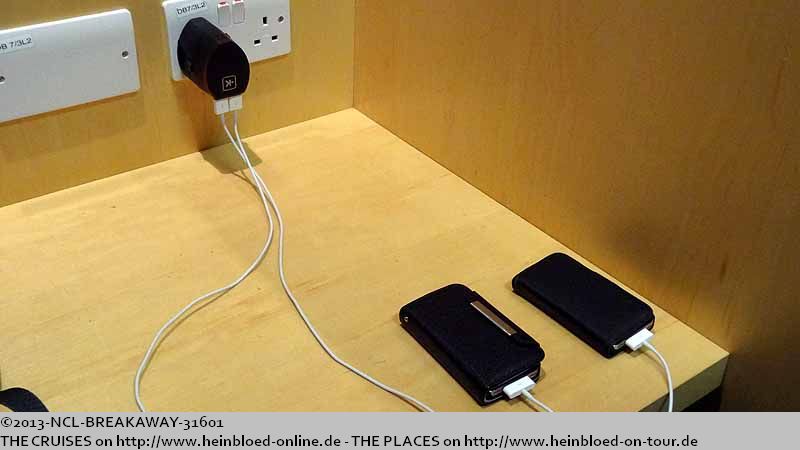 In der Star Alliance Lounge müssen wir erst mal alle Smartphones laden. Denn in der 92. Etage in The Shard bekommt mein kein Mobilfunksignal. Und da er sich dort zu Tode sucht, waren dann alle Geräte tot... und unsere Bordkarten auf Passbook...
Neu in unserem Bestand: ein Huawei Smartphone auf Android-Basis: wir haben SIM-Karten für die USA, Kanada und Großbritannien von
https://www.prepaid-global.de
gekauft. Für England war das auf jeden Fall billiger als die Tagespässe von T-Mobile. Wir sind beim Kauf der SIM-Karten sehr gut beraten worden. Endlich kenne ich den Unterschied zwischen Tethering (Android) und persönlichem Hotspot (iPhone). Viele Gesellschaften schränken die Nutzung des persönlichen Hotspot im iPhone ein, aber nicht das Tethering. So haben wir ein günstiges mit den weltweiten 3G-Frequenzbändern für Datenübertragung gekauft, das wir auch in Kanada und USA einsetzen können. Daran können wir dann bis zu 8 Geräten anschließen und auch über Skype günstig telefonieren. In England ging die Übertragung über das Netz von 3 sehr schnell. Nur gelegentlich kam die Rückfrage, wegen der Umsatzüberschreitung von 60,00 EUR, die etwas nervte.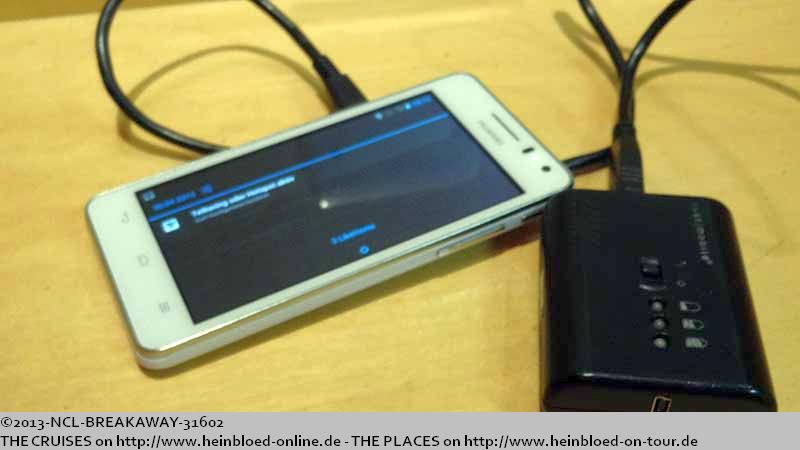 New in our fleet: a Huawei Smartphone based on Android: we purchased SIM-cards for the US, Canada and UK with https://www.prepaid-global.de. For England, it was cheaper than to use the day passes we had from our home provider T-Mobile. They really gave us good consultation: Finally, we learned that there is a difference between Tethering (Android) and personal hotspot (iPhone). Many phone providers restrict the use of the iPhone personal hotspot but not Tethering. So we bought a cheap smartphone which can handle all 3G-networks worldwide incl. Canada and the US. So we could connect up to 8 devices and can use Skype to make our phone calls. In England, data transmission via 3-network was high-speed. Occasionally we had the request if we would like to continue if we exceed 60,00 EUR revenue (EU-law).

Here we had a small snack: A true English Egg Sandwich.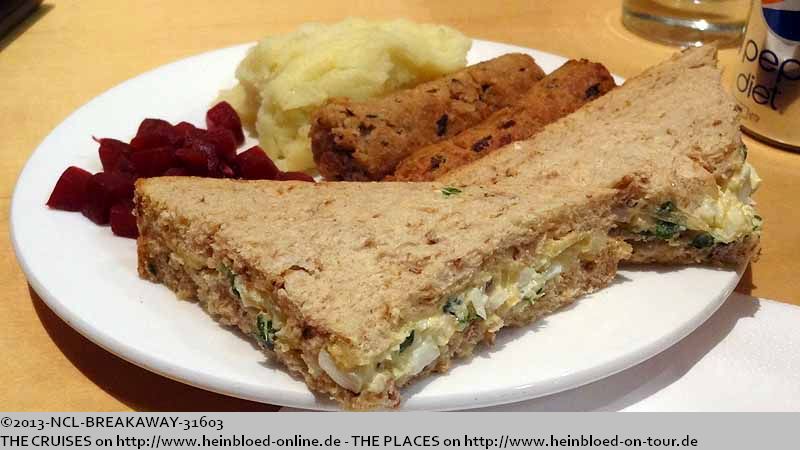 Hier haben wir uns auch noch etwas gestärkt: Echte englische Eiersandwiches (Grüße nach Hagen...).
Im Flugzeug war es etwas ärgerlich: beim Check-In war Reihe 10 eine 2-er Reihe am Notausgang. Nun in der Boeing 737 eine 3-er Reihe nicht am Notausgang... und die einzige 3-er Reihe, bei dem der Mittelsitz belegt war... Nächstes Mal muss Bruno zu Fuß zurücklaufen, damit ich meinen freien Mittelplatz bekomme... Im Flugzeug gab es nicht Schnitzel mit Kartoffelsalat, sondern Kartoffelsalat mit Schnitzel. Lt. Zutatenliste vom Schwein... Von der Größe her: eher Meerschweinchen...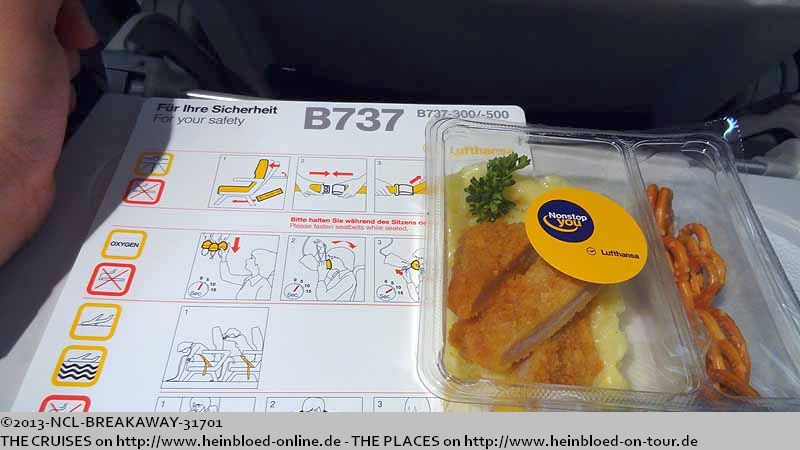 On the flight it was some bad: when I did online check-in I had row 10, a row of 2-seats at the exit. Now they changed the aircraft, and it was now a row of 3 not at the exit row... and the only row where the middle seat was taken... Next time Bruno need to walk home so I could get my vacant middle seat. During the flight we did not have Schnitzel with Potato Salad... but Potato Salad with Schnitzel. According to the list of ingredients, it should be pork... checking the sizes I would say Guineapig...

And medium-rare... the way I like it with my beef...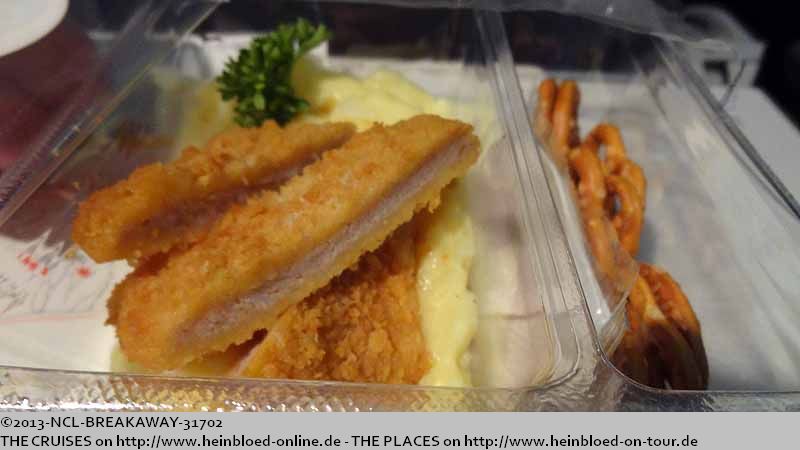 Und medium-rare... so wie ich es nur beim Rind mag...
Wir waren sehr schnell in Frankfurt. Und da wir eine Vorfeldposition hatten, wartete schon unser Gepäck auf uns zu unserer planmäßigen Ankunftszeit.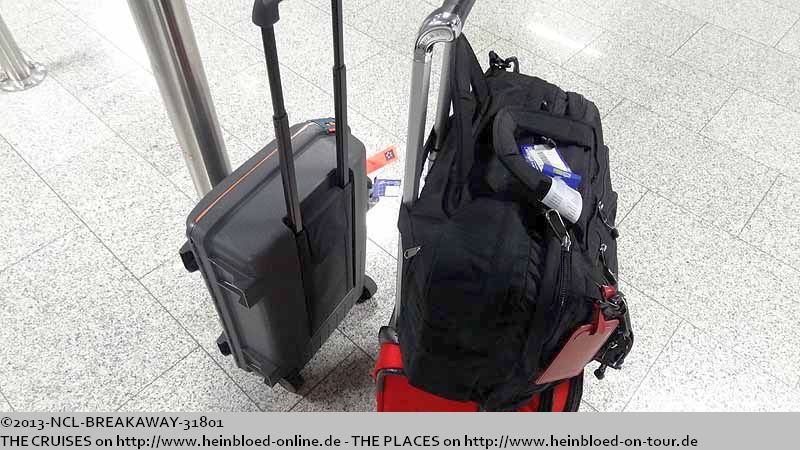 We arrived very fast in Frankfurt. As we had an airfield position, our bags were already waiting for us at the scheduled time of arrival.

For our way back we got the new A-class from Mercedes-Benz... but it was flatter than the Volkswagen Golf... and I love cars where you can sit higher. With this one, they would win all elk test.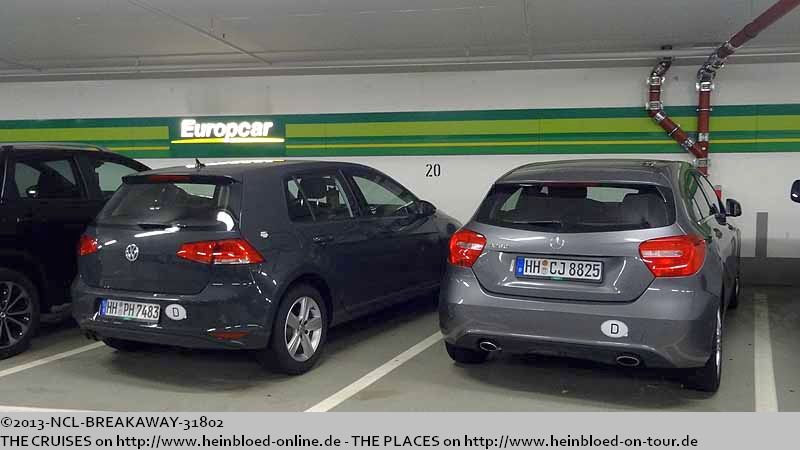 Zurück bekommen wir die neue A-Klasse... aber die ist ja noch flacher, als ein Golf... und ich liebe Autos bei denen ich hoch sitzen kann. Mit dem gewinnen sie aber jeden Elch-Test...
Nun muss ich nur noch meinen Wagen abholen, der allerdings halb zugeparkt wurde... und morgen ist ja Feiertag... also geht es in Milimeterarbeit aus der Parklücke. Nun heißt es Wäschewaschen, 5 Tage arbeiten und dann geht es nach Kanada... Urlaub artet in Streß aus...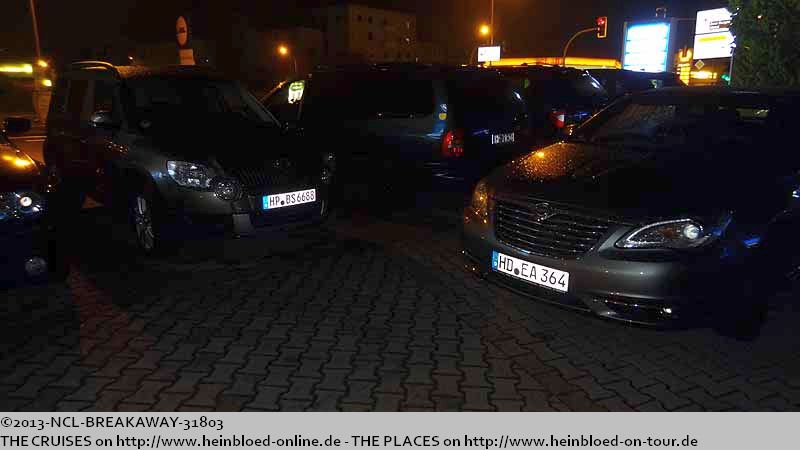 Now I had to get back my car which was blocked by another parked car... and the next day would be a public holiday... So I got it out inch by inch without scratches. Now we had to do laundry, work five other days and then heading for Canada... Holidays means real stress...
Die anderen Reisen in diesem Blog/
The other voyages in this blog: