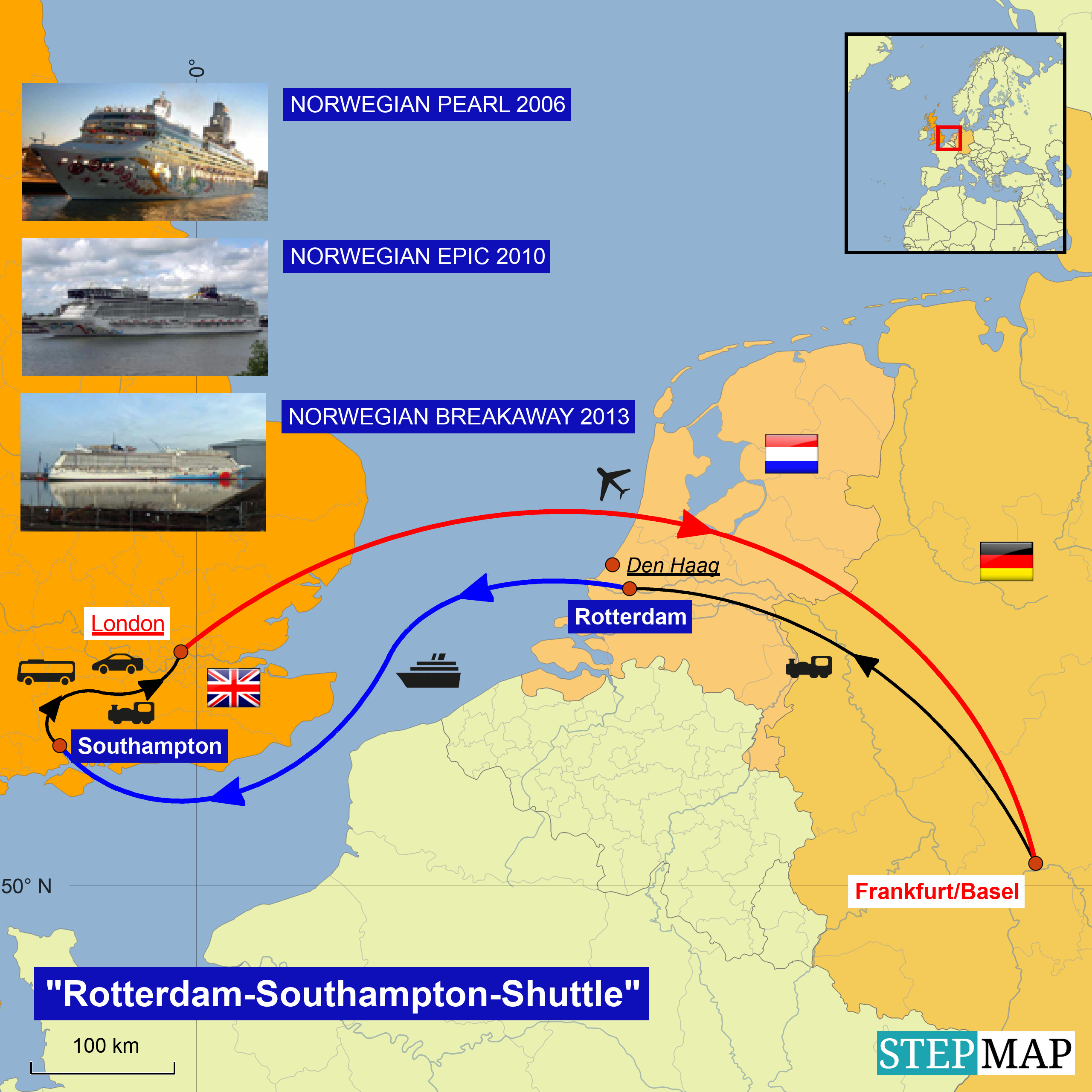 Zum Abendessen geht es wieder in das The Haven Restaurant. Selbstverständlich bekommen wir wieder einen Tisch bei Valentina.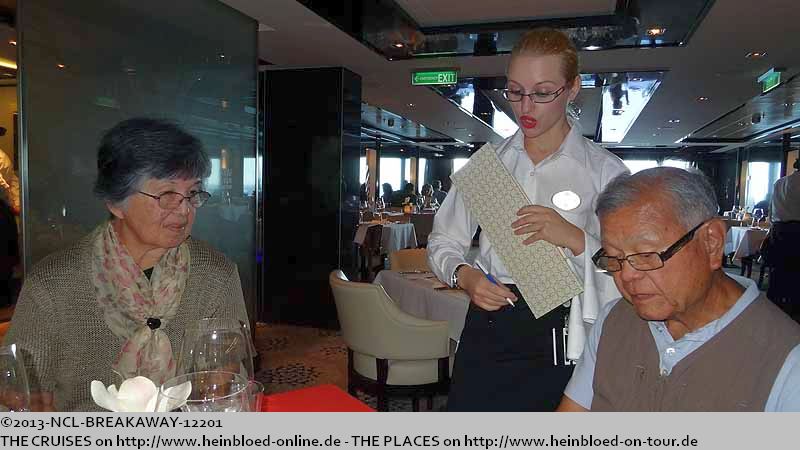 For dinner we went to The Haven Restaurant. Of course we got again a table with Valentina.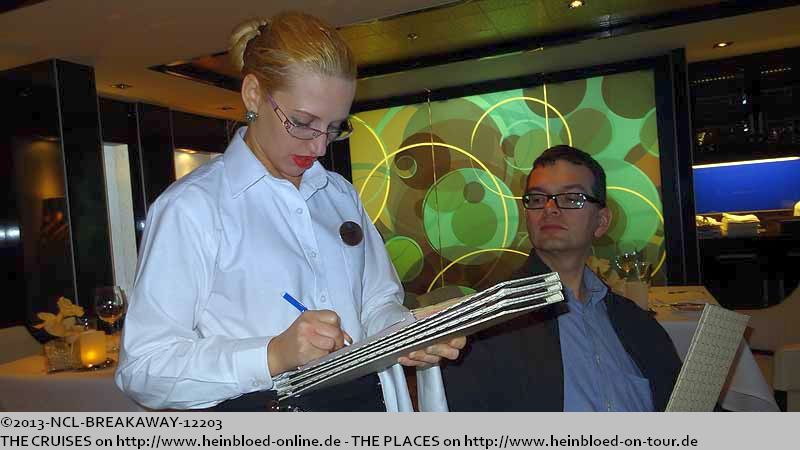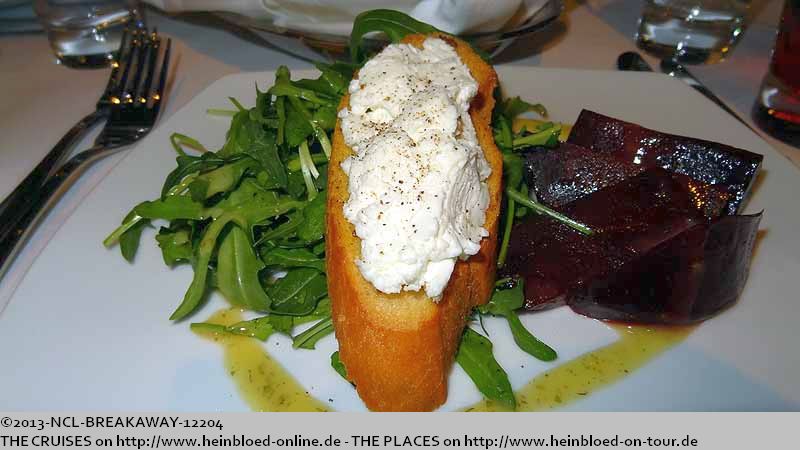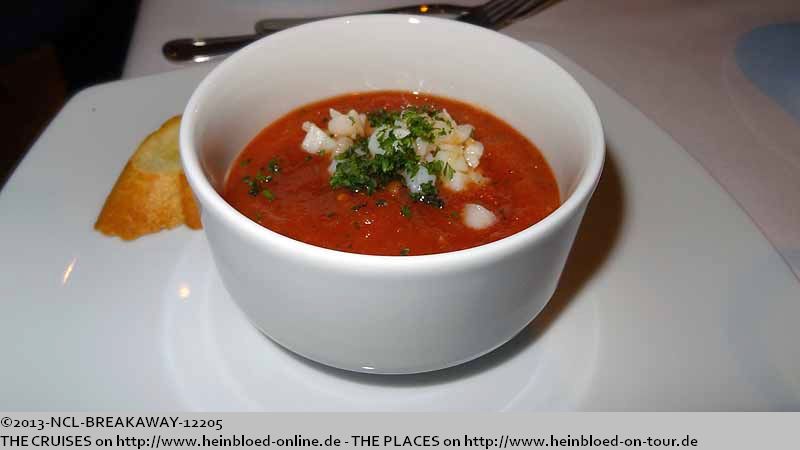 Mein Liebling: roher Thunfisch... den ich auch wieder zum Dessert nehme...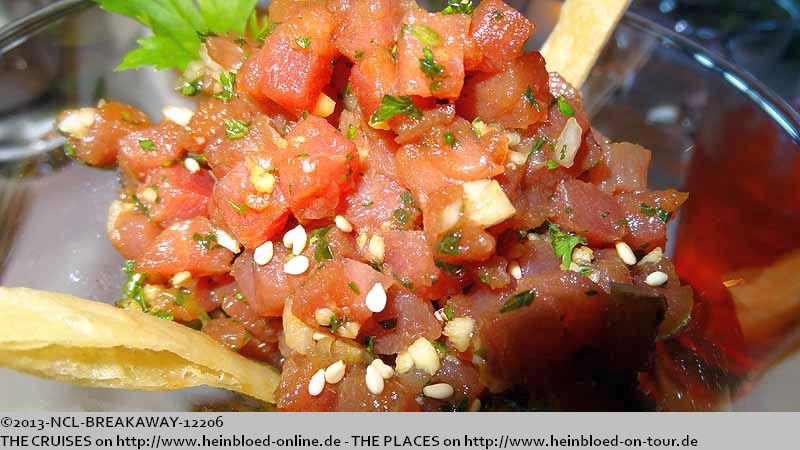 My favorite: raw tuna... which I took again as dessert...

You never new: was she taking pictures or reading newspaper?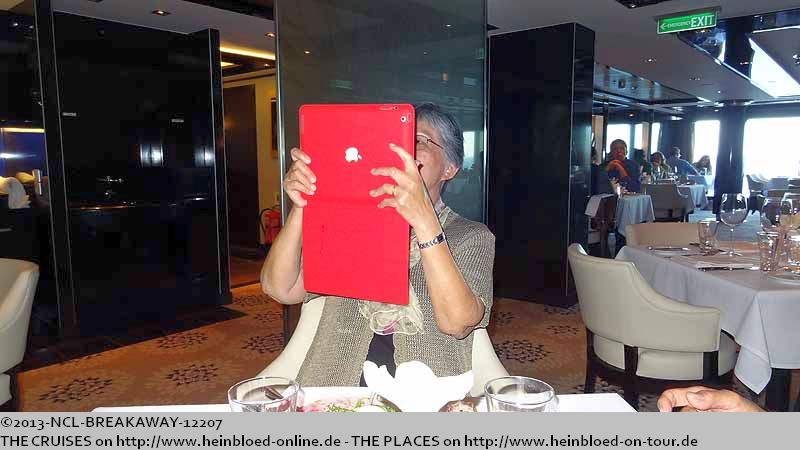 Man weiss nie: fotografiert sie gerade oder liest sie Zeitung?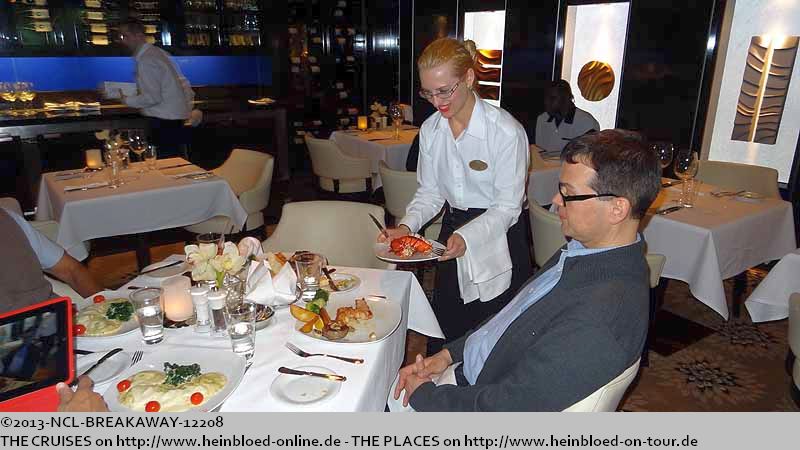 Additionally to the regular menu they also offered Surf and Turf. But learned before that we could also request whatever we want if we do not find something on the menu we liked.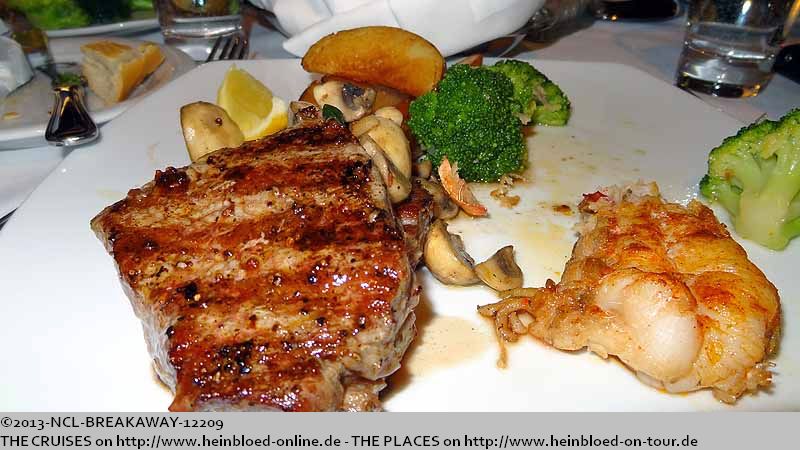 Zusätzlich zur normalen Karte gab es auch Surf und Turf. Dabei hat man uns schon vorab gesagt, dass uns jeder Wunsch hier oben erfüllt wird.
Wir hatten in der Tat einen Wunsch... Shridhar Dhuri... Sandra und Doris hatten mir hier noch einen Auftrag erteilt, dass wir ihn grüßen sollten. Er konnte sich an sie auch noch gut erinnern, weil sie so seine letzten Gäste auf der NORWEGIAN SPIRIT waren, bevor er zur NORWEGIAN BREAKAWAY gewechselt ist. Wir haben ihn hochkommen lassen, damit er bei Frances wieder Salat schneidet... Aber er hat sich ebenfalls sehr gefreut und erzählt, dass mein persönlicher Foto-Bote Dennis ihn gefunden hat und er ihn gerne genauso nett behandelt, wie er uns behandelt hat.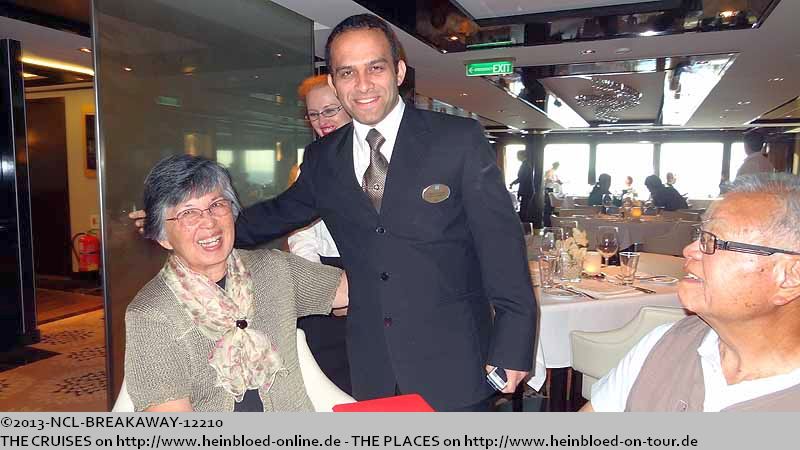 We had indeed a special request... Shridhar Dhuri... Sandra and Doris gave me the order that we had to forward some greetings. He could remember very well his last guests on NORWEGIAN SPIRIT before he moved on NORWEGIAN BREAKAWAY. We also asked for him because she should cut Frances' salad... But he was also glad to see us so he could tell us that my personal photo-courier Dennis found him and that he treated him as nice as he treated us.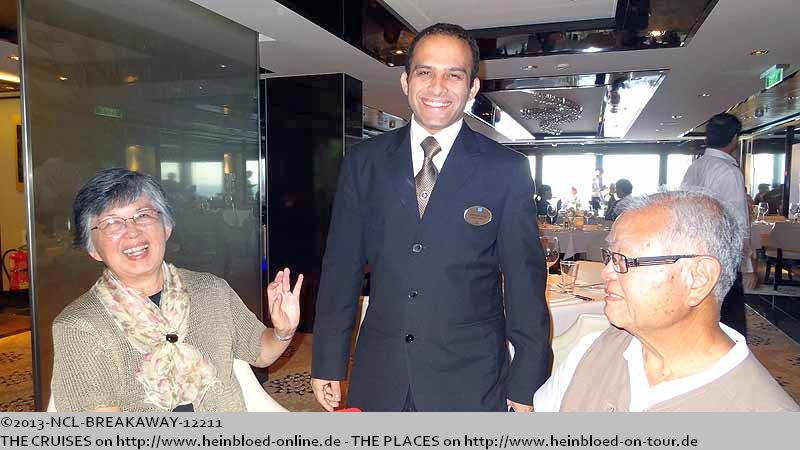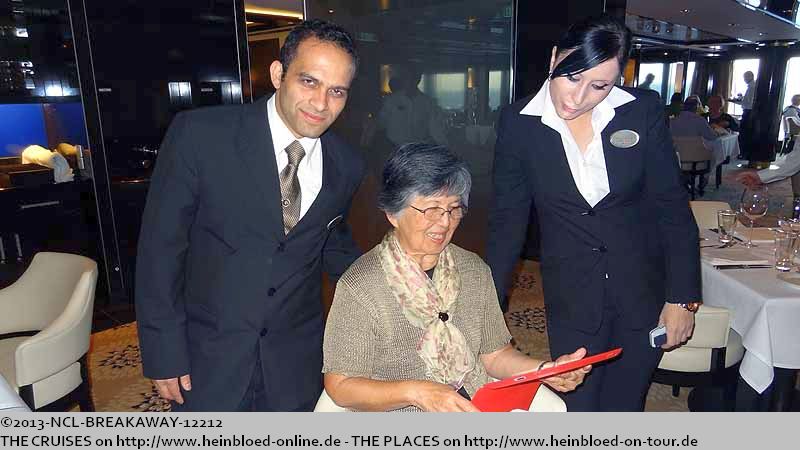 At the end I tried a little bit from the real dessert, but it was much too sweet and did not fit anymore to the quantity of Insulin I injected... As someone who is involved for a short time, I need to learn how to handle. But they had no menu cards with nutrition information as they did not want to shock guests. How sad: I can eat everything, but I need to know how much I need to inject. It would be so much helpful for me. Now I need to calculate by myself.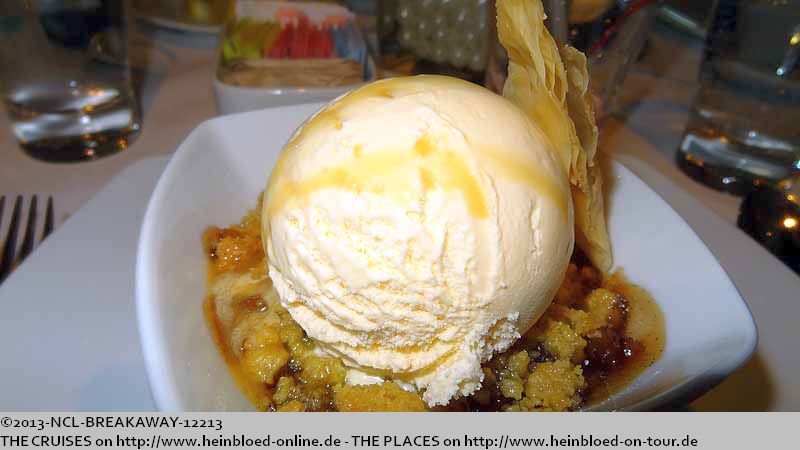 Ich probiere am Schluss etwas vom richtigen Dessert, aber das ist mir zu süß und passt wirklich nicht in meinen Insulinplan... Als Neu-Diabetiker muss ich lernen, wie man damit umgeht. Aber leider gibt es keine Menükarten mit entsprechenden Nährwertinformationen, um die Gäste nicht zu verschrecken. Schade, ich darf ja alles essen, nur muss ich wissen, wieviel ich spritzen muss. Dabei hätte es mir schon geholfen. Nun muss ich eben selbst rechnen.
Es geht in die Show. Tickets sind in den Bordkarten hinterlegt, die am Eingang eingelesen werden. Wer kein Ticket hat, muss erst in der Standby-Zone warten, bis alle drin sind und darf dann rein.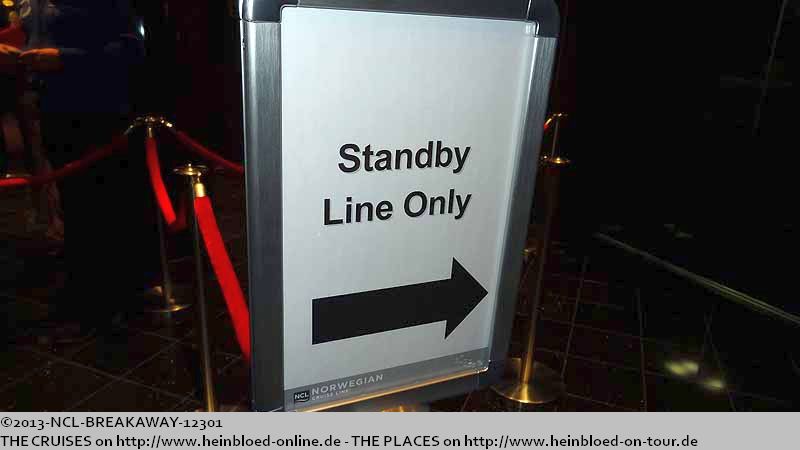 We went to the show. Tickets were integrated into the key card and registered at the entrance. Who had no ticket need to wait in the Standby-Zone until everyone else was inside and may enter then.

Three rows were reserved for The Haven guests. One of the entertainment team checked the key cards and opened the barrier. 15 minutes before the start of the show they release all seats to everyone.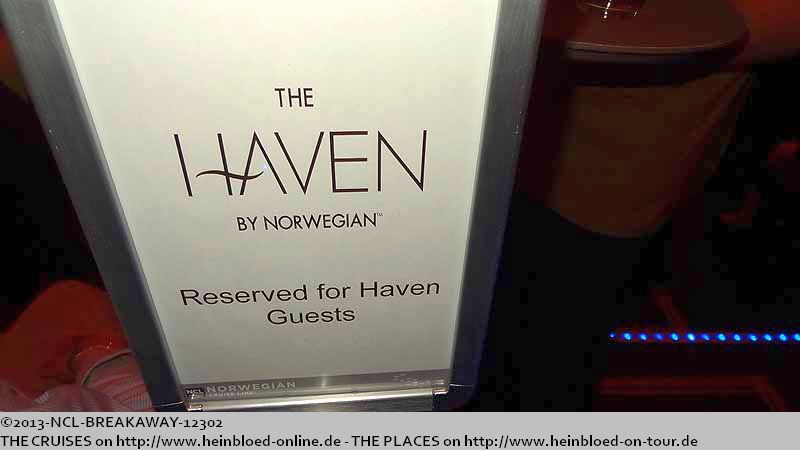 Drei Reihen sind für The Haven Gäste reserviert. Hier steht aber einer der Animateure, die die Karten prüfen und dann die Absperrung aufmachen. 15 Minuten vor Show-Beginn sind dann diese Plätze auch freigegeben.
Nun von der Show mache ich keine Bilder. Leider traf sie überhaupt nicht meinen Geschmack. Nach ca. 15 Minuten bei R.E.M.s "Everybody Hurts" verlasse ich das Theater. Das Lied macht mich zu depressiv, speziell seit der Haiti-Katastrophe. Seitdem wurde es als Charity-Lied verwendet. Es ist eher eine Tanzshow mit einigen verfremdeten Gesangseinlagen, von Liedern, die ich eigentlich mag, aber hier klingt mir alles zu schräg. Hier erfahren wir, dass wohl einer der Hauptakteure krank ist. Klingt ehrlicher als "Managemententscheidung".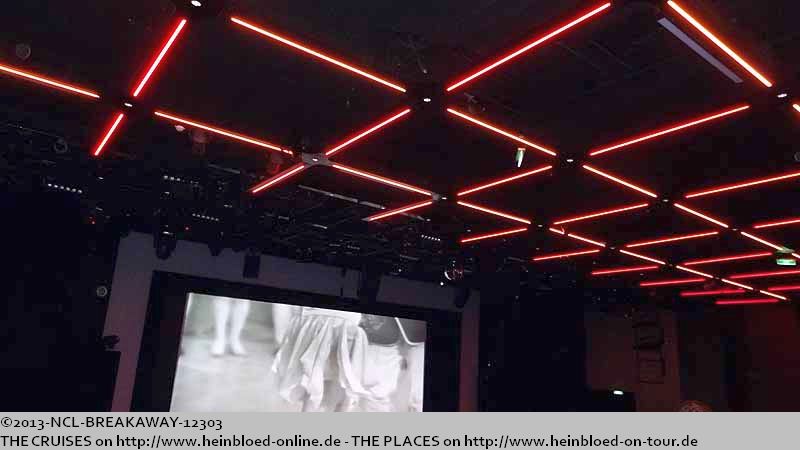 I did not take any pictures from the show. It did not meet my taste. After about 15 minutes when they played R.E.M.'s "Everybody Hurts" I left the theater. The song made me very depressive especially after the earthquake in Haiti. Since then they have used it as charity-song. It was more a dance show with some alienated versions of popular songs which I normally like but not the way they sang it. Here we learned that one of the main actors was sick. Sounded more honest but "Management decision".

But they had the legroom which we missed on the Jewel-Class. But anyhow you are missing an exit alongside the wall to disappear discreetly.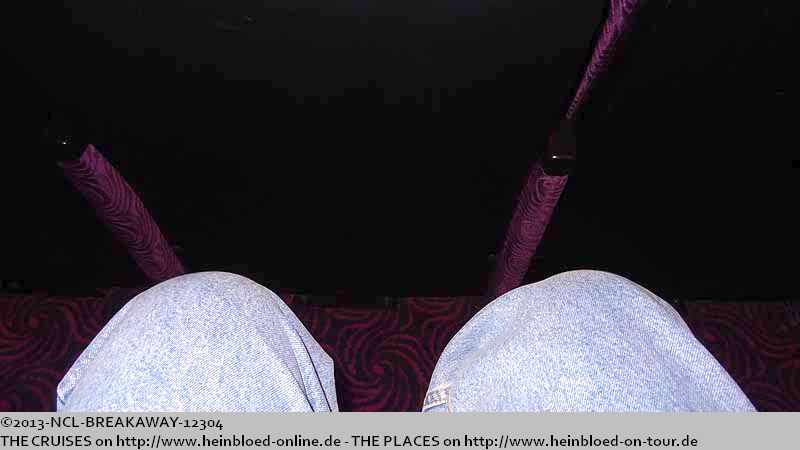 Wenigstens gibt es Beinfreiheit, die ja bei der Jewel-Klasse fehlte. Trotzdem auch hier fehlt ein Gang zur Wand hin, um diskret verschwinden zu können.
Nach wenigen Stunden Schlaf zieht es mich auf das Schiff...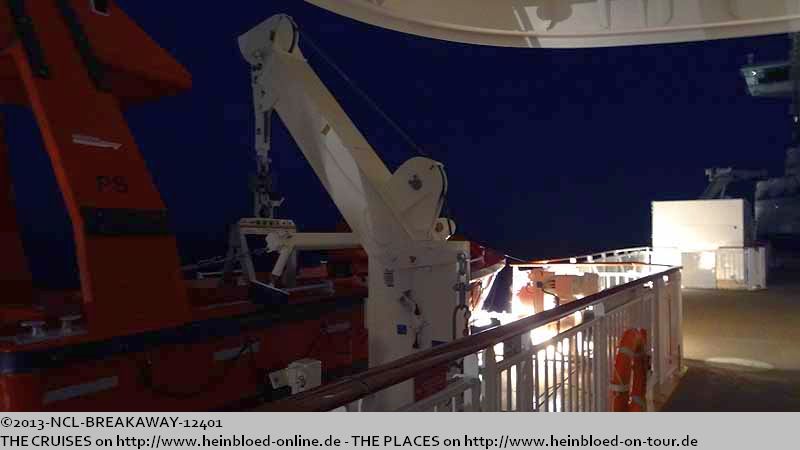 After few hours of sleep I went again around the ship.

Die Rockettes... man wird auf New York vorbereitet...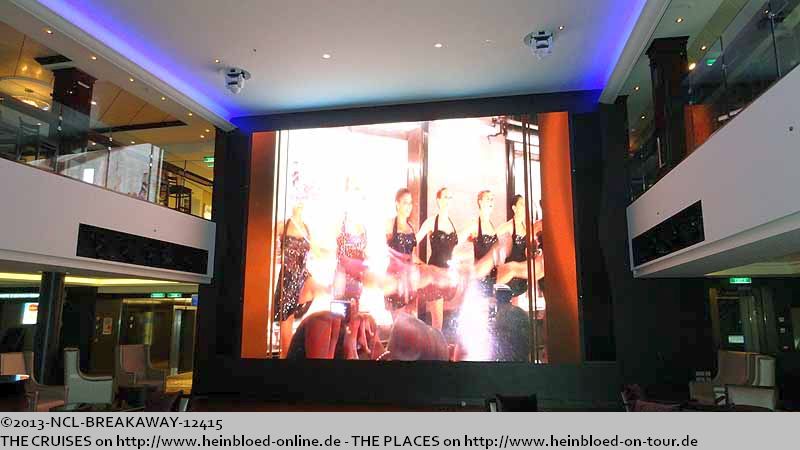 The Rockettes... they started to prepare you for New York...

The giant tables with the screens...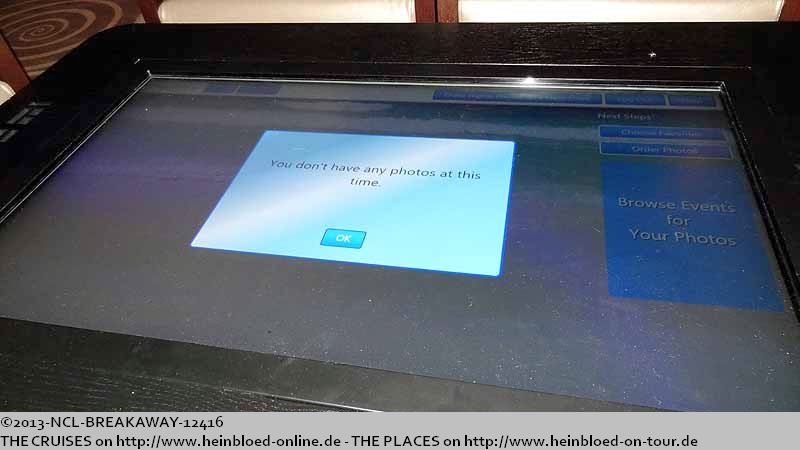 Die Riesentische mit den Bildschirmen...
Auf meine Berührung reagiert hier leider nichts.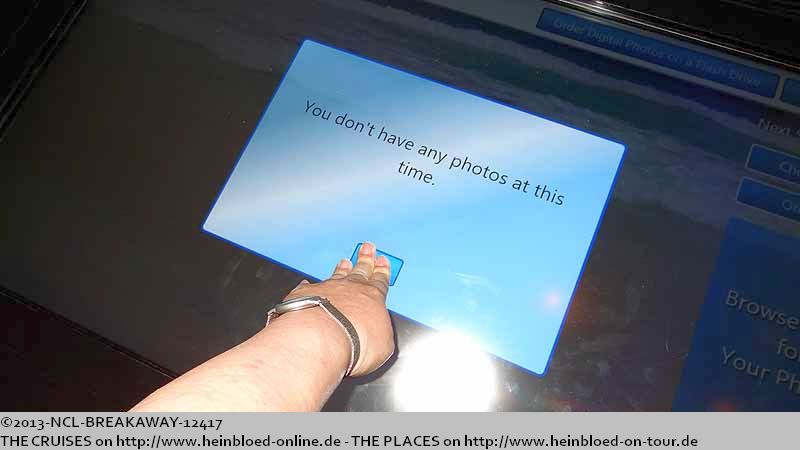 But nothing happened after I touched the screen.

As they did not sell any minute packages, we could only book minute by minute. But they only charged 0.25 USD/minute. But after 02.00 hrs you cannot buy anymore any minutes. We could use the internet due to the roaming with our home provider T-Mobile... The text message with the prices came and I need to have an appointment with my eye doctor because I had problems to read correctly... 0,79 EUR (1.00 USD) per 50 kB... so let's round up 0.05 MB for 1.00 USD... for 10 MB you are paying roughly 158.00 EUR (200.00 USD)... Usually, that would be 1.95 EUR (2.50 USD) once I arrived in England... but I would have a chance to browse for that volume of 10 MB as once I used 60.00 EUR they will stop the use due to the expected costs... I could disregard the 0.49 EUR (0.75 USD) for the daily use... I better just wait that we arrive at England's coast.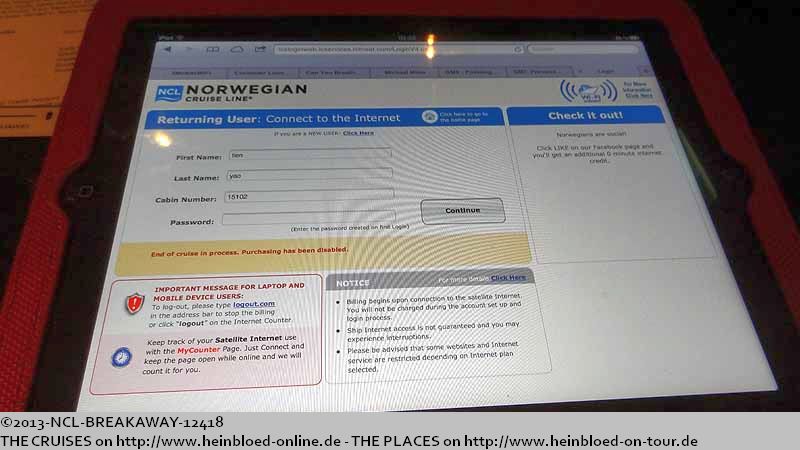 Da keine Minutenpläne verkauft wurden, konnte man nur pro Minute abrechnen. Allerdings wurden nur 0,25 USD/Minute berechnet. Nur nach 02.00 Uhr kann man keine Minuten Pakete mehr kaufen. Internet wäre nur noch im Rahmen des Roaming über T-Mobile möglich... als die Benachrichtigungsmail mit den Preisen kam, musste ich erst mal einen neuen Termin mit meiner Augenärztin vereinbaren, weil ich dachte, dass ich nicht richtig gelesen habe: 0,79 EUR/50 kB... so aufgerundet 0,05 MB für 0,79 EUR... für 10 MB zahlt man also etwa 158,00 EUR... Kostet sonst 1,95 EUR, wenn ich in England bin... allerdings komme ich bloß nicht dazu 10 MB zu surfen, weil bei knapp 60,00 EUR die Kostenbremse eintritt... Die 0,49 EUR Tagesnutzungsgebühr kann ich wohl vernachlässigen.... Ich warte mal bis zur englischen Küste...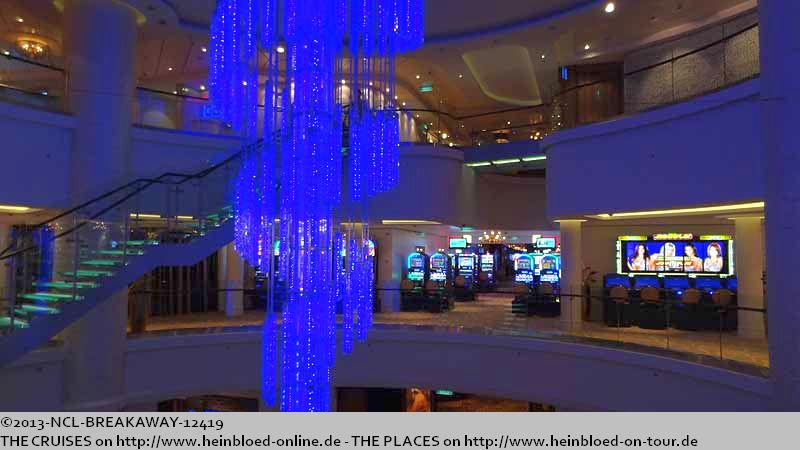 Was that a time recording device for the crew?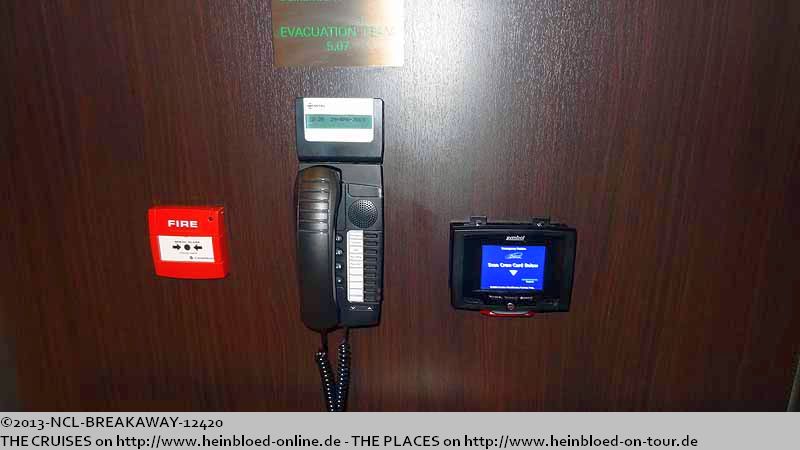 Ist das ein Zeiterfassungsgerät für die Crew?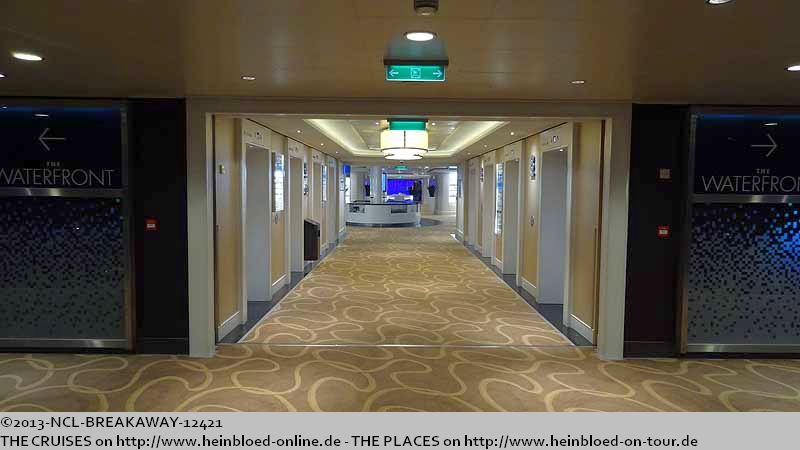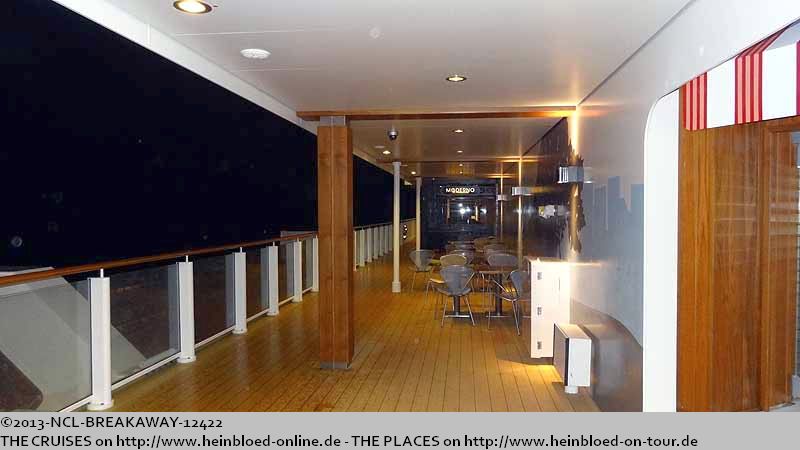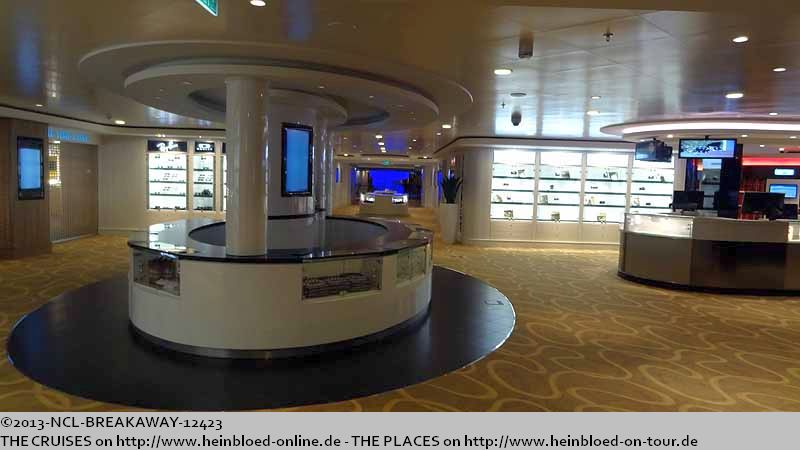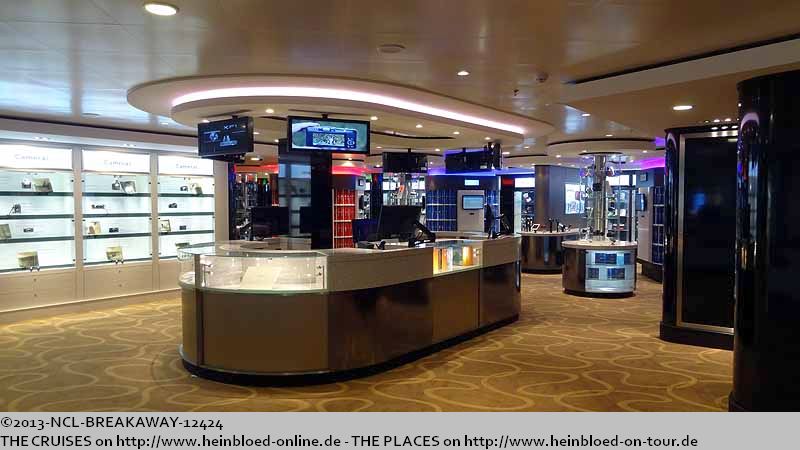 Beim Fotoshop ist neu, dass auf der Bordkarte vermerkt ist, wo man seine Bilder findet, die jetzt in Ordnern einsortiert sind.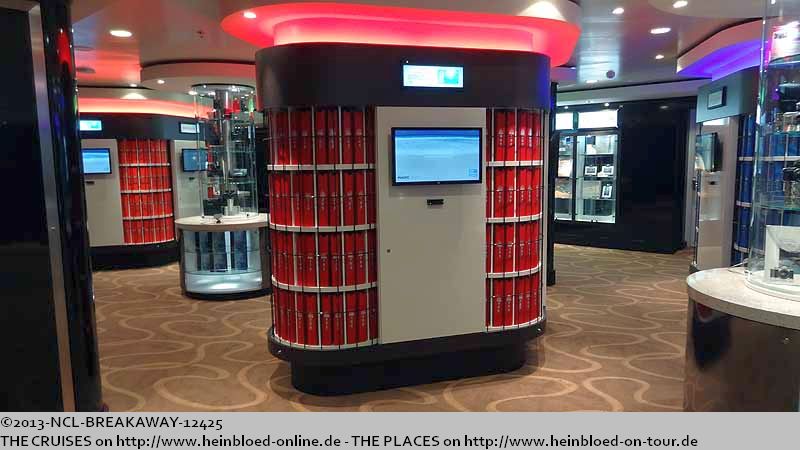 With the photoshop it was new that it was showed on your key card where you could find your pictures which were sorted in the folders now.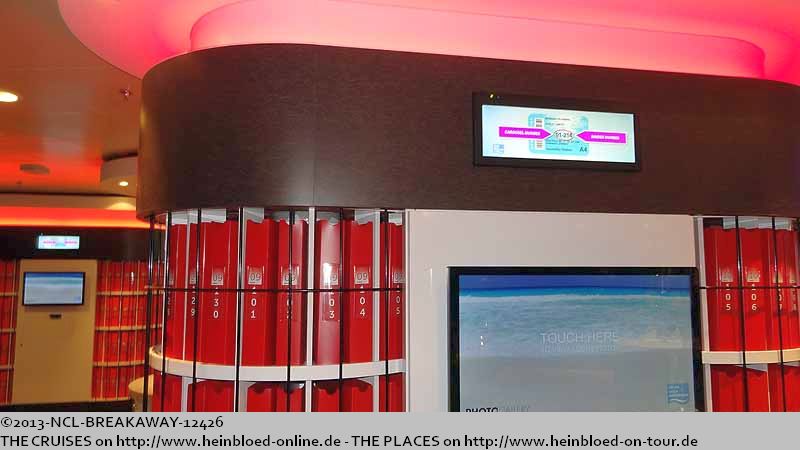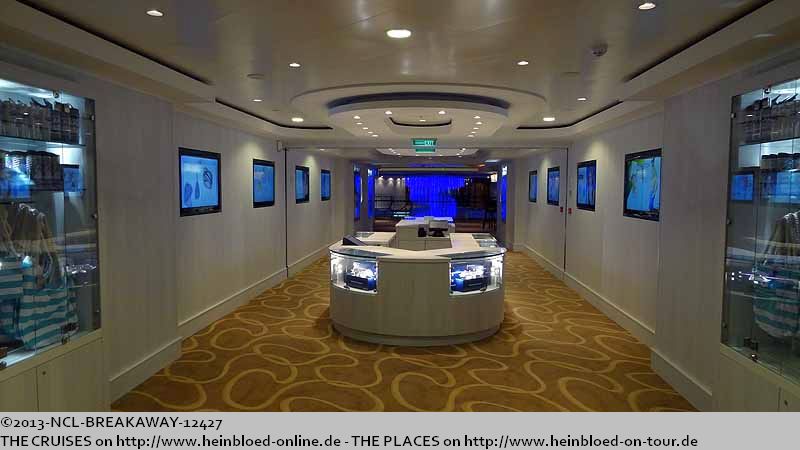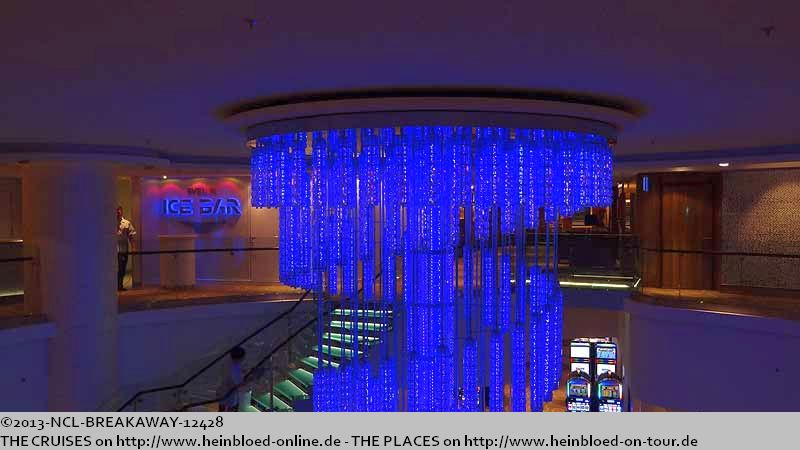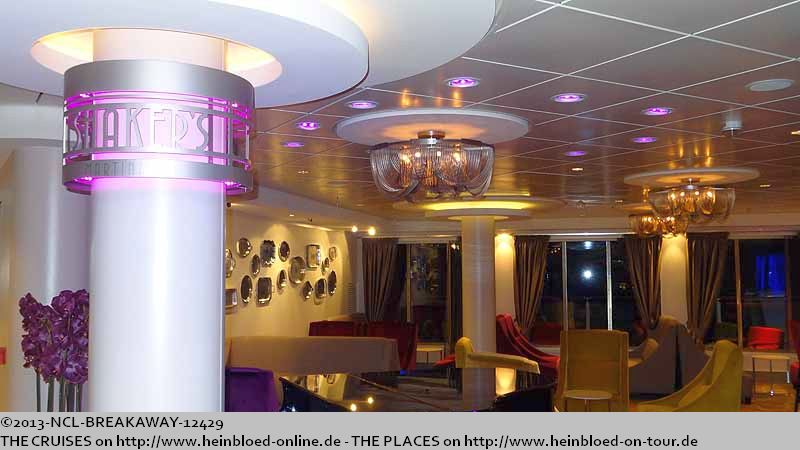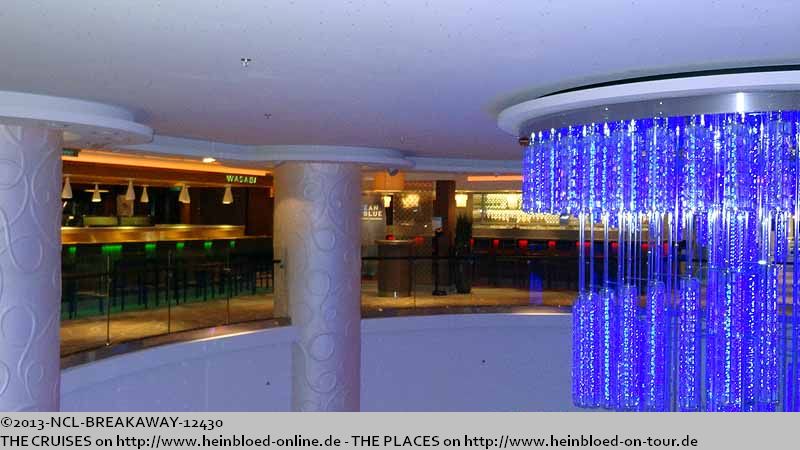 Aha... Hier gibt es also auch einen Skywalk... Wozu also noch auf die ROYAL PRINCESS im Juni?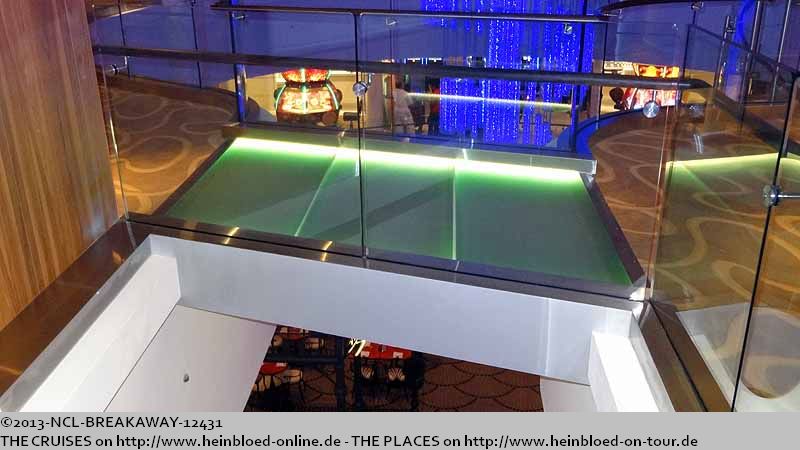 Wow... you had here also a skywalk... why should I go on ROYAL PRINCESS now in June?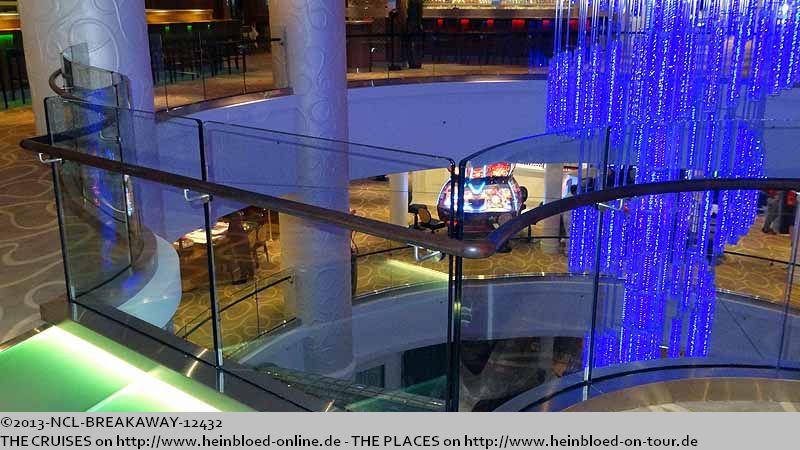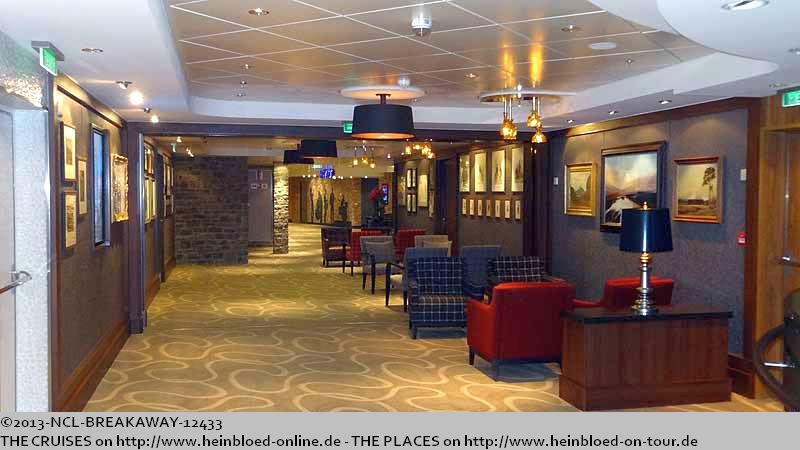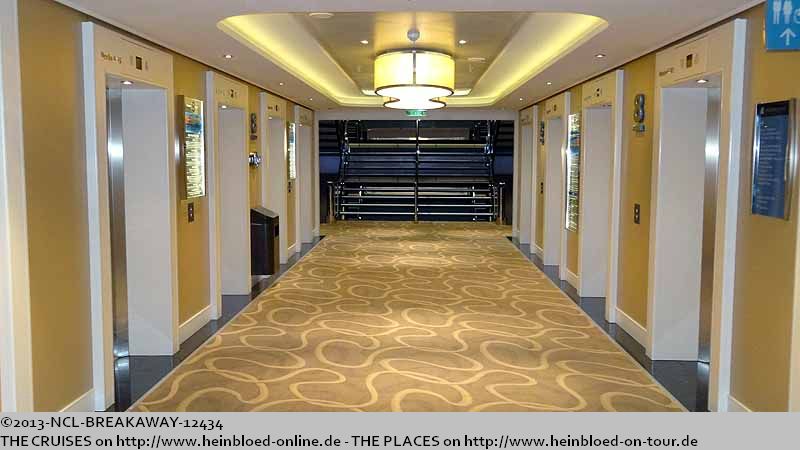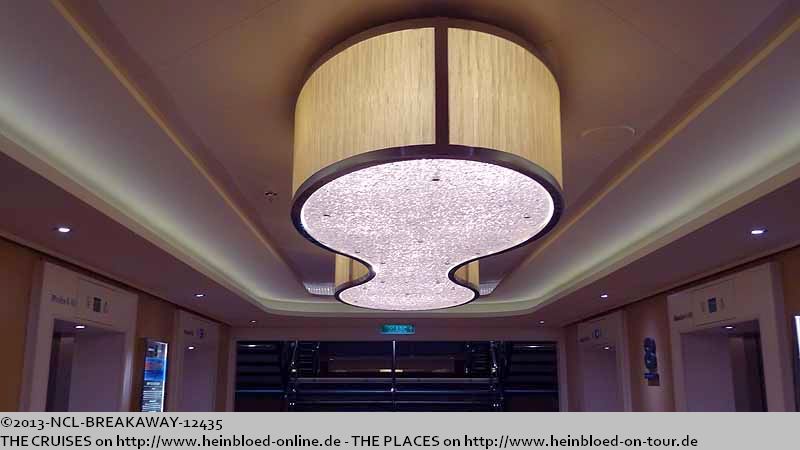 They had 8 elevators per staircase. 4 on each side. But no central display which elevator would be the next. There was not a control unit to allocate the elevators to different floors if they were not in use.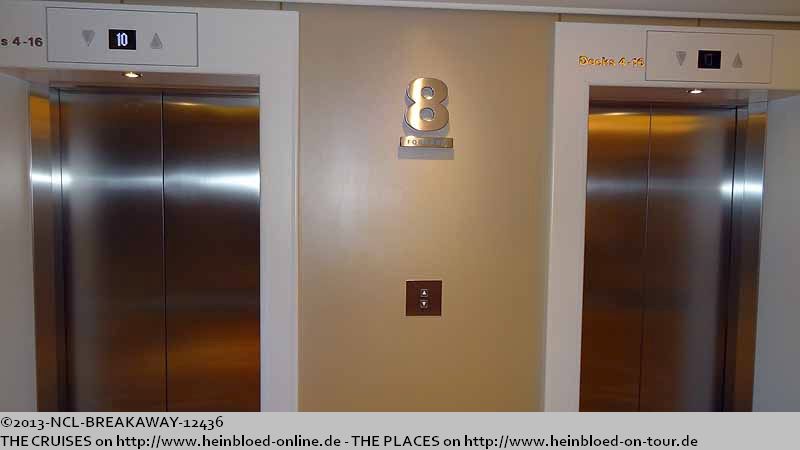 Es gibt im Treppenhaus 8 Fahrstühle. 4 auf jeder Seite. Nur leider keine gute Anzeige, welcher Fahrstuhl der nächste ist. Außerdem fehlt wohl eine Automatik, um die Fahrstühle im Ruhezustand auf diverse Etagen zu verteilen.
Die anderen Reisen in diesem Blog/
The other voyages in this blog: