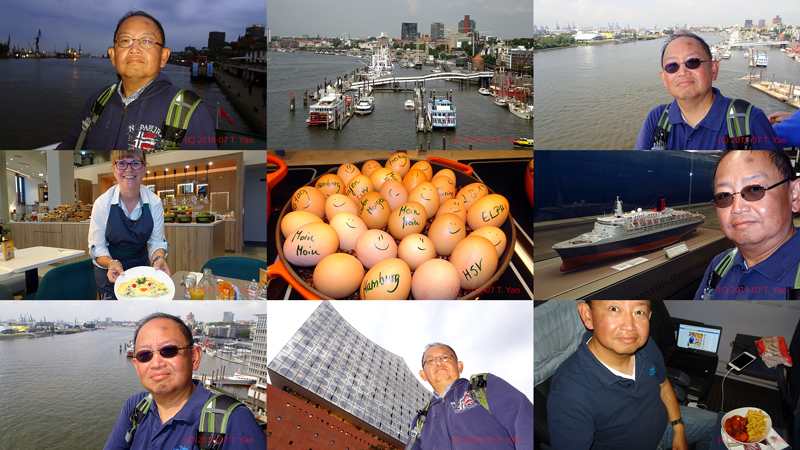 Es geht frühmorgens zum Shipspotting. EUROPA kommt an. Wir kennen sie von unserer "Reise" auf der
EUROPA 2014
. Derzeit das zweitbeste Schiff der Welt nach
Douglas Ward
. Nur ihre Schwester EUROPA 2 ist besser. Leider komme ich ein Tick zu spät.

Early in the morning, I went out for shipspotting. EUROPA arrived. We knew her from our "voyage" on EUROPA 2014. Currently, the second-best ship, according to Douglas Ward. Only her sister, EUROPA 2, would be better. Unfortunately, I came slightly too late.

One more time a sneak view to Blohm and Voss on AMERA.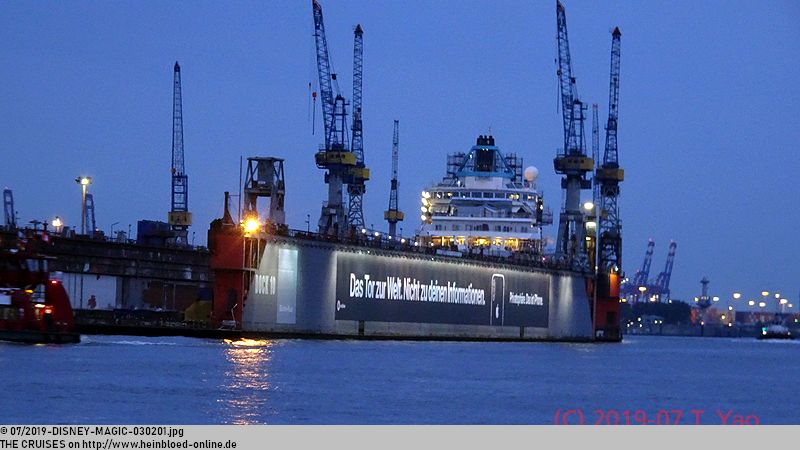 Nochmals ein kurzer Blick zu
Blohm und Voss
zur AMERA.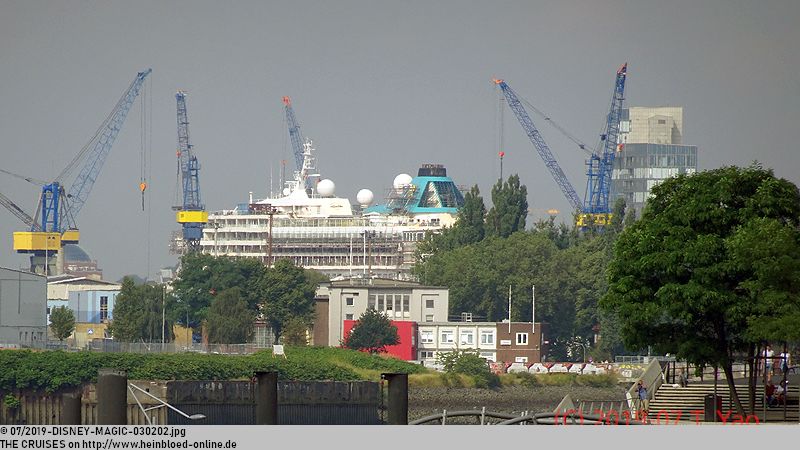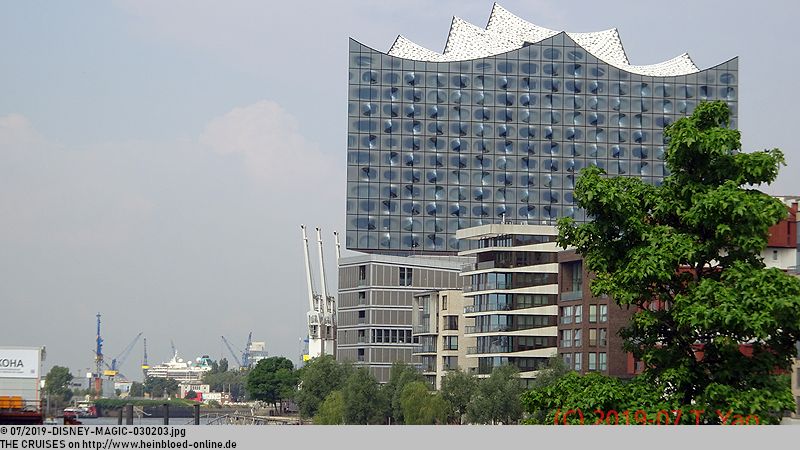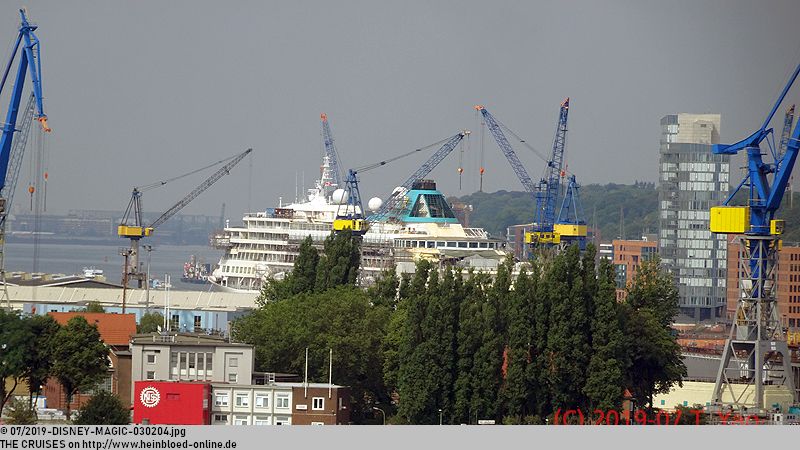 From the Plaza of the Elbphilharmonie, you had the best view to the city. Was this a roof terrace too? Yes, but not a visitor but an artwork.

Von der Plaza der
Elbphilharmonie
hat man den besten Ausblick auf die Stadt. Ist drüben auch eine Dachterrasse? Ja, aber kein Besucher oben, sondern nur Kunst.
Da ich jetzt nicht so unter Zeitdruck stehe, kann ich mich in meinem Hotel
Holiday Inn in der HafenCity
umsehen. Später muss ich etwas ausdrucken. Der SB-Drucker funktioniert nicht. In anderen Hotels wird man auf eine Hotline verwiesen, aber hier wird mir angeboten, dass sie für mich alles ausdrucken.

Since I was not under time pressure, I had the chance to browse in my Hotel Holiday Inn in HafenCity. Later, I needed to have something printed out. The self-service printer did not work. I other hotels, I was referred to call a hotline, but they offered me to do my print-outs for me.

The breakfast in the hotel was fantastic! Notably, the personal touch of the waitress Carolin made me smile. The perfect beginning for a beautiful day. Only, they had no port roast with jelly. It was a pity.

Das Frühstück im Hotel ist fantastisch! Speziell die persönliche Note der Kellnerin Carolin bringt mich zum Lachen. Der perfekte Beginn für einen wunderschönen Tag. Nur Schweinebraten mit Gelee gibt es nicht. Schade. Dafür gibt es Kocheier oder sind es gekochte Eier?
Die EUROPA liegt morgens am
Kreuzfahrtterminal Hafen City
an. Für Shipspotter kann man ein paar Aufnahmen direkt gegenüber vom Hotel machen. Der U-Bahn-Zugang zum
Kreuzfahrtterminal
im U-Bahnhof Überseequartier ist geschlossen, weil ein neues
Shoppingcenter Überseequartier von Westfield
gebaut, in dem das neue
Kreuzfahrtterminal
integriert werden soll. Westfield hat auch das neue
Shoppingcenter am World Trade Center in New York
gebaut. Ich hoffe, dass es hier genauso großartig wird, wie in New York. Vor der Reise auf der
QUEEN MARY 2 2017
haben wir es erlebt.

EUROPA was berthing at Cruise Terminal HafenCity. For shipspotter, it was possible to take pictures opposite of the hotel. The subway from the subway/metro to the cruise terminal in the subway-station Überseequartier (Overseas Quarter) was closed due to the construction site of a Westfield Überseequartier shopping mall. A new cruise terminal would be integrated. Westfield also built the new shopping mall at World Trade Center in New York City, NY. I hoped that it would become as great as in New York. Before we joined the voyage on QUEEN MARY 2 2017, we had a chance to experience it.

In the Unilever-House I visited the Langnese Happiness Station.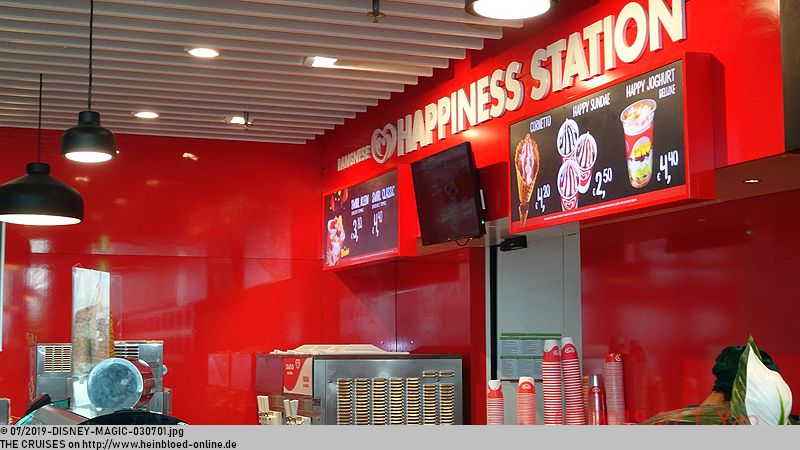 Im
Unilever
-Haus besuche ich die
Langnese Happiness Station
.
Gibt es jetzt schon Kekse von
Langnese
?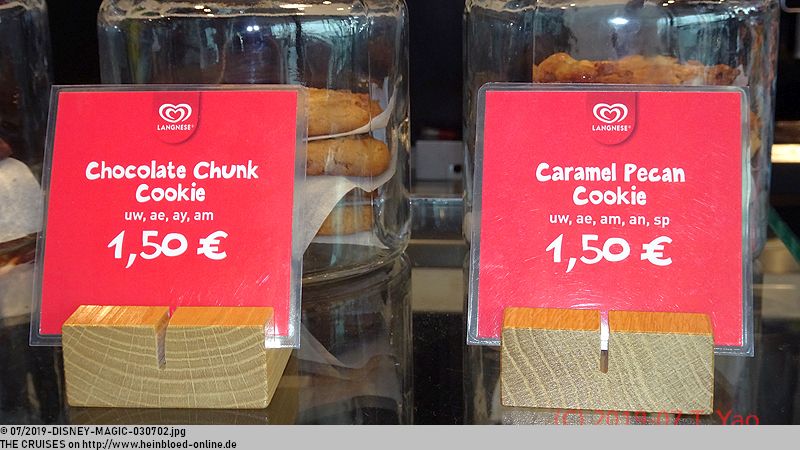 Did Langnese also offer cookies now?

I took an Eiskaffee (not an iced coffee! Vanilla ice cream in cold coffee and topped with whipped cream).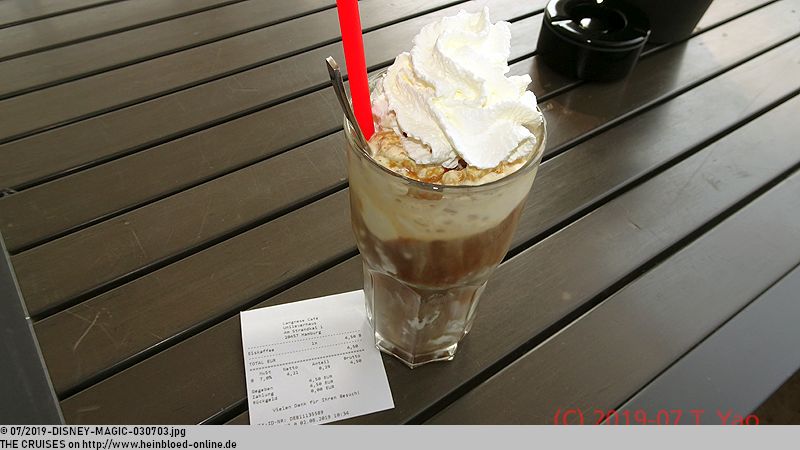 Ich nehme ein Eiskaffee.
Und ich trinke ihn draußen direkt vor der EUROPA.

I had it outside just in front of EUROPA.

I was heading on to the Elbphilharmonie. Here I could see that they had another outlet for the Plaza tickets. I preferred to purchase online for 2.00 EUR, although the admission would be free. But better safe than sorry. But with my ticket, I could get in at 11:30 hrs. I requested a new one and went immediately in.

Ich laufe weiter zur
Elbphilharmonie
. Hier sehe, dass es jetzt auch eine weitere Ausgabestelle für die Karten für die Plaza gibt. Ich habe sie mir lieber
online
für 2,00 EUR geholt, obwohl der Eintritt frei ist. Aber sicher ist sicher. Nur darf ich mit meinem Ticket erst um 11:30 Uhr rein. Ich lasse mir ein neues geben und gehe sofort rein.
In einigen Tagen bin ich wieder zurück. Dann übernachten wir in
The Westin
. Ich orientiere mich schon mal. Als Hotelgast benötige ich kein Ticket für die Plaza und kann direkt in einen Eingang für Hotelgäste rein.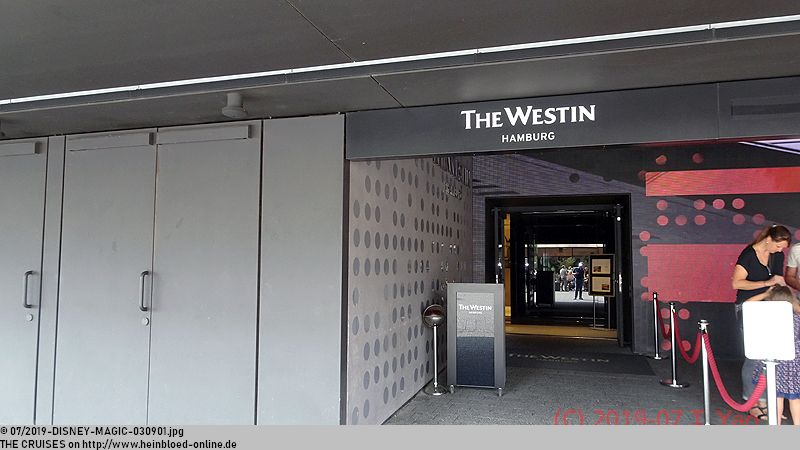 In a couple of days, I would be back again. Then, we would stay overnight in The Westin. I needed to get some orientation. As a hotel guest, no Plaza ticket was required, and you could access through the entrance for hotel residents.

As a hotel resident, you could access the Plaza with your room key.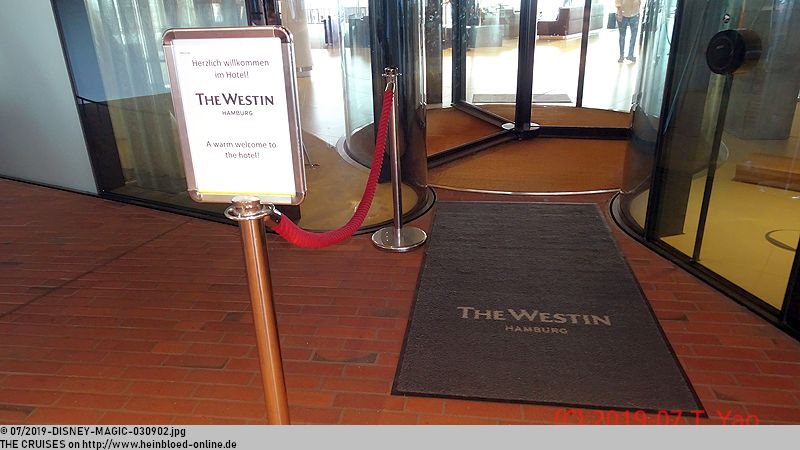 Als Hotelgast kann ich dann die Plaza mit der Schlüsselkarte betreten.
Ich gucke mir von der Plaza das Treiben der vielen Hafenrundfahrten an:
HADAG
,
Rainer Abicht
,
Kapitän Prüsse
,
Maritime Circle Line
. Ich muss mal wieder eine Barkassenfahrt durch die
UNESCO Welterbestätte
Speicherstadt
machen. Dafür suche ich mir ein "Cabrio"-Schiff mit offenem Dach aus. Eine Hafenrundfahrt mit Olivia Jones? Kann ja vielleicht lustig werden.

I was following the movements of the many harbor cruises: HADAG, Rainer Abicht, Kapitän Prüsse, Maritime Circle Line. I needed to do a barge cruise again through the UNESCO World Heritage site historic warehouse district Speicherstadt. For that, I was selecting a convertible ship with an open deck. A harbor cruise with the drag queen Olivia Jones? It could become fun.

I wanted to follow how EUROPA would move from Cruise Terminal HafenCity to Überseebrücke (= Overseas Bridge). But it was at the time which was published by Hamburg CruiseNet. At the Überseebrücke, they were expecting the guests for the gourmet-event onboard. We joined on EUROPA 2014. But that was not our world.

Ich will zusehen, wie die EUROPA vom
Kreuzfahrtterminal HafenCity
zur
Überseebrücke
umsetzt. Allerdings nicht zu der Zeit wie auf der Homepage von
Hamburg CruiseNet
veröffentlicht. An der
Überseebrücke
werden die Gäste für ein Gourmet-Event an Bord erwartet. Wir waren auf der
EUROPA 2014
dabei. Aber das ist noch so ganz unsere Welt.
Bevor ich zum Zug muss, setzt die EUROPA um und ich kann doch noch alles fotografieren.

Before I had to leave to get my train, EUROPA moved, and I was yet able to take my pictures.

I called a taxi to be lifted back to my Hotel Holiday Inn in HafenCity to collect my baggage. Since I did not like to join at Central Station Hauptbahnhof my train, I asked the driver to drop me off at Hamburg-Dammtor station. But here, they had no roast port with jelly either.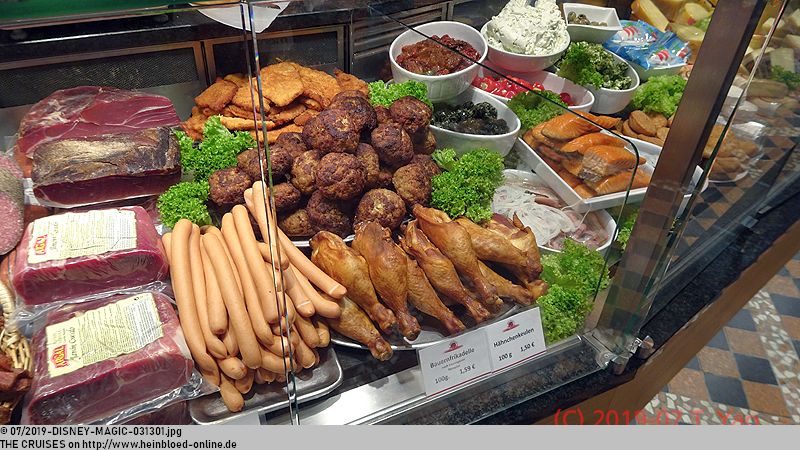 Ich lasse mich von einem Taxi zurück zum Hotel
Holiday Inn in der HafenCity
bringen und hole hier mein Gepäck ab. Da ich nicht am
Hauptbahnhof
einsteigen will, lasse ich mich zum
Bahnhof Hamburg-Dammtor
bringen. Aber auch hier gibt es kein Schweinebraten mit Gelee.
Das Schnitzelbrötchen ist besser als
Essen im Zug
später.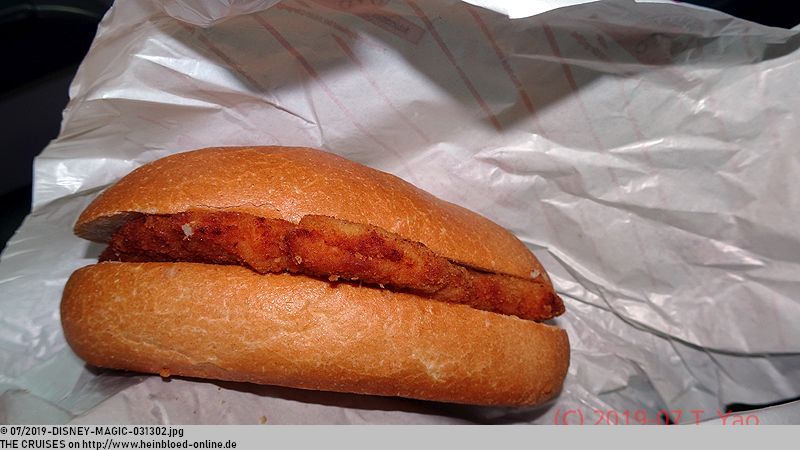 The scallop-sandwich was better than later the food in the train.

Why did I need to catch a Switzerland-bound train?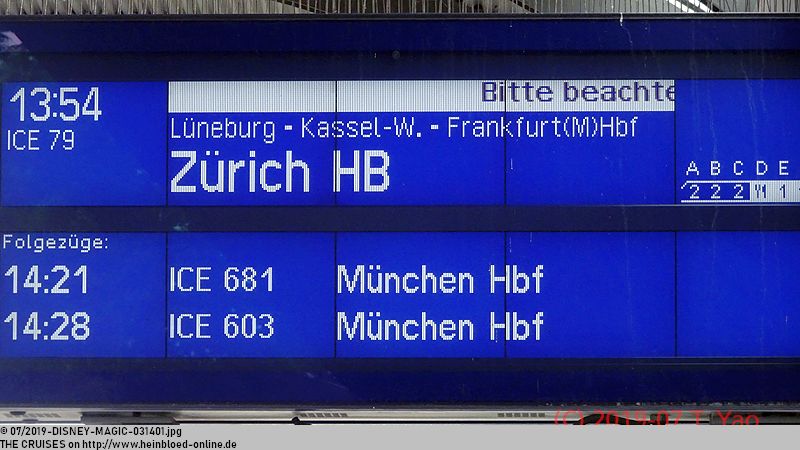 Warum muss ich einen Zug in die Schweiz erwischen?
Die Currywurst im Zug und die Pommes Frites im Zug schmecken einfach nicht.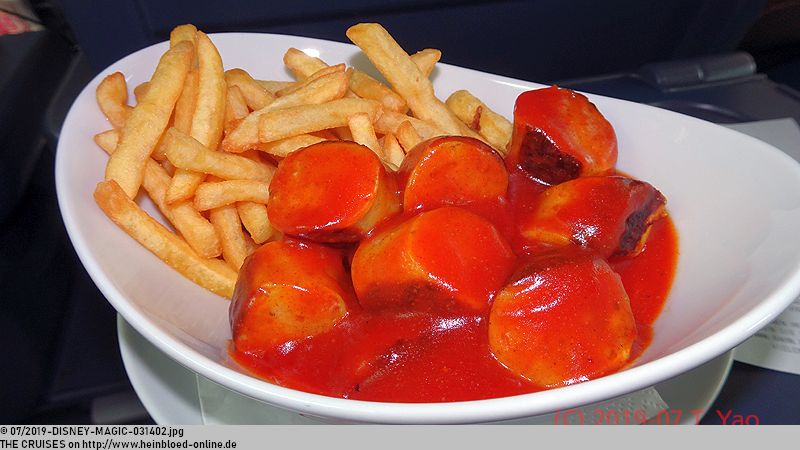 The sausage and French fries did not taste in the train.

The journey took 30 minutes longer since we were diverted via Hildesheim.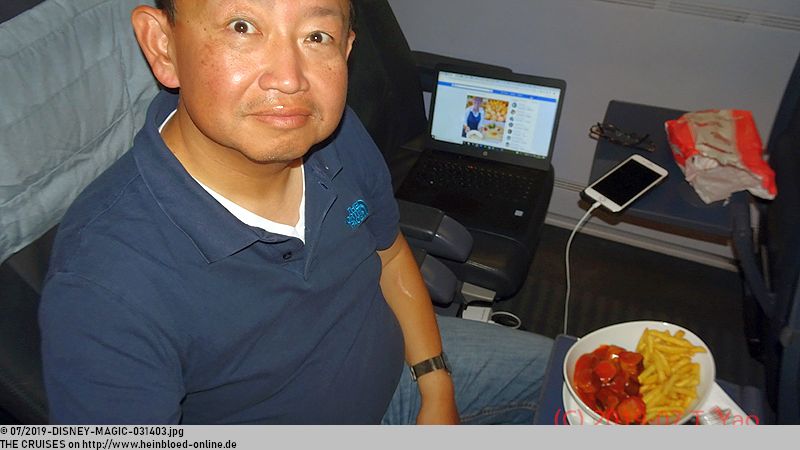 Die Fahrt dauert 30 Minuten länger, weil wir über Hildesheim umgeleitet werden.
Aber die Kaffeespezialitäten im ICE sind immer gut:
Dallmayr
! In ein paar Tagen geht es wieder nach Hamburg. Der
Blog
findet sich später bei Holland America Line.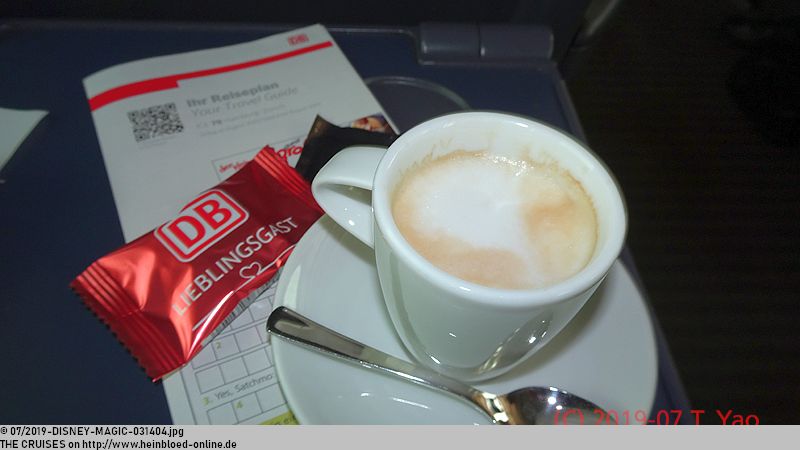 But the coffee specialties in the ICE highspeed trains were always good: Dallmayr! I a few days, I would return again to Hamburg. You will find the blog later in the section of Holland America Line.
Die anderen Reisen in diesem Blog/
The other voyages in this blog: