Mein Tag beginnt gegen 04.30 Uhr. Ein schöner Beginn des Tages. Direkt im
Marina Village
in Hythe.

My day started around 04.30 hrs. A beautiful start of the day. Just in the Marina Village in Hythe.

My love-hate relationship NAVIGATOR OF THE SEAS 2009.

Meine Hassliebe
NAVIGATOR OF THE SEAS 2009
.
Unsere "Stalkerin" MARINA. Sie machen ja alles, damit wir endlich mal Oceania fahren.

Our "stalker" MARINA. They did everything to make us trying Oceania.

Then SILVER EXPLORER followed.

Danach kommt SILVER EXPLORER.
Und als dann NORWEGIAN JADE kommt, verschwindet die Sonne. Und alles bloß, weil Ioana uns nicht in Frankfurt eingecheckt hat. Niemand winkt. Kein Omar, keine Amor, keine Daniela und kein Sebastian. Nur vorne auf der Brücke: es könnte Kapitän Kim sein. Der scheint aber konzentriert auf die Zufahrt zum Ocean Terminal zu gucken. Ich stelle später unsere Freunde später an Bord vor.

And then NORWEGIAN JADE came and the sun disappeared. And only because Ioana did not check us in. Nobody was waving. No Omar, no Amor, no Daniela and no Sebastian. Only on the bridge: it might be Captain Kim. It seems that he looked very concentrated the arrival to the Ocean Terminal. I will introduce later our friends later onboard.

AURORA should came some earlier to be like the morning was.

AURORA hätte auch etwas früher kommen müssen, um ihren Namen gerecht zu werden.
Und last not least SILVER WHISPER.

And last not least SILVER WHISPER.

Back for breakast to The Maples Hotel. Luckily all ships were arriving much more ahead of announced times. So we could start to celebrate Bruno's birthday which was started very lovely by the new owner Elizabeth and Martin. With a great breakfast and a Blueberry Muffin with a candle.

Zurück zum Frühstück in The Maples Hotel. Zum Glück waren alle Schiffe sehr viel früher da, als angekündigt. So können wir den Geburtstag von Bruno feiern, den die neuen Eigentümer Elizabeth und Martin liebevoll einläuten. Mit einem tollen Frühstück und einem Blueberry Muffin mit Kerze.
Wir müssen einmal mit der
Hythe Fähre
hin und zurück fahren. Sie gehört jetzt zu
Blue Funnel
. Mit denen waren wir früher schon im Rahmen von Hafenrundfahrten unterwegs. Die haben aber erst um 12.00 Uhr eine dreistündige Hafenrundfahrt. Während der Überfahrt führt Bruno sein neues Geschenk vor. Wenn das Kapitän Kim von der Brücke aus sieht, dürfen wir bestimmt nicht mehr einschiffen. Auch Sigi kann sich für das Tuch begeistern.

We had to cross the river forth and back by Hythe Ferry. It was now part of Blue Funnel. With them we went then on different port cruises. But that day they only offered a three-hours-port-cruise at noon. During the passage Bruno tried his new gift. If Captain Kim would see this from the bridge I was sure not permitted to embark anymore. Sigi was also excited of the collar.

It looked like that Captain Kim was now for breakfast. I could not see him anymore on the bridge.

Kapitän Kim scheint aber jetzt beim Frühstück zu sein. Ich sehe ihn auf der Brücke nicht mehr.
Wir müssen tanken.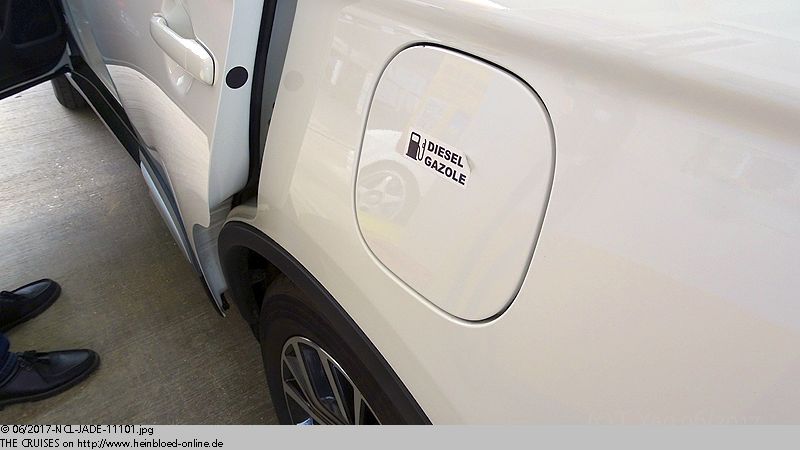 We need to refill.

Luckily you had YouTube and Google to solve all potential problems of your daily life. Like finding the gas release: https://youtu.be/c5V0HtW6oDk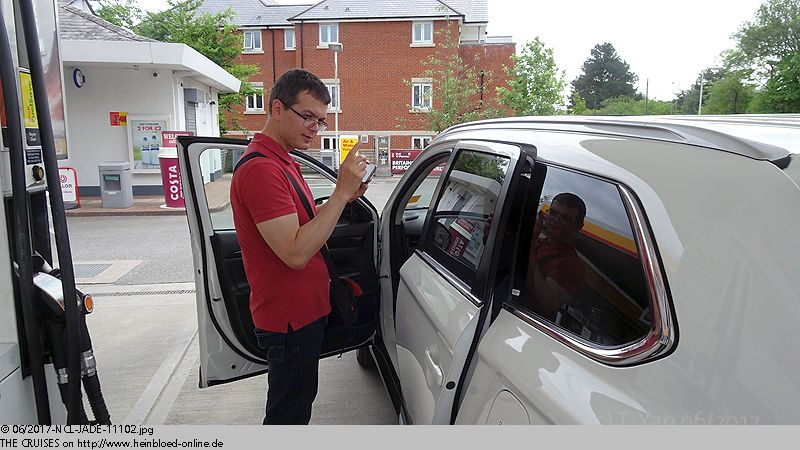 Zum Glück gibt es YouTube und Google, die für alle Lebenslagen Lösungen haben. Wie man die Tankklappenöffnung findet:
https://youtu.be/c5V0HtW6oDk
Wir sind hilflos, weil wir es zu dritt nicht ohne Video es schaffen, die Tankklappe zu öffnen.

We were helpless because three of us could not find the gas release without the video.

Black on black!!!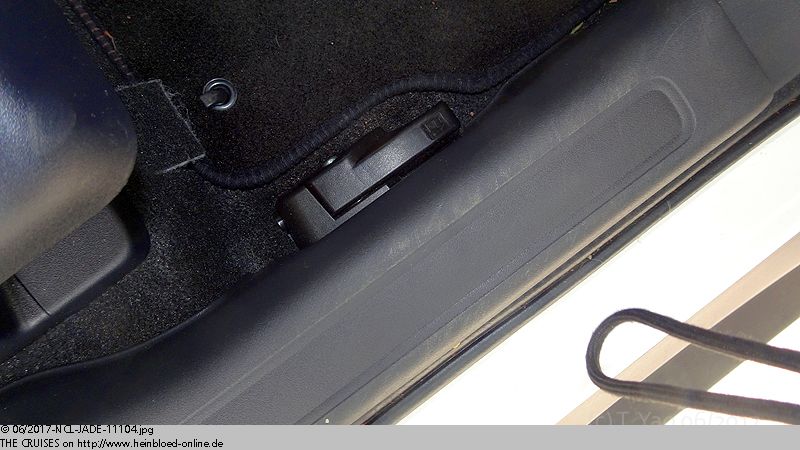 Schwarz auf schwarz!!!
Was hat man in den Zeiten vor YouTube und Google in so einer Situation gemacht: vermutlich den ADAC gerufen oder die Gebrauchsanleitung studiert...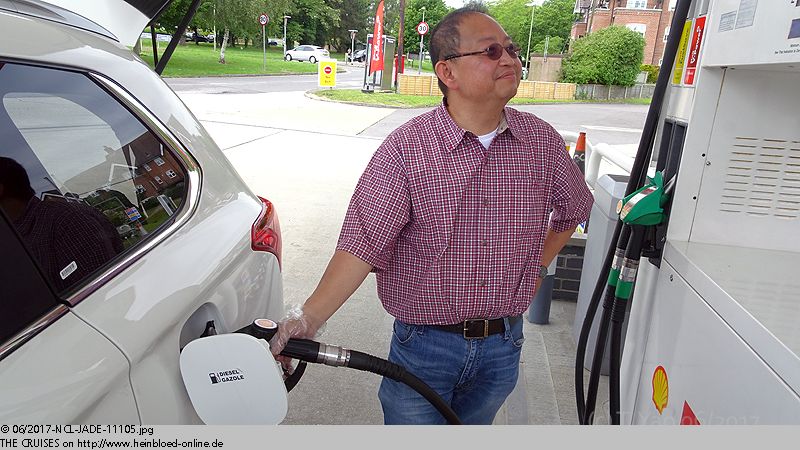 What did we do in times before YouTube or Google in such a situation: call the AAA or studying the manual...

We returned the car to the town location of Hertz after we released before our bags at the Ocean Terminal. Accidentially I discovered a return box. But you cannot book return during office closure. The Hertz-agent told me: just book a return at the airport, drive to us, park right behind the building on the employees' parking and drop off your key here. Good to know. So you save the ride from the airport.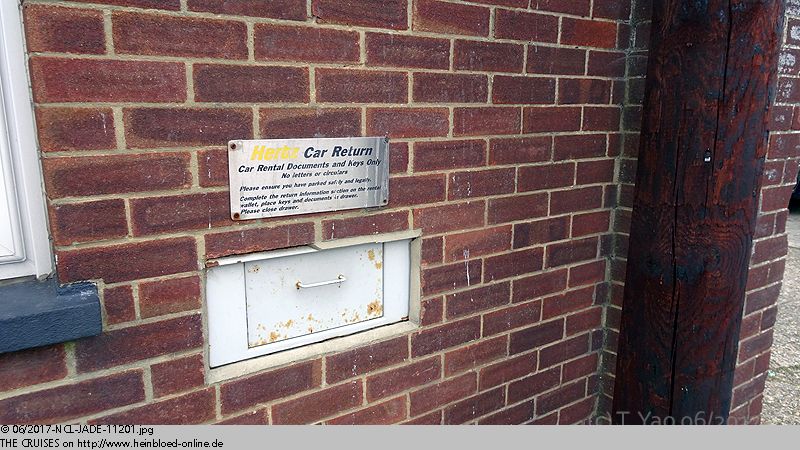 Wir bringen den Wagen zur
Stadt-Station von Hertz
, nach dem wir zunächst unser Gepäck an der Ocean Terminal abgegeben haben. Zufällig sehe ich, dass er doch eine Rückgabebox hat. Man kann es aber keine Rückgaben außerhalb der Öffnungszeiten buchen. Die Mitarbeiterin von Hertz erklärt mir: buchen Sie einfach die Rückgabe am Flughafen, fahren Sie hierher, parken Sie hier rechts vom Büro auf dem Mitarbeiterparkplatz und werfen Sie den Schlüssel hier ein. Gut zu wissen. So spart man sich die Fahrt vom Flughafen.
Aber so hatten wir damals auf dem Weg zur
QUEEN MARY 2 2015
Tony von Clifford Cars kennengelernt, den wir jetzt immer gerne für unsere Fahrten in Southampton buchen. Am Einfachsten eine SMS senden oder anrufen: +44 7919 851979.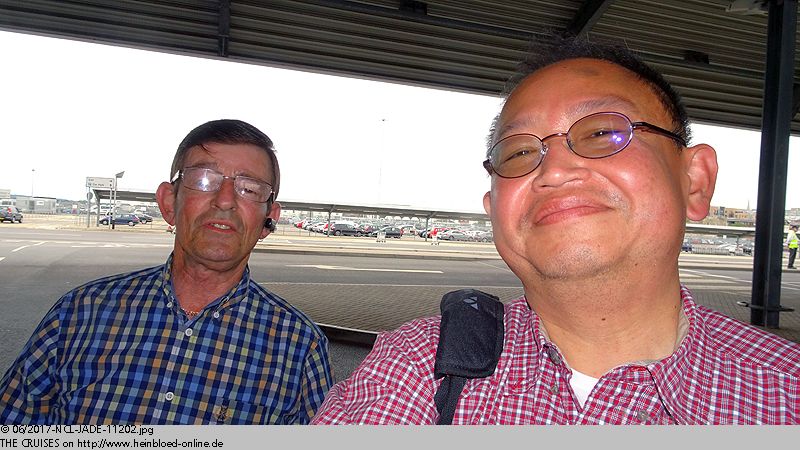 But that was how we met Tony of Clifford Cars on our way to QUEEN MARY 2 2015 whom we like to book for our rides in Southampton. Best is to text or to call him: +44 7919 851979.

The actual tariff for Southampton Taxis.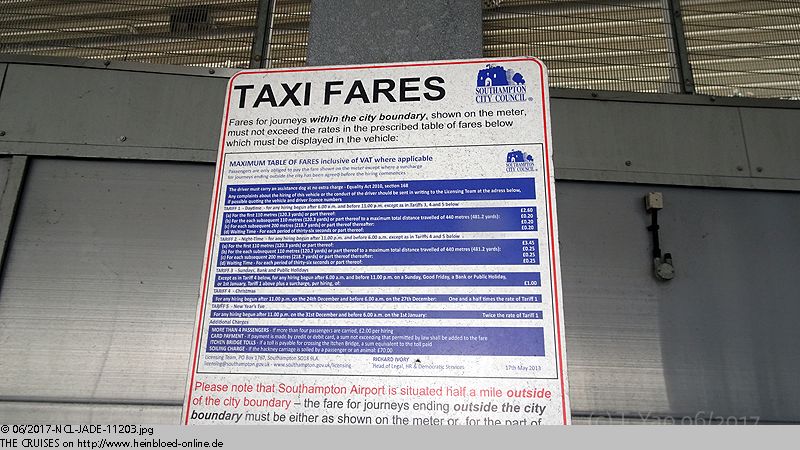 Der aktuelle Tarif für Southampton Taxis.
Zu Gast bei Carnival im Ocean Terminal.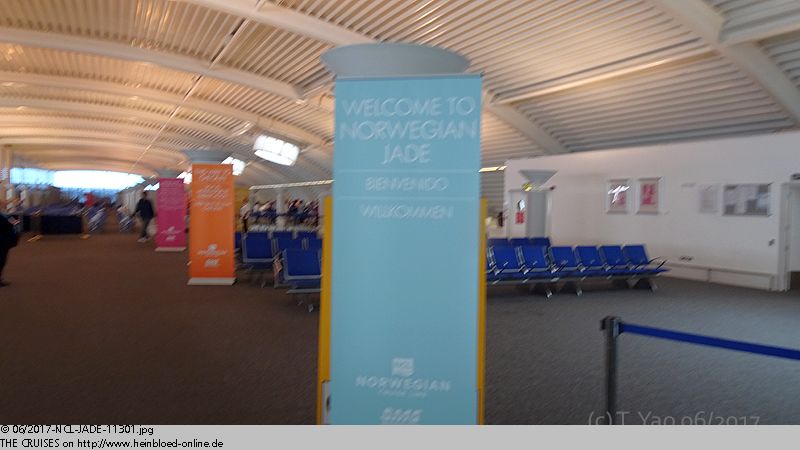 To be guest with Carnival in the Ocean Terminal.

Here we could check-in.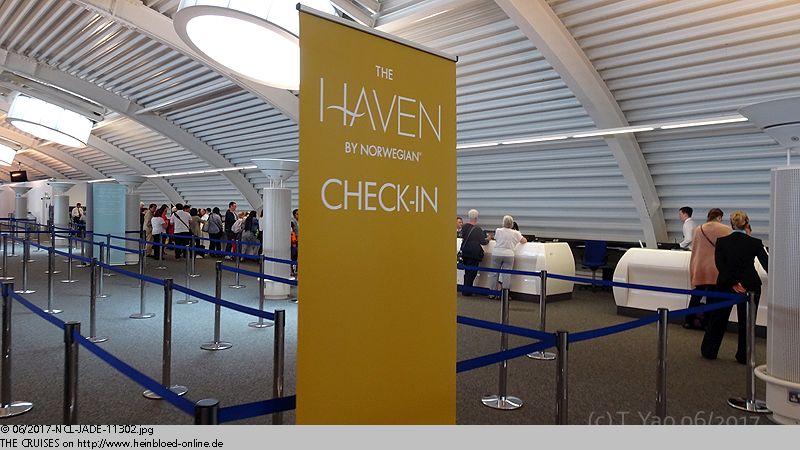 Hier dürfen wir einchecken.
Hier dürfen wir uns erfrischen, falls wir nicht sofort an Bord wollen.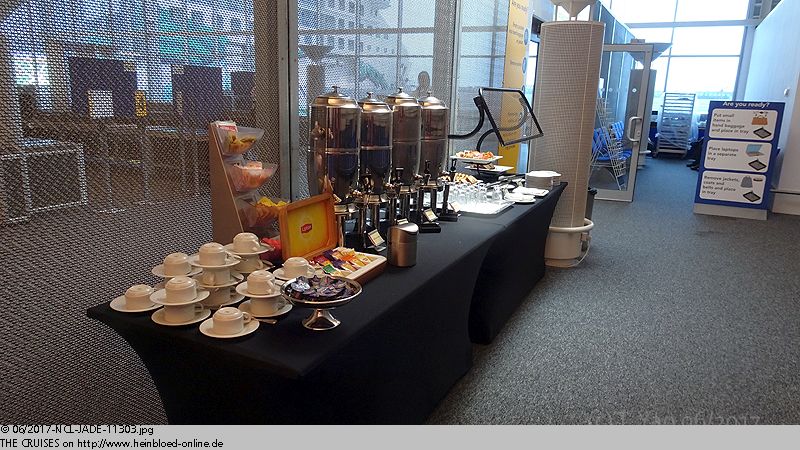 Here we could refresh if we would not like to go onboard immediately.

Our shipcard. With all information we need for the beverage packages we booked in Central Europe. That time we booked again with Sonnendeck Seereisen. Because the conditions were best at the time of booking. But it was worth to do so as we should find out two days later.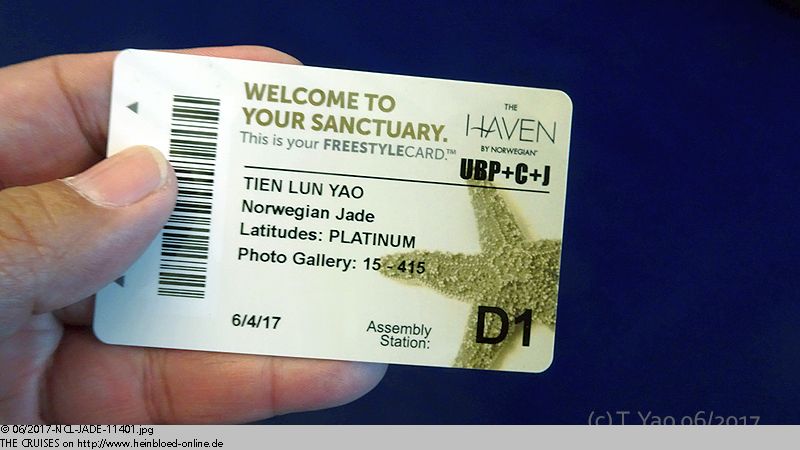 Unsere Bordkarte. Mit den entsprechenden Hinweise für die Getränkepakete, die wir zu DACH-Konditionen gebucht haben. Dieses Mal haben wir wieder bei
Sonnendeck Seereisen
gebucht. Weil zum Zeitpunkt der Buchung die Konditionen hier am günstigsten waren. Aber im Fall dieser Buchung hat es sich gelohnt, wie wir zwei Tage später feststellen werden.
Begrüßt werden wir durch Omar, den wir von unserer Reise auf der
NORWEGIAN SKY 2015
bereits kennen.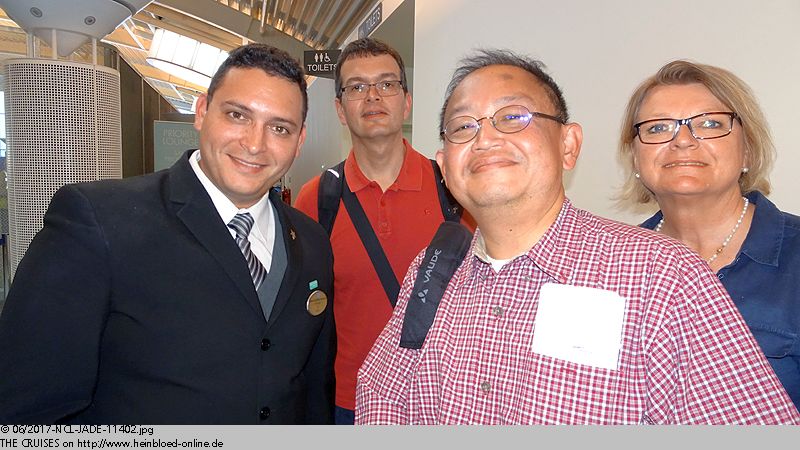 We were welcomed by Omar whom we knew from our voyage on NORWEGIAN SKY 2015.

"The NORWEGIAN JADE Team welcomes you BACK" I was missing "Mr Tien"...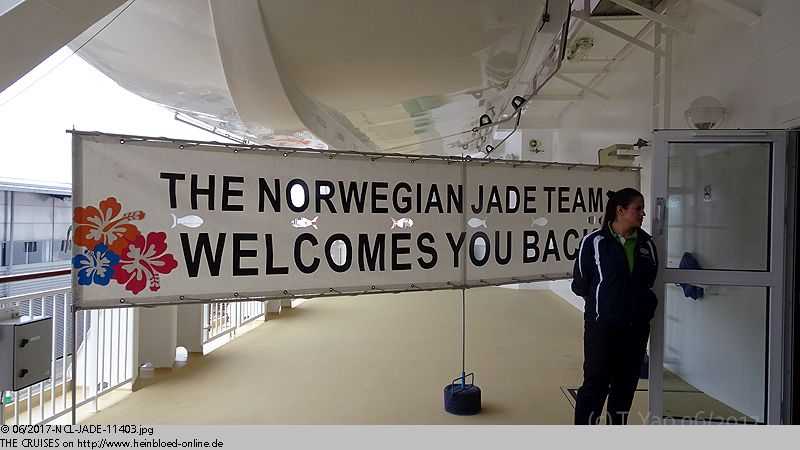 "The NORWEGIAN JADE Team welcomes you
BACK
" Da fehlt aber noch das "Mr Tien"...
Wir wollen schnell ins Cagney's, damit wir noch zu Mittag essen können. Die Eile hätten wir uns sparen können. Freestyle bei NCL heißt, dass erst um 14.00 Uhr letzter Einlass ist. Irgendwie haben wir noch zu sehr das 13.30 Uhr der anderen im Kopf. Den ersten, den wir direkt beim Eingang entdecken, ist der jenige, der uns auf der allerersten NCL-Reise mit
NORWEGIAN PEARL 2006
und sehr oft auf weiteren Reisen (
NORWEGIAN JADE 2011 (1)
,
NORWEGIAN JADE 2011 (2)
,
NORWEGIAN JADE 2014 (2)
) bewiesen hat, was echte Gastfreundschaft bedeutet. Damals ein Assistant Maître D' und jetzt Food und Beverage Manager: Furtoso Gonsalves. An sich genieße ich es ja, dass wir hier im Cagney's zu Mittag essen dürfen. Ich mag hier sehr den Service. Es ist gut aber dennoch enttäuschend: die Karte hat sich nie geändert. Wir essen immer noch das gleiche, seit unserer Reise auf der
NORWEGIAN GEM 2009
. Wobei ich eigentlich mein Dip-Sandwich mag. Ich kann es ja nur nicht jeden Mittag essen!

We wanted to get quickly to Cagney's to have lunch. We could save our pressure. Freestyle with NCL meant that last access was 14.00 hrs. Somehow we had 13.30 hrs of the others still in our mind. The first we met directly here at the entrance was someone whom we met on our very first NCL-voyage on NORWEGIAN PEARL 2006 and on many other voyages (NORWEGIAN JADE 2011 (1), NORWEGIAN JADE 2011 (2), NORWEGIAN JADE 2014 (2)) and he proofed what true hospitality meant. Then he was Assistant Maître D' and now Food and Beverage Manager: Furtoso Gonsalves. Normally I enjoyed to have lunch in the Cagney's. I loved very much the service there. It was somehow disappointing: the menu has never changed. We still get the same food we go on our voyage on NORWEGIAN GEM 2009. Although I loved the Dip-Sandwich very much. But I cannot have it every lunch!

Let us head to The Haven. Somehow we were surprised how many furnitures were around in the hallway. We were told that the refurbishment of the ship was not completed and some of the works were still in progress on board.

Auf geht es in The Haven. Irgendwie wundern wir uns über die vielen Möbel, die oft im Gang stehen. Aber uns wird gesagt, dass die Umbauarbeiten noch nicht abgeschlossen sind und manche Renovierungsarbeiten hier an Bord noch fortgesetzt werden.
Wir gehen mal raus auf das Außendeck. Ist auch ganz nett. Nur das Dach ist leider nicht wasserfest... Man wird doch etwas nass darunter.

We went out to the open deck. Was also very nice. Only the roof was not waterproof... You became wet under.

We arrived to our H4-Suite. We had it already before on NORWEGIAN GEM 2009 and NORWEGIAN BREAKAWAY 2013. Only on Breakaway-Class it was less nice than on Jewel-Class. Also we had wonderful memories of our voyage on NORWEGIAN JADE 2014 (2): we booked our Goslar friends Ingrid, Angela and Thomas such a suite. And they allowed the crew to indulge them and had a lot of fun. We were welcomed in a very nice way. Some changes we noticed.

Wir sind in unserer H4-Suite angekommen. Wir hatten sie schon mal auf der
NORWEGIAN GEM 2009
und
NORWEGIAN BREAKAWAY 2013
. Nur auf der Breakaway-Klasse ist sie weniger schön als auf der Jewel-Klasse. Auch verbinden wir damit sehr nette Erinnerungen an unsere Reise auf der
NORWEGIAN JADE 2014 (2)
: unsere Goslaer Freunde Ingrid, Angela und Thomas hatten wir diese Suite gebucht. Und sie haben es sich gut gehen lassen und sehr viel Spaß. Sehr nett werden wir willkommen geheißen. Ein paar Neuerungen stellen wir doch fest.
Im Master Schlafzimmer gibt es kleine Verbesserungen: z. B. die USB-Anschlüsse, die man suchen muss. So genau weiß ich allerdings nicht, warum die roten Lämpchen im Kleiderschrank gut sein sollen. Das Bett scheint neu zu sein.

In the master bedroom you had minor improvements: like the USB-outlets which you need to find. I was not sure for what they need the little red light in the closet. The bed looked new.

It would be sad to leave the "Nanny" room unused. We did not get it for 99.00 USD like then on NORWEGIAN GEM 2009, although 99.00 USD plus 79.00 USD for the beverage package x 2 plus service charge on the beverage package plus daily service charge for suite-guests... So obviously we got it again for that price. So we could enable a nice and easy single fellow-cruiser to join again. To have an orgy with six I think it was too narrow as the two who need to sleep in the living room had to share the master bathroom which you can only reach in transit through the master bedroom (bed seperated by curtains only). Sigi was such a lovely, nice, easy single and fit perfectly in. As she had no further commitment for pentecost she loved to join us. All we need to do to make her happy was sharing some of our coat hangers.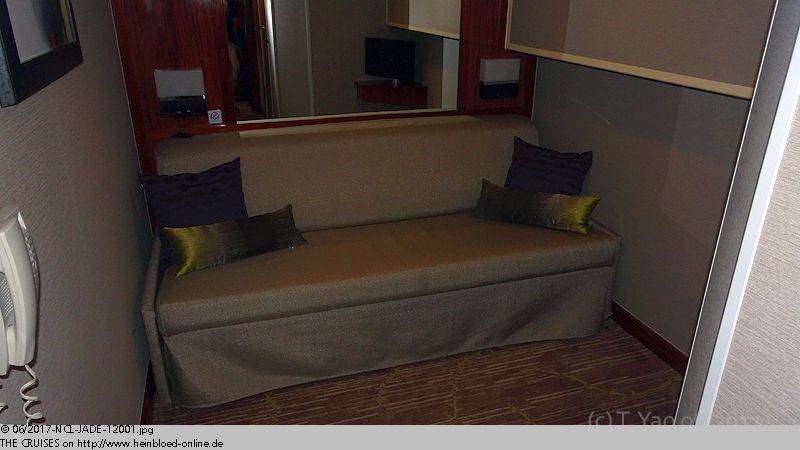 Es wäre schade gewesen, das "Nanny"-Zimmer ungenutzt zu lassen. Für 99,00 USD wie damals auf der
NORWEGIAN GEM 2009
haben wir es nicht bekommen, wobei 99,00 USD plus 79,00 USD für das Getränkepaket x 2 plus Service Charge auf das Getränkepaket plus tägliche Service Charge für Suiten-Gäste... Eigentlich haben wir es doch dafür wieder bekommen. So können wir lieben netten und pflegeleichten Singles die Mitfahrt ermöglichen. Für eine Orgie zu sechst finde ich es doch zu eng, zumal sich die zwei, die im Wohnzimmer schlafen, das Master Badezimmer mitbenutzen müssten, das ja nur im Transit durch das Master Schlafzimmer (Bettbereich durch Vorhang getrennt) erreichbar wäre. Sigi ist so ein lieber, netter, pflegeleichter Single und passt daher perfekt hier rein. Da sie auch über Pfingsten nichts zu tun hatte, kommt sie gerne mit. Wir müssen lediglich ein paar Kleiderbügel abgeben.
Es ist ja ein eigenes Bad in dem "Nanny"-Zimmer.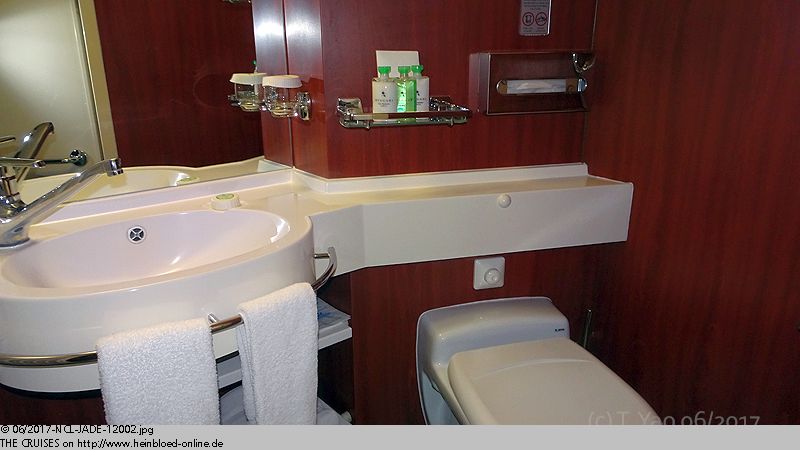 There was a bathroom in the "Nanny"-Room.

Our little balcony.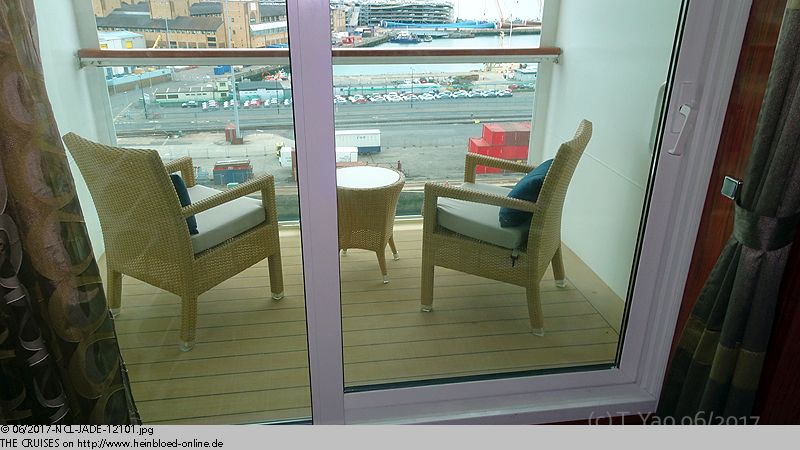 Unser kleiner Balkon.
Ich freue mich immer wieder auf unser Badezimmer.
Elemis
gibt es nicht mehr. Dafür
Bulgari
. Ich mag die Badewanne für Kleinwüchsige. Bisher kenne ich nur eine Person, die perfekt reinpasst und die sich geweigert hat, sich für meinen Blog in einem Schaumbad darin fotografieren zu lassen - siehe
NORWEGIAN JADE 2014
. Selbst ich mit 1,71 m bin zu lang. Schade, dass wir nicht direkt neben einem anderen Schiff liegen, wie am Manhattan Cruise Terminal: hätte man sich beim Duschen gegenseitig zugucken können. Die Aussicht aus Dusche und Badewanne ist schon schön. Die Einblicke von draußen: je nach Auge des Betrachters. Abends gibt es dann so ein Notlicht, um den Weg zum WC zu finden.

I was looking forward again for our bathroom. No more Elemis. But Bulgari. I like the bath tub for short staure. So far I only knew one person who would fit perfectly into but she refused to allow me to take a picture while she was taking a foam bath for my blog on NORWEGIAN JADE 2014. Even me with 5' 7" was too tall. Sad that the we did not dock next to antoher ship like in Manhattan Cruise Terminal: you could observe mutually taking showers. The view from the shower and the bath tub was very nice. The views from outside: depending to the point of view. In the night you had an emergency light to find the way to the toilet.

Subject: Carrying beverages onboard... For sure you could not count us to those who went quickly to a supermarket to buy palletwise beverages to take them onboard. It was also not because of the price but more that we liked more mineral water but just purifined water and we prefer more products from Coke but from Pepsi. It was to test to learn how they would react after reading so many horror stories on the boards. The result:
we could get in our hand baggage but also in our checked baggage beverages on board and back ashore (because we had a German beverage package which includes one bottle of water per person and day). But we did not have any shipside baggage check. Everybody should know himself if he like to try it. For my next voyage I ordered and paid already 12 bottles for cabin delivery. We will not have a beverage package. 79.00 USD plus 18%
service charge was not worth for our drinking style: we had to pay anyway the bottled water and the coffee from the barista-machine. I did not like to carry two bottles and share every day the water between Bruno and me and refill in our cabin.

Thema: Mitnahme von Getränken an Bord... Sicherlich gehören wir nicht zu den Leuten, die schnell noch in einem Supermarkt fahren und Palettenweise Getränke an Bord mitbringen. Es geht auch weniger um den Preis, sondern eher darum, dass ich nun mal Mineralwasser lieber mag als Tafelwasser und lieber Produkte aus dem Hause Coca-Cola als aus dem Hause Pepsi. Es geht um einen Test, dass ich wissen will, wie sie eigentlich reagieren, nach dem ich ja schon viele Horrorgeschichten im Forum gelesen habe. Das Ergebnis: wir haben sowohl im Handgepäck als auch im aufgegebenem Gepäck es geschafft Getränke an Bord und wieder von Bord zu bekommen (letzteres, weil wir am Schluss durch das deutsche Getränkepaket soviele Flaschen Wasser hatten). Wir hatten allerdings auch keine schiffseitige Gepäckkontrolle. Muss jeder selbst wissen, ob er es versuchen möchte. Für die nächste Reise habe ich bereits 12 Flaschen zur Lieferung in meine Kabine bestellt und bereits bezahlt. Da haben wir kein Getränkepaket. 79,00 USD plus 18% Serviceentgelt lohnt sich für unser Trinkverhalten einfach nicht: Denn das Wasser aus der Flasche und den Kaffee von der Barista-Maschine müssen wir eh immer zahlen. Ich hätte auch keine Lust, zwei Flaschen mitzubringen und jeden Tag das Wasser zwischen Bruno und mir aufzuteilen und in der Kabine dann umzufüllen.
Die Grüße kommen immer sehr gut an. Auch von unserem Kabinensteward Dinesh bekommt Bruno auch noch einen Geburtstagsgruß.

The greetings made a good impression. So Bruno got also from cabin steward Dinesh a birthday greeting.

We got a lot of paper work. And we checked the cabin menu. No more DVDs available.

Wir haben viel Papierkram. Und außerdem gucken wir uns mal die Kabinen-Speisekarte an. Die DVDs sind abgeschafft.
Da wir zum ersten Premium All Inclusive auf dem deutschen Markt gebucht haben, müssen wir erst mal feststellen, was alles inkludiert ist.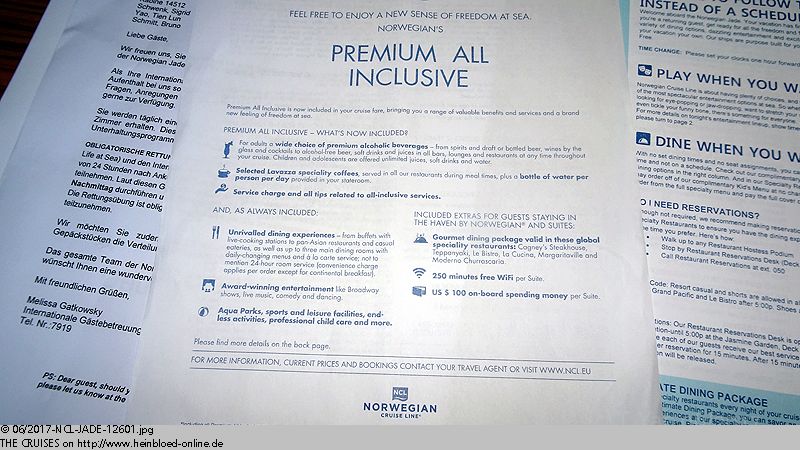 As we had the very first time Premium All Inclusive according to the German market we need to find out what was all included.

All of this was included.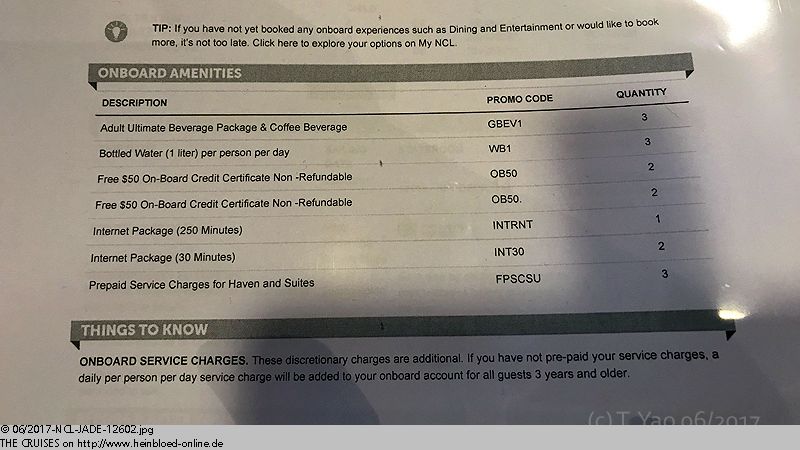 Das ist alles inkludiert.
Wasser bekommen wir, aber nur das stille. Kein
San Pellegrino
. Es gibt kein Mineralwasser sondern nur stilles Tafelwasser von
Aquafina
. Tafelwasser kommt aus der Wasserleitung und wird dann aufbereitet. Bruno hat früher mal bei einem Coca-Cola-Konzessionär gearbeitet.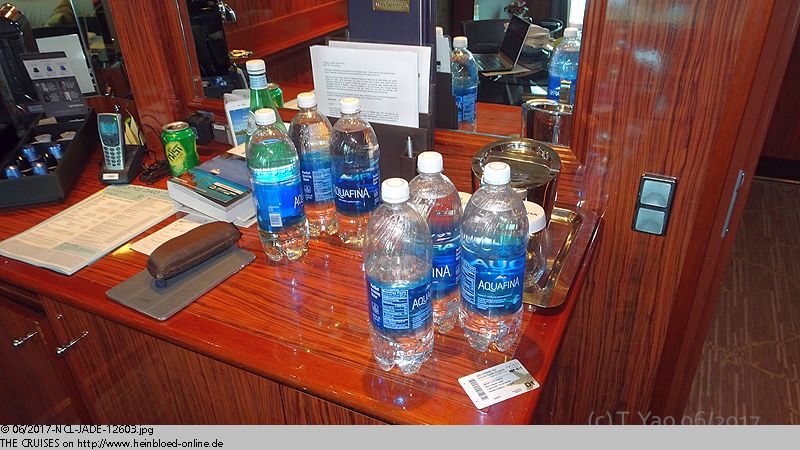 We got water but only the still. No San Pellegrino. It was no mineral water but just still purifined water by Aquafina. Purifined water was made of tap water which will be processed. Bruno worked before with a Coke-botteler.

27.95 USD plus 18% = 33.02 USD. You should prebook in the internet. You can save more money: 32.98 USD...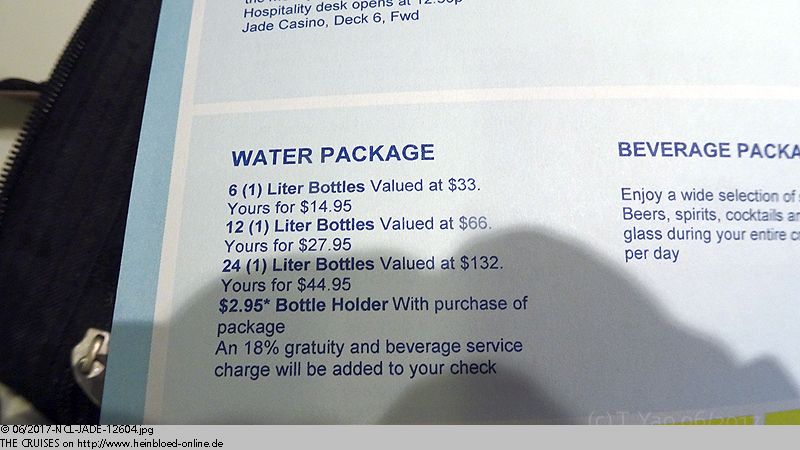 27,95 USD plus 18% = 33,02 USD. Man sollte unbedingt im Internet vorbuchen. Damit man noch mehr sparen kann: 32,98 USD...
Einmal gucken, was auf den Außendecks los ist. Die Palmen-Attrappen auf dem offenen Deck sind weg.

Browsing aroun to see what was going on the the open deck. The palm dummies on the open decks were removed.

The Star Bar was now the Sugarcane Mojito Bar.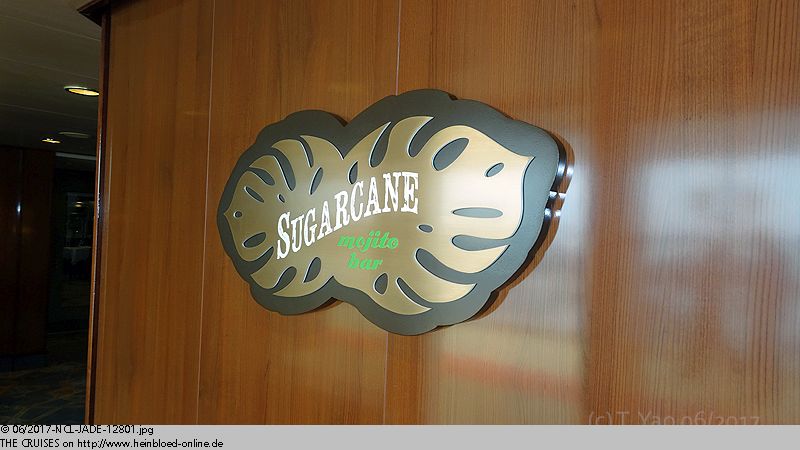 Die Star Bar ist jetzt Sugarcane Mojito Bar.
Ob sie die Sessel nur in schwarz angestrichen haben? Komisch wirkt es schon.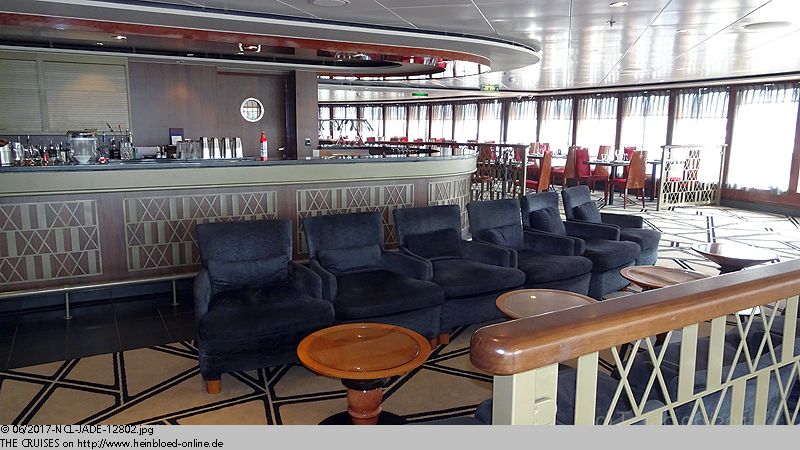 Wondering if they only painted the chairs in black? Looked a little strange.

The moderno was moved from Deck 8 to this place here.

Das Moderno ist von Deck 8 hierher gezogen.
17.00 Uhr ist Seenotrettungsübung.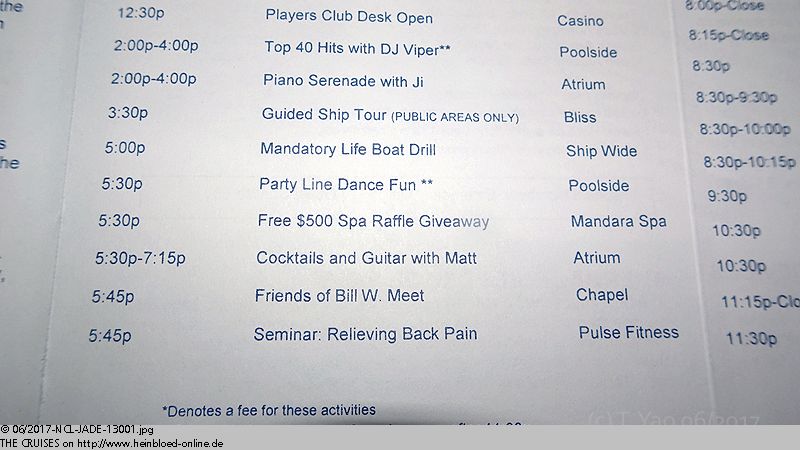 17.00 hrs was life drill.

At 17.12 hrs we were already finishe. Never had it left so fast behind me.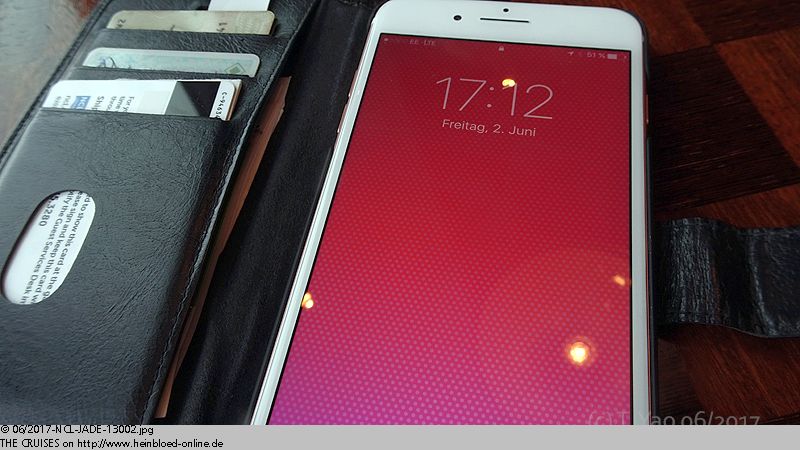 Um 17.12 Uhr sind wir bereits fertig. So schnell habe ich es ja noch nie hinter mich gebracht.
Und schon sind sie wieder weg.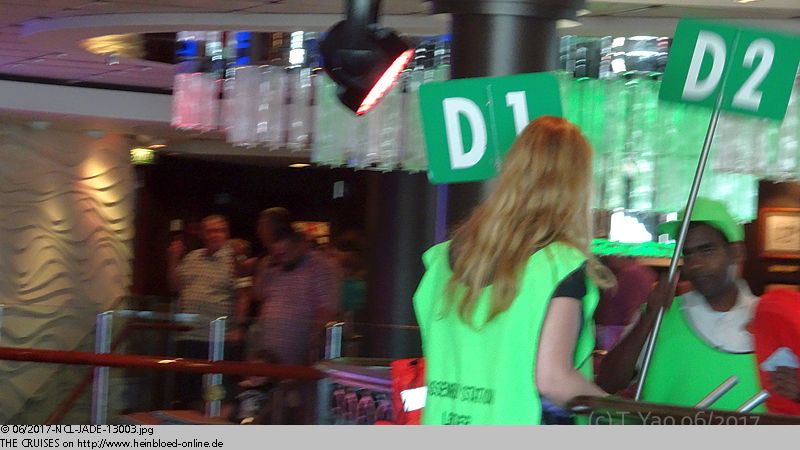 And quickly they were gone away.

In the atrium a lot has changed. Not anymore so colorful. No Aloha Café but Java Café. But not like we learned on NORWEGIAN ESCAPE 2015 "to go" style only. And they advertised the beverage and dining packages. And certainly Cruise Next. But we did not them buy them anymore due to the bad conditions. Meeting for Latitudes members was announced after Hamburg which meant without us. Return of Cruise Next only within one month. Furthermore I dislike with NCL that you had no benefits more or less as loyal guest if you would not stay longer than five nights. That was why I appreciate with Cunard and others: guest is guest: no matter one night or 14 nights. So my declared target was not to become Latitudes Ambassador with NCL but to become Diamond with Cunard, Elite with Princess and 3* Mariner with HAL. I would become Platinum Plus anyway after my voyage on NORWEGIAN GETAWAY soon, so that we can enjoy the privileges on our so far last grand voyage with NCL on NORWEGIAN SUN 2019. Meanwhile they had POS-terminals at the front desk for the use of credit cards. Changing money was still unaffordable onboard. And I identify someone familiar: Hotel Director Mirsad Bucuk whom we knew as Food and Beverage Manager on our voyage on NORWEGIAN JADE 2011 (1)">NORWEGIAN JADE 2009. The best slide on the LED screen was the Hamburg-tours-advertising slide.

Im Atrium hat sich einiges verändert. Nicht mehr so schön bunt. Kein Aloha Café mehr sondern ein Java Café. Aber zum Glück nicht wie im Stil wie wir es auf der
NORWEGIAN ESCAPE 2015
nur als "to go" kennengelernt haben. Die Getränke- und Dinnerpakete werden beworben. Und natürlich Cruise Next. Den kaufen wir allerdings aufgrund der schlechten Konditionen nicht mehr. Das Treffen für die Latitudes Mitglieder findet erst nach Hamburg ohne uns statt. Rückgabe der Cruise Next nur innerhalb von einem Monat. Außerdem stört mich bei NCL, dass quasi man nichts davon hat, wenn man loyaler Gast ist, und nicht mindestens fünf Nächte unterwegs ist. Das schätze ich eben sehr an Cunard und anderen: Gast ist Gast: egal ob eine Nacht oder 14 Nächte. Mein erklärtes Ziel ist nicht daher Latitudes Ambassador bei NCL zu werden, sondern Diamond bei Cunard, Elite bei Princess und 3* Mariner bei HAL. Platinum Plus werde ich eh bald nach der NORWEGIAN GETWAY-Reise, so dass wir zumindest auf der vorerst letzten großen NCL-Reise auf der NORWEGIAN SUN 2019 die Privilegien genießen können. Mittlerweile gibt es an der Rezeption POS-Terminals für die Kreditkarten. Geld tauschen an Bord ist immer noch unbezahlbar. Und ich sehe einen alten Bekannten wieder: Hoteldirektor ist jetzt Mirsad Bucuk, den wir noch als Food and Beverage Manager von der Reise auf der
NORWEGIAN JADE 2011 (1)
kennen. Das beste ist für mich das Bild auf der LED-Wand, mit dem die Hamburg-Ausflüge beworben werden.
Wir gehen zum Java Café. Da hier die Kaffee-Getränke nicht im Getränkepaket inkludiert sind, müssen wir für die Kaffeespezialitäten voll bezahlen. Beim deutschen Getränkepaket gibt es nach dem Essen eine Kaffeespezialität aus dem Kaffeevollautomaten in den Restaurants. Hier kommt er aus der Barista-Maschine. Also zahlen wir lieber hier. Kleinere Leckereien gibt es gegen Entgelt von The Bake Shop. Die Partnerschaft mit
Carlo's Bake Shop
wurde 2016 beendet. Wir hatten mal etwas von Carlo auf der
NORWEGIAN JADE 2014 (2)
probiert, aber als Freunde französischer und spanischer Patisserien, war uns das ganze zu mächtig und zu süß.

We went to the Java Café. As here the coffee-beverages were not included in the beverage package we need to pay to coffee specialities in full. With the German Beverage Package you had after your meal a coffee speciality from the full automated machine in the restaurants. Here you had it from the barista-machine. So we prefered to pay here. Smaller bites against payment you had from The Bake Shop. The partnership with Carlo's Bake Shop was terminated 2016. We had the chance to try something from Carlo on NORWEGIAN JADE 2014 (2) but as friends of French and Spanish patisseries it was too rich and to sweet for us.

We went to the Bliss (Ultra) Lounge zu the meeting of the Friends of Dorothy. A part of the signs showed Bliss Ultra Lounge and another part Bliss Lounge. For me it was still the old Medusa-Lounge. They removed the private Karaoke-rooms. The lounge made to me a strange appearance. But here I was told that the work on refurbishment was not completed yet and that was why it appeared on some spots like a second hand furniture exhibiion. The very first time I experience a Friends of Dorothy meeting which was hosted: Jhony did a great job and he had gifts for us. It was true what you read in some boards: due to the beverage packages the attention and service level of the waiters slackened a little. But as we always tip even we had a beverage package we made sure that the waiters came as frequently as we must not die on thirst.

Es geht in die Bliss (Ultra) Lounge zum Friends of Dorothy Treffen. Ein Teil der Schilder lautet auf Bliss Ultra Lounge und ein Teil auf Bliss Lounge. Für mich ist es immer noch die alte Medusa-Lounge. Die privaten Karoke-Räume gibt es nicht mehr. Die Lounge macht auf mich einen etwas eigenartigen Eindruck. Aber hier erklärt man mir später, dass die Renovierungsarbeiten noch nicht abgeschlossen seien und es deswegen ein wenig wie eine Gebrauchtmöbelausstellung stellenweise aussieht. Zum allerersten Mal erlebe ich ein Friends of Dorothy Treffen, das moderiert wird: Jhony macht es ganz toll und es gibt Geschenke für uns. Es stimmt aber schon, was man stellenweise im Forum liest: durch die Getränkepakete hat die Aufmerksamkeit und Servicebereitschaft der Kellner ein wenig nachgelassen. Aber da wir auch bei Getränkepaketen immer etwas geben, haben wir sichergestellt, dass die Kellner oft genug bei uns vorbeikommen, um sicherzustellen, dass wir nicht verdursten.
Zum Abendessen geht es in Cagney's. Da hier à-la-carte Preise gelten, kann man nicht mehr zu einer pauschalen Zuzahlung vorbestellen. Man darf ab Suiten-Gast erst ab drei Nächte kostenlos in die Zuzahlrestaurants. Das Cagney haben sie sehr schön umgebaut mit den virtuellen Feuerstellen. Nur bei NCL: wer eine dunkle Hose trägt, bekommt auch eine dunkle Serviette. Die Weinkarte ist jetzt ein Tablett. Ich bestelle mir einen Shrimps Cocktail. In der Werbung mit 6 Shrimps. Und serviert werden 4. Mit meinem Rib-Eye-Steak hatte ich leider ausgesprochenes Pech. Das ist einfach zu hart für mich. Ich bekomme ein Filet Mignon und das hätten sie mit einem kleinen Löffel servieren können: es war so weich und zart. Sie haben mein Steak nicht berechnet. Am Schluss bekommt Bruno zwei Geburtstagskuchen. Weil wir den vorbestellbaren und den kostenlosen wegen der vielen Buttercreme nicht mögen, hatte ich angefragt, ob wir einen anderen haben können. Sie haben es innerhalb weniger Stunden möglich gemacht und wir bekommen eine tolle Sachertorte, die wir mit der Crew teilen. Spezieller Dank an Zekeriya, der das noch möglich gemacht hat. Wir genießen einen tollen Service durch I Nyoman, Restaurant Hostess Valeria und Assistent Maître D' Subhash. Service, den wir auf anderen Schiffen in einem Zuzahlrestaurant vermissen. Deswegen gab es auch ein hohes Trinkgeld für ein tolles Team, das immer bereit war, die Extrameile zu gehen.

For dinner we went to Cagney's. Since they had à-lacare princing you cannot prebook for one fixed cover charge. As suite guests you can go complimentary from three nights to the alternative dining venues. The refit the Cagney's very nice with the virtual fire places. Only with NCL: who was wearing a dark pant got a dark napkin. The wine menu was now on a tablett. I ordered a shrimp cocktail. In the advertising with 6 shrimps. And they served with 4. I had extremely unluck with my Rib-Eye-Steak. It was too hard for me. I got a Filet Mignon and they could have serve it with a tea spoon: it was so soft and tender. They did not charge my steak. At the end Bruno got two birthday cakes. Because we do not like the pre-buyable and the complimentary ones because of the buttercreme I requested to have another one. They really did it within few hours and we got a great Sacher-Torte (Chocololate cake - named after the famous Sacher Hotel in Vienna and Salzburg, Austria) which we shared with the crew. Special thank to Zekeriya who made this possible. We experienced a great service by I Nyoman, Restaurant Hostess Valeria and Assistent Maître D' Subhash. Service which we missed in other alternative dining venues on other ships. So we were willing to tip higher for such a great team which was ready to walk an extra mile.

NORWEGIAN SKY 2015: Here we made the acquaintance of the musician Daniela and Sebastian which was acting as Supernova. We went quickly to the Bliss (Ultra) Lounge and they were happy to see us. As they had the following day off we should meet for some coffee so we can talk in peace. Their roots were from Argentina and Chile. So we had to use the chance to get information of the country and the people from the first sources. Also the other musician were very good. It was hard to decide where to sit and to listen.

NORWEGIAN SKY 2015
: hier lernen wir die Musiker Daniela und Sebastian kennen, die als
Supernova
auftreten. Wir gehen sie kurz in der Bliss (Ultra) Lounge und sie freuen sich, dass wir vorbeikommen. Da sie am nächsten Tag spielfrei haben, verabreden wir uns zum Kaffee, damit wir uns in Ruhe unterhalten können. Sie haben ja ihre Wurzeln in Argentinien und Chile. Da müssen wir doch die Chance nutzen Informationen über Land und Leute aus erster Hand zu bekommen. Auch die anderen Musiker sind alle sehr gut. Man weiß eigentlich gar nicht, wohin man sich setzen soll, um zuzuhören.
Ein wichtiger Grund für mich für diese Reise: ich will wissen, was mit König Kamehameha (Hawai'ianischer König) passiert ist, der als Statue im Grand Pacific Restaurant stand. Mit ihm verbinde ich schöne Erinnerungen an frühere Fahrten auf der NORWEGIAN JADE und während unserer Reise auf der
CARNIVAL SPIRIT 2011
in Honolulu, O'ahu und Hilo, Big Island, Hawai'i. Es ist noch ziemlich hawai'ianisch, aber König Kamehameha ist leider weg. Mirsad hat mir erzählt, dass er ihn nicht einfach entsorgen mochte und er jetzt auf der PRIDE OF AMERICA seinen Dienst tut. Schade: ich hätte ihn gerne für unsere Terrasse gehabt. Man kann jetzt auch in den Hauptrestaurants schon vorab Tische online reservieren. Im Grand Pacific immer zur halben Stunde. Nach dem man zuletzt für Hummer, Surf und Turf und Prime Rib einen Aufpreis in den Hauptrestaurants berechnet hatte, hat man solche Gerichte zwischenzeitlich komplett abgeschafft. Dafür gibt es ja auch die Zuzahlrestaurants. Das täglich verfügbare Angebot besteht aus Hühnchen, Hühnchen, Hühnchen... (siehe
COSTA FAVOLOSA 2017
) Stimmt nicht.. aber dafür Pasta, Pasta, Pasta... Auch beim Frühstücksangebot hat sich manches verändert. Es fehlt der Egg Benedict auf Lachs. Auf Wunsch bekommt man ihn aber auch noch.

An of my important reasons to go on this voyage: I want to know what happened with King Kamehameha (Hawai'ian King) who was here as statue in the Grand Pacific Main Dining Room. I had fond memories on previous cruises on NORWEGIAN JADE and during our voyage on CARNIVAL SPIRIT 2011 in Honolulu, O'ahu and Hilo, Big Island, Hawai'i. It was still very Hawai'ian but King Kamehameha disappeared. Mirsad told me that he did not want to dispose him and so he is now on PRIDE OF AMERICA on duty. Sad: I really would love to have him for our terrace. You can book also now online a table for the main dining rooms. In the Grand Pacific always for 30 minutes past the hour. After they charged recently a surcharge to get lobster, surf and turf and prime rib in the main dining rooms they withdrew all dishes like that. That was why they had the alternative dining. The daily available dishes were chicken, chicken, chicken... (see COSTA FAVOLOSA 2017) Was not true... but they had pasta, pasta, pasta. Some changes also with the breakfast variation. No more Egg Benedict on salmon. But on request you can still get it.

We had in total 280 minutes internet complimentary. But the log-in was not like with the standard so I need to ask for a refund from the internet-manager. But you get stucked with the 3.95 USD activation fee. The internet should be better but it was still very terrible so we did not use it. Meanwhile they had an offer for unlimited use but it seemed too expensive for me. It would not hurt to check pricing and perfomance with others like on ALLURE OF THE SEAS 2015. And for the use of iConcierge (including an on board messenger-service for passengers) for those others (like DISNEY DREAM 2015) did not charge, they charged you 9,99 USD. The Norwegians are crazy.

Wir hatten insgesamt 280 Minuten Internet kostenlos. Allerdings erfolgt wohl der Log-In nicht so ganz normal, so dass ich später mir das Geld vom Internet-Manager zurückerstatten lassen musste. Allerdings blieben dann die 3,95 USD Aktivierung auf der Rechnung. Das Internet sollte besser sein, aber es ist nach wie vor grottenschlecht, so dass wir es so gut wie gar nicht nutzen. Es gibt wohl jetzt auch ein Angebot für die unbegrenzte Nutzung, aber das erscheint mir doch zu teuer. Es schadet auch nichts, wenn man sich in Punkto Preisgestaltung und Geschwindigkeit bei anderen umsieht, wie toll das Internet da ist, wie auf der
ALLURE OF THE SEAS 2015
. Und für die Nutzung des iConcierge (inklusive ein an Bord Nachrichten-Dienst zwischen Passagieren), bei denen bei anderen (z. B.
DISNEY DREAM 2015
) nichts berechnet wird, wird hier mit 9,99 USD in Rechnung gestellt. Die spinnen, die Norweger!!!
Am Schluss muss ich nochmals gucken gehen, wer sonst noch so alles an Bord an Senioroffizieren da ist.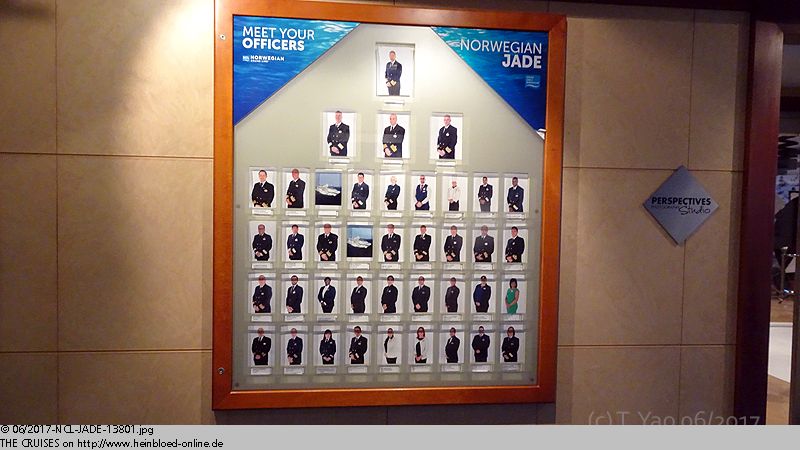 At the end I need to check who else of the Senior Officers were onboard.

Captain Kim Karlsson... we made his aquaintance on NORWEGIAN JADE 2011 (1). Later we met him again on NORWEGIAN JADE 2011 (2). I remember very well how I exasperate him with all my questions in a public question time that he did not allow further questions from me. Looked like you could still see it...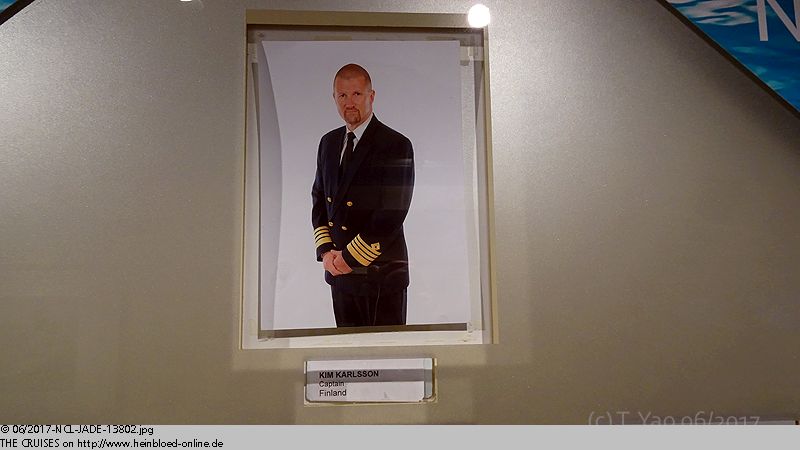 Kapitän Kim Karlsson... wir haben ihn auf der
NORWEGIAN JADE 2011 (1)
kennengelernt. Später haben wir ihn noch auf der
NORWEGIAN JADE 2011 (2)
wiedergetroffen. Ich weiß noch, wie ich ihn mit meinen Fragen zur Verzweiflung in einer öffentlichen Fragestunde gebracht hatte und er mir Frageverbot erteilt hatte. Das sieht man ihm heute irgendwie auch an...
Hoteldirektor Mirsad Bucuk - auch ihn finden wir auf den Bildern von der
NORWEGIAN JADE 2011 (1)
wieder.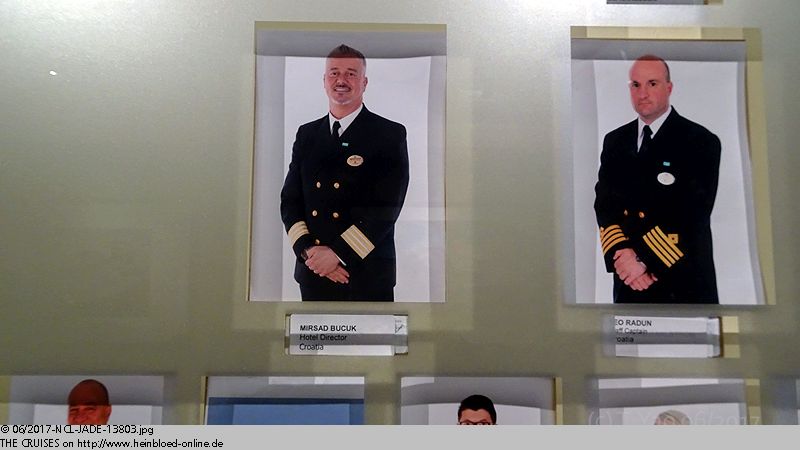 Hotel Director Mirsad Bucuk - also him we found again on pictures of NORWEGIAN JADE 2011 (1).

And of Furtoso Gonsalves we had no pictures on NORWEGIAN PEARL 2006 yet. He was so many times our host. Nice to meet him again.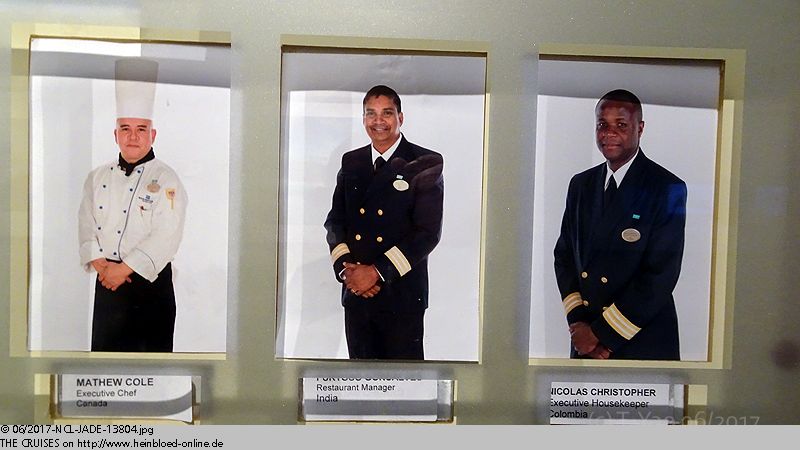 Und von Furtoso Gonsalves gibt es von der Fahrt auf der
NORWEGIAN PEARL 2006
noch keine Bilder. Er war auf so vielen Fahrten unser Gastgeber. Schön ihn auch hier wiederzutreffen.