Da ich vergangene Nacht um 04.30 Uhr aufgewacht bin, schaffe ich es auch jetzt erst um diese Zeit aufzuwachen und mache meinen nächtlichen Rundgang. Das Moderno ist umgezogen. Das Blue Lagoon Café gibt es nicht mehr. Alles ist jetzt O'Sheehan's. Es soll ein 24-Stunden-Angebot sein, aber ich werde abgewimmelt werden: Frühstück sei noch nicht so weit. Ich dürfte mir aus dem Kabinen-Angebot ein Sandwich auswählen. Es würde 20-30 Minuten dauern.

As I woke up last night at 04.30 hrs I woke up this time to make my nightly round. The Moderno moved. The Blue Lagoon Café was not anymore. All was now O'Sheehan's. It should be a 24-hours-venue but I should be turned away. I could pick a sandwich from the cabin menu. It would take 20-30 minutes.

The Teppanyaki Grill was not visible from outside anymore. The menu appeared unchanged. The chairs appeared like them they had in Cagney's before. Only upholstered or painted in black. Jasmine should have a new menu.

Der Teppanyaki-Grill ist jetzt nicht mehr von außen einsehbar. Die Karte wirkt unverändert. Die Stühle sehen so aus, wie die ehemaligen vom Cagney's. Nur schwarz bezogen bzw. angemalt. Jasmine scheint eine Karte zu haben.
Das andere Hauptrestaurant Alizar ist im Internet immer auf die volle Stunde vorbuchbar. In der Verlängerung zu Le Bistro sieht es ganz übel aus: Gebrauchtmöbelmarkt: Stühle von Le Bistro und die alten Stühle aus Cagney's. Aber das soll ja auch alles erneuert werden.

The other main dining room Alizar was also pre-bookable for the full hour. In the extention to Le Bistro it looked very bad: second hand furniture market: chairs from Le Bistro and the old chairs from Cagney's. But everything should be renewed.

In the bar area nothing has changed so far obviously. I missed the dancing GoGo-Girls in the Martini-Bar. But were replaced long time ago by the new screens.

In den Barbereichen scheint sich so gut wie gar nichts verändert zu haben. Ich vermisse die tanzenden GoGo-Girls an der Martini-Bar. Aber die wurden schon länger durch einen neuen Bildschirm ersetzt.
Größere Änderungen sieht man im Garden Café: neue Möbel und die Kinder-Ecke gibt es nicht mehr. Hier treffe ich einen alten Freund: Dave Austin Smith, den ich auch von füheren Fahrten her kenne, so zuletzt
NORWEGIAN JADE 2014 (2)
. Ich frage ihn, ob es Congee gibt. Er sagt nein, aber er sagt auch, dass wenn ich welches will, er dafür sorgen würde, dass ich welches bekäme... Die Frage hätte ich mal auf der letzten Reise zu Ostern stellen sollen. Eine Drachenfrucht gibt es leider nicht an Bord. Wenn es aber die einzige gewesen wäre: ich hätte sie bekommen und wenn auf dem Weg nach Hamburg direkt an der Kaimauer von Dover ein asiatischer Supermarkt gewesen wäre: sie hätten angehalten um eine zu kaufen. Zuletzt wurde ich ja schon für die Frage, ob es Servietten im SB-Restaurant an Bord der
COSTA FAVOLOSA 2017
gibt, beinahe erschossen.

Major changes you could see in the Garden Café: new furniture and no more kid's corner. Here I met again an old friend: Dave Austin Smith whom I knew from previous cruises like recently on NORWEGIAN JADE 2014 (2). I asked him if there would be some congee available. He said no but he also that he would take care to have some if I only ask for... I should ask this question on our last voyage on Easter. They had no dragon fruit onboard. If it would the only one: I definately would get it and if there would an Asian supermarket directly at Dover-quay they would stop by to buy one. Recently on COSTA FAVOLOSA 2017 I was nearly shot dead for asking for some napkins in the buffet restaurant.

The kids corner especially for the friends of kids-on-cruise.de.

Die Kinderecke speziell für die Freunde von
kids-on-cruise.de
.
Beim Durchlaufen fällt mir jemand auf, der das ganze Schiff filmt. Wir kommen ins Gespräch und er zeigt mir sein letztes Video auf YouTube, das er gemacht hat: die Taufe der
MEIN SCHIFF 6
. Nun hat er ausgesprochenes Pech, dass ich weder ihn noch das Video kannte. Ich habe ja mein persönliches Engagement runtergefahren (außer selbst zu fahren) und hänge nicht mehr 24/7 zum Thema Kreuzfahrt im Internet herum. Ich suche ja nur noch sehr gezielt nach meinen Reisen, die ich buchen will und ich mich einfach nicht mehr mit den Fragen beschäftigen, wie man von Civitavecchia zum Flughafen Fiumicino und zurück kommt. Leider gehört TUI Cruises nicht unbedingt zu meinen bevorzugten Gesellschaften seit unserer Reise auf der
MEIN SCHIFF 2 2012
. Daher gebe ich zu: ich habe das nicht weiter verfolgt, wenn es Themen oder Schiffe betraf, an denen ich kein persönliches Interesse habe. Vor 5-10 Jahren war ich aber genauso verrückt, dass ich jeden Neubau sehen musste und dauernd zur Werft gefahren bin.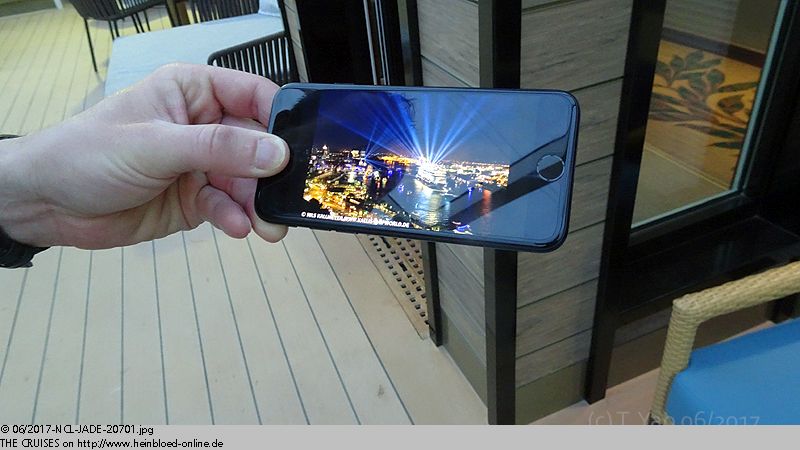 While I was browsing someone attracted my attention who taped the whole ship. We started to talk and she showed me his last video on YouTube he hade due to christianing of MEIN SCHIFF 6. Somehow he had extremely unluck that I did not know him nor his video. I reduced myself with all cruising activities (except going myself) and did not stay in internet 24/7 for cruising. I researched only very determined for my voyages which I would like to book and I dislike to response to questions anymore like how you could get from Civitavecchia to Fiumicino-Airport and back. Unfortunatley TUI Cruises was not my prefered line since our experience on MEIN SCHIFF 2 2012. So I need to admit: I did not follow it anymore for subjects and ships I am personally not very much interested in. 5-10 years ago I was more crazy to see every new ship build and going all the time to the ship-yard.

Behind this video you could find Nils whom many better knows as Kallis Shipworld. And during my life in Salgitter, Germany he lived more or less around the corner. I took him into the public area of The Haven so he could make few shots here too. His YouTube-video from this voyage on NORWEGIAN JADE.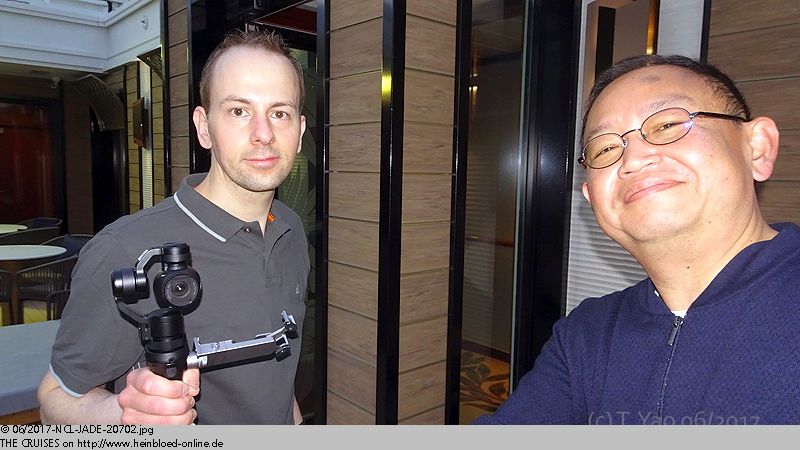 Hinter diesem Video steckt Nils, der aber besser unter
Kallis Shipworld
bekannt ist. Und während meiner Zeit in Salzgitter, hat er quasi um die Ecke gewohnt hat. Ich habe ihn in the öffentlichen Bereich von The Haven mitgenommen, so dass hier auch ein paar Aufnahmen entstanden sind. Sein YouTube-Video von dieser Fahrt auf der
NORWEGIAN JADE
.
Vom Fitness-Studio ist Bruno begeistert. Alles nagelneue Geräte und nur ein Gerät defekt.

Bruno was excited of the gym. All devices were brandnew and only one device out of order.

When you were travelling with NCL it could unfortunately happen that your short-term blood sugar increased. They cooked typical American style and a little unhealthier. So I could not imagine to go with them for a very long journey. Our breakfast was offered in Moderno. Here you need to say: Congratulations: very nice changes in the cold offers. With the hot breakfast: everything unchanged. So I had my steak and egg. No more Jewish rye-bread with careaway onboard. But they also said they would bake it for me if I would stay longer. Every ingredient was on board.

Wenn man mit NCL unterwegs ist, passiert es leider immer wieder, dass der Kurzzeit-Blutzucker steigt. Sie kochen eben typisch amerikanisch und etwas ungesünder. Eine lange Fahrt kann ich mir daher nicht so vorstellen. Unser Frühstück findet im Moderno statt. Hier muss man sagen: alle Achtung: sehr schöne Veränderungen im kalten Angebot. Beim warmen Frühstück: alles unverändert. Deswegen ein Steak und Ei muss sein. Mein Kümmelbrot gibt es leider nicht mehr an Bord. Man hat mir aber auch hier gesagt, wenn ich länger bleiben würde, würden sie es mir backen. Es wäre alles an Bord.
Mein Douglas Ward ist zurück. Wir sind um 10.00 Uhr mit Kapitän Kim auf einen Kaffee verabredet. Da wollte ich ihn nicht mitschleppen, damit er seinen Stempel nicht mitschleppen muss. Später gehe ich nochmals in den Brückenbeobachtungsraum. Dort meine ich ihn vorne auf der Brücke wiederzusehen. Sotchi 2014 muss auch ein tolles Ereignis gewesen sein.

My Douglas Ward was back. We were appointed with Captain Kim for a cup of coffee for 10.00 hrs. So I did not want carry it with me and he should carry his stamp with him. Later I went to the bridge observation room. It looked like him in front of the bridge. Sochi 2014 must be a great event.

After the fiasco we had on NORWEGIAN BREAKAWAY 2013 or NORWEGIAN ESCAPE 2015 when they did not offer any baggage service they had now baggage service off the ship even for those guests who stayed only two nights.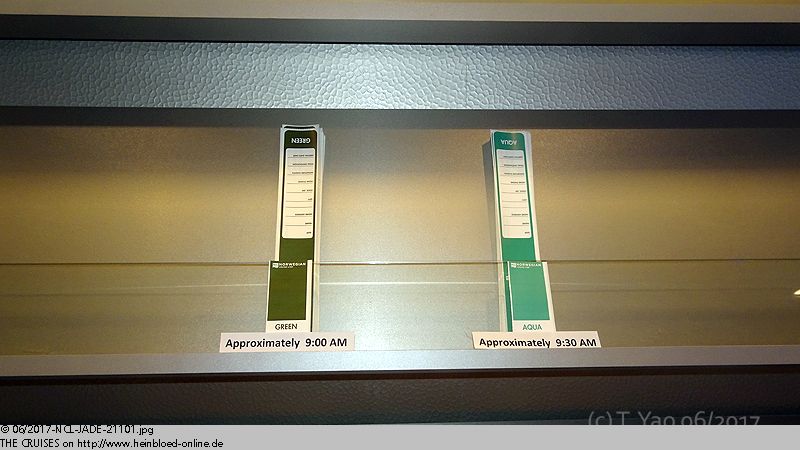 Nach dem letzten Fiasko auf der
NORWEGIAN BREAKAWAY 2013
bzw.
NORWEGIAN ESCAPE 2015
, bei dem gar kein Gepäckservice angeboten wurde, gibt es auch für die Gäste, die nur zwei Nächte bleiben, wieder Gepäckservice runter.
Man soll sie sich selbst nehmen. Da wir in The Haven die einzigen sind, die ausschiffen, soll unser Butler das Gepäck runtertragen.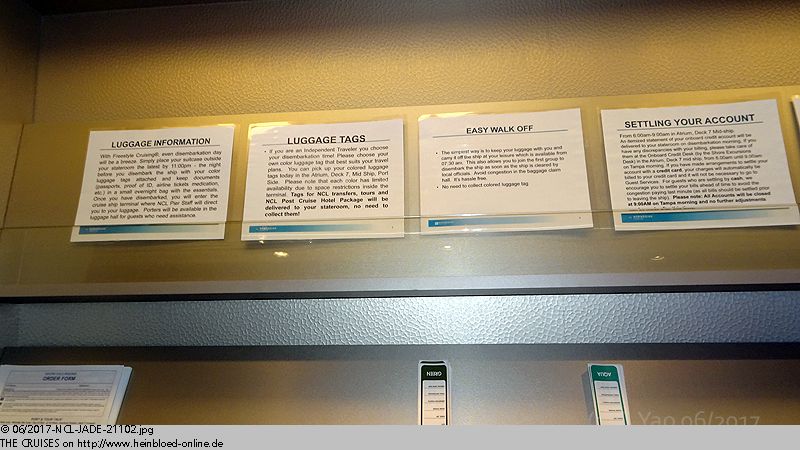 You should take yourself. As we were in The Haven the only guests who supposed to debark our butler should carry the bags down.

Heading to Le Bistro for the Meet & Greet of cruisecritic.com. Captain Kim unfortunately could not join. But they did not break my record of EURODAM 2014: There nobody showed up while all senior officers were present. And they did not break my record to the other side: when we were more than 200 participants on NORWEGIAN JADE 2011 (1) and need to have it in Spinnaker Lounge. Here I learned from another fellow-cruiser that she was on NORWEGIAN GETAWAY before and they had Azipod-problems on the Transatlantic-passage and as consequence they could not call Stockholm, Sweden directly. I get some panic: we booked a round which starts and terminates in Warnemünde, Germany and should berth in Stockholm and not in Nynäshamn.

Auf in das Le Bistro zum
Meet & Greet von cruisecritic.com
. Kapitän Kim ist leider nicht mit dabei. Aber sie haben es nicht geschafft meinen Rekord von der
EURODAM 2014
zu brechen: Dort ist keiner aufgetaucht, während alle Senior Offiziere da waren. Und sie haben auch nicht meinen anderen Rekord nicht geschafft: als wir auf der
NORWEGIAN JADE 2011 (1)
über 200 Teilnehmer hatten und die Spinnaker Lounge brauchten. Hier erfahre durch eine andere Mitreisende, die zuvor auf der NORWEGIAN GETAWAY war, dass sie Azipod-Probleme auf der Transatlantik hatten und als Folge daraus, Stockholm nicht mehr direkt anfahren durften. Bei mir bricht Panik aus: Wir haben ja extra eine Runde gewählt, die in Warnemünde beginnt und endet und in Stockholm und nicht in Nynäshamn anlegt.
Da wir ja mittags in Le Bistro nichts anderes bekommen, als das was wir gestern bereits angeboten bekommen haben, essen wir kurzerhand im Grand Pacific. Am Eingang werde durch Joyce wiedererkannt, die mich sofort als zurückkehrender Gast begrüßt. Das Essen ist gut. Aber nach der letzten Fahrt zu Ostern konnte es ja nur noch wieder nach oben gehen. Ein Abschiedsbild an der Stelle, an der noch zuvor King Kamehameha stand. Ganz tot ist die PRIDE OF HAWAI'I immer noch nicht, aber es wird immer weniger. Deswegen habe ich ja auch für Juni 2018 wieder zwei Nächte gebucht, um dann zusehen, ob sie wirklich alles noch weiter verändert haben und vor allem, ob dann immer noch die Gebrauchtmöbelmärkte gibt.

As we did not in Le Bistro something else what we got already the day before, we ate curtly in the Grand Pacific. At the entrance Joyce identify us as returning guest. The food was good. But after our voyage on Easter it could go only upwards. A farewell pictures at the spot where King Kamehameha stood before. But PRIDE OF HAWAI'I was not totally dead but it was becoming less. So I booked another two nights for June 2018 to check which other changes followed and if there would be still the second hand furniture market onboard.

Sad that since the COSTA CONCORDIA-incident no more promenade like this were allowed. Few more sunbeds and it would be the perfect oasis for the day at sea if the weather would be much more nicer.

Schade, dass seit dem COSTA CONCORDIA-Unglück solche Promenaden nicht mehr gebaut werden dürfen. Ein paar mehr Liegestühle und es wäre die perfekte Oase für einen Seetag, wenn das Wetter besser mitspielen würde.
Wir probieren mal die Spezialitäten vom Café Bismarck... "Jeder Biss 'ne Mark"... Café Biseuro oder Café Bisbuck klingt ja doof. Wir wollen es probieren.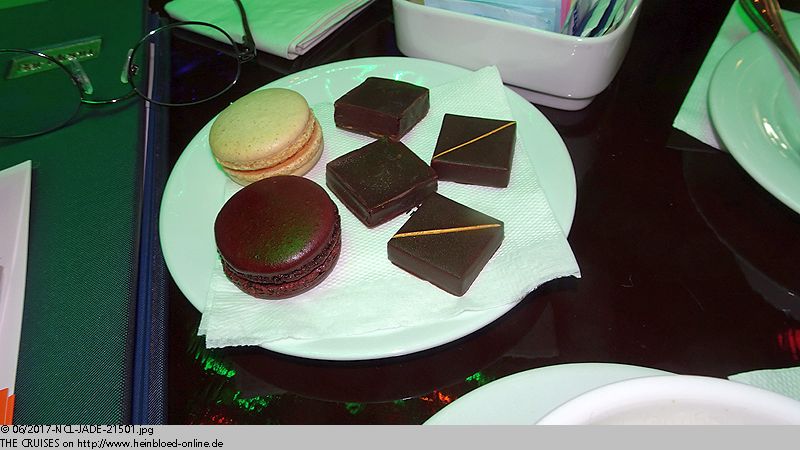 We tried the goodies from The Bake Shop. One bite one dollar.

I could get a classical German Cappucino with whipped cream if I like...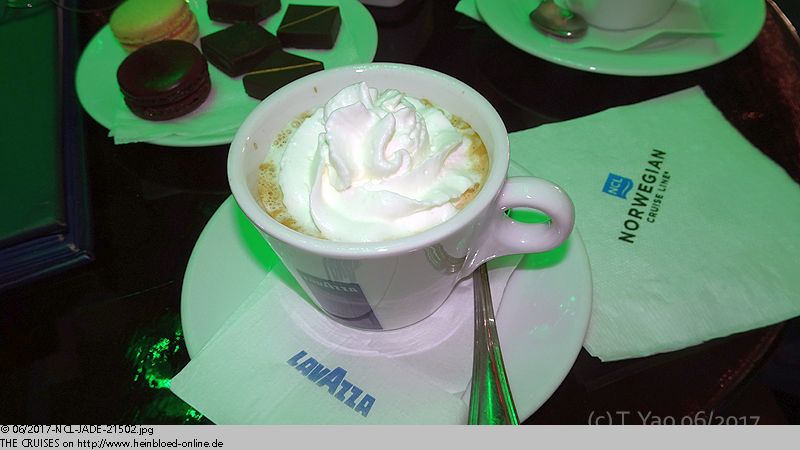 Ich bekomme auch einen klassisch-deutschen Cappucino mit Sahne, wenn ich mag...
OK. Die Häppchen sind doch ein wenig teurer.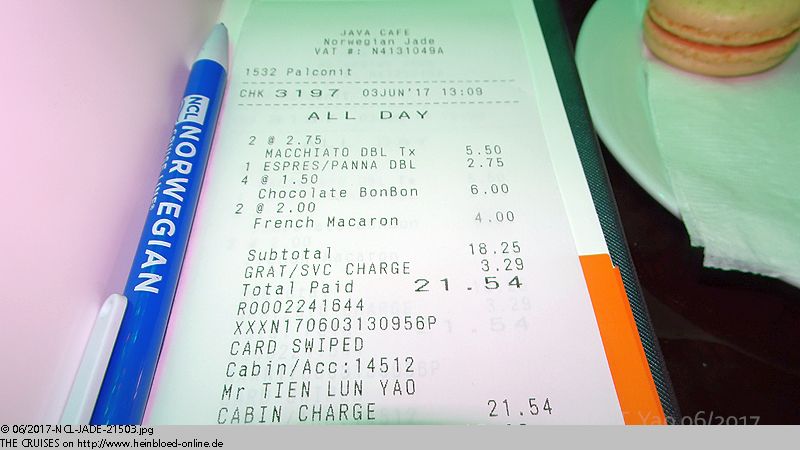 OK. The bites were a little more expensive.

I wanted to exercise some Aqua-Fitness. But the pool was not deep enough to do some Aqua-Jogging. The jet stream which we had at least on NORWEGIAN GEM 2009 in the Courtyard then. So there was not much you could really do here.

Ich wollte Aqua-Fitness machen. Das Becken ist nicht tief genug für Aqua-Jogging. Die Gegenstromanlage, die es zumindest auf der
NORWEGIAN GEM 2009
im damaligen Courtyard gab, funktioniert nicht. Also bleibt hier auch nicht allzuviel, was man machen kann.
Die Canapés.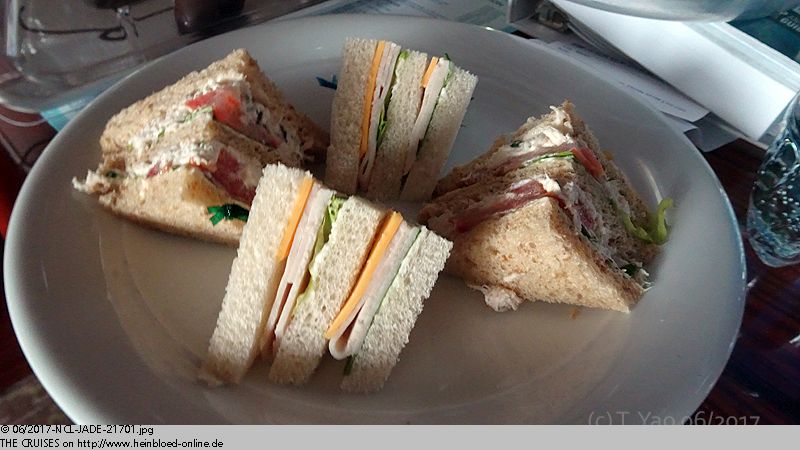 The Canapés.

Greetings from Omar.

Grüße von Omar.
Und das sind unsere Kabinenstewards: Dinesh und Brian.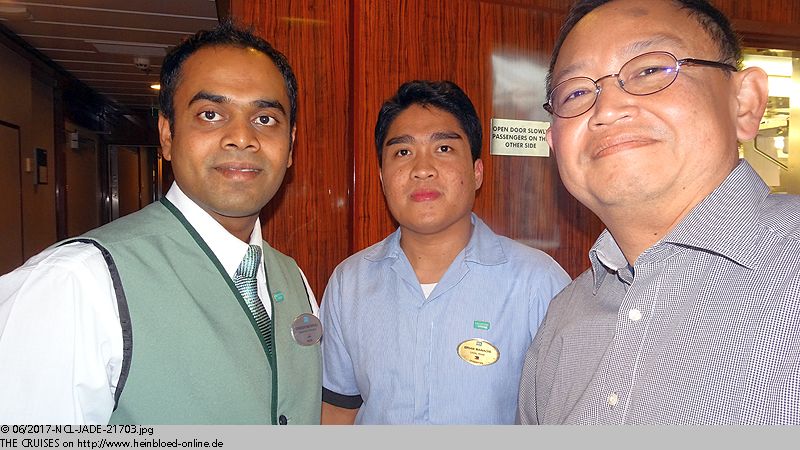 That were our cabin stewards: Dinesh and Brian.

As Bruno normally went early to bed he need to move the towel animals off the bed.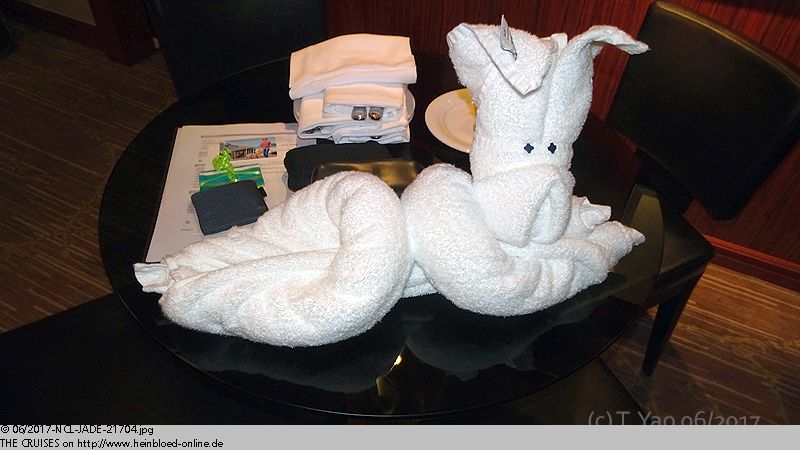 Da Bruno i.d.R. früher ins Bett geht, muss er immer die Handtuchtiere vom Bett weg positionieren.
Die Blumen an der Decke sind weg. Dafür gibt es LED-Stangen, die herunterhängen.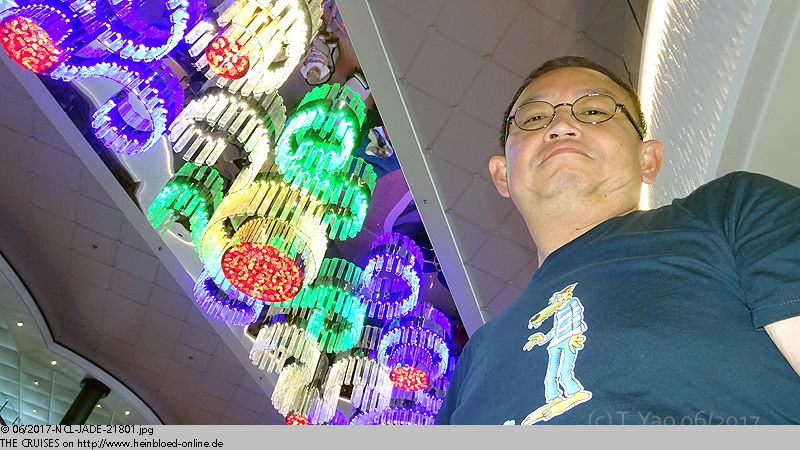 The flowers on the ceiling were removed. Now they had LED-light-sticks which were hanging down.

We met with Daniela and Sebastian.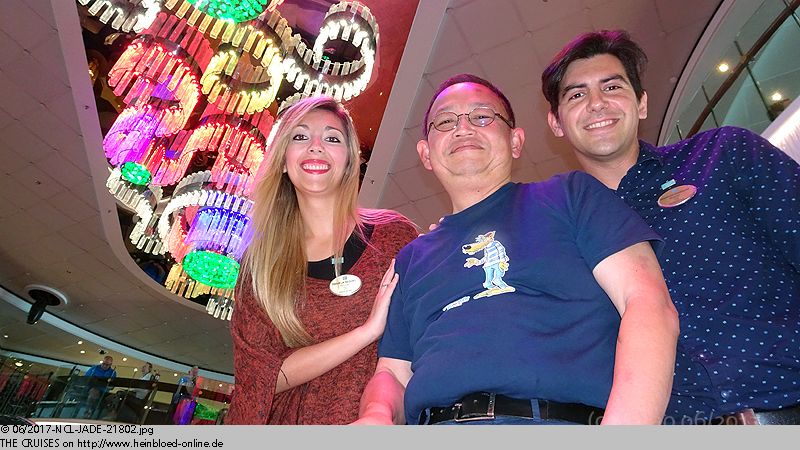 Wir treffen uns mit Daniela und Sebastian.
Da es im Java Café sehr voll ist, ziehen wir uns nach Rücksprache mit der Schiffsleitung in The Haven-Courtyard-Bereich zurück. Das sie beide Wurzeln in Argentinien und Chile haben, hoffen wir auf ein paar Insider-Tipps. Wir können uns im Gegenzug mit Tipps für Hamburg revanchieren.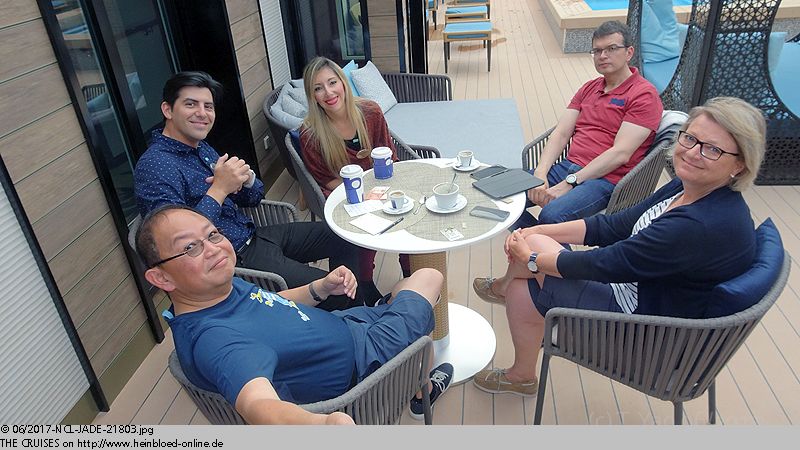 As it was very busy in the Java Café we retreated to The Haven-Courtyard with the permission of the ship's management. As they had their roots from Argentina and Chile we hoped to get some insider tipps. And we could help them to find around in Hamburg.

We could not make five of us on one sunbed. It was a very nice and funny afternoon.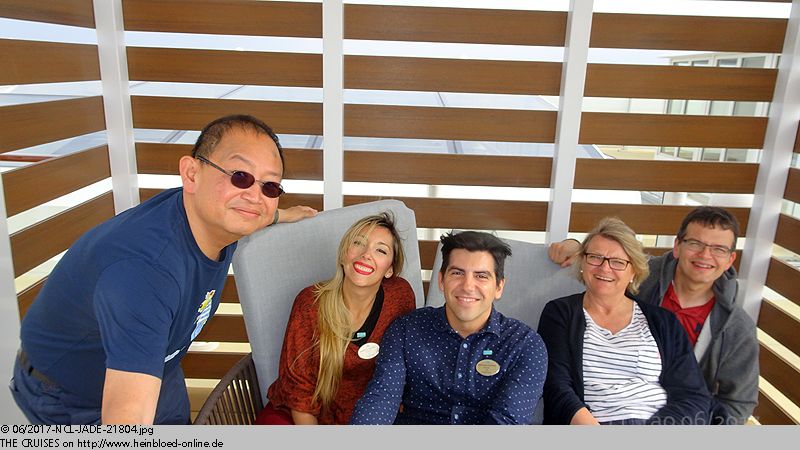 Zu fünft schaffen wir es nicht auf eine Liege. Insgesamt ist das ein sehr lustiger Nachmittag.
Weiter geht es auf dem Schiff herum. Aber sehr viele neue Erkenntnisse gibt es nicht. Nach dem eskalierten Streit wegen der Zusatzsteuer auf der
NORWEGIAN ESCAPE 2015
, die NCL für die Einkäufe erhoben, gibt es dieses Mal keine Zusatzsteuer, weil ja Norwegen außerhalb der EU angefahren wird. Da aber das Angebot in dem Geschäft an NCL-Merchandise-Produkten immer schlechter wird, verzichte ich auf einen Einkauf. In einigen Bereichen des Casinos darf noch geraucht werden. Im Bereich des Great Outdoors nun nicht mehr.

I was continuing to browse onboard. But I could not see anymore innovations. After the escalated fight due to the additional tax on NORWEGIAN ESCAPE 2015 which NCL charged for purchases they had this time no additional charge because Norway was called which was outside the EU. As the offer of NCL-merchandise items became worse I did not buy anything. In few areas of the casino you were allowed to smoke. In the area of the Great Outdoors it was now forbidden.

The Spinnaker Lounge reminded me somehow to the Garden Café and few corner still looked like they were not finished. One more time a meeting with Johny and the guys from the Friends of Dorothy and more gifts. Few of them I knew from previous cruises.

Die Spinnaker Lounge erinnert irgendwie an das Garden Café und an manchen Ecken sieht es auch noch nicht so aus, als ob sie fertig seien. Noch einmal Treffen mit Jhony und den Jungs von den Friends of Dorothy und nochmals Geschenke. Einzelne kenne ich auch früheren Fahrten.
Wir haben reserviert und müssen daher nicht warten. Wer warten muss bekommt den Pager und ein Glas Sekt in die Hand. Den Gutschein für ein Glas Sekt oder der Pager als Rabatt für Cocktails gibt es leider nicht mehr. Nur leider bekommen nicht einen Tisch an der Service Station an der wir gerne wollten. Wir sitzen in dem Verlängerungsbereich, der sich als sehr schön ruhig herausstellt. Es wird wohl meine künftige Lieblingsecke. Das Essen ist sehr gut, auch wenn man keinen Hummer, Surf and Turf und Prime Rib mehr bekommt. Früher war für mich NCL die Gesellschaft mit dem besten Preis-Leistungs-Verhältnis. Leider nicht mehr, da sie immer teurer werden und man immer weniger bekommt. Nichts desto trotz ist das Verhältnis gut, aber eben nicht mehr das beste. Der Service wird von einer tollen Assistant Maître D' begleitet: Jenalyn Delacruz. Wir hatten einen Tisch bei Amor angefragt, die wir seit unserer Fahrt auf der
NORWEGIAN JADE 2014 (1)
kennen. Auch wenn sie uns dieses Mal nicht bedient hat: Wir gehen sie grüßen und sie bekommt auch Süßigkeiten. Sie ist nämlich auf Facebook einer fantastischen Botschafter für NCL: Wenn man ihre Postings sieht, möchte man ja sofort buchen und auch all die Plätze sehen, die sie in ihren Postings beschreibt. So wusste ich auch, dass sie an Bord ist.

We made a booking. Who need to wait get a pager and a glass of champagen in his hand. The voucher for a glass of champagne or the pager which entitled you to have discounts on cocktails were whithdrew. But unfortunately we could not get a table at the service station I requested for. We sit in the extension which was quite nice and calm. It should become my favorite corner now. The food was very good even they had no more lobster, surf and turf or prime rib anymore. Before NCL was the cruise line with the best price-value-ratio. But not anymore as they became more expensive and you got less performance. But still the ratio was good it was not the best anymore. The service was taken care by a great Assistant Maître D': Jenalyn Delacruz. We requested a table with Amor whom we knew since our voyage on NORWEGIAN JADE 2014 (1). Even she was not serving us this time: We went to say hello and she also get some sweats. She was one of the best ambassador for NCL: if you see her postings you just want to book immediately and see all the places she was posting of. So I knew that she was onboard.

Finally we went to the theater. Obviously everything was upholstered. We sit in an area for The Haven guests. Very annoying were the big family who came to late for the show and changed all the time the seats. I remembered the show: Showdown. I saw last time on NORWEGIAN JADE 2014 (1). Then with Jill as Cruise Director. Here Roberto. But it made a lot of fun again because the audience was involved... I felt again like a kids birthday party. But it was a lot of fun. And everybody liked it. It was also nice to meet some of the actors after the show.

Zum Schluss geht es ins Theater. Sie haben alles neu bezogen. Wir sitzen in dem reservierten Bereich für The Haven Gäste. Etwas nervig ist eine Großfamilie, die zu spät zur Vorstellung kommt und ständig die Plätze tauschen. Die Show kenne ich: Showdown. Hatte ich zuletzt
NORWEGIAN JADE 2014 (1)
gesehen. Damals mit Jill als Kreuzfahrtdirektorin. Hier Roberto. Hat aber trotzdem wieder sehr viel Spaß gemacht, weil das Publikum mit einbezogen wurde... Ich kam mir wieder wie beim Kindergeburtstag vor. Aber es hat sehr viel Spaß gemacht. Und jedem hatte es gefallen. Es ist auch immer sehr nett, wenn man nach der Show die Akteure trifft.
... und weil mir Omar später noch die Liederliste nach geschickt hat. Omar ist klasse!!!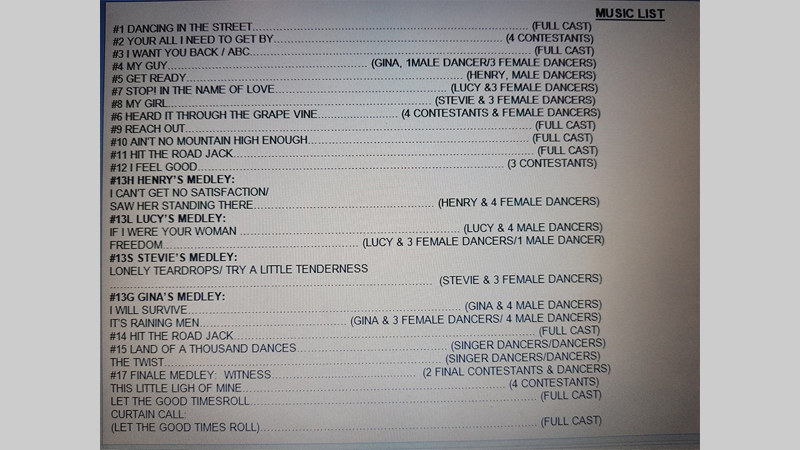 ... and because Omar sent me later the list of songs. Omar is great!!!