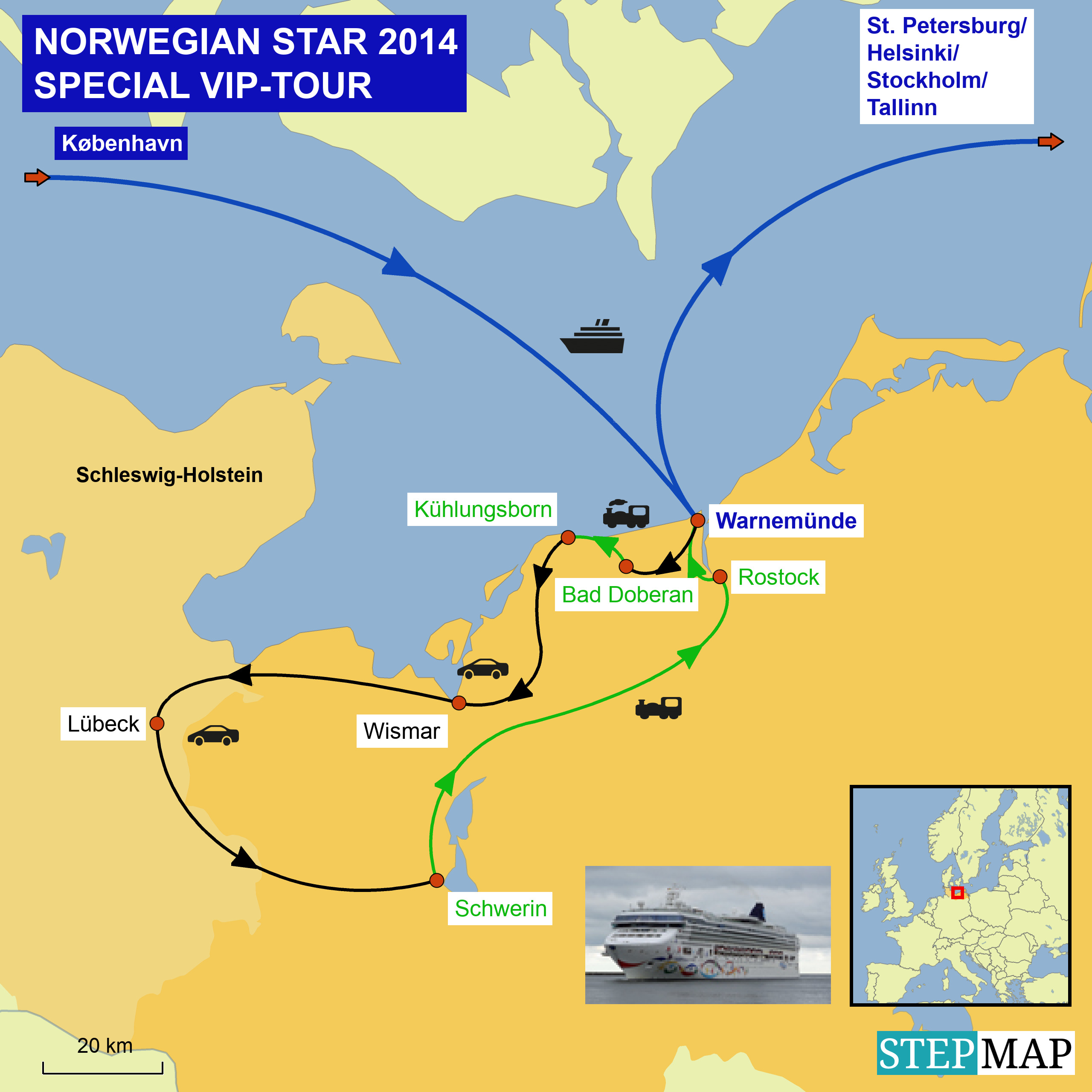 Eine tolle Crew ist für uns Bestandteil einer schönen Kreuzfahrt. Mit vielen Crew-Mitgliedern sind wir auch auf Facebook verbunden. Und so bekommen wir dann auch mit, auf welchen Schiffen sie sind, oder was sich privat ereignet hat. So stellen wir fest, dass Crew-Freunde auf der NORWEGIAN STAR in Warnemünde sind. Und es ist Himmelfahrt. Bruno hat in der Firma Notdienst und muss zu Hause bleiben und ich fahre nach Warnemünde, um mich dort zu treffen und mein Versprechen einzuhalten, dass wir uns für die guten Erfahrungen an Bord revanchieren werden. Und hier sind die Bilder des Tages. Wie in einem HeinBloed-Blog üblich, gibt es für andere Cruiser Tipps für den Anlauf in Warnemünde. Morgens geht es raus, um die NORWEGIAN STAR zu begrüßen.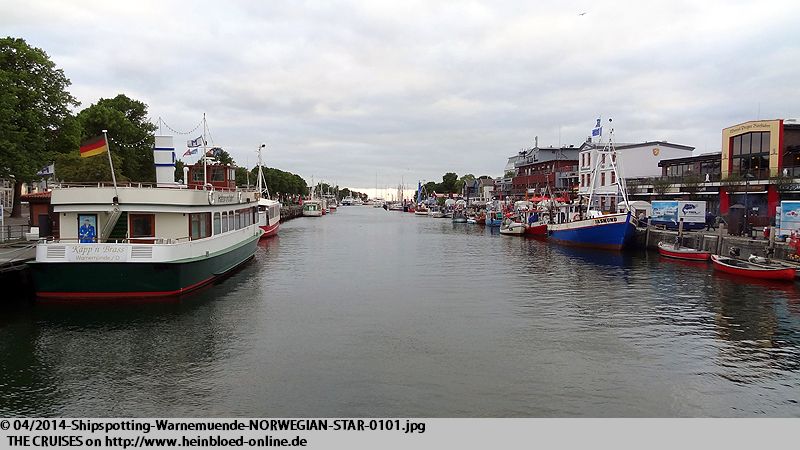 A great crew is for us part of a wonderful cruise. With many crew-members, we are linked on Facebook. And we can notice on which ship they are or happens in their private lifes. So we noticed that crew-friends were on NORWEGIAN STAR in Warnemünde, Germany. And we had Ascension Day (Public Holiday in Germany). Bruno had to stay home because he was on emergency duty and so I went to Warnemünde to meet and to keep my promise that we repay for our great experiences on board. And here are the pictures of the day. As usual in a HeinBloed-Blog you can also find recommendations for other cruisers who are calling Warnemünde. I get to out early to welcome NORWEGIAN STAR.

They started to smoke the fish.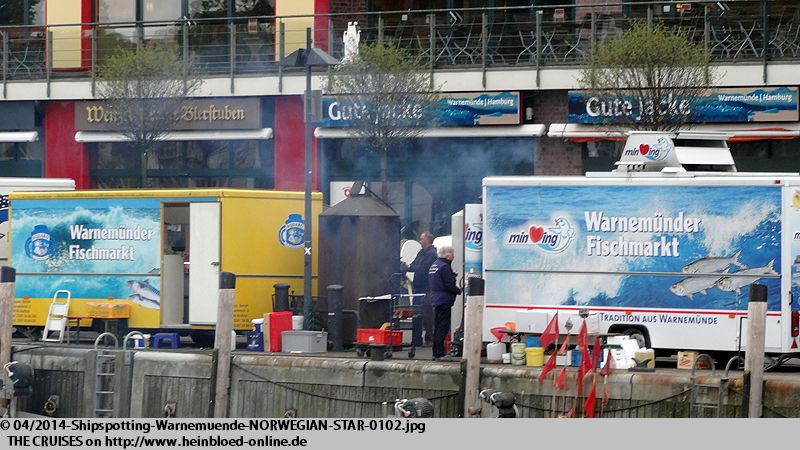 Sie fangen schon an, den Fisch zu räuchern.
Der Sonderzug für die Berlin-Ausflügler kommt an.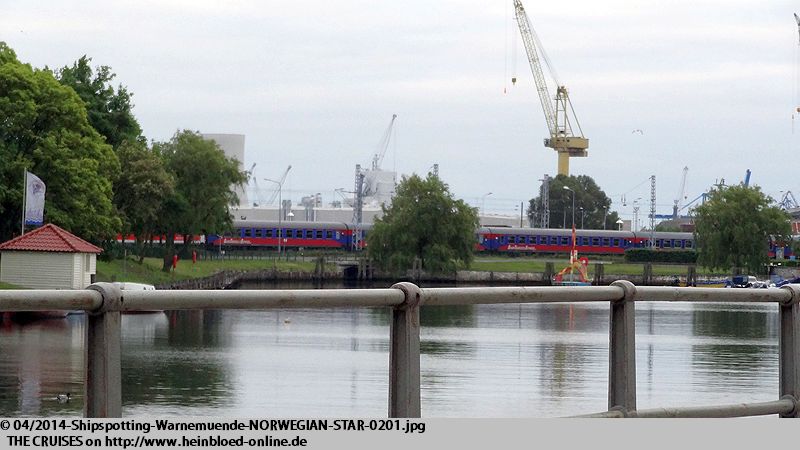 The chartered train for the Berlin-cruiseship tour arrived.

At the train station, a lot of changes happened since my last visit. A "Biergarten" (Normally more in Bavaria: outdoor-venue to have a beer and other delights!)!

Am Bahnhof hat sich seit meinem letzten Besuch einiges getan. Ein Biergarten!
Und die S-Bahn fährt nicht mehr mit den alten umgebauten Reichsbahn-Doppelstockwagen, sondern mit modernen Triebzügen.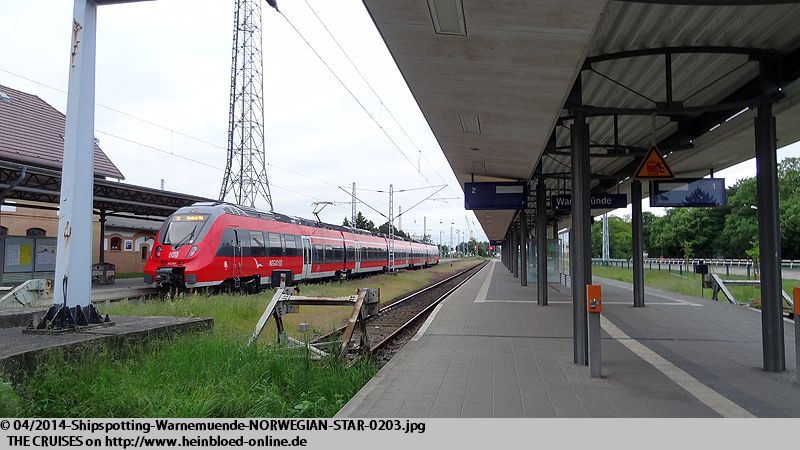 And the commuter train (S-Bahn) do not use anymore the old former East German double-decker cars but modern motor train sets.

It's quite calm due to a public holiday.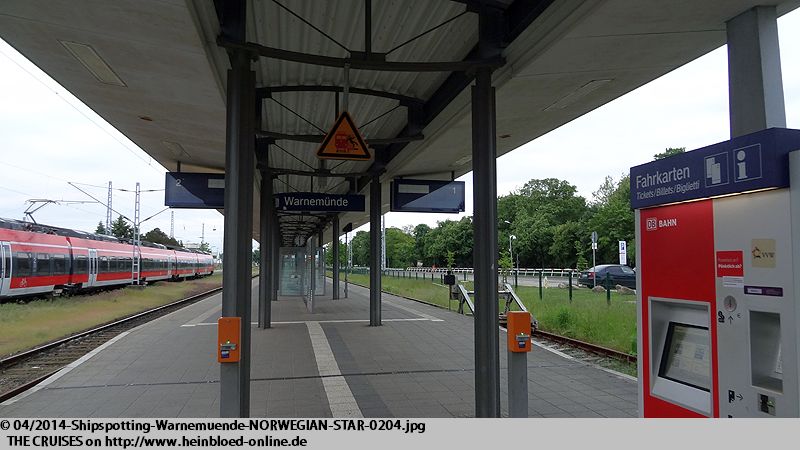 An Feiertagen ist recht wenig los.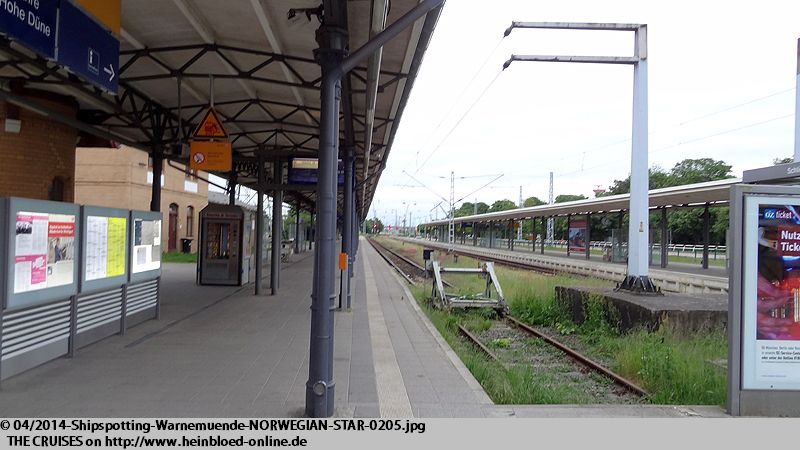 The charter train goes to Berlin-Lichtenberg. Not very central in Berlin but maybe they would be let off somewhere else.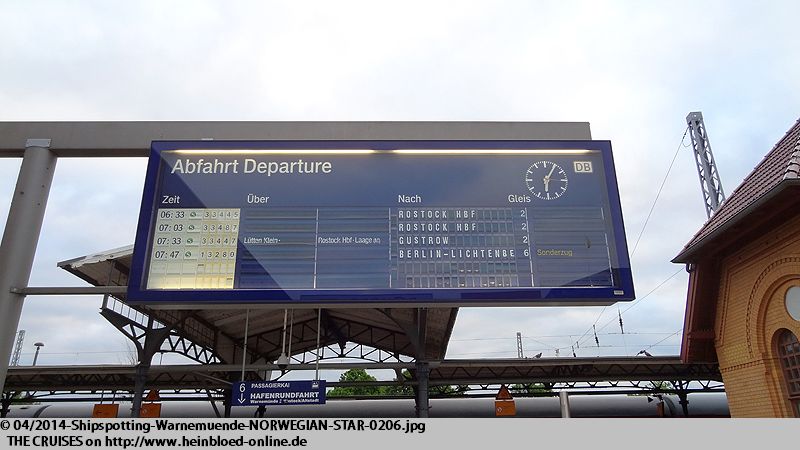 Der Sonderzug geht also nach Berlin-Lichtenberg. Nicht gerade im Zentrum Berlins, aber vielleicht werden sie ja unterwegs rausgelassen.
Neu ist der Überweg für Behinderte, damit man zum Pier kommt. Ein bisschen weiter weg Richtung Meer.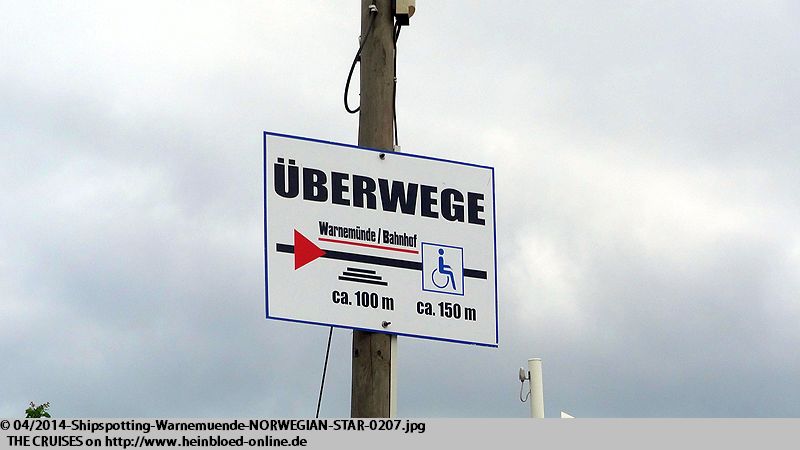 New is the crossing for handicaps that you can get to the pier. A little farther towards the sea.

Track 6. Memories are back when I went from here by train to Copenhagen, Denmark and they checked you here.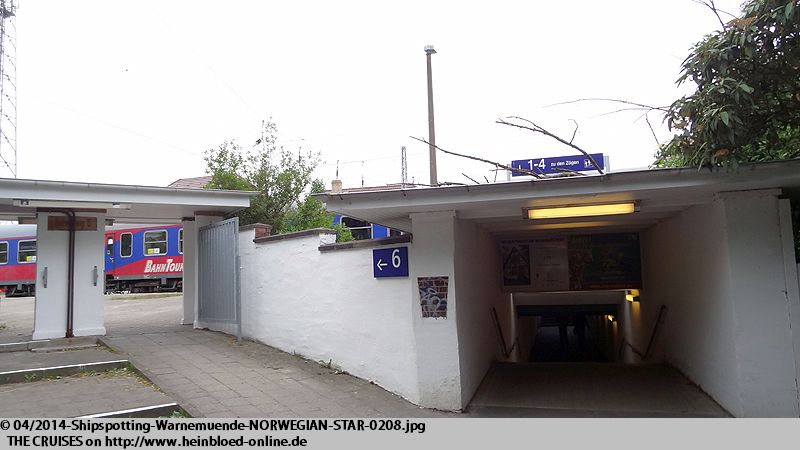 Gleis 6. Erinnerungen kommen hoch, als ich von hier aus noch mit der Bahn nach Kopenhagen gefahren bin und man hier abgefertigt wurde.
Das sind die unklimatisierten umgebauten DR-Wagen.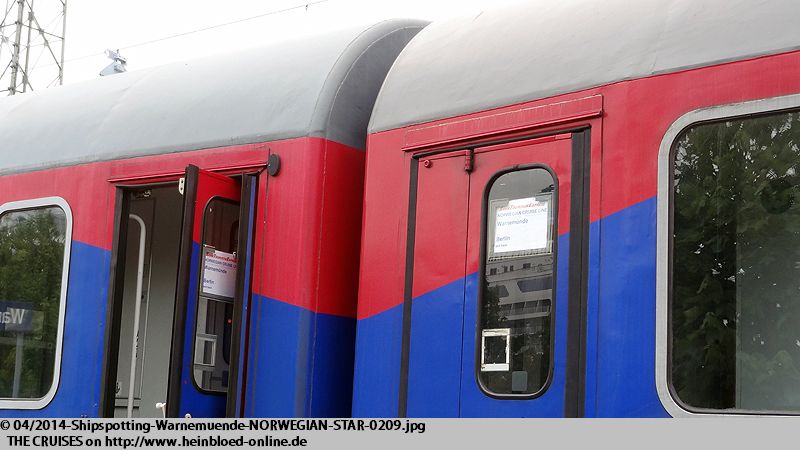 Non-air-conditioned refitted East German cars.

And also the Berlin-bound ICE Highspeed-Train would leave soon. So you could catch it.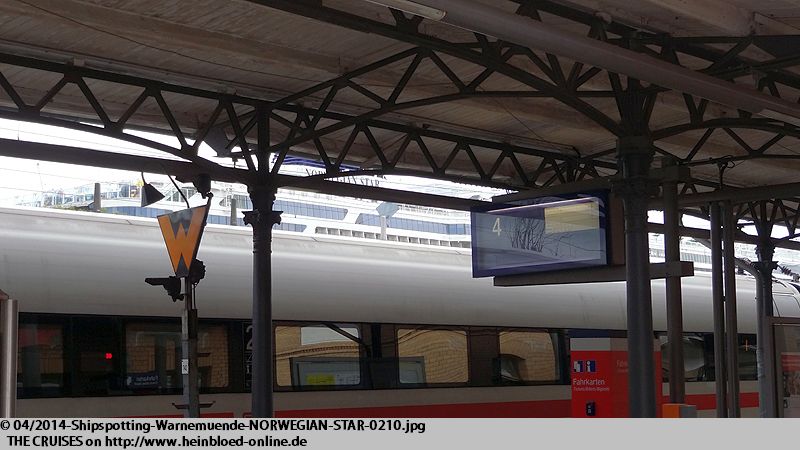 Und auch der ICE nach Berlin fährt gleich los. Den könnte man auch noch erreichen.
Ich gucke mir mal am DB-Fahrkartenautomaten an. Und so kauft man ein Mecklenburg-Vorpommern-Ticket, das bis nach Lübeck und Hamburg gilt. Besonders gut für kleine Gruppen, die beispielsweise nach Schwerin oder Wismar oder Lübeck wollen. Das Gute: heute ist Himmelfahrtstag und da gibt es die 09.00 Uhr-Beschränkung nicht, wie an normalen Werktagen (gültig ab 09.00 Uhr).

I checked a Ticket machine of DB German Railways. And here you can buy the Mecklenburg-Vorpommern-Ticket (Day-Pass valid for the State of Mecklenburg-Western Pomerania) which is also valid to Lübeck and Hamburg. Very good for small groups who want to see Schwerin, Wismar or Lübeck. The good thing: today is Ascension Day, and you do not have the 09.00 hrs-restriction like on regular working days (valid after 09.00 hrs).

You can also buy tickets for the Berlin-bound trains (except privately run Inter-Connex-Service). The beginning is like with the pictures to buy the Mecklenburg-Vorpommern-Tickets.

An diesem Automaten kann man aber auch Tickets für die Züge nach Berlin kaufen (außer InterConnex). Der Anfang entspricht der Bilderserie für die Mecklenburg-Vorpommern-Tickets.
Hier gibt es auch die Tickets für den Stadtverkehr in Rostock oder nach Bad Doberan.

Here you can also buy tickets for the local traffic in Rostock or to Bad Doberan.

Very important: You need to punch/cancel/stamp tickets for the city traffic of Rostock or to Bad Doberan here in this orange box.


Ganz wichtig: Die Fahrkarten für den Stadtverkehr Rostock bzw. nach Bad Doberan müssen hier entwertet werden.
Ich gehe jetzt wieder zum Cruise Terminal. Sehr gut sind mittlerweile die Stellplätze von Hertz und Europcar markiert.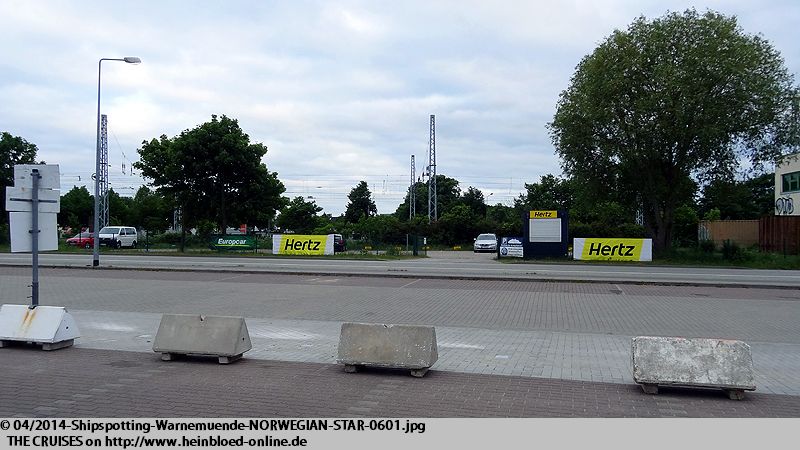 I went then to the Cruise Terminal. Meanwhile, the parking for the car rentals of Hertz and Europcar (Alamo/National) is clearly signposted.

You cannot park anymore just in front of the cruise terminal.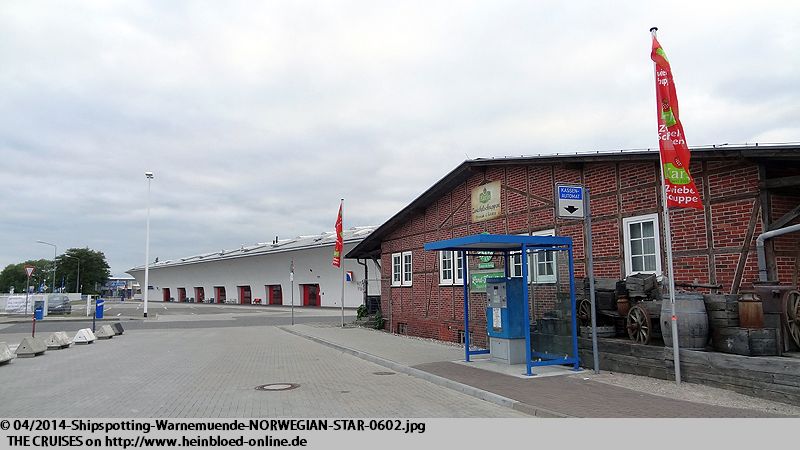 Direkt vor dem Cruise Terminal darf man nicht mehr parken.
Und direkt daneben ist es nicht gerade sehr billig.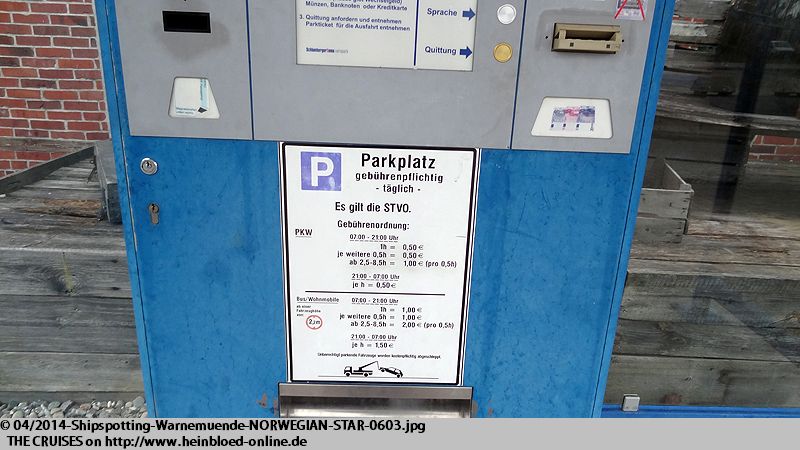 And just next it is not very cheap.

Here our very first cruise started onboard of LILI MARLEEN 2006 (formerly OCEAN COUNTESS).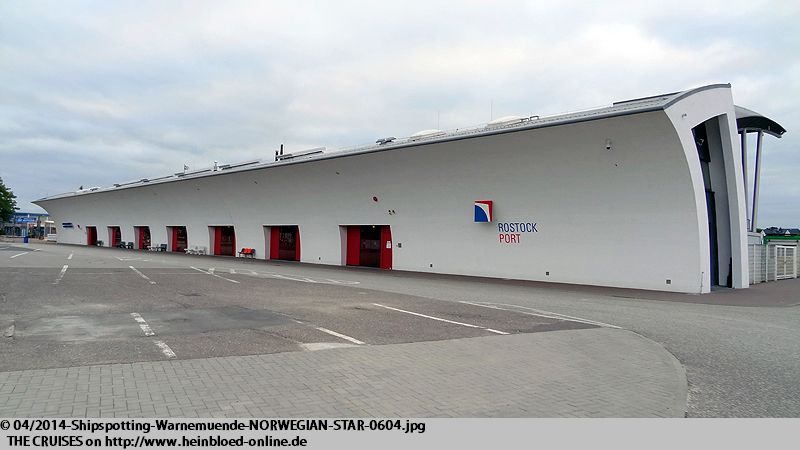 Hier begann damals unsere allererste Kreuzfahrt auf der
LILI MARLEEN 2006
.
Die Flagge Bahamas hängt schon für den Anlauf der NORWEGIAN STAR.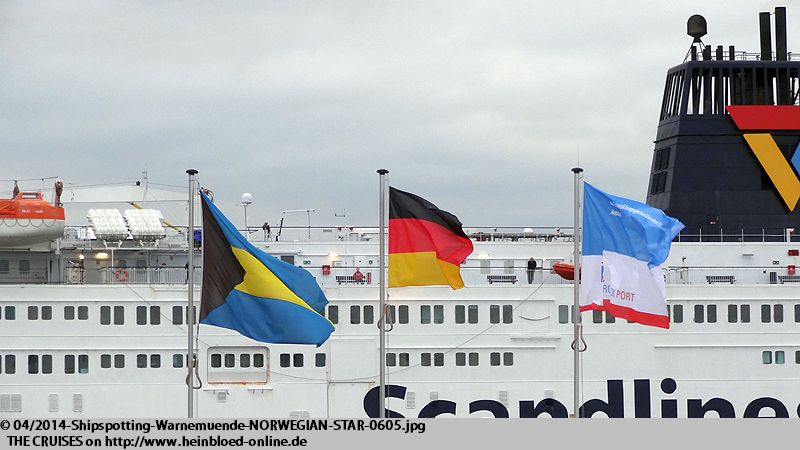 The flag of Bahamas was set for the call of NORWEGIAN STAR.

Usually, they should also have the logos of the other companies who are doing (partial) passenger exchange here.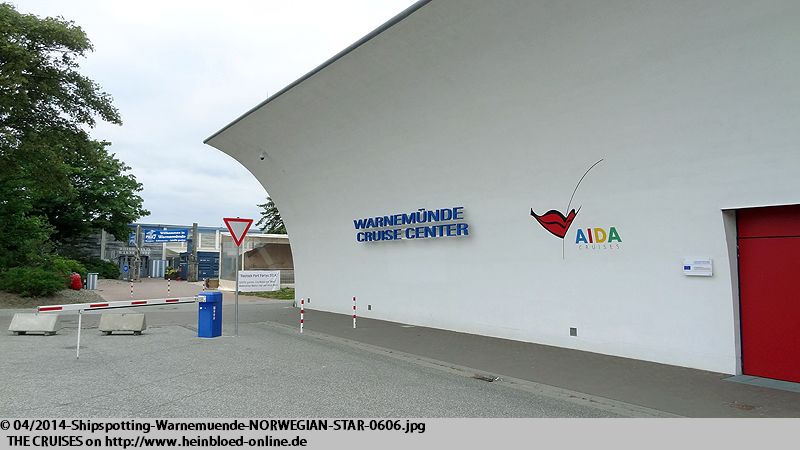 Eigentlich müssten hier ja auch die Logos der anderen Gesellschaften hängen, die hier auch Fahrgastwechsel haben.
Neben ist
Pier 7 by Karl's
. Mittlerweile ganz schön aufgemotzt.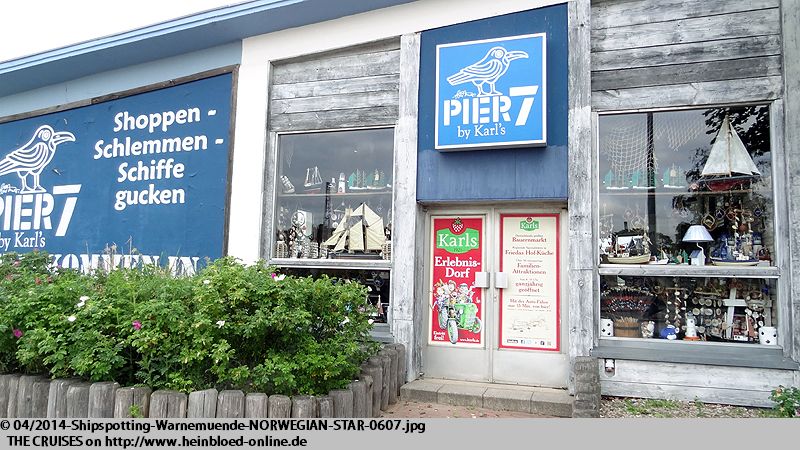 Next is Pier 7 by Karl's. Meanwhile quite upgraded.

I need to see the ferry.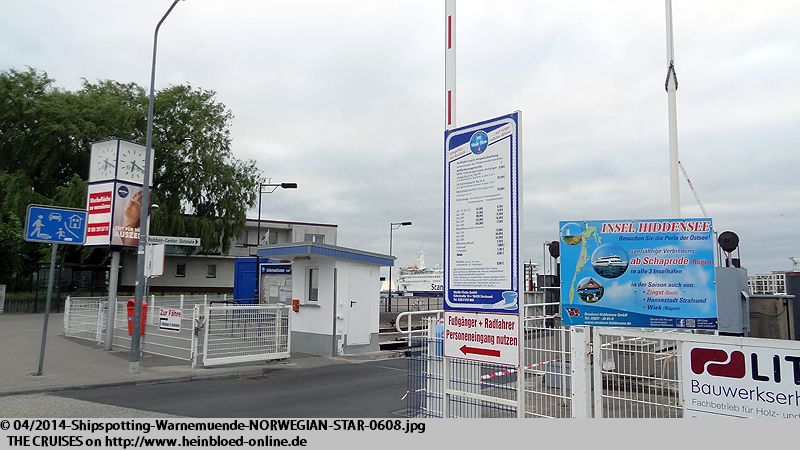 Ich will jedoch zur Fähre.
Es geht rüber auf die andere Seite.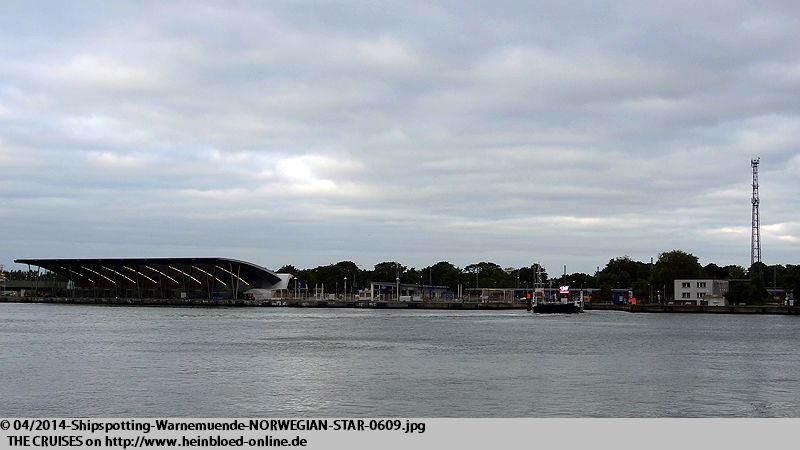 It takes you to the other side.

And here I was waiting expectantly for the arrival of NORWEGIAN STAR.

Und hier erwarte ich sehnsüchtig die Ankunft der NORWEGIAN STAR.
Was ist das rechts hinten am Heck?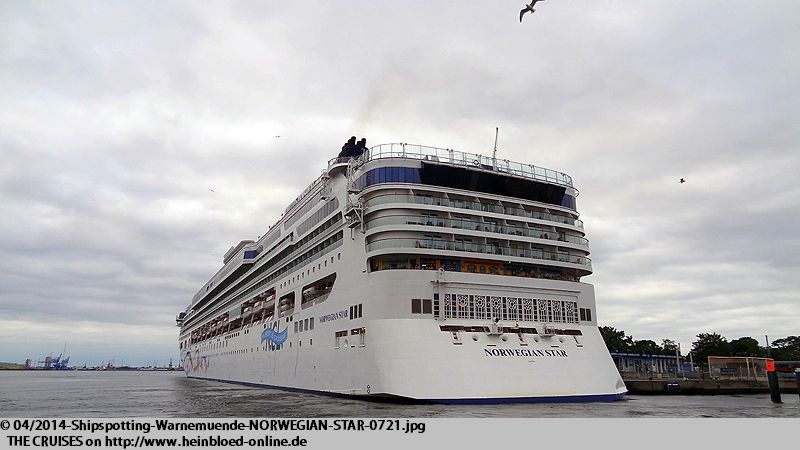 What was wrong here right at the aft?

Does not they have a parking aid like I have with my car?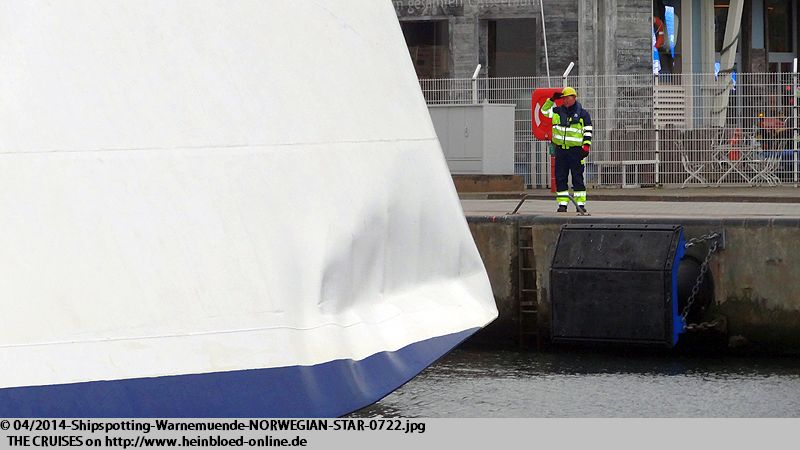 Gibt es eigentlich keine Parkhilfen wie bei meinem Auto?

Did not look very well.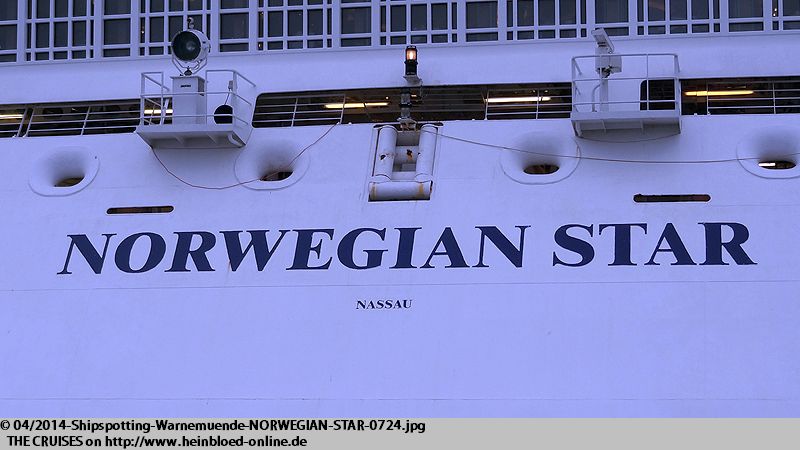 Sieht echt übel aus.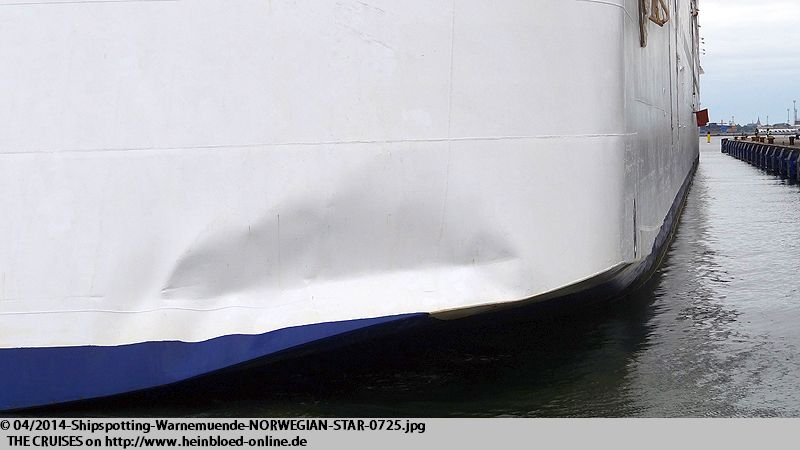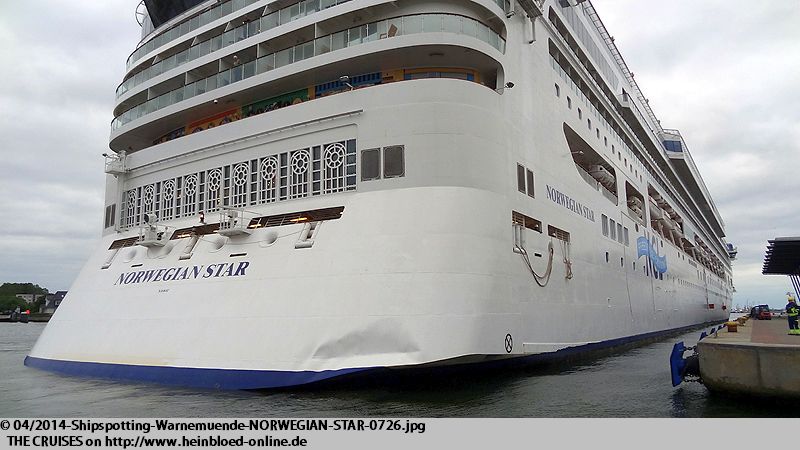 Aber jetzt muss ich nach vorne.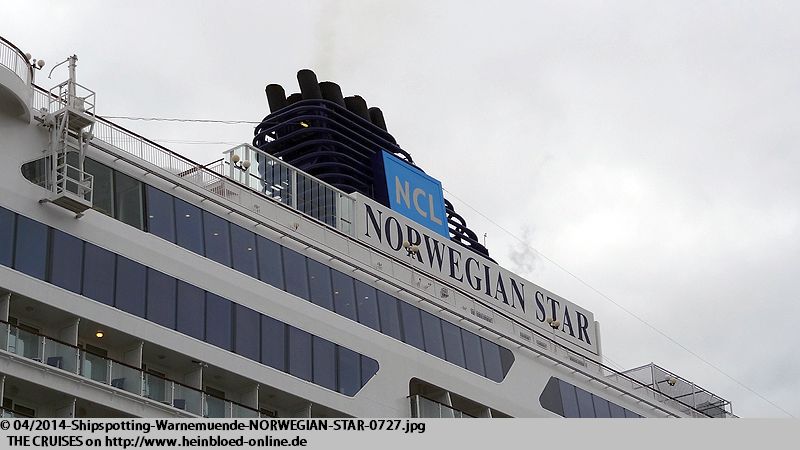 But now I need to get to the front again.

I need urgently to return to my hotel to have breakfast. I stayed in the Hotel Belvedere. Rooms are nothing special.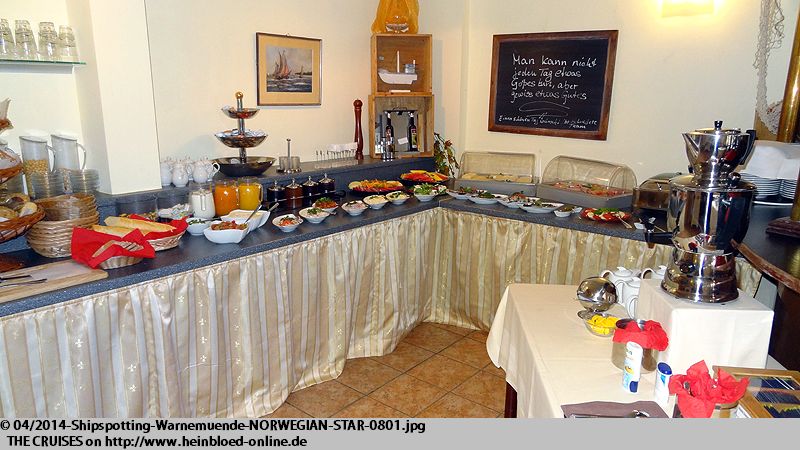 Im Hotel muss ich noch schnell frühstücken. Ich habe im
Hotel Belvedere
übernachtet. Zimmer sind nichts besonderes.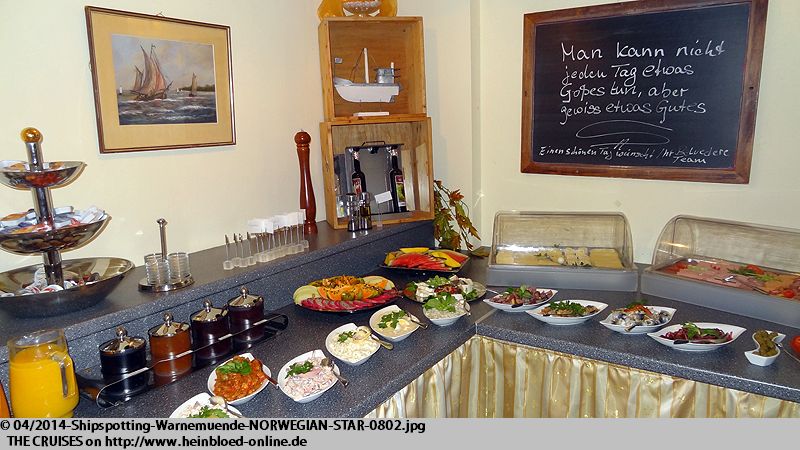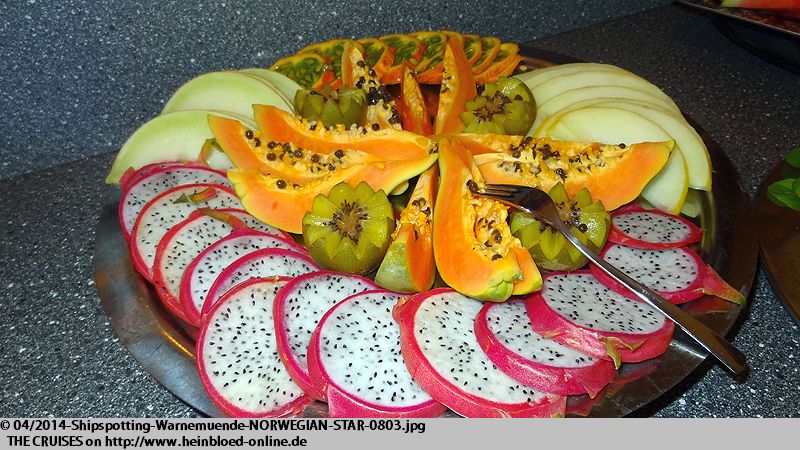 Aber das Frühstücksbüffet mit vielen hausgemachten Salaten und Pittahayas ist doch etwas besonderes!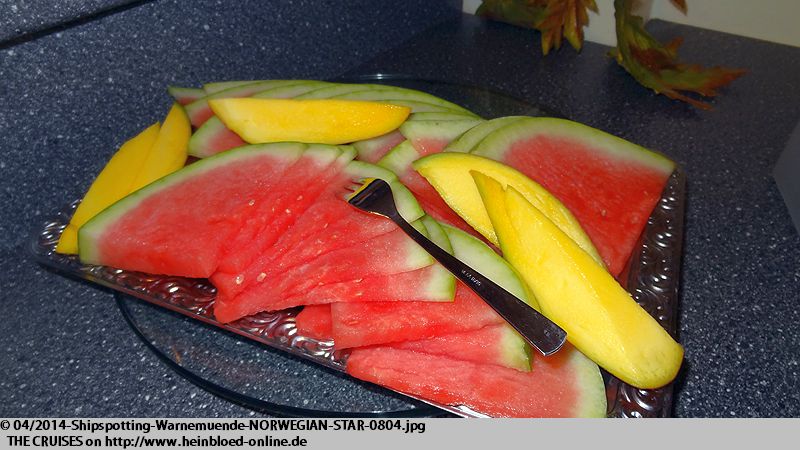 But their breakfast buffet is very special since you can many homemade salads and dragon fruits!

And after that, I need quickly return as Ana Maria and Bon were waiting for me. As culinary greeting from Germany, they got some "Baumkuchen" (translated as tree cake - cake baked in small layers on a skewer on open fire like you would roast a pig) by Café Kruse from the capital of Baumkuchen Salzwedel, East-Germany.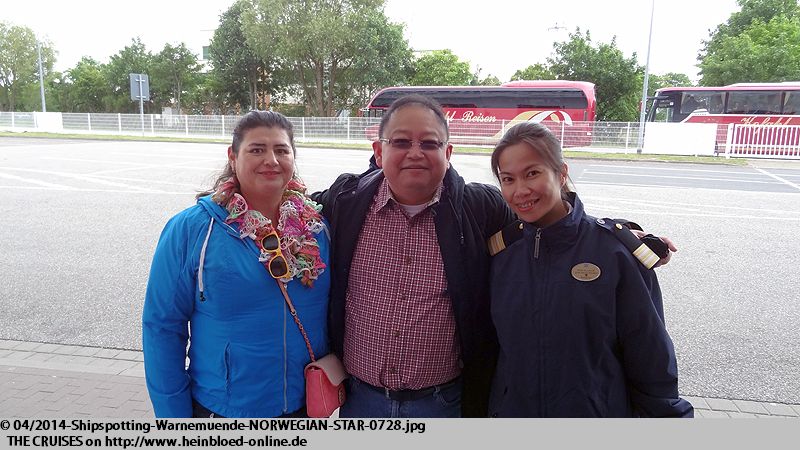 Und dann muss ich auch ganz schnell wieder rüber, weil ich von Ana Maria und Bon erwartet werde. Als kulinarischen Gruß aus Deutschland gab es Baumkuchen von
Café Kruse
aus Salzwedel - der Hauptstadt des Baumkuchens.
Wir kennen sie von unserer Fahrt auf der NORWEGIAN SUN nach Island. Damals haben sie uns sehr nett betreut. Also übernehme ich hier eine lokale persönliche VIP-Betreuung in Warnemünde. Leider können nicht beide gleichzeitig von Bord, weil eine muss ja arbeiten. So bleibt Bon an Bord und ich verbringe den Tag mit Ana Maria.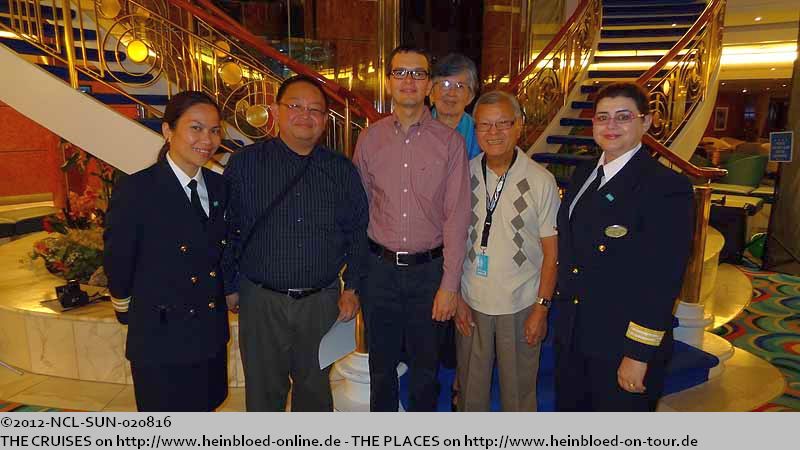 We knew each other since our sailing on NORWEGIAN SUN to Iceland. Then they took very nicely care of us. So I took over the job as personal VIP-guide in Warnemünde, Germany. Unfortunately, it was not possible that both of them came with me as one needed to work. So Bon stayed onboard, and I spent the day with Ana Maria.

We started our tour at the Bad Doberan Mister (Cathedrale). Unfortunately, we were there too early as it was not open yet. For few outdoor shots, we stopped there for some moments.

Wir beginnen die Tour in Bad Doberan, am
Münster
. Leider sind wir zu früh hier, weil es noch nicht geöffnet hat. Für ein paar Außenaufnahmen bleiben wir trotzdem stehen.
So fahren wir in die Stadtmitte.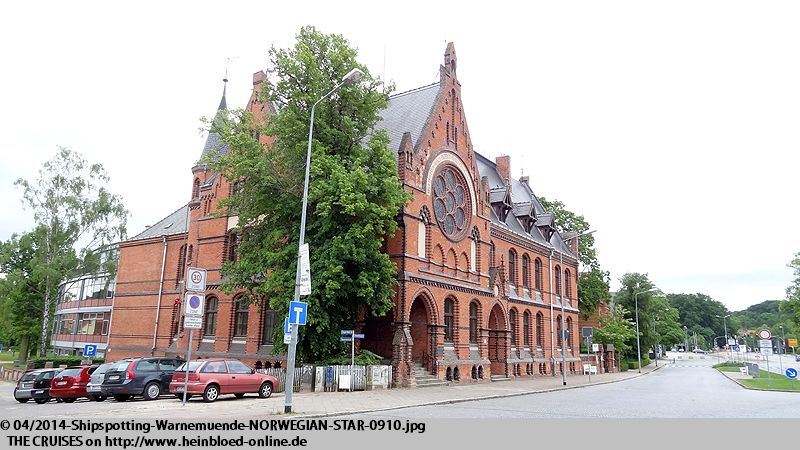 So we headed for the city center.

And we started the day with a cup of coffee and some pastries.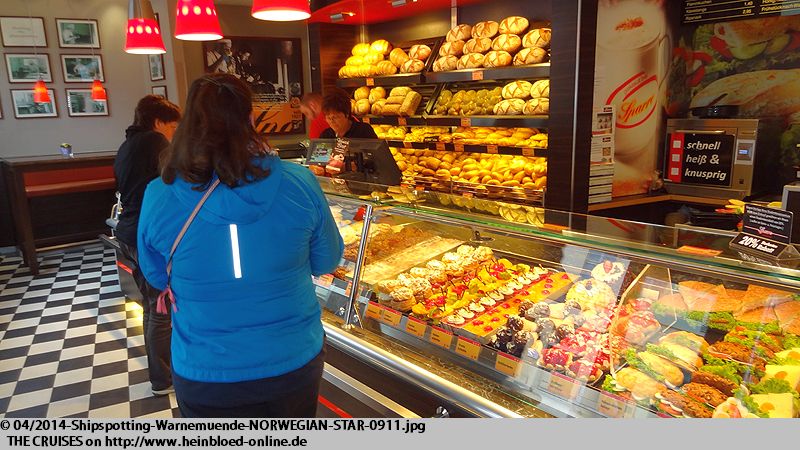 Und hier beginnen wir den Tag bei einer Tasse Kaffee und einem Plunderteilchen.
Hier kommt dann schon unsere nächste Attraktion: die
Mecklenburgische Bäder-Bahn. Kurz: Molli-Bahn
.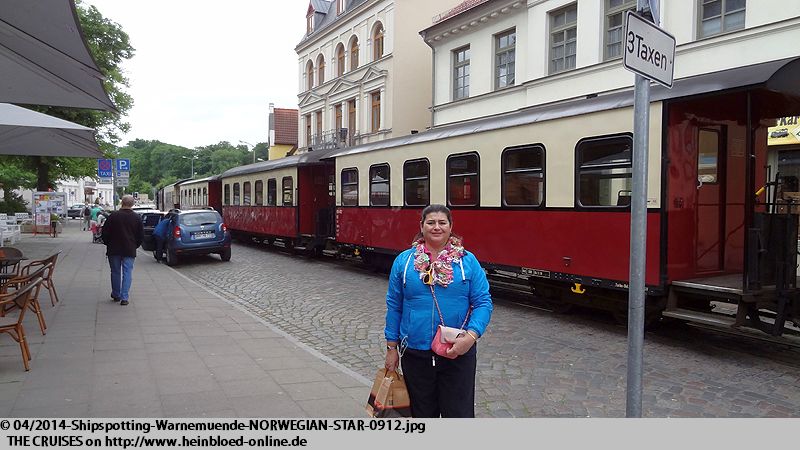 And here our next attraction arrived: The so-called Molli-Train which connects the Mecklenburg beach resorts.

In the train station, you still get a historic ticket made of cardboard.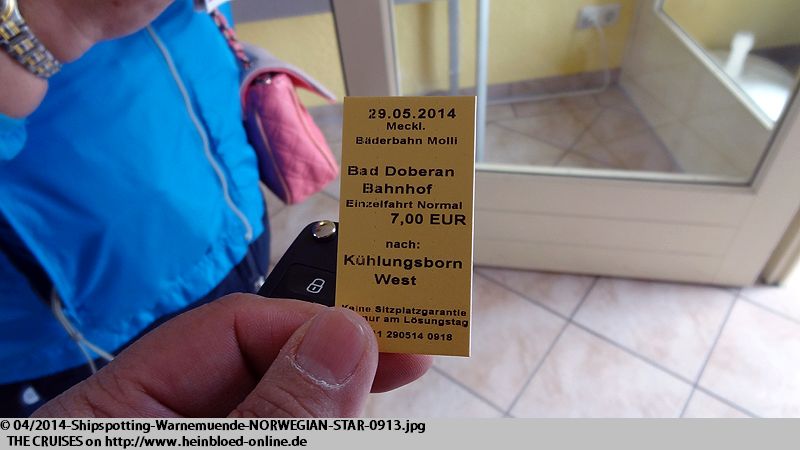 Im Bahnhof gibt es noch die richtigen alten Fahrkarten aus Pappe.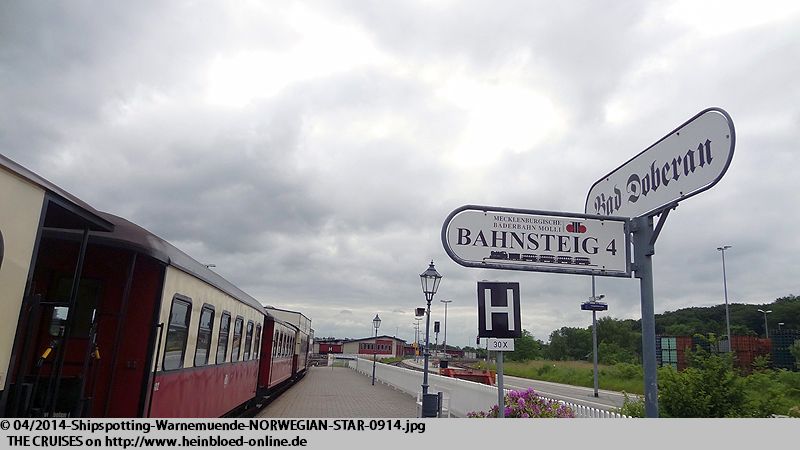 So we started to take some souvenir pictures.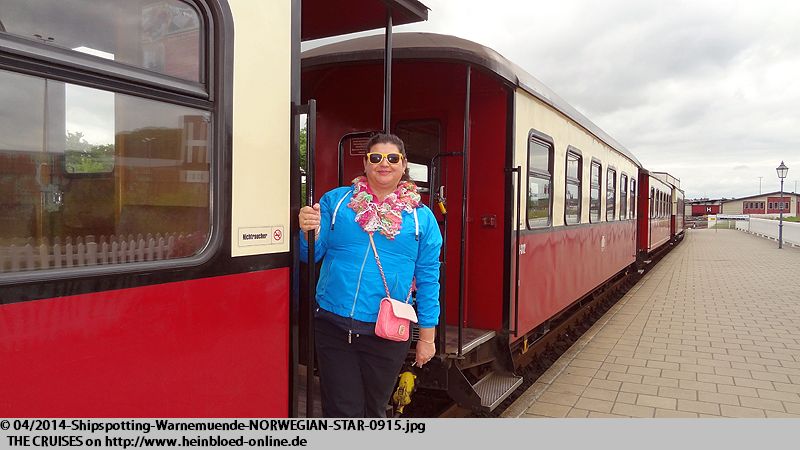 Und so machen wir schon ein paar Erinnerungsfoto.
Während die Lok rangiert.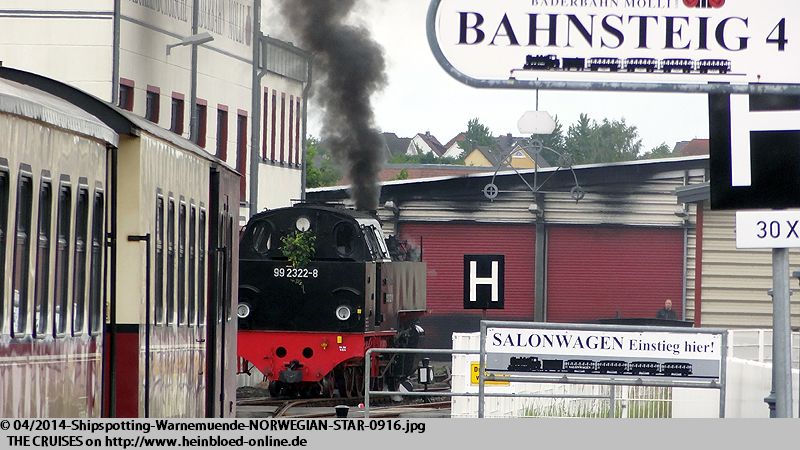 while the locomotive was switching.

It was not just only Ascension Day in Germany but also Fathers Day. So we kindly asked the group if they would allow us to take a souvenir picture.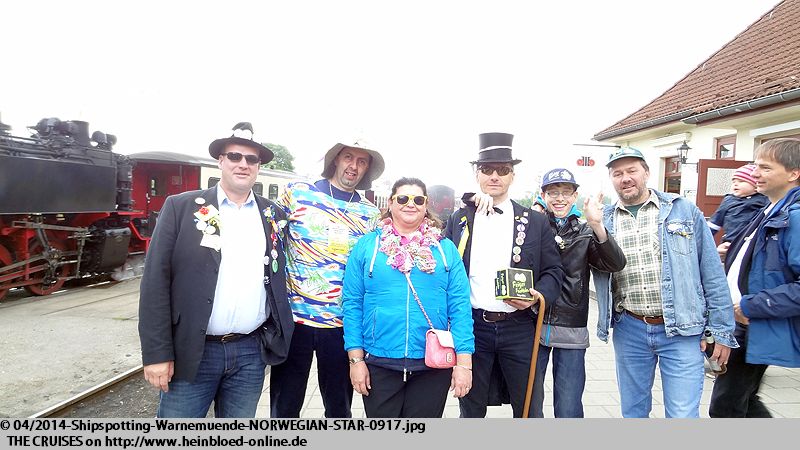 Es ist ja nicht nur Himmelfahrtstag, sondern auch Vatertag. So fragen wir freundlichst bei der Gruppe an, ob wir ein Erinnerungsfoto machen dürfen.
Während Ana Maria die Bahn nimmt, fahre ich mit dem Auto hinterher. So haben verlieren wir nicht die Zeit, in der wir wieder zurückfahren müssten.

While Ana Maria took the train I drove along with my car. So we did not lose any time by the need to return to the origin.

Unfortunately, there were no yellow-golden fields of rape on our way. Only the little Ghost Forest we had.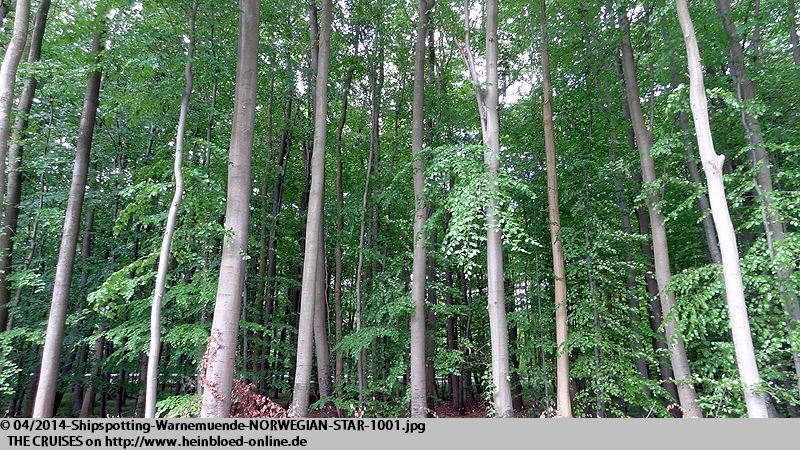 Leider gibt es unterwegs keine gold-gelben Rapsfelder. Nur die Geisterwäldchen sind da.
Da ich vor ihr in Heiligendamm bin, kann ich noch Bilder von Ana Maria machen, während sie mit dem Zug reinfährt.

As I arrived earlier before she did I could take some pictures while she was coming by train.

In Kühlungsborn we arrived at the same time. We went for another stop the sea boardwalk which you can also reach by boat (MS BALTICA) directly from Warnemünde. There we also treated us well with a roll with some fish specialties. If you are staying at the Baltic Sea, you must try one of the rolls with fish.

In Kühlungsborn kommen wir so ziemlich gleichzeitig an. Wir fahren noch kurz zur Seepromenade, die man auch mit dem Schiff (
MS BALTICA
) direkt von Warnemünde aus erreichen kann. Dort gönnen wir uns mal ein Fischbrötchen. Wenn wir schon an der Ostseeküste sind, dann müssen wir auch mal ein Fischbrötchen essen.
Weiter geht es nach Wismar. Wir laufen durch das
UNESCO-Welterbe
. Es geht vorbei am Stammhaus von Karstadt. Wir haben Glück, weil vor wenigen Wochen das Dach des Kirchturms der
St. Georgen
Kirche für die Öffentlichkeit zugänglich gemacht wurde. Dort genießen wir einen schönen Ausblick über die Dächer von Wismar. Am Marktplatz essen wir in der
Schwedenwache
(Historisch war Wismar mal schwedisch) dann zu Mittag: Spargel mit Schnitzel.

We headed on for Wismar. We walked through the UNESCO-World Heritage. We passed the very first department store location of the German Karstadt-department store chain. We were fortunate since the roof terrace of the St. Georgen church was just opened a few weeks ago for the public. There we enjoyed the view of the roofs of Wismar. At the Market Square, we had in the restaurant "Schwedenwache" (Swedish Guard Station / Wismar was part of Sweden in the past) some lunch: Asparagus with Schnitzel.

As we were in a right time frame and I like Lübeck very much much and from my point of view: the most extended way is worth to go and see another UNESCO-World Heritage. So we drove the way there. Beside the Holsten Gate, we had, of course, a mandatory stop with Café Niederegger. Here we had undoubtedly to buy a few lovely small goodies like Lübeck Marcipaine.

Da wir gut in der Zeit liegen und ich Lübeck einfach mag und der Meinung bin, dass des den weiten Weg wert ist um ein weiteres
UNESCO Welterbe
zu sehen, fahren wir schnell dahin. Neben dem Holstentor ist natürlich bei Besuch im
Café Niederegger
obligatorisch. Hier müssen wir natürlich auch ein paar Kleinigkeiten einkaufen, wie Lübecker Marzipan.
Für Schwerin reichte dann die Zeit nur noch für einen Fotostopp am
Schloss
.

For Schwerin we had finally only few moments to some photo shots at the Castle.

As I had to head Southbound to the Harz Highlands and Rostock was not anymore on my way I asked Ana Maria for her permission to put her into the train back. At the platform, she already identified some passengers of NORWEGIAN STAR. You could easily reach many of the places by train. But to see all places today like we did you might need a car rental.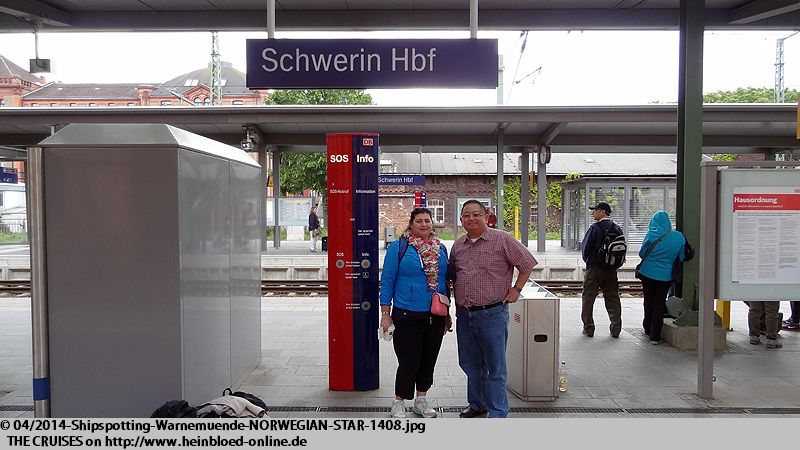 Da ich ja weiter in Richtung Süden in den Harz musste und Rostock dann nicht mehr auf meinem Weg lag, habe ich dann Ana Maria gefragt, ob ich sie in die Bahn setzen dürfte. Am Bahnsteig hat sie dann schon Passagiere der NORWEGIAN STAR identifiziert. Man kann viele dieser Orte mit der Bahn auch erreichen. In dem Umfang wie jetzt wird es jedoch nur mit einem Mietwagen möglich sein.
Und so verabschiede ich mich von Ana Maria. Es hat mir viel Spaß gemacht, ihr etwas von Norddeutschland zu zeigen. Und jeder dem wir eine gute Zeit an Bord verdanken, bieten wir auch an, dass wir sie auch herumführen können. Es spielt auch keine Rolle, dass die Chance 1:64 beträgt, dass wir sie wiedertreffen und dann ggfls. davon profitieren. Darum geht es nicht. Es geht darum, einfach mal denen zu zeigen, wie sehr wir ihren Service an Bord geschätzt haben. Sie haben vorgelegt. Wir müssen es rechtzeitig wissen und es muss passen (Feiertage oder Wochenende). Egal ob NCL, HAL, Princess oder eine andere Gesellschaft. Allerdings werde ich künftig nicht mehr im Harz arbeiten, daher wird Warnemünde etwas schwerer für uns zu erreichen sein, aber wie gesagt: wir müssen es rechtzeitig wissen. Und es darf auch Hamburg, Bremerhaven, Kiel, Travemünde oder auch Zeebrugge, Rotterdam, Ijmuiden oder Amsterdam sein.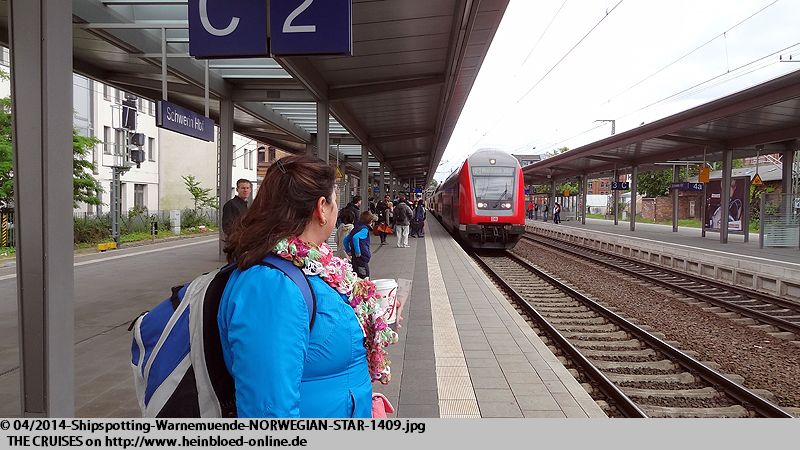 So I had to bid farewell from Ana Maria. I had a lot of fun that day to show her some sights of Northern Germany. And anyone who gives us a good time on board we can only offer that we could take them around one day. It does not play any matter if the chance to meet you again is 1:64 and maybe the benefit of our day. It is not the reason why we are doing it. It is to show our appreciation for our great experiences in their services on board. The first did their job. But we need to know it in advance, and it must fit (Public Holidays or Weekend Days). No matter if NCL, HAL, Princess or any other company. But in the future I will not work anymore in the Harz Highlands which means that Warnemünde is not so close anymore for us but as said before: we must know it right on time. And it could also be in Hamburg, Bremerhaven, Kiel, Travemünde but also Zeebrugge, Belgium or the Dutch ports Rotterdam, Ijmuiden or Amsterdam.

Ana Maria was not the first I met in Germany. So before NORWEGIAN GETAWAY was inaugurated, I had the pleasure to meet Elena and her excellent friend Sax who was DJ with NCL before. I took them around to Bremen, and we had a great Chinese Dinner there and some sightseeing in the historical center of Bremen.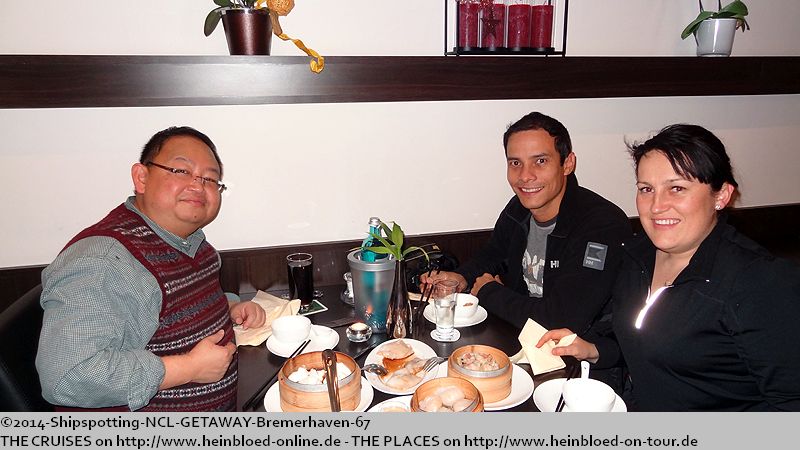 Ana Maria war übrigens nicht die erste, die ich in Deutschland getroffen habe: Bevor die NORWEGIAN GETAWAY in Fahrt kam, hatte ich das Vergnügen Elena und ihren guten Freund Sax, der DJ bei NCL war, zu treffen. Ich hatte sie nach Bremen mitgenommen und wir hatten ein tolles chinesisches Abendessen. Danach habe ich ein wenig durch das Schnoor-Viertel geführt.
Davor hatten wir Elena schon in Vancouver getroffen als ihr Schiff NORWEGIAN SUN und unser Schiff ISLAND PRINCESS nebeneinander am Canada Place lagen und wir einfach gemeinsam für einen Bissen zum Mittagessen uns getroffen hatten, um ihr zu ihrer neuen Position als Assistent Maître D'. Und wir wollten es, weil wir sie ja schon von einigen Fahrten kann und so sehen konnten, was sie für uns getan hat.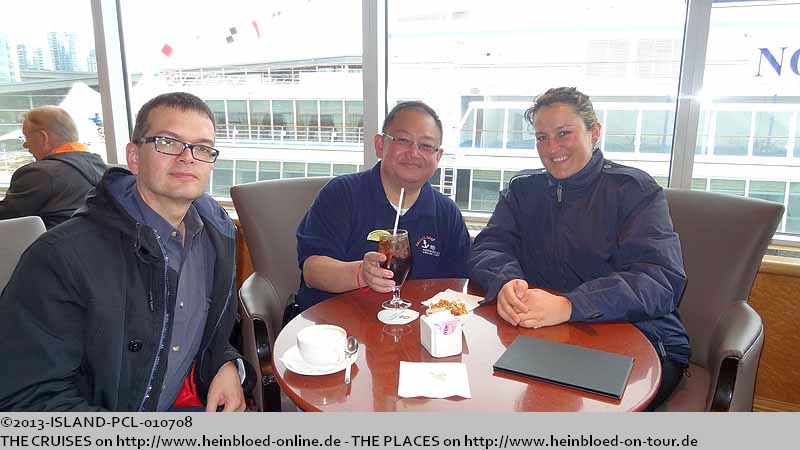 There before we saw Elena in Vancouver when her ship NORWEGIAN SUN and our ship ISLAND PRINCESS docked next to each other at Canada Place and we went out for a quick bite to congratulate her for her new position as Assistant Maître D'. And we wanted to do it because we met her many times before and could see what she was doing for us.

Aimee and I stayed in touch on Facebook, and we both discovered that we should be on the same day in New York City. And so we met each other to see the Empire State Building. Although she is not anymore with NCL, it is great to follow her on Facebook and see what she is doing. Our travel plans might take us to South West England and let us see if there is a chance again to meet.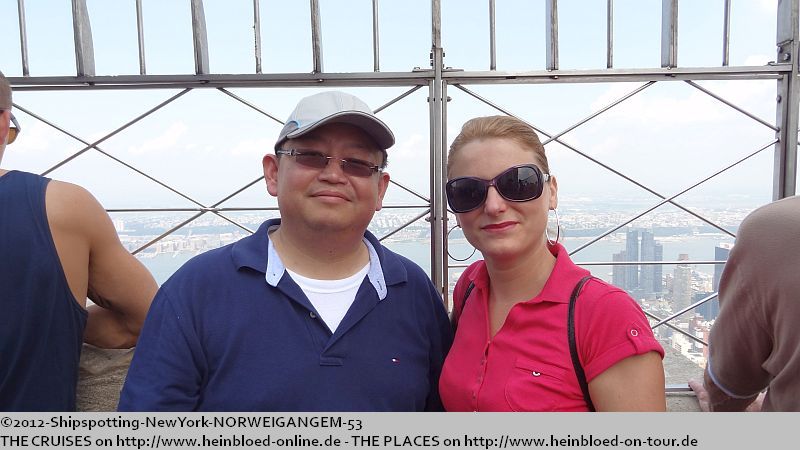 Aimee und ich sind immer noch auf Facebook in Kontakt und zufällig haben wir mal mitbekommen, dass wir zeitgleich in New York sind. So haben wir uns getroffen und gemeinsam uns das Empire State Building angeguckt. Obwohl sie heute nicht mehr bei NCL ist, macht es doch noch sehr viel Spaß ihr auf Facebook zu folgen und zu sehen, was sie heute macht. Unsere Reisepläne bringen uns ja auch mal nach Südwestengland. Vielleicht ergibt sich ja dann wieder eine Gelegenheit, uns wiederzusehen.
Mahmut kennen wir seit vielen Jahren. Er ist schon Teil unserer Freunde bzw. Familie und nicht mehr nur reines Crew Mitglied. Als er dann eine kleine Tochter bekam, war es unseer Wunsch seine Familie zu beschenken.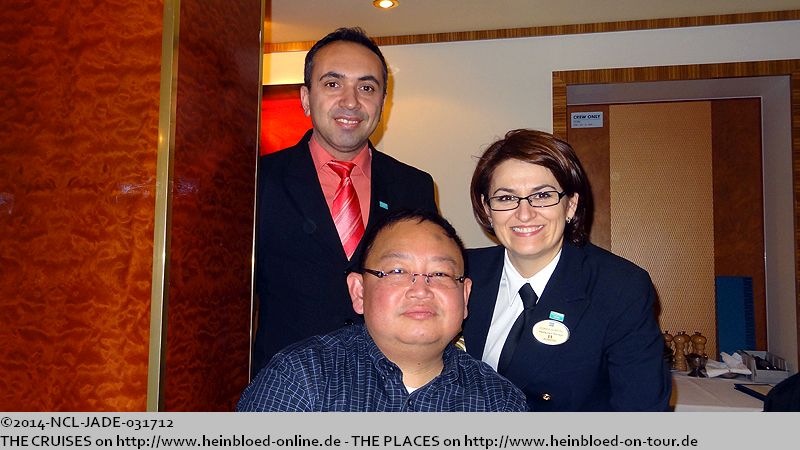 We know Mahmut for many years. For us, he is more family or friend but crew member. So when he got a little daughter, it was our wish to have a gift for his family.

Even if they are not with the company like Monica and Philmore: the time on board when we experienced their treatment and friendship count to be "qualified" when we notice on Facebook that they got a baby. So we arranged a gift to Romania. So border is no limit to us. We know that crew members are from many countries and this is what we appreciate. And therefore we know that our gifts must go abroad.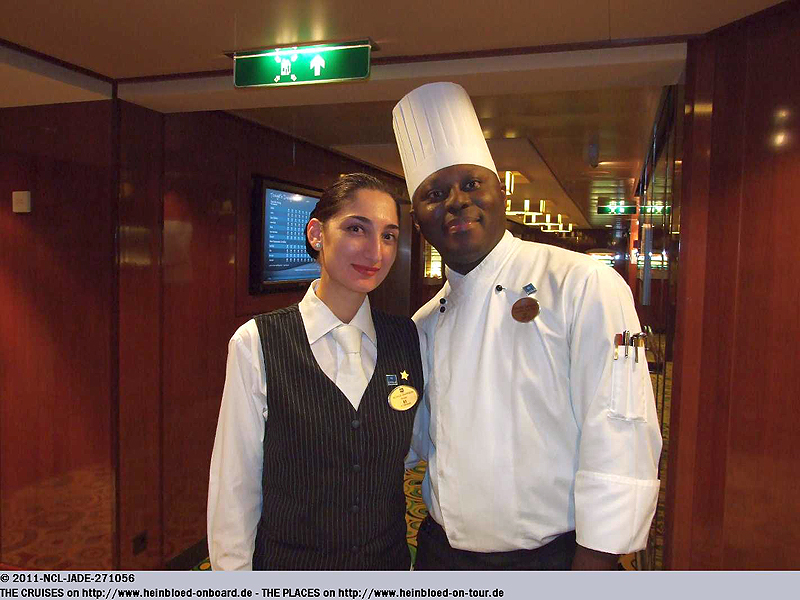 Selbst, wenn man nicht mehr bei der Firma arbeitet, wie Monica und Philmore: die tolle Zeit und deren Freundschaft an Bord, die wir erleben durften, ist ausreichend um sich zu "qualifizieren". Als wir auf Facebook erfahren haben, dass sie auch Nachwuchs bekommen haben, gab es auch ein Geschenk direkt nach Rumänien. Grenzen sind also keine Hinternisse für uns. Wir wissen ja eben, dass die Crew aus vielen Ländern kommt und genau das ist es ja, was wir sehr schätzen. Und so müssen mal unsere Geschenke ins Ausland.
Auch wenn Not ist: Admir war zu Hause in Bosnien-Herzegowina in Urlaub, als er um Hilfe für seine Landsleute bat und auf die Flutkatastrophe mit sehr großen Schäden aufmerksam machte. Und weil er uns immer sehr nett behandelt hat, haben wir für ihn sein Volk gerne unterstützt.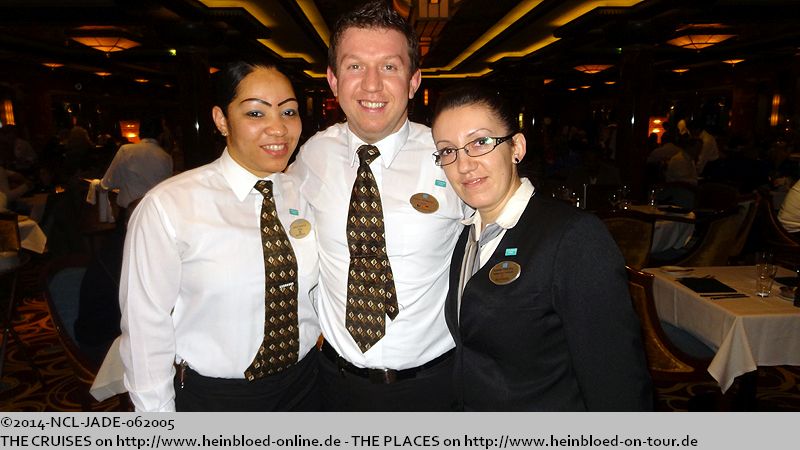 Even when help is need: Admir was home in Bosnia-Hercegovina, and they had a flood disaster with severe damages. He asked for support for his country, and we did because someone who treated us sweet asked us to help his people.

But better than an anonymous donation to one of the big welfare organization like the Red Cross is a personal aid. We know Joey from many cruises before, and when he told that his sister's family was impacted by the damages of a typhoon, it was fine for us to send his family some money to help. The friendship with the crew members means a lot to us. We do not visit them every day on Facebook or comment on every single bottle of beer if they had a party. It's only to keep in touch and to say hello and to participate in their joy by liking the pictures and thoughts they want to show us. No obligation.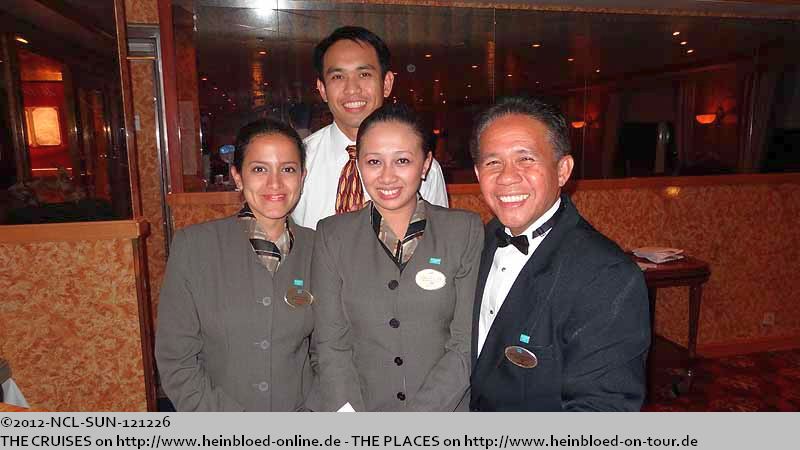 Noch lieber sind uns allerdings die persönlichen Hilfen statt anonym bei einer großen Hilfsorganisation wie dem Roten Kreuz. Wir kennen Joey von vielen Kreuzfahrten her und als er erzählte, dass die Familie seiner Schwester von dem Typhoon stark betroffen war, haben wir die Spende eben an ihn und seiner Familie geleistet, um sie zu unterstützen. Die Freundschaften, die wir mit der Crew pflegen, bedeuten uns eine Menge. Wir besuchen sie nicht jeden Tag auf Facebook und kommentieren nicht jede Flasche Bier, wenn sie mal feiern. Es ist einfach, um den Kontakt zu halten und sich mal gelegentlich zu grüßen und ihre Freude zu teilen, wenn man mal auf ein "Gefällt mir" klickt. Keinerlei Verpflichtungen.
Auch wenn jemand schon die Gesellschaft verlassen hat, und dabei muss es nicht einmal eine unserer bevorzugten Gesellschafen sein: unseren persönlichen guten Erinnerungen an dem Crew-Mitglied zählen! Und wenn sich unsere Wege kreuzen können, dann werden sie eben kreuzend gemacht wie hier mit Ritesh in Montréal. Er stammt aus Mauritius und so bekamen wir die einmalige Chance mit im im Les Délices de l'Ile Maurice authentisches Essen aus Mauritius zu probieren. Wir kennen ihn von der CELEBRITY EQUINOX and heute arbeitet er für ein Hotel in Montréal. Und das nächste Mal wenn wir ein Hotel in Montréal brauchen, wird er der erste sein, den wir fragen.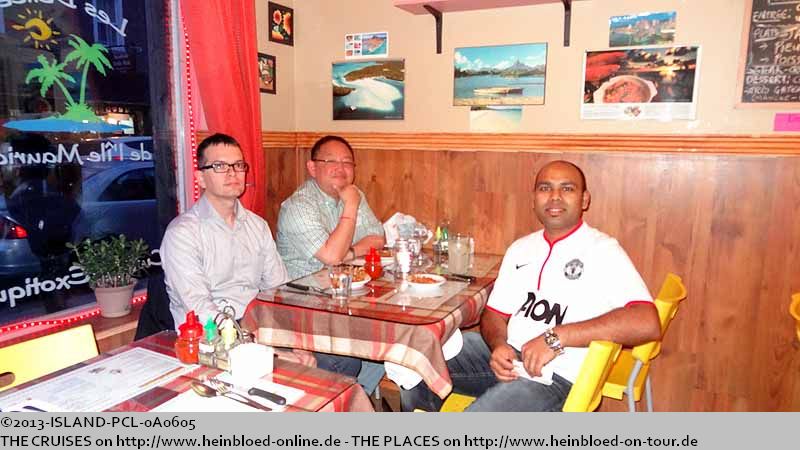 So even someone who left the company and also a company we would not call our preferred company: our good personal memories to this person counts! And if our ways can cross, we will make them passing like here with Ritesh in Montréal, Québec. He is from Mauritius, and so we had the unique chance to have authentic Mauritius Food in Les Délices de l'Ile Maurice. We knew him from CELEBRITY EQUINOX and today is working for a hotel in Montréal. And the next time we need a hotel in Montréal, he would be the first we would ask.

But our cruise-friends must not be afraid that we only take care of crew members: we even take care of cruise-friends whom we never sailed before, just because they treated us friendly and share with the passion for cruising like Jennie, Paul, Shaun, and Corinne from Australia.

Aber unsere Kreuzfahrt-Freunde müssen keine Angst haben, dass wir uns nur um Crew-Mitglieder kümmern: wir kümmern uns sogar um Kreuzfahrt-Freunde, mit denen wir vorher noch nie unterwegs waren, nur weil sie sich freundlich zu uns verhalten haben und die Leidenschaft mit uns teilen, wie Jennie, Paul, Shaun und Corinne aus Australien.
Jedes Jahr bekommen wir dieselbe Frage gestellt: wann kommt ihr endlich nach Australien, damit wir uns revanchieren können? Keine Ahnung - aber das war nie der Grund, dass wir ihnen angeboten haben, ihnen Berlin zu zeigen. Sie haben uns einfach nett behandelt und sie verdienen es, dass man das meiste aus der knappen Zeit rausholt, wenn sie hier sind.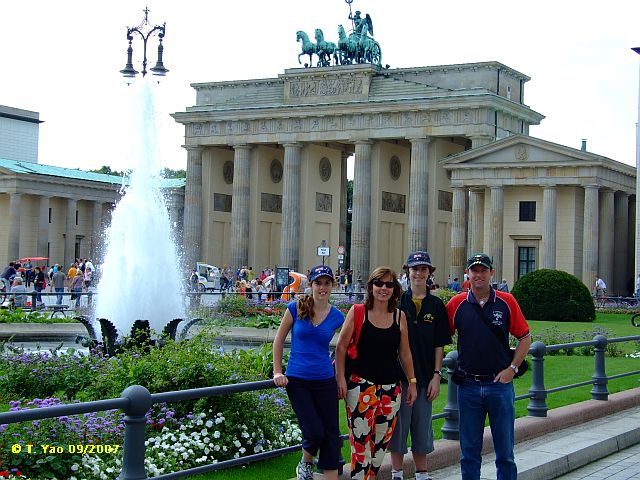 We get every year the same question: when are you coming to Australia and we can repay? No idea - but that was not the reason why we offered them to take them around to Berlin, Germany. They treated us nice and such people deserve to have most of their time when they are here.

As we love to travel too: we learned that Linda and Wayne would be in Vienna, Austria. We were on the cruise on NORWEGIAN JADE in 2011. So we wanted to take them around on the Christmas Market and to have a Schnitzel with them in Vienna with the famous Figlmüller Restaurant.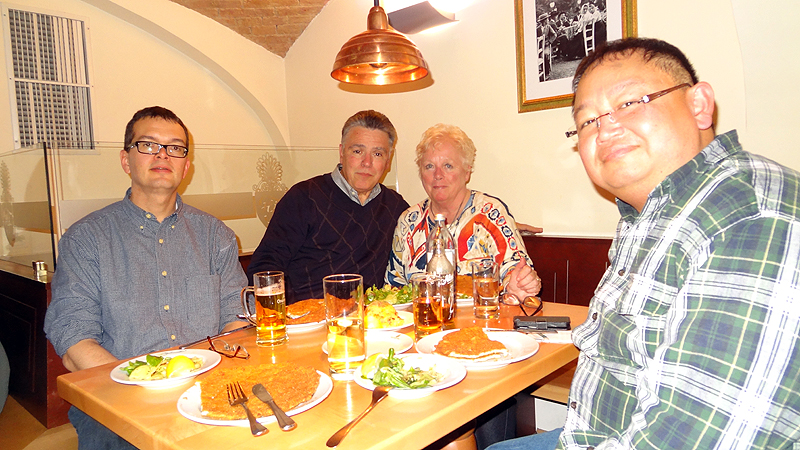 Da wir auch gerne wegfahren: wir haben erfahren, dass Linda und Wayne in Wien sind. Wir waren mit ihnen gemeinsam auf der NORWEGIAN JADE unterwegs. So wollten wir sie gerne über die Weihnachtsmärkte führe und ein Schnitzel in Wien mit ihnen im berühmten
Figlmüller
essen.
Und wenn wir eh in in Wien sind, dass können wir auch unsere Kreuzfahrt-Freunde von der CELEBRITY EQUINOX wiedersehen: Ingrid, Carmen und Richard und mit denen haben wir ganz toll im
Café Sacher
gefrühstückt.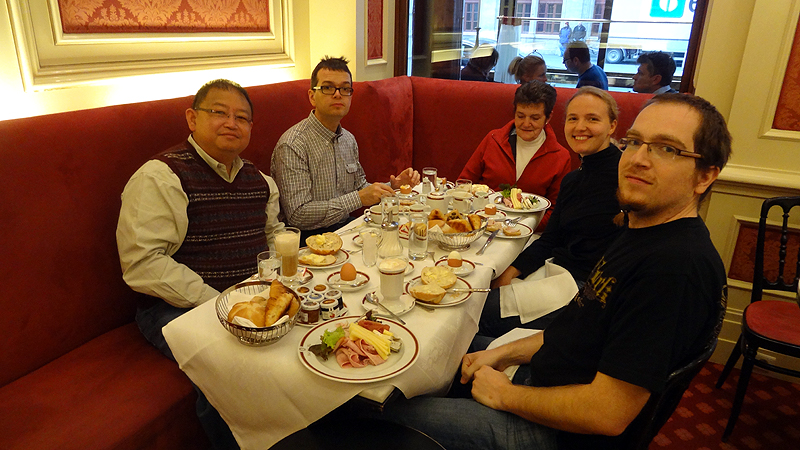 And we were anyway in Vienna we want to see our cruise-friends of CELEBRITY EQUINOX too: Ingrid, Carmen and Richard and we had a wonderful breakfast with them at Café Sacher.

Breakfast in the Breakfast Club in Montréal: our cruise-friends from NORWEGIAN SUN: Phyllis and Ken who will join us for our Japan-bound cruise on DIAMOND PRINCESS in 2016.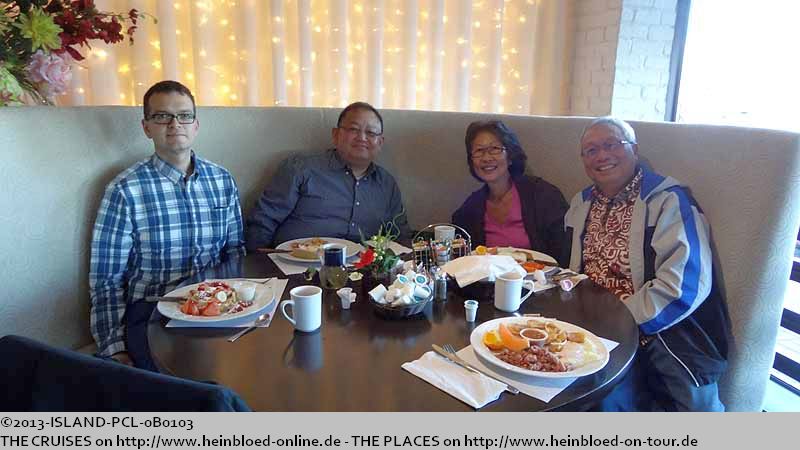 Frühstück im Frühstücksclub in Montreál: unsere Kreuzfahrt-Freunde von der NORWEGIAN SUN: Phyllis und Ken, die uns auf der Japan-Reise auf der DIAMOND PRINCESS 2016 wieder begleiten werden.
Wir haben Frances und Eddie von der NORWEGIAN SUN in Amsterdam nach Brüssel entführt, um mit ihnen im beleuchtetem
Atomium
zu essen und sie in Zeebrugge dann wieder am Schiff freigelassen.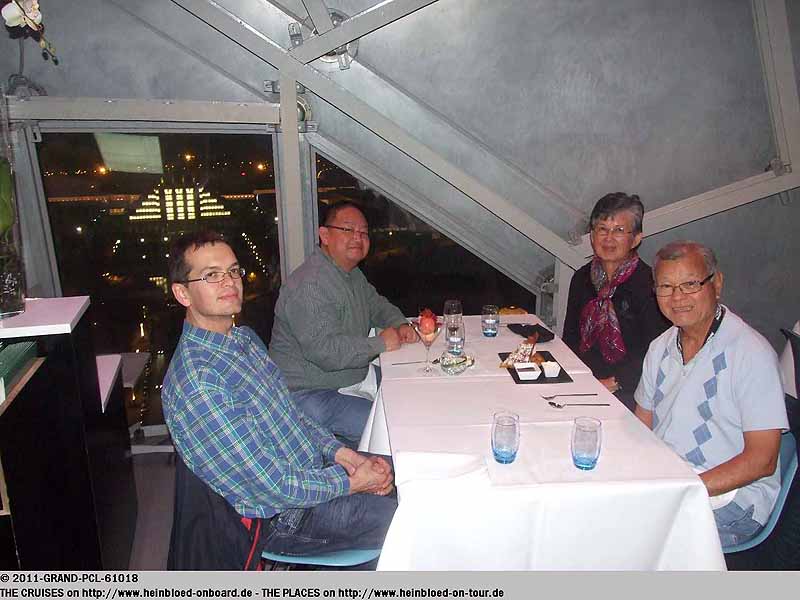 We kidnapped Frances and Eddie off their sailing on NORWEGIAN SUN in Amsterdam, The Netherlands, took them to Brussels, Belgium to the illuminated Atomium to have dinner and released them back in Zeebrugge, Belgium to their ship.

They deserved this treatment as they live in California and came to Hawaii to welcome and take us around with their friends and families.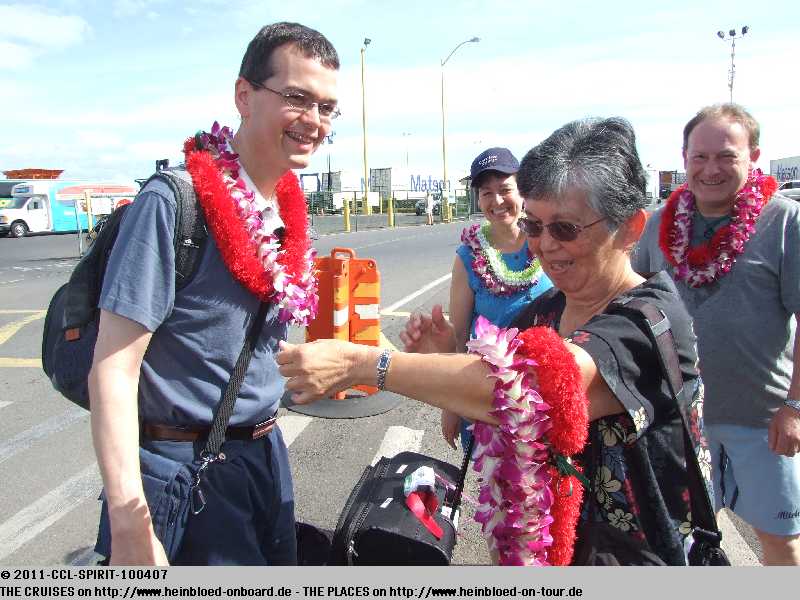 Sie haben diese Sonderbehandlung verdient, da sie in Kalifornien leben und nach Hawaii gekommen sind und uns mit ihren Freunden und Familien herumgeführt haben.
Aber wir haben auch in Deutschland Kreuzfahrt-Freunde: einmal im Jahr treffen wir uns mit Hans-Hermann, Carmen, Nicole und Harald und dabei sind wir immer so sehr mit dem Essen beschäftigt, dass wir noch nie Gelegenheit hatten, mal schöne Bilder von uns zu machen.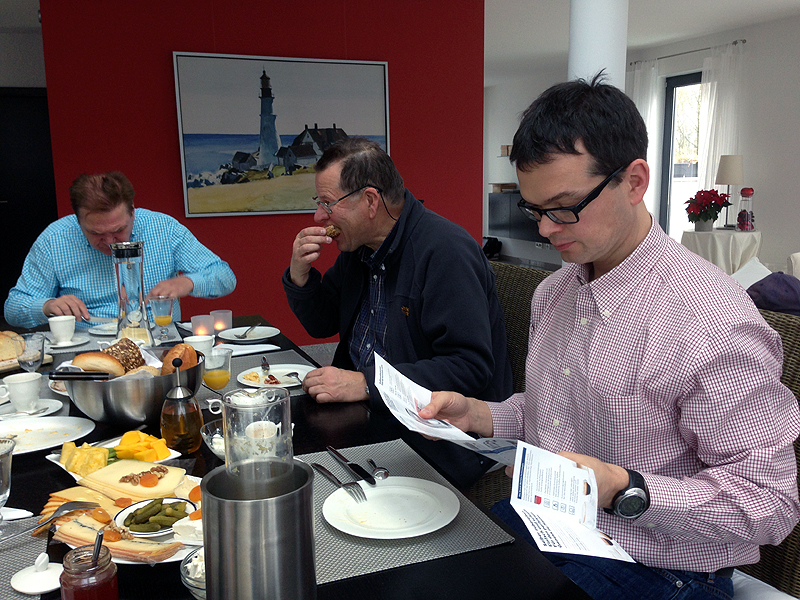 But we also have cruise-friends in Germany: one a year we meet with Hans-Hermann, Carmen, Nicole, and Harald but I have to learn that we were always to busy to have one picture with us all since we were eating all the time.

And one special friend was so kind to send us gifts: extraordinary, unique gifts. We wanted to repay and ordered cabin decoration and more and had to learn that he became sick and could not embark. But thank you, Marc. And sorry to all we have not mentioned by name, but these are only a few samples for the many friendships we maintain around the ships.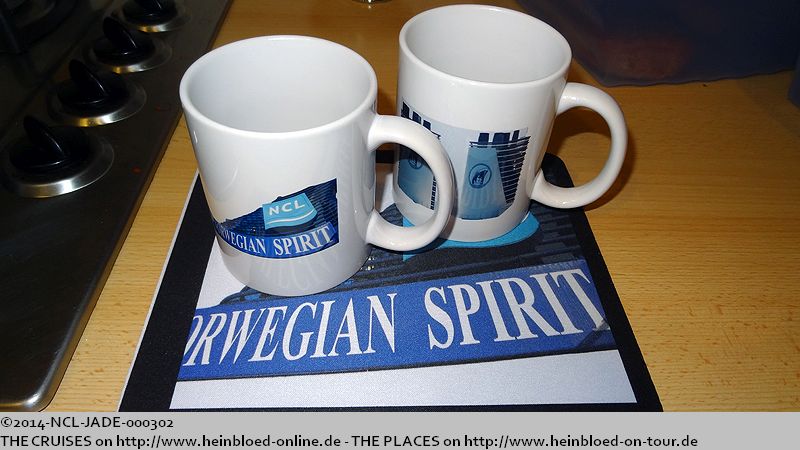 Und ein spezieller Freund war so nett uns so zu beschenken: besondere Unikate. Wir wollten uns revanchieren und haben Kabinendeko bestellt, aber dann leider erfahren, dass er wegen Krankheit die Reise gar nicht angetreten ist. Aber trotz allem vielen Dank Marc. Und an alle anderen, die wir jetzt nicht namentlich erwähnt haben: es waren jetzt nur Beispiele stellvertretend für die vielen Freundschaften, die wir rund um die Schiffe pflegen.
Die anderen Reisen in diesem Blog/
The other voyages in this blog: