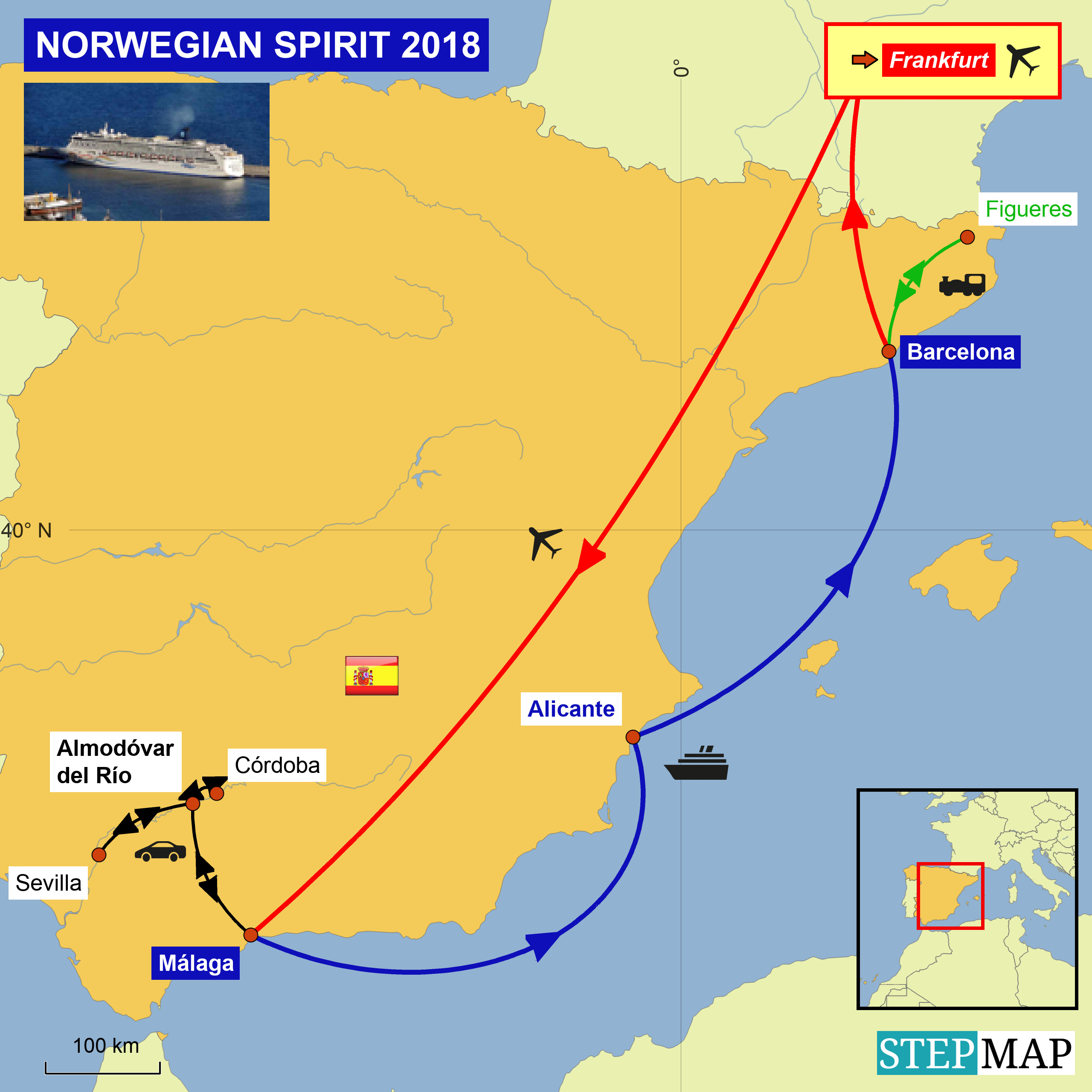 MEINE
NORWEGIAN SPIRIT kommt an. Mein Logenplatz wird leider durch die Silos gestört. Ich gehe aber kurzerhand über die Straße und in den Hafen rein. Viele Läufer sind schon unterwegs. Zufällig ist das Tor auf, das direkt zum Wasser führt. Neben dem Schiff der Küstenwache kann ich in Ruhe fotografieren.

MY NORWEGIAN SPIRIT arrived. My box seat was unfortunately obstructed by some silos. I went over the street into the port. Many runners were already on their ways. Accidentially the gate was open which took me right to the waterfront. Next, to the ship of the coast guards, I could take some pictures without being disturbed.

Later when it became bright, I took a few more pictures of the hotel. As well as then the day when we were on our ways.

Später als es hell wird, nehme ich vom Hotel weitere Bilder auf. Auch noch später unterwegs nehme ich zusätzliche Bilder auf.
Es ist aber beeindruckend zu sehen, wie die Sonne langsam aufgeht.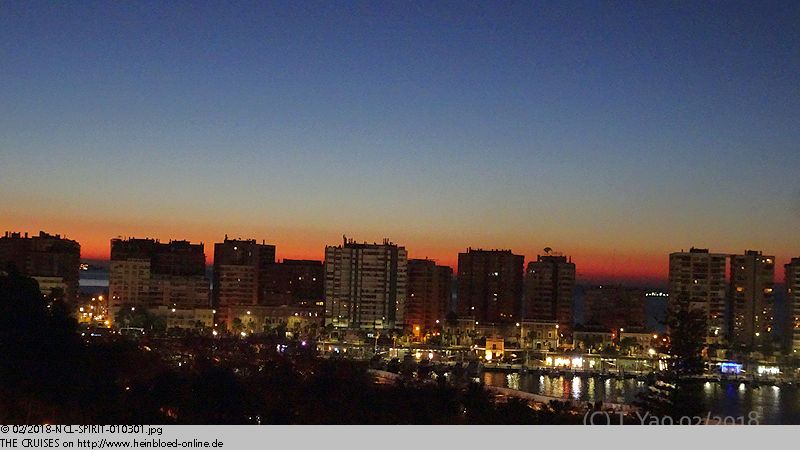 It was impressing to see how the sun rose slowly.

We really had luck with our view to the aurora.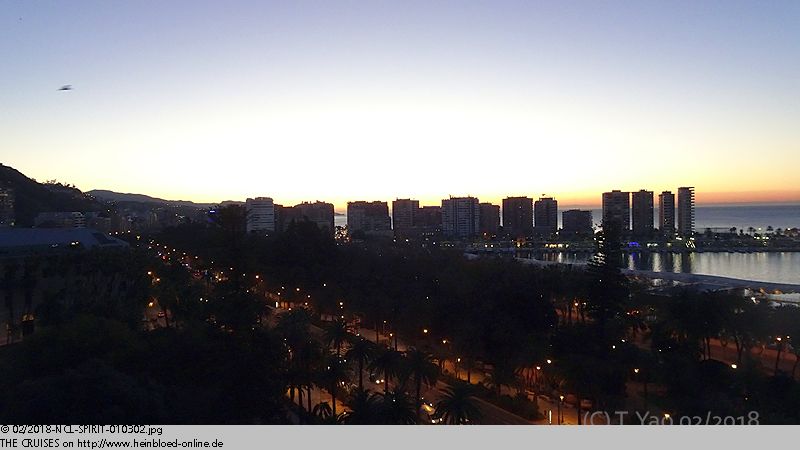 Wir haben mit dem Blick wirklich viel Glück die Dämmerung sehen zu können.
Und dann ist die Sonne selbst da.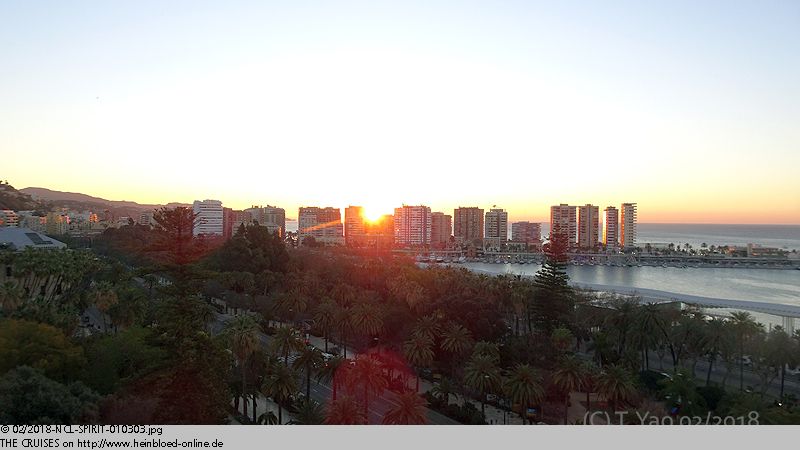 There the sun was itself.

Somehow it was annoying that the air condition did not work since it became hot when the sun was shining all the day into the room. Annoying was also taking a shower because of the (missing) water pressure. It was not really fun because the ventilation did not work either.

Nervig ist allerdings die Klimanlage, die nicht läuft, allerdings wird es wirklich warm, weil den ganzen Tag die Sonne im Zimmer steht. Nervig ist das Duschen wegen des (fehlenden) Wasserdrucks. Irgendwie macht es nicht wirklich Spaß, vor allem weil auch die Lüftung nicht funktioniert.
Das Frühstück bietet viel. Nur leider der Service nicht so. Bei einem sehr guten Restaurant wird man niemals merken, dass etwas leer wird. Man ersetzt die Schale/die Platte bevor alles weg ist und es wird im Hintergrund neu alles schön angerichtet. Hier nicht. Neue Platte wird hingestellt und der Rest der alten Platte einfach Platsch drauf gehauen. Oder es ist bereits leer. Schade, dass die Eier oft schon sehr kalt sind.

The breakfast offered a lot. But not the service. With an excellent restaurant, you will never remark that something runs out. You replace a bowl/plate before everything was taken and you always set up nicely in the background. Not here. The placed a new plate and the remainder of the previous place they just put on top of the new plate. Or it was already empty. Sad that the egg dishes were mostly cold already.

We printed our bag tags already at home.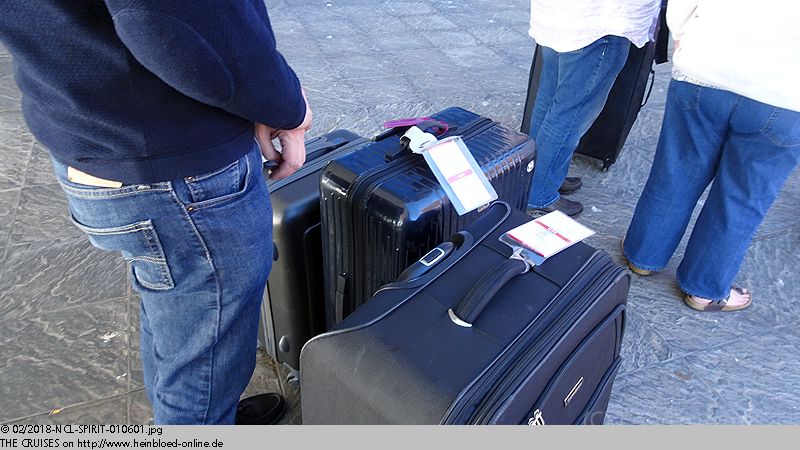 Die Gepäckanhänger haben wir zu Hause ausgedruckt.
Die Abgabe des Gepäcks läuft sehr schnell.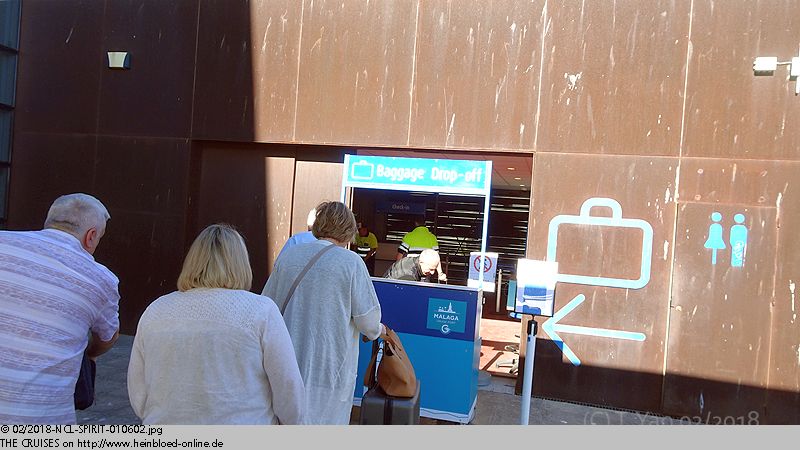 Baggage drop off went very quickly.

Here they were fortunate that we already tagged everything and they had no need to release new baggage tags.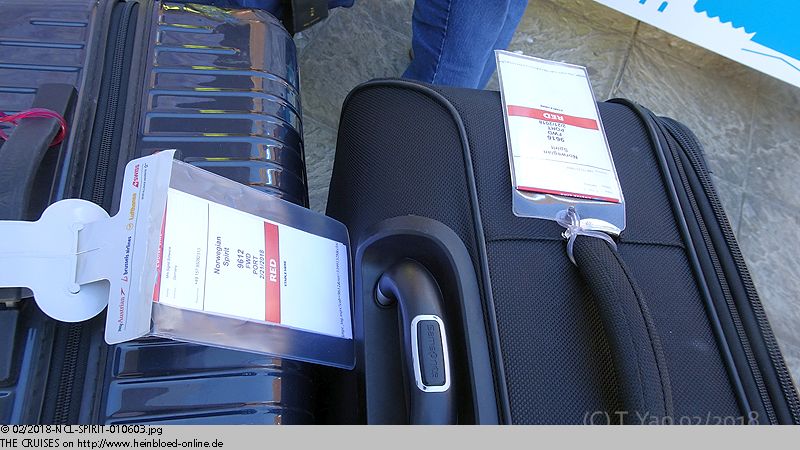 Hier freut man sich sehr, dass wir bereits alles kennzeichnet haben und sie nicht wieder neue Gepäckanhänger ausstellen müssen.
Wir fahren zum Aussichtspunkt Mirador de Gibralfaro. Das kennen wir von damals, als wir mit der
MSC FANTASIA 2009
hier waren. Da hatten wir einen sehr netten Taxifahrer, der uns hierher gefahren hat. Damals hatten wir die Tour auch vorab über die Taxizentrale gebucht.

We went to the observation point Mirador de Gibralfaro. We knew this spot from our voyage on MSC FANTASIA 2009. Then we had a nice taxi driver who took us to this place. Then we pre-booked the tour with the office of Málaga Taxi Company.

So we still knew the Hotel Paradores which was just next to the observation point. I really wanted to stay here and book a room, but at the time of booking they could not tell me any prices and wanted to keep for them as flexible as possible. I did not book finally. So we had some coffee on their terrace and while I was active as shipspotter Bruno and Sig acted as planespotter.

Daher kannten wir noch das
Hotel Paradores
, das direkt neben dem Aussichtspunkt ist. Ich hätte gerne hier ein Zimmer bestellt, aber man wollte zum Zeitpunkt der Buchung keinen Preis nennen und eierte herum. Ich habe auf die Buchung verzichtet. Aber wir trinken auf der Terrasse Kaffee und während ich mich lieber als Shipspotter aktiv bin, sind Bruno und Sigi beim Planespotting aktiv.
Wir fahren dann zum
Bahnhof Maria Zambrano
und bringen den Wagen zurück. Man muss ganz nach hinten der Tiefgarage durchfahren, damit man die Parkplätze der Mietwagenfirmen zu finden.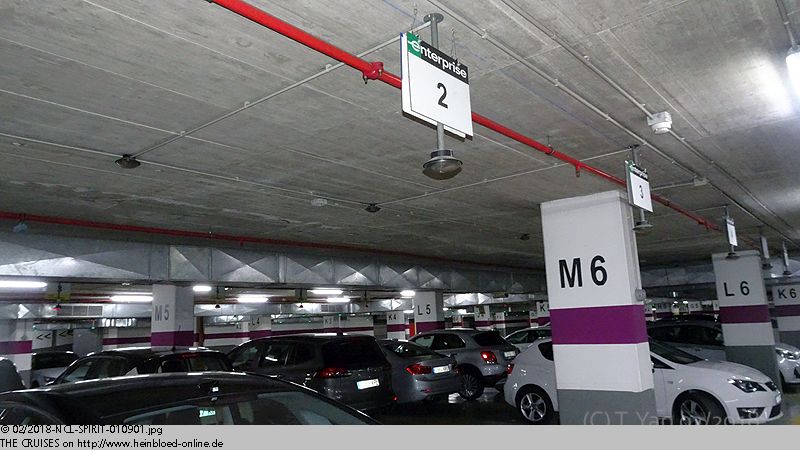 We went to the train station Maria Zambrano and returned the car. You need to headed to the end of the underground parking garage to find the parking of the car rental companies.

We asked if they would take us to the port. They did it. But they thought that we wanted to go to the ferry terminal. Usually, they would not get us to the cruise terminal. But they were so kind not to release us in the middle of the city and took us to the cruise terminal.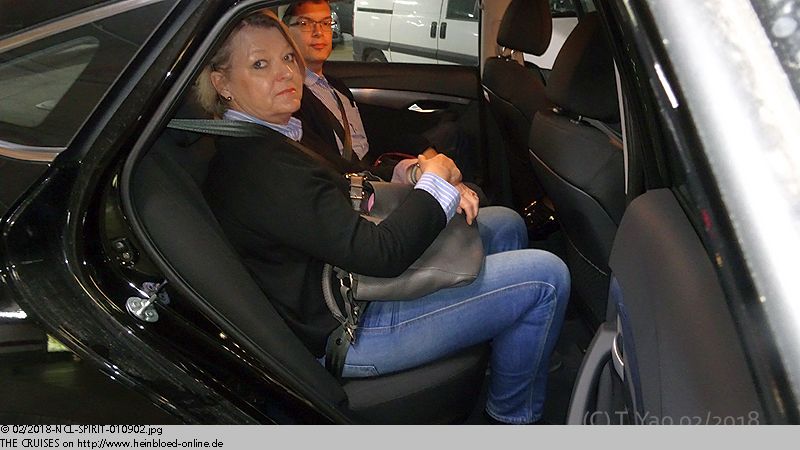 Wir haben gefragt, ob sie uns zum Hafen würden. Sie haben es gemacht. Allerdings nehmen sie an, dass wir zum Fährterminal wollen. Zum Kreuzfahrtterminal hätten sie uns wohl normalerweise nicht gefahren, aber sie wollten uns nicht mitten in der Stadt rauslassen und waren dann doch so nett uns zum Kreuzfahrtterminal zu fahren.
Am Kreuzfahrtterminal ist es schön ruhig. Ich liebe es, wenn man nicht am Haupthafen einsteigt.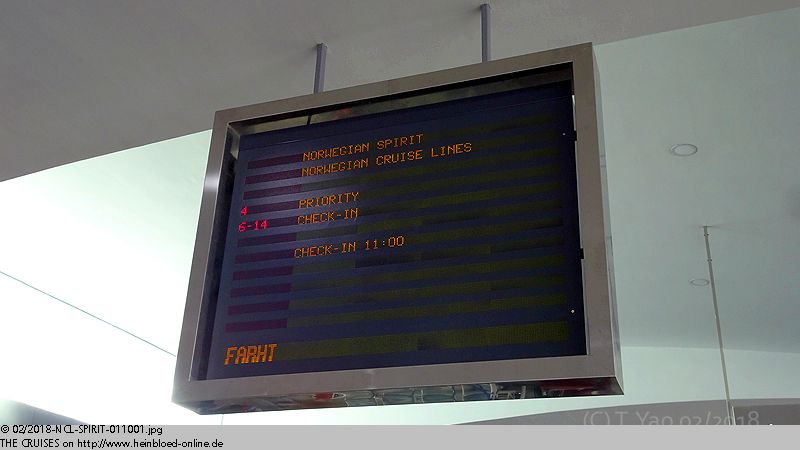 At the cruise terminal it was very nice and calm. I loved it not to embark at the main embarkation port.

They could also write here: welcome home!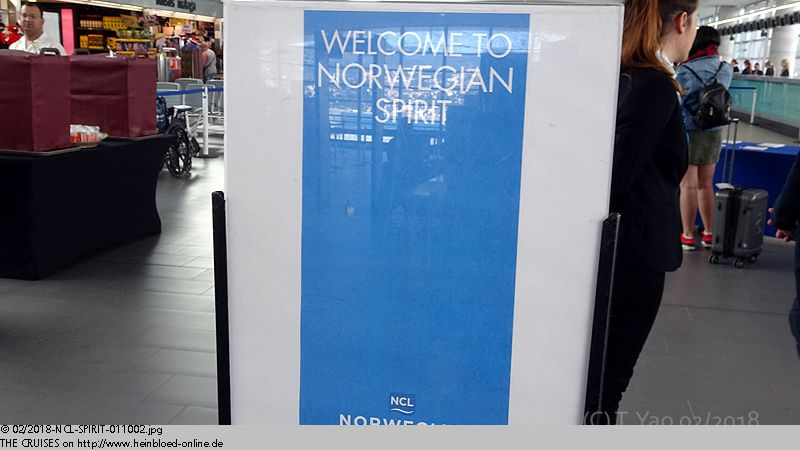 Genauso gut könnte hier stehen: Willkommen zu Hause!
Es ist so wenig los: es würde länger dauern sich an dem Latitudes Platin-Schalter anzustellen, als an einem beliebig anderen.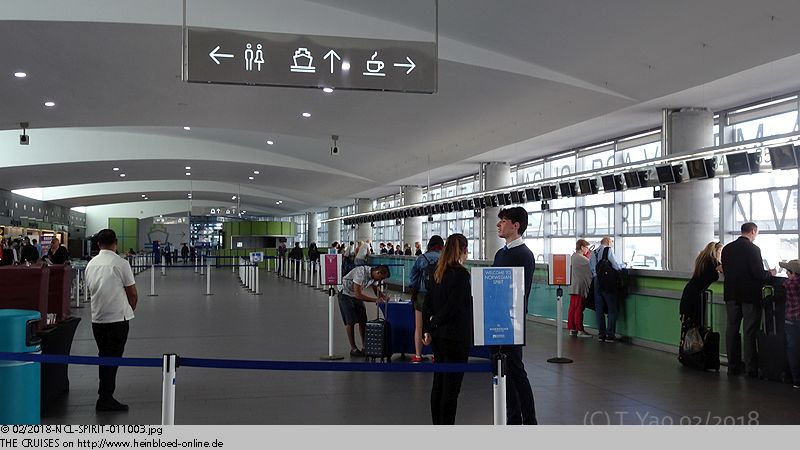 It was so calm: it would take longer to queue up for the Latitudes Platinum-counter than to wait for any next one.

And "Bon" was already waiting for us. Recently we met her in Valetta, Malta when we went there on MSC MERAVIGLIA 2017.

Und wir werden schon von "Bon" erwartet. Zuletzt hatten wir sie ja in Valetta, Malta getroffen, als wir mit der
MSC MERAVIGLIA 2017
da waren.
Es gab ein kleines Upgrade innerhalb der Kategorie.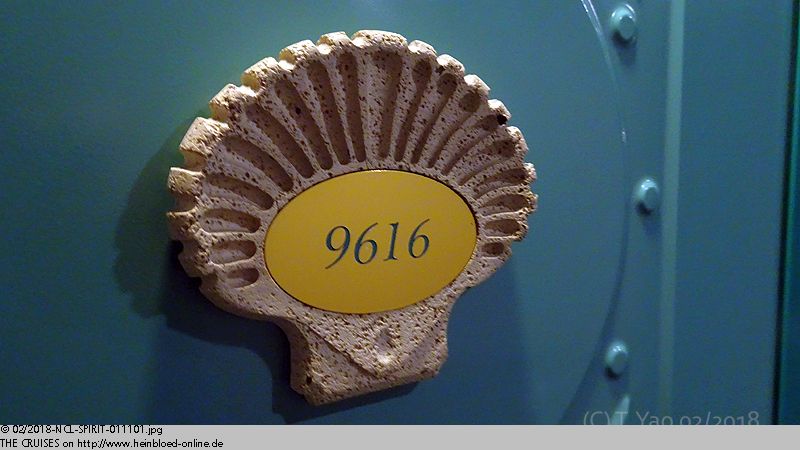 We got a small upgrade within the booked category.

The cabins did not become larger since our last voyage on NORWEGIAN SPIRIT 2013.

Größer sind die Kabinen seit unserer Reise auf der
NORWEGIAN SPIRIT 2013
nicht geworden.
Als SUPERSTAR LEO wurde sie für den asiatischen Spielermarkt gebaut. Da musste niemand schlafen.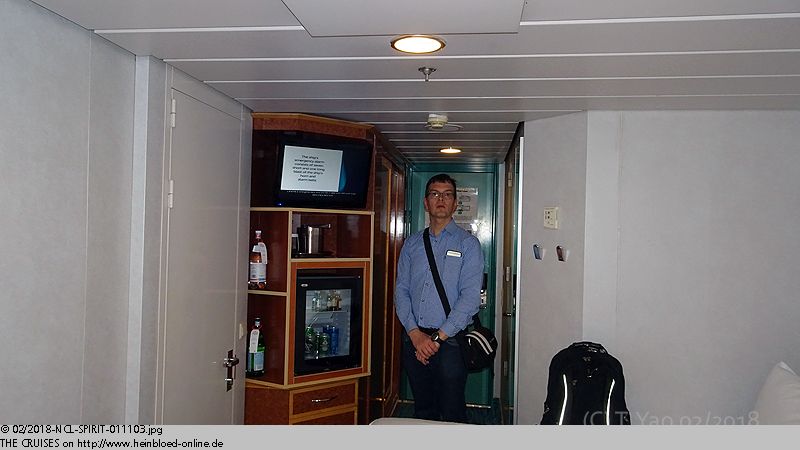 Constructed originally as SUPERSTAR LEO for the Asian gambling market. There nobody need to sleep.

We could accommodate a third person here.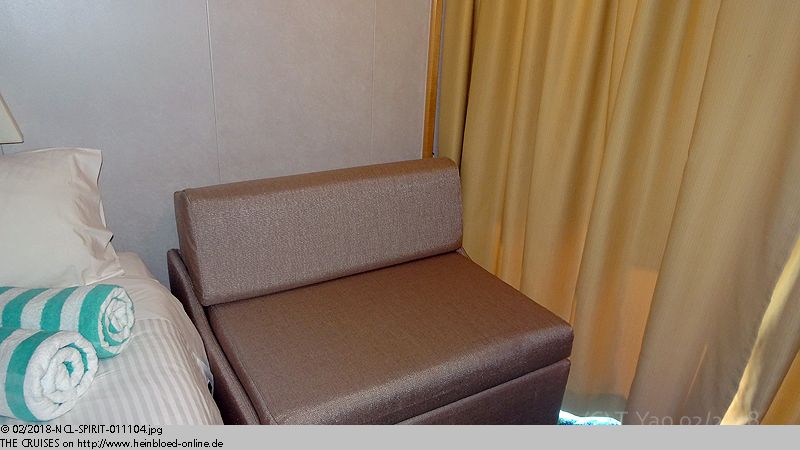 Eine 3. Person könnten wir wohl hier unterbringen.
Es gibt jetzt einen Flachbildschirm. Nervig ist der Kühlschrank, der mehr Platz braucht. Deswegen wird es dort ziemlich eng und warm. Eiswürfel über dem warmen Kühlschrank machen wenig Sinn. Durch unsere Adapter haben wir genügend Stromquellen. Ein Schränkchen für zwei. Die Klimaanlage ist schon älter. Bruno klebt ab.

They had now a flat-screen-TV. Annoying was the friend as it needed more space. So it was always around quite narrow and warm. It did make too much sense to have the ice cubes above the warm fridge. As we had our adapters, we had enough sources. One little closet for two. The air condition was older. Bruno had to tape.

The bathroom was still very nice.

Das Bad gefällt mir immer noch gut.
Wir werden mit den Produkten aus den Suiten verwöhnt.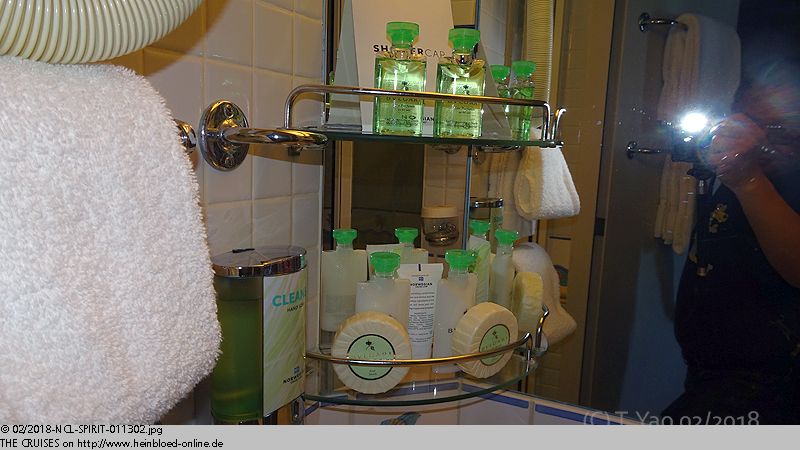 They induldged us with the products from the suites.

I like the allocation with the separate toilet.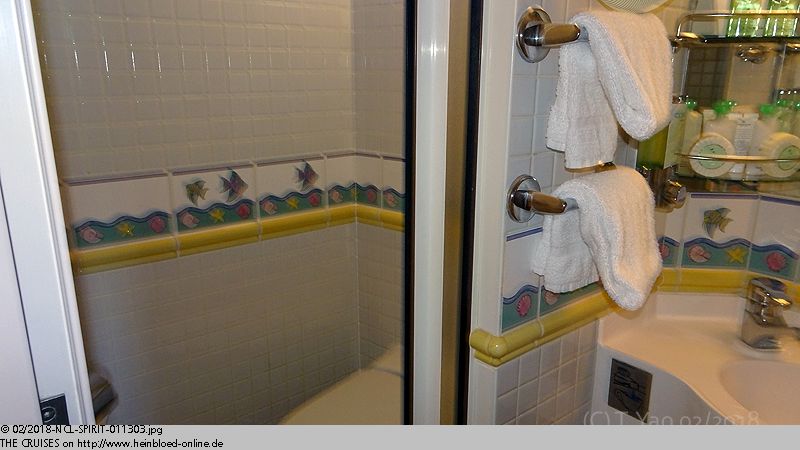 Ich mag die Aufteilung mit der getrennten Toilette.
Und eben auch die getrennte Dusche.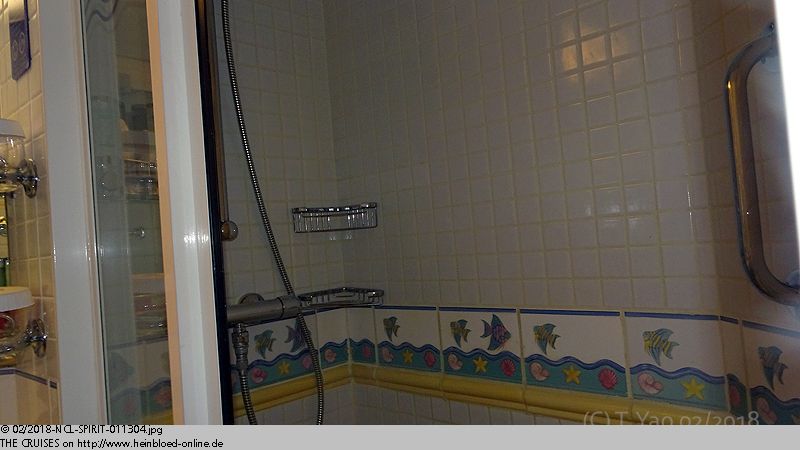 And also a seperate shower.

A small balcony.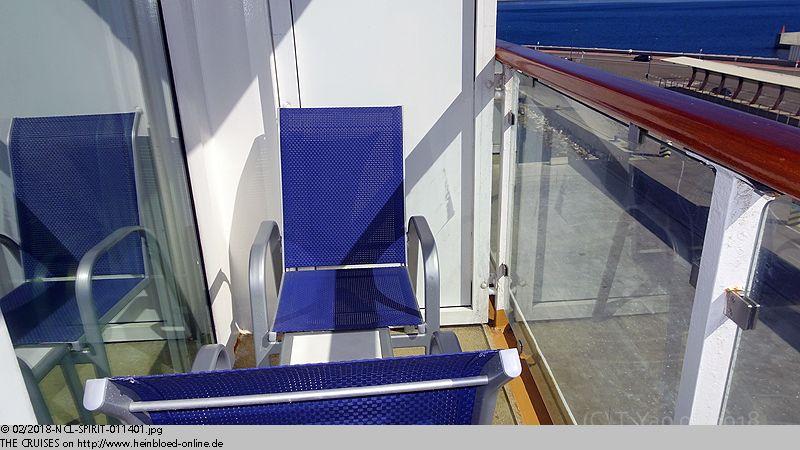 Ein kleiner Balkon.
Aber so: Farbe und über Farbe und Roststellen...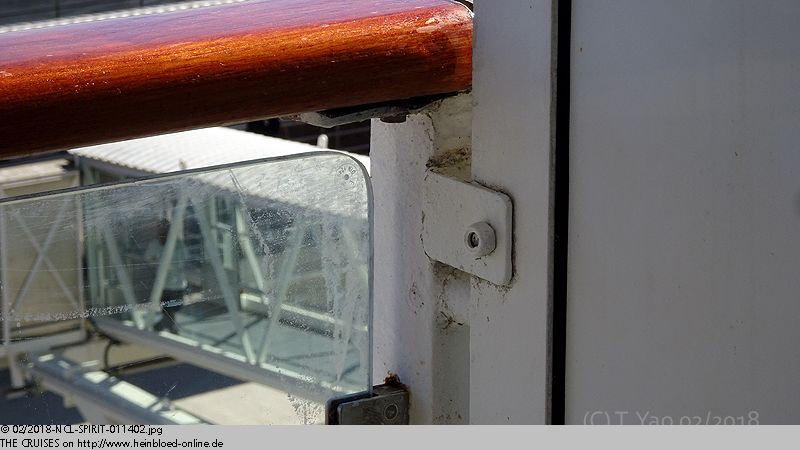 But that way: paint over paint and rust...

This picture could also taken on LILI MARLEEN 2006. That ship was also kept together by paint.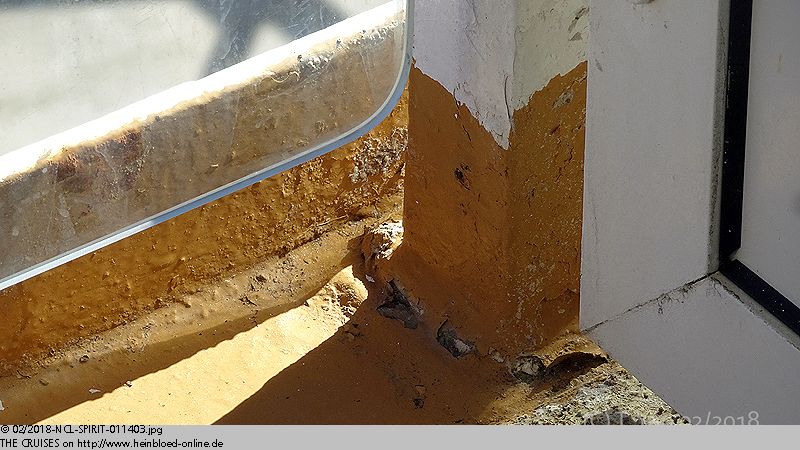 Das Bild könnte auch auf der
LILI MARLEEN 2006
entstanden sein. Das Schiff wurde damals auch nur noch durch Farbe zusammengehalten.
Wir werden verwöhnt: Willkommensgruß von Armando, Sekt, Mineralwasser, Obst, Canapés und Erdbeeren, Gutscheine für Latitudes Platinum-Mitglieder, und die Einladung im Cagney's frühstücken und zu Mittag essen zu dürfen. Nach dem die Preise nach unserer Schlusszahlung gefallen sind, sorgt
Dorothy von cruisebrothers
dafür, dass wir zumindest einen Teil als OBC bekommen: 35,00 USD.

We really were nicely pampered: welcome greeting from Armando, champagne, mineral water, fruits, canapés and strawberries, vouchers for Latitudes Platinum Members and invitation to have breakfast and lunch with Cagney's. After the prices dropped again after final payment Dorothy of cruisebrothers took care of that we got a part back as OBC: 35.00 USD.

We went for lunch into the Cagney's. As nice as the atmosphere was: I really would be happy to have a new menu after so many years.

Wir gehen zum Mittagessen ins Cagney's. So schön wie es hier die Atmosphäre ist, aber ich würde mich auch mal nach vielen Jahren über eine neue Speisekarte freuen.
Irgendwie fehlt hier das Klavier. Ian West hatte damals auf der NORWEGIAN SPIRIT 2013 hier traurige Musik zur Ausschiffung gespielt.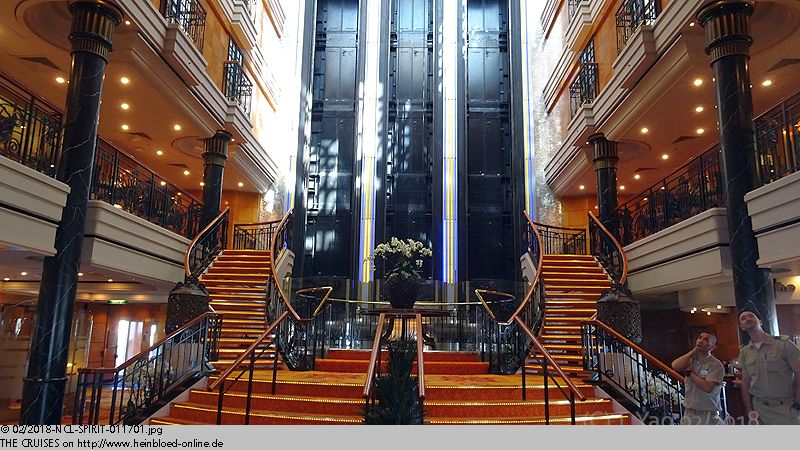 Somehow the piano was missing. Ian West played then on NORWEGIAN SPIRIT 2013 sad music for debarkation.

Outside: beautiful as ever. Ship and sky.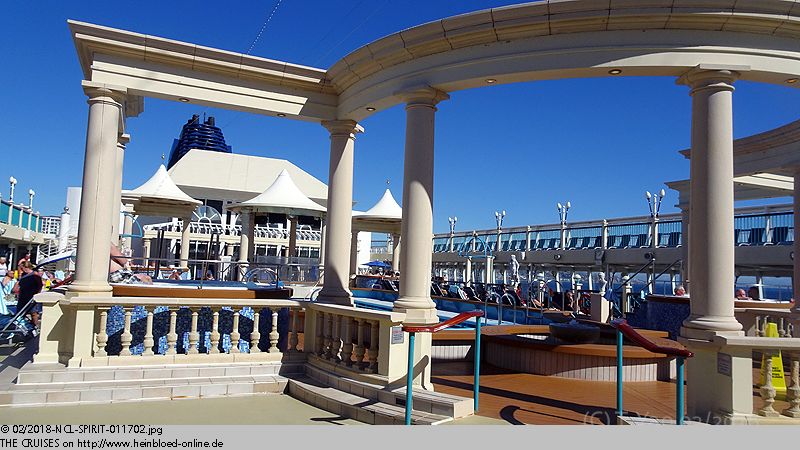 Draußen: unverändert schön. Schiff und Himmel.
Schade, dass heute nicht mehr solche Schiffe gebaut werden. Ich liebe das Atrium der NORWEGIAN SPIRIT.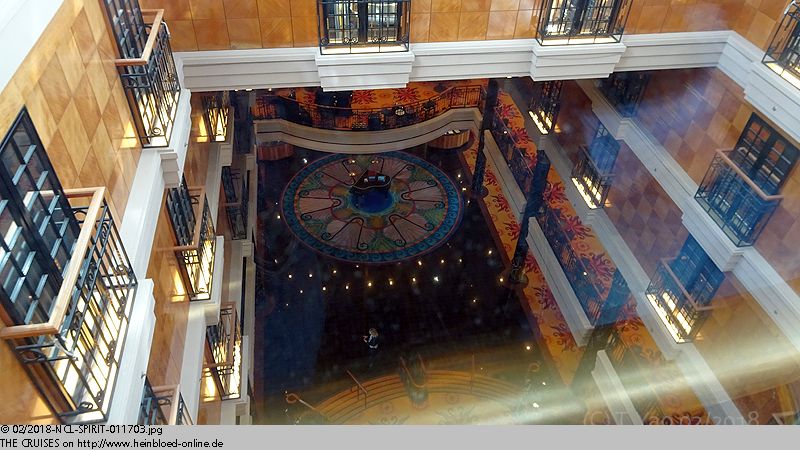 It was so sad that today such ships would not be build anymore. I loved the atrium of NORWEGIAN SPIRIT.

A beautiful outside promenade.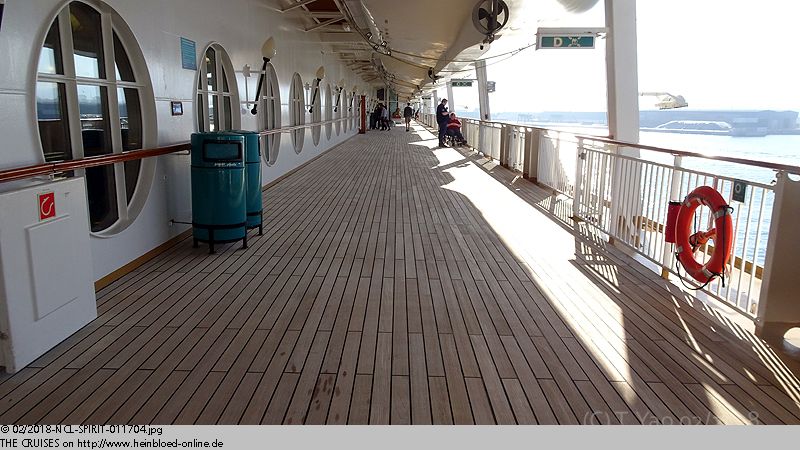 Eine wunderschöne Außenpromenade.
Eine neue Überraschung: auf alle Getränke- und Speise-Umsätze kommen noch 10% spanische Mehrwertsteuer. Und offensichtlich auf der gesamten Reise und nicht nur im Bereich der spanischen Hoheitsgewässer eines spanischen Hafens.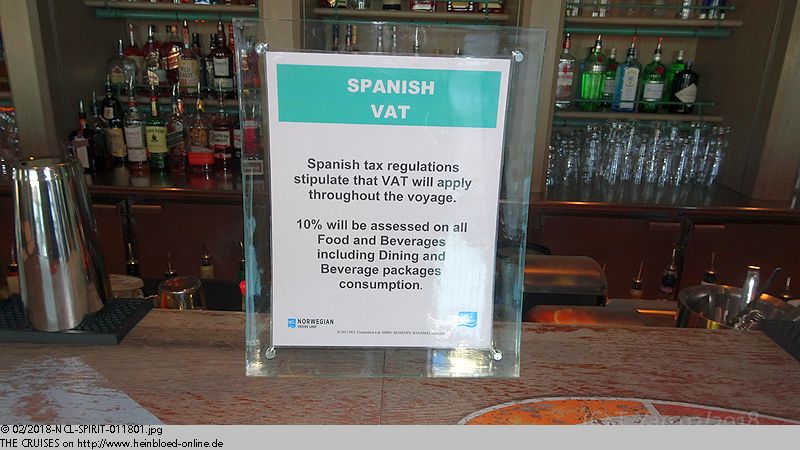 A new surprise: on all consumptions of beverages and food they top up 10% Spanish VAT. And obviously on the entire cruise and not just then the ship was sailing actually in Spanish waters.

Very nice were the pictured advises what sights you need to see in the ports.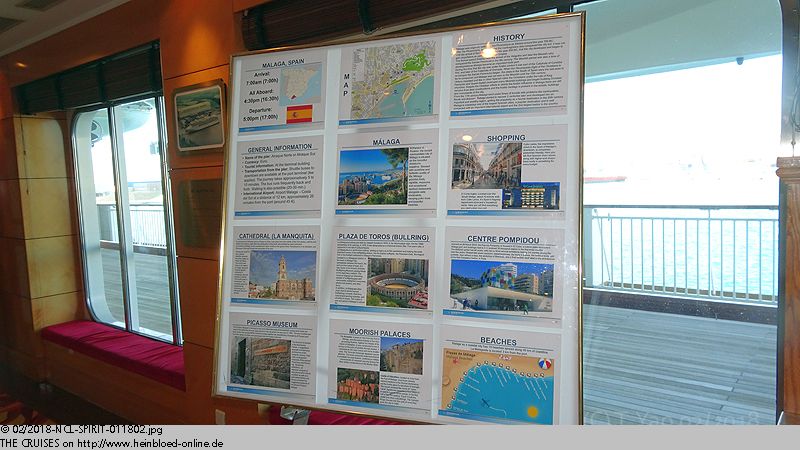 Sehr schön sind die bebilderten Hinweise auf die Sehenswürdigkeiten der Häfen.
Und noch über einige Abläufe an Bord, die hier einfach erklärt werden. Ein Bild sagt mehr als tausend Worte.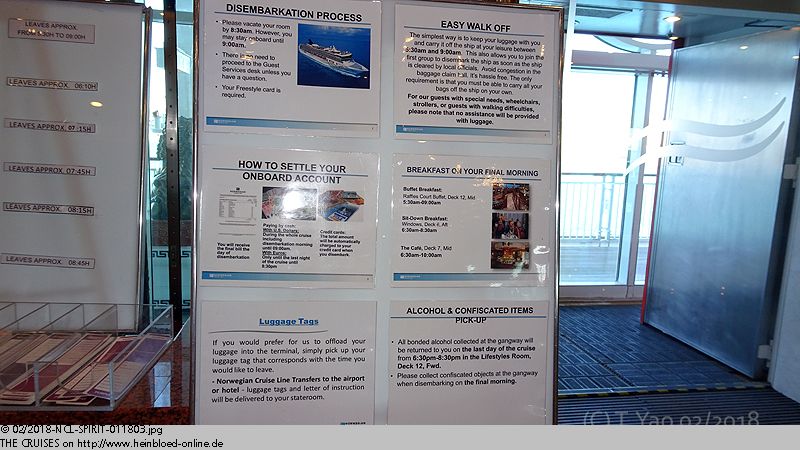 Same with some procedures on board who could be simply explained. One picture could say more than a thousand words.

Still, all baggage tags for all time slots were available.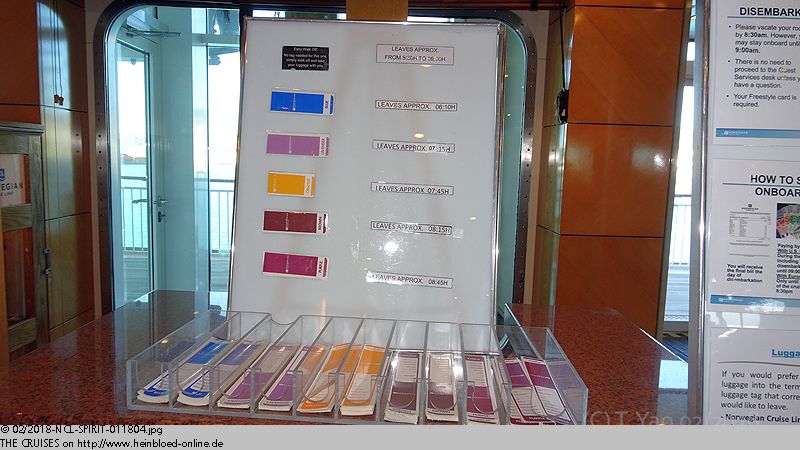 Noch sind alle Gepäckanhänger für alle Uhrzeiten verfügbar.
Da wir ja bei der Treffen der cruisecritic-Mitglieder nicht dabei war, muss ich mich erkundigen, wer von den Senior-Offizieren an Bord ist. Eine große Überraschung: Furtosa, der uns seit unserer allerersten Reise mit NCL der
NORWEGIAN PEARL 2006
immer wieder begleitet und den wir zuletzt auf der NORWEGIAN JADE 2017 gesehen haben, ist an Bord. Und noch eine alte bekannte: Karin - unser Concierge auf der
NORWEGIAN DREAM 2008
.

Since we were not at the meeting with the cruise critic-members I need to check out for the Senior Officers who were actually on board. A big surprise: Furtosa was onboard who was taking care of us since our very first sailing with NCL on NORWEGIAN PEARL 2006, and we saw him recently on NORWEGIAN JADE 2017. And another familiar face from NORWEGIAN DREAM 2008: Karin - our Concierge.

Bruno and Sigi always need to inspect the gym immediately.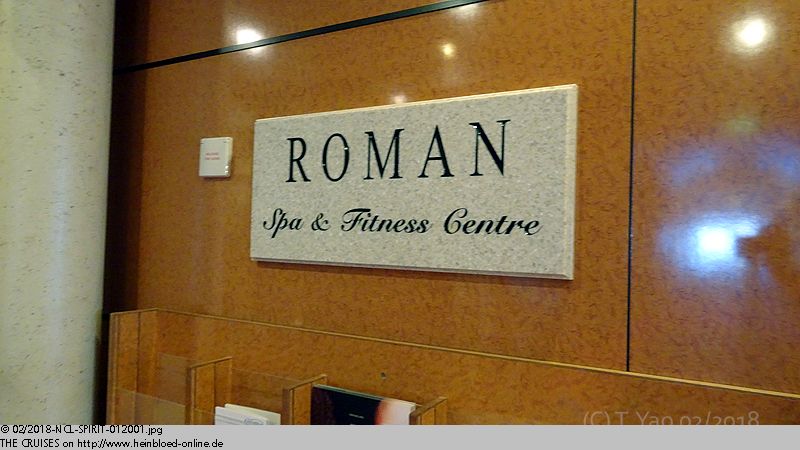 Bruno und Sigi müssen immer sofort zur Inspektion des Fitness-Studios.
Ab 06:00 Uhr morgens geöffnet.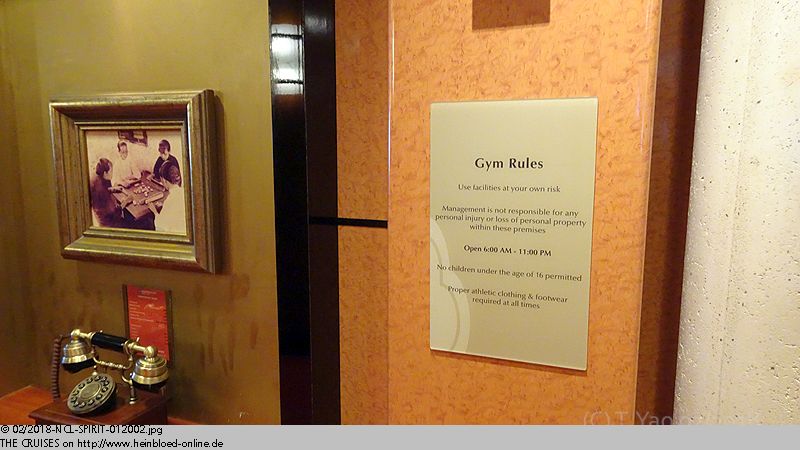 Open from 06:00 hrs.

Was everything available to make Bruno happy?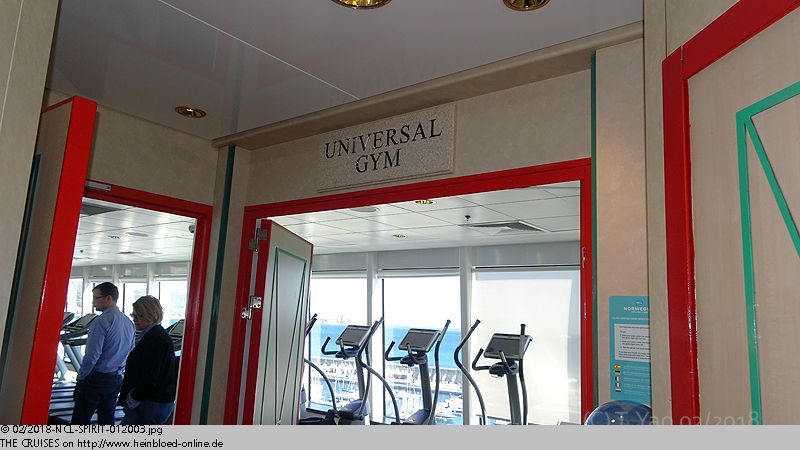 Ob alles da ist, um Bruno glücklich zu machen?
Er nimmt sich vor, später mal hinzugehen.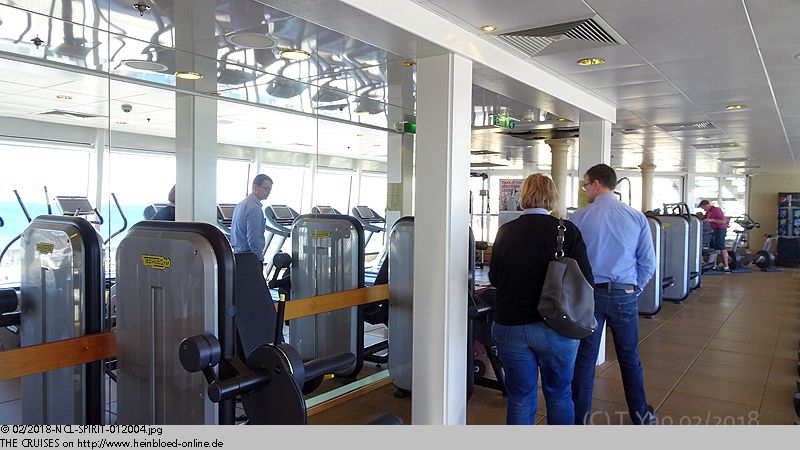 He decided to see it later the day.

Always lovely again: Galaxy of the Stars with the access to the Captain's Bridge: on the trace of SUPERSTAR LEO. I took over the steering wheel.

Immer wieder schön: Galaxy of the Stars mit Zugang zu Captain's Bridge: auf den Spuren der SUPERSTAR LEO. Ich übernehme mal das Steuerruder.
Im Atrium gibt es das Café. Dort werden wir quasi Stammgäste. Also zunächst wird die Nettokaufsumme gebildet und auf diese Summe wird 30% aufgeschlagen: 20% als Service Charge und 10% für Spanien. Nur meinen Shakerato gibt es hier an Bord nicht. Während ich noch im Café sitze bekomme ich bereits meinen Douglas Ward vom Kapitän unterzeichnet zurück. Food und Beverage Manager Zdravko Kojakovic erkennt und begrüßt mich. Über uns spielt Trio Royale: leider nicht mehr am späteren Abend, so dass ich leider nicht dazu komme, sie mir nochmals anzuhören.

They had a Café in the atrium. We became patrons there. So they calculate the net amount of the purchase and on the top 30%: 20% as service-charge and 10% for Spain. Only my Shakerato was not available onboard. While I was sitting in the Café, my Douglas Ward came back with the signature of the Captain. Food and Beverage Manager Zdravko Kojakovic remembered and welcomed me. Above of us, Trio Royale was playing: unfortunately not in the following evening, so I had, unfortunately, no chance to hear them again.

We need to attend the life drill. They did not make any difference if I debark in Barcelona or would be there in transit. All were conducted in English only for all guests. No life tests need to be taken with. So that part went very quickly. Then Cruise Director David Lopez, and you had a short overview for guests who joined.

Wir müssen zur Seenotrettungsübung. Es wird nicht unterschieden, ob ich wieder in Barcelona ausschiffe oder in Transit durchfahre. Es findet nur in Englisch für alle im Theater statt. Westen müssen nicht mitgeführt werden. Deswegen geht dieser Teil sehr schnell. Danach kommt Cruise Director David Lopez und gibt einen kurzen Überblick für die Zugestiegenen.
Draußen ist es ziemlich windig.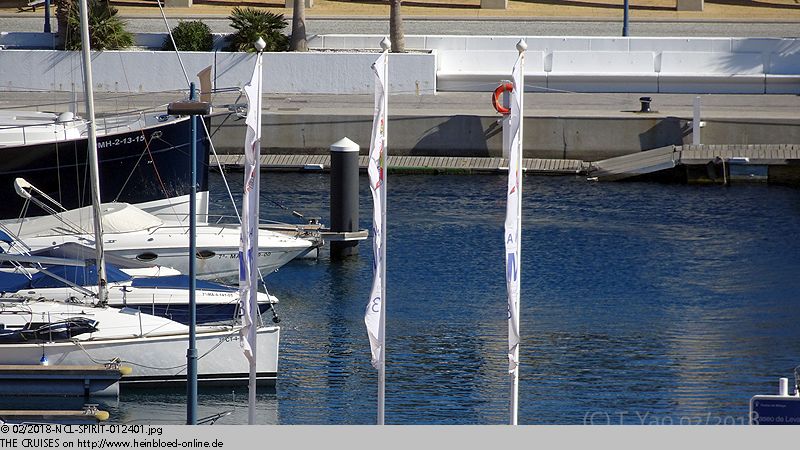 Outside it was quite windy.

The flags stood tough in the wind.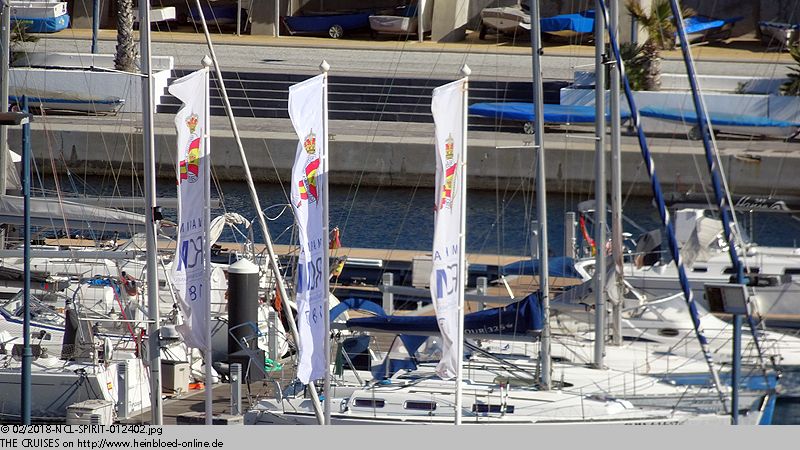 Die Flaggen stehen stramm im Wind.
Bei der Ausfahrt genießen wir das schöne Wetter.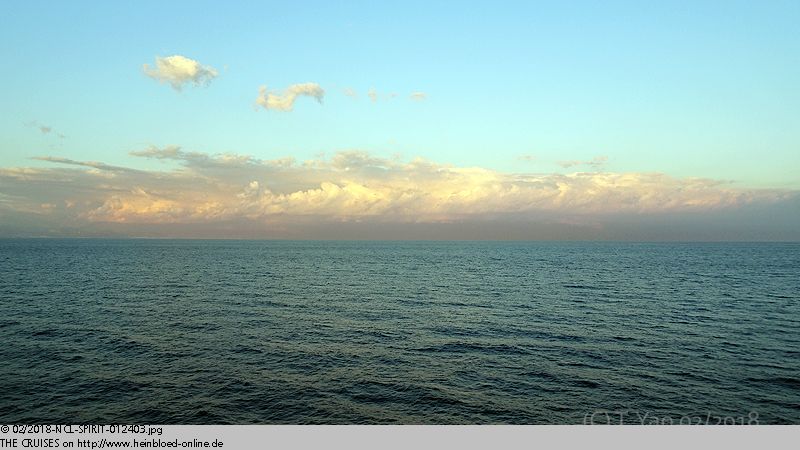 We enjoyed the nice weather when we set sail.

Somehow we had luck with the weather. The round ahead of us was somehow a little uncalm.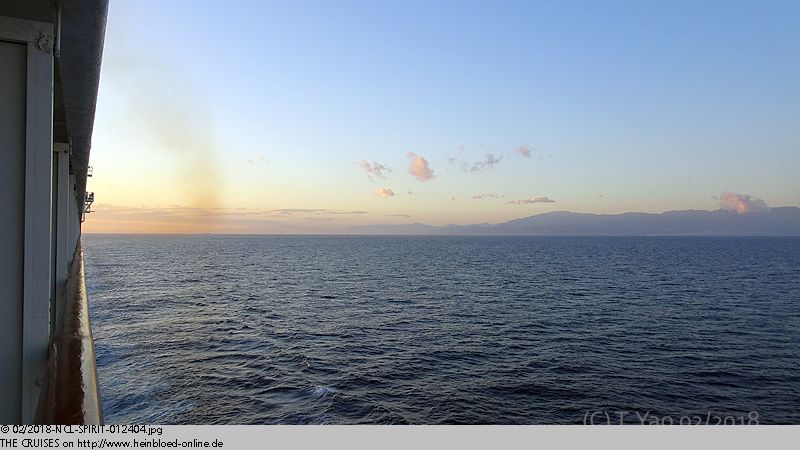 Irgendwie haben wir Glück mit dem Wetter. Die Runde zuvor war wohl etwas unruhiger.
Ich will noch schnell etwas im Bordshop besorgen, aber die Öffnungszeiten sind eine "unverbindliche Öffnungsempfehlung". Sie öffnen einfach später und kein Wort der Entschuldigung. Eher der Blick: "Warum kommen Sie nicht einfach später wieder?"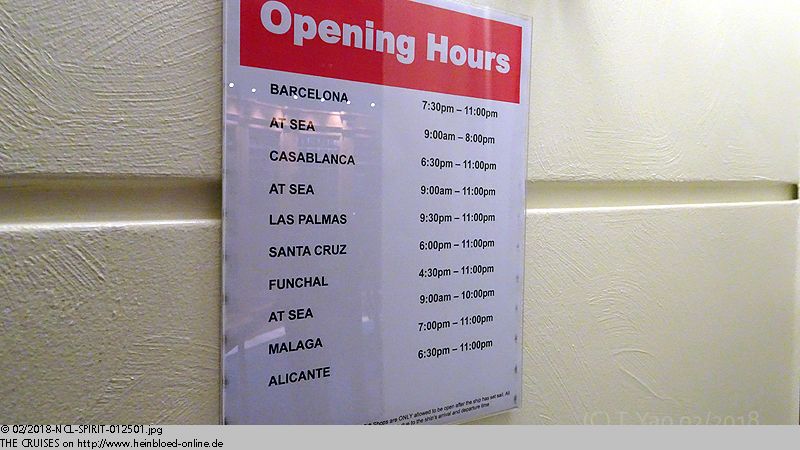 I wanted to buy quickly in the onboard shop but the opening hours were only somehow "not binding opening recommendations". The just-opened later and no word of excuse. More the way they looked: "Why do not you just come later?"

As Platinum Plus I should get a 15% discount. But I only got 10%. Usually, I would not claim for that as the balance was under 1 USD. But meanwhile, NCL overran too much so I can also play the same game and I wanted to have every single Cent back which I could get. And if they would be friendly when I entered the shop and would apology for the late opening and would say Good Evening, Please and Thank you: I would not come back again. Furthermore I did not forget how ruthless they were and charged on NORWEGIAN ESCAPE 2015 a British tax which was not charged by any other cruise line - not even Cunard whom we go all the time between Hamburg and Southampton. Especially the shop provider did not respond to any requests.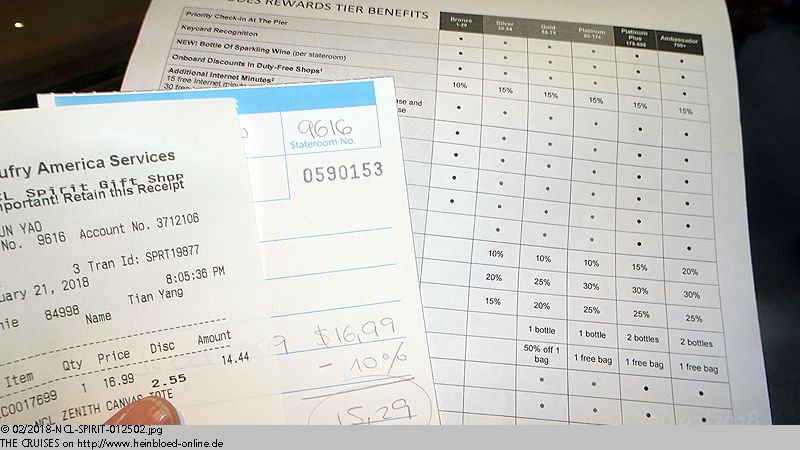 Als Platinum Plus bekomme ich 15% Rabatt. Aber mir wird nur 10% eingeräumt. Normalerweise würde ich nicht deswegen reklamieren, da es eine Differenz unter 1 USD ist. Aber mittlerweile überzieht NCL doch sehr, so dass ich mich an dem Spiel beteilige und jeden Cent mir auch zurückhole, den ich kann. Und wären sie beim Einlass freundlich gewesen und hätten sich für die verspätete Öffnung entschuldigt und mal Guten Abend, Bitte und Danke gesagt: dann hätte ich mir nicht die Mühe gemacht, nochmals hinzulaufen. Außerdem habe ich denen das noch nicht vergessen, dass sie ja sogar so unverschämt waren, damals auf der
NORWEGIAN ESCAPE 2015
eine britische Steuer zu verlangen, die sonst keine andere Gesellschaft verlangt - noch nicht einmal Cunard, mit denen wir ständig zwischen Hamburg und Southampton fahren. Vor allem hat der Shopbetreiber auf die Anfragen nicht reagiert.
Wir haben richtig Glück, als wir für Le Bistro buchen wollen: Hier treffen wir auf Joyce Yutadco, die uns wiedererkennt und uns sofort begrüßt: wir kennen sie von der
NORWEGIAN BREAKAWAY 2012
und
NORWEGIAN JADE 2017
. Sie sorgt dafür, dass wir doch noch einen Tisch bekommen, obwohl es offiziell ausgebucht ist. In Le Bistro erleben wir mit Joanne Javier einen großartigen Service. Das Essen ist auch wieder toll. Und hier sehen wir auch Furtoso persönlich wieder. Er ist auch ein Garant, dass wir uns wie zu Hause bei guten Freunden fühlen.

We really had luck when we wanted to book a table for Le Bistro: Here we met again Joyce Yutadco who remembered us and greeted us immediately. We knew her from NORWEGIAN BREAKAWAY 2012 and NORWEGIAN JADE 2017. She made sure that we got our table although it was booked out officially. In Le Bistro we experienced with Joanne Javier a great service. The food was great again. And so we saw Furtoso personally again. He was also a guarantor that we felt here being home with good friends.

To use my "complimentary" 60 minutes internet, I need to pay an activation fee of 3.95 USD (2018). That was why I loved Princess and Cunard for: there I must not pay 3.95 USD to use my complimentary minutes. The menu navigation became better. Now they had a flat rate of 29.95 USD per day (2018). Maybe not uninteresting. Aside from that, I could still use my home provider German Telekom through the onboard network. Only 3.99 EUR/Minute (2018) for outgoing calls and 1.99 EUR/Minute for incoming calls. I will turn off my cell phone on my birthday. Otherwise, it would be costly... otherwise it would become expensive... But now need to see the bed.

Um "kostenlos" Internet 60 Minuten nutzen zu dürfen, muss ich doch 3,95 USD Aktivierungsgebühr (2018) zahlen. Darum liebe ich Princess und Cunard: Dort muss ich keine 3,95 USD bezahlen, um an meine kostenlose Minuten zu kommen. Die Menüführung ist besser geworden. Es gibt auch eine Flatrate für 29,95 USD pro Tag (2018). Vielleicht nicht uninteressant. Ansonsten bleibt ja noch Telekom über das Bordnetz. Nur noch 3,99 EUR/Minute (2018) für abgehende Telefonate und 1,99 EUR/Minute für ankommende Gespräche. Ich werde wohl mein Handy an meinem Geburtstag abschalten... sonst wird es teuer... Jetzt erst mal ins Bett.
Die anderen Reisen in diesem Blog/
The other voyages in this blog: