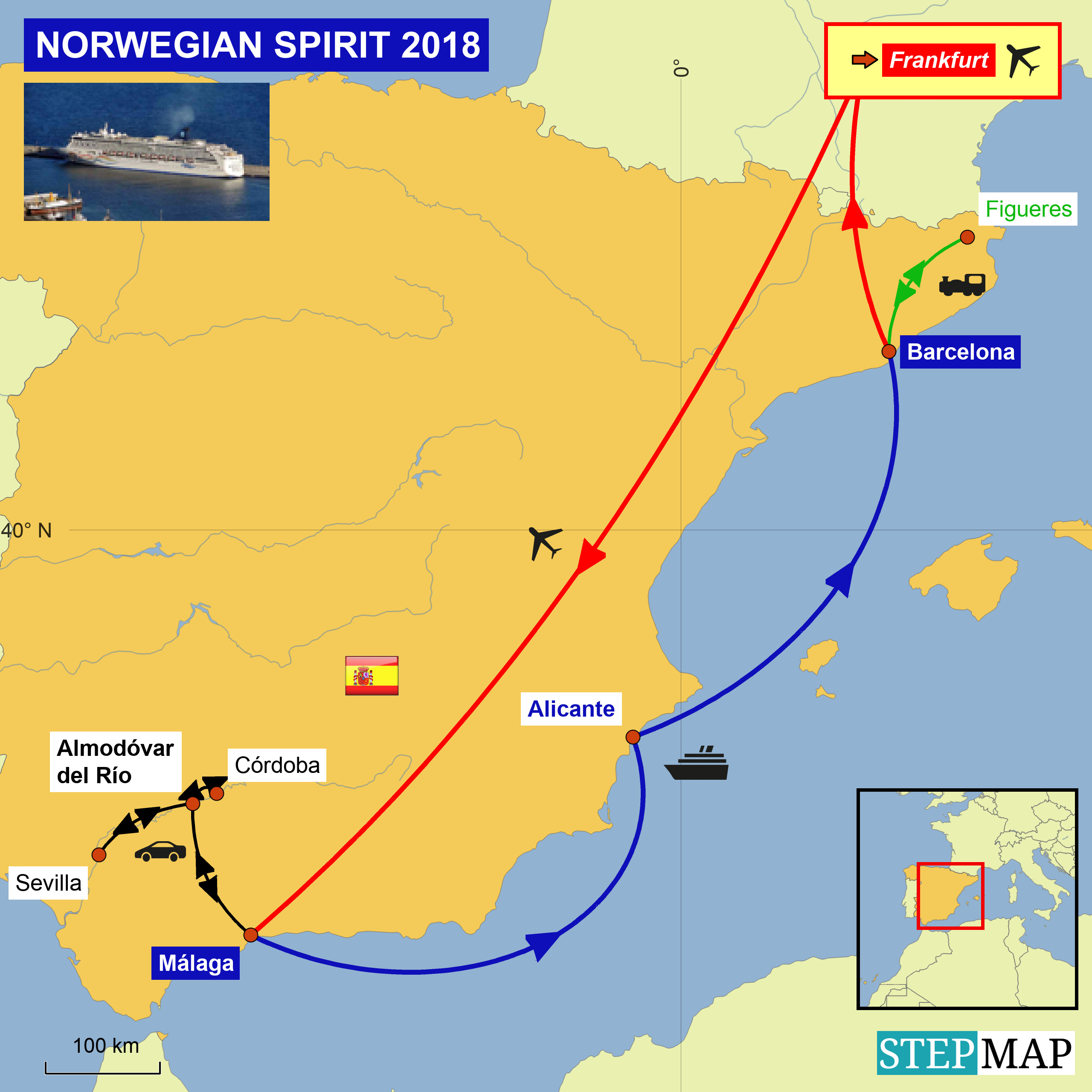 Es war einmal eine ganz tolle Gesellschaft: NCL. Ein tolles Preis-Leistungs-Verhältnis. Wir brauchten gar nicht nachzudenken, ob wir mit anderen fahren: Die Wahl fiel immer auf NCL. Aber das hat sich sehr ändert. Sie sind jetzt Nr. 1 geworden. Was die Preise betrifft und sie haben eine gewisse Vorreiterrolle entwickelt, wie man noch mehr aus dem Kunden rausquetscht. Für 1.074,46 USD war ich jedoch nicht bereit diese Reise zu buchen.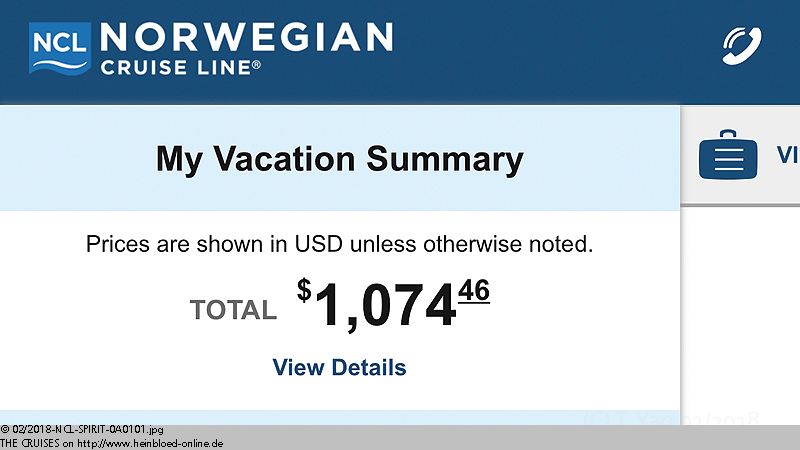 Once upon a time there was a real great company: NCL. A great price-value-ratio. No need to think about if we should go with others: Our pick was always NCL. But that has changed very much. They are now No. 1. For that, what they charge you and then becomes very innovative to squeeze out more and more from their customers. For the price of 1,074.46 USD, I was not willing to book that cruise.

It became cheaper.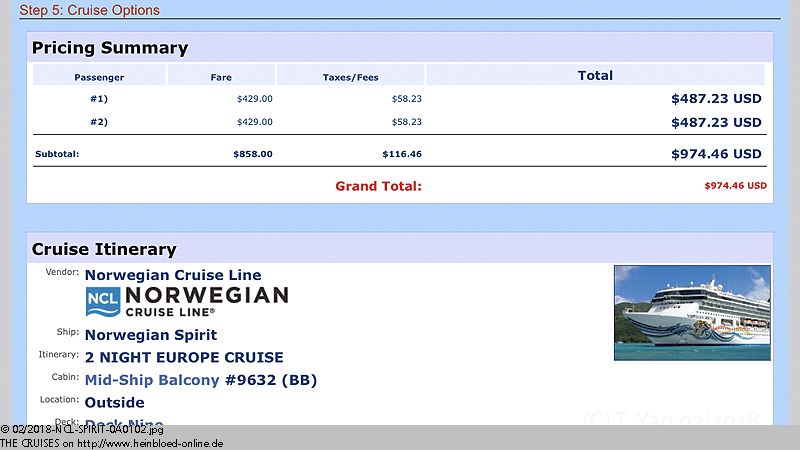 Es wurde dann günstiger.
Bei dem Preis 614,46 USD haben wir gebucht.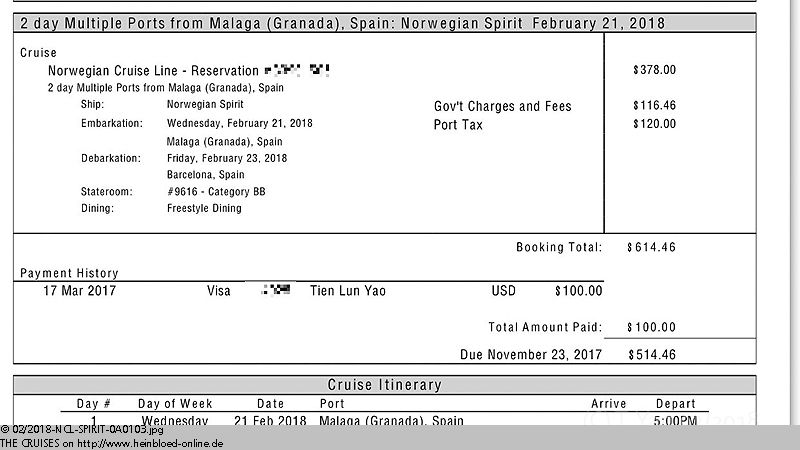 When it was 614.46 USD we were willing to book.

It became cheaper after the final payment. Therefor you had a Dorothy that you get a part of the difference after final payment as onboard credit.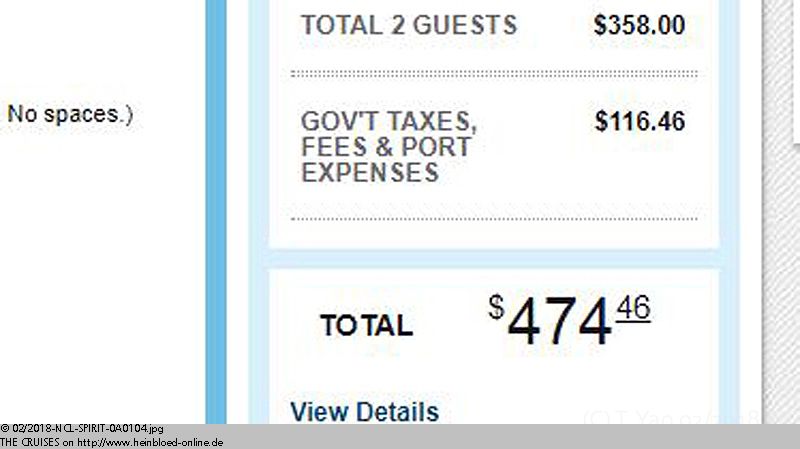 Es wurde dann aber nach der Schlusszahlung noch günstiger. Dafür hat man dann eine
Dorothy
, die dann dafür sorgt, dass man von der Differenz nach der Schlusszahlung man ein wenig als Bordguthaben bekommt.
"Lea" und "Lisa" soll ich mitnehmen. Das ist ja noch schlimmer, als Tampons zu besorgen als Mann.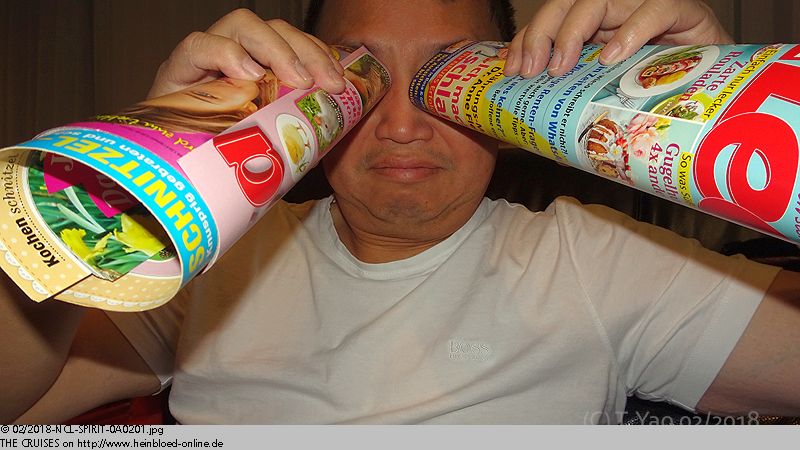 I should carry "Lea" and "Lisa" with me. But that was worse than to buy tampons as a man.

Furthermore, we ordered some of "Aachen Printen" (special biscuits from Aachen, Germany)... and some chocolate for the crew. The problem: who could imagine that the sun in Andalusia would be potent although it was only 61 F and it looked like that the chocolate could melt in the trunk. The crew would also get "Aachen Printen" next time.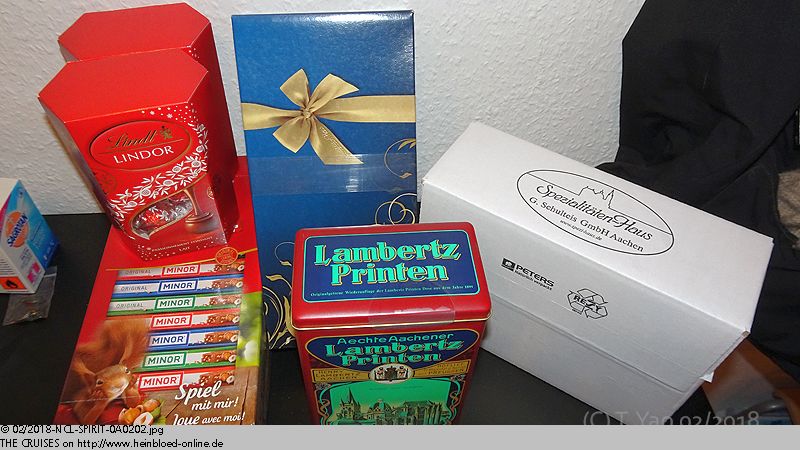 Zusätzlich haben wir Aachener Printen besorgt... und noch Schokolade für die Crew. Das Problem: wer kann schon ahnen, dass bei 16°C die Sonne Andalusiens doch schon sehr kräftig ist und die Schokolade im Kofferraum zu schmelzen droht. Das nächste Mal bekommt die Crew auch Aachener Printen.
Aufgrund eines positiven Berichtes im
kreuzfahrten-treff.de
über einen Valet-Parkservice am Flughafen Frankfurt probieren wir es auch aus. Wir sollen 35 Minuten vorher anrufen. Wir rufen sogar schon 36 Minuten vorher an. Und trotzdem kommt der Fahrer für die Übernahme zu spät.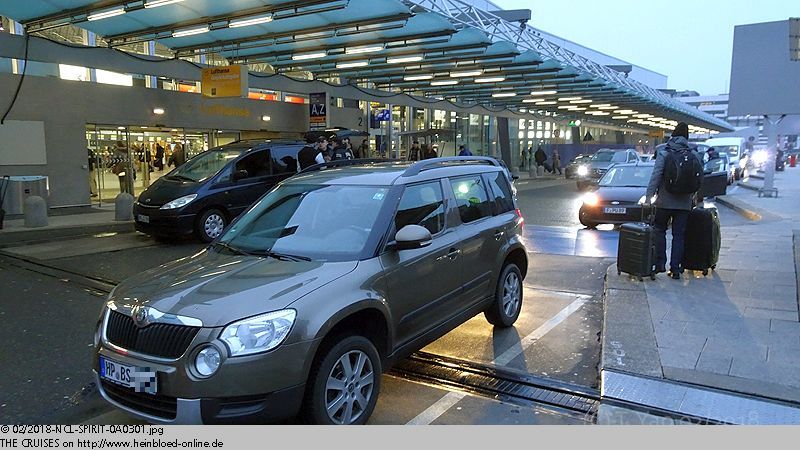 Du to a very positive review in the German cruiser forum on a Valet-Parking-Service at Frankfurt Airport, Germany we tried it as well. We should call 35 minutes ahead of arrival. We called already 36 minutes ahead. And even thus the driver came too late for pick-up.

I got a receipt for my car. Should I let them show me a driver's license or a Photo-ID?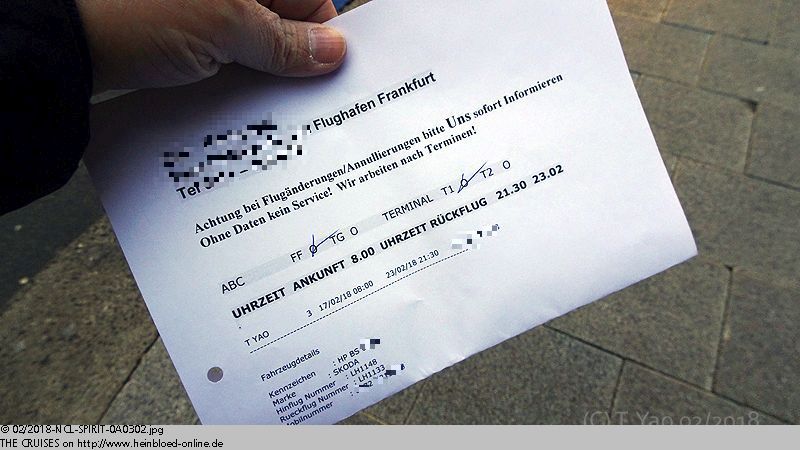 Für mein Auto bekomme ich eine Quittung. Hätte ich mir zumindest noch einen Führerschein oder Personalausweis zeigen lassen sollen?
Abflug Terminal 1 mit Lufthansa heißt auch immer einmal bei Ioana vorbei und mal "Guten Morgen" sagen. Seit unserer Reise auf der
DIAMOND PRINCESS 2016
ist sie ja unser Lufthansa-Maskottchen. Auch sie ist eine begeisterte Kreuzfahrerin, aber bisher haben wir es noch nie geschafft, gemeinsam auf eine Reise zu gehen.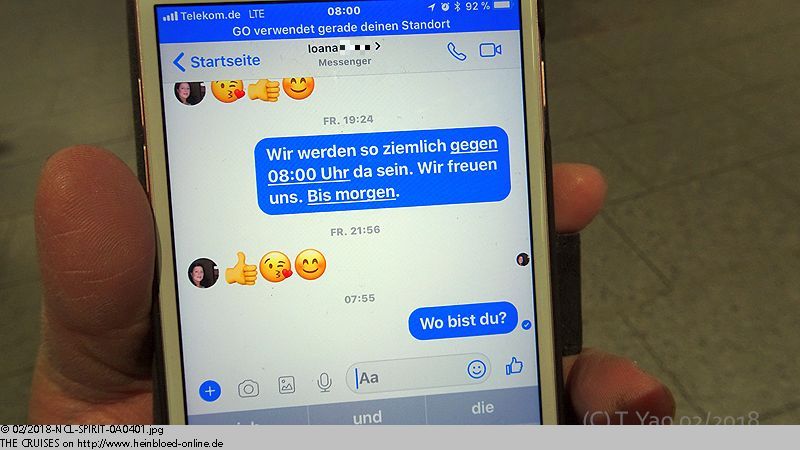 Departure Terminal 1 with Lufthansa means at least walking-by with Ioana and to say "Hello". Since our voyage on DIAMOND PRINCESS 2016 she was our Lufthansa-Mascot. She was also an addicted cruiser, but we never made it go on the same voyage.

But just Air China... But I need to go to Málaga, Spain.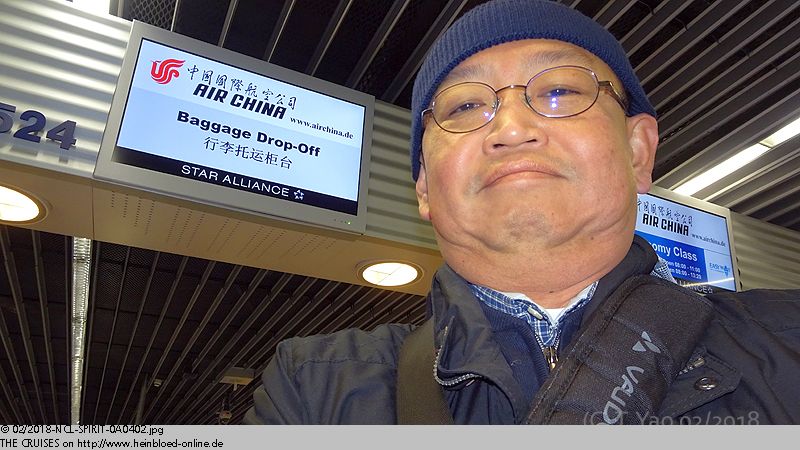 Aber ausgerechnet Air China... Ich muss doch nach Málaga.
Für ein paar Worte reicht es, weil wir langsam reinmüssen. Nun weiß ich: der Urlaub wird gut!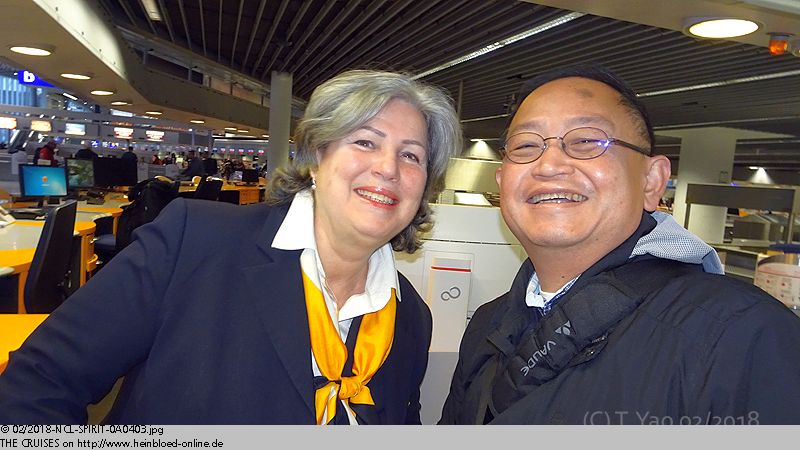 It was time to have few words because we need to enter slowly. But now I knew: the vacation would become great!

Again to Hausmann's to have breakfast.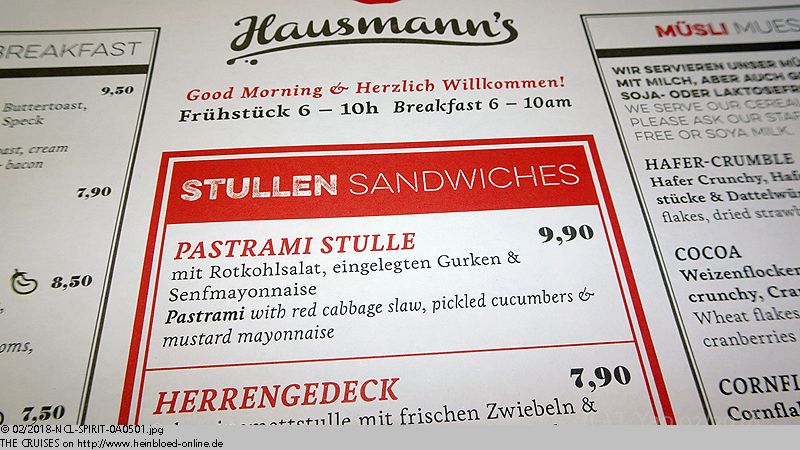 Wieder zu
Hausmann's
frühstücken. Zuletzt waren wir hier auf dem Weg zur QUEEN MARY 2 2017.
Heute sind wir aber nur zu dritt. Sigi ist gerade aus Hamburg gelandet.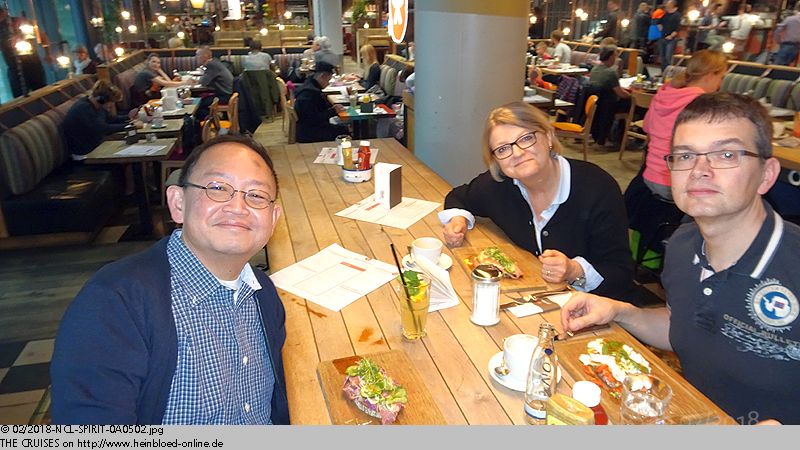 That day we were only a party of three. Sigi just arrived from Hamburg, Germany.

With a yummy Pastrami open face sandwich, the day started very well.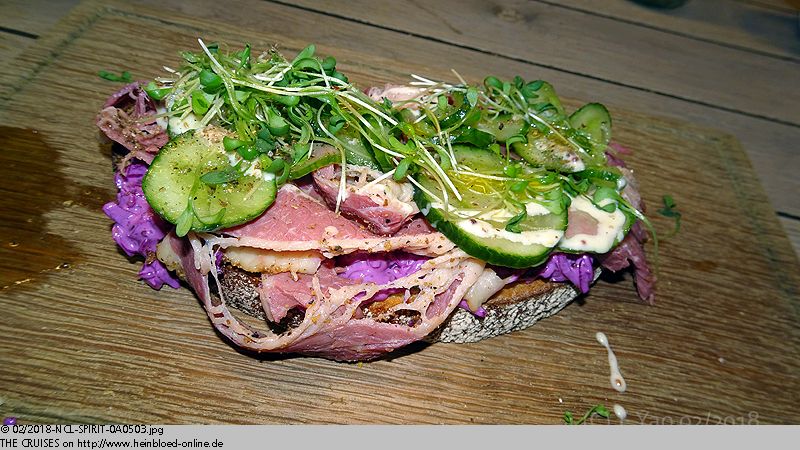 Mit einem leckeren Pastramibrot fängt der Tag gut an.
Es geht nach Málaga und zur Überraschung von Sigi: sie kennt einen der Flugbegleiter. Von ihm wäre ich auch gerne so begrüßt worden... Aber ich will ja nichts sagen: Dafür habe ich ja Ioana bei Lufthansa. Aber was pflegte mein damaliger Direktor am Gymnasium zu sagen: Beziehungen schaden nur demjenigen, der keine hat. Da ich noch Autofahren muss halte ich mich zurück und stoße nur mit an. Immerhin gibt es noch das Lufthansa-Gelb (Lufthansa hat gerade das Corporate Identity geändert): immer dann, wenn es eine Herzenssache ist. Der Flug dauert sehr lange. Aber von Frankfurt aus gesehen, ist ja das ganze doch noch eine Ecke weiter als Barcelona.

We headed to Málaga, Spain and a big surprise for Sigi: she knew one of the flight attendants. I really would love to be welcomed in the same way... But no claim: I had with Lufthansa my Ioana for. My former principal at Senior High School used to say: Connections impaired only those who had none. As I had to drive, I restrain and only cheered. But they obviously still had the Lufthansa-Yellow (Lufthansa just changed its Corporate Identity): always when it comes from the heart. The flight took very long. But the distance from Frankfurt, Germany was quite longer than only to Barcelona, Spain.

There was internet on board. I need to test it.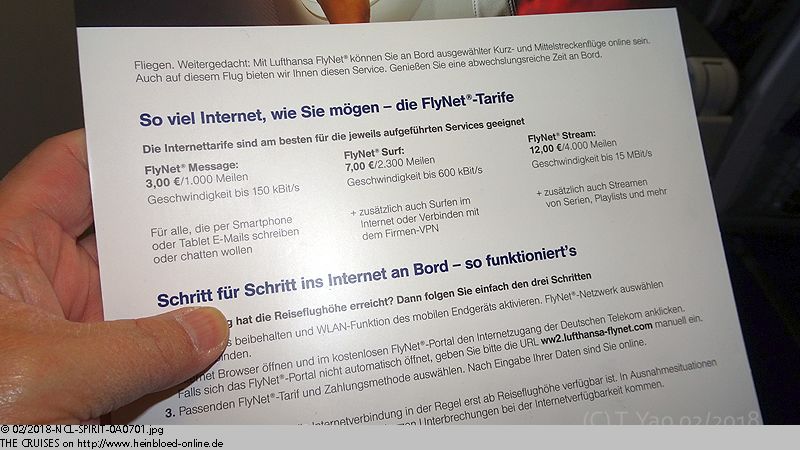 Internet an Bord. Muss ich sofort ausprobieren.
Hmm...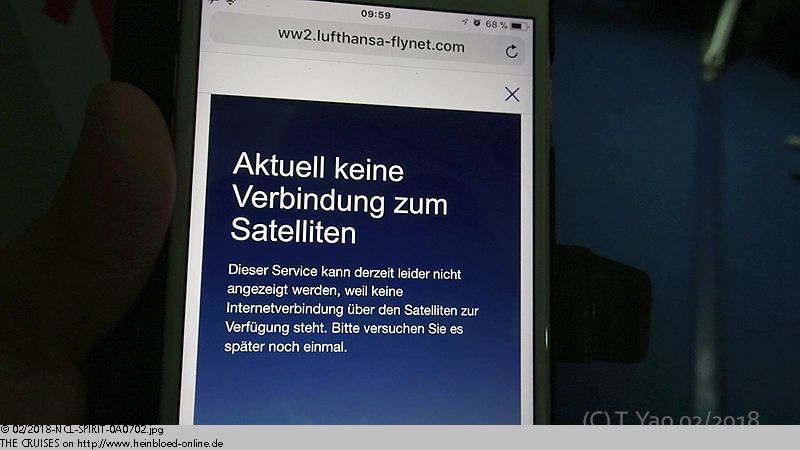 Hmm... (No connectivity!)

At least you could access and use with multiple devices one after the other.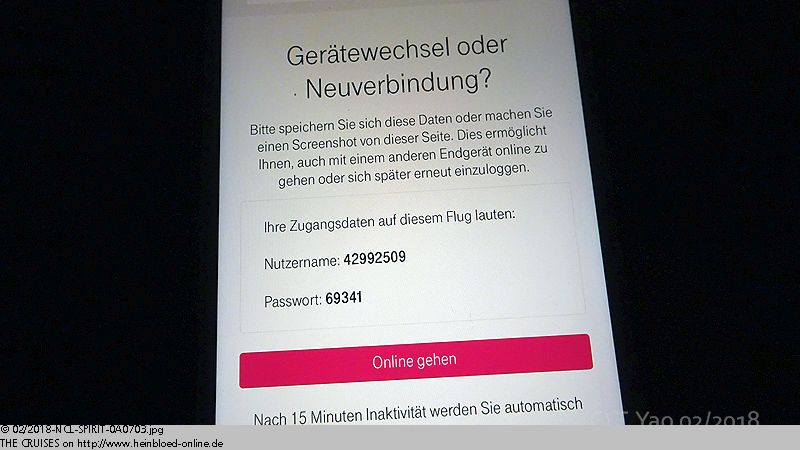 Wenigstens kann man nacheinander sich mit mehreren Geräten einloggen und nutzen.
Aber die Leitung ist schlecht... Es steht mehr oder weniger... Ein Moment dauert eine Ewigkeit.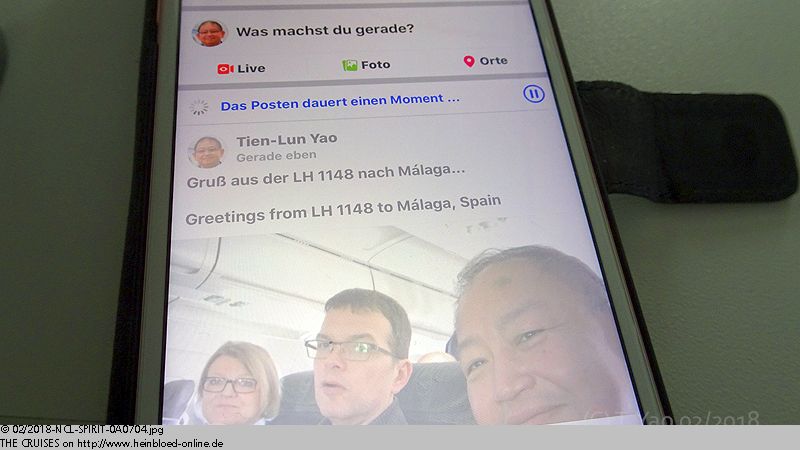 But the line was bad... It was more or less standing... One moment lasted an eternity.

And meanwhile, nothing worked anymore.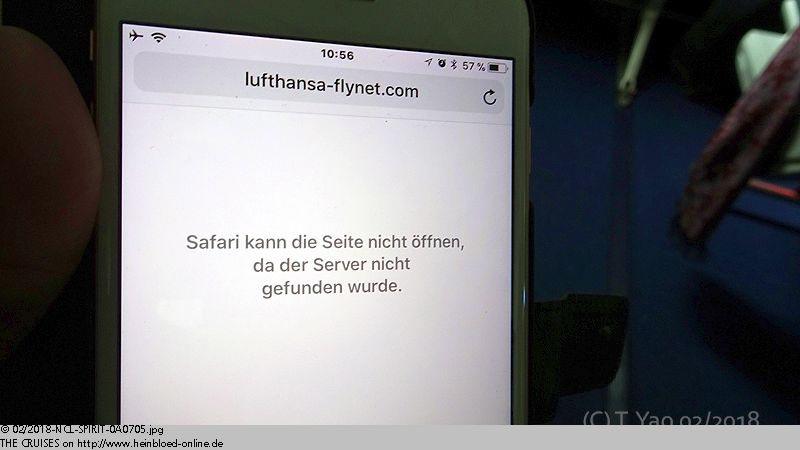 Und zwischendurch ging dann gar nichts mehr.
Zunächst freuen wir uns, dass wir pünktlich sind, aber im letzten Moment müssen wir eine zusätzliche Warteschleife drehen.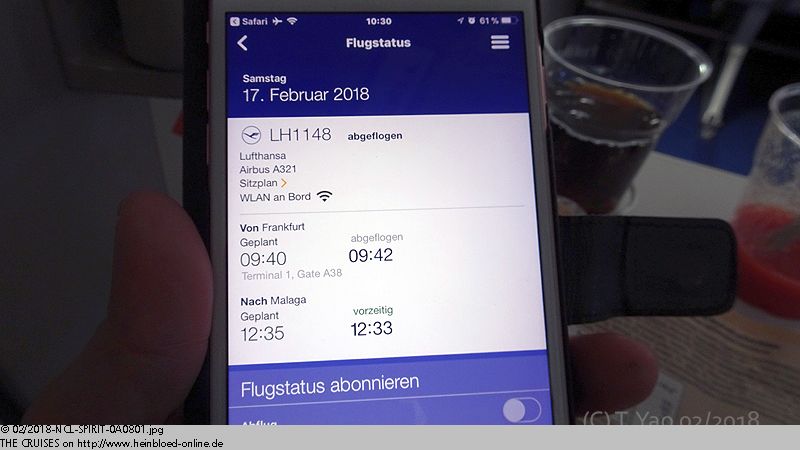 First we were happy to learn that we should be on time but at the last minute we need to make an extra loop.

And then we could head to the baggage claim area. It was like one got a bag from the plane and carried it over to the carousel and walked back to the plane. We were waiting more than 30 minutes.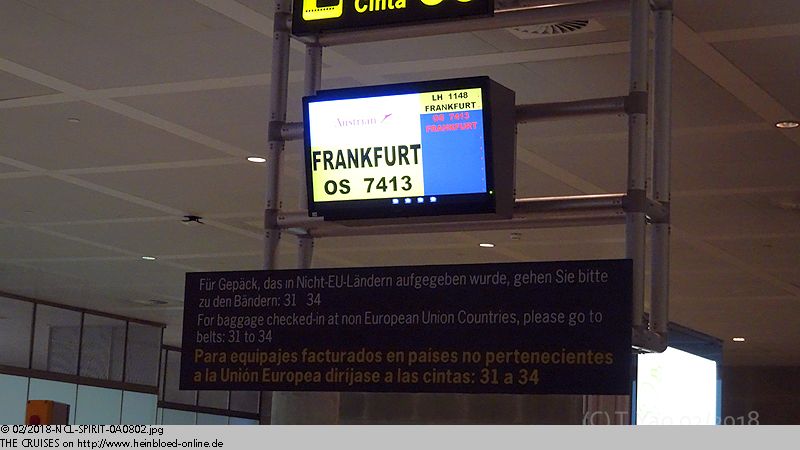 Und dann geht es zur Gepäckausgabe. Es kommt einen so vor, als ob eine immer einen Koffer aus dem Flugzeug holt und zum Gepäckband bringt und dann wieder zum Flugzeug läuft. Wir warten mehr als 30 Minuten.
Das habe ich auch noch nie gesehen: Gepäck aus Nicht-EU-Ländern werden in einer speziellen Zollhalle ausgegeben.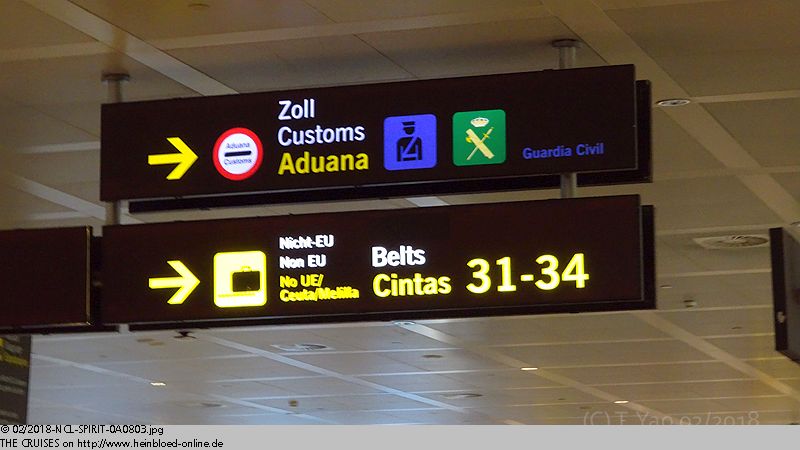 That I never saw this before: Baggage from outside the EU were released in a separate customs hall.

Finally, we had all our bags together.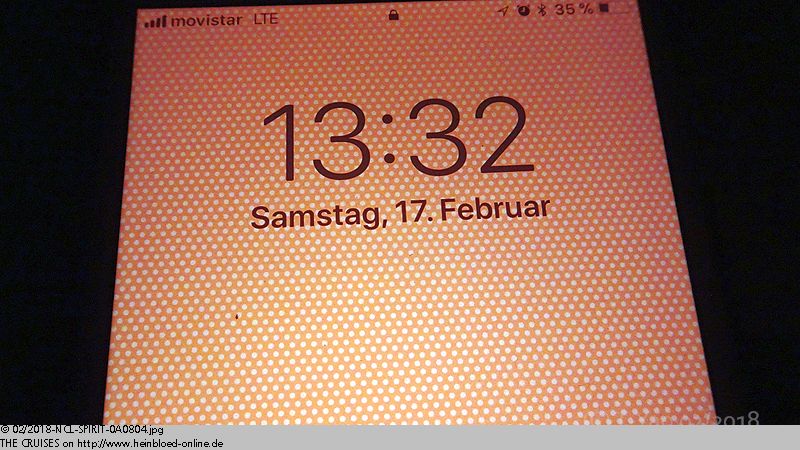 Endlich haben wir alles Gepäck.
Wir haben einen Wagen bei
Enterprise
gebucht. Aber zu denen muss man mit dem Shuttle. Der Shuttle fährt jedoch vom Terminal 1 ab, während wir im Terminal 3 angekommen sind. Die Station ist sehr nah. Bereits nach drei Minuten ist man da. Sie sind sehr freundlich und wir bekommen ein schönes Auto.

We booked a car with Enterprise. But you need to get to them by shuttle. But the shuttle would leave from Terminal 1 while we arrived at Terminal 3. The station was very close by. Right after three minutes, we were there. They were very friendly and got a very nice car.

Since all of us were hungry, we stopped by at a service station: Restaurant Nuevo Montesol alongside the Córdoba-bound highway. After trying the deep-fried potato slices all of us did feel very well. The sun was shining very nicely, and so it heated up the trunk which was full of chocolate for the crew. So we need to head on quickly.

Da wir sehr hungrig sind, halten wir für an einer Raststätte an: Restaurant
Nuevo Montesol
entlang der Autobahn nach Córdoba. Nach dem Genuss der frittierten Kartoffelscheiben fühlen wir uns alle nicht besonders wohl. Die Sonne scheint schön, aber heizt auch den Kofferraum, der voller Schokolade für die Crew ist. Also müssen wir schnell weiter.
Nachbereitung unserer Reise auf der
KONINGSDAM 2016
in Málaga-Córdoba: Hier besuchen wir meine ehemalige Mitarbeiterin Magdalena, die jetzt in Spanien lebt. Da sie aus Aachen stammt, haben wir jede Menge Printen von
Lambertz
mitgenommen.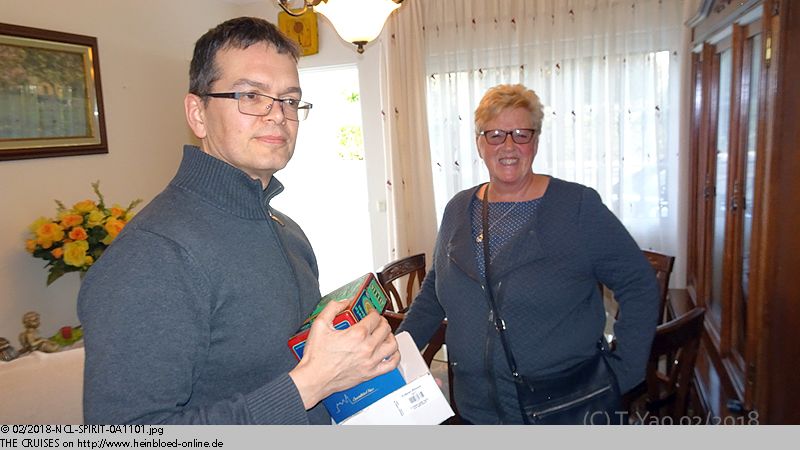 Aftermath of our voyage on KONINGSDAM 2016 in Málaga-Córdoba, Spain: Here we visited my former employee Madgalena who lived now in Spain. Since she was originally from Aachen, Germany we got her a lot of Printen from Lambertz.

And here I could get rid of "Lisa" and "Lea".

Und hier werde ich auch "Lisa" und "Lea" wieder los.
Unsere Unterkunft: ein Bed und Breakfast (auf Spanisch: Casa Rural):
Fuentepiedra
in Almodóvar del Río. Man legt hier großen Wert darauf, dass alles noch original aufgearbeitet ist. Einen Fernseher und ein Telefon im Zimmer gibt es nicht, aber dafür gibt es Gemeinschaftsräume und eine Dachterrasse, die alle Gäste nutzen können.

Our accommodation: a Bed and Breakfast (in Spanish: Casa Rural): Fuentepiedra in Almodóvar del Río, Spain. They were very proud that you should know that they kept every part in the original style. No TV-set or phone in the room, so they had a lounge for all guests and a roof terrace.

I escaped from the festivities of Basle Carnival, Switzerland... In Basle, you had everything a week later and promptly I arrived with the Carnival in Almodóvar des Río. Just in front of our accommodation, they had the central activities of the celebrations which lasted until 23:00 hrs. But I was so tired that I did not notice anything. Here you went with groups to the Carnival. For ship-lovers, they also had a group around. One group was participating as members of the Chinese People's Liberation Army. When they saw me the occupied me as Mao Zedong (better known written as Tse Tong) and they let me go after we made some selfies.

Ich bin ja eigentlich vor Karneval geflohen... in Basel alles eine Woche später, und prompt lande ich beim Karneval in Almodóvar del Río. Genau vor unserer Unterkunft finden die Hauptfeierlichkeiten statt, die bis etwa 23:00 Uhr dauern. Aber ich bin so müde, dass ich eh nichts mitbekomme. Hier geht man in Gruppen zum Karnival. Für Schiffsliebhaber ist auch eine Gruppe unterwegs. Eine Gruppe ist als Mitglieder der chinesischen Volksbefreiungsarmee unterwegs. Als sie mich sehen, werde ich wohl als Mao Zedong (bekanntere Schreibweise Tse Tong) annektiert und sie lassen mich erst wieder gehen, nach dem ich gemeinsame Selfies gemacht habe.
Bis 19:00 Uhr hat die
Burg
geöffnet, aber bereits ab 18:00 Uhr gibt es keinen Einlass mehr. So bleibt es bei ein paar Schritten Spazieren und Vorfreude auf morgen.

Until 19:00 hrs the castle was open but already after 18:00 hrs there was no more admission. So we made only few steps of walk for tomorrow's anticipation.

We went to the artificial lake with El Mirador de la Brena to have some coffee. The reservoir was quite empty.

Wir fahren zum Stausee in El Mirador de la Brena, um eine Tasse Kaffee zu trinken. Der Stausee ist ganz schön leer.
Abends geht es in einem Vereinsheim
Pena Real Madrid C.F. de Almodóvar del Río
essen. Zum Glück lief heute Abend kein Spiel von Real Madrid statt. So ist es sehr ruhig und man kann sich unterhalten. Ich kann mir vorstellen, dass hier sonst er Teufel los ist. Magdalena und ihr Mann Pepe haben eine schöne Auswahl getroffen. Miguel kommt kurz dazu, um uns zu begrüßen. Er hatte uns auf der
KONINGDAM 2016
-Reise in Córdoba durch die Kathedrale geführt und uns überzeugt, dass man unbedingt sich noch mehr in Córdoba ansehen sollte. Nach dem Essen sind wir so voll, dass wir dann zu Fuß zu unserer Unterkunft laufen. Ich bin ja bereits seit 02:20 Uhr auf den Beinen.

In the evening we went to the place of the Fan Club Rena Real Madrid C.F. de Almodóvar del Río for dinner. We had that that that day was no soccer game. So it was quite calm, and you could have a conversation. I could imagine how busy and loud it might be else. Magdalena and her husband Pepe made a great selection. Miguel came by to welcome us. He showed us the Córdoba-Cathedrale during the KONINGSDAM 2016-voyage and convinced us to come back to Córdoba and see more. After the meal, we were so full that we walked back to our accommodation. I was already awake since 02:20 hrs.
Die anderen Reisen in diesem Blog/
The other voyages in this blog: