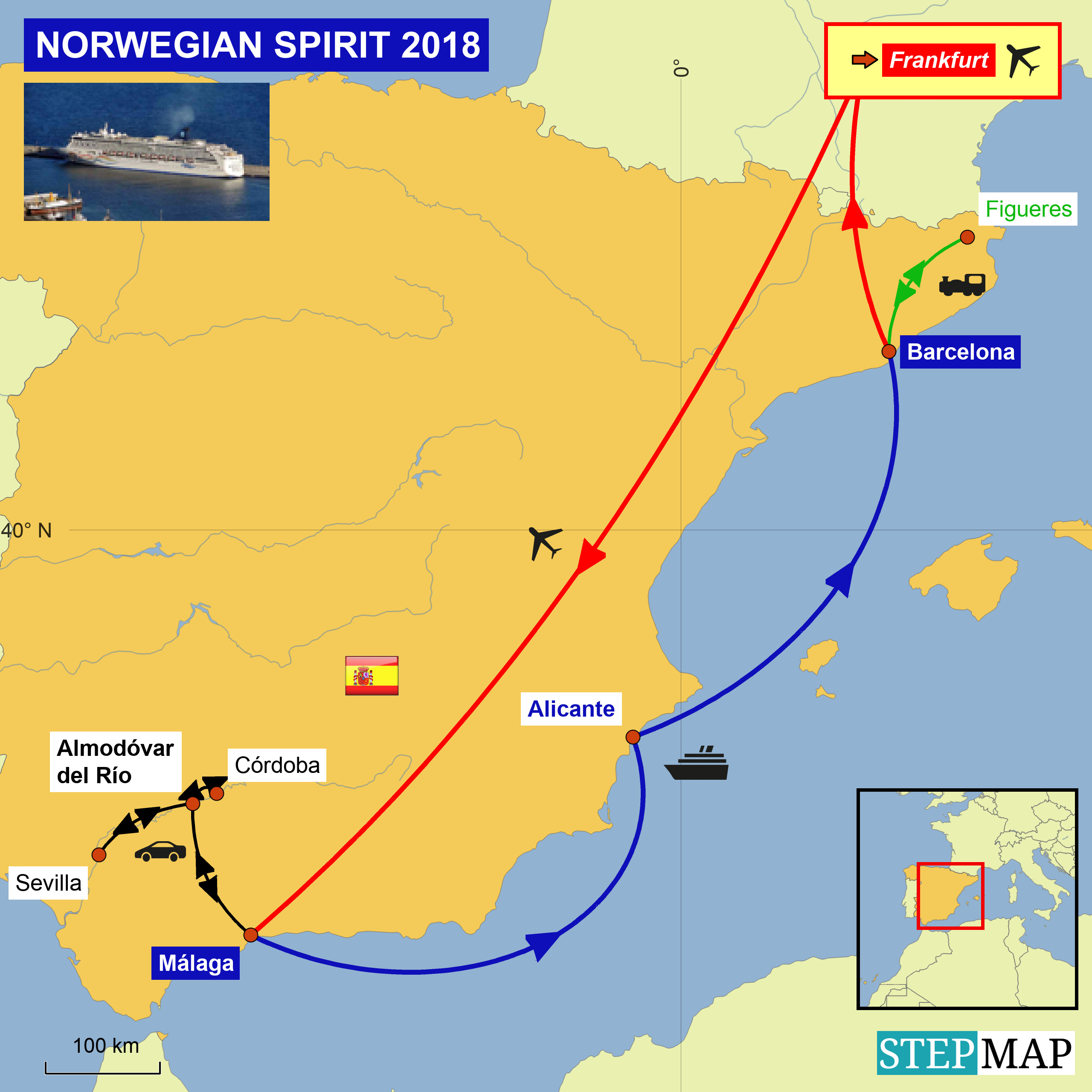 Kein O'Sheehan's sondern vielleicht das allerletzte Blue Logoon Café. Es gibt noch die Wan-Tan-Suppe und der Burger wird noch frisch zubereitet. Aber man darf kein Essen mitnehmen. Dafür gibt es den kostenpflichtigen Kabinenservice. Es kommt mir sehr entgegen, dass sie mir einen Burger ohne Grünzeug zubereiten.

No O'Sheehan's but maybe the very last Blue Lagoon Café. They still had the Won-Ton-Soup, and they prepared the Burger freshly. But you were not allowed to take food away. Therefore they had cabin service on fee. It was very well for me that they could prepare a burger without vegetables.

I was looking around in all the bars: nothing changed so far. Somehow it made me calm - or maybe not: no more money for investments and innovation?

Ich sehe mich bei den ganzen Bars um: nichts hat sich geändert. Das ist irgendwie beruhigend - oder auch nicht: kein Geld mehr für Investitionen und Innovationen?
Der Charme des Schiffes begeistert mich immer wieder.

The charme of the ship made me always exiting.

They were advertising for Cruise Next. No more actual employee of the month for months. And now you can paint onboard like with TUI Cruises (a German joint venture with Royal Caribbean).

Werbung für Cruise Next. Keine aktuellen Mitarbeiter des Monats mehr seit Monaten. Und neuerdings wie bei TUI Cruises kann man an Bord malen.
Mal gucken, was sich bei den Zuzahlrestaurants und im SB-Retaurant geändert hat: aber auch hier ist alles beim alten. Schade, dass es den Jazz-Brunch nicht mehr gibt. Ich erinnere mich an unseren letzten hier in The Garden Room auf der
NORWEGIAN SPIRIT 2013
.

Let us what changes they had with all alternative dining venues and in the self-service restaurant: but that was not changed. So sad that there was no more Jazz-Bruch. I remembered very well our last one here in The Garden Room on NORWEGIAN SPIRIT 2013.

I loved the outside area of the NORWEGIAN SPIRIT. Especially the terrace at the aft. Even my former co-worker and fellow-cruiser (DELPHIN 2009 and DELPHIN VOYAGER 2010) Karin from Goslar, Germany posted when she saw my pictures of the NORWEGIAN SPIRIT. She also experienced twelve great days onboard.

Ich liebe die Außenbereiche der NORWEGIAN SPIRIT. Vor allem die Terrasse am Heck. Auch meine ehemalige Kollegin und Mitfahrerin (
DELPHIN 2009
und
DELPHIN VOYAGER 2010
) Karin aus Goslar meldet sich, als sie meine Bilder von der NORWEGIAN SPIRIT sieht. Sie hat hier auch mal zwölf tolle Tage erlebt.
In der Disco Celebrity gibt es keine Disco mehr. Nur Liebe mit Teenagern. Heute ist einer der Jugendclubs. Wer will schon eine Disco haben, die nach der Konkurrenz benannt ist.

In the discotheque Celebrity there was no more disco events. Only love with teenagers. Today here they had one of the Youth Clubs. Who wanted to have a discotheque which was named after the competitor.

The Cagney's on NORWEGIAN SPIRIT 2008... Here my personal Latitudes-Super-Ambassador-Programme started!!! A Cesar's Salad which was not yummy and since then I was trying that someone kept her promise to prepare one Cesar's Salad with love and passion and personal dedication just for me... Then an Assistant Maître D' gave me the promise... and every time I saw her again she had a new job title on her name tag, and now she is Fleetwide Restaurant Manager: Luiza-Oana Andrei. That day we went here for breakfast. Different from other ships we knew: no buffet and if you do not know what you had on other ships you actually do not know what was missing: cold cut, liver paté, etc. etc. Just check it on NORWEGIAN JADE 2017. An epilogue of the NORWEGIAN SPIRIT 2013-voyage: a gift of a friend. Now we could present it at the right stage. That morning we experienced a very service by I Nyoman Sukrawan. And here we met the concierge of our voyage again on NORWEGIAN DREAM 2008: Karin Gödecke. A great pleasure to see her again.

Das Cagney's auf der
NORWEGIAN SPIRIT 2008
... Hier beginnt mein persönliches Latitudes Super-Ambassador-Programm!!! Ein Cesar's Salad, der nicht schmeckt und seitdem versuche das Versprechen eingelöst zu bekommen, dass ich einen Cesar's Salad mit Liebe und Leidenschaft und persönlicher Widmung zubereitet bekomme... Damals gab mir eine Assistant Maître D' dieses Versprechen... und jedes Mal, wenn ich sie wiedersehe, hat sie ein neues Namensschild mit neuem Titel und jetzt ist sie Fleetwide Restaurant Manager: Luiza-Oana Andrei. Heute gehen wir zum Frühstück dahin. Anders als auf den anderen Schiffen: es gibt kein Büffet und wenn man das Angebot auf den anderen Schiffen nicht kennt, weiß man eigentlich gar nicht, was fehlt: Aufschnitt, Leberpaté usw. usw.. Siehe zuletzt auf der
NORWEGIAN JADE 2017
. Ein Epilog der
NORWEGIAN SPIRIT 2013
-Reise: Ein Geschenk eines Freundes. Jetzt kommt sie auf dem richtigen Schiff zur Geltung. An dem Morgen werden wir sehr nett von I Nyoman Sukrawan bedient. Und hier treffen wir auf unsere Concierge von der
NORWEGIAN DREAM 2008
wieder: Karin Gödecke. Eine große Freude, sie wiederzutreffen.
Bei uns verlief die "Berliner Mauer"... Sigi gehört zum Bezirk von Rowena Maranan und wir zum Bezirk von Anoop Souriammakkal. Bei Anoop haben wir uns immer gewundert, wann er bei uns sauber gemacht hat. Es ist bei uns blitzblank, aber wir haben ihn nie im Gang gesehen...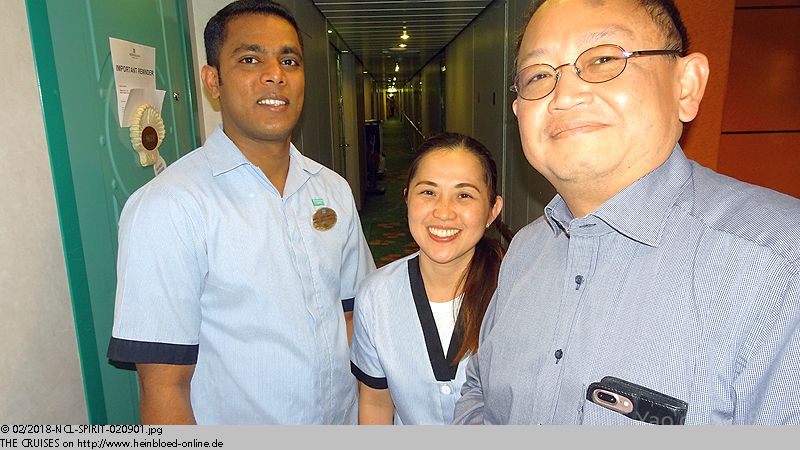 We had the "Berlin Wall" with us... Sigi belonged to the section of Rowena Maranan and us belonged to the part of Anoop Souriammakkal. We were always wondering when he was cleaning for us. It was still spick and span, and we never saw him in the hallway...

We just arrived, and they wanted us already off the ship.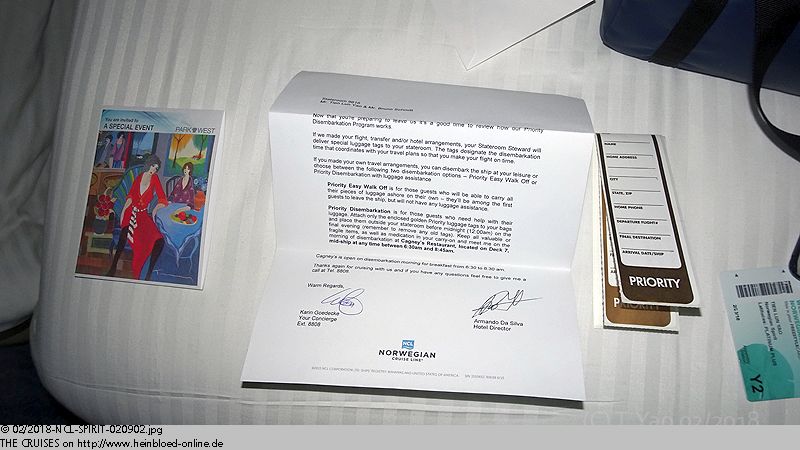 Kaum sind wir an Bord, wollen sie, dass wir auch wieder verschwinden.
Und wir bekommen wieder ein paar kleine Aufmerksamkeiten.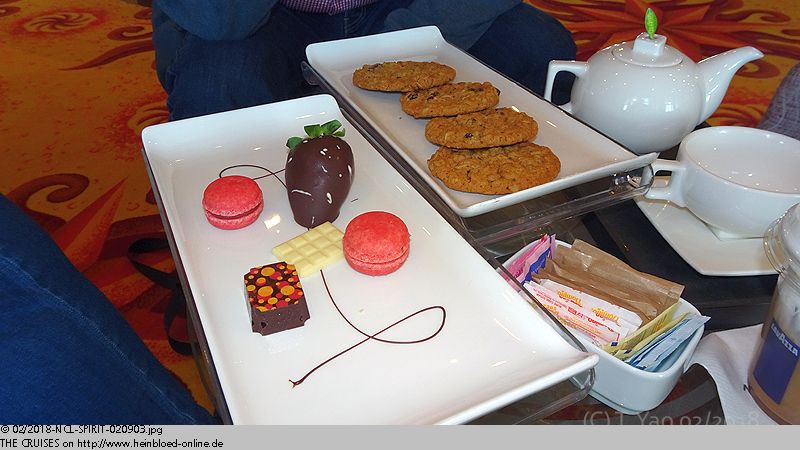 And we got again few small goodies.

And also a small mouse as towel animal...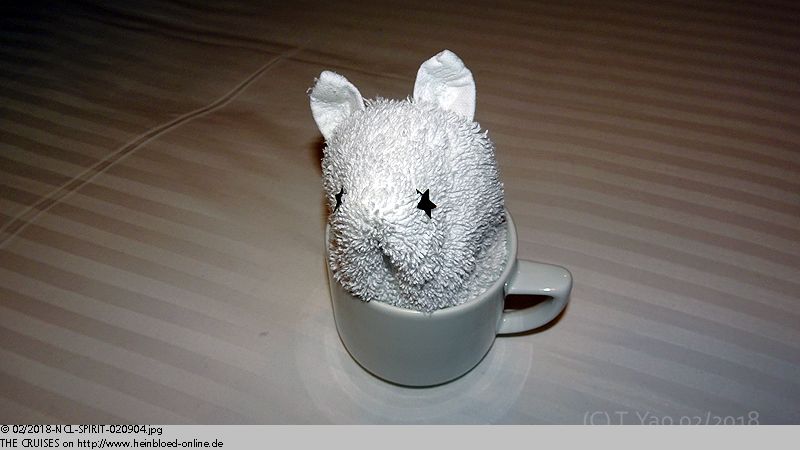 Und eine kleine Maus als Handtuchtier...
Die Informationen zu Alicante.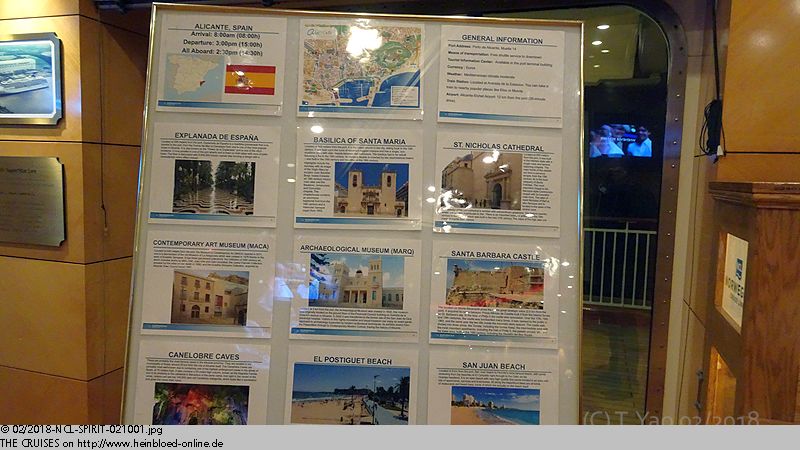 And information on Alicante.

14:30 hrs we need to be back already.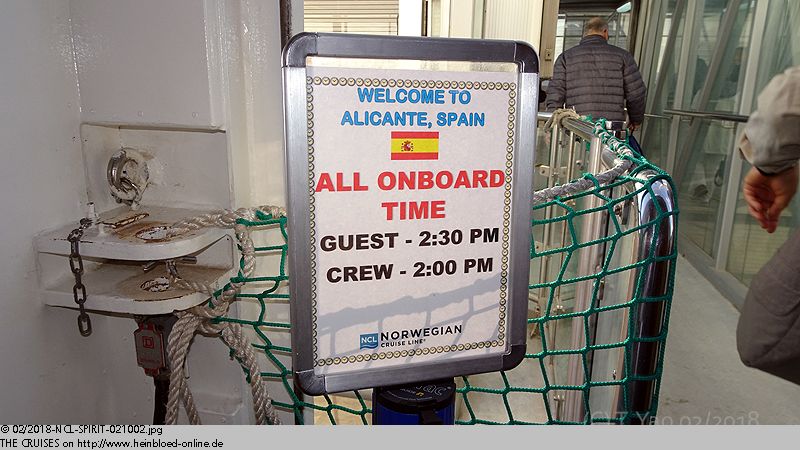 14:30 Uhr müssen wir bereits zurück sein.
Hier gibt es einen kostenlosen Shuttle, der einen direkt zum Hafentor bringt. Von hier aus, sind es nur noch wenige Schritte bis zur Altstadt.

They had a complimentary shuttle which took you direct to the port gate. From here there were only a few steps to walk to the old town.

Once you were back at the cruise terminal there had a security check in the terminal and one more time onboard. Here they checked again if you had bottles of beverages (also broached bottles of water) with you to confiscate.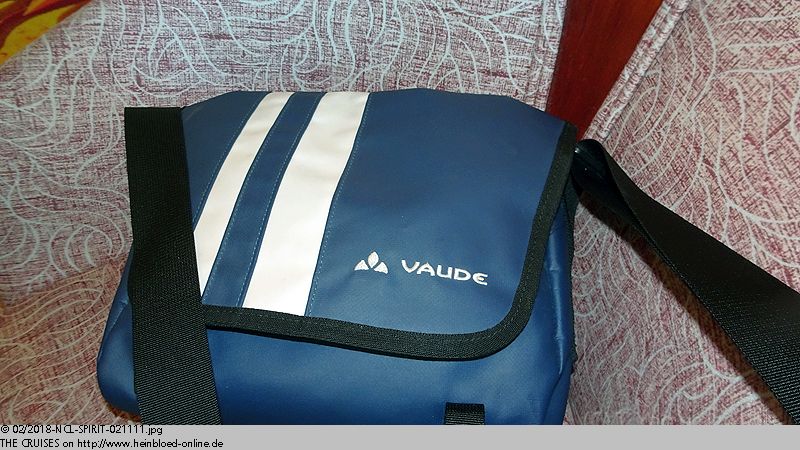 Bei der Rückkehr später wird man zunächst im Terminal kontrolliert und dann nochmals an Bord. Auch jetzt wird kontrolliert, ob man Flaschen mit Getränken (auch angebrochene Flaschen Wasser) mit sich führt und eingesammelt.
Nur im Gegenzug bezahlt man 7,15 USD brutto (inkl. 20% Service-Charge/10% Spanische MWSt.) für eine Flasche Wasser: das nenne ich dann modernes Raubrittertum und Abzocke! Für zwei Nächte bestellen wir kein Wasserpaket von mindestens 6 Flaschen.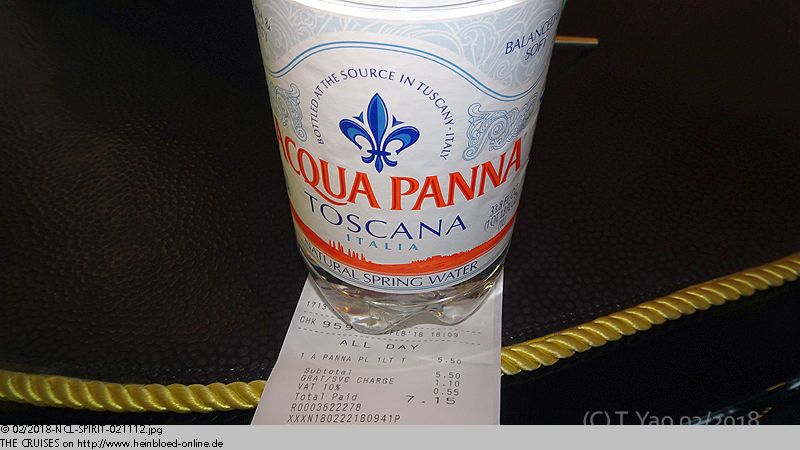 But in return you pay 7.15 USD gross (incl. 20% Service-Charge/10% Spanish VAT) for a bottle of water: that they were actually modern robber barons and I call it rip-off! For two nights you do not order a water package of 6 bottles.

Our booked tour started at 11:30 hrs. So we met with friends and former co-workers from Goslar, Germany and fellow-cruisers on DELPHIN VOYAGER 2011 and NORWEGIAN JADE 2014 (2) who were staying for the winter close by and were walking with them around: Angela and Thomas.

Unsere gebuchte Tour fängt erst um 11:30 Uhr an. Daher treffen wir uns mit Freunden und ehemaligen Kollegen aus Goslar und Mitfahrern von der
DELPHIN VOYAGER 2011
und
NORWEGIAN JADE 2014 (2)
, die hier in der Nähe überwintern und gehen mit ihnen gemeinsam spazieren: Angela und Thomas.
Und wir trinken natürlich gemeinsam Kaffee im Explanada Uno. Das Café ist im Casa Carbonell - anscheinend der wichtigen Bauwerke der Stadt. Mehrere Ausflugsgruppen vom Schiff kommen vorbei. Und so folgen wir den Erläuterungen in mehreren Sprachen.

And certainly we had some coffee together in Explanada Uno. The Café was part of the Casa Carbonell-building - obviously a signature building of the city. Multiple tour groups of the ship came by. And so we followed the explanations in multiple languages.

Let us head to the Main Road.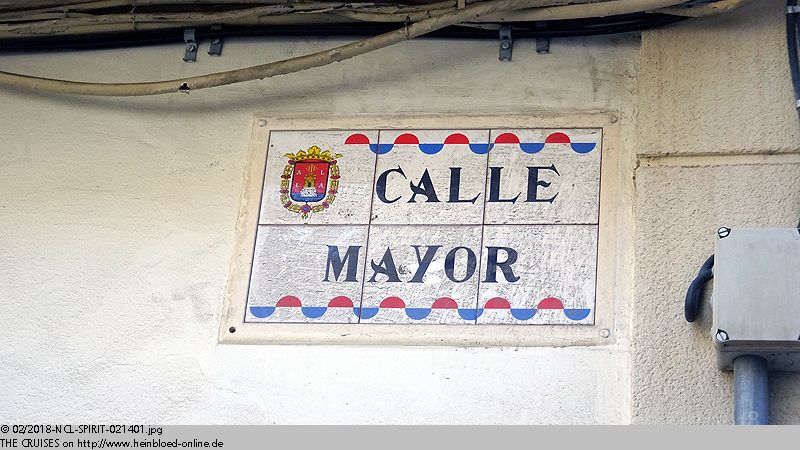 Auf in die Hauptstraße.
Zu
SegwayAlicante
.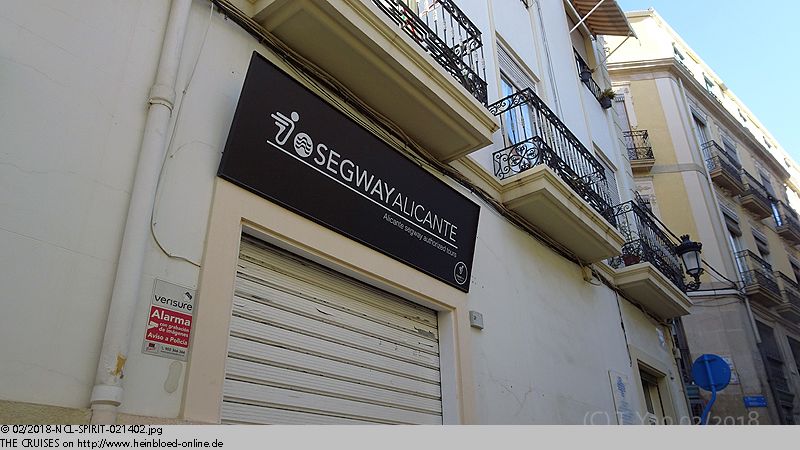 To SegwayAlicante.

I thought I forgot to tell Sigi that it was a Segway-Tour.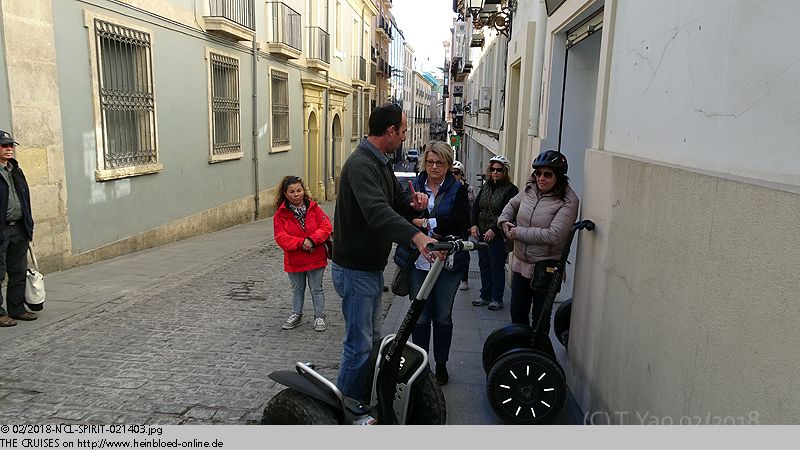 Sigi habe ich wohl vergessen zu erwähnen, dass es sich um eine Segway-Tour handelt.
Ihr allererstes Mal. So bekommt sie Privatunterricht von Nicolas, während er uns vertraut und später auch mich schon für einen Verkehrsrowdy auf dem Segway hält, aber ich bin nun mal deutsche Autobahnen ohne Tempolimits gewöhnt...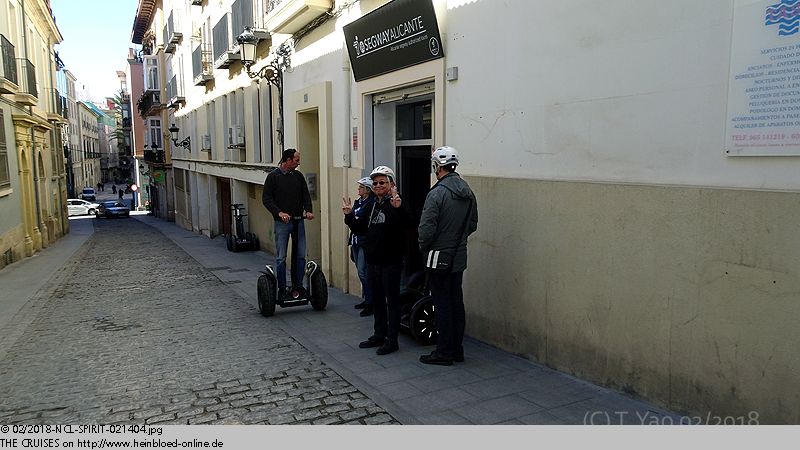 Her very first time. So she got private lessons from Nicolas while he trusted us and counted me later to the traffic rowdies on Segway, but I was used to driving on German "Autobahn" without speed limit...

Thomas and Angela were staying so long to take a few pictures of us.

Thomas und Angela sind noch so lange geblieben, damit sie noch ein paar Bilder von uns machen können.
Das ist schön sie wiederzutreffen. Deswegen liebe ich Facebook. Wir müssen uns nicht täglich besuchen, aber mit einem Auge bekommt man so mit, wo sich der andere in der Welt befindet. Und dann kann man ja sich auch kurz treffen.

It was very nice to see them again. That was why I loved Facebook for. No need to visit us every day but with one eye you can follow in which part the other is. And you can just simply meet.

We were heading all around the Alicante old town. The tour was very friendly and a lot of un. Nicolas really provided a grand tour with us. Thanks for the many extra loops he made since we were such a small group only.

Auf geht es quer durch die Altstadt von Alicante. Die Tour hat sehr viel Spaß gemacht. Nicolas hat eine tolle Tour mit uns gemacht. Vielen Dank auch für die kleinen extra Schleifen, weil wir so eine kleine Gruppe sind.
Wir gehen noch eine Kleinigkeit bei
naM Creperia
essen. Eigentlich wollte ich ja auch ein Crepe: etwas das nicht aus der Friteuse kommt. Dann habe ich wieder Pech: ich hatte mal auf die frittierten Eier gehofft, aber Spiegeleier bekommen. Die Crepes waren wohl sehr gut, wie die anderen sagen...

We went to naM Creperia to have a quick bite. Originally I wanted also to have a Crepe: anything from the fryer. Then I had unluck gain: I hoped it should be deep-fried eggs, but it was fried eggs again. The crepes were delicious the others told...

Back on board, we went to the Café.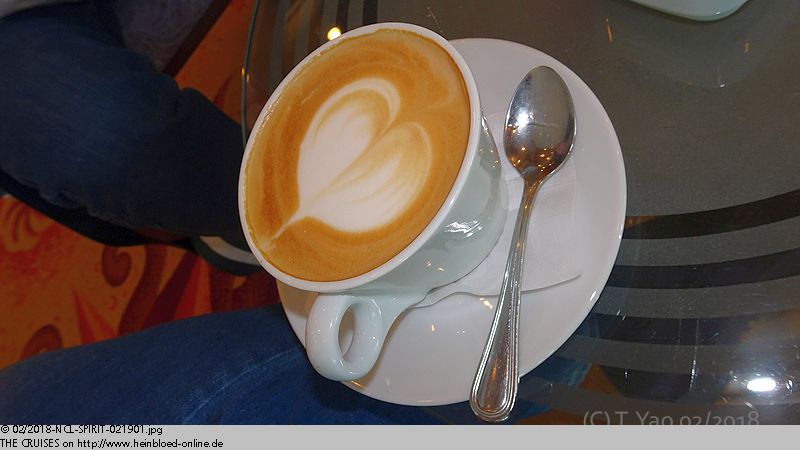 Zurück an Bord geht es ins Café.
Hier erleben wir eine nette Bedienung Linlin Hao.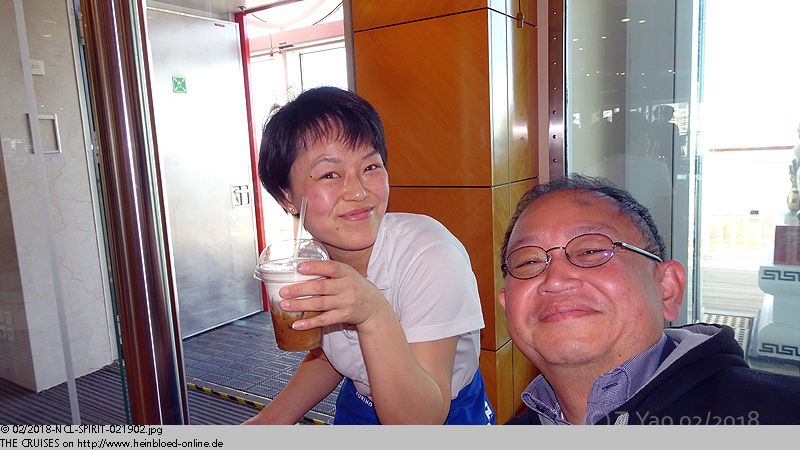 Here we experienced a very nice waitress Linlin Hao.

As usual, I pampered myself with an Iced Cappucino with lactose-free milk and one bag of sugar down in the espresso before they topped up the milk-foam. It is the same as James Bond 007 would order his Vodka-Martina stirred not shaken. Linlin did this correctly.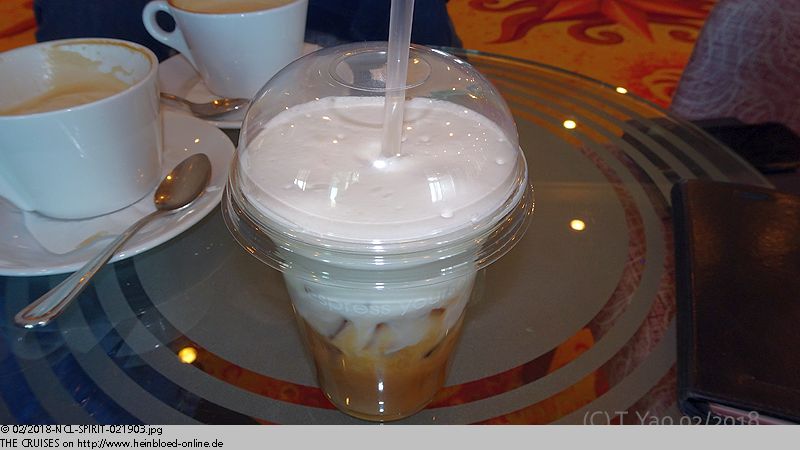 Wie üblich gönne ich mir meinen Iced Cappucino mit laktosefreier Milch und einem Beutel Zucker unten im Espresso, bevor der Milchschaum draufkommt. Das ist nun einmal so, als ob James Bond 007 seinen Wodka-Martini gerührt und nicht geschüttelt bestellt. Das macht Linlin perfekt.
Ich bekomme hier auch die Karte mit den Senioroffizieren, weil ich ja beim
Meet and Greet von cruisecritic.com
nicht dabei sein konnte.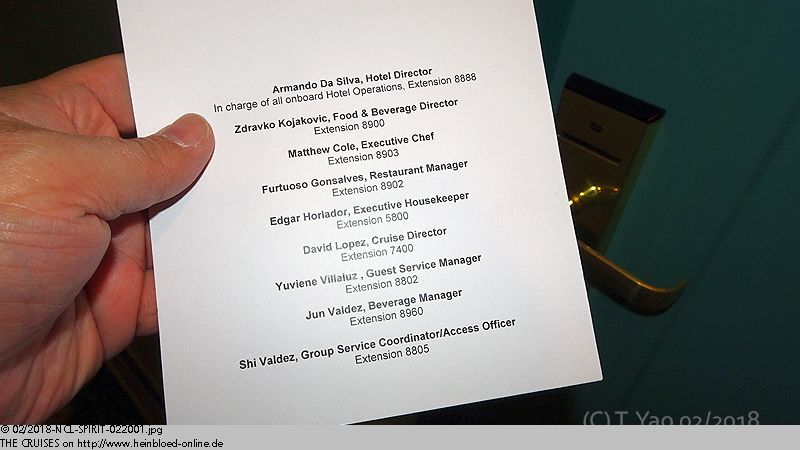 I got here my card with the Senior Officers because I could not join the Meet and Greet of cruisecritic.com.

Thanks to Wendy and Craig (aka Leita from cruisecritic.com) that she brought it to me.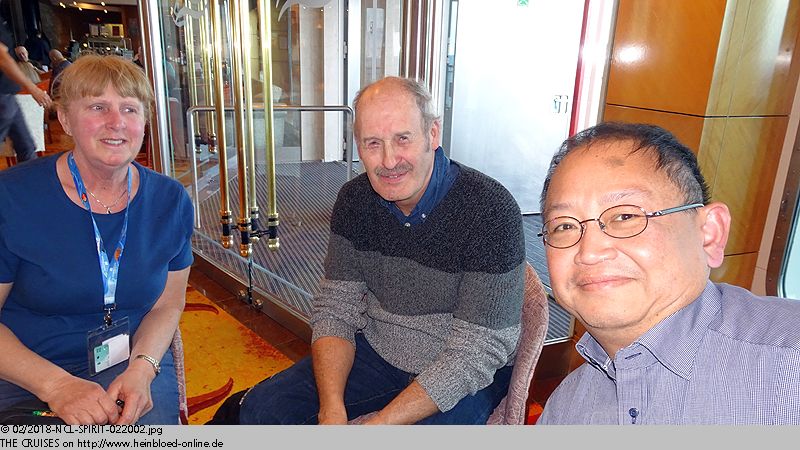 Vielen Dank an Wendy und Craig (alias Leita aus cruisecritic.com), dass sie mir die Karte noch vorbeigebracht haben.
Ein kurzes Bild mit Armando und Bon vor der "Dear Armando Box".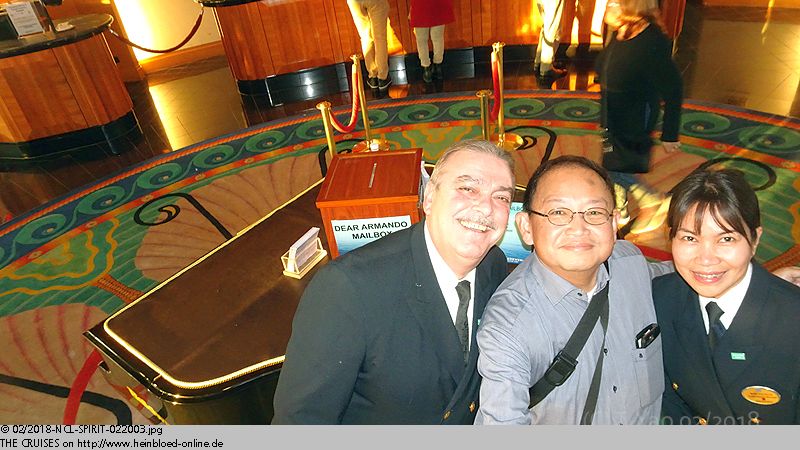 A short picture with Armando and Bon in front of the "Dear Armando Box".

And now together with Cruise Director David Lopez. It was always so lovely to meet them all again.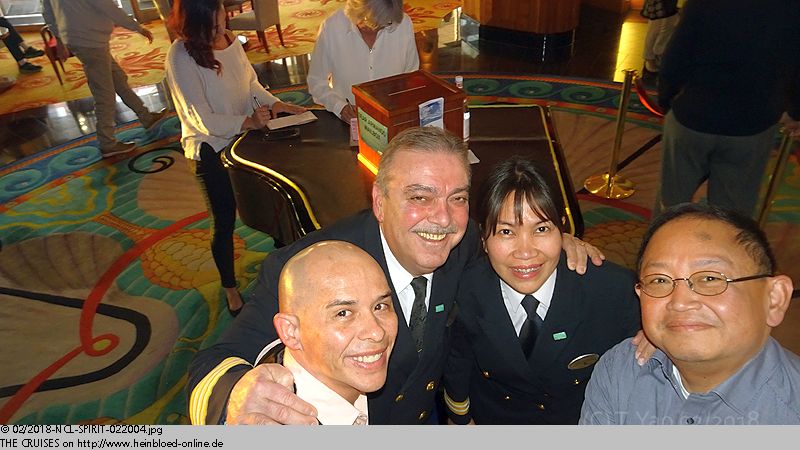 Und jetzt noch gemeinsam mit Cruise Director David Lopez. Es ist immer wieder schön, sie wiederzutreffen.
Ich liebe an frühen Abfahrten: Man kann dann immer der Sonne beim untergehen zuschauen.

What I loved with early sailings: you could see how the sun set.

I loved this ship. More than any brand new ship of NCL. I might have a cuckoo having a cup on my head. Thanks again to Marc for the gift. A great souvenir of our voyage on NORWEGIAN SPIRIT 2013. We will see us again at MARCO POLO 2019. Also a ship with a certain history under the flag of NCL.

Ich liebe dieses Schiff. Mehr als jedes nagelneue Schiff von NCL. Ich habe zwar nicht mehr alle Tassen im Schrank aber auf dem Kopf. Vielen Dank nochmals an Marc für das Geschenk. Ein tolles Souvenir an unsere Fahrt auf der
NORWEGIAN SPIRIT 2013
. Wir sehen uns ja dann auf der MARCO POLO 2019. Auch ein Schiff, das auch Geschichte unter der Flagge von NCL gemacht hat.
Ein Blick ins Raffles, was es nachmittags so gibt.

A view into the Raffles what they had in the afternoon.

Another view to see what they had in the evening.

Ein weiterer Blick, was es abends gibt.
Nach den guten Erfahrungen auf der
NORWEGIAN GETAWAY 2017
in La Cucina, geht es heute Abend in La Trattoria. Hier tun wir uns mit Joan (alias Mickey112 aus cruisecritic.com) zusammen und profitieren gegenseitig von den Goodies, die wir bekommen. Hier freuen wir uns über das Wiedersehen mit Rodel Solis, den wir auf der
NORWEGIAN JADE 2017
im Cagney's erlebt haben. Einer der besten Rib-Eye-Steaks, die ich bekomme: Vielen Dank an Chef Tournant Sandy Roncejero. Und vielen Dank an Assistant Maître D' Jiffer Esma und sein komplettes Team. Leider blieb keine Zeit noch alle Bilder von den Namensschilder zu machen, weil noch so viel Betrieb war. Und auch Furtoso kommt vorbei, um uns schon für morgen zu verabschieden. Das Essen ist erstklassig. Joan ist sehr nett. Das Team ist wunderbar. Wir sind alle rundum satt und zufrieden. Kann es einen perfekteren Abschluss eines tollen Tages geben?

After the great experience on NORWEGIAN GETAWAY 2017 in La Cucina we went that evening to La Trattoria. Here we unified with Joan (aka Mickey112 from curisecritic.com) to make the best for all of us from the goodies we got. Here we were happy to see Rodel Solis again who we knew from the Cagney's-Team on NORWEGIAN JADE 2017. One of the best Rib-Eye-Steaks ever: Thanks to Chef Tournant Sandy Roncejero. And thanks to Assistant Maître D' Jiffer Esma and his entire team. Unfortunately, I could not take pictures of the name tag because it was still so busy. And also Furtosa came by to say good-bye for the next morning. The food was really first class. Joan was also very nice. The team was wonderful. We all were full and satisfied. Could it be a more perfect end to our great day?
Die anderen Reisen in diesem Blog/
The other voyages in this blog: