Lt. Ankündigung kommen alle Schiffe nacheinander im 30-Minuten-Takt und das wäre genau in der Zeit gewesen, wie es Frühstück gegeben hätte. Bruno war daher bereits vorbereitet worden, dass alle paar Minuten das Fenster geöffnet wird, damit ich fotografieren kann und es möglicherweise zieht und dass es möglicherweise unter diesen Umständen sein kann, dass wir das Hotel ohne Frühstück verlassen. Shipspotten ist wichtiger als Frühstück! Aber er hat Glück: alle Schiffe treffen früher ein. Als erstes kommt noch im Dunkeln die SEABOURN ODYSSEY.

According to the published list all ships supposed to arrived in a 30-minutes-interval just diring the breakfast. Bruno was well prepared that I should open few minutes the window to take pictures and it become a little breezy and it might be that we supposed to leave the hotel without breakfast. Shipspotting was more important but breakfast! But he had luck: all ships arrived earlier. First ship of the day was SEABOURN ODYSSEY.

Next who arrived was SPLENDOUR OF THE SEAS.

Die nächste, die reinkam war die SPLENDOUR OF THE SEAS.
Danach folgt dann
MEINE
NORWEGIAN JADE. Was macht eigentlich die fremde Person noch in
MEINER
Kabine? Müsste sie nicht längst beim Frühstück sitzen, damit unser Kabinensteward die Kabine herrichten kann und warum winkt mir niemand zu? Und ist die Aussicht aus diesem Hotelzimmer auf die einfahrende NORWEGIAN JADE nicht einfach herrlich?

Thereafter MY NORWEGIAN JADE. What was the foreign person still doing in MY cabin? Should the person already having breakfast and our cabin steward can do our cabin and why nobody was waving. And was not the view from this hotel room on the arriving NORWEGIAN JADE just wonderful?

Thereafter ROYAL CLIPPER followed, who docked again adjustent in San Basilio and need first to make a turn-around.

Danach folgte die ROYAL CLIPPER, die direkt wieder gegenüber in San Basilio anlegte und daher erstmal drehen musste.
Mit dem Sonnenaufgang folgte die AIDAaura.

With the sunrise AIDAaura followed.

Such a beautiful arrival...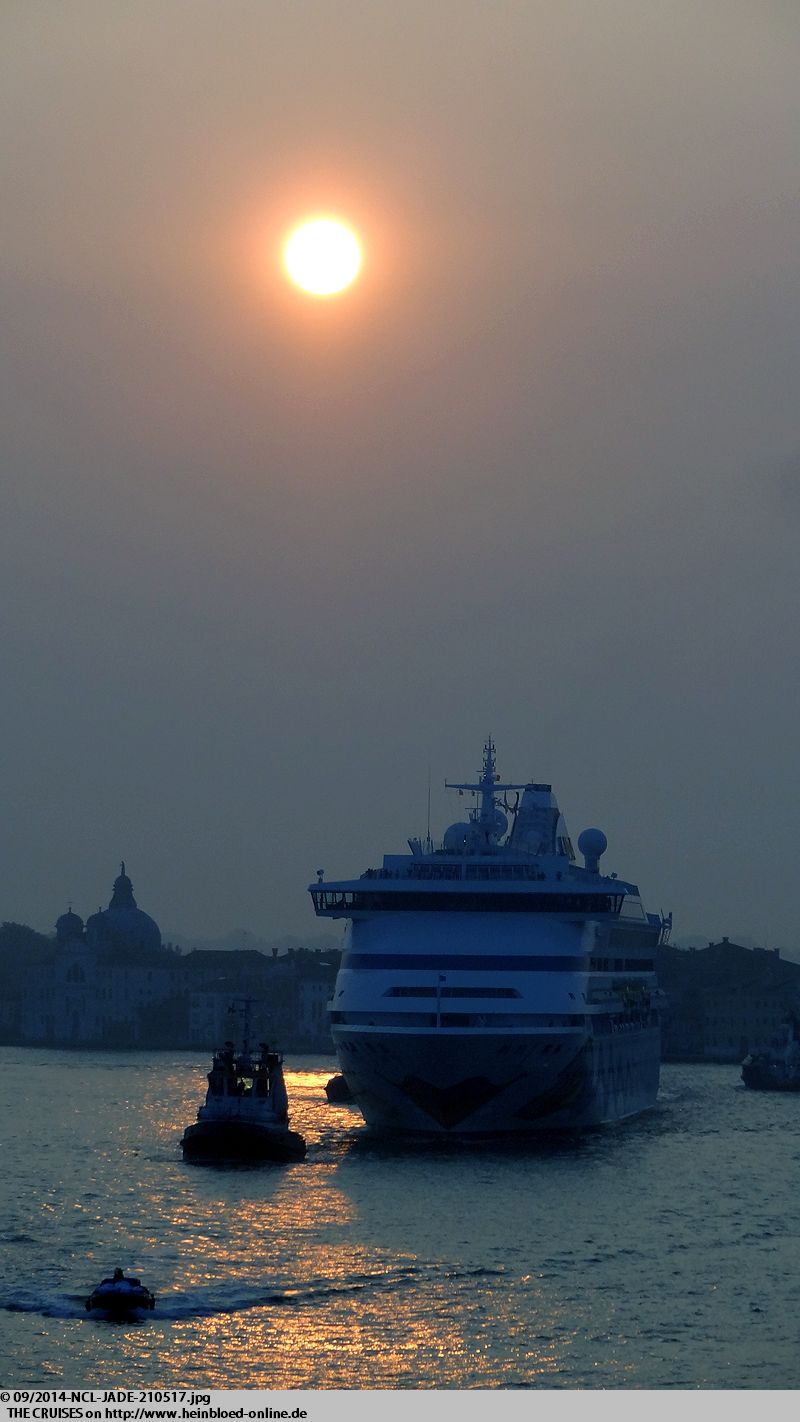 So eine schöne Einfahrt...
aber warum bloß die AIDAaura und nicht
MEINE
NORWEGIAN JADE?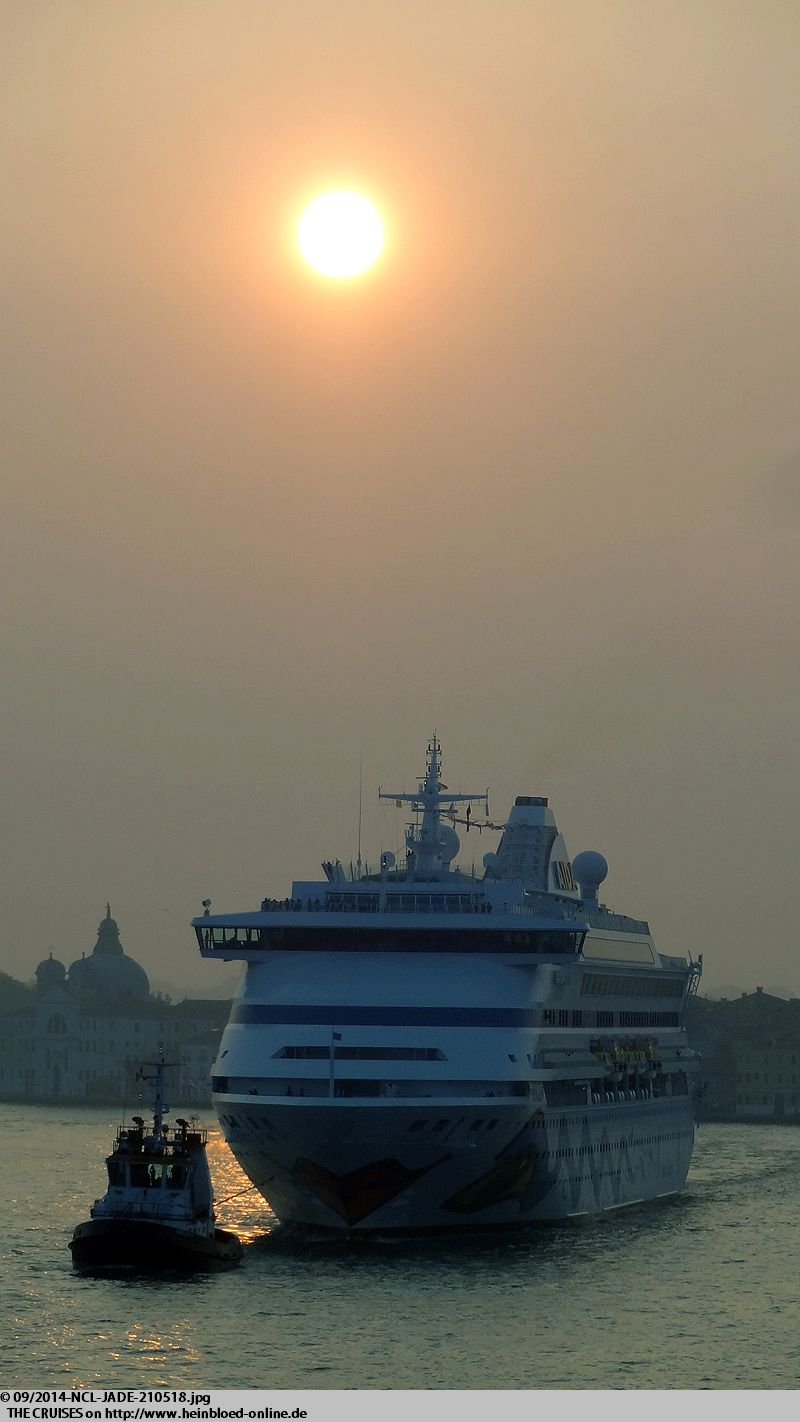 but why AIDAaura and not MY NORWEGIAN JADE?

As expensive as the room was: it let the heart beat of a true ship spotter going faster if you could take such shots. It could have rained dogs and cats and ice cold and so you could easily stay comfortable in the bath rope in your room... nice and warm... and can just jump into your bed.

So teuer, wie das Zimmer ist: es lässt aber das Herz eines Shipspotters höher schlagen, wenn solche Aufnahmen möglich sind. Es hätte ja auch in Strömen regnen und bitter kalt sein können und so steht man gemütlich im Bademantel im Zimmer... schön kuschelig warm... und kann danach ins Bett gehen.
AIS zeigt an, dass auch MSC PREZIOSA sich Venedig nähert. Die Zeit reicht noch zum Duschen und Zähne putzen und von mir aus gibt es dann nach der MSC PREZIOSA Frühstück. Und die Zeit reicht auch noch, dass wir auf die Dachterrasse gehen und da sieht man dann auch sehen, warum sie nicht in allen Richtungen für schöne Bilder geeignet ist und dass das Zimmer doch nicht so schlecht war.

AIS showed me that also MSC PREZIOSA was approaching for Venice. Enough time to take a shower and to brush your teeth and we could have breakfast after MSC PREZIOSA. And it was enough time to see the roof terrace and you can see that she was not best to have pictures in all directions for nice shots and the room was not so bad at all.

We had a love and hate relation with MSC. Such great hardware.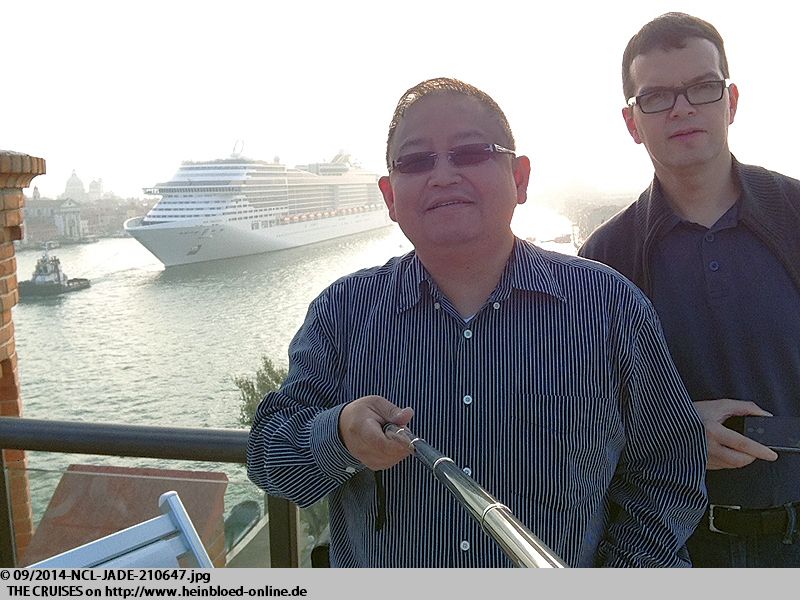 Uns verbindet eine Haßliebe mit MSC. So eine tolle Hardware.
So tolle Erinnerungen mit Freunden, die verrückt genug waren, über Nizza - Marseille - Genua - Mailand - Zürich eine Nacht mit ihr mitzumachen:
MSC PREZIOSA 2013
.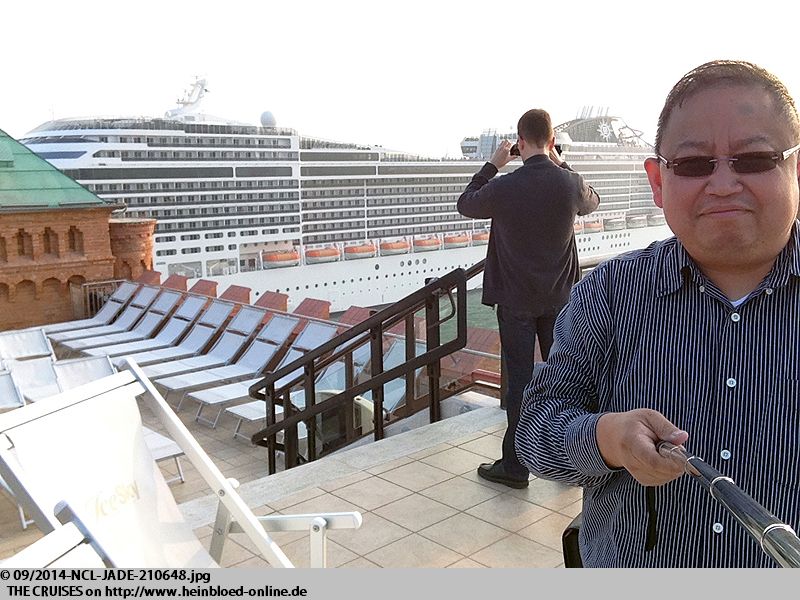 Such great memories with friends which were crazy enough to go for one night via Nice, France; Marseille, France; Genoa, Italy; Milan, Italy; Zurich, Switzerland: MSC PREZIOSA 2013.

So few more selfies with MSC PREZIOSA.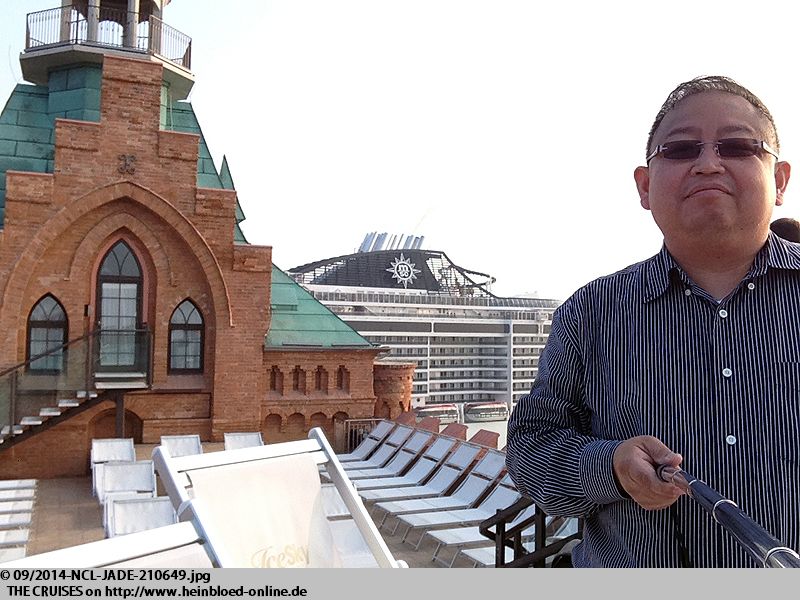 Deswegen gibt es noch ein paar Selfies mit der MSC PREZIOSA.
Und wenn an dieser Stelle noch Rosa, Andrea, Selma, Hanna, Melanie und Rich auf dem Bild wären, wäre es noch eine schönere Erinnerung an die verrückte Fahrt von damals. Irgendwo auf der Welt wird bestimmt wieder ein Selfie von uns allen vor einem Schiff entstehen: versprochen... und wenn wir uns eine Fototapete machen lassen...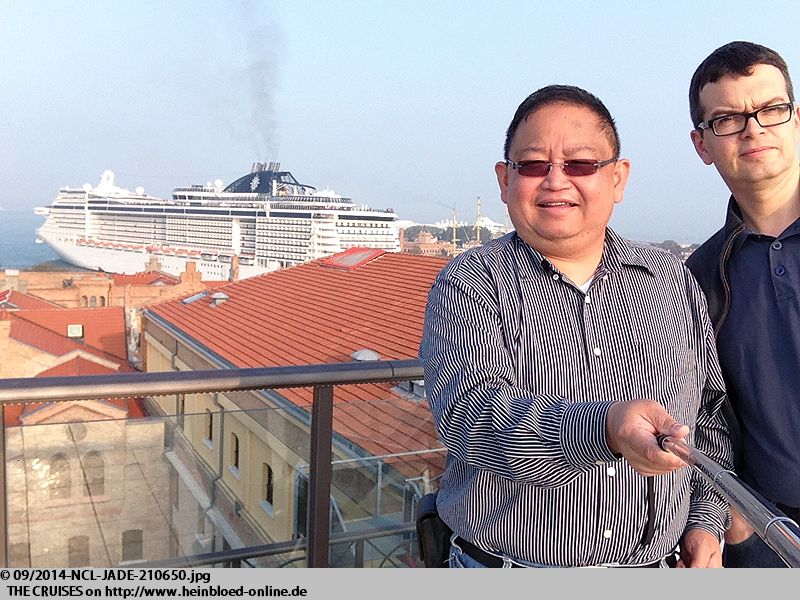 If there would be Rosa, Andrea, Selma, Hanna, Melanie and Rich on the picture it would be a nicer memory to the crazy ride then. Somewhere in the world we would take again a selfie in front of a ship: promised... and even we had to arrange photo wall paper...

Even without a ship we enjoyed the view. It was only interesting what Photoshop Elements did to make the pictures more "intelligent". Unfortunately I cannot edit every picture individually due to the high number of pictures.

Auch ohne Schiff genießen wir den Ausblick. Es ist nur interessant, was Photoshop Elements aus den Bildern "intelligent" macht. Leider kann ich bei der Anzahl der Bilder nicht alle Bilder einzeln bearbeiten.
Endlich geht es zum Frühstück in die Executive Lounge.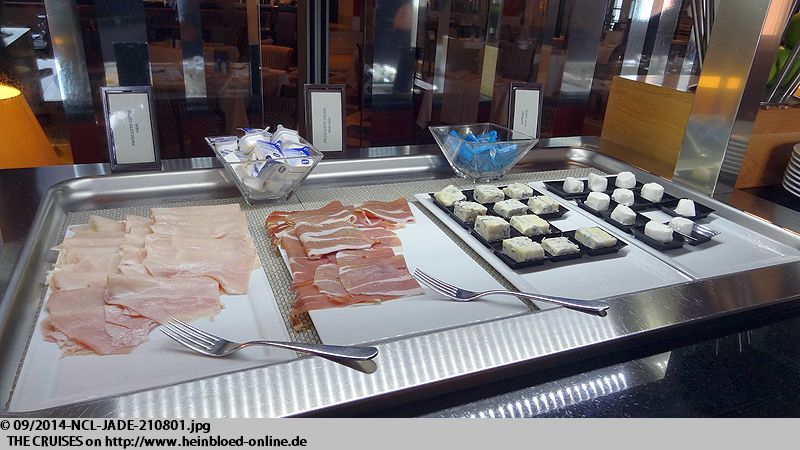 Finally we went down to have breakfast in the Executive Lounge.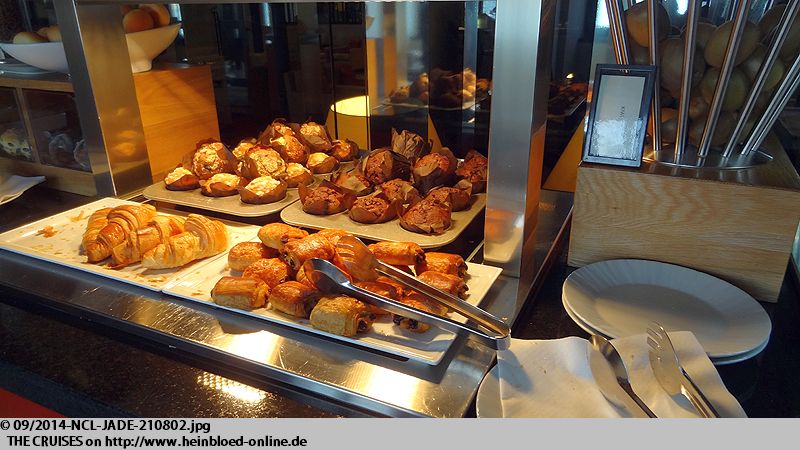 Für den Preis war es schon in Ordnung, auch wenn man nicht das Angebot eines großen Frühstücksbüffets hat.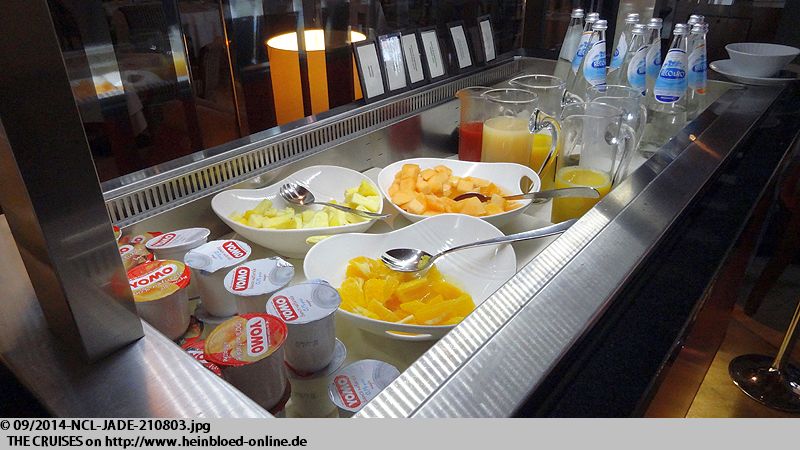 For that price it was o.k. even you had not the offer of the big breakfast buffet.

You could become full and it was yummy.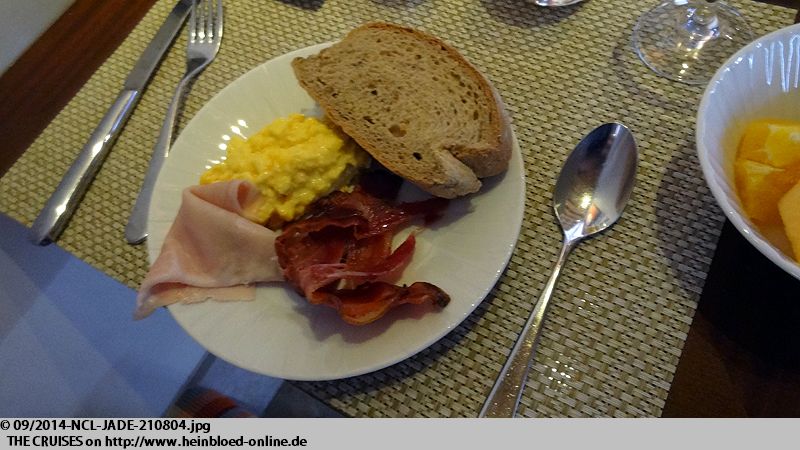 Man wird trotzdem satt und es ist lecker.
In diesem Hotel sollte man schon rechtzeitig auschecken, wenn man ein bestimmtes Boot erreichen will. Zum Glück hatten wir uns ja schon Rückfahrkarten gekauft. Viele standen bereits an und wurden dann abgewiesen. Übrigens: Als wir das Hotel verließen hatten wir uns ein wenig gewundert: für die nächsten Gäste standen auf kleinen Wagen besonders verpackte Aufmerksamkeiten bereit. Leider wussten wir nicht, für wessen Gäste das war, sonst hätten wir sie uns schon mitgenommen und dann behauptet, dass wir auch bei dem Ereignis dabei waren.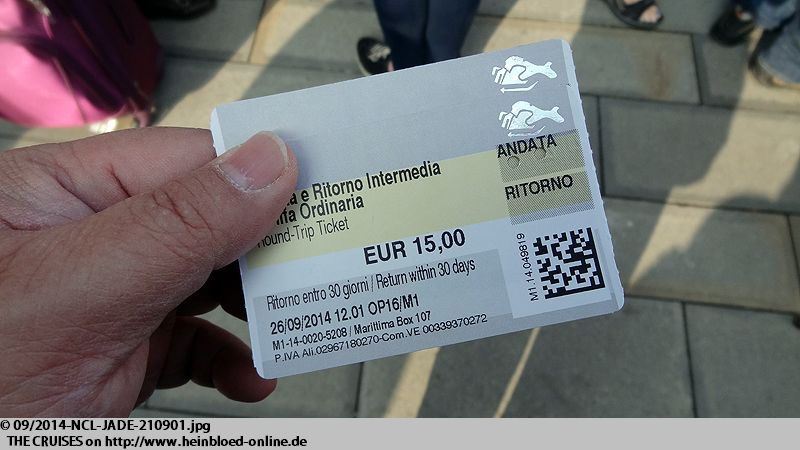 In that hotel you should check-out ahead of time if you wanted to chatch a specific boat. We luckily had already our tickets. Many were queuing and were access were denied. By the way: when we left the hotel there was a trolley with gift-wrapped goodies for the next guests. Unfortunately we did not know for whose guests the gift were otherwise we would have taken one and told everybody that we were joining the event.

The first boat came which went from the airport to the cruise terminal and we followed a discussion between the drivers if we could join or if they need a second boat.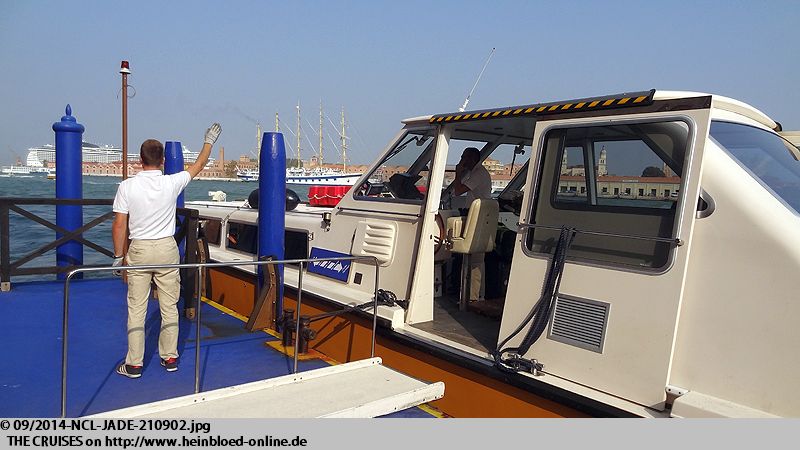 Das erste Boot kam an, dass bis vom Flughafen bis zum Cruise Terminal fährt und es gab eine Diskussion zwischen den Fahrern, ob wir noch mitkönnen, oder ein zweites Schiff gebraucht wurde.
Mit Erschrecken sehen wir, wie z. T. das Gepäck vor einer offenen Luke aufgetürmt wurde.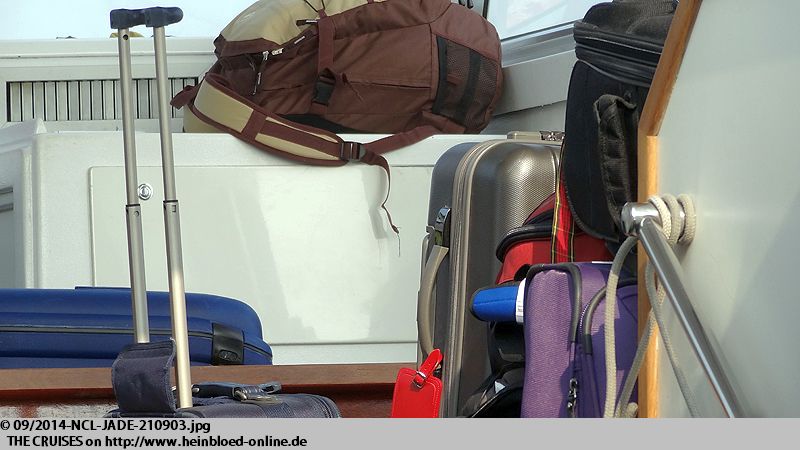 We were shocked to see how the piled up the bags at the open luke.

Up was our hotel room.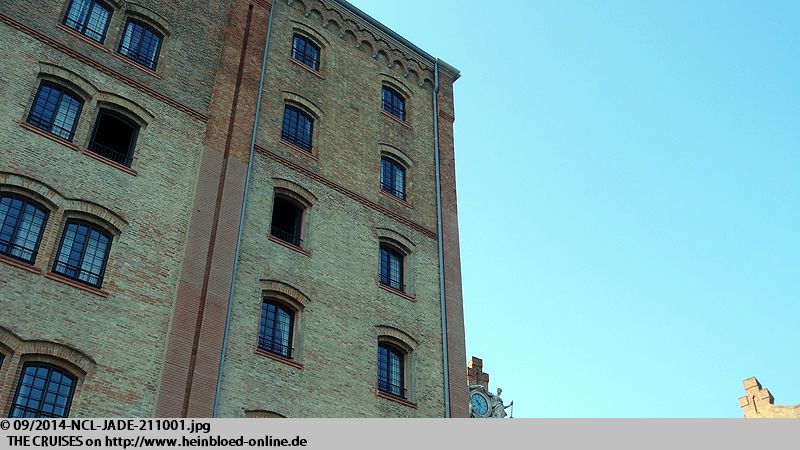 Da oben ist unser Hotelzimmer.
Und hier ist die Sarah Sun. Mit Verwunderung stelle ich fest, dass auf dem Boot jemand ist.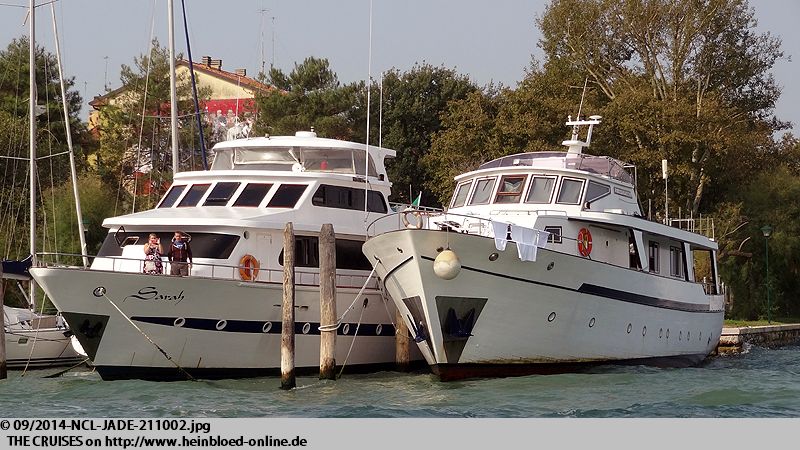 And that was Sarah Sun. We were wondering to see people on the boat.

Certainly we passed MY NORWEGIAN JADE.

Wir fahren natürlich an
MEINER
NORWEGIAN JADE vorbei.
Zumindest auf dem Dach konnte ich vorhin ein Selfie machen.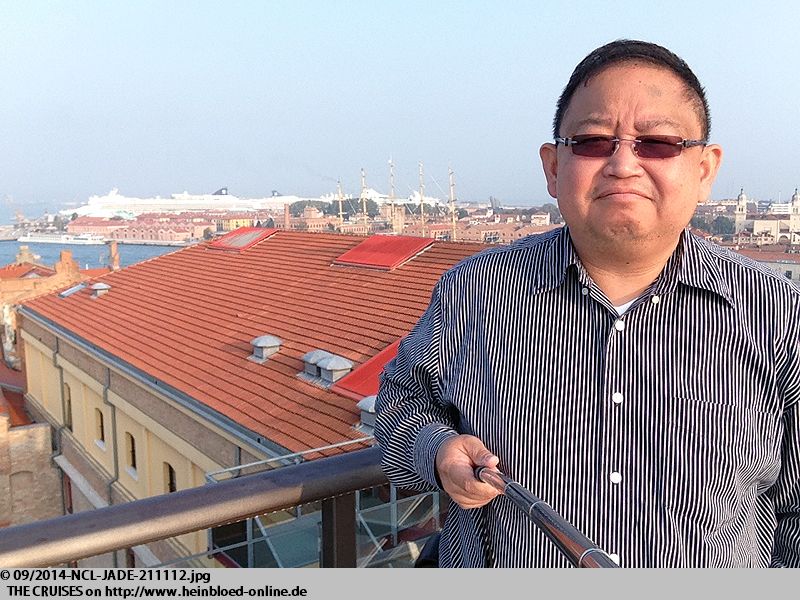 At least I could take a selfie on the roof.

And certainly we passed also SPLENDOUR OF THE SEAS.

Und natürlich fahren wir auch an der SPLENDOUR OF THE SEAS vorbei.
Um das Thema SPLENDOUR OF THE SEAS für diesen Tag abzuschließen, gibt es jetzt auch die Bilder von der Ausfahrt etwas später. Auch hier gilt: wer sich wiedererkennt und das Bild gerne für sein eigenes Album haben will: E-Mail mit der Nummer des Bildes genügt. Das gibt es dann mit der Originalauflösung.

To complete the subject SPLENDOUR OF THE SEAS for that day you can see here also the pictures of the set sail later that day. Even here: who identified himself and would like to have a picture of his own album: Just send an e-mail with the number of the picture. You can have it in high resolution.

And I also complete the subject AIDAaura for that day. But she was docking right at the entry to the cruise terminal. As she was leaving Venice after us no picture of her set sail.

Und auch das Thema AIDAaura beende ich für diesen Tag. Auch sie liegt sehr gut bei der Einfahrt zum Cruise Terminal. Da sie aber nach uns Venedig verlässt, gibt es keine Bilder von der Ausfahrt.