Ich bin noch nicht richtig im Rhythmus. So gehe ich um 02.00 Uhr ins Blue Lagoon Café.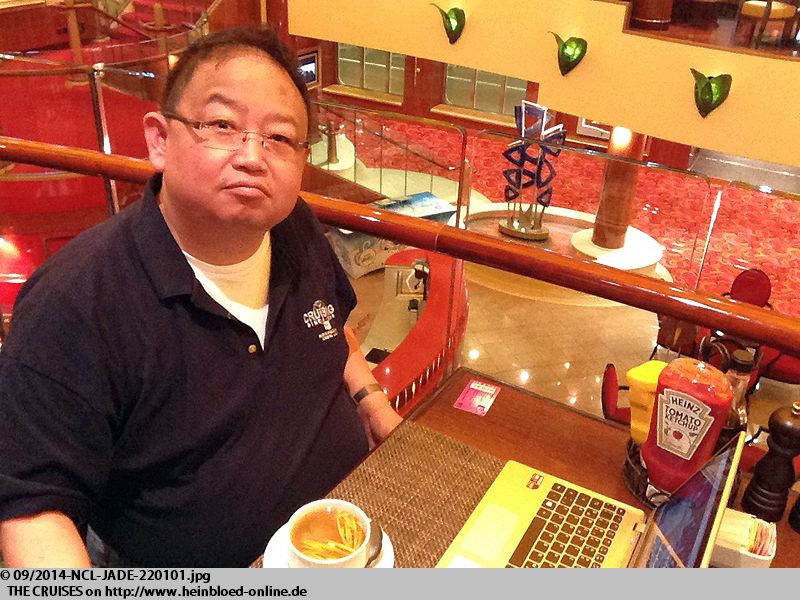 I was not still in the correct rhythm. So I went at 02.00 hrs to the Blue Lagoon Café.

As usual I took the Won-Ton-Soup. "Unfornately" with much too much crispy fresh vegetables...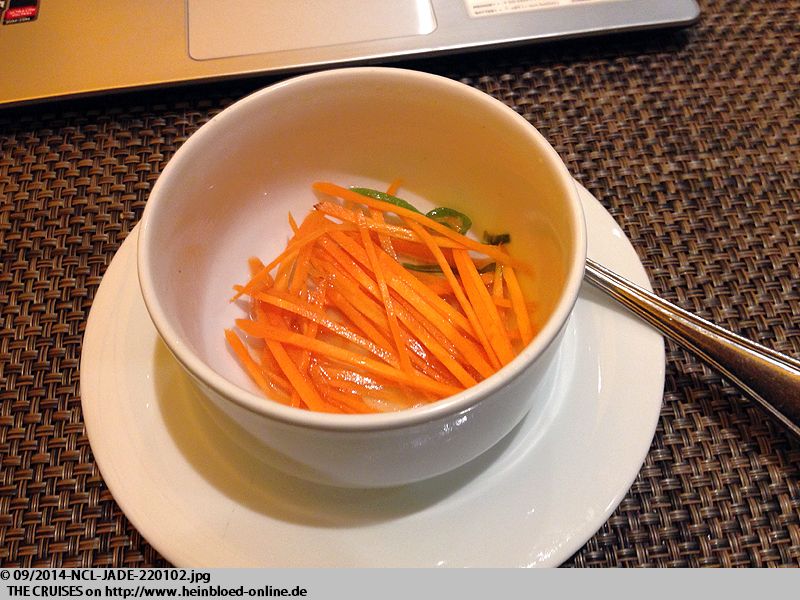 Wie üblich nehme ich die Wan-Tan-Suppe. "Leider" wieder mit viel zu viel knackigem frischen Gemüse...
Mit mehr Wan Tans als sonst und auch besser gefüllt, wenn auch nicht so gut wie in Hongkong.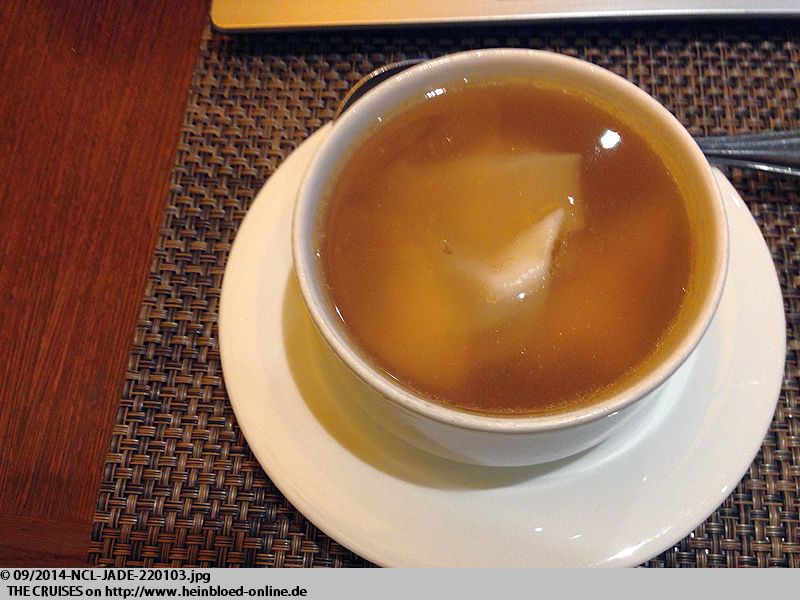 With more Won-Tons like usually and better filled even they were not still as good as in Hong Kong.

I was any how happy and satisfied so that I ordered another one and started to edit my pictures. In the moment the internet was working quite well so I could easily upload my pictures.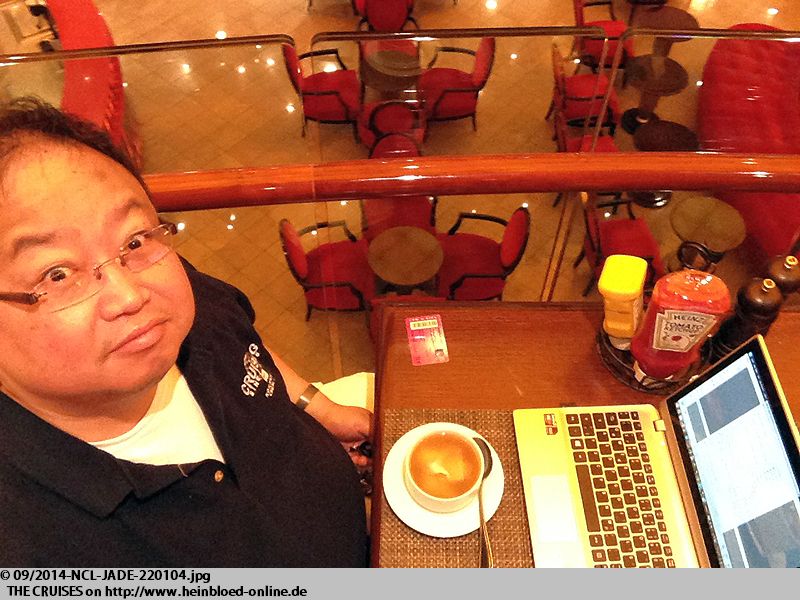 Ich bin auf jeden Fall glücklich und zufrieden, so dass ich sogar eine zweite nehme und dabei meine Bilder bearbeite. Hier läuft das Internet sehr gut, so dass ich auch schnell Bilder hochladen kann.
Ein Grund, warum ich nicht schlafen konnte: Die Polyester-Bettwäsche.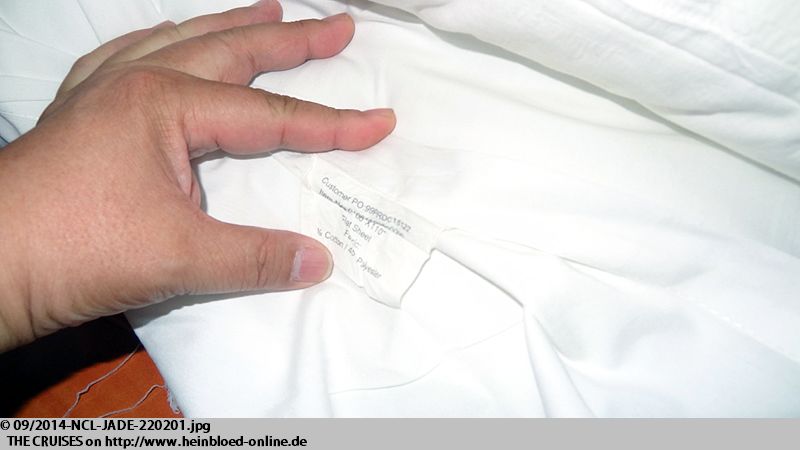 One reason I could not sleep: The polyester-linen.

And another reason: I could not sleep on this mattress. The pattern of the coils and every stitches I could feel in my back. It was too warm anymway so I slept on my blanket without covering myself.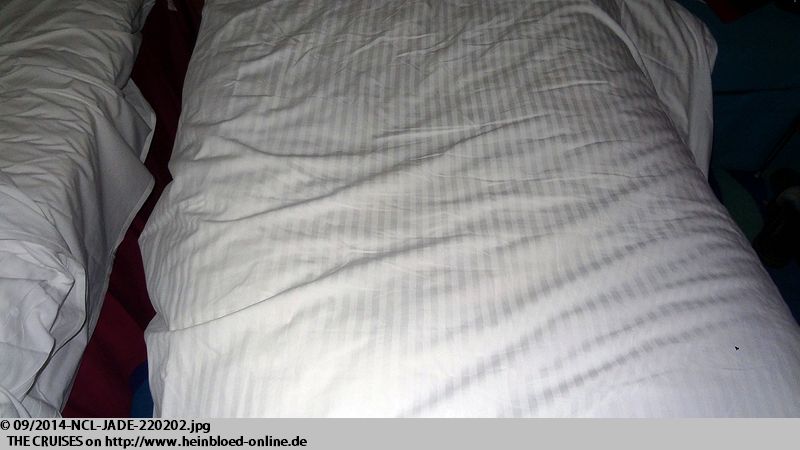 Und ein anderer Grund: ich konnte auf dieser Matratze nicht schlafen. Das Muster der Federn und jeder Näthe spüre ich im Rücken. Es war eh zu warm, also habe ich dann auf der Bettdecke geschlafen, ohne mich zuzudecken.
Wenigstens unser Handtuchtier gibt es abends noch.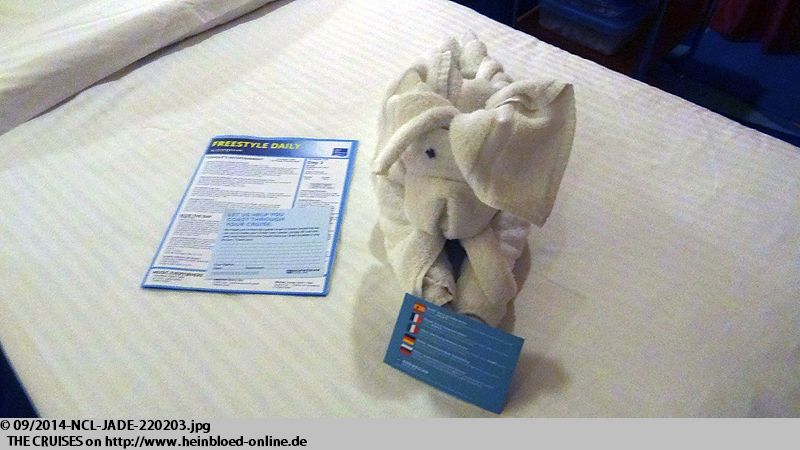 At least we still had a towel animal for the night.

Our cabin steward Tito Lausa. Very nice and friendly and almost always invisible.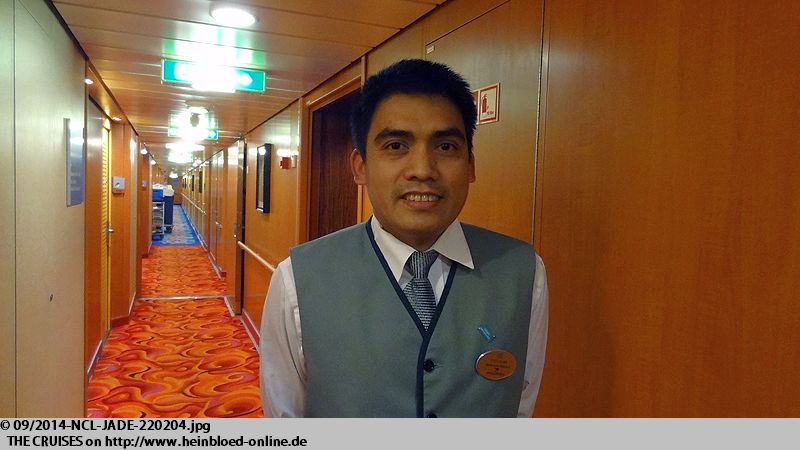 Unser Kabinensteward Tito Lausa. Sehr nett und freundlich und fast immer unsichtbar.
Der ummantelte Balkon und die warme Luft draußen ermöglichen es mir, dass ich etwa eine Stunde draußen verweile, um mich auf den Sonnenaufgang zu freuen.

The sheltered balcony and the warm air outside allowed me to stay one hour outside to enjoy the rising sun.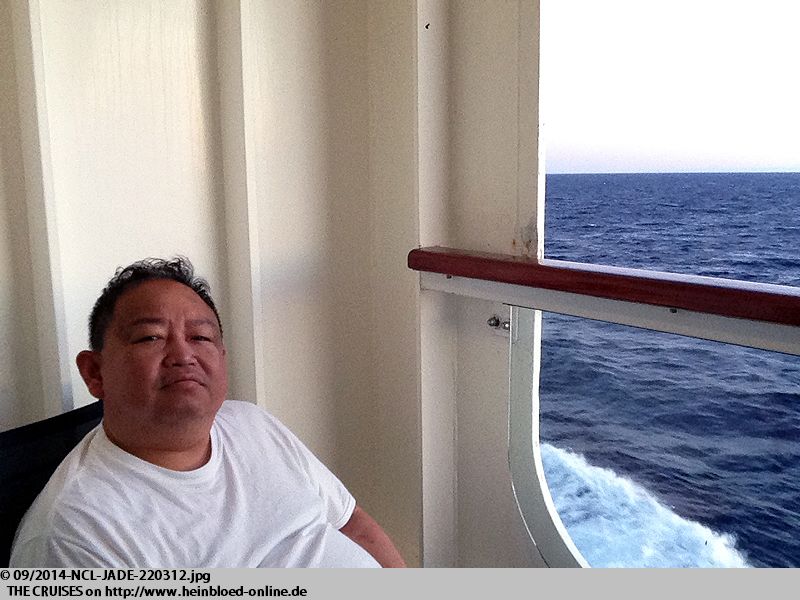 Es ist so ein richtig schöner Morgen.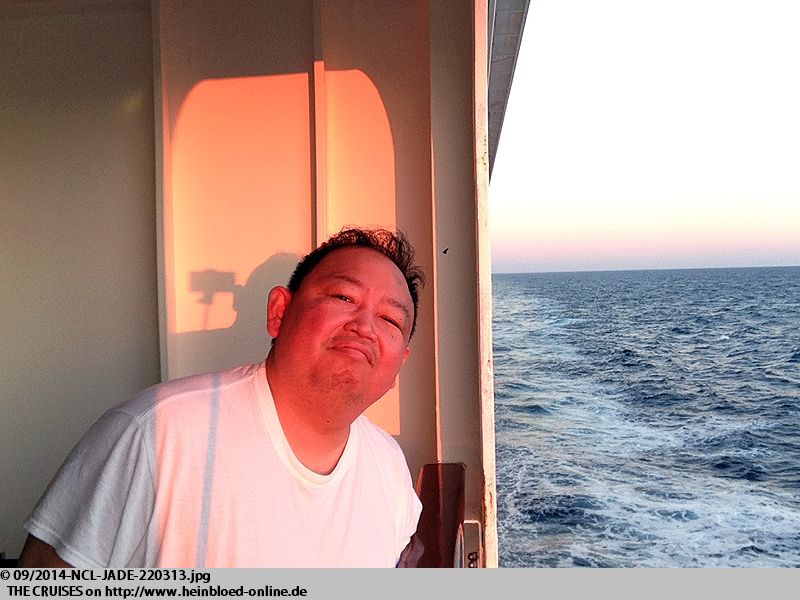 It was a real beautiful morning.

I was checking in the Garden Café if there were any changes. Offer was not but allocations of the outlets.

Ich gehe mal im Garden Café gucken, ob sich etwas verändert hat. Angebot nicht, aber die Aufteilung der Ausgabestationen.
Und dann gönne ich mir doch mal einen frisch-gepressten Orangensaft (muss man extra zahlen).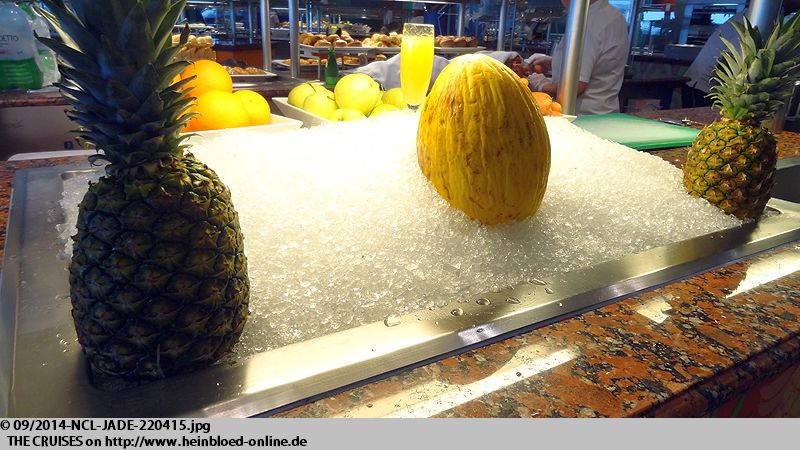 I pampered myself with a freshly-squeezed orange juice (you need to pay extra).

Suddenly I was awake...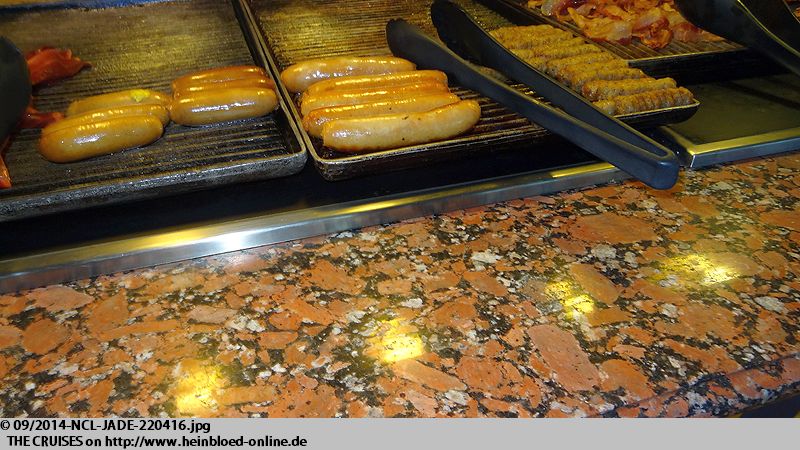 Auf einmal bin ich hellwach...
Englische Würstchen. Gab es ja nicht einmal auf einer Gesellschaft mit englischen Wurzeln...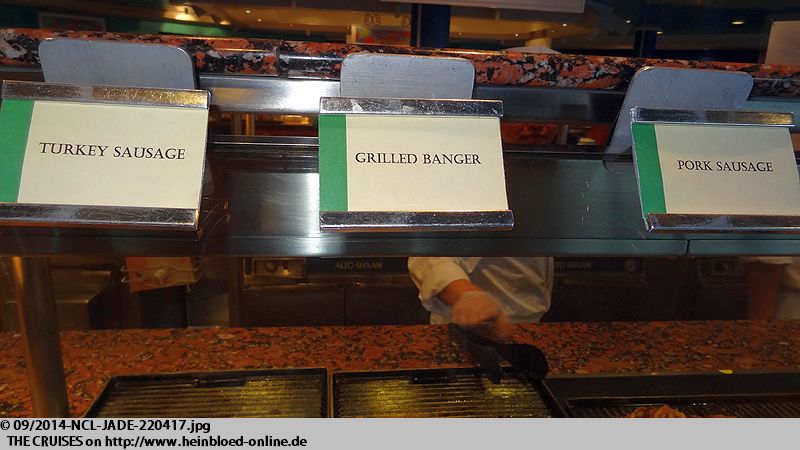 English sausages. You did not have them even with a company with English roots...

I could not say no.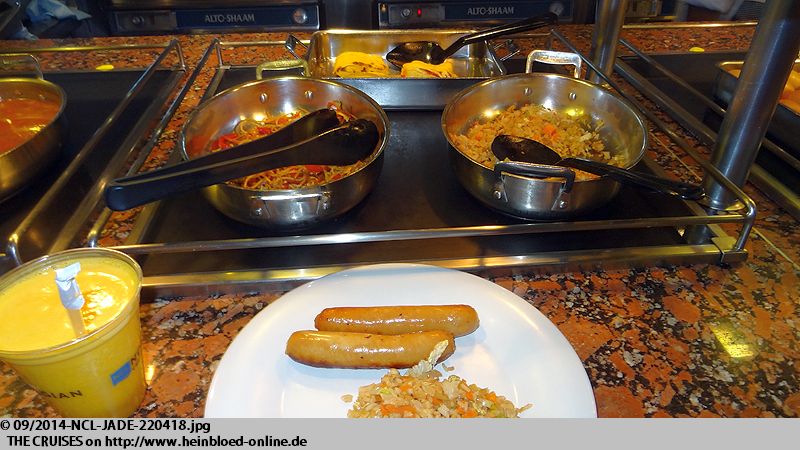 Da kann ich nicht nein sagen.
Und bei gebratenem Reis könnte es gut sein, dass eine größere asiatische Gruppe an Bord ist.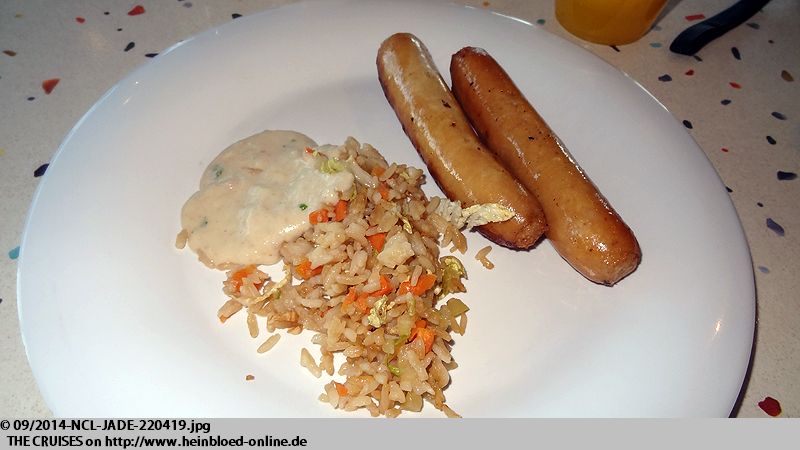 And with fried rice it might be that there was a larger Asian group on board.

And when I asked if they had generally Congee (Chinese rice porridge) onboard I was permanently asked where I was sitting. After few minutes I got some congee. My personal hero I would like to introduce later with the selfies.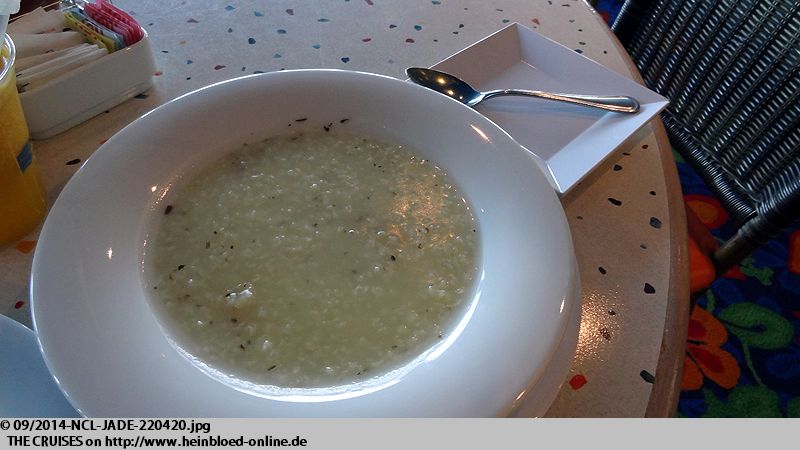 Und als ich nachfrage, ob sie grundsätzlich Congee (chinesischer Reisbrei) an Bord haben, werde ich immer dauern gefragt, wo ich sitze. Und nach einigen Minuten, bekomme ich Congee. Meinen persönlichen Held hierzu stelle ich später bei den Selfies vor.
Also ich habe offensichtlich wieder meine Freude an der Fahrt.

Obviously I had my joy on this voyage.

Bruno had joy to see again the gym.

Bruno freut sich wieder über den Besuch im Fitness-Studio.
Neu gegenüber
NORWEGIAN JADE 2014 (1)
: Die Stifte für die Regulierung der Gewichte werden erst später am Tag bereitgestellt, damit die Suiten-Gäste darunter ungestört schlafen können.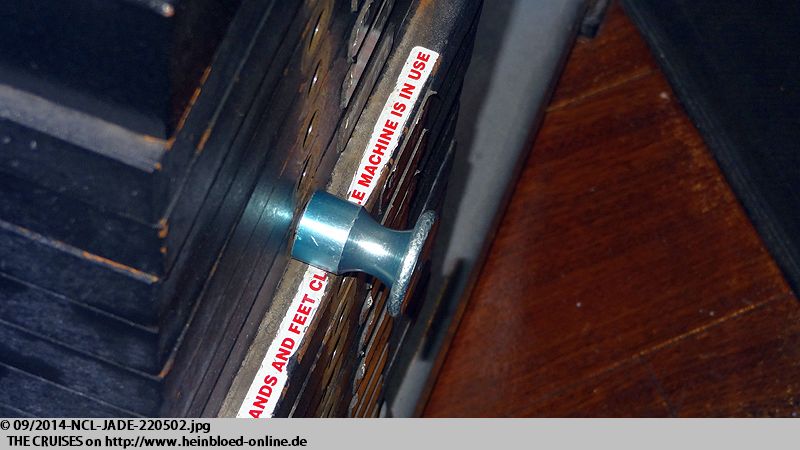 New compared to NORWEGIAN JADE 2014 (1): The pins for the regulation of the weights were kept ready later that day that suite-guests below can have an undisturbed sleep.

They still had the cigar lounge.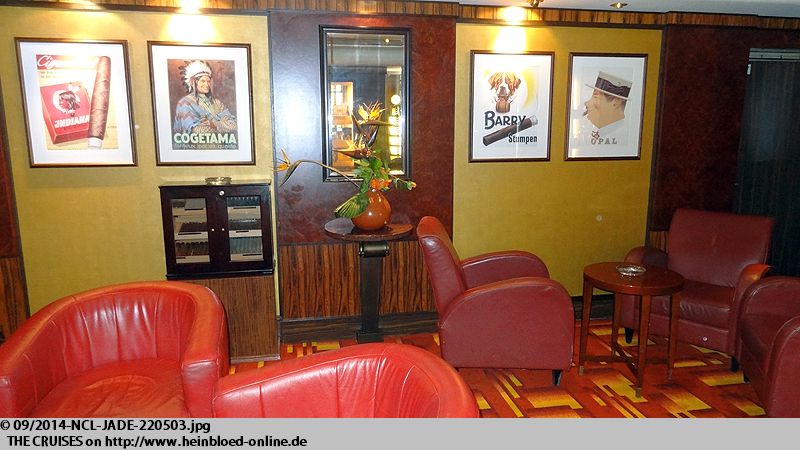 Die Cigar Lounge gibt es immer noch.
Und offensichtlich darf man darin auch rauchen.

And obviously you were still allowed to smoke inside.

One pool was declared as adult pool.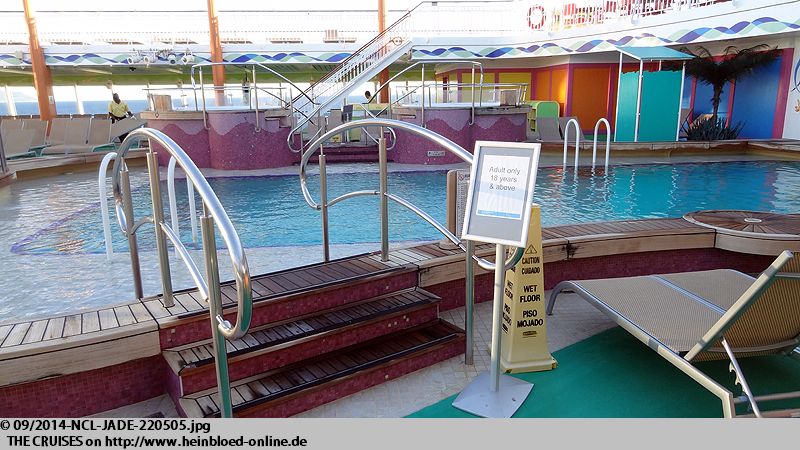 Ein Pool wurde zum Erwachsenen Pool erklärt.
Vorbereitungen für das Mittagessen.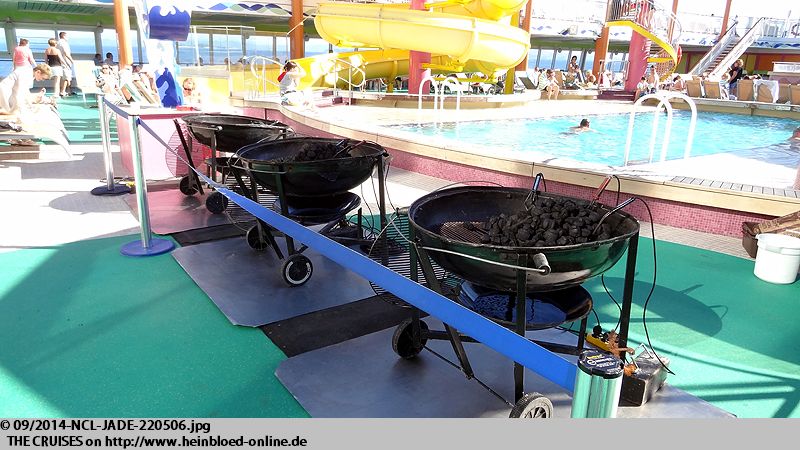 Preperation for lunch.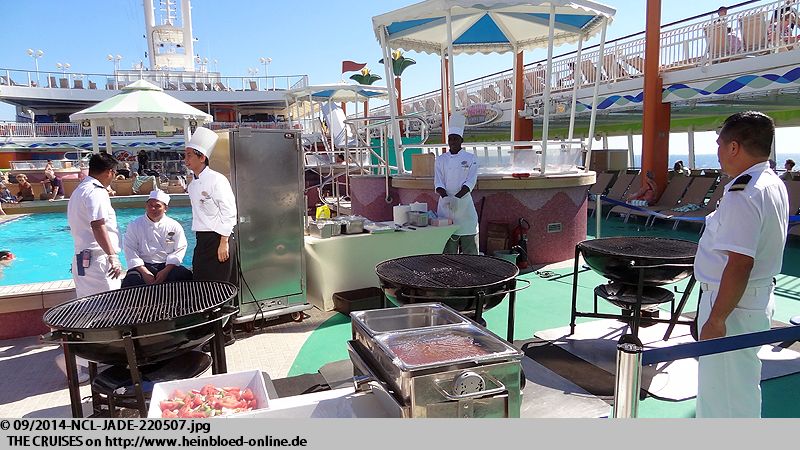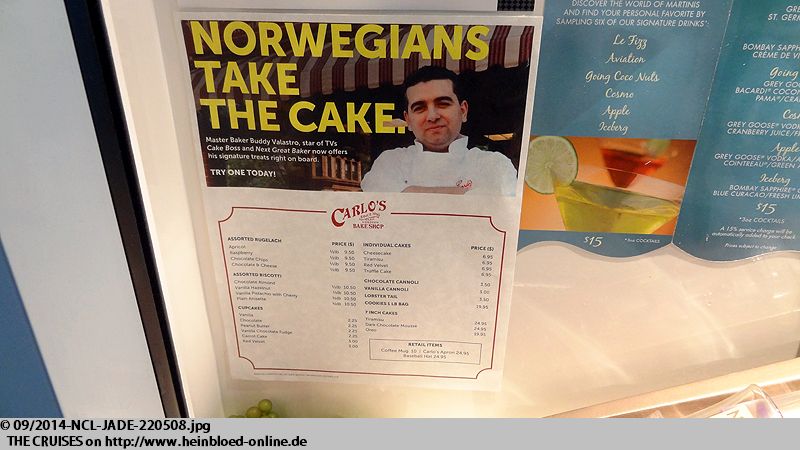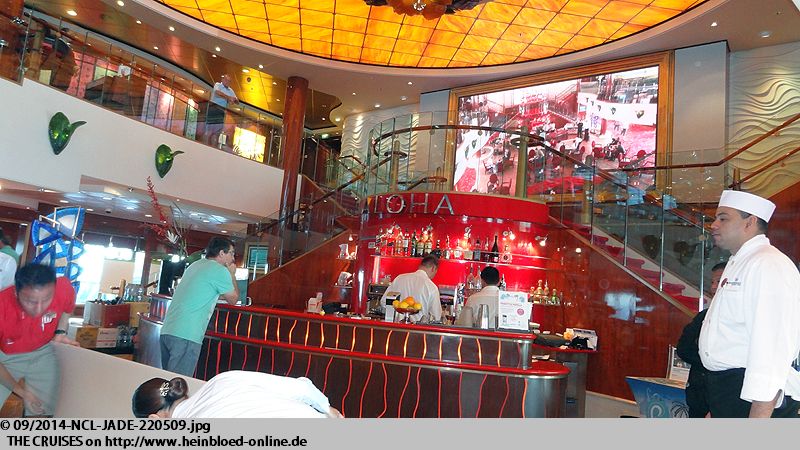 Und an der Aloha Bar wird alles für das Gemüseschnitzen vorbereitet.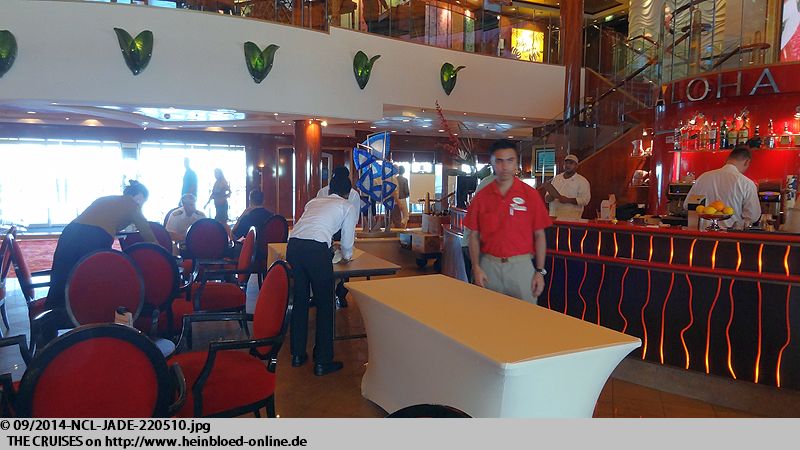 And at the Aloha Bar they prepared all for the vegetable scarving.

Ich gönnen mir aber schnell noch eine Shakerato.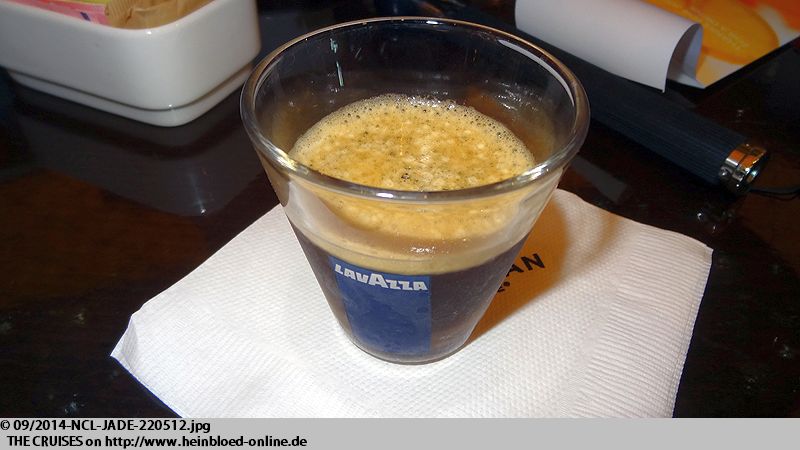 I was pampering myself with a quick Shakerato.

Few more selfies in the morning.

Noch ein paar Selfies am Morgen.
Und dann gehen wir noch schnell in die Kabine. Bruno hatte sich doch ein wenig von der Klimaanlage abgeklebt.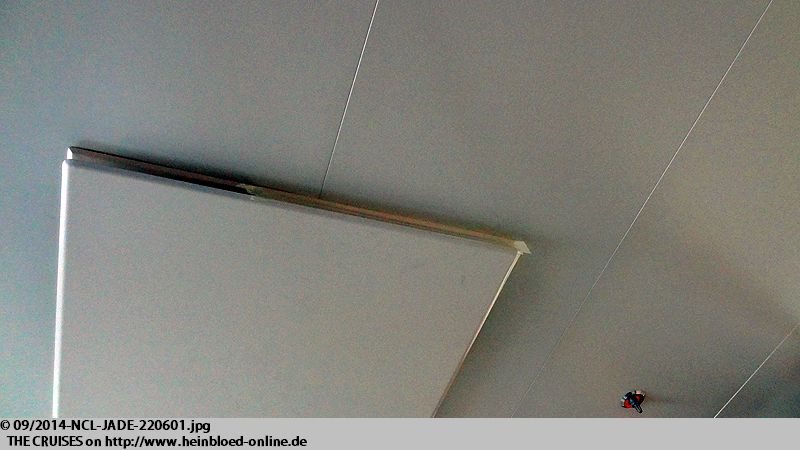 Then we went quickly to our cabin. Bruno taped a part of the air outlet of the air-condition.

We prepared our first laundry bag which we could let them done for free. Meanwhile it was 27.95 USD (2014) for Non-Platinum-Guests.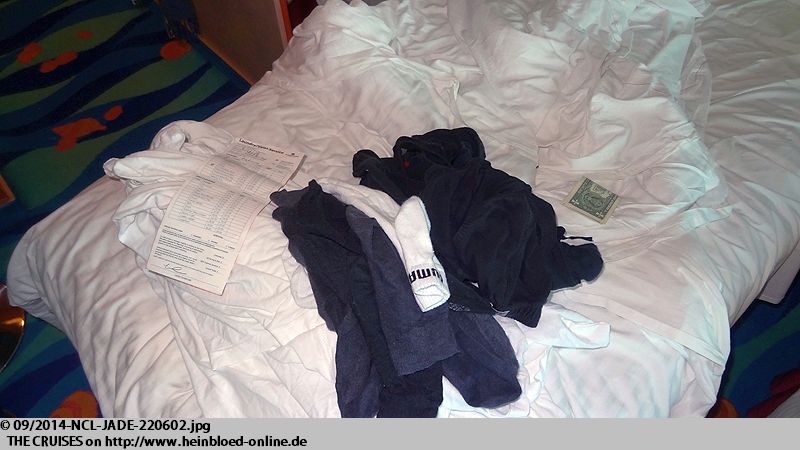 Wir machen unseren ersten Wäschesack fertig, den wir kostenlos abgeben dürfen. Mittlerweile kostet er 27,95 USD (2014) für Nicht-Platinum-Gäste
Wir wollen aber mal sehen, ob sich etwas an der Frühstückskarte im Grand Pacific verändert hat. Da hat sich aber nichts geändert. Es gibt nach wie vor einen freundlichen Service. Wir bekommen Beeren und Roggen-Kümmelbrot und selbstverständlich bekommt Bruno seinen Joghurt nicht in einem Plastikbecher serviert. Nur unsere bevorzugte Teemarke und Stevia haben wir uns selbst mitgebracht.

We wanted to see if the breakfast menu was changed in the Grand Pacific. But we could not notice any changes. You still had a nice friendly service. We got berries and rye-bread with careaway and certainly Bruno did not get his yoghurt from the plastic cup. Only our prefered tea brand and Stevia we took it ourselves to the ship.

Then we went to the cruisecritic.com Meet & Greet which was well organised by Olivia Sturm. Most of the Senior Officer we knew and we will introduce them later during the voyage.

Danach geht es zum
cruisecritic.com Meet & Greet
, das sehr schön von Olivia Sturm organisiert wurde. Die meisten der Senior Offiziere kennen wir und werden sie im Laufe der Fahrt später noch näher vorstellen.
Bevor wir in Dubrovnik anlegen, gehen wir nochmals in das Grand Pacific zum Mittagessen, aber wir bekommen das gleiche Angebot. Später wird uns erklärt, dass das Angebot alle zwei Tage wechselt.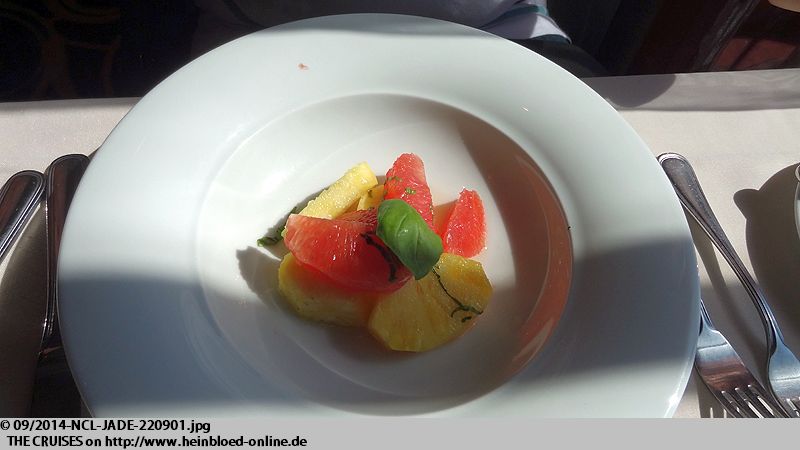 Before we docked in Dubrovnik, Croatia, we went again to Grand Pacific to have lunch. But we got the same offer. Later we were told they change every two days the menu.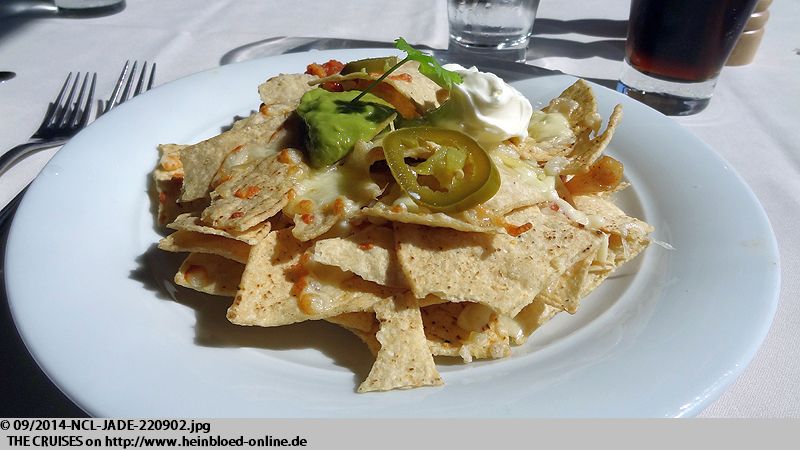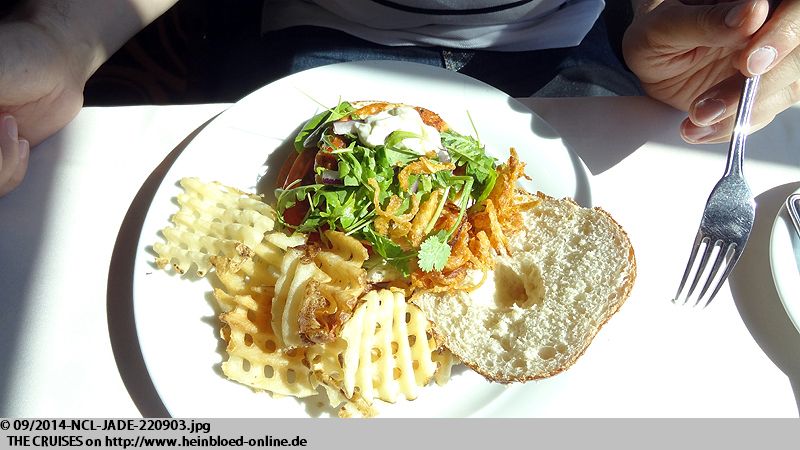 The new offer was well accepted by us. Especially the shrimps were not anymore so solid and mealy but soft and yummy.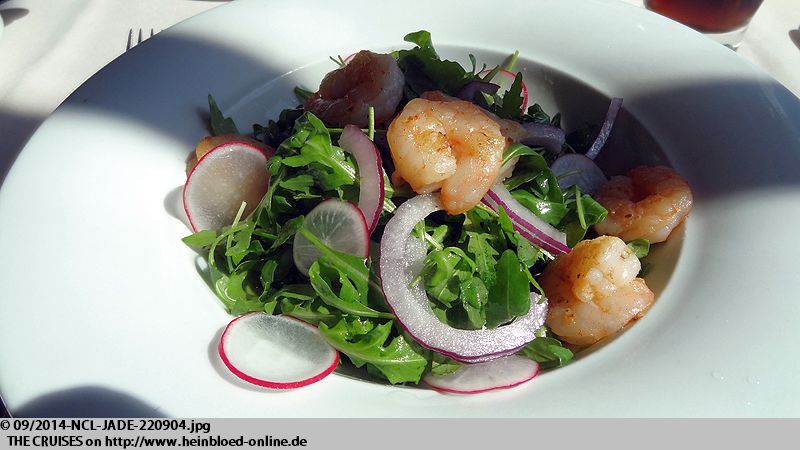 Die neuen Angebote kommen bei uns sehr gut an. Vor allem die Shrimps sind nicht mehr so hart und mehlig, sondern weich und wohlschmeckend.