Nun - theoretisch hätte dieses Kapitel das allerletzte Kapitel bei den Norwegian-Blogs werden können. Manchmal gibt es ja auch ernsthafte Gründe die langjährige Freundschaft zu kündigen. Und unter Freunden muss man auch in der Lage sein, sich sachlich dann auseinander zu setzen und vergeben, verzeihen und eine 2. Chance zu geben. Davon handelt dieses Kapitel. Als wir vom Mittagessen zurückkommen finden wir noch eine Flasche Sekt und ein paar Pralinen, die wir auch sofort weitergeben.

Well - theoretically this chapter should become the very last chapter of the Norwegian-blogs. Sometimes you had serious reasons to quit a long-year friendship. And between good friends it must be able to have a matter-of-fact confrontation and to forgive, to remit and to give a 2nd chance. That is what this chapter is about. When we came back from the lunch we found another bottle of champagne and few chocolate which we also gave away to friends.

The very first time we found that display in our cabin: VIP Package Plus. For 99.95 USD per person we got ABOUT the same ameneties like our friends in their suite. Including breakfast and lunch in Cagney's. Norwegian introduced different nuew programmes like Ultimate Dining so why not also VIP-status against payment. I liked the idea. Depending to the Hotel Director, Concierge, Captain we got such an invitation. Or I had to report myself before in Miami. But I think it is ridiculous to tell in advance that you are coming to get a VIP-treament. I am or I am not. But it was worth for us to pay 99.95 USD (2014). Bruno loved his fresh berries and I loved my steak for breakfast. So I took the display and went to the front desk and learned that this offer was not offered. So I asked why would we got such a display if they did not offer it and then we were told that it was offered. After some squabble they made a big success: I was so upset that I was thinking about to leave the ship immediately and to join NORWEGIAN SPIRIT or SPLENDOUR OF THE SEAS or quit my general friendship with Norwegian.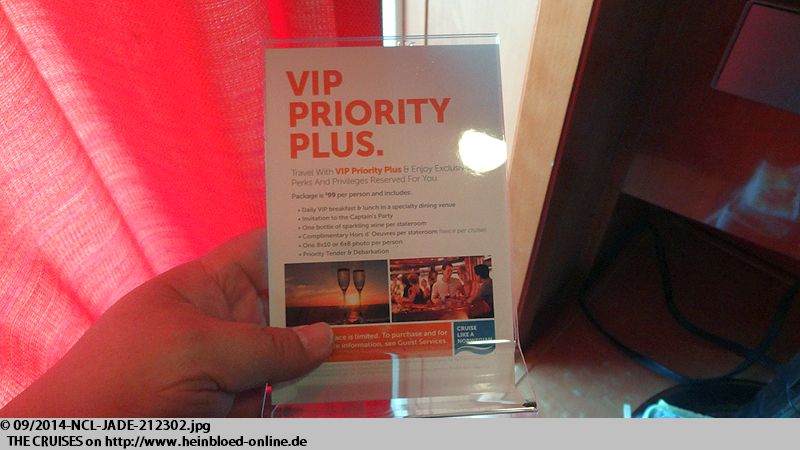 Zum ersten Mal finden wir aber auch diesen Aufsteller bei uns in der Kabine: VIP Package Plus. Für 99,95 USD pro Person, bekommen wir FAST die gleichen Annehmlichkeiten, wie unsere Freunde in Ihrer Suite. Das schließt das Frühstück und Mittagessen im Cagney's mit ein. Norwegian hat in letzter Zeit alle möglichen Programme eingeführt, so auch das Ultimate Dining, warum nicht auch das. VIP-Status gegen Zuzahlung. Finde ich prima. Je nach Hotel Direktor, Concierge, Kapitän bekommen wir auch mal so die Einladung. Oder ich hätte mich in Miami vorher melden müssen. Aber ich finde das lächerlich, vorher Bescheid zu geben, damit ich als VIP behandelt werde. Entweder ich bin es oder ich bin es nicht. Aber 99,95 USD (2014) ist uns die Sache schon Wert. Bruno will seine frischen Beeren haben und ich möchte mein Steak zum Frühstück. So nehme ich den Aufsteller und laufe damit sofort zur Rezeption und erfahre, dass das Angebot gar nicht angeboten wird. Also frage ich nach, warum man eigentlich so einen Aufsteller bekommt, wenn es gar nicht angeboten wird und dann hieß es, dass es doch angeboten wird. Es gibt dann einiges Geplänkel mit dem Erfolg, dass ich so sauer geworden bin, dass ich mir überlege, das Schiff sofort zu verlassen und entweder mit der NORWEGIAN SPIRIT oder SPLENDOUR OF THE SEAS oder Norwegian die Freundschaft ganz zu kündigen.
Ein paar unerfreuliche Worte und eine böse E-Mail-Korrespondenz folgten. Am Schluss war es aber so, dass man
unüberhorbar
sagte, dass man sich für den Vorfall entschuldigt und auf jeden Fall gerne möchte, dass wir Freunde von Norwegian bleiben. Da alles sehr aufrichtig klang, bleiben wir Freunde von Norwegian und nutzen das Angebot.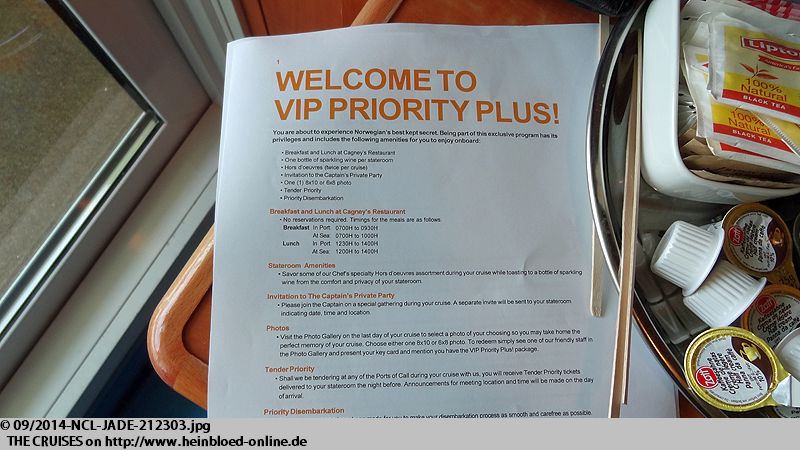 Few more unfriendly words and few angry e-mails followed. Finally they apologized in a very UNMISTAKABLY way that they were sorry for the incident and would really appreciated if we would stay friends of Norwegian. As it sounded for me very sincerely we stayed friends with Norwegian and used the offer.

Later we got the confirmation.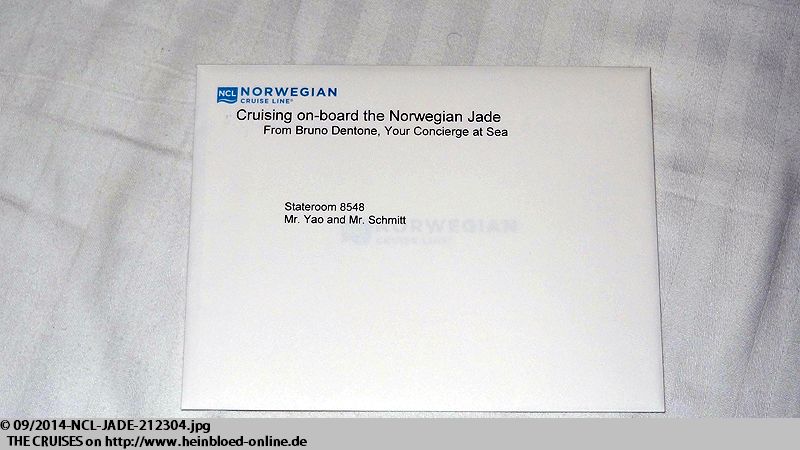 Später bekommen wir die Bestätigung.
Der Disput ist dadurch gekommen, dass der Aufsteller für Gäste in Mini-Suiten bestimmt ist und wir nicht in einer Mini-Suite untergebracht waren. Dort hatten wir ihn auf der
NORWEGIAN JADE 2014 (1)
aber auch noch nie zuvor gesehen. Und warum stellt man uns am Abend schon wieder einen Aufsteller hin, wenn es nicht für uns bestimmt ist bzw. für die Fahrt angeboten wird. - Und weil wir weiterhin Freunde von Norwegian bleiben, geht der Blog auch weiter.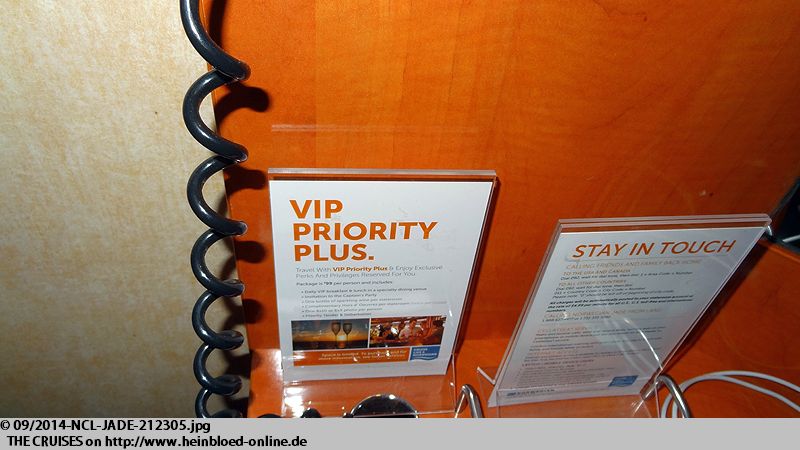 The dispute came because the display was for guests of Mini-Suites but we were not accomodated in a Mini-Suite. There we had not seen in either on NORWEGIAN JADE 2014 (1) before. So why did we get again in the evening such a display if it was not for us or available for that sialing. - And because we stay friends with Norwegian, the blog will be continued.