So langsam erreichen wir Dubrovnik. COSTA FASCINOSA macht anscheinend Platz für uns und fährt bereits wieder ab.

Slowly we arrived in Dubrovnik. COSTA FASCINOSA vacate space for us and already were leaving.

Ahead of us SPLENDOUR OF THE SEAS made it and berthed already.

Und vor uns hat bereits die SPLENDOUR OF THE SEAS angelegt.
So schade, dass wir nicht mehr tendern.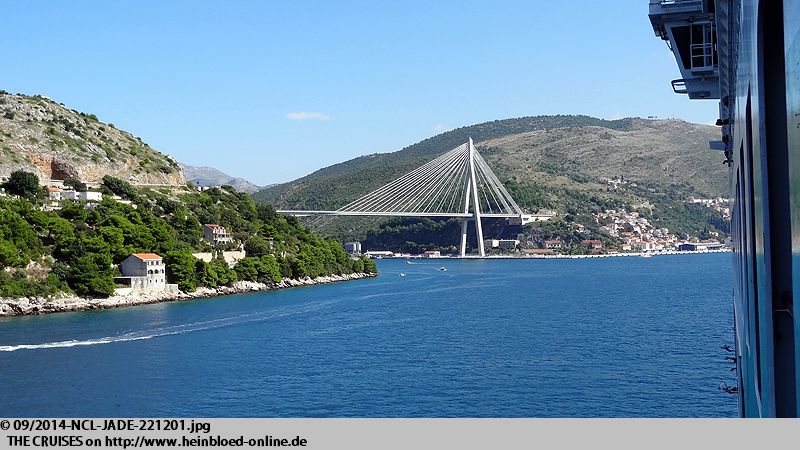 So sad that we did not tender anymore.

Directly into the old town was just great.

Direkt in die Altstadt war schon toll.
Normalerweise tendert noch Costa, aber anscheinend machen sie es wohl auch nicht mehr.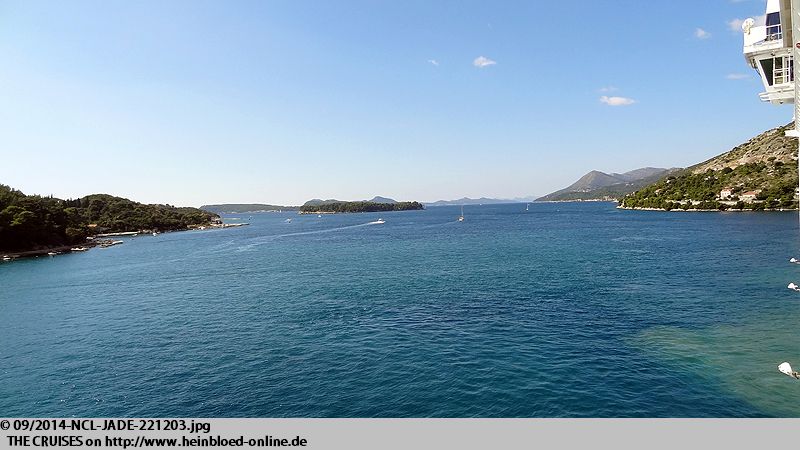 ie

Normally Costa did tendering before but obviously they did not do it anymore either.

Someone made some efforts to consider how to simplify the debarkation off the ship. They had no liftboys but a very good guideway i.e. they seperated the traffic flow.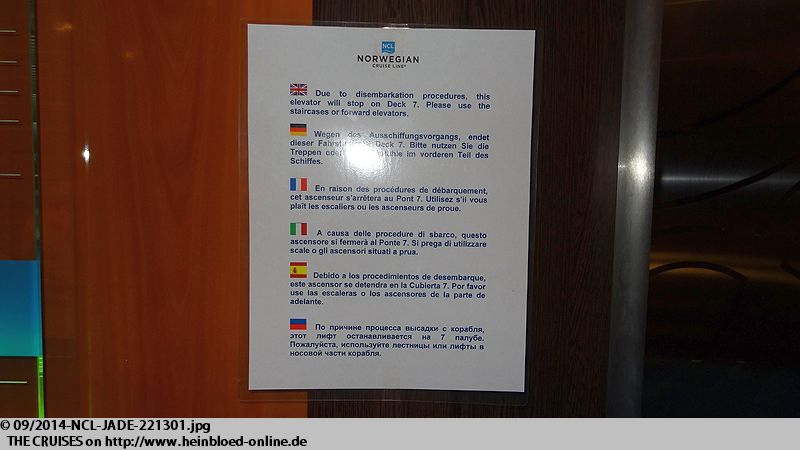 Jemand hat sich Gedanken gemacht, wie man die einfacher das Verlassen des Schiffes gestalten kann. Es gab zwar keine Liftboys aber eine sehr gute Wegführung, d. h. die Verkehrsströme wurden getrennt.
Bestimmte Lifte fuhren nicht mehr alle Decks ab.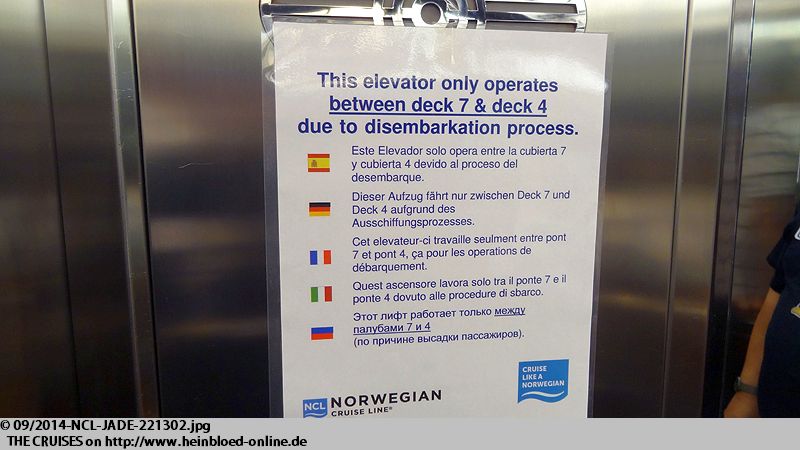 Few lifts did not stop anymore on all decks.

While guests with booked excursion should head on to the theatre individual guests should exit down here.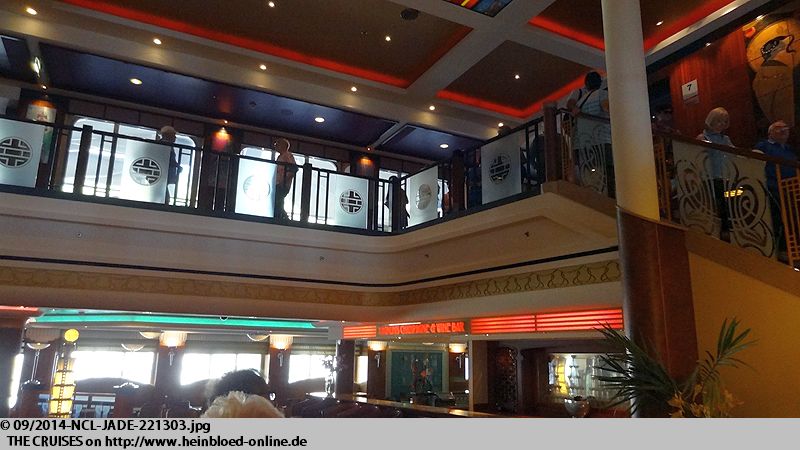 Während Gäste mit gebuchten Ausflügen gerade aus weiter zum Theater laufen sollten, sollten Individualgäste hier runter.
Ein Problem wurde super gelöst: man konnte nicht von mehreren Richtungen aus auf die gleiche Treppe zulaufen und einen Stau verursachen.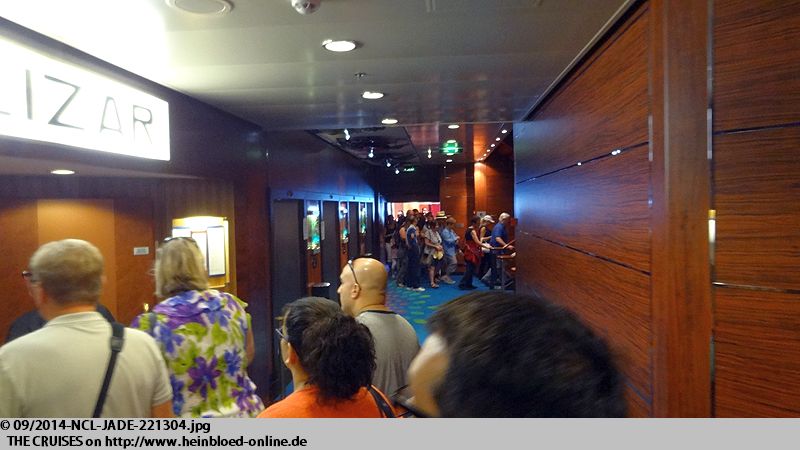 One problem was solved very well: you could not join a starway from different directions and occured a congestion.

No chance to get lost because they set up artificial ways by barriers and extensions.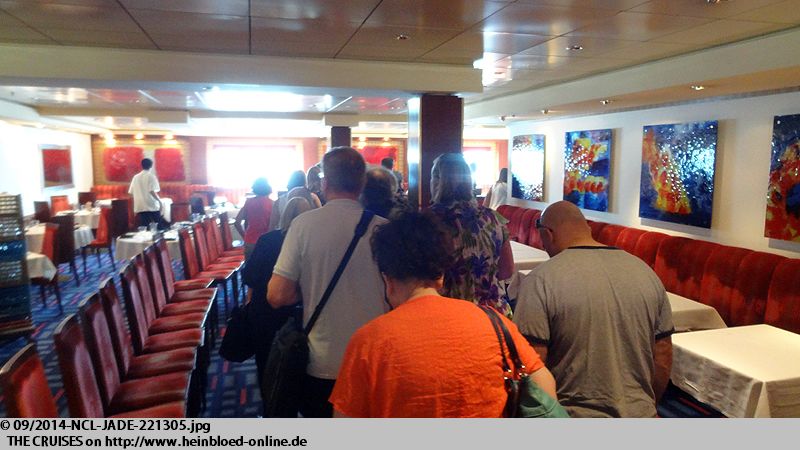 Man konnte sich nicht verlaufen, weil künstlich die Wege abgegrenzt und verlängert wurden.
Wir bleiben ja recht lange hier. So kann ich doch noch an Land endlich meinen Grillteller essen, den mir die Sicherheitsleute auf der
NORWEGIAN JADE 2011 (2)
abgejagt hatten.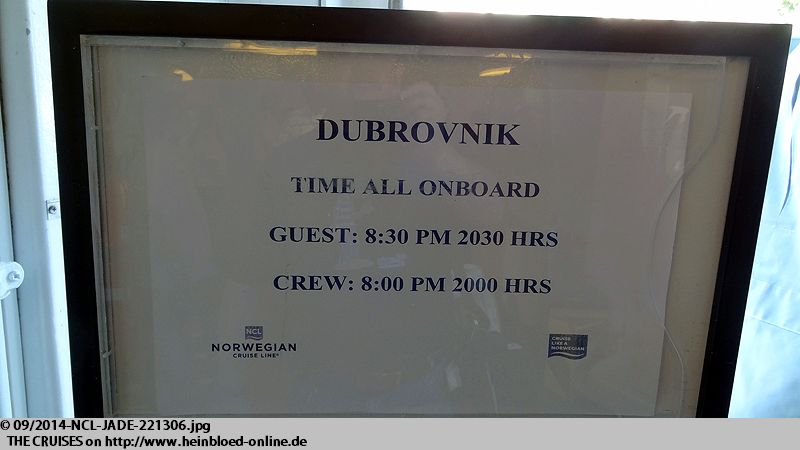 We stayed there for a longer call. So I could have my mixed grill which the security guys confiscicated on NORWEGIAN JADE 2011 (2).

The poor ones who booked a shuttle with NCL... With two it was anyhow cheaper to take a taxi if you were more than two to get to the old town.
Unfortunately Dario did not showed up whom we knew from NORWEGIAN JADE 2011 (2) to take around the others and could not get him on this phone. As they were a party of five they need to have a mini-bus. But we found someone else who would give them a lift back to the ship.

Die armen, die einen Shuttle mit NCL gebucht haben... Zu zweit ist auf jeden Fall es billiger sich ein Taxi in die Altstadt zu nehmen. Leider ist Dario für die anderen nicht aufgetaucht und war leider telefonisch nicht erreichbar. Da sie zu fünft waren, brauchten wir einen Mini-Bus. Aber es war noch jemand da, der sie auch später wieder Schiff absetzen wollte.
Bis zur Altstadt sind es 3 km zum Laufen. Ansonsten gibt es auch einen öffentlichen Bus zur Altstadt.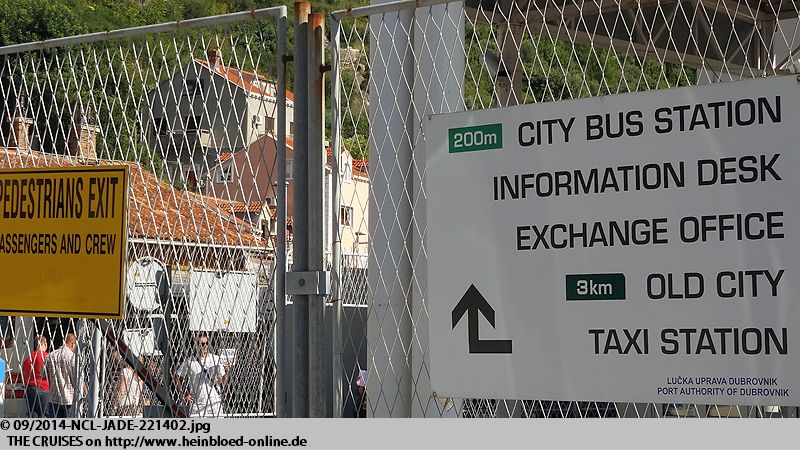 It was about 1 2/3 miles to walk to walk. Apart of this you can also take a public bus to the old town.

We ordered a car rental and need to get infront of the gate to collect.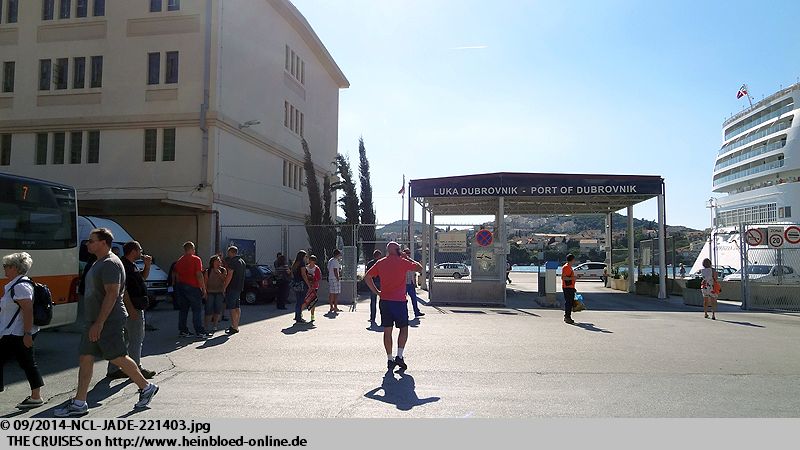 Wir hatten einen Mietwagen bestellt und mussten vor das Tor, um ihn abzuholen.
Wir mussten uns diese Straße merken, damit wir später hierher zurückfinden.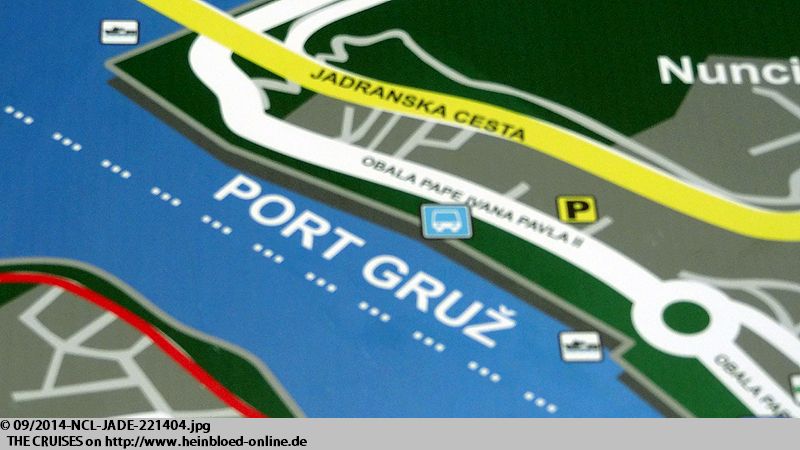 We need to remember that street to find back to this place.

No need to make any purchases while we were on our ways because they had later so many stands here.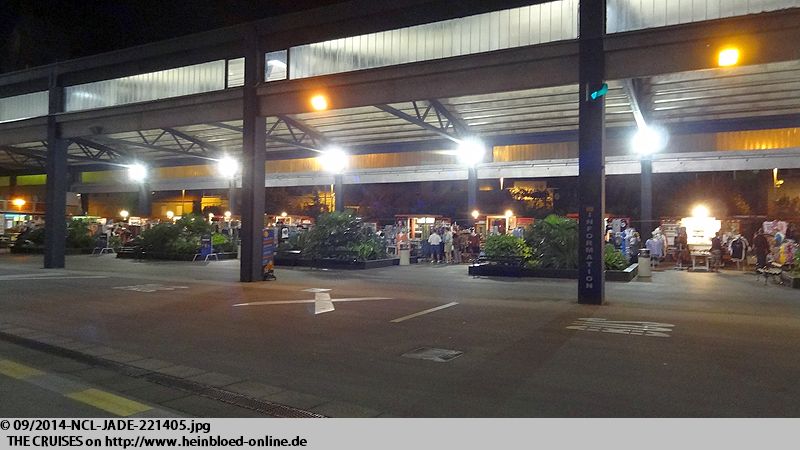 Unterwegs einkaufen brauchten wir gar nicht, weil später hier viele Stände aufgebaut waren.
Unseren Mietwagen für Bruno und mich hatten wir bei
Nova Rent
gebucht.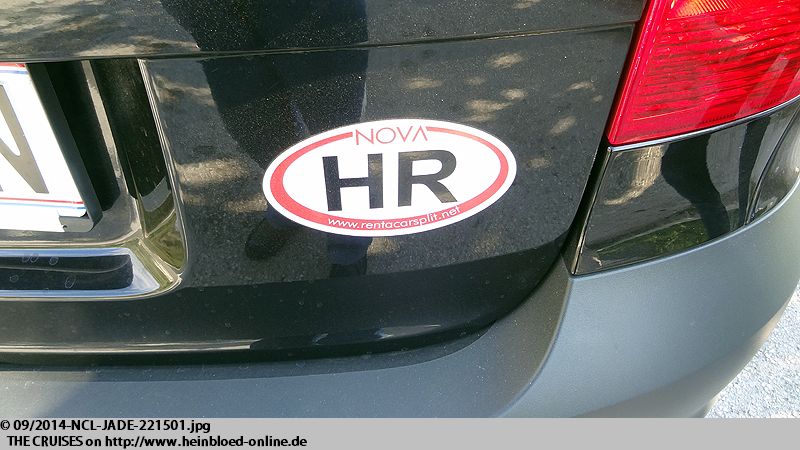 We booked our car for Bruno and me with Nova Rent.

Very liable: they called few hours earlier to check how to arrange the delivery.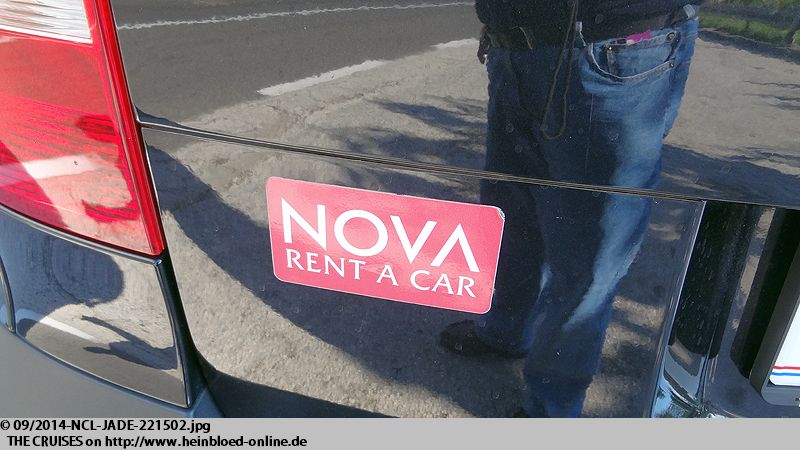 Sehr zuverlässig: riefen bereits mehrere Stunden vorher an, um die Übergabe abzustimmen.
Schön, dass es einen Skoda Yeti gab. Nervig: man bekommt keinen vollen Tank und muss daher rechnen. Da ich aber selbst einen Yeti fahre, kenne ich in etwa den Verbrauch. Wir wollten ursprünglich nach Kotor in Montenegro fahren. Da sind nur 1 1/4 Stunde, aber man machte uns darauf aufmerksam, dass die Grenzabfertigung auch schon 1-2 Stunden dauert, da wir eine EU-Außengrenze passieren. Also heben wir uns Kotor für eine weitere Kreuzfahrt auf.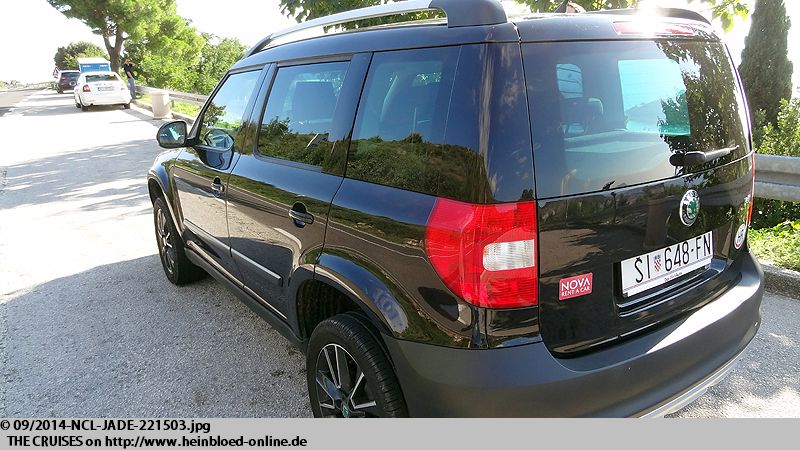 Nice to get a Skoda Yeti. Annoying: you did not full gas and had to calculate. As I was driving by myself a Yeti I knew quite well the fuel usage. We orginally wanted to go to Kotor in Montenegro. It was only about 1 1/4 hour-drive but we were told that the border checks were sometimes 1-2 hours as we would pass an EU-exterior border. So we saved Kotor for another cruise.

As we had great weather our first way took us to the Tudjman-Bridge to take pictures of MY NORWEGIAN JADE.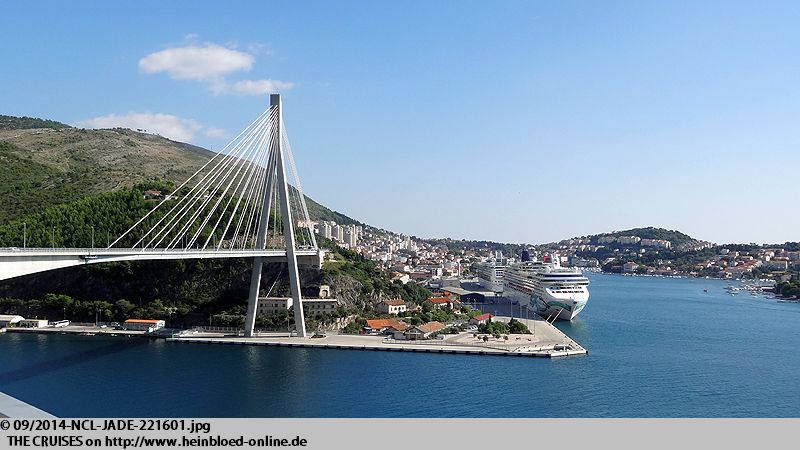 Bei dem tollen Wetter führt uns der 1. Weg natürlich hoch zur Tudjman-Brücke, um Bilder von
MEINER
NORWEGIAN JADE zu machen.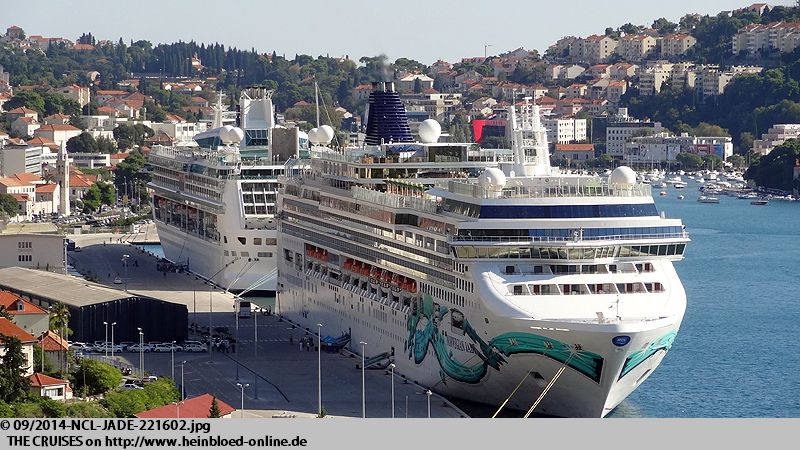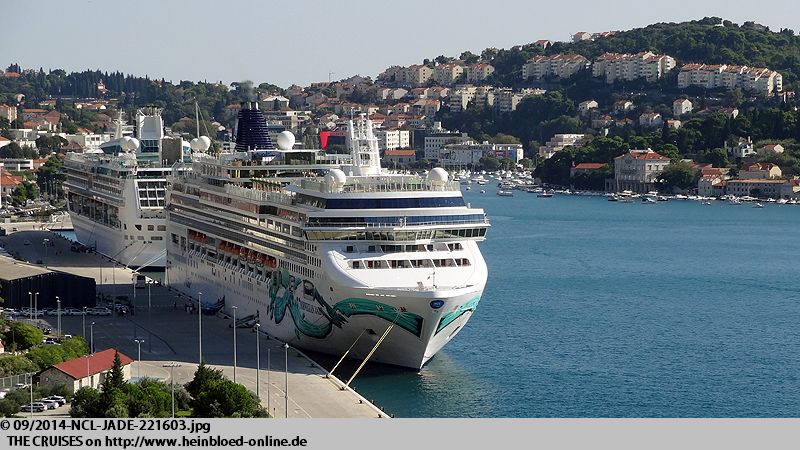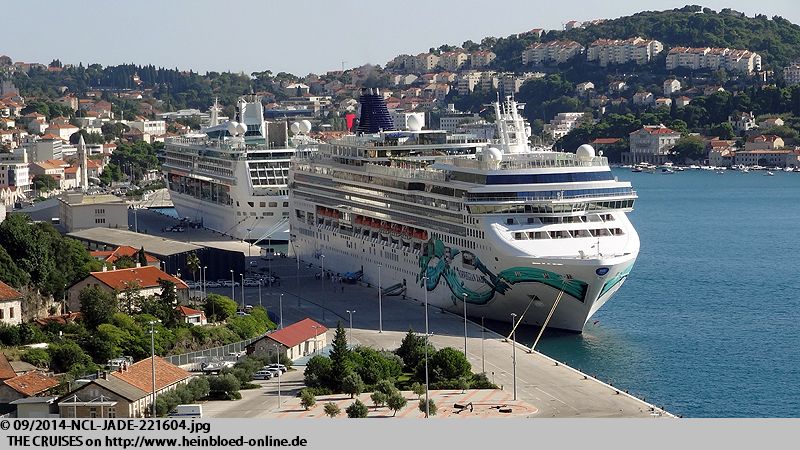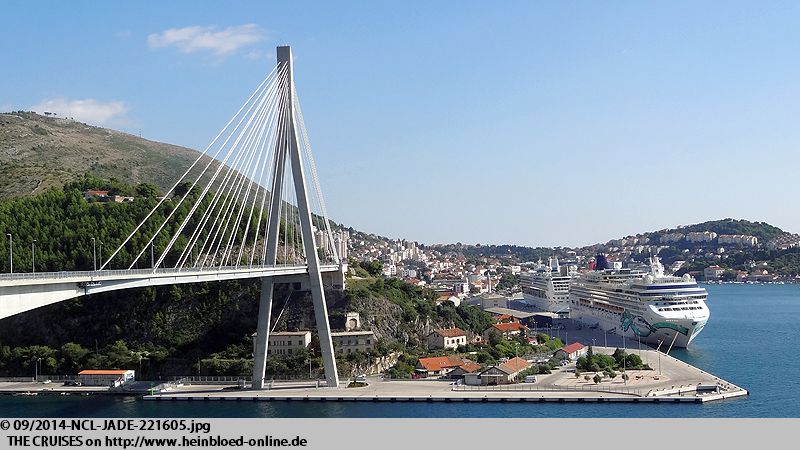 Natürlich brauchen wir auch ein paar Bilder mit uns und
MEINER
NORWEGIAN JADE.

Certainly we need also some pictures with and MY NORWEGIAN JADE.

Another ship was anchoring on the old town side: MINERVA.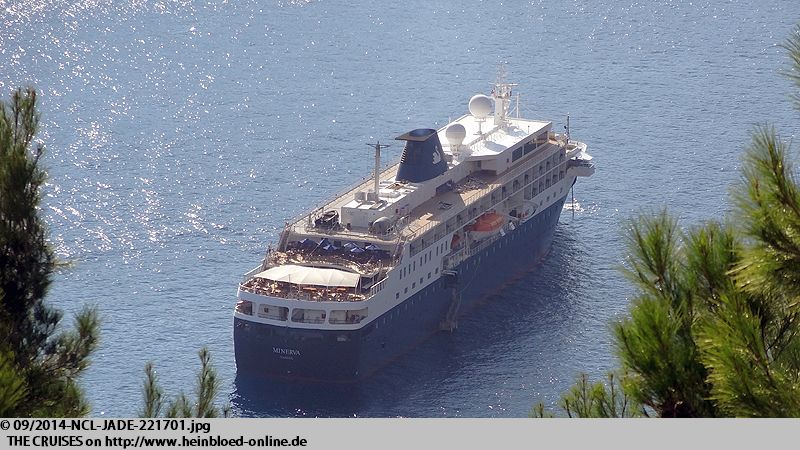 Ein weiteres Schiff liegt dieses Mal auf der Altstadt-Seite: MINERVA.
Manche kennen sie noch besser als ALEXANDER VON HUMBOLDT.

Few in the German market might remember her as ALEXANDER VON HUMBOLDT.

Here we also need some pictures with us in front of Dubrovnik.

Auch hier brauchen wir ein paar Bilder mit uns vor Dubrovnik.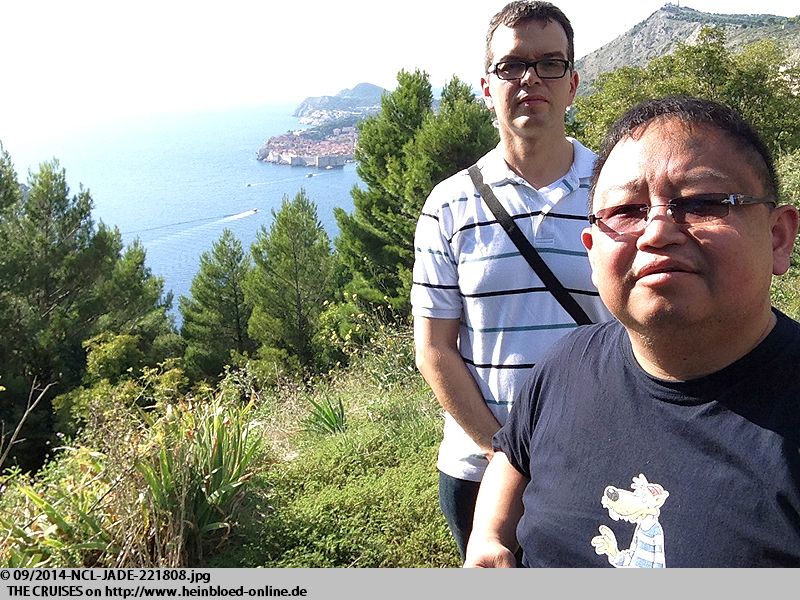 20 km südöstlich von Dubrovnik liegt der Ort Cavtat. Dort sind wir hingefahren. War nett. Die meisten Busse waren schon wieder weg, aber von NCL kamen ein paar Busse noch hinzu.

12 miles South East of Dubrovnik you had the place Cavtak. We went there. Was nice. Most buses were already gone but only few from NCL came.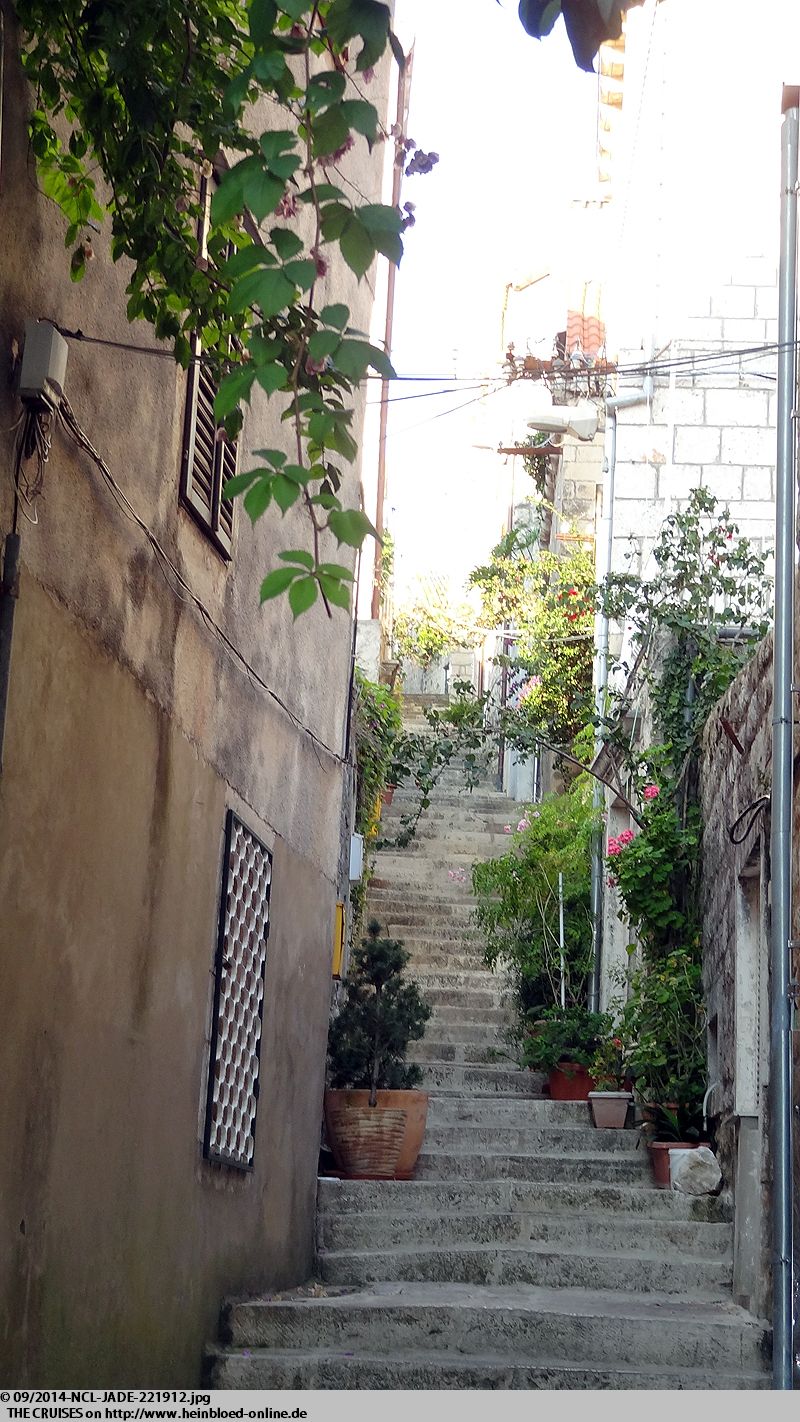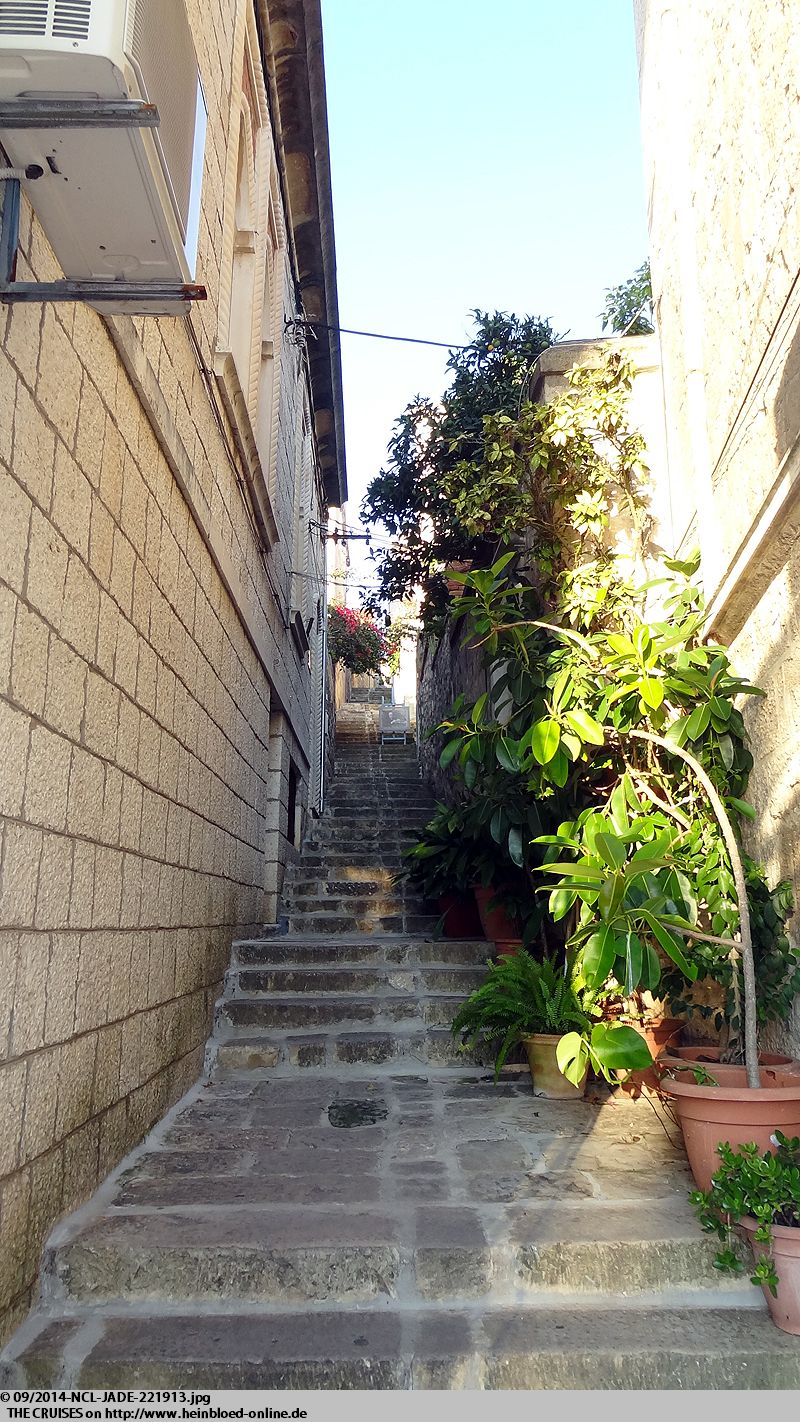 Normally the tourist office should be the figurehead of a place. We had unluck. We caught someone which was not very familiar and only explained we need to follow the way and there would not be too much to see. She could not give any restaurant recommendation as she was not from there. She had no idea what Rasnicij (meat skewer) was. That would be only available in Bosnia.

Normalerweise sollten ja Touristenbüros die Aushängeschilder der Orte sein. Wir haben Pech: wir haben eine, die sich nicht besonders gut auskennt und uns erklärt, dass wir immer nur den Weg lang müssen und dass es nicht viel zu sehen gibt. Eine Restaurant-Empfehlung kann sie auch nicht geben, weil sie nicht von hier ist. Rasnicij kennt sie nicht. Das gäbe es nur in Bosnien.
So gehen wir zunächst einmal in ein Café, das durch eine tolle Barista-Maschine auffiel. Das Personal dürfte mit der vom Touristenbüro verwandt sein und ich vermute mal, dass auch sie hier ihren Jugendarrest absitzen müssen.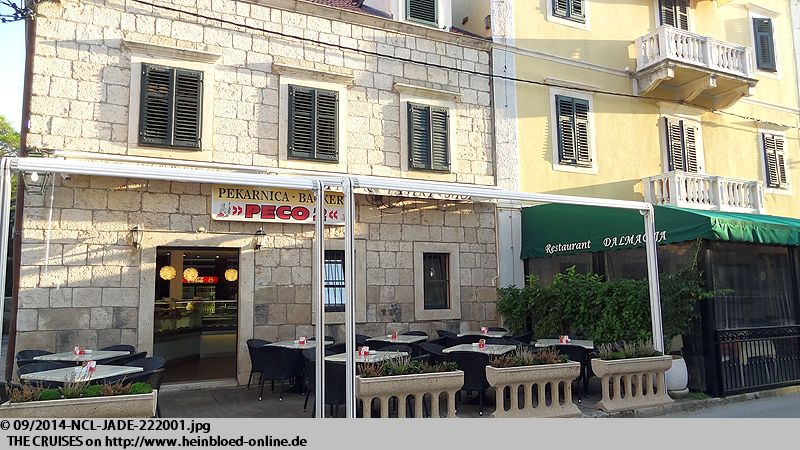 So we went first to a coffee which attracted our attention due to a Barista-coffee machine. The staff members might be related to those in the tourist office and I assumed that they must be juvenile prisoners who had to work there.

The staff looked at least great.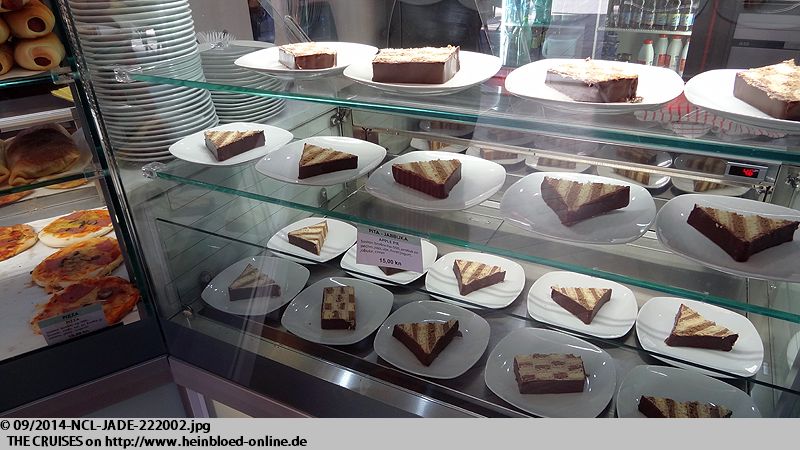 Die Sachen sahen schon mal gut aus.
Aber sie sahen nur gut aus.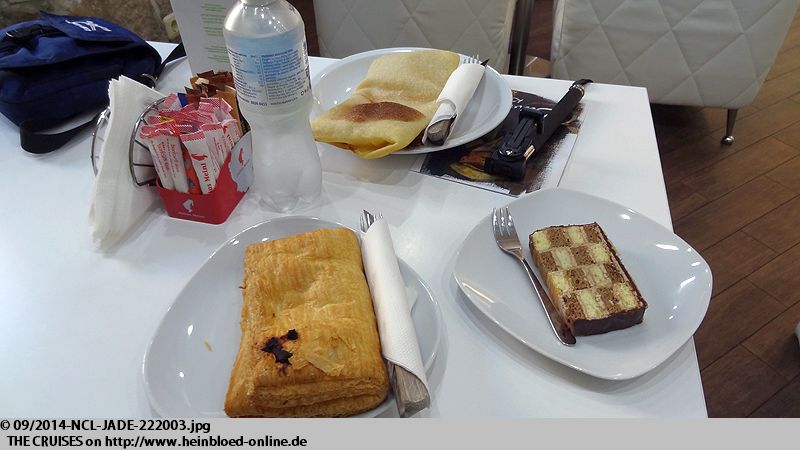 But they only looked good.

At least the cappucino looked good as well and it tasted very good.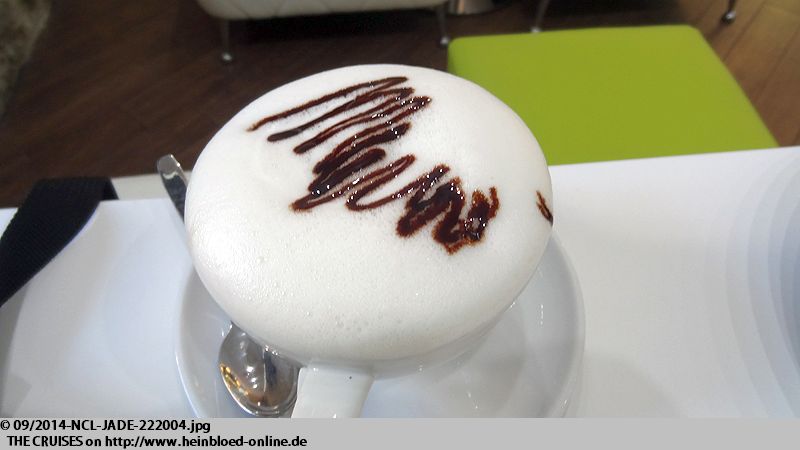 Wenigstens sah der Cappucino auch gut aus und er schmeckte auch.
Wir ziehen ein wenig weiter: Konoba Cavtat.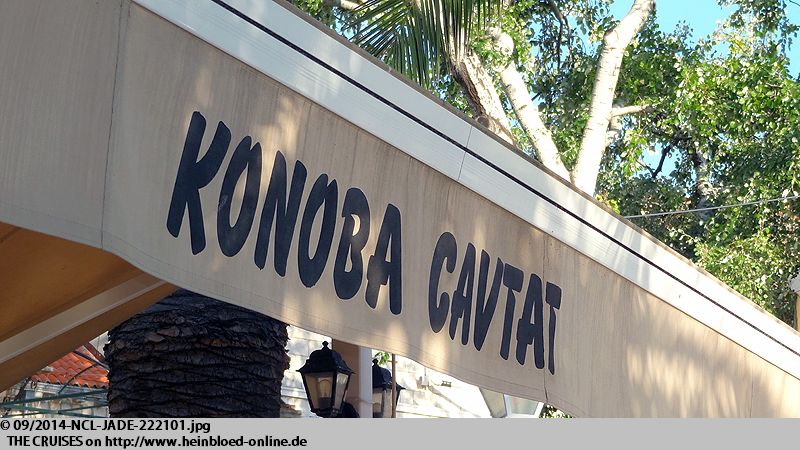 We headed a little furhter: Konoba Cavtat.

Also something nice: a fresh-squeezed lemonade.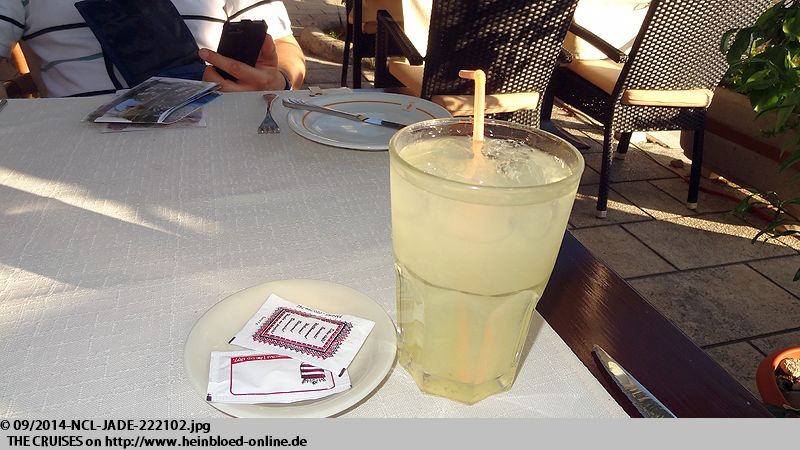 Auch etwas nettes: eine frisch-ausgespresste-Zitronenlimonade.

Bruno was happy with his salad.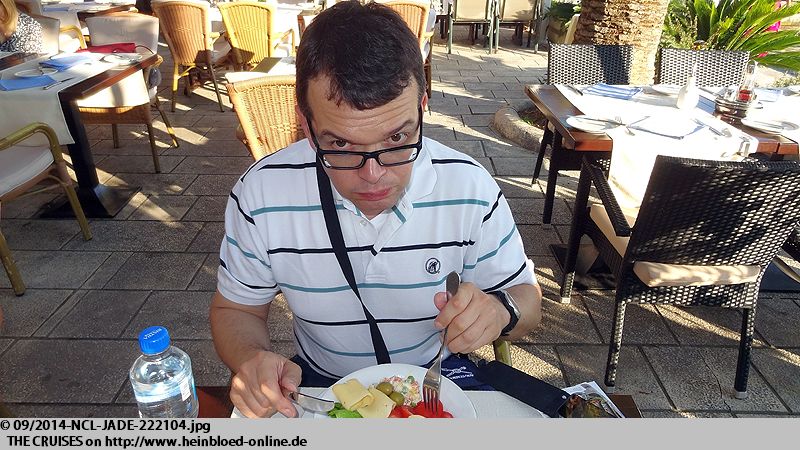 Bruno freut sich über seinen Salat.
Und ich freue mich über mein Rasnicij.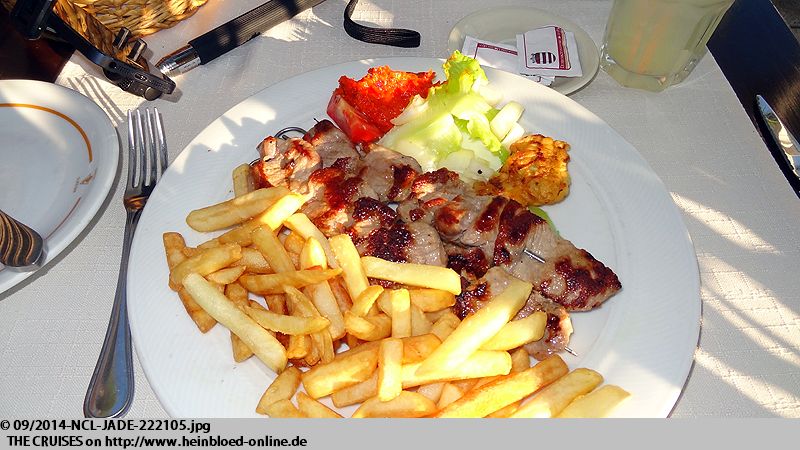 And I was happy with my Rasnicij.

It was very nice here. You sit very nicely under the trees just at the promenade. You got complimentary WiFi.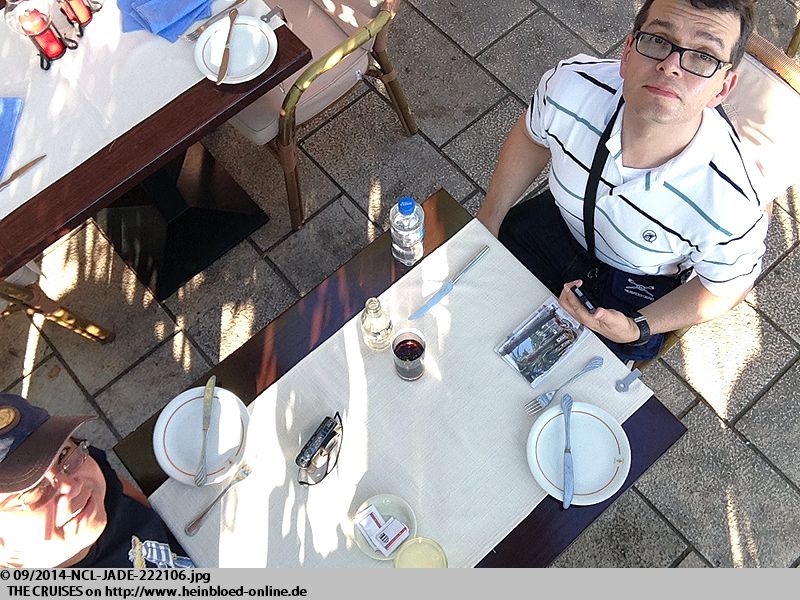 Ist wirklich nett hier. Man sitzt so schön unter den Bäumen, direkt an der Promenade. Man bekommt kostenlos WLAN.
Und ich musste nicht extra nach Bosnien fahren.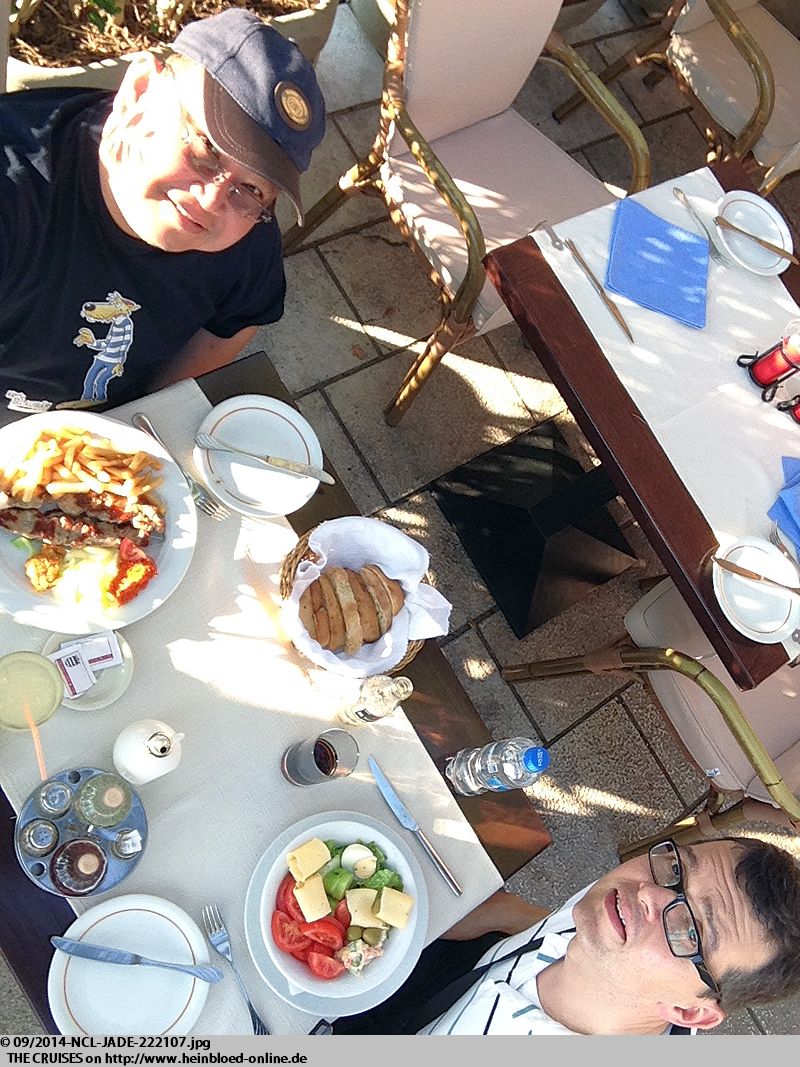 And no need to drive extra to Bosnia.

I was fully satisfied.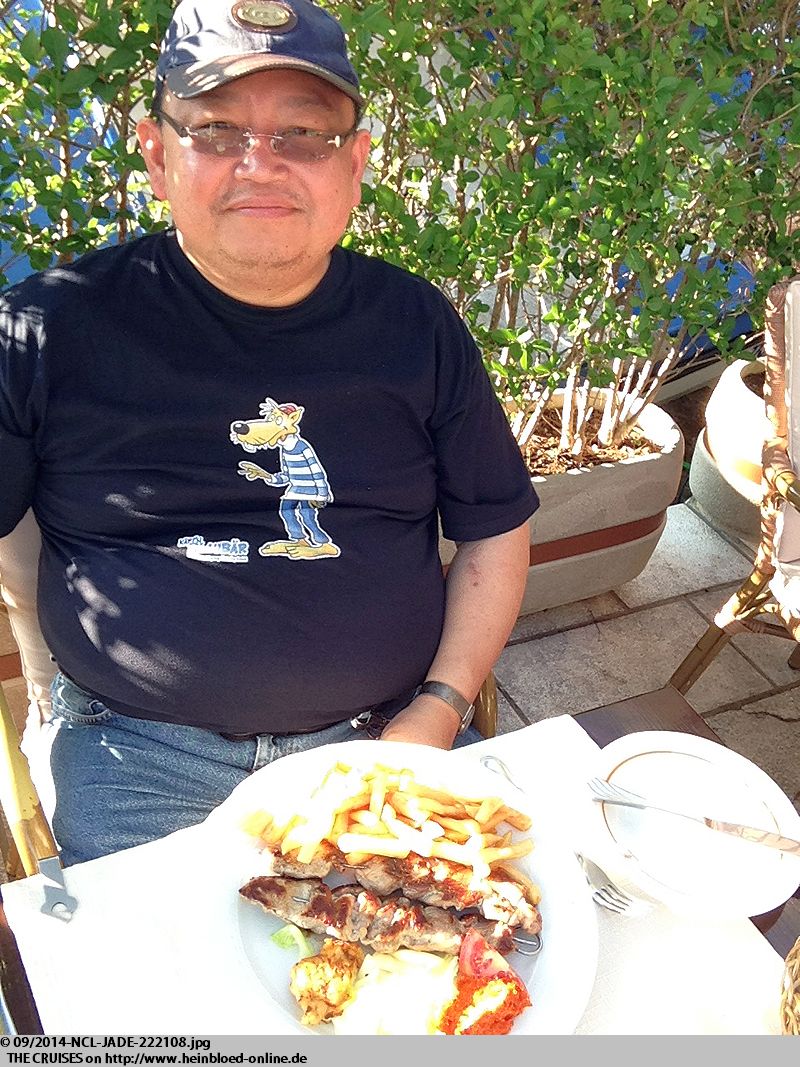 Ich war rundum zufrieden.
Wir fahren schnell zurück und erleben die Ausfahrt der SPLENDOUR OF THE SEAS.

We drove quickly back and could see the set sail of SPLENDOUR OF THE SEAS.

A car, plenty of time until set sail meant that we had to go to the other part of the port. As I only me was registered as driver Bruno had to give his blood for the moskitos to make those pictures. The return of the car worked very well. I called them before and used the time to take more pictures of MY NORWEGIAN JADE at the pier.

Ein Auto, viel Zeit bis zur Abfahrt bedeutet, dass wir noch zur anderen Seite des Hafens fahren. Da nur ich als Fahrer eingetragen war, musste Bruno sein Blut für die Mücken opfern, um diese Bilder zu machen. Die Rücknahme des Autos klappt auch sehr gut. Ich hatte angerufen und die Zwischenzeit genutzt, um Bilder am Pier von
MEINER
NORWEGIAN JADE zu machen.
Noch ein paar Selfies von
MEINER
NORWEGIAN JADE und mir.

Few more selfies of MY NORWEGIAN JADE and me.

We went to have some sushi for dinner. We would like to have something light and so we could easily enjoy the hospitality of Mahmut who was working there.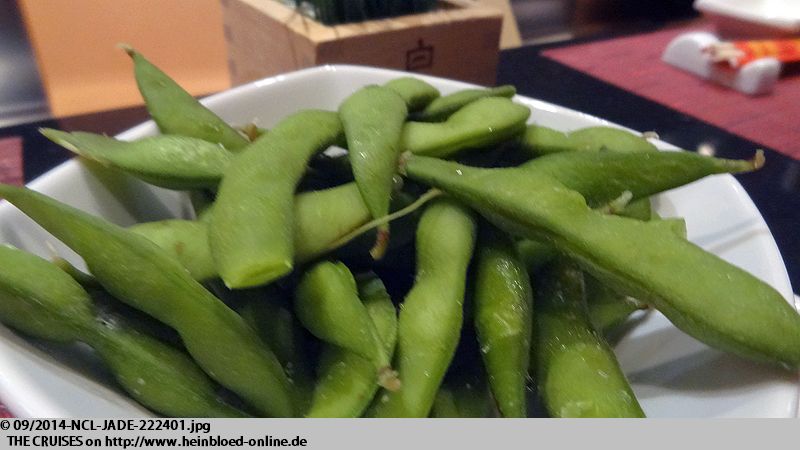 Wir sind Sushi essen gegangen. Uns war der Sinn nach etwas leichtem und so konnten wir einfach die Gastfreundschaft von Mahmut genießen, der dort eingesetzt war.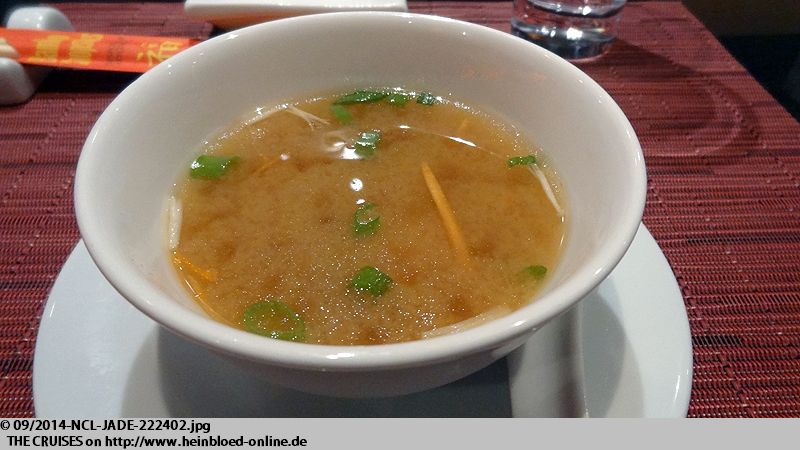 Mahmut suggested not to order anything from the menu and let the sushi-cooks creating something for us. You see: we asked for a "small bite".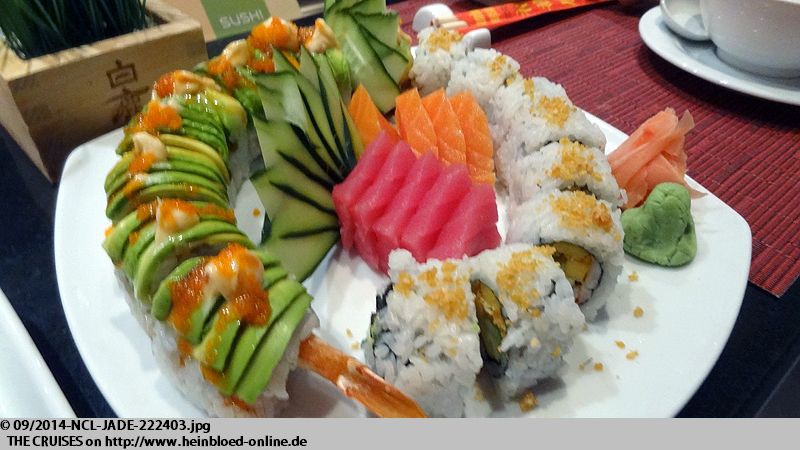 Mahmut hatte uns vorgeschlagen nichts von der Karte zu bestellen, sondern einfach den Sushi-Koch etwas für uns kreieren zu lassen. Soviel zum Thema: eine "Kleinigkeit".
Am Schluss freue mich mich, dass es dach Frucht-Sashimi noch gibt.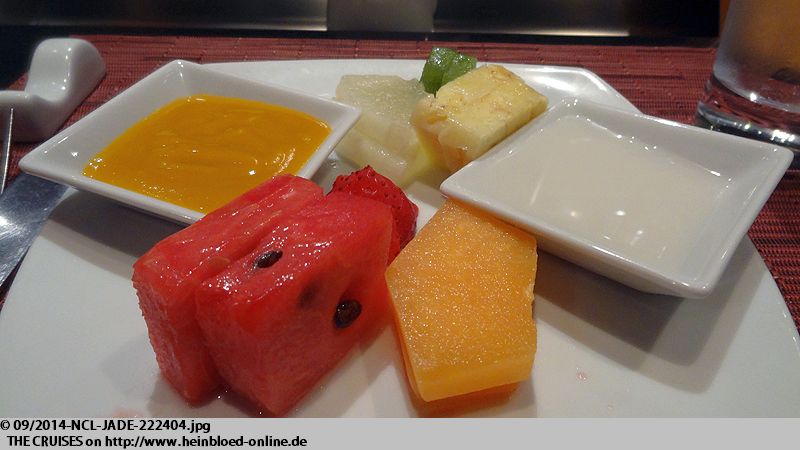 At the end I was happy that they still had the fruit sashimi.

Our two wonderful sushi-cooks: Angelo dela Cruz and Rex Alfonso.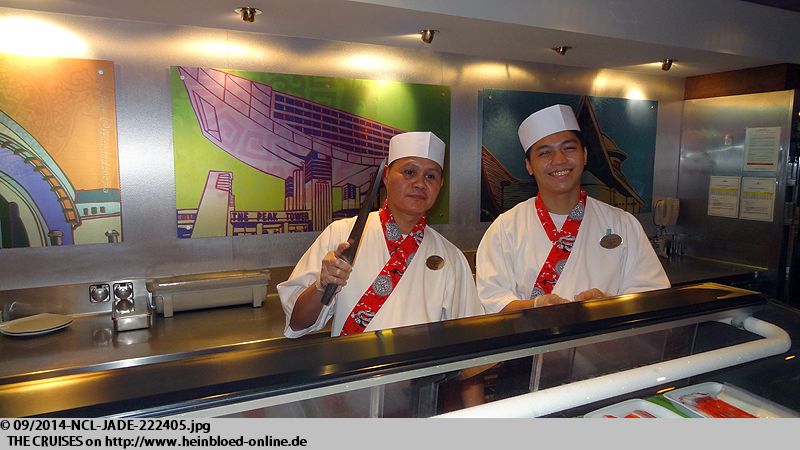 Unsere zwei tollen Sushi-Köche: Angelo dela Cruz und Rex Alfonso.

We were happy and satisfied.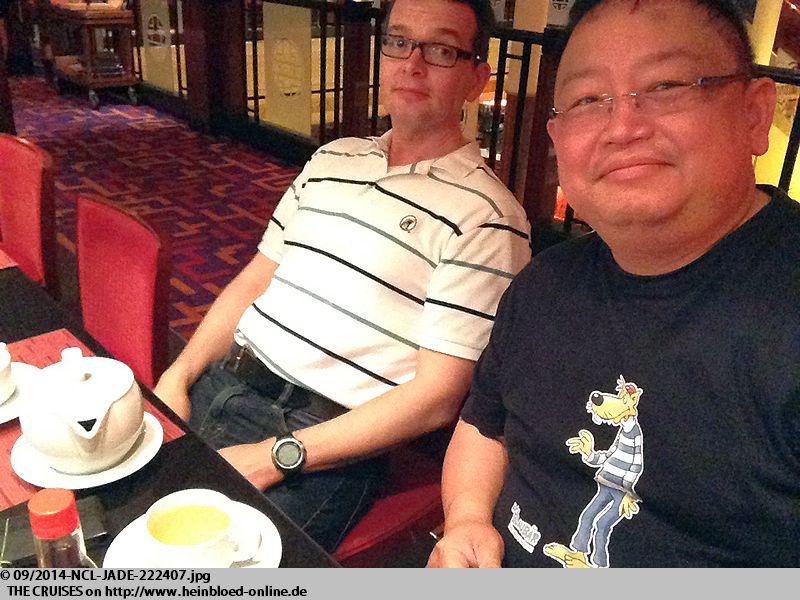 Wir sind glücklich und zufrieden.
Auf "Shout" haben wir daher verzichtet (Kennen wir schon:
NORWEGIAN SUN 2012
und
NORWEGIAN JADE 2014 (1)
) und um es vorweg zu sagen: wir haben alle Shows verpasst.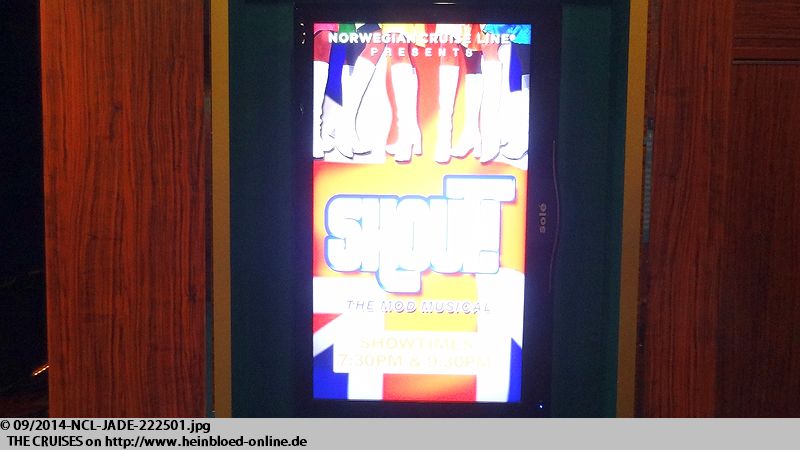 We waived seeing "Shout" (We saw it already on NORWEGIAN SUN 2012 and NORWEGIAN JADE 2014 (1) and to say it before: we missed all shows.

Let us come to the crew-selfies: Aydin Sönmecozak. Whe had this time again unluck: again a table next to his station. Very sad. We had him in such good memories for so many cruises. Recently on NORWEGIAN JADE 2014 (1).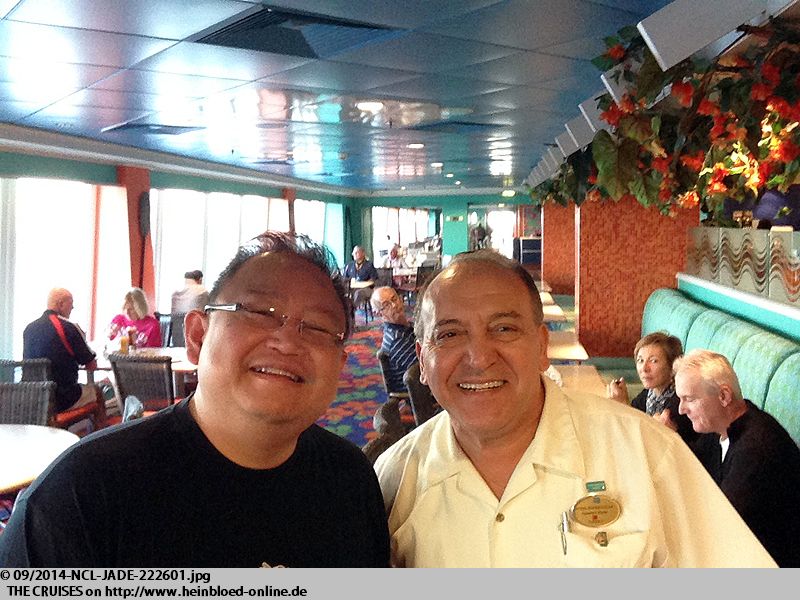 Kommen wir nun zu den Crew-Selfies: Aydin Sönmecozak. Wir haben dieses Mal wieder Pech: wir haben immer die Tische neben seiner Station bekommen. Sehr schade. Und ihn haben wir schon von vielen Fahrten in guter Erinnerung. Zuletzt auf der
NORWEGIAN JADE 2014 (1)
.
Dave Austin Smith ist wohl normalerweise auf Great Stirrup Cay und war hier im Garden Café im Einsatz. Er hat mir mein Congee besorgt.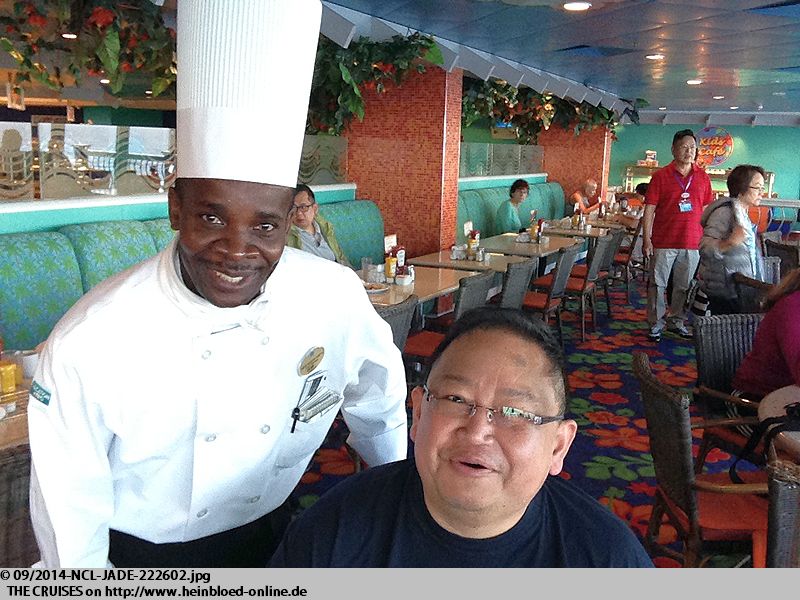 Dave Austin Smith was normally on Great Stirrup Cay but here on duty in Garden Café. He got me my congee.

Unfortunately I had no idea what were the names of the guys. They observed me taking pictures.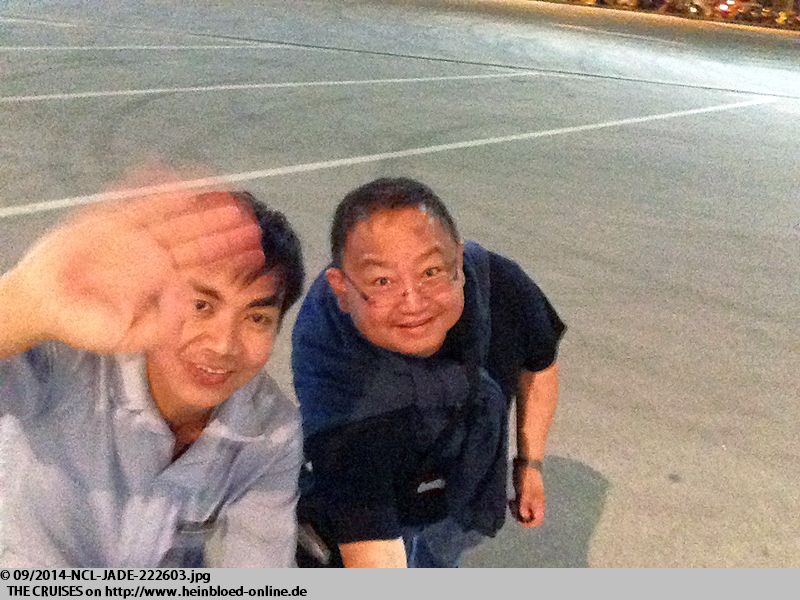 Leider habe ich keine Ahnung, wie die Jungs heißen. Sie hatten mich beim Fotografieren beobachtet.
Um die Bilder zu löschen war es zu schade.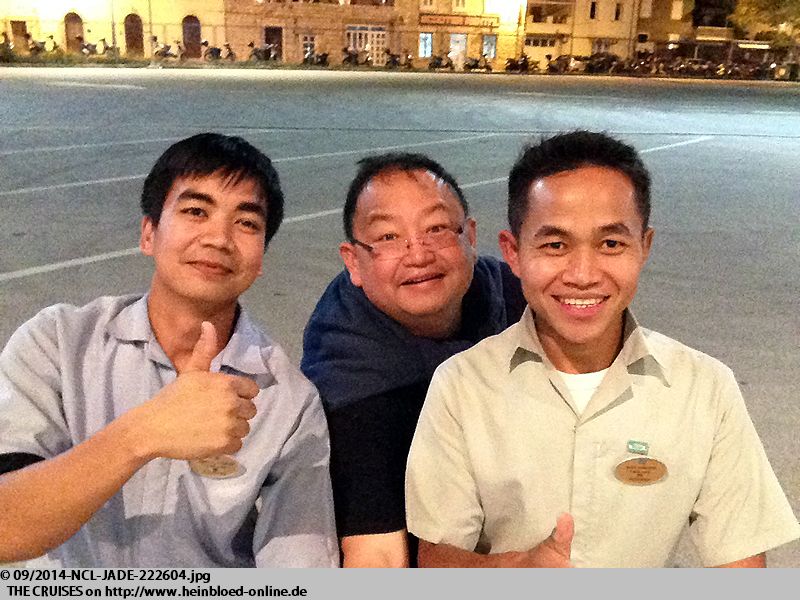 It would be sad to erase the pictures.

Olivia Sturm... yes Sturm... not Storm... so German roots and also German-speaking. Was taking very well of our cruisecritic.com-Meeting.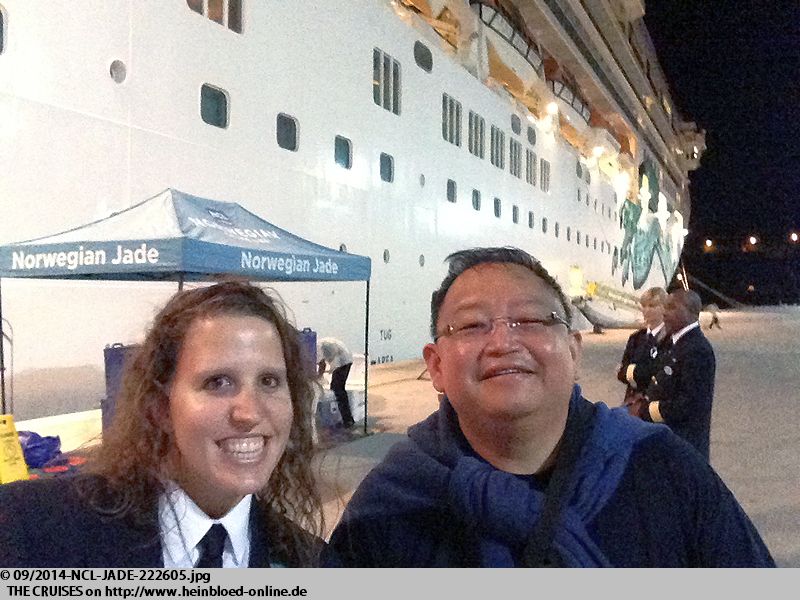 Olivia Sturm... ja Sturm... nicht Storm... also deutschstämmig und deutschsprachig. Hat sich wunderbar um unser
cruisecritic.com-Treffen
gekümmert.
Orlando habe ich ja bereits vorgestellt. Ihn kennen wir von der
NORWEGIAN JADE 2014 (1)
. Seine neue Assistentin: Iryna Lutsenko.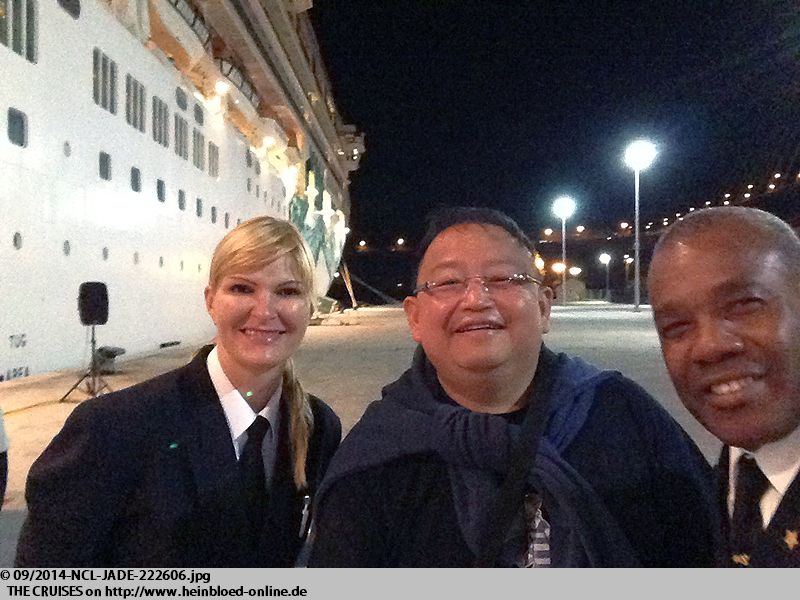 I introduced already Orlando. We knew him from NORWEGIAN JADE 2014 (1). His new assistant: Iryna Lutsenko.

I had to get used to check uncondition the pictures of the name tag. NCL had so bad ones which were mirroring and did not have a lot of contrast.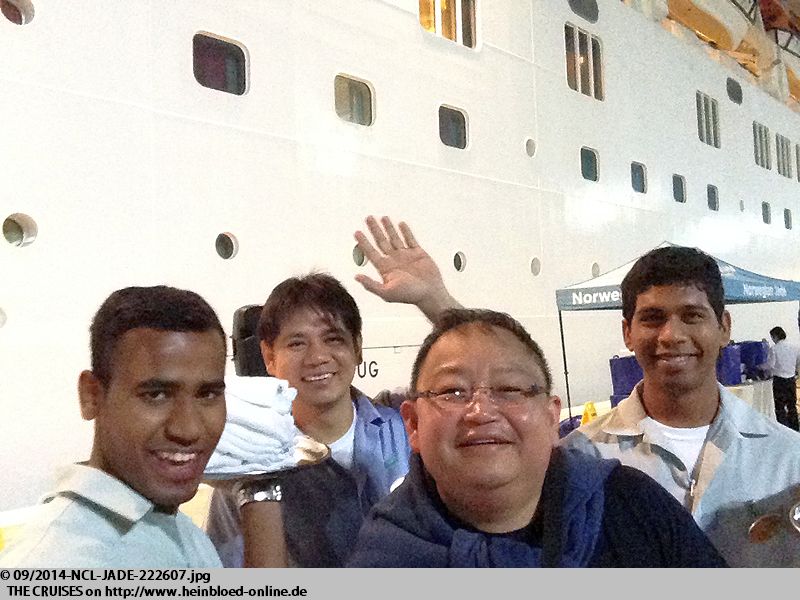 Ich muss mir unbedingt angewöhnen, die Aufnahmen der Namenschilder zu überprüfen. NCL hat so blöde, die sich immer spiegeln und wenig kontrastreich sind.