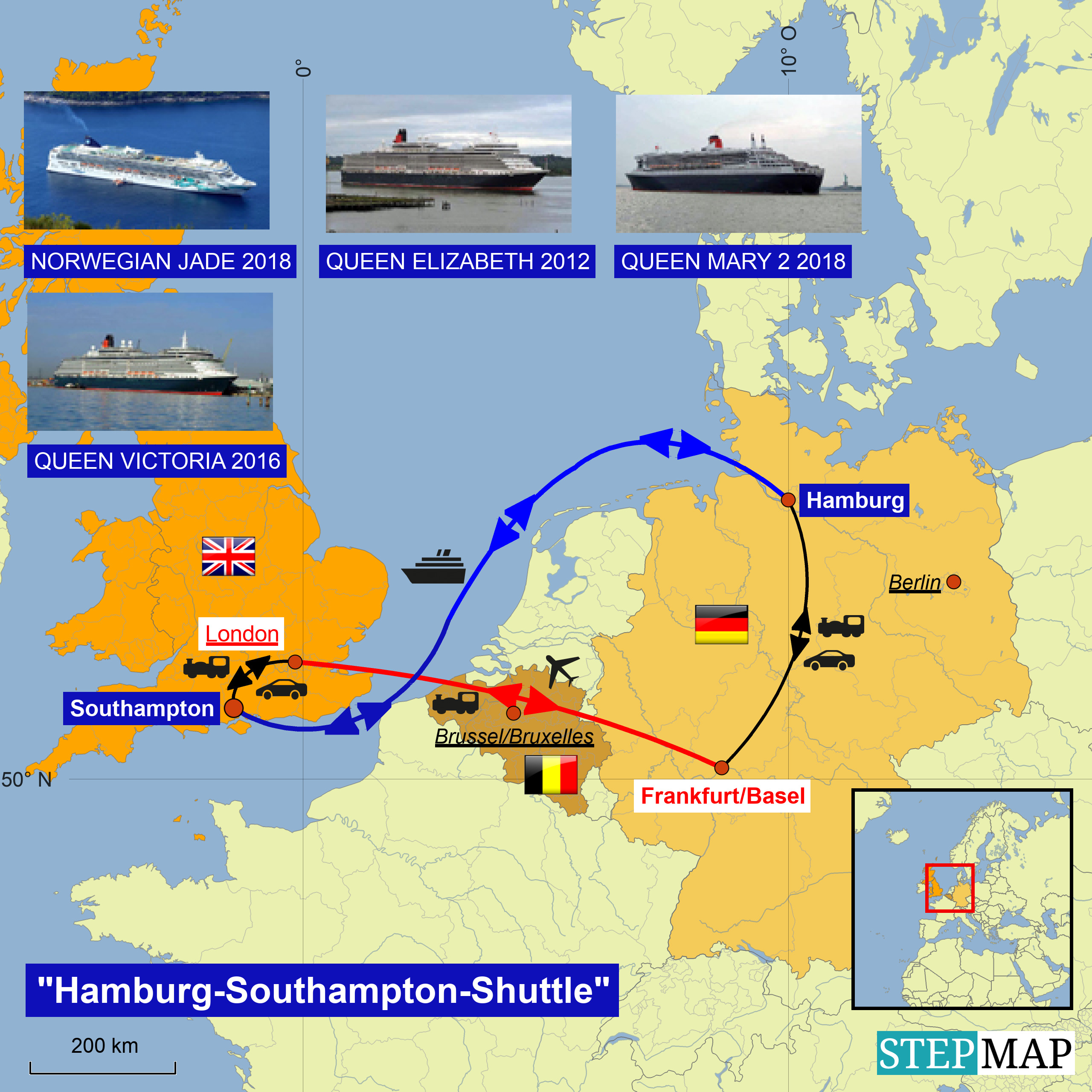 Obwohl ich fast jede Ecke des Schiffs kennen sollte: meinen nächtlichen Rundgang muss ich machen. Sonst bin ich unglücklich. Auch hier: Team des Monats wird wohl nicht mehr gekürt. Wenigstens gibt es die Vacation Heros immer noch. Irgendwie wirkt sie morgens nicht mehr so sexy wie früher... Wenigstens an einer Stelle wird noch daran erinnert, dass sie mal als PRIDE OF HAWAI'I entstanden ist.

Although I was familiar with most parts of the ship: I need to have my nightly walk. Otherwise, I would be very unhappy. Same here: Team of the Month was not honored anymore. But good to see that they still had the Vacations Heroes program. Somehow she did not look sexy anymore like before... At least at one spot they still remembered that she was built as PRIDE OF HAWAI'I.

The view early in the morning from our balcony.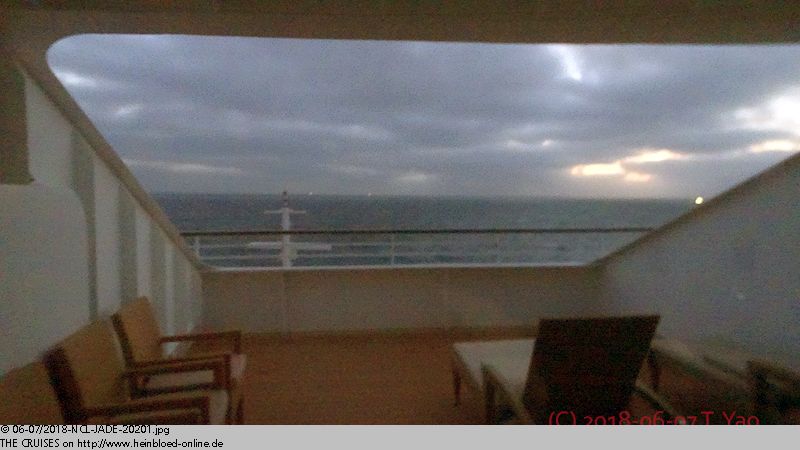 So sieht es frühmorgens auf unserem Balkon aus.
Schade, dass es kein schöner Sonnenaufgang zu erwarten ist.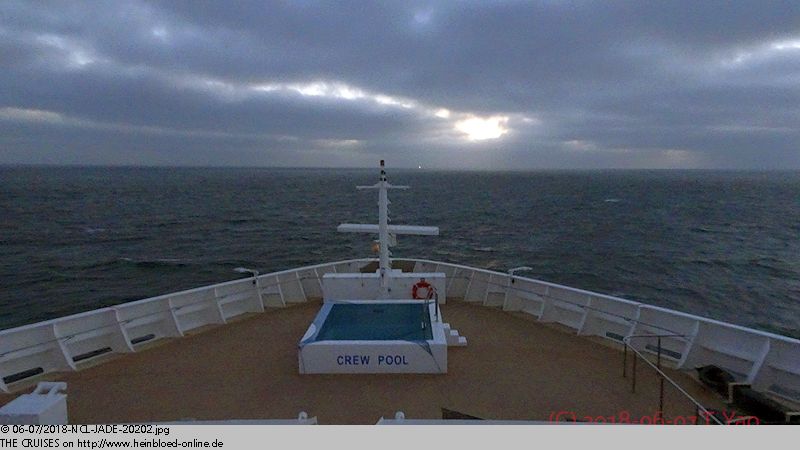 Sad we could not expect a nice sunrise.

At least the sun would like to appear.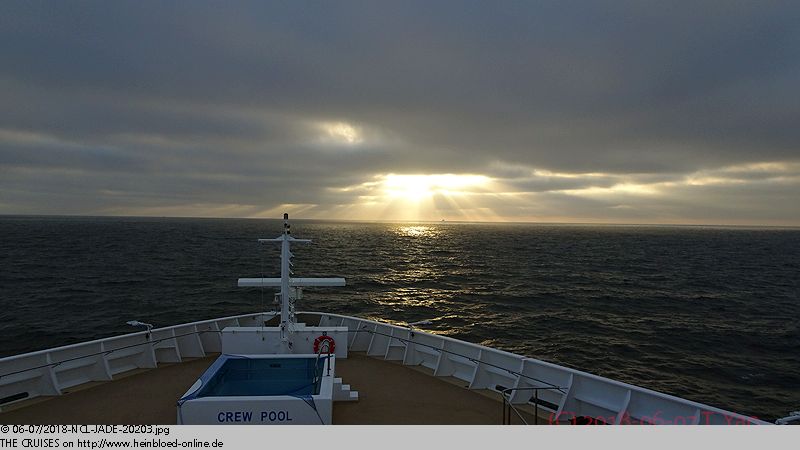 Wenigstens will die Sonne raus.
Und irgendwann sehen wir doch mal blau statt grau.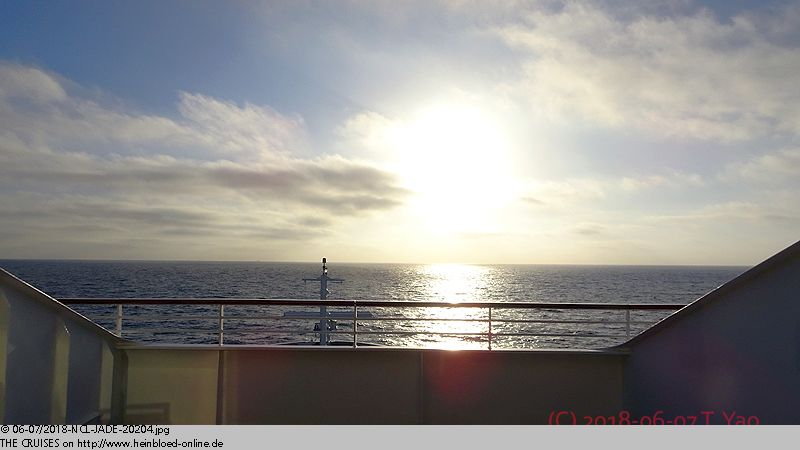 And later we saw some blue but grey.

The Atrium. The Dear Stefan Mailbox, allowing getting in touch with the hotel director without following a protocol.

Das Atrium. Die Dear Stefan Mailbox, um ohne Protokoll eine Kontaktaufnahme mit dem Hoteldirektor zu ermöglichen.
Die Bliss Lounge. Nicht mehr die Medusa Lounge. Ohne Karaoke Boxen. Bei Tankards Beer and Whisky Bar hat sich etwas verändert: der Braukessel ist weg. Und neue Stühle. Der alkoholfreie Mojito ist leider nicht mit Liebe gemacht. Schmeckt nicht.

The Bliss Lounge. Not anymore the Medusa Lounge. No more Karaoke boxes. Some changes with Tankards Beer and Whiskey Bar: the brewing kettle was removed. And new chairs. The non-alcohol Mojito was not made with love. Did not taste.

To my top 3 experiences on all previous voyages was a photo which was taken on NORWEGIAN JADE 2014 (1): my picture with me as Charlie and F&B Manager Vesna Radan, Cruise Director Jill Tasker and Guest Service Manager Shenny Arqillano as Charlie's Angels. That was why I was very happy to meet Vesna here onboard again and also had the chance to have some words with her on all the changes (see foray on 10 years HeinBloed on NORWEGIAN JADE).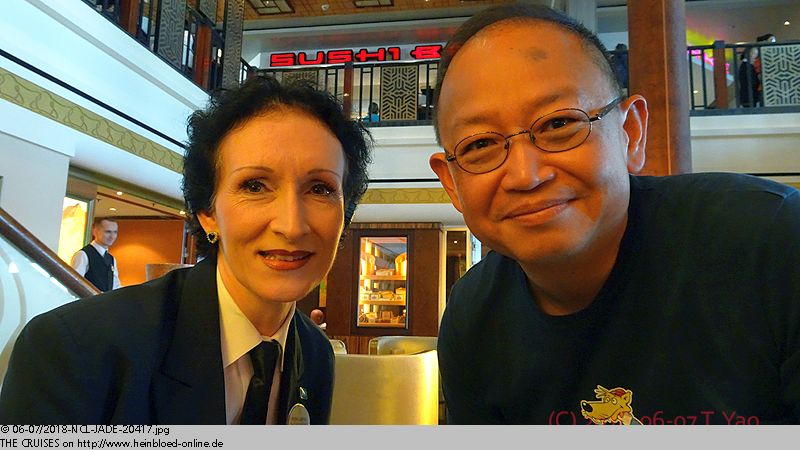 Zu meinen Top 3 Erfahrungen auf allen bisherigen Reisen ist ein Foto, das auf der
NORWEGIAN JADE 2014 (1)
entstanden ist: Mein Bild mit mir als Charlie mit F&B Manager Vesna Radan, Kreuzfahrtdirektor Jill Tasker und Guest Service Manager Shenny Arquillano als Drei Engel mit Charlie. Deswegen freue ich mich sehr, dass ich Vesna hier an Bord wiedertreffe und auch die Chance bekomme, ein paar Worte auszutauschen, was sich so alles verändert hat (
siehe Exkurs 10 Jahre HeinBloed auf der NORWEGIAN JADE
).
Der Bordfotograf.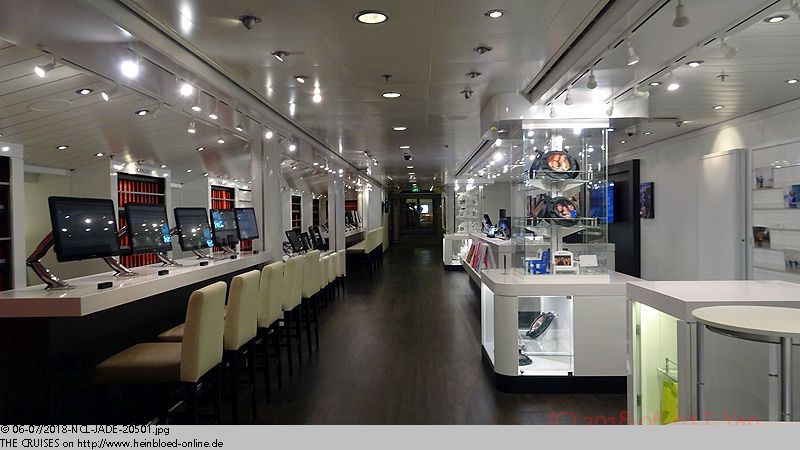 The ship's photographer.

Somehow it became here really friendly.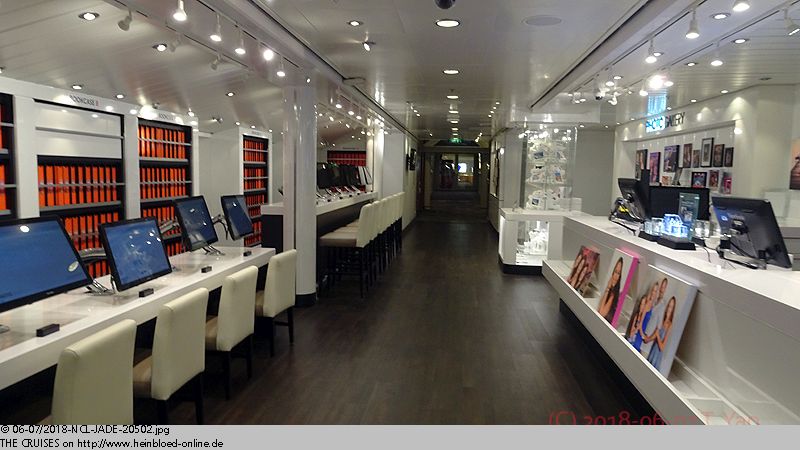 Irgendwie ist das hier doch schön freundlich geworden.
Shoppen gehe ich hier nicht mehr. Nach dem letzten Schrott (Regenjacke) und der Abzocke (Steuern, die es nicht gab) auf der
NORWEGIAN ESCAPE 2015
und
NORWEGIAN GETAWAY 2017
.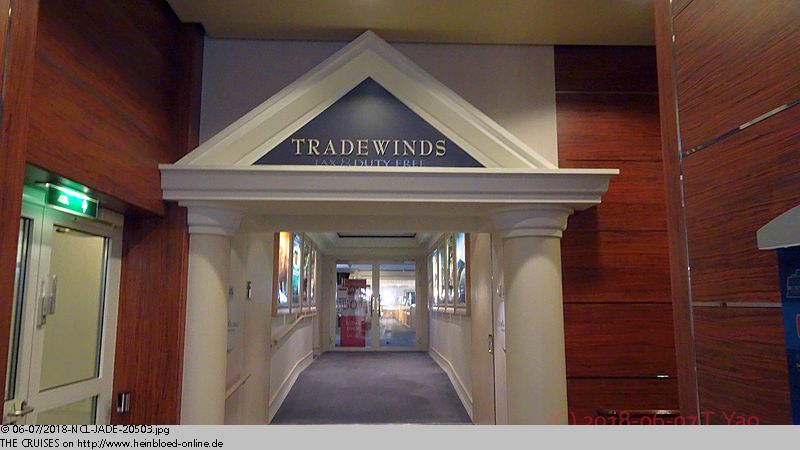 I did not go shopping here anymore. After the last scrap (rain jacket) and rip off (non-existing taxes) on NORWEGIAN ESCAPE 2015 and NORWEGIAN GETAWAY 2017.

On the other side still the internet-center between the art gallery.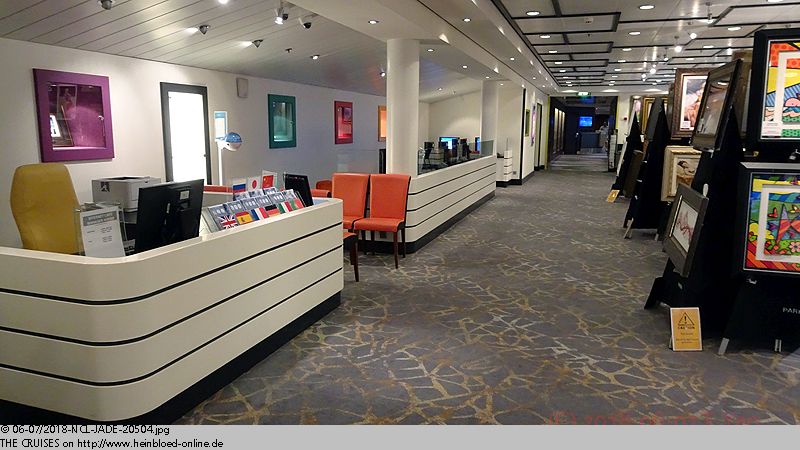 Und die andere Seite immer noch das Internet-Center zwischen der Bildergalerie.
Ab und zu würde ich schon gerne, aber wohin damit zu Hause.

Occasionally I really would love to, but where to place at home.

Due to the complimentary minutes which we had, it did not make too much sense to buy a flat rate. It was a new look but it was not really fast. It still worked as bad as it worked before. Still again: using the Messenger onboard each of us needs to pay 9.99 USD (2018). I was wondering on a discussion that you could use internet onboard via mobile phone which occurred costs of 12'000 EUR. As I am a customer of T-Mobile Germany it would not be possible. Then on CELEBRITY EQUINOX 2010, I made it to 700,00 EUR and T-Mobile called me and asked if it might be an error. They canceled the invoice and had one more loyal customer.

Durch die Freiminuten, die wir haben, lohnt es sich für uns nicht, eine Flatrate zu buchen. Es ist nur ein neuer Look, aber schnell ist es immer noch nicht. Es funktioniert genauso schlecht, wie früher. Nach wie vor: um den Messenger an Bord nutzen zu können, muss jeder 9,99 USD (2018) zahlen. Mich wundert eine Diskussion, ob ich Internet über Mobilfunk an Bord über 12.000 EUR zu nutzen. Es ist technisch als Kunde der Telekom Deutschland nicht möglich. Damals auf der
CELEBRITY EQUINOX 2010
hatte ich es auf 700,00 EUR gebracht und Telekom hatte damals bei mir angerufen und gefragt, ob es sich um ein Irrtum handelt. Sie hatten damals die Rechnung storniert und einen loyalen Kunden mehr.
Normalerweise fotografiere ich so gut wie nie im Casino, weil das ein Bereich ist, der mich nicht interessiert.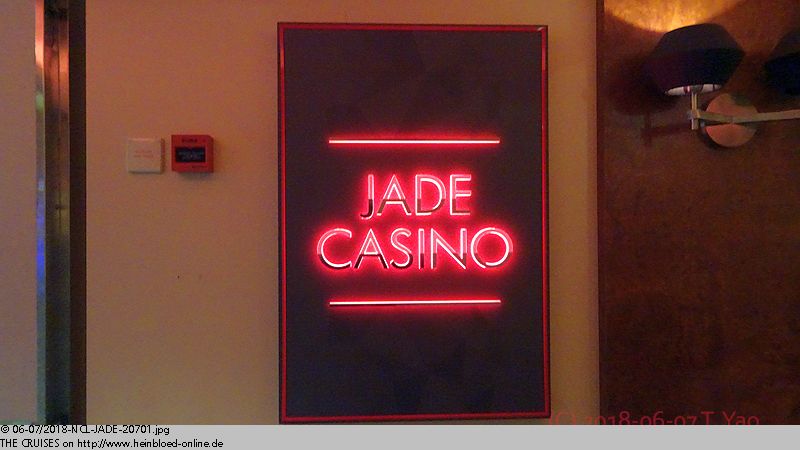 Normally I was never taking pictures in the casino because this area was never very interesting to me.

But that looked now so Chinese style that I was wondering if she was prepared for the Chinese market.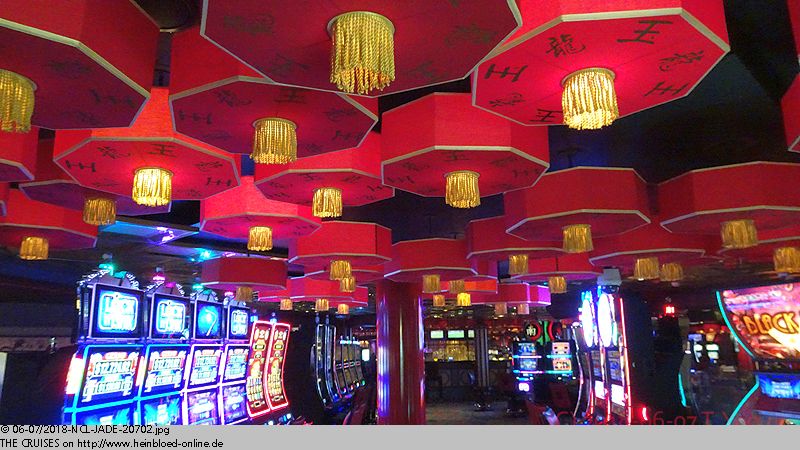 Aber das sieht jetzt für mich so chinesisch aus, dass ich mich frage, ob das hier für den chinesischen Markt hergerichtet wurde.
Da sind so alle Glückselemente drin, dass ich mich hier sofort wohl fühle.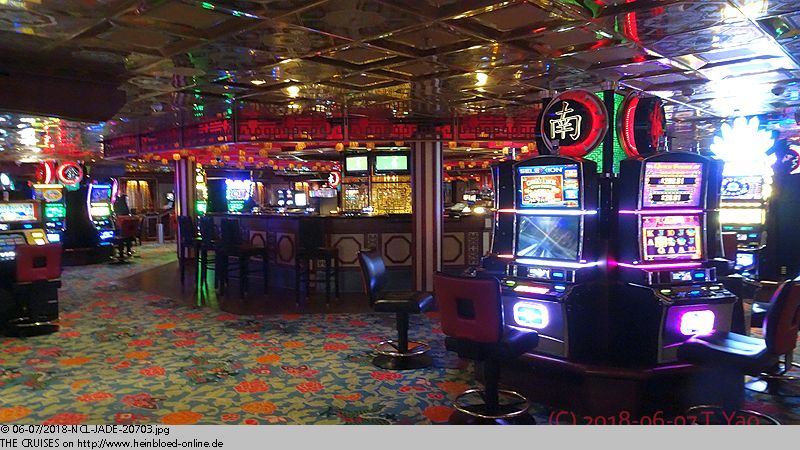 So many symbols of luck that I felt very comfortable there.

As PRIDE OF HAWAI'I they had prohibition of gambling on Hawai'i and they had no casino.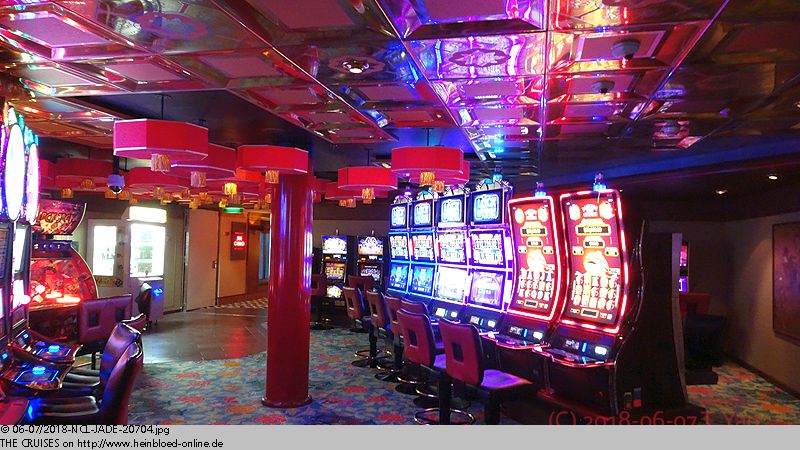 Als PRIDE OF HAWAI'I bestand Spielverbot auf Hawai'i und gab ja kein Kasino.
Das wurde ja später erst eingebaut. Hier waren wohl Kabinen.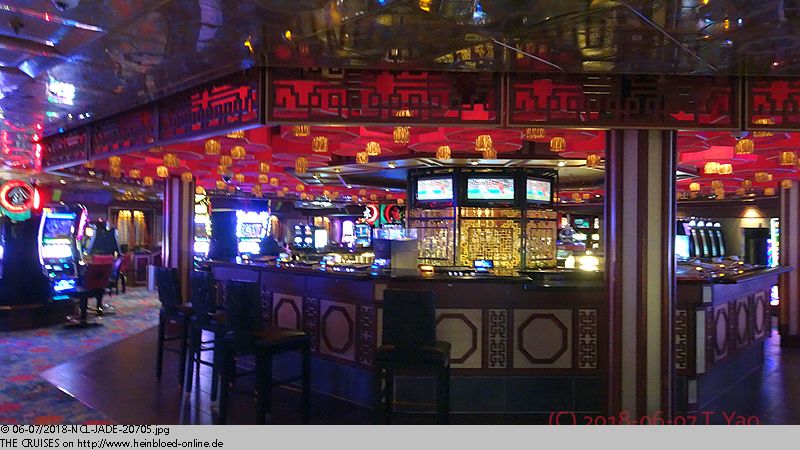 It was installed later. Here they had cabins.

Quickly up to the Garden Café.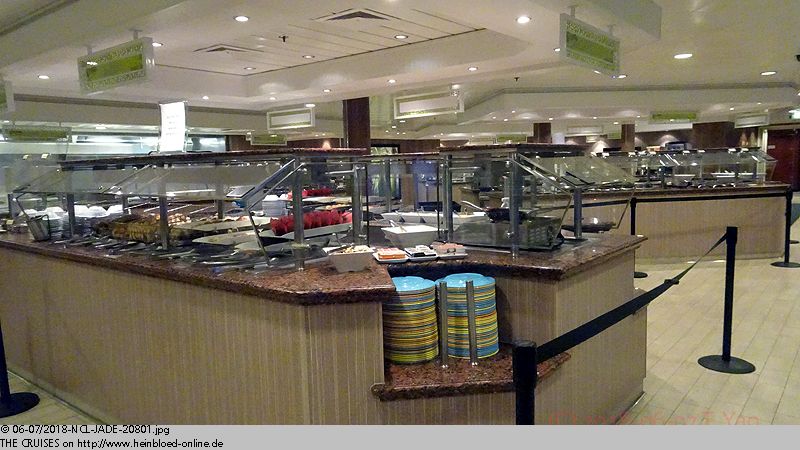 Kurz hoch ins Garden Café.
Glutenfrei gibt es auf Anfrage.

You could get gluten free on request.

An omelet-station in the center of the self-service restaurant... small gibe towards another company where you need to walk extra to an open deck-restaurant to get some individually prepared omelets... (see ALLURE OF THE SEAS 2015).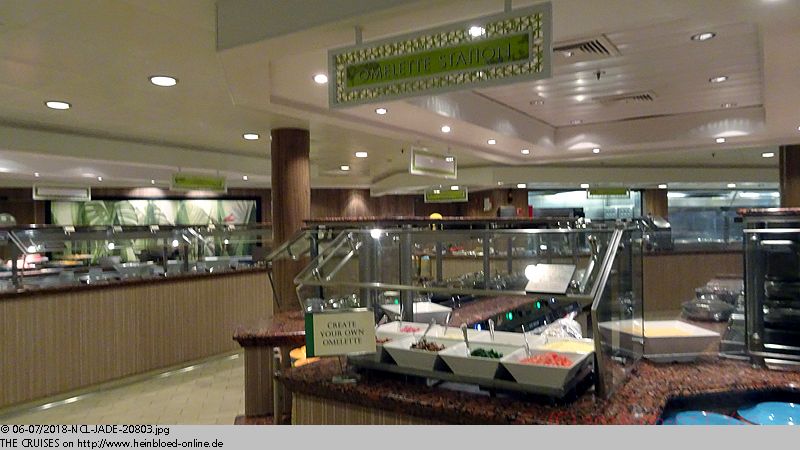 Eine Omelette-Station mitten im SB-Restaurant... kleiner Seitenhieb auf eine andere Gesellschaft, in der man für individuellen Omelettes extra auf ein Außendeck-Restaurant muss... (siehe
ALLURE OF THE SEAS 2015
).
Da ich hier ja nur sehr selten esse: mir fällt nicht auf, dass das Tee-Angebot sehr stark eingeschränkt wurde. Ich erinnere mich an die
NORWEGIAN DREAM 2008
: wir haben an Land Jasmintee gekauft und selbst ins Restaurant mitgebracht und wurden gefragt: warum haben Sie uns nicht einfach gefragt? Und als wir auf der
NORWEGIAN SPIRIT 2013
beim Jazz-Brunch nach einem bestimmten Jasmin-Tee (der aus dem Shogun) gefragt hatten, sind sie sofort losgerannt und haben ihn geholt. Aber das waren noch andere Zeiten bei NCL.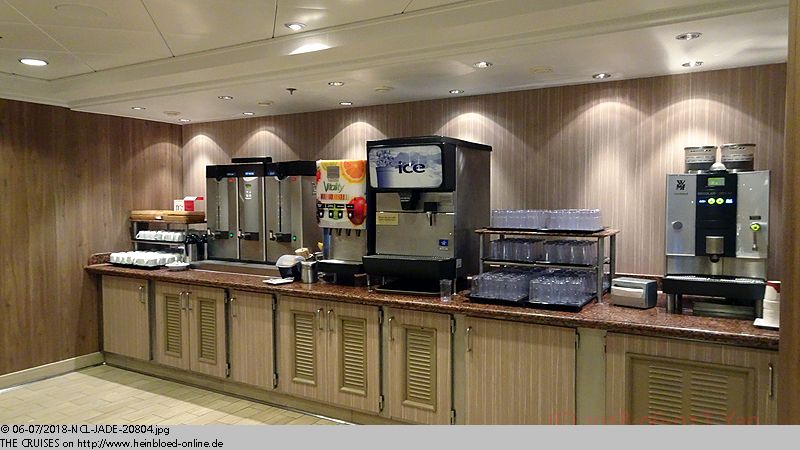 I did not eat here very often: I did not notice that they reduced the variation of the assortment of tea. I remember on NORWEGIAN DREAM 2008: we went ashore to buy some Jasmine Tea and took it ourselves to the restaurant and were asked: why did not you simply ask us? And we had the Jazz-Brunch on NORWEGIAN SPIRIT 2013 and ask for a very specific Jasmine-Tea (from Shogun), they immediately ran to get some. That was a different time on NCL.

But everything became very nice here.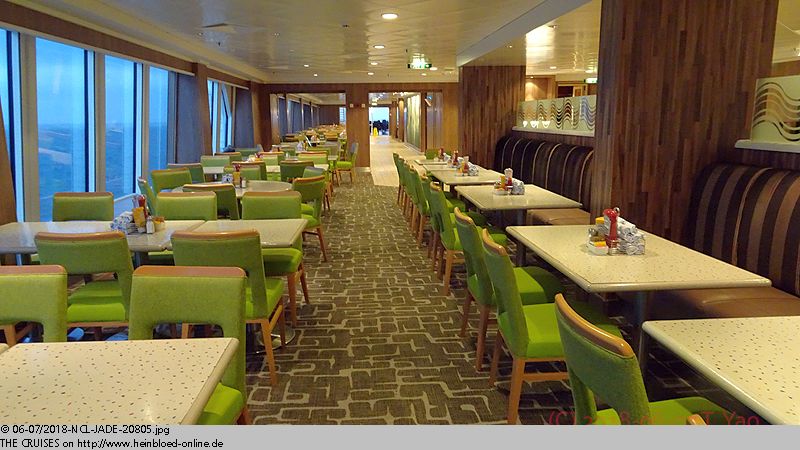 Aber es ist sehr schön geworden.
Draußen ist alles nass.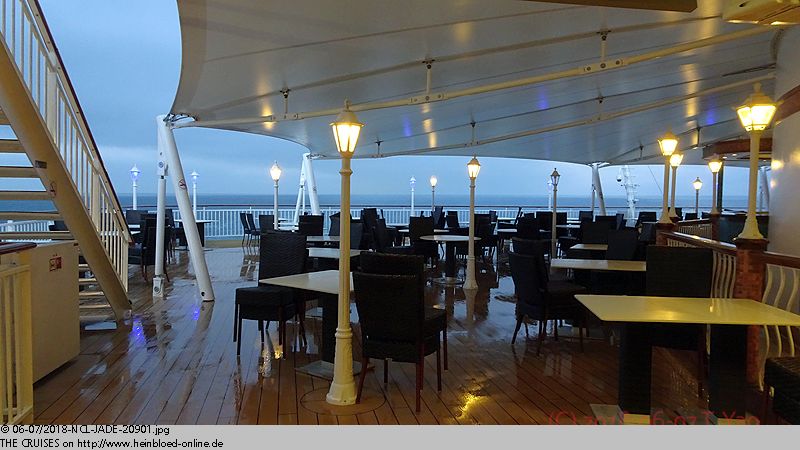 Outside everything was wet.

The Great Outdoors was not open yet. Everything was prepared.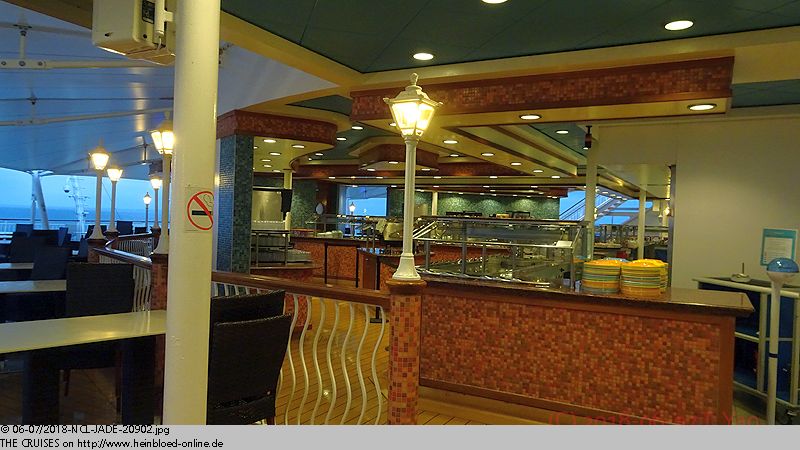 Das Great Outdoors hat noch nicht geöffnet. Alles ist vorbereitet.
Es ist immer wieder schön auch am Heck zu stehen und auch zu wohnen... aber jetzt testen wir den Bug. Der ist noch schöner!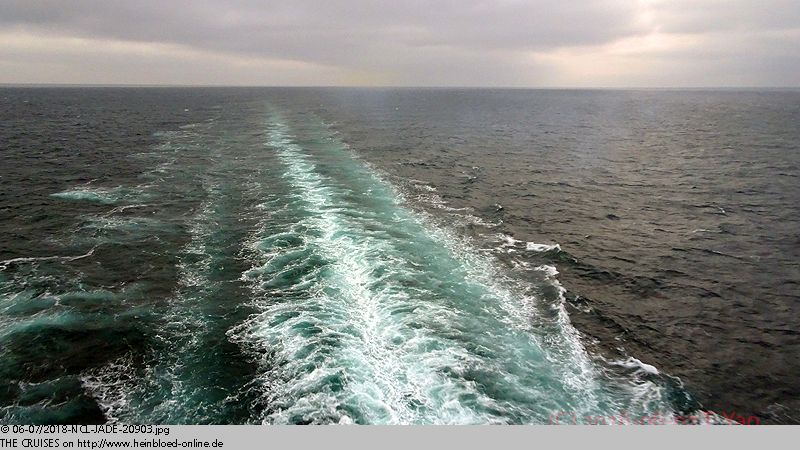 It was again nice to stand here at the aft and also to stay here... But for now, we were testing the bow. It was nicer yet!

Before they had a smoker and a non-smoker section. But to everyone's luck smoking was forbidden here and so no more butts could be found on the balconies at the aft below.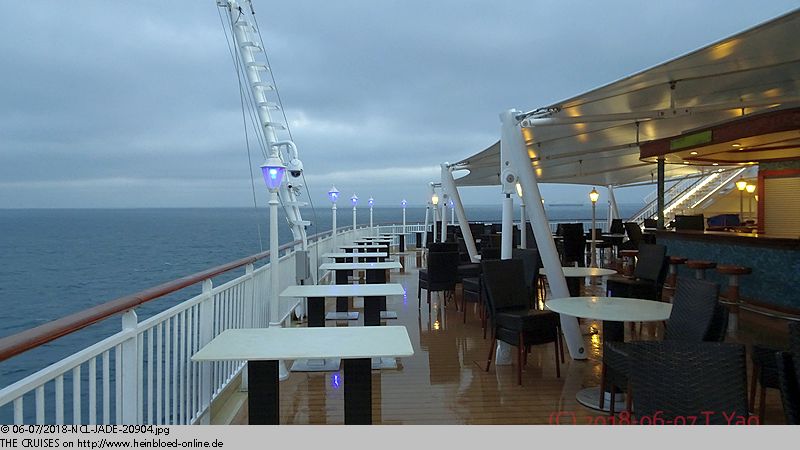 Früher gab es hier einen Raucher und einen Nichtraucherteil. Aber zum Glück ist Rauchen hier jetzt verboten, so dass man keine Zigarettenstummel mehr auf den darunter liegenden Heckbalkonen mehr findet.
Ein kleines Frühstück im O'Sheehan's.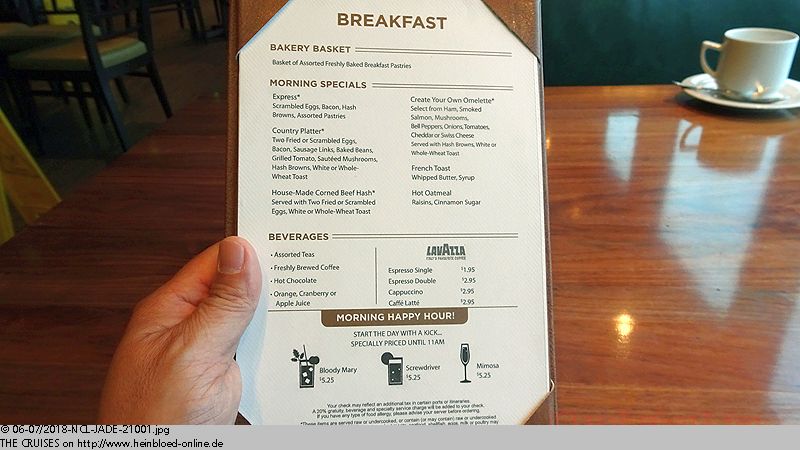 A small breakfast with O'Sheehan's.

Somehow I was missing my Blue Lagoon Café.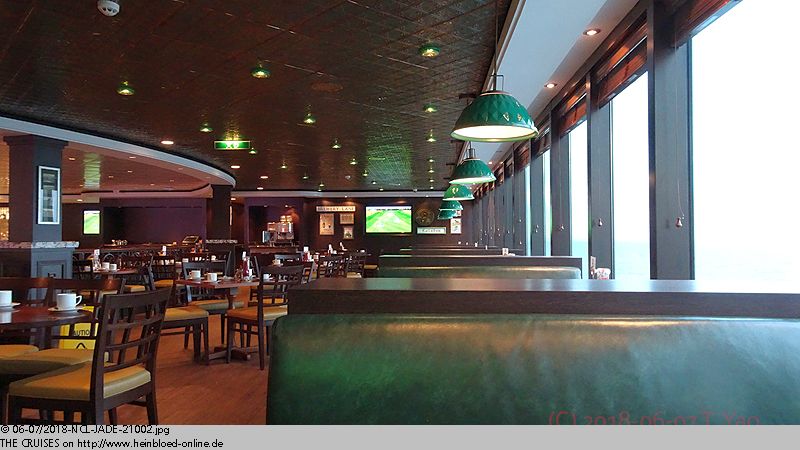 Irgenwie vermisse ich mein Blue Lagoon Café.
Ein French Toast. Aber der ist innen sehr matschig.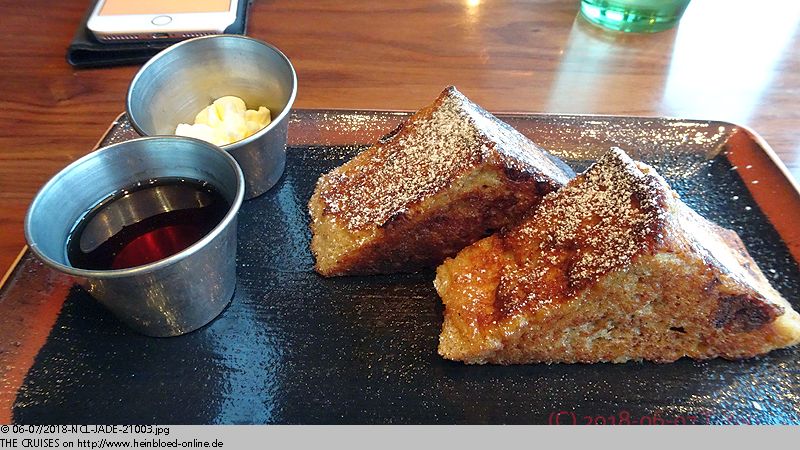 A French Toast. But inside it was too muddy.

Then they had complimentary regular coffee always next to the Aloha Café. Now they had it here.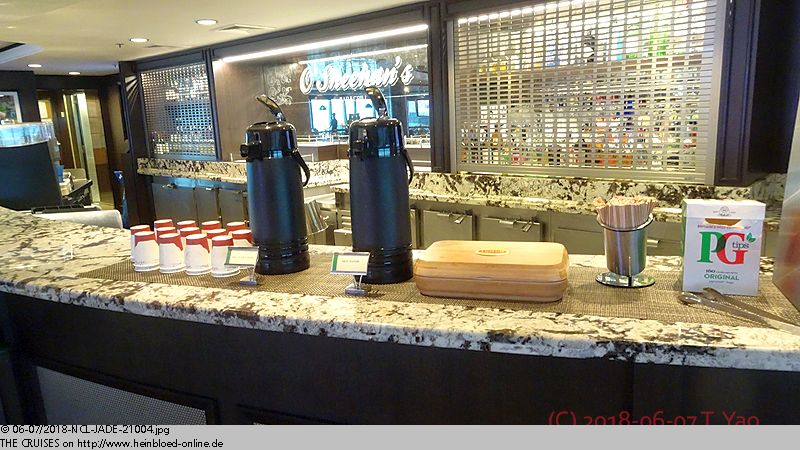 Früher gab es neben dem Aloha Café immer kostenlosen normalen Kaffee. Den gibt es jetzt hier.
Noch ein Ort ohne Veränderungen: die UNITED STATES Bibliothek.

Another place without changes: the UNITED STATES library.

In the Pulse Fitness Center, I really would love to purchase a vitamin water but the vending machine was not filled. So luckily nothing was charged to the card.

Im Pulse Fittness-Studio hätte ich mir gerne ein Vitamin-Wasser gezogen, aber der Automat ist nicht gefüllt. Und zum Glück wurde auch nichts auf die Karte gebucht.
Wenn ich früher nach laktosefreier Milch (nicht Sojamilch - ein Cappucino damit schmeckt widerlich), dann bekam man die Antwort: "Bitte haben Sie einen Moment Geduld: wir besorgen Ihnen welche" oder "Im Moment kann ich Ihnen keine anbieten - aber ich kümmere mich darum". Heute gibt es saublöde Antworten, die ich eigentlich nur von anderen Gesellschaften kenne, aber bei NCL zuvor nie gehört habe: "Wir haben keinen Zugang zu der Milch." oder "Sie können nur das bekommen, was wir hier haben!". Dann geht man halt zur Rezeption und fragt nach, ob man den Bar Manager sprechen kann. Der Bar Manager vom Dienst kommt drei Minuten später und ich frage nach, ob es an Bord laktosefreie Milch (die Frage nach der Drachenfrucht lasse ich ja schon bei NCL komplett weg!!!). Er sagt ja: im Restaurantbereich. Nächste Frage: Soll ich jetzt den Restaurant-Manager vom Dienst anrufen? Nein - ich brauche nicht. Er besorgt welche innerhalb weniger Minuten und sie wird für mich im Java Café deponiert. Geht doch. Vom Barista bekomme ich noch den Kommentar, dass nur Bar Manager Zugriff zur laktosefreier Milch haben. Gehört es aber zu meinen Aufgaben als Gast, den Bar Manager zu suchen? Ich habe schon den Eindruck, dass sich das Serviceverständnis an Bord sehr verändert hat. Früher habe ich immer gesagt, dass die Quote Gut zu Böse bei NCL bei 99,9 zu 0,01 lag. Heute kann ich es leider nicht mehr. Aber es gibt auch erfreuliches zu erzählen: Linlin hat uns auf der
NORWEGIAN SPIRIT 2018
bedient. Sie sieht auf Facebook, dass ich in Southampton war und schließt daraus, dass ich auf der NORWEGIAN JADE sein könnte. Ich soll ihrer indonesischen Kellner-Freundin schöne Grüße ausrichten. Das tun wir und prompt erfahre ich, dass mein Besuch bereits voravisiert wurde. Dafür bekommt Vivolin Cornalia Süßigkeiten: denn Linlins Freunde sind auch unsere Freunde. Und wir als Linlins Freunde sind auch Vivolins Freunde und werden dementsprechend wie Freunde behandelt. Hier läuft es wie ich es von NCL gewohnt bin.

Whenever I asked before or some lactose-free milk (not soy milk - a cappuccino made of it tastes terrible), you get the following answer: "Please have a moment of patience: we get you some" - "Right now we do not offer you any - but I will take care of it". Nowadays you got some really stupid answers, which I heard before with other companies but I have never heard it with NCL: "We have no access to the milk." or "You can only get what we have here!". So you went to the front desk and asked for a talk with the Bar Manager. The Bar Manager on duty came after three minutes and I asked if they had lactose-free onboard (With NCL I normally leave it to ask for a dragon fruit!!!). He said yes: in the restaurant area. Next question: Should I call now the Restaurant Manager on duty? No - no need. He got me some within a few minutes and they keep it for me at the Java Café. It worked. The Barista added the comment that only the Bar Manager had access to the lactose-free milk. Was it part of my jobs as a guest to find the bar manager? I had the impression that the understanding of service on board changed extremely. Before I always said that the ratio good to bad was with NCL always 99.9 to 0.01. Today I am not able anymore to give this statement. But there was also something nice to tell: Linlin was our waitress on NORWEGIAN SPIRIT 2018. She saw on Facebook that I was in Southampton, England and thought that I might be on NORWEGIAN JADE. I should say hello to her Indonesian waitress-friend. That what we did and I learned it was already well communicated that I would show up. Therefore Vivolin Cornalia got some sweets: because Linlin's friends are our friends. And we as Linlin's friends are also friends of Vivolin and accordingly, we were nicely treated as friends. Here it worked still the way I was familiar with when I am going on NCL.

In the Moderno, our breakfast was served. It was never arranged so nicely before but today. Due to the time difference, we were the very first guests. It was refilled immediately after we took something. Very sad: the menu has not been changed for many years. Very nice: they had Bonne Maman-jam with real sugar but the Smucker's with High Glucose Fructose-Syrup. A moment came when I had to remember Ramona whom we knew from NORWEGIAN DREAM 2008 and how she had her eyes everywhere and how she reacted to certain situations.

Im Moderno wird unser Frühstück serviert. So schön wie heute, war es bislang noch nie angerichtet worden. Wegen der Zeitumstellung sind wir die allerersten Gäste. Es wird sofort aufgefüllt, nachdem wir uns bedient haben. Sehr schade: die Karte hat seit Jahren nicht mehr gewechselt. Sehr schön: es gibt Bonne Maman-Marmelade mit echtem Zucker statt dieser Smucker's mit High Gluctose Fructose-Syrup. Es kommt ein Moment, an dem ich an Ramona zurückdenke, die wir auf der
NORWEGIAN DREAM 2008
erlebt haben und wie sie ihre Augen überall hatte und auf bestimmte Reaktionen reagiert hat.
Das Alizar habe ich im letzten Jahr als Altmöbelsammlung erlebt. Nur noch wenige Stühle aus Le Bistro stehen immer noch hier. Sonst ist es sehr schön geworden.

I experienced the Alizar as a collection of old furniture last year. Only still few chairs from Le Bistro were here around. Apart from that, it became very nice.

We headed for the Meet & Greet of cruisecritic.com and the German kreuzfahrten-treff.de in Le Bistro - the very last place which has (at the actual time) memories of the Hawai'ian roots of this ship. Around two weeks before sailing some said that it would be nice to meet onboard. I need a couple of days to find the right person in Miami, FL and get her on the phone to have such a meeting organized by the official site. And within a few hours, I got the answer that they would do it: Group Service Manager Marina Caparros made a very nice setup. The Senior Officers from the Hotel Department all showed up. Few familiar faces like Hotel Director Stefan Antonescu or F&B Manager Vesna Radan I could remind them very well. Only with Guest Service Manager Humberto Abarca, I would not talk anymore: Before I got the kiss, Shenny gave him with more love and passion a kiss to welcome him in Hamburg-Altona, Germany after NORWEGIAN JADE 2017... Additionally, the Cruise Future saleswoman came to remind us that we should buy some Cruise Future and that she would not give us any privileges since it was a short cruise only. I did not have any problems to mention that were treated nicer when we were on NORWEGIAN SPIRIT 2018 and we could even get your laundry done. I like to use also the occasion to mention that we really had a great cabin stewardess. Later I learned that right after my comment she got a feedback from her supervisor. Nearly 20 did let the chance to go to meet the Senior Officers and the other participants from the forum.

Es geht zum Meet & Greet von
cruisecritic.com
und
kreuzfahrten-treff.de
in Le Bistro - dem allerletzten Ort, an dem es (zur Zeit noch) Erinnerungen an die hawai'ianischen Wurzeln dieses Schiffes gibt. So 14 Tage vor Abfahrt hatten einige den Wunsch geäußert, dass man sich doch an Bord treffen könnte. Ich habe dann ein paar Tage lang in Miami hinter der richtigen Person telefoniert, die so ein Treffen von offizieller Seite das organisieren kann. Und innerhalb weniger Stunden bekam ich dann die Antwort: wir machen es. Group Service Coordinator Marina Caparros hat alles toll organisiert. Die Senioroffiziere aus dem Hotelbereich sind alle gekommen. Einige bekannte Gesichter wie Hoteldirektor Stefan Antonescu oder F&B Manager Vesna Radan erkenne ich wieder. Mit Guest Service Manager Humberto Abarca spreche ich allerdings nicht mehr: Shenny hat ihn vor mir viel liebevoller und intensiver vor einem Jahr in Hamburg-Altona nach der
NORWEGIAN JADE 2017
zur Begrüßung geküsst... Zusätzlich kommt noch die Cruise Future-Verkäuferin, die nur kommt um uns daran zu erinnern, dass wir ein paar Cruise Future kaufen sollten, aber uns auch gleichzeitig mitteilt, dass wir auf so kurzen Fahrten nichts bekommen. Ich habe dann auch in so einem Moment kein Problem zu erwähnen, dass wir auf der
NORWEGIAN SPIRIT 2018
besser behandelt wurden und dort sogar die Wäsche waschen lassen konnten. Ich nutze aber auch sehr gerne die Gelegenheit zu erwähnen, was für eine tolle Kabinenstewardess wir haben. Später erfahre ich, dass sie für mein Lob direkt ein Feedback bekommen hat. Knapp 20 lassen sich nicht die Chance entgehen, die Senioroffiziere und die anderen Forumsteilnehmer kennenzulernen.
Schade, dass Kapitän Frank Juliussen nicht dabei sein konnte.

So sad that Captain Frank Juliussen could not join.

The hardcore members of the kreuzfahrten-treff.de stayed until the end. With them, we went to our bow balcony: Verena, Harry, Dennis, Jürgen, Christian, Nils, Wendy.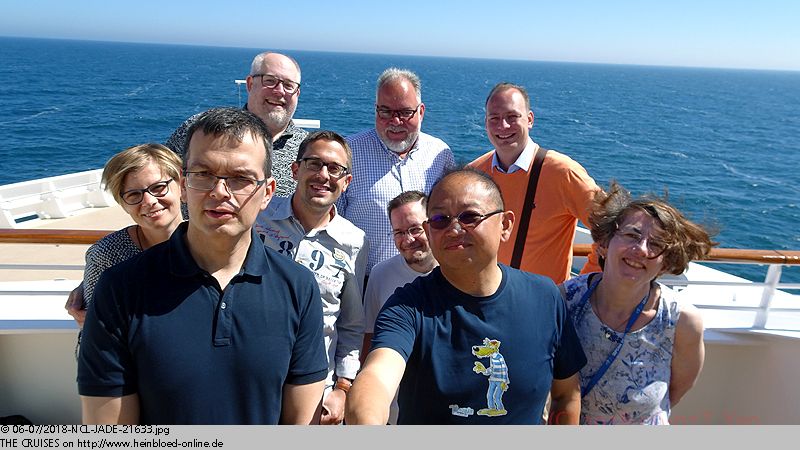 Der harte Kern von
kreuzfahrten-treff.de
bleibt bis zum Schluss. Mit denen gehen wir nochmals auf unseren Bugbalkon: Verena, Harry, Dennis, Jürgen, Christian, Nils, Wendy.
Leider kommt auch schon die Zeit des Abschieds von der NORWEGIAN JADE: Die Ausschiffungsinformationen sind da. Ich frage bei den Cruise Future-Verkäufern nach, ob ich gelbe Gepäckanhänger haben kann. Mir wird wieder erklärt, dass mir keine zustehen, weil es nur eine Kurzreise ist. Ich soll aber unbedingt Cruise Future kaufen. Als ich das ablehne, weil ich erkläre, dass ich sie für sehr unvorteilhaft halte, meint man, dass ich sie trotzdem kaufen und bei eBay verkaufen soll. Später bekommen wir sowieso die goldenen VIP-Anhänger und müssen dieses Mal nicht alles selbst von der Railing an von Bord schleppen. Wir verteilen die Trinkgelder in verschiedenen Währungen, damit sie auch an Land ausgegeben werden können. Nur meine norwegischen und isländischen Kronen habe ich zu Hause vergessen.

Unfortunately, the time to say goodbye to NORWEGIAN JADE: The debarkation information came. I asked with the Cruise Future-salesmen if I could have yellow labels. Again I was told that I was not entitled to have some since it was a short cruise only. But I should buy some Cruise Future. As I said no and explained that I could not see any advantages for me, I was told that I should buy them and sell them on eBay. Later we got anyway the golden VIP-tag and this time we did not need to carry ourselves everything off the ship after the reaching the railing. We distributed the tips in different currencies to enable to have them spent ashore. But I forgot my Norwegian and Icelandic Crowns at home.

For lunch, we went to the Grand Pacific. Not only King Kamehameha was removed but also all paintings with Hawai'ian motives. So sad. The selection for lunch was not so bad. I would get the same again as I got yesterday. And the Vietnamese Pho was yummy! Just a little too spicy for my taste. Bread was served again without extra asking. The can of Pepsi for 4.14 USD (2018) I found quite high priced. Imagine you had on top some local taxes.

Zum Mittagessen geht es in den Grand Pacific. Nicht nur King Kamehameha ist weg, sondern auch alle Bilder mit hawaiianischen Motiven. Schade. So schlecht ist die Auswahl mittags nicht. Im Cagney's würde ich ja wieder das gleiche Angebot haben wie gestern. Und die vietnameische Pho ist lecker! Leider etwas zu scharf für meinen Geschmack. Brot gibt es wohl wieder ohne Anfrage automatisch. Die Dose Pepsi mit 4,14 USD (2018) finde ich sehr heftig. Man stelle sich vor, dass man noch eine lokale Steuer hätte...
Wir machen es uns auf dem Balkon gemütlich. Dort im Windschatten geht es. Zwischendurch bekommen wir noch ein paar Kabinengrüße. Ich ärgere mich zwar über das eine oder andere, aber es immer auch alles sehr schnell vergessen, weil wir eben so toll behandelt werden. Was nützen mir günstigere Bordpreise, wenn ich 08/15-mäßig behandelt werde. Aber das muss einfach jeder für sich selbst entscheiden.

We made ourselves comfortable on our balcony. There in the lee, it was ok. Meanwhile, we got some cabin greetings. I was upset on the one or other point but everything was most quickly forgotten since they treated us really nice. How helpful would be cheaper prices on board if you are treated like a standard guest? But something everyone needs to decide for himself.

Actually, we were two decks above the theater. Actually, there should be one whole cabin deck between us. We checked the situation: On Deck 7 the ceiling did not end like it was expected but up to the far end of the stage it went higher. I.e.: we were right above the stage! I would make this disadvantage to an advantage and set us a glass bottom floor. The Show "Blazing Boots" was less interesting to us since we were no lovers of country music. In front of the theater, I met Cruise Director Richard Matic. He had the luck that I did not like the show... otherwise he was supposed to type a list of the songs for me the same night...

Eigentlich sind wir ja zwei Decks über dem Theater. Es liegt ja eigentlich noch ein ganzes Kabinendeck dazwischen. Wir gucken uns das an: Auf Deck 7 endet eben nicht die Decke, wie erwartet, sondern bis hinten zur Bühne durch wird die Decke immer höher. Das heißt: wir sind direkt über der Bühne! Dann würde ich doch den Nachteil zum Vorteil machen: Ich würde einen Glasboden bei uns in der Kabine einziehen. Die Show "Blazing Boots" interessiert uns weniger, da wir nicht so die Country Fans sind. Vor dem Theater treffe ich Kreuzfahrtdirektor Richard Matic. Er hat Glück, dass ich die Show nicht mag... sonst hätte er heute Nacht noch eine Liste mit de Liedern für mich tippen müssen...
Spaßeshalber gehen wir mal gucken, was es zum Abendessen im Garden Café gibt.

For fun, we went to the Garden Café to see what they offered for dinner.

Tonight we were guests of Hotel Director Stefan. Not just the name was changed from Papa's Italian Kitchen to La Cucina but also the complete interior furnishing. In the back part, they had still construction works. That was why they had the white sheets at the windows. Again we experience a great dinner (again too much - a superb Rib-Eye-Steak - but too much) and especially an outstanding service: thanks to Restaurant Hostess Michelle Saquilayan, Romeo Lopes, Allan Dela Cruz, Jonathan Guston and Assistant Maître D' Nida Nadado. I was exactly the service we appreciated from many cruises before: one was taking over the job of the other if he was busy at the moment so you never had the feeling that you need to raise your hand to call a waiter. Many fond memories of previous cruises came back because we spent here many very beautiful evenings. O.K. it might be easier to board the high-speed-train in Basle, Switzerland and go through the Mt. Gotthard-tunnel towards Italy to have excellent Italian food there but it was of the wonderful time we had here. So we accepted that everything tasted a little more American style but we did not care if the service can compensate for this. Here I need to say thanks to Hotel Director Stefan: I withdraw my statement that you cannot Vesna. The time we make a photo instead of with Jill, Vesna and Shenny with you Stefan, Humberto and Richard. It will become as much fun and again an unforgettable experience and another reason to stay loyal with NORWEGIAN JADE...

Heute Abend sind wir Gäste des Hoteldirektors Stefan. Nicht nur der Name hat sich geändert von Papa's Italian Kitchen zu La Cucina, sondern auch die gesamte Innenausstattung hat sich sehr verändert. Der hintere Teil wird noch umgebaut. Daher auch von außen die weißen Laken an den Fenstern. Wir erleben ein tolles Essen (wieder viel zu viel - ein super Rib-Eye-Steak, aber eben viel zu viel) und vor allem einen super Service: vielen Dank an Restaurant Hostess Michelle Saquilayan, Romeo Lopes, Allan dela Cruz, Jonathan Guston und Assistant Maître D' Nida Nadado. Es ist genau der Service, den wir auf vielen Fahrten schätzen gelernt haben: einer springt für den anderen ein, wenn einer gerade nicht kann, so dass man nie das Gefühl hat, die Hand zu heben, um nach einem Kellner zu rufen. Sehr viele schöne Erinnerungen früherer Fahrten kommen wieder zurück, weil wir oft hier sehr schöne Abende verbracht haben. O.K. es ist für mich einfacher in Basel in den Cisalpino einzusteigen, durch den Gotthard-Tunnel nach Italien zu fahren und dort super italienisch zu essen, aber es geht um die schöne Zeit, die wir hier erleben. Dann schmeckt eben alles ein wenig amerikanischer, aber das ist egal, wenn der Service alles wettmachen kann. An dieser Stelle: Vielen Dank an Hoteldirektor Stefan: ich ziehe meine Behauptung zurück, dass er Vesna nicht ersetzen kann. Das nächste Mal machen wir das Foto statt mit Jill, Vesna und Shenny eben mit Stefan, Humberto und Richard. Das wird bestimmt genauso lustig und wieder ein unvergessliches Erlebnis und wieder ein Grund mehr, der NORWEGIAN JADE treu zu bleiben...
Eigentlich rechne ich nicht damit, dass wir einem Kreuzfahrtschiff im Hafen begegnen.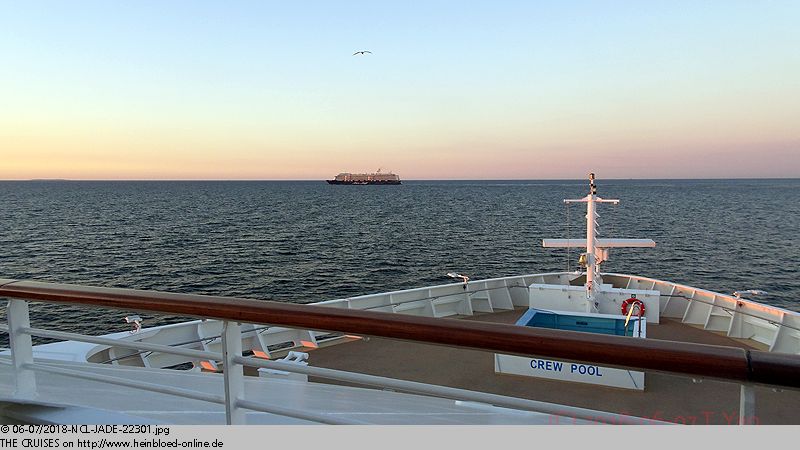 Actually, I did not expect to see another cruise ship in port.

But MEIN SCHIFF 5 was crossing our path.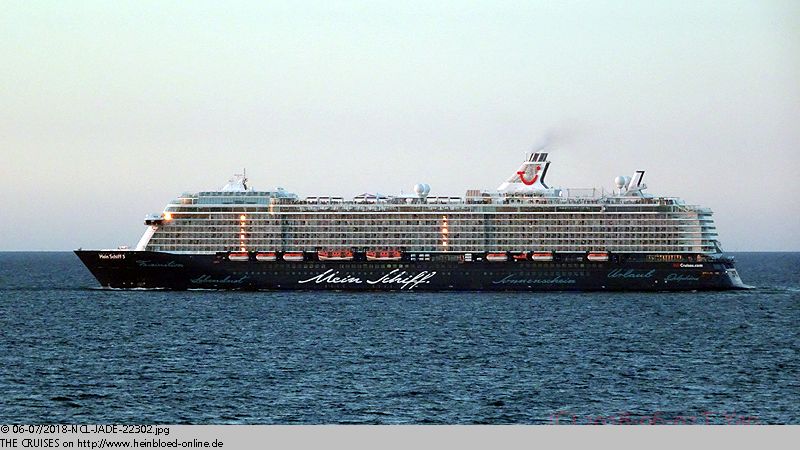 Aber MEIN SCHIFF 5 kreuzt unseren Weg.
Auf dem Weg von Bremerhaven nach Großbritannien.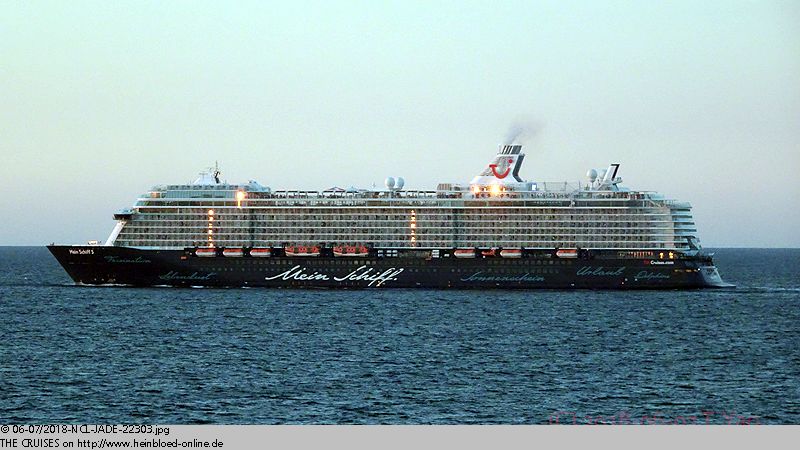 On the way from Bremerhaven, Germany to Great Britain.

But after the uncaring answer of TUI Cruises (part of Royal Caribbean) after our sailing on MEIN SCHIFF 2 2012, we preferred to stay with NCL. Their answers convicted us that they would love to keep us as their guests and to see us again. They did a lot to maintain this.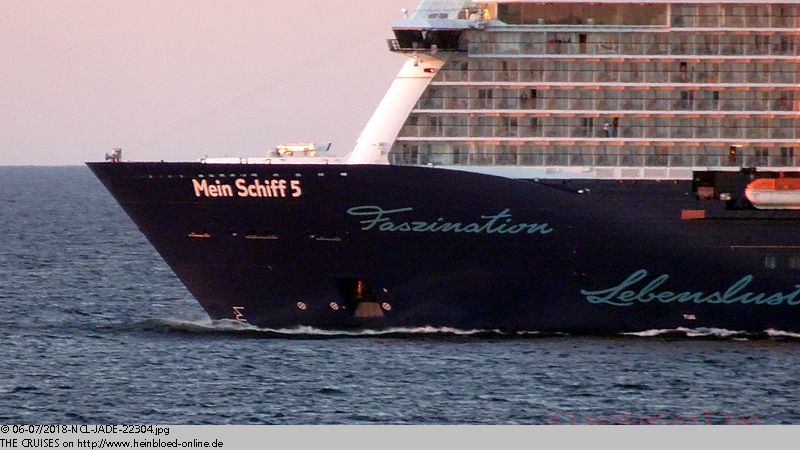 Aber nach der gleichgültigen Antwort von TUI Cruises nach unserer Fahrt auf der damaligen
MEIN SCHIFF 2 2012
bleiben wir doch lieber bei NCL. Deren Antworten überzeugen uns schon, dass sie uns gerne als Gäste behalten wollen und uns sehr gerne wiedersehen möchten. Dafür machen sie dann auch sehr viel.
Die anderen Reisen in diesem Blog/
The other voyages in this blog: