Scroll down for English explanations - alternates with German explanations.

Nun müssen wir auch uns von Karl-Heinz und Käthe verabschieden. Wir haben Sonderbetreuung für sie bestellt. D. h. sie werden als Sondergepäck abgefertigt und transportiert...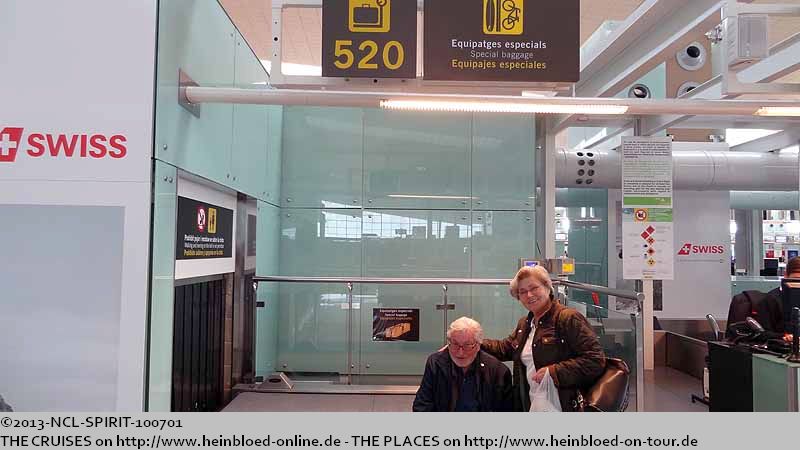 Now we need to say good-bye to Charlie and Katie. We booked special assistance. I. e. they should be handled and travel as special baggage.

No - soon a wheel chair came. And in Zurich it became much better. And in Zurich it became much better. They had a special lounge and were taken in the terminal with a small golf car.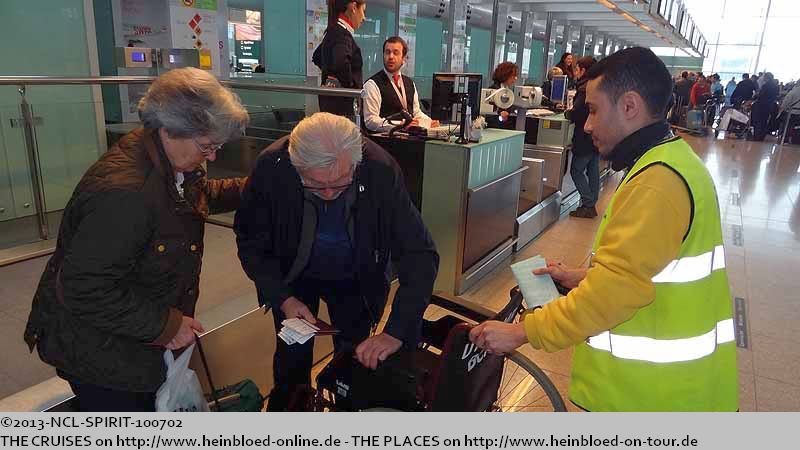 Nein - es kam bald ein Rollstuhl. Und in Zürich wurde es noch besser. Sie durften in eine besondere Lounge und dort warten und wurden mit einem Golfwagen durch den Flughafen gefahren.
Wir gehen in den Salon Paul Casals. Hier erfahren wir auch, dass Frances und Eddie noch gar nicht gestartet sind. Schade, dass wir es nicht vorher wussten - dann hätten sie auch mitkommen können. Aber so bekommen sie von Lufthansa nur 10,00 EUR als Gutschein, damit sie sich etwas zu essen kaufen können.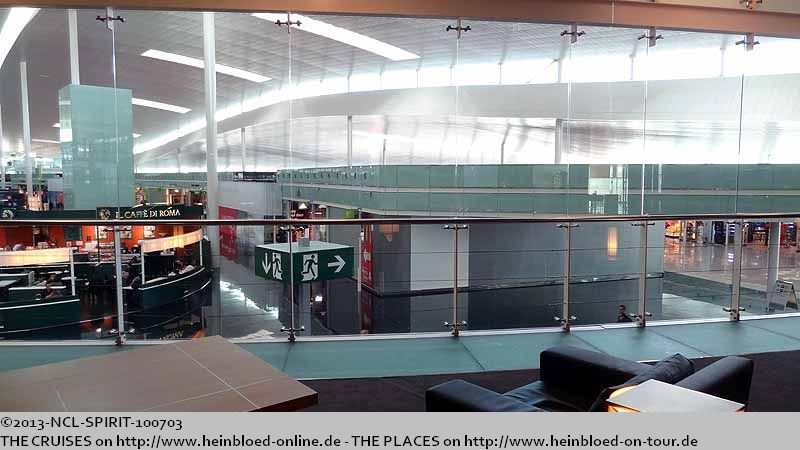 We went to the lounge Paul Casals. Here we learned that Frances and Eddie have not taken off yet. So sad that we did not know it earlier - then they could come with us. And so they got only from Lufthansa a voucher of 10.00 EUR to buy something to eat and drink at the airport.

Here I slept few minutes. I really need some sleep. Everyone was taken care of. Now I need some vacation.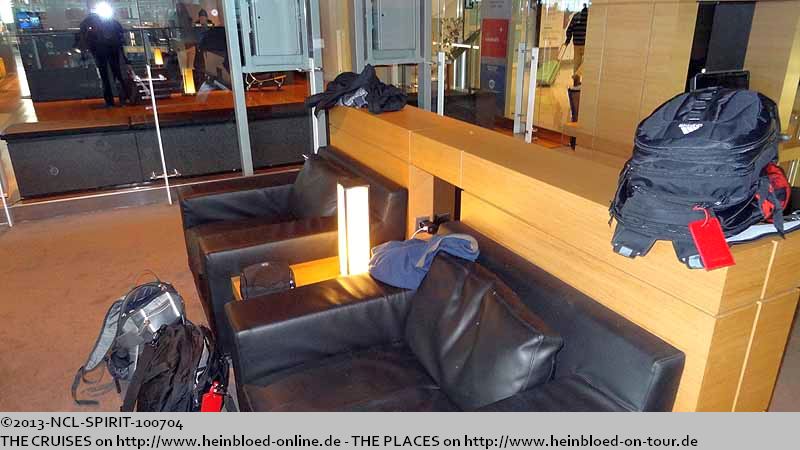 Hier schlafe ich ein paar Minuten. Den Schlaf habe ich mir verdient. Alle sind versorgt. Jetzt brauche ich Urlaub.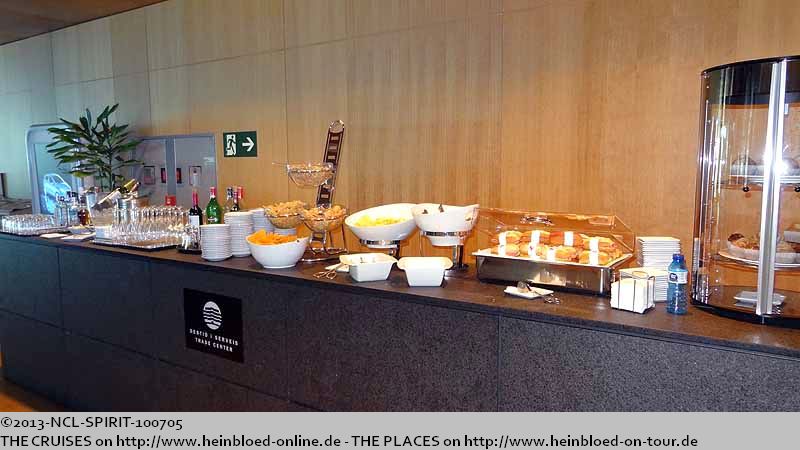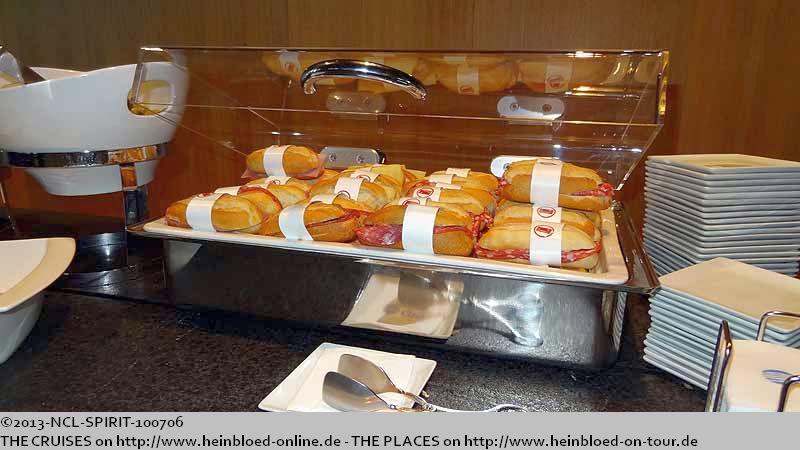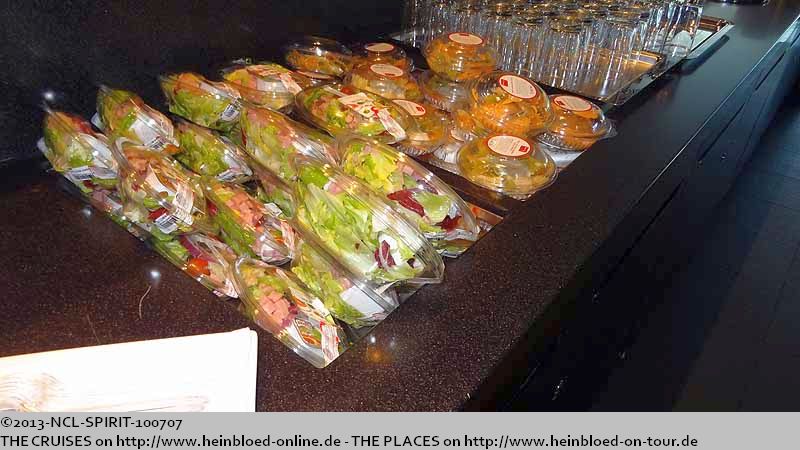 At least we treat ourselves with some ice-cream. Anything else would not fit anymore.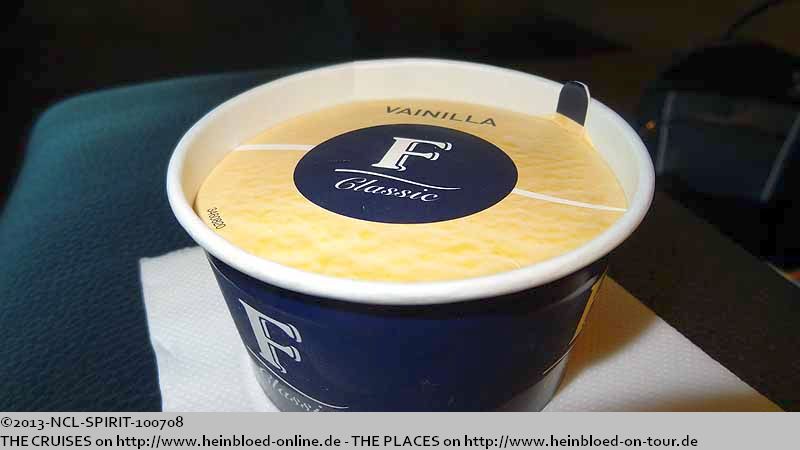 Zumindest gönnen wir uns ein Eis. Alles andere passte nicht mehr.
Noch soll es pünktlich losgehen.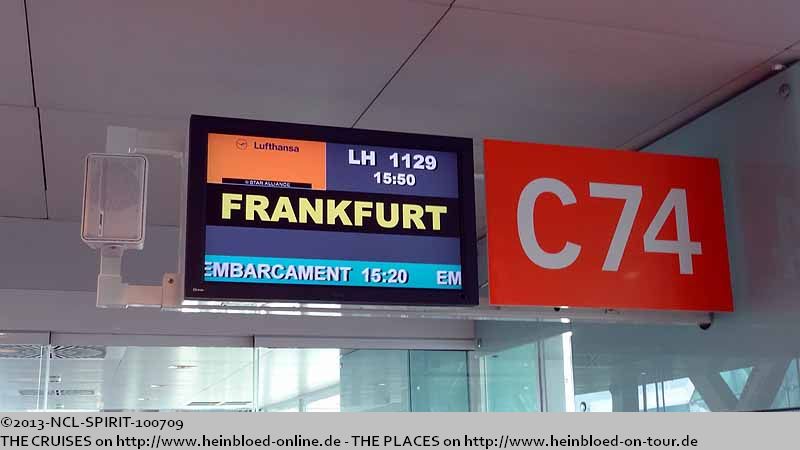 It should go on time.

We met all others here.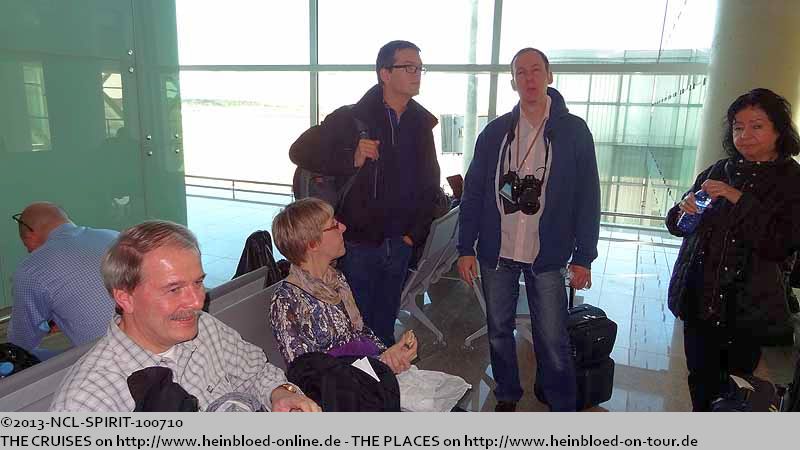 Die anderen treffen wir hier.
Wir sitzen wieder am Notausgang und mein Mittelsitz ist geblockt.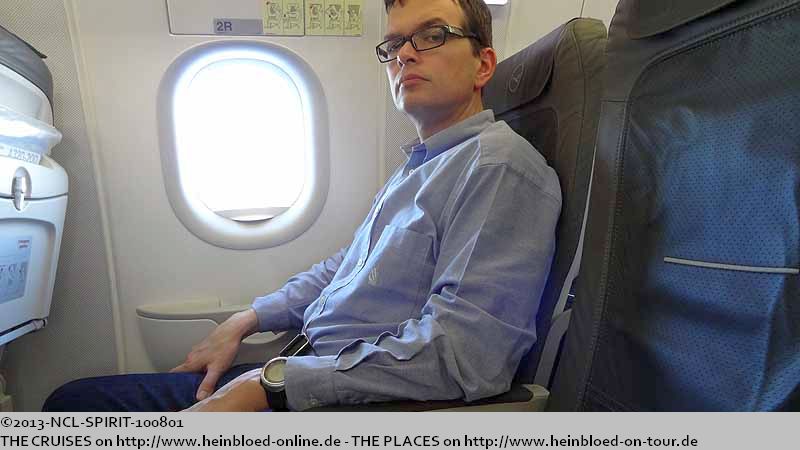 We sat again at the emergency exit and my center seat was blocked.

I was happy that I did not need to go for work the next day but not until next week.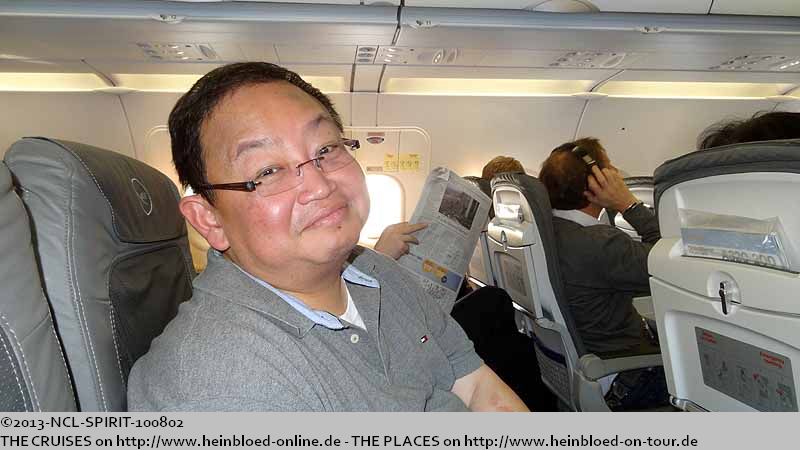 Ich freue mich darauf, dass ich nicht gleich morgen zur Arbeit muss, sondern erst nächste Woche.
Es gibt nur ein Stück aufgetauten Kuchen. Zum Glück sind wir jedoch satt.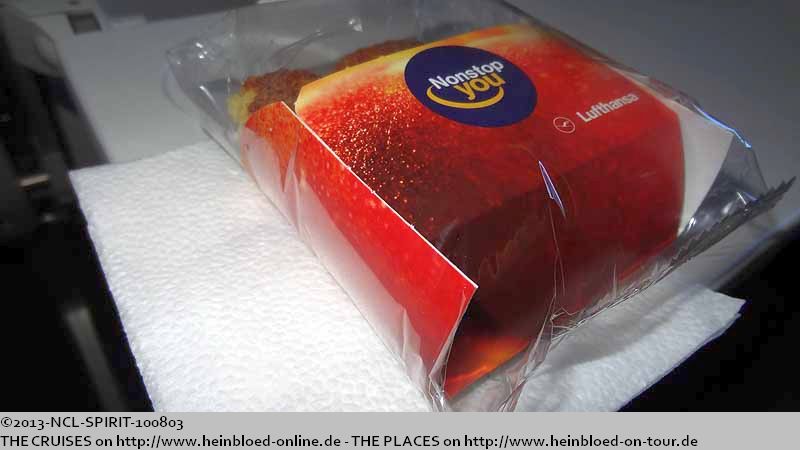 We had only a piece of defreezed cake. But we were lucky that we were full.

In Frankfurt we arrived about 40 minutes late. Because one technician need to make an additional check in the freight compartment.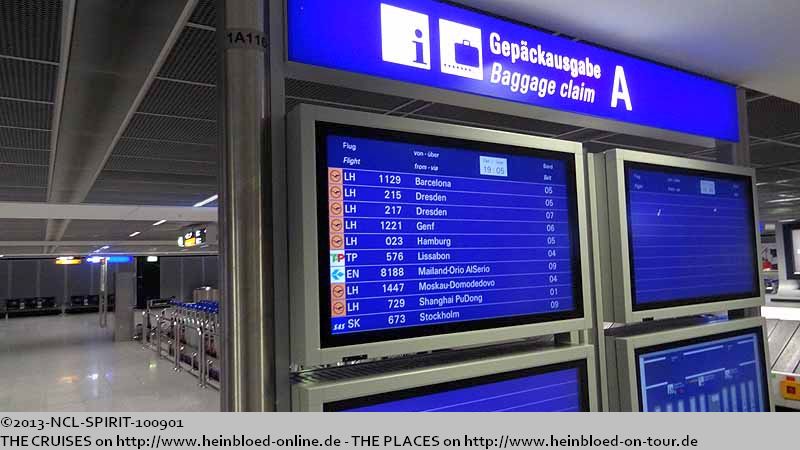 In Frankfurt kommen wir ca. 40 Minuten später an. Weil noch etwas von einem Techniker im Frachtraum untersucht werden musste.
Obwohl das Gepäck erst in 2 Minuten rauskommen soll, ist es schon da.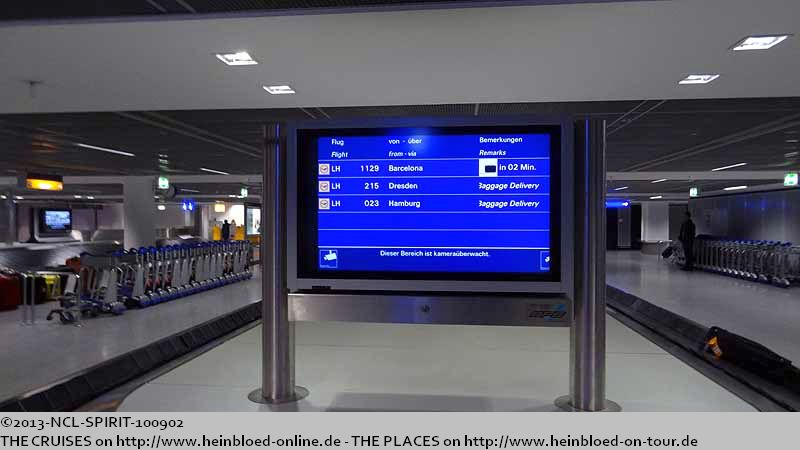 Although the bags should arrive in about 2 minutes, it was already available.

We said good-bye to Axel, Marc, Holde and Christina...

Wir verabschieden uns von Axel, Marc, Holde und Christina...
und begrüßen den Schnee in Deutschland.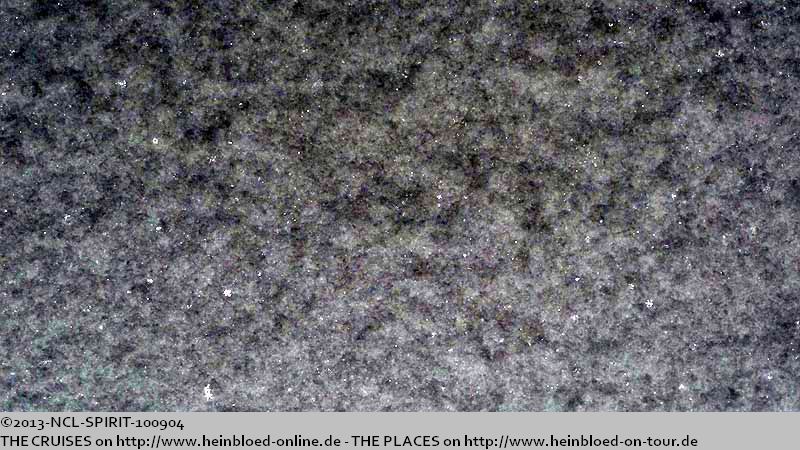 and said hello to the snow in Germany.