Scroll down for English explanations - alternates with German explanations.

Als wir am Flughafen in Barcelona ankommen, beschaffen wir uns zunächst einmal eine Prepaid-SIM-Karte für mein iPhone. Leider erlaubt Orange nur seinen Vertragskunden, dass man das iPhone als Hotspot verwendet, so müssen wir doch die Pässe von Telekom Deutschland zusätzlich buchen. Wir werden schon draußen am Ausgang in der Zone für wartende Fahrer erwartet. Unser Taxi steht nicht am Taxistand sondern in einer besonderen Wartezone in der Nähe der Abfahrtsstelle des
Aerobus
. Für extreme Sparfüchse: Mit
Bus 46
nach Placa Espanya. Von hier aus mit Bus
D 20
zur Columbussäule. Und dann mit dem T3 PortBus weiter zum Kreuzfahrtterminal Mol Adossat. Das kostet hin- und zurück: 1,96 EUR (2 Abschnitte auf T-10 1 Zone) und 3,50 EUR (T3 PortBus) = 5,46 EUR (2012 für hin- und zurück) - lohnt sich aber bloß, wenn man zwei Mal umsteigen mag und auch vier weitere Mitfahrer hat, damit sich ein T-10 Ticket richtig lohnt...) - Wenn man den Aerobus bis Placa Espanya benutzt sind es nochmals 11,50 EUR mehr (2013).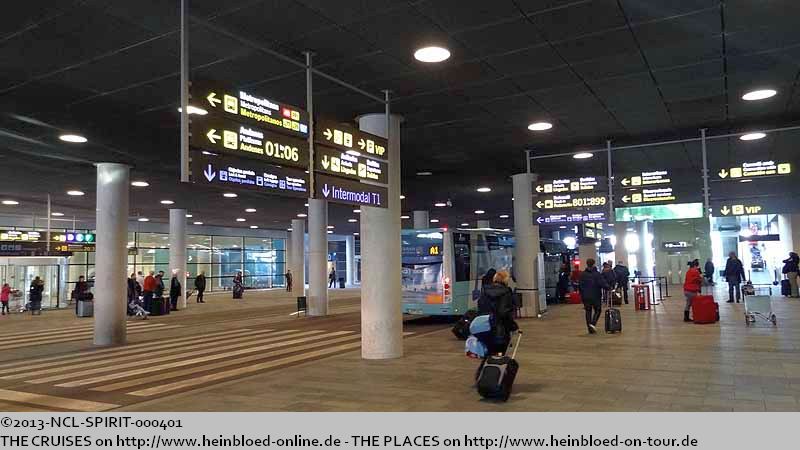 When we arrived at Barcelona Airport we first need to get a prepaid SIM-card for my iPhone. Unfortunately Orange only allows their contract customers to use their iPhone as hotspot so we need to book additional passes from Telekom Germany. Someone was waiting for us at the zone for waiting drivers. Our taxi had to wait in a special zone close to the departure point of the Aerobus. For extremely cheap people: Bus 46 to Placa Espanya, then transfer to D 20 to the Columbus Column and from here you take T3 PortBus to the Cruise Terminal Mol Adossat. That would be a return fare of 1.96 EUR (2 sections on T-10 1 Zone) plus 3.50 EUR (T3 PortBus) = 5.46 EUR (subject you find 4 more to go on same T-10-ticket / 2012). If you take the Aerobus it's 11.50 EUR (2013) more.

And here is the bus stop to depart.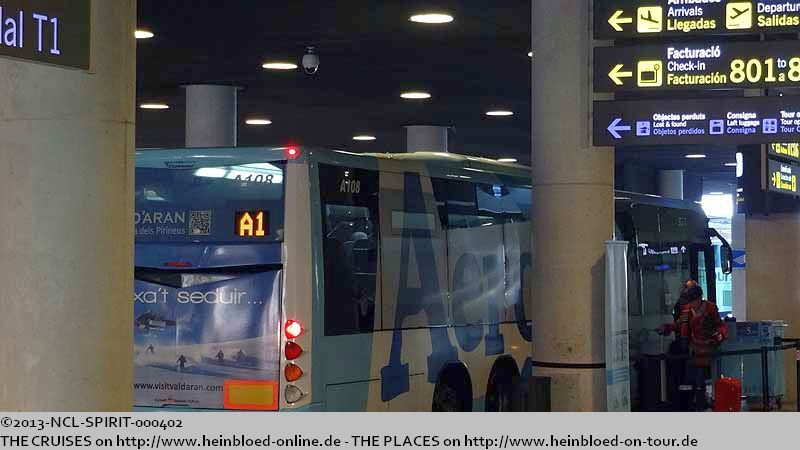 Und hier fährt er ab.
Gebucht haben wir im
AC Hotel Sants
, die zu Marriott gehört.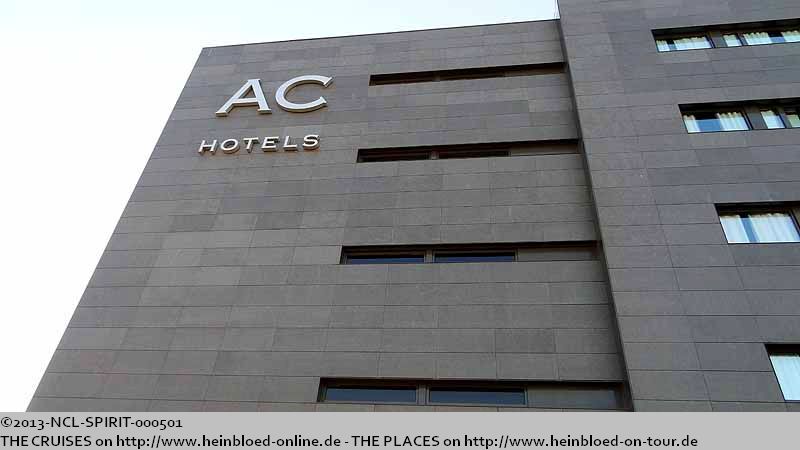 We booked with the AC Hotel Sants, which is part of Marriott.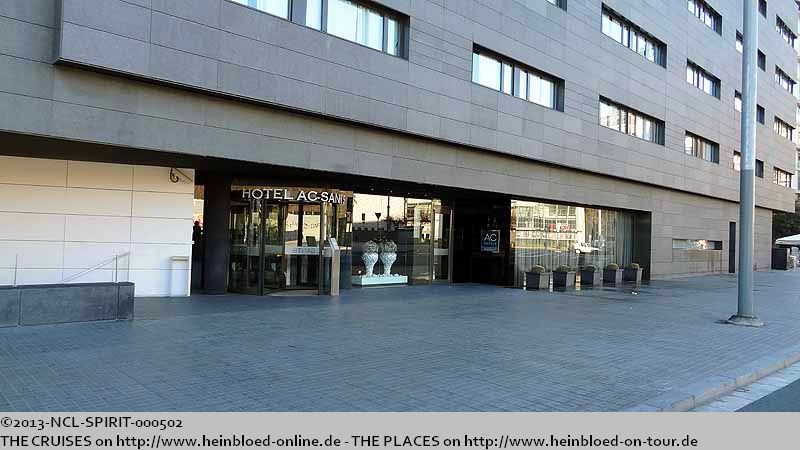 Ooops... like on NORWEGIAN EPIC... Bathroom area as part of the room... and the sink where water sprinkles everywhere.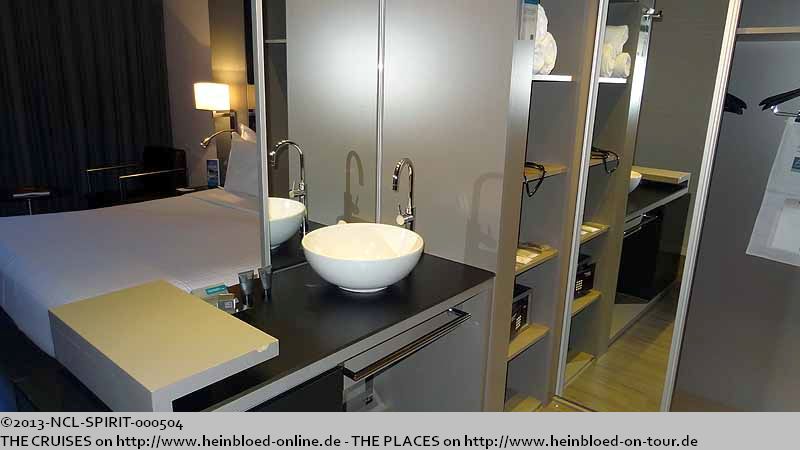 Oh... wie auf der NORWEGIAN EPIC... Badbereich mitten im Zimmer... und diese Waschbecken, bei der das Wasser überall hinspritzt.
Und nochmals oh... eine Matratze, eine Decke... wir bekommen zwei seperate Decken... nur eine Trennflex, um die Matratze zu teilen, hatten sie leider nicht...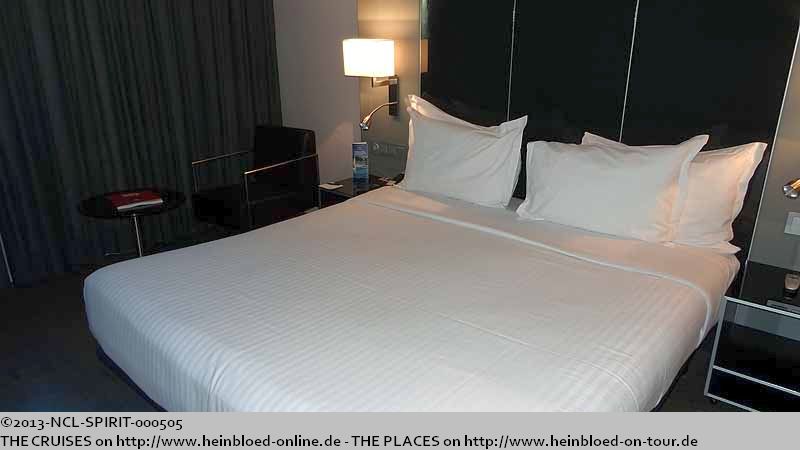 And again oops... one mattress, one blanket... later we got two seperate blankets... but they did not deliver a saw to seperate the mattress as they had none...

The shower is as public as you know from NORWEGIAN EPIC...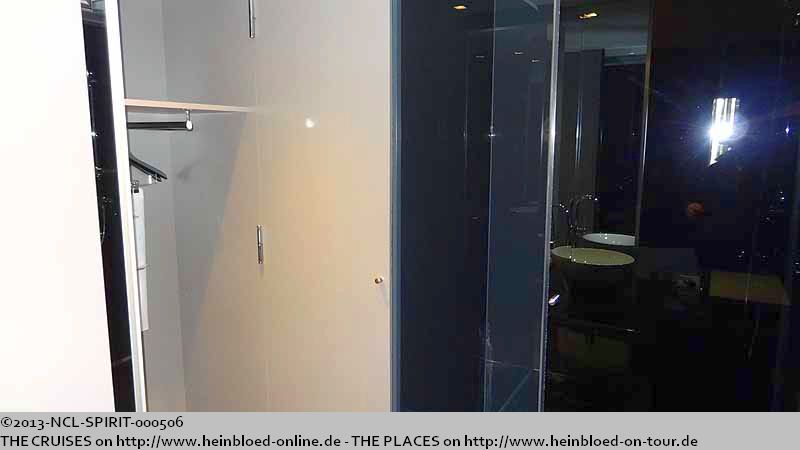 Nun die Dusche ist so "öffentlich" wie auf der NORWEGIAN EPIC...
Und die Toilette im Wandschrank integriert...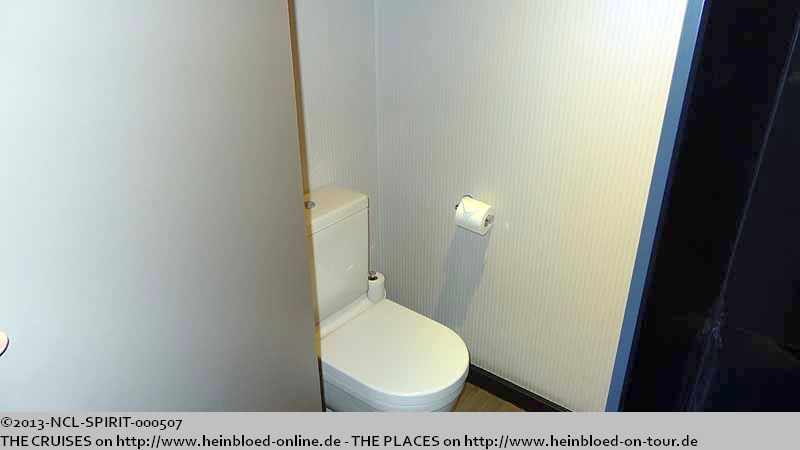 But the toilet was somehow integrated into the closet...

We had some unluck with the location of our room: Just the street light in front of our room which let us have bright light in our room.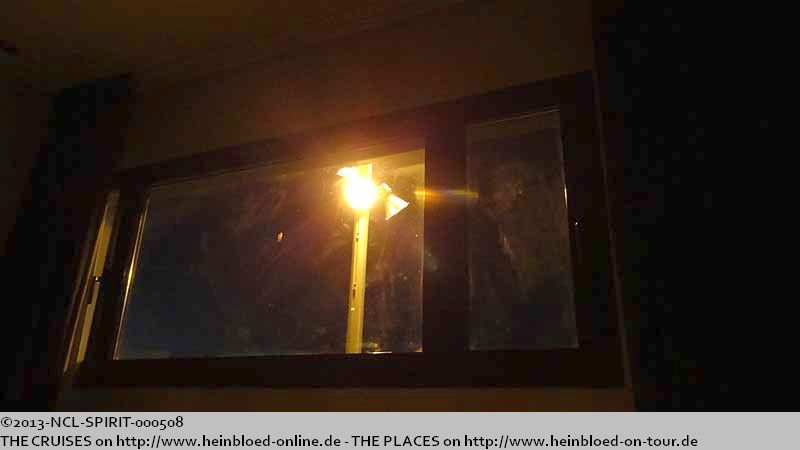 Mit der Lage unseres Zimmers hatten wir ein bißchen Pech: Die Straßenlaterne leuchtete direkt in unser Zimmer als Strahler rein.
Da wir erst nachmittags wieder am Flughafen sein müssen, ziehen wir los. Auch in der U-Bahn werden wir erinnert, dass Heilige Drei Könige ist.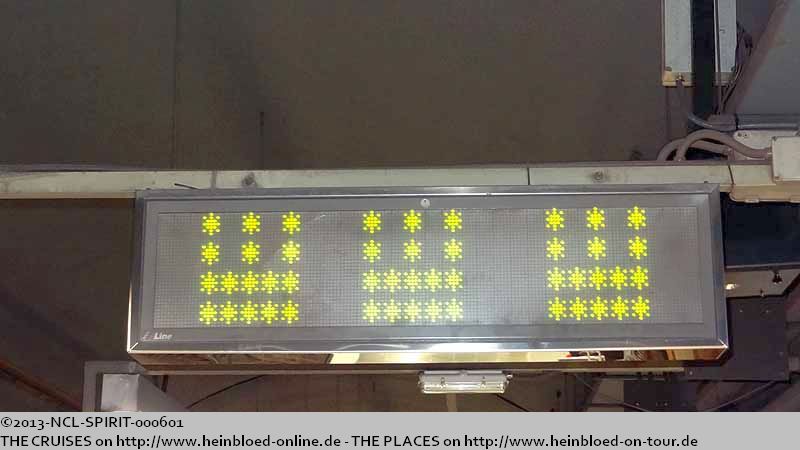 As we need to be back at the airport in the afternoon we browsed around. Even in the metro you were reminded that it was Three Kings.

We wanted to see the Amusement Park Tibidabo. Someone explained that the park itself was closed but that you still can go there to enjoy the view over Barcelona.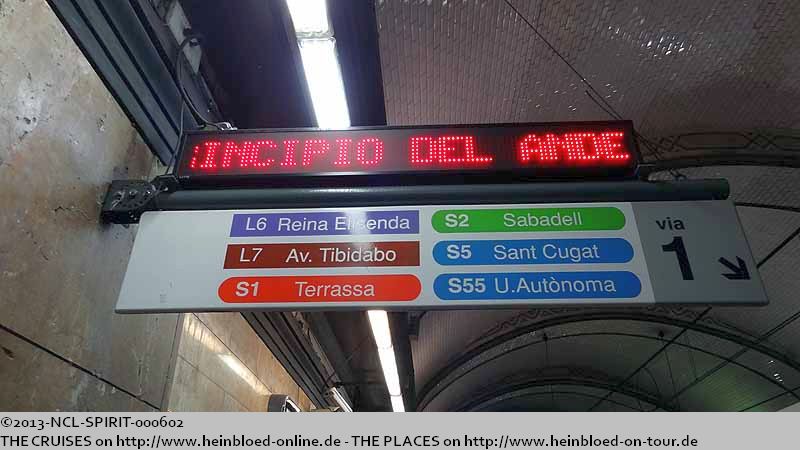 Wir wollen zum
Vergnügungspark Tibidabo
. Uns wird erklärt, dass zwar der Vergnügungspark geschlossen ist, aber man trotzdem dort die Aussicht über Barcelona genießen kann.
Man muss nur irgendwie gucken, wie man zur
Linie 7 von der FGC
kommt (Keine U-Bahn von TMB, jedoch im Tarifsystem integriert - wir sind vom U-Bahnhof Diagonal im Tunnel zum Bahnhof Provenca gelaufen).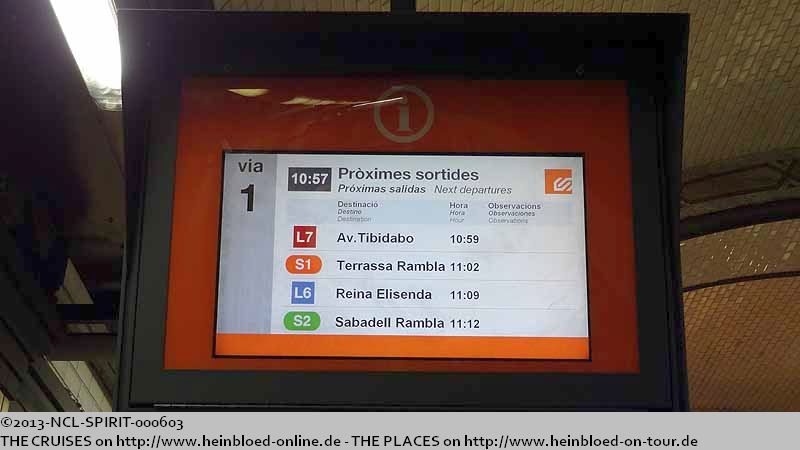 Some you need to get to Line 7 of FGC (No metro of TMB but integrated in the tariff system - we walked in a tunnel from Metro-Stop Diagonal to Provenca Station).

When we arrived Av. Tibidabo we were in a very nice neighbourhood of Barcelona.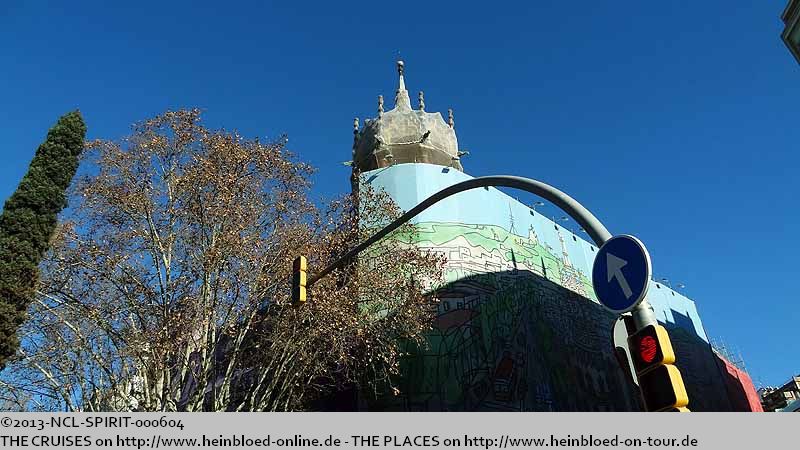 Als wir an der Av. Tibidabo ankommen, befinden wir uns in einem ganz schönen Stadtteil von Barcelona.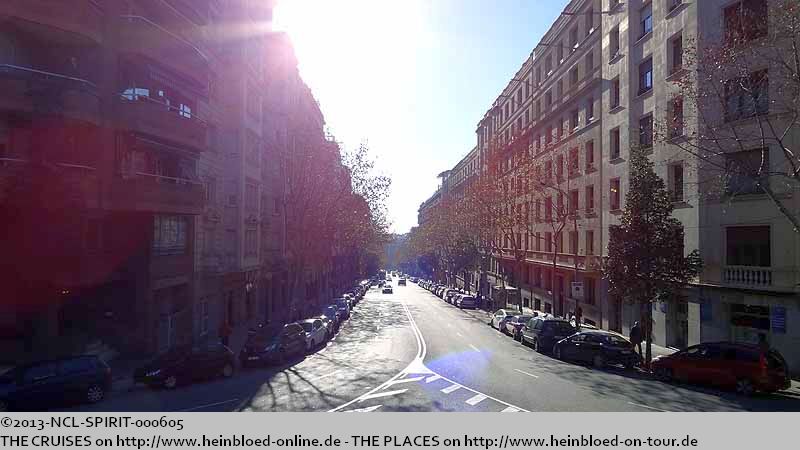 Adjustant from the exit of the station you normally will find the departure stop of Tramvia Blau. But just today the service was suspended due to construction works not because of the public holiday as staff members of TMB told us. The Ropecar (Funicular) had the construction works today. We might use Bus 196 to get the ropecar-stop but need to walk 1 1/2 hours then. That what we did not like to do.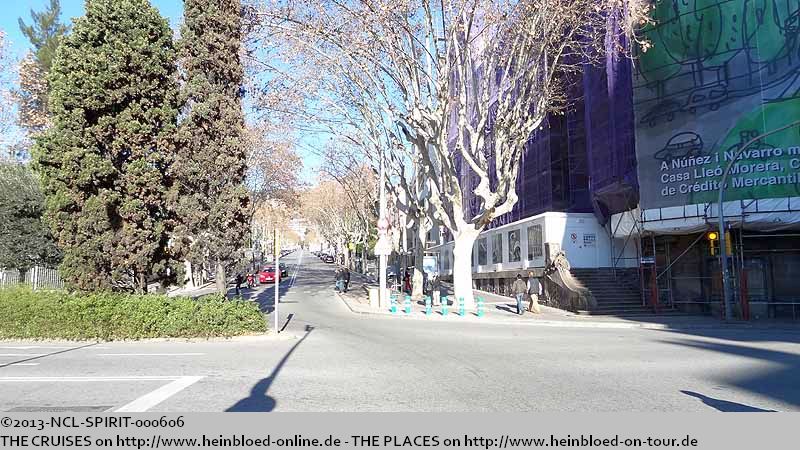 Gegenüber vom Ausgang des Bahnhofes würde normalerweise die
Tramvia Blau
abfahren. Nur ausgerechnet heute fährt sie nicht. Nicht wegen des Feiertages, wie uns die TMB-Mitarbeiter erklären, sondern weil heute eine Wartung an
Standseilbahn
stattfindet. Wir könnten zwar
Bus 196
nutzen und bis zur Standseeilbahn-Station laufen, aber danach 1 1/2 Stunden zu Fuß laufen. Darauf verzichten wird.
Übrigens Tramvia Blau und die Standseilbahn zum Tibidabo sind nicht Bestandteil des Verbundtarifes.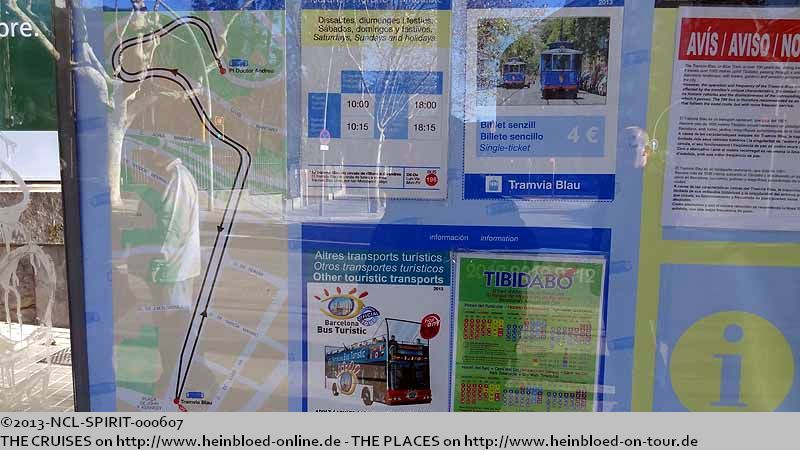 By the way: Tramvia Blau and Ropecar to Tibibado are no part of the integrated tariff system.

With the help of the iPhone App of TMB we could get quickly to Lessesp by bus. There we wanted to check for the best way to Park Güell because I am in charge for the airport transfers the next day while Bruno is in charge for guiding through the park.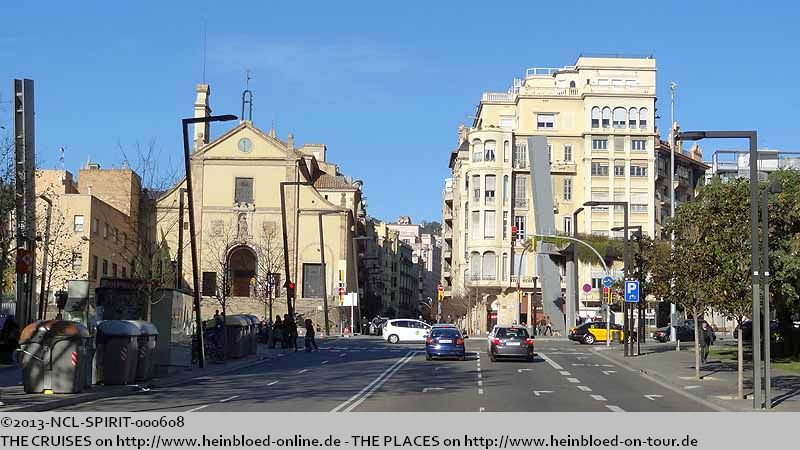 Mit Hilfe des iPhone Apps von TMB kommen wir schnell mit dem Bus nach Lessesp. Dort wollen wir uns nochmals wegen der Wege zum Park Güell erkundigen, weil ich am nächsten Tag für die Abholungen am Flughafen zuständig bin, während Bruno die Parkführung macht.
Aber zunächst brauchen wir ein Päuschen... wie üblich bei
FARGA
... unserem Lieblings-Patisseur in Barcelona.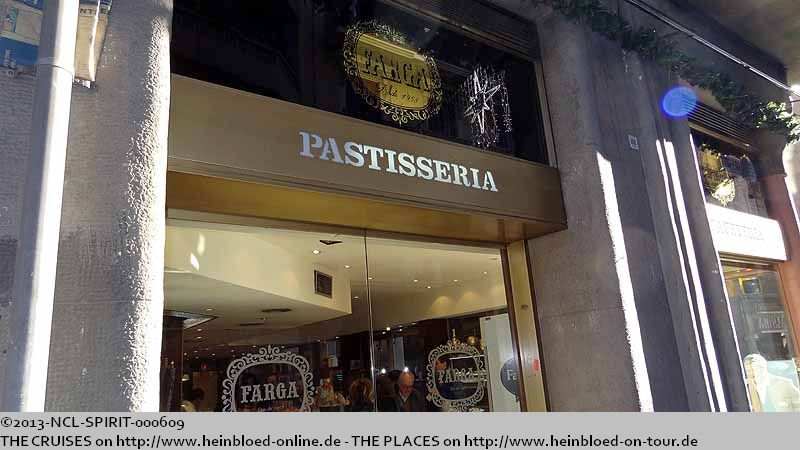 But first we need a break... as usual with FARGA... my favorite pastry shop in Barcelona.

Unfortunately this little branch was jam packed. A part of the café incl. access to the toilet was blocked because they need that day a lot of storage space: for the sale of the Roscón de Reyes (King's Crown Cake). In the cake you'll find a coffee bean and a little China figure. Who finds the coffee bean have to pay for the cake and who finds the figure will become "King".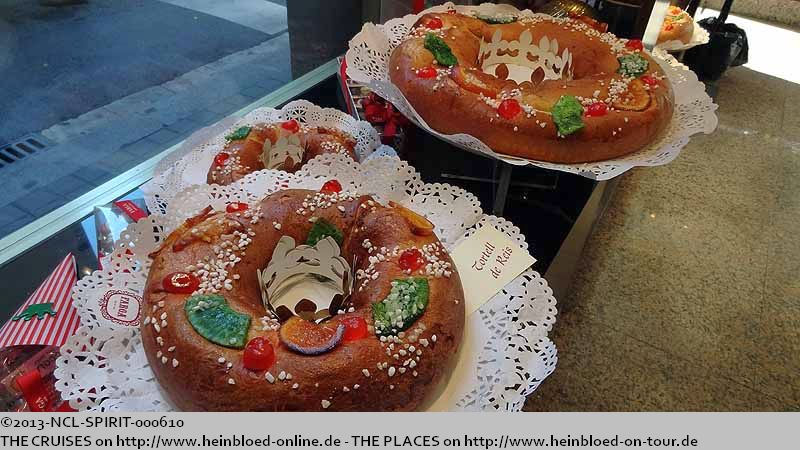 Dort läuft allerdings diese kleine Filiale über. Ein Teil des Cafés inkl. Zugang zu den Toiletten ist abgesperrt, weil Lagerfläche heute gebraucht wird: für den Verkauf des Königskranzes (Roscón de Reyes). Eingebacken ist eine Kaffeebohne und eine kleine Porzellanfigur. Derjenige, der die Kaffeebohne findet, muss den Kuchen bezahlen und der andere wird "König".
Wir bekommen noch gerade Platz an der Bar und lassen es uns nach dem Frühstück von Lufthansa richtig gut gehen...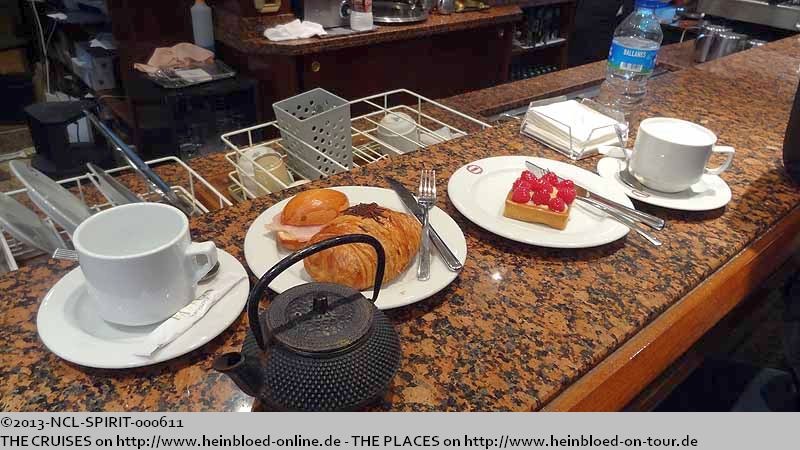 We could get some place at the bar and after the breakfast with Lufthansa we had to treat us a little well...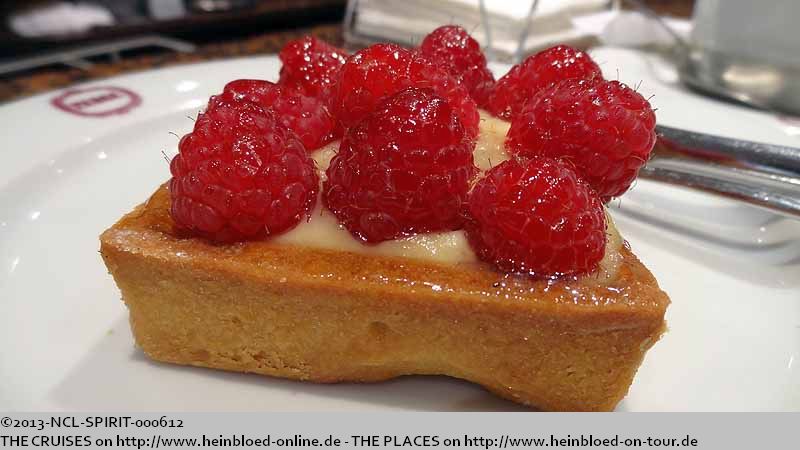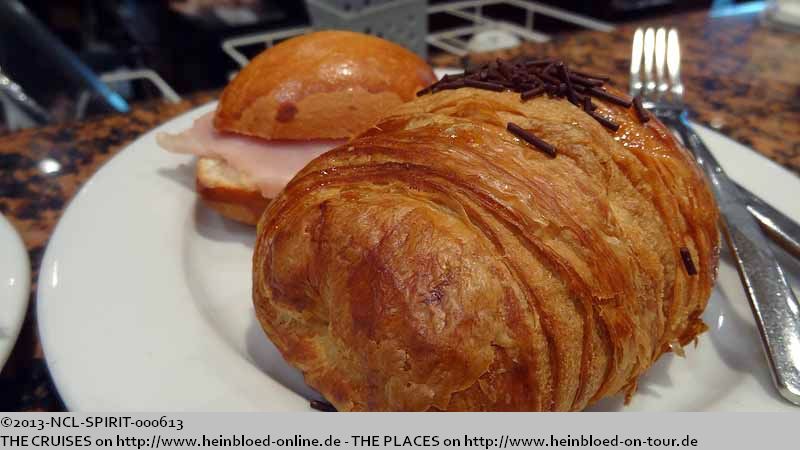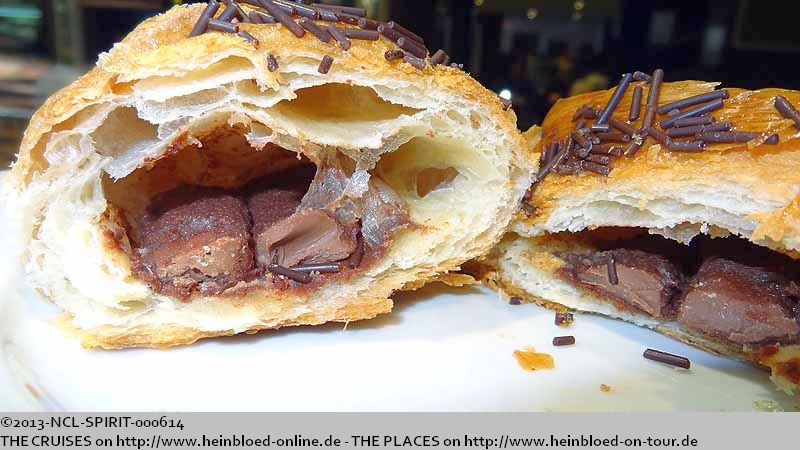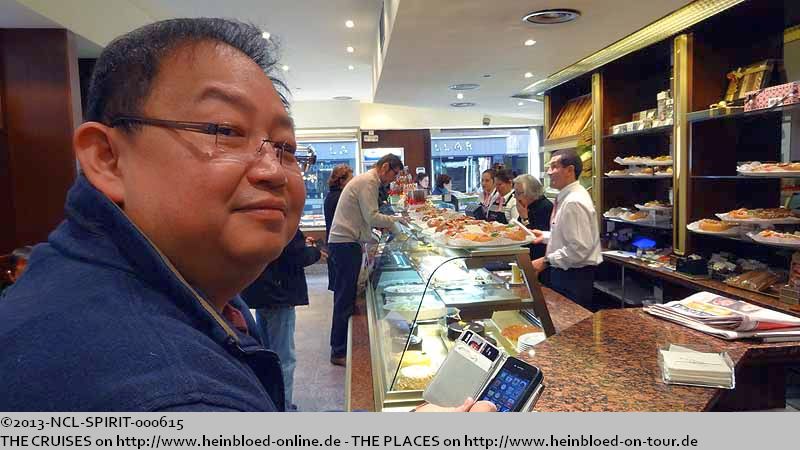 It looked to yummy so we decided not to have some lunch but to buy something to go...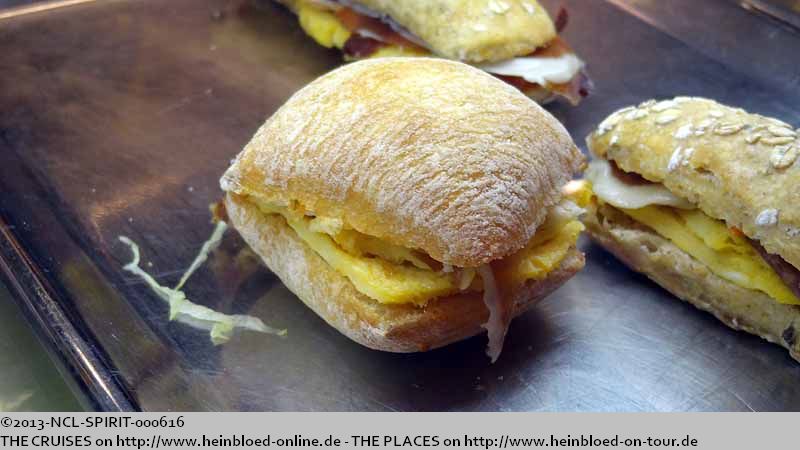 Da es einfach zu lecker aussah, beschließen wir unser Mittagessen auch hier einzukaufen und mitzunehmen...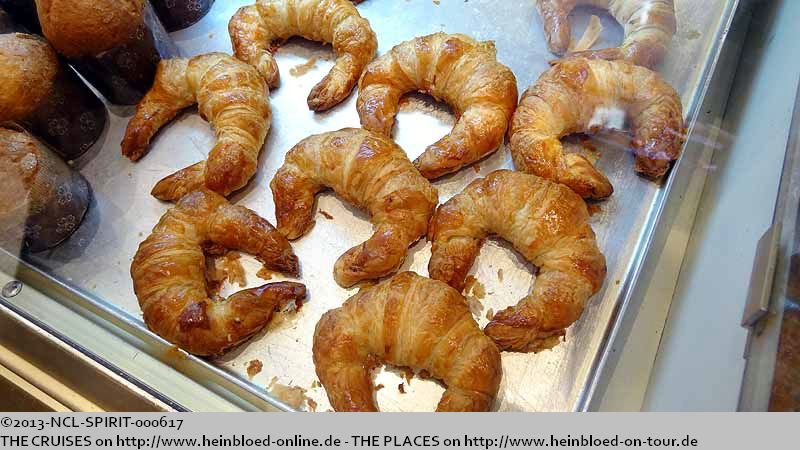 We waited for Bus 116. But we had unluck. One second I was distracted and turned around and the bus drove away without stop... so another waiting of 20 minutes... but we had our FARGA-sandwiches with us...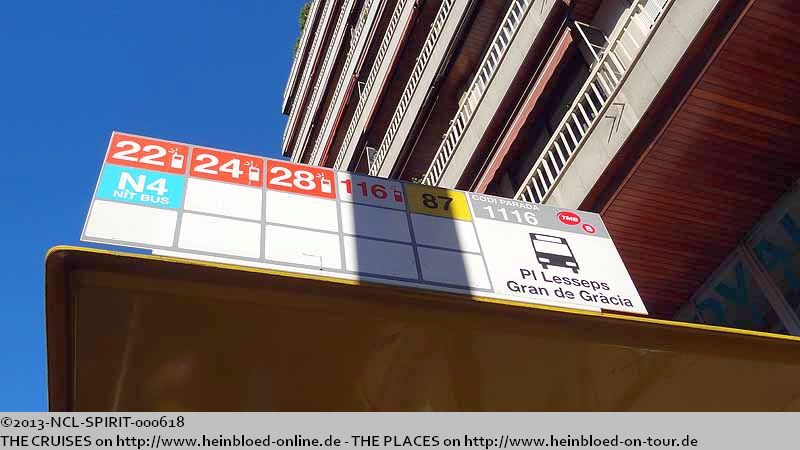 An der Bushaltestelle waren wir auf den Bus 116. Leider haben wir Pech. Eine Sekunde kurz abgelenkt und umgedreht, und der Bus ist ohne Halt weitergefahren... also 20 Minuten warten... aber wir hatten ja unsere FARGA-Sandwiches dabei...
Der
Bus 116
fährt direkt zum oberen Eingang von Park Güell. Allerdings muss man ein wenig aufpassen, da sie als Ringlinie in Form einer 8 mit mehreren Schleifen geführt wird. D. h. von Lessesp (
Metro 3
, direkt vom Bahnhof Sants über Drassenes (La Rambla/Columbussäule (Hafenbus)) - Liceu (La Rambla/La Boqueria) - Catalunya) - Passeig de Garcia (Casa Battló/Casa Mila/La Padrera)) fährt man bis Av del Coll del Portell/Baixada de la Gloria (Das ist die erste Haltestelle, nach dem es wieder bergab geht!) und hält sich links auf die Treppe zum Park Güell. Und zurück geht es ab Larrard-Olot direkt am unteren Haupteingang (wenn man raus geht rechts und links) mit Bus 116 direkt zurück nach Lessesp. So muss man im Park nicht einmal hoch und wieder runterlaufen, sondern läuft bequem von oben nach unten.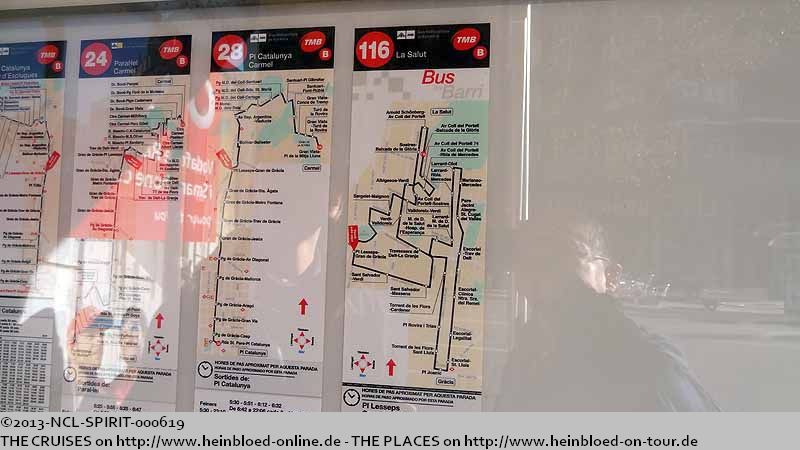 Bus 116 gets you to the upper entrance of Park Güell. But you need to pay a little attention as the route has the shape of the number 8 with few loops. I. e. from Lessesp (Metro 3, directly from Sants Station via Drassenes (La Rambla/Columbus Column (PortBus)) - Liceu (La Rambla/La Boqueria) - Catalunya) - Passeig de Garcia (Casa Battló/Casa Mila/La Padrera)) you had to get off at Av del Coll del Portell/Baixada de la Gloria (The first stop when you get downhill again!) and you keep left to the stairs to Park Güell. And back you get from Larrard-Olot directly from the lower main entrance of Park Güell (right and then left when you leave) by Bus 116 back to Lessesp. So you must not walk up and down in Park Güell but walk comfortably just downhill.

Bus 116 is operated as a neighbourhood route with smaller vehicles: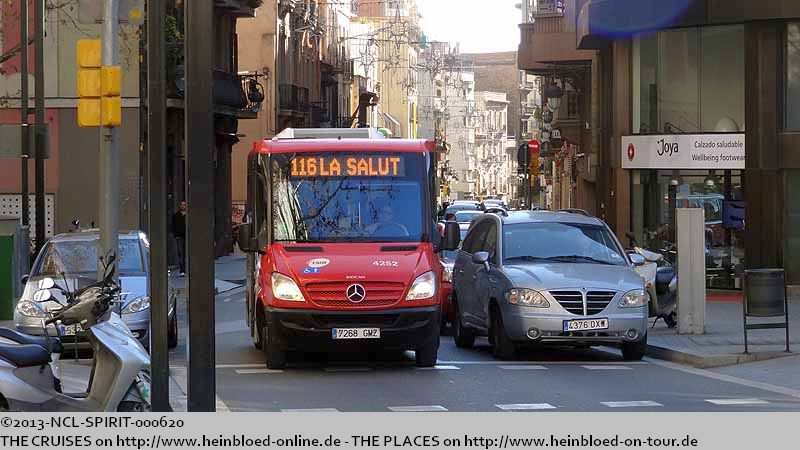 Da Bus 116 als Nachbarschaftsbus mit Kleinbussen betrieben wird:
Eignet sich nicht für große Gruppen!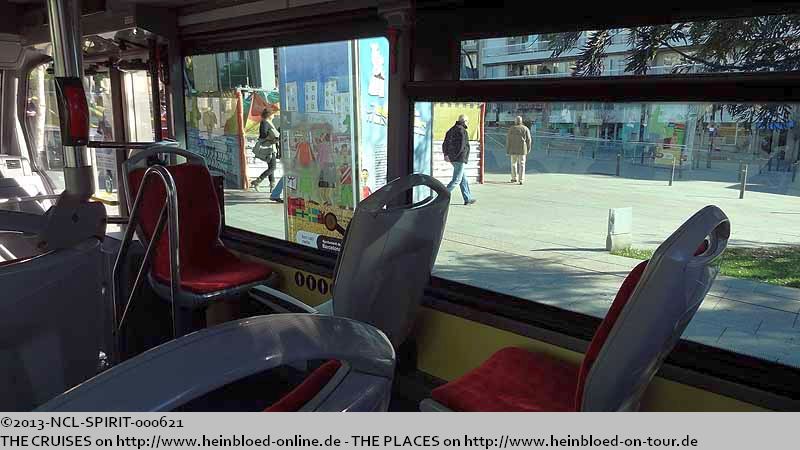 Nothing for big groups.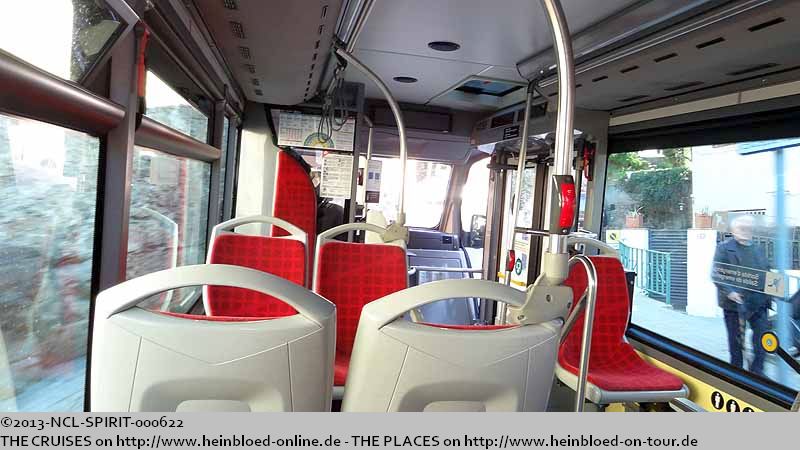 Wir nutzen die iPhone App von TMB, um unsere Fahrt zu verfolgen und die richtige Haltestelle zu finden, an der wir aussteigen. Bus 116 fährt auch ab Metro Joanic, aber dann kommt man zuerst zum unteren Eingang...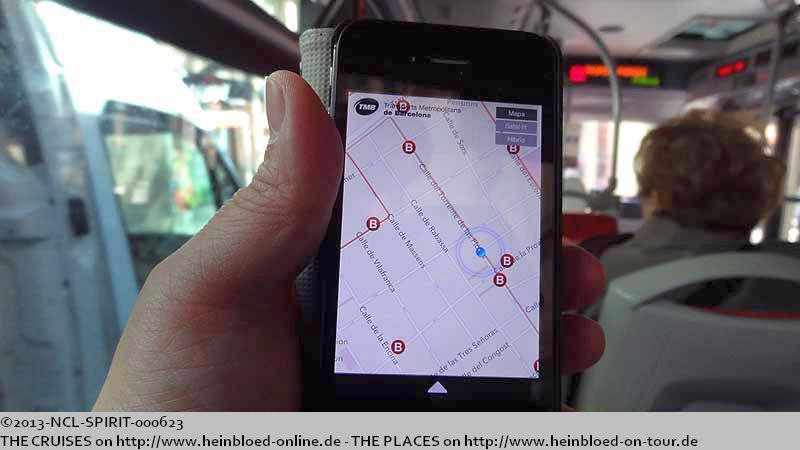 We used the iPhone App of TMB to follow our busride and to get off the right bus stop. Bus 116 also goes from Metro-stop Joanic but then you get first to the lower main entrance...

Meanwhile we saw a self-service-tellar of the saving banks (La Caixa).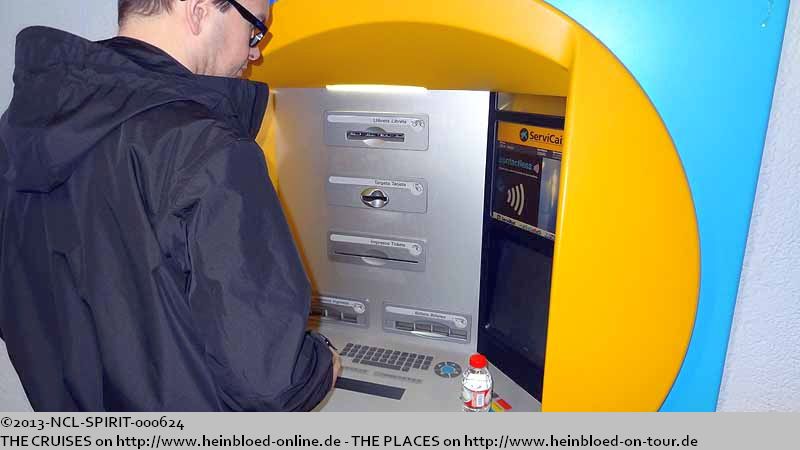 Zwischendurch gehen wir einem SB-Terminal der Sparkassen (
La Caixa
).
Gegen Vorlage der Kreditkarte, mit der wir bestellt haben, bekommen wir hier die
Online-Tickets
für die Sagrada Familia am nächsten Morgen.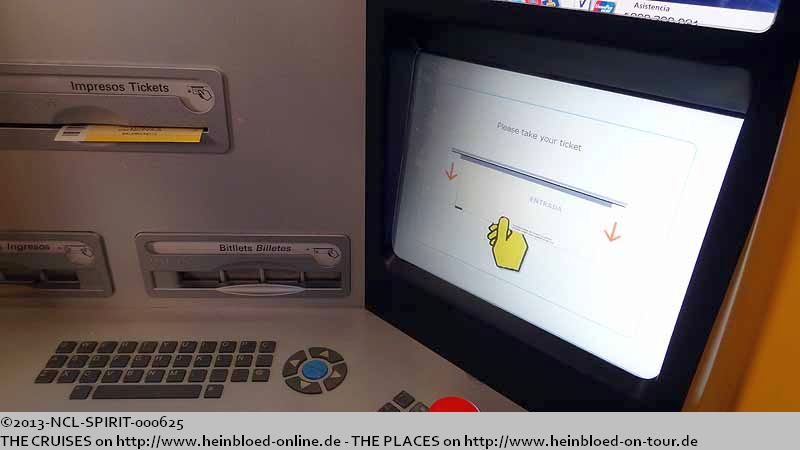 Against presentation of the credit card we ordered, we could collect our online-tickets for Segrada Familia for the next morning.