Scroll down for English explanations - alternates with German explanations.

Mittags gehen wir wieder ins Shogun essen.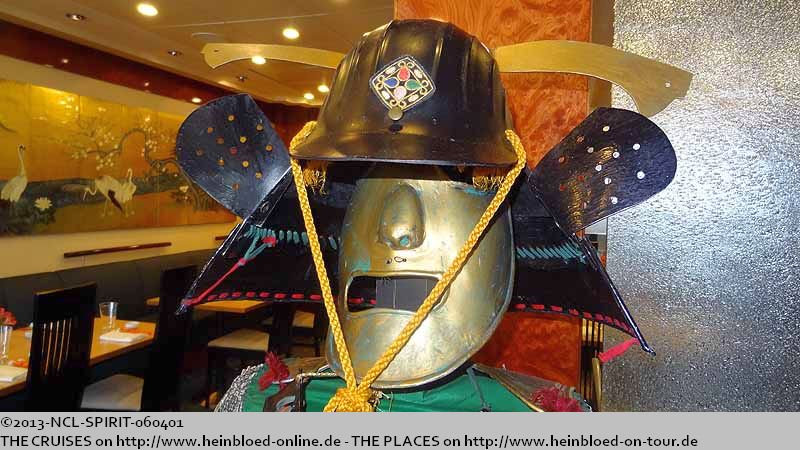 For lunch we went to Shogun.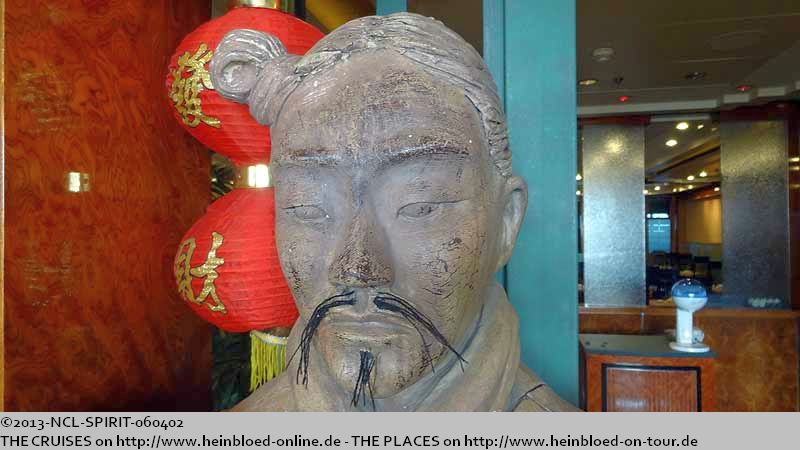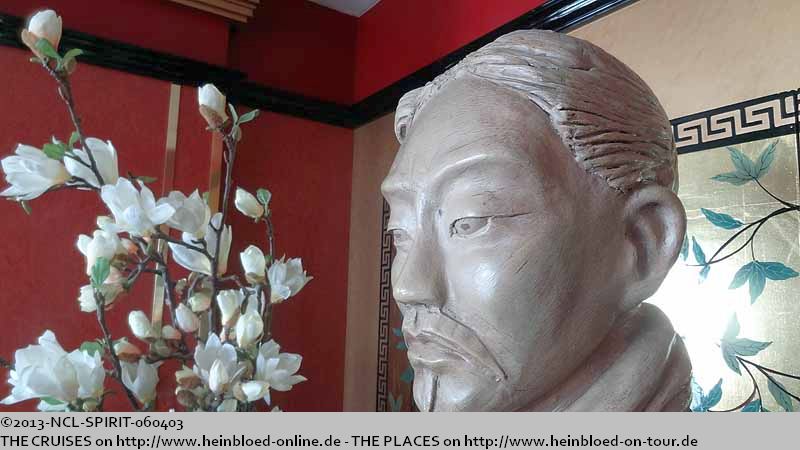 There were many guests at the sushi-restaurant too.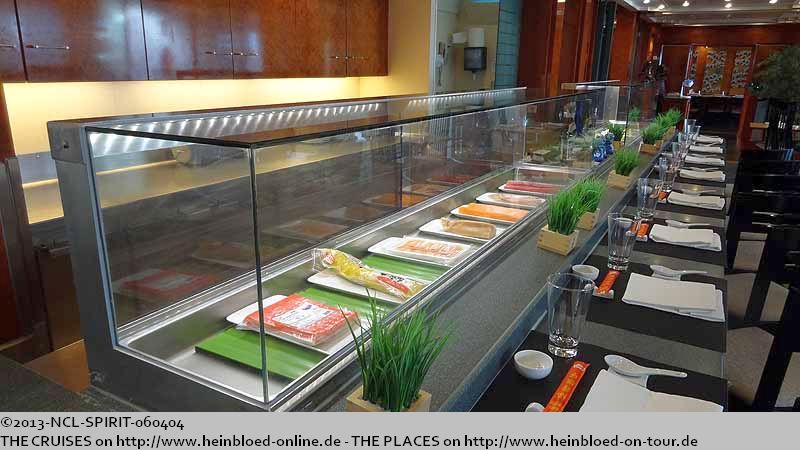 Auch das Sushi-Restaurant wird mittags gut besucht.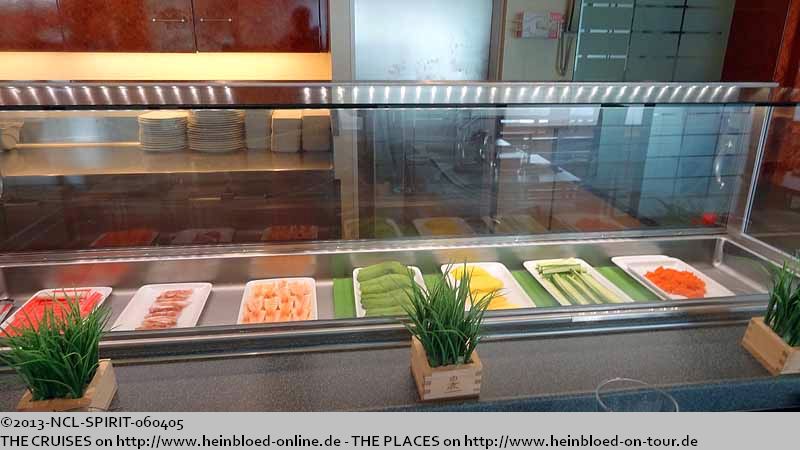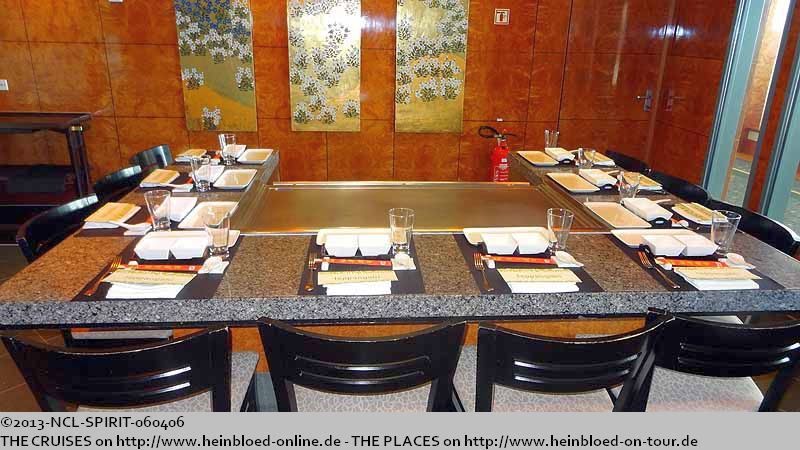 Wir gehen lieber Nudeln essen.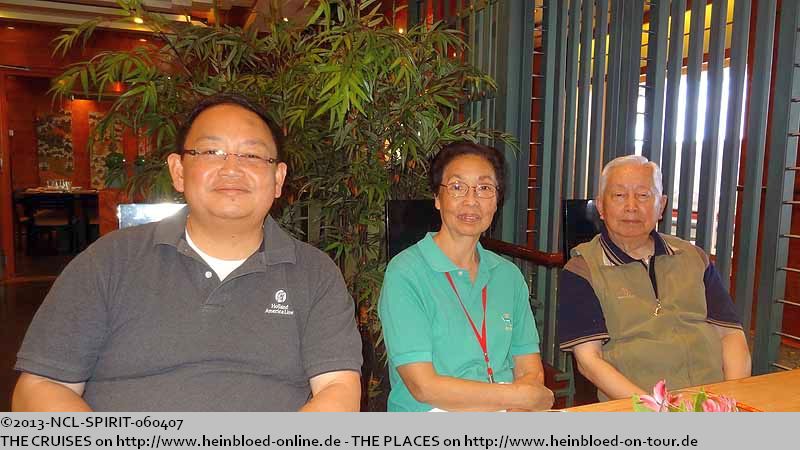 We preferred to have some noodles.

My father wanted to look around.

Mein Vater sieht sich um.
Nino Isada wurde dann auf dem Bild von einem anderen Mitfahrer auf Facebook wiedererkannt, der sich sehr lobend über ihn geäußert hat. Ich hätte den ganzen Tag hier sitzen können, um mich von denen bedienen zu lassen. Nur blöderweise schließen sie zwischen 13.30 Uhr und 17.30 Uhr und dann ist niemand von denen da.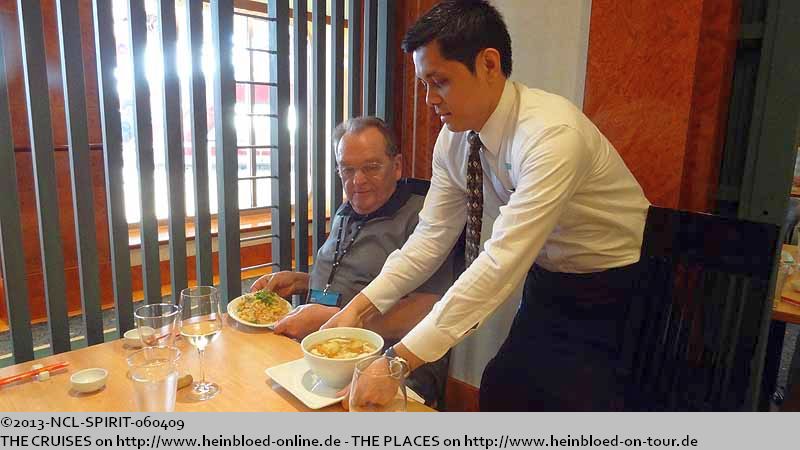 Nino Isada was identified later by another cruiser on Facebook and he told very well of him. I could sit all the day there to enjoy their service. But unfortunately they close the venue from 13.30 hrs to 17.30 hrs and then nobody is here.

We had few irritation but now it is clear for us: the three noodle dishes at the top are not noodle soups but the three at the bottom. It was not so clear for no. 4 and no. 5. So I ordered an additional cup of chicken broth. It was no problem at all.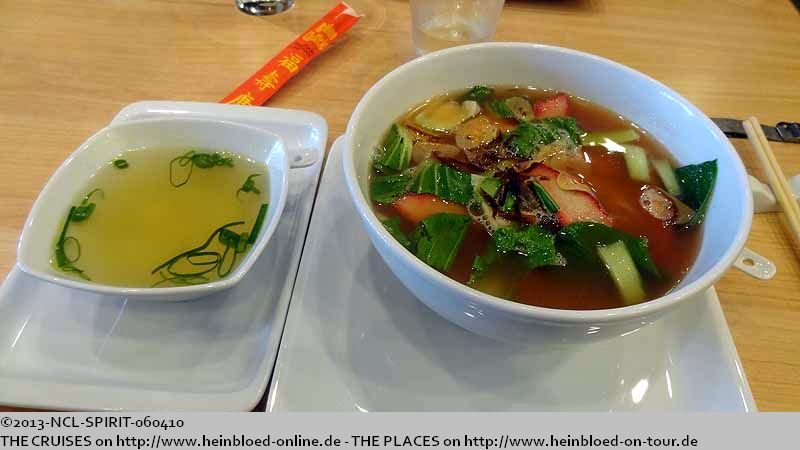 Es gibt ein wenig Irritationen, aber jetzt wissen wir Bescheid: die oberen drei Nudelgerichte sind keine Nudelsuppen, aber die unteren drei. Das ging nicht so ganz klar für die Nr. 4 und 5 hervor. So bestelle ich mir eine Tasse Hühnerbrühe dazu, was aber gar kein Problem war.
Außerdem haben wir nachgefragt, ob wir statt Reisnudeln auch normale Nudeln haben könnten: gar kein Problem.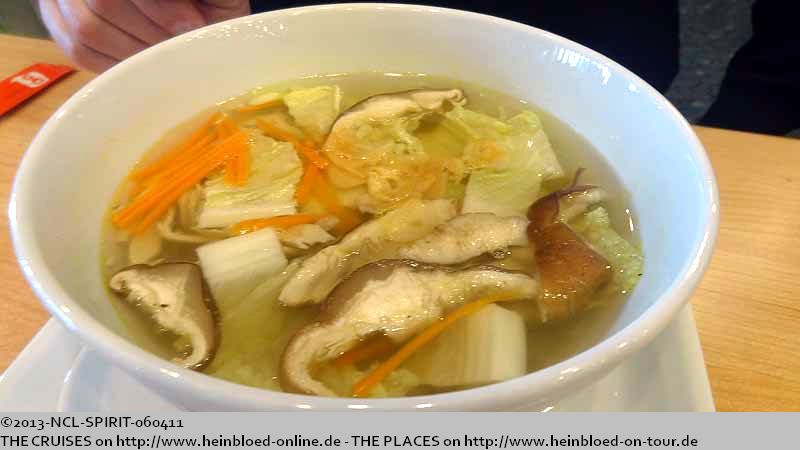 Furthermore we asked if we could have some normal noodles but some rice noodles: absolutely no problem.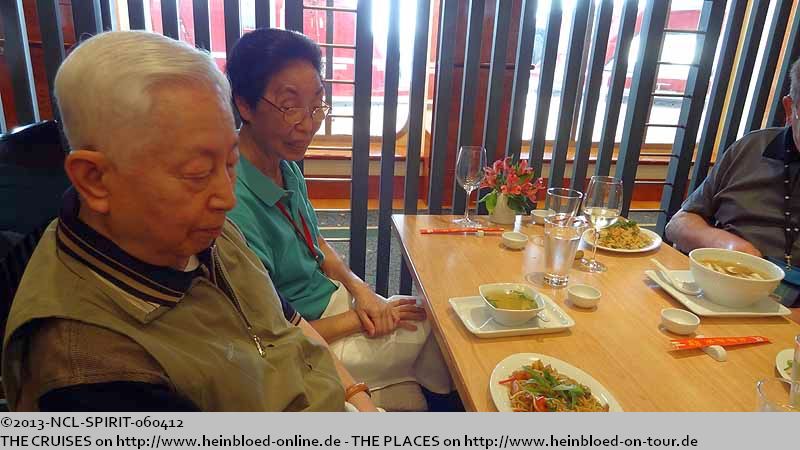 Auch essen viele asiatische Crew-Mitglieder hier: bei 5 USD Zuzahlung bekommen sie wirklich etwas, was sehr authentisch nach Asien schmeckt.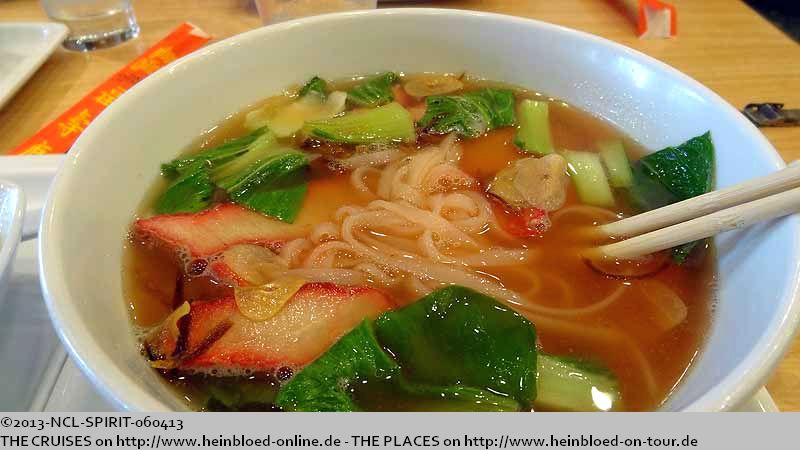 Many crew-members were eating here: for 5 USD cover charge you get really something which tastes very authentic like Asia.

I love seeweed so I ordered some for me.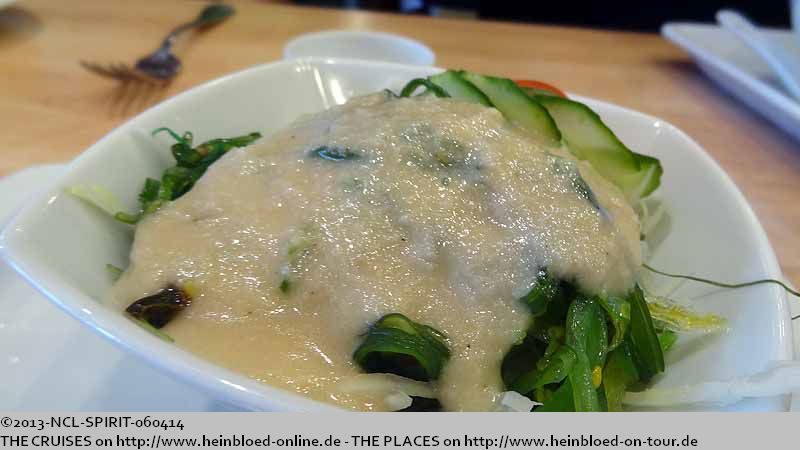 Den Seetang esse ich gerne und bestelle ihn mir gerne dazu.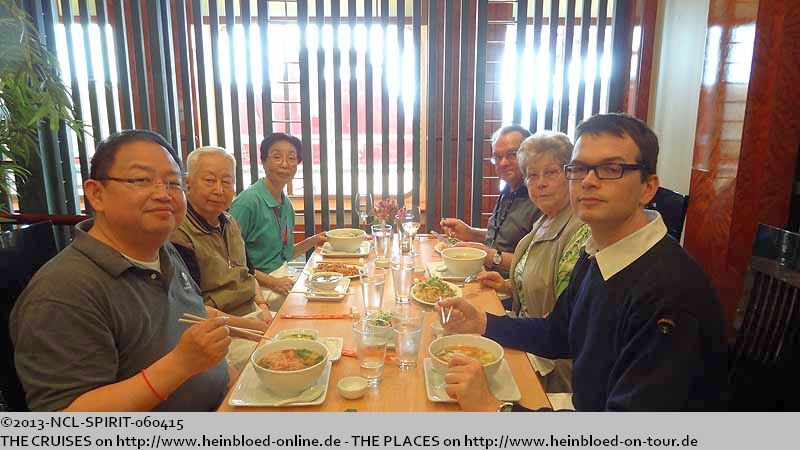 My mother tried to show Bruno's father how to eat noodle soup with chop sticks...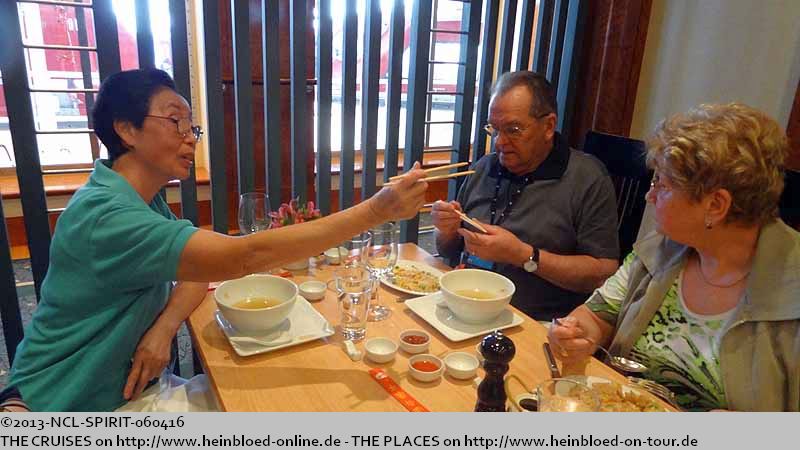 Meine Mutter versucht Brunos Vater beizubringen, wie man mit Stäbchen eine Nudelsuppe ist...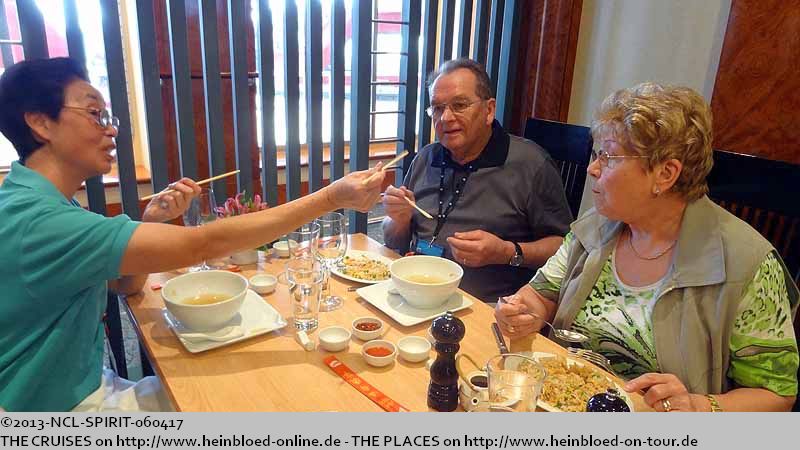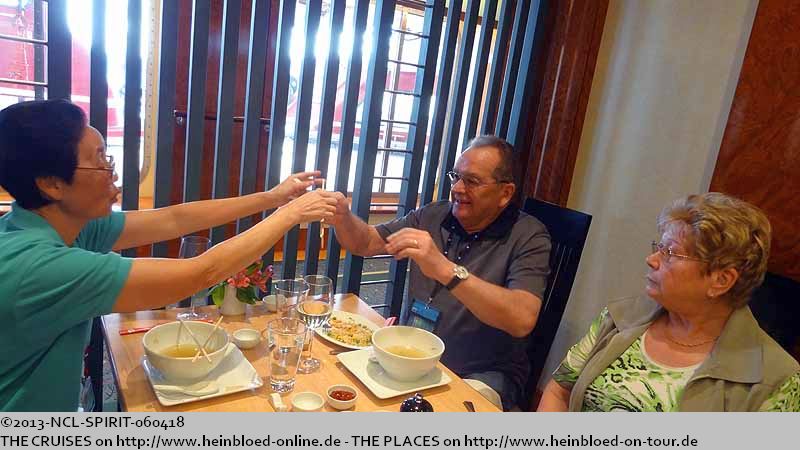 Die weiteren Bilder wurden dann zensiert... Ich glaube, dass das Schiff nach unserem Essen mal wieder einen Aufenthalt im Trockendock gebrauchen könnte...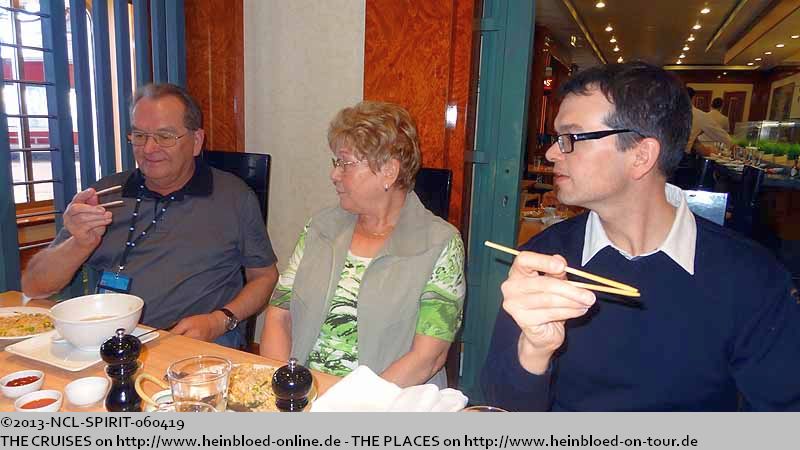 Further pictures were classified... I think that the ship need a drydock stay after we had our meal there...

As my father wanted to have his ice-cream so he got an ice-cream with green tea flavour.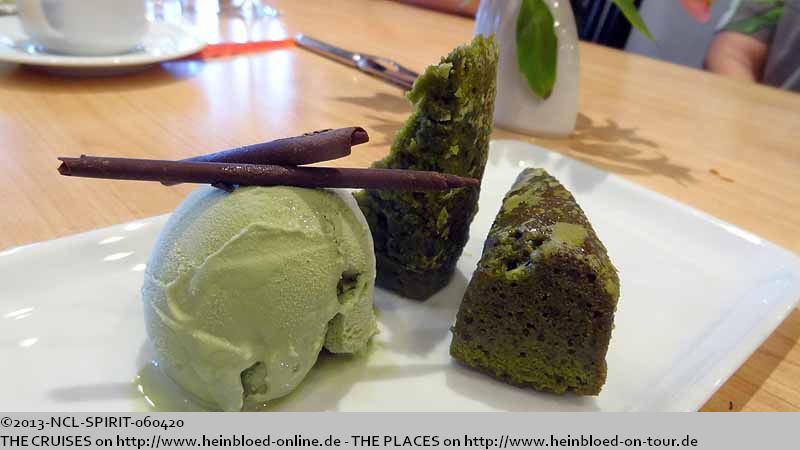 Da mein Vater sein Eis haben will, bekommt er hier ein Eis mit Grünem Tee-Geschmack.
Ich mag einfach das Frucht-Sashimi und bestelle das.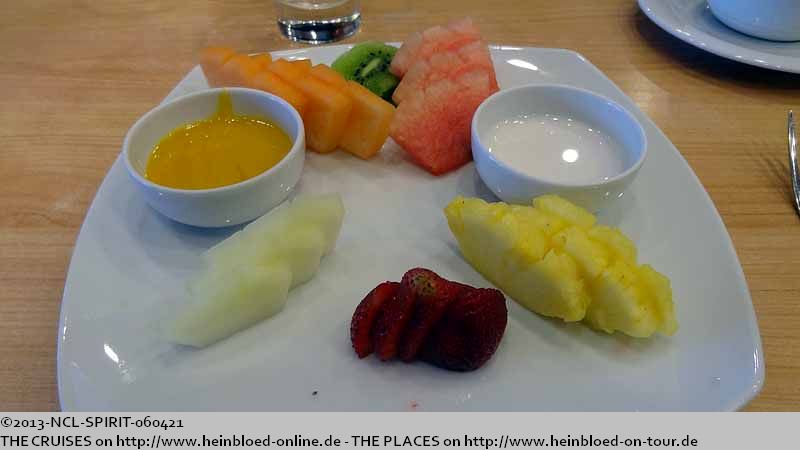 But I liked very much the fruit sashima and so I ordered it.

We loved the service in Shogun very much: Jeanne Akiatan.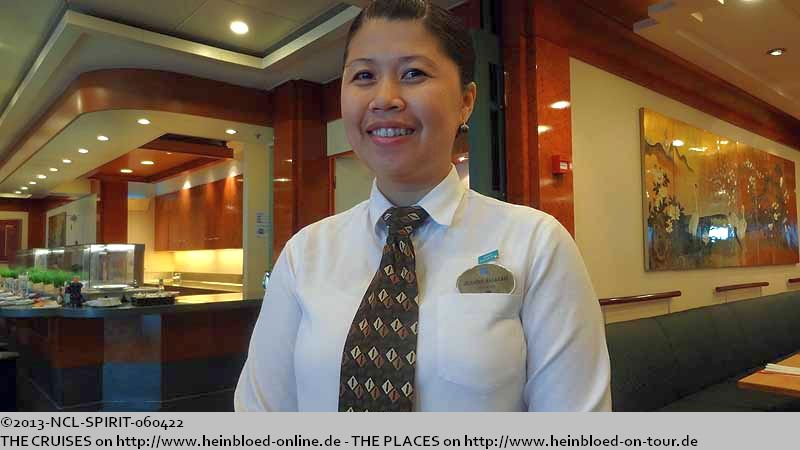 Wir mochten den Service im Shogun sehr: Jeanne Akiatan.
Draußen wurde auch wieder ein Büffet aufgebaut.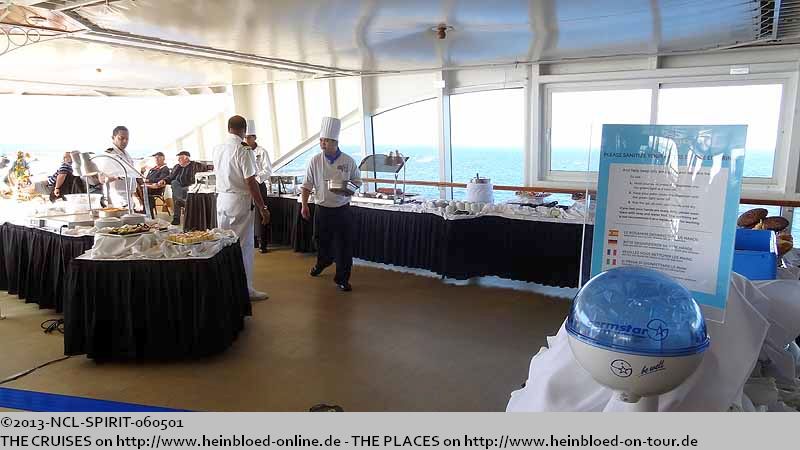 They had also a buffet outdoor.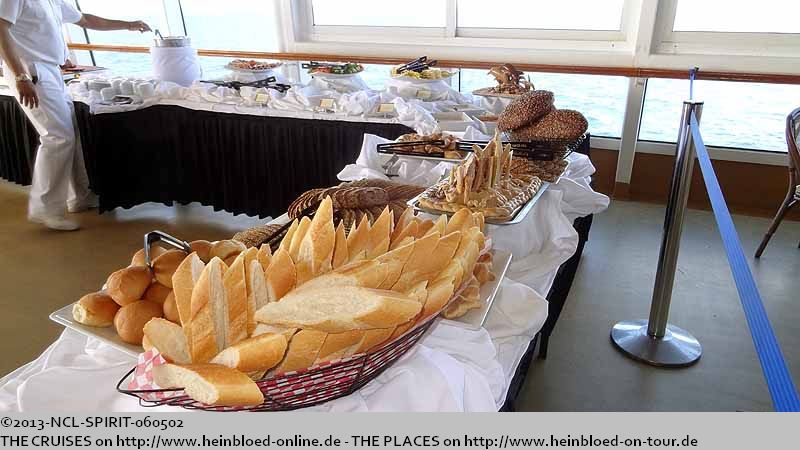 Und wir bekommen wieder etwas auf unsere Kabine.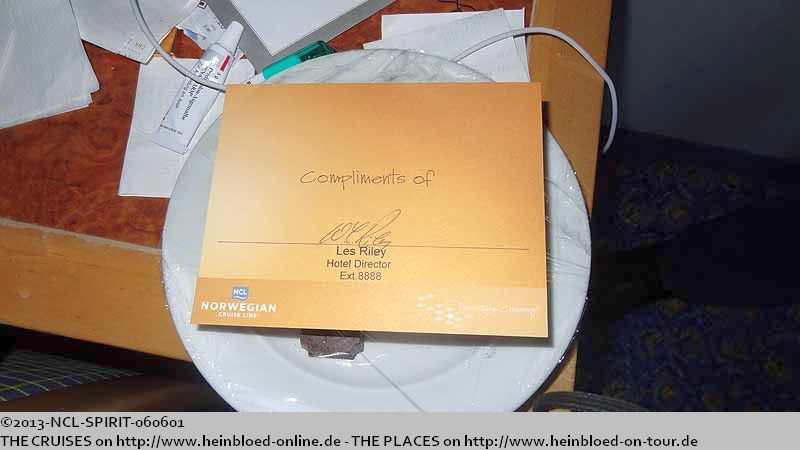 And we got again something in our cabin.

Everything Bruno loves...

Alles für Bruno...
Und wieder Zeit, die Zeit umzustellen. Es geht leider wieder zurück.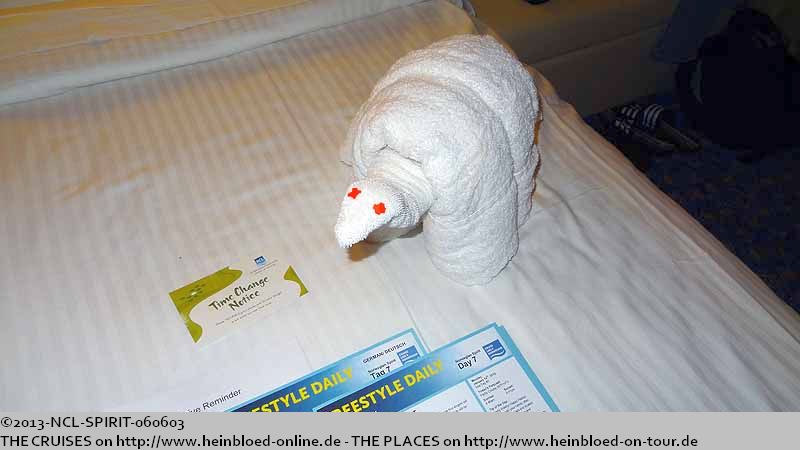 And again time to adjust the time. We were on the way back already.