Über den Bildschirm können wir sehen, dass wir angekommen sind.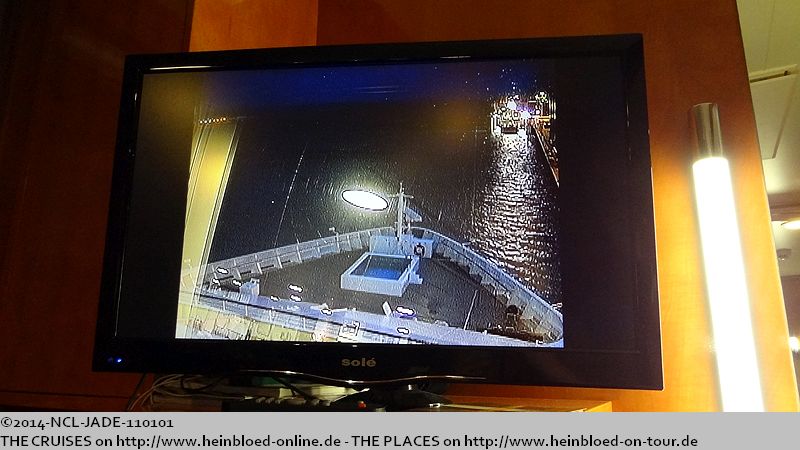 On the TV-screen we could see that we already arrived.

I was lucky to have shoreside network again.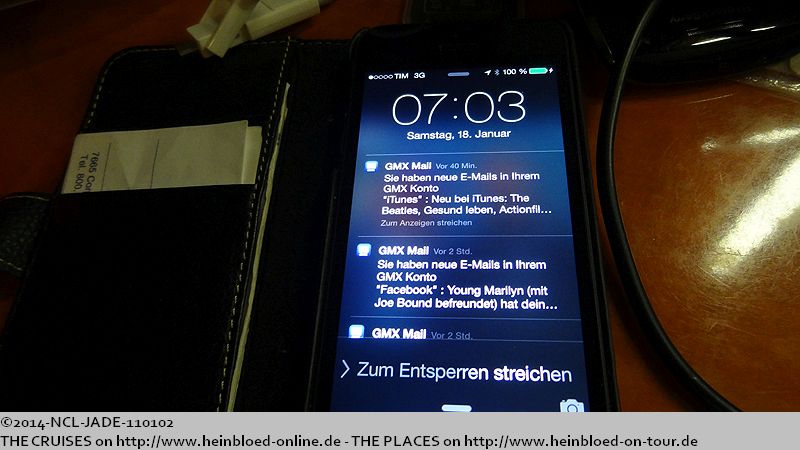 Zum Glück ist wieder landseitiges Netz da.
Unsere Rechnung kommt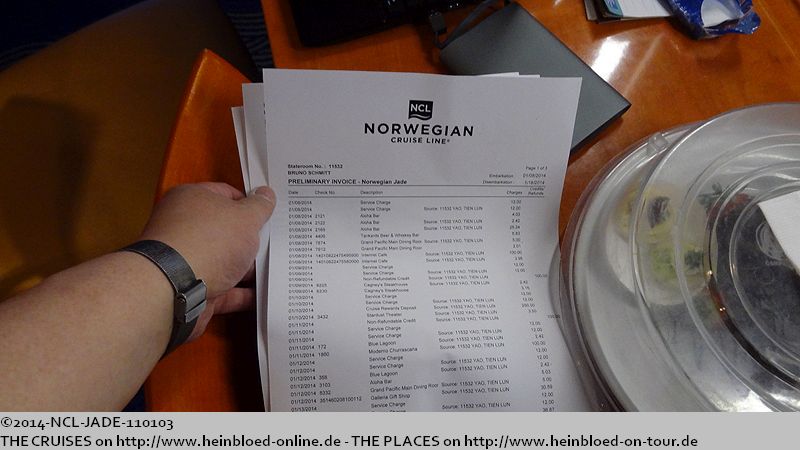 We got our invoice.

There must be some crazy Englishmen who were swimming... Which nationality else do you meet at the pool when you have such a bad weather?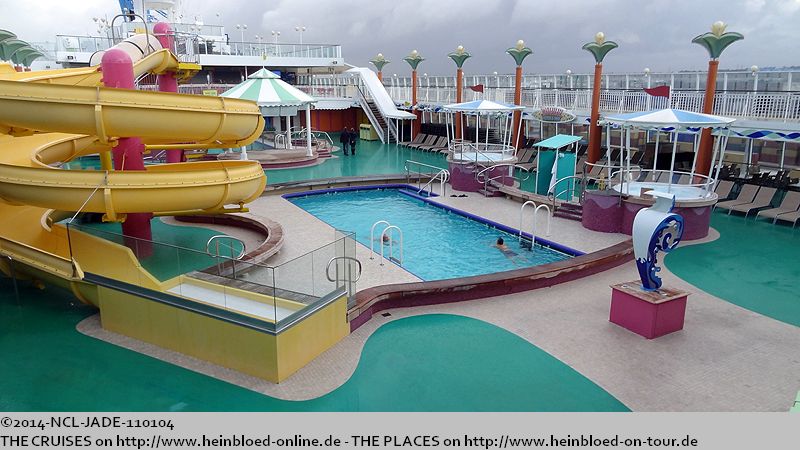 Draußen bei dem Wetter sind ein paar verrückte Engländer, die schwimmen... Welche Volksgruppe trifft man bei so einem Wetter im Pool an...
Und die Verrückten kennen mich mit Namen und schreien in Deutsch zu mir rüber.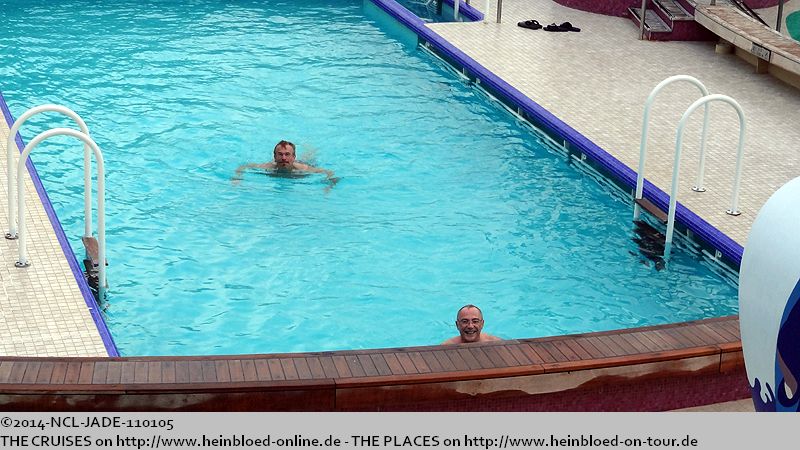 The crazy guys knew my name and they shouted in German towards me.

Two who know my blog and shortly will go on Holland America to Asia.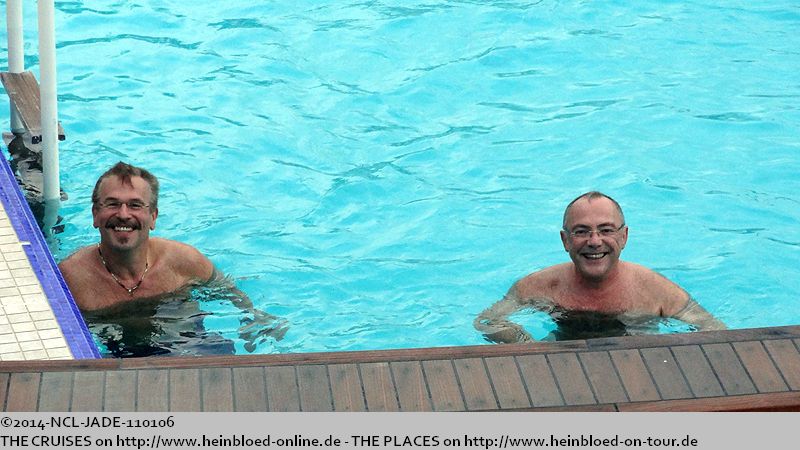 Es sind zwei, die meinen Blog kennen und in Kürze mit Holland America durch Asien reisen.
Leider hatten wir keine Gelegenheit uns weiter auszutauschen... Die verrückten Engländer nehme ich unter diesen Umständen zurück. Vielleicht melden die sich ja nochmals bei mir.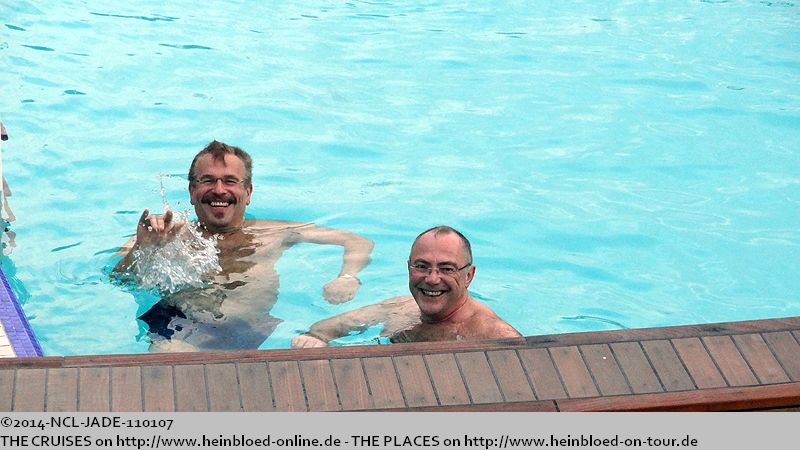 Unfortunately we had no more chance for more exchanges of information... Under that circumstances I cancel my wording "crazy Englishmen". Maybe they will contact me again.

Our last meal: again everything was perfect. I truly hope that we can eat here again in September for breakfast. Thanks to everyone who made this possible.

Unsere Henkersmahlzeit. Alles wieder perfekt. Hoffentlich dürfen wir im September wieder hier frühstücken. Vielen Dank an alle, die das ermöglicht haben.
Ich bringe mal wieder meine Mitreisenden und das Personal zur Verzweiflung, weil ich zwischendurch immer rausspringe, um die MSC FANTASIA fotografiere. Ich habe den Eindruck, dass sie ganz schön vom Seitenwind weggedrückt wird.

I made again my fellow-cruisers and the crew desperated because I jumped all the time out and in to take pictures of MSC FANTASIA. I had the impression that she was pushed away by the side winds.

Down they were waiting for debarkation, meeting the Purser etc.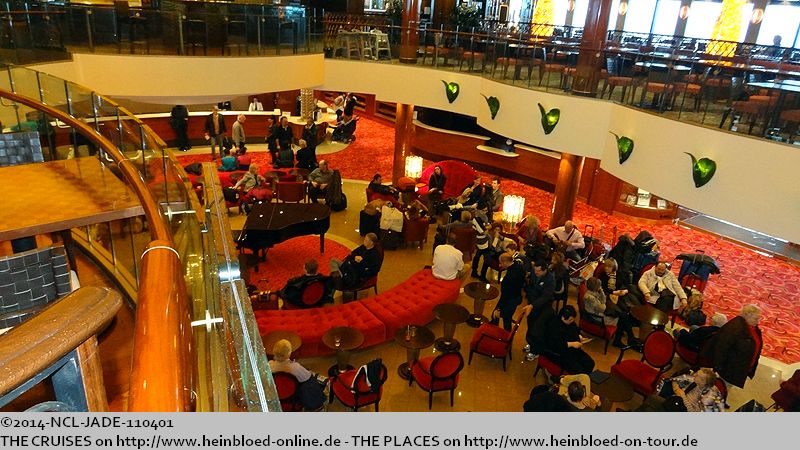 Unten warten sie auf die Ausschiffung, auf das Zahlmeisterbüro usw.
Wir werden direkt vom Moderno durch die Crew-Gänge nach unten geführt.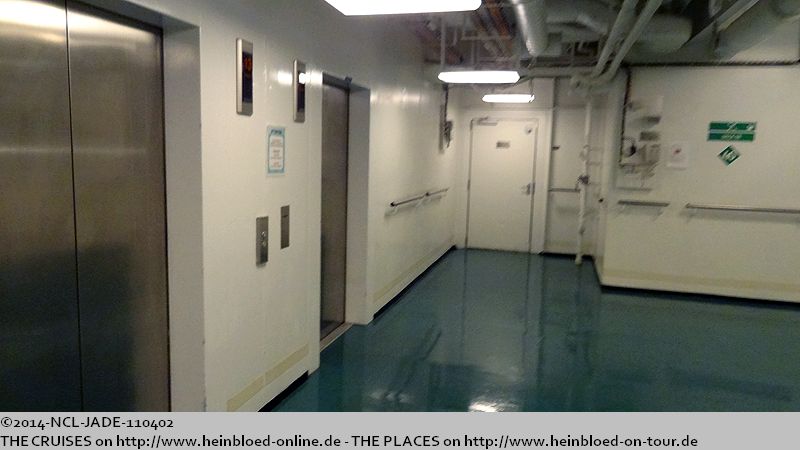 We were escorted directly from Moderno through the crew-hallways downstairs.

Mark said good-bye and he also left the ship later the day. He was really a great Concierge. If I stay loyal with NCL it was part of his treatment on this voyage. It was important to him that we are doing fine. It was important to him that were happy on board. Especially all privileges for us as good customers of NCL were extended to Bruno's parents and Sigi.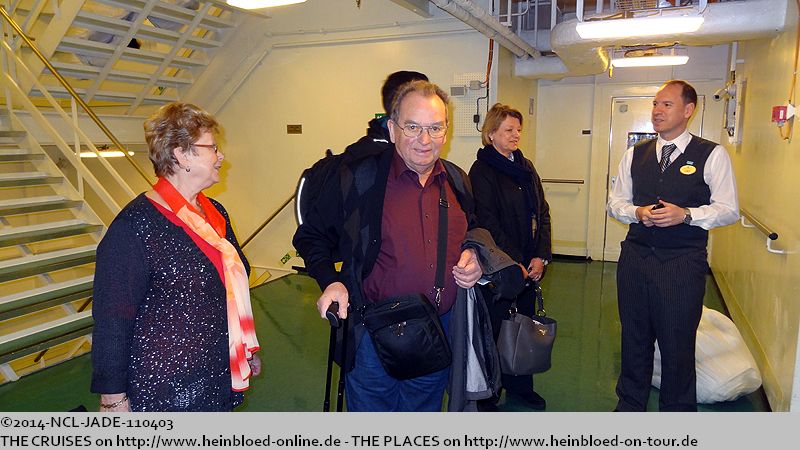 Mark verabschiedet sich von uns und auch er verlässt später am Tag das Schiff. Er war wirklich ein großartiger Concierge. Wenn ich weiterhin NCL treu bleibe, dann liegt es sicherlich sehr an seinem Verdienst hier auf dieser Reise. Ihm waren wir nicht egal. Ihm lag viel daran, uns glücklich zu machen. Vor allem wurden immer Brunos Eltern und Sigi in die Privilegien eingeschlossen, die uns als gute NCL-Kunden zustanden.
Und schon sind wir an der Gangway und runter vom Schiff. In diesem Moment fing es an zu regnen.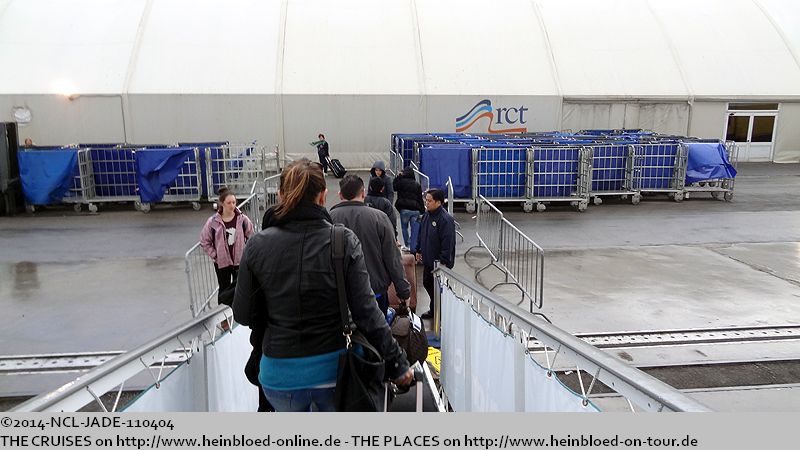 And quickly we reached the gangway and off the ship. In this moment it started to rain.

We found very fast our bags. Due to a misunderstanding I need to return to the ship and get one more bag which we left at Moderno.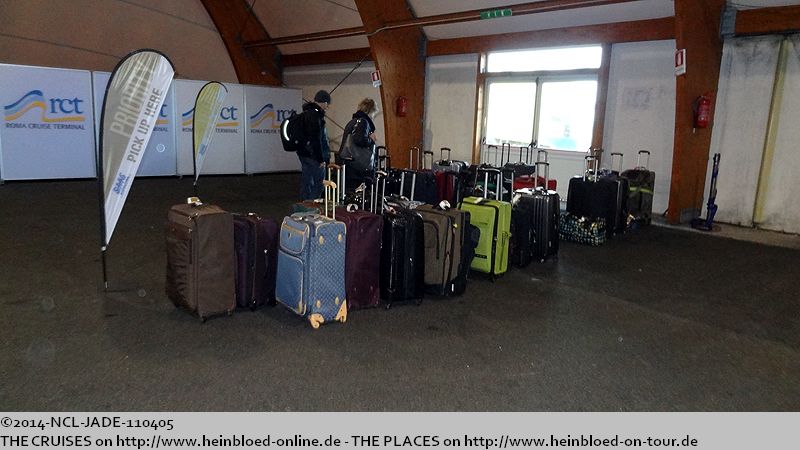 Unser Gepäck finden wir sehr schnell. Durch ein Missgeschick muss ich nochmals an Bord, und hole noch ein Gepäckstück, dass im Moderno stehen geblieben ist.
Nur auf unsere Limo warten wir vergeblich. Leider nicht besonders angenehm, bei dem Wind und Wetter und kaum Möglichkeiten sich windgeschützt sich hinzusetzen, zumal es ausgerechnet jetzt anfängt zu regnen.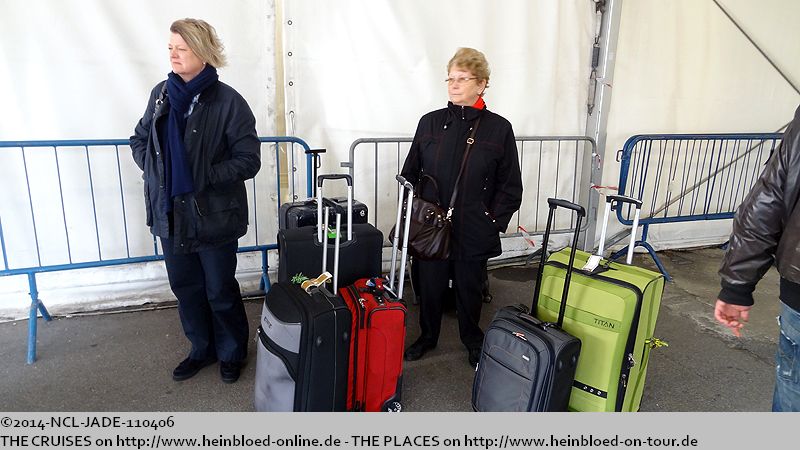 Only for our limousine we waited in vain. It was not very comfortable as they had no fascilities to sit somewhere protected of the wind and the rain which just started now.

There was the shuttle to the port gate but with my group I did not lie the idea to get there first.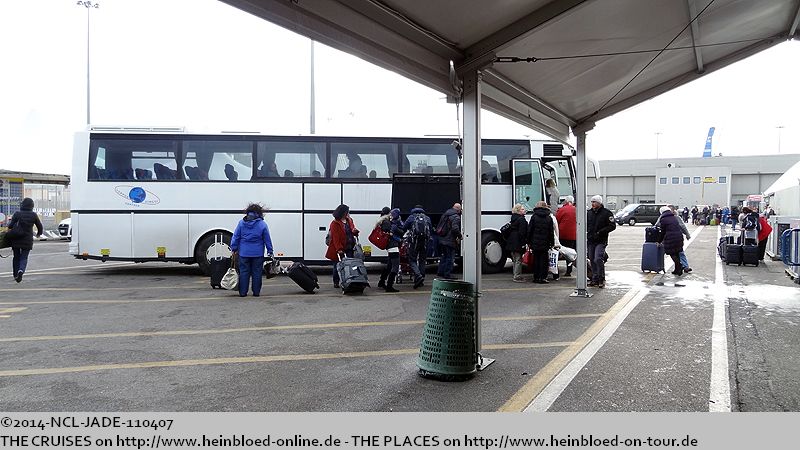 Dort geht der Bus zum Hafentor, aber mit der Gruppe habe ich keine Lust, dort hin erst zu mal zu fahren.
Hotel San Giorgio
... sogar mit Shuttle Service in den Hafen und zum Flugahfen Fiumicino. Muss man sich mal für die Zukunft merken.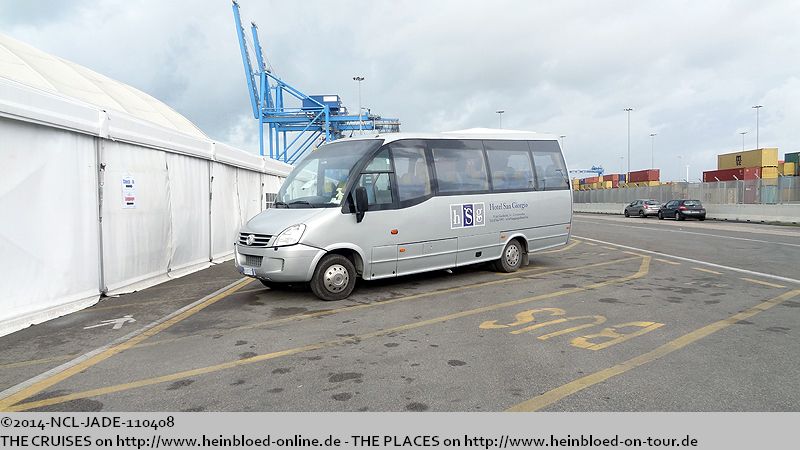 Hotel San Giorgio... even with a shuttle service to the port and to the airport Fiumicino. I need to remember for the future.

A private airport-shuttle-service had no vacancies. All cabs were gone. NCL or the port agent had not interest to help. But nobody was picking up the phone either at the train stop. One taxi driver who was already taken was so kind to call a collegue. And he arrived after few minutes.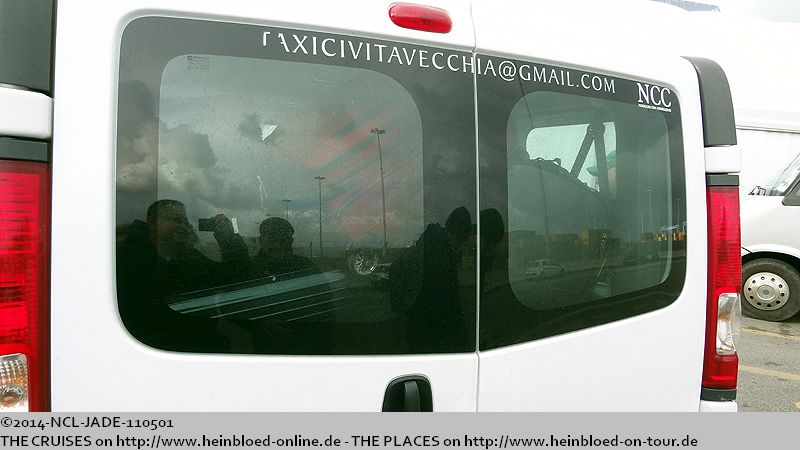 Ein privater Flughafen-Shuttle-Dienst hat auch keinen Platz mehr. Alle Taxis sind schon weg. Die von NCL bzw. deren Hafenagentur haben auch keine Lust zu helfen. Leider meldet sich am Taxistand am Bahnhof auch niemand. Ein Taxifahrer, der allerdings besetzt ist, ruft für mich einen Kollegen. Und er kommt tatsächlich in wenigen Minuten.
Macht er normalerweise einen Parkplatz-Shuttledienst? Keine Ahnung.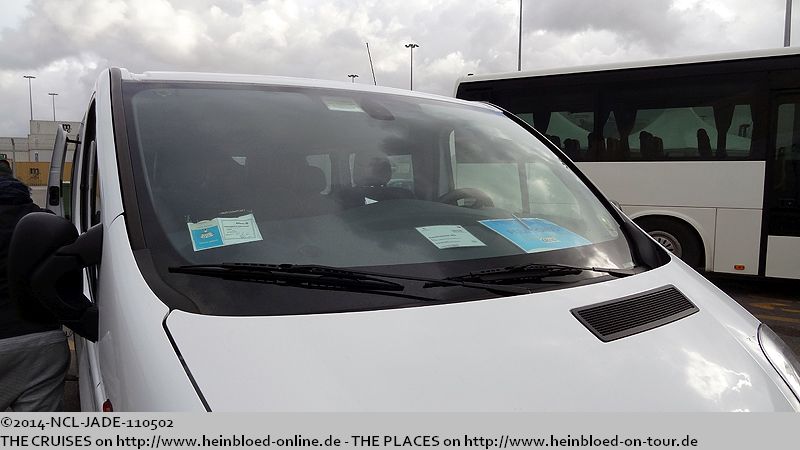 Is he normally offering a parking shuttle? No idea.

Originally we booked with a different company a sightseeing tour which terminates at the airport. But due to the rain I was anyway happy that we did not do any sightseeing.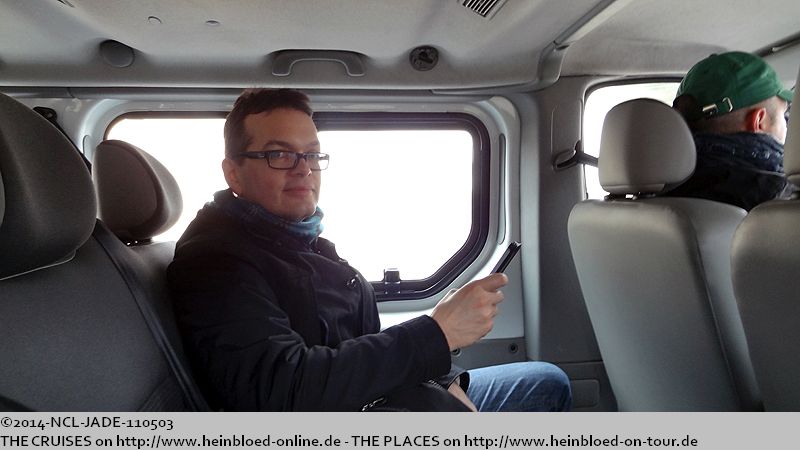 Ursprünglich hatten wir mit der anderen Gesellschaft eine Besichtigungstour mit Ende am Flughafen gebucht. Da es aber regnete, war ich doch ganz froh, dass wir nichts besichtigen.
So werden wir für 40,00 EUR pro Person zum Flughafen gefahren. Danke an
Massimiliano von Taxi Civitavecchia
, dass es so gut noch geklappt hat.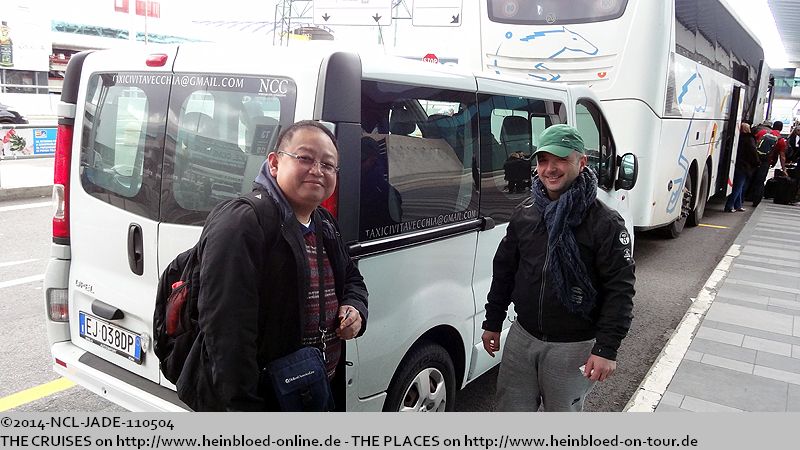 So we were taken for 40.00 EUR per person to the airport. Thanks to Massimiliano of Taxi Civitavecchia that he made it.

We planned to be at the airport at 12.30 hrs. Unfortunately our baggage was not accepted so far for check-in. Although the check-in counters were attended the earliest time for baggage acceptance was three hours ahead of departure.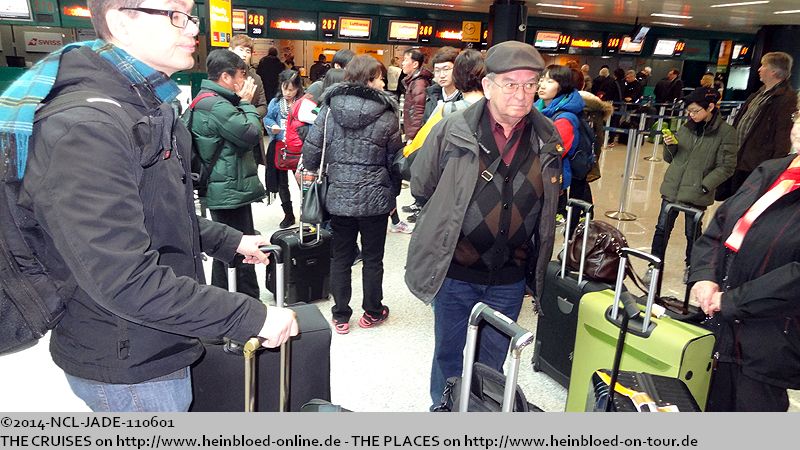 Wir hatten eigentlich geplant, dass wir erst um 12.30 Uhr am Flughafen sind. Leider wird unser Gepäck noch nicht für unseren Flug angenommen. Erst drei Stunden vor Abflug, auch wenn der Check-In-Schalter besetzt ist.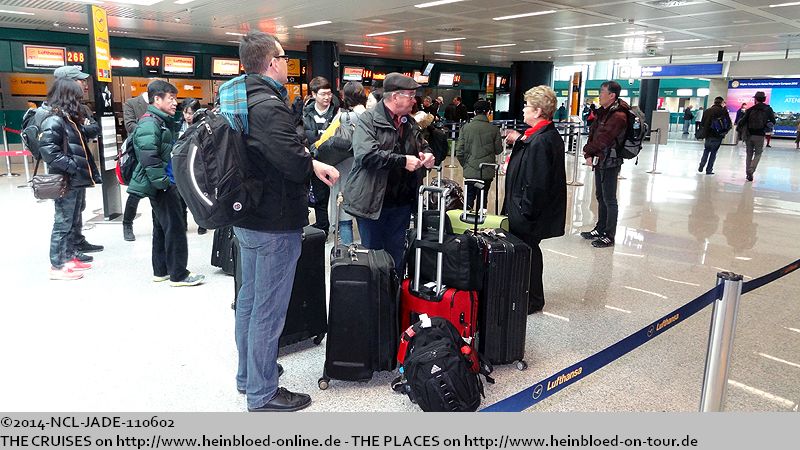 Right now the men's room was closed so I went quickly to the Family toilet.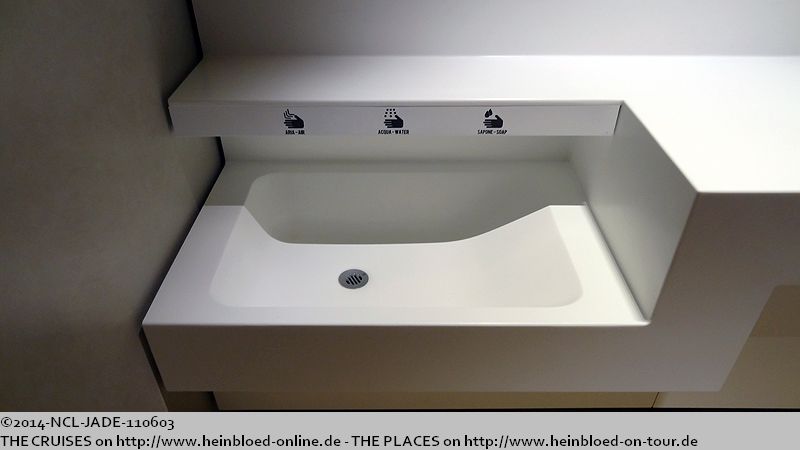 Weil die Herrentoilette gerade gesperrt ist, gehe ich kurzerhand auf die Familientoilette.
Erinnert an meinen Kindergarten.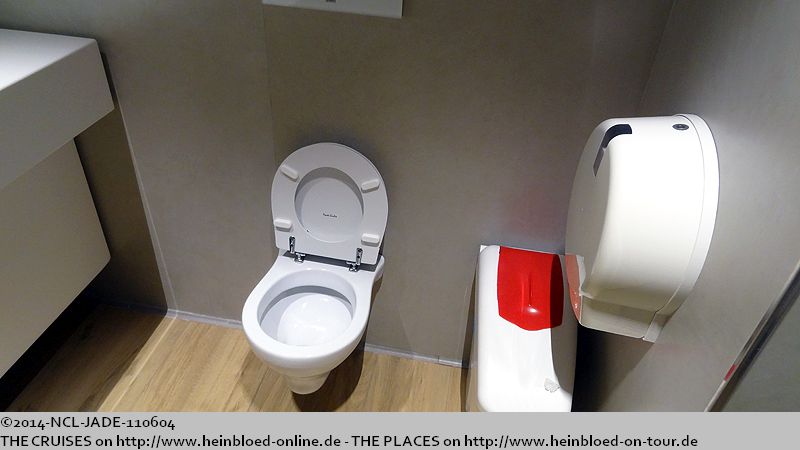 Reminded me to the kindergarten.

Everywhere some parts were under construction.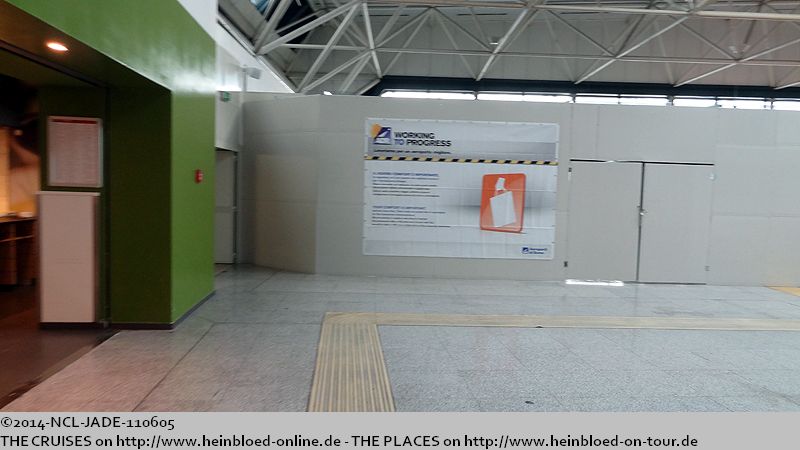 Überall wird umgebaut.
Wir finden eine ruhige Ecke im SB-Restaurant. Es gibt sogar Angus-Burger.

We found a calm corner in the self-service restaurant. They even had Angus Burger.

I had to try it of course.

Den muss ich natürlich probieren.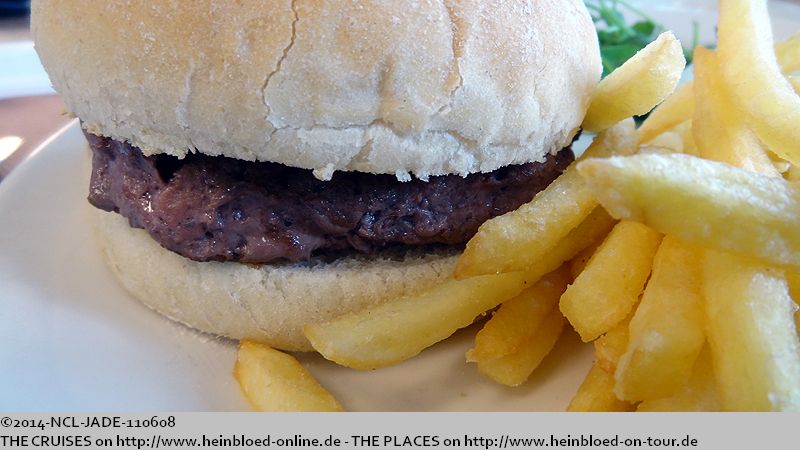 Unfortunately they ruined it by topping cocktail sauce.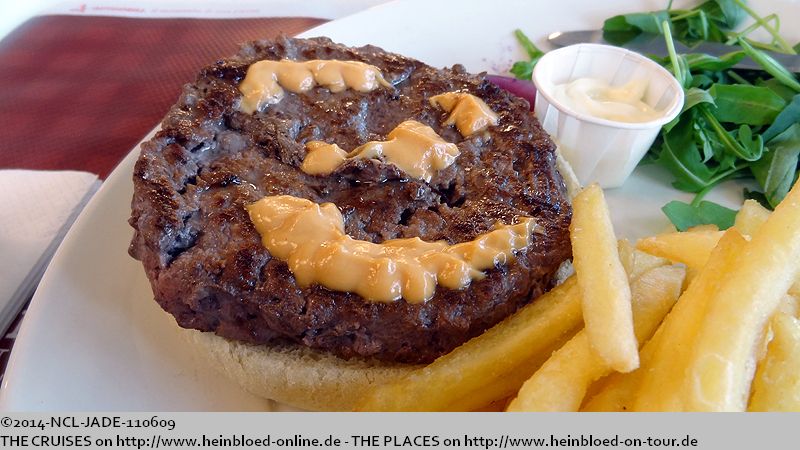 Leider wurde er mit dieser Cocktailsauce ruiniert.
Kein Wunder, dass 3 seine Aktivitäten in Italien verkauft hat. Das Netz ist so schlecht und das kostenlose WLAN am Flughafen noch schlechter.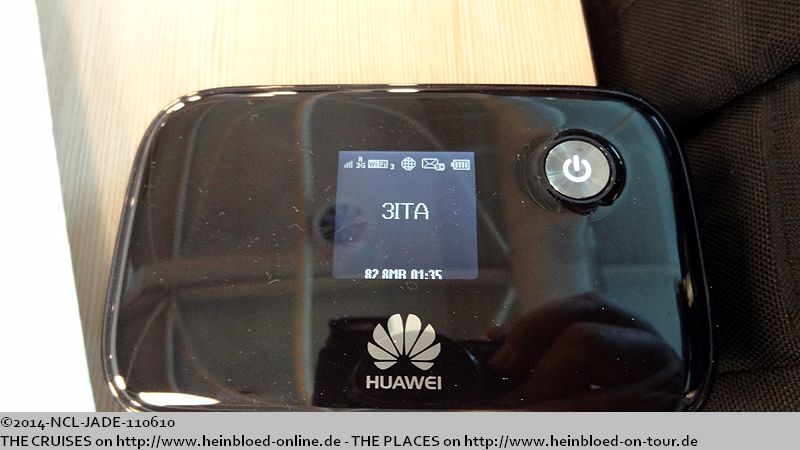 No wonder that 3 sold their activites in Italy. The network was so bad and the complimentary WiFi at the airport was worse.

Finally were allowed to check-in.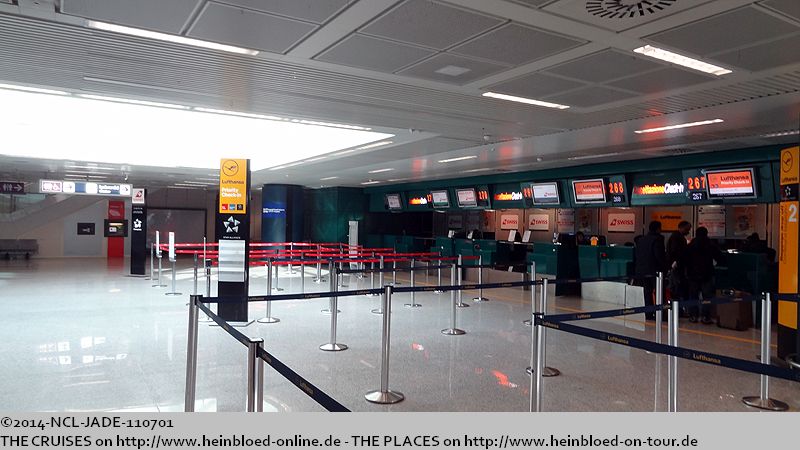 Endlich dürfen wir einchecken.
Wir bekommen einen Fast Track Pass und eine Einladung für die Lounge. Für 25,00 EUR (2014) kaufen wir für die anderen auch Pässe für die
Aviapartner Lounge
, so dass wir die Zeit nicht draußen verbringen müssen. So probieren wir uns durch die ganze Bar und das Büffet durch. Das Internet funktioniert, so dass die 25,00 EUR gut angelegt sind und dabei auch schon sehen, wie kalt es in Deutschland ist. Ich will nicht nach Hause.

We got Fast Track Passes and an invitation for the lounge. For 25.00 EUR (2014) we bought passes for the others to have admission for the Aviapartner Lounge so none of us had to stay outside. So we tested all what they offered at their bar and at their buffet. The internet worked properly so the investment of 25.00 EUR was a good investment and we could easily see how cold it was in Germany. I did not want to go home.

The take-off of Sigi, Hans and Erika was just ahead of us.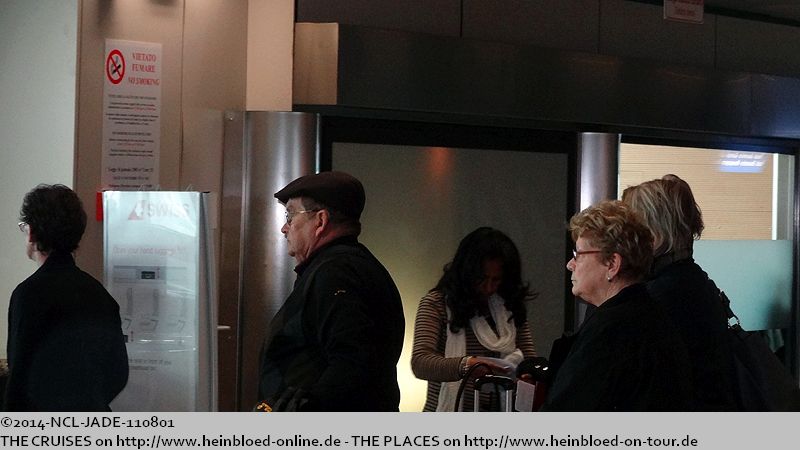 Sigi, Hans und Erika starten kurz vor uns.
Sie fliegen über Zürich mit Swiss zurück.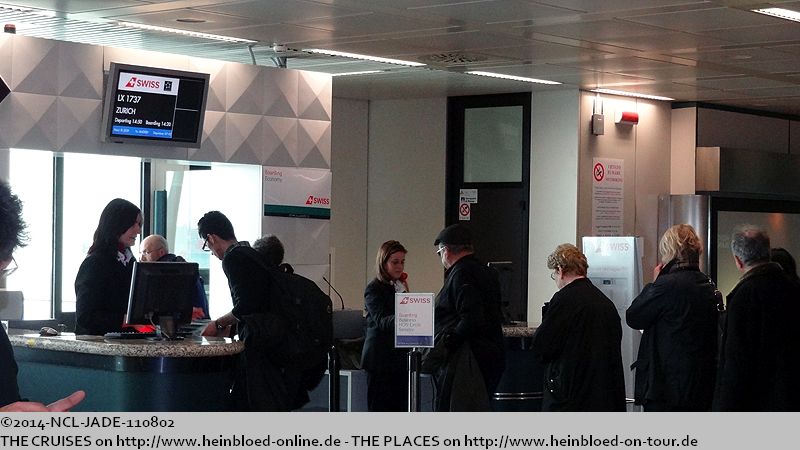 They flow via Zurich by Swiss back home.

And we flow directly back to Frankfurt by Lufthansa.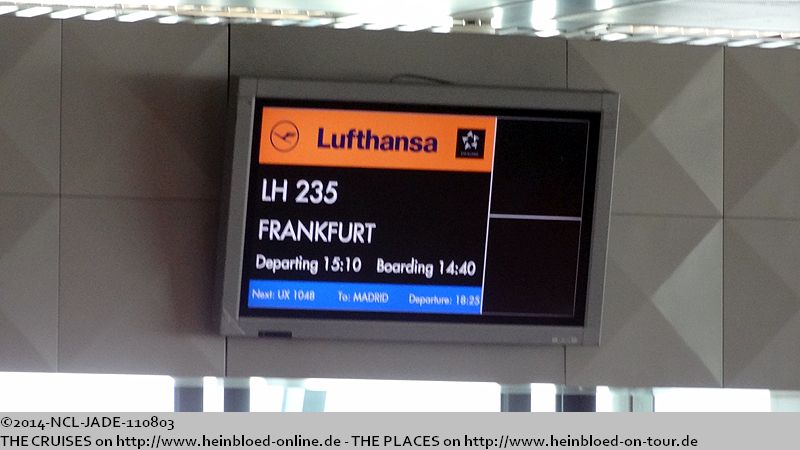 Und wir fliegen direkt mit Lufthansa nach Frankfurt.
Ich habe mir 10E am Notausgang gesichert.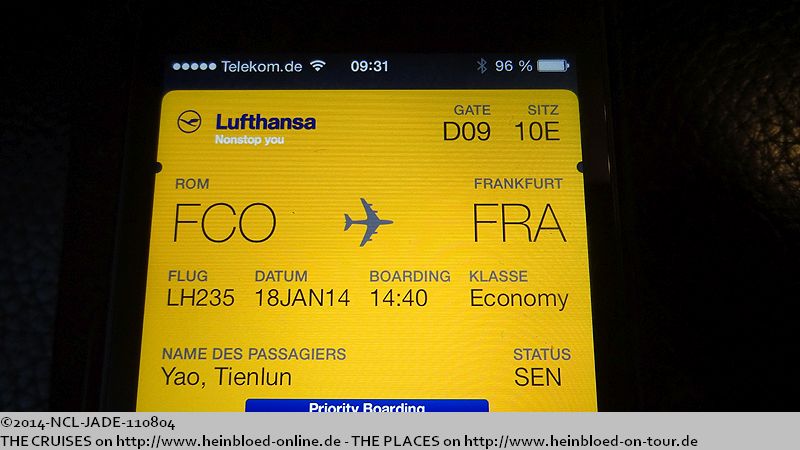 I secured the seat 10E at the emergency exit for me.

We got new boarding passes for 5E. They told us because of the trimming. Others were allowed to take my seat and the flight attendant did not allow me to move. For this incident I got 5000 Miles and I truly hope that the flight attendant will get some problems for her outrageous habit.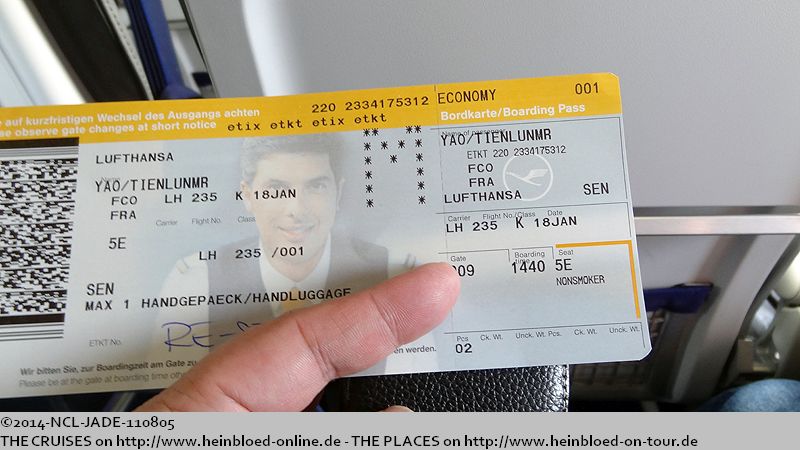 Wir bekommen neue Bordkarten für 5E. Angeblich wegen Trimmung. Andere dürfen sich auf meinen Platz setzen und mir verbietet die Stewardess, dass ich mich umsetze. Zumindest bringt der Vorfall in einem Telefongespräch mit Lufthansa 5000 Meilen ein und hoffentlich der Stewardess eine Rüge für ihre unverschämte Art.
Der Flug erfolgt unspektakulär. Wir kommen angeblich mit 15 Minuten Verspätung an, aber es sind hinterher fast 45 Minuten. Und unser Gepäck kommt als letztes, trotz Priority-Kennzeichnung.

The flight was not very spectacular. We supposed to arrive with 15 minutes delay but it was about 45 minutes. Our bags arrived the very last even we had Priority-tags.

Generally it was good. Few weaker points were mentioned with the appropiate situation. What you can feel very well were the many really new unexperienced crew-members onboard who were even unable to handle simple problems. You had this sign at every cabin.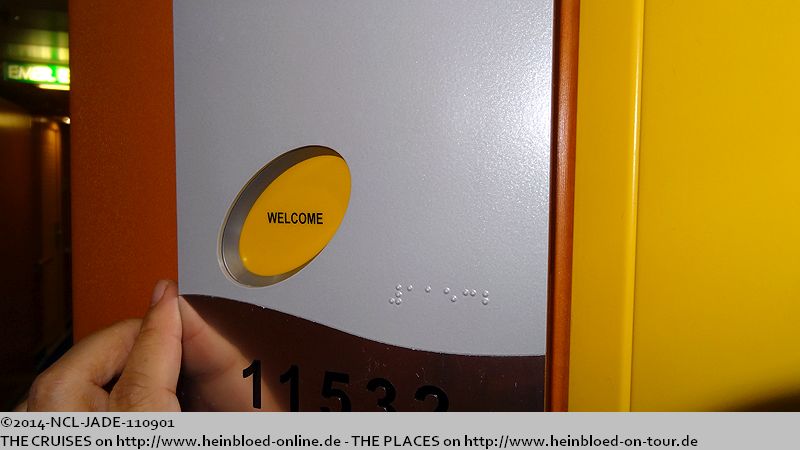 Insgesamt war es gut. Die Schwächen wurden in den jeweiligen Situationen beschrieben. Was man allerdings sehr gut merkt sind die vielen wirklich neue unerfahrene Mitarbeiter an Bord, die selbst sehr einfache Probleme nicht bewältigt bekommen. Da gäbe es dieses Schild an der Tür jeder Kabine.
In erster Linie dient es für die Kommunikation mit unserem Steward, der sofort weiss, was los ist. Ronaldo: Sie haben alles perfekt gemacht. Keine Sorge! Ich rede hier nicht von Ihnen!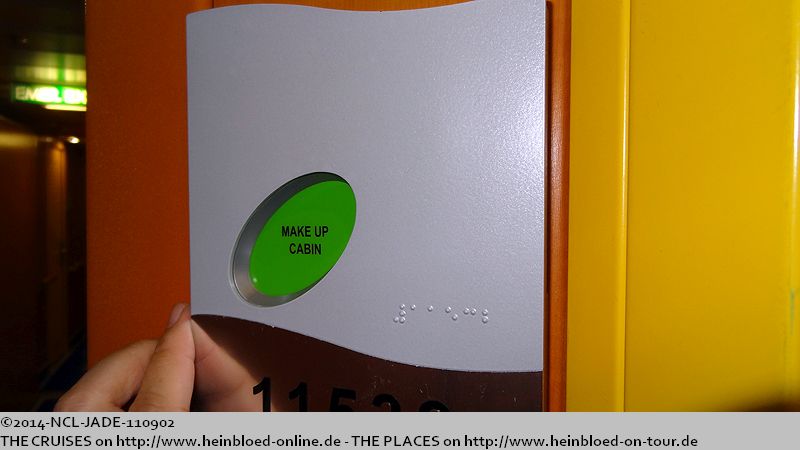 The first aim it was to communicate with your cabin steward who knows immediately what was going on. Ronaldo: you did everything perfect. Do not worry! I am not talking here about you!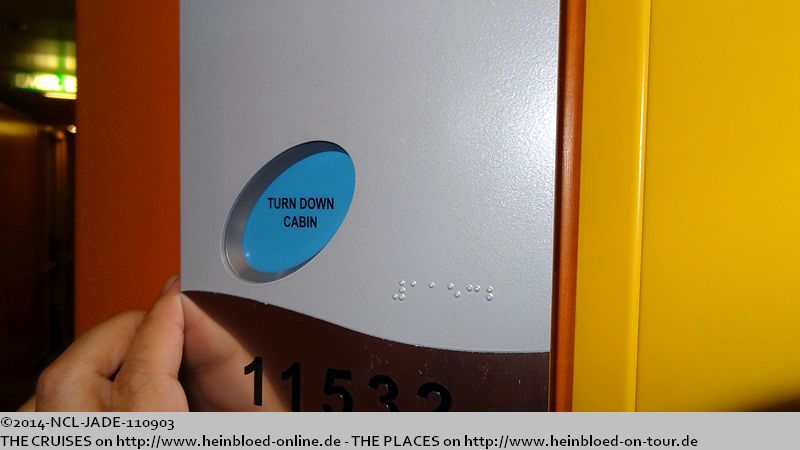 Das 4. Schild in rot richtet sich an alle. Vor allem bedeutet das Schild, dass ich nicht dann extra angerufen werden möchte, ob sie jetzt nicht doch stören dürften, weil ich ja das Schild auf rot gestellt habe. Was macht man mit solchem Personal, das nicht weiss, wie man auf ein "Bitte nicht stören"-Schild reagieren soll? Da stimmt doch beim 1x1 oder neu-deutsch 101 etwas nicht, wenn so grundlegende Sachen, nicht beigebracht werden, dass man seinen Supervisor fragt, was man in so einer Situation machen soll und nicht einfach in der Kabine anruft, ob man nicht doch stören darf. An Bord hatte ich keine Lust gehabt mich darüber aufzuregen. Wozu? Kevin Sheehan hätte ja eh kaum ein paar Crew-Mitglieder von der NORWEGIAN GETAWAY einfliegen lassen, nur damit ich glücklich bin. Wir kennen den Zustand und dann und wann sind wir ja auch mal auf einem brandneuen Schiff und froh, dass wir die Besten der Besten an Bord haben. So haben wir dieses Mal nur Pech zum falschen Zeitpunkt auf dem falschen Schiff zu sein. Ich wusste ja, was mir droht, wenn man zeitgleich an Bord eines Schiffes geht und ein Schwesterschiff stößt zur Flotte dazu.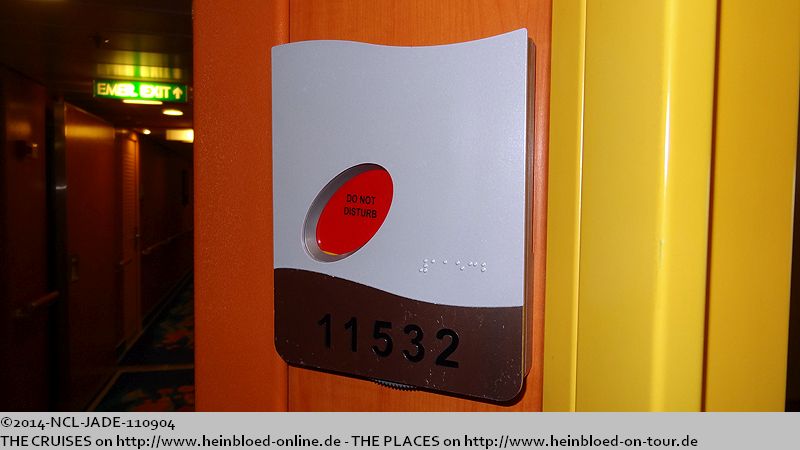 The 4th sign in red is addressed to everyone. Especially this sign means that nobody should call me to let me know that I put it on "Do not disturb" and they would like to know if they disturb. What should you do with such crew-members who do not know how to react to a "Do not disturb"-sign? Even cruising 101 is not properly educated if they did not now such basics like contacting your supervisor to ask how you should handle such a situation and not just call the cabin to ask if you may disturb even you have the sign. On board I was not very much interested to be angry. What for? Kevin Sheehan would not send by helicopter some crew-members from NORWEGIAN GETAWAY just to make me happy. We know this situation and occassionally we are on the brand new ship and happy that we have the best of the bests onboard. So we only had the unluck to be at the wrong time on the wrong ship. I knew before what I should expect if you go the same time on board when a new ship need to be integrated into the fleet.

I am really looking forward to my next NCL-voyage on NORWEGIAN JADE. Especially as I know already now that many of our beloved crew-friends will be onboard who will pamper us. Currently we are already seven in three cabins incl. a Penthouse. We asked and recommended our friends to join us. I cancelled our sailing on OASIS OF THE SEAS. When do you like to inform us officially that we do not call Izmir anymore but Kusadasi? I really would like to plan my stay. The sooner and more you know something the less you cannot be disappointed. And you do not want to disappoint me again like on NORWEGIAN BREAKAWAY after that was recently forgiven and forgotten - or is not it?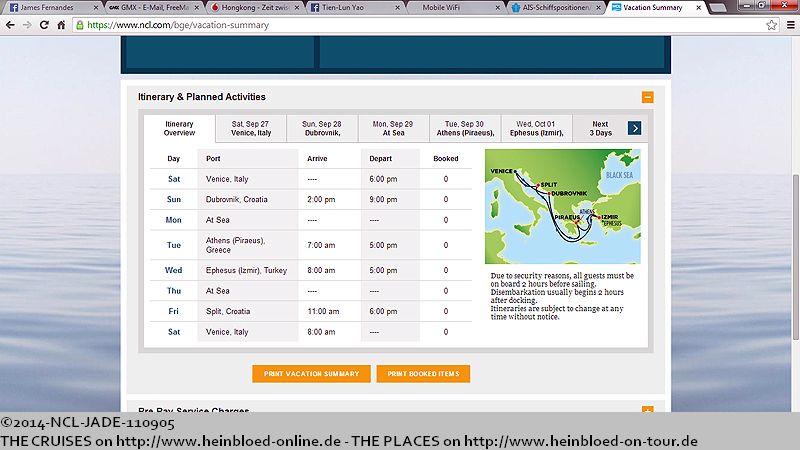 Ich freue mich auf meine nächste NCL-Reise auf der NORWEGIAN JADE. Vor allem weil ich jetzt schon weiss, dass viele liebe Crew-Freunde an Bord sind, die einen wieder verwöhnen. Im Moment sind wir bereits sieben in drei Kabinen inkl. eines Penthouses. Wir haben also unsere Freunde gefragt und empfohlen mitzukommen. Unsere Reise auf der OASIS OF THE SEAS habe ich abgesagt. Wann werde ich aber endlich mal offiziell angeschrieben, dass wir nicht mehr Izmir anlaufen sondern Kusadasi? Ich möchte gerne meine Aufenthalte planen. Je früher und mehr man etwas weiss, desto weniger groß die Enttäuschung. Und ihr wollt mich doch nicht schon wieder so enttäuschen, wie auf der NORWEGIAN BREAKAWAY, nach dem alles gerade vergeben und vergessen ist - oder?