Draußen steht noch die GRAND HOLIDAY. Leider ohne Chance, dass sie an uns vorbeifährt und ich sie schön fotografieren kann.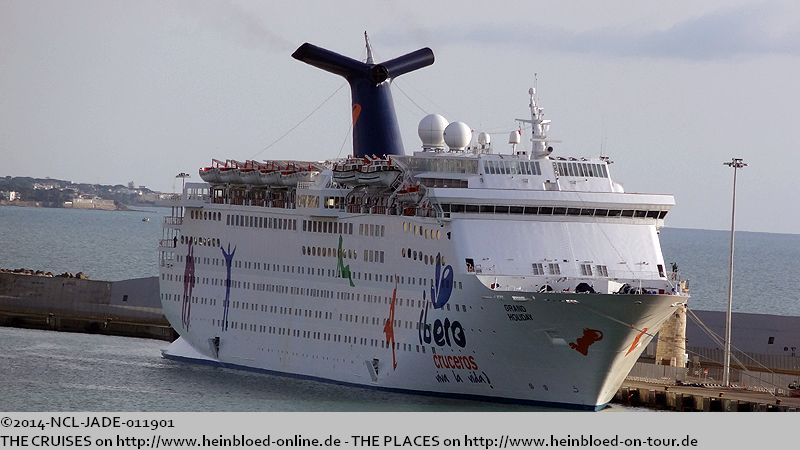 Outside there was GRAND HOLIDAY. Unfortunately without a chance that she passes our ship and I have a chance to take wonderful pictures.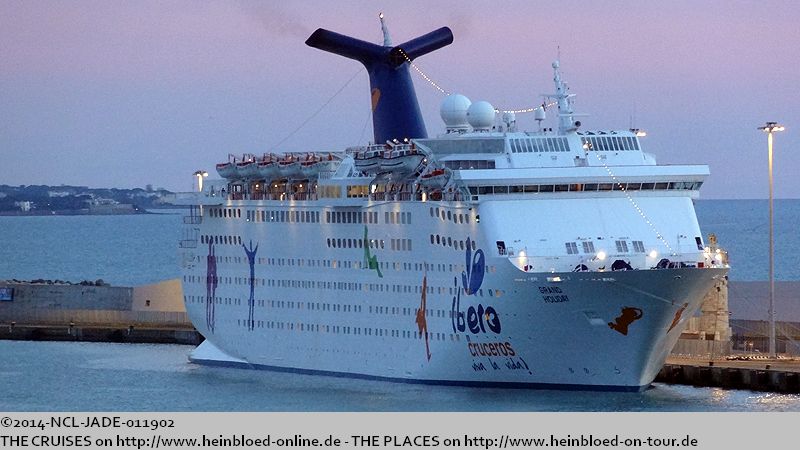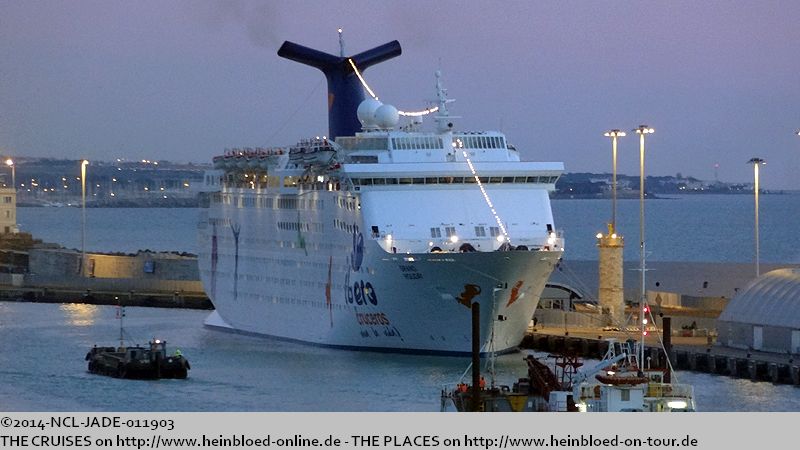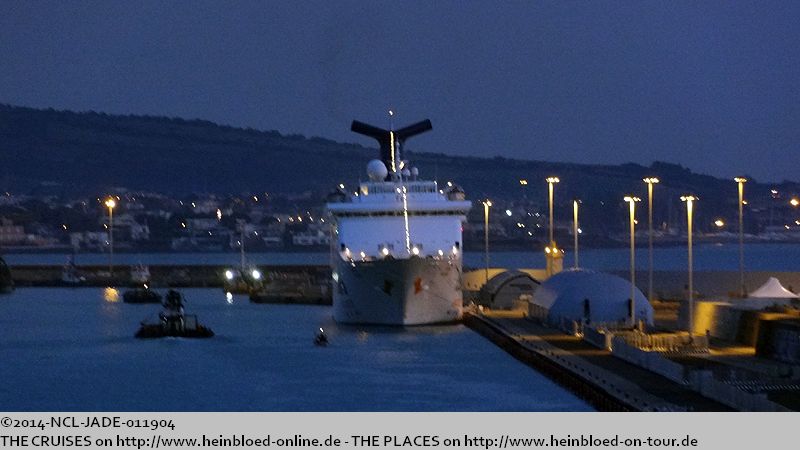 Seenotrettungsübung - 16.00 Uhr. Ohne Rettungswesten.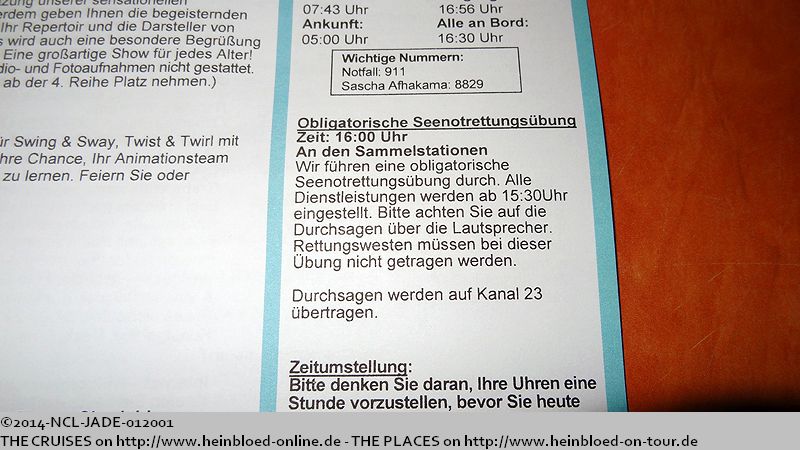 Life drill - 16.00 hrs. No life vests.

The first time for me in the theater.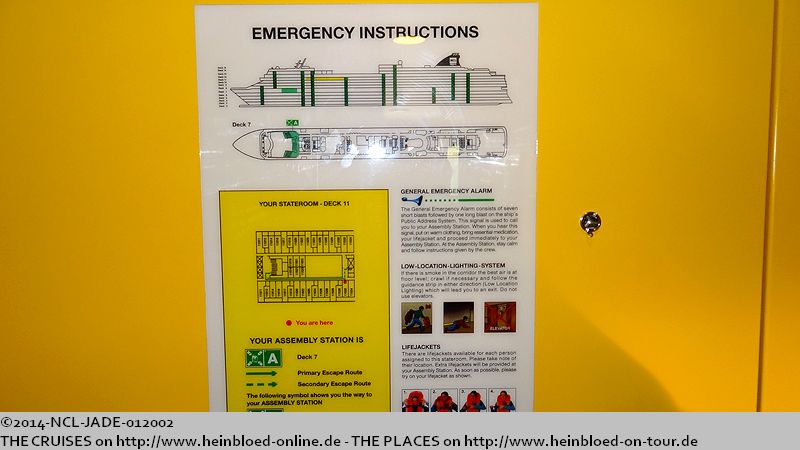 Zum ersten Mal für mich im Theater.
Sigi wird nicht mit uns gemeinsam gerettet. Uns trennt ein Brandabschnitt. Sie muss daher zu einer anderen Sammelstation.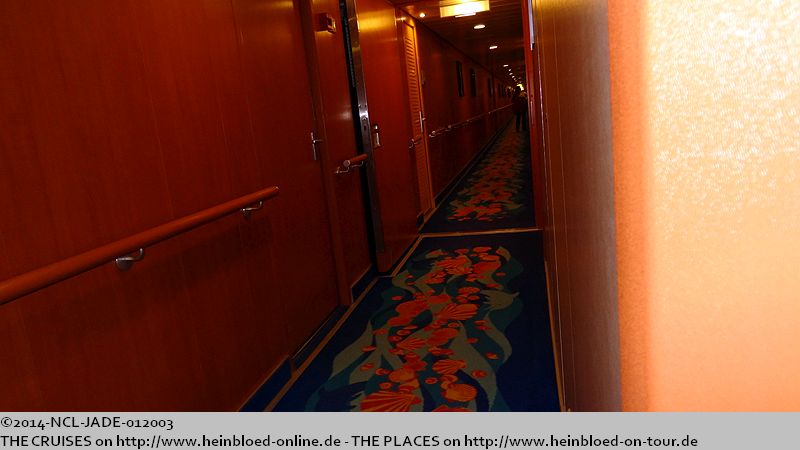 Sigi will not be rescued with us together. She was in a different fire section. So she need to see another muster station.

In the theater I did not have the impression that all guests were registered properly. I saw that my were just sitting down without being contacted by any crew member and just passed the crew members because they were busy with other guests or with themselves. Next time I will not attend anymore and prefer to go to be "kept after school". Meanwhile it was as "terrible" as with Costa or MSC: English, French, Italian, Spanish, German... and especially I will not appear anymore so early... I could understand if you should not take any pictures during the life drill. But with this occupation (about 25 minutes before the life drill starts) when absolutely nothing happened I should stop taking pictures. And while she was telling me to stop few passengers walk behind her back to find some seats and were not registered...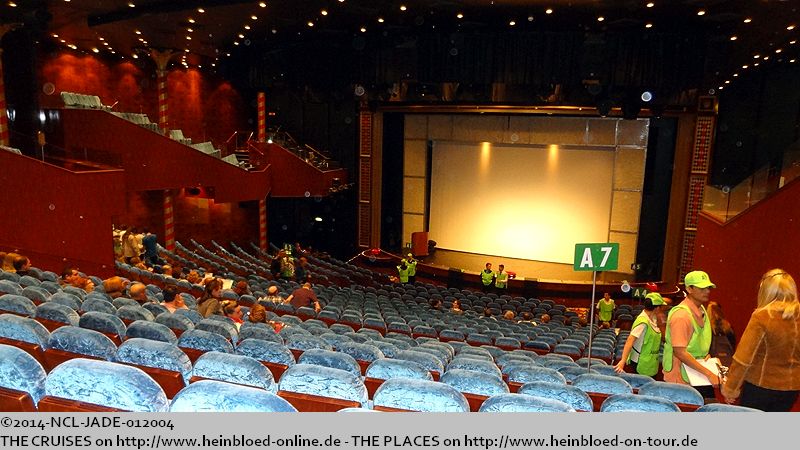 Im Theater habe ich allerdings nicht unbedingt den Eindruck, dass wirklich alle Gäste richtig erfasst werden. Ich sehe, dass sich viele einfach irgendwo hinsetzen ohne dass sie behelligt werden und andere laufen an den Crew-Mitgliedern vorbei, weil sie mit anderen Gästen oder sich selbst beschäftigt sind. Das nächste Mal gehe ich nicht mehr hin, sondern zum "Nachsitzen"! Mittlerweile ist das ganze genauso "schlimm" wie bei Costa oder MSC: Englisch, Französisch, Italienisch, Spanisch, Deutsch... und vor allem werde ich bestimmt nicht wieder frühzeitig erscheinen... Ich kann ja verstehen, dass nicht während der Seenotrettungsübung selbst fotografiert werden soll. Nur bei der Besetzung (ca. 25 Minuten vor Beginn der Übung), wo noch absolut nichts stattfindet, soll ich bereits mit dem Fotografieren aufhören und während sie mir das erzählt, laufen wieder ein paar hinter ihrem Rücken vorbei, die nicht registriert werden...
Sigi interessiert sich für den Spa-Pass: 159,00 USD für die 10-Nächte-Fahrt (2014).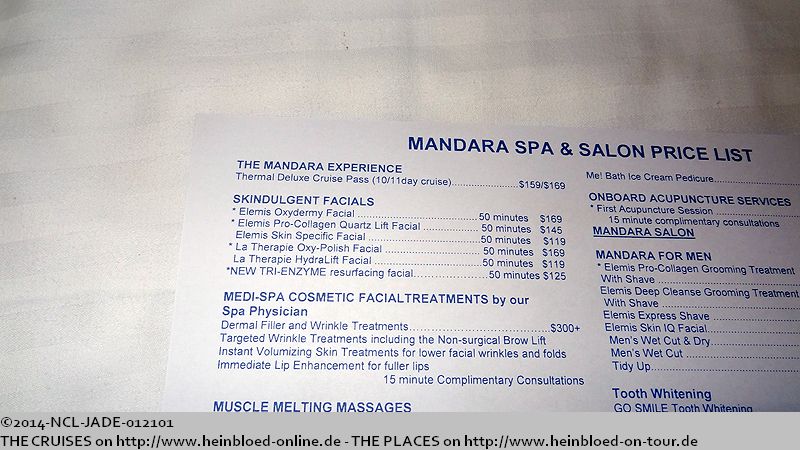 Sigi was interested to have a Spa-Pass: 159.00 USD for a 10-night-voyage (2014).

As we only had 3 1/2 days at sea we did not one this time. You could see the afterglow at the horizon and you are located just above of the bridge.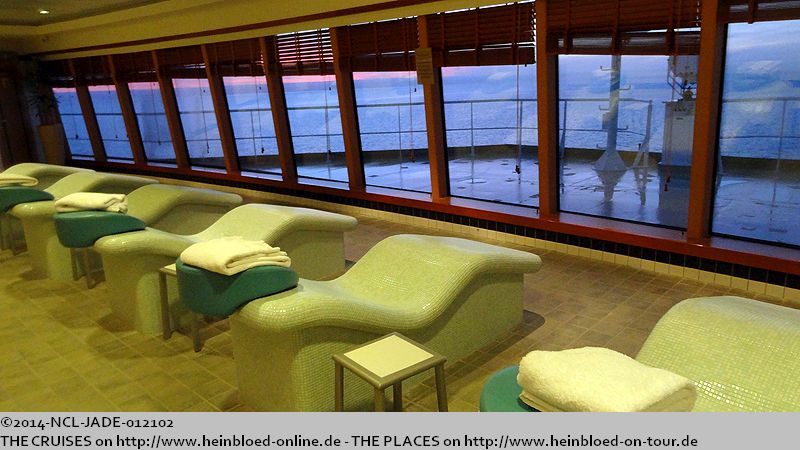 Da wir nur 3 1/2 Seetage haben, verzichten wir dieses Mal darauf. Man sieht hinten schön das Abendrot am Horizont und befindet sich direkt überhalb der Brücke.
Wir denken hier an viele schöne Stunden, die wir mit unserem Freund Guenther verbracht haben, als wir 2011 mit der NORWEGIAN JADE unterwegs waren. Hier haben wir oftmals gesessen und uns unterhalten.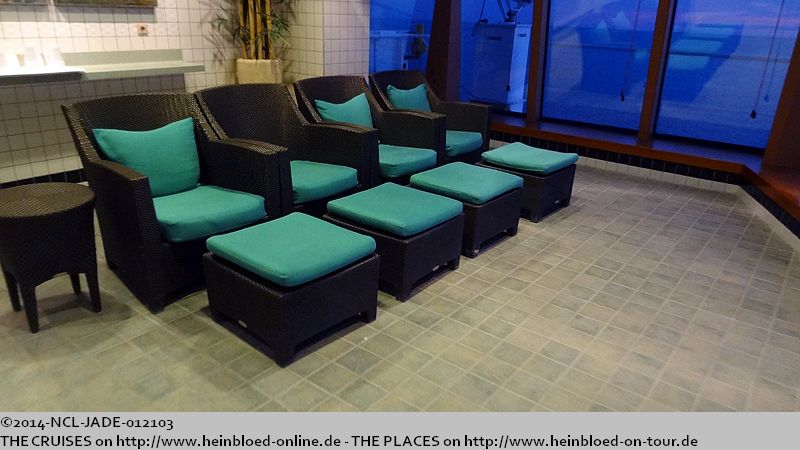 We remembered the many nice hours which we spent here with our friend Guenther when we sailed 2011 on NORWEGIAN JADE. Here we sat together and had wonderful talks.

Bruno was interested to see the gym which was open from 06.00 hrs to 23.00 hrs.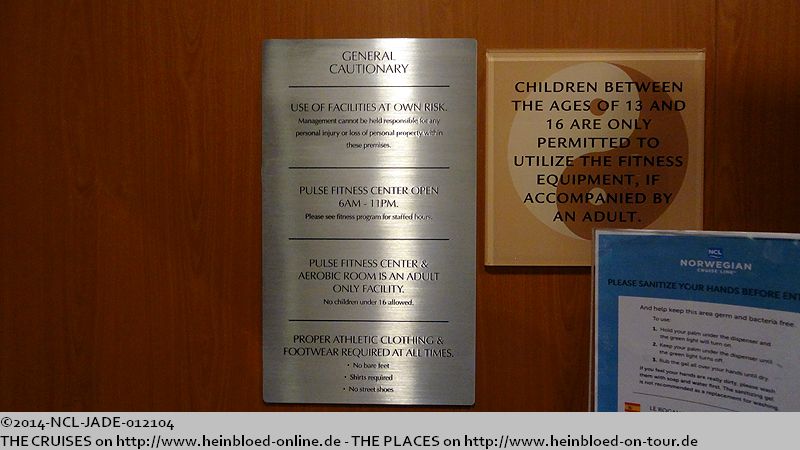 Bruno interessiert sich für das Fitness-Studio, das von 06.00 Uhr bis 23.00 Uhr geöffnet ist.
Wir gucken uns bei den Getränkepaketen um: Neben dem Soda-Paket gibt es nun auch All-Inclusive-Getränke-Pakete. Für uns als Nicht-Alkoholiker lohnt es sich nicht.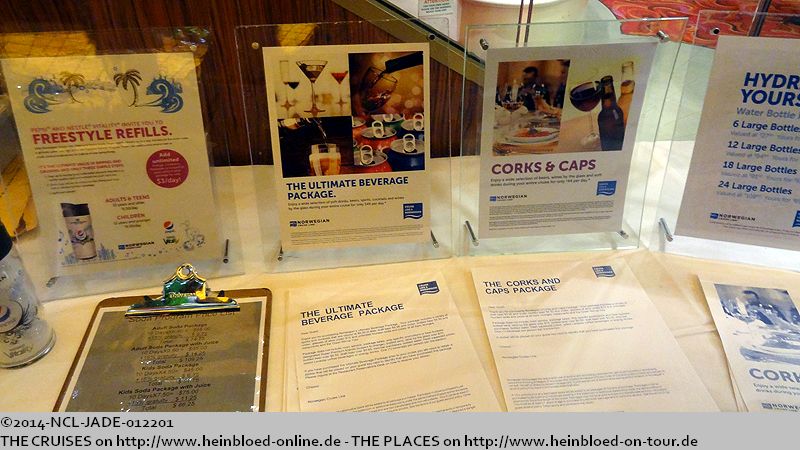 We checked the beverage packages. You could get more than the soda-package: an all-inclusive-beverage-package. For us who are not drinking alcohol it does not make too much sense.

For 49.00 USD/night (plus 15% service and it must be booked for all guests in one cabin) you could get spirits and cocktails not exceeding a price of 8.50 USD, draft beer of 5.95 USD, bottled beer of 5.50 USD, wine by glass of 10.00 USD, all fountain soft-drinks, freshly squeezed juice, bottled water, engergy drinks and coffee specialities in all bars and restaurant and their private island Great Stirrup Cay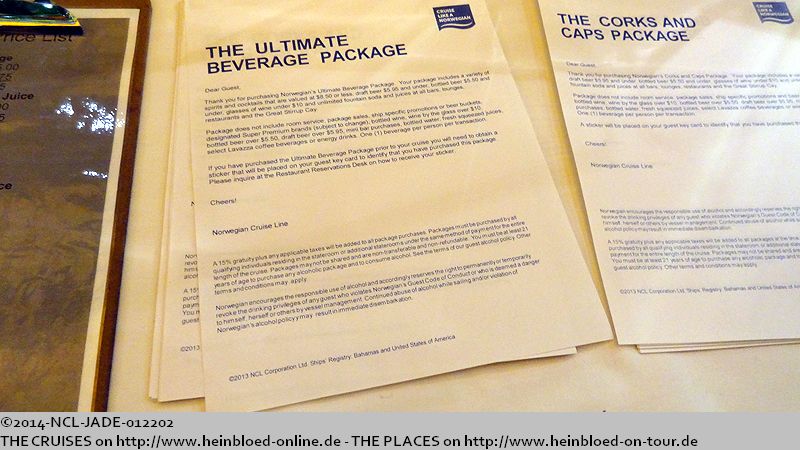 Für 49,00 USD/Nacht (plus 15% Service und es muss von allen Gästen in einer Kabine gebucht werden), gibt es alle Spirituosen und Cocktails bis zu einem Preis von 8,50 USD, Bier vom Fass bis 5,95 USD, alle Flaschenbiere bis 5,50 USD, offene Weine bis 10,00 USD, alle alkoholfreien Getränke aus der Zapfanlage sowie frischgepresste Säfte, Wasser in Flaschen, Energy-Drinks und Kaffeespezialitäten in allen Bars, Restaurant und auf der Privatinsel Great Stirrup Cay.
Für 5,00 USD weniger gibt es dann keine Spirituosen und Cocktails.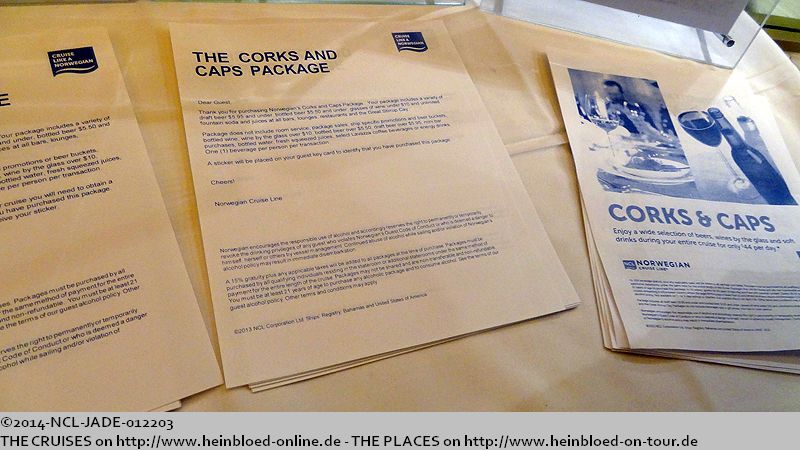 For 5.00 USD less you do not get any spirits and cocktails.

To make sure that everything is well understood we got all information in German too in our cabin.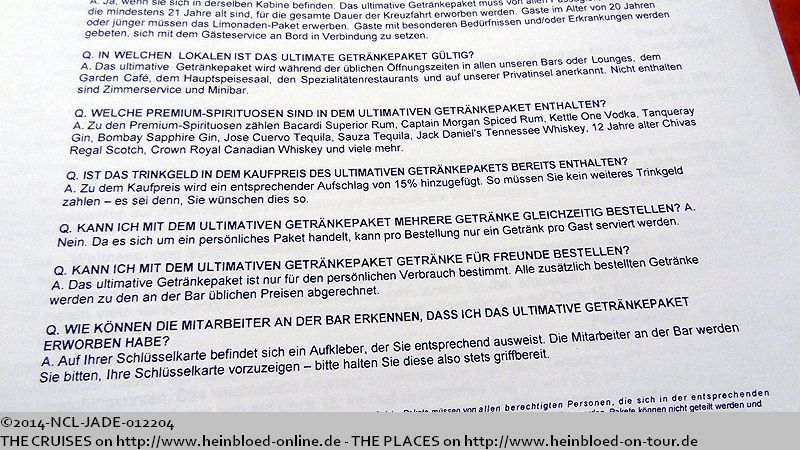 Sicherheitshalber bekommt man auch die Erläuterungen in Deutsch in der Kabine.
Es gäbe dann noch die Weinpakete, die man buchen kann.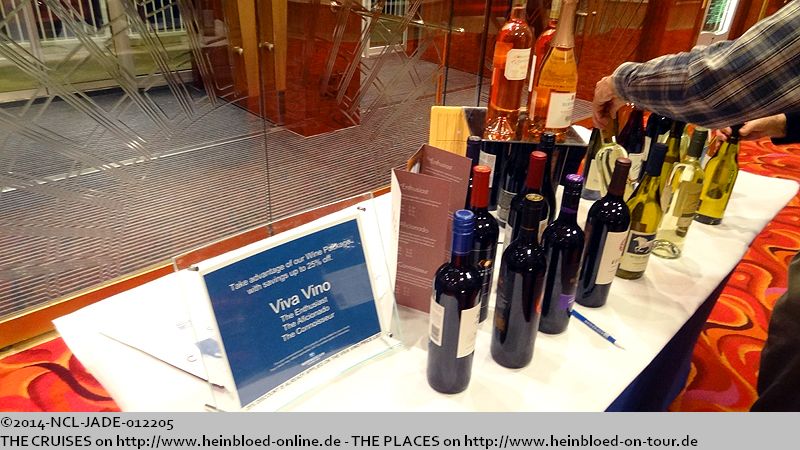 There were also wine packages which you can book.

The price started with 88.00 USD (plus 15% service - 2014) for 4 bottles of the cheapest selection upto 216.00 USD for 8 bottles of the most expensive selection.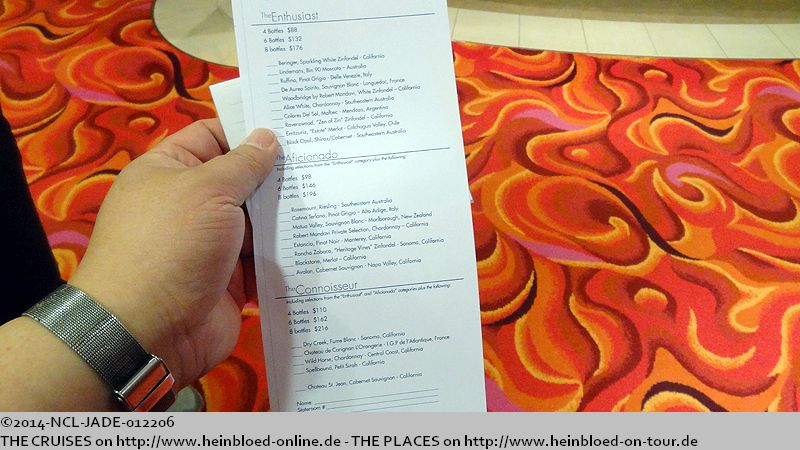 Der Preis beginnt mit 88,00 USD (plus 15% Service - 2014) für 4 Flaschen der günstigsten Auswahl bis 216,00 USD für 8 Flaschen der teuersten Auswahl.
Man bekommt die Liste.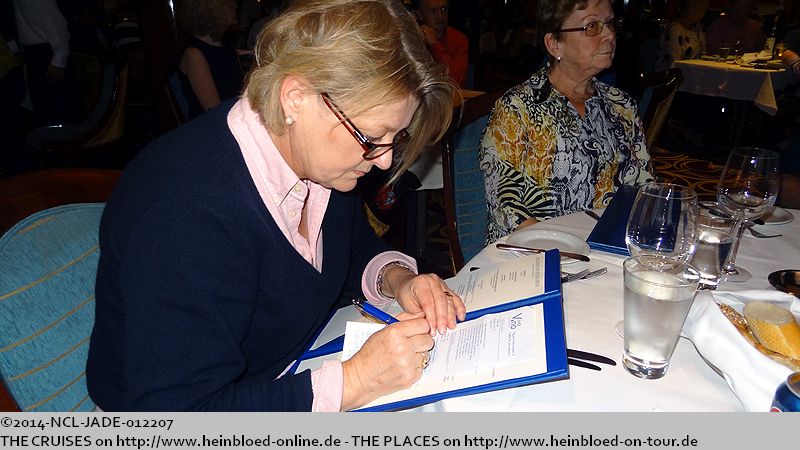 You get a list.

Then you select the bottles from the wine package. Remained will be stored against receipt for the next meal.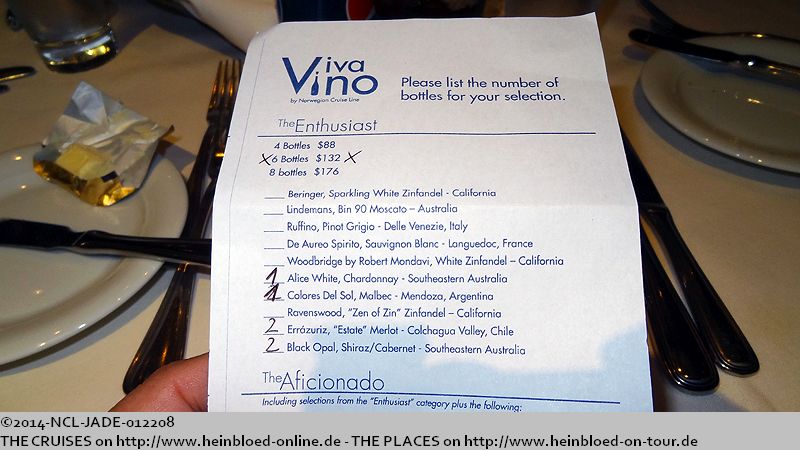 Danach wählt man seine Flaschen aus dem Weinpaket aus. Reste werden gegen Quittung bis zum nächsten Mal gelagert.
Man bekommt Coupons, die man mitführen muss. Eigentlich fände ich es schöner, wenn man sich jeden Abend spontan aus dem Paket entscheiden könnte.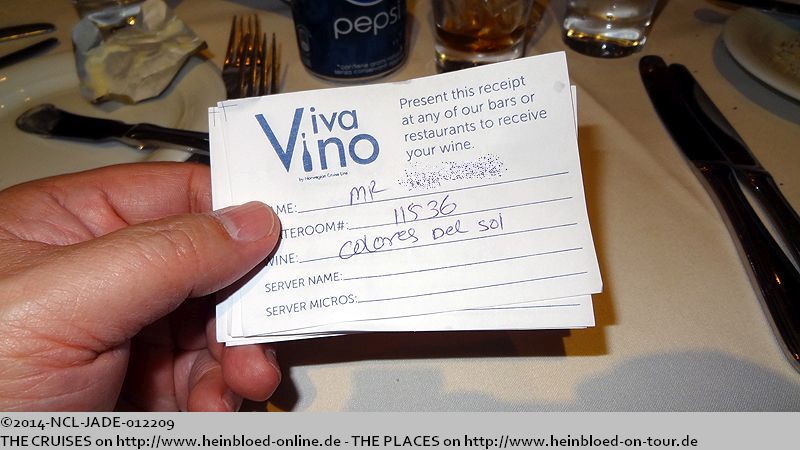 You get coupons which you need to have ready. I like it more if you can decide spontaneously every night which bottle you like to have from the bottle.

In the staircase we had a big surprise. Also from our sailing in January 2011 on NORWEGIAN JADE we know Joe and Tom from Pennsylvania. The world is small!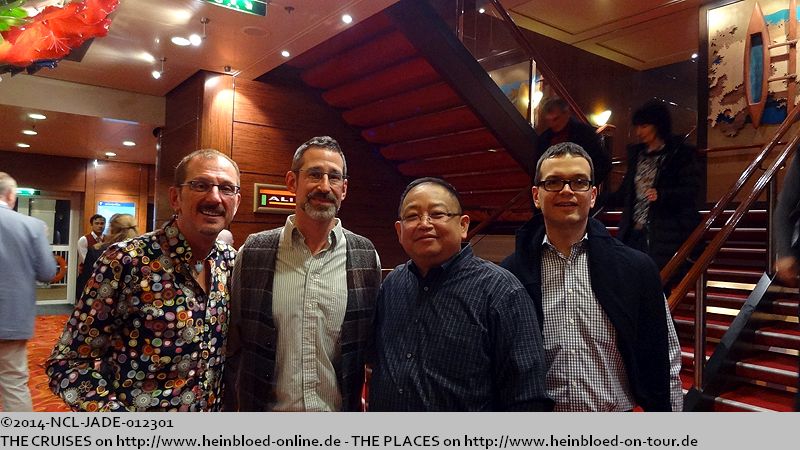 Im Treppenhaus gibt es eine große Überraschung. Ebenfalls von der Fahrt im Januar 2011 auf der NORWEGIAN JADE kennen wir Joe und Tom aus Pennsylvania, die wir an Bord treffen. So klein ist die Welt!
Wer lesen kann ist klar im Vorteil... ich habe bloß "Mixed Grill & Seefood Extravaganza" gelesen und musste später im Hauptrestaurant feststellen, dass dieses Angebot nur im Garden Café angeboten wird. Was ich an NCL "liebe": immer zwei Schritt vor und einen zurück. Soll ich jetzt in das Garden Café gezwungen werden, um besseres Essen zu bekommen? Bevor es soweit kommt, probiere ich doch AIDA aus... oder noch besser: ich fahre wieder Holland America oder Princess.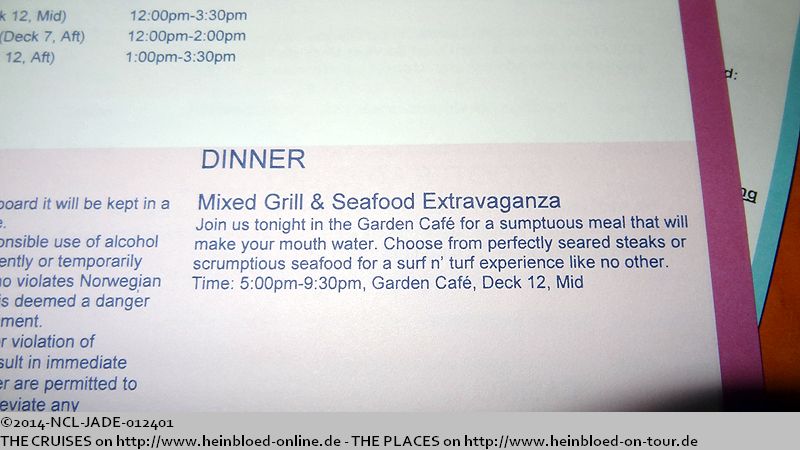 Who could read had a big advantage... I read only "Mixed Grill & Seafood Extravaganza" and had to learn later in the Main Dining Room that the offer was limited to the Garden Café. What I "love" with NCL: two steps forward and one step backward. Do they want to force me to see the Garden Café to get better food? Before I will do this I will try to go with AIDA... or much better: I will go Holland America or Princess.

As usual we could see how busy the restaurants were.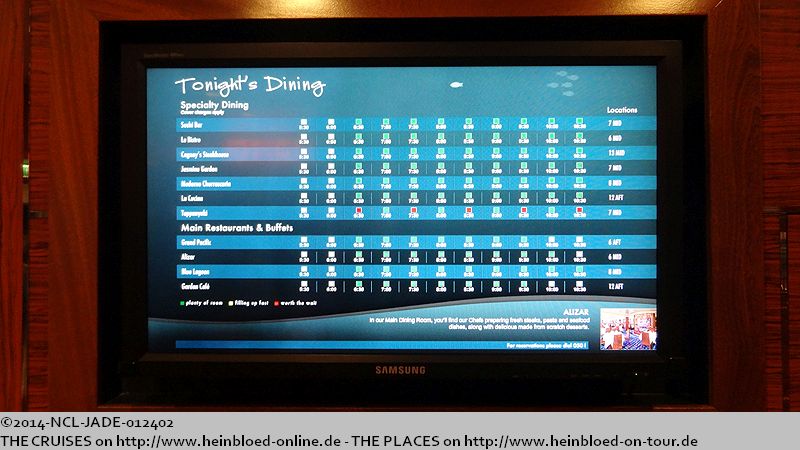 Wie üblich können wir sehen, wie voll es wo ist.
Es geht dann in das Grand Pacific Hauptrestaurant. Die Schilder mit den regionalen Spezialitäten am Eingang sind abgeschafft worden. Das gibt es nur noch mündlich durch den Kellner.

We went to the Grand Pacific Main Dining Room. They do not have anymore the displays at the entrance. You only get it verbally by the waiters.

What did not fit was made fitting perfectly... So I got finally my Surf and Turf.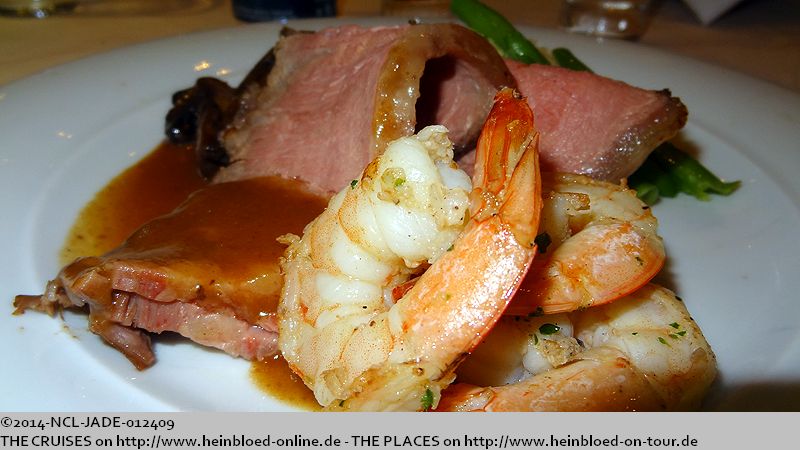 Was nicht passt, wird passend gemacht... So komme ich doch zu meinem Surf and Turf.
Irgendwie besteht keine Lust auf Nachtisch... die zuckerfreien Nachtische sind immer voll Fett...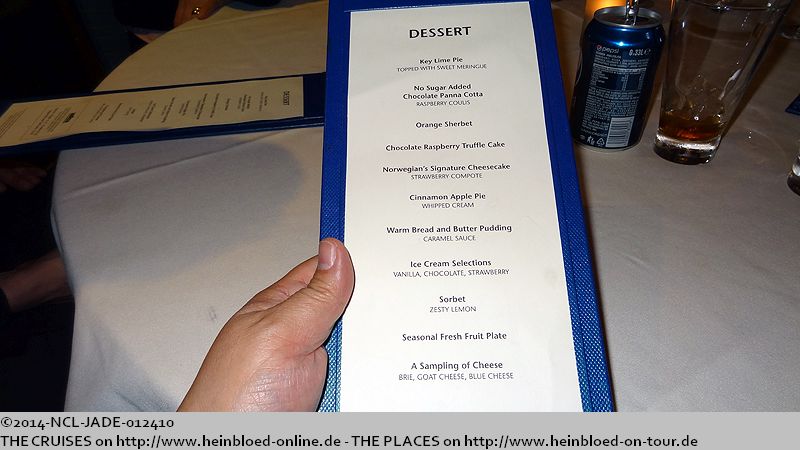 Somehow we were not very interested in any dessert... the sugar-free desserts were always full of fat....

The first night was really perfect as we got the service from a good old friend whom we knew from NORWEGIAN GEM since 2009: Aydin Sönmezocak. A great team together with Sandesh Matkar and a wonderful enjoyable evening we had.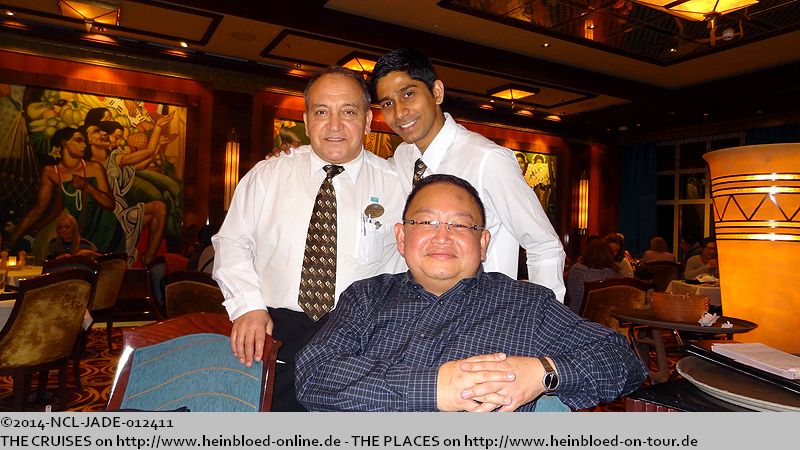 Der erste Abend ist voll gelungen, da wir zunächst von einem guten alten Freund bedient wurden, den wir seit 2009 auf der NORWEGIAN GEM her kennen: Aydin Sönmezocak. Mit Sandesh Matkar hat er ein tolles Team gebildet und wir haben den Abend sehr genossen.
Wir hatten ein Problem gehabt: hätten wir schon mit jedem angefangen Reunion-Bilder zu machen, hätten wir locker den Betrieb lahm legen können. So beschränken wir uns zunächst auf wenige wie Fortuso Gonsalves. Ihn kennen wir von unserer allerersten NCL-Reise und daher freuen wir uns immer wieder ihn wiederzusehen.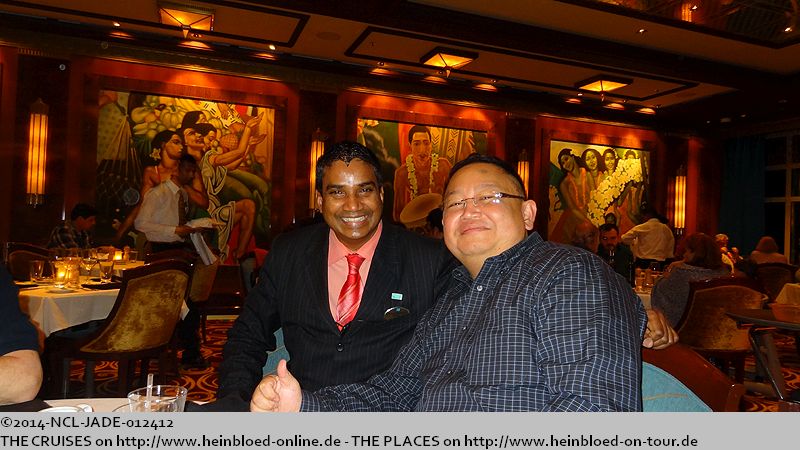 We had a big problem: we could easily tied up operation in the first night by just taking reunion-pictures. So we limit ourselves to very few like Fortuso Gonsalves. We knew him since our very first voyage with NCL and we are always happy to see him again.

And just back for us to "cut our lettuce" (see NORWEGIAN SPIRIT January 2013): Shridhar Dhuri (or vice versa: there are two different name tags existing - in a different order... but anyhow everyone calls him Dhuri!). A real Feelgood-Man who is taking care of everything - his helpfulness never ends at the edge of the restaurant or with the debarkation. We know him also for many many years. And so we were in "trouble": He was in Alizar Main Dining Room. But that we did not like same as Grand Pacific as it is loud. But for Dhuri that was no problem if you just tell him before.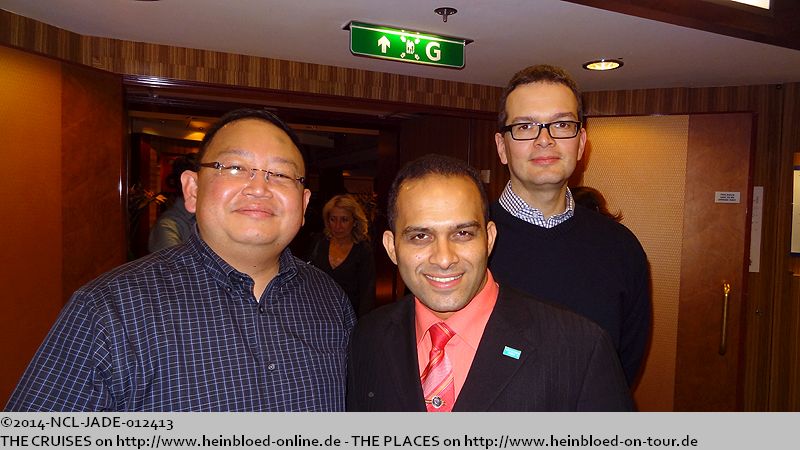 Und extra zum "Salatschneiden" (siehe NORWEGIAN SPIRIT Januar 2013) für uns zurück: Shridhar Dhuri (oder umgekehrt: es gibt nämlich zwei unterschiedliche Namensschilder - in unterschiedlicher Reihenfolge... aber jeder nennt ihn eh nur Dhuri!). Ein echter Wohlfühl-Mensch, der sich um alles kümmert - seine Hilfsbereitschaft endet niemals Ausgang des Restaurants bzw. mit der Ausschiffung. Ihn kennen wir ebenfalls seit vielen Jahren. Und damit kommen wir in "Schwierigkeiten": Er ist im Alizar Hauptrestaurant. Und das mögen nicht so sehr, wie das Grand Pacific, weil es zu laut ist. Aber für Dhuri stellt so etwas kein Problem dar, wenn man es ihm vorher sagt.
Wir gehen noch in die Bar etwas trinken.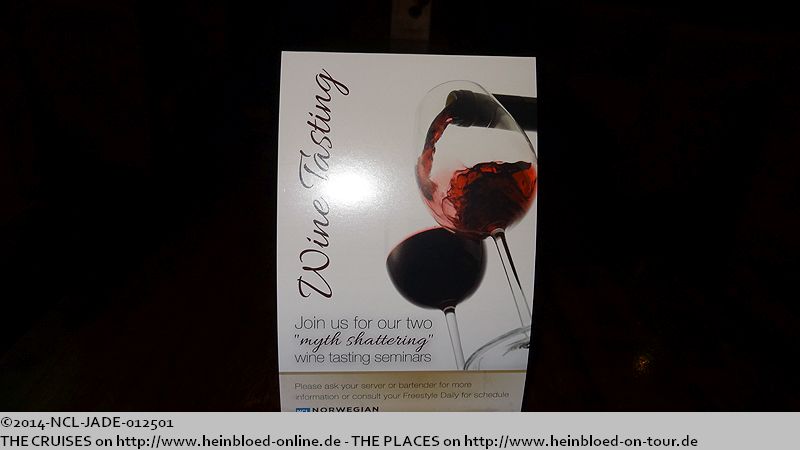 We went to the bar to have a drink.

The bar menus need to be redesigned according the beverage packages so you could see easily which beverages were included in the package and which need to be paid extra.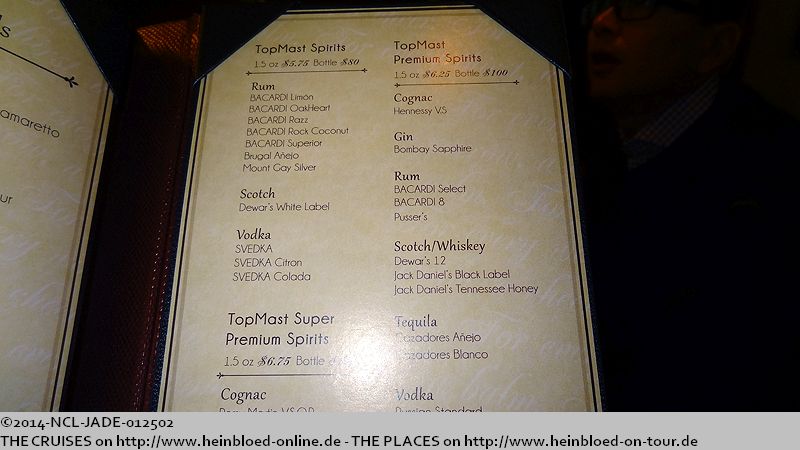 Die Barkarten mussten entsprechend der Getränkepakete umgestellt werden, so dass man direkt sieht, welche Getränke im Paket eingeschlossen sind und welche extra bezahlt werden müssen.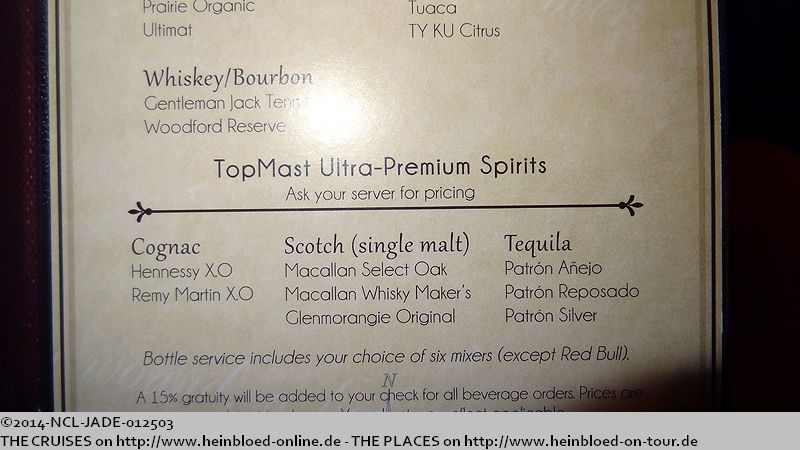 You should tell them that you want to have a can so you must not have the fountain soda which was prepared with the chlorided water. That was why I did not take soda-package.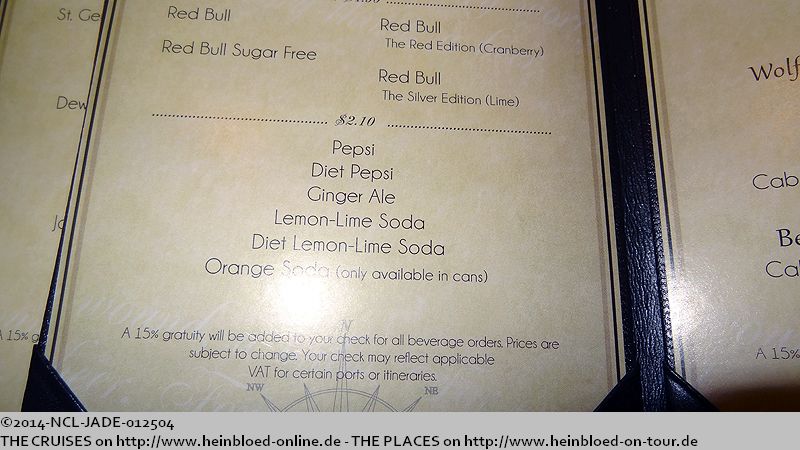 Man sollte denen unbedingt sagen, dass man eine Dose haben will, damit man nicht das Zeug aus dem Zapfhahn mit Chlorwasser bekommt. Deswegen habe ich dieses Mal kein Soda-Package genommen.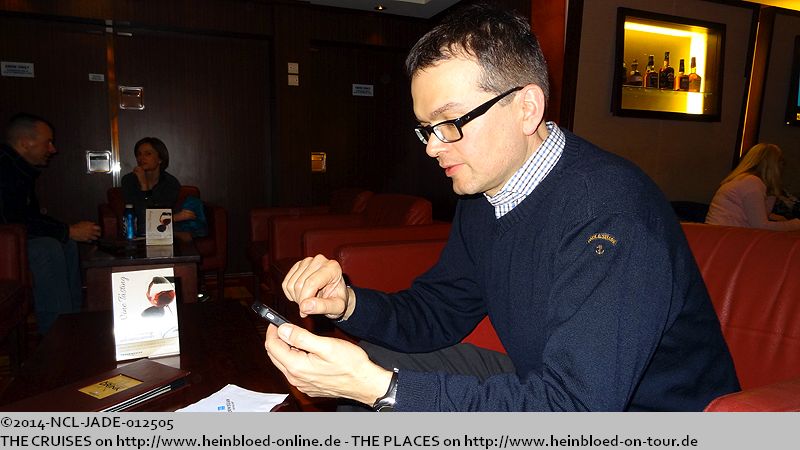 My Shirley Temple was charged for the price of a soda. Some cruise lines take a lot of money for a cherry and a shot of syrup...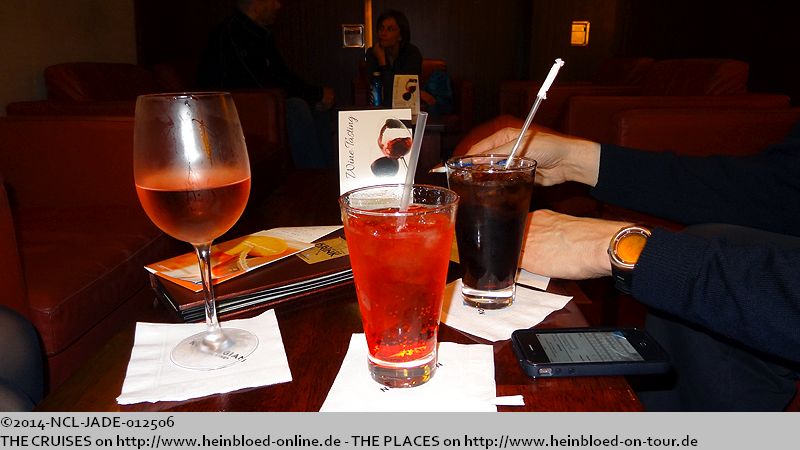 Meinen Shirley Temple bekomme ich zum Preis von einem Soda. Für die Kirsche und den Schuss Sirup nehmen ja andere Gesellschaften ziemlich viel Geld...
Nur diese Nuss-Behälter finde ich ziemlich "billig". Die sehen immer so angeschlagen und blind zum Teil aus.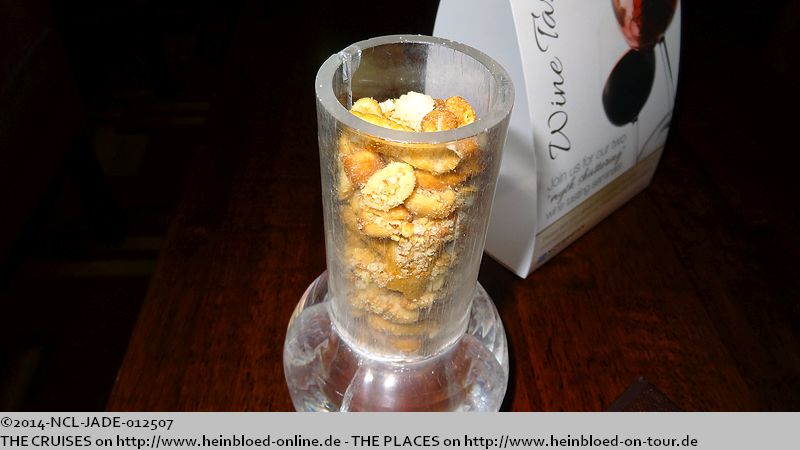 Only the container for the nuts looked very "cheap". Looked always so damaged and sometimes blind partly.

And obviously you cannot clean them properly. Maybe that was the reason why you had so much rest from earlier.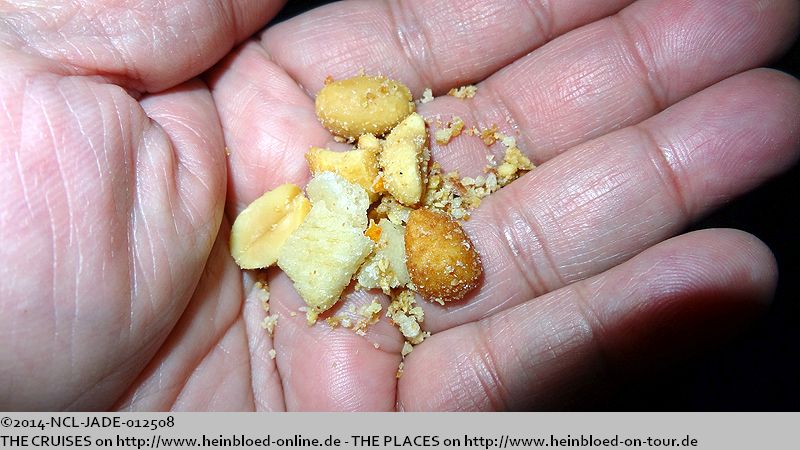 Und man kann sie wohl nicht vernünftig reinigen. Deswegen bekommt man so viele Reste von früher mit.
Fische???

Fishes???

I want to have back my Go-Go-Girls...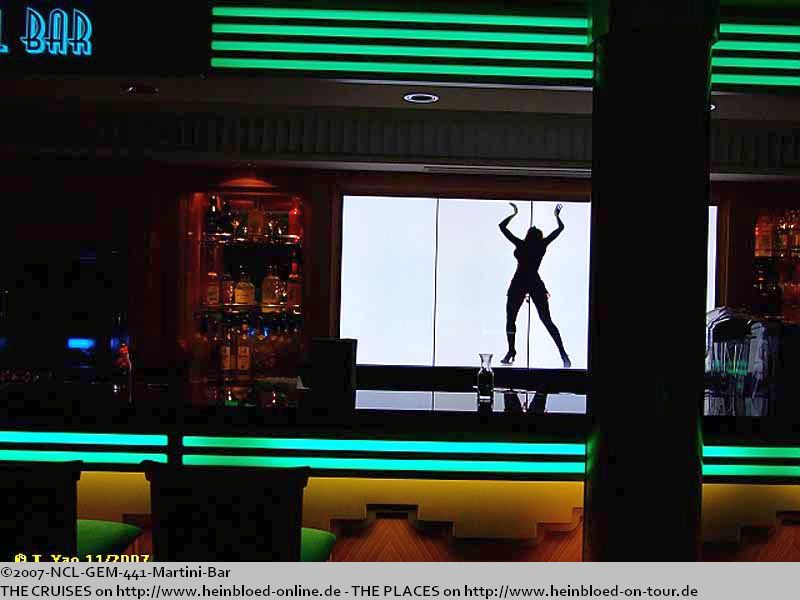 Ich will meine Go-Go-Girls wiederhaben...