Nach dem Frühstück gestern in Florenz und dem tollen Abendessen im "Cum Quirus", half uns dieses Frühstück ein wenig wieder kürzer zu treten. Die Eierspeisen gibt es nur à la carte als Extras und man sollte keinesfalls einen Kaffee "americano" bestellen - es sei denn, dass man großer Freund von Nescafé ist.

After the breakfast the day before in Florence and the great dinner at "Cum Quirus" this breakfast was helpful to find back to a leaner standard. You get egg dishes only à la carte and against extra payment. Never order a coffee "americano" - except you like instant coffee very much.

Bruno used the stairway. I thought it was too uneven for me because I have problems as my feet easily revert. So use the handrails.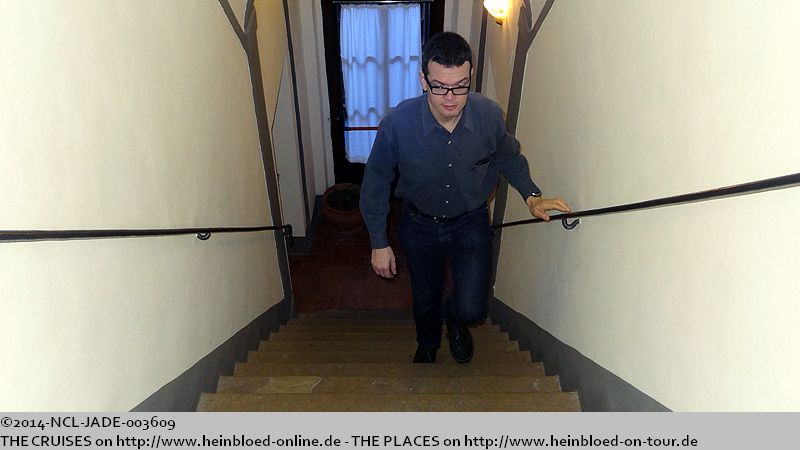 Bruno nimmt die Treppe. Mir ist sie zu uneben, weil ich sehr leicht mit den Füßen umschlage. Also immer gut festhalten.
Für die kommende Nacht haben wir eine italienische Mehrfachsteckdose bekommen. So muss ich nicht mehr nachts alle Geräte umstecken.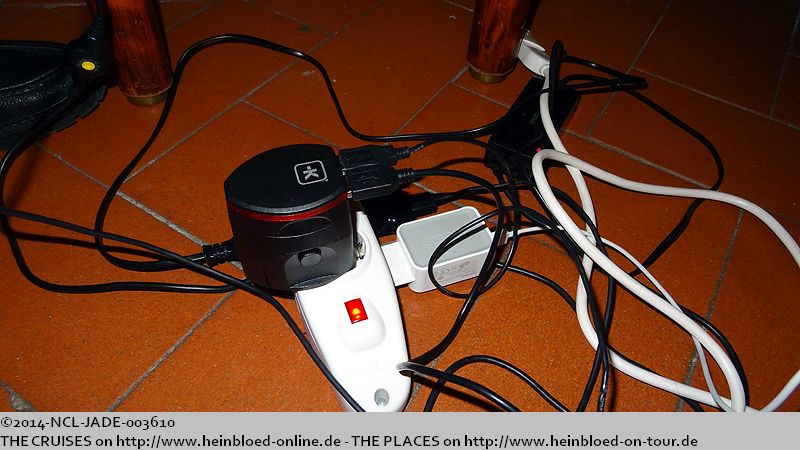 For the next night we asked for an Italian multiple power outlet. So there was no need anymore to change all chargers during the night.

We headed for a short walk through San Gimignano.

Weiter geht es zu einem Spaziergang durch San Gimignano.
Man merkt schon den Unterschied zum 06.01. - viele Geschäfte waren geschlossen. Es ist sehr ruhig in der Stadt.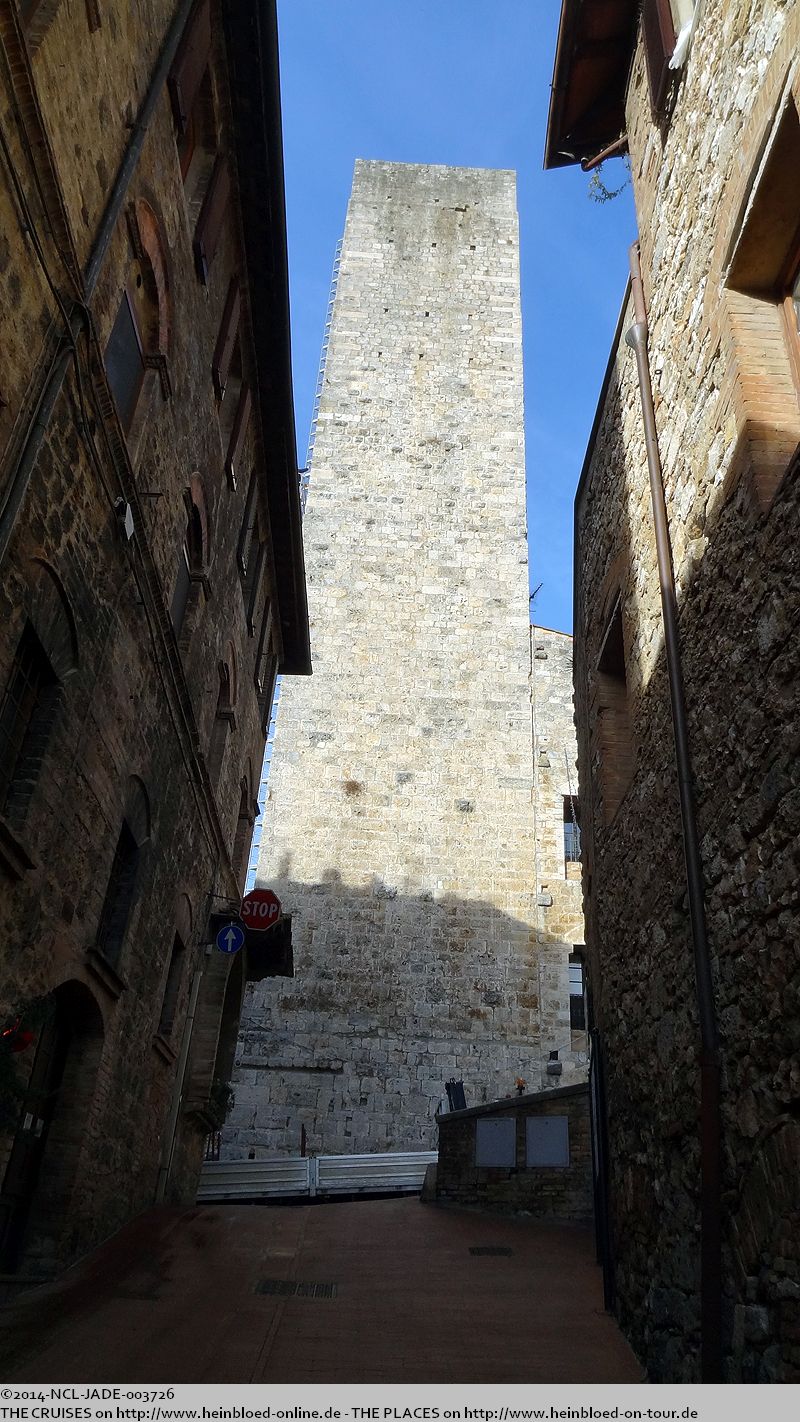 You could easily feel the difference to January 6 - many shops were closed. It was very calm in the city.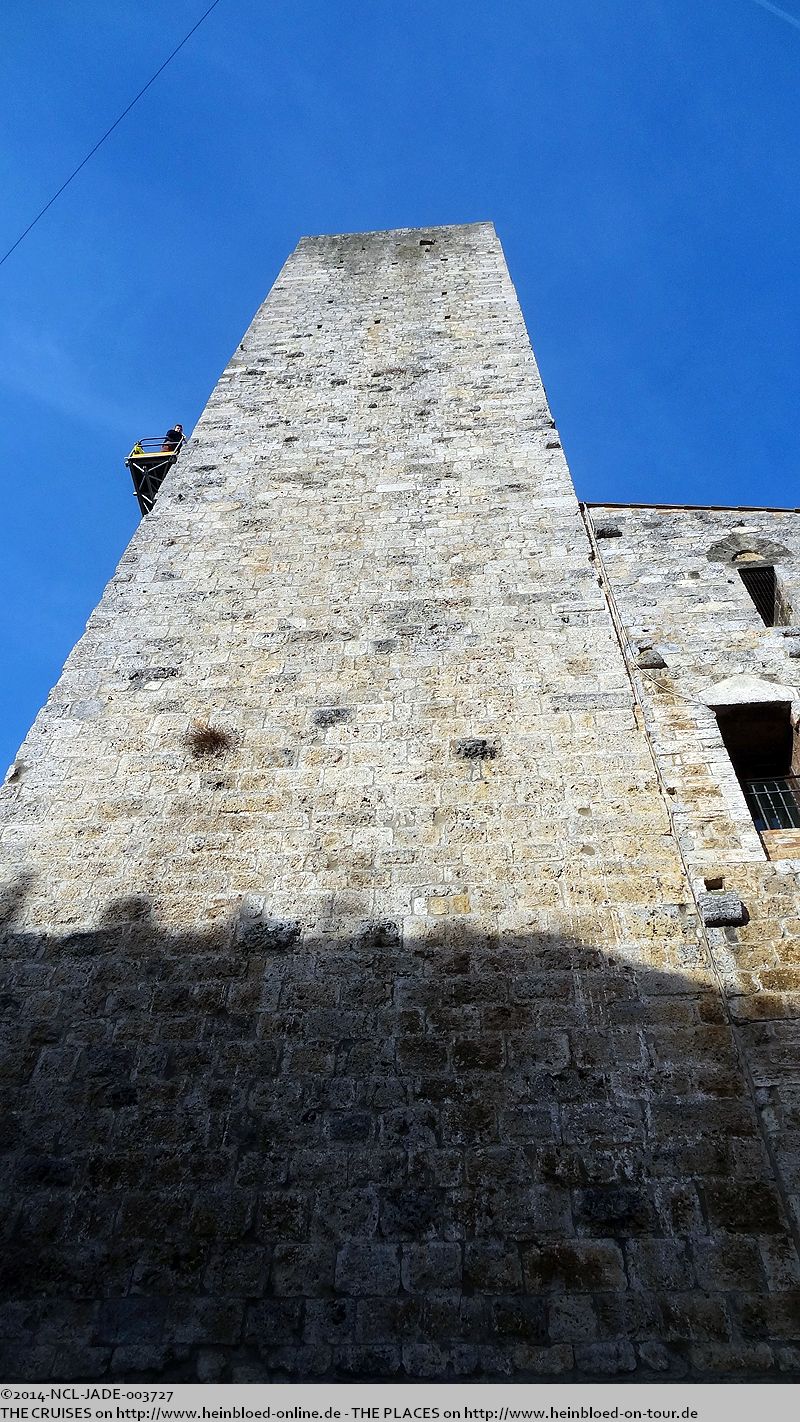 Die ruhige Saison wird für Instandhaltungsmaßnahmen genutzt.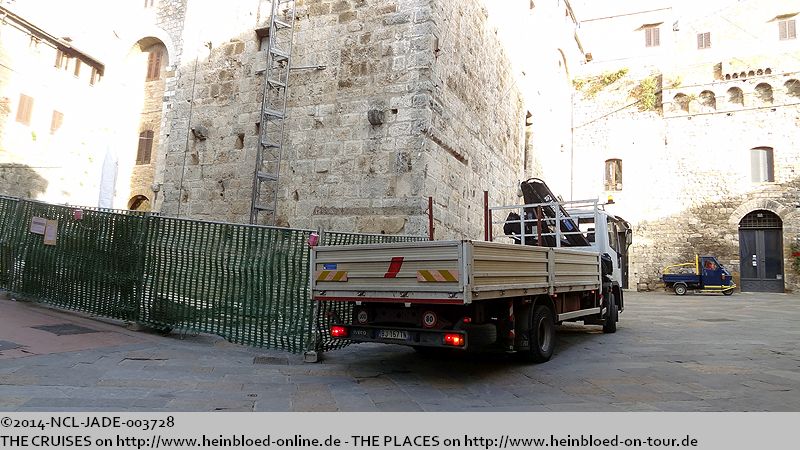 They used the calm season for any kind of maintenance work.

They even had a bus traffic with mini-busses.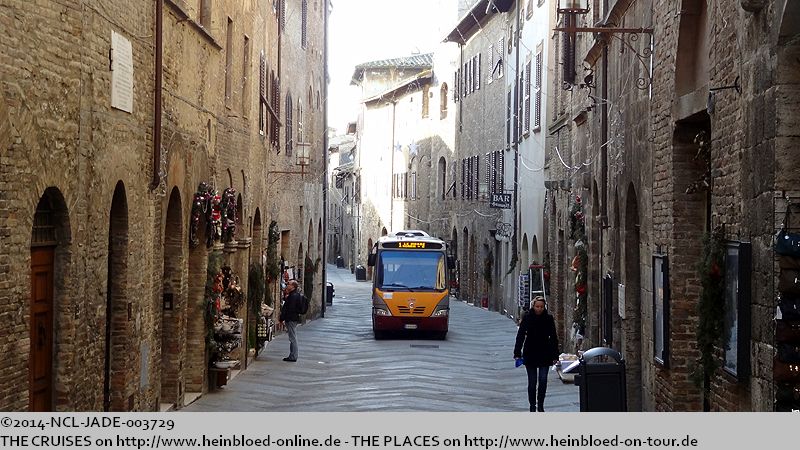 Es gibt sogar einen Busverkehr mit Kleinbussen.
Bruno findet hier eine neue Geldbörse. Im Gegensatz zu Florenz gibt es eben nicht nur die Top-Marken in der Innenstadt.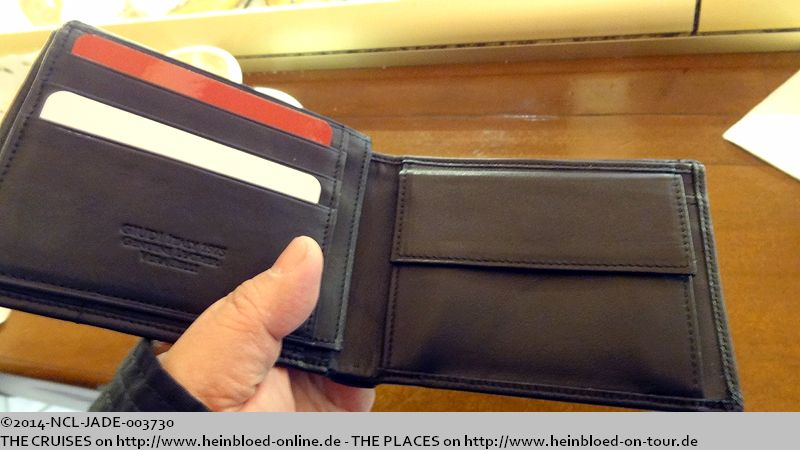 Bruno found here a new wallet. Compared to Florence you do not find only the high-end-brands in the city center.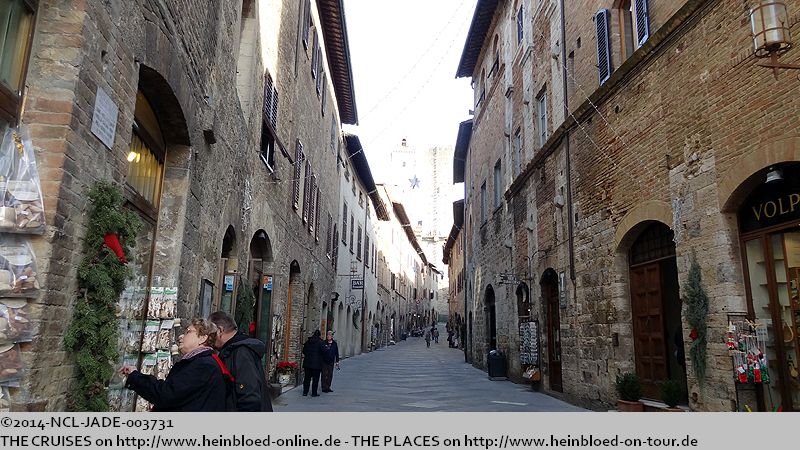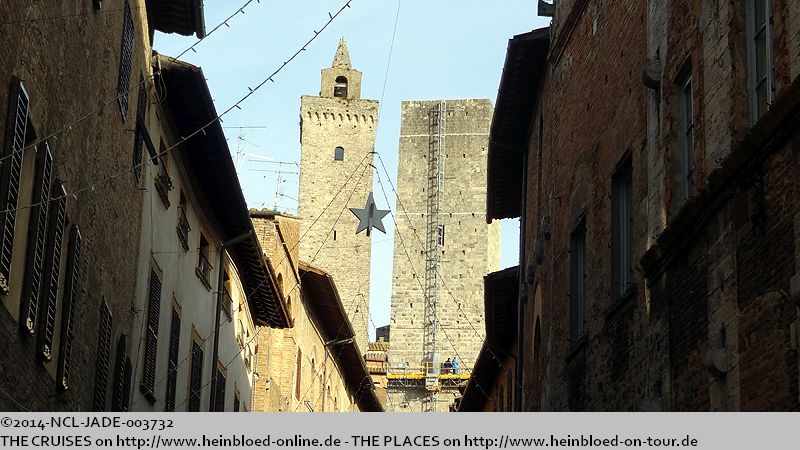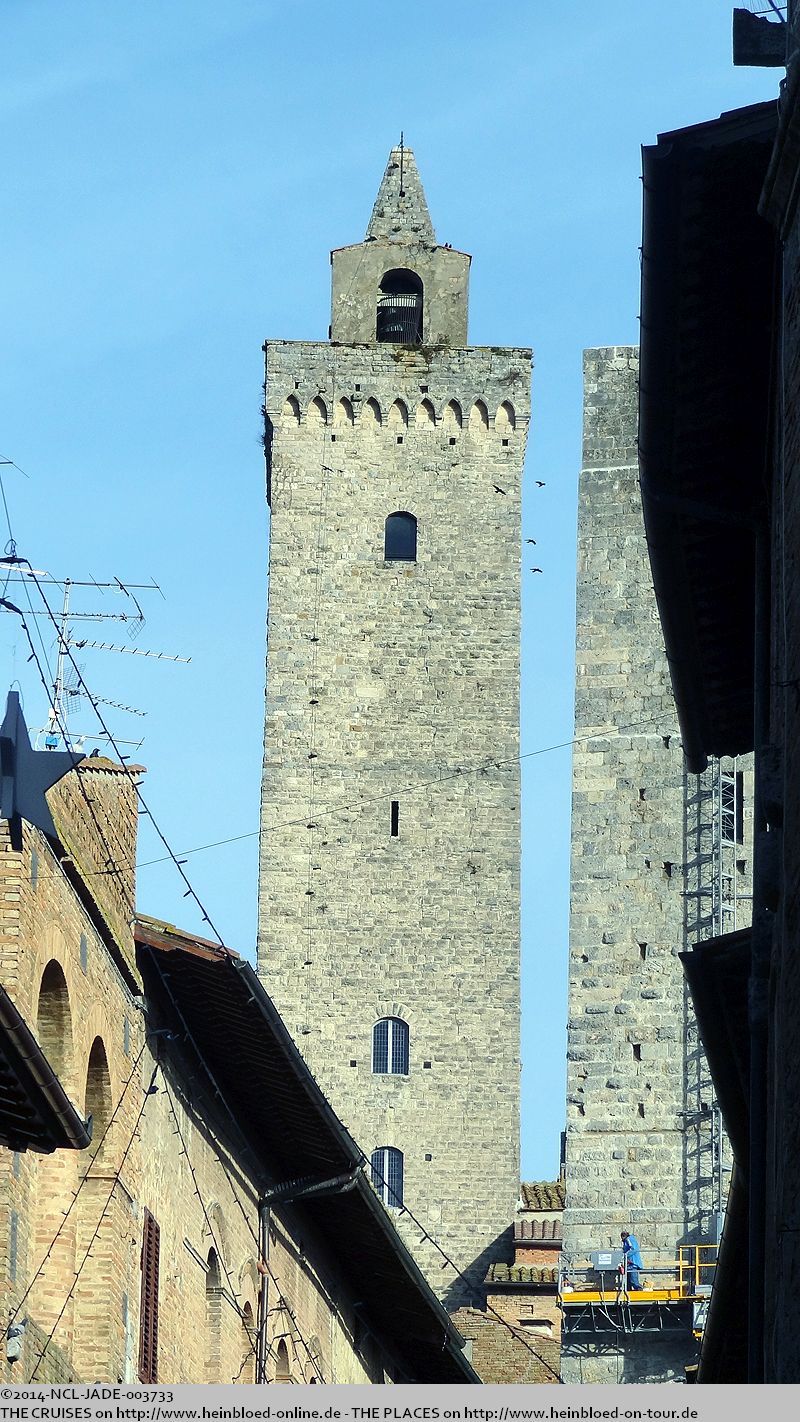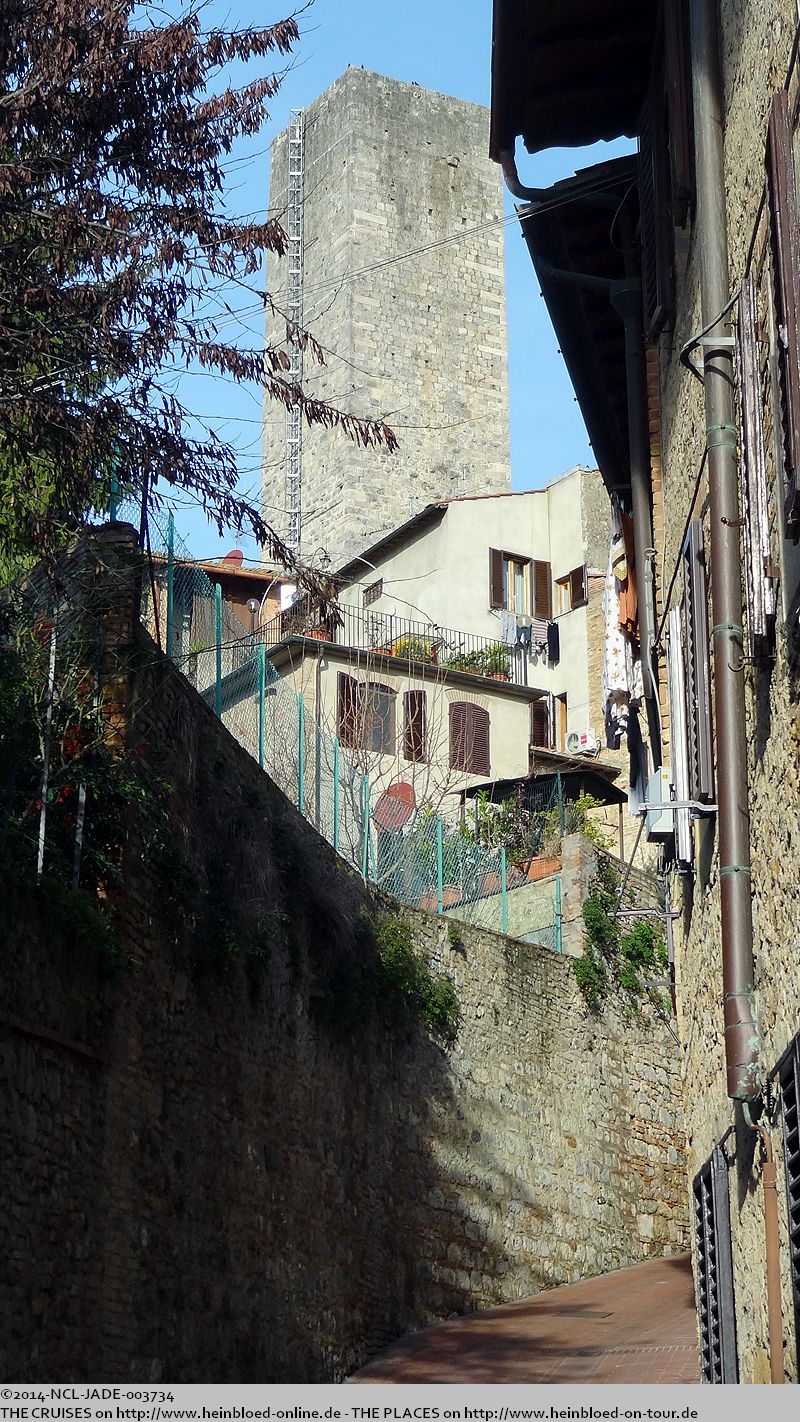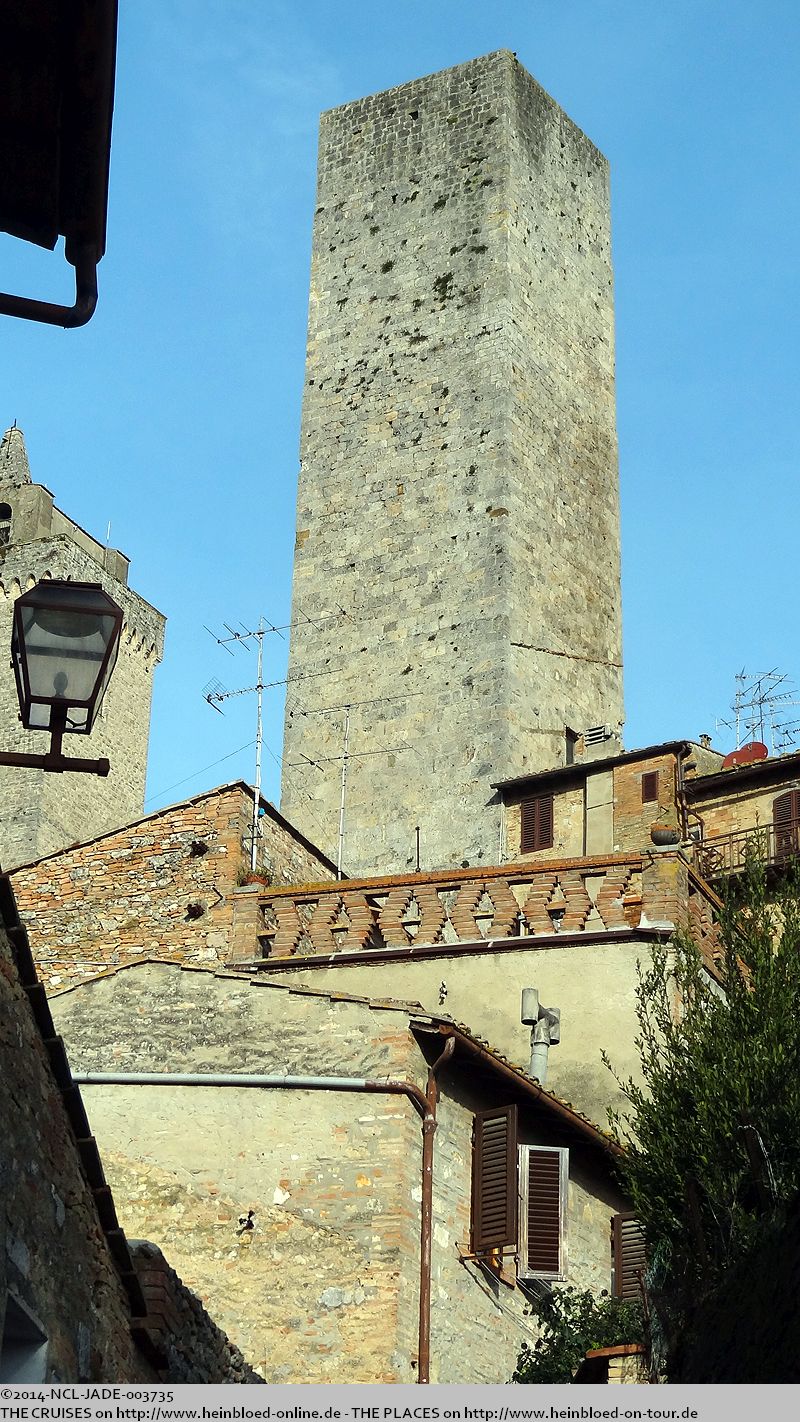 Damit wir nicht den gleichen Weg zurücklaufen müssen, um zum Auto zu kommen, gehen wir außen entlang.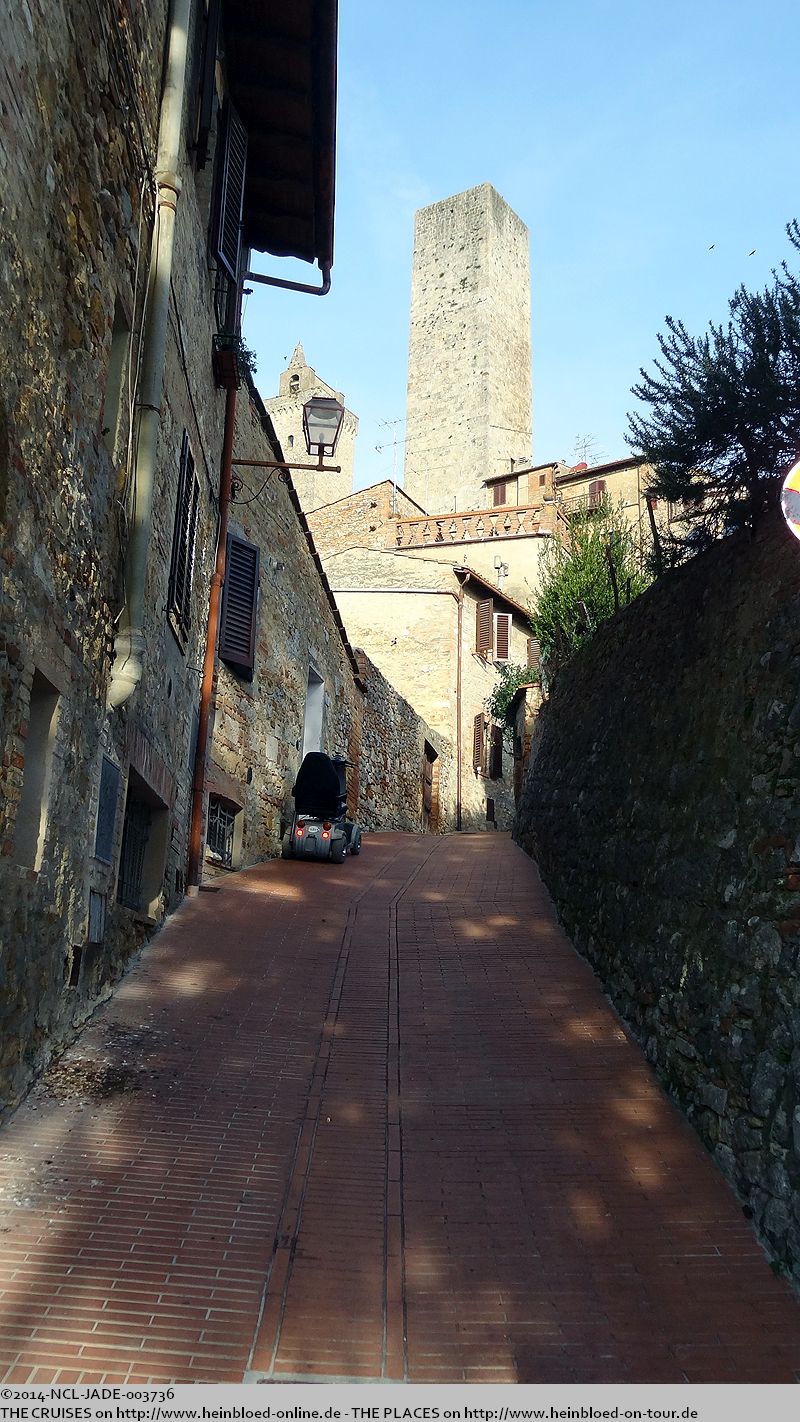 To avoid that we had to walk the same way back to get to our car we walked at the edge of the city.

From the city map you cannot see that it should be very hard to walk.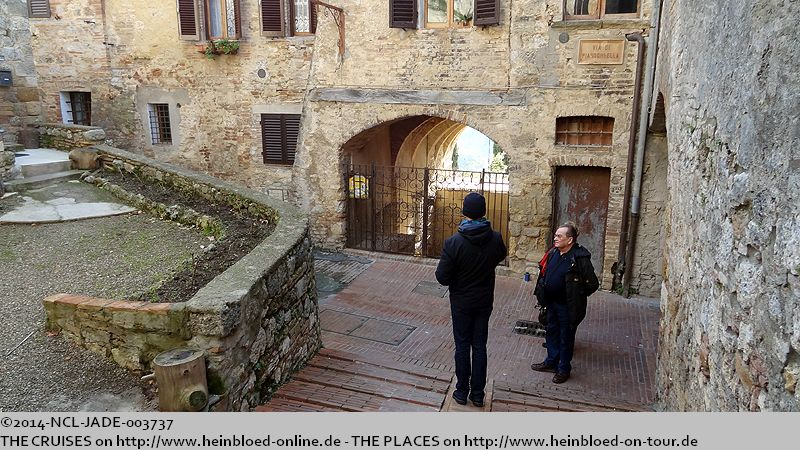 Leider konnte man dem Stadtplan nicht ansehen, dass es ziemlich anstrengend wurde.
Es ging von nun an immer nur steil bergauf und bergab.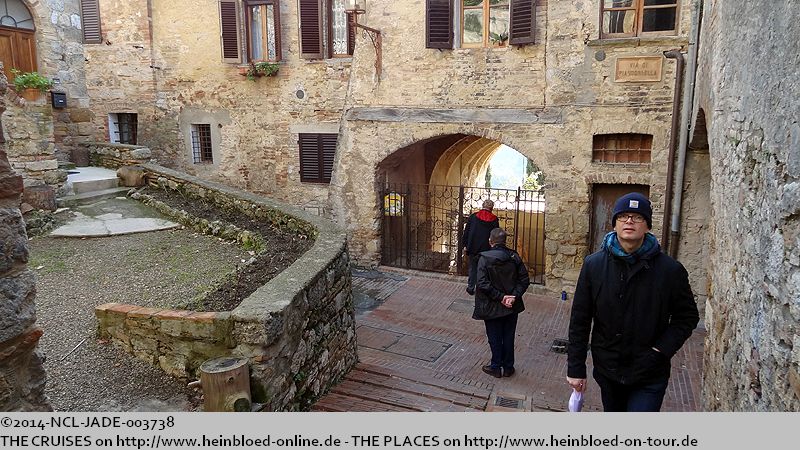 So we had to walk up and down on very steep ways.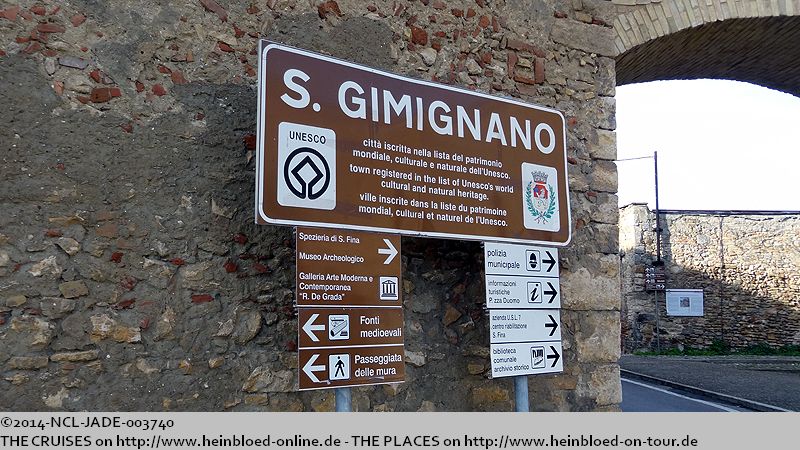 On the city wall I was glad that the girls were looking to the distance. It looked great. It was wonderful the way they did it. So much desire and range.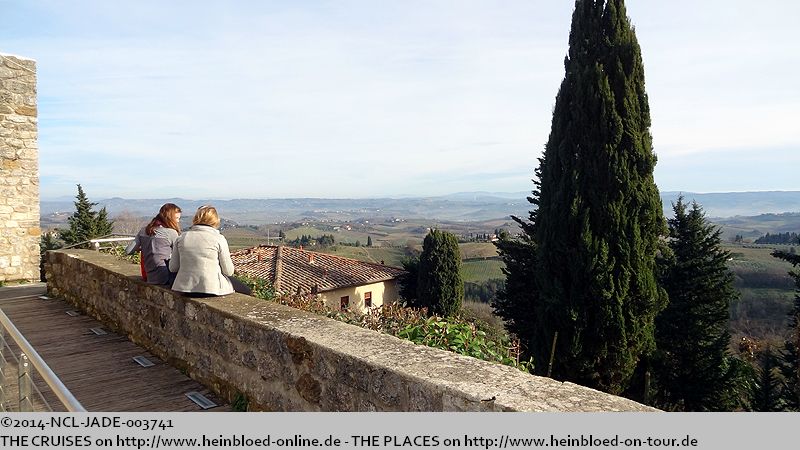 Auf der Stadtmauer bin ich froh, dass die Mädels in die Ferne blicken. Das sieht einfach toll aus, wie sie es taten. So viel Sehnsucht und Weite.
Zwischendurch haben wir mal wieder eine Kaffeepause gemacht: in der Bar Boboli in der Hauptstraße.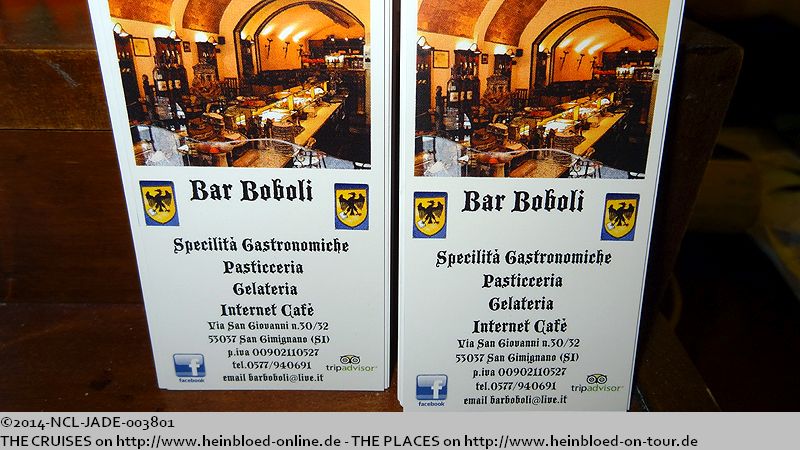 In beetween we had a coffeebreak: in the Bar Boboli on the main street.

With the fresh pizza in the rear of the shop it looked very nice. And it smelled very nice.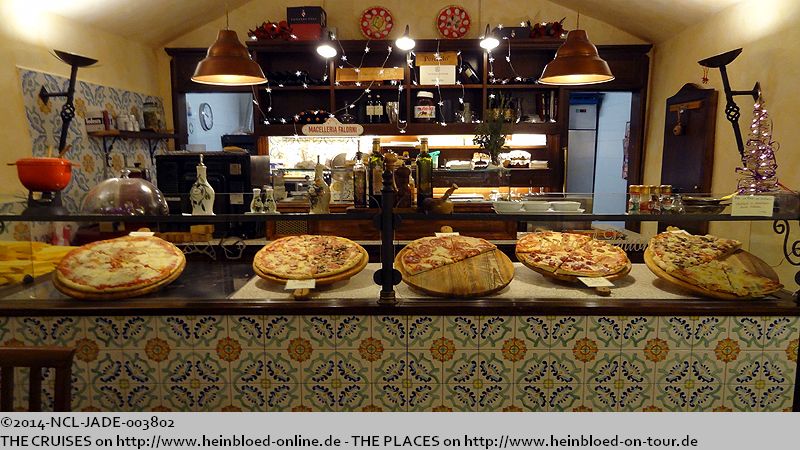 Mit den frischen Pizzen im Hintergrund sah das schon toll aus. Und es roch auch gut.
Nur 4,50 EUR pro Stück... wenn es von der Größe von Pizza Hut ist es zu teuer. Wenn es die 1/2 Pizza: wenn sie lecker ist, dann zahle ich das doch gerne.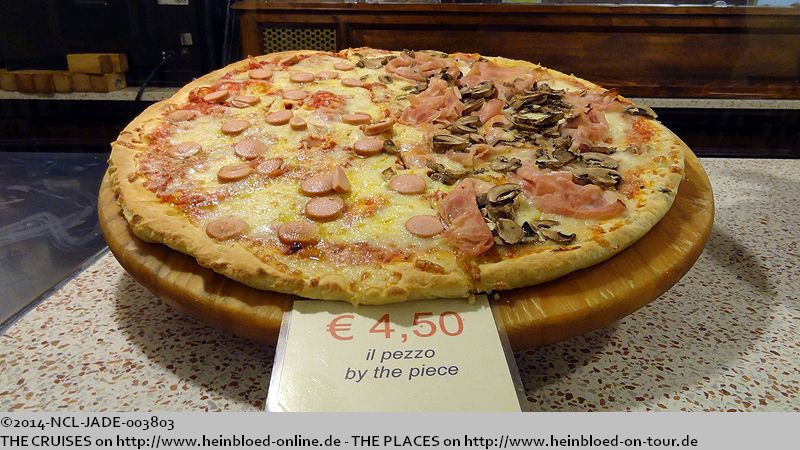 Only 4.50 EUR per piece... subject of the size like with Pizza Hut it was too expensive. But if it is 1/2 pizza and it would tast nice I was willing to pay.

It was very comfortable there. I ordered at the bar and Erika and Hans took their coffee to a table and sit. But they were so kind to charge the bar price only. Anyhow the coffee was here very good.

Ansonsten war es sehr gemütlich. Ich hatte an der Theke bestellt und Erika und Hans hatten ihren Kaffee mit zum Tisch genommen, aber sie waren so nett uns den Thekenpreis zu berechnen. Aber auf jeden Fall war der Kaffee sehr gut.
Und später können wir doch noch aus der Ferne einen Blick auf die Silhouette von San Gimignano machen. Wie Sigi sagt: das Manhattan der Toskana. Und wie uns Susanna erklärt: In Florenz war es üblich in die Fläche zu bauen um seinen Prunk zu zeigen und hier eben in die Höhe. Ich habe also nach einem Tag noch nicht alles vergessen, was sie uns erzählt hat.

And later we could see the silhouette of San Gimignano from the distance. Sigi always said: Tuscany's Manhattan. And Susanna explained: In Florence they spreaded out to show their wealth and here they show it by the height. Even after one day I have not forgotton everything she told us the day before.