Nach unserem Aufenthalt im AC Hotel Barcelona damals auf einer großen Matratze für uns beide haben wir dieses Mal sehr gut geschlafen. Da ich meine Marriotts Reward Punkte eingesetzt hatte, mussten wir das Frühstück extra zahlen. Entweder à la carte oder Frühstücksbüffet für 12,00 EUR (2014).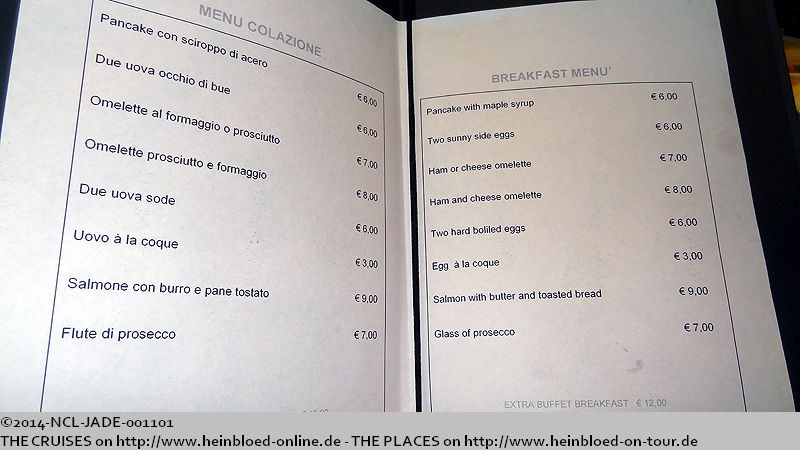 After our last stay at AC Hotel Barcelona on one mattress for us together we had a great sleep this time. As I redeemed my Marriotts Rewards Points we had to pay extra for the breakfast. You can choose à la carte or take the breakfast for 12.00 EUR (2014).

But this was worth every cent. We had to pay much more to get much less.

Das war allerdings jeden Cent wert. Wir haben schon in vielen Hotels mehr bezahlt und ein kleineres Angebot bekommen.
Wie in jedem guten italienischem Hotel üblich: wer den Kaffee "americano" nicht mag, kann einfach nach einem frisch zubereiteten Cappucino fragen. In der Regel gibt es ihn kostenlos.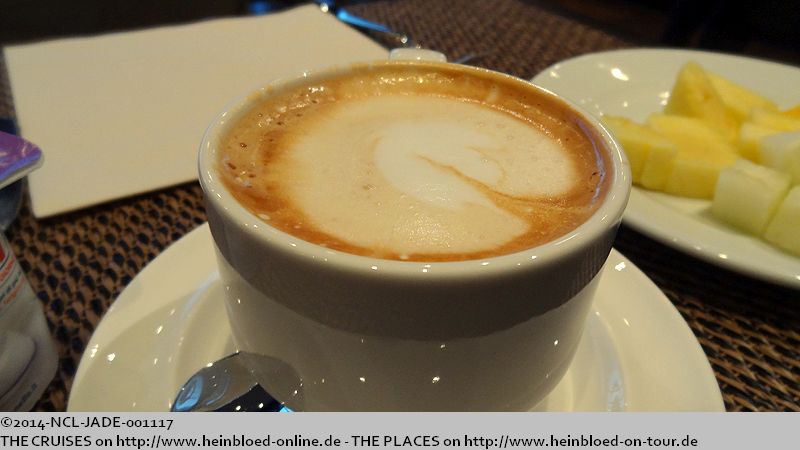 As you should always do in a good Italian hotel: who does not like the Coffee "Americano" should ask for a freshly-brewed Cappucino. Normally you get it complimentary.

Our view from our room was to the new Opera building. Although it was January 06 (Epiphanias - Public Holiday) they worked at the construction site of the opera.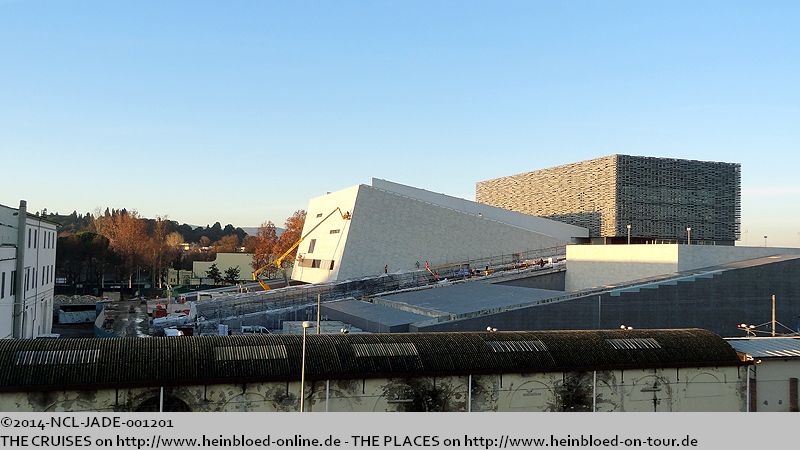 Unser Blick aus dem Zimmer führte zur neuen Oper. Obwohl heute 06.01. (Heilige Drei Könige - Gesetzlicher Feiertag) war, wurde an der Opernbaustelle gearbeitet.
Und schräg gucken wir auf die Innenstadt und den Bahnhof Porto al Prato.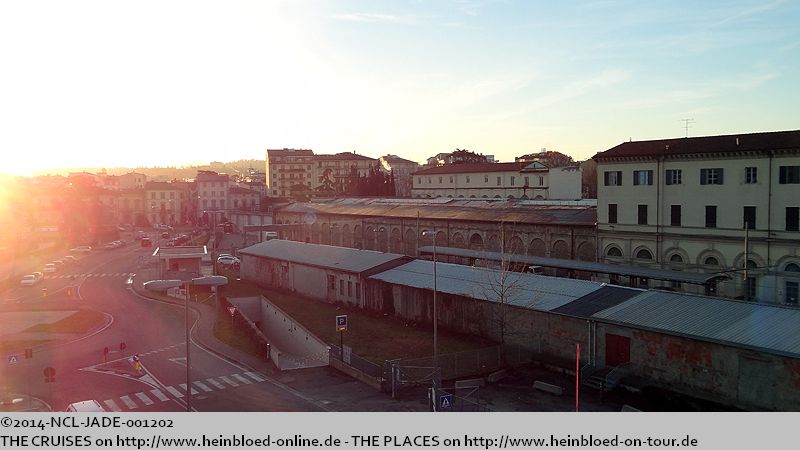 If we looked transversal you could see the city center and the Porto al Prato train station.

We stowed our bags into the car. As it was not a public parking garage but only accessible to hotel guests I felt very safe. To feel safe we had our English wool blanket with us to cover the bags which we bought after our voyage on NORWEGIAN EPIC. The Lancia Voyager is normally a 7-seater. We reclined three seats to stow our bags. Avis did us a big favor. They had a great one-way-fare for min. 3 days so that we could go from the Tuscany to our ship but from Rome. Due to our last experience with the English insurance we had to cover the excess fee and Enterprise's policy we preferred to pay the addtional premium to have a zero-access-fee.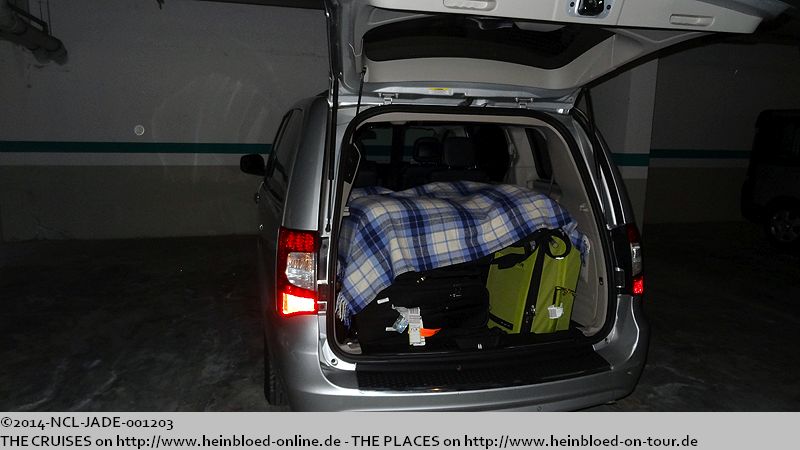 Unser Gepäck schließen wir schon mal ins Auto. Da es sich nicht um ein öffentliches Parkhaus handelt, sondern nur den Hotelgästen zur Verfügung steht, fühle ich mich sicher. Sicherheitshalber haben wir die englische Wolldecke zum Abdecken mit, die wir damals während der Reise mit der NORWEGIAN EPIC gekauft haben. Der Lancia Voyager ist eigentlich ein 7-Sitzer. Drei Sitze haben wir jedoch umgeklappt um das Gepäck unterbringen zu können. Da hat uns
Avis
einen großen Gefallen getan. Sie hatten einen tollen Einwegtarif für min. 3 Tage, so dass wir statt in Rom unsere Reise zum Schiff in der Toskana beginnen konnten. Aufgrund der letzten Erfahrungen mit der englischen Versicherung, mit der wir bislang den Selbsterhalt abgesichert haben und der Praxis bei Enterprise, zahlen wir dieses Mal lieber eine Zusatzprämie, um den Selbstbehalt auf Null zu setzen.
Wir laufen die fünf Minuten zum Fuß zur Straßenbahn. Dabei kommen wir am Bahnhof Porta al Prato vorbei. Allerdings fahren gar keine Züge hier ab. Daher war es auch sehr ruhig.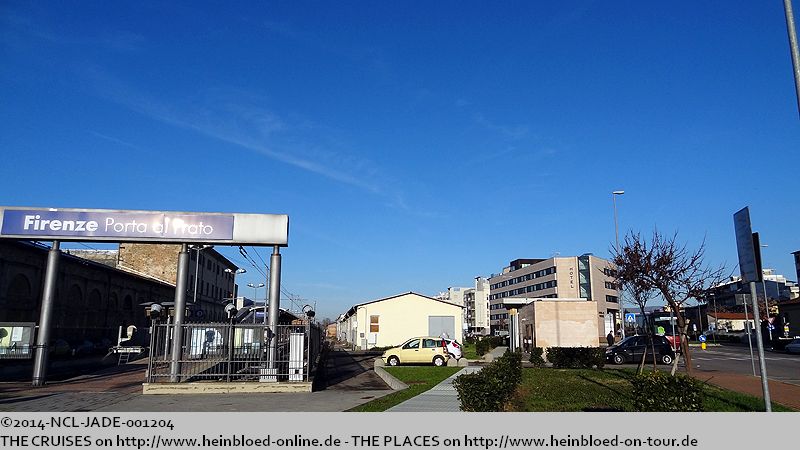 We walked five mitues to the tram stop. So we passed the train station Porta al Prato. But no trains were leaving from here. So it was very calm around.

We headed to the tram stop.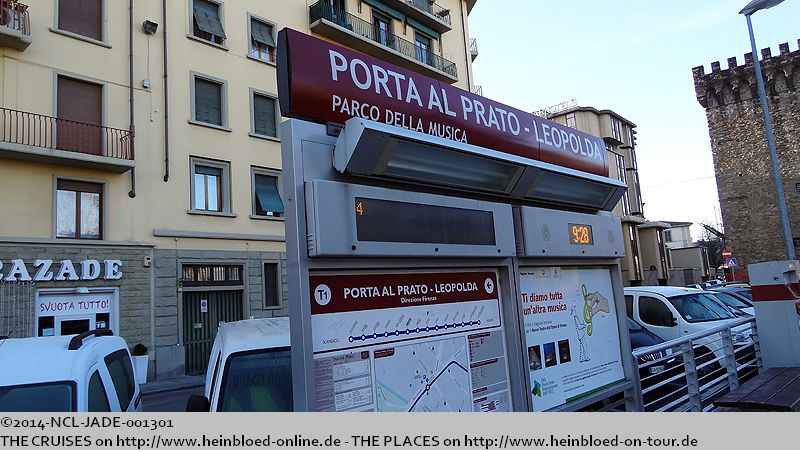 Wir laufen weiter bis zur Straßenbahnhaltestelle.
Dort erfahren wir nochmals, dass es sich wohl bei dem Neubau, den wir gesehen haben, um die neue Oper in Florenz handelt.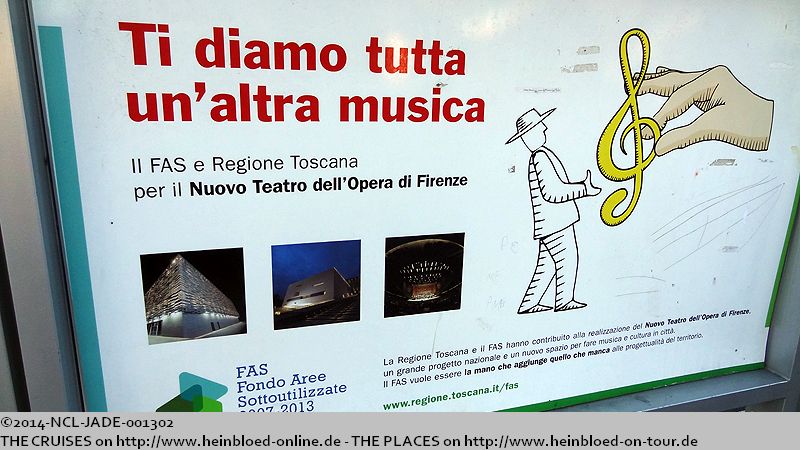 So we learned here that the newbuild we saw will be the new Opera in Florence.

We wanted to get to the Santa Maria Novella train station.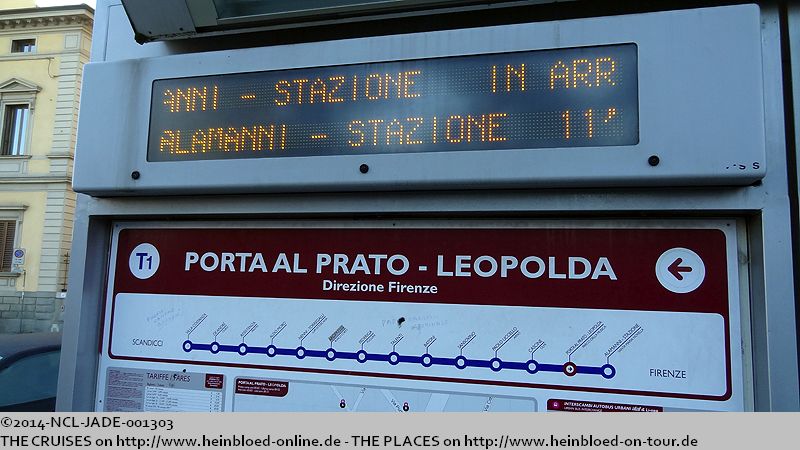 Wir wollen zum Bahnhof Santa Maria Novella.
Für 1,20 EUR (2014) fahren wir lieber
Straßenbahn
, anstatt im Schatten und mit viel Wind bis zum Bahnhof zu laufen. Die Fahrkarten bekommen wir direkt am Automaten, der am Bahnsteig aufgestellt ist.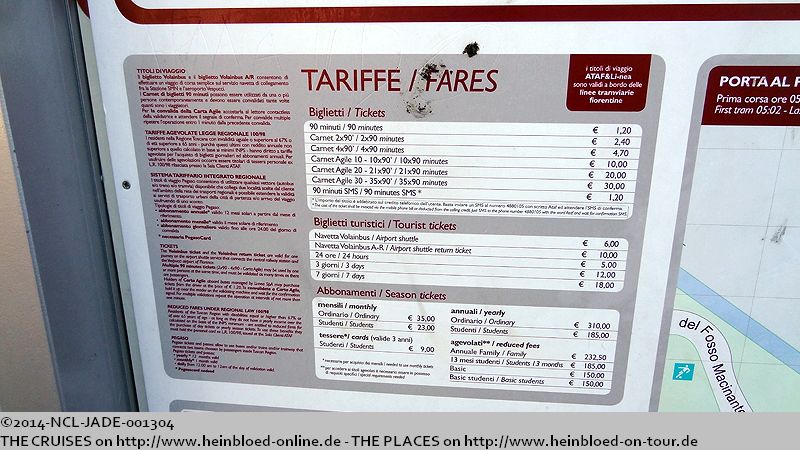 For 1.20 EUR (2014) we preferred to use the tram instead of walking in the shadow and wind to the train station. You could buy easily the tickets at the vending machine which was located on the platform.

Looked like in France. No wonder: the operator is a subsidiary of the Paris Transport Company RATP.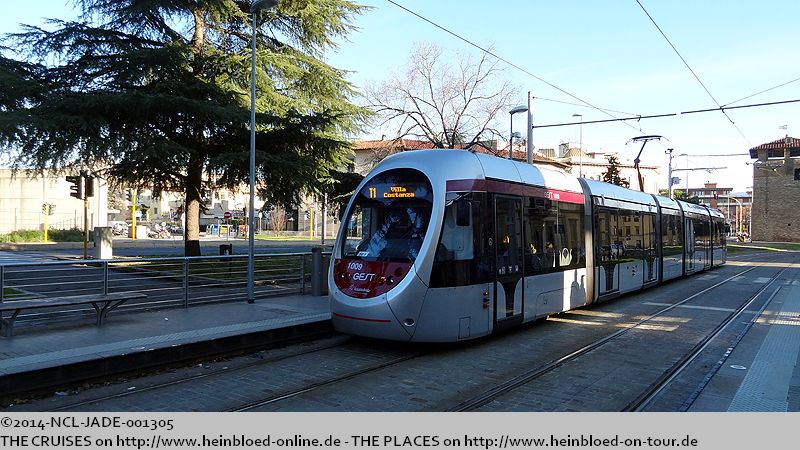 Sehen irgendwie aus wie in Frankreich. Kein Wunder: die Betreibergesellschaft ist ja eine Tochter der Pariser Verkehrsbetriebe RATP.
Und da kommt schon unsere Bahn.

And there our tram was approaching.

The ticket was valid for 90 minutes after validation.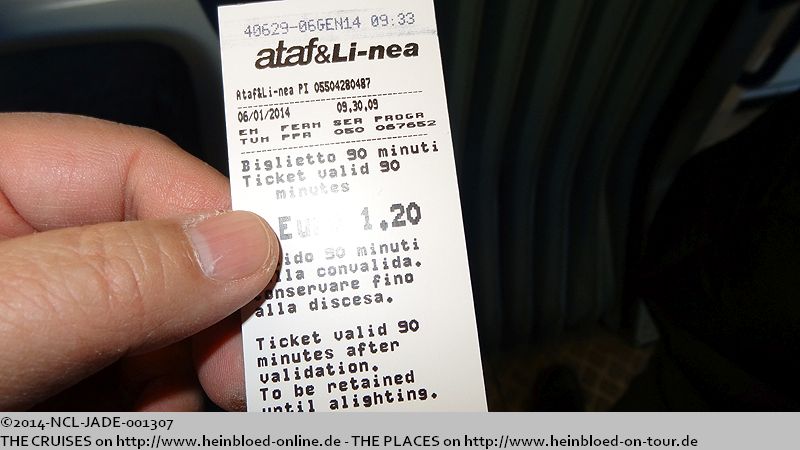 Die Karte gilt 90 Minuten nach der Entwertung.
Man muss hier die Fahrkarte entwerten.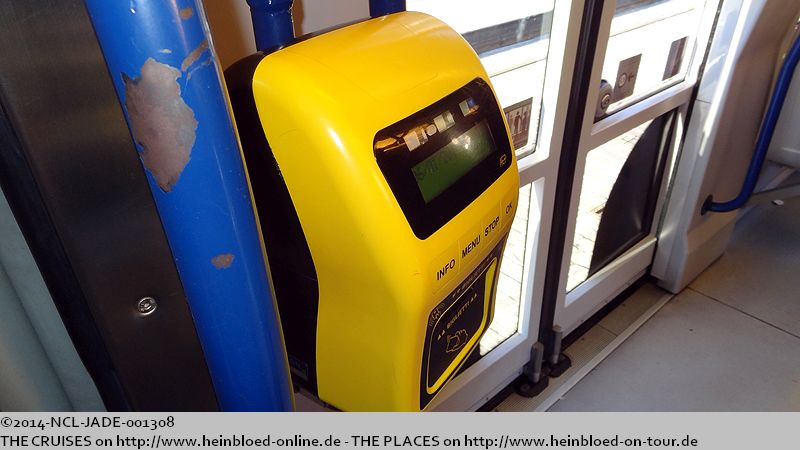 Here you had to validate the ticket.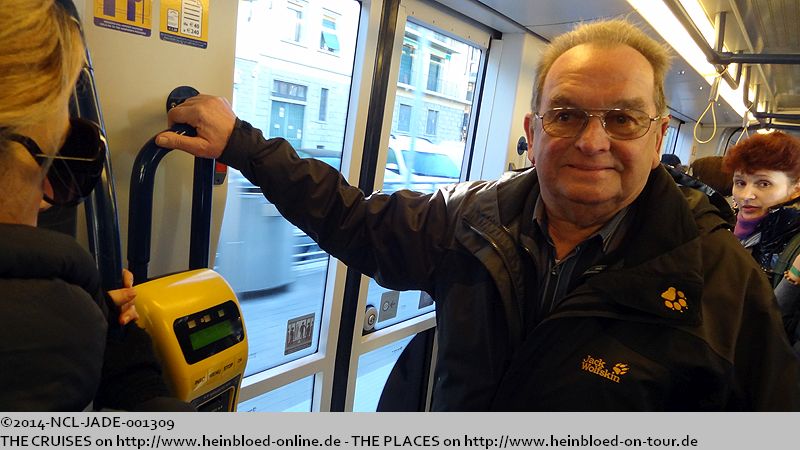 Wir gehen kurz in den Bahnhof
Florenz Santa Maria Novella
(Firenze SMN). Hier kommen die Züge auch aus Livorno an.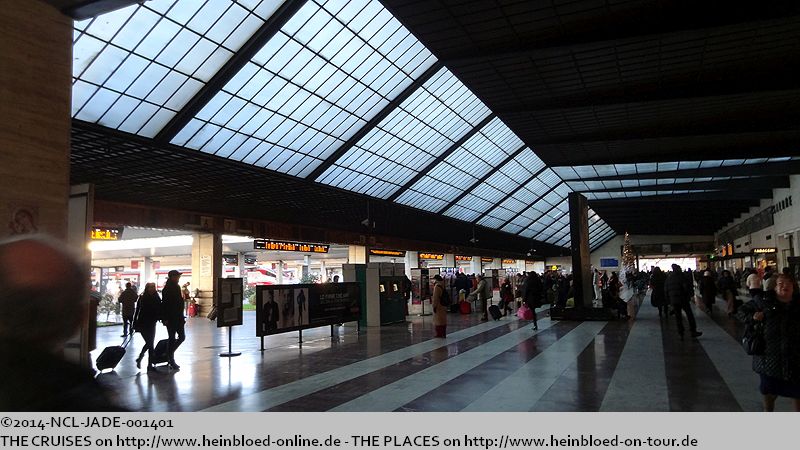 We went into the train station Florence Santa Maria Novella (Firenze SMN). Here you find the trains arriving from Livorno.

We went quickly to this shop to buy few items we need.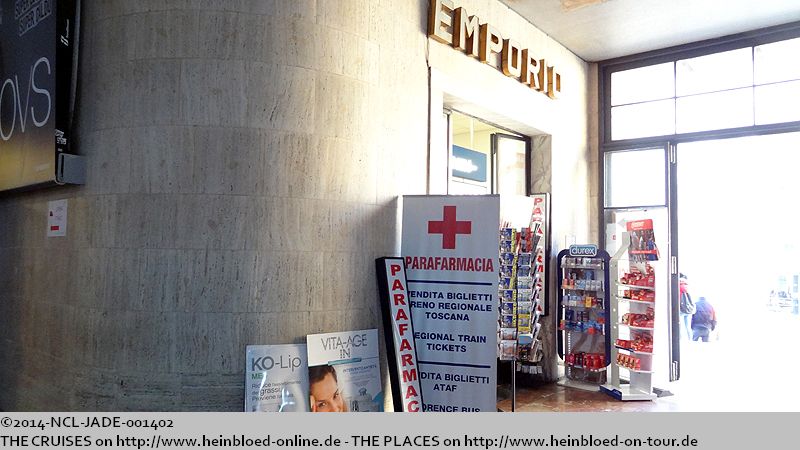 Wir gehen schnell in den Laden, um ein paar Sachen zu kaufen.
Zum Hauptausgang geht es durch die Fahrkartenausgabe.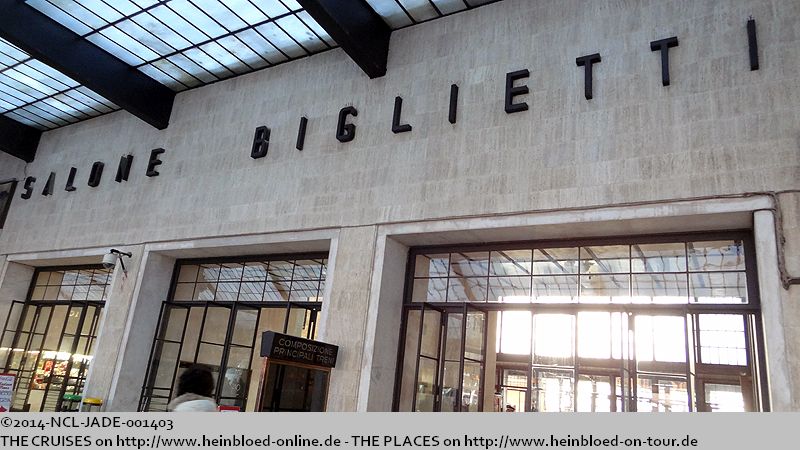 To find the main exit we had to pass the ticket sales area.

The train station is named after the church is opposite.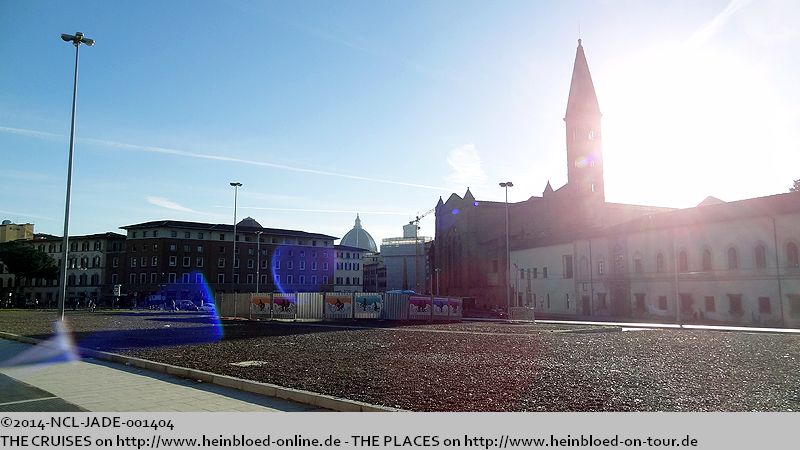 Der Bahnhof ist nach der Kirche benannt, die gegenüber ist.
Der Haupteingang der
Kirche Santa Maria Novella
befindet sich auf der Rückseite.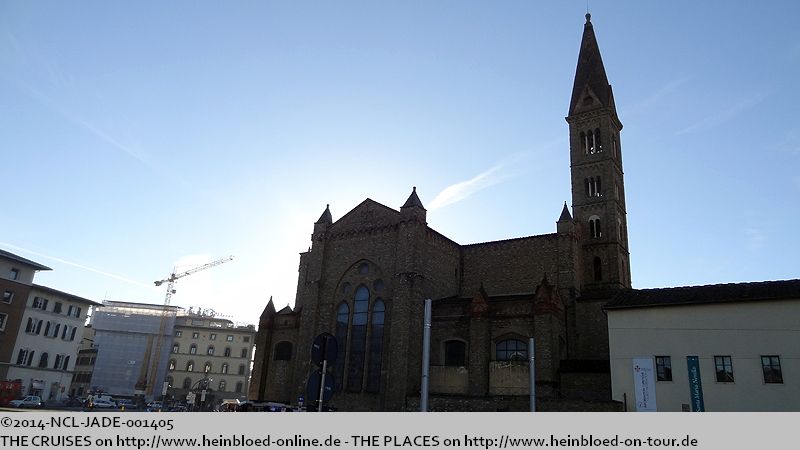 The main entrance of the Church Santa Maria Novella is on the back side.

It's easy to discover the city by walking.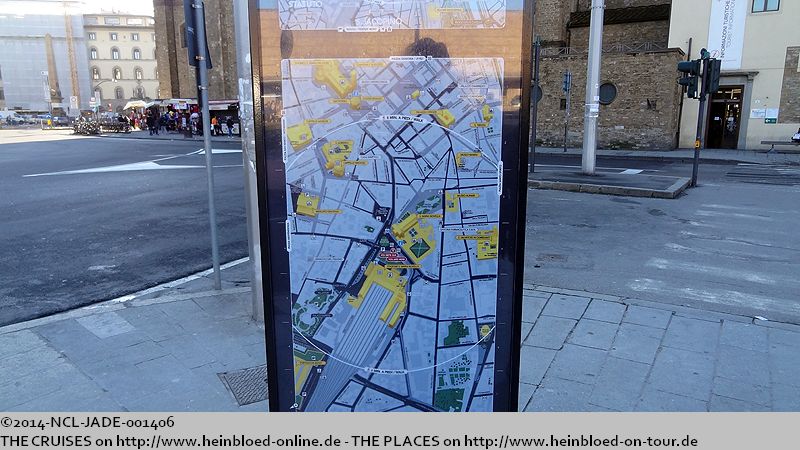 Man kann sehr gut von hier aus zu Fuß die Stadt erschließen.
Und wenn man wieder zum Bahnhof will... Einfach das häßlichste Gebäude der Stadt suchen. Ein echter Mussolini-Bau.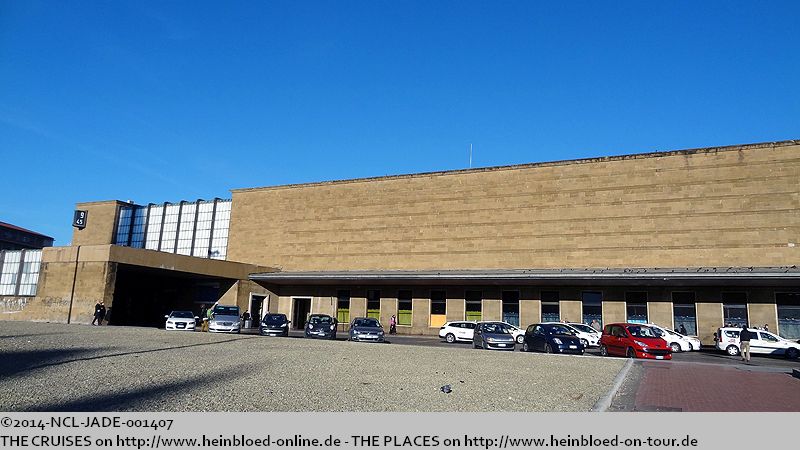 And if you need to return to the station... Just look for the most ugly building in the city. A true Mussolini-Building.

Just opposite of the train station you find the tourist information.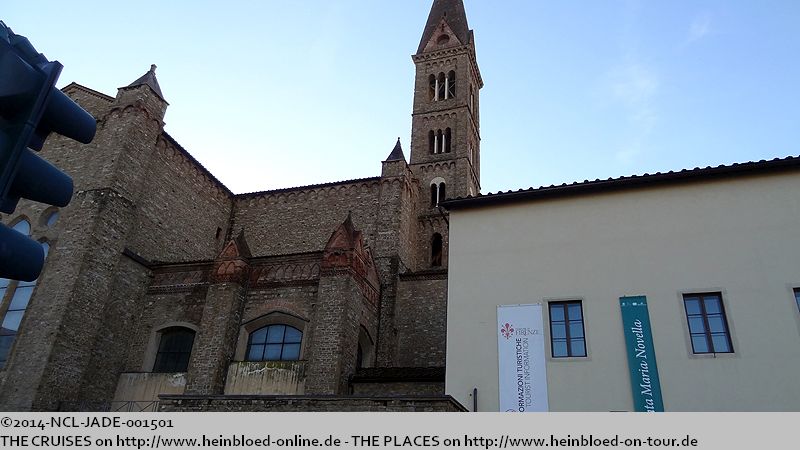 Direkt gegenüber vom Bahnhof befindet sich auch die
Touristenzentrale
.
Dort warten wir bis zum Treffen mit unserer Fremdenführerin um 10.00 Uhr.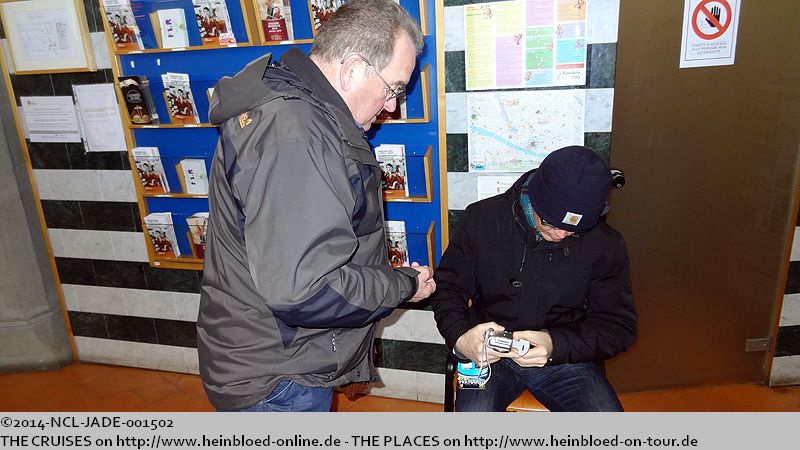 There we waited for the meeting with our tour guide at 10.00 hrs.

Here we could also get a little map.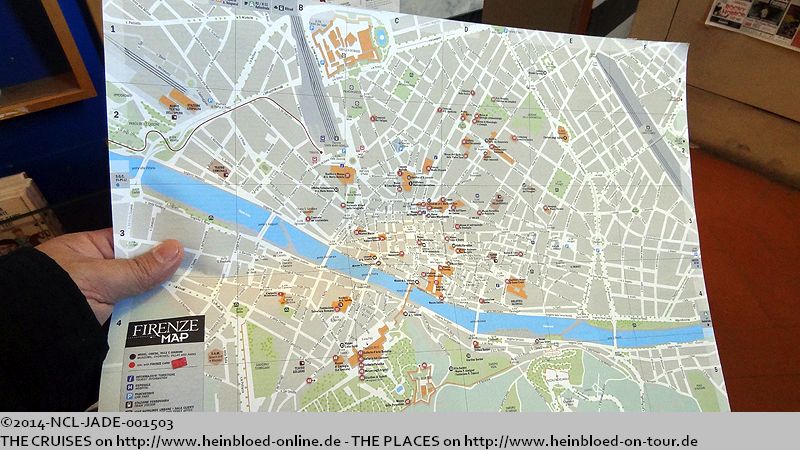 Und hier bekommen wir auch einen kleinen Übersichtsplan.
Auf dem Weg zum Haupteingang sehen wir noch diese schöne Krippe.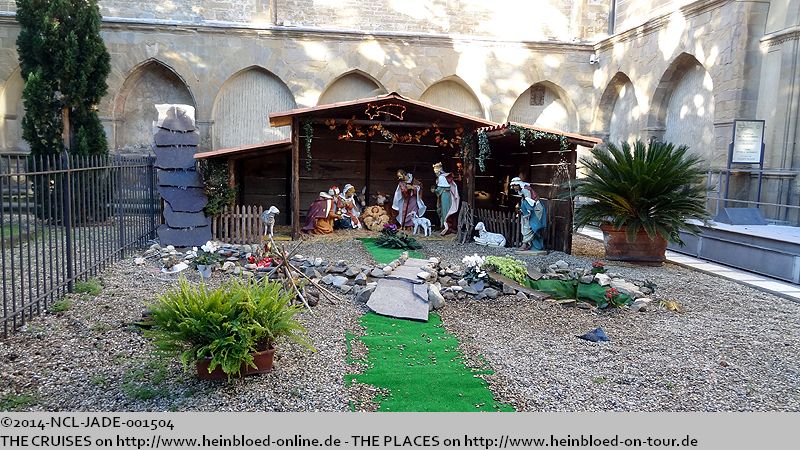 On the way to the main entrance we passed this beautiful nativity scene.

No wonder that we should meet here on the beautiful side. But our tour guide told us that she could also meet us at the platform subject we arrived by train. It would be nice alternative when we arrive by train from Livorno and could start here a tour as there is a lot to discover in Florence.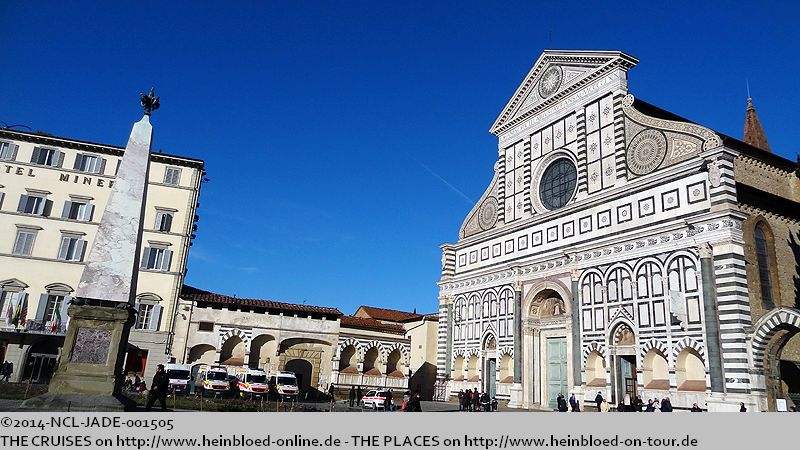 Kein Wunder, dass wir uns hier auf der schönen Seite treffen sollten. Aber unsere Fremdenführerin hat gesagt, dass sie uns gerne am Bahnsteig abgeholt hätte, wenn wir mit der Bahn ankämen. Das wäre eine schöne Alternative nochmals, dass wir mit der Bahn von Livorno kommen und dann hier nochmals eine Tour beginnen, da es ja sehr viel in Florenz zu entdecken gibt.
Übrigens haben wir sie hier gefunden:
Susanna Probst
.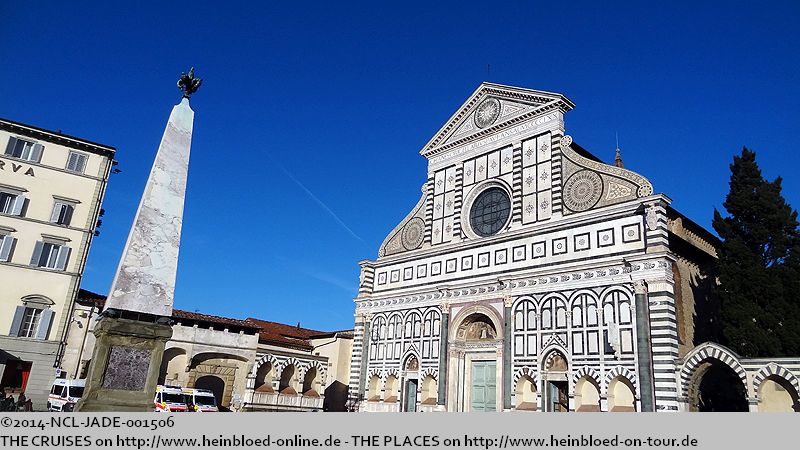 By the way: we found her here: Susanna Probst.

At the beginning you got a general overview.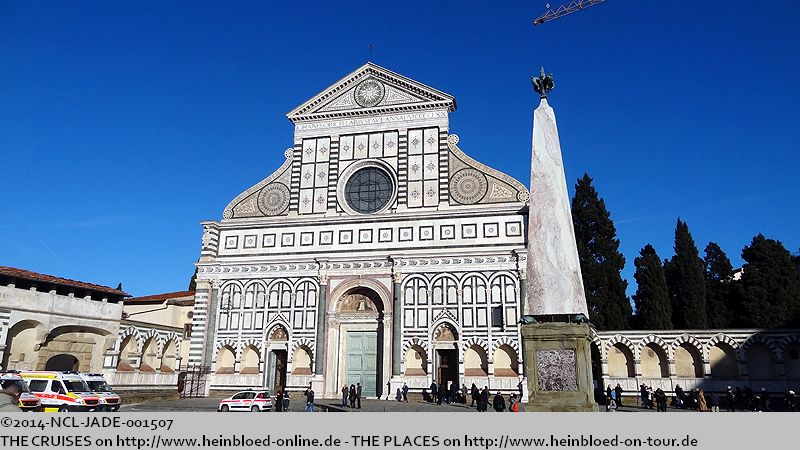 Zunächst gab es hier einen generellen Überblick.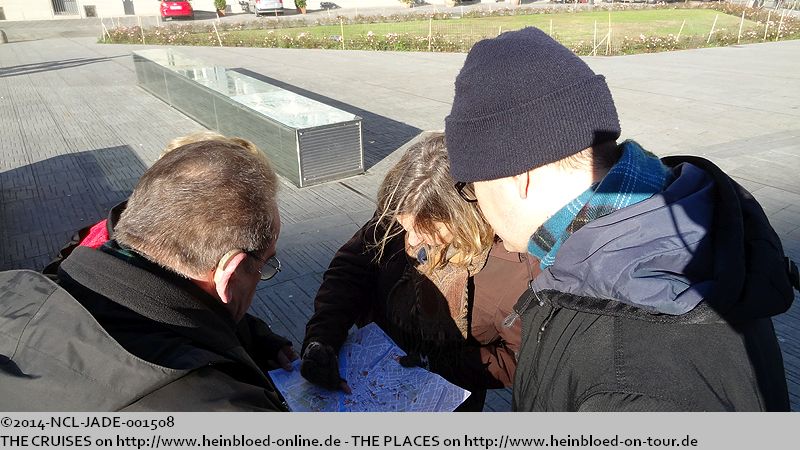 I was really surprised to learn what a woman all had in a purse... like historic coins.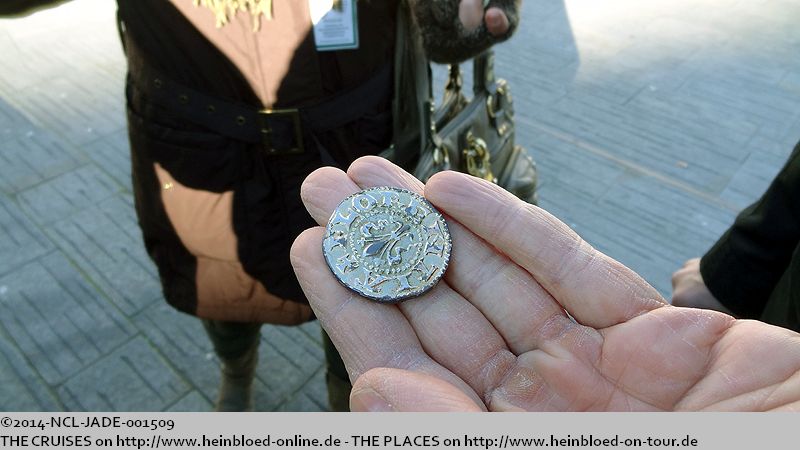 Hier hat es mich sehr gewundert, was eine Frau alles in einer Damenhandtasche bei sich trägt... z. B. alte Münzen.
Damit gibt es einen Bezug zu der Lilie auf der Spitze der Säule, die wir gerade betrachten.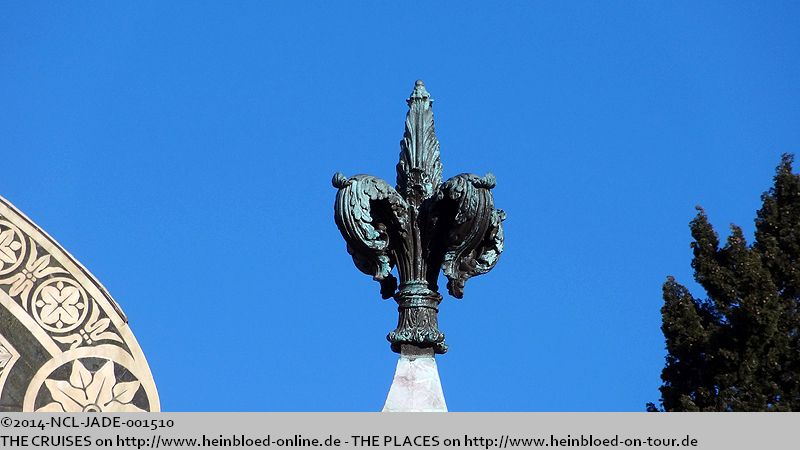 So we got a relationship to the lily on top of the column which we just saw.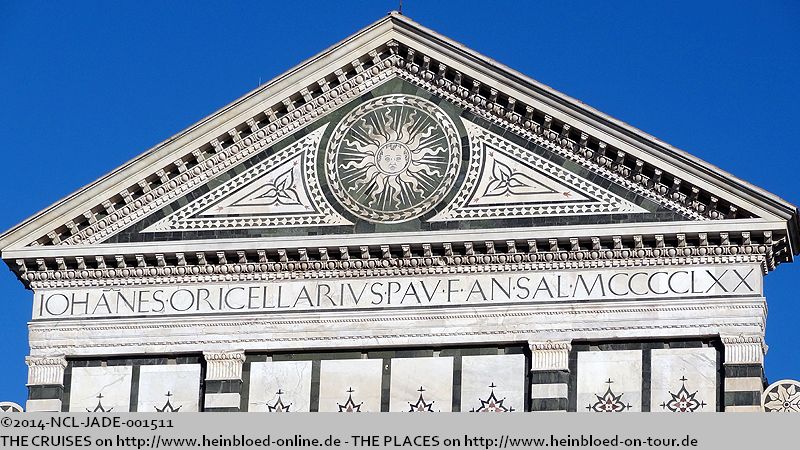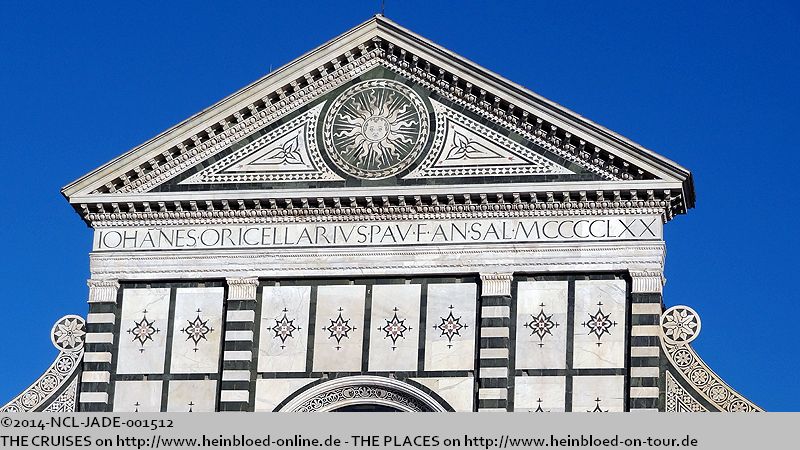 And even an Italian 1-Euro-coin need to be used for a presentation. And as you can see she was wearing gloves.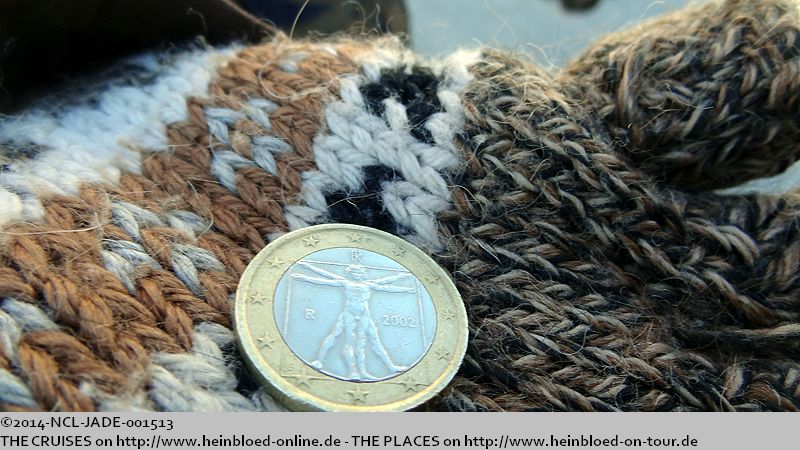 Und selbst eine italienische 1-Euro-Münze musste als Demonstrationsobjekt herhalten. Wie man sieht: sie hat ihre Handschuhe an.
Das sah schön aus. Nur war es sehr kühl und leicht windig, so dass Bruno sein Gesicht verzog.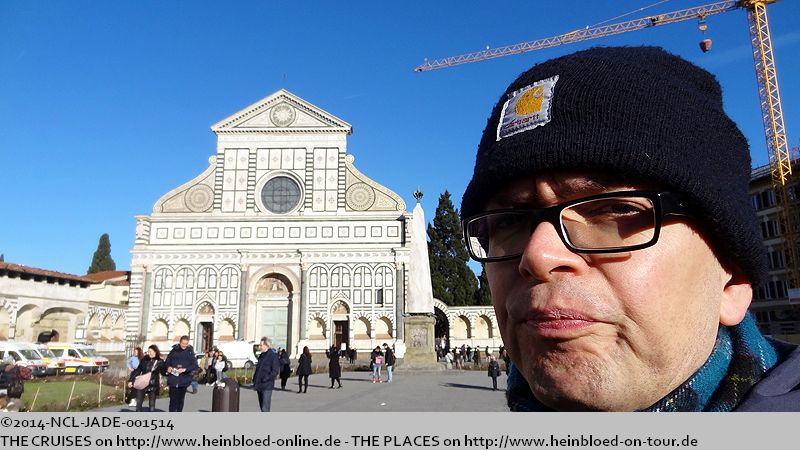 It looked nice. But you could see on Bruno's face how chill and slightly windy it was.