Ankunft in Izmir. Da wir später von Bord gehen, verpassen wir die türkische Tanzgruppe. So warm fand ich es nicht, dass ich kurze Hosen tragen würde, aber wir hatten eh keine bei.

Arrival in Izmir. As we went later from the ship we missed the Turkish Dance Group. It was not so warm that I would wear shorts but anyway we had not any with us.

Somehow we did not feel very well: it was quite cool and we felt some scratches in our throats. So we asked for an Ginger-Mint-Infusion.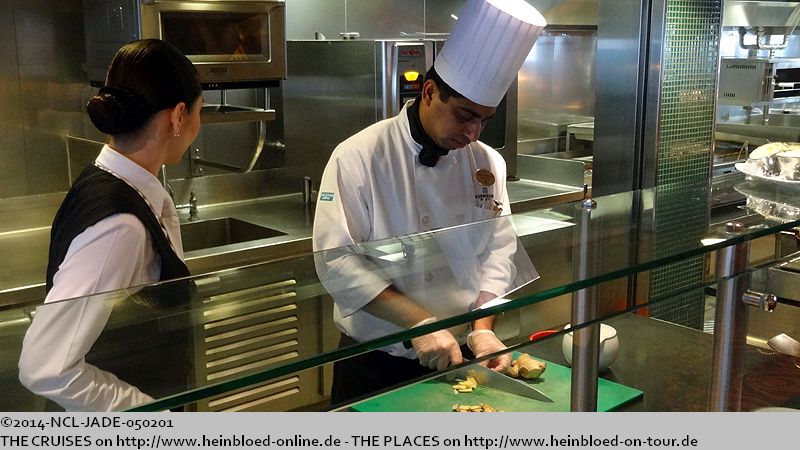 Uns ging es nicht so gut: es ist doch recht kühl und es kratzte im Hals. Wir baten um einen Ingwer-Minz-Aufguß.
Chef Tournant James Fernandez war so nett, für uns das herzurichten. Im Übrigen wurde ich endlich aufgeklärt, was ein Chef Tournant ist. Auf der Serviceseite wäre er der Maître. Auf der Galleyseite ist er der Leiter des Kochteams.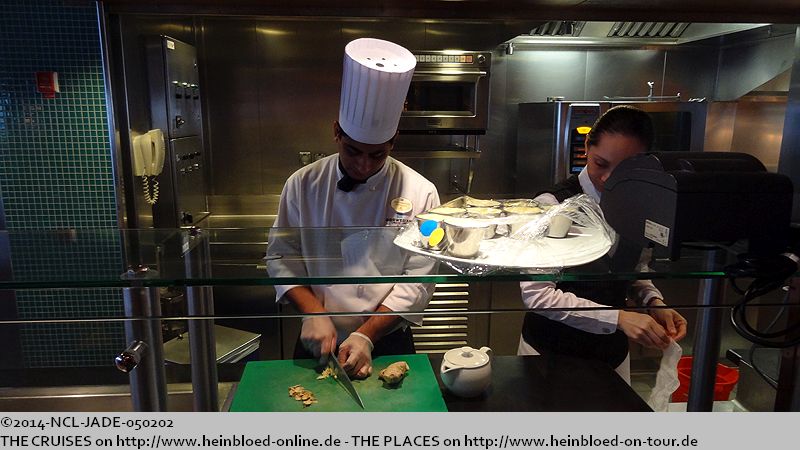 Chef Tournant James Fernandez was so kind to prepare some for us. It was a good occassion to explain the function of the Chef Tournant. On the service side it would be the Maître. On the galley side he was the head of the cooking team.

It was really good.

Das tat richtig gut.
Frische Minze und frischer Ingwer. Lecker.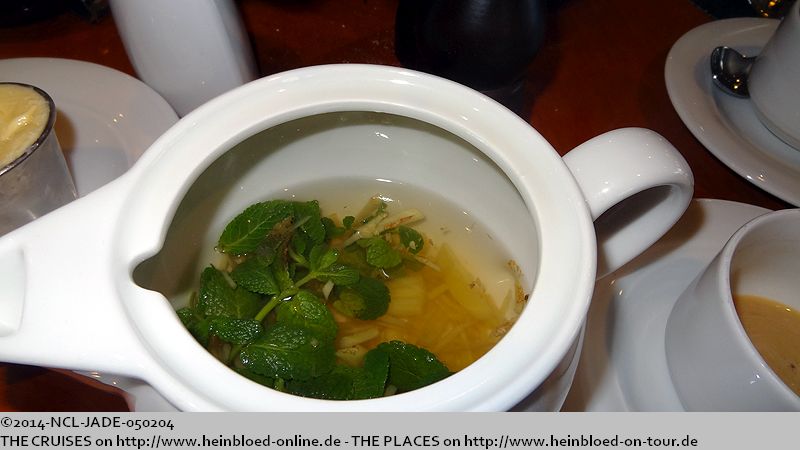 Fresh mint and fresh ginger. Yummy.

French Toast.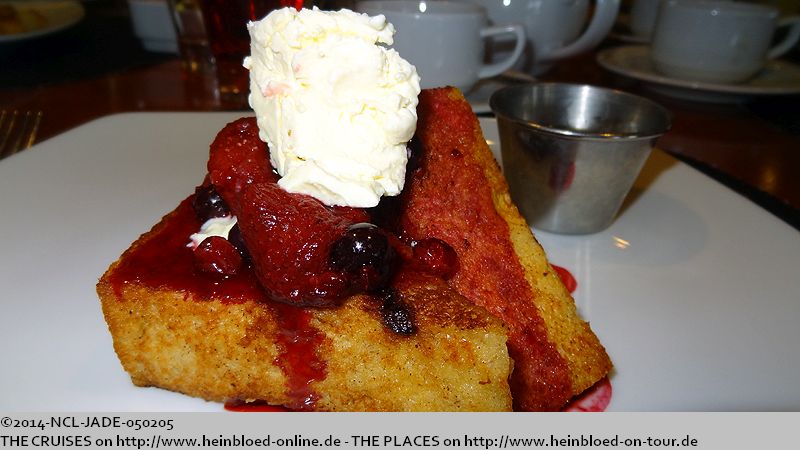 French Toast.
Die wichtigsten Bilder.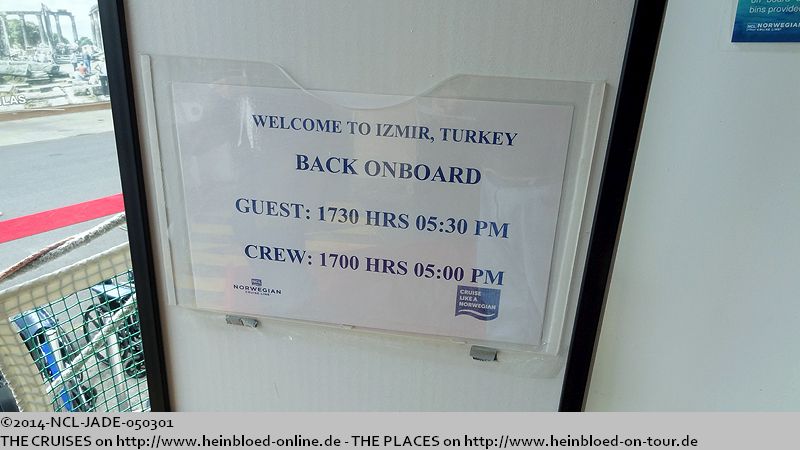 The most important pictures.

Instead of a visa we got a landing card. But there was no need to fill it out.

Statt eines Visums bekommen wir eine Landgangskarte. Diese brauchen wir nicht auszufüllen.
Ich hatte vergessen, die Kontaktdaten des Hafenagenten zu fotografieren.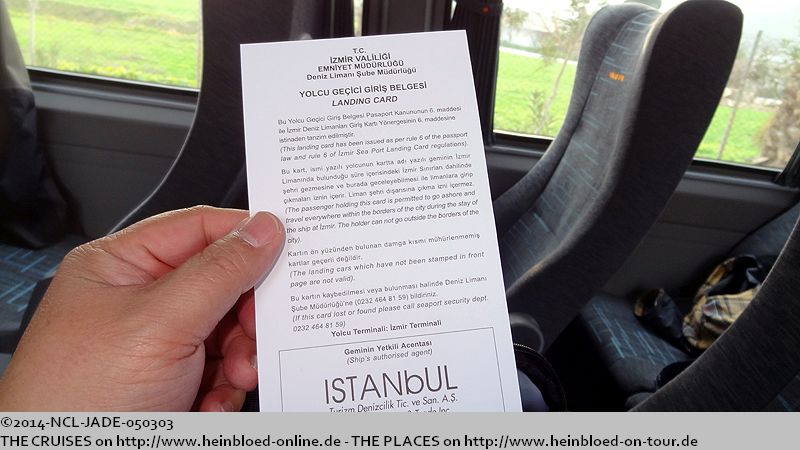 I forgot to take a picture of the port agent's contact.

But that did not occur any problem as the address was mentioned on the reverse side of the landing card.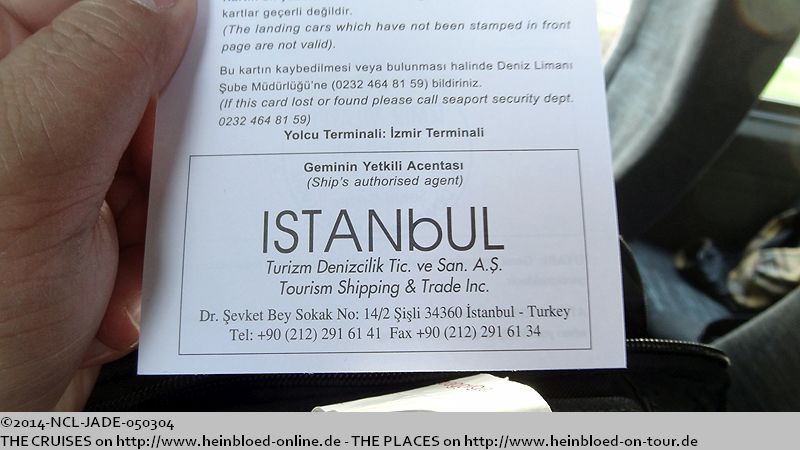 Aber das machte gar nichts, weil sie auf der Rückseite der Landgangskarte stand.
Wir nutzen den Shuttle zum Terminal.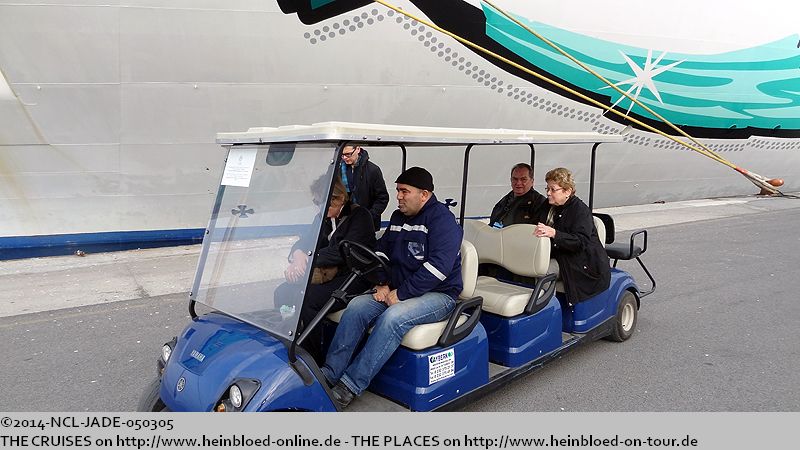 We used this shuttle to get to the terminal.

In the terminal building they had ship models.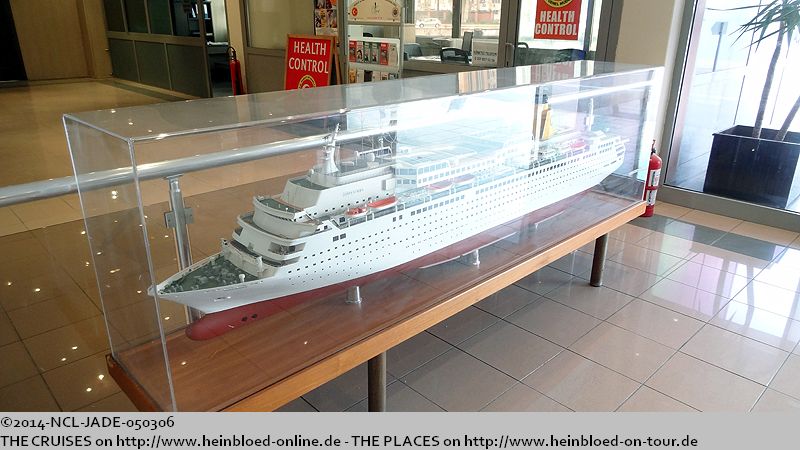 Im Terminal stehen Schiffsmodelle.
Wir gehen durch das Terminal wieder raus.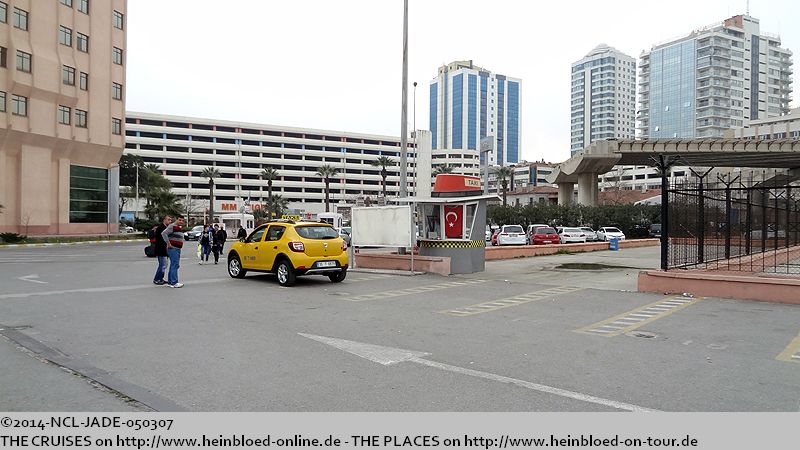 We passed through the terminal and went out.

For 120.00 EUR (2014) you can hire a taxi to Ephesus and Virgin Mary House. BUT THAT DOES NOT INCLUDE GUIDE AND ADMISSION.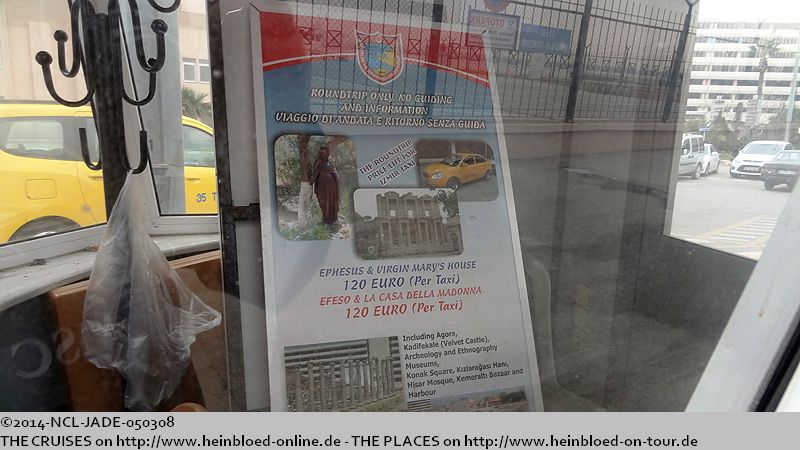 Für 120,00 EUR (2014) kann man ein Taxi nach Ephesus und zum Haus der Jungfrau Maria. OHNE FÜHRUNG und OHNE EINTRITT.
Für 50,00 EUR (2014) gibt es auch eine Fahrt innerhalb Izmirs.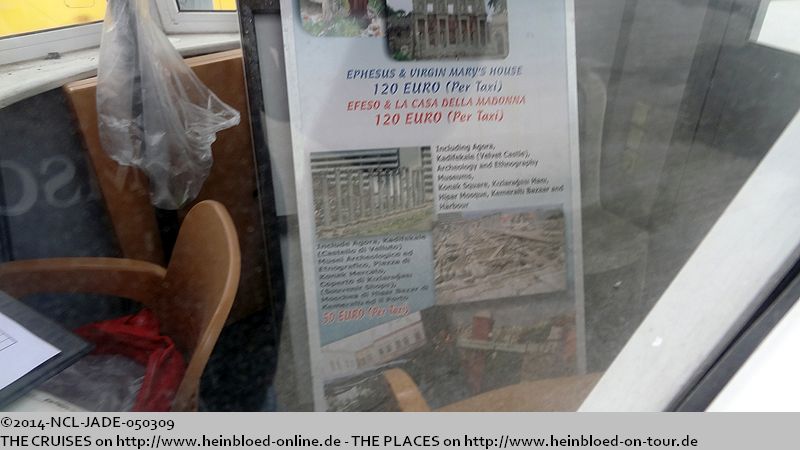 For 50.00 EUR (2014) you could also book a ride within Izmir.

In the front there was an open-top-bus.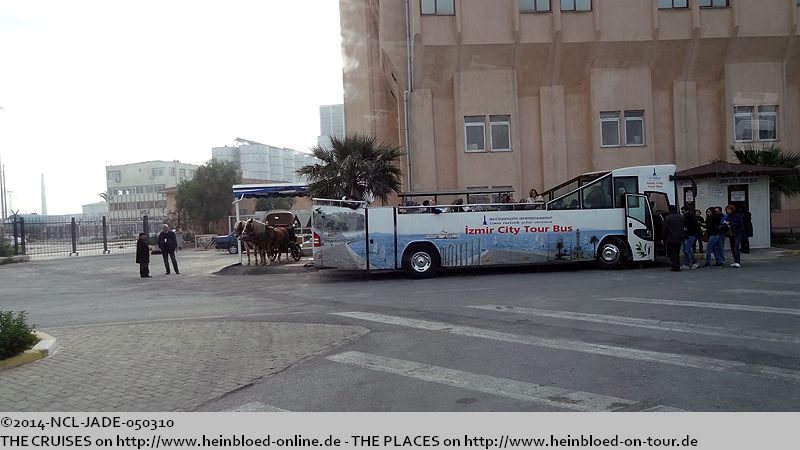 Vorne stand auch ein Cabrio-Bus.
Sieht nach Ho-Ho-Tour aus.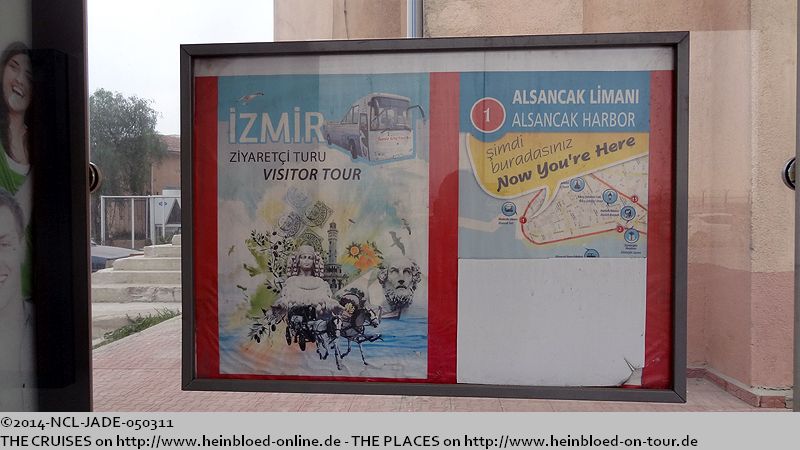 Looked like a Ho-Ho-Service.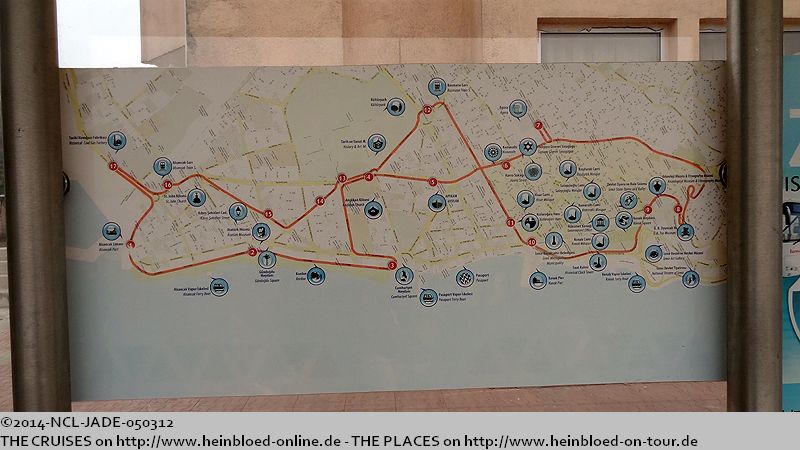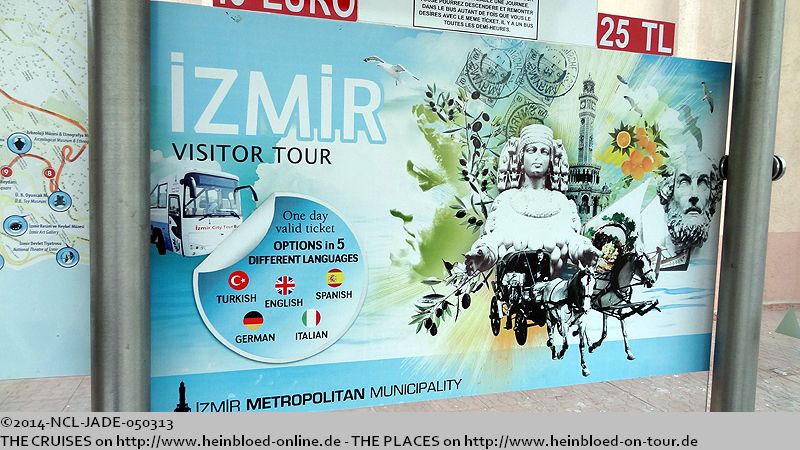 25.00 TRY bzw. 10.00 EUR (2014).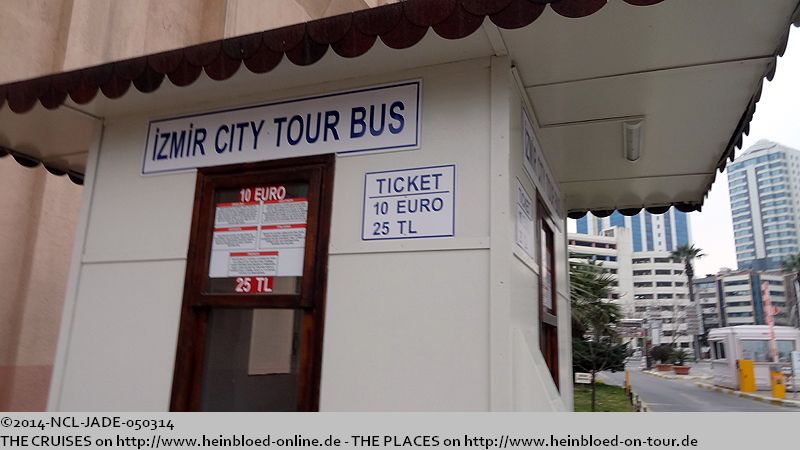 25,00 TRY bzw. 10,00 EUR (2014).
Auch in deutsch wird man wieder am Schiff begrüßt.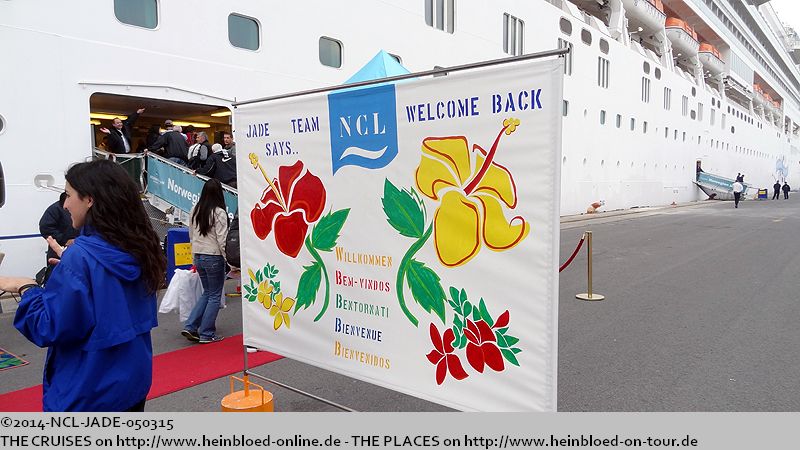 They also welcome back the guests in German.

Lost and lonely: the last bus was wating for its guests... No stress please. We asked Deniz from Ephesus Deluxe to arrange a later departure and to conduct a tour in a very even surrounding without any kind ascents. He was informed the day before that we cancel Ephesus and need a shorter alternative tour. Generally you can book semi-private tours (i.e. seats in a mini-bus incl. everything) or you book a private tour with a fixed itinerary in German or English: see NORWEGIAN JADE-Blog of January 2011. It was a great price-value-ratio what we got as we saw a lot for really little money. But honestly spoken: I would never book the longest tour again to see the most.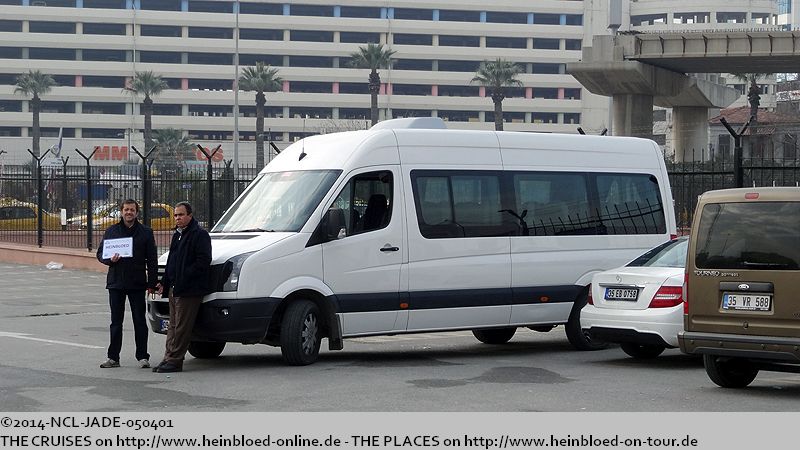 Einsam und verloren: Der letzte Bus, der auf Gäste wartet... Nur kein Stress. Wir hatten Deniz from
Ephesus Deluxe
darum gebeten, dass die Tour später beginnt und in einem flachen Umfeld ohne Steigungen stattfindet. Er wurde gestern von mir informiert, dass wir auf den Besuch von Ephesus verzichten und eine alternative Tour brauchen, die kürzer als ursprünglich geplant ist. Generell kann man bei Deniz semi-private Touren (d.h. Plätze in einem Mini-Bus mit allem drum und dran) oder eben eigene private Touren mit festgelegtem Programm in Deutsch oder Englisch buchen: siehe
NORWEGIAN JADE-Blog
vom Januar 2011. Es war ein sehr tolles Preis-Leistungs-Verhältnis, da wir wirklich sehr viel für wenig Geld gesehen haben. Aber offen gesprochen: I würde nie wieder die längste Tour mit den meisten Sehenswürdigkeiten buchen.
Wie versprochen war der Bus mit "HeinBloed" gekennzeichnet. Wir hatten dieses Mal nur den Führer und den Fahrer gebucht. Genau das erlaubte uns die Flexibilität, die wir jetzt brauchten. Ursprünglich, falls das Wetter nichts für Ephesus und lange Besichtigungen draußen wäre. Schließlich haben wir Januar. Und jetzt, um ein entsprechendes Programm zu bekommen, das alle mitmachen können.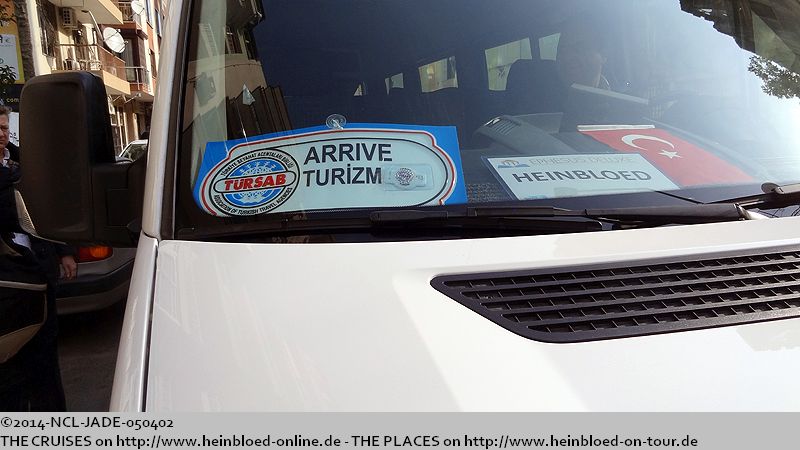 As promised the bus was marked "HeinBloed". This time we only booked the tour guide and the driver. Exactly this allowed us the flexibility we need. Originally because of the weather in January which might not allow a visit of Ephesus or long out-door sightseeings. But now we could get exactly the itinerary each of us could handle.

A very nice bus for us five. It was not to make the bus full and to save the most money. So I was not upset that some from the German roll-call did not contact us.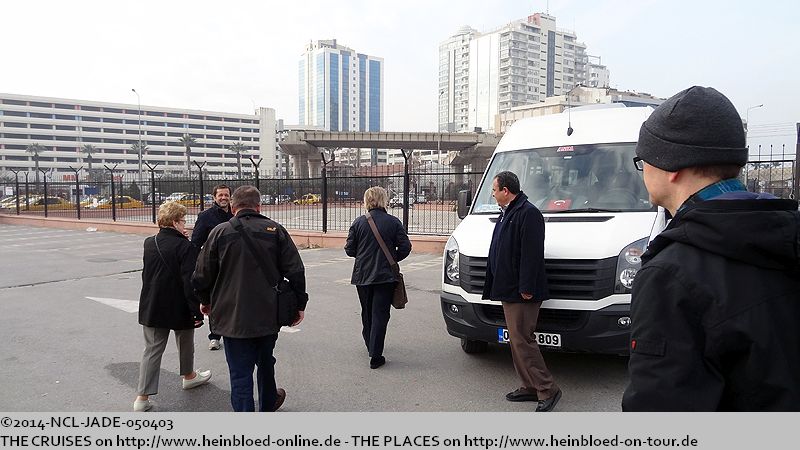 Ein schöner Bus für uns fünf. Uns geht es nicht darum so einen Bus vollzumachen und möglichst zu sparen. Daher war ich auch nicht undankbar, dass sich ein paar vom deutschen Roll-Call nicht gemeldet hatten.
Wir hatten alle sehr viel Platz zum Ausbreiten.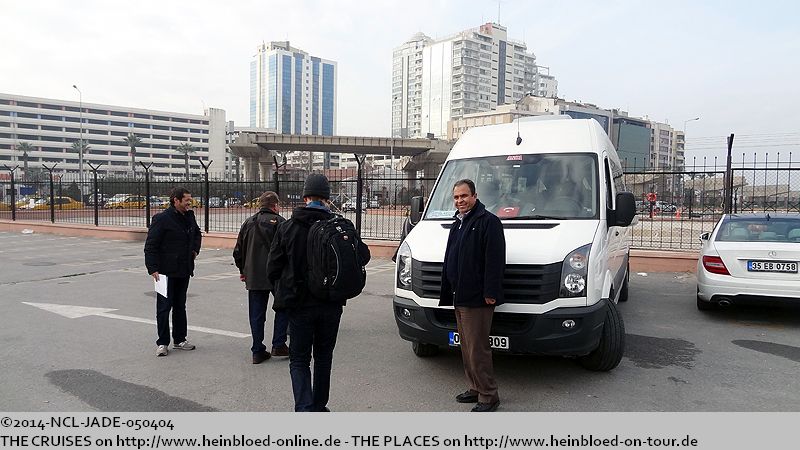 We had a lot of space to spread out.

In the bus our tourguide Volkan Bakmaz introduced himself. Our last tourguide was from Salzgitter (that is where I am sleeping during the week - but was not able to come) and Volkan was from Hildesheim (just 15 miles away)... so from my corner of Germany... We were Lord of the tour and had to pay for all admission fees and meals. But so we could decided what to see and where to go. Our new requirements: no steep ascents, no stairs, very calm, a great meal with locals, scenic and no dealer who were urging us (we love a lot of Turkey but this part of Turkey we do not like). At the end of the tour I did not both hands to count the steps. I could easily left my geniometer on board to scale the ascent. The tour was just "Phantastique!".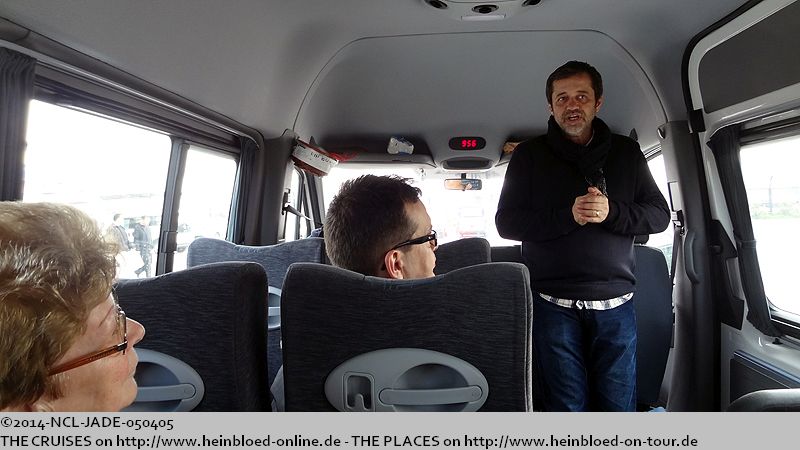 Im Bus stellt sich unser Reiseführer Volkan Bakmaz vor. Unser letzter Reiseführer Erkan war ja aus Salzgitter (er konnte leider nicht) und Volkan war aus Hildesheim... alles aus meiner Ecke... Wir waren ja Herren der Tour und müssen alle Eintritte und Mahlzeiten selbst zahlen. Dafür legen wir aber auch fest, was wir sehen. Das war in der heutigen Situation absolut perfekt für uns und der Tag in Izmir ist einer der besten Touren, die wir gemacht haben. Unsere neue Anforderungen: keine steilen Aufstiege, keine Stufen, sehr ruhig, Pausen, gut essen mit Einheimischen, "scenic" und keine Händler, die uns nötigen (Wir lieben ja vieles aus der Türkei, aber diesen Teil mögen wir nicht so). Am Schluss brauche ich nicht einmal zwei Hände um die Anzahl der Stufen zu zählen. Meinen Winkelmesser, um das Gefälle zu messen, hätte ich bequem an Bord lassen können. Die Tour war "Phantastique!".
Er schlägt uns zunächst eine kurze Fahrt entlang der Promenade vor. Vorbei geht es am ehemaligen deutschen Konsulat und einige Statuen von Atatürk. Hier sollte eigentlich eine Schnellstraße entstehen, aber durch Bürgerproteste wurde es verhindert, so dass jetzt eine grüne Promenade entsteht. Ein erster Stop wird auf der Höhe des alten Cruise Terminals gemacht.

He suggested to have short drive alongside the promenade. We passed the former residence of the German Consulate and few monuments of Atatürk (the Founder of the modern Turkey). Here they should have an express highway but the people of Izmir went on the road to block the plans so nowadays you have a green promenade. A first stop we made around the old cruise terminal.

Türk Telekom... In Germany they sell Türk Telekom Mobile (via O2 Telefonica). Altough they had no network of their own in Turkey. For 10.00 EUR I could use 300 MB within 1 month internet (2014). And by a phone call I could also renew the volume. 4G LTE was not available in Turkey at this time. But I got all 3G in Izmir and around. It was cheaper than to book apass with T-Mobile as this was 14.95 EUR for 10 MB (2014) as Turkey was part of country group 2.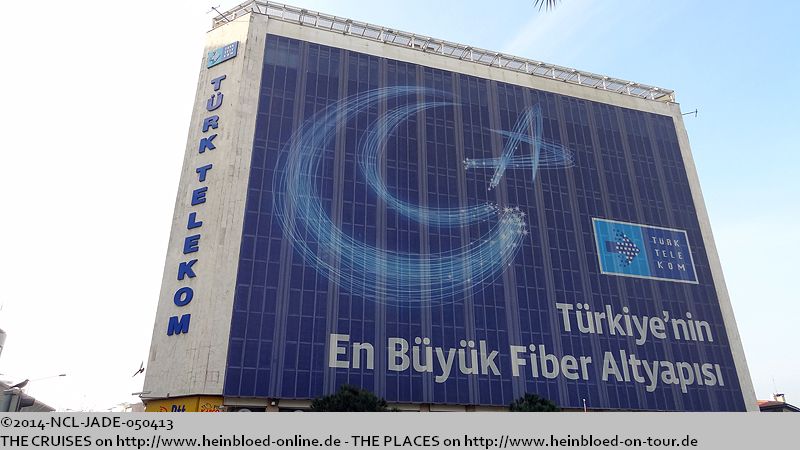 Türk Telekom... In Deutschland wird
Türk Telekom Mobile
(über O2 Telefonica) verkauft. In der Türkei haben sie allerdings gar kein eigenes Netz. Für 10,00 EUR kann ich 300 MB innerhalb eines Monats surfen (2014). Und durch einen Anruf sogar das Volumen neu aufladen. 4G LTE ist in der Türkei noch nicht verfügbar. Aber 3G bekomme ich überall in Izmir und Umgebung. Billiger als der Pass der Deutschen Telekom für 14,95 EUR für 10 MB (2014), da die Türkei in der Ländergruppe 2 ist.
Ich brauchte Türkische Lira, Euros und US-Dollar. Bei HSBC in Kusadasi ging das. Das geht grundsätzlich in Izmir auch. Nur leider nicht an jedem Geldautomat der HSBC.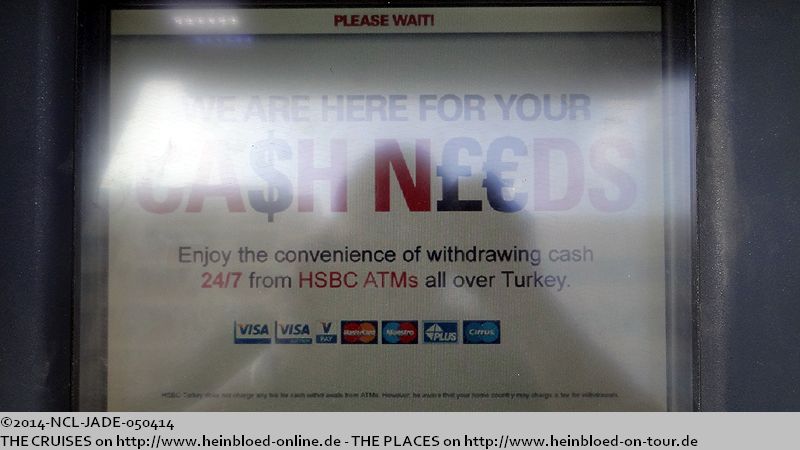 I need Turkish Lira, Euros and US-Dollars. With HSBC in Kusadai it was possible. Generally it is also possible in Izmir. But on with every ATM of HSBC.

We went directly to the Konak Square.

Es geht direkt zum Konak Platz.
Eine etwas merkwürdige Statue.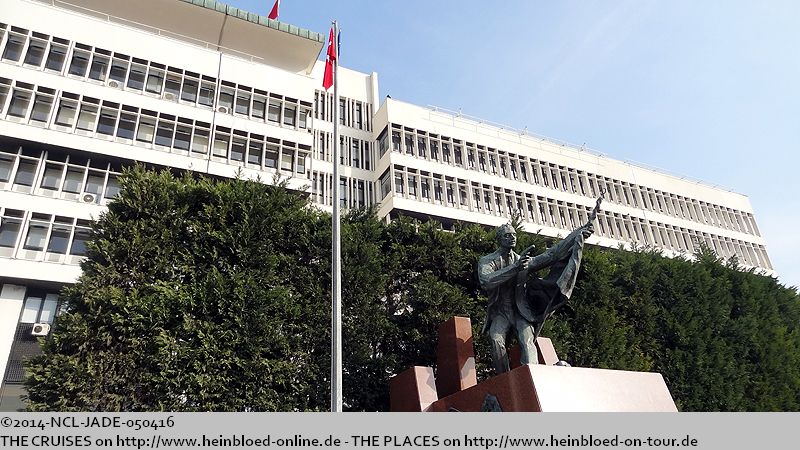 This statue looked a little strange to me.

With a pistol?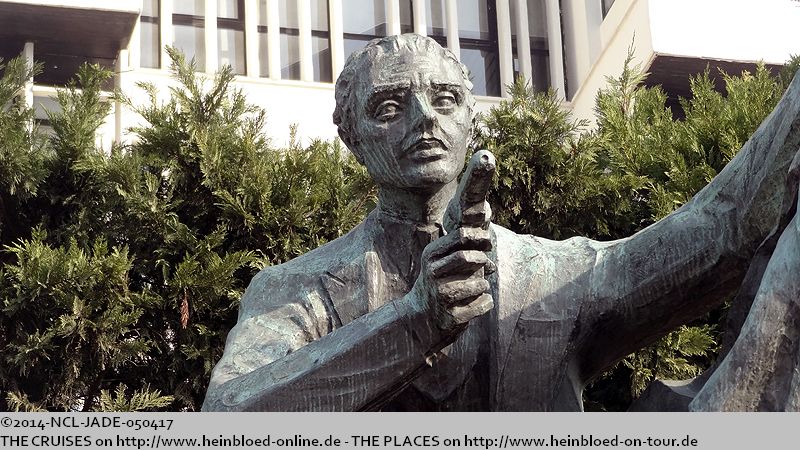 Mit Pistole?
Die erste Kugel? Es geht wohl um den Konflikt zwischen Griechenland und der Türkei. Da wir beide Länder mögen, gehen wir nicht näher darauf ein.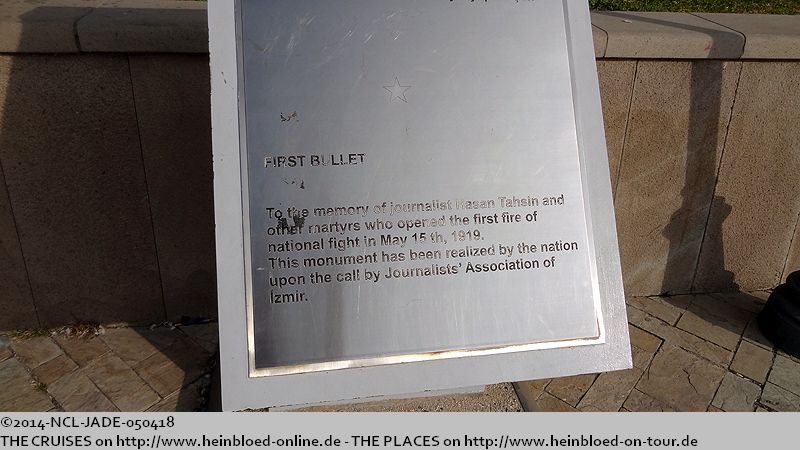 The first bullet? It was on the conflict between Greece and Turkey. As we like both countries we skipped this part of the discussion.

The little Konak Mosque.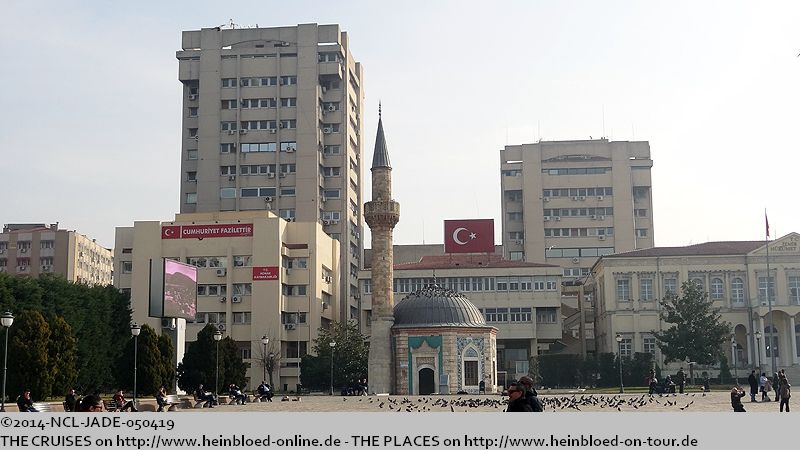 Die kleine Konak Moschee.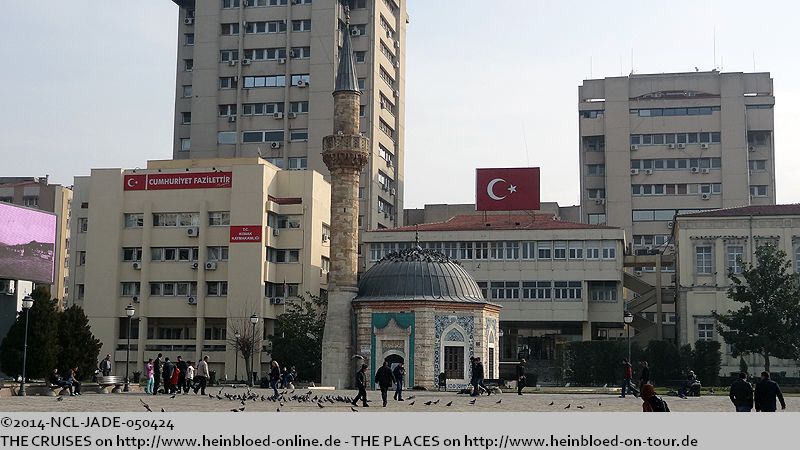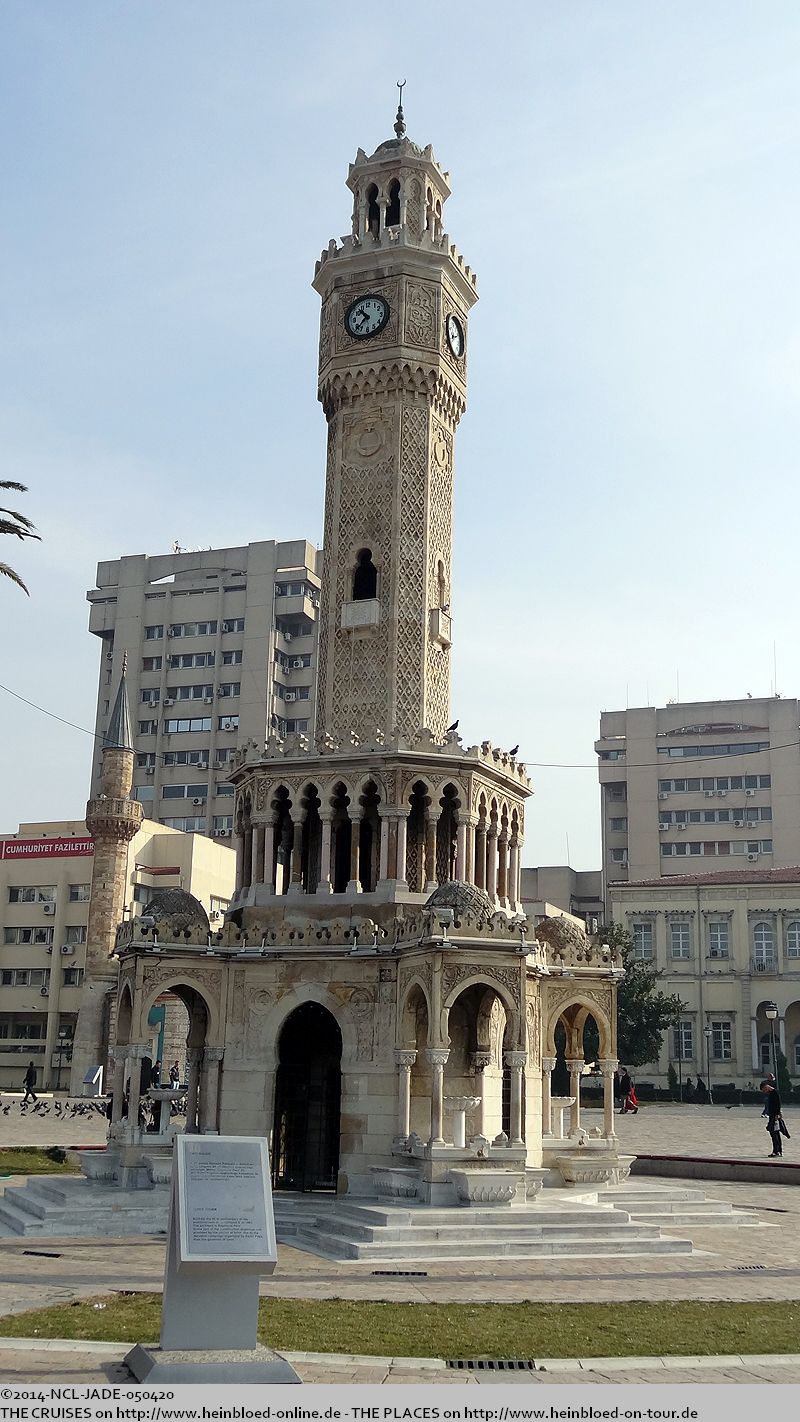 Und der Konak Glockenturm.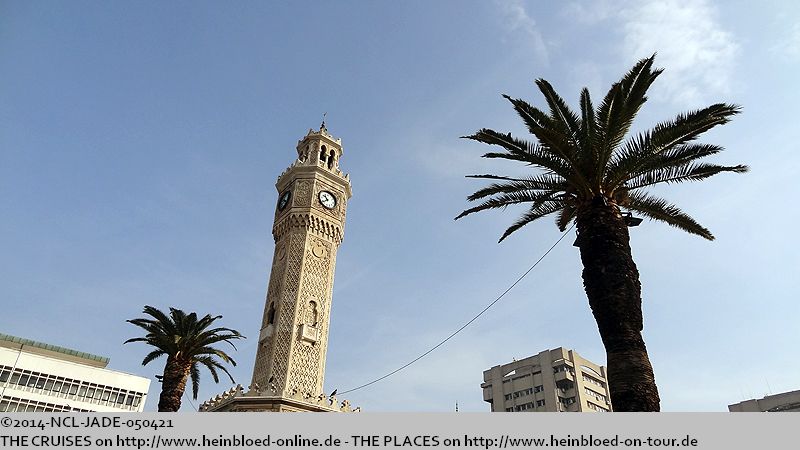 And the Konal Bell Tower.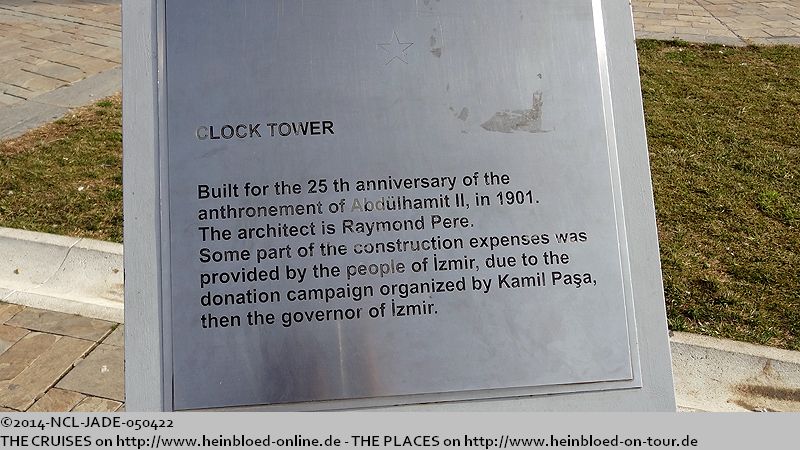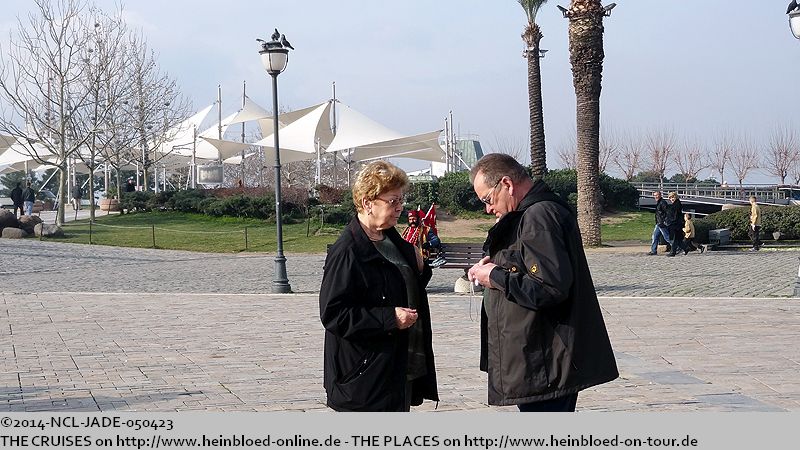 Even on this square you had oranges growing.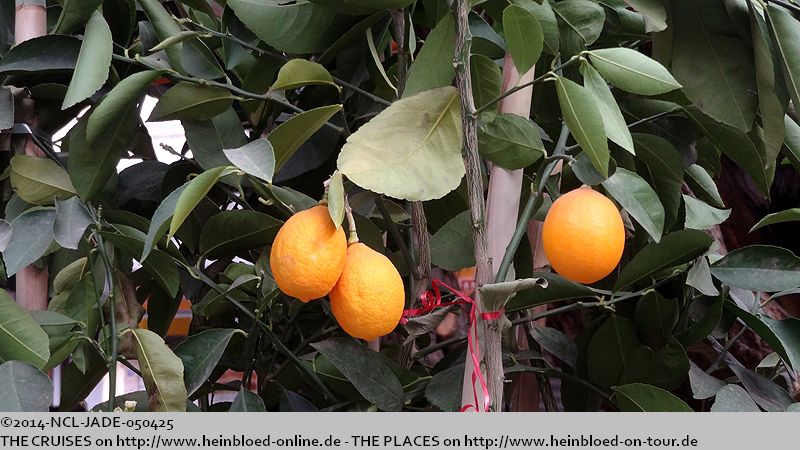 Auch hier am Platz wuchsen Orangen.
Es ging dann weiter in die Altstadt. Öffentliche Toiletten, die sauber sind und bei denen man etwas zahlen muss.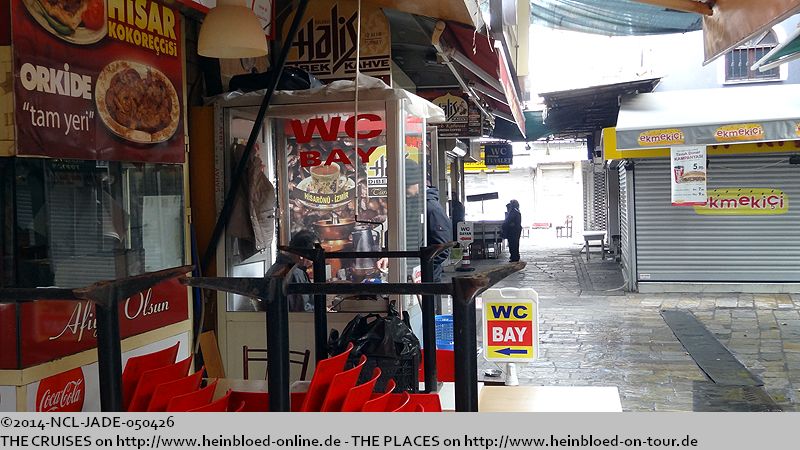 We went to the Old Town. Public toilets were clean but were charged.

It was quite early in the morning and so many shops were not open yet. It a very good decision to leave the ship so late.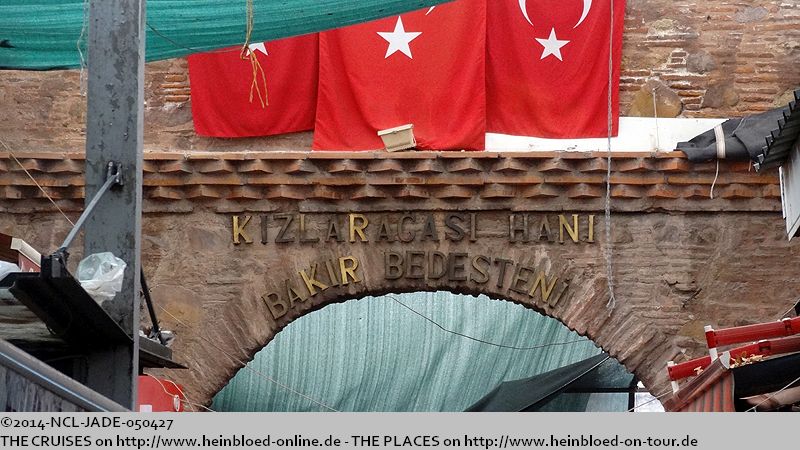 Es ist noch sehr früh am Morgen, so dass noch nicht alle Geschäfte geöffnet haben. Es war daher eine gute Entscheidung, dass wir relativ spät erst das Schiff verlassen haben.
Die wenigen Händler versuchen uns anzusprechen, aber Volkan hat das sehr souverän abgewiesen.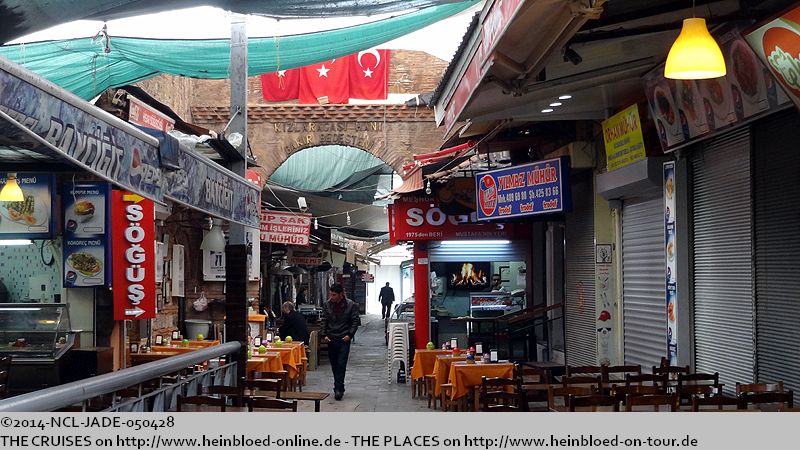 Only very few dealers tried to get in touch with us but Volkan did a great job by saying no.

Everywhere it was smelling so good. How much I liked to see a Döner Kebab or Köfte (meatballs) store and try.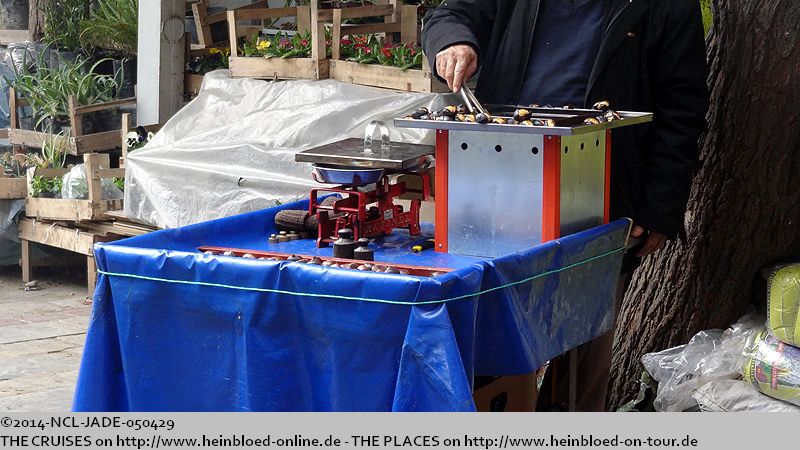 Überall hat es geduftet. Wie gerne hätte ich schon einen Döner Kebab oder Köfte Laden aufgesucht.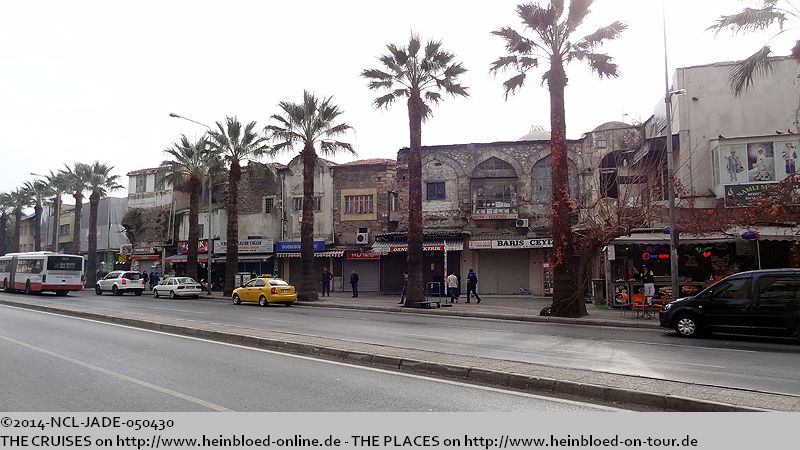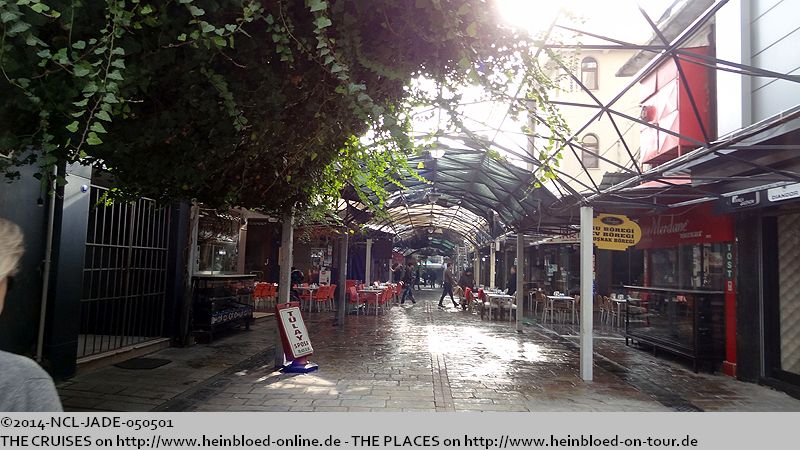 Wir wollten in eine Moschee. Der Tag der offenen Moschee fällt in Deutschland auf den 03.10.. Da habe ich es bislang noch nie geschafft, eine Moschee zu besuchen und mich über den Islam zu informieren.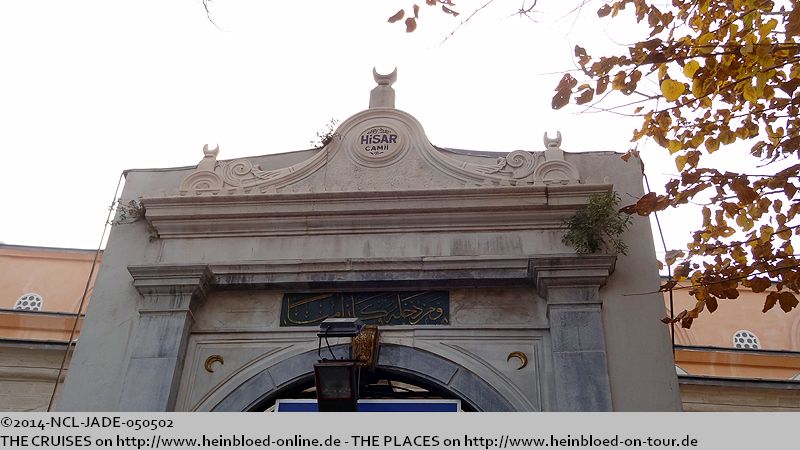 We wanted to see a Mosque. The "Day of the Open Mosque" in Germany is always on the National Holiday October 3. So we never made it to see a Mosque and to learn something about Islam.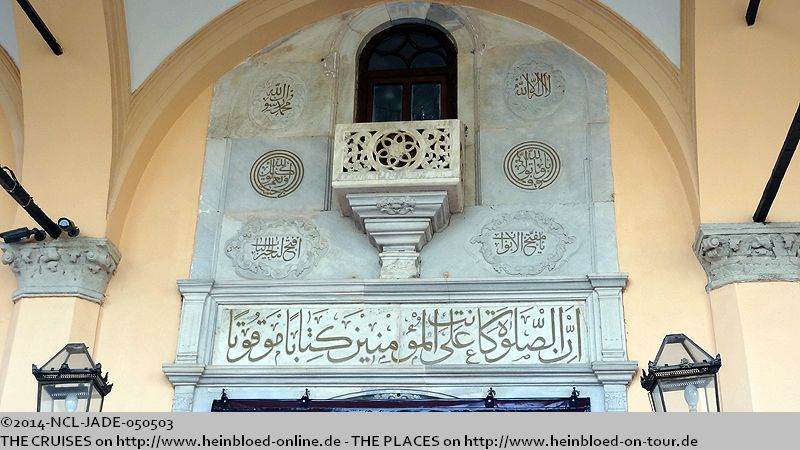 Draußen sollen die Besucher sich waschen.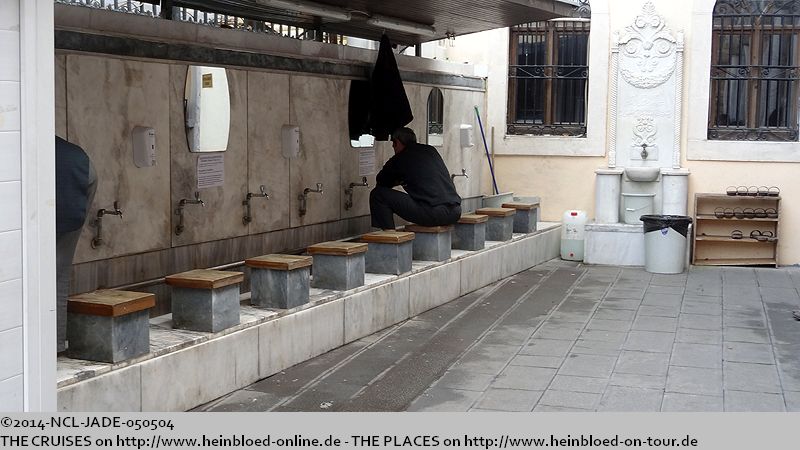 The visitors should wash themselves outside.

Clear rules for everyone.

Klare Regeln für alle.
Volkan erklärt uns, dass wir mit unseren Schuhen nur max. hier auf die Stufe dürfen, um uns auf den Teppich die Schuhe auszuziehen.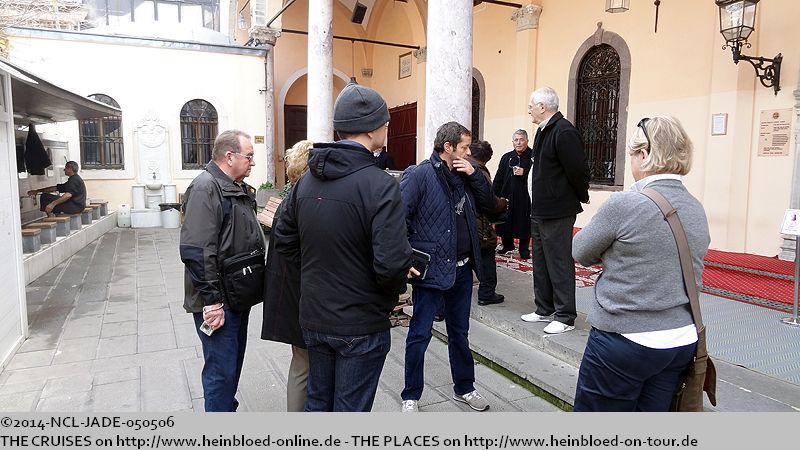 Volkan explained that we can walk maximum to the step to take off our shoes on the carpet.

But they had little lockers for the shoes available.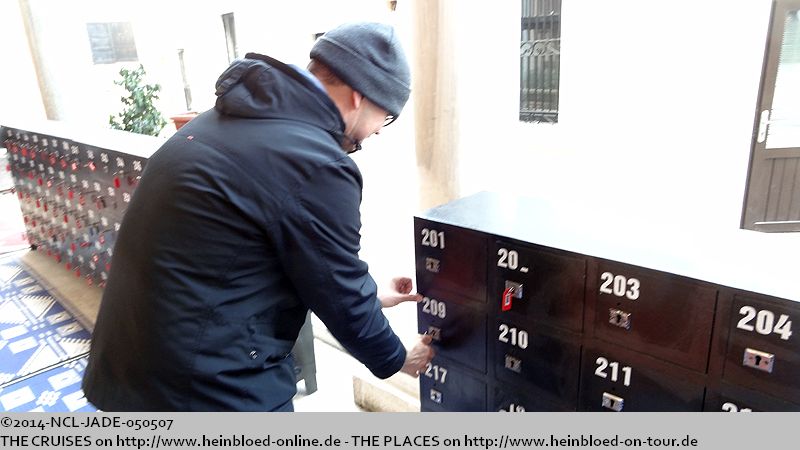 Aber für die Schuhe stehen hier abschließbare Schränkchen zur Verfügung.
Wir hätten die Schlappen vom Schiff mitbringen sollen.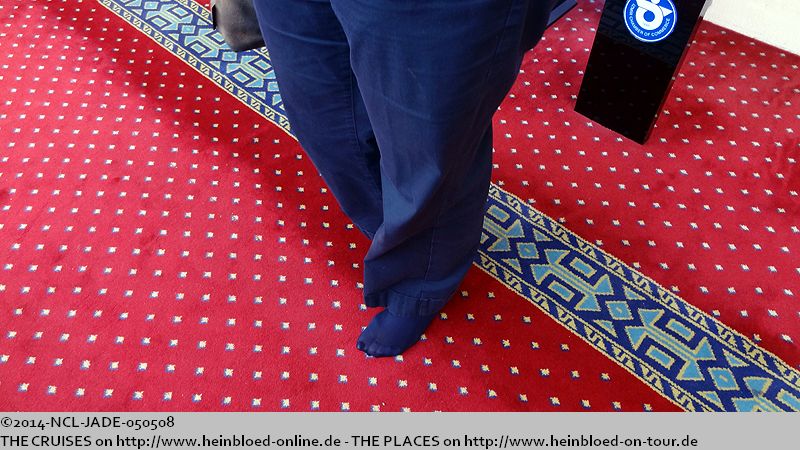 We should take the slippers from the ship with us.

Sigi had no head scarf with her so Volkan gave her his scarf so she was allowed to get in. I wanted to buy Sigi a burqa as souvernir... but she did not want any...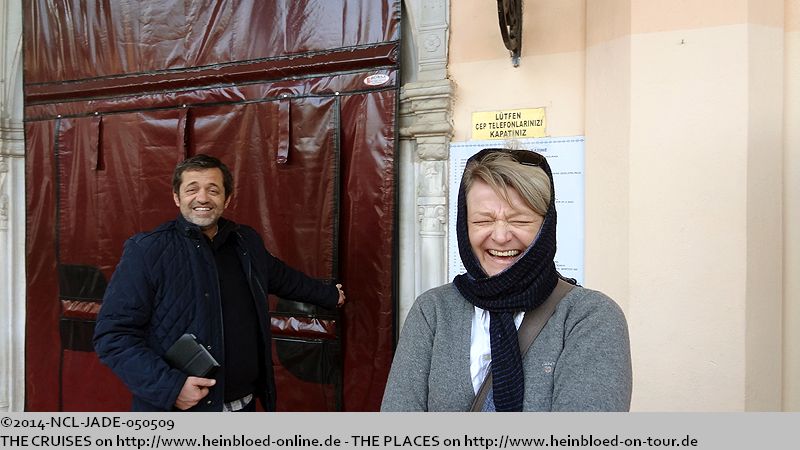 Weil Sigi kein Kopftuch mithat, leiht Volkan ihr seinen Schal, damit sie mit rein darf. Ich wollte Sigi eine Burka als Souvenir kaufen... aber sie wollte partout keines haben...
Erika hatte ein Tuch dabei.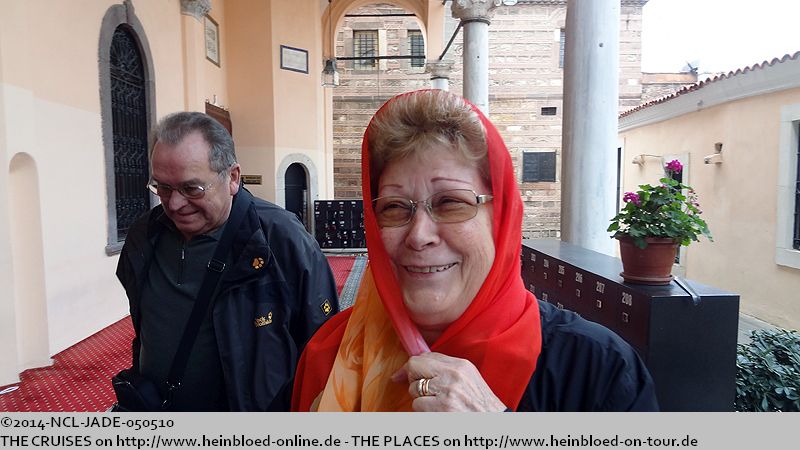 Erika had a scarf with her.

Volkan explained us very good in the Mosque how it working with praying and the Islamic rules and habits.

Volkan hat uns in der Moschee sehr gut erklärt, wie das mit dem Beten läuft und die Grundlagen des Islams und ihrer Bräuche erklärt.
Das Schild muss ich mal für meine türkische Sekretärin anschaffen und vor ihrem Büro anbringen... Damit sie weiss, wo es lang geht... Frauen beten in einer Moschee auf der oberen Empore und müssen durch den Seiteneingang rein.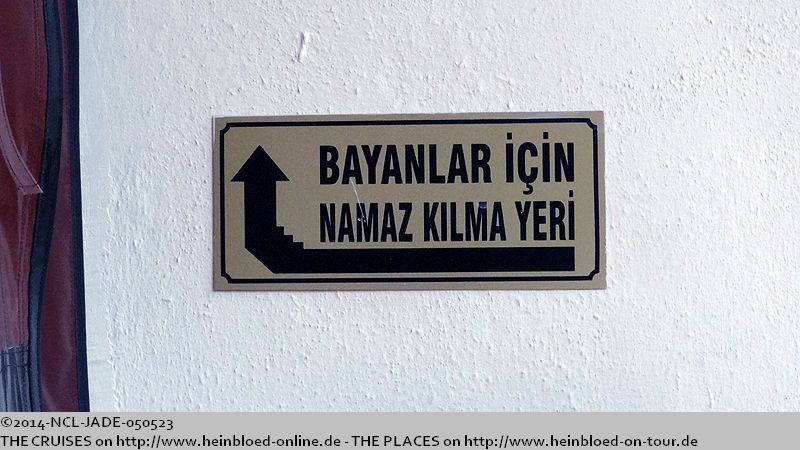 I need to buy such a sign for my Turkish secretary and place it in front her office... So she always knows where to go... Women are praying on the upper level and need to enter from a side entrance.