Im Atrium findet ein Konzert statt. Einer der Sängerinnen Lucy aus der Showtruppe singt Lieder von Gerschwin usw. Das war sehr schön.

In the atrium they had a gig. One of the singers Lucy from the show cast sang songs of Gershwin etc. That was very nice.

Standing above the coffee bar you had a good location.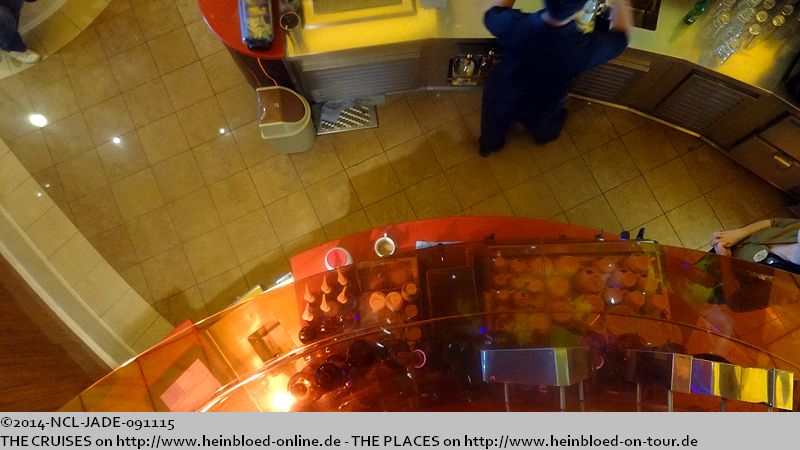 So über der Kaffeebar stand es sich gut.
Man müsste ein Richtmikrofon beihaben, um auch zu verstehen, was Jill und Luis zu besprechen haben...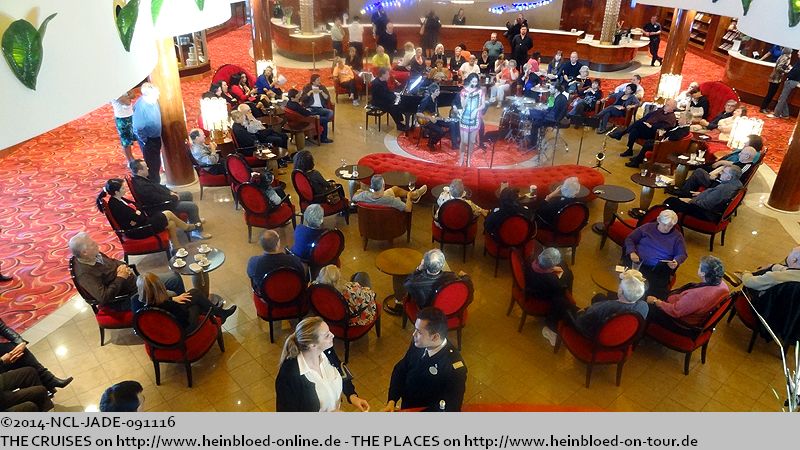 You should have a directional microphone with you to understand what Jill and Luis were talking about...

Or you just look what Bruno was doing.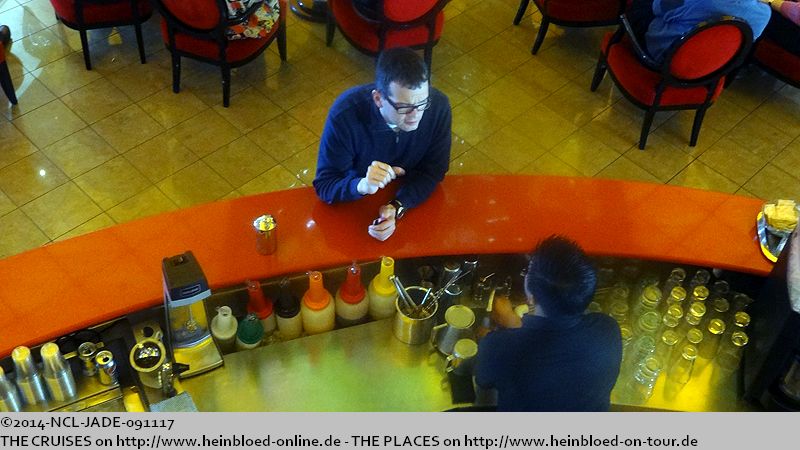 Und man guckt einfach Bruno zu.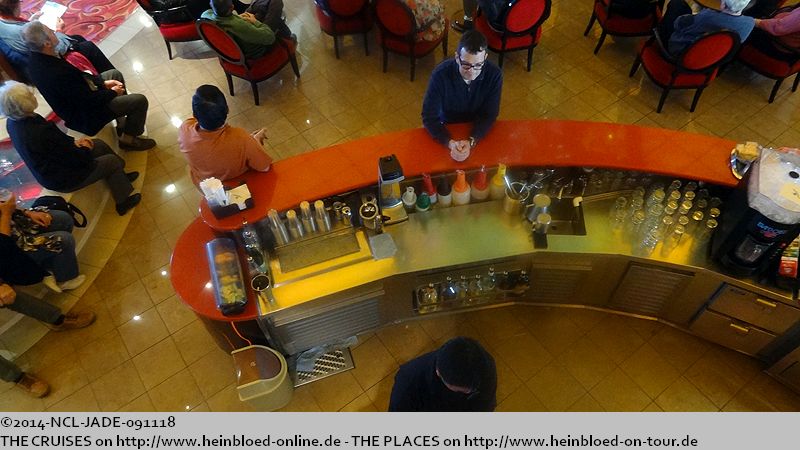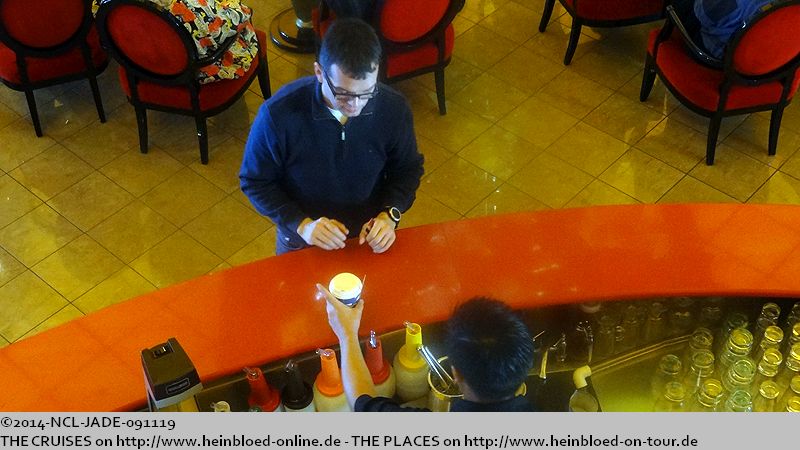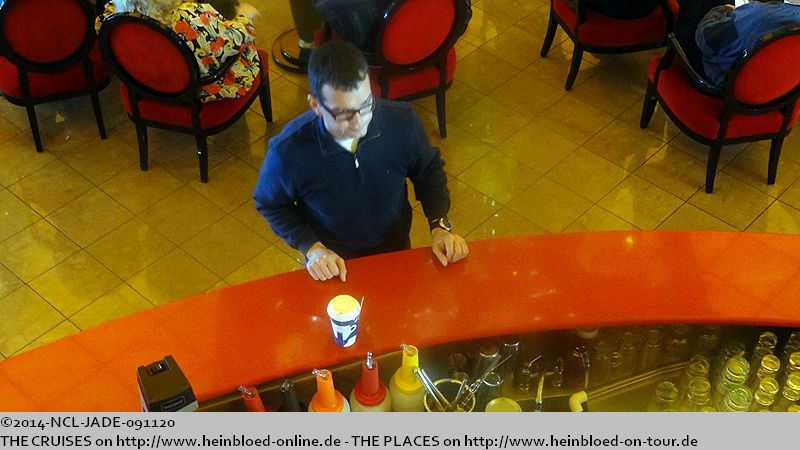 There were Joe and Tom arriving for our meeting. Their Facebook-friends said that this picture looks like a mug shot from TV-shows like Crime Watch or Crime Stoppers.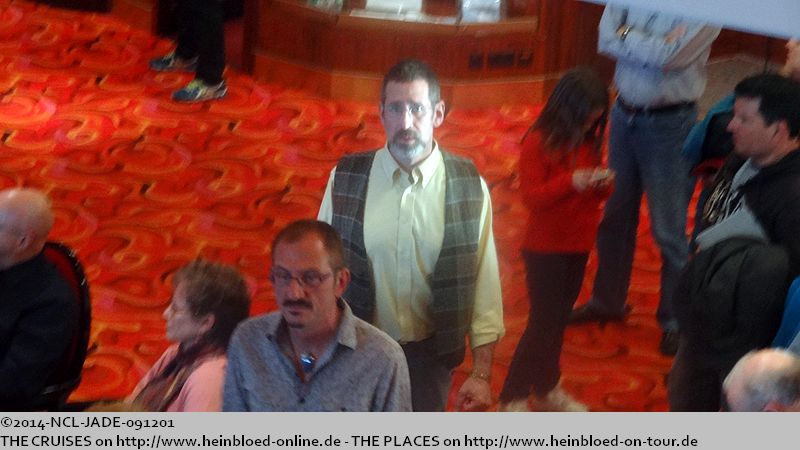 Da kommen auch Joe und Tom, mit denen wir verabredet. Deren Facebook-Freunde halten diese Bilder für Fahndungsfotos aus XY.
Nun werde ich auch entdeckt.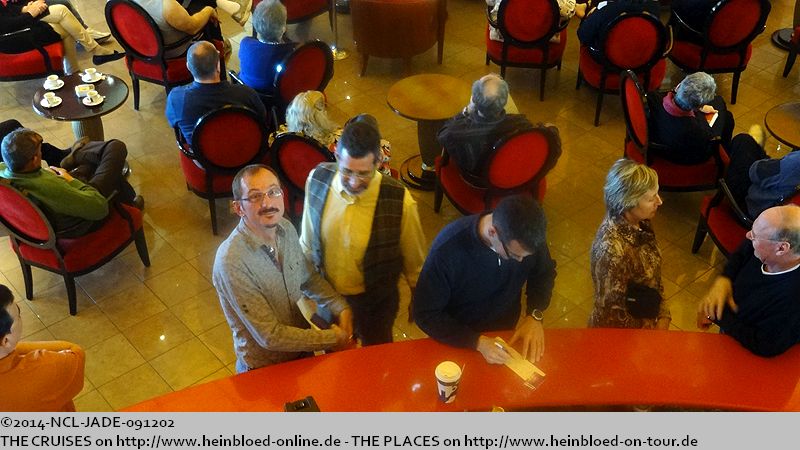 Now I was finally discovered.

A toast to our friend Guenther from Denver, CO who passed away recently.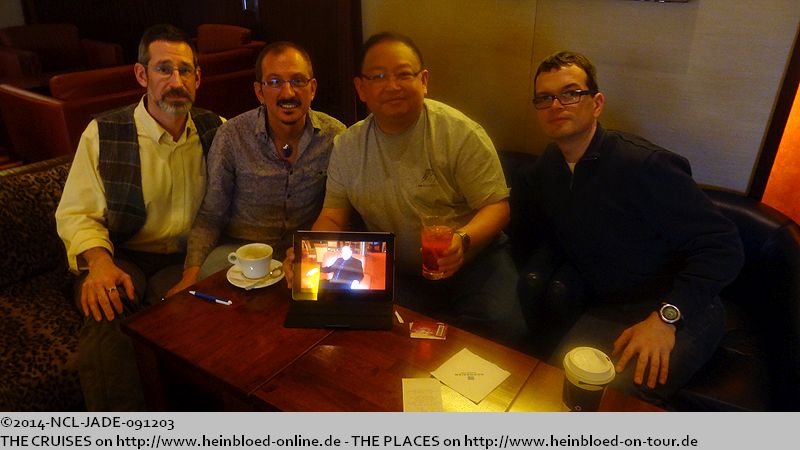 Bei einem Drink gedenken wir unserem kürzlich verstorbenem Freund Guenther Vogt aus Denver.
Damals im Januar 2011 haben wir uns im Roll-Call bei cruisecritic.com, im Spa bzw. in der Runde der
Freunde von Dorothy
kennengelernt. Joe und Tom waren damals auch mit dabei, sowie sein Lebensgefährte BJ. Dieses Mal fehlt uns die Zeit, um mal wieder zu den Treffen der Freunde von Dorothy zu gehen. Die Buchung der Reise erfolgte natürlich bei
Dorothy von cruisebrothers.com
als Freunde von Dorothy.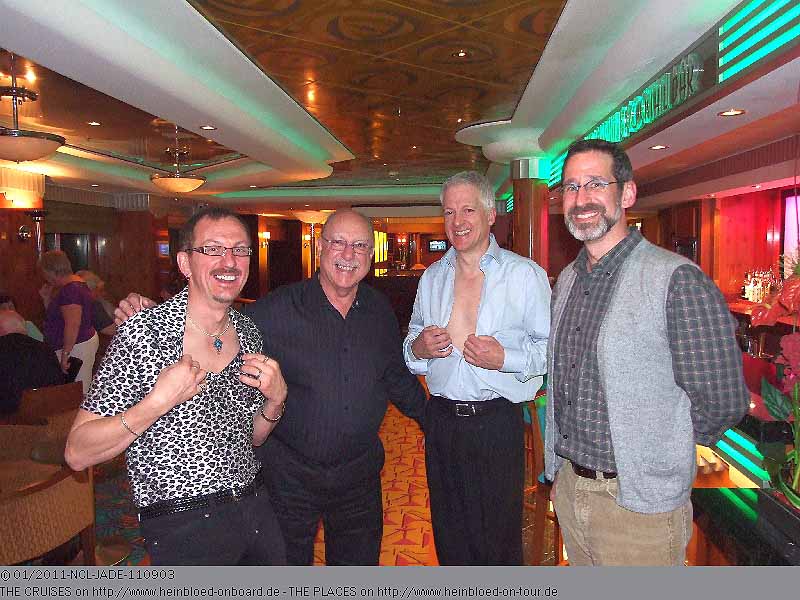 In January 2011 we made their acquaintance in the roll-call of cruisecritic.com, in the spa or with the meetings Friends of Dorothy. Joe and Tom were there too and his partner BJ. This time we had no time to see the meetings of the Friends of Dorothy. The booking of this voyage was done certainly with Dorothy of cruisebrothers.com as we are Friends of Dorothy.

We arrived earlier than expected around Mount Etna. It was shining in the afterglow. Joe and Tom just asked what we did in Florence and so we could tell of our experience with Susanna. So we used the occasion to have shorebased phonenetwork to call Susanna and she got them from their coach "Florence on your own" and took them around in Florence.

Früher als erwartet fahren wir am Ätna vorbei. Der leuchtet im Abendrot. Joe und Tom haben gerade uns gefragt, was wir in Florenz gemacht haben und wir haben von Susanna berichtet. Da wir hier Landnetz haben, rufen wir Susanna an und sie holt Joe und Tom bei dem Bus "Florenz auf eigene Faust" ab und führt sie durch die Stadt.
Ich gehe kurz zum Latitudes Empfang für die Silber, Gold und Platin-Mitglieder.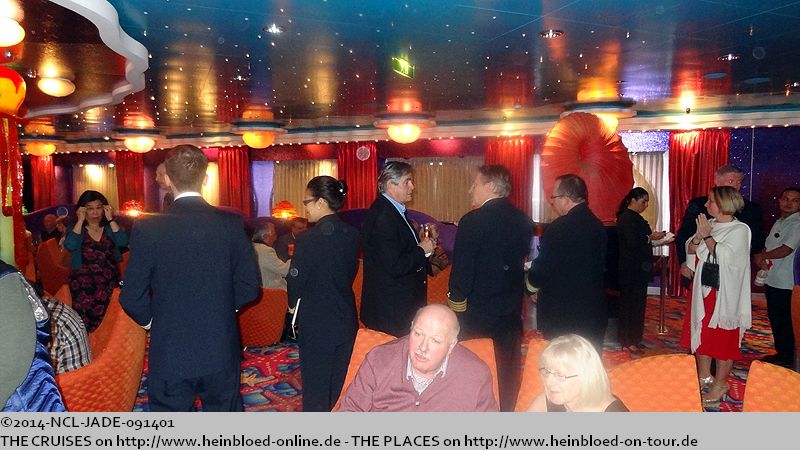 I went to the party for the Latitudes Silver, Gold and Platinum-members.

This time the cheese was pre-cut in small pieces.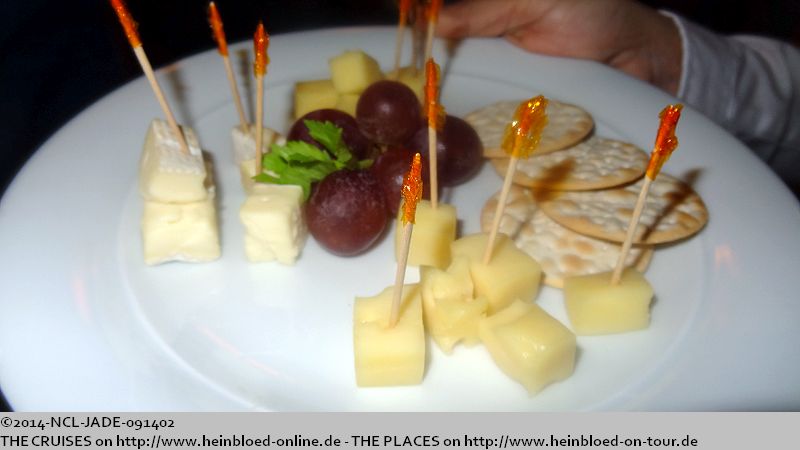 Dieses Mal ist der Käse vorgeschnitten.
Ich kann mich auch noch an eine Verstaltung erinnern, als der Käse blockweise gereicht wurde, und man selbst den Käse schneiden musste, wie damals auf der NORWEGIAN GEM im Jahre 2009.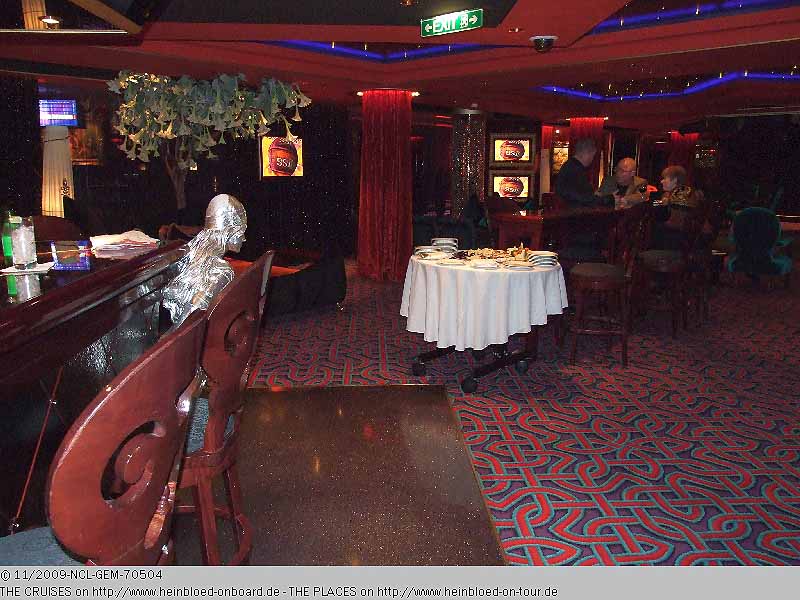 I remember to have one event when they served the cheese blockwise and you had to cut the cheese yourself like then on NORWEGIAN GEM in 2009.

But they learned. Just in case a starved out guest would take away the tray from the waiter to cater herself and her family and friends on NORWEGIAN SPIRIT in 2013, they prepared this time on smaller plates. So the loss would be too big.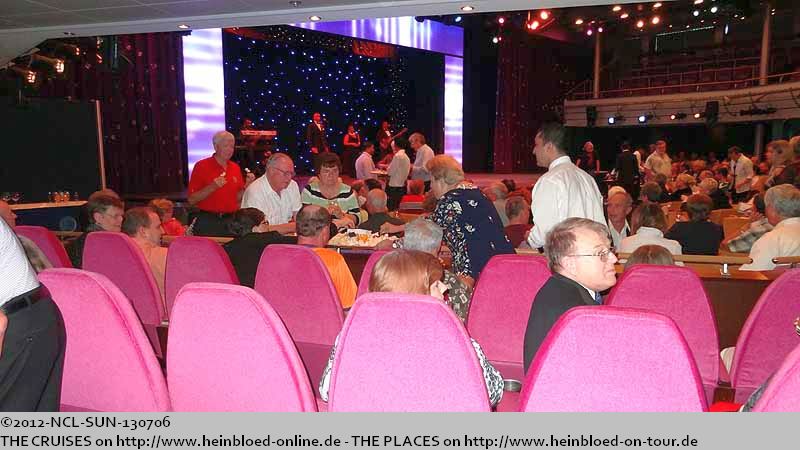 Man hat ja gelernt. Falls wieder ein ausgehungerter Gast wie auf der NORWEGIAN SPIRIT 2013 dem armen Kellner die Platte abjagt, um sich und ihre Freunde und Familie zu versorgen, ist der Verlust nicht so groß, da nur noch auf kleinen Tellern angerichtet wird.
Weiter geht es zu der Show "Elements".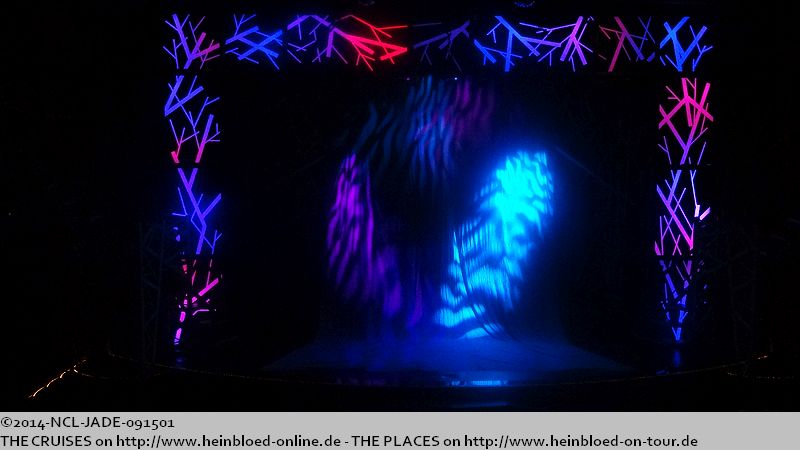 We headed to the show "Elements".

After so many times we noticed where in the theater the air was breezing out.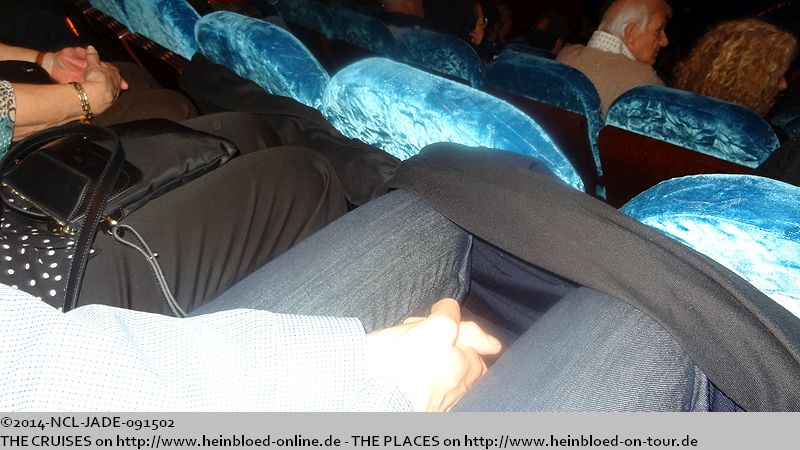 Nach so vielen Malen merken wir woraus es im Theater zieht.
Die Schals werden in die Rückenlehne stopft und mit den Schiffskarte befestigt.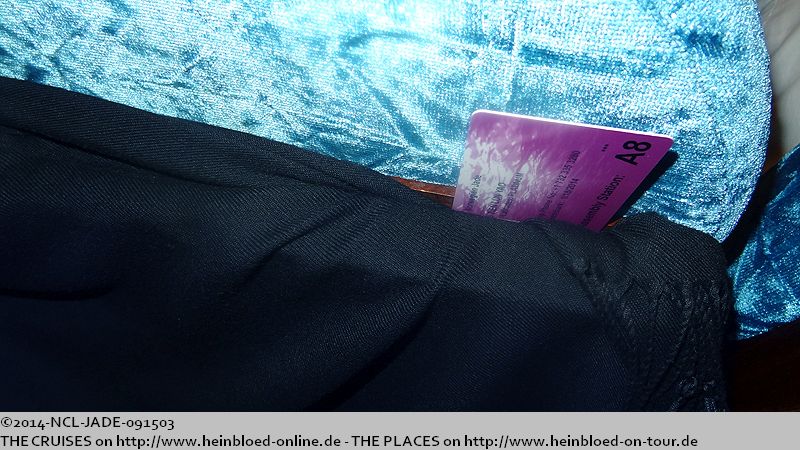 So we used the scarf to stuff into the backrest and to fix it with the ship's card.

I think that I saw it already too many times. So no more goose bumps anymore - even with my favourite scenes either at the end.

Ich habe es wohl zu oft schon gesehen. Leider bekomme ich keine Gänsehaut mehr - auch nicht bei meiner Lieblingsszene am Schluss.
Irgendwie habe ich den Eindruck, dass sie an den Papierschnipseln sparen... Auf der NORWEGIAN SPIRIT hatte ich es im vergangenen Jahr intensiver in Erinnerung, aber da ist das Theater auch kleiner.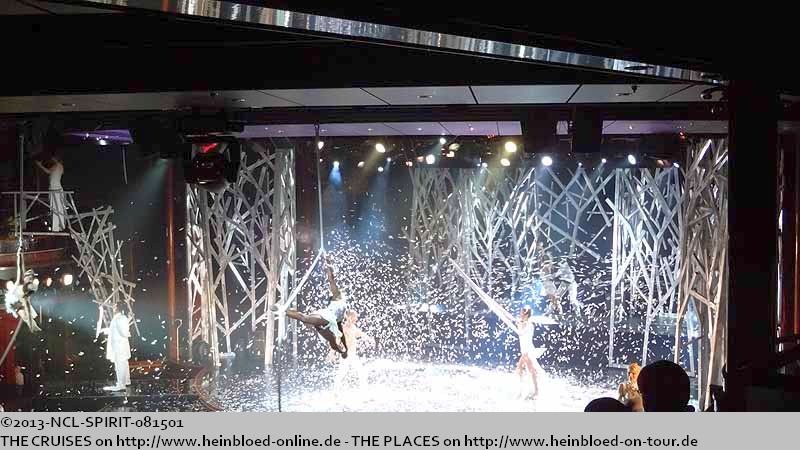 Somehow I had the impression that they had cost cutting with the paper shavings... On the NORWEGIAN SPIRIT last year I have a more intensive memories but the theater is smaller.

The crew farewell followed. All announcements only in English, Italian and Spanish. Because of Code Orange you need more crew in the restaurants so we could not identify any of our crew friends. From the housekeeping either as you have additional cleanings. But there were still many familiar faces on the stage.

Danach gab es noch den Crew-Abschied. Die Ansagen nur in Englisch, Italienisch und Spanisch. Weil wegen Code Orange mehr Personal in den Restaurants gebraucht wird, sehe ich leider keine unserer Crew-Freunde. Auch nicht vom Housekeeping, da ja überall zusätzlich geputzt werden muss. Aber trotzdem sind sehr viele bekannte Gesichter auf der Bühne.
Ich würde Marc einen Drink spendieren, wenn er mir erzählt, was er in diesem Moment dachte... So wie ich ihn einschätze, hat er sich überlegt, ob er etwas für einen Gast etwas erledigt oder vergessen hat...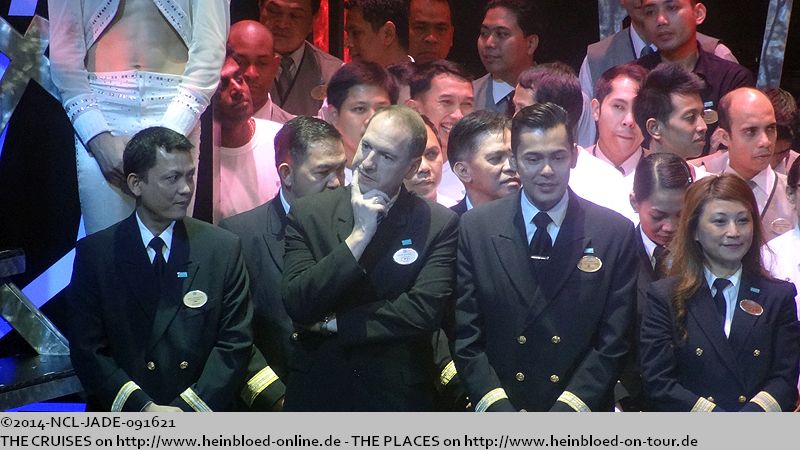 I would buy Marc a drink to let him tell us what he was thinking this moment... I guess that he was thinking if he made some arrangement for a guest or forgot it...

Farewell Christina - as she would also leave the ship.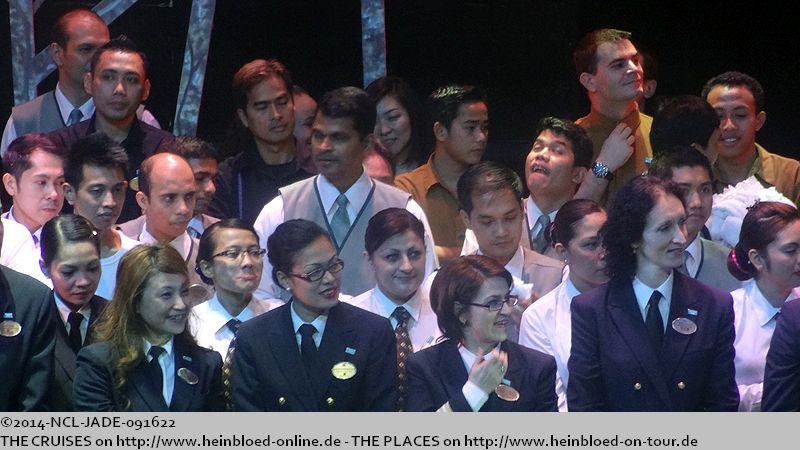 Auf Wiedersehen Christina - auch sie verlässt das Schiff.
Und Jill ist leider beim nächsten Mal auf der NORWEGIAN EPIC.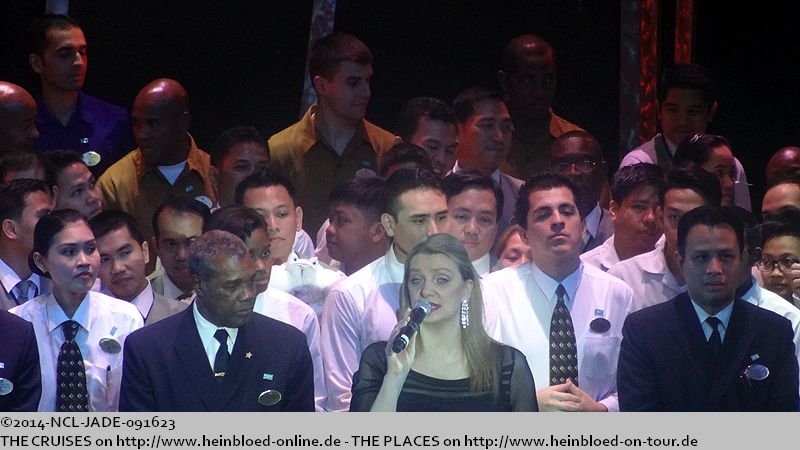 And Jill would be the next time on NORWEGIAN EPIC unfortunately.

I need such a t-shirt...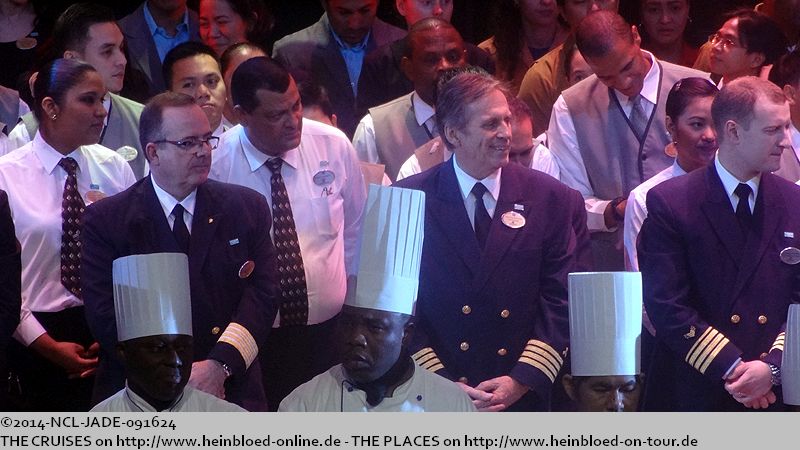 Ich brauche so ein T-Shirt...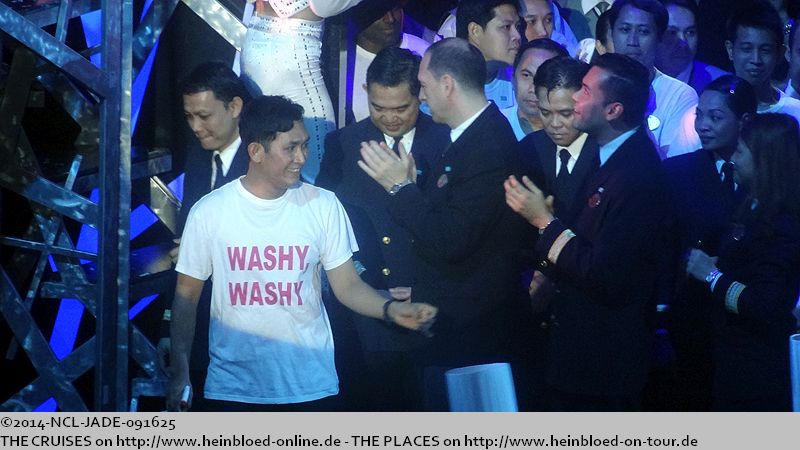 So Shenny, Christina and Mark were standing at the exit to say good-bye.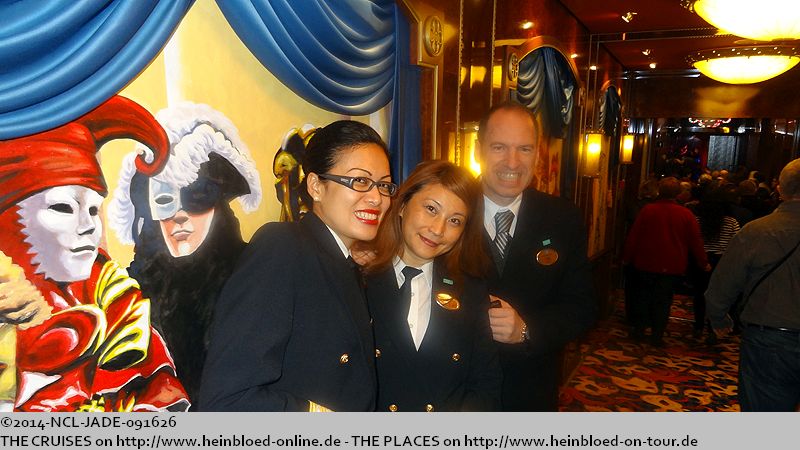 So stehen Shenny, Christina und Mark nochmals am Ausgang, um uns zu verabschieden.
Wir gehen noch etwas trinken, da noch etwas Zeit bis zum Beginn des Teppanyaki ist.

We went to have a drink as we still had some time before Teppanyaki starts.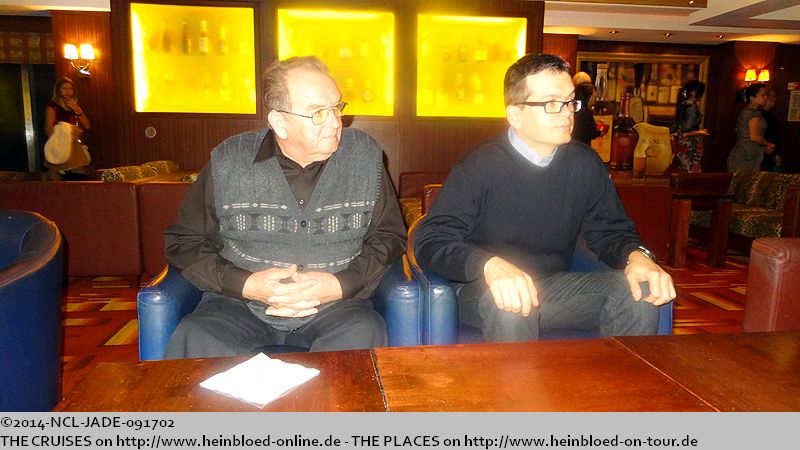 Wegen Code Orange gibt es keine Nüsse mehr.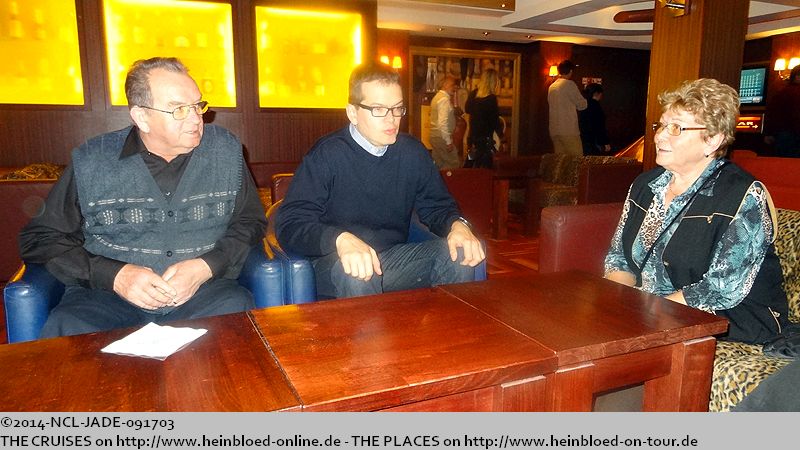 Due to Code Orange no more nuts.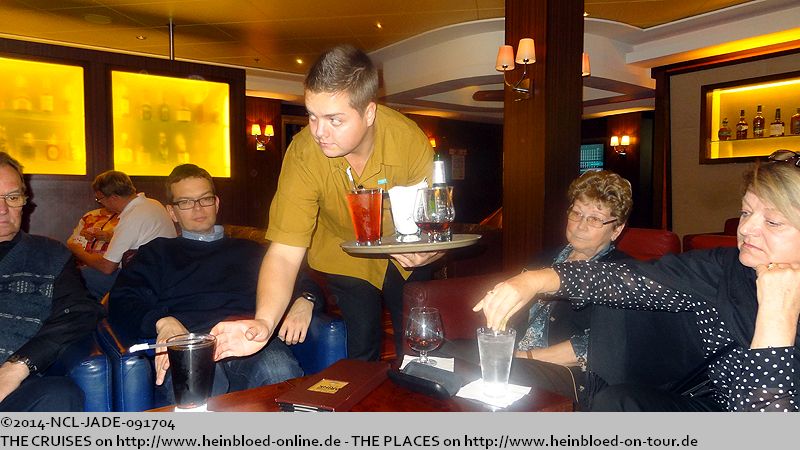 Mit leichter Verspätung geht es rein. Irgendwie haben sie die Termine so dicht an dicht gelegt, dass sie es zwischen den Runden nicht mehr schaffen richtig sauberzumachen. Sowohl der Tisch, die Grillplatte und der Boden ist voller Fettspritzer. An der Karte hat sich nichts verändert, außer dass man daraus noch basteln soll. Viele optische Showelemente sind weggefallen. Dafür nehme ich es immer lauter wahr.

We a slight delay we get in. Somehow they squeezed all sittings one after the other in the schedule. So not enough time anymore to clean between the sittings. Oil squirts on the table, on the teppanyaki grill and on the floor. No changes in the menu but you can fold now animals. Many show elements were withdrawn. And it became more louder for me.

In a Japanese restaurant Wakame (seaweed salad) should be in the focus.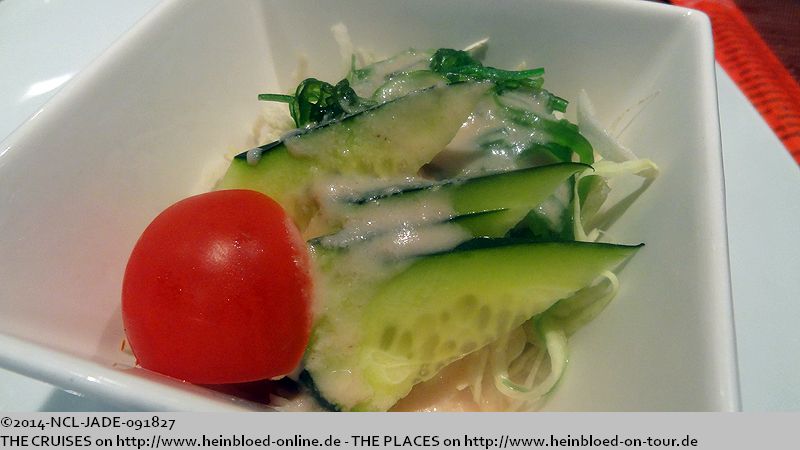 In einem japanischen Restaurant sollte ja der Wakame (Seetang-Salat) im Vordergrund stehen.
So nehme ich mal die Gurkenscheiben runter.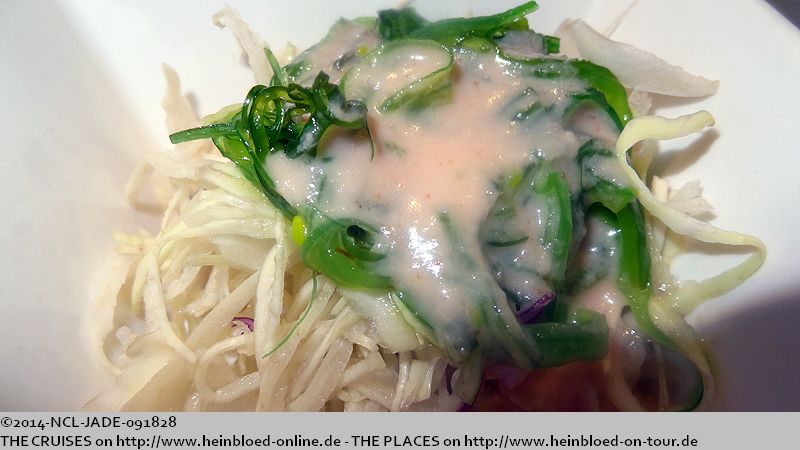 So I took off the slices of cucumber.

We had already more Wakame inside like here 2011 on NORWEGIAN JADE.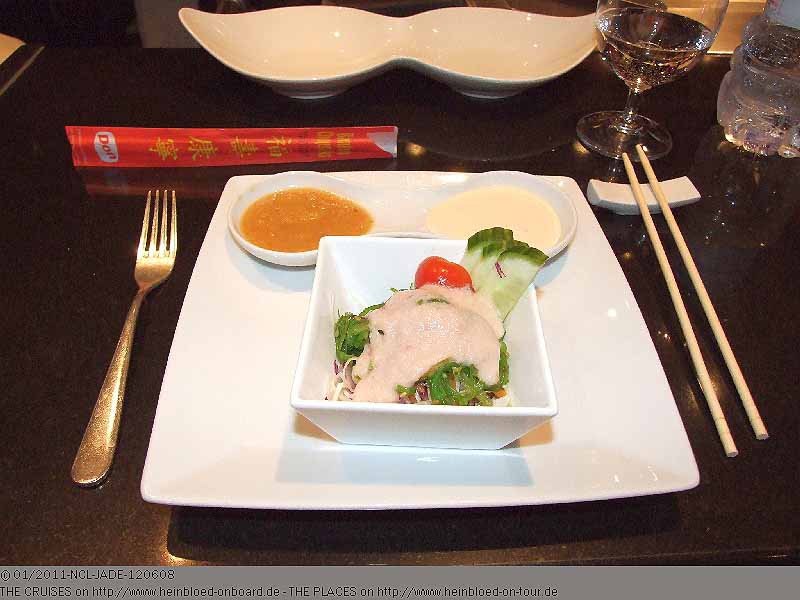 Und irgendwie war auch schon mal mehr Wakame drin, wie damals 2011 auf der NORWEGIAN JADE.
Viele Tricks kennen wir schon. Neu war das Küken für uns.

Many tricks we knew already. New was the chick.

Then guest were fed like 2011 on NORWEGIAN JADE...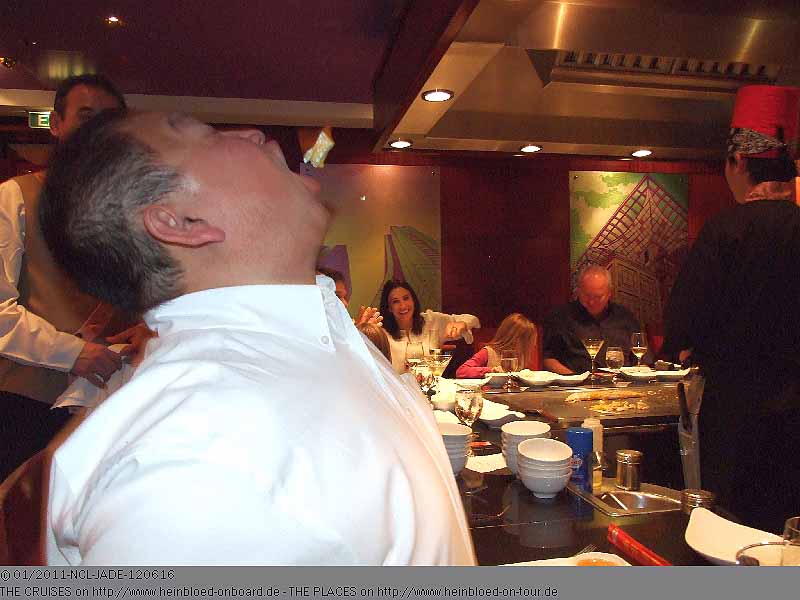 Früher wurden wir Gäste noch gefüttert, wie damals 2011 auf der NORWEGIAN JADE...
Und auch den Gemüse-Vulkan, der angezündet wurde, gibt es ebenfalls nicht mehr...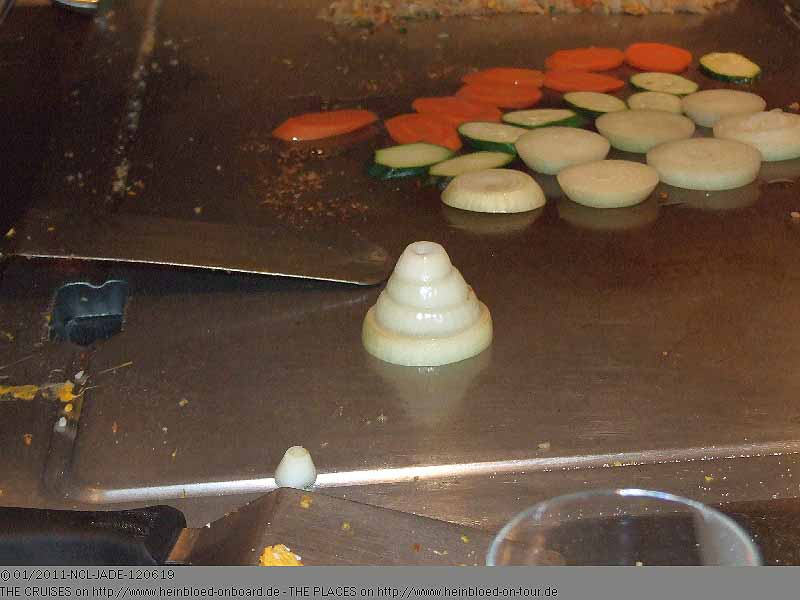 And the flamed vulcano made of vegetable was withdrawn too...
It was very yummy as usual. Quality and taste of the food were still perfect. We were really indulged very much and got so much food that we could easily share with our table-mates and let them try dishes they had not ordered.

Lecker war es, wie immer. Die Qualität und der Geschmack des Essens stimmen wie immer. Wir werden besonders verwöhnt und haben so viel zu essen bekommen, dass wir unseren Tischnachbarn etwas von den Sachen abgeben konnten, die sie nicht bestellt hatten.
Ich will ja nichts sagen, weil es auch wie immer noch lecker ist...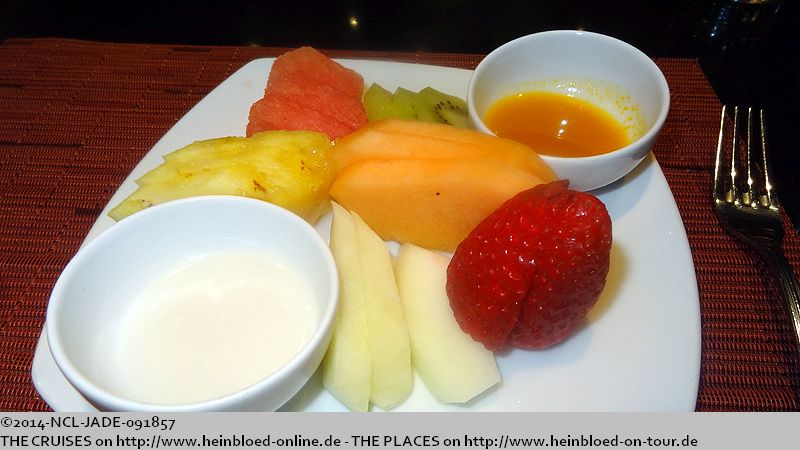 I do not want to say anything because it was still yummy...

But before someone spent more efforts like then 2009 on NORWEGIAN GEM. The question is only: do you want to have only better food for 25.00 USD cover charge or do you want a perfect experience as you also eat with your eyes. And here it was difficult for my eyes to eat. But compared to our Moderno experience I had no wish to get back the money as the food was still very good.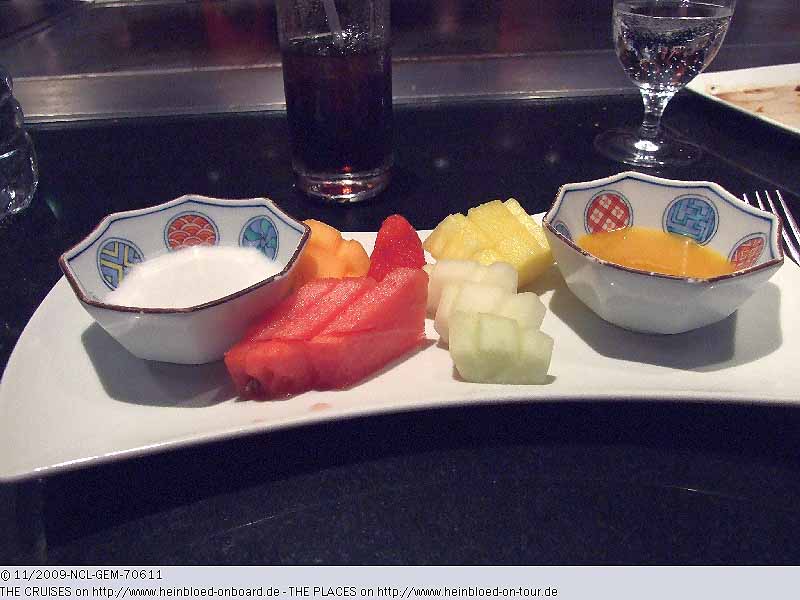 Da hat sich aber auch schon jemand sehr viel mehr Mühe gegeben, wie damals 2009 auf der NORWEGIAN GEM. Die Frage, die sich für mich stellt ist, ob ich für 25,00 USD Zuzahlung nur sehr gut essen will, oder ein perfektes Erlebnis haben möchte, zu dem auch gehört, dass das Auge mitisst. Und hier fiel es meinem Auge sehr schwer immer mitzuessen. Im Gegensatz zum Moderno hatte ich jedoch keinen Wunsch das Geld wiederhaben zu wollen, weil ja das Essen trotz allem sehr gut war.
Ich will ja nicht noch mehr sagen, aber für eine Gesellschaft, die teilweise asiatische Wurzeln (Genting Group/Star Cruises) hat, finde ich diese Art grünen Tee zu servieren schon sehr beschämend... Und irgendwie muss es doch mir als Wiederholer viel Spaß machen, dass ich gerne wiederkomme und NCL weiterempfehle. Es muss ja nicht immer nach Krankenhaus und Kantine aussehen - oder?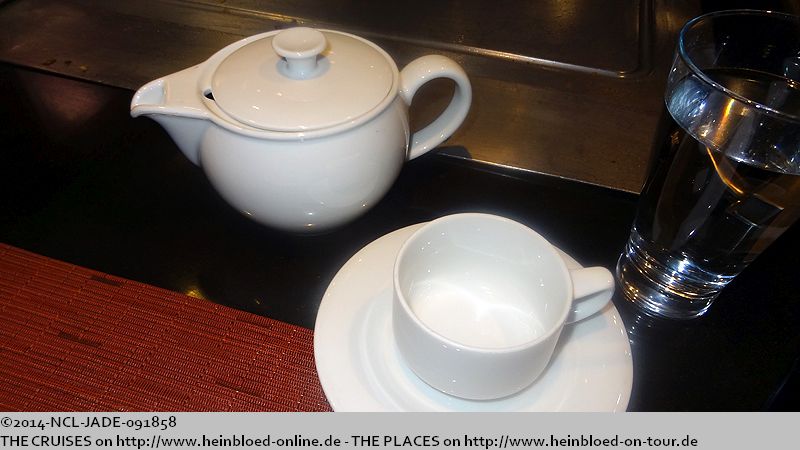 I do not want to say any more but for a company with partly Asian roots (Genting Group/Star Cruises) it is a shame how they served green tea... And even as repeater I should have fun and recommend NCL. It must not look like hospital or canteen - or?