Eigentlich waren wir mit Susanna vor einer Kirche verabredet. Per Zufall sehe ich sie jedoch an einer Bushaltestelle und rufe ihr zu, dass sie bei uns einsteigen. Leider hatte ich bloß eine Kleinigkeit vergessen.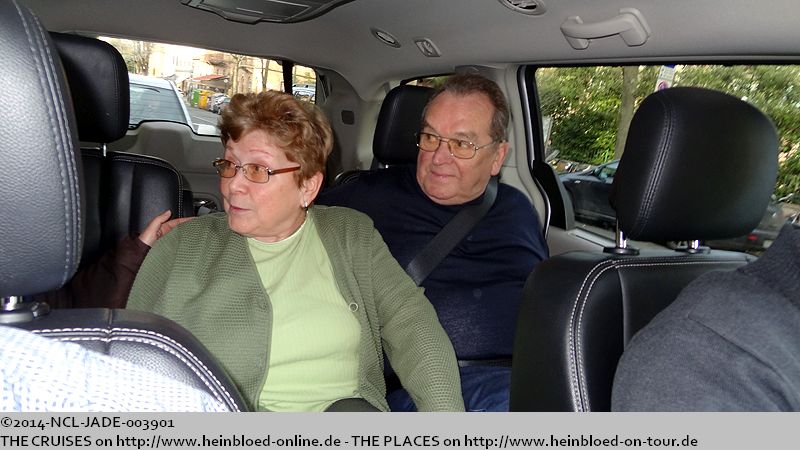 Originally we should meet with Susanna in front of a church. By co-incidence I saw her standing at a bus stop and called her to enter our car. Unfortunately I only forgot a small detail.

When I had a Volkswagen Touran I had the configuration 1+1 - 3 - 2... Here we had 2 - 1+1 - 3... so Erika was squatting more or less in the air before we arrived at the parking. I felt sorry for Erika but somehow all of us had to laugh.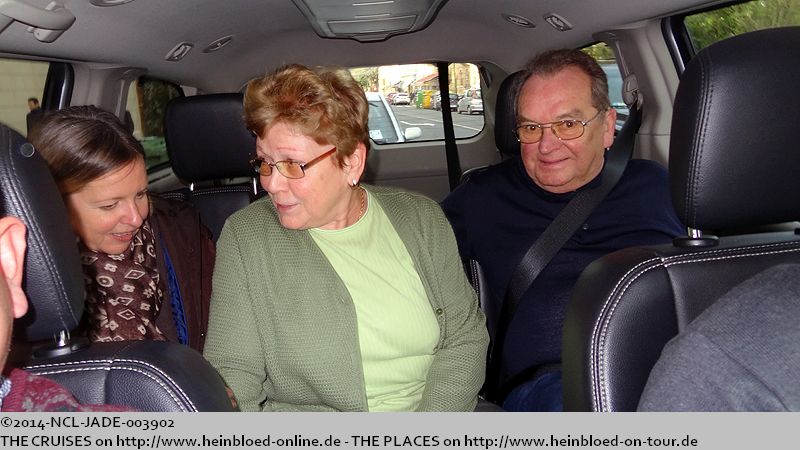 Bei meinem VW Touran war die Konfiguration: 1+1 - 3 - 2... Hier ist sie jedoch 1+1 - 1+1 - 3... so hockt Erika mehr oder minder in der Luft bis dass wir zum Parkplatz ankommen. Mir tat zwar Erika leid, aber irgendwie mussten wir doch alle lachen...
Von Susanna wurde vorgeschlagen, dass wir hier am
Stadion
parken. Von Livorno aus ist Siena mit Bus und Bahn schwieriger zu erreichen (zwischen zwei und drei Stunden einfach). Daher würde ich mir ab Livorno einen Mietwagen nehmen und ebenfalls hier parken (2 Stunden von Livorno aber man kann unterschiedliche Wege für die Rückfahrt nuzten und mit einem 2. Ort kombinieren).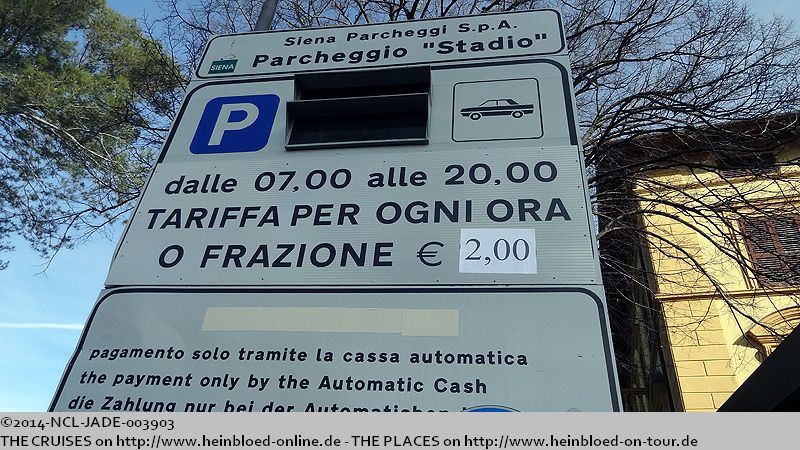 Susanna suggested to park at the Stadium. From Livorno it's somehow more difficult to reach Siena by bus and train (one way between two and three hours). Therefore I would take a car rental and park here too (2 hours from Livorno but you can use different ways on your return journey and can combine with a 2nd place).

O.K. the parking was a stupid one... all parkings directly at the exits were already taken... So we had to find at the other end of the pitch to find a women- and gayfriendly parking (parking without many manoeuvres!) which could accomodate our car which was not a Fiat 500. As we had already so many scratches and zero excess fee we should not worry too much... But maybe we think too German. Other driver might squeezed between two cars style Fiat 500 and exit trough the electric sliding doors and just walk over a Fiat 500.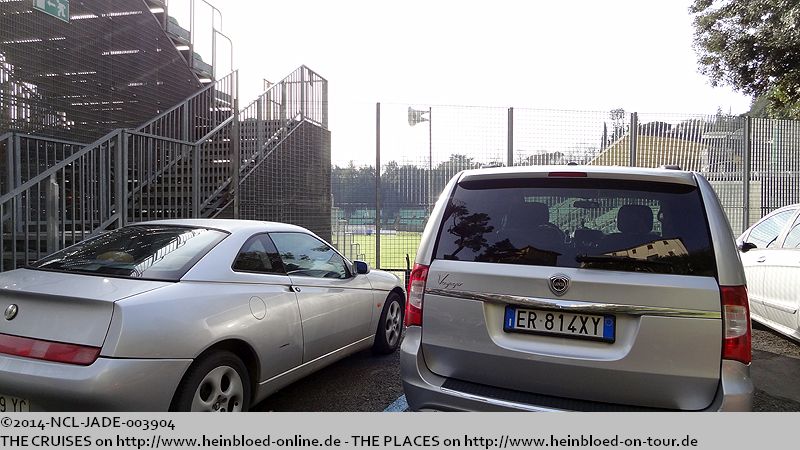 O.K. der Parkplatz war blöd... alle Parkings direkt an den Eingängen waren weg... So mussten wir bis zum Ende des Fußballfeldes, um ein frauen- und schwulenfreundlichen Parkplatz (Parken ohne viele Manöver!) zu finden, der auch noch in der Lage war, unser Auto, der ja kein Fiat 500 war, aufzunehmen. Da wir schon so viele Schrammen hatten und ja ohne Selbstbeteiligung versichert waren, hätte es uns ja auch egal sein können... Nur wir denken vermutlich zu deutsch. Andere Fahrer hätten sich vermutlich zwischen zwei Fiat 500 gequetscht und dann die hintere elektronische Schiebetür aufgemacht und über den Fiat 500 darübergestiegen.
Sicherheitshalber fotografiere ich mal die Haltestelle. Fall mir in der Stadt eine der Linien auffällt, können wir ja mit dem Bus zum Parkplatz zurückfahren... Gute Idee... Bloß in der Innenstadt fahren gar keine Busse...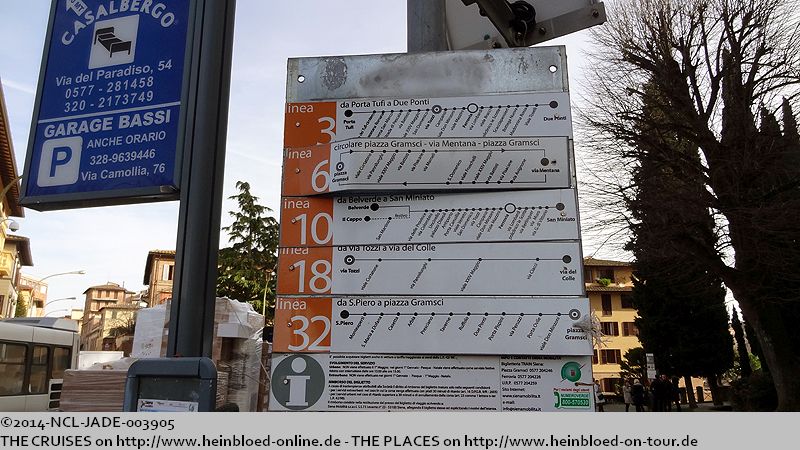 To be safe I took a picture of the bus stop. Just in case I find in the city one of the routes to return by bus to the parking... Great idea... But there was no bus circulating in the the city center...

Here that was the official meeting point with our tour guide Susanna: Basilica Cateriniana di San Domenico.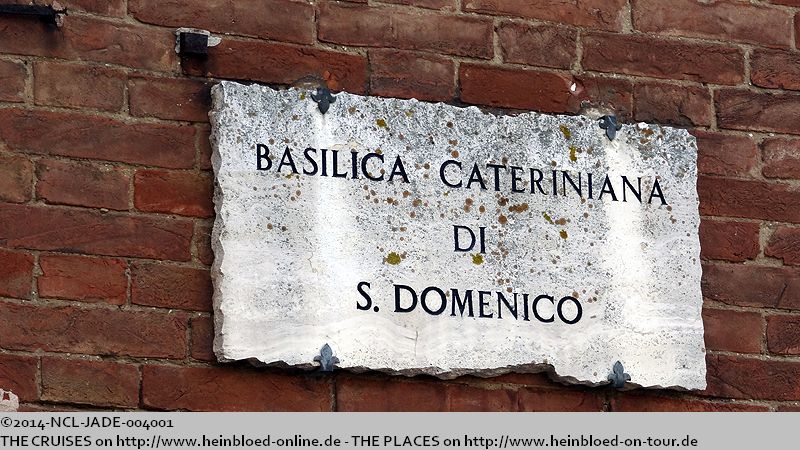 Hier wäre der offizielle Treffpunkt mit unserer
Fremdenführerin Susanna
gewesen:
Basilica Cateriniana di San Domenico
.
Die Kirche liegt gegenüber des Parkplatzes am Stadion. Draußen wird uns zunächst wieder alles Wichtige erklärt, bevor es reingeht. In der Kirche selbst herrscht strengstes Fotografierverbot und die sind noch strenger als in den Uffizien...

The church was located just opposite of the parking at the Stadium. Outside we get all essentials for our tour before we entered the church. In the church it was prohibited to take pictures and they were stricter than in the Ufficies.

From here you had wonderful view to the other part of the city.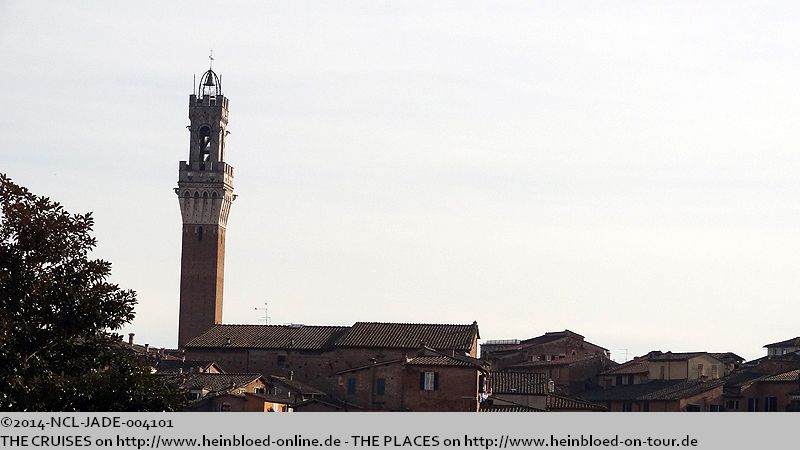 Von hier kann man schon in den anderen Teil der Stadt gucken.
Und sich über die Zypresse aufregen...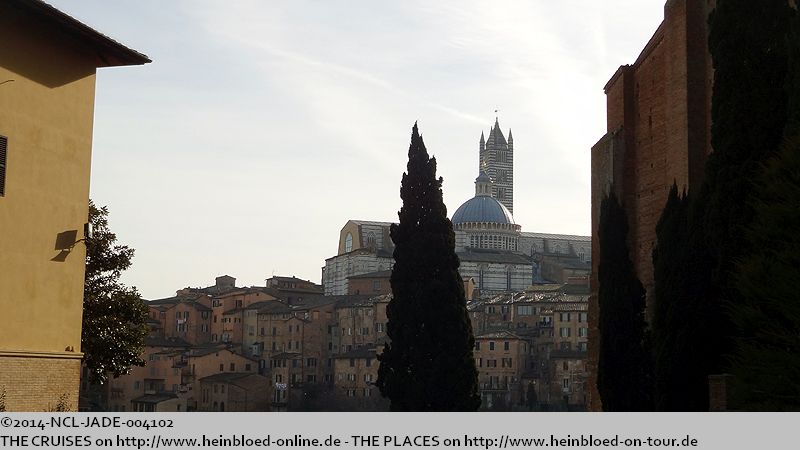 And you can be upset of the cypress...

as the location was very stupid and seperated the view to the Cathedrale.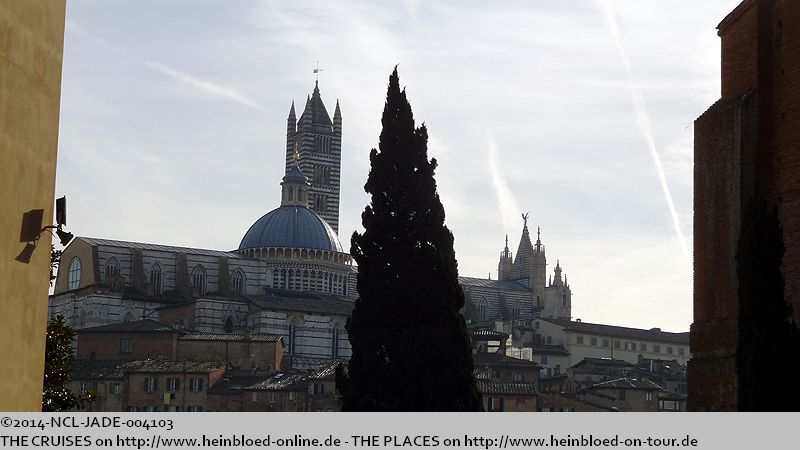 die irgendwie hier sehr blöd steht und den Blick auf die Kathedrale teilt.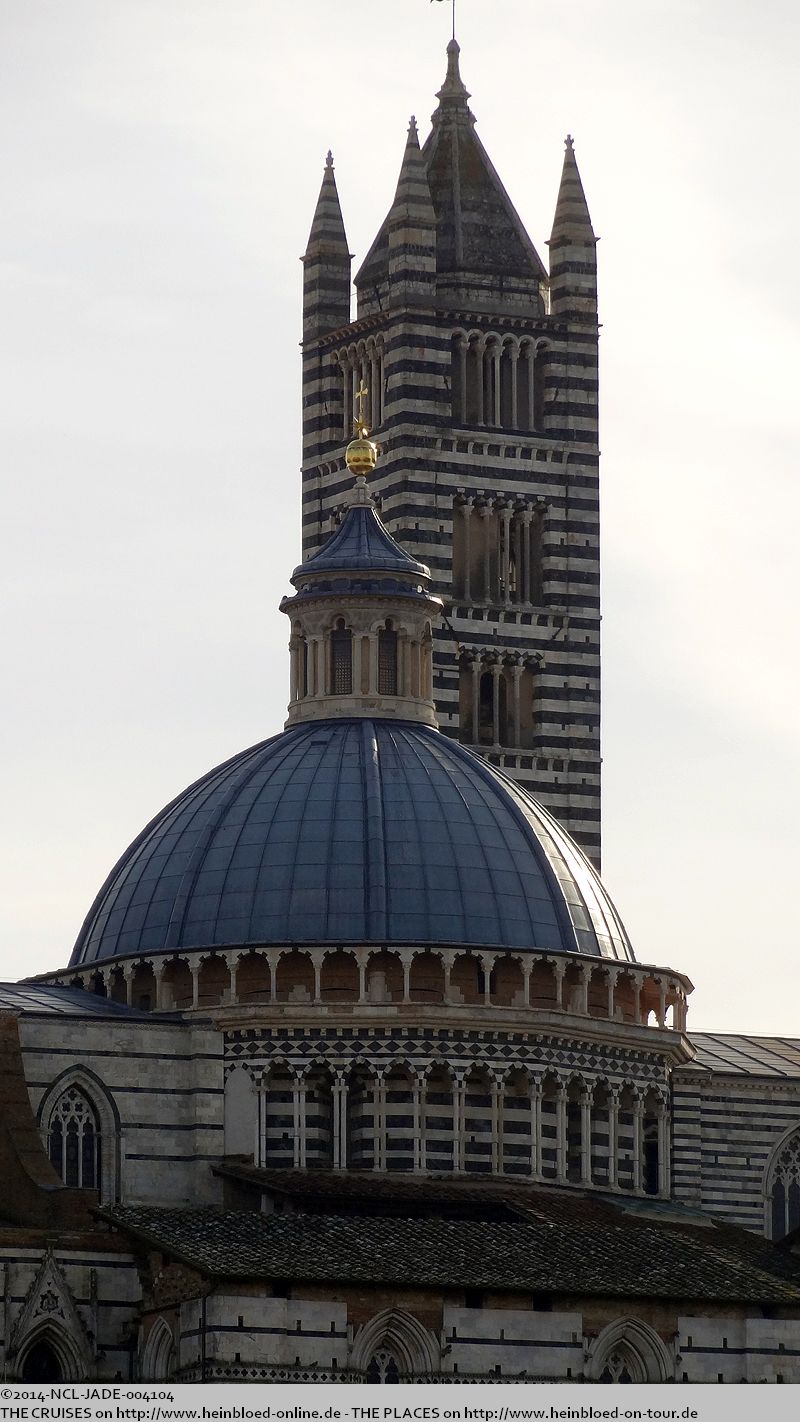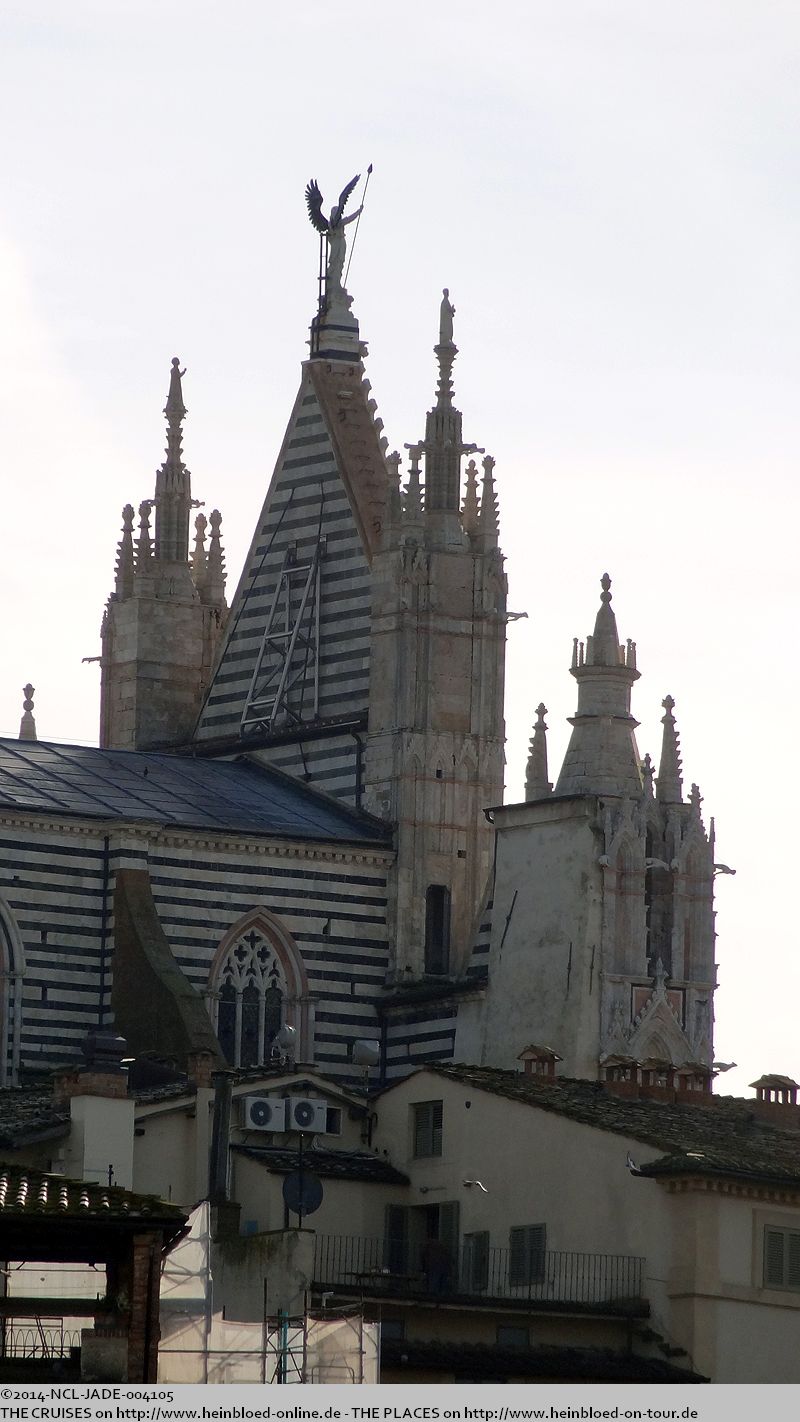 Auch hier geht es zu Fuß weiter. Schade, dass wir schon gefrühstückt haben. Der Laden der
Landwirtschaftsgenossenschaft
hätte ich doch sehr interessiert. Der sah klasse aus. Alles sah zum Anbeißen aus. Drinnen war es voll. Ein Grund wieder nach Siena zu fahren.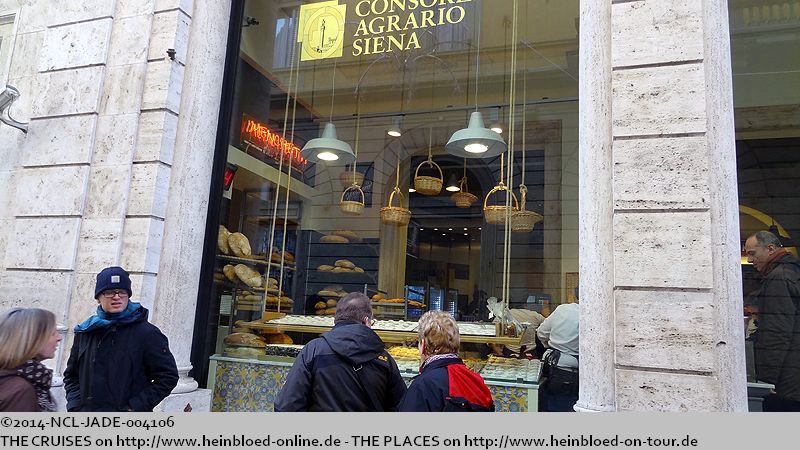 Here we headed to the town by walking. So sad that we had already our breakfast. The store of the Farmers Mutual Association looked very interesting. Everything looked so great. Everything was presented just to be eaten. Inside it was jampacked. One more reason to see Siena again.

There we came by the No. 1 Hotel in Siena... but I think I need to buy additional lottery tickets...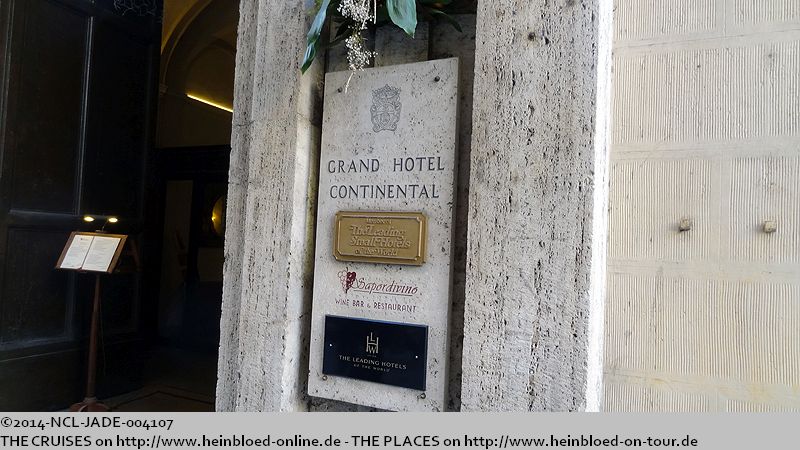 Dann kommen wir am Nr. 1 Hotel in Siena vorbei... aber da muss ich wohl nochmals im Lotto spielen...
Ob hier der Prüfer schon vorbeigekommen ist, der auch bei "Ocean's 13" mitgemacht hat?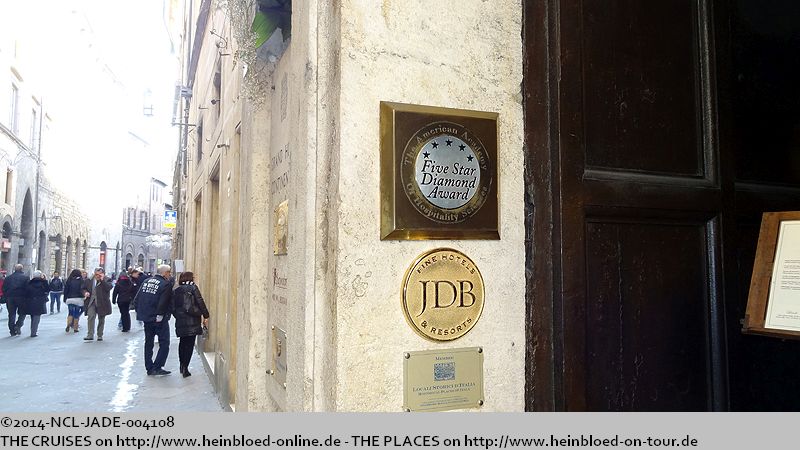 Was the same tester here like in the movie "Ocean's 13"?

We continued our walk through the city. A lot of knowledge was transferred by Susanna.

Weiter geht es durch die Stadt. Viel Wissen wurde von Susanna vermittelt.
Eine Rolltreppe zum Parkplatz: den muss ich mir mal für das nächste Mal merken.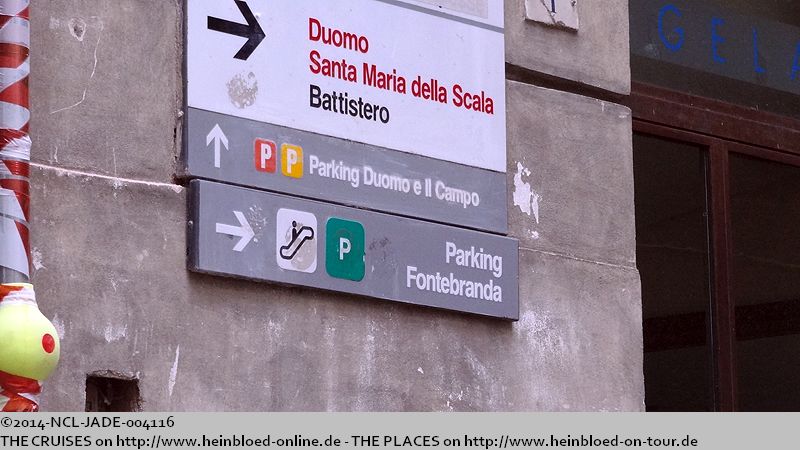 An escelator to the parking: I need to remember for the next time.

And Pinocchio... in a shopping window...

Und Pinocchio... im Schaufenster...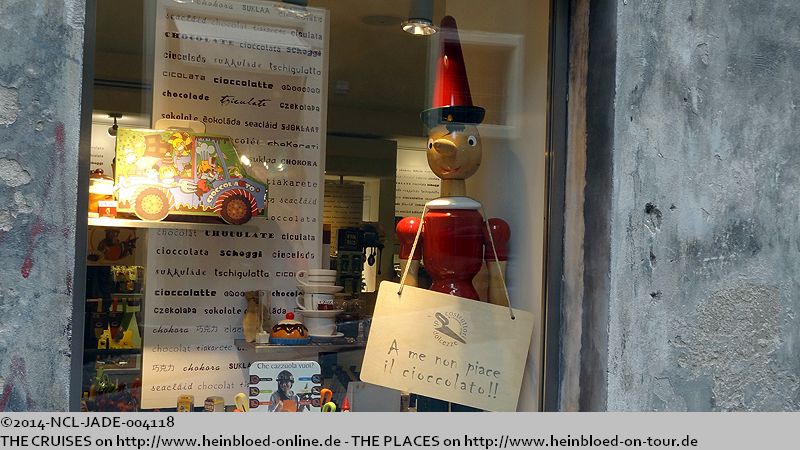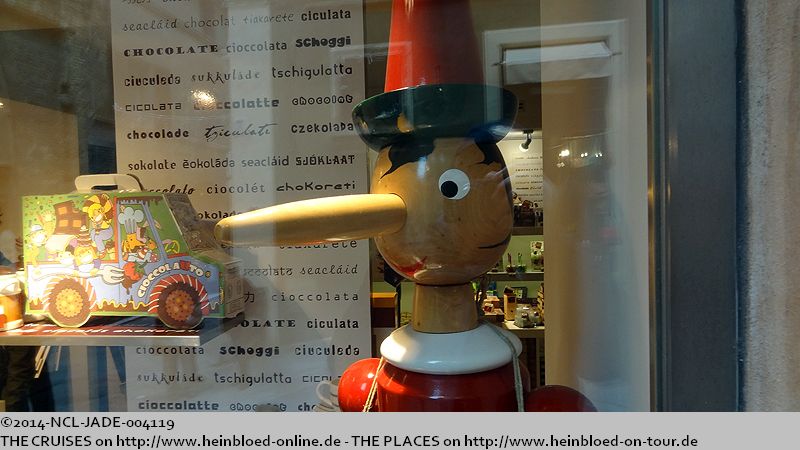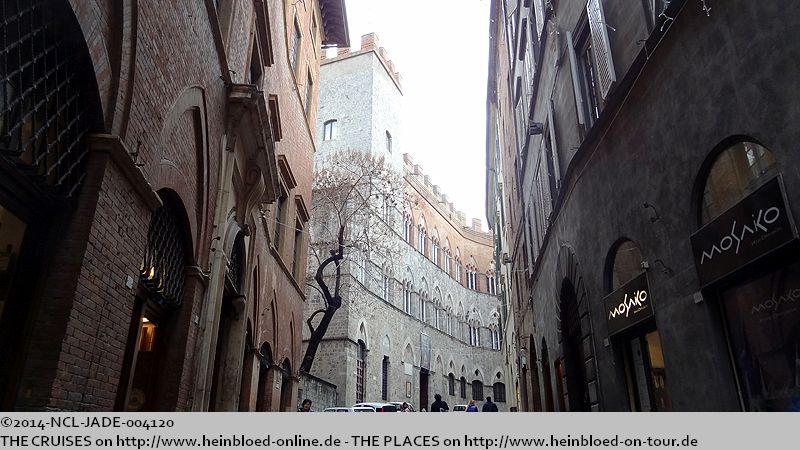 Originally I thought you have in every city you find the same shops of the international chains. But you had many local retailer. I could not see any supermarket in the city center.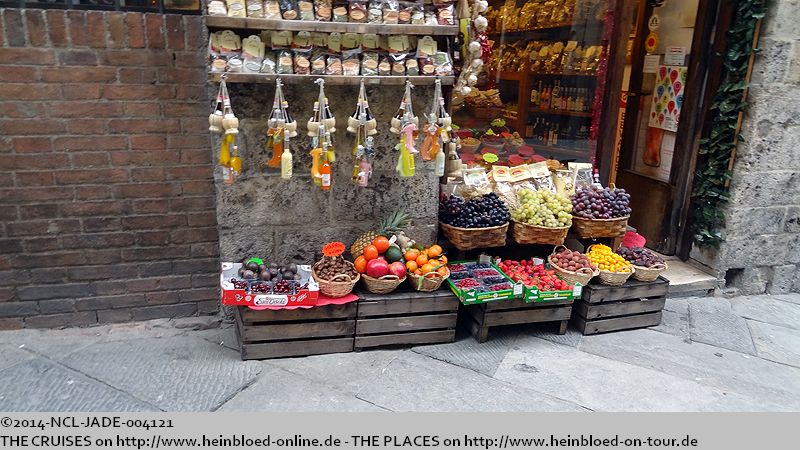 Eigentlich habe ich gedacht, dass es in jeder Stadt nur noch die gleichen internationalen Kettengeschäfte gibt. Aber hier gab es noch sehr viele lokale Einzelhändler. Selbst Supermärkte habe ich keine in der Innenstadt entdeckt.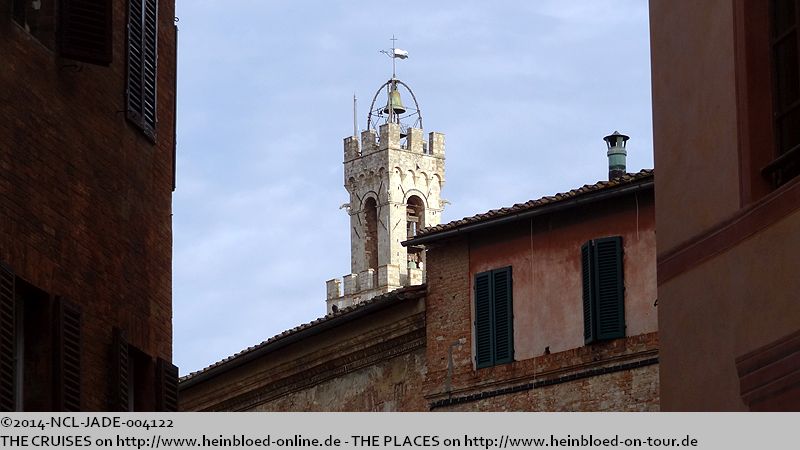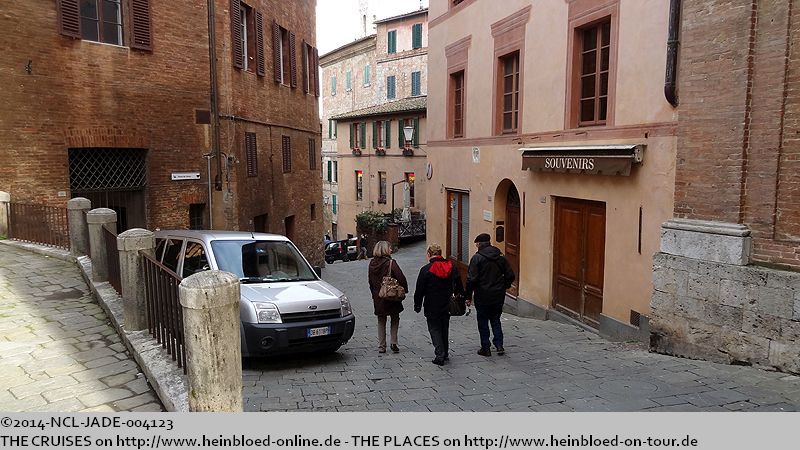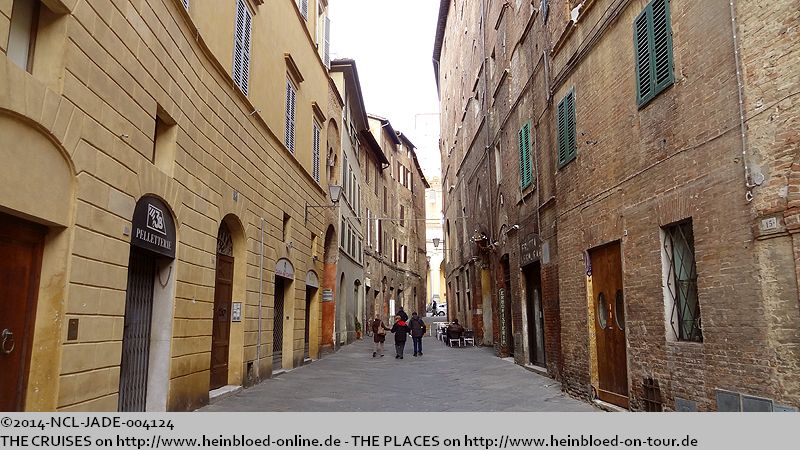 In the German TV we had James Bond 007 "A Quantum of Solace". The start sequence was in Siena during the horse race Palio. Susanna explained us all the background around the race and took us to one of the neighborhood houses where the tradition was maintained. This neighborhood was named after the dragon. But 17 neighborhoods are part of Siena which all join the Palio race. So we learned a lot of the social life in Siena which was defined through the Palio race.

Vor kurzem lief im deutschen Fernsehen James Bond 007 "Ein Quantum Trost". Die Anfangsszene spielt in Siena während des Pferderennens
Palio
. Susanna erklärt uns die Zusammenhänge und führt uns zu einem der Quartiershäuser, in denen diese Tradition gepflegt wird. Dieser Ortsteil ist nach dem Drachen benannt. Aber Siena besteht aus 17 Ortsteilen, die alle am Palio teilnehmen. So erfahren wir eine Menge über soziale Leben in Siena, das sich über ein Großteil des Palios definiert.
Vorbei geht es an der ältesten Bank der Welt:
Monte dei Paschi di Siena
- Gegründet im Jahre 1472. Susanna meint, dass sie besonders bekannt war, wegen der Machenschaften rund um die Finanzkrise. Ich denke mal, dass das in Deutschland kein Thema war, weil man ja selbst mit der HypoRealEstate beschäftigt war.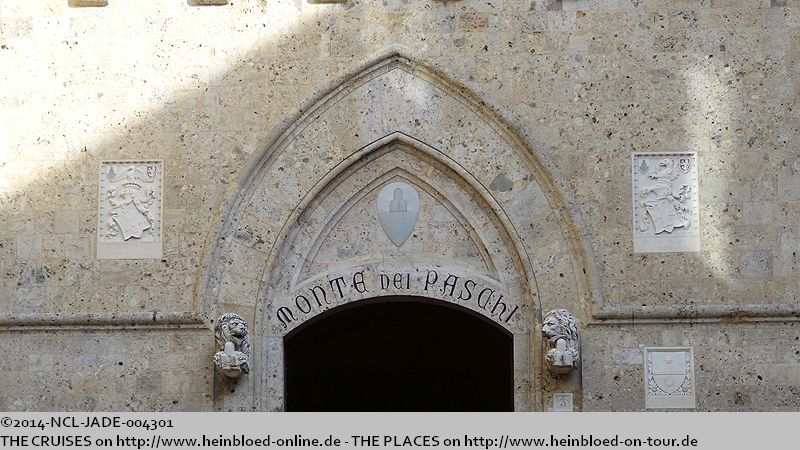 We passed the oldest bank of the world: Monte dei Paschi di Siena - founded in 1472. Susanna said that this bank became most popular because of their role during the finance crisis. I think that this bank was not a subject outside Italy as everyone was more interested to know what happened with the Lehman Brothers.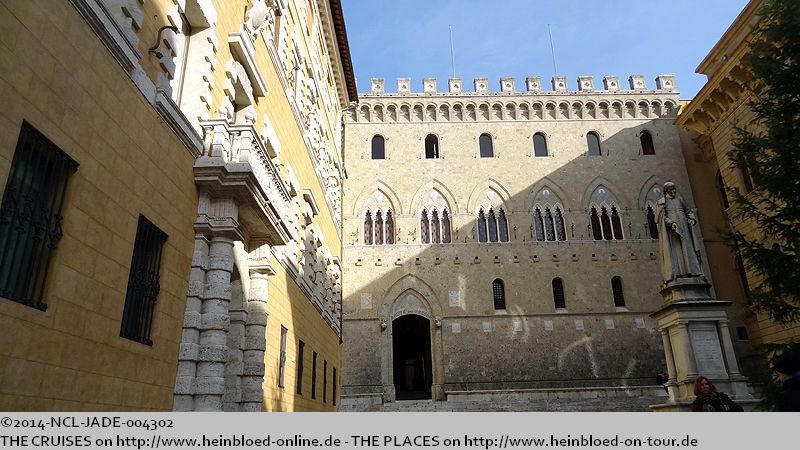 Höchste Zeit für einen Mittagsimbiss. Susanna schlägt uns die Bar il Palio vor. Angesichts der 1a-Lage am Piazza del Campo hatte es auch 1a-Preise. Und da wir natürlich wieder windgeschützt im Straßencafébereich saßen, galten ja nicht die Barpreise.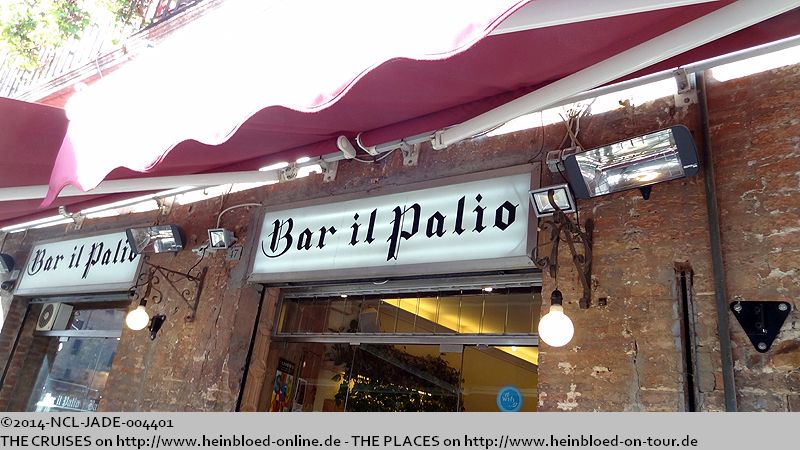 Time for a quick lunch. Susanna suggested to see Bar il Palio. Due to the 1a-location at Piazza del Campo you had also 1a-prices. And as we did sit in the wind protected part of the street café the bar prices did not apply.

So we enjoyed the power of the midday sun.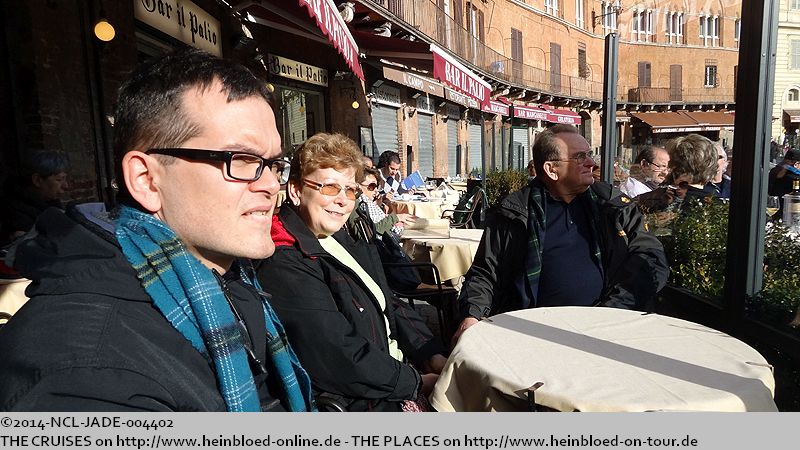 So genießen wir mal die Kraft der Mittagssonne.
Ich überziehe mein Budget, weil ich mir einen frischgepressten Orangensaft und einen San Bitter gönne.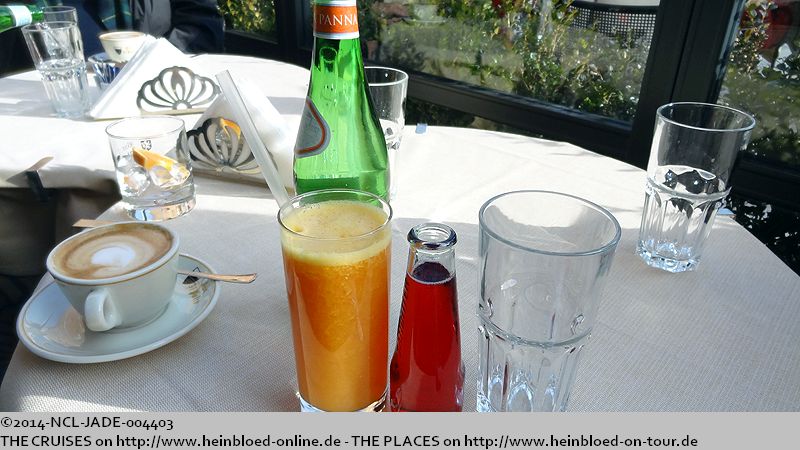 I exceed my budget by having a freshly squeezed orange juice and a San Bitter (Campari for non-alcoholics).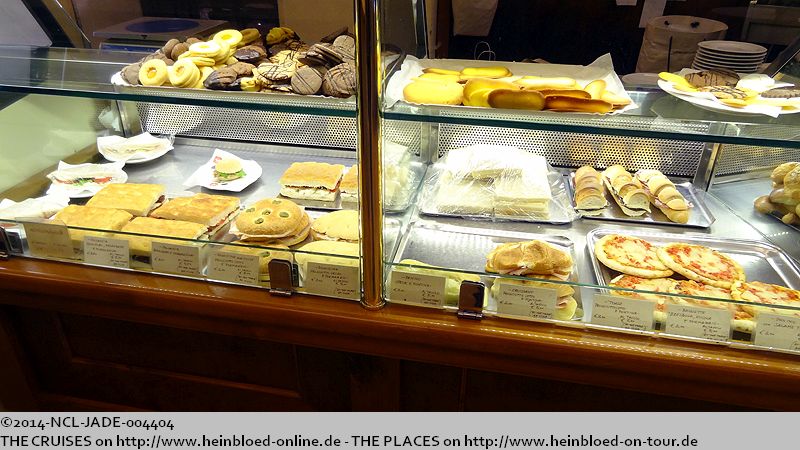 Aber da gab es auch die Trimezzini... die gibt es in Deutschland nicht (Das hat nichts mit den 3-eckigen Pappkameraden bei Penny, Aral oder im Bordbistro der Deutschen Bahn zu tun...). Da muss beispielsweise eine italienische Mama immer die Rinde abschneiden... und die sind viel leckerer belegt. Also muss ich es hier haben.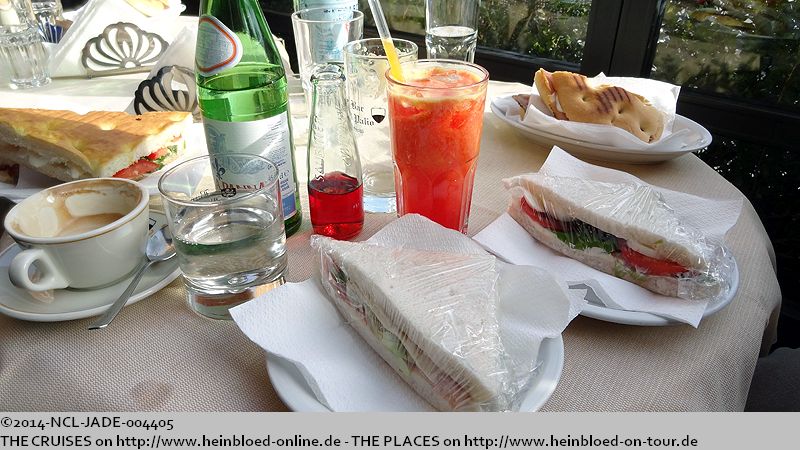 But they the Trimezzini too... not available outside Italy (had nothing to do with any triangled cardboard-style sandwiches which you can get with your supermarket, gas station or on German trains...) You need an Italian Mama who cuts the crust of the bread... and nicer layers on the bread. So I had to have them there.

Just in case my Diabetes doctor reads again...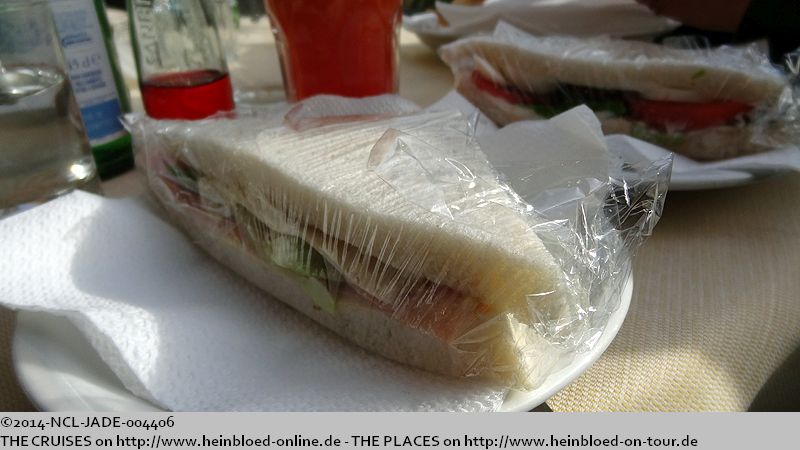 Und falls wieder mein Diabetologe mitliest...
NEIN - es gab kein Vollkorntoastbrot!!! Ich weiß, dass die Italiener eigentlich schon längst an Diabetes Mellitus Typ 2 ausgestorben sein müssten...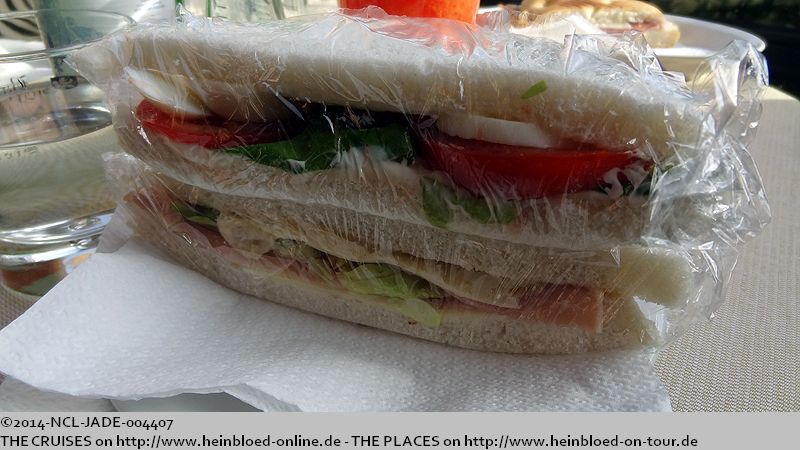 NO - there was no whole grain toast available!!! I know that the Italians should be already extinct for a long period on Diabetes Mellitus Type 2...

The other took as usual the Paninis.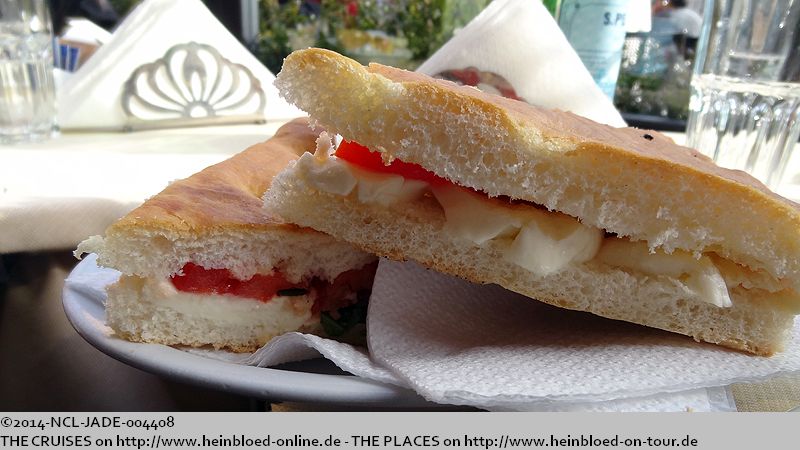 Die anderen nehmen die üblichen Paninis.