Einmal kurz nach Pisa. Unseren Wagen stellen wir mal am
Parkplatz am Piazza dei Miracoli
ab.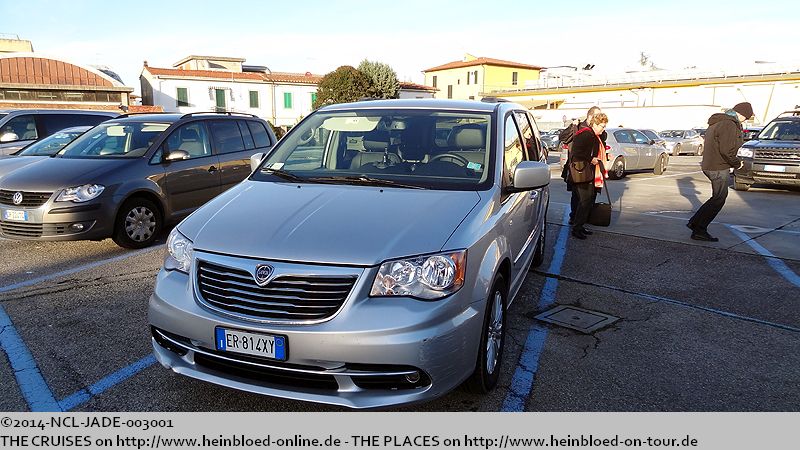 Just a quick stop for Pisa. We parked our car at the parking lot at Piazza dei Miracoli.

From here you could see the dome of the cathedrale.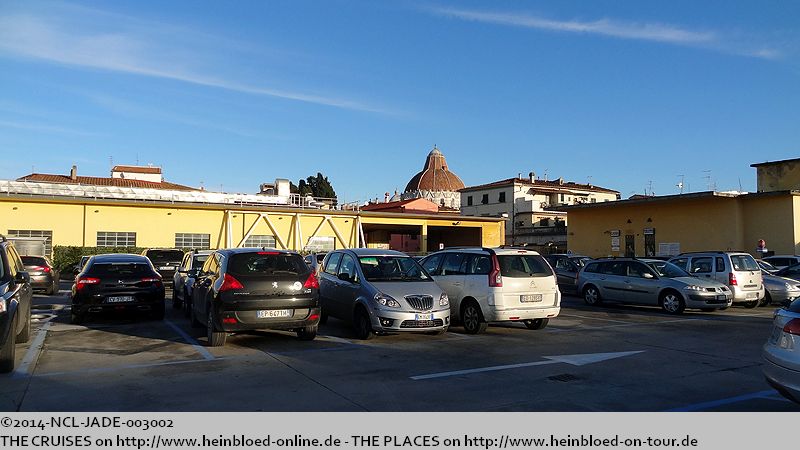 Von hier kann man schon die Kuppe des Doms sehen.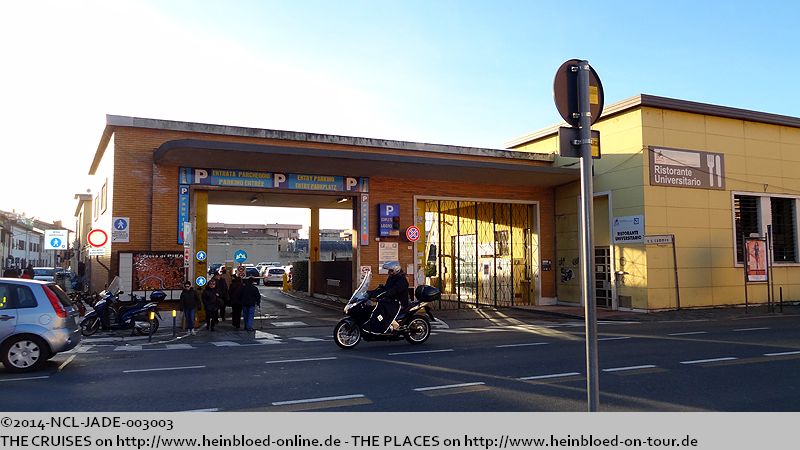 The way to the cathedrale was not very inspiring confidence. Many black marketeers.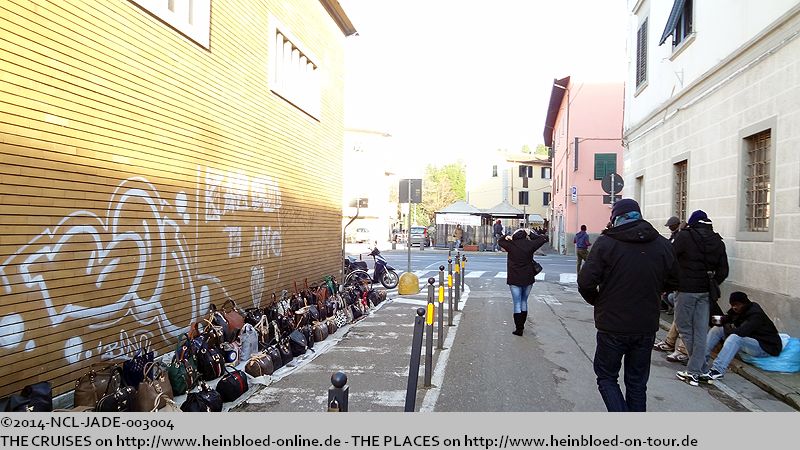 Der Weg zum Dom ist nicht besonders vertrauenserweckend. Lauter Schwarzhändler.
Und Burger King.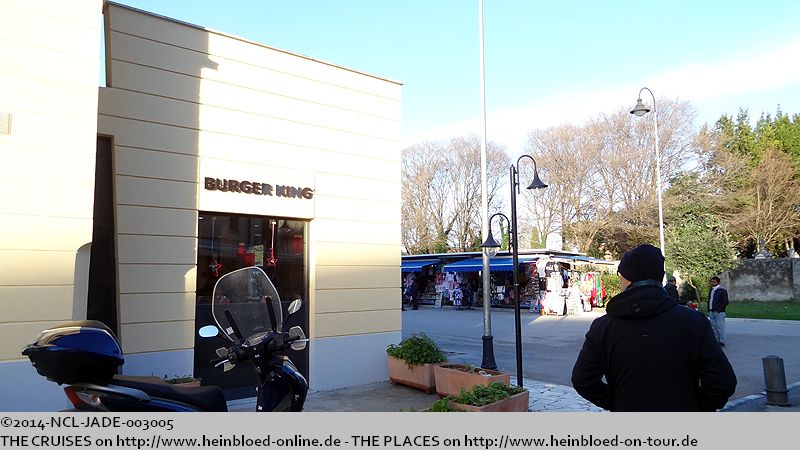 And Burger King.

Many sales outlets.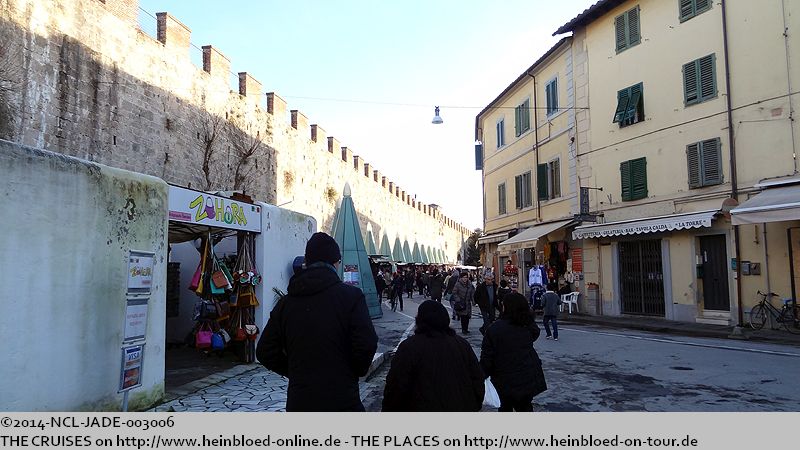 Viele Verkaufsbuden.
Und McDonald's.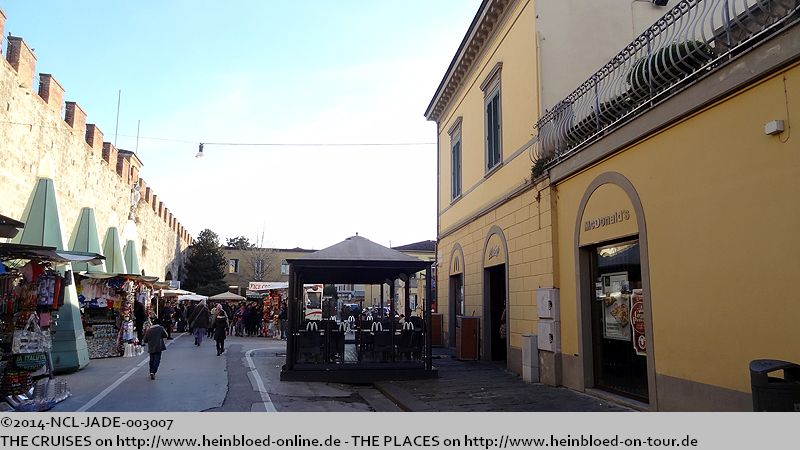 And McDonald's.

Through this gate.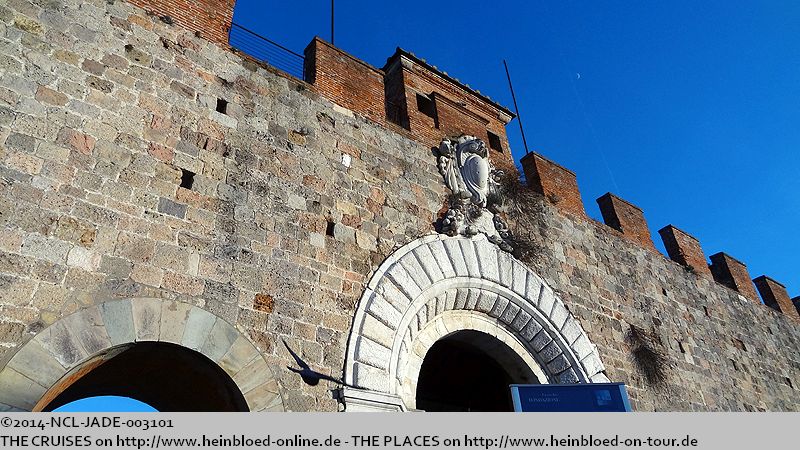 Durch das Tor.
Und wir haben Glück: Kurz vor Sonnenuntergang erleben wir nochmals den Pizza dei Miracoli mit dem
Dom
und dem schiefen Turm von Pisa. Da niemand von uns auf den Turm hoch will, brauchen wir uns nicht zu beeilen, da um 16.30 Uhr Kassenschluss ist. Ich versuche die üblichen Bilder zu machen, bei dem jemand den schiefen Turm von Pisa abstützt, aber ich gebe sehr schnell auf...

And so we had luck: Just before sunset we had the chance to see Piazza dei Miracoli with the Cathedrale and the Leaning Tower of Pisa. As none of us was interested to climb on the tower there was no need to rush as the ticket sales terminates at 16.30 hrs. I tried to take some pictures when someone is trying to stabilize the Leaning Tower of Pisa but I gave up very quickly...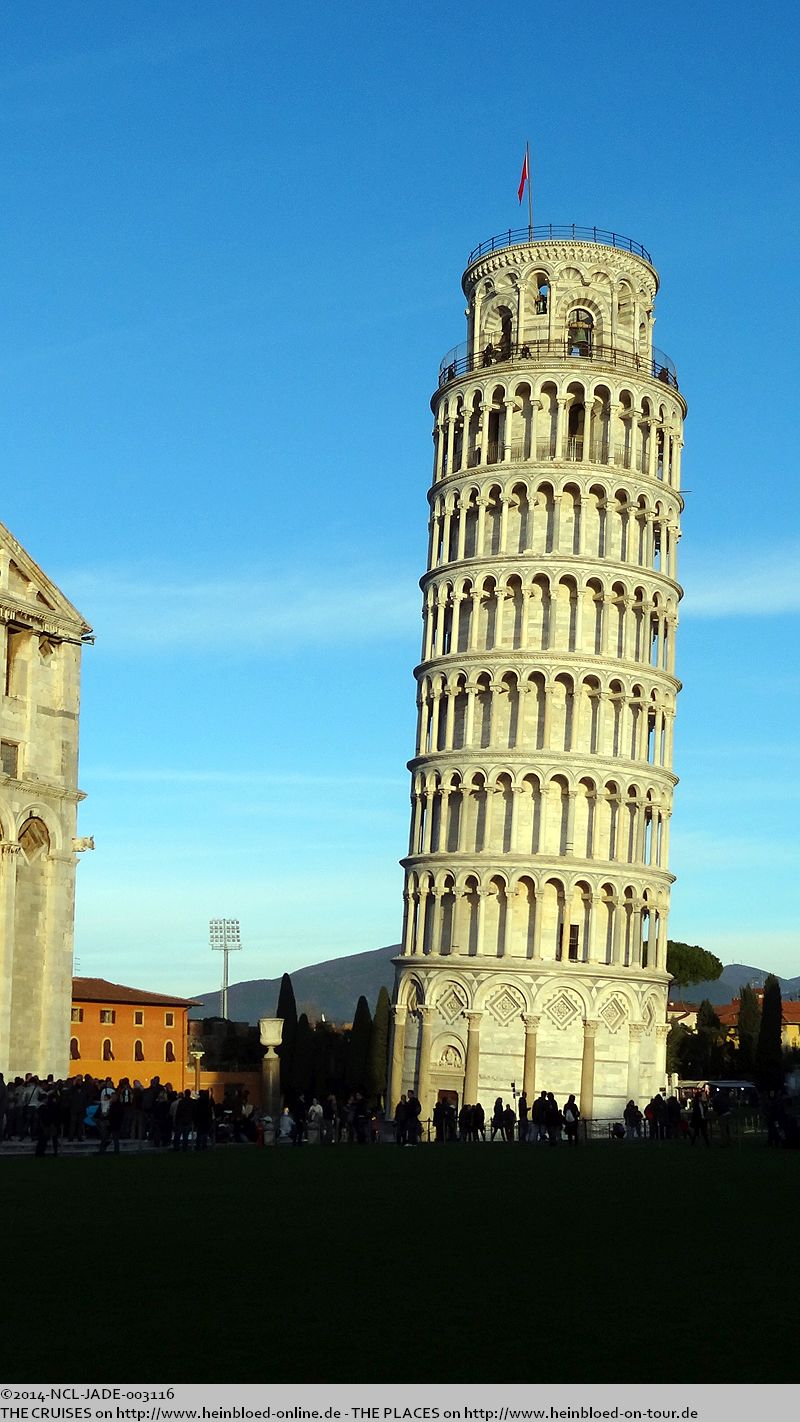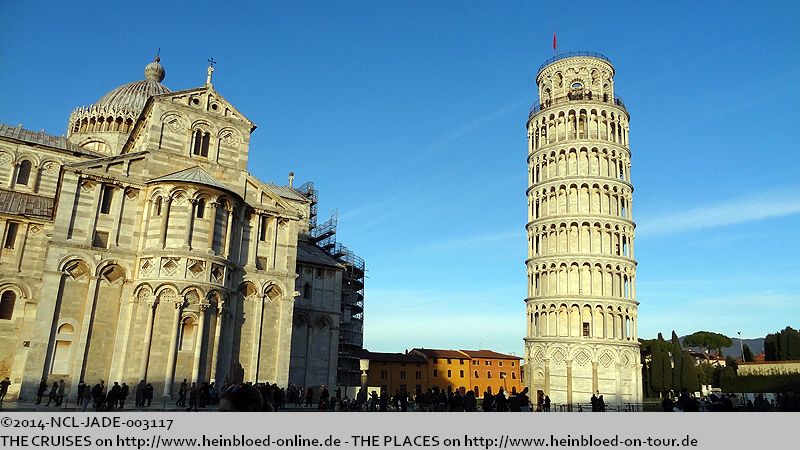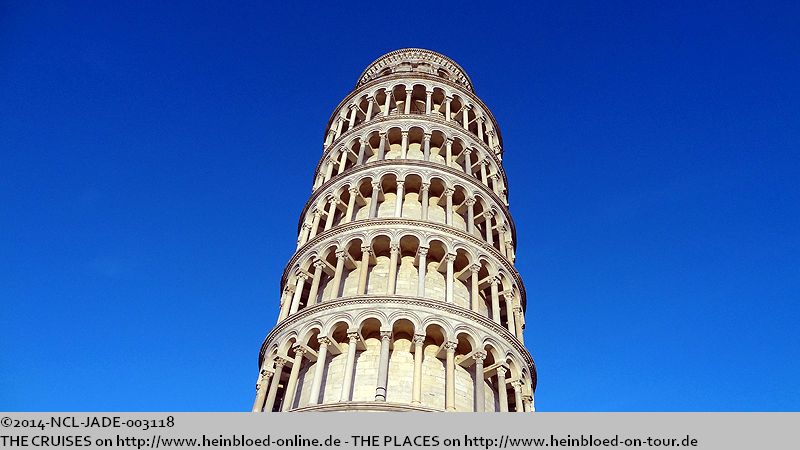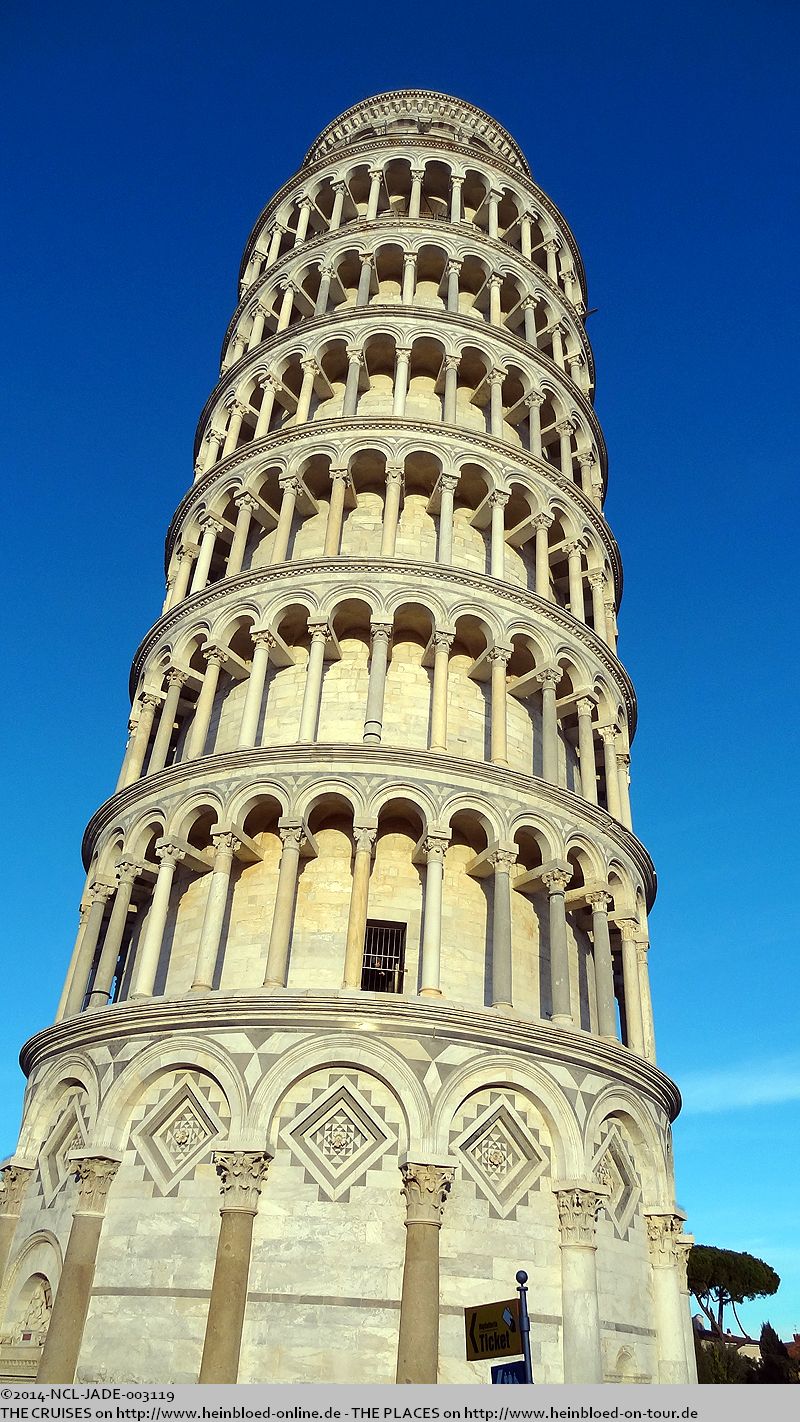 We looked a little around and enjoyed the time as long as the sun was shining. Remembering 2009 it was nice to see that all sales outlets were banned from the Piazza dei Miracoli. Anyhow there is no need to return to Pisa within the next ten years.

Wir gucken uns noch ein wenig um, und genießen die Zeit solange die Sonne noch nicht untergegangen ist. Im Gegensatz zu 2009 war es schön, dass die Verkaufsbuden alle direkt vom Piazza dei Miracoli wohl verbannt wurden. Aber trotzdem muss ich wohl die nächsten zehn Jahre nicht wieder nach Pisa.
Im leuchtenden Abendrot geht es dann weiter nach San Gimignano.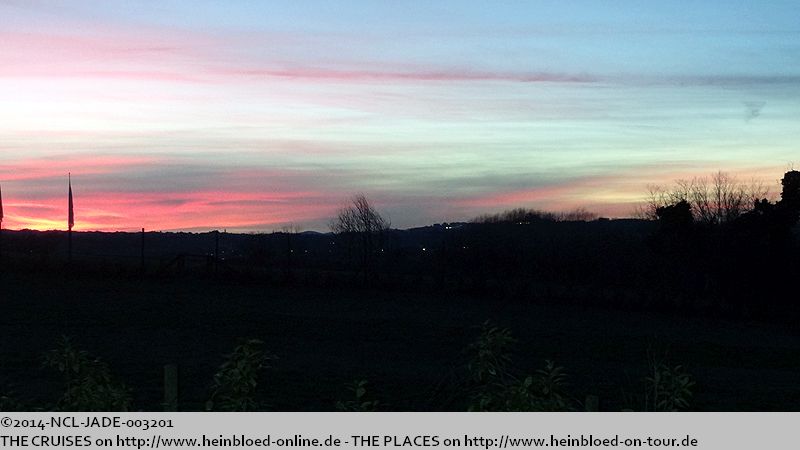 In the glowing sunset we headed to San Gimignano.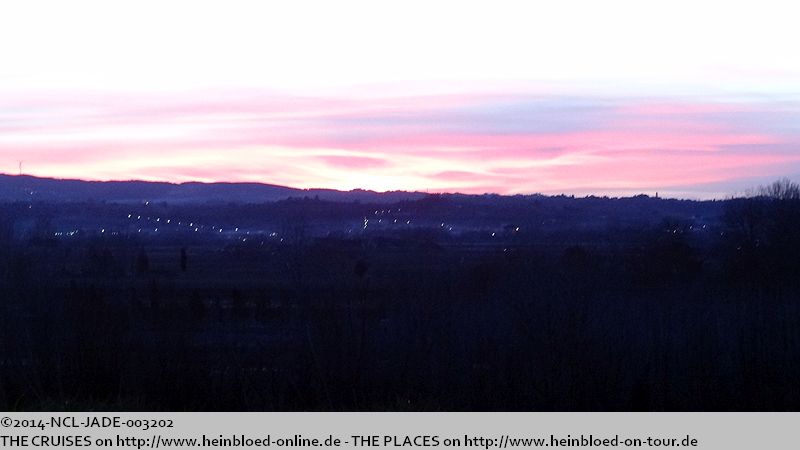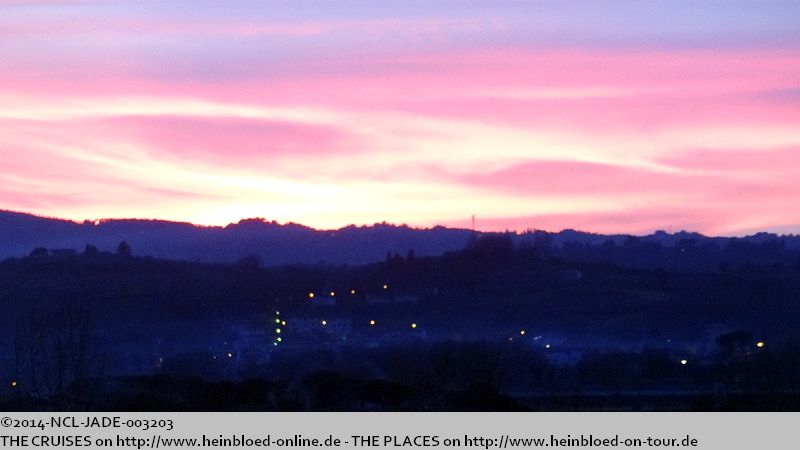 I booked in the heart of the city at the main road: Hotel L'Antico Pozzo. Originally I planned to stay one night in Pisa and one night in Siena. But the idea of packing every morning your bags and to move does not fit with the idea of going on a cruise. Three nights in Florence were unaffordable so that was my compromise: two nights in San Gimignano. But this was a challenge too as many hotels and restaurants are not open after January 6. Also driving to the hotel was a challenge too. As hotel guest you can drive in front of the hotel but you cannot park there. All around is pedestrian zone. That meant that none moved one step away to ease the unloading in front of the hotel.

Ich habe mitten in der Stadt in der Hauptstraße gebucht:
Hotel L'Antico Pozzo
. Eigentlich war vorgesehen, dass wir eine Nacht in Pisa und eine Nacht in Siena verbringen. Aber die Vorstellung, dass ich jeden Morgen wieder Kofferpacken müsste widerspricht ja eigentlich dem Gedanken einer Kreuzfahrt. Drei Nächte in Florenz waren unbezahlbar und so blieb als Kompromiss dann übrig: zwei Nächte in San Gimignano. Und das war dann auch eine Herausforderung, da die meisten Hotels und Restaurant über den 06.01. hinaus nicht geöffnet haben. Schon die Anreise war eine Herausforderung. Man darf als Hotelgast direkt vor das Hotel fahren, aber dort nicht parken. Ist ja alles Fußgängerzone. Das bedeutete auch, dass kein Fußgänger sich auch nur einen Schritt weiterstellt, um dir das Ausladen zu ermöglichen.
Normalerweise buche ich Ketten, bei denen ich ein Status habe oder Meilen sammeln kann. Nur wenn ich einen Blick aus dem Fenster habe, um Kreuzfahrtschiffe zu fotografieren, buche ich auch mal Häuser, die nicht zu meinen bevorzugten Kategorien fallen. So stellte dieses Haus für mich schon eine besondere Herausforderung dar. Solche Schlüssel als Beispiel war ich gar nicht mehr gewöhnt.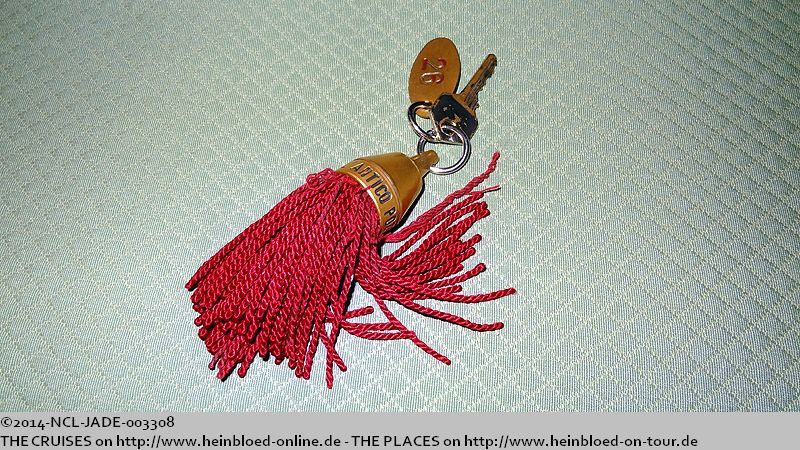 Normally I only book chains when I get perks or collect miles. Only if I have a view from my room to take pictures of cruise ships I accept also bookings in hotels which I normally would not book. So this hotel was somehow a special challenge. Such kind of keys I had not had for a long time and I was not used to use them anymore.

Even they had an elevator: you need get down the steps and up again and this might be a hurdle. But we were lucky that most of our bags was kept in the car.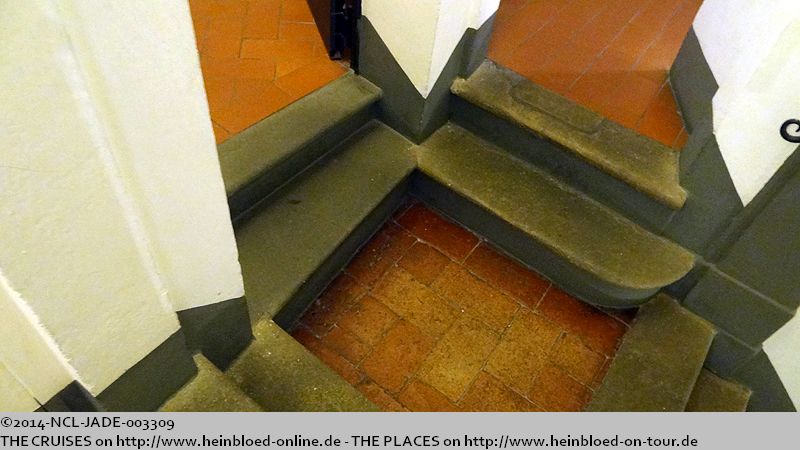 Trotz Fahrstühle: die Stufen runter und rauf stellen schon ein Hindernis dar. Zum Glück haben wir das meiste Gepäck im Auto.
06.01. hieß noch Weihnachten.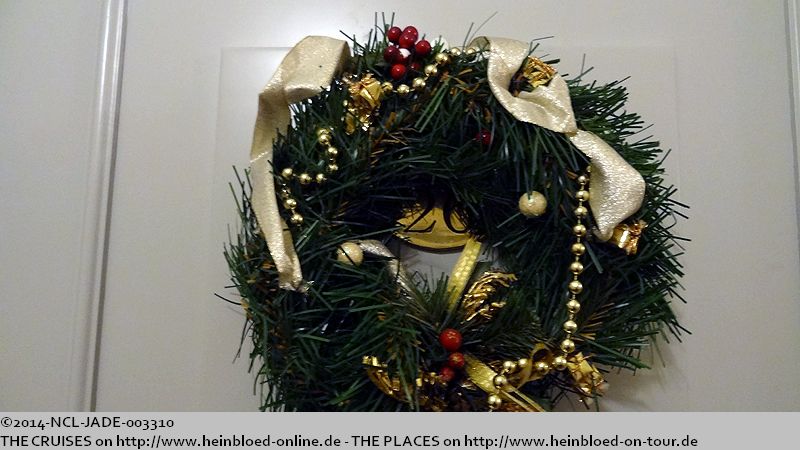 January 06 still means Christmas.

At least we had seperate beds.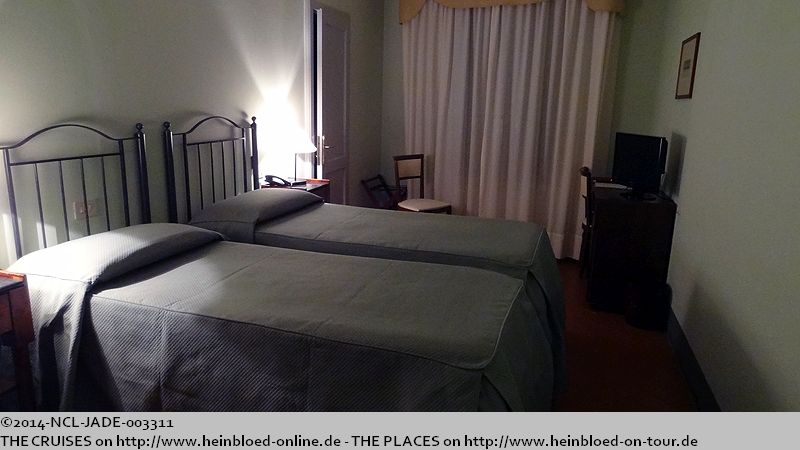 Wenigstens haben wir getrennte Betten.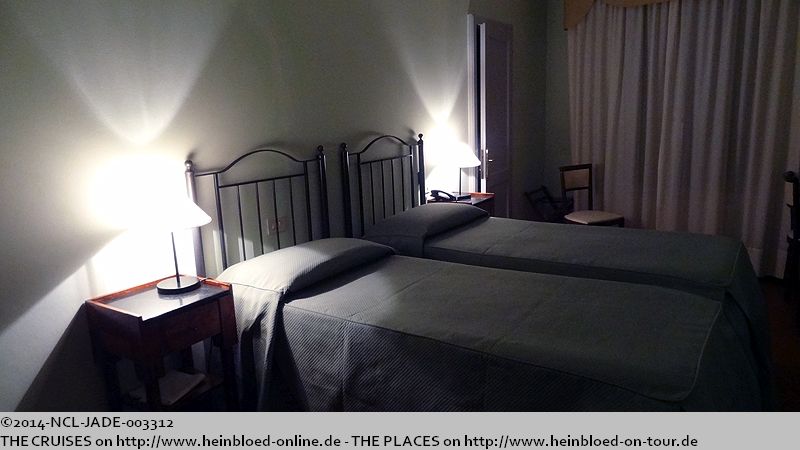 Grr...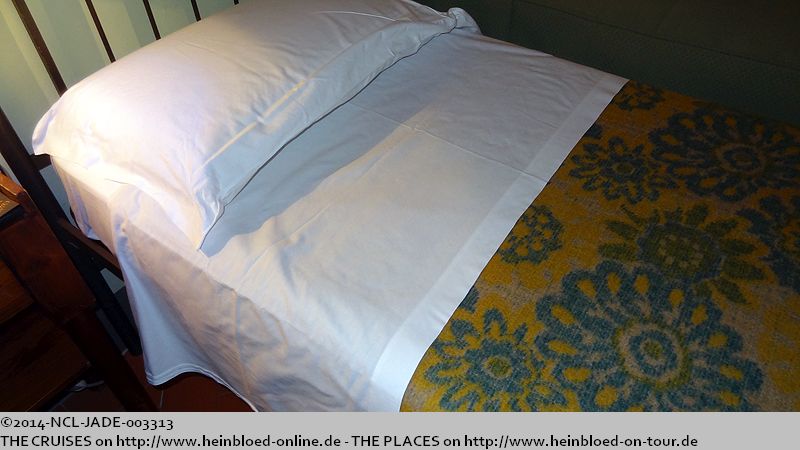 Grrr...
Ein Gruß noch zu Weihnachten.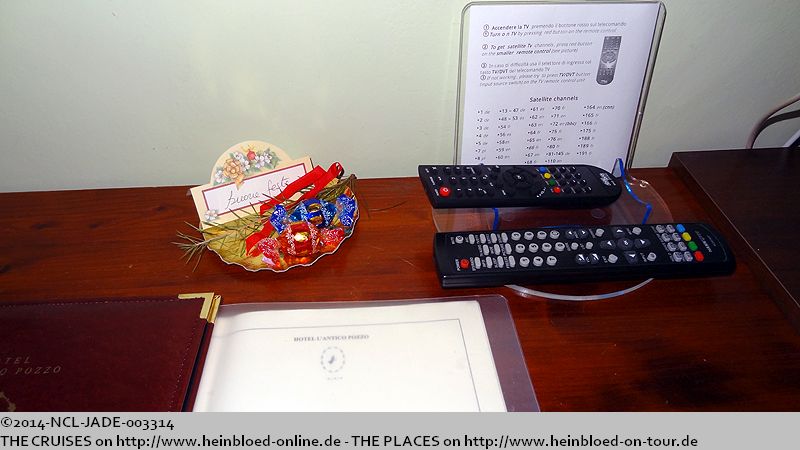 A greeting for Christmas.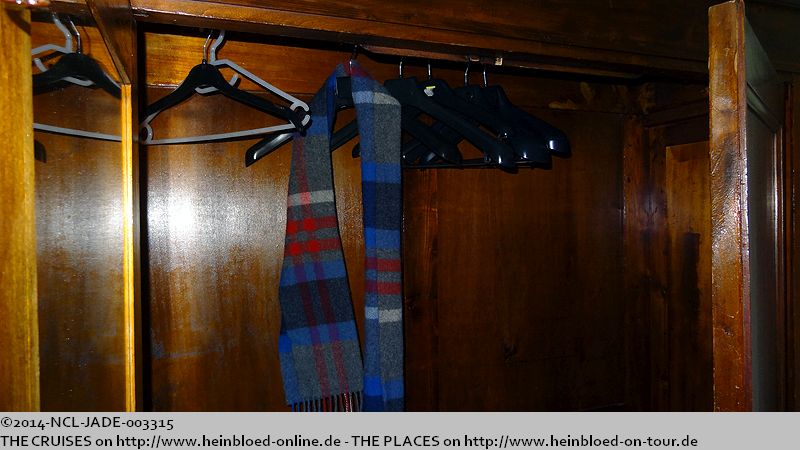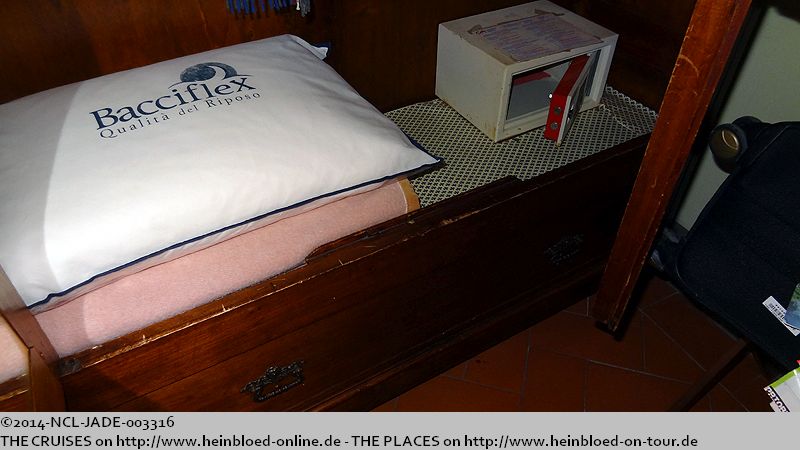 One reason why I prefer Business Hotels: they normally think of guests who have a notebook, an iPad, a camera, an eReader, an iPhone, a mobile WiFi-Router, a Battery-pack for the iPhone and a Battery-pack for the camera with them and everything for two guests... and with one power outlet at the bed for the night lamp the situation was very difficult. Normally I can always help myself as I carry a multiple power outlet with me... but in Italy you have different sockets.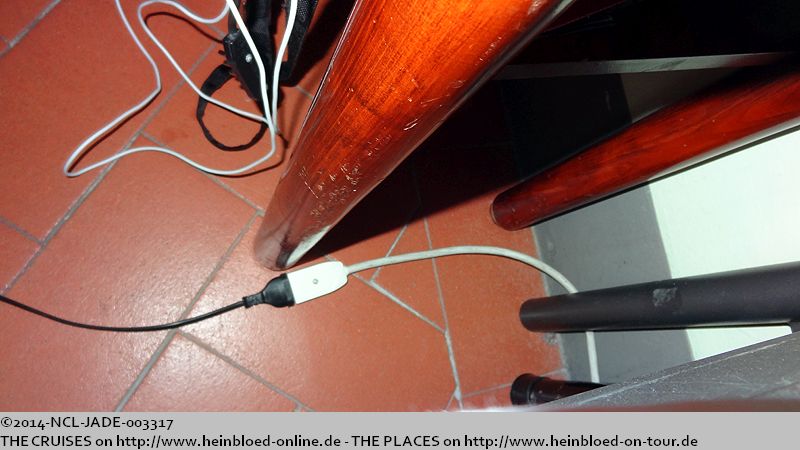 Ein Grund, warum ich die Business Hotels vorziehe: die denken i. d. R. an Leute, die ein Notebook, ein iPad, eine Kamera, einen eReader, ein iPhone, einen mobilen WLAN-Router, ein Akku-Pack für das iPhone und ein Akku-Pack für die Kamera mithaben und das ganze für zwei Personen... Und so mit einer Steckdose für die Lampe am Bett war es schon schwierig. Normalerweise bin ich Selbstversorger und habe eine 3-fach-Schutzkontakt-Steckdosenleiste dabei... nur gibt es in Italien andere Steckdosen...
Im Bad gibt es zwar mittlerweile modernere Badkeramik, aber es war alles sauber und funktionisfähig. Wann habe ich das letzte Mal eigentlich Wasser im Waschbecken gemischt, statt einen Einhandmischer zu benutzten??? Ist schon lange her...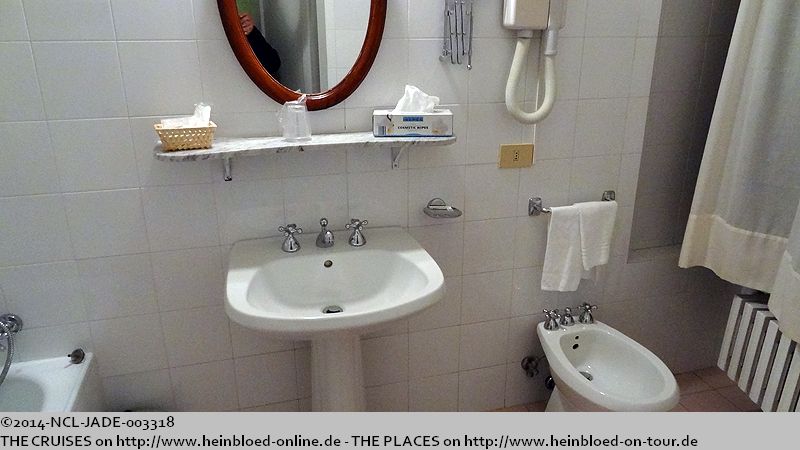 Meanwhile you have in the bathroom more modern bathroom ceramics but everything was working and clean. When was the last time I had to mix water in a sink instead of having a single lever tap??? It was long time ago...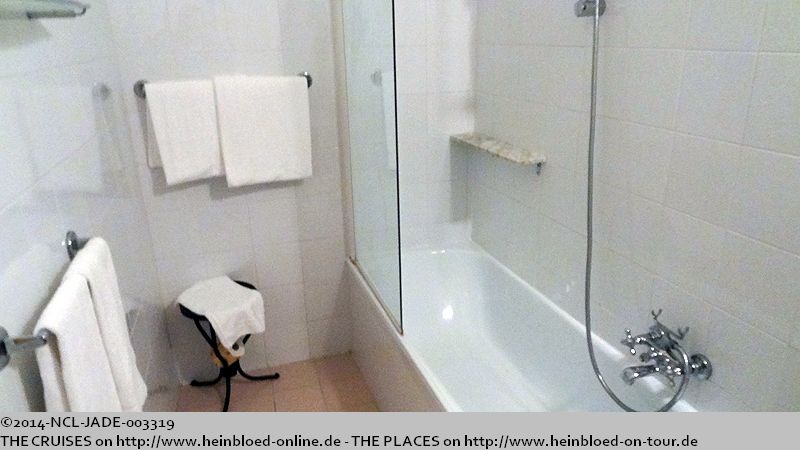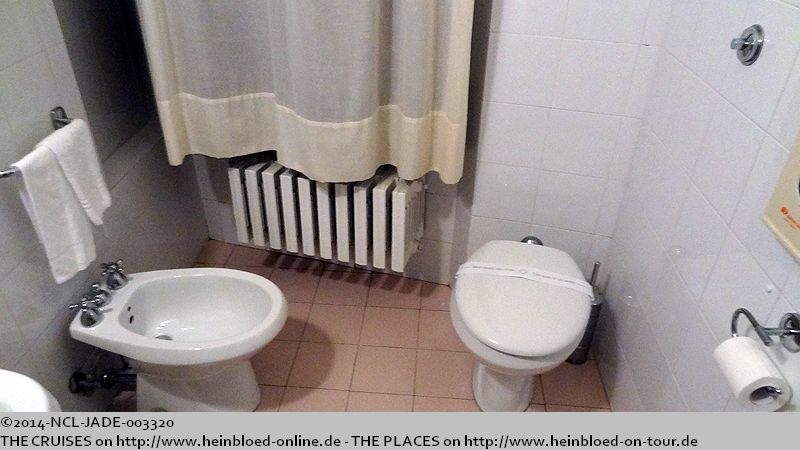 The view from our room was directly on the main road. That day there were many people walking around.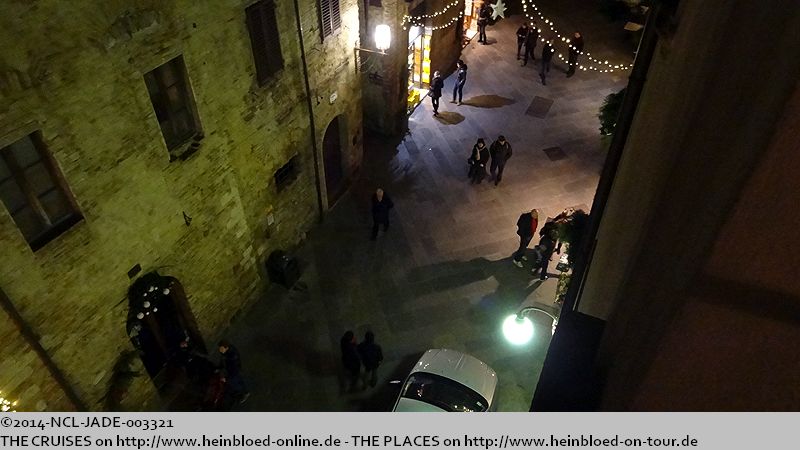 Der Blick aus unserem Fenster direkt auf die Hauptstraße. Heute waren sehr viele Leute unterwegs.
Und alles ist noch weihnachtlich beleuchtet.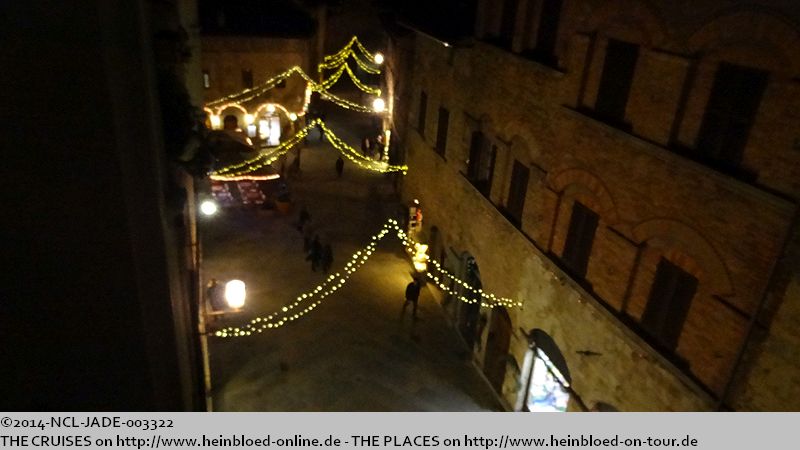 Everything was illuminated for Christmas.

Bruno's parents had a room facing the center court.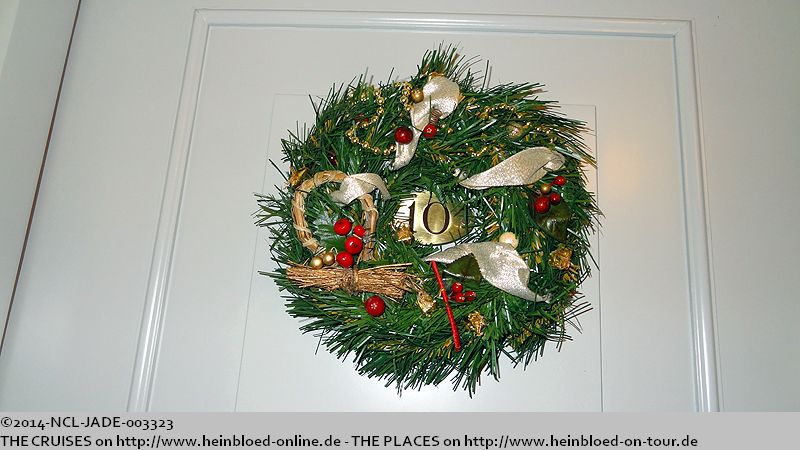 Brunos Eltern hatten ein Zimmer zum Innenhof.
Dieser war jedoch wohl eine wunderschöne Oase im Sommer.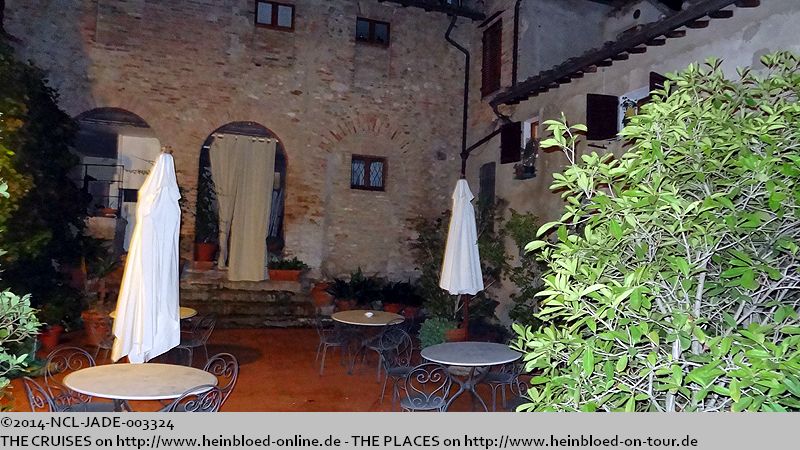 This was a wonderful oasis in the summer.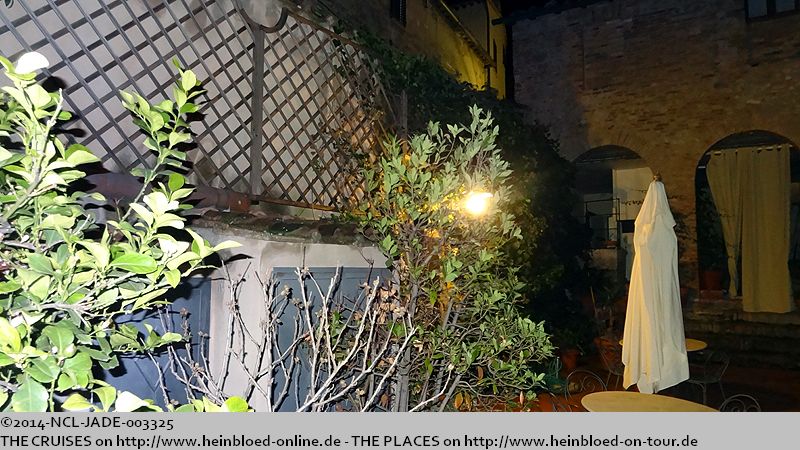 Wir müssen zunächst einmal alle Leute auf der Straße verscheuchen, weil wir rückwärts wieder rausfahren müssen.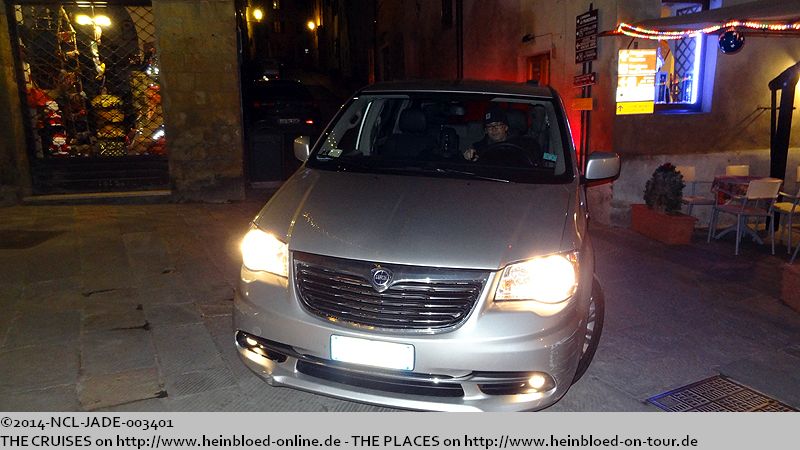 We need to displace other people off the street because we need to move backwards.

Bruno accepted this challenge.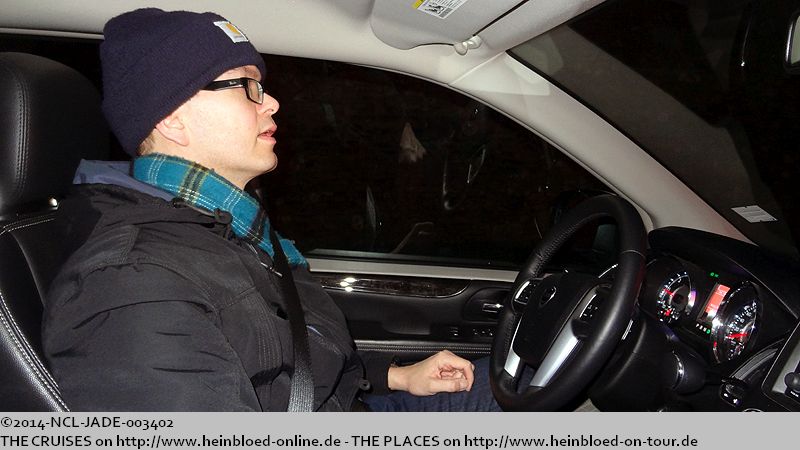 Bruno stellt sich dieser Herausforderung.
Und dann auch noch einparken. Wegen des Gepäcks habe ich eine Garage angemietet und daher parken wir nicht auf den öffentlichen Parkplätzen.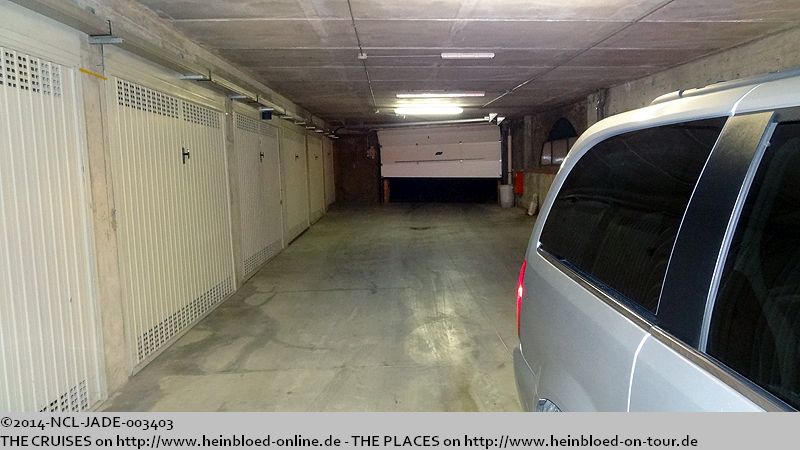 And also parking. Due to the bags I booked the garage and so we did not park on the public parking.

Fitted. The only was that we never found an exit but an entrance which was not declared as emergency exit and always locked from one side...

Passt. Wir haben nur keinen Ausgang geschweige denn einen Eingang gefunden, der nicht als Notausgang einseitig gesperrt war...
Zu Fuß geht es dann zurück zum Hotel.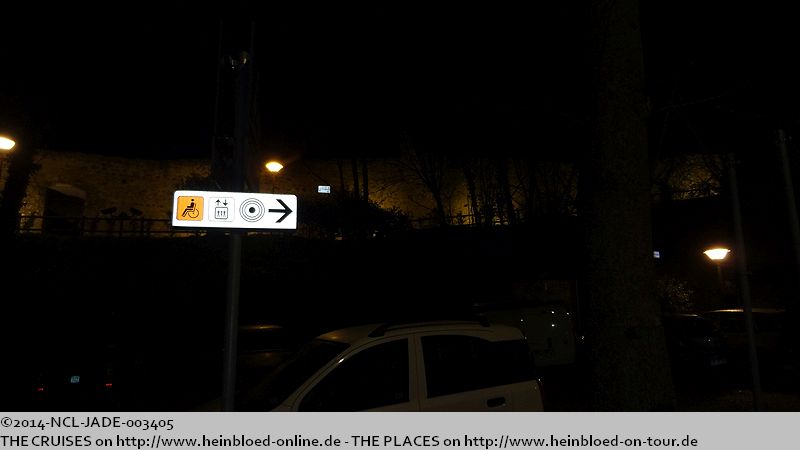 We had to walk back to the hotel.

It was luck that there was the elevator.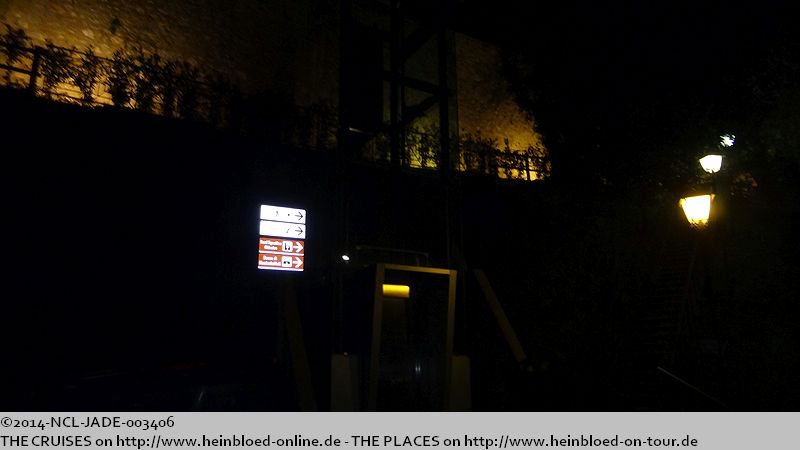 Zum Glück gibt es einen Fahrstuhl.
Den hätte man auch noch 10 m weiter bauen können... so muss man doch noch eine leichte Steigung an der Stadtmauer hoch.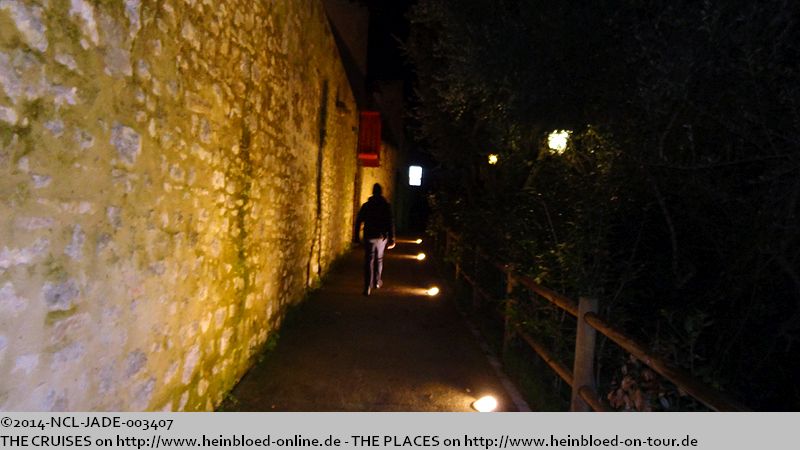 They should built 10 yards more... so you had a slight ascending slope along side the city wall to walk.

Then you had a hole in the city wall on the left side.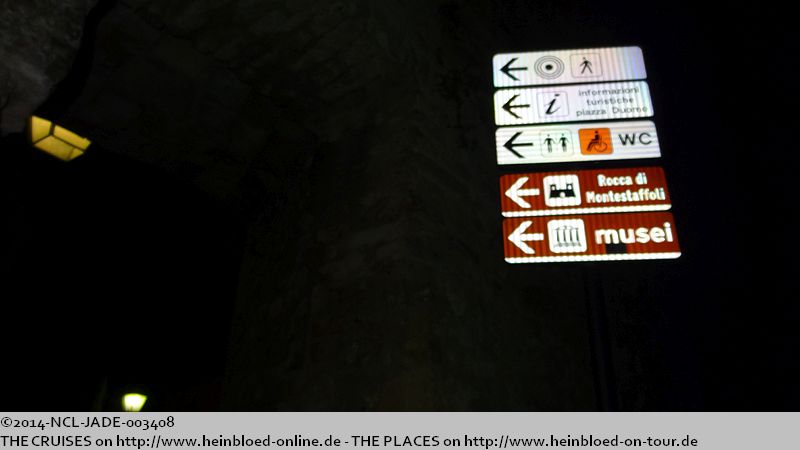 Dann gibt es links in der Stadtmauer ein Loch in die man durch kann.
Und im Zick-Zack-Kurs geht es in die Stadt.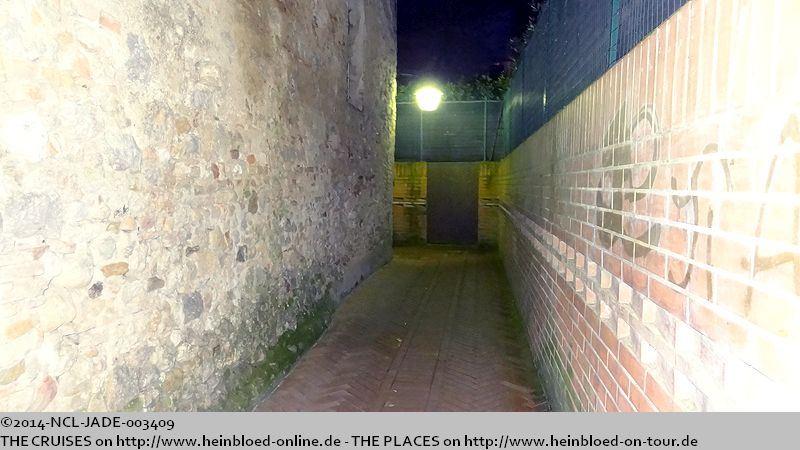 And in a zick-zack-way we returned to the city.

Now I was relaxed: laundry: here were people living. San Gimignano was not an open-air museum.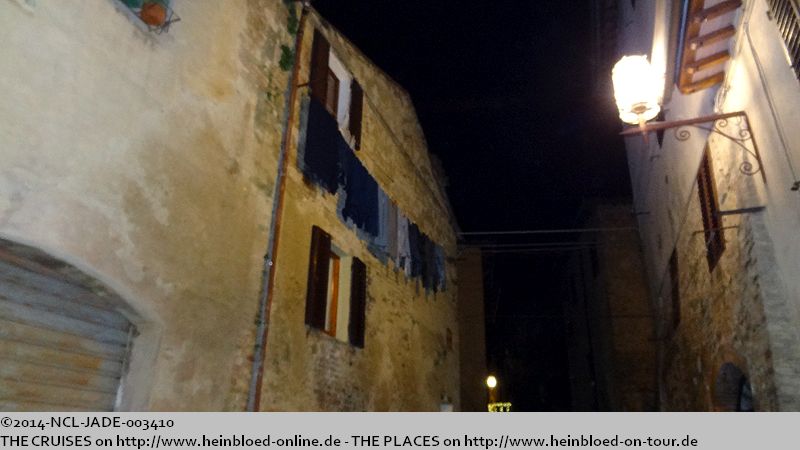 Das beruhigt mich: Wäsche: Hier leben Menschen. San Gimignano ist also kein riesiges Freilichtmuseum.
Gut essen gehen stellte dann doch eine Herausforderung in San Gimignano dar. Von den vier Restaurant-Tipps, die ich an der Hotelrezeption bekommen habe, waren bereits drei wegen Betriebsferien geschlossen.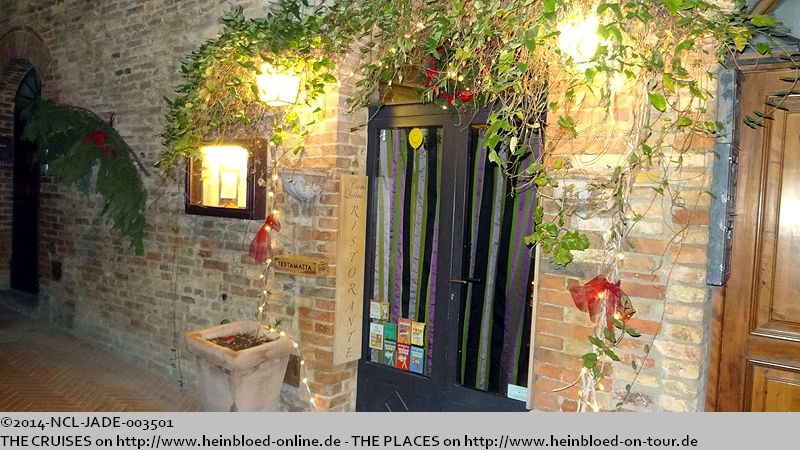 Going out for a good dinner was a challenge in San Gimignano. Our hotel receptionist gave us four recommendations. Three of them were alreaedy closed for vacation.

The restaurant "Cum Quibus" (I never had Latin in school - "with importance" might be a suitable translation). No. 1 of 100 restaurants with Tripadvisor. I normally would not pick because the price range was somehow scaring but it was not so bad. But you need to say: it was worth every single cent.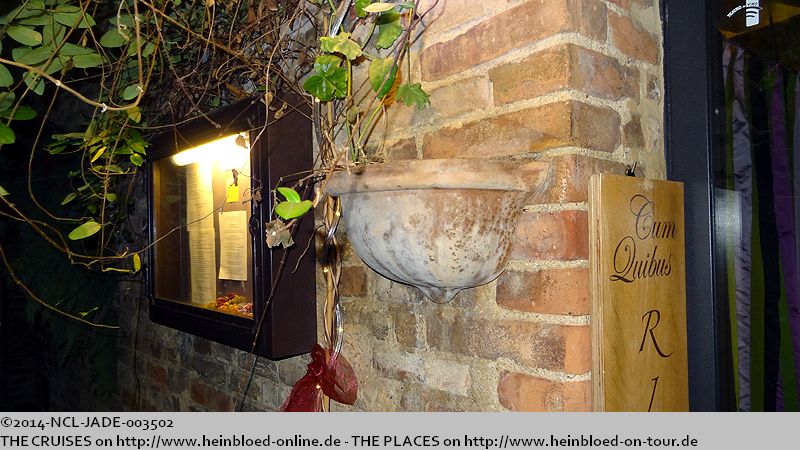 Das Restaurant "Cum Quibus" (Ich bin kein Lateiner - frei übersetzt "mit Bedeutung"). Nr. 1 von 100 Restaurants bei Tripadvisor. Wäre ich vermutlich nie reingangen, weil mich die Preisspanne etwas abgeschreckt hätte, aber es war gar nicht so schlimm. Man muss aber sagen: es war jeden Cent Wert.
Es begann mit einem Gruß aus der Küche: Bohnensüppchen mit Olivenöl. Sehr lecker.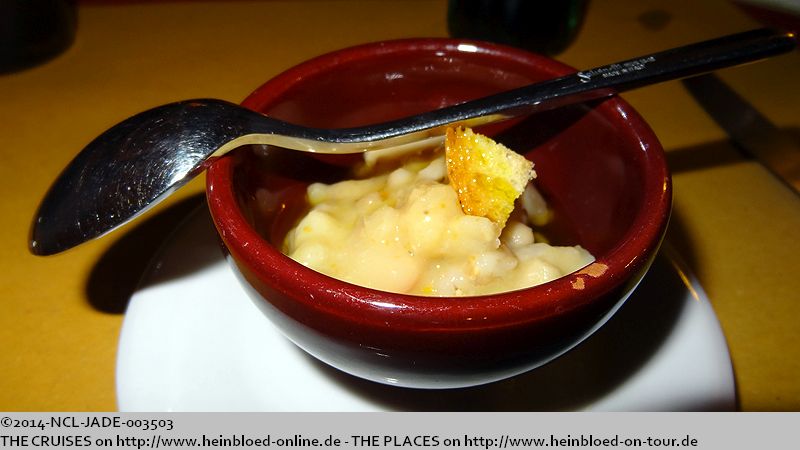 It started with a amuse bouche: Bean soup with olive oil. Very yummy.

The most yummy Foccacia-bread which I ever had in my life.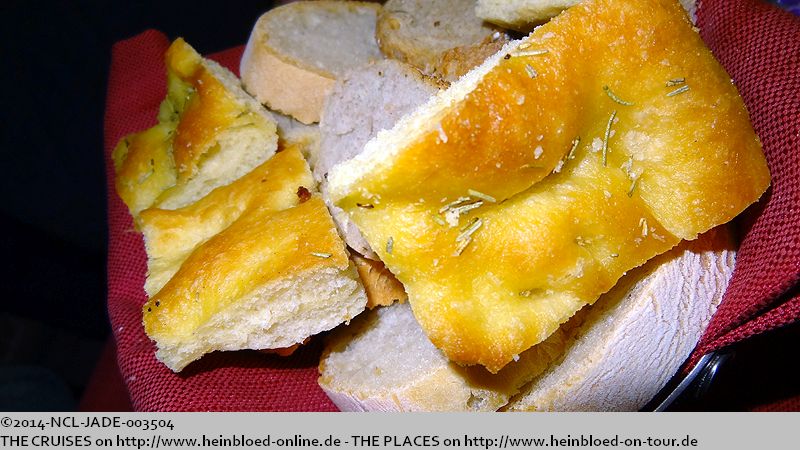 Das leckerste Foccacia-Brot, das ich im Leben gegessen habe.
Die Tomatensuppe habe ich komplett falsch interpretiert. Das Gericht wurde nur hinterher von einer Tomatensuppe aufgesaugt. Die anderen fanden es richtig lecker, auch wenn sie eigentlich Tomatensuppe wollten.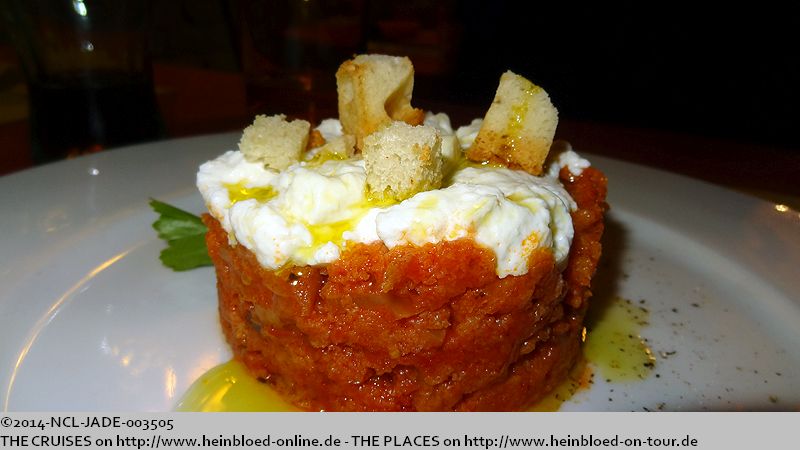 The tomato soup was a complete misunderstanding. The dish was finally soaked by a tomato soup. The other liked it very much although they wanted to have a tomato soup.

As I never get Bruschetta this way in Germany I took again a Bruschetta mista.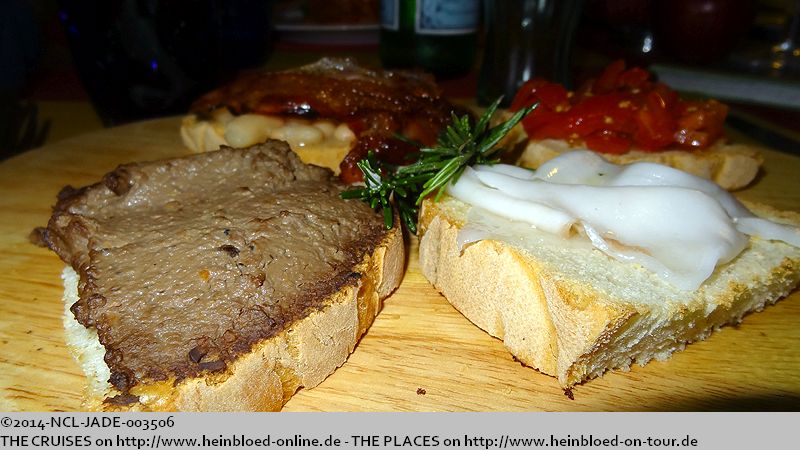 Da ich Bruschetta in Deutschland nie so bekomme, nehme ich wieder eine Bruschetta mista.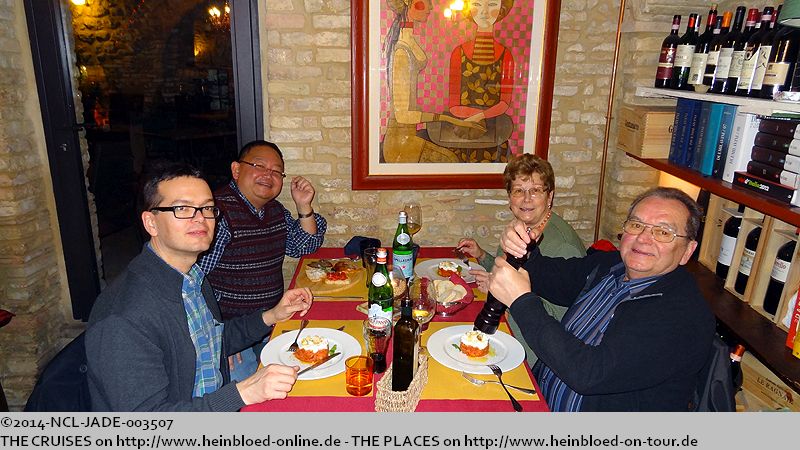 Complimentary: boar ham with some freshly shaped truffle.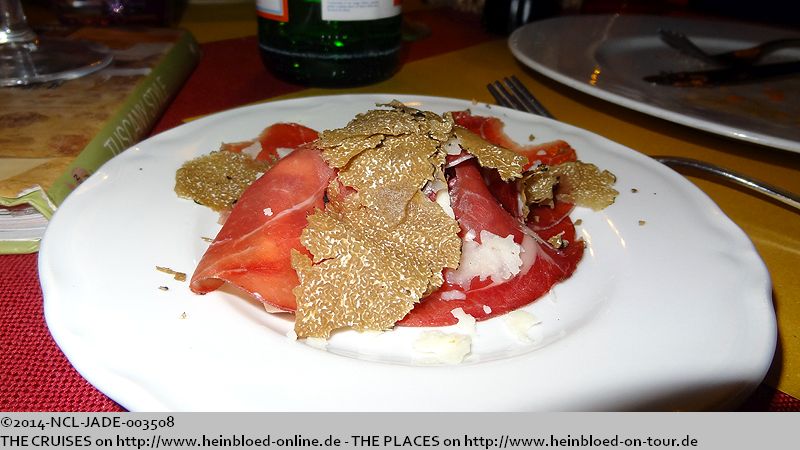 Das war ein Geschenk des Hauses: Wildschweinschinken mit Trüffel.
Trotz anfänglicher Enttäuschung, dass es gar keinen Fisch gab (nicht in dieser Region!), strahlte Erika doch über ihr Wildschwein.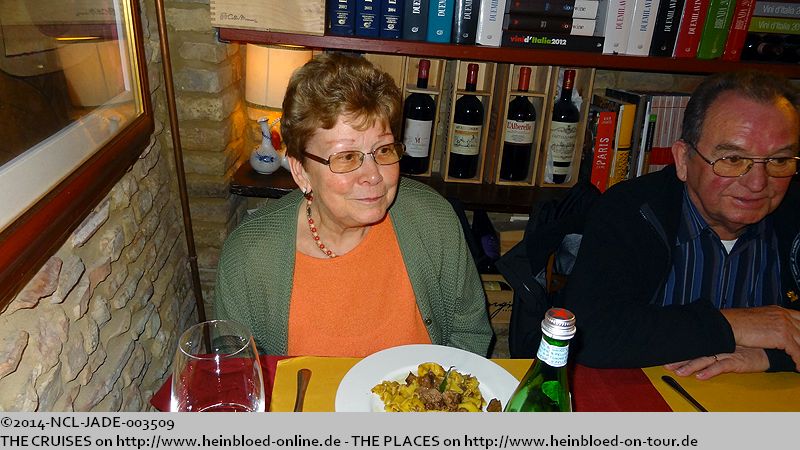 Originally a little disappointed as there was no fish available (not in this region!) Erika was very exited to have the boar.

Hans' Osso Bucco (Veal shank) should be also very good too.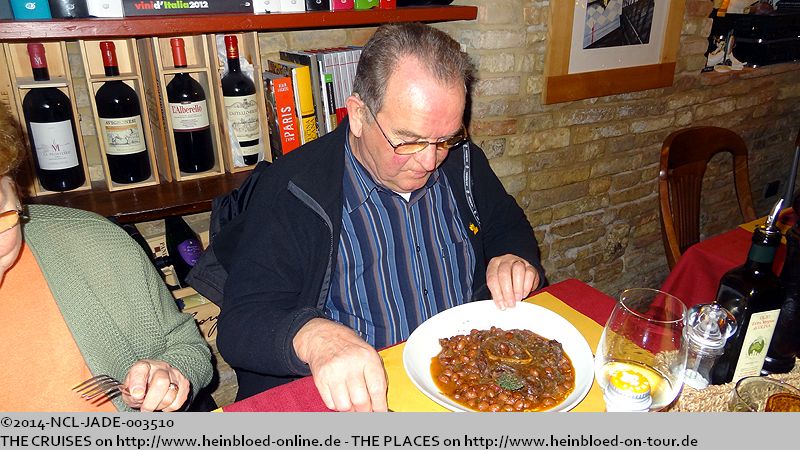 Hans' Osso Bucco (Kalbshaxe) musste auch sehr gut gewesen sein.
Ich hatte eigentlich Spaghetti "Bolognese" erwartet, aber das Ragout war richtig gut und da ich eh keine Tomatensaucen liebe (aber esse, wenn ich sie nicht selbst machen muss...), war es die perfekte Spaghetti-Sauce für mich mit Speck...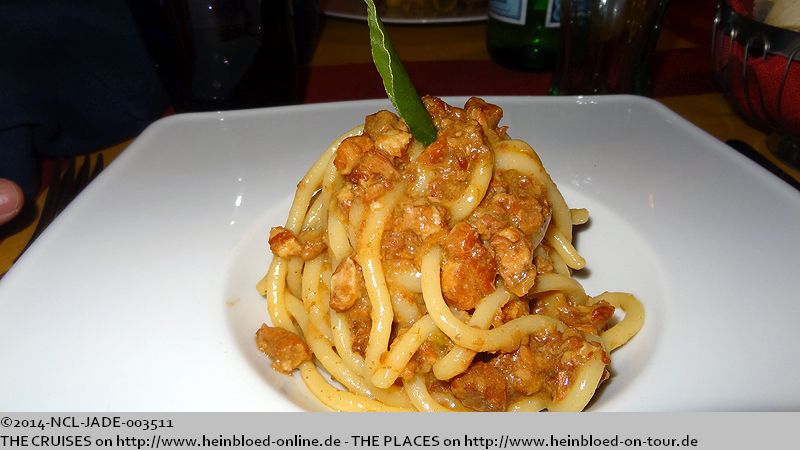 I expected to have Spaghetti "Bolognese" (tomato and minced meat) but the ragout was very good and as I do not like tomato sauce (but eat if I must not prepare myself...) it was the perfect spaghetti-sauce for me with bacon...

Of course we got freshly-grinded parmesan cheese.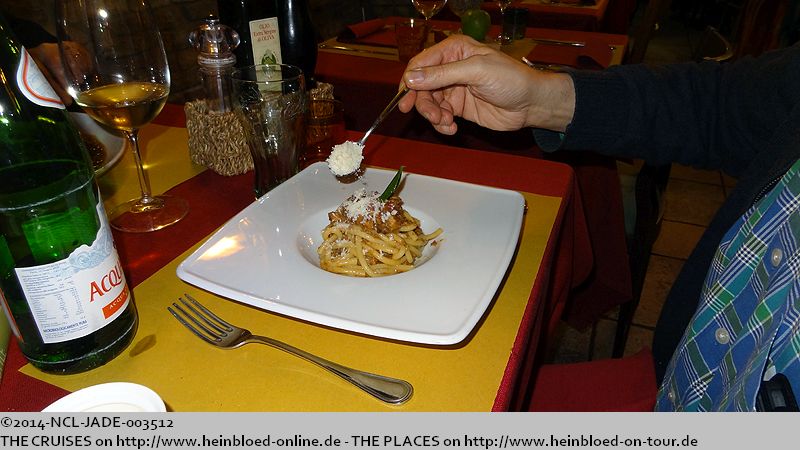 Und das ganze selbstverständlich mit frisch-geriebenem Parmesan.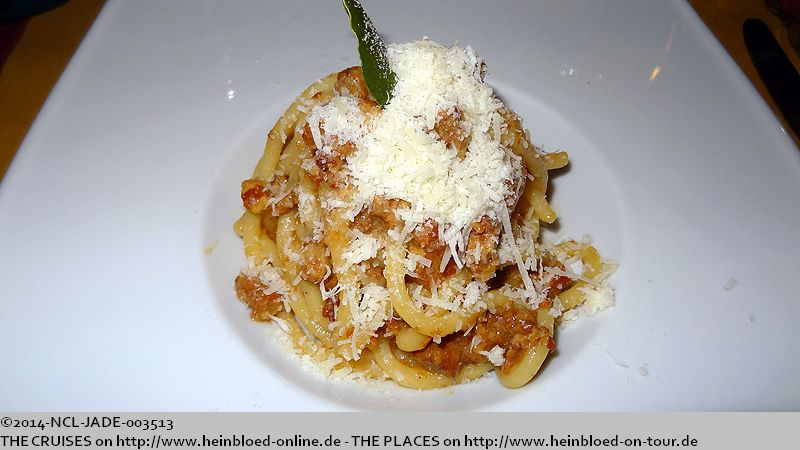 And another free sample from the kitchen: Fresh pasta with truffle... The moment came when I need to order a wheel chair... but even I would get one I had no chance to get back to my room because of the steps...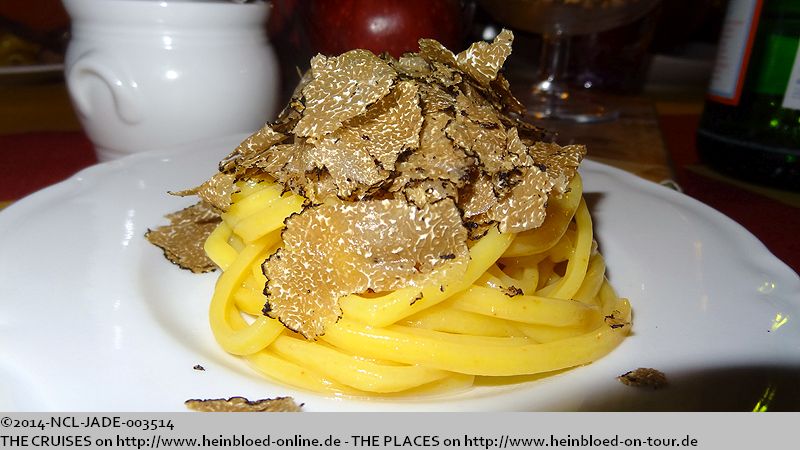 Und als dann nochmals ein Geschenk aus der Küche kam: Frische Nudeln mit Trüffeln... da war der Moment gekommen, das ich mir am liebsten einen Rollstuhl bestellt hätte... aber damit wäre ich ja wegen der Stufen nicht bis ins Zimmer gekommen...
Als dann Hans einen Grappa bestellte, kam nur die Frage zurück: welchen Grappa hätten Sie denn gerne.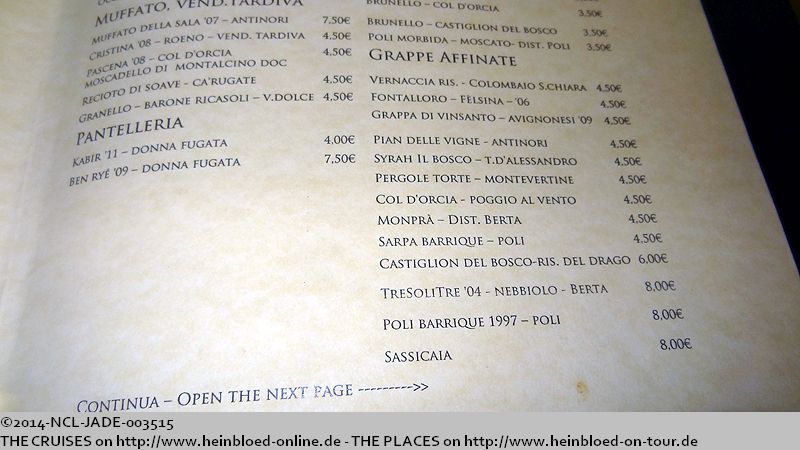 When Hans ordered a Grappa he was only asked: which Grappa do you like?

That was very nice of our waiter Lorenzo to ask Hans and Erika for their preferences and he picked one for each of them.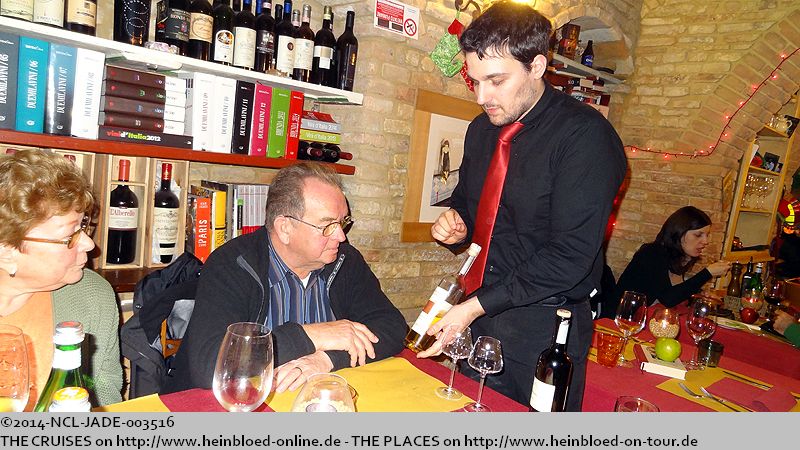 Deswegen war es eigentlich sehr schön von unserem Kellner Lorenzo, dass er Erika und Hans nach deren Geschmack fragte und dann jeweils einen ausgewählt hat.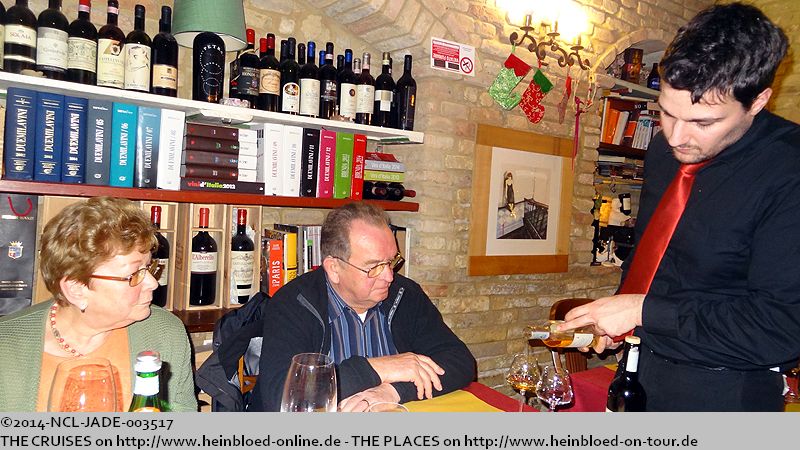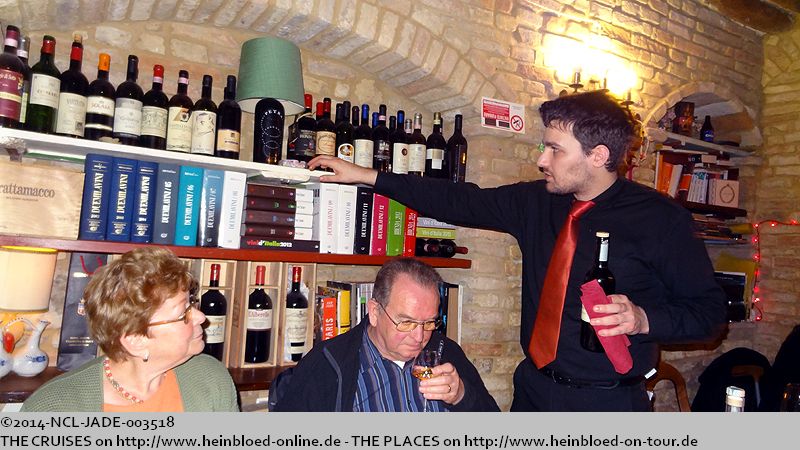 Ich wollte ja eigentlich kein Dessert mehr, aber mit "Liebe und Zucker"... da konnte ich nicht nein sagen...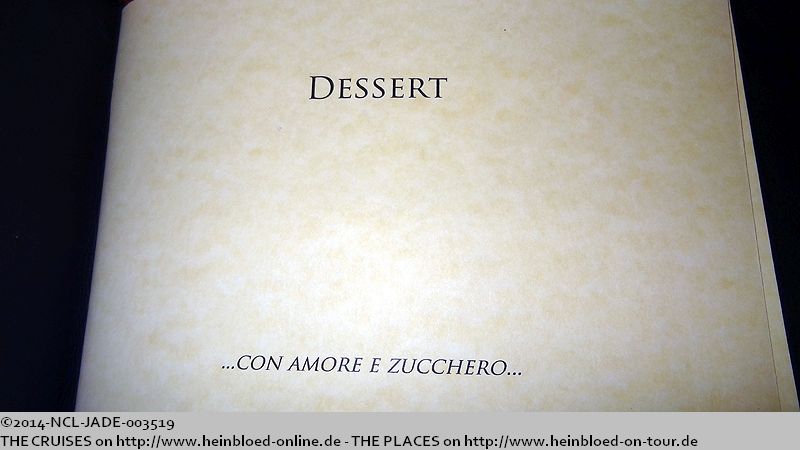 I did not want to have a dessert, but with "Love and Sugar"... I could not say no...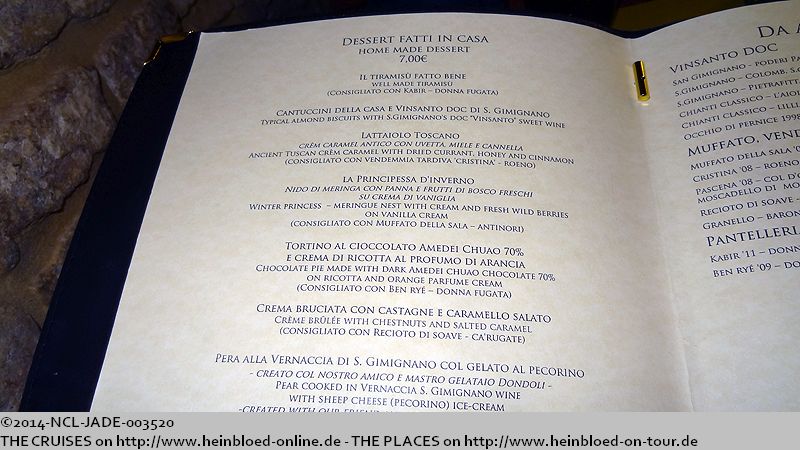 Diabetes Mellitus Typ 2 hin oder her... ein Tirami Su in Italien muss ein...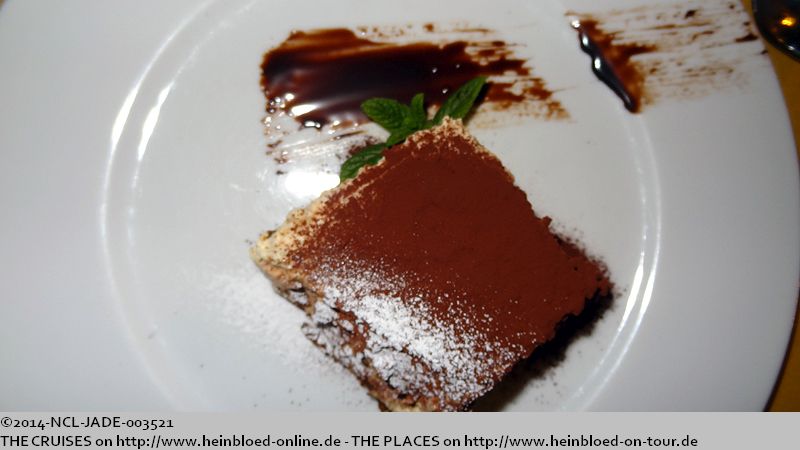 No matter I have Diabetes Mellitus Type 2... it is a must to have a Tirami Su in Italy...

And this one was very good...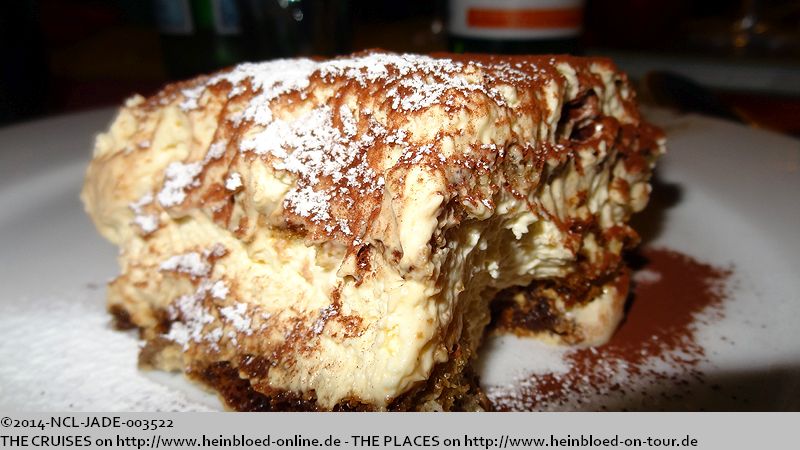 Und der war gut...
Und weil ja das Fett in dem Tirami Su gebunden werden muss, gab es einen
Gran Liquore del Pastore
. Der war nämlich für einen Nicht-Alkoholiker für mich richtig "tödlich", weil er süchtig macht: ein Vanille-Zitronen-Likör, der es echt in sich hatte.

As you need to bind the fat of the Tirami Su I had a Gran Liquore des Pastore. For someone like me who does not drink alcohol it was really "killing" as it might make you addict: a vanilla-lemon-liquor which was really good.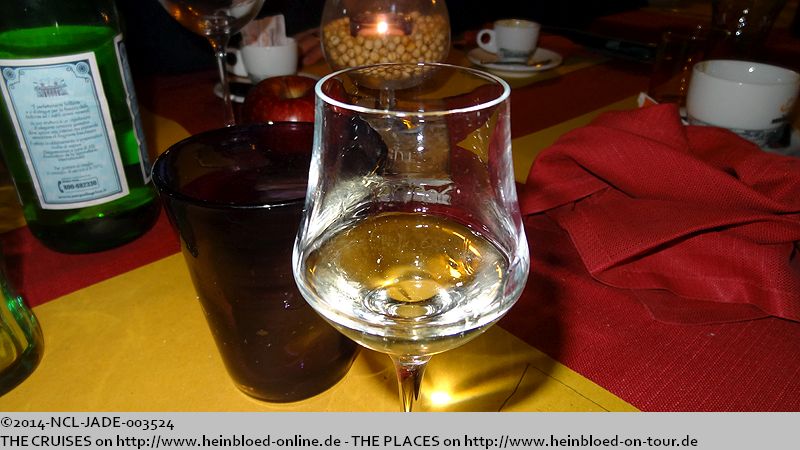 Als Abschiedsgeschenk gab es noch selbstgemachte Cantuccini. Das werde ich Erika und Hans nie verzeihen, dass ich keines davon abbekommen habe... Die waren bestimmt auch lecker...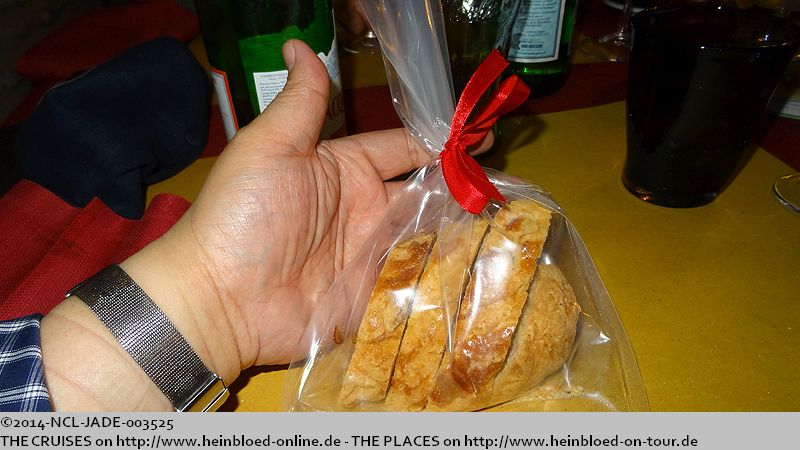 As Farewell-gift you got some self-made Cantuccini (Almond cookies). I will never forgive Hans and Erika that I did not get anyone of them... I am sure that they were great....

Where was my wheel chair for the 200 yards back to the hotel? Good Night.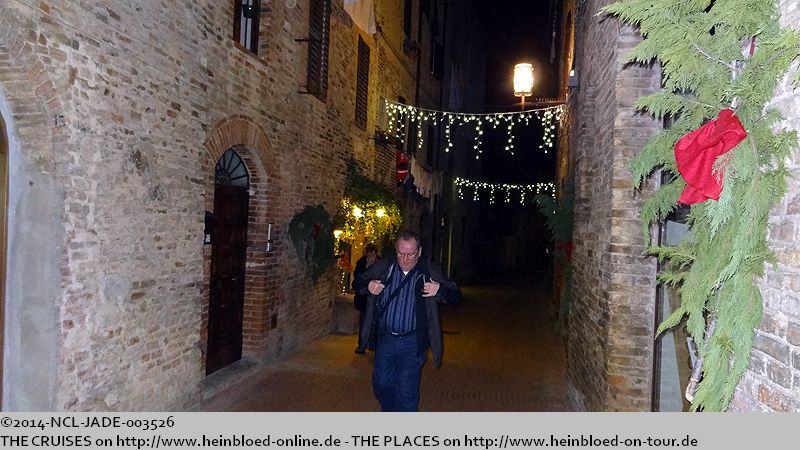 Und wo bleibt nun mein Rollstuhl für die 200 m bis zum Hotel? Gute Nacht.