Zwei Schiffe... eine Riesenschlage... es gab auch mehr Kassenhäuschen, aber da saßen immer nur Leute drin, die aufgepasst haben, dass das Kassenhäuschen nicht geklaut wurde. Was machen die eigentlich, wenn noch mehr Schiffe im Hafen sind?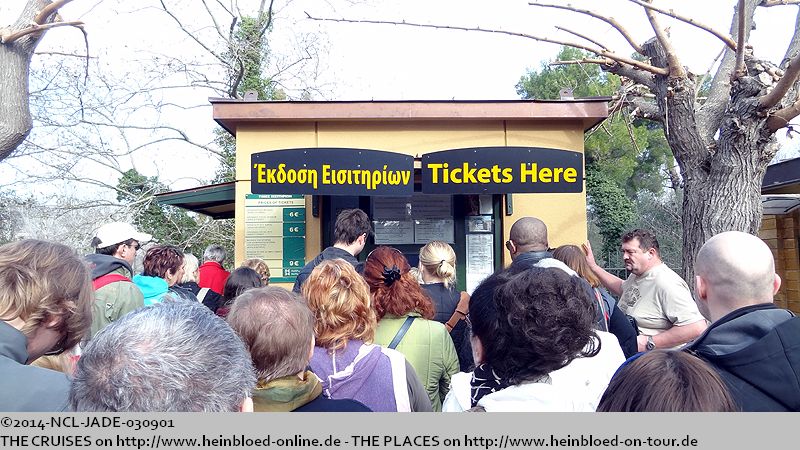 Two ships... a long queue... they had more ticket booths but there were only people inside who made sure that nobody would steele the ticket booth. What would they do if more ships are in the port?

6.00 EUR (2014 - discounted 3.00 EUR) for ancient sites and 6.00 EUR (2014 - discounted 3.00 EUR) for the museum. As combined ticket for 9.00 EUR (2014 - discounted 5.00 EUR).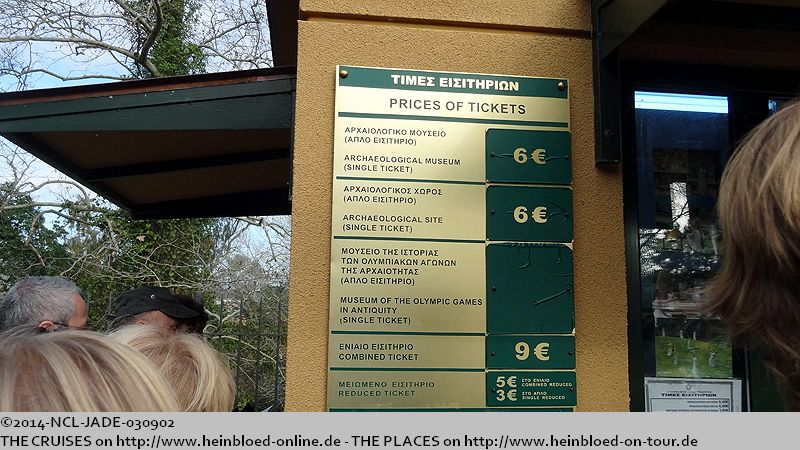 6,00 EUR (2014 - ermäßigt 3,00 EUR) für die
antiken Ausgrabungsstätten
und 6,00 EUR (2014 - ermäßigt 3,00 EUR) für das
Museum
. Als Kombiticket für 9,00 EUR (2014 - ermäßigt 5,00 EUR).
Die Tickets sehen zumindest nett aus.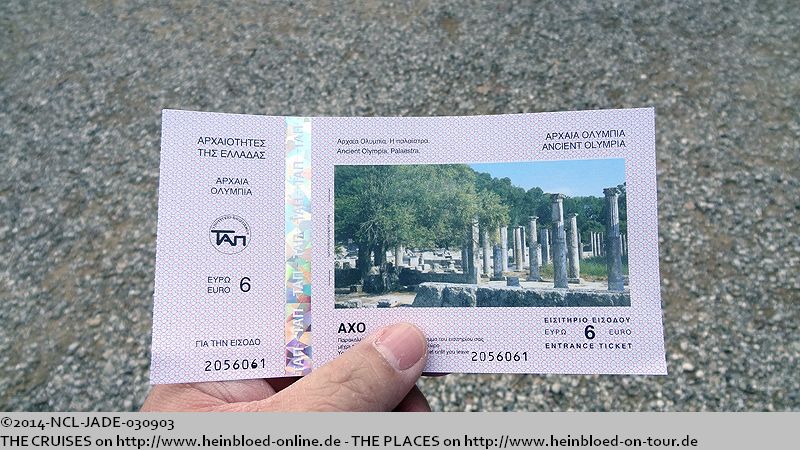 The tickets looked nice.

UNESCO-World Heritage.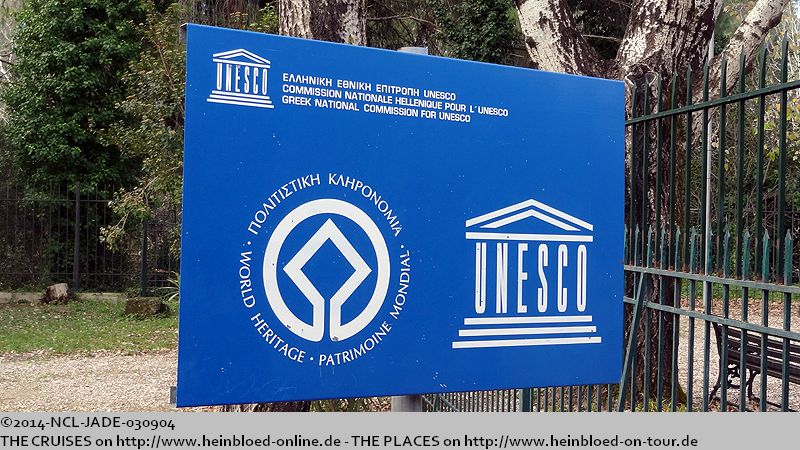 UNESCO-Welterbe
.
Wir hatten die Broschüre, wir hatten ein Buch, aber leider fehlte mir komplett die Vorstellungskraft, um mir vorzustellen, wie es hier mal war...

We had a brochure, we had a book, but somehow I did not have the imagination to see how it was here.

Someone said that it was well signposted and you could easily guide yourself.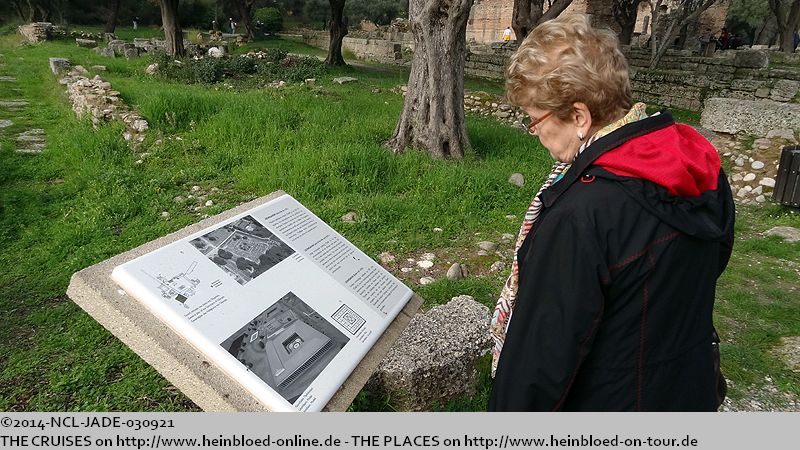 Jemand hatte erklärt, dass es überall Schilder gibt und man sich daher sehr selbst durchlotsen kann.
Die Schilder sind sogar dreisprachig: Griechisch, Englisch und Deutsch.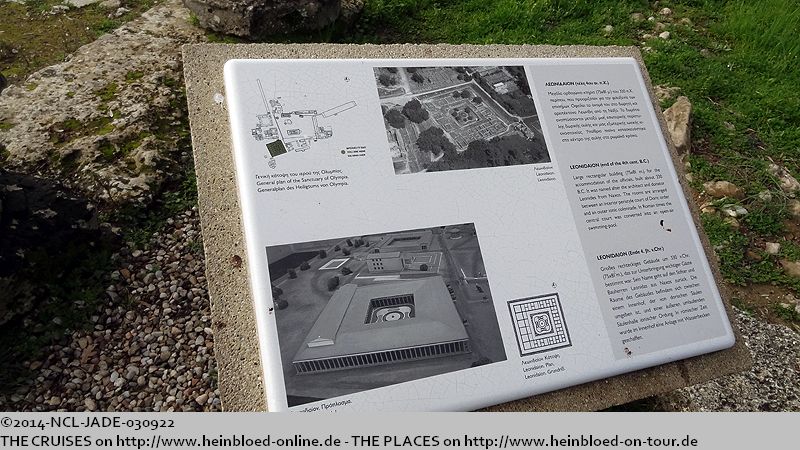 The signs were kept in three languages: Greek, English and German.

But unfortunately the signs were posted within very large areas so you need to find them and then get a connection and maybe you need to wait until you get close enough to the signs to read them. We were only two ships but what happened if more ships are here. The farer you were away from the entrance the better.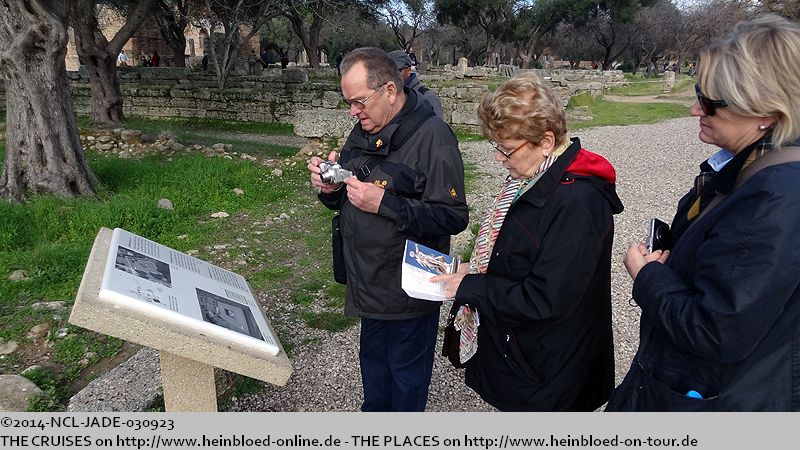 Nur leider sind die Schilder sehr großflächig aufgestellt, so dass man immer erst suchen musste, dann den Bezug finden musste und ggfls. auch noch warten musste, bis dass man nah genug an das Schild kam, um es zu lesen. Wir waren bloß zwei Schiffe aber was ist wenn mehr noch hier sind. Es ging noch, je weiter weg man sich vom Eingang bewegte.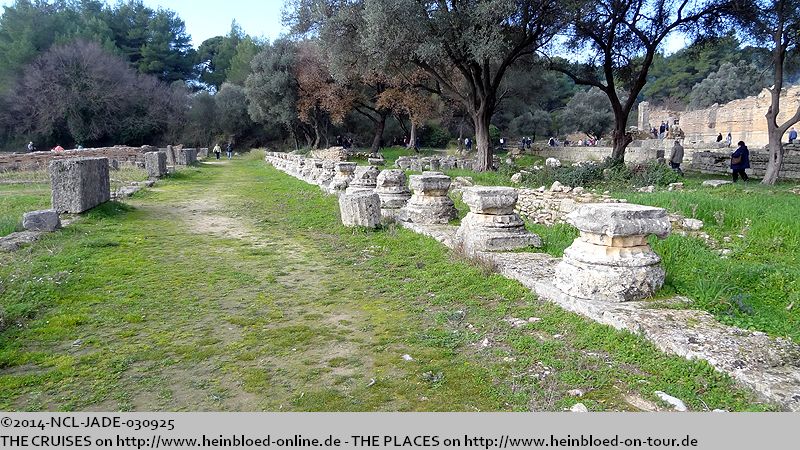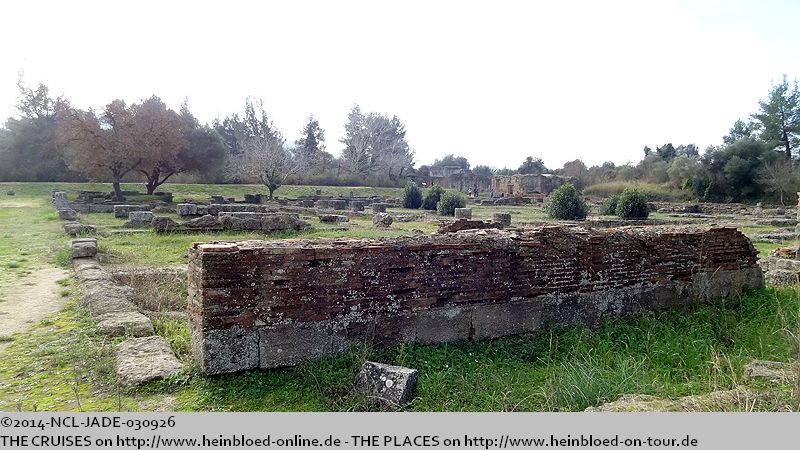 Was Bruno cutting a caper again because he was smiling?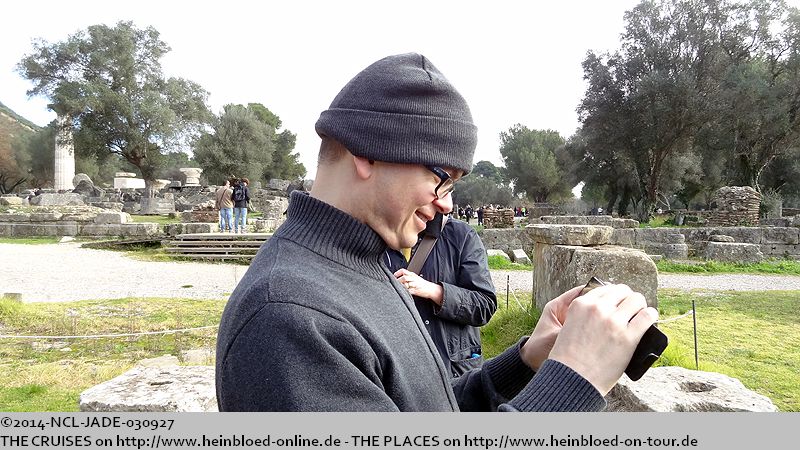 Welche Dummheit mag Bruno hier wieder begangen zu haben, dass er wieder so strahlt?
Hat er vielleicht ein Video von denen gemacht? Austrialier? Texaner?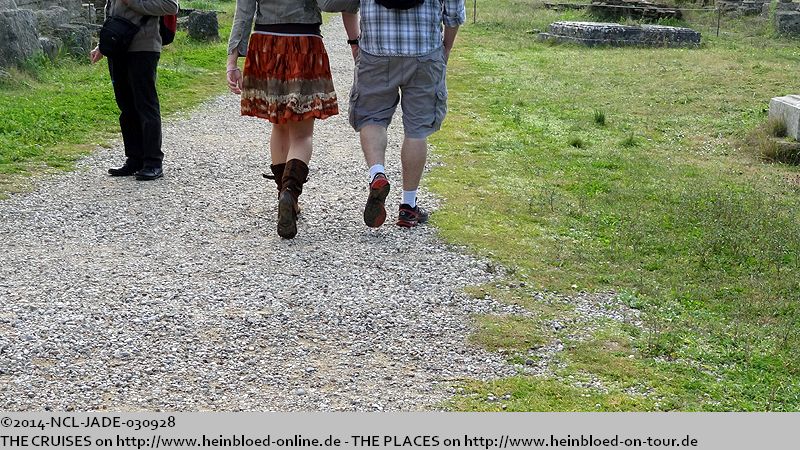 Maybe he made a video of them? Australians? Texans?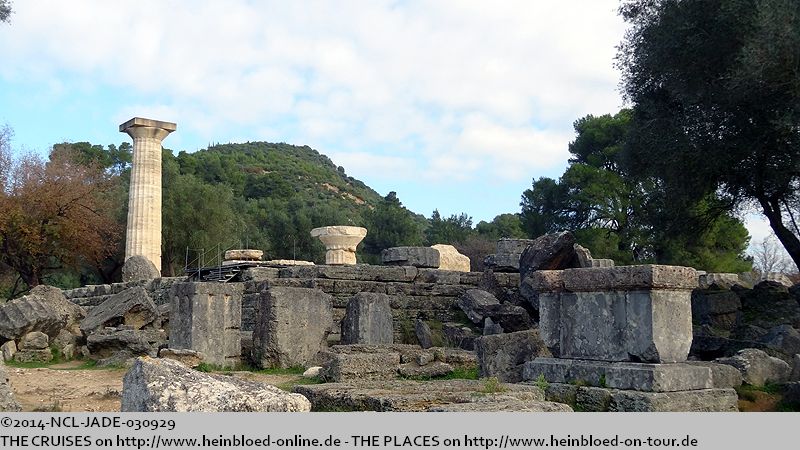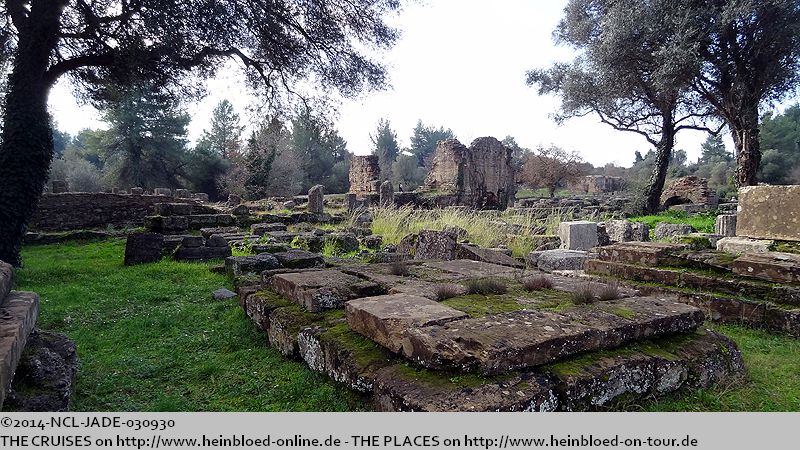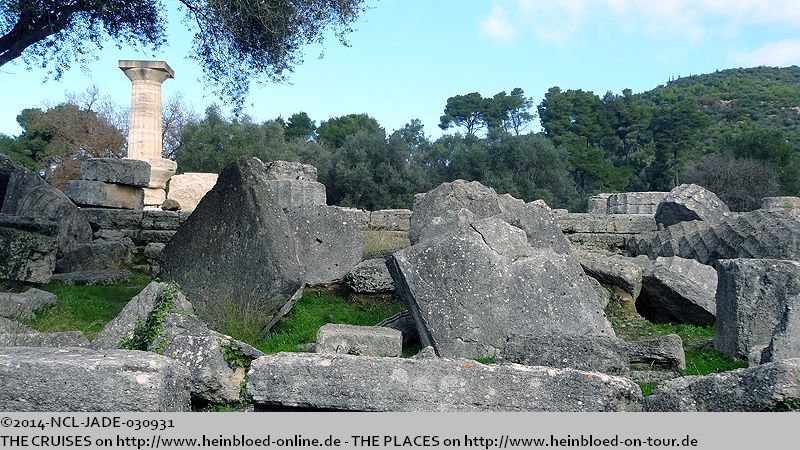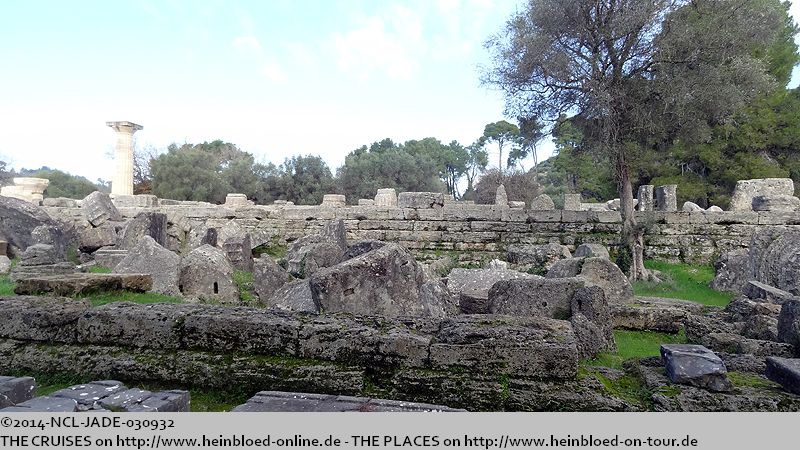 Occasionally you found single peoples who were sitting and sleeping between the stones.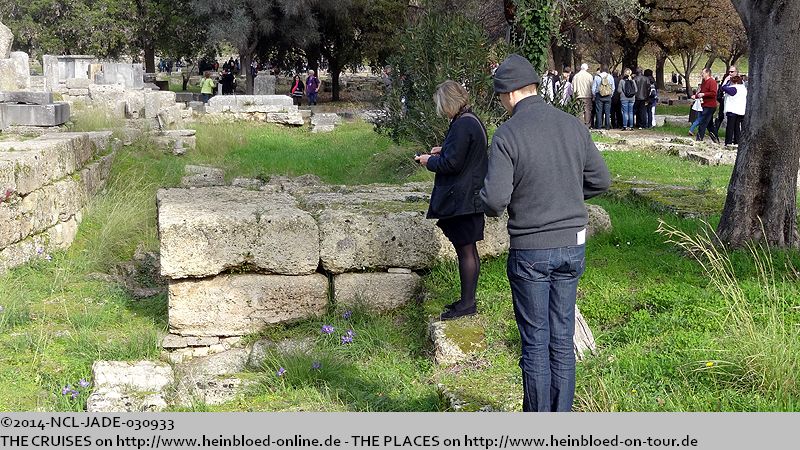 Ab und zu gab es mal ein paar Einzelpersonen, die sich zwischen den alten Steinen schlafend gelegt hatten.
Als wir dann nähergetreten sind, um zum Beispiel die Blumen zu fotografieren, dann sind sie irgendwie schnell aufgewacht und haben uns vertrieben... Obwohl sie nicht immer als Mitarbeiter zu erkennen waren und man sie eher auch mal für osteuropäische Wanderarbeiter halten konnte.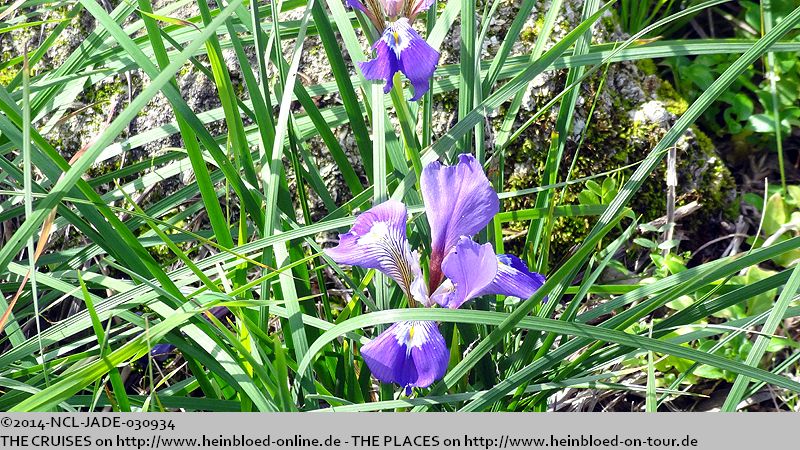 When we moved closer to take a pictures of the flower they woke-up and sent us away... Although they did not look like staff members but maybe looked more like Easter European migrant workers.

When I stood too close to a wall one woke up between the stones... I was wondering if it was good for the stones when so many sleepwalkers live in between.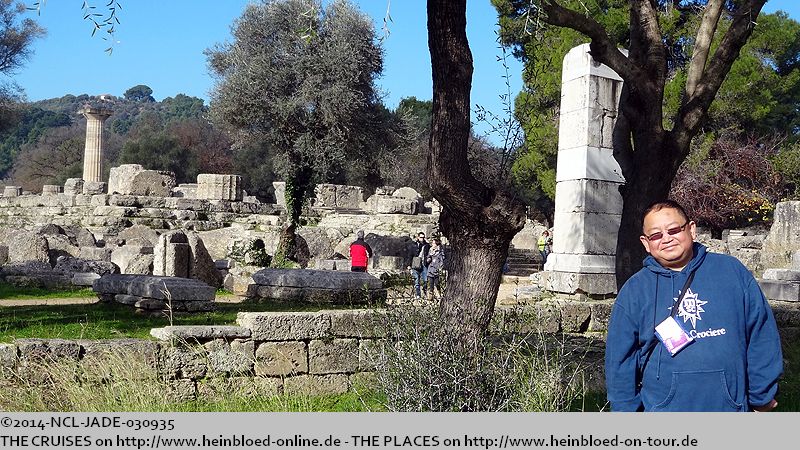 Als ich dann zu nah zur Mauer stand, erwachte der nächste zwischen den alten Steinen... Ich frage mich allerdings, ob den alten Steinen die Schlafwandler zwischendurch auch gut tun oder weniger...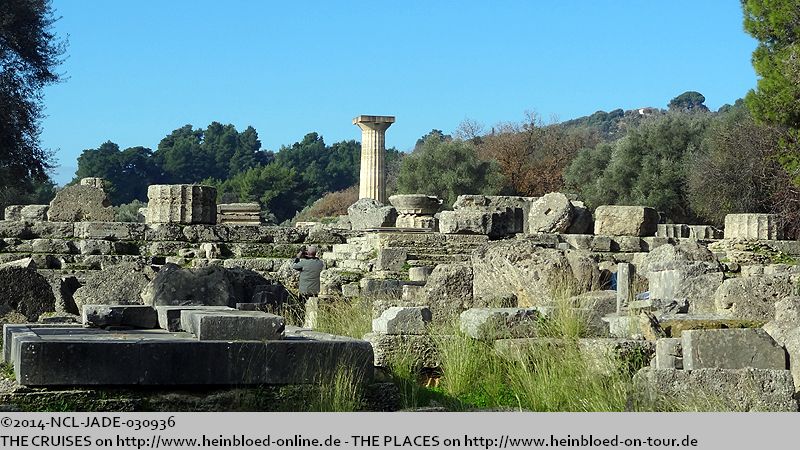 Through this gate you had to walk for the Olympic Stadium... But again I did not have the right imagination. I think my interests for the Olympic Games started 1896 in Athens...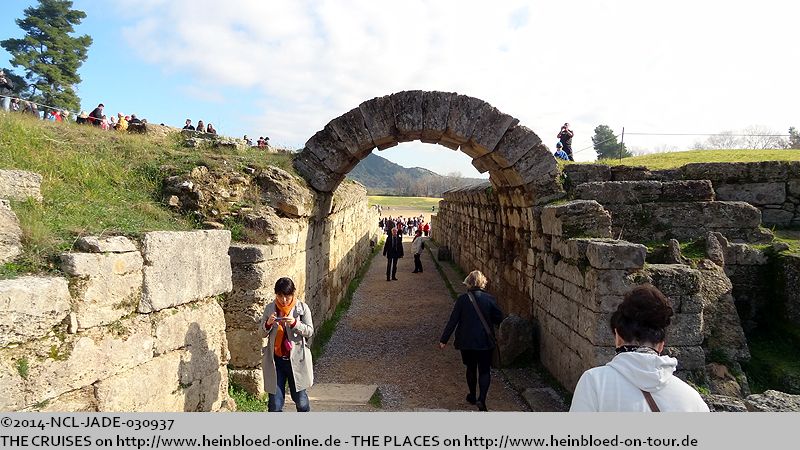 Durch dieses Tor ging es ins Olympiastadion... Aber auch hier fehlte mir irgendwie eine gewisse Vorstellungskraft. Meine Interesse an Olympia beginnt glaube ich 1896 in Athen...
Für den Tag hatten wir genug alte Steine gesehen. Wir laufen so langsam zurück zum Auto. Auf den Besuch des Museums verzichten wir.

For that day we saw enough old stones. So we slowly moved back to the car. We did not see the museum.

Now no more business at the ticket booths.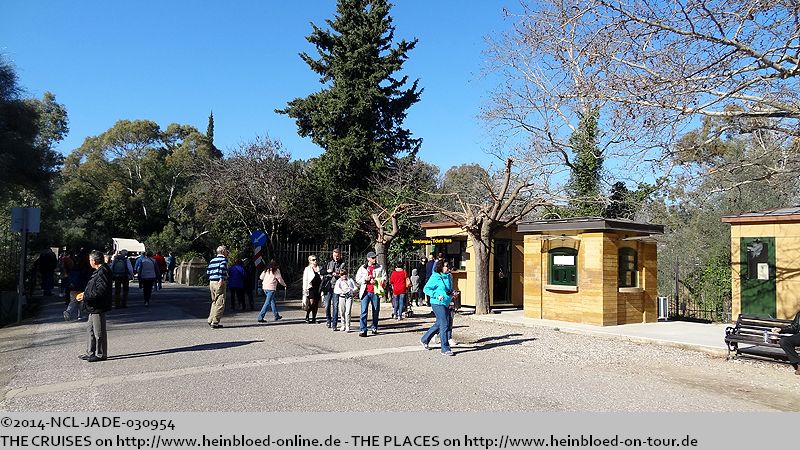 An den Kassen ist nichts mehr los.
Und wir laufen zurück über die Brücke zum Ort Olympia. Zwischenzeitlich wurden die Autos von den Bussen zugeparkt und sie waren nicht bereit ihre Busse zu bewegen, um uns rauszulassen. So fuhren wir entgegen der Einbahnstraße. Da hier die meisten Gäste von MSC lassen wir sie einfach zur Seite springen. Sie hätten ja bloß ihrem Busfahrer sagen müssen, dass er zu Seite fahren soll, damit wir die Einbahnstraße normal befahren konnten. Gäste von NCL haben wir nicht zur Seite springen lassen, da wir sie ja ggfls. später noch an Bord sehen...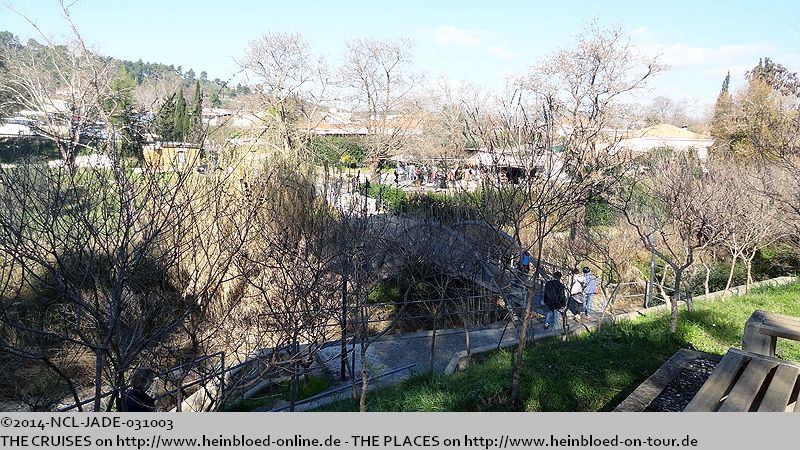 And we walked back to the place Olympia on the bridge. Meanwhile all busses parked just in front of the cars and did not let us leaving because they were not willing to move the busses. So we decided to drive the wrong direction of the one-way. As most passengers were from MSC it was fun to see them jumping away. They only need to tell their busdriver to move and we could easily follow the one-way. With NCL-guests we did not let them jump as we might see them again onboard...

We decided to use the time until lunch to see a winery close to Katakolon. On the way we met the train from Katakolon to Olympia. We used it the last time when we were here (see RYNDAM-Blog). It was not true what the bus operators said: you might be delivered to the main gate (but you had to walk a hill upwards) but if they do not collect you there again you need to walk to the parking which was more or less next to the train station. Due to some wrong settings we went cross-country but the expressway. It was thrilling too. Not just the tank display started to flash while you had the impression you were far far away from any type of civilization. When we entered Pyrgos we experienced another surprise: You have this place seven times in Greece and once in Bulgaria. We could exclude the Bulgarian one for sure. We had the geo-cordinatates but only in decimal according to their website and not in minutes and seconds like requested by my GPS device (N37.6767 E21.2095 = N37° 40' 36.12" E21° 12' 34.2"). After few phonecalls we learned that we had to choose Pyrgos (Elis).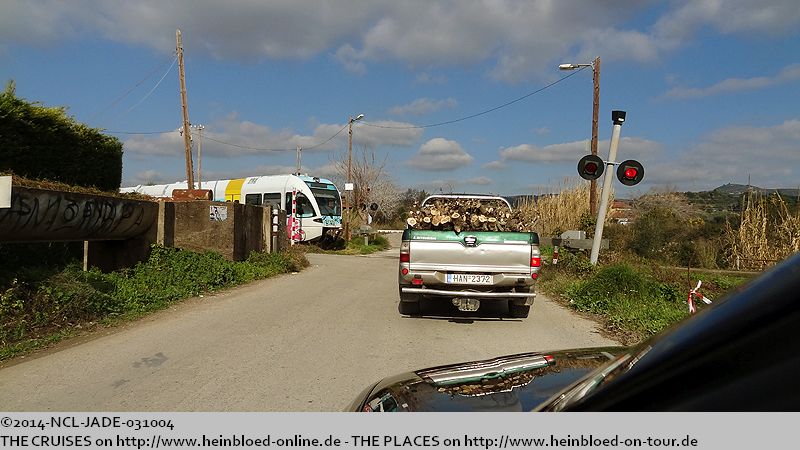 Wir beschließen die Zeit bis zum Mittagessen zu nutzen, um noch bei einem Weingut in der Nähe von Katkolon vorbeizufahren. Unterwegs begegnen wir dem
Zug von Katakolon nach Olympia
. Ihn hatten wir ja beim letzten Mal ausprobiert (siehe
RYNDAM-Blog
). Es stimmt übrigens nicht, was die Busunternehmer behaupten: man wird vielleicht mti dem Bus direkt vor dem Haupteingang abgesetzt (wobei man auch da noch einen Hügel hochlaufen muss), aber wenn man dort nicht wieder eingesammelt wird, muss man doch bis zum Parkplatz laufen, der fast neben dem Bahnhof ist. Aufgrund eines Einstellungsfehlers im Navi, fahren wir statt über die Schnellstraße querfeldein. War auch spannend. Nur nicht, wenn die Tankanzeige schon aufleuchtet und man den Eindruck hatte, weit weg jeglicher Zivilisation zu sein. Bei der Eingabe des Ortes Pyrgos gab es eine weitere Überraschung: Den gibt es sieben Mal in Griechenland und einmal in Bulgarien. Bulgarien konnte ich mit Sicherheit ausschließen. Die Eingabe des Ziels als Geo-Koordinaten scheiterte daran, dass mein Navi das als Minuten und Sekunden haben wollte und auf der Homepage in Dezimalen vermerkt war (N37.6767 O21.2095 = N37° 40' 36.12" O21° 12' 34.2"). Nach einigen Telefonaten haben wir dann gelernt, dass wir das Pyrgos (Elis) wählen mussten.
Was für ein Glück, dass ich im Mathematik-Unterricht immer so gut aufgepasst habe, dass ich die griechischen Buchstaben noch lesen und daher auch die Straßenschilder zum Weingut
Mercouri
identifizieren konnte.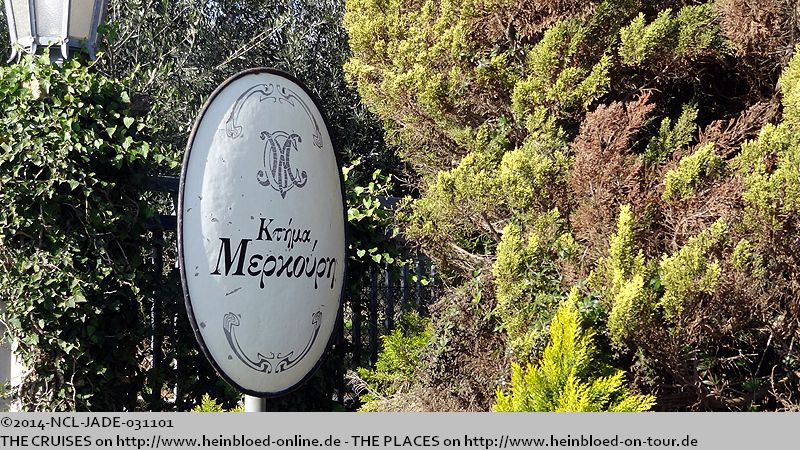 How lucky I was that I paid a lot of attention in my Mathematics-Lessons and still was able to read Greek letters and so I was able to identify the signpost to the Mercouri-Wineyard.

It was very idyllic. No obligation to buy. They charge you a little for wine tasting but you have no further obligations. The others tried the wine. I discovered at home that they also had olive oil. As we could see their wine were internationally awarded.

Es ist schön idyllisch. Es besteht kein Kaufzwang. Für eine Weinprobe wird eine Kleinigkeit berchnet und man hat keine weitere Verpflichtungen. Die anderen probieren den Wein. Ich entdecke leider erst zu Hause, dass sie auch Olivenöl führen. Wie wir sehen konnten, ist der Wein auch außerhalb Griechenlands prämiert worden.
Auch mit der "kleinen Bahn" kommt man hier am Weingut vorbei.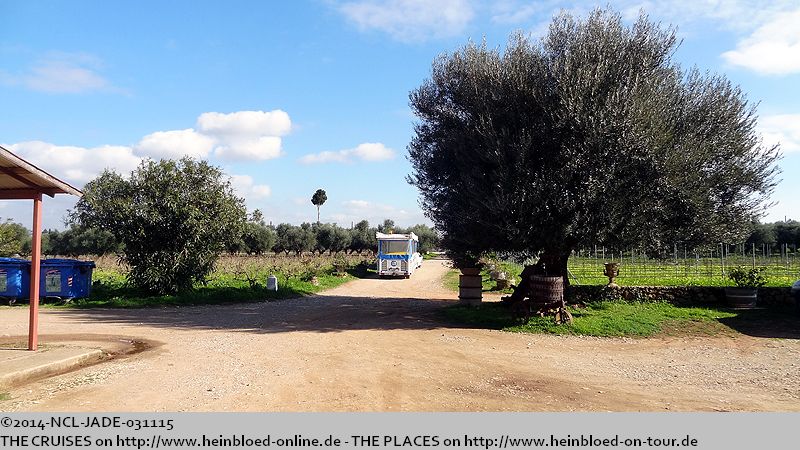 The "little train" is coming to the wineyard too.

I love Greek food. When we were here in fall on RYNDAM we discovered Taverna Jimmy's. We liked it because if was off the main road and it was different to those directly at the waterfront. A nice social-media-presence on Facebook made us becoming friends although only one Souvlaki was connecting us. See RYNDAM-Blog.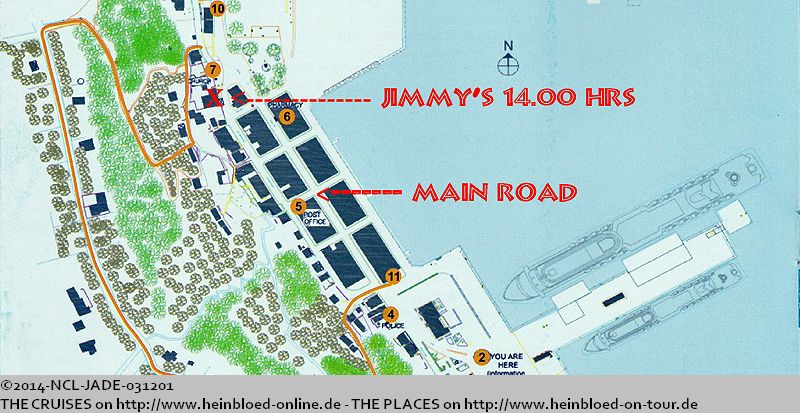 Ich liebe griechisches Essen. Als wir im Herbst hier mit der RYNDAM waren, hatten wir Taverna Jimmy's entdeckt. Es gefiel uns, dass es abseits der Hauptstraße lag und irgendwie anders war, als die Restaurants direkt am Wasser. Eine nette Social Media-Präsenz über
Facebook
sorgte dafür, dass wir Freunde wurden, obwohl uns bis dahin nur ein Souvlaki verband. Siehe
RYNDAM-Blog
.
Daher hatte ich anfragt, ob man auch für uns mal so kochen würde. Authentisch griechisch. Und man sagte ja. Es wurde dann im Roll-Call im cruisecritic.com angeboten. Eine, die eh nicht kommen wollte, wollte unbedingt ihre Meinung kundtun, wie gut das Essen an Bord ist und wie schlecht griechisches Essen sei. So jemand wollte ich auch nicht dabei haben. Die können einfach ihren Mund halten. Aber solche Leute glauben ja immer, ihre Meinung kund tun zu müssen. Sechs hatten vorab gemeldet, aber leider sind nur vier davon erschienen. Und fünf haben sich noch beim Meet & Greet gemeldet und sind auch nicht aufgetaucht. So ein Verhalten kotzt mich ziemlich an, weil solche Leute immer nur alle Optionen für den Tag offen halten wollen, und keine Rücksicht darauf nehmen, dass so eine Aktion vorbereitet werden muss und ich meinen Kopf ein wenig dafür herhalte, dass auch die Leute kommen, für die Essen vorbereitet wurde.

So I asked them if they would prepare for us some food: authentic Greek. Und they said yes. I offered it in the roll-call of cruisecritic.com. One who did not want to join anyway thought that there was a need to tell how the good food onboard is and how bad Greek food is. I did not want to have this person anyway with me. They could keep their mouth shut. But such people always think that they need to communicate. Six told that they want to come but only four appeared. And five more said with the Meet & Greet that they would like to come but did not showed up. I dislike such habits because such people are selfish enough to keep every option open and have no respecet that such an event must be prepared and I am in charge that the people will appear for whom food was bought and prepared.

As we saw Sixt in the morning we used the chance to have a sneak view.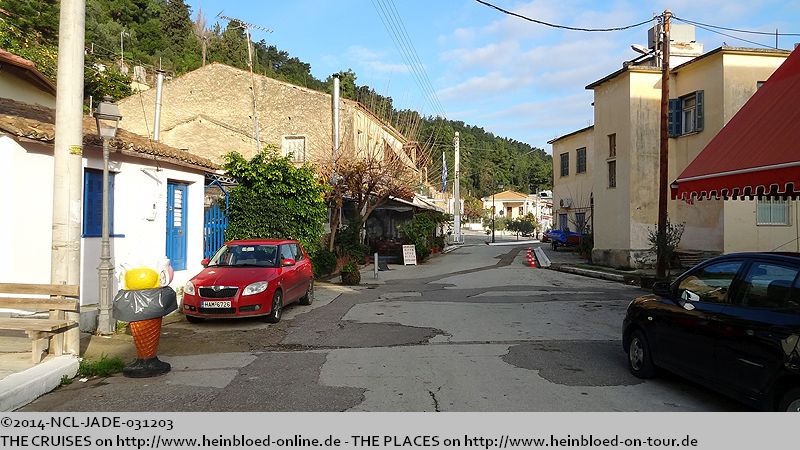 Dass wir morgens bei Sixt waren, nutze ich die Chance um mal kurz schon vorbei zu gucken.
Von Giorgios und Peggy erfahre ich, dass auch sie dort als Einheimische essen gehen und das ist doch schon mal ein gutes Zeichen.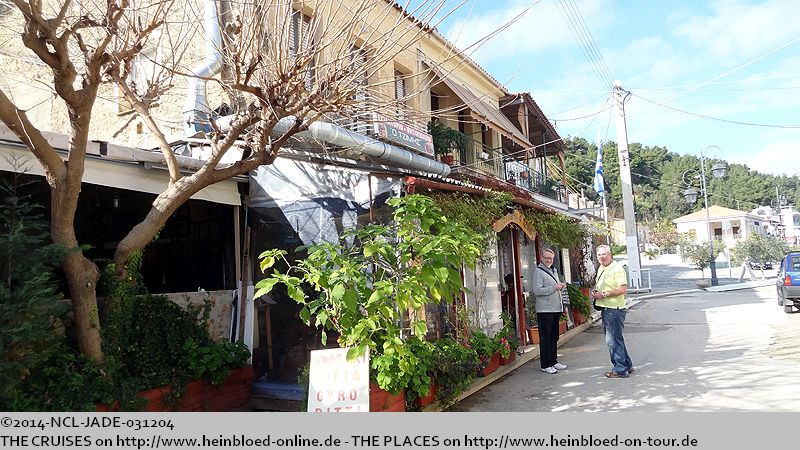 From Giorgos and Peggy I learned that many locals are eating there and this is always a good sign.

Estiatorio... Psiitopoleio... O Tzimis... Taverna O Tzimis... Ah... Tzimis = Jimmys... Was already wondering of the English name...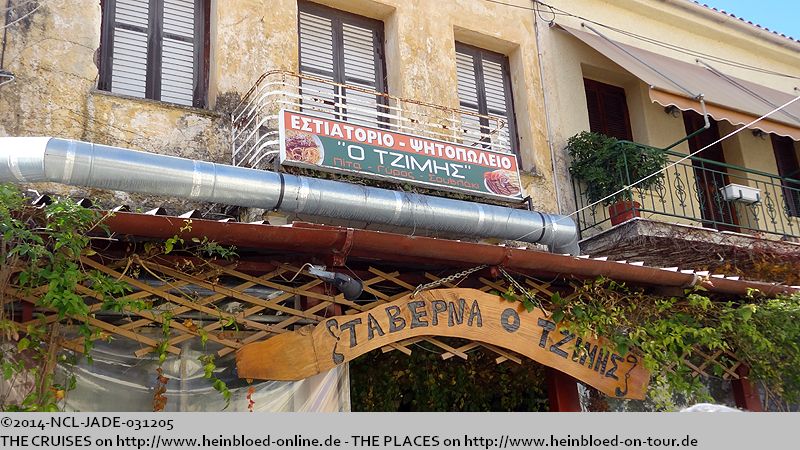 Estiatorio... Psiitopoleio... O Tzimis... Taverna O Tzimis... Ah... Tzimis = Jimmys... hatte mich schon über den englischen Namen gewundert...
Das ist übrigens Vassys (Die Social-Media-Betreuerin von Taverna Jimmy's) "Mum" Despoina Gouseti, die morgens schon um 09.00 Uhr in der Küche am Tun und Machen war... Es roch schon so gut, dass ich eigentlich den Mietwagen wieder zurückgeben wollte, um ihr weiter über die Schulter gucken zu können.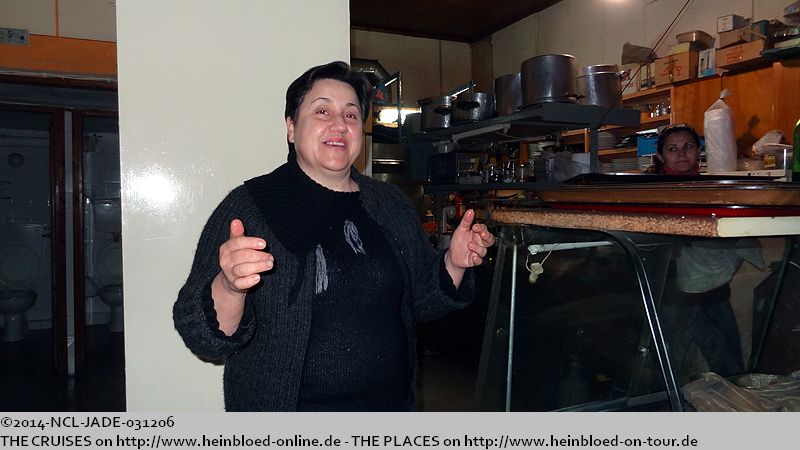 By the way I would like to introduce you to Vassy's (the social-media-hos of Taverna Jimmy's) "Mum" Despoina Gouseti who was working already in her kitchen at 09.00 hrs... It smelled so good that I wanted to return the car and wanted to stay in the kitchen to watch what she was doing for us.

Despoina occured real trouble for me! Now I am back in Germany and I returned my Taramasalata (Fish eggs salad) in my favorite restaurant in Germany. It was not yummy anymore. Despoina's Taramasalata was the best Taramasalata in my life. It was fresh. In Germany you find many times very salty and fishy. Nothing like this. Simply yummy. The right rigidity.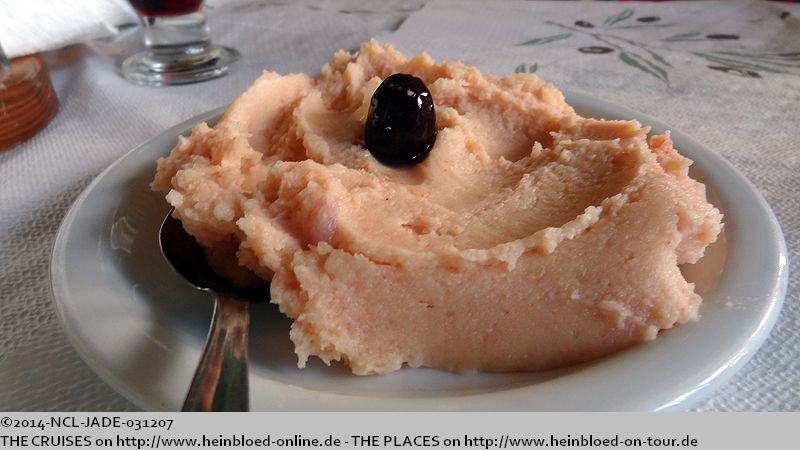 Despoina hat mir richtig Probleme bereitet! Nun bin ich zurück in Deutschland und ich habe mein Taramas in meinem Stammlokal zurückgehen lassen. Es schmeckte mir nicht mehr. Despoinas Taramas war das beste Taramas in meinem Leben. Es war frisch. Oft ist es in Deutschland richtig salzig und fischig. Nichts davon. Einfach nur lecker. Eine tolle Konsistenz.
Griechischer Bauernsalat. Eigentlich nur ein "bißchen" Gurke, Tomate, Paprika, Oliven, Feta, Olivenöl und ein paar Gewürze. Aber bei Despoina schmeckte es auch nach Gurke, Tomate, Paprika, Oliven, Feta, Olivenöl und ein paar Gewürzen. Das war nicht nur grünes und rotes Wasser mit einem Stück Gummi wie man es oft in Deutschland bekommt.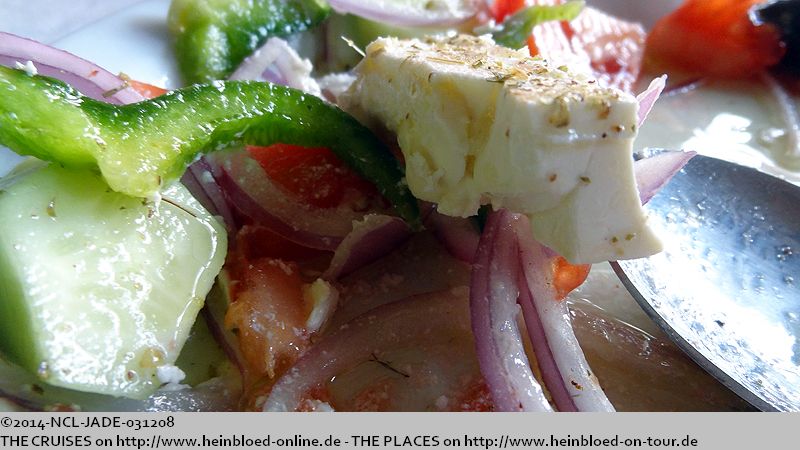 Greek farmer's salad. Simply "few" cucumber, tomato, green pepper, olives, feta, olive oil and few herbs. But with Despoina it tasted like cucumber, tomato, green pepper, olives, feta, olive oil and few herbs. It was not like in Germany green and red water with a pice of rubber.

Moussaka... ugh... I had it once in Germany... many many years ago... eggplant... full of fat... but here with Despoina: no leakage of oil and no slices of potatoes but a real nice cream... hmmm... this way really yummy.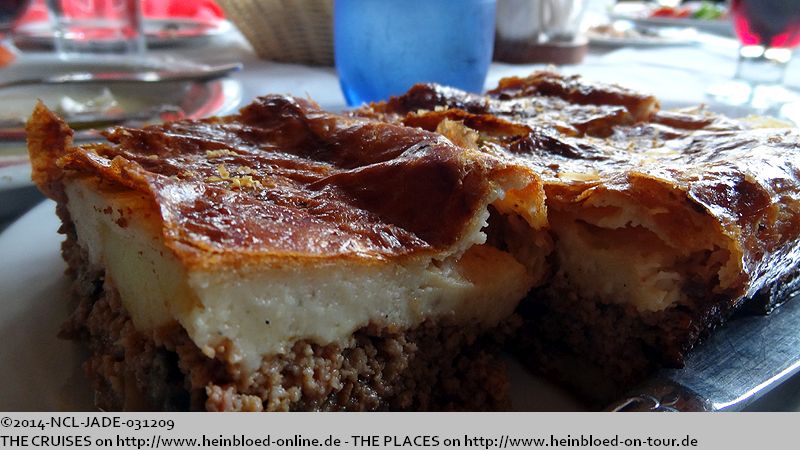 Moussaka... igitt... hatte ich das mal in Deutschland... vor vielen vielen Jahren... Auberginen... alles voll Fett... und hier bei Despoina: kein Ölaustritt und oben keine Kartoffelscheiben sondern eine richtig leckere Creme... Hmmm... Das war richtig lecker.
Leider haben wir etwas Kommunikationsprobleme mit der Bedienung bei Jimmy's. Deswegen haben wir nicht herausbekommen, was das ist und später habe ich vergessen nachzufragen - Vielleicht Spanakopita?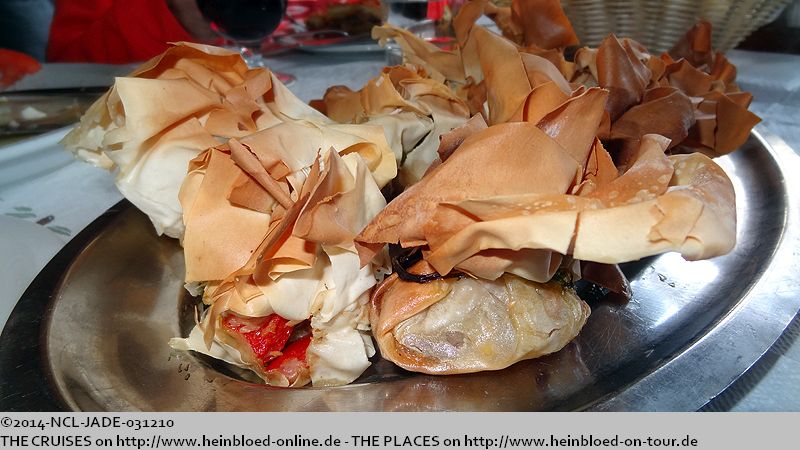 Unfortunately we had some communication problem with the waitress with Jimmy's. So we have never found out what we had and I forgot to ask later - Was this maybe Spanakopita?

After all cars were returned also Peggy, Giorgos and his father appeared for lunch. We asked them to join us at our table and we learned a lot of like in Katakolon on days when ships are in port and other days. With us were also Jerry and Ger from Ireland.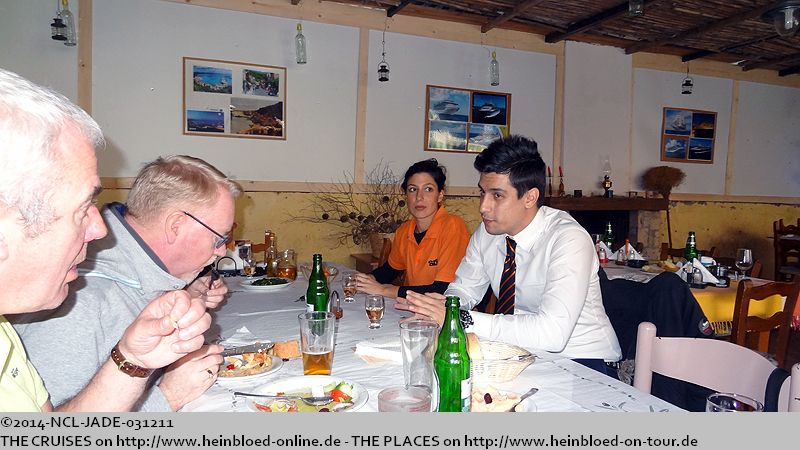 Nach dem alle Autos abgegeben wurden, kommen auch Peggy, Giorgos und sein Vater zum Essen. Wir bitten sie an unseren Tisch und erfahren sehr viel über das Leben in Katakolon an Tagen, wenn Schiffe im Hafen sind und an den anderen Tagen. Beim Essen sind Jerry und Ger aus Irland.
Sowie Linda und Mike aus Kalifornien. Mike arbeitet auch auf einem Frachtschiff und so haben Sigi und ich gemeinsame Gesprächsthemen.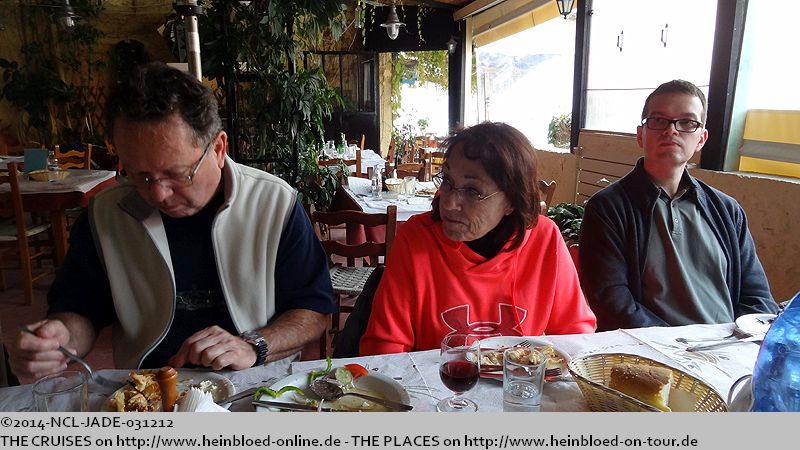 And Linda and Mike from Califaornia. Mike works on a freight ship and Sigi and I had some common subjects to talk.

Unfortunately Despoina closed her eyes when the last course was served.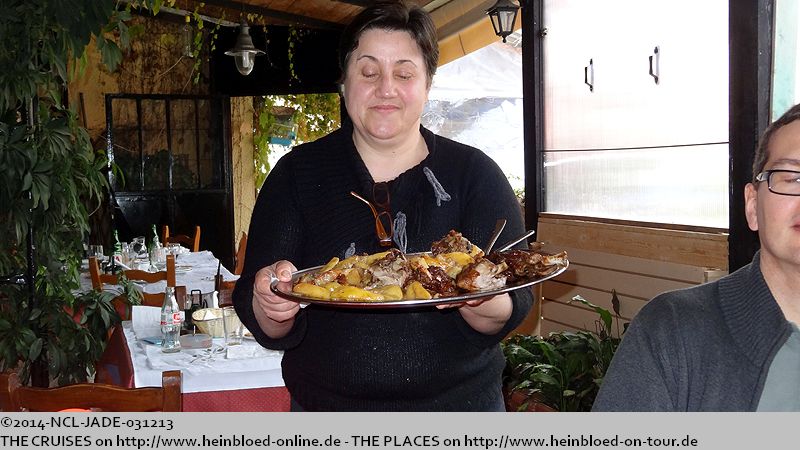 Leider hat Despoina die Augen geschlossen, als sie uns den letzten Gang serviert.
Frisch gegrilltes Lamm und Kartoffeln in dem Lammsaft geschmort.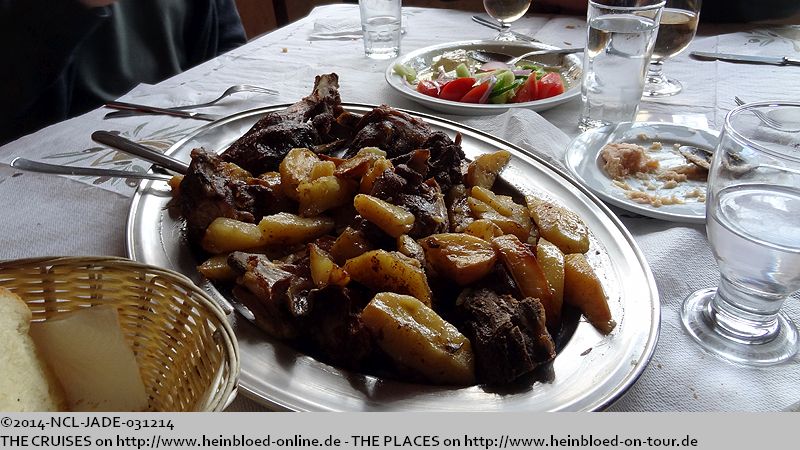 Freshly grilled lamb with potatoes prepared in the lamb juice.

A piece of true Greece.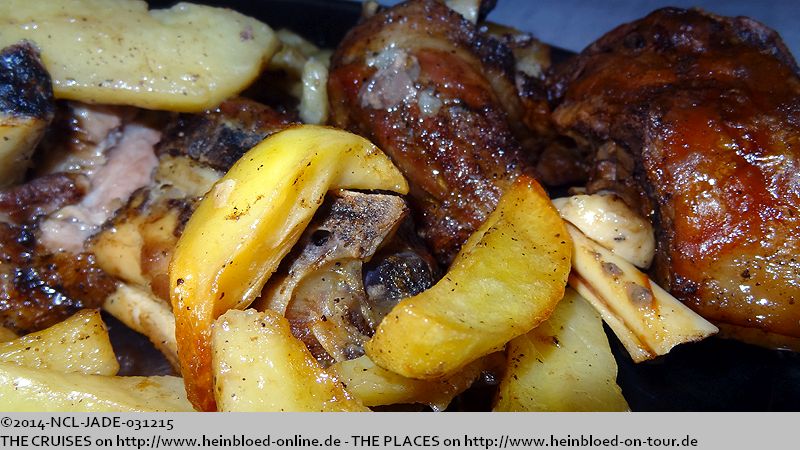 Ein Stück Griechenland pur.
Wir hatten sehr viel Spaß miteinander. Denn Giorgos hat einfach den Kreis seiner Kunden erweitert, in dem er uns zu Freunden gemacht hat und Wein bestellt, damit unsere Mitfahrer noch ein Glas zum Anstoßen haben: Yamas. Das nennt man griechische Gastfreundschaft!!!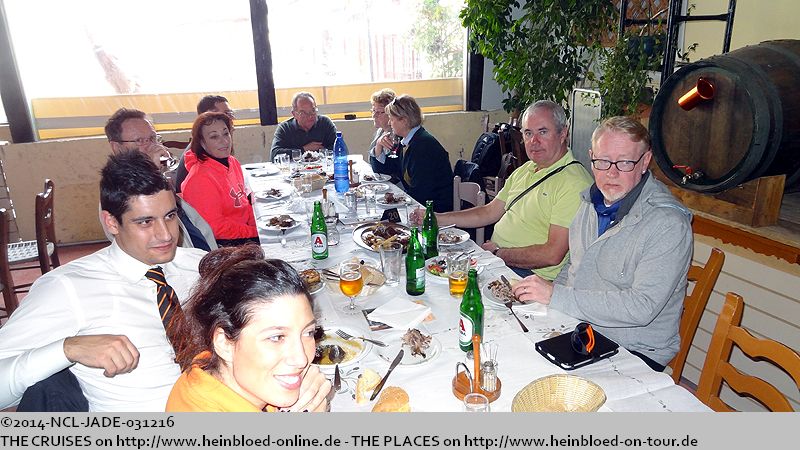 We had a lot of fun together. Because Giorgos extended his circle of clients by making us his new friends and ordered some wine that our cruise-fellows had something to cheer: Yamas. That is what you call Greek hospitality!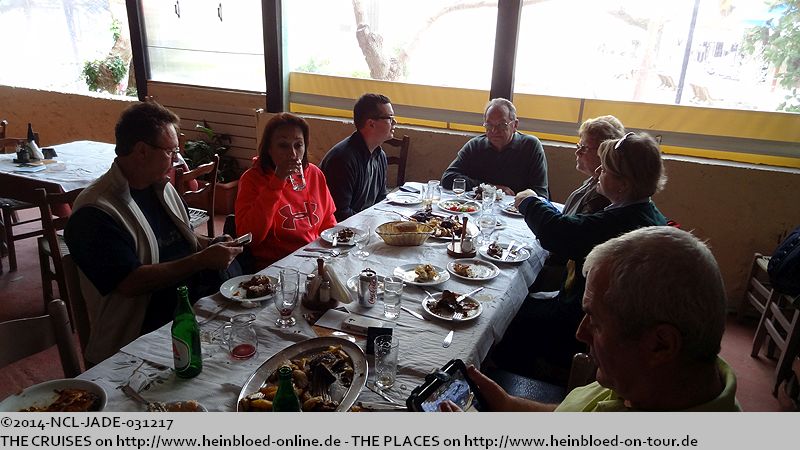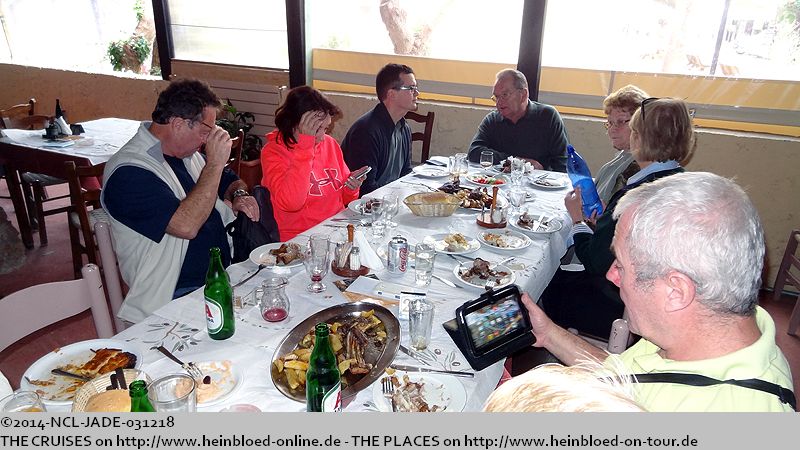 I was really happy that I did not need my Sixt-Gold-Card to experience great service and find new friends in Greece. So I am looking forward to see them all again. Of course with a common lunch again with Desponia. And then I will have mini-fridge with me and take pounds of Taramasalata with me and fix a camera in her kitchen to see every single step how to prepare the most yummy Taramasalata. Very sad for those who did not appear because they really missed something. And thanks again to Despoina for a wonderful meal: when will she open a branch in Germany. Or much more better: could not she take over one of the alternative dining venues on board of NORWEGIAN JADE: She would see me every night.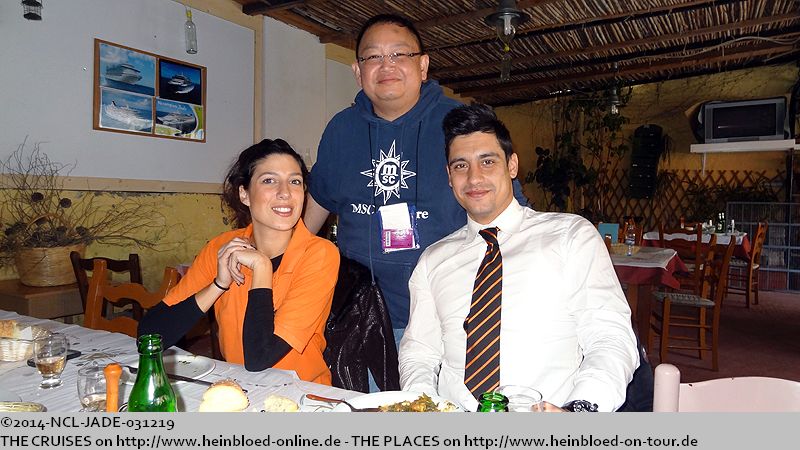 Auf jeden Fall freue ich mich, dass ich keine Sixt-Gold-Karte brauche, um tollen Service zu erleben und neue Freunde in Griechenland zu finden. Deswegen freue ich mich schon auf ein Wiedersehen. Und natürlich wieder auf ein gemeinsames Essen bei Desponia. Und dann bringe ich eine Kühlbox mit um kg-weise Taramas mitnehmen und werde eine Kamera aufbauen, um jeden Schritt zu dokumentieren, wie man das leckerste Taramas macht. Schade für diejenigen, die nicht aufgetaucht sind, weil sie echt etwas verpasst haben. Und nochmals vielen vielen Dank an Desponia für ein hervorragendes Essen: wann macht sie eine Filiale in Deutschland auf? Oder noch besser: kann sie nicht ein Zuzahlrestaurant an Bord der NORWEGIAN JADE übernehmen: dann würde ich jeden Tag dort essen gehen.
Zurück geht es schon fast leere Straßen.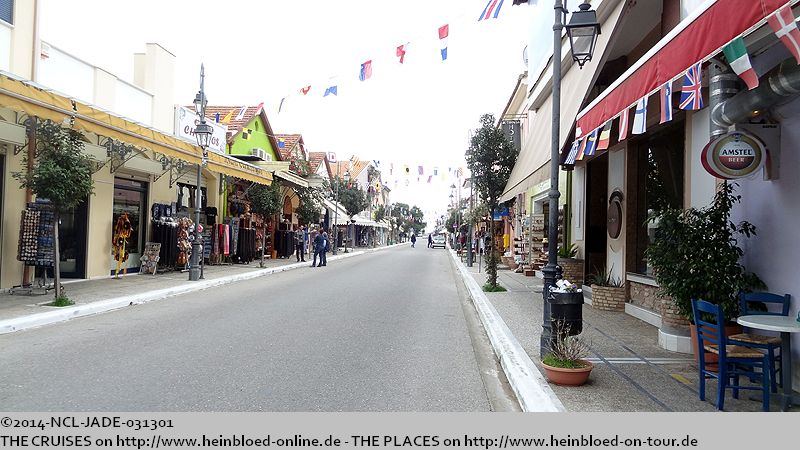 We returned to the ship on more or less empty streets.

It was so calm that I could take a picture of Mike, Linda, Jerry and Ger on the street.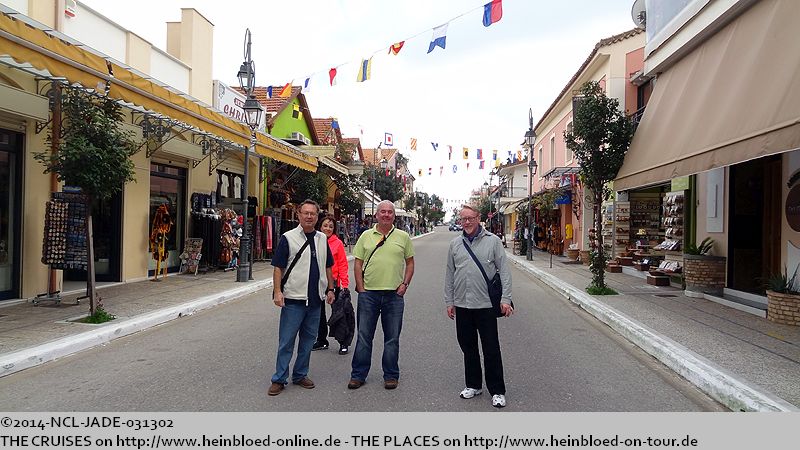 So ruhig, dass Mike, Linda, Jerry und Ger auf der Straße stehen können, um fotografiert zu werden.
Das Schiff legt ab und die Stadt macht zu.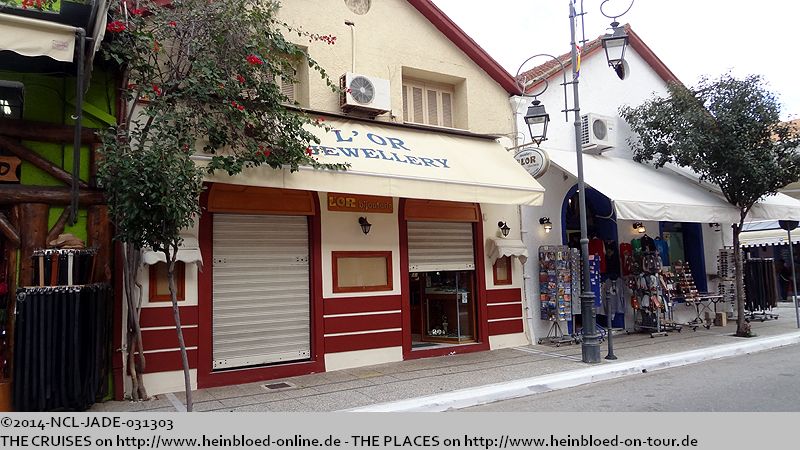 The ship was leaving and a city was closing.