Immer noch gutes Wetter. Wir haben Glück.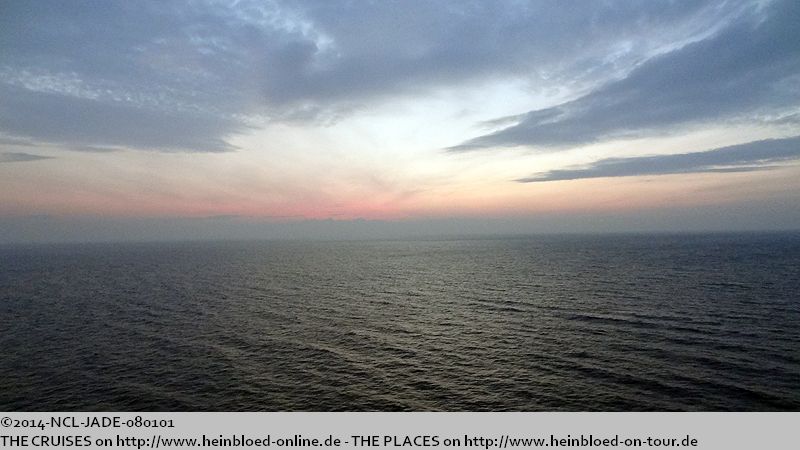 We still were lucky as we still had good weather.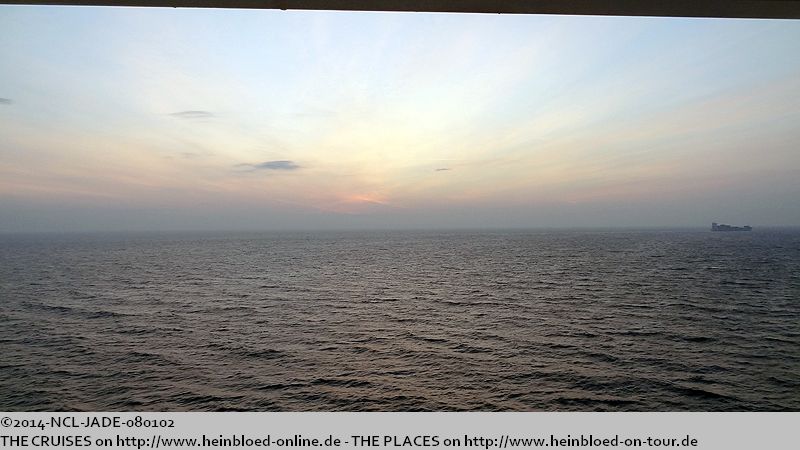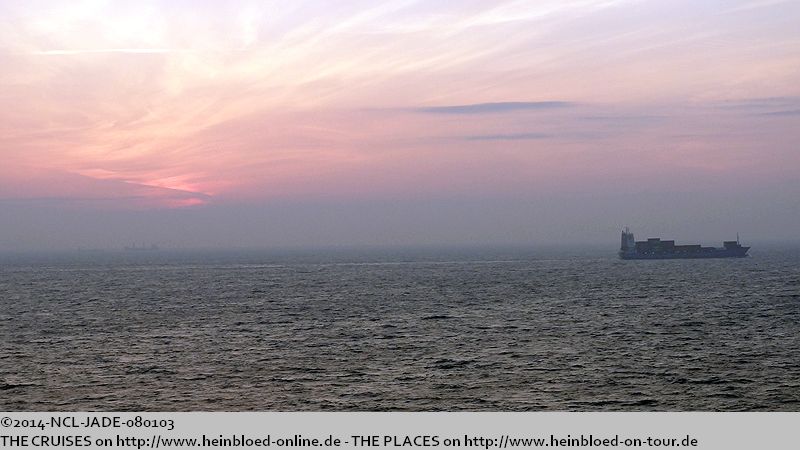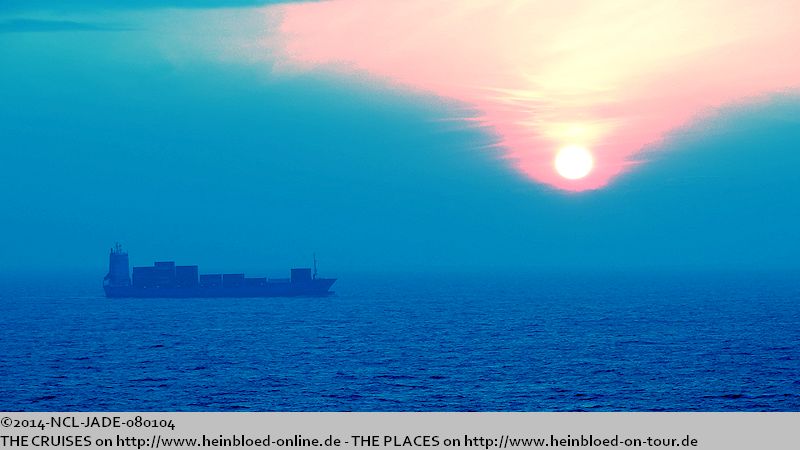 Es ging wieder zum Frühstück in Cagney's. Endlich mal ein Egg Benedict mit Meeresfrüchten auf Brioche-Toast.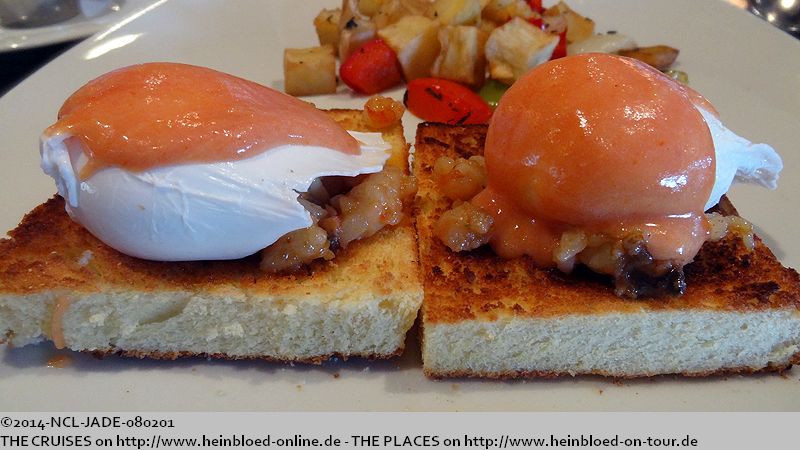 We went again for breakfast with Cagney's. Finally an Egg Benedict with sea food on brioche toast.

With our cabin steward Ronaldo we were more than satisfied. We could call him easily our butler without having booked a suite.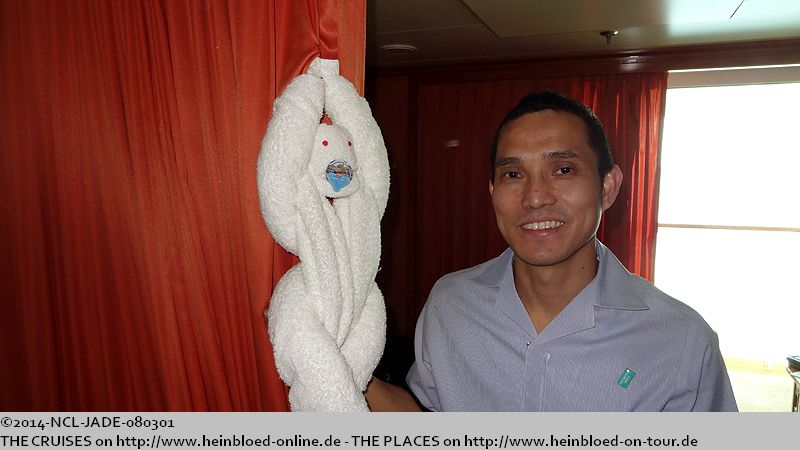 Mit unserem Kabinensteward Ronaldo waren wir mehr als zufrieden. Den hätten wir schon zum Butler ernennen können, ohne dass wir eine Suite gebucht haben.
Draußen war es so warm, dass wir uns es draußen auf dem Balkon gemütlich machen konnten.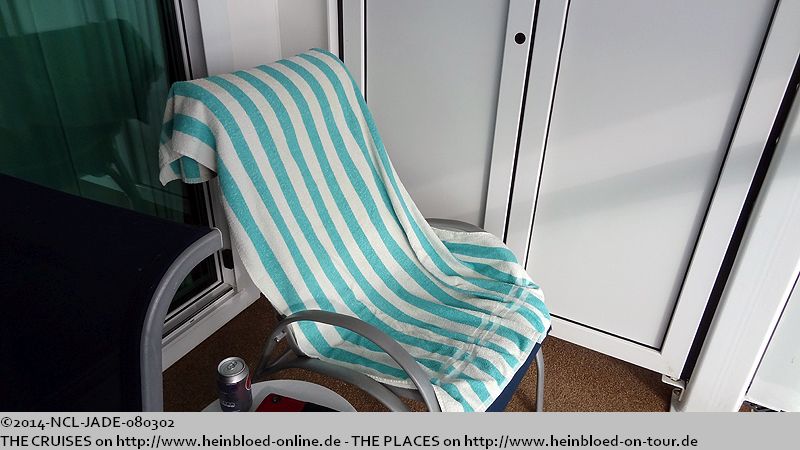 Outside it was so warm that we could make ourselves comfortable on the balcony.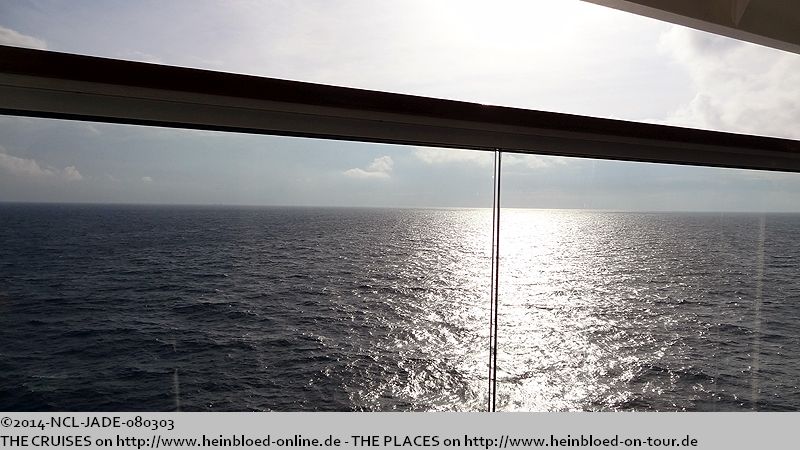 Im Atrium wird Gemüseschnitzen angeboten.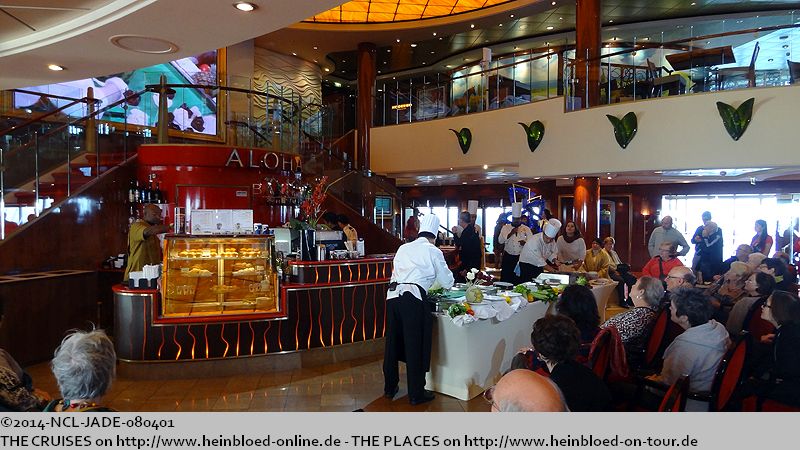 In the atrium they offered vegetable carving.

Then napkin folding followed with Cruise Director Jill. They also broadcasted it live on the giant screen so everyone can easily follow the demonstration.

Danach folgt Serviettenfalten mit Cruise Director Jill. Es wird jetzt auch live auf der Großleinwand übertragen, so dass man sehr gut verfolgen kann.
Noch bekommen wir Zugang zum türkischen Landnetz.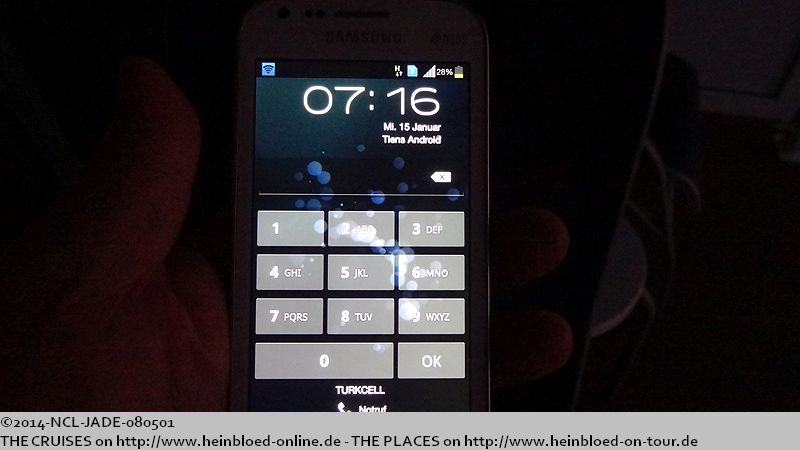 We still could get a signal from the Turkish shorenetwork.

I only came by to say "hello" to Paloma.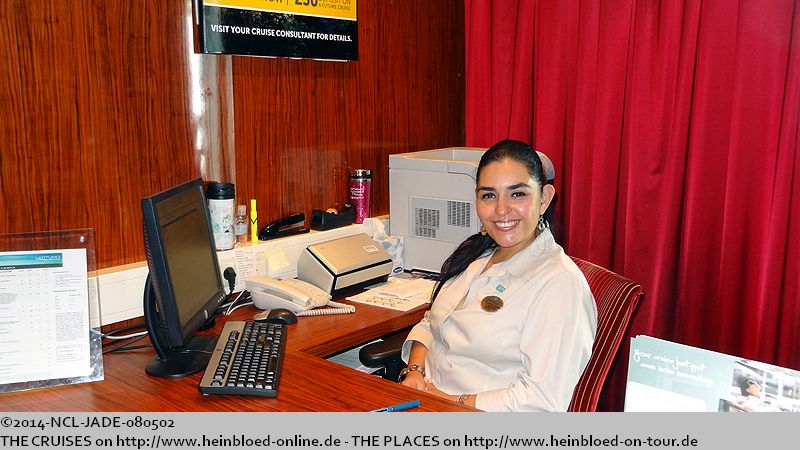 Ich sage mal kurz Paloma "Hallo".
Mittags gehen wir zum Jasmine Garden und essen dort. Wir teilen uns eine Sushi-Rolle und bestellen uns Nudelsuppen. Nur die Nachtische sind "langweilig", weil es immer der gleiche Nachtisch ist, wie im Teppanyaki. Vor allem der Grüne-Tee-Kuchen sieht eigentlich eher aus wie ein Hundehaufen. Aber alles andere ist die Zuzahlung (à-la-carte Berechnung) Wert.

We went for lunch to the Jasmine Garden. We shared a Sushi-Role and ordered Noodle Soup. Only the desserts were "boring" because you get the same dessert like with the Teppanyaki. Especially the Green-Tea-Cake looked more like a "doodoo". But everything else is worth to pay the cover charge (à-la-carte charges).

On NORWEGIAN SPIRIT in January 2013 it were still two pieces of cake with a small chocolate garnish.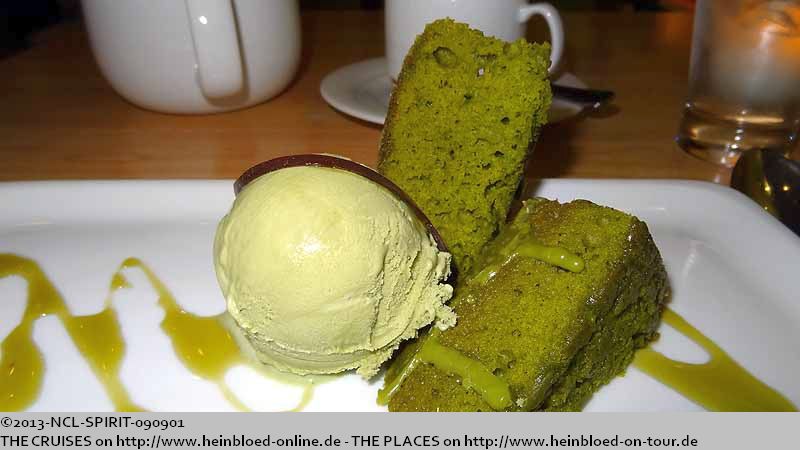 Auf der NORWEGIAN SPIRIT im Januar 2013 sah es noch wie zwei Kuchenstücke aus und mit einer kleinen Schokogarnitur.
Und Oktober 2011 auf der NORWEGIAN JADE gab es eine große Schokoladengarnitur. Einsparmaßnahmen. Und damals sah es auch nicht wie ein Hundehaufen aus.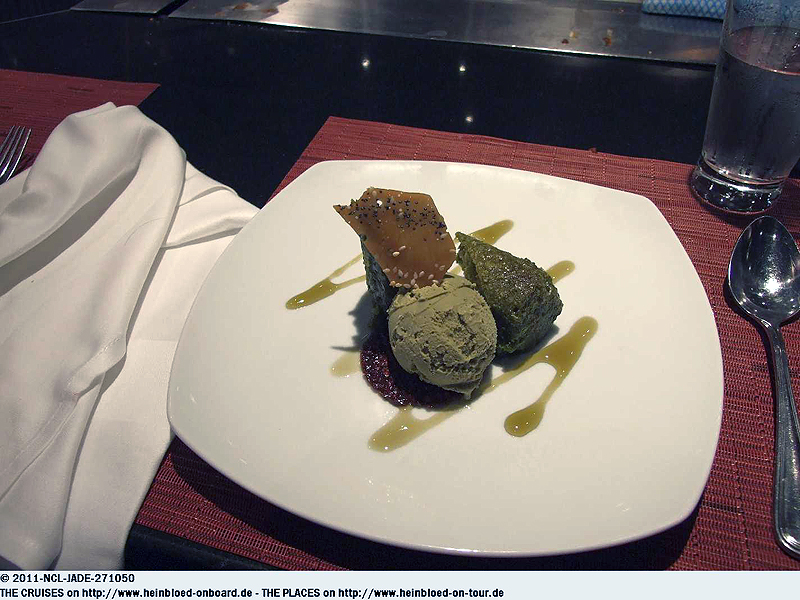 And in October 2011 on NORWEGIAN JADE you had a large chocolate garnish. Cost cuttings. And then it did not look a "doodoo" either.

We sailed between the Greek Islands.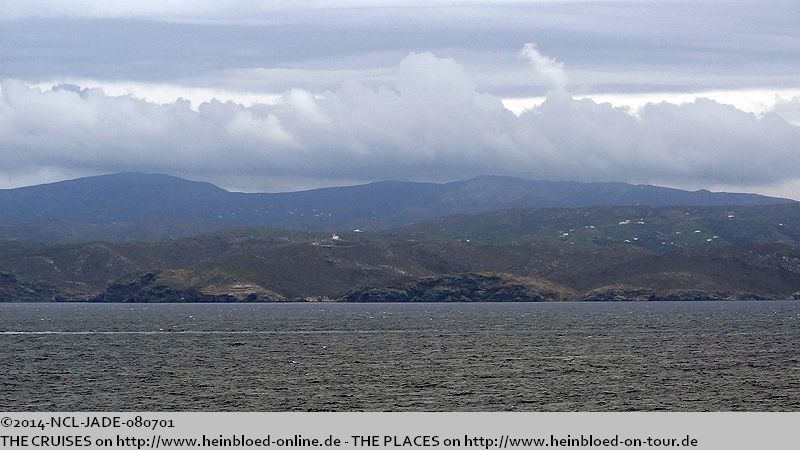 Wir fahren schön zwischen den griechischen Inseln durch.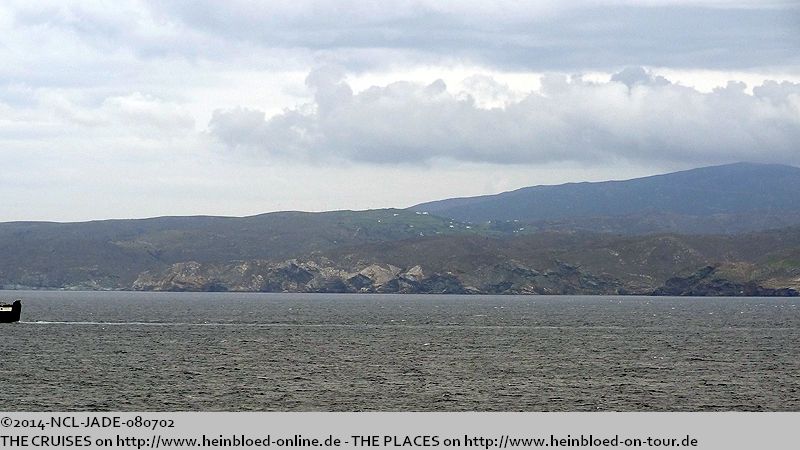 So we had still good access to the Greek shorenetwork.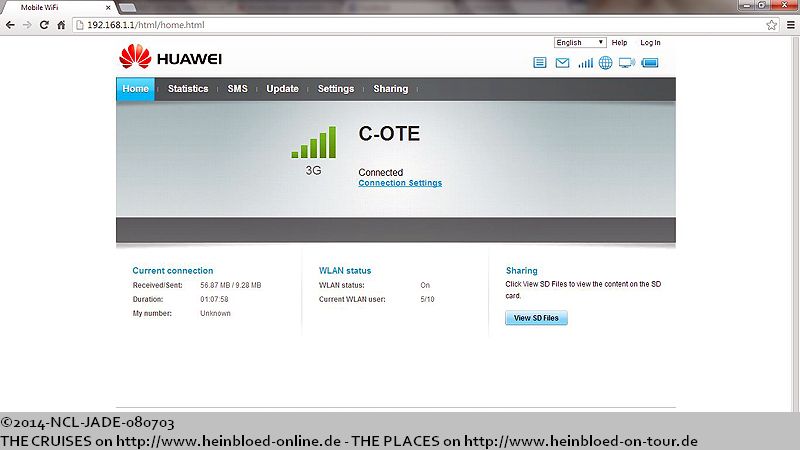 So können wir sehr gut noch das griechische Landnetz nutzen.
Also hier in Griechenland funktioniert wieder der Firmen-Blackberry... vielleicht sollten wir doch mal die SIM-Karte austauschen lassen. Die Fehler habe ich gemeldet, aber nichts passiert.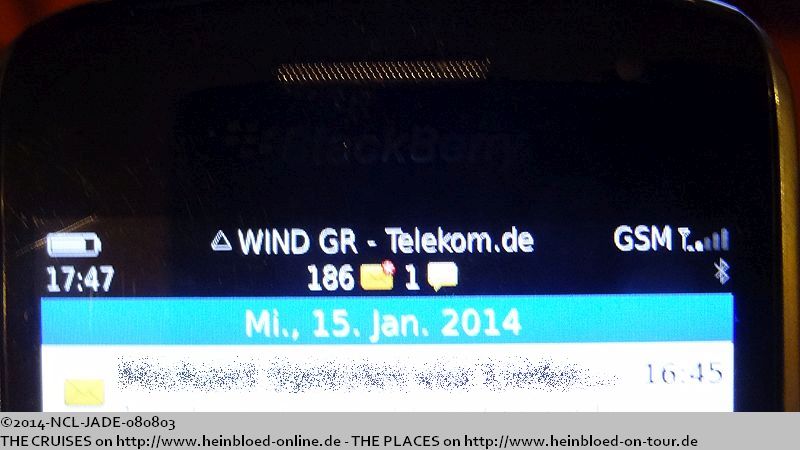 So here in Greece my company's blackberry worked again... Maybe it's time to have a new state-of-the-art sim-card. I reported it but nothing happened.

On the map you can see that we transitted between the islands and why you can get such good shorebased phone signals.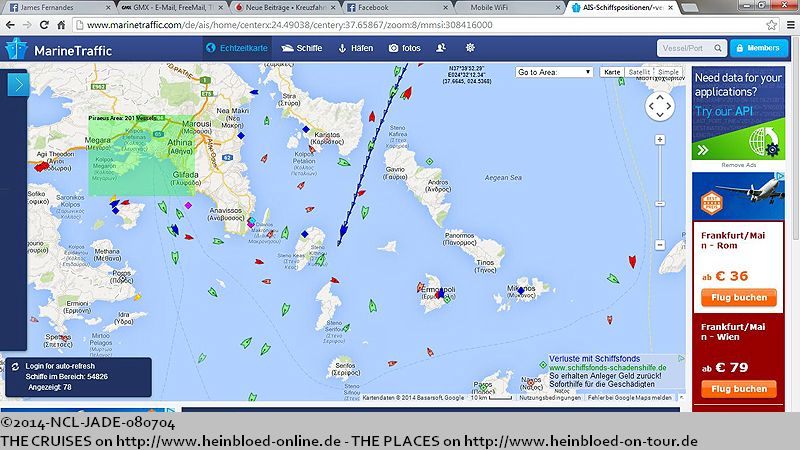 Und man sieht hier auf der Karte, wie wir so schön zwischen den Inseln fahren und der Grund warum wir noch so gutes Landnetz haben.
Der Hotel-Direktor... also wieder süß...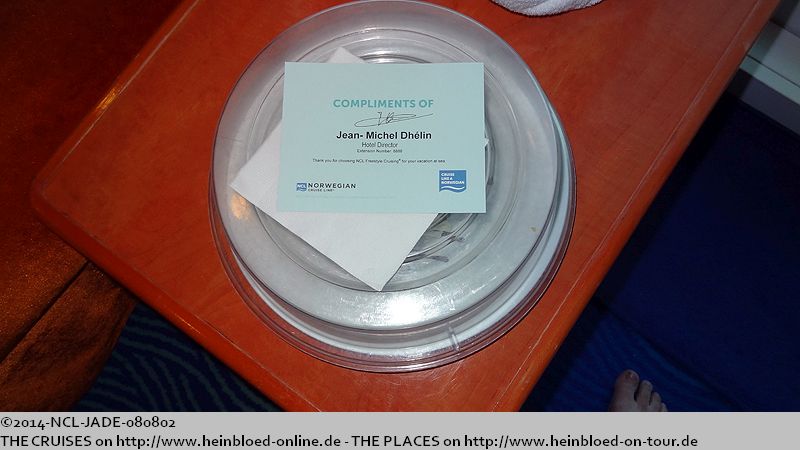 The Hotel Director... which means sweet...

My Douglas Ward was back. It was stupid of me that I took the 2013 edition with me. I wanted to ask other cruise-mates to have the book with them to let the Captain sign again in the 2014 edition but I am back by myself in September 2014.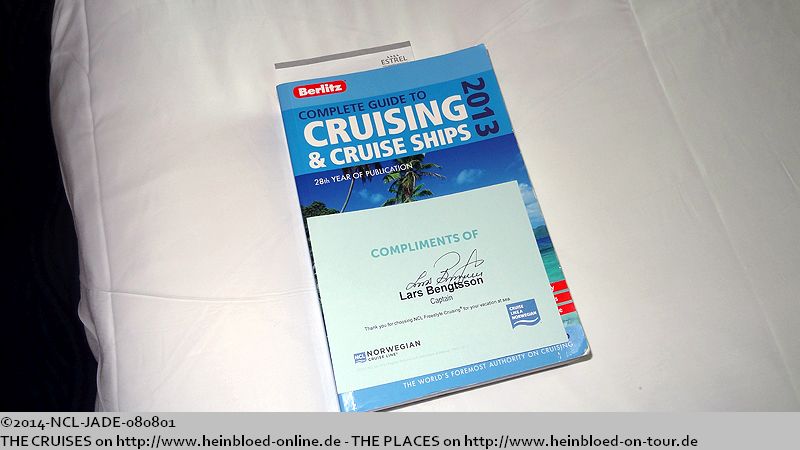 Mein Douglas Ward ist zurück. Blöderweise hatte ich jedoch die 2013-er Ausgabe mitgebracht statt 2014-er. Ich wollte eigentlich andere Mitfahrer bitten, das Buch für mich mitzunehmen, um eine neue Unterschrift in der 2014-er Ausgabe zu bekommen, aber ich bin ja selbst im September 2014 wieder drauf.
RTL Fernsehen gibt es als deutschen Fernsehkanal.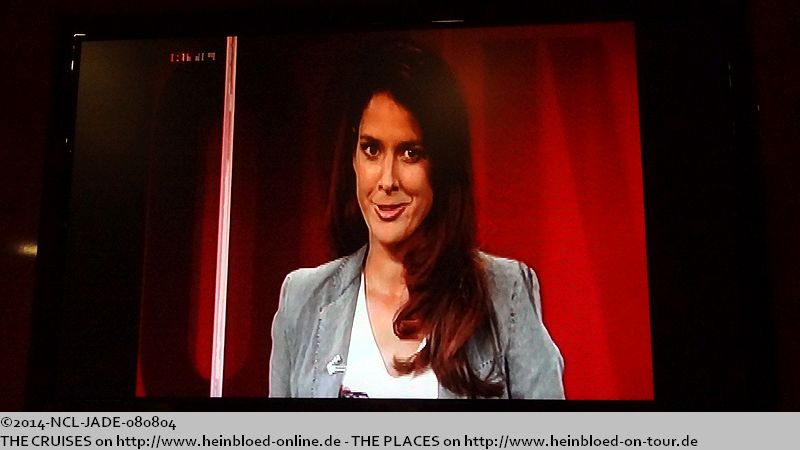 We got one private German TV-channel.

They had also a free-of-charge movie channel in German (and other languages). Currently they had "The incredible Burt Wonderstone" from 2013 - so you had quite actual releases. In the cabin we did not find a programme. In the Medusa-Lounge I saw once a movie-programme on a screen but I had no paper and pen with me to notice. Reminded me very much to the days when we still had the wall and no West German TV programme was published in the East Germany. So they had shows on West German TV just showing their daily and weekly programmes that East Germans could write down what to see the following days on West German TV.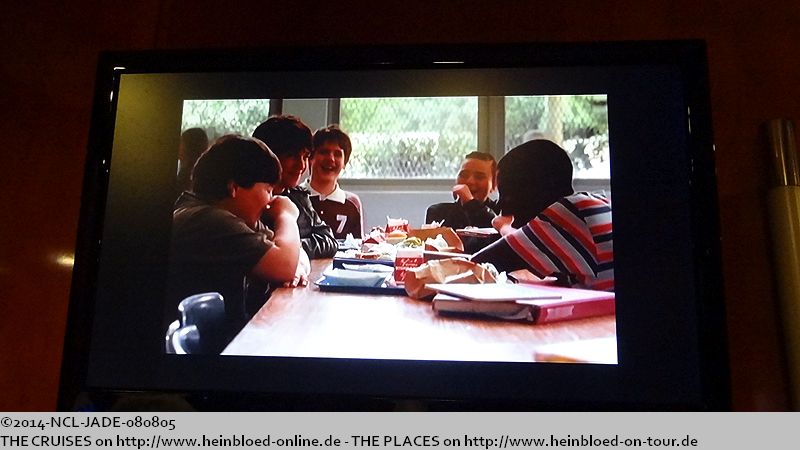 Es gibt noch einen kostenlosen deutschsprachigen Film-Kanal. Zur Zeit läuft "Der unglaubliche Burt Wonderstone" aus dem Jahre 2013, also verhältnismäßig aktuell. In der Kabine haben wir kein Programm gefunden. In der Medusa-Lounge habe ich mal am Bildschirm gesehen, in dem die Reihenfolge der Filme gezeigt wurde. Nur hatte ich nichts zum Mitschreiben mit. Damals noch als Dalli-Dalli im ZDF mit Hans Rosenthal lief und er immer die Sendetermine für das laufende Jahr nennen musste, damit man in der DDR mitschreiben konnte, weil ja das Tagesprogramm vom Westfernsehen nicht veröffentlicht wurde. So kam ich mir vor.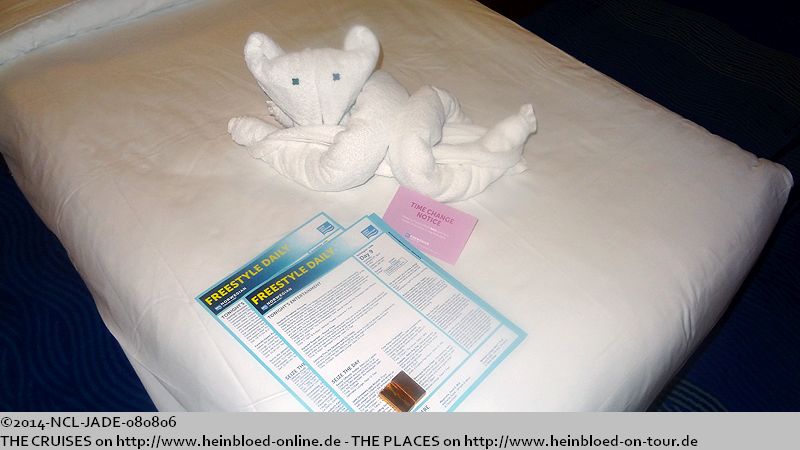 We asked Dhuri for a calm table in the Alizar Main Dining Room. He gave us a table in a part which can be separated and use as extension for Le Bistro.

Dhuri bitten wir um einen ruhigen Tisch im Alizar Hauptrestaurant. Er gibt uns einen Tisch in dem Teil, der als Separée abgetrennt werden oder als Erweiterung für Le Bistro dienen kann.
Dort bekommen wir zwei ganz tolle Kellner, die uns ganz toll bedienen: Kadek Mulyawati und Llyod Cunanan. Und Dhuri erfüllt uns mit seinen Leuten jeden Sonderwunsch: wie aufgeschäumte heiße Milch zum Kaffee. Dhuri ist schon ein toller Gastgeber.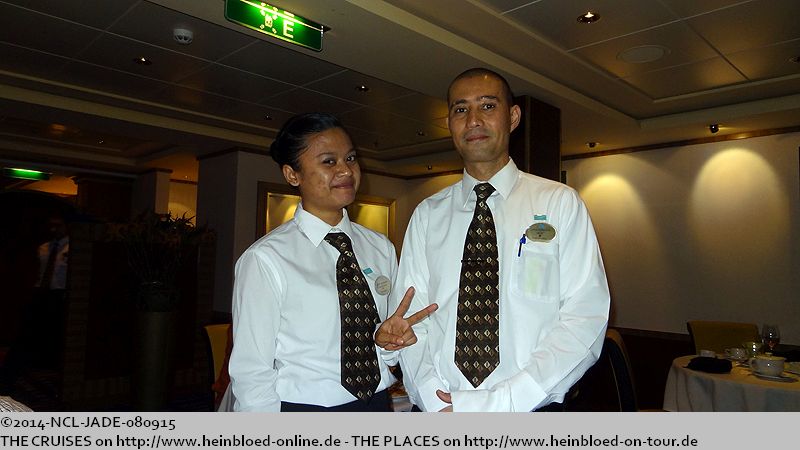 There we got two great waiters who was giving us a wonderful service: Ladek Mulyawati and Llyod Cunanan. And every special request was accepted by Dhuri like foamed hot milk. Dhuri is a wonderful host.

We went to the "Soul Satisfaction" show. A classical Motown-Show which made everyone exiting, singing and dancing between the rows. Someone was taken on the stage to perform with the band.

Es geht dann in die Show "Soul Satisfaction". Eine klassische Motown-Show, die alle mitreißt und wieder wird zwischen den Reihen getanzt und laut mitgesungen. Es wird wieder jemand aus dem Publikum auf die Bühne geholt, um dort mitzumachen.
Wir beschließen noch den schönen Abend in der Bier Bar, aber dort bekommen wir auch alles andere aus den anderen Bars. Nur dort ist es etwas ruhiger, weil der Pianospieler etwas weiter weg ist. Für mich gibt es eine Virgin Colada.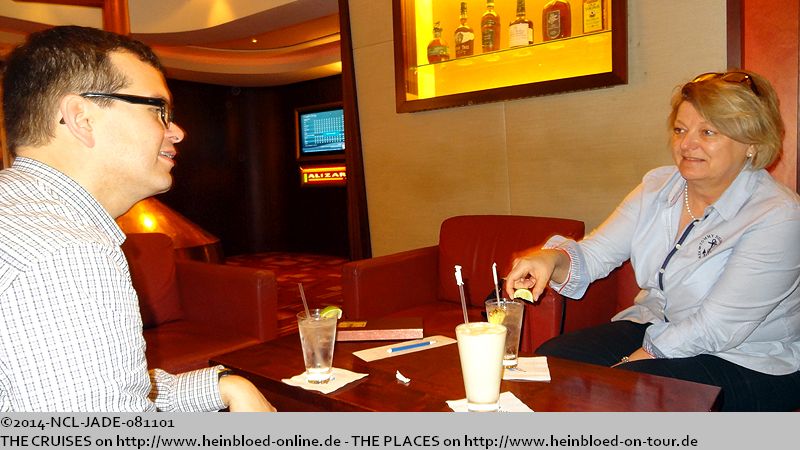 We terminated the nice evening at the Beer Bar but you could get everything from any other bar too. But there it was more calm because the piano player was more distant from there. I had a Virgin Colada.