Wir wollten Erika und Hans überraschen. Ein Highlight der Reise soll es werden. Nur mein Garmin hat mich in die Pampa geführt. Aber irgendwie haben wir es doch nach Certaldo geschafft. Bloß hatten wir vergessen ein Parkticket zu lösen, aber zum Glück haben auch kein Knöllchen bekommen.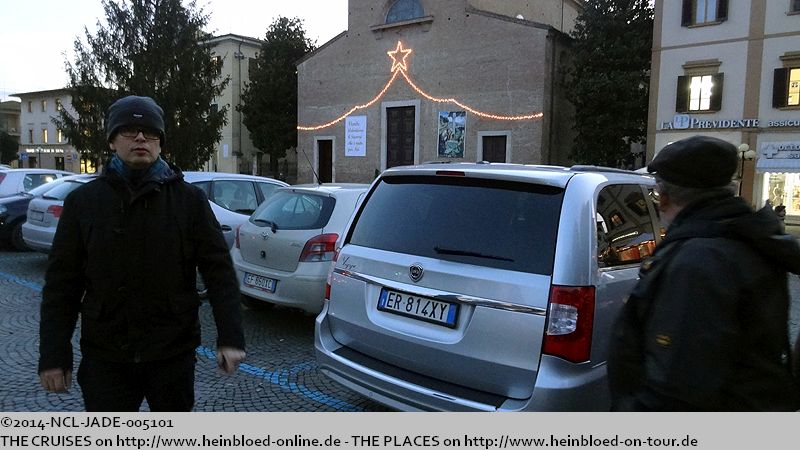 We wanted to surprise Erika and Hans. It should become a highlight of the voyage. Only my Garmin GPS took us to nirvana. But somehow we made it later to Certaldo. But we forgot to buy a parking ticket and had luck that we did not get a parking fine.

For dinner we should be in the upper town of Certaldo. If you are not a resident you may only access this part of the town by rope car.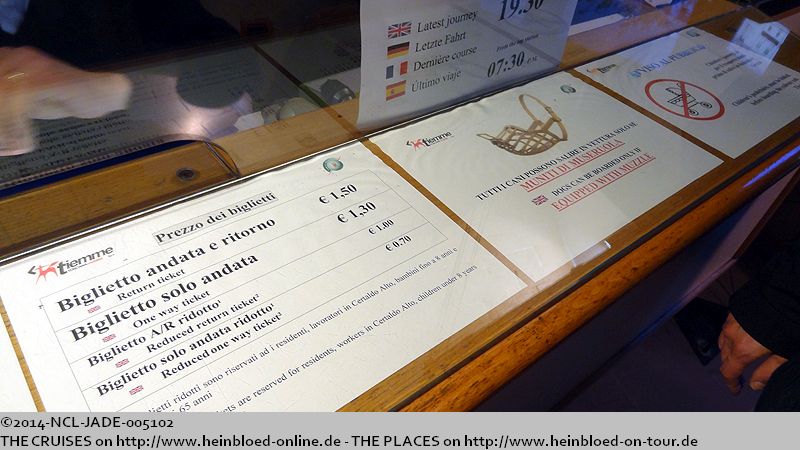 Zu Abend wird in der Oberstadt von Certaldo gegessen. Man kommt dort nur mit der
Standseilbahn
hin, wenn man kein Anwohner ist.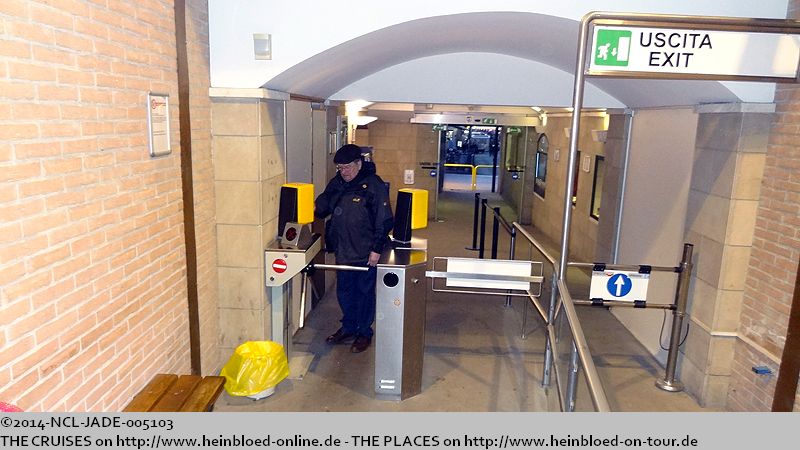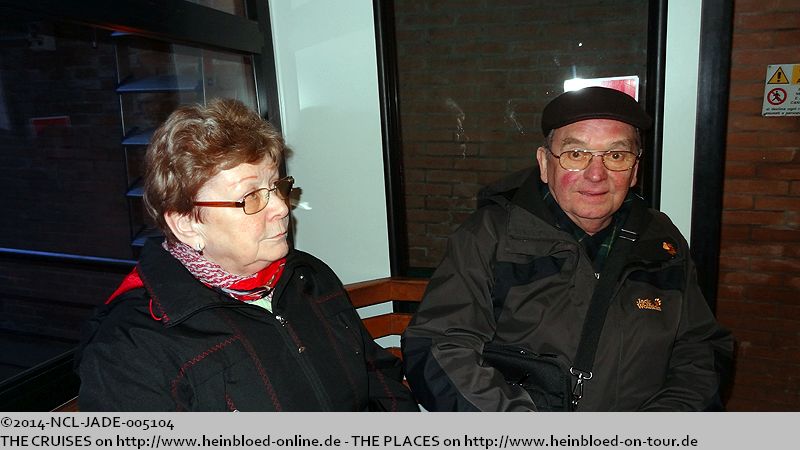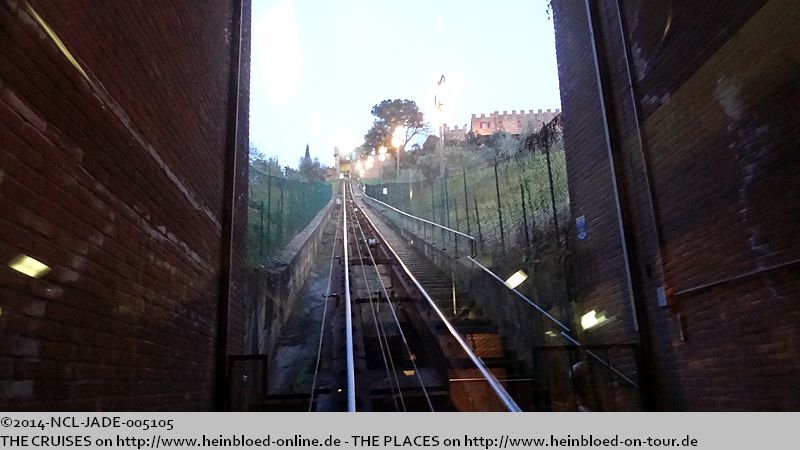 From the top you have a beautiful view on Certaldo.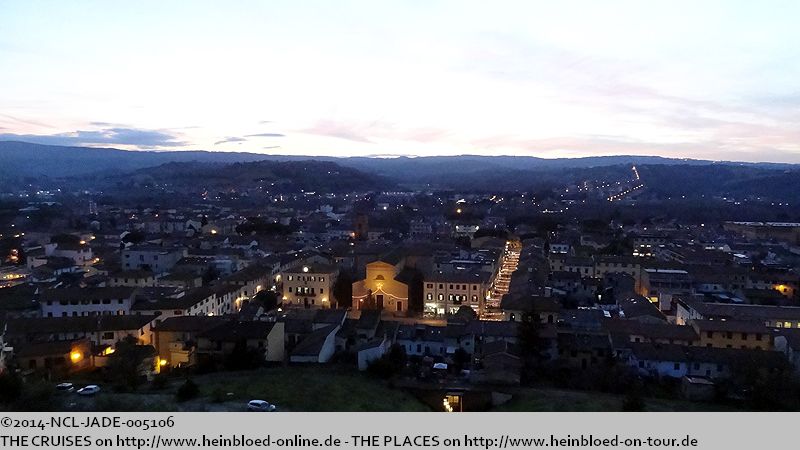 Oben gibt es einen schönen Blick auf Certaldo.
Sogar die Silhouette von San Gimignano sieht man von hier. Leider kommen wir ein wenig zu spät, um es noch im Hellen zu sehen.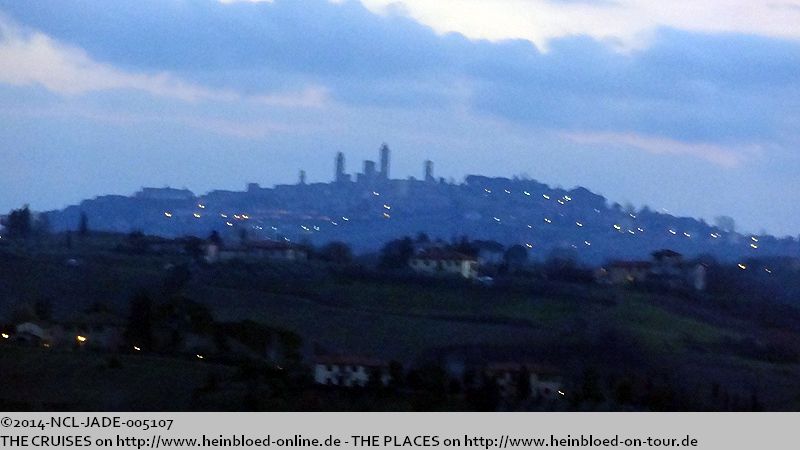 Even you could see the silhouette of San Gimignano from here. Unfortunately we came a little too late to experience this view much more brighter.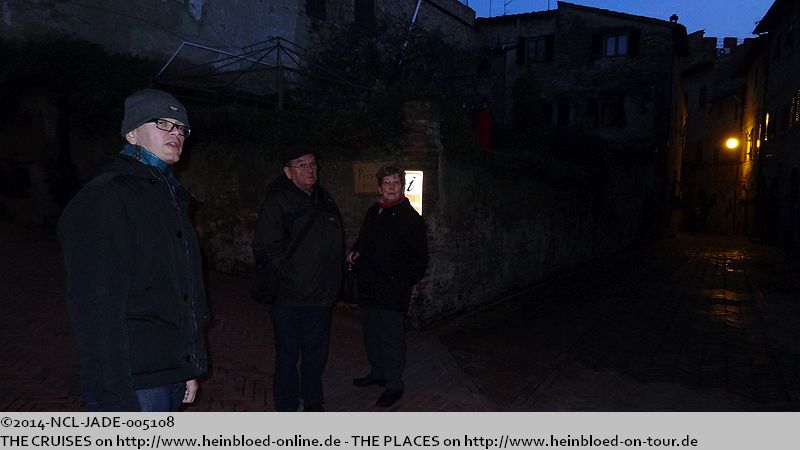 Extra für die Raucher unter uns (es war bloß keiner dabei), wurde eine Raucherecke aufgebaut.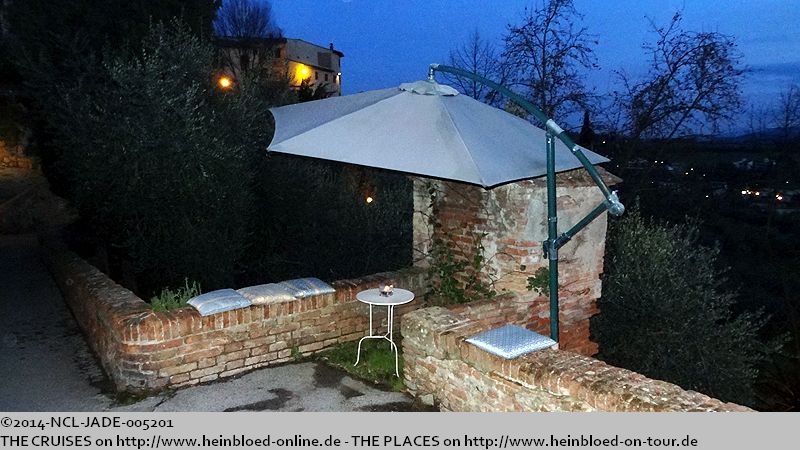 Extra for the smokers they set up a smoker's corner although there were any with us.

Erika and Hans were very sursprised how the entry to the restaurant looked like.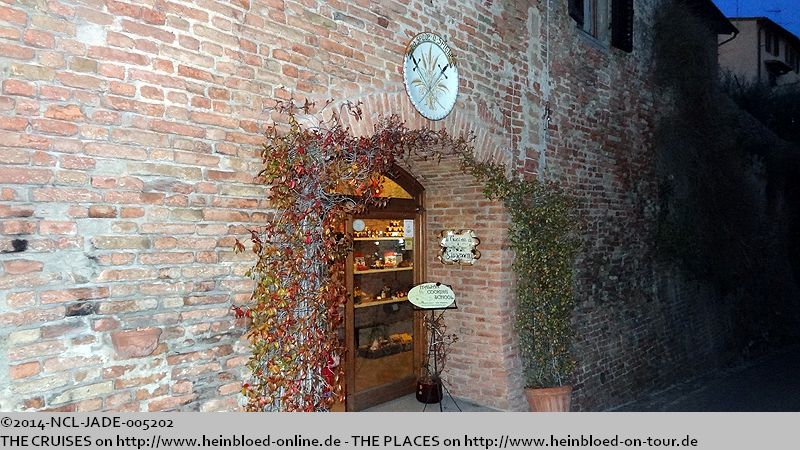 Erika und Hans waren schon etwas überrascht, wie der Eingang zu dieser Gaststätte aussah.
Und der erste Anblick innen war noch überraschender.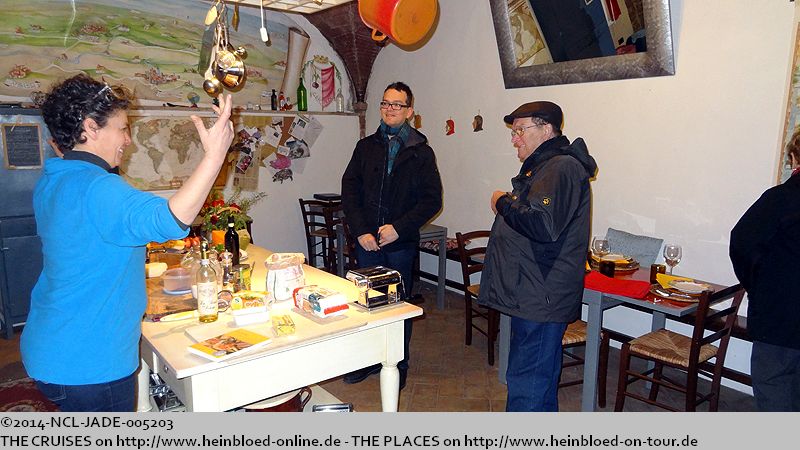 And the first view inside was more surprising.

There was only one table set for us.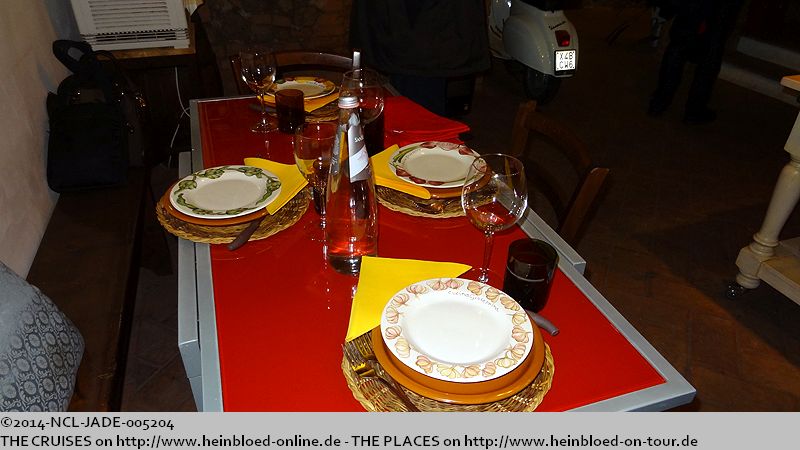 Nur ein Tisch war für uns gedeckt.
Es war ja auch keine Gaststätte, sondern die
Kochschule von Giuseppina
, die hier mit ihrem Sohn Simone bereit steht, um einen Kochkurs abzuhalten.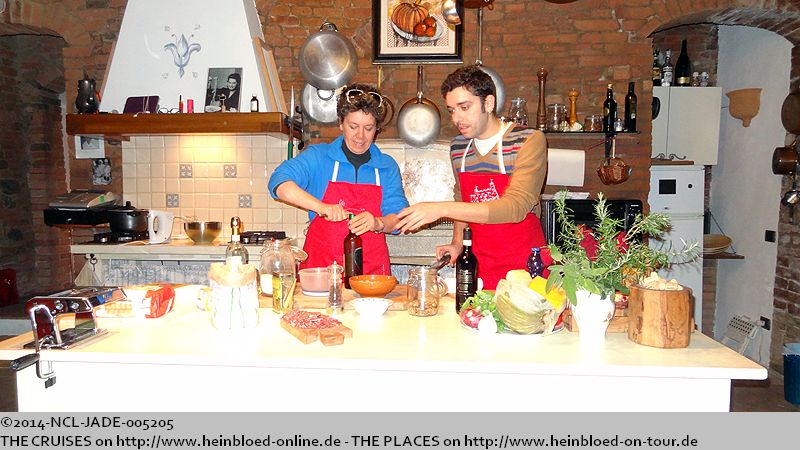 It was not a restaurant but Giuseppina's Cooking School who was conducting a cooking lesson together with her son Simone.

Each of us got an apron which also take home as souvenir.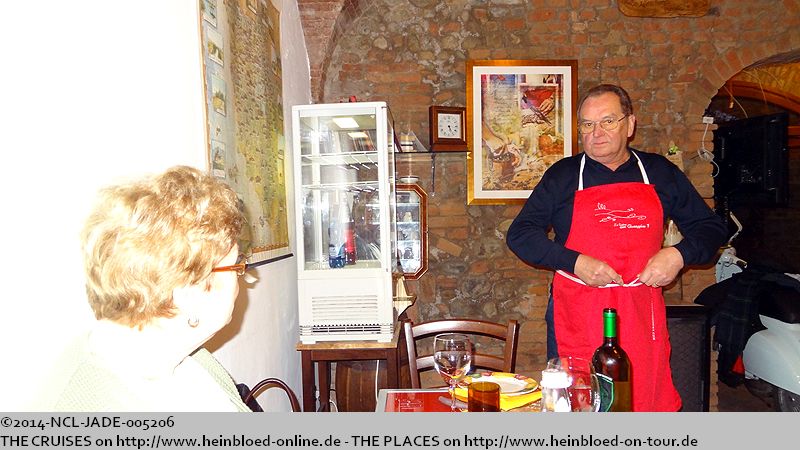 Jeder bekam erst mal eine Schürze, die wir auch als Souvenir mit nach Hause nehmen dürfen.
Das Menü des Abends, das wir unter Anleitung kochen müssen: Bruschetta, Pasta, Schweinelende und Tirami Su.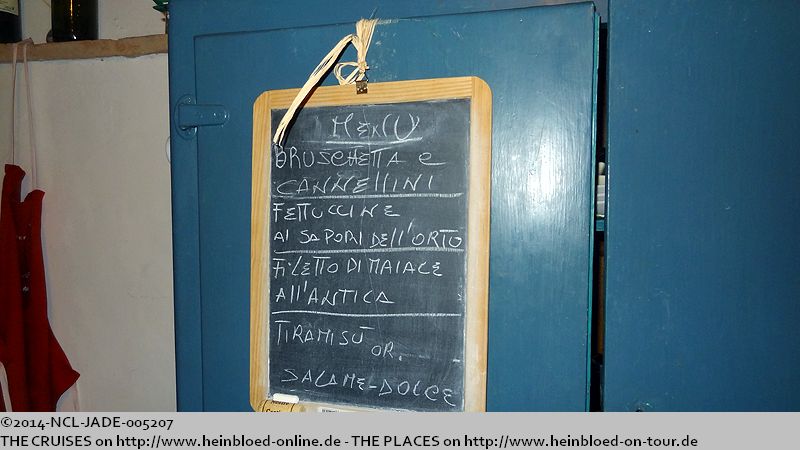 The menu of the night that we had to prepare under supervision: Bruschetta, Pasta, Pork Loin and Tirami Su.

Instead of writing all instructions for home we can just simply buy a book.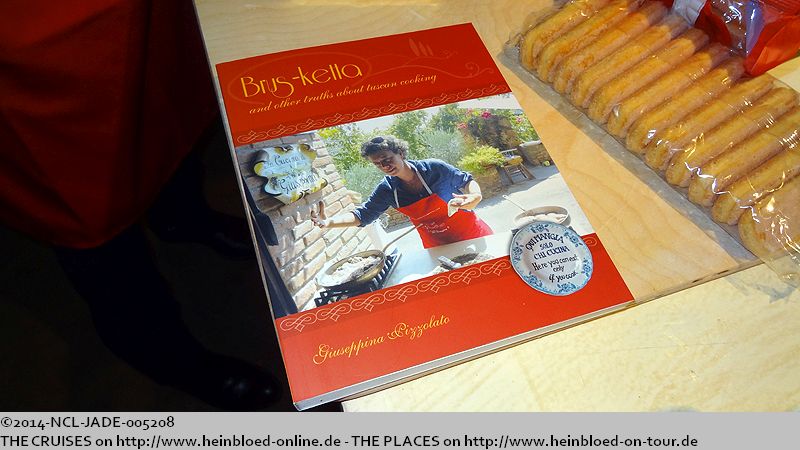 Statt mitzuschreiben können wir auch ein Kochbuch erwerben.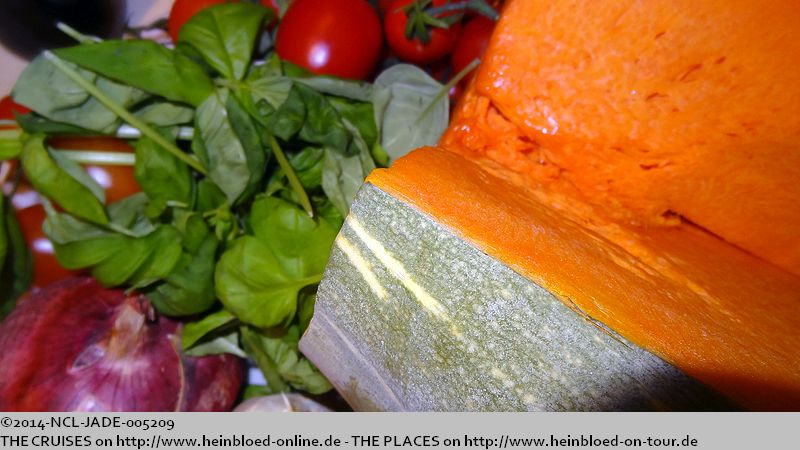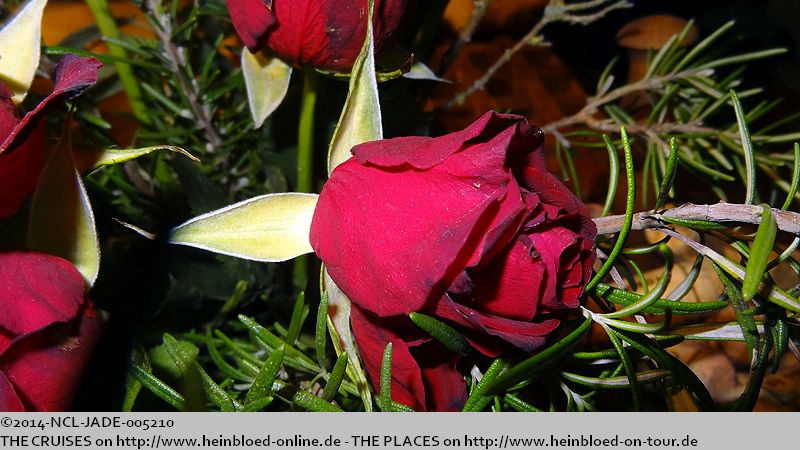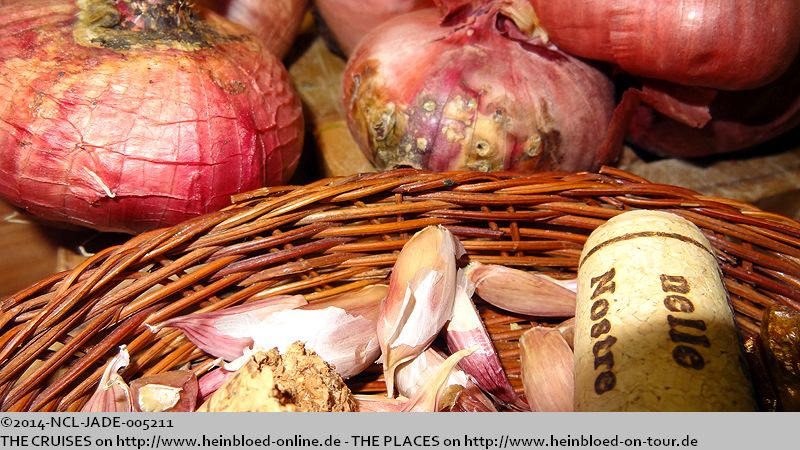 The red onions were from Certaldo and they are so famous that you find them in the crest of the city of Certaldo.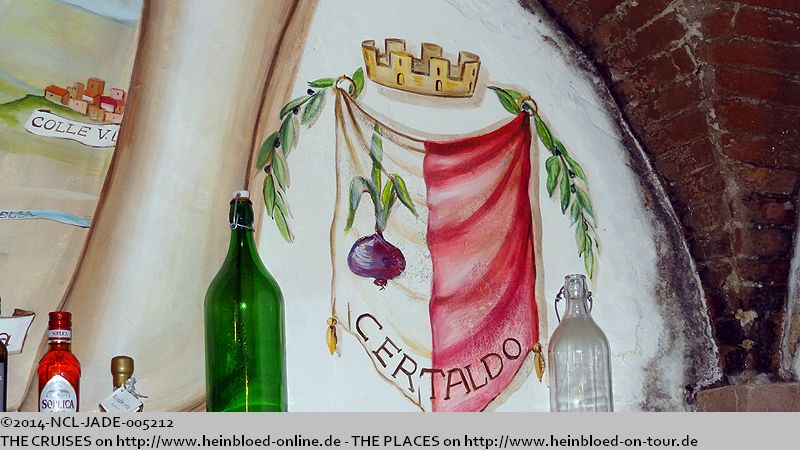 Die roten Zwiebeln stammen aus Certaldo und sind so berühmt, dass sie sogar im Wappen der Stadt Certaldo auftaucht.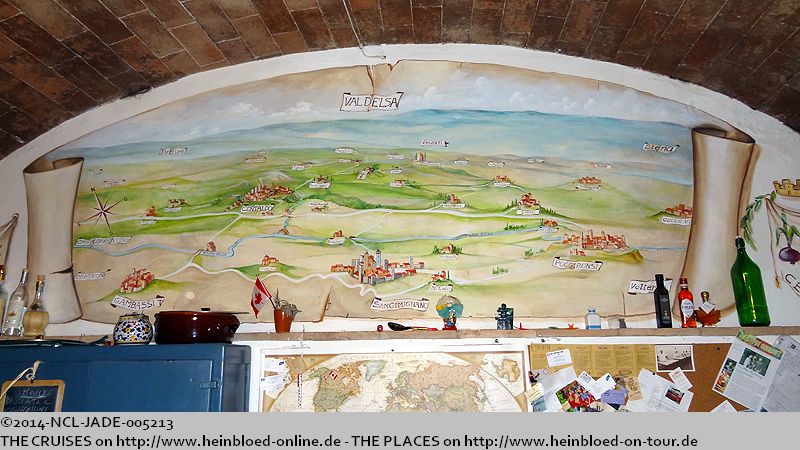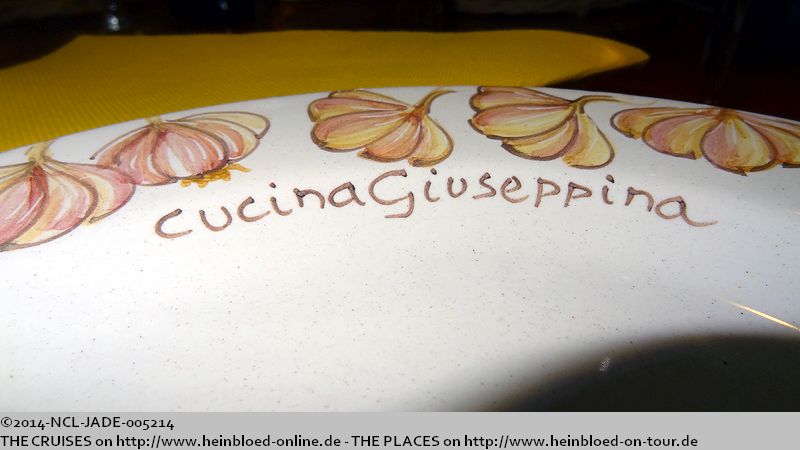 Die selbstgemachten "Marmeladen" (Relish, Saucen) schmecken fantastisch. Diese Paprika-Marmelade haben wir mit nach Hause genommen und jeder Käse wird damit zum Hochgenuß.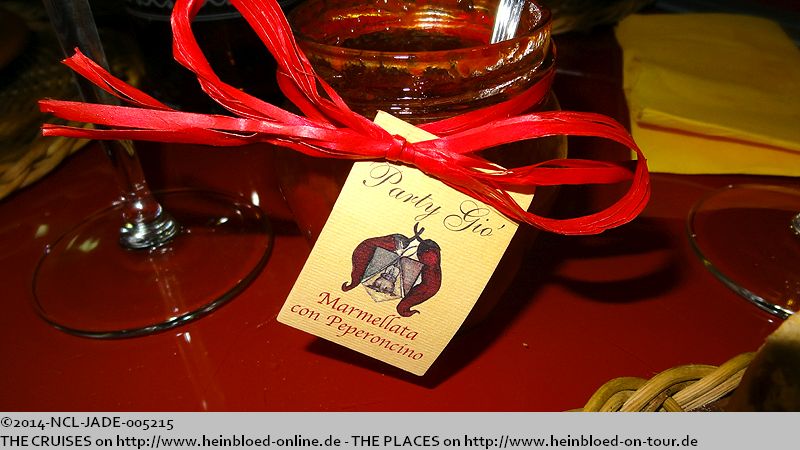 The homemade "jams" (Relish, Sauces) tasted phantastic. We bought for home the red pepper-jam and every cheese became gourmet experience with it.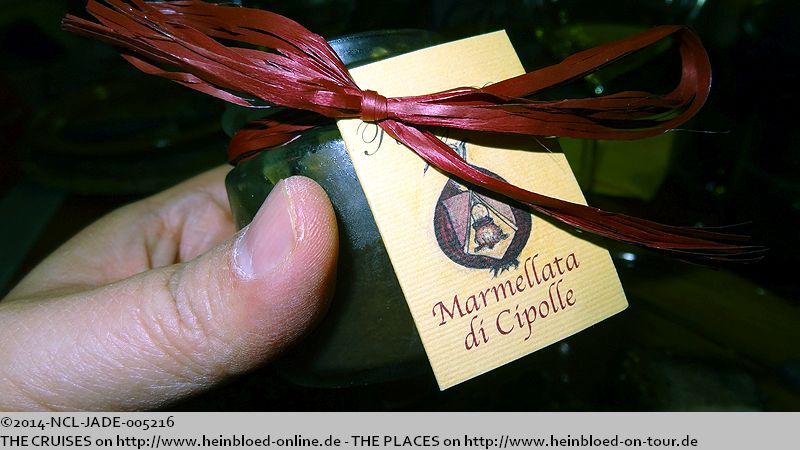 Der Wein kommt von den eigenen Familiengütern.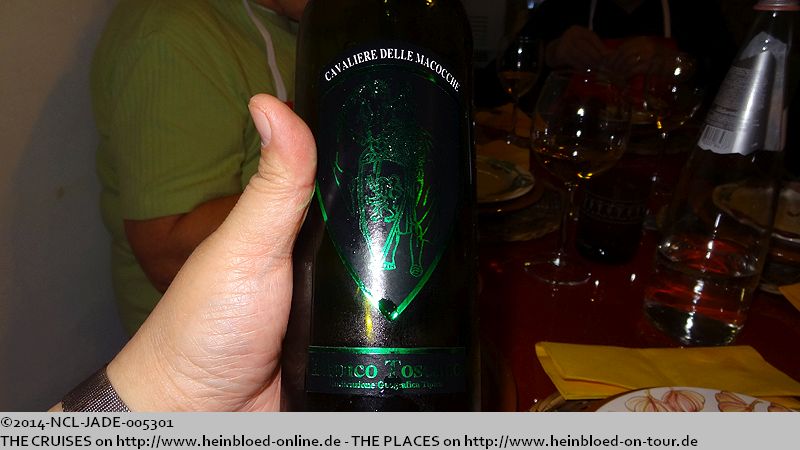 Even the wine came from the family owned wineries.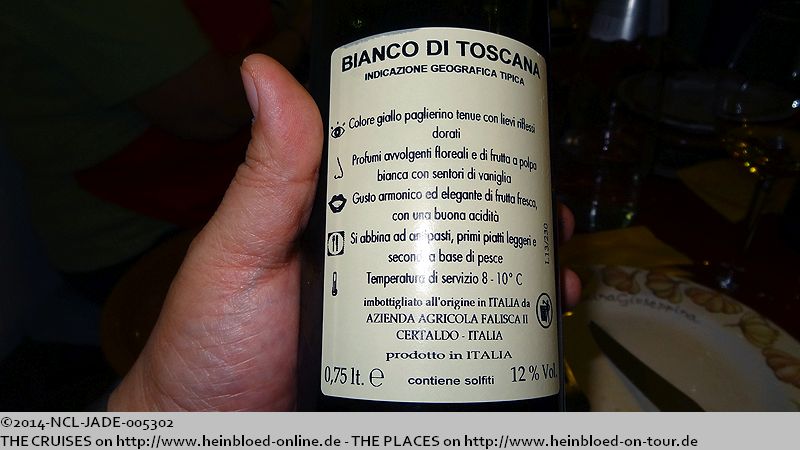 So macht kochen lernen Spaß...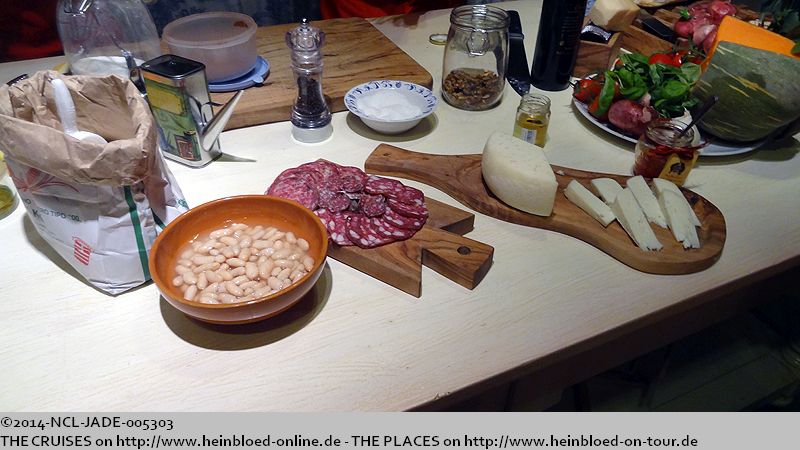 Cooking lessons make fun this way....

A little salami...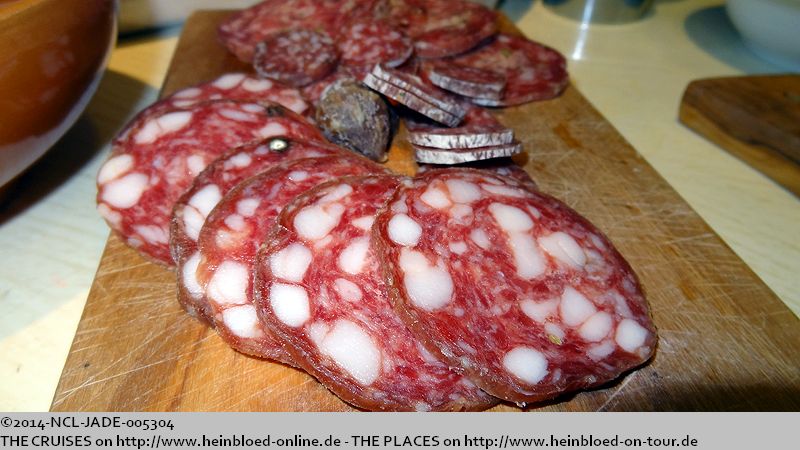 Ein bisschen Salami...
ein bisschen Peccherino-Käse (aus Schafsmilch) mit der selbstgemachten "Marmelade"... ein echter Genuss...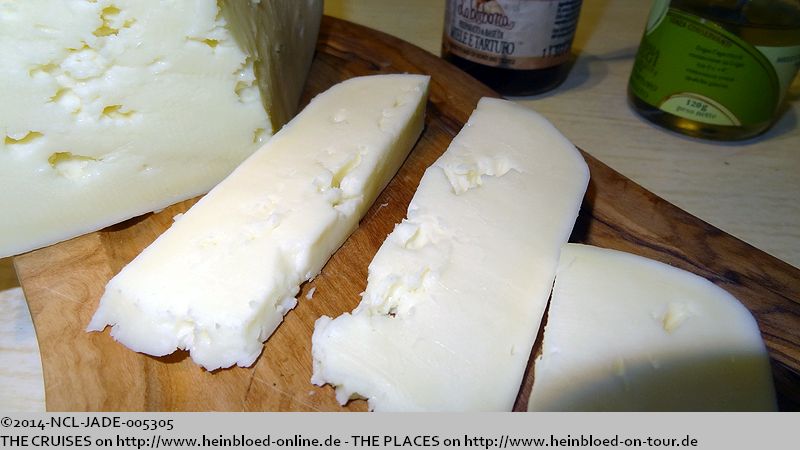 a little Peccherino (sheep milk) cheese with the homemade "jams"... a true joy...

with a glass of wine...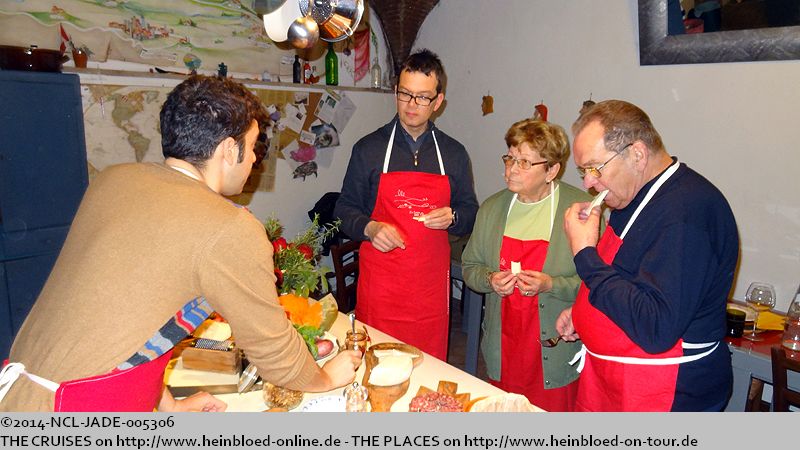 Dazu ein Glas Wein...
Kann ein Abend schöner anfangen...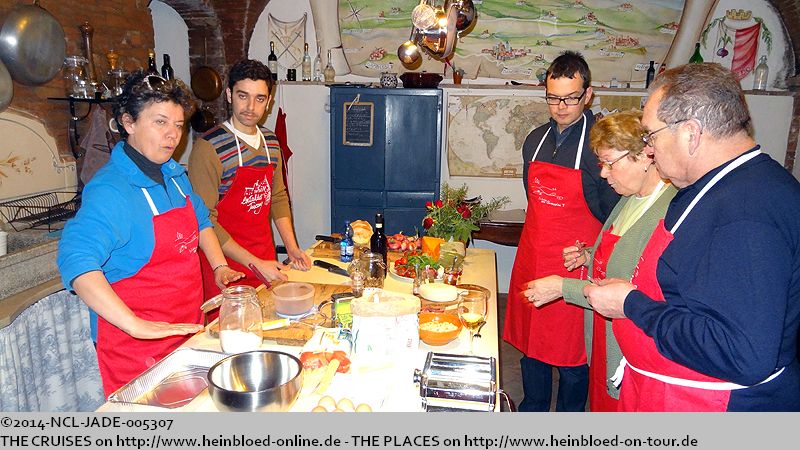 Was not that the perfect beginning of an evening...

And then we started to prepare the dessert: Tirami Su (which means "Pull me upwards"... and it did... best you can get after a depression... or whatever).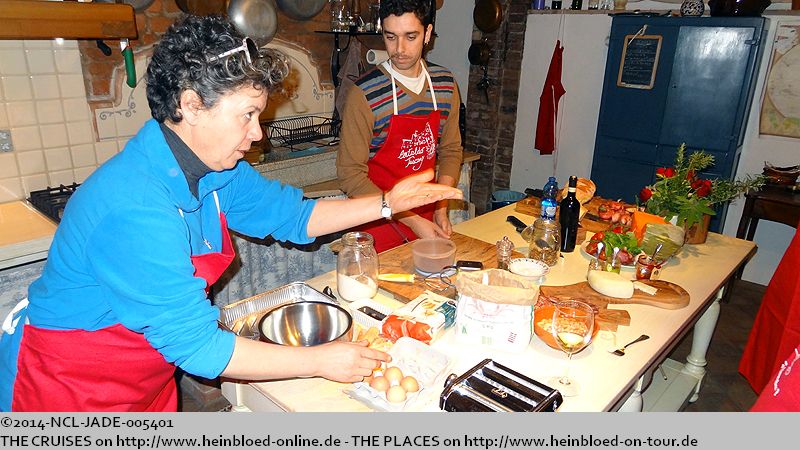 Und dann ging es auch schon mit dem Nachtisch los: Tirami Su (was soviel wie "Zieh mich hoch" bedeutet... and das tat es auch... das Beste gegen eine Depression... oder was auch immer).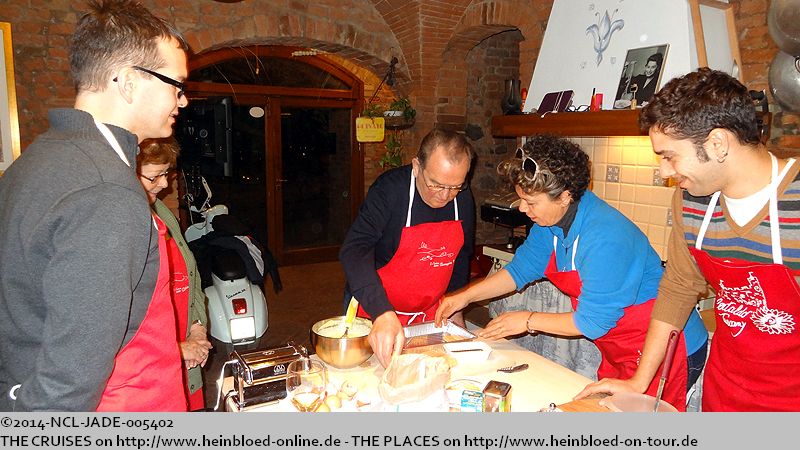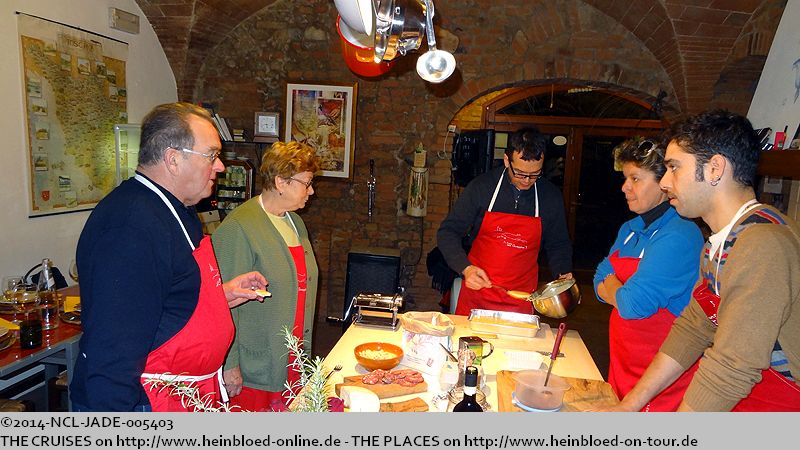 Obwohl es der Nachtisch ist, muss man damit anfangen, weil er ja noch eine längere Zeit im Kühlschrank ziehen muss. Und kein Alkohol rein. Den trinkt man dazu.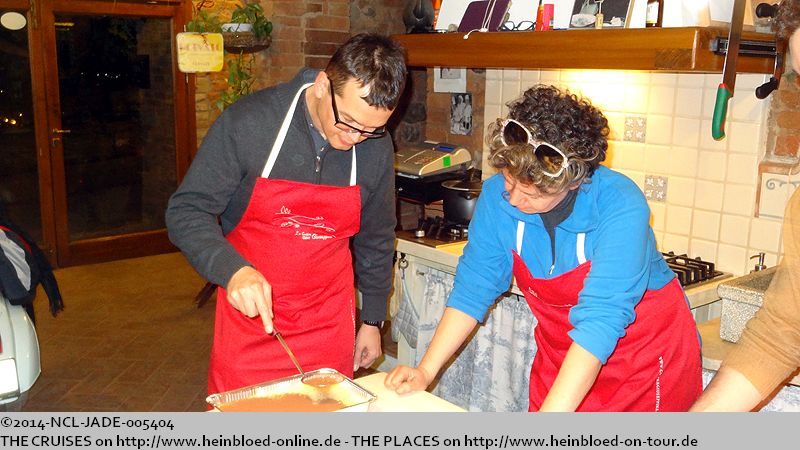 And although it was the dessert you must start with this as it need few time to rest in the frigde. And no alcohol inside. You have to drink with it.

Then the "Secondi"-course = 2nd main course followed. It was also necessary to start preperation here very early because the meat with the herbal crust must rest too. It was never a problem that the cooking lesson was conducted in English. Giuseppina was talking with her hands too so you must not need English language skills to understand the instructions.

Dann folgte der "Secondi"-Gang = 2. Hauptgericht. Auch hier mussten wir es frühzeitig vorbereiten, weil das Fleisch in dem Kräutermantel noch ruhen musste. Es war übrigens kein Problem, dass der Kurs in Englisch stattfand. Giueppina sprach so mit den Händen, dass man auch ohne Englisch-Kenntnisse alle Instruktionen verstand.
Und endlich wurde etwas zubereitet, was wir auch sofort essen durften: Bruschetta - nicht nur mit Tomaten und Zwiebeln, sondern auch mit Bohnen. Das war richtig lecker. So lecker habe ich es in Deutschland noch nie bekommen. Das liegt sicherlich an den Zutaten, die Giuseppina für den Kurs besorgt hat.

And finally something was prepared what we could eat immediately: Bruschetta - but not just with tomatos and onions but aslo with beans. That was really yummy. I never got this in Germany that yummy before but I think that this was also the ingredients Giuseppina purchased for the lesson.

Next was the preparation of Pasta... It began with a vulcano and a crate... exactly the right for Bruno. I think that this will be no problem to buy the flour with our Italian Supermarket Da Tenace in Schwetzingen, Germany.

Und dann begann die Produktion von Pasta... Mit einem Vulkan und einem Krater... das richtige für Bruno. Das Mehl dürften wir in Schwetzingen im italienischen Supermarkt für Italiener bekommen: Da Tenace.
Da jeder von uns etwas machen muss, übernehme ich den nächsten Teil. Danach entschließe ich mich dazu, dass ich diesem Leben keine italienische Mamma werde und dass das Fitness-Studio doch weniger anstrengend ist, als selbst Pasta zu machen.

As everyone of us had to do something I took over for the next part. After that I decided not to become an Italian Mamma in this life and going to the gym is less strenuous but to prepare fresh Pasta.

After that we had to push the dough of the pasta seven times though the noodle machine before we get Fettucini. Meanwhile Giuspeiina showed us which types of noodles you can form with one dough of pasta.

Danach müssen wir den Nudelteig sieben Mal durch die Nudelpresse schieben, bevor Bandnudeln herauskommen. Zwischendurch zeigt uns Giuseppina, welche Nudelarten alle geformt werden können.
Sobald das Wasser kocht geht alles sehr schnell. Die Nudeln sind ja frisch und nicht getrocknet. Nur mit wenigen einfachen Zutaten (Tomaten, Knoblauch, Olivenöl) wird ein ganz tolles Nudelgericht erstellt. Dazu noch frisch geriebener Käse... Perfetto... Und ganz wichtig: der Knoblauch darf nicht in heißem Olivenöl braun gebraten werden. Danach brauchen wir alle ein Bett.

As soon as the water was boiling it went quite fast. The noodles were fresh and not dried. With only very few and simple ingredients (tomatos, garlic, olive oil) you can prepare a wonderful pasta dish. Topped with some freshly grinded cheese... Perfetto... And very important: the garlic must not burn to brown in overheated olive oil. After that each of us need a bed.

Now the pork loin was taken out of the fridge and cut into slices. After frying you add Chianti to the meat. And that was yummy. And tender and juicy.

Nun wird die Schweinelende im Kräutermantel wieder aus dem Kühlschrank geholt und in Scheiben geschnitten. Nach dem Anbraten wird das Fleisch mit Chianti gelöscht. Auch das war richtig lecker. Und saftig und weich.
Last not least gibt es noch das Tirami Su.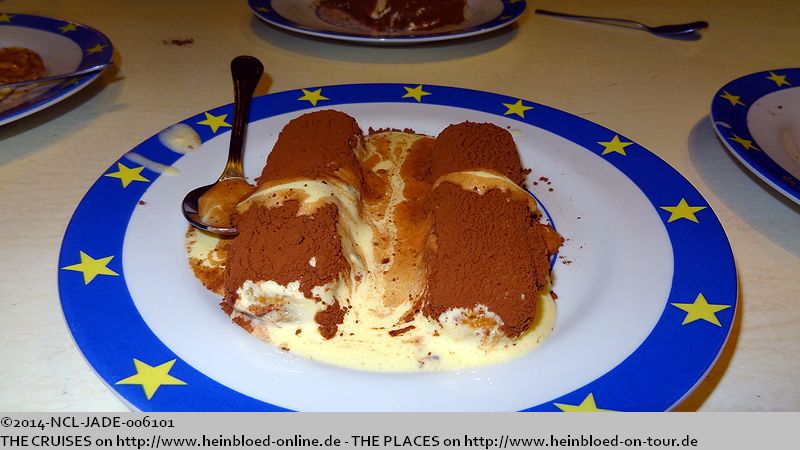 Last not least we had the Tirami Su.

And of course a Grappa.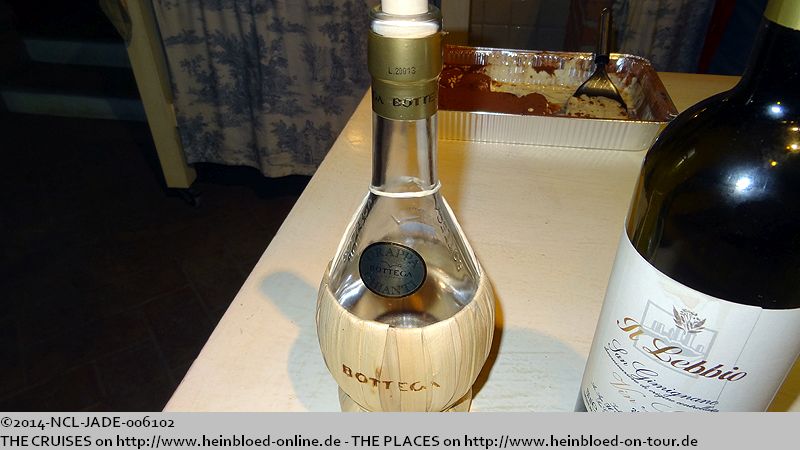 Es gab dann noch einen Grappa.
Sogar aus Chianti.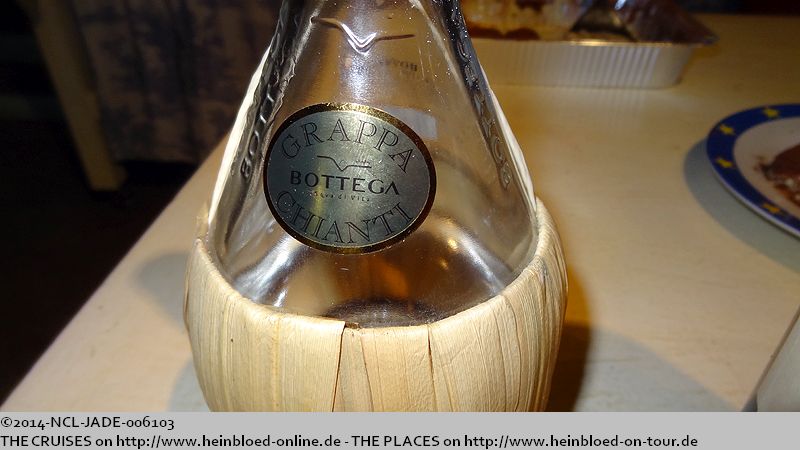 From the region of Chianti too.

As Grappa is too strong for me I got a Vin Santo (dessert wine) from the Il Lebbio-Winery from San Gimignano.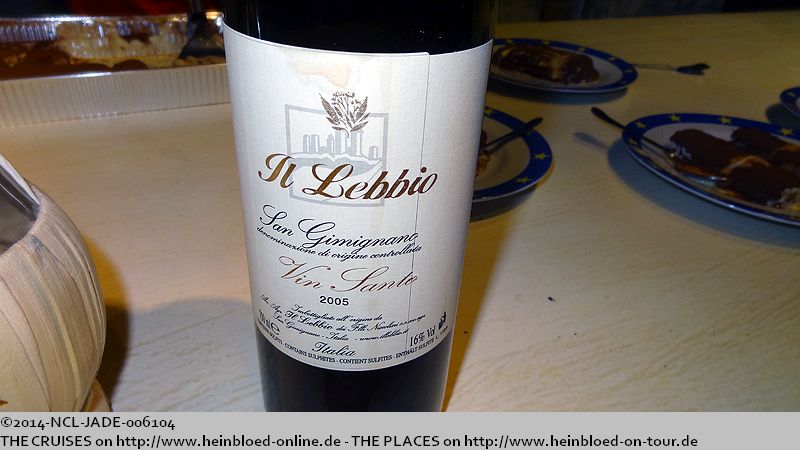 Da mir Grappa zu stark ist, bekomme ich einen Vin Santo (Dessertwein) von dem Winzer
Il Lebbio
aus San Gimignano.
Der war angenehm mild und schmeckte mir.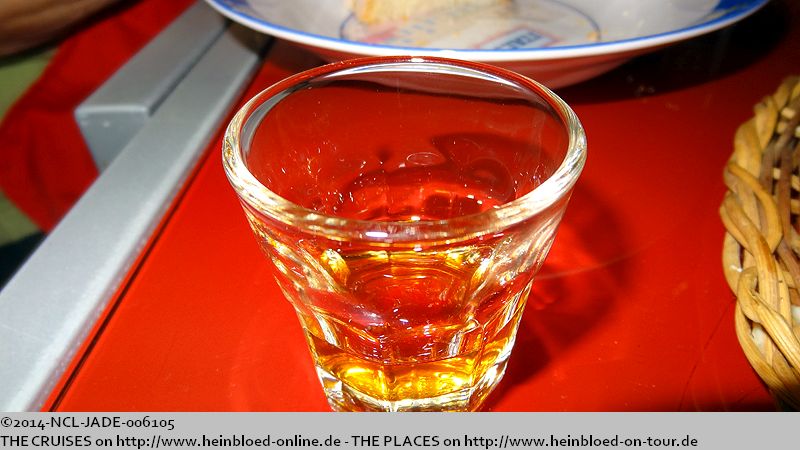 It was very mild and I liked it.

Finally we got a certificate.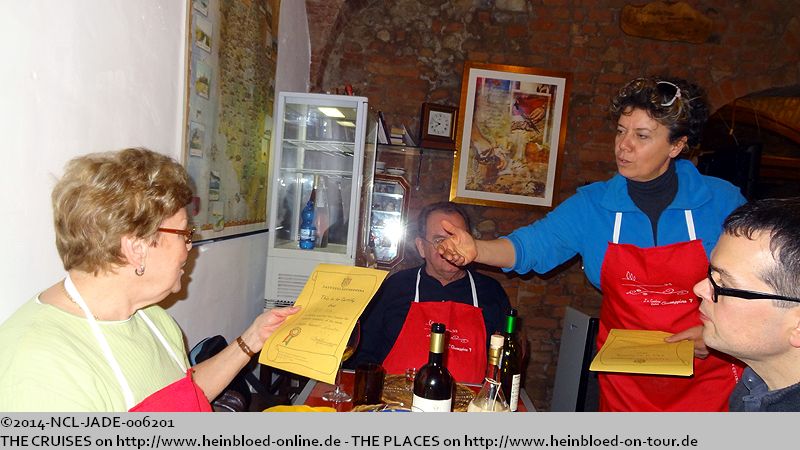 Zum Schluss bekommen wir ein Zertifikat.
Bloß habe ich leider Brunos und meines liegen lassen. Schade.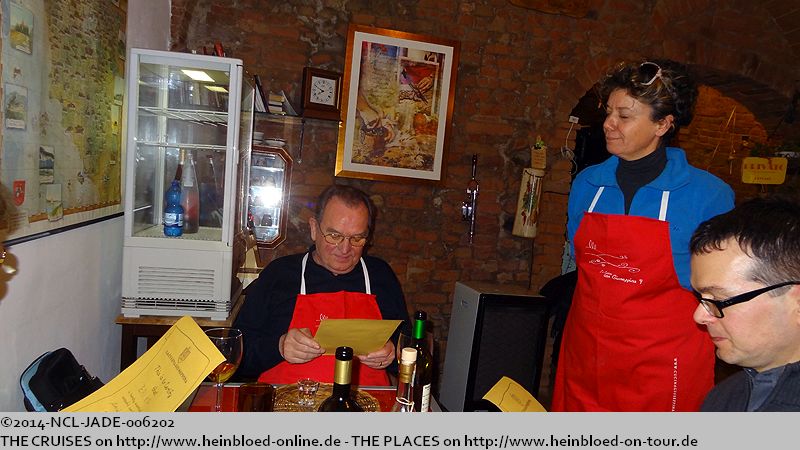 Unfortunately I left behind by mistake Bruno's and my. So sad.

Even before our cruise started we had already one highlight of our cruise. You can easily reach Certaldo by car rental from Livorno to join a cooking lesson if you know already other places in the Tuscany. It was just perfect. Even service there after: because the rope car was not operating anymore Simone was so kind to take us back to our car. Another wonderful day found its end. Thanks to Susanna, Giuseppina and Simone!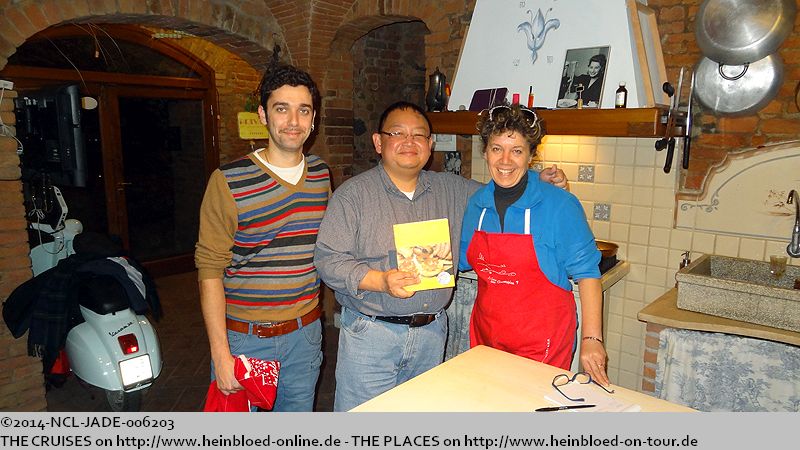 Auf jeden Fall kann ich bereits vor Beginn der Kreuzfahrt sagen, dass es ein Höhepunkt der Reise war. Mit einem Mietwagen kann man Certaldo auch gut von Livorno erreichen, um an einem Kochkurs teilzunehmen, wenn man die anderen Orte der Toskanas schon kennt. Es stimmte einfach alles. Sogar noch der Service danach: weil die Standseilbahn nicht mehr fuhr, wurden wir noch von Simone zum Auto zurückgefahren. Ein weiterer wunderschöner Tag geht zu Ende. Vielen Dank an Susanna, Giuseppina und Simone!