Morgens laufen wir in Katakolon ein... wir sind wieder da nach drei Monaten... Zuletzt waren wir ja hier mit der RYNDAM... Zugucken machte so lange Spaß, bis dass der Schlepper anfing, herumzustinken...

We arrived in the morning in Katakolon, Greece... after three months we were back again... Last time we came here by RYNDAM... It was fun to observe until the TUG started to stink like hell...

You could feel that Sigi worked very long time for a Taiwanese shipping line (unfortunately without cruise divison... and my father who worked there too could not convince his former co-workers we were nowadays in the board that Taiwan needs a cruise line of their own...) and posed accordingly.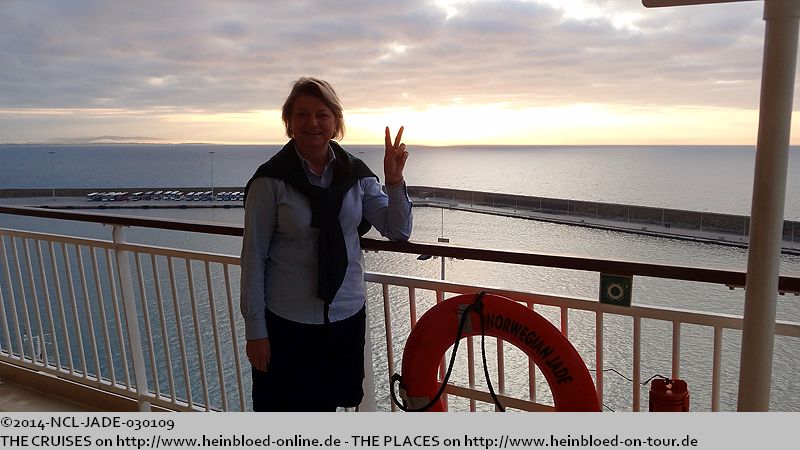 Man merkt, dass Sigi schon zu lange für eine taiwanesische Reederei (leider ohne Kreuzfahrtsparte... und mein Vater, der früher auch dort tätig war, konnte sie seine ehemaligen Arbeitskollegen, die heute im Vorstand sind, auch noch nicht überzeugen, dass Taiwan eine eigene Kreuzfahrtlinie braucht...) und posiert sich entsprechend...
Zum Frühstück gab es für mich Frittata... den Spargel habe ich mir schon abbestellt, aber da werde ich noch einiges mehr abbestellen...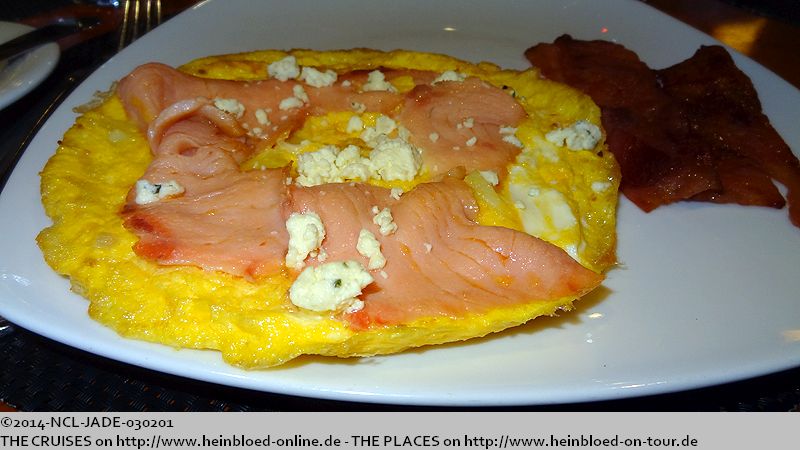 I had for breakfast Frittata (Italian open face omelette)... I already withdrew the aspargus but there are few things more I will withdraw in future too...

And a brioche roll... Few exercises still need...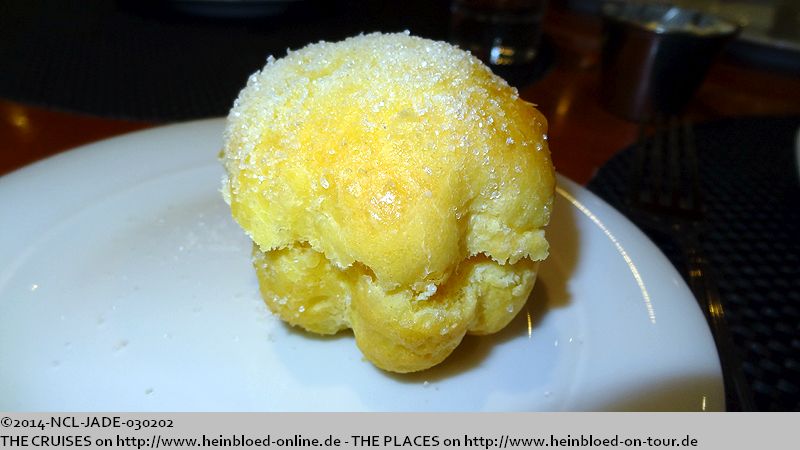 Und ein Brioche-Brötchen... da müssen wir nochmals üben...
Dann läuft eine "alte Freundin" ein: MSC FANTASIA... 11 Nächte... unvergesslich... 3 kg abgenommen... Der Körper passt sich irgendwann einfach an... Und wir haben auch keine Lust mehr mit denen mitzufahren, weil die Liegezeiten nicht stimmen. Ich fand ja unsere schon kurz von 08.00 Uhr bis 16.00 Uhr... aber die ja waren ja nach uns erst da und vor uns schon weg... und das bei 1/3 mehr Passagieren, die ja irgendwie erst runter und wieder rauf müssen...

Then an "old friend" arrived: MSC FANTASIA... 11 nights... unforgettable... lost 6 lbs. weight... The human body just adapted himself... And one more reason why we do not go anymore with them: the docking times do not fit. I thought our call was already quite short fom 08.00 hrs to 16.00 hrs... But they arrived after us and had left already before we left... and you had 1/3 more passengers who need to get off and on the ship....

As usual they were working on board... So the lift was moving in front of us...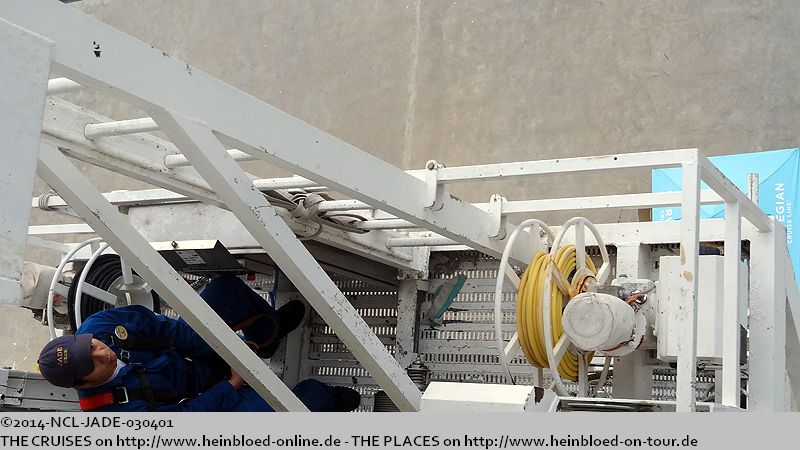 Wie üblich wird an Bord gearbeitet... So fährt der Lift an uns vorbei...
Und ich bleibe unbemerkt...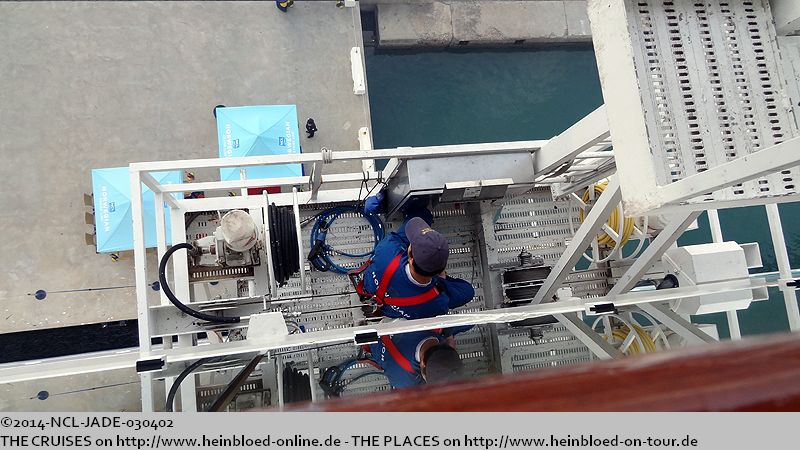 But I stayed unattended.

Finally a chance to take few pictures with the NORWEGIAN JADE...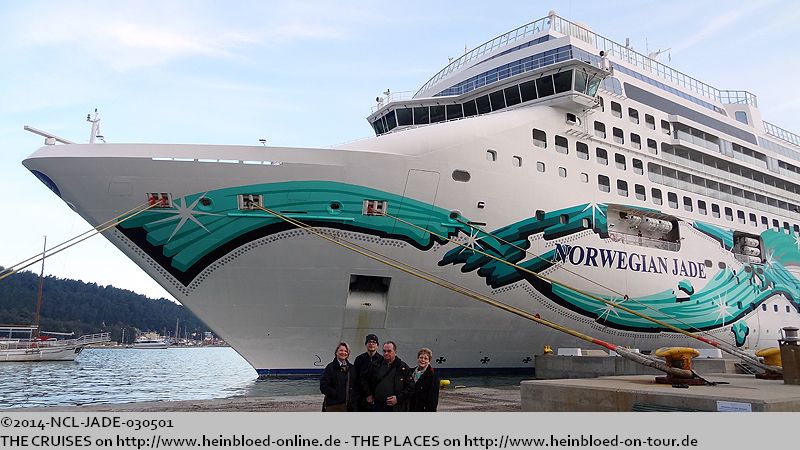 Endlich mal Gelegenheit ein paar Bilder mit der NORWEGIAN JADE zu machen...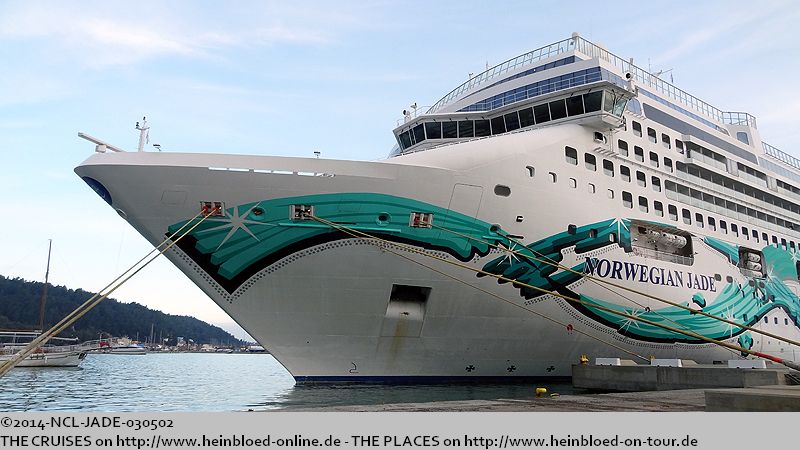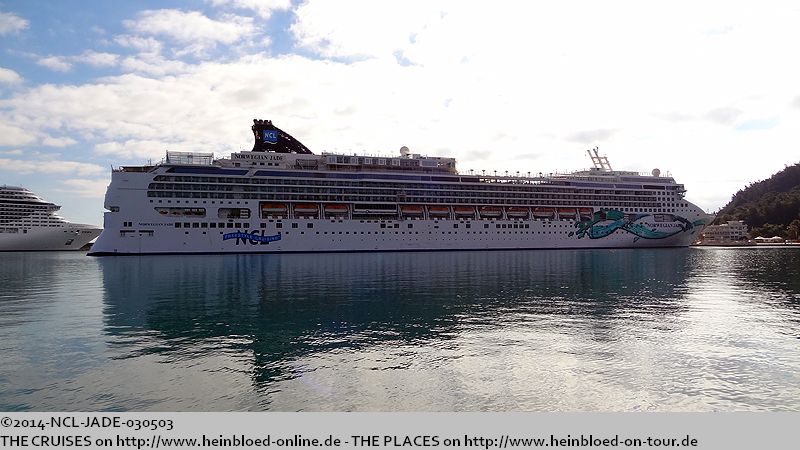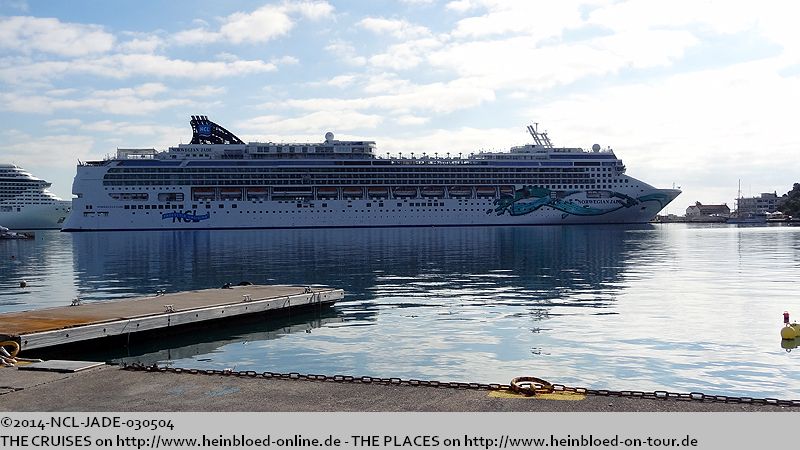 Better safe than sorry... so we had the contacts of the port agent on our camera...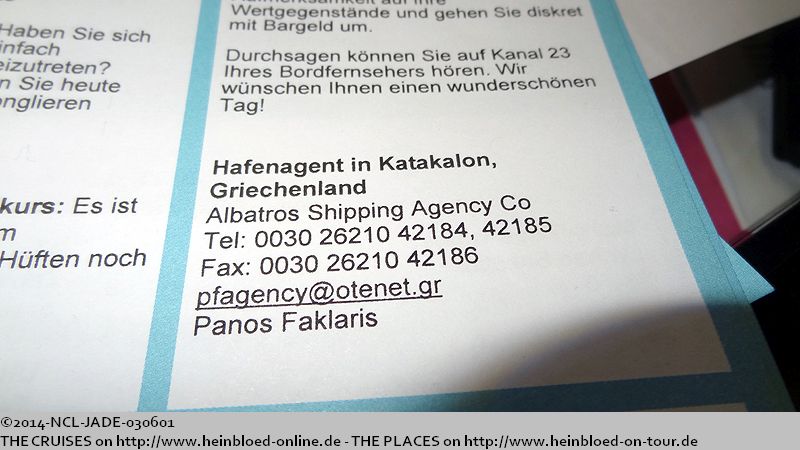 Sicher ist sicher... dann sind die Kontaktdaten des Agenten auf der Kamera...
Und sicher ist sicher... So hat man auch immer die Zeiten auf der Kamera...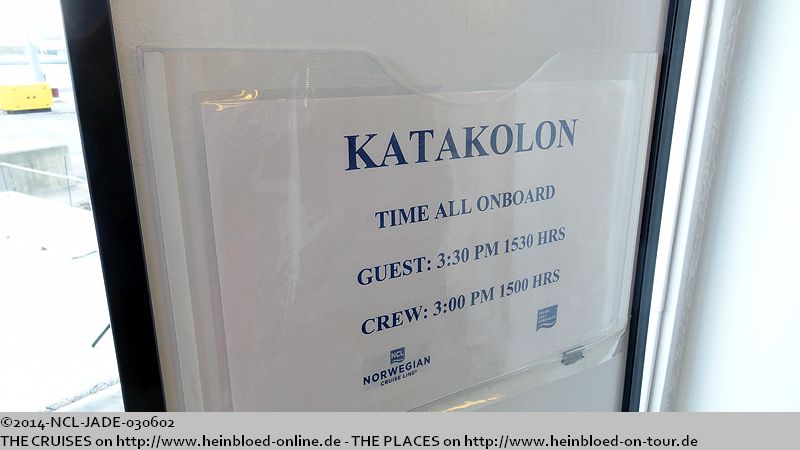 Better safe than sorry... So you had always the times on our camera...

No Greek dancers in front of the ship to welcome us...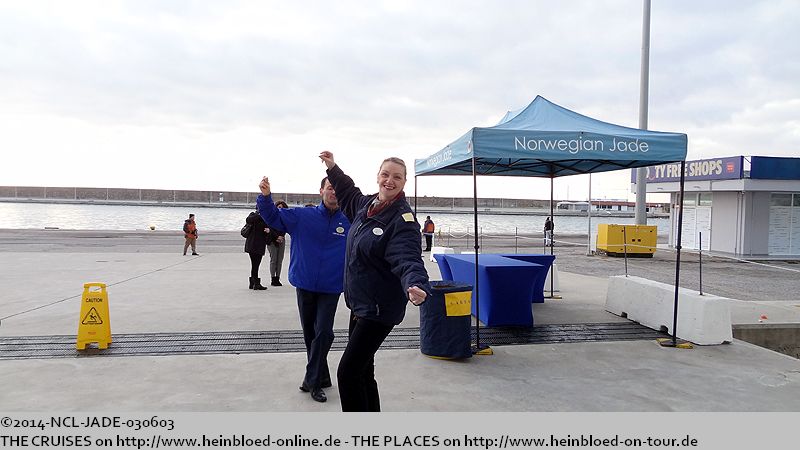 Keine griechischen Tänzer vor dem Schiff zur Begrüßung...
Stattdessen Cruise Director Jill und ihr Assistent Fernando Medina...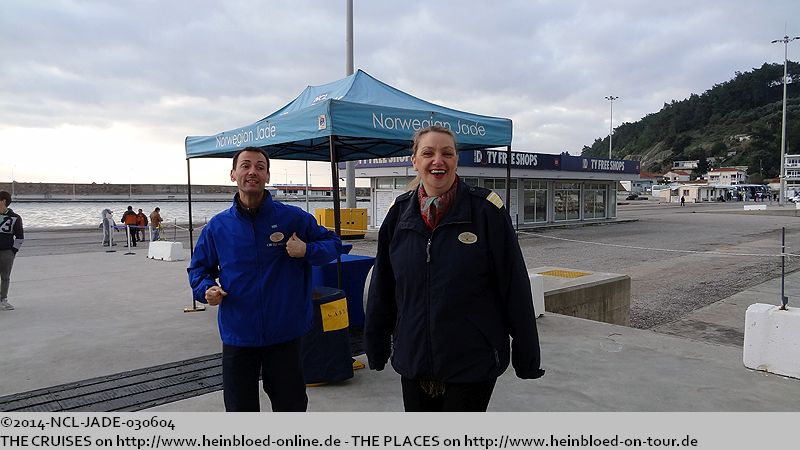 But we had Cruise Director Jill and her assitent Fernando Medina...

I guess that Jill and Fernando danced so well that the Greek dancers might disappeared very frustrated...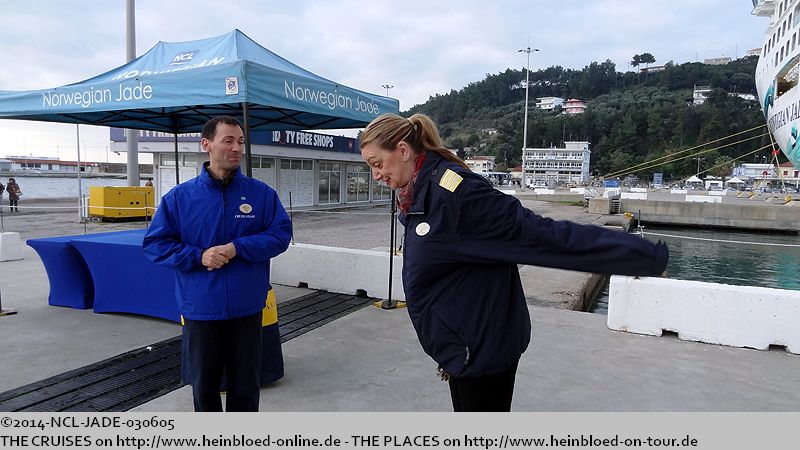 Vermutlich haben Jill und Fernando schon so gut getanzt, dass die griechischen Tänzer frustriert abgezogen sind...
So ein Mist, dass wir schon etwas arrangiert haben... Bruno war ja noch auf keiner Hafenrundfahrt bislang auf dieser Tour... Das nächste Mal:
Katakolo Yacht
. Ich muss denen aber erst mal auf die Nerven gehen und feststellen, wie gut man Kreuzfahrtschiffe von der Yacht aus fotografieren kann. Davon hängt es ab, ob ich mitfahre... Doch nicht wegen der Natur...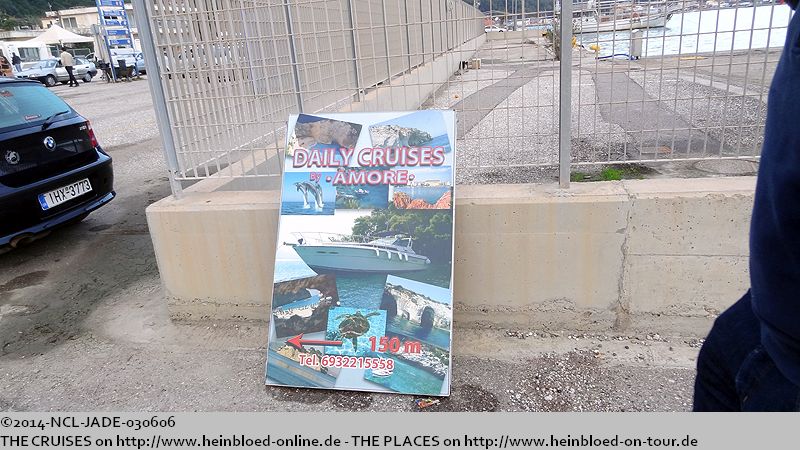 So bad that we arranged already something... Bruno did not go to any port cruise on this tour... The next time: Katakolo Yacht. But first I need to torture them and to find out how good you can take pictures of the cruise ships from their yacht. That was most imporatant for my decision to go or not to go... not because of the nature...

Here the bussses were waiting for the ship's tours.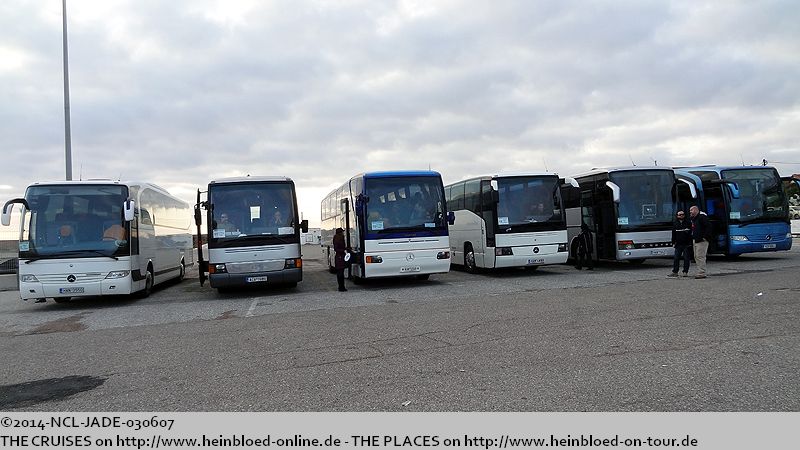 Hier warten schon die Busse auf die Schiffstouren.
Vorne ist wie immer der Informationsstand besetzt, bevor es am Hafen raus geht.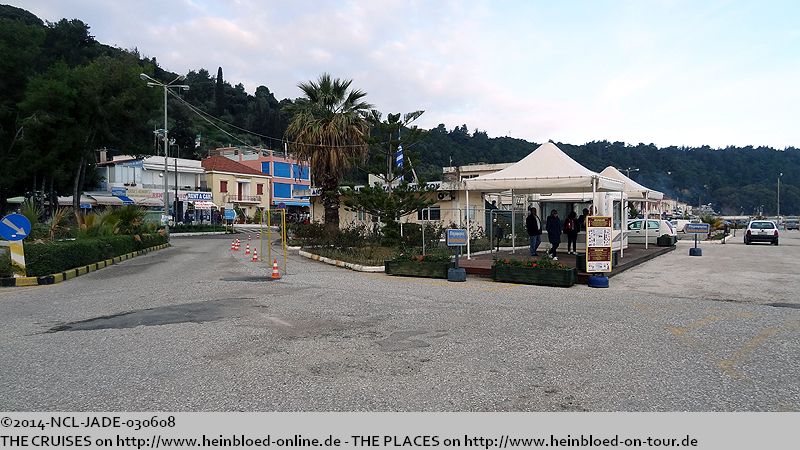 In the front you find the information kiosk before you leave the port.

Here they tried to catch you to the into the busses to Olympia.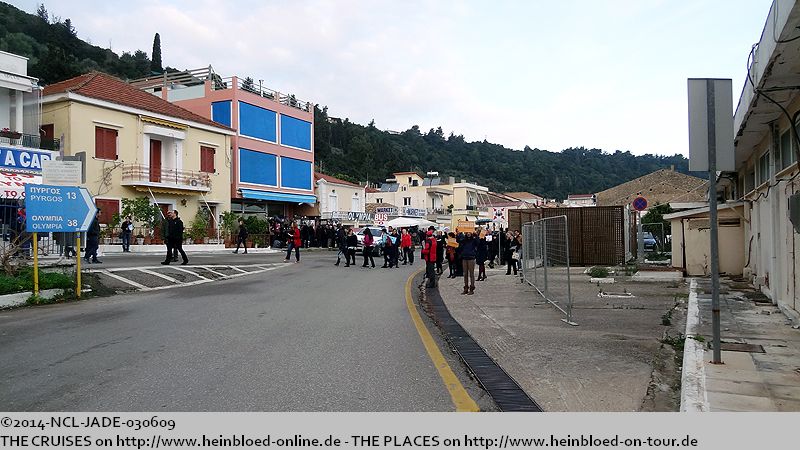 Und wieder wird man direkt abgefangen, damit man in die Busse nach Olympia steigt.
Zwei haben uns später erzählt, dass sie am Haupteingang abgesetzt wurden, aber der Bus dann woanders geparkt hat und ihn nicht mehr wiedergefunden haben. Mit einem anderen Bus durften sie nicht zurück und hatten Glück, dass zwei andere Passagiere eine private Taxitour hatten und sie dann mitgenommen haben.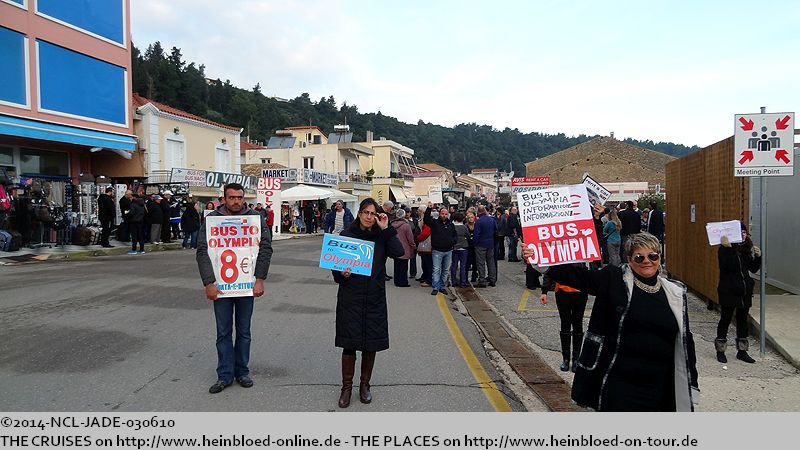 Two told us later that they were released in front of the main gate but the bus parked somewhere else and did not find their bus anymore. They were not allowed to go just with another bus and they had luck that they met two other passengers on a private tour who took them back on the ship.

A horse carriage tour.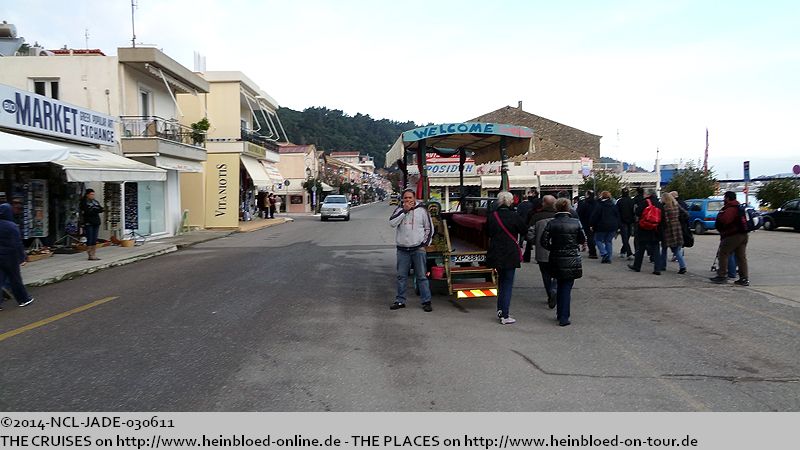 Eine Kutschfahrt.
Wir folgten jedoch der Mitarbeiterin von
Sixt
, die uns schon erwartet hat. Ich hatte zunächst mit Avis kommuniziert. Sie bestanden jedoch darauf, dass ich bis 09.00 Uhr meinen Wagen abgeholt haben müsste, um den Preis für Kreuzfahrer zu bekommen. Wenn ich nach 09.00 Uhr käme, würde er mir die internationale Raten abrechnen. Nach dem ich ihm erklärt habe, dass ich mich auf Urlaub befinde und keinesfalls gedenke, seinetwegen mich abzuhetzen, hatte ich bei Sixt angefragt und die hatten vollstes Verständnis, dass ich ggfls. auch erst um 09.01 Uhr auftauchen würde... Es war gut, dass sie einen abgeholt haben... denn sie haben sich gut in der 1. Etage eines Hinterhofhauses versteckt...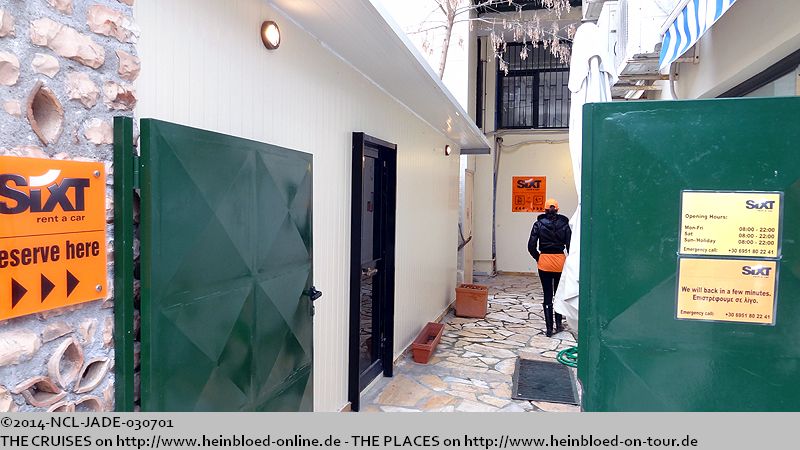 We followed the agent from Sixt who was waiting for us. I started to communicate with Avis. They insisted me to show up until 09.00 hrs for having the special rate for cruisers. Subject I would appear after 09.00 hrs they would charge me the international rates. After I declared that I am on vacation and I do not have the intention to have stress because of them I started to ask Sixt and they understood my request and might appear 09.01 hrs... It was good that we were collected... because they hide themselves very well in the upper floor of a backcourt house...

Very convenient times... but you should better doublecheck for the the late hours, especially off-season. On their website 20.00 hrs was marked.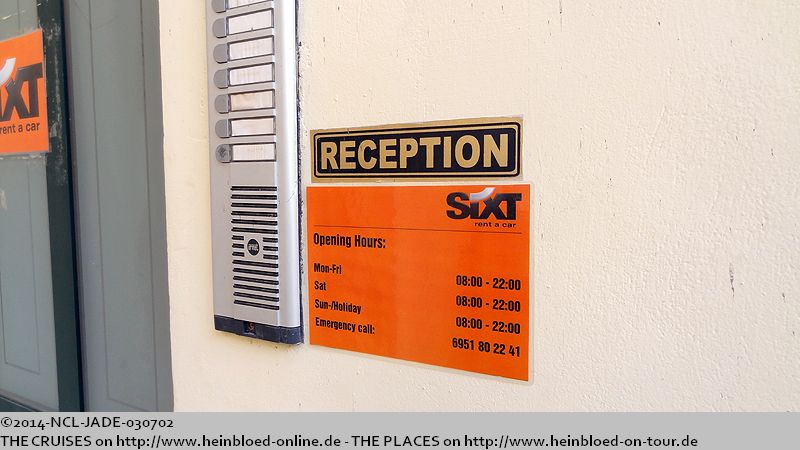 Sehr angenehme Zeiten... nur sollte man sicherheitshalber vorher die späten Zeiten abfragen, speziell, wenn keine Saison ist. Auf der Homepage steht übrigens 20.00 Uhr...
Das sind übrigens Peggy und Giorgos (für Nicht-Griechen einfach George), die uns sehr nett betreut haben.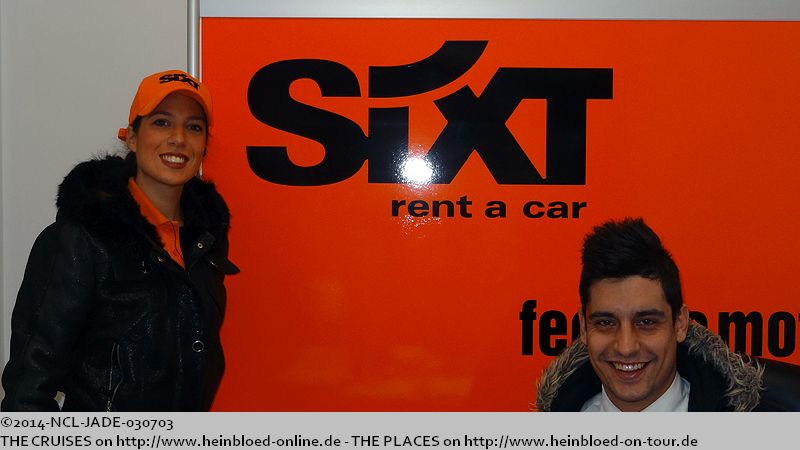 By the way these were Peggy and Giorgos (for Non-Greek simply George) who treated us very nice.

In the winter season they had to return their larger cars to other locations... For 30 minutes it should work...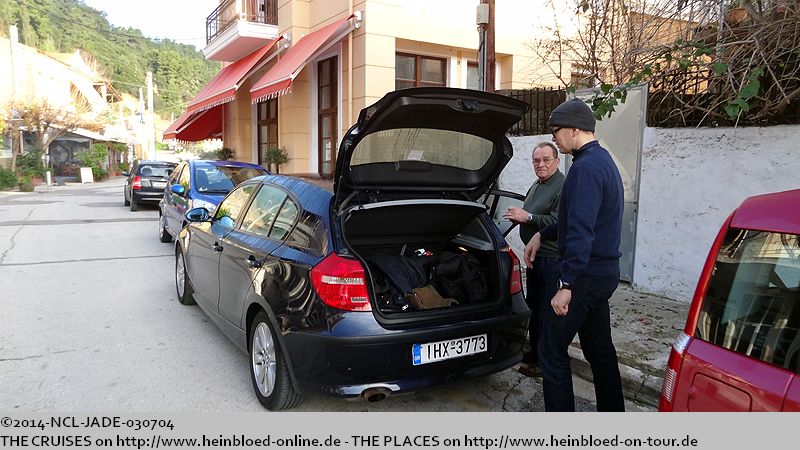 In der Wintersaison müssen sie die großen Fahrzeuge an andere Stationen abgeben... Für 30 Minuten wird es wohl gehen...
Aber die Lage war total gut, weil wir eigentlich fast gegenüber von Jimmy's waren. Dort sind wir zum Mittagessen mit anderen Kreuzfahrern verabredet.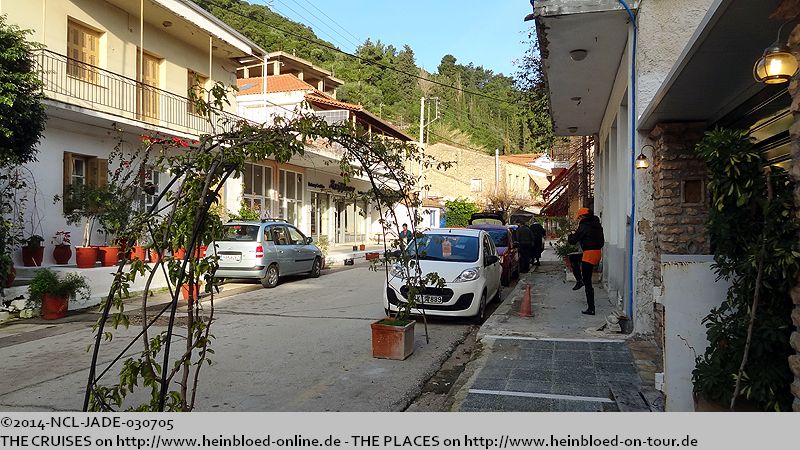 But the location was really good because we were more or less adjustant to Jimmy's. Later we have an appointment with other cruisers for lunch.

We made it to Olympia without GPS. Peggy and Giorgos explained the way very tell and told us also where we should not park and find a short-cut to the ancient sites. But there is something special we do not know from Northern Europe: We always get a full car and your return a full car. Here you do not get a full car and you must not return full. So we came somehow in trouble because the tank was quite empty and we nearly would strand. Next time I would buy for approx. 15.00 EUR (January 2014) gas. I should be supply for Katakolon to Olympia and back with a small detour. When we later arrived in Olympia we quickly found the parking Giorgos told us of and we were very surprised to find orange on the trees in January.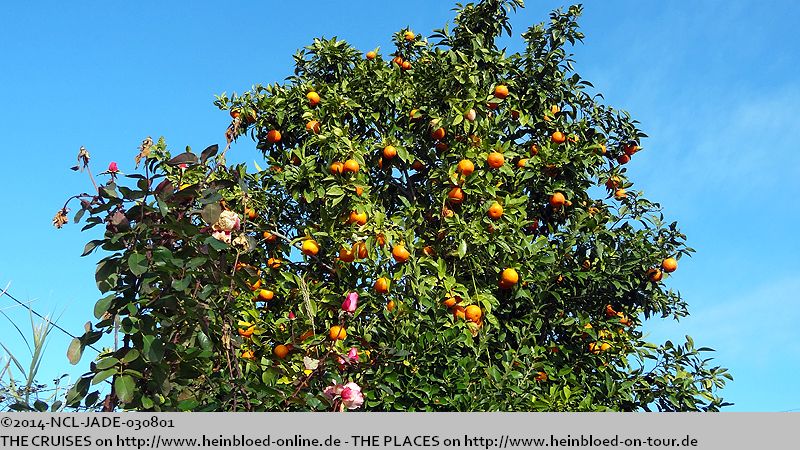 Nach Olympia sind wir auch ohne Navi gekommen. Peggy und Giorgos haben uns das sehr gut beschrieben und auch beschrieben, wo wir besser nicht parken und eine Abkürzung zum archäologischen Gelände führt. Allerdings gibt es eine Eigenart, die wir in Nordeuropa nicht kennen: Wir bekommen einen Wagen vollgetankt und müssen einen Wagen vollgetankt wieder geben. Hier bekommt man ihn nicht vollgetankt und muss ihn auch nicht vollgetankt zurückgeben. Damit waren wir fast in Schwierigkeiten gekommen, weil der Tank doch sehr leer war und wir beinahe liegen geblieben sind. Ich würde beim nächsten Mal für etwa 15,00 EUR (Stand Januar 2014) tanken. Das entspricht einem Bedarf von Katakolon nach Olympia und zurück mit kleinen Umwegen. Als wir in Olympia ankommen finden wir schnell den kostenlosen Parkplatz, den uns Giorgos nahegelegt hat und wundern uns, dass im Januar noch Orangen an den Bäumen hängen.
Nach einer kurzen Kaffeepause in einem sehr kalten und zugigen Lokal (war mehr für den Sommerbetrieb ausgelegt), gehen wir alle noch ein Orangenbäume fotografieren.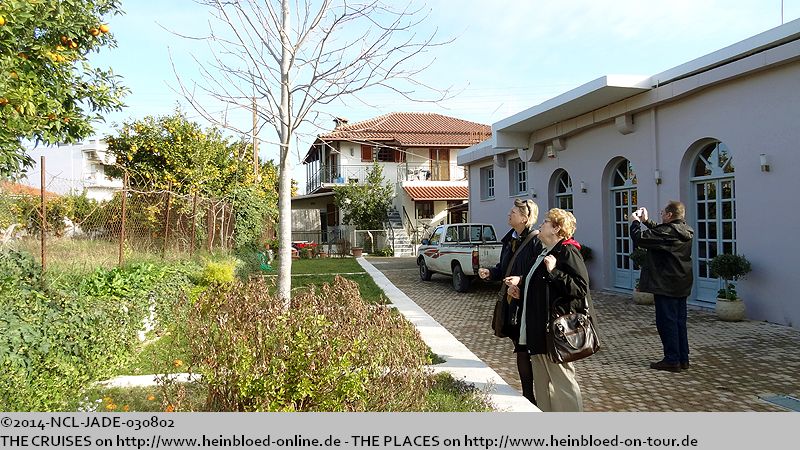 After a short coffee break in a cold and breezy place (was constructed for summer operation) we went again to take pictures of the orange trees.

This bridge should take us quickly to the ancient sites.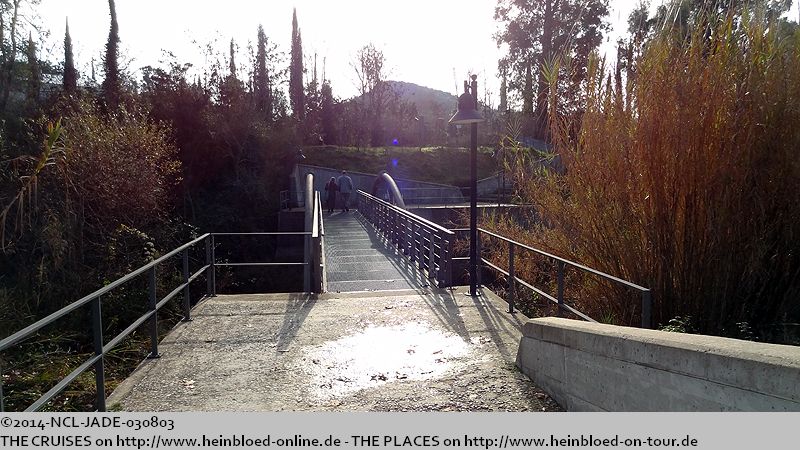 Diese Brücke sollte uns schnell zu den Ausgrabungsstätten führen.
Ob der Bach auch mal mehr Wasser unter normalen Umständen führt? Wir haben ja im Moment Januar und damit noch keine Trockenzeit im Sommer...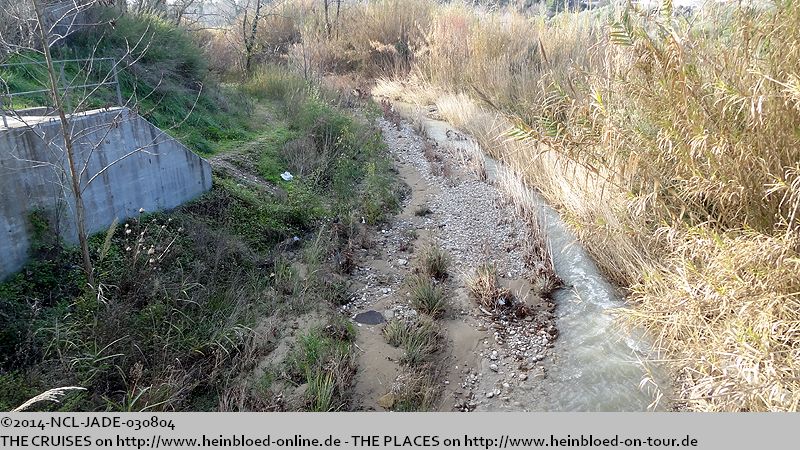 I was wondering if the creek should have more water under normal circumstances? It was January and no dry season in the summer...

After few minutes we reached the ancient sites by use of the stairway.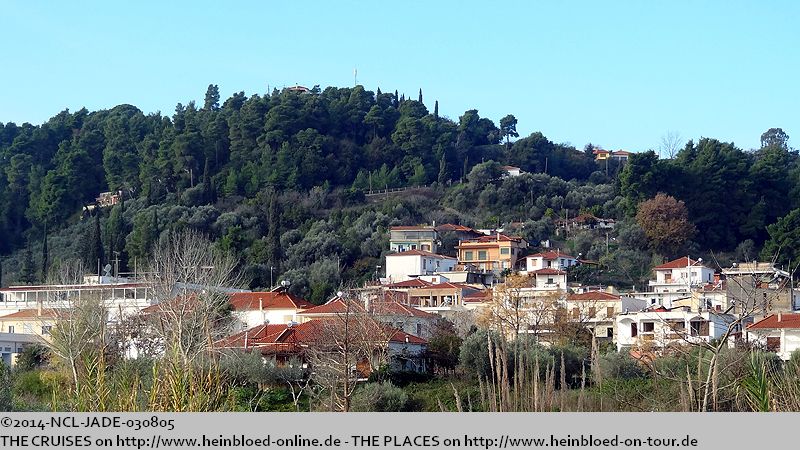 In wenigen Minuten erreichen wir über eine Treppe dann auch die Ausgrabungsstätten.
Unterwegs sehen wir eine typisch griechische Landschaft.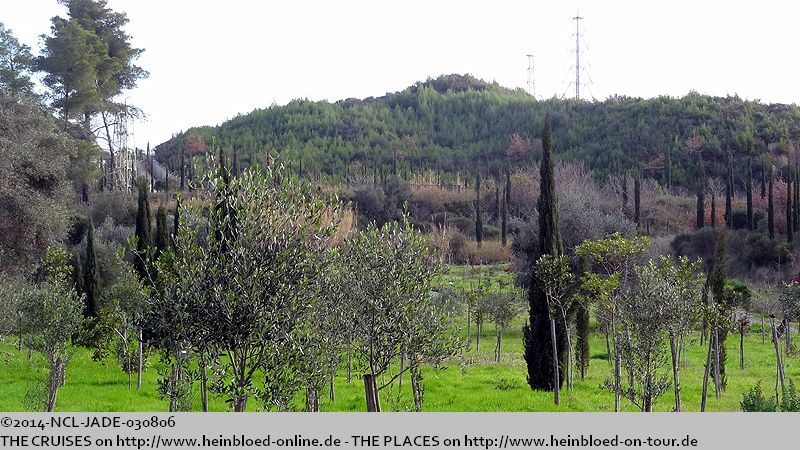 On our way we had a typical Greek scenery.

With some olive trees.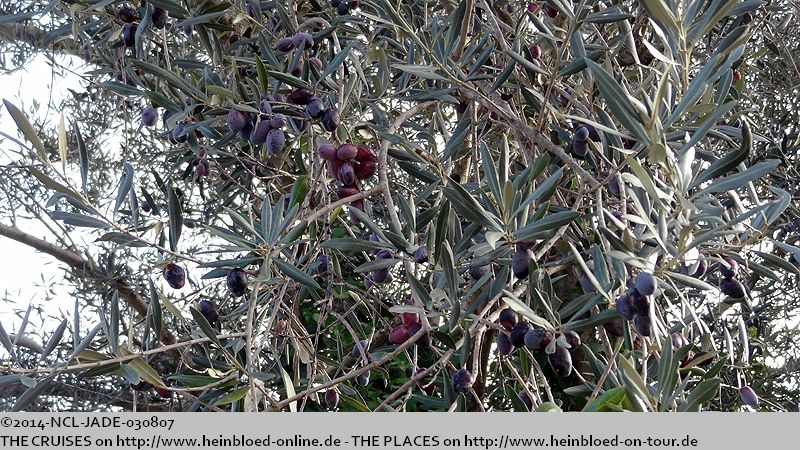 Mit Olivenbäumchen.
Unterwegs zwischen dem Museum und der Ausgrabungsstätte gibt es einen Kiosk. Bei den Preisen, die sie verlangen, bin ich jedoch verwundert, dass der griechische Staat so bankrott ist. Schon alleine die Mehrwertsteuer, die hier eingenommen wird, müsste doch zu einem Überschuss im Staatshaushalt führen...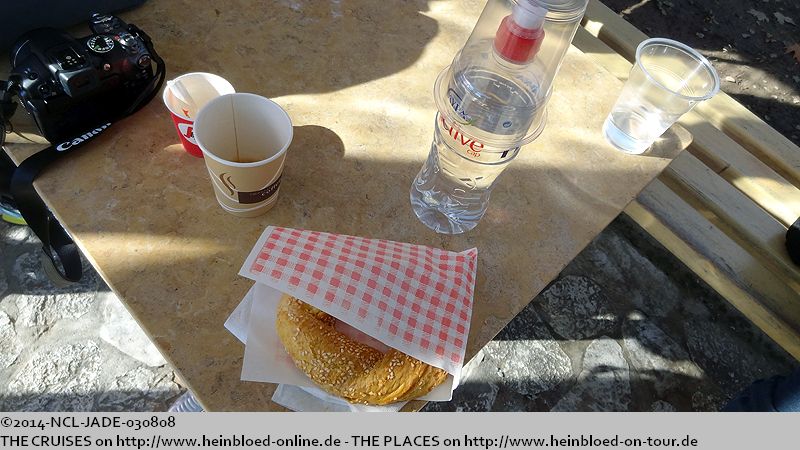 On the way between Museum and archaeological site you had a kiosk. With the prices they took I am surprised that the State of Greece is bancrupt. Just the VAT they collected here should occur a profit for the Greek budget...