Als wir Faruk erzählen, welche Probleme wir mit Turkcell Europe haben, kann er das fast nicht glauben, weil eigentlich Turkcell das beste Netz in der Türkei hat. Kurzerhand besucht er mit uns die Filiale von Turkcell auf. Mit Hilfe von Arda bekommen wir eine lokale SIM-Karte von Turkcell um sie zu testen.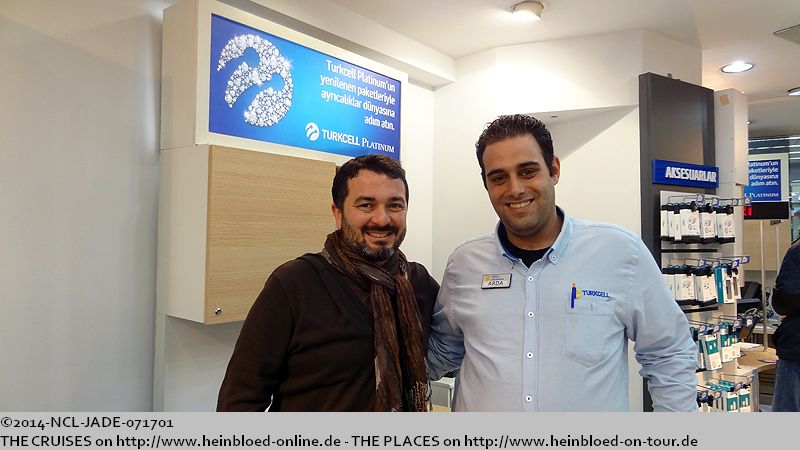 We told Faruk of our problems we had with Turkcell Europe and he could not believe because Turkcell has the best network in Turkey. So at short-notice he took us in a branch of Turkcell. With the help of Arda we got a domestic SIM-card of Turkcell to test it.

So 3G was available with Turkcell. So obviously our SIM-card was not properly configurated so we only got 2G-service.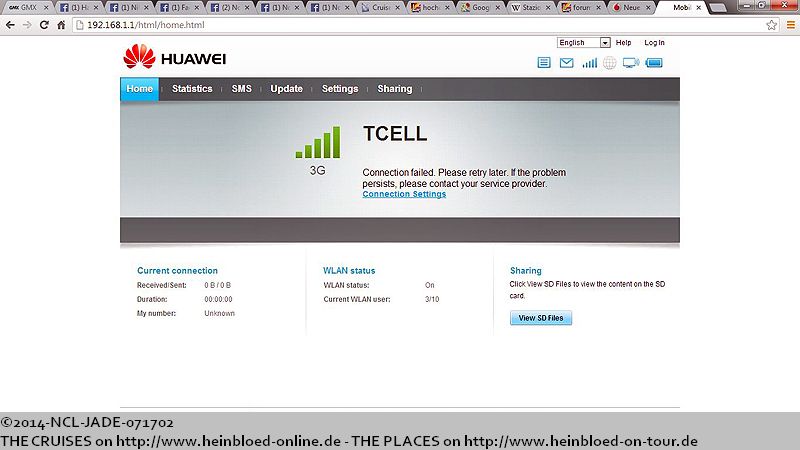 Also ist doch 3G bei Turkcell verfügbar. Nur anscheinend ist die SIM-Karte falsch konfiguriert, dass wir bloß immer 2G bekommen.
Faruk führt uns noch in eine Art Elektronik-Basar. Apple-Produkte sind jedoch in Türkei einiges teuerer. Wie wir dann feststellen: Sony-Produkte auch. So kaufen wir hier keine neue Kamera. Bei
Gül Color
finde ich jedoch ein Stativ, das aus Deutschland oder Italien kommt (oder kommen soll) und dass nur 1/3 des Preises in Deutschland kosten würde.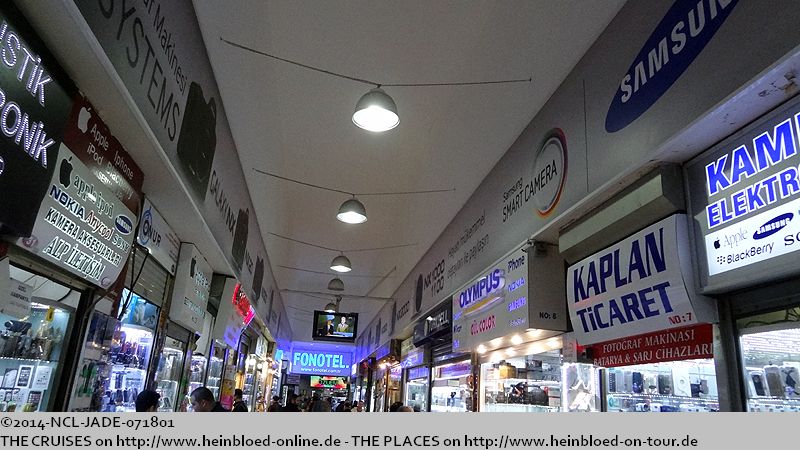 Faruk took us to a kind of electronics bazaar. Apple-products were much more expensive in Turkey. But as we found out: Sony-products too. So we did not buy a new camera. With Gül Color I found a tripod which should come from Germany or Italy (or better should come from) and it costs only 1/3 of the prices in Germany.

Now I should make it over the railing of the balconyy without setting a table. As I mostly use it at night time my neighbours will highly appreciate that I must not move the furnitures anymore on our balcony in the middle of the night.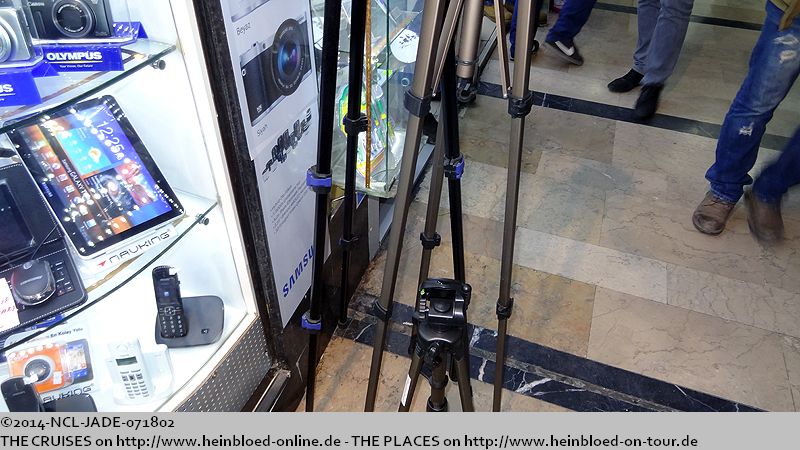 Damit müsste ich es auch schaffen über die Balkonbrüstung zu fotografieren, ohne dass ich jedes Mal den Tisch aufbauen muss. Und da ich ja das nur nachts brauche, werden bestimmt meine Nachbarn dankbar sein, dass ich nicht mehr mitten in der Nacht auf dem Balkon Möbel verrücken muss.
Es geht auf einen Tee für mich und Kaffee für die anderen ins
Kat 4 Café
.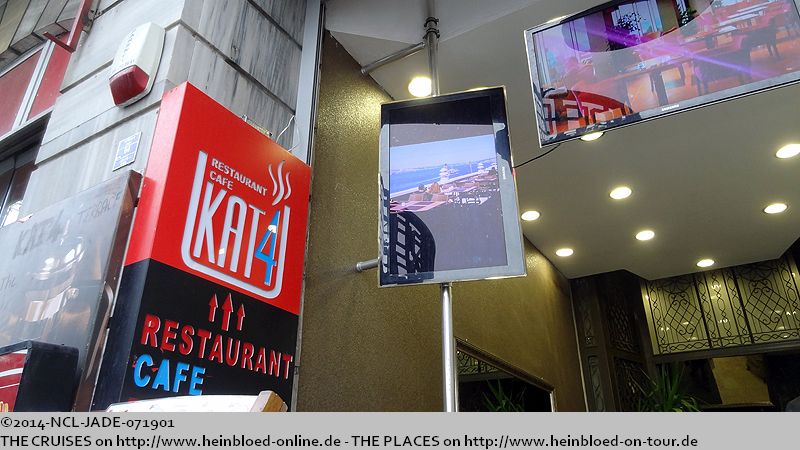 We went to have a cup of tea for me and coffee for the others into Kat 4 Café.

The waiters were mostly sursprised that I was the Cai (Turkish Tea) drinker as they normally handed the tea over to Faruk - even the apple tea for tourists... could not be so touristic...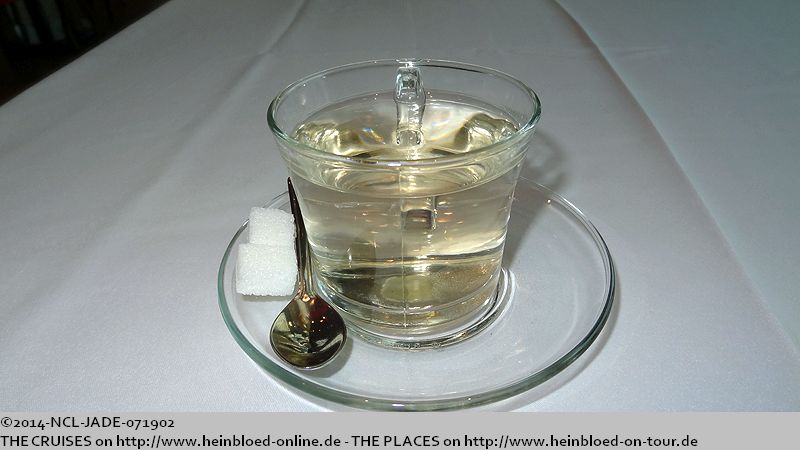 Die Kellner waren meistens erstaunt, dass ich der Cai (= Türkischer Tee)-Trinker bin, da normalerweise immer Faruk den Tee rübergereicht haben - sogar den Apfel-Tee für Touristen... so touristisch kann es wohl nicht sein...
Wenn ich schon in der Türkei bin, muss ich einmal
Baklava
essen.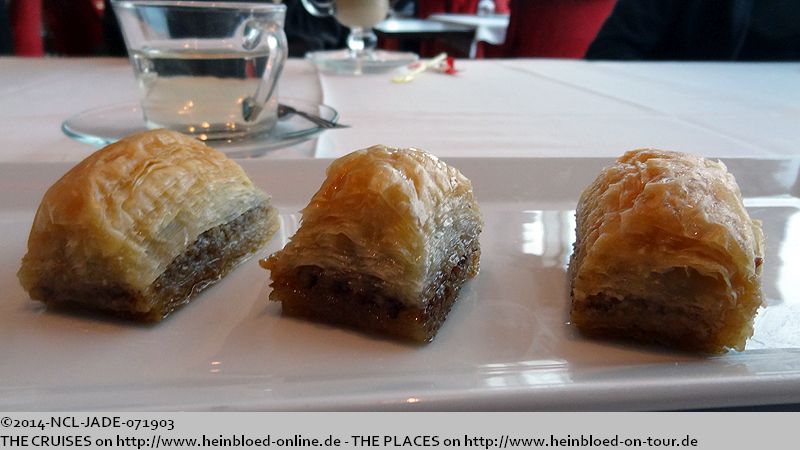 If you are in Turkey you should have at least once Baklava.

Only my diabetes-doctor should not know it.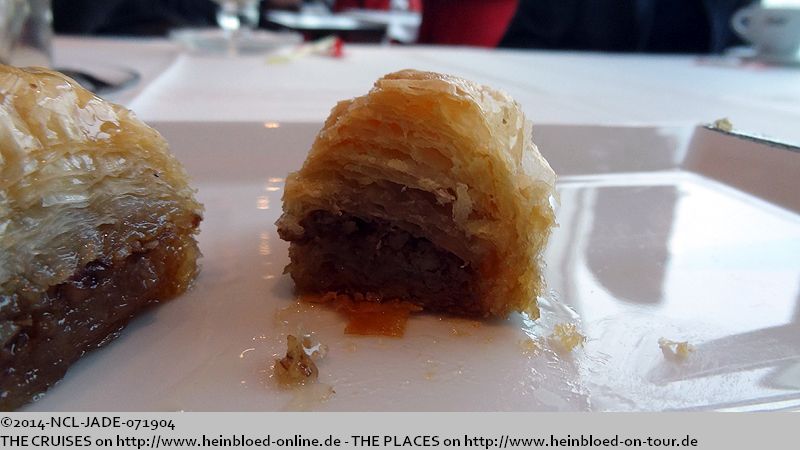 Nur mein Diabetologe muss davon nichts wissen.
Bruno nimmt lieber meine geliebten
Zigarren Böreks (Sigara Böregi)
. Die macht aber meine türkische Sekretärin auch mal selbst, so dass ich sie auch im Büro frisch bekomme...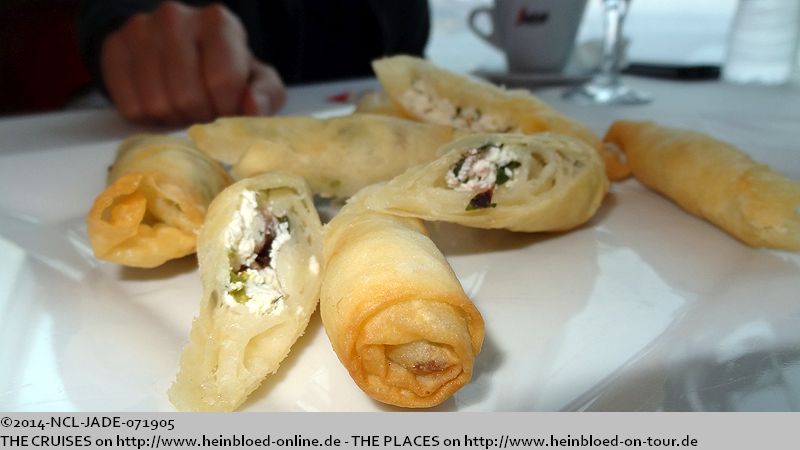 Bruno preferred to have my beloved Cigar Böreks (Sigara Böregi). My Turkish secretary prepares from time to time for us in the office so I could get them very freshly made.

At the end Faruk made a very good suggestion. Just few weeks ago they opened a new commuter train Marmaray which connects the European Part of Istanbul with the Asian Part. Somehow he could read mind because I was considering how to integrate a ride with this train in my itinerary. So we went over to the Sirkesi train station.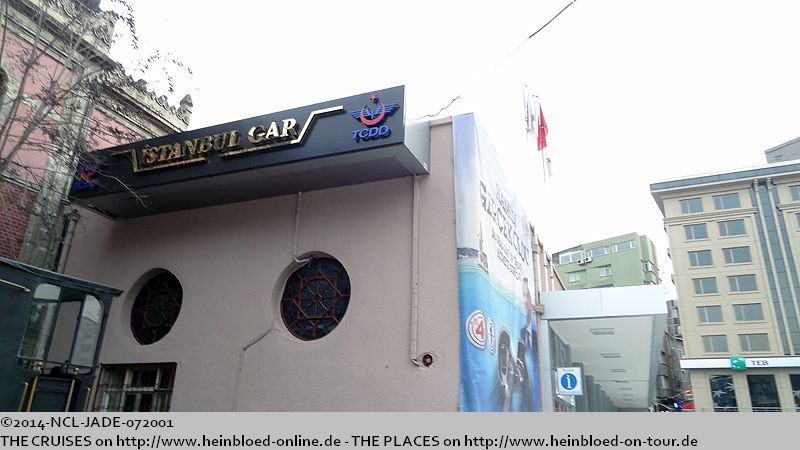 Zum Schluss hat Faruk noch einen sehr guten Vorschlag. Seit kurzem fährt ja die neue S-Bahn
Marmaray
den europäischen Teil Istanbuls mit dem asiatischen Teil. Er kann irgendwie Gedanken lesen, weil ich mir wirklich den Kopf zerbrochen habe, wie ich die Fahrt in unseren Istanbul-Aufenthalt einbaue. So laufen wir rüber zum Bahnhof Sirkesi.
Im oberen Teil fuhr früher der Orient-Express. Aber auch der Istanbul-Express nach München fuhr noch bis 1993 hier ab, bevor wegen des Jugoslawien-Krieges die Bahn nicht mehr auf dem direkten Weg fahren konnte. Es sah auf jeden Fall so aus, wie bei "Liebesgrüße aus Moskau".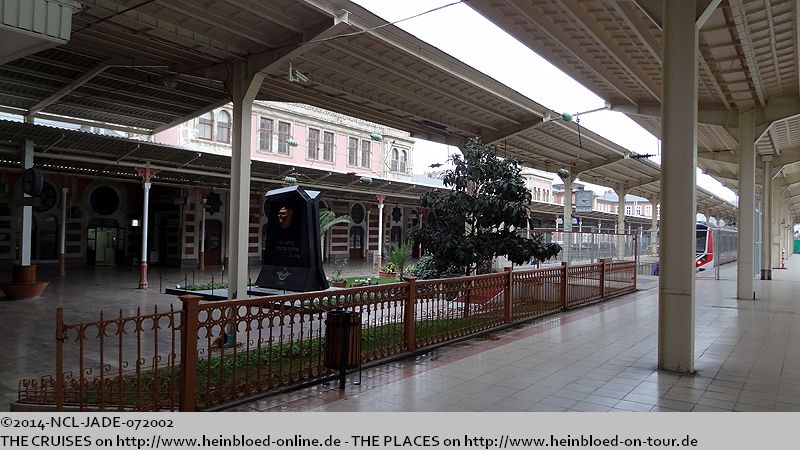 In the upper part the Orient-Express departed. But even until 1993 when the war in Yugoslavia started they had the Istanbul-Express towards Munich leaving from here. Looks exactly like "From Russia with Love".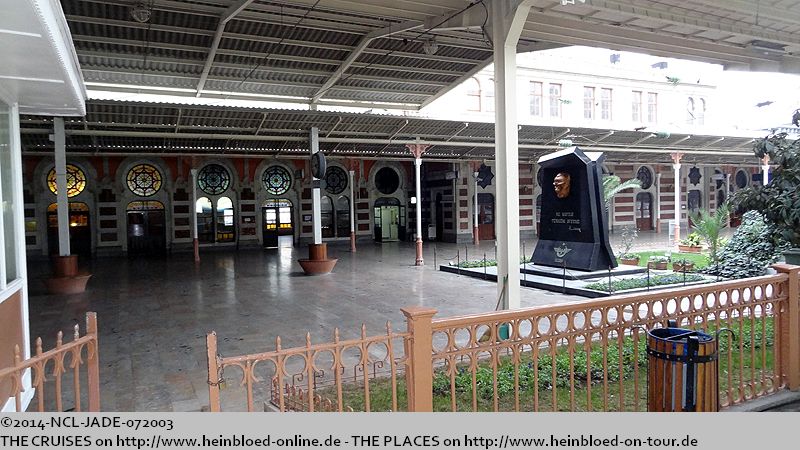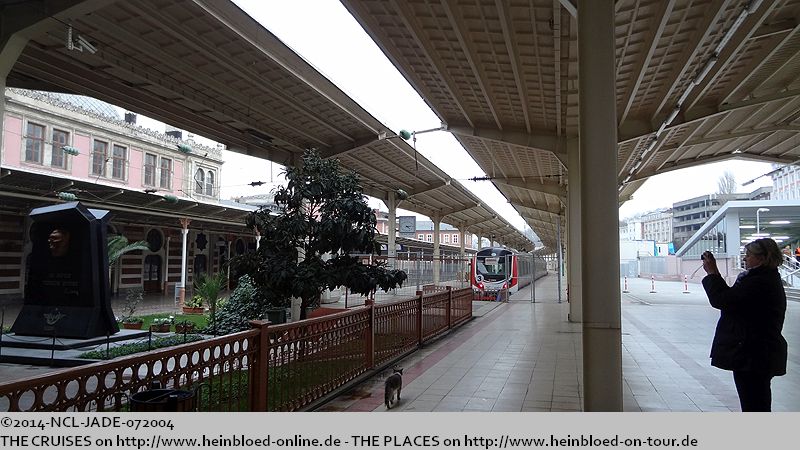 We had to go downwards. You had so long ways to walk like in New York Fulton Street's Transit Center. Within few minutes

Wir müssen jedoch nach unten. Fast so lange Strecken, wie am Hamburger Jungfernstieg/Rathausmarkt. In nur wenigen Minuten fahren wir rüber auf die asiatische Seite.
Am nächsten Bahnhof, d. h. ersten Bahnhof in Asien steigen wir wieder aus: Üsküdar.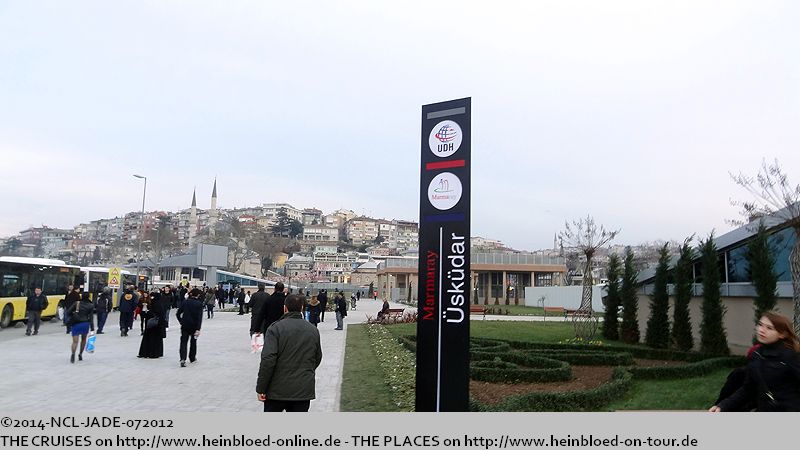 We get off the train at the next station i.e. first station in Asia: Üsküdar.

Here we saw the skyline of Istanbul from the other side.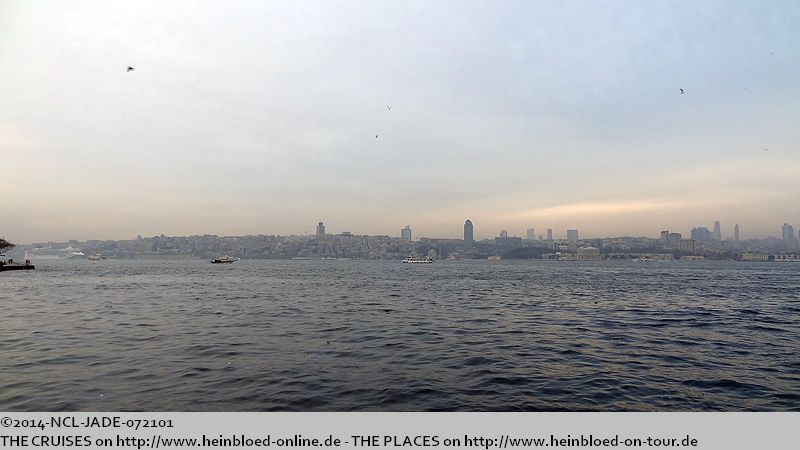 Hier sehen wir die Skyline Istanbuls von der anderen Seite.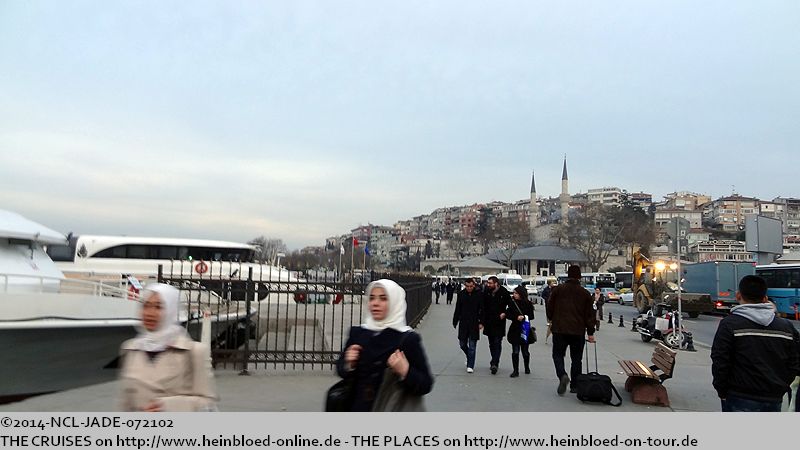 You get money everywhere.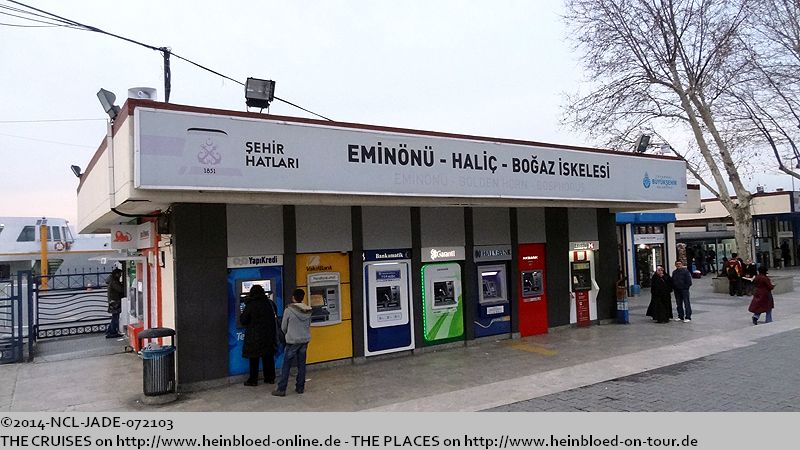 Geld bekommen wir überall.
Wir müssen noch die Fähre bezahlen: 3,00 TRY (2014). Leider gibt es keinen Verkehrsverbund und die Jetons der anderen Gesellschaften gelten nicht bei
Dentur Avrasya
.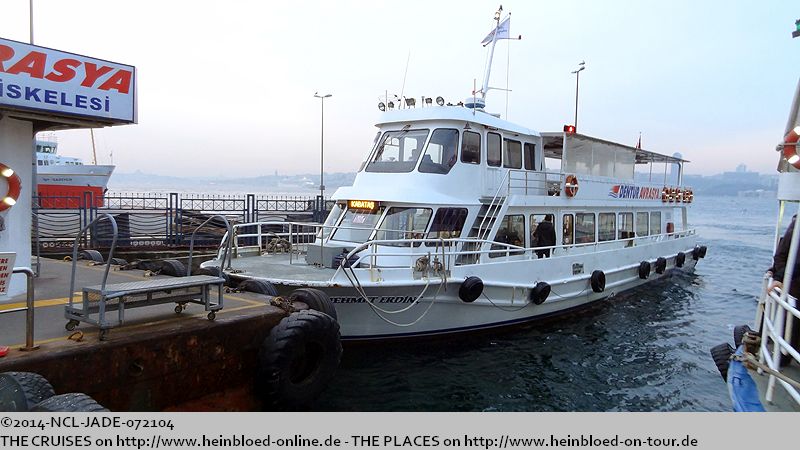 We need to pay the ferry: 3.00 TRY (2014). Unfortunately there is no integrated tarif for public transport and so the tokens of the other lines are not valid on Dentur Avrasya.

Kabatas is the final terminal of the tram. So we need to walk the distance of one tram stop to reach the Cruise Terminal.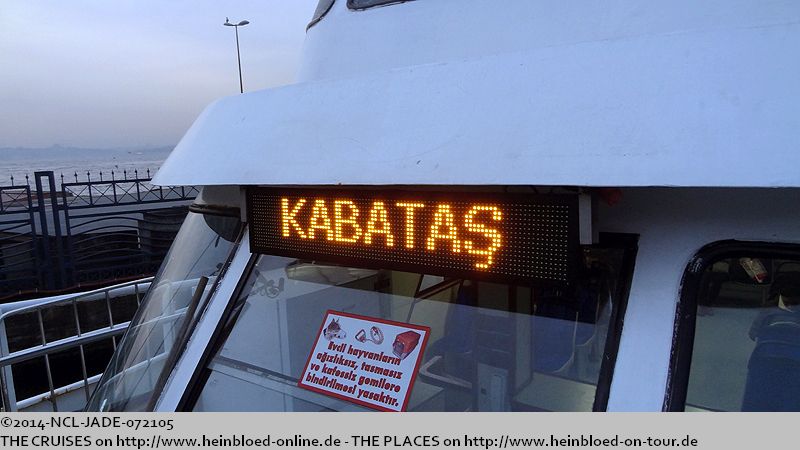 Kabatas ist ja die Endhaltestelle von der Straßenbahn. So müssen wir eine Haltestelle laufen, um zum Cruise Terminal zu kommen.

Wir haben uns von Faruk verabschiedet. Nach zwei Tagen kann ich doch sagen, dass es mir insgesamt sehr gut gefallen hat und ich ihn auch das nächste Mal wieder buchen würde. Als er uns auf die Fähre setzt, beginnt über Istanbul gerade der Sonnenuntergang. Daher genießen wir sehr diese Fahrt und diesen Anblick. Kann man Ort und Zeit noch perfekter bestimmen?

We said good-bye to Faruk. After two days I can say that I liked it very much in general and I would book him again for the next visit. When he put us on the ferry the sunset just started over Istanbul. So we enjoyed very much the ride and the view. Can you have a better place and time to do it?

Last not least the pictures I could take due to Faruk suggestion to see the Panorama-Restaurants, on the roof around the bazaar and from the bar.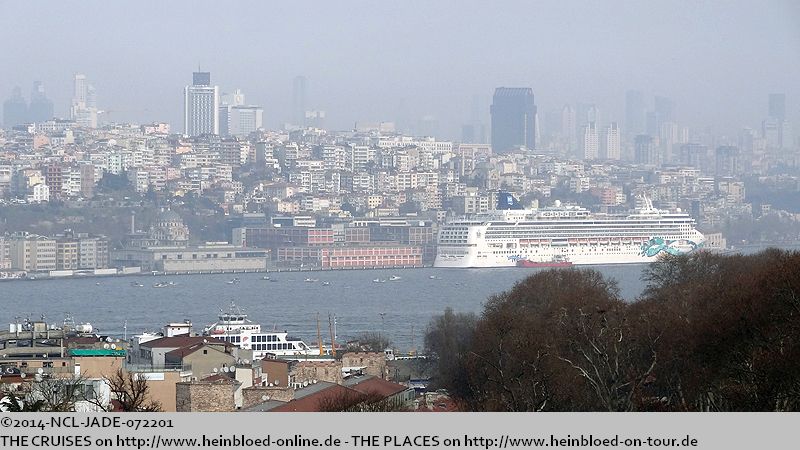 Da wären ja noch die Bilder, die ich dank Faruk von dem Panorama-Restaurant, auf den Dächern beim Großen Basar und von Bar gemacht habe.
Jeder, der mich kennt, weiß, dass man mich mit Shipspotting glücklich machen kann. Das hat Faruk richtig gut für mich hinbekommen. Egal was war: alles vergeben und vergessen. Wer Faruk buchen will, soll sich an Deniz von
Ephesus Deluxe
wenden.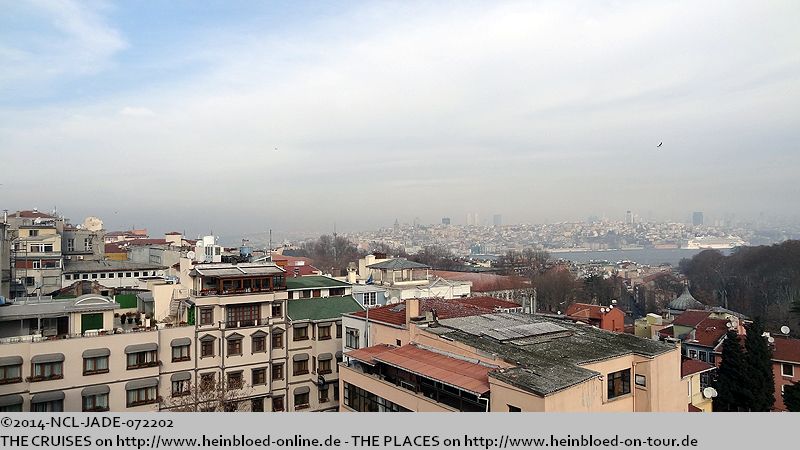 Each of my friends knows how happy you can make me by letting me shipspotting. That was arranged by Faruk in a perfect way. Everything what happened the day before was forgiven and forgotten. Who also wants to book Faruk should address to Deniz of
Ephesus Deluxe
.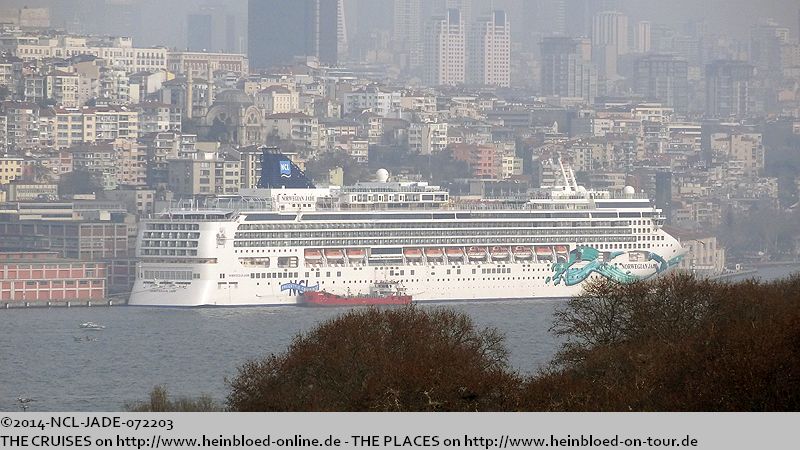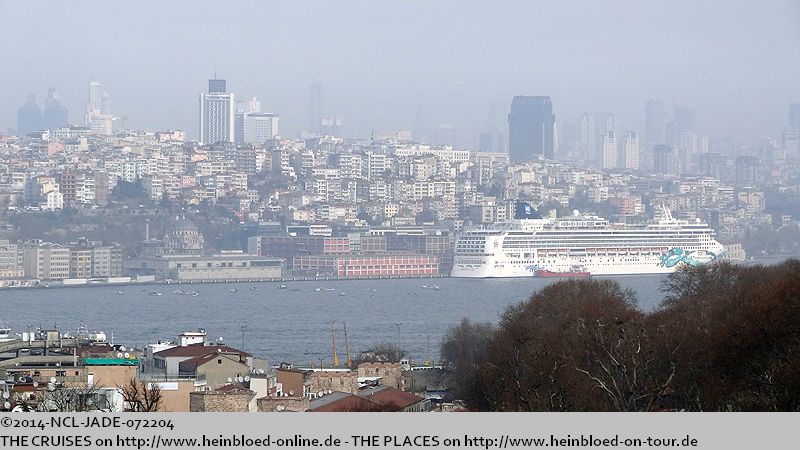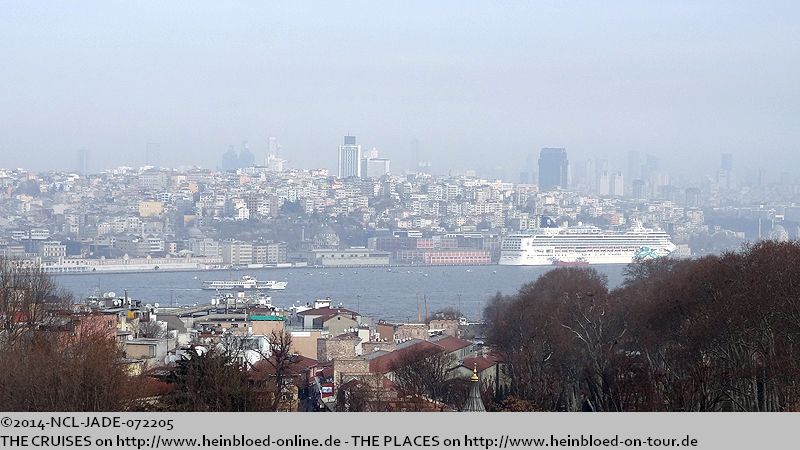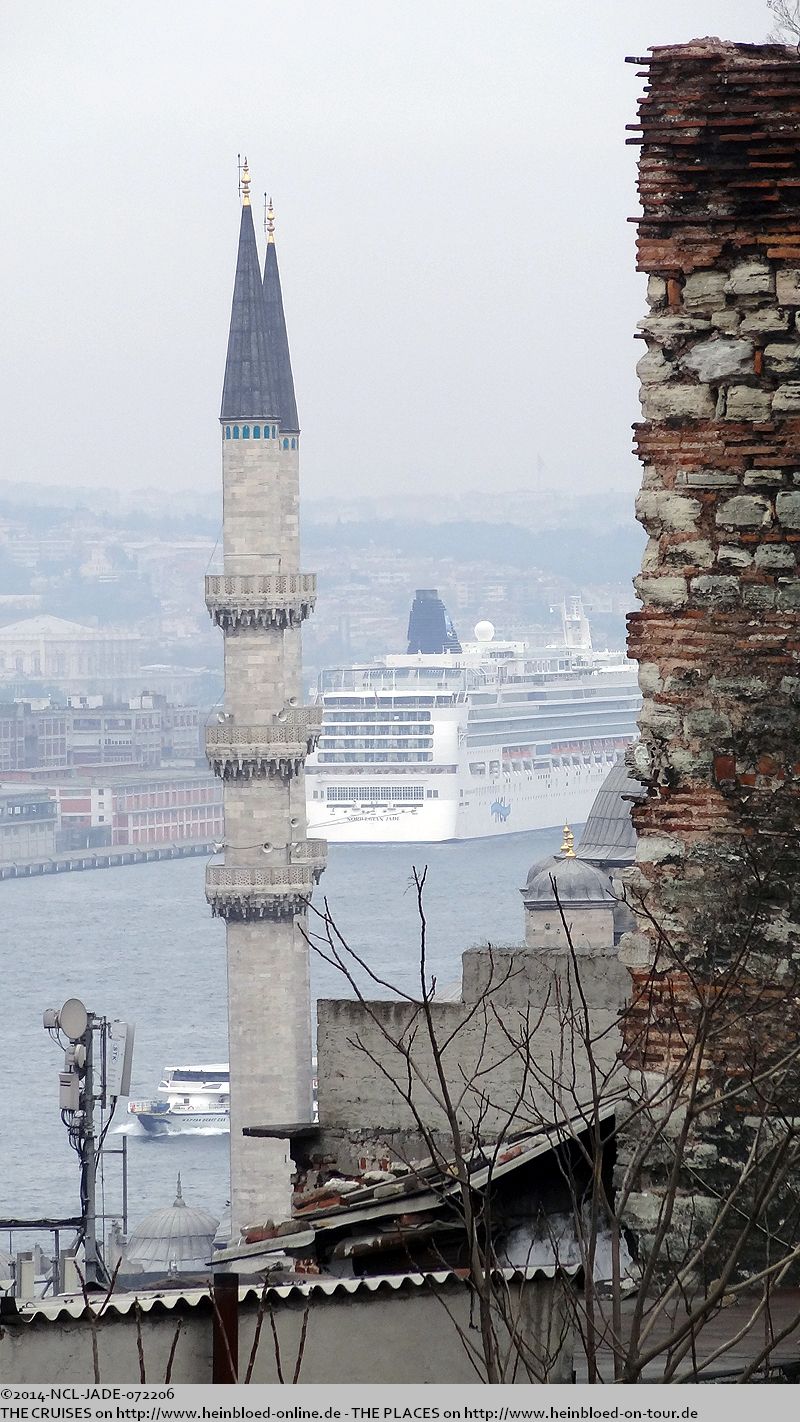 I was quite satisfy with my catch.

Ich war mit der Ausbeute sehr zufrieden.
Und dann noch die Bilder, die ich von der Fähre aus machen konnte. Kann man das Herz eines Shipspotters glücklicher machen, als wenn man ihn an diese Orte führt?

And finally the pictures I could take from the ferry. Can you make the heart of a shipspotter more happy but to take him to these locations?

When we got back we had chicken broth. But it was not as good as in the Blue Lagoon Café.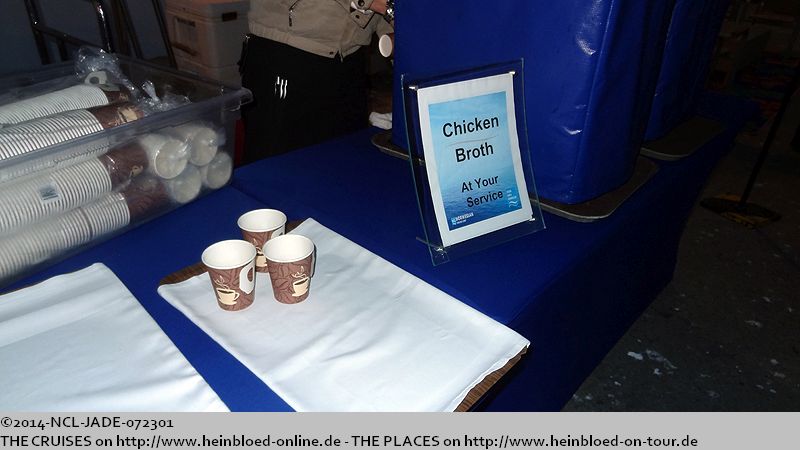 Als wir zurückkommen, gibt es Hühnerbrühe. Aber nicht so gut, wie im Blue Lagoon Café.
Unsere 2. Runde Wäsche ist zurück. Dieses Mal haben sie aber zwei Tage gebraucht. Da sie bei der 1. Runde am selben Tag wieder die Wäsche zurückschickten, hätten wir jetzt fast nackt die nächsten zwei Seetage verbringen müssen.

Our 2nd round laundry was back. That time they need two days. With the 1st round they returned the laundry the same day and so we were close to walk naked around during the days at sea.

My Concierge friend Mark. Just for me the salty canapés.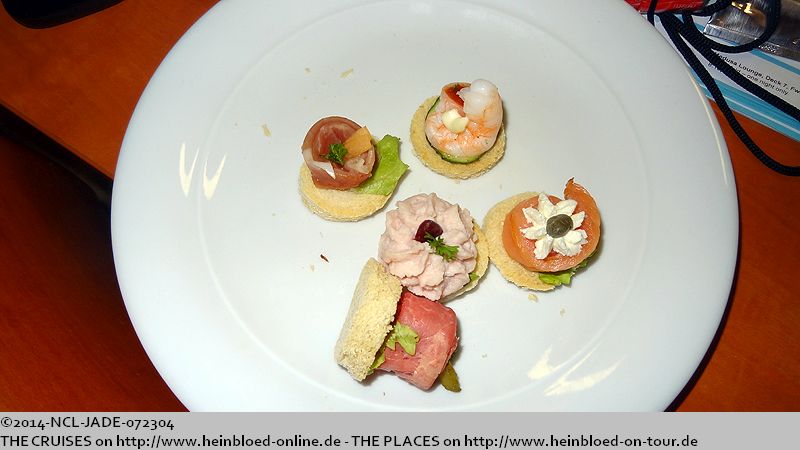 Mein Freund der Concierge: Mark. Extra für mich die salzigen Canapés.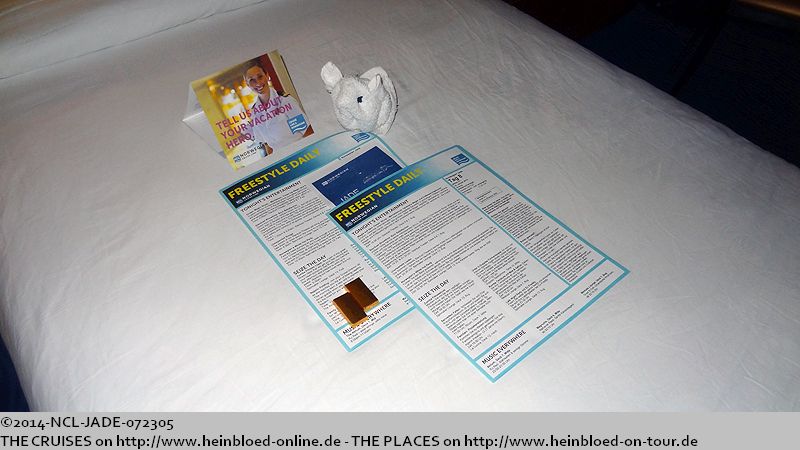 The set sail was slightly delayed as we had obviously some blind passengers.


Die Ausfahrt verzögert sich etwas, weil ja noch blinde Passagiere an Bord sind.
Wir genießen die Ausfahrt aus Istanbul.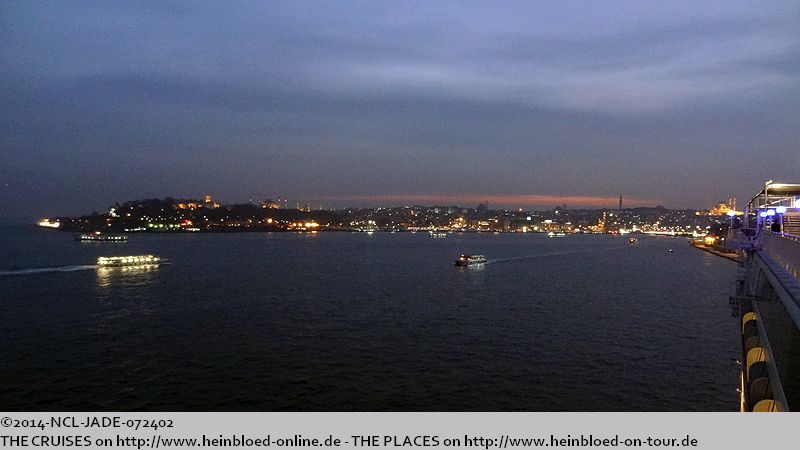 We enjoyed the view when we set sail out of Istanbul.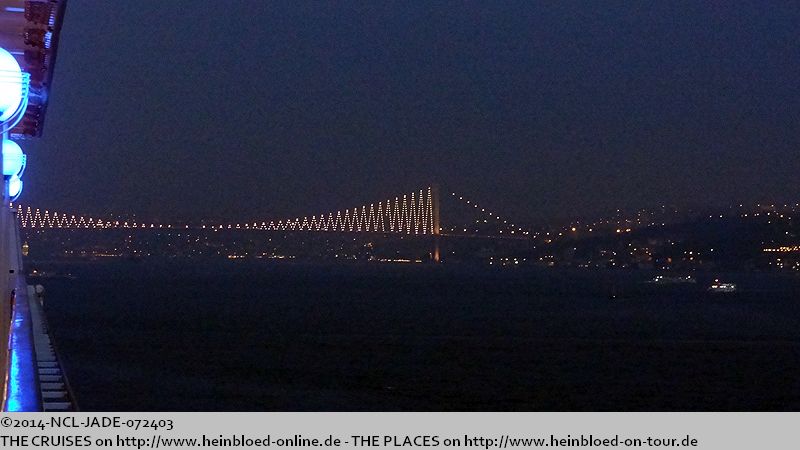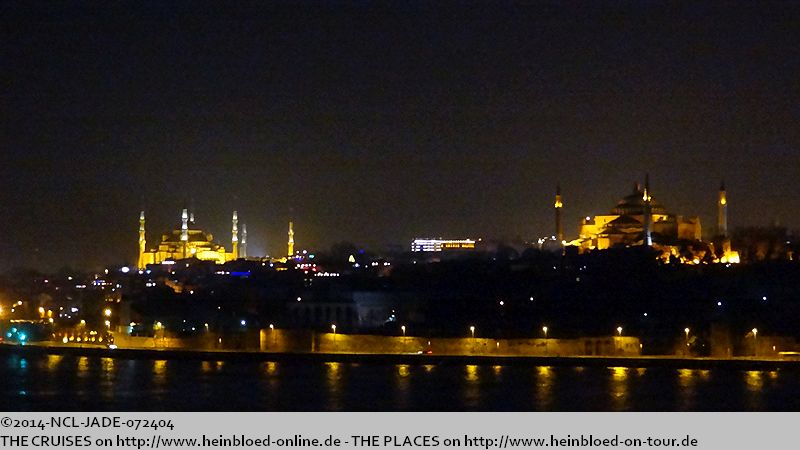 Allah ismarladik Istanbul! Good Bye Istanbul!!!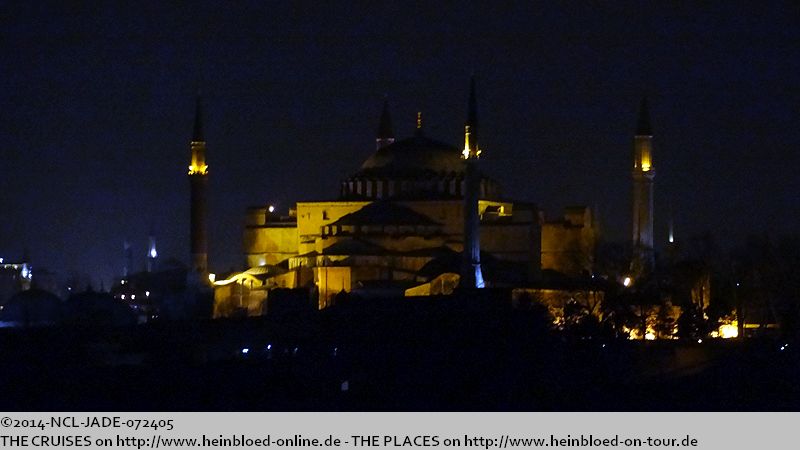 Allah ismarladik Istanbul! Auf Wiedersehen Istanbul!!!
Hier waren wir nicht zum letzten Mal. Es hat uns sehr gut gefallen, dank Deniz und Faruk, die uns eine sehr gute Tour zusammengestellt haben. Vor allem der Vorschlag die Straßenbahn am 2. Tag zu nehmen, war hervorragend.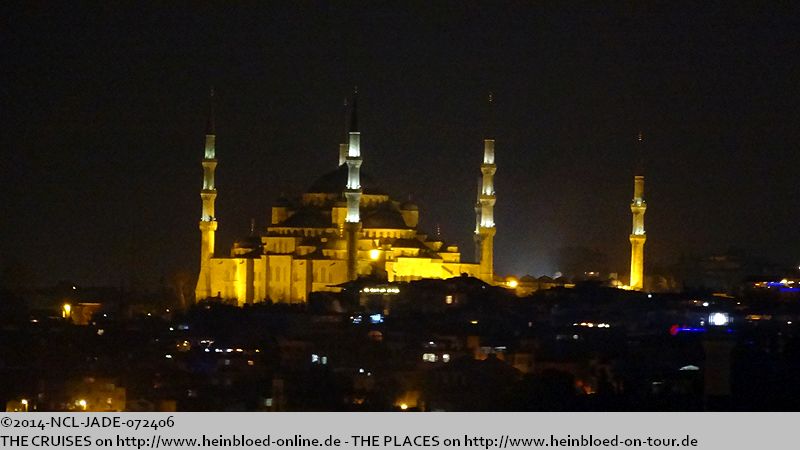 I am sure that was not the last time. We liked it very much due to Deniz and Faruk who compiled a great tour for us. Especially the suggestion to do most with the tram on the 2nd day was outstanding.

Hans and Erika felt much better so that we could dine together. As we only had a Döner Kebab and Hans and Erika were happy to have a great meal too we dine at Cagney's.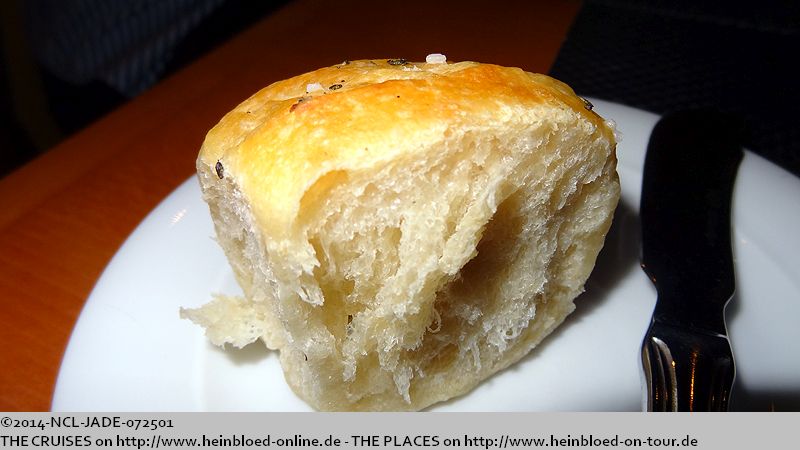 Hans und Erika geht es so weit wieder gut, dass wir gemeinsam essen können. Da wir ja auch nur einen Döner Kebab hatten und Hans und Erika auch mal wieder eine gute Mahlzeit wollen, essen wir im Cagney's.
Ich hatte vorab darum gebeten, uns hier die Hühnersuppe aus dem Blue Lagoon Café bereit zu halten. Das hat man gerne für uns arrangiert. Und so fühlen wir uns schnell wohl, nach dem kühlen Tag draußen.

I asked before to have some chicken broth from the Blue Lagoon Café for us ready. That special request was accepted and it was perfectly arranged. We felt so wonderful after a chill day outside.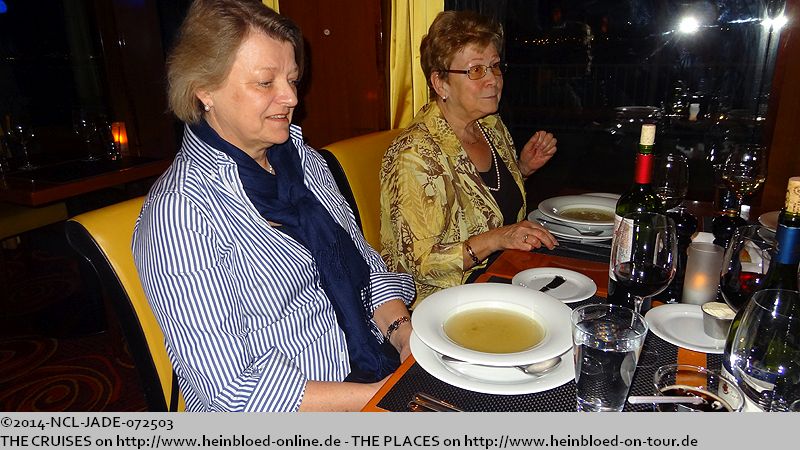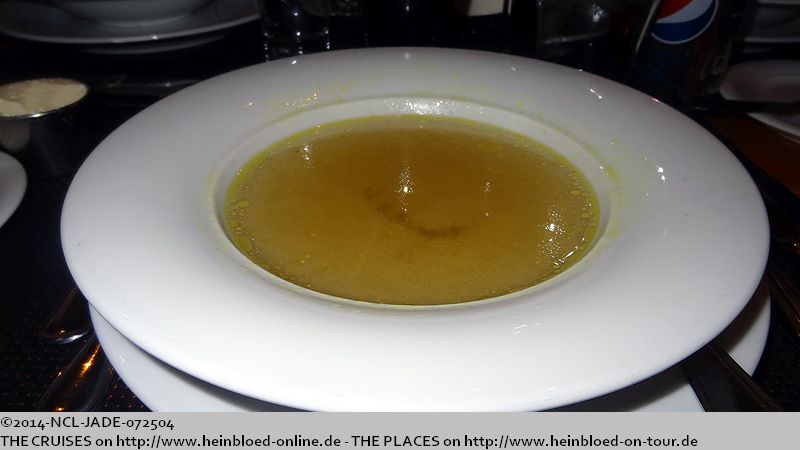 Three shrimps in a glass... for one shrimp-cocktail - no it was no children- or senior portion.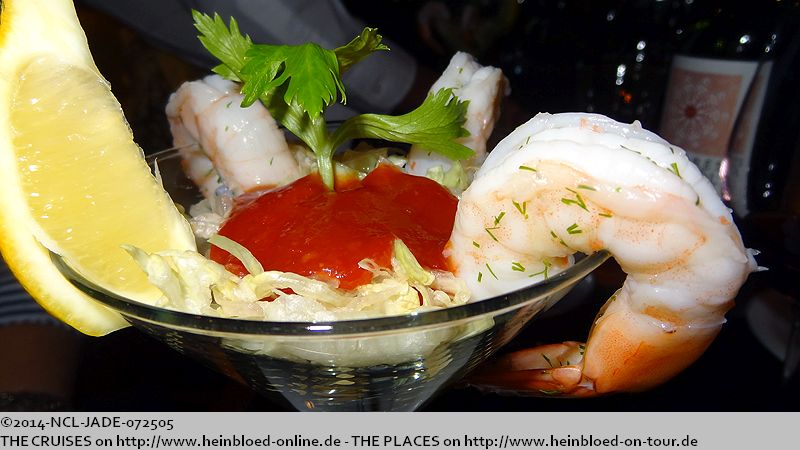 Drei Shrimps im Glas... für ein Shrimp-Cocktail - nein es war keine Kinder- oder Seniorenportion.
Und wie wird bei der Online-Betellung für Zuzahlrestaurants geworben: mit sechs Shrimps. Vielleicht hängt es auch damit zusammen, dass ich ja Diabetes habe und nicht mehr so gut sehen und daher schiele und daher sechs Stück sehe...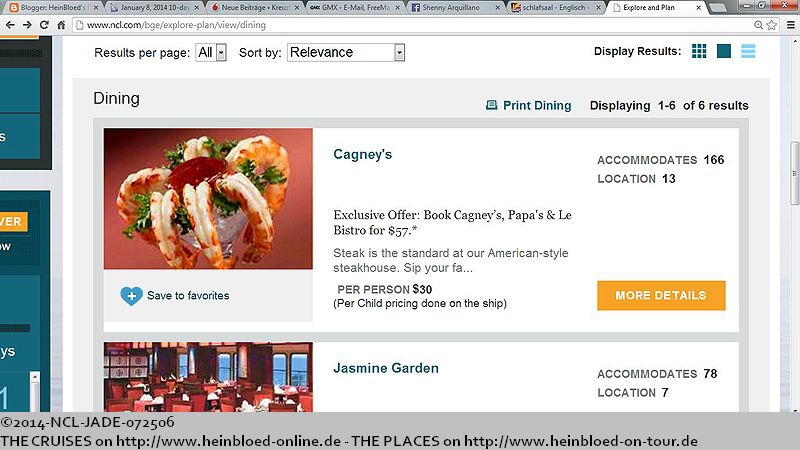 And how do they advertise on the online order form for alternative dining: with six shrimps. Maybe it was only because I have diabetes and so my ability to see is not very proper anymore and therefore I see double as much as I should see in reality: six...

The new menu with Cagney's had some nice surprises.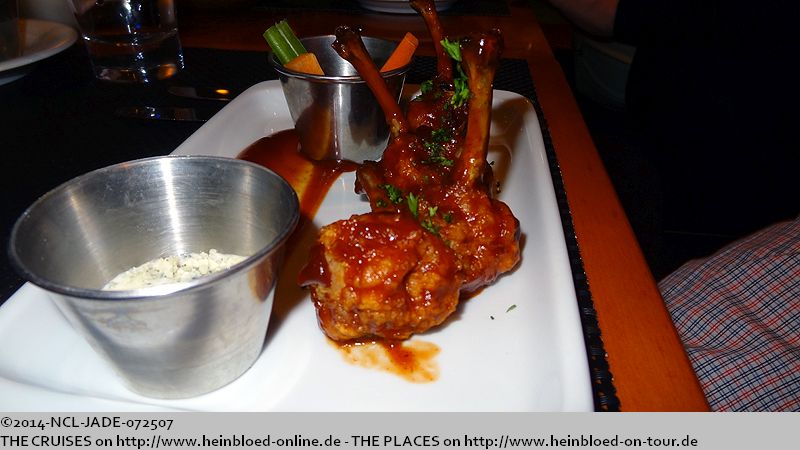 Die neue Karte im Cagney's bringt einige Überraschungen.
Z. B. diese Mini-Burger als Vorspeise. Ich hätte jetzt fast Carpaccio in der Speisekarte daraus gelesen.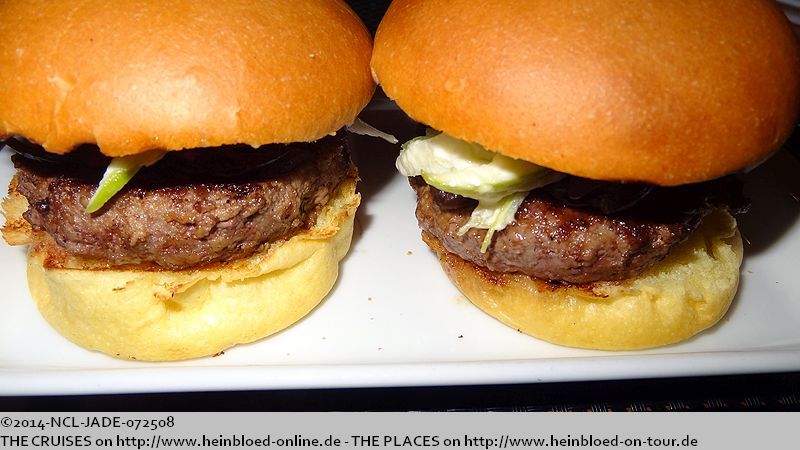 Like the mini-burgers as starters. I would identify them more as carpaccio on the menu.

But it was so good... I wanted to have it for breakfast and for lunch. What I luck I had: obviously they had thrown away the fine disc of the meatgrinder over board... (see RYNDAM-Blog).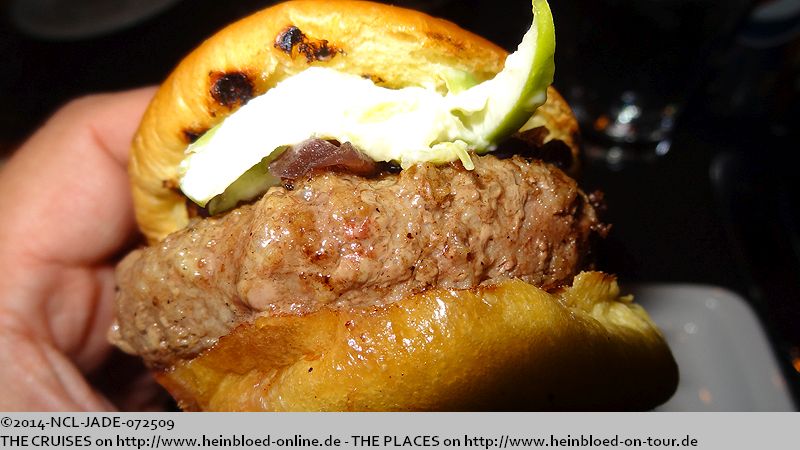 Aber der war so gut... den will auch morgen zum Frühstück und zum Mittagessen haben. Zum Glück hatten sie wohl rechtzeitig die feine Scheibe des Fleischwolfs über Bord geworfen... (siehe
RYNDAM-Blog
).
Wo ist Dhuri zum Salatschneiden???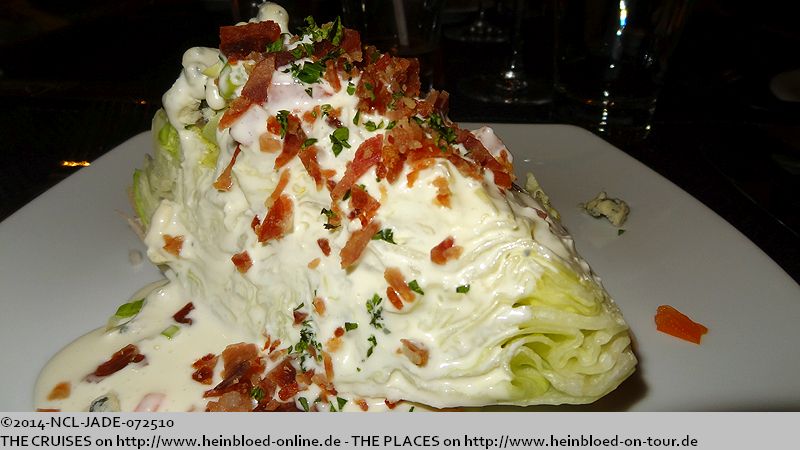 Where is Dhuri to cut the lettuce???

Hans was happy to get this boned rib-eye-steak.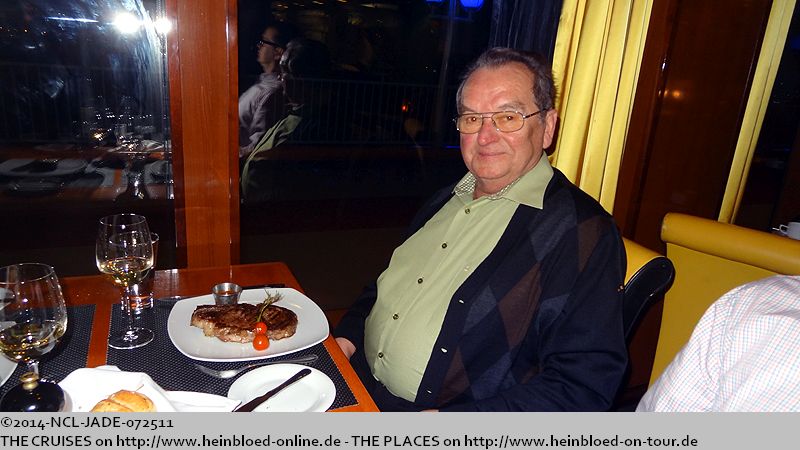 Hans freut sich auf sein Rib-Eye-Steak mit Knochen.
Die Damen und Bruno ziehen ihr Filet Mignon vor.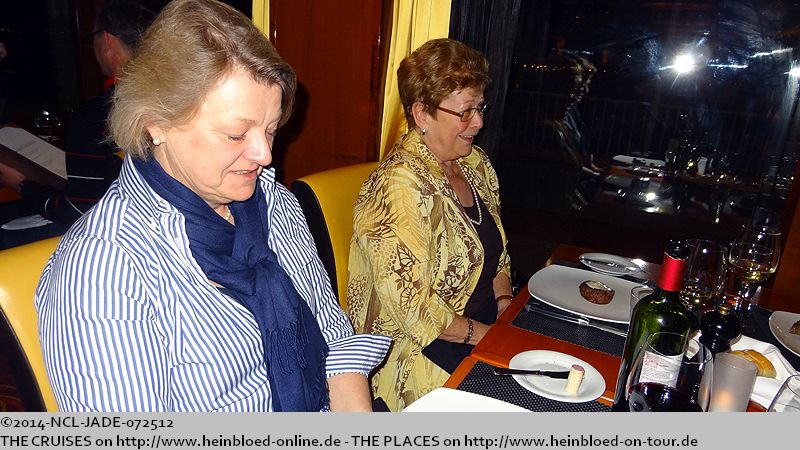 The ladies and Bruno preferred to have Filet Mignon.

Aber auch ich brauche ein Rib-Eye-Steak mit Knochen vom Angus-Rind.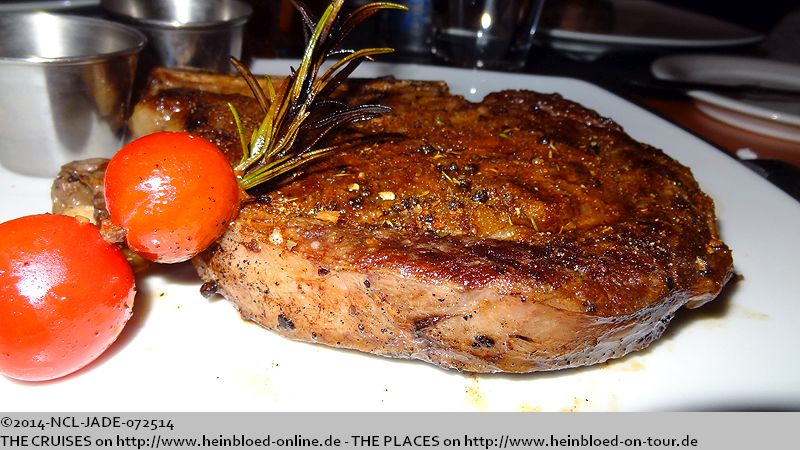 But I also need such a boned rib-eye-steak from Angus-Beef.

You need some sauces.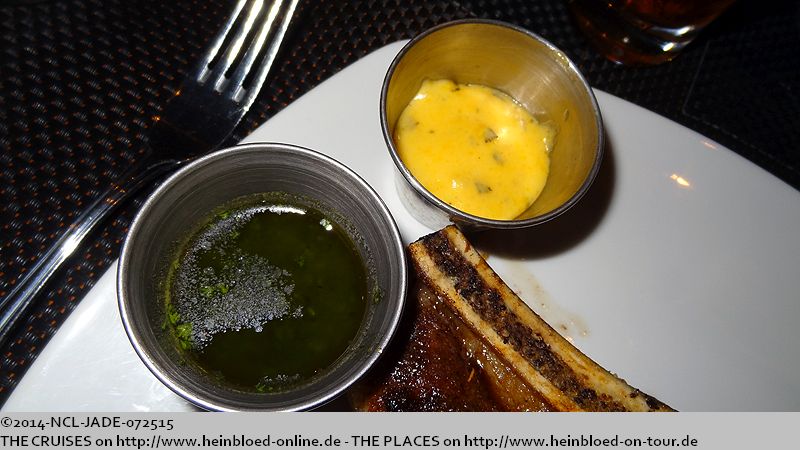 Soßen müssen sein.
Ist das nicht perfekt gegrillt?

Was not that grilled to perfection.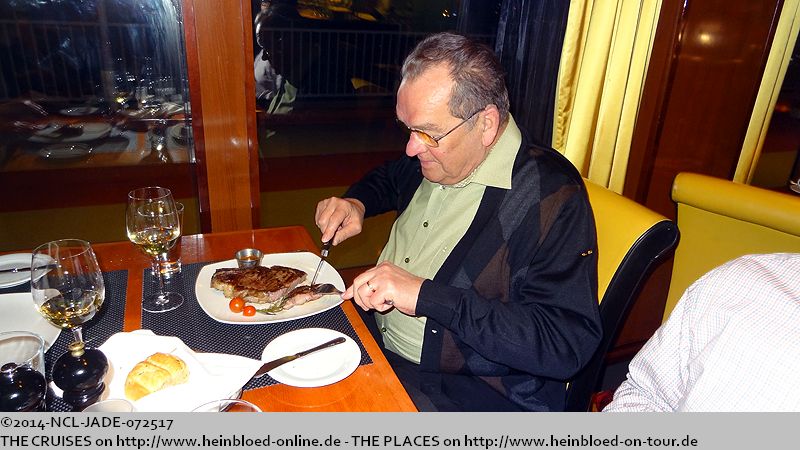 Für die gebackene Kartoffel - obendrauf.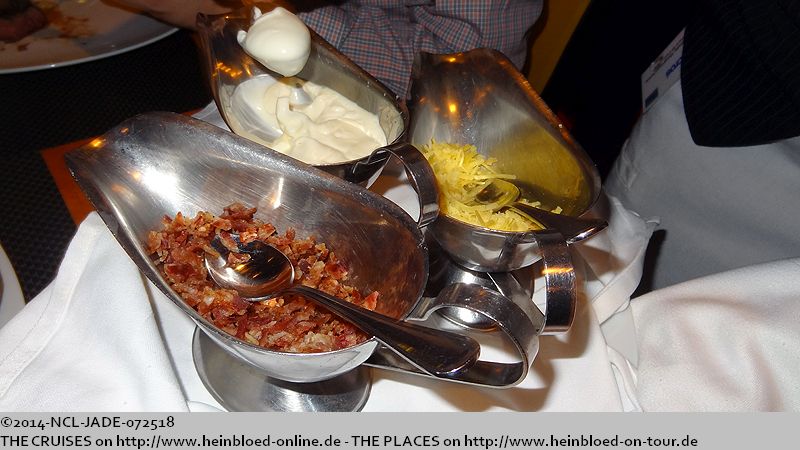 Toppings for the baked potato.

They fried some onion rings for me. Hmm... yummy... I really do not need any caviar to be happy.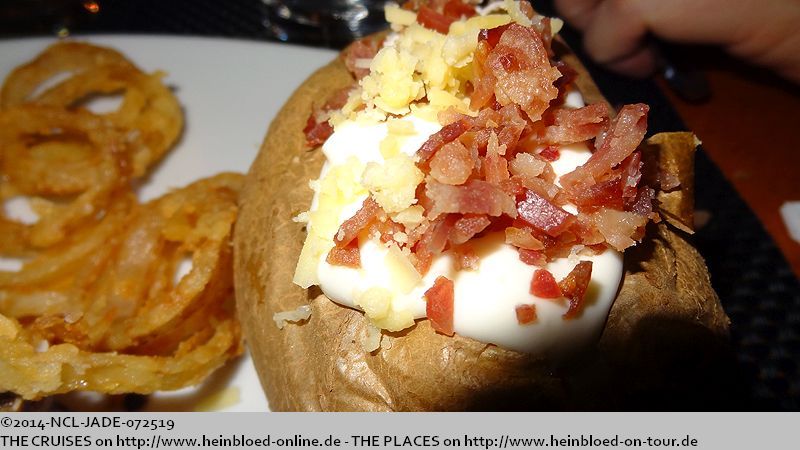 Für mich haben sie extra ein paar Zwiebelringe gebraten. Hmm... lecker... Ich brauche kein Kaviar zu meinem Glück.
Ein bißchen Dessert muss sein. Ist ja eine neue Speisekarte, die man durchprobieren muss.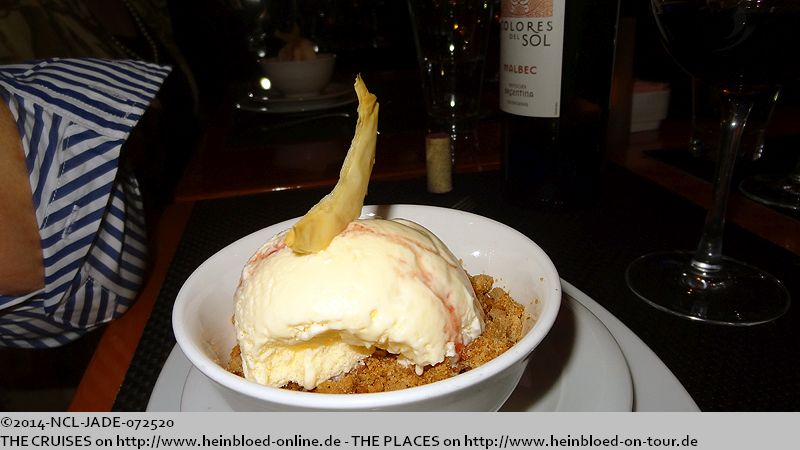 Some little desserts were a must. We had a new menu we had to test.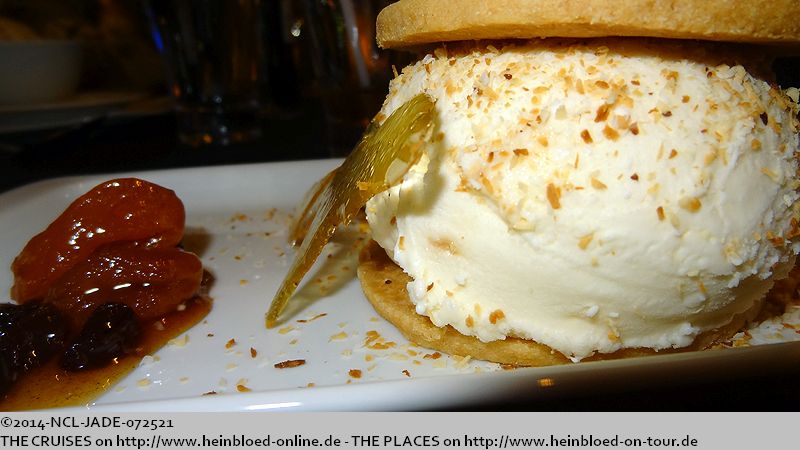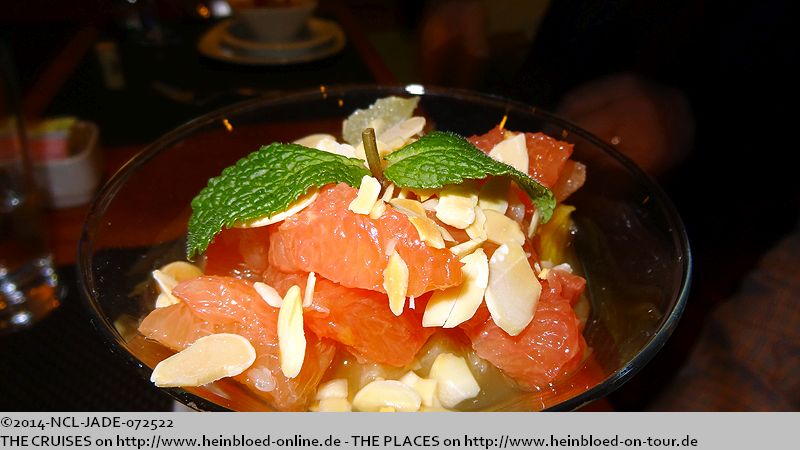 Again a wonderful service which we enjoyed and appreciated: Amor, Mily, Manalyn Padilla, Rosvy, Sherlene Lopez de St. Clair.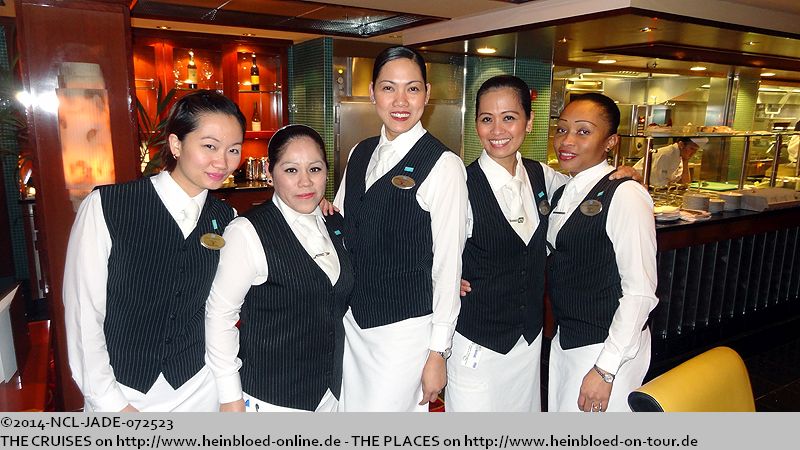 Wieder mal einen tollen Service, den wir genießen: Amor, Mily, Manalyn Padilla, Rosvy, Sherlene Lopez de St. Clair.
Und zufällig werden wir noch Zeuge, wie ein Hochzeitstag gefeiert wird und sie auch noch singen müssen.

And by coincidence we became victim that someone was celebrating their wedding anniversary and how they had to sing.

Last course cheese to finalize the meal.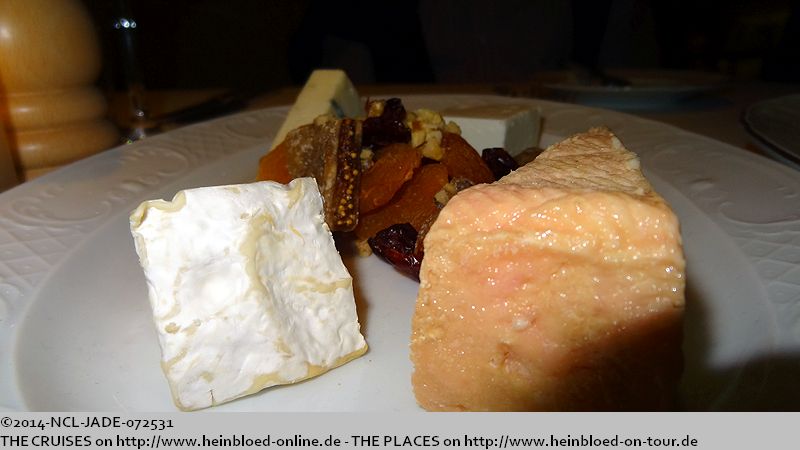 Käse schließt den Magen.
Und an dieser Stelle versagt der tolle Service: sie bekommen keine fünf Rollstühle zusammen, um uns zu den Kabinen zurückzubringen und riskieren es, dass wir auf dem Weg zurück zur Kabine platzen.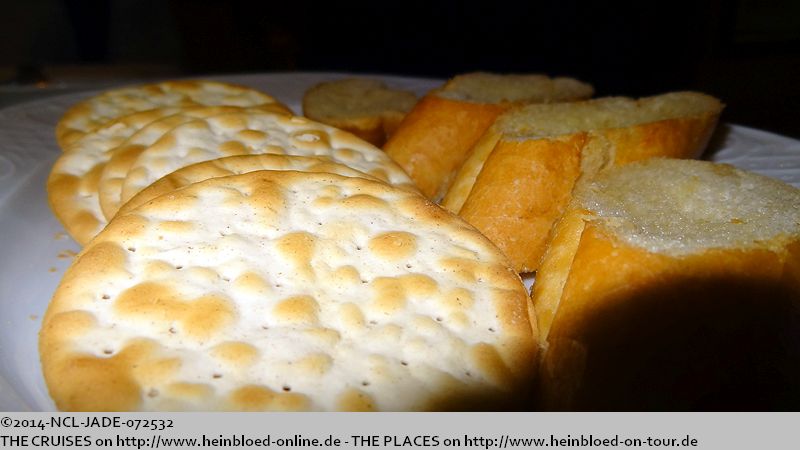 Now they had a breakdown of the wonderful service: they had no five wheelchairs for us to get us back to our cabin and they accepted the risk that we might burst on the way back to our cabin.