Am nächsten Morgen ging es Richtung Civitavecchia. Allerdings nicht auf dem direkten Weg über Grosseto, sondern quer feld ein über Lago di Bolsena. Wir erleben eine schöne Landschaft.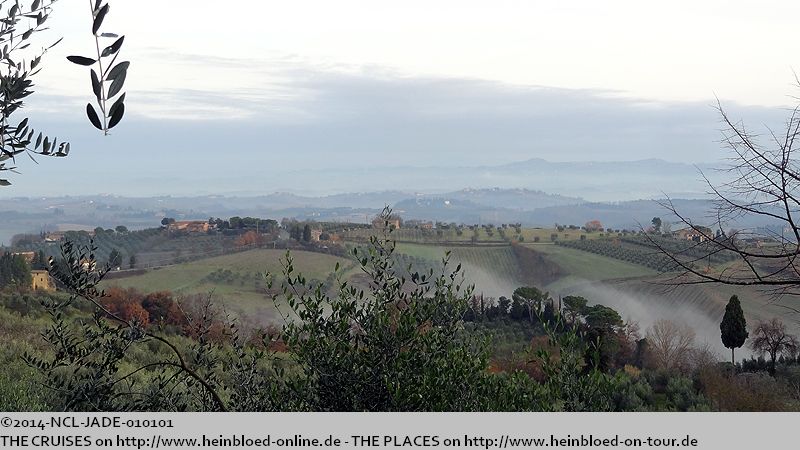 The next morning we headed to Civitavecchia. But not on the direct route via Grosset but cross-country via Lago di Bolsena. We experienced a very nice scenery.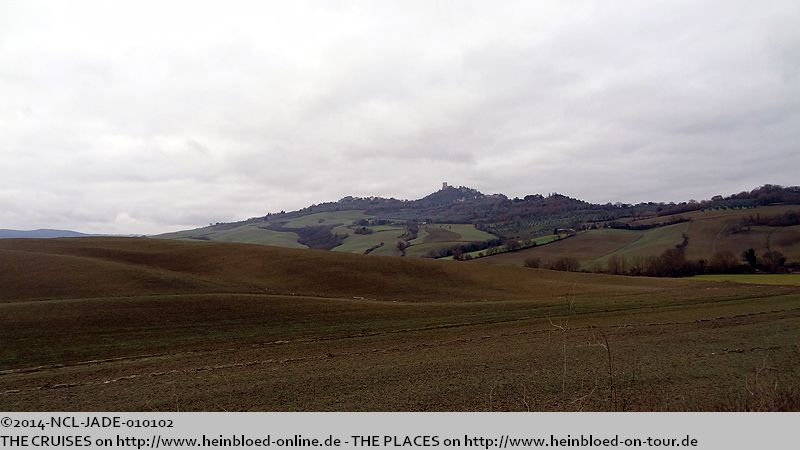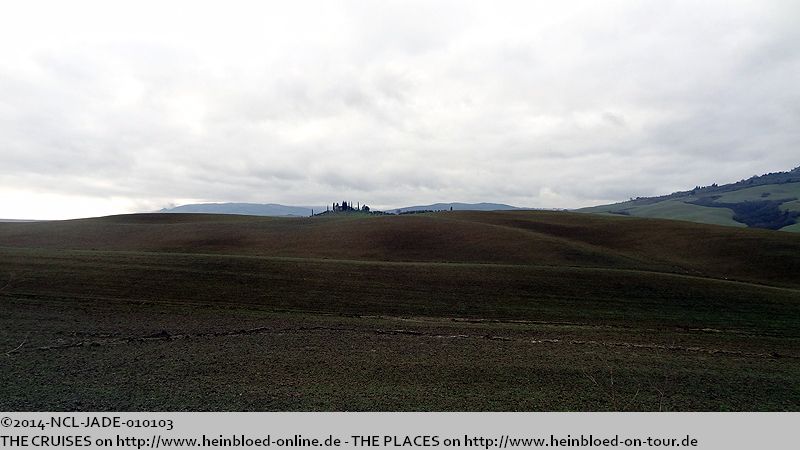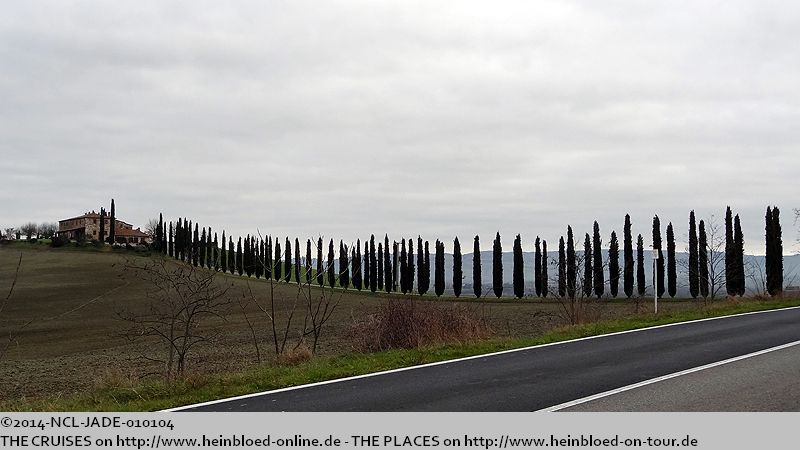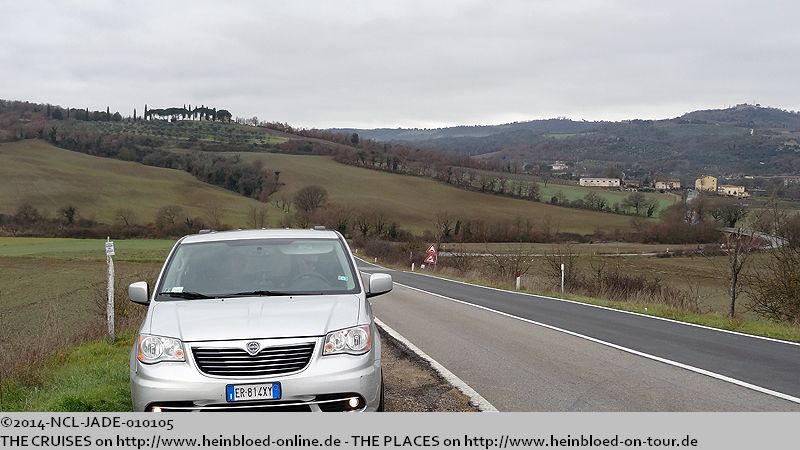 Nur diese gelblichen Baumstämme lösen bei uns ein Rätsel aus.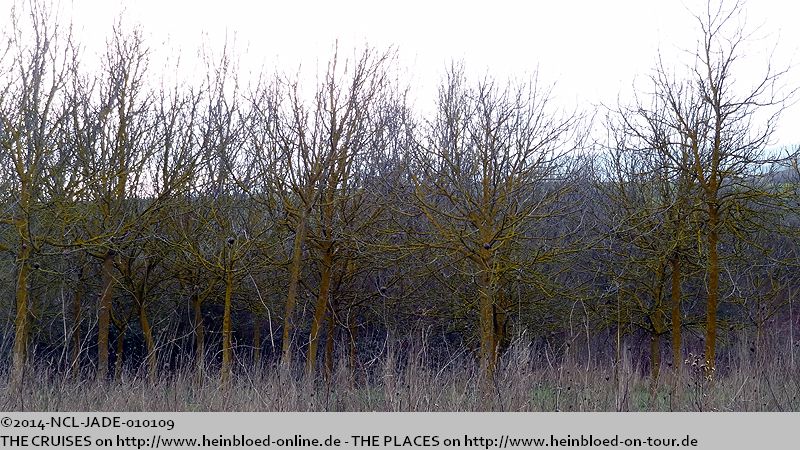 There was still an open question what was about the yellow-colored trees.

When we stopped to refill the car we learned it was impossible to refill the car. You could not get out of the car because the curb was too high. Due to vacation everything was set as self-service. Foreign credit cards were not accepted so that we could only refill for 20.00 EUR as we had no idea if 50.00 EUR might be too much. But the tank was giant... and refilling was much more expensive than in the rest of the world.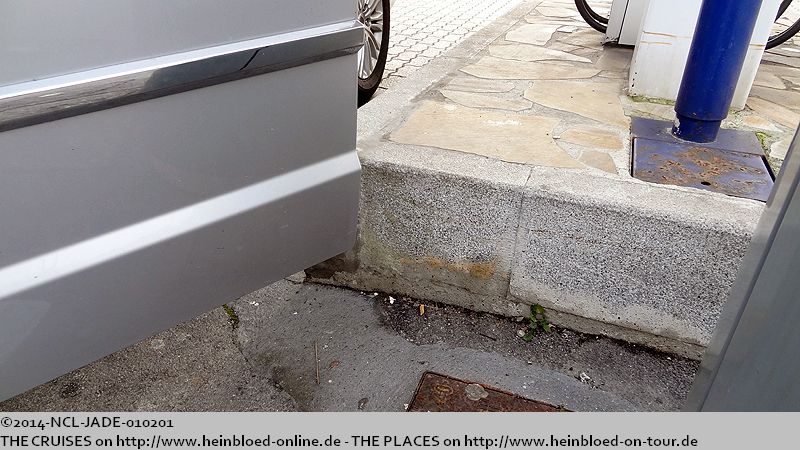 Bei einem Tankstop mussten wir leider feststellen, dass man mit diesem Auto unmöglich tanken kann. Man kommt nämlich nicht raus, weil der Bordstein der Tankstelle zu hoch gebaut ist. Wegen Ferien ist der Betrieb auf Selbstbedienung umgestellt. Ausländische Kreditkarten werden nicht akzeptiert, so können wir nur für 20,00 EUR tanken, weil wir keine Ahnung hatten, ob nicht 50,00 EUR zuviel wären. Aber der Tank war riesig... und Tanken in Italien einiges teurer als in Deutschland.
In Castiglione d'Orcia machen wir eine kurze Kaffeepause in der Beyfin Bar.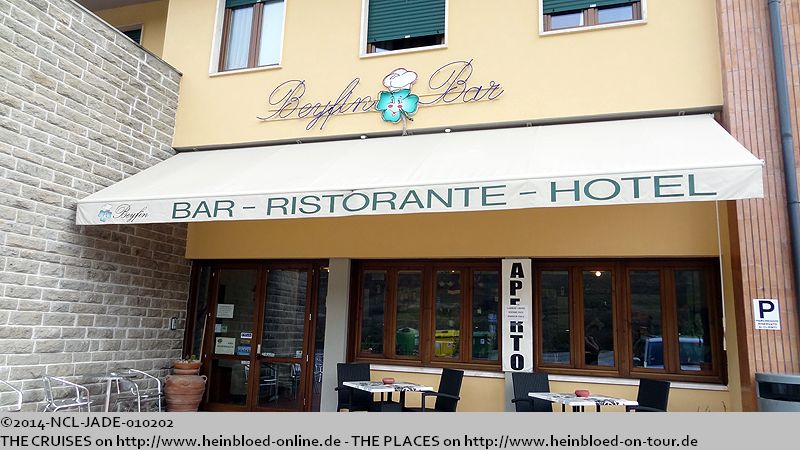 In Bastiglione d'Orcia we made a short coffee break at the Beyfin Bar.

We were not hungry att all but it looked wonderful. So we stayed with some coffee and tried to see the toilets which took a while as they had only one cabin for all guests and other guests were already queuing.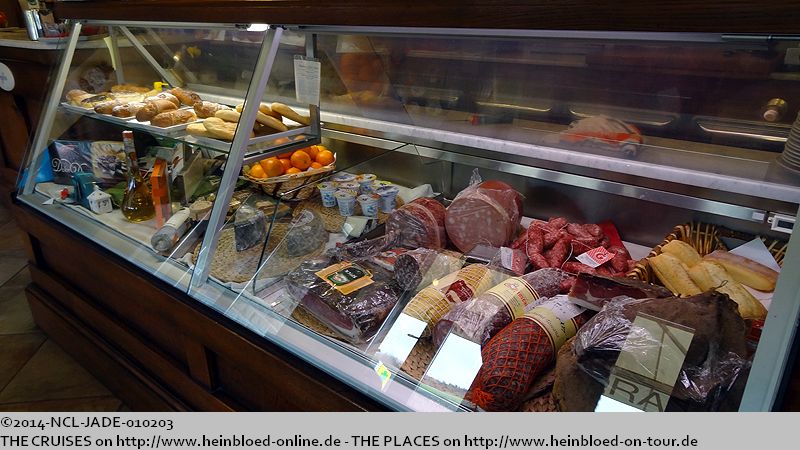 Hunger hatten wir keinen, aber das sah alles sehr lecker aus. So blieb es bei Kaffee und einem Besuch der Toilette, die sich hinzog, weil es nur eine Kabine für alle gab und schon andere Gäste anstanden.
Nach dem den nächsten Pass änderte sich das Wetter schlagartig. Es war schon abzusehen gewesen, dass wohl die Seite mit dem Lago di Bolsena in den Wolken liegen würde. So haben wir umdisponiert und sind eine direktere Strecke zur Küste gefahren. Zeitlich hat es uns einen Vorteil von 3 Minuten gebracht. Allerdings nach der Pause. In sofern lagen wir gut in der Zeit. Und konnten doch noch etwas sehen. Denn wir sind entlang des Kamms gefahren und die linke Seite mit dem See: alles unter Wolken und die rechte Seite zum Meer strahlend blau.

After passing the next pass it was clear that Lago di Bolsena should be in the clouds. So we changed our plans and used a more direct way to the coast. We saved three minutes. But after the break. So far it was the right timing. And we could see a lot. As we drove along a ridge we could see the left side around the lake in coulds and the right side towards the sea in clear blue sky.

When we transit the place Canino we saw a producer cooperation for olive oil: OSCC. That was very interesting for us as we went it to test. But they only let you test pure olive oil - no bread - no salt. Some of them went trough your throat like cough syrup: scratchy in your throat. But we bought some. Unfortunately we had no cooling device with us... the production cooperation for cheese might be interesting too.

Im Ort Canino fiel uns die Erzeugergemeinschaft der Olivenölbauern auf:
OSCC
. Das stieß dann auf unser Interesse, dass wir mal reingegangen sind, um mal zu testen. Hier wurde allerdings Olivenöl pur getestet - ohne Brot - ohne Salz. Das ging zum Teil runter wie Hustensaft. Manche kratzten richtig im Hals. Aber wir haben wieder welches mitgenommen. Leider hatten wir keine Kühlbox mit... Die Erzeugergemeinschaft der Käsehersteller wäre auch nicht uninteressant gewesen.
Bald ging es auch in den Hafen von Civitavecchia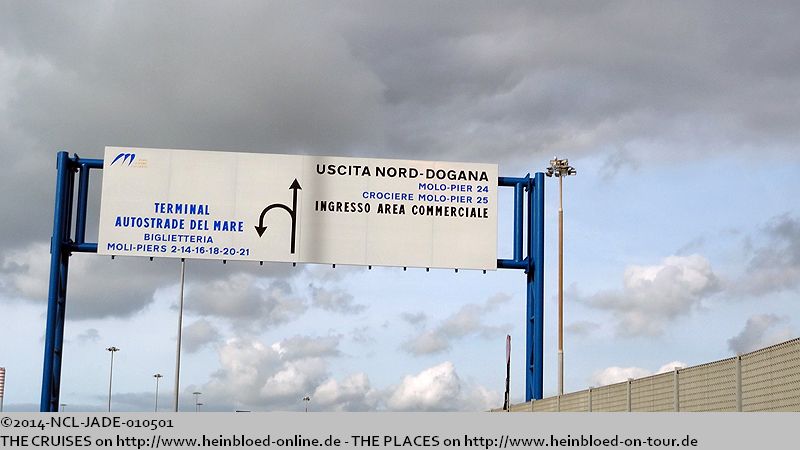 Soon we reached the port of Civitavecchia.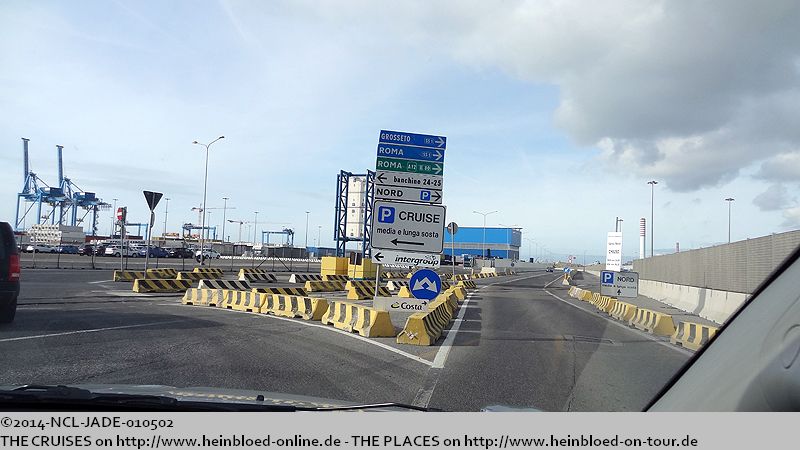 Im Hafen haben wir uns zunächst mal eine Runde geärgert. Hier gab es die billigste Tankstelle zwischen Florenz und Civitavecchia und wir hatten kurz zuvor noch für ca. 20 Cent/l mehr getankt. Warum funktioniert das Tanken App von T-Online auch nicht in Italien...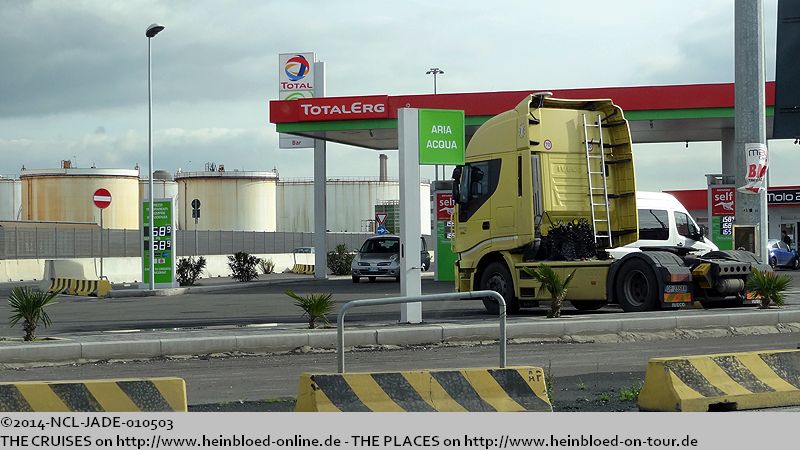 In the port we became somehow upset. Here we found the most cheapest gas station on the way from Florence to Civitavecchia and we just refilled for about 20 Cent/Liter more. We have in Germany an app to check the cheapest gas station... why was that not working in Italy...

According to the tickets NORWEGIAN JADE should berth at Terminal 12bis but it docked actually at Terminal 25. Although there was enough space: we were NOT allowed to drive to the terminal to drop-off the bags. The standard way: no matter if you have rain or sun: they forced all guests (except the driver) to leave the car incl. bags and you should wait there until you parked the car and return.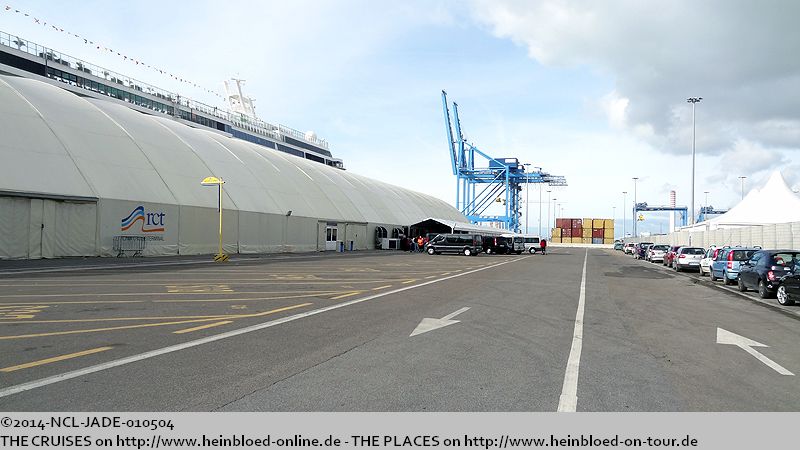 Entgegen der Angaben in den Tickets lag die NORWEGIAN JADE nicht am Terminal 12bis sondern am Terminal 25. Obwohl genug Platz war: wir durften NICHT mit dem Gepäck vorfahren. Der normale Weg: egal ob Regen oder Sonne: man zwingt alle Gäste (außer Fahrer) mit Gepäck raus und die sollen dort warten, bis man den Wagen weggebracht hat.
Ich hatte das Problem jedoch dahingehend gelöst, dass ich mir einen Gepäckträger gesucht habe, der bis zur Schranke kam und das Gepäck uns abnahm. Mit der richtigen Menge Trinkgeld haben wir dann sichergestellt, dass unser Gepäck nicht im Hafenbecken, sondern vor unserer Kabine auch ankam. Die Schikane ging dann weiter: nach der Schranke ist unendlich viel Platz zum Wenden. Man wurde jedoch gezwungen vor der Schranke zu wenden, egal wieviel Mühe es kostet. Echte Gründe gegen Civitavecchia als Einschiffungshafen. In Genua, Barcelona, Venedig, Kopenhagen, Rotterdam, Southampton, Dover, Hamburg, Warnemünde and Kiel konnten wir immer mit dem Wagen vorfahren und das Gepäck abladen und dann in Ruhe den Wagen wegbringen.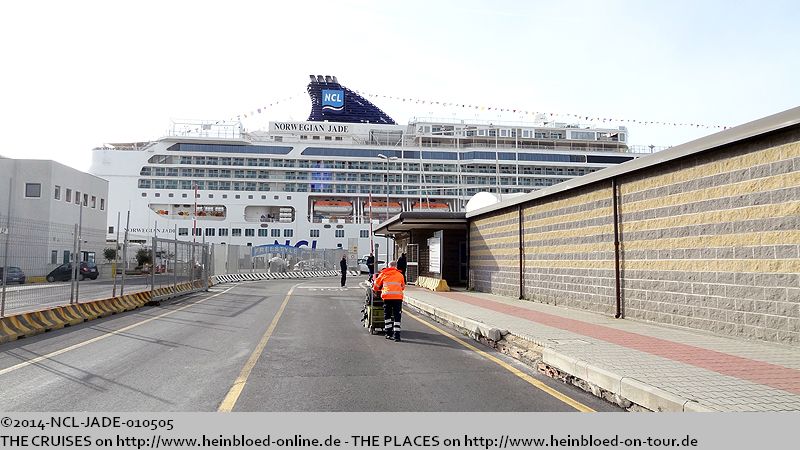 I solved the problem in a different way and looked for a porter who came to the barrier to take our bags. With the right amount of tips you made sure that your bags will not be found in the water of the ports but in front of our cabin. The harassment did not stop: after the barrier you had plenty of space to make a u-turn. You were forced to make your u-turn in front of the barrier - no matter how much effort it takes. Real good reasons not to embark in Civitavecchia. In Genoa, Barcelona, Venice, Copenhagen, Rotterdam, Southampton, Dover, Hamburg, Warnemünde and Kiel you just drive in front of the terminal and drop-off your bags and could easily thake care of the car.

On our way back we passed the special train RomeExpress.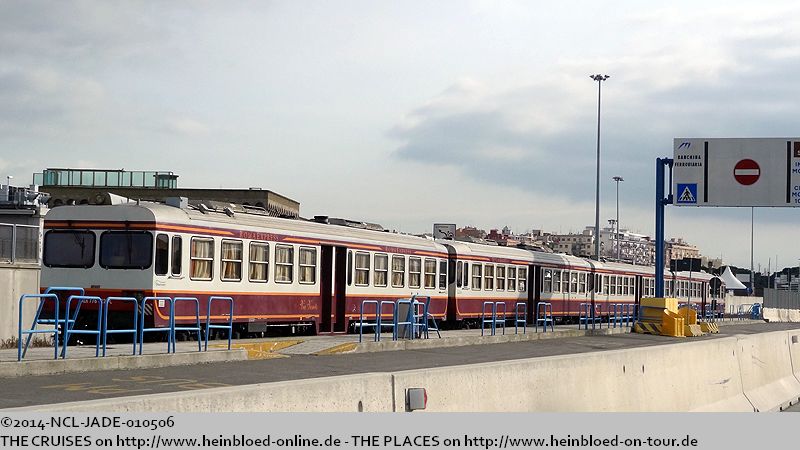 Zurück kommen wir am Sonderzug RomeExpress vorbei.
Viele Informationen gibt es hierzu nicht. Aber vielleicht hilft ja diese Seite weiter:
SeaTrain
- Es geht nicht so richtig daraus hervor, ob es sich an den Kreuzfahrer oder Kreuzfahrtgesellschaften richtet.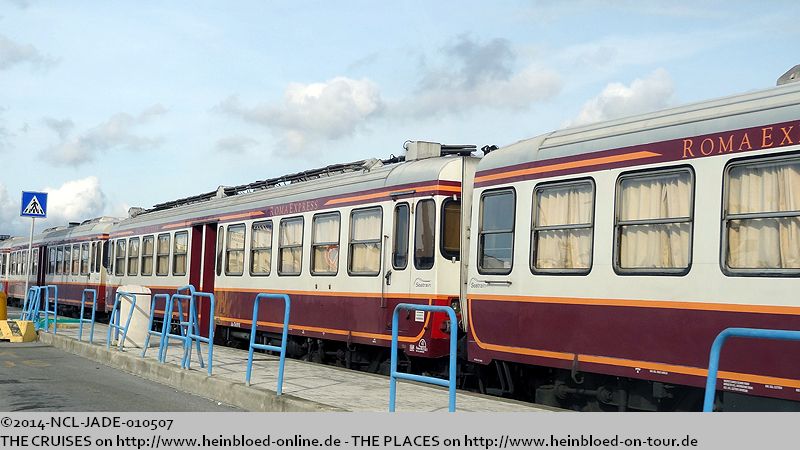 There were not so many information. But maybe this site might be helpful: SeaTrain - It not very clear if the website is addressed to cruisers or to cruise lines.

With Avis we had only unluck. There was no parking lot.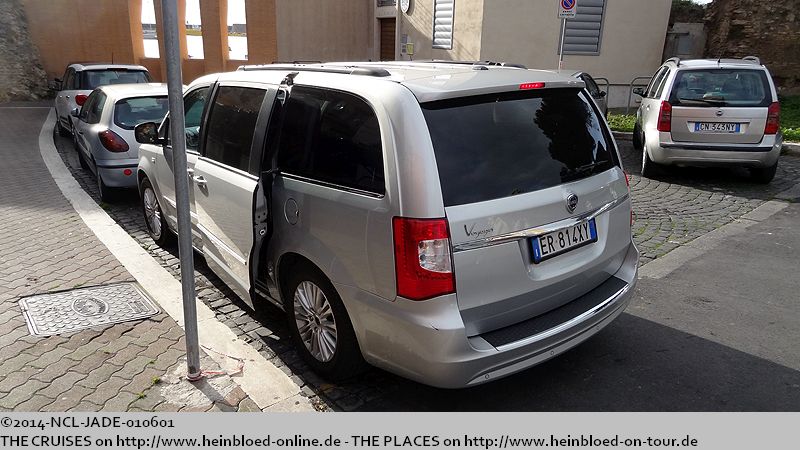 Bei Avis hatten wir bloß Pech. Es gibt keinen Parkplatz von Avis.
So füllen wir in Ruhe die Unterlagen für die Rückgabe aus, da das Büro bis 15.30 Uhr geschlossen ist.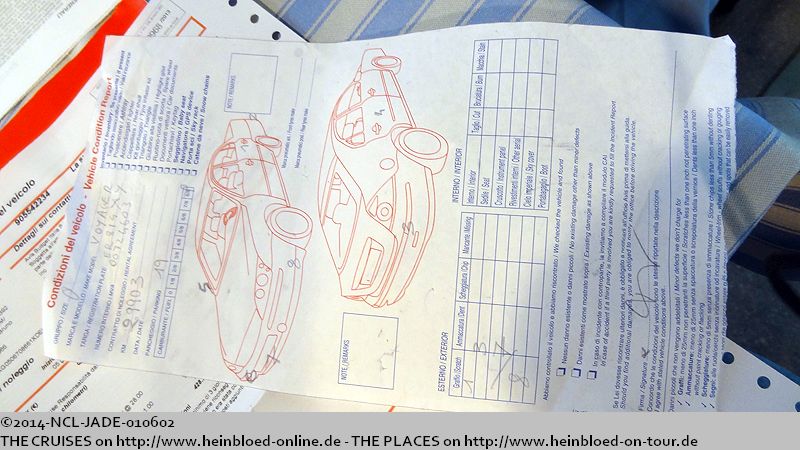 So we filled out the documents to return the car as the office is closed until 15.30 hrs.

Another problem: no mailbox.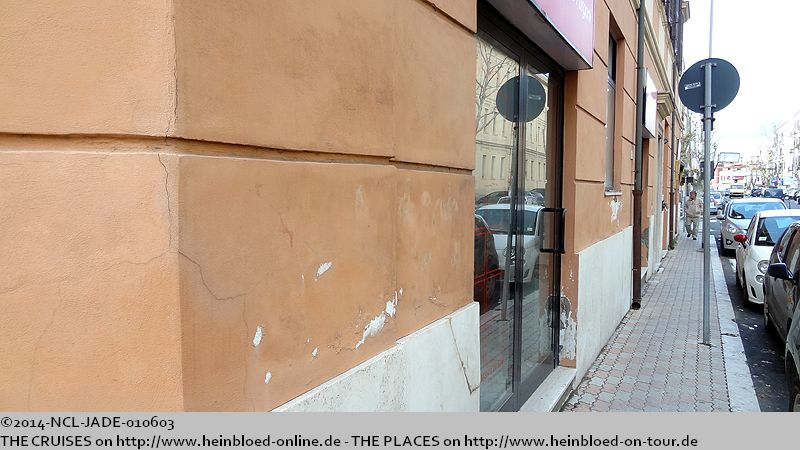 Ein weiteres Problem: es gibt keinen Briefkasten.
Ich war verzweifelt: Zwischen dem Auto und dem Büro liegen 150 m, die es zu überbrücken gibt.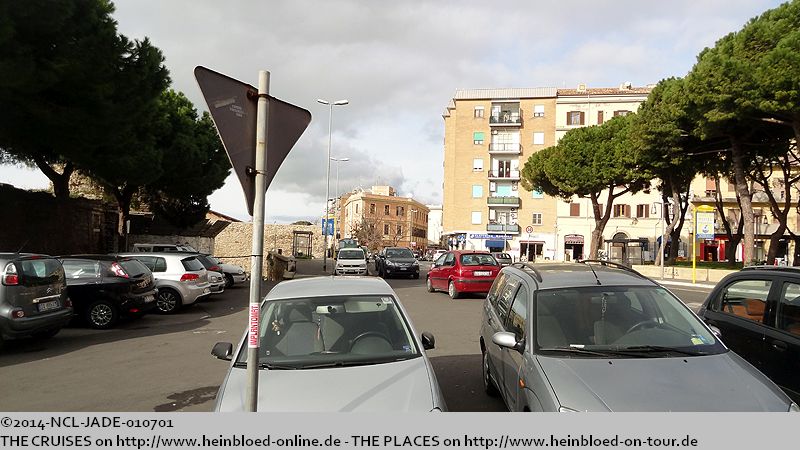 I was really desperate: between the car and the office there were only 150 yards to bridge.

I made all arrangements that Avis could find their car... street name...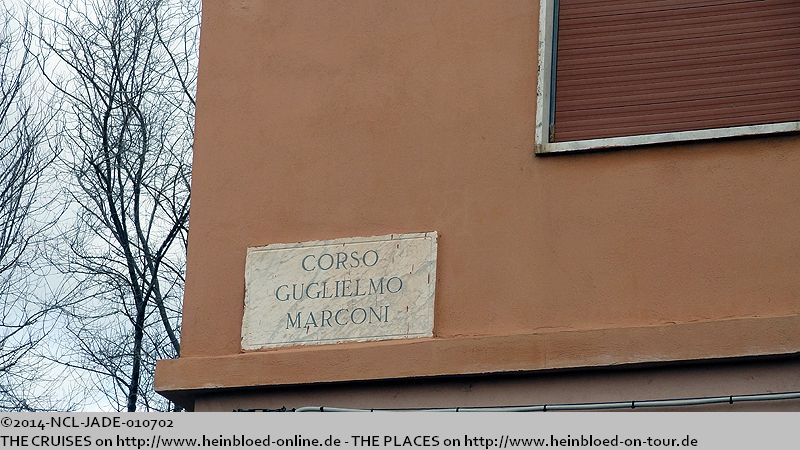 Ich hatte alles aufgeschrieben, damit Avis das Auto findet... Straßenname...
Sogar ein Bild von der Statue von
Hasekura Tsunenaga
habe ich aufgemalt...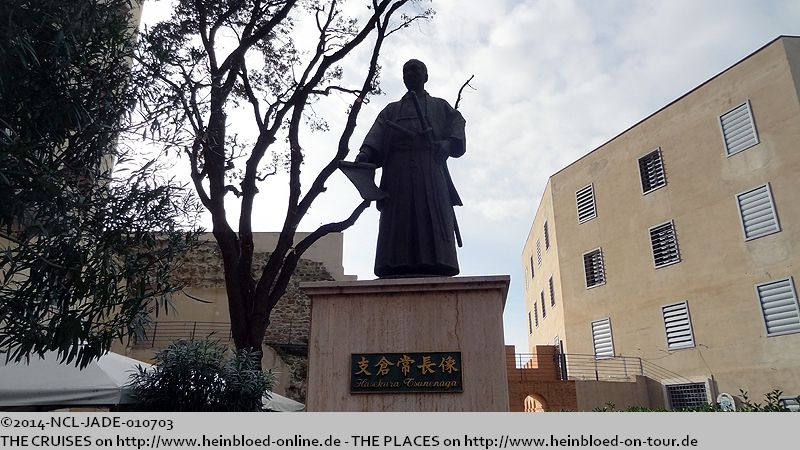 I even painted a picture of the statue of Hasekura Tsunenaga..

I even made a drawing of the street corner...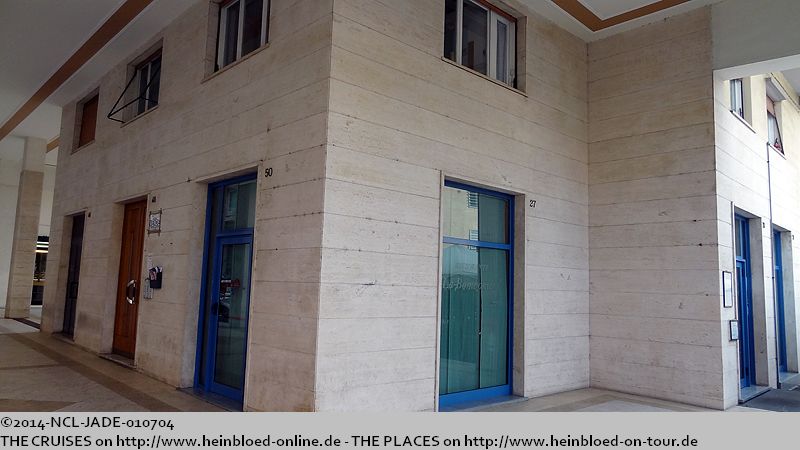 Ich habe sogar diese Straßenecke aufgemalt...
Es war eh Mittagszeit und ich musste einen klaren Gedanken fassen und so gingen wir direkt in das Restaurant hinein, vor dem wir geparkt hatten:
La Bomboniera
. Wie sich hinterher herausstellte Platz 7 von 137 Restaurants bei Tripadvisor. Drinnen eine Oase: frisch-gegrillter Fisch! Ein toller Service. Tolle Antipasti aus Meeresfrüchten und vor allem Michela, die uns aus den Schwierigkeiten herausgeholt hat und den Schlüssel bei Avis für uns nach 15.30 Uhr abgegeben hat. Das nächste Mal werden ich mehr Zeit einplanen, um hier in Ruhe zu essen und das alles zu genießen. Ich war ja wirklich so dankbar, dass es jemand gab, der nur meinte, dass ich mich wieder beruhigen sollte, weil ich ja im Urlaub bin. Was für ein Glück, dass es eben Menschen wie Michela gibt.

Anyhow it was lunch time and I need to find a clear mind so we went to the restaurant we just parked in front of: La Bomboniera. As we could find out later: No. 7 of 137 restaurants in Civitavecchia according to Tripadvisor. Inside an oasis: fresh-grilled fish! A great service. Great antipasti (starters) made of sea food and especially Michela which help us to get out of the troubles and returned for me the keys with Avis after 15.30 hrs. Next time I will take time to enjoy their food. I was really grateful to find someone like Michela who said that I should calm down as I am on vacation. The world could be lucky to have phantastic people like Michela.