Ende Juli war Tief "Alfred" aktiv: Dauerregen im Harz und auch die Altstadt in Goslar war überflutet. Wir waren ja nach der
NORWEGIAN JADE 2017
kurz hier. Da haben wir direkt am Marktplatz gewohnt.
Stand alles unter Wasser
. Der kleine Rinnsal Abzucht hat wirklich eine Kraft entwickelt und immer noch wird an den Folgen gearbeitet.

End of July was Low "Alfred" active: Continuous rain in the Harz Highlands and also the old town of Goslar, Germany was flooded. We were recently here after our sailing on NORWEGIAN JADE 2017 for a quick stop. Then we stayed directly on Market Square. It was all flooded. The little rivulet Abzucht really developed real power, and still, they were working on the consequences.

Back to the breakfast at our hotel Niedersächsicher Hof. I never have seen this on a breakfast buffet before: vitamin effervescent tablets - maybe as a substitution for fresh fruits? Absolutely no. Was also all available. Even an egg station.

Zurück zum Frühstück in den
Niedersächsichen Hof
. Habe ich auch noch nie auf einem Frühstücksbüffet gesehen: Vitamin-Brause-Tabletten - möglicherweise als Ersatz für frisches Obst? Keinesfalls. Das ist auch alles da. Sogar eine Eierstation.
Wir fahren weiter: Nächster Halt ist Hagen in Westfalen. Brunos Vater hat hier seine Ausbildung in den 50-er Jahren gemacht und interessiert sich immer noch für die Veränderungen in der Stadt. Nun haben wir zufällig ein paar sehr gute Kreuzfahrer-Freunde, die in Hagen aufgewachsen sind und daher bestens Rede und Antwort stehen können: Hans-Hermann und Carmen, die wir von der
NORWEGIAN JADE 2009
und
QUEEN ELIZABETH 2012
. Die haben für uns dieses tolle Restaurant rausgesucht:
Staplack
. Dort gibt es Bergisches Krüstchen. Lecker. Wir haben alle unseren Spaß.

We headed to the city of Hagen, Germany. Bruno's Vater was trainee here in the 50s and was interested to know the changes in the city. Well, we had by coincidence some very good cruise-friends who were grown up in Hagen and so were able to answer all questions: Hans-Hermann and Carmen whom we knew from NORWEGIAN JADE 2009 and QUEEN ELIZABETH 2012. They found us this great restaurant: Staplack. There I could have Bergisches Krüstchen (Toast with a country-fried steak and fried eggs). We all had our fun.

We continued for Viersen, Germany. Here Bruno's Mother had a historical relation, and it was just next to Mönchengladbach, Germany. We stayed overnight at Kaisermühle (= Emperor's Mill). Nothing for older people. It was o.k... More or less.

Wir fahren weiter nach Viersen. Hier gibt es auch Bindungen bei Brunos Mutter und es ist direkt vor den Toren von Mönchengladbach. Wir übernachten in der
Kaisermühle
. Nichts für alte Leute. Es ist alles in Ordnung. Mehr oder minder.
Das Abendessen ist erstklassig. Ich habe schnell meine Eltern aus Mönchengladbach geholt und so sitzen wir wieder zusammen. In der Konstellation waren wir bereits auf der
NAVIGATOR OF THE SEAS 2009
,
WESTERDAM 2010
,
NORWEGIAN JADE 2011
und
NORWEGIAN SPIRIT 2013
unterwegs. Sowohl mit meinen Eltern als auch mit Brunos Eltern hatten wir weitere Fahrten gemacht. Aber diese vier auf denen die Eltern von uns beide dabei waren, waren doch mit die schönsten.

The dinner was delicious. I quickly got my parents from Mönchengladbach and so we could sit again together. In this party we went already together on NAVIGATOR OF THE SEAS 2009, WESTERDAM 2010, NORWEGIAN JADE 2011 and NORWEGIAN SPIRIT 2013. We did further cruises with my parents as well as with Bruno's parents. But the four where we had the parents of both of us were the nicest ones.

The next morning we woke up in a different world. As good as the dinner was the day before as surprising was the breakfast the next day.

Am nächsten Morgen wachen wir in einer anderen Welt auf. So gut wie das Abendessen gestern Abend war, so überraschend ist das Frühstück am nächsten Tag.
Wir müssen die Chance nutzen bei
Café Heinemann
etwas einzukaufen. Wir parken im
Minto
. Nicht Teil meines alten Mönchengladbachs. Früher als Schüler habe ich in der Fußgängerzone in der Hindenburgstraße gewohnt. In der Friedrichstraße hatten wir früher ein China-Restaurant. Und Heinemann ist dort, wo früher eine Metzgerei, in der ich als Kind immer einkaufen war. Bei Heinemann entdecken wir finnischen Nusskuchen. Haben wir in Helsinki gar nicht gesehen. Und Bürli. Im Gedanken bin ich schon in der Schweiz zurück.

We had to use the chance to buy something with Café Heinemann. We parked in the Minto. Not part of my Old Mönchengladbach. I lived as a student in the pedestrian zone of Hindenburgstraße. In the Friedrichstraße we had a Chinese Restaurant then. And Heinemann was in the former butcher's place. I went shopping when I was a little boy. With Heinemann, we discovered a Finnish nut cake. We did not see any in Helsinki. And Bürli (Swiss bread). In my mind, I was back in Switzerland.

On the way, we had a small bite in the Eifel Highlands, Germany: Hubertus Inn in Reuth, Germany. Finally some sausages with homemade potato salad.
But unfortunately Gerolsteiner, German mineral water - tastes like vulcano flavor. Wommit. But it was standard in the Eifel Highlands.

Unterwegs essen wir noch eine Kleinigkeit in der Eifel: Haus Hubertus in Reuth. Endlich mal ein paar Würstchen mit hausgemachtem Kartoffelsalat. Und leider auch Gerolsteiner. Igitt. Aber leider Standard in der Eifel.
Zu Hause bei Brunos Eltern warten auch schon die Koffer.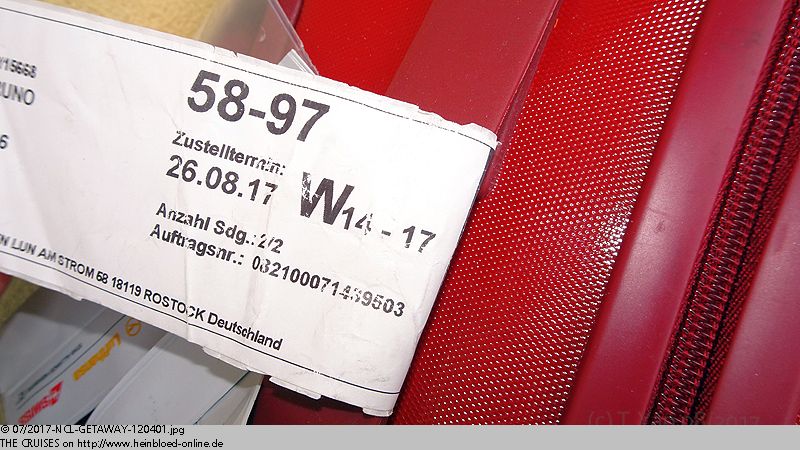 At the home of Bruno's parents our bags were waiting.

Very angry: we paid extra to have it delivered between 14:00 hrs and 17:00 hrs. Obviously, the courier of Hermes was not interested in following and delivered it with the neighbor who wanted to leave actually. A disaster: our bags in his garage and he might be gone. We had later a fight with Hermes. They refunded the surcharge.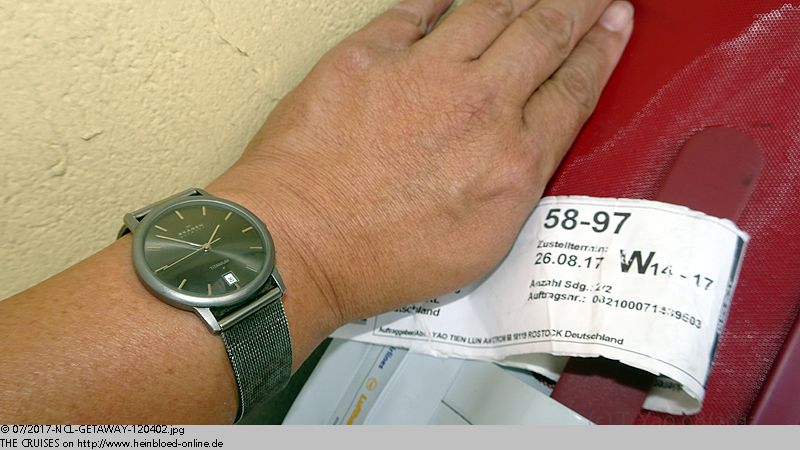 Sehr ärgerlich: wir haben ja dafür bezahlt, dass die Koffer zwischen 14:00 Uhr und 17:00 Uhr zugestellt werden. Dazu hatten die Hermes-Zusteller keine Lust und geben sie kurzerhand beim Nachbarn ab, der eigentlich weg wollte. Eine Katastrophe: die Koffer stehen bei ihm in der Garage und er wäre weggefahren. Es gab nachträglich noch Zoff mit Hermes. Den Zuschlag haben wir zurückbekommen.
Im Minto kann ich noch schnell ein neues Ladegerät kaufen. Es ist leider während der Einschiffung an Bord verschwunden. Unser Kabinensteward Kiran hatte mir sogar angeboten seins zu benutzen. Aber wir waren gut vorbereitet und konnten es gut handhaben.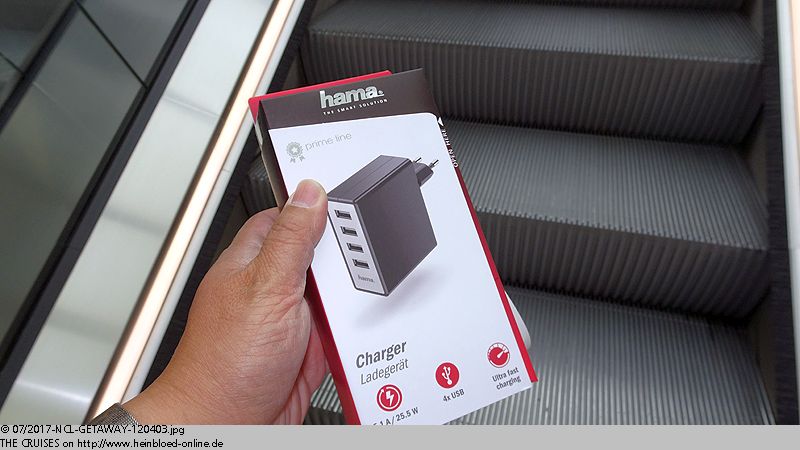 In Minto I bought a new charger. It was unfortunately lost during embarkation while onboard. Our cabin steward Kiran was so nice to offer me to use his own. But we were well prepared and could manage it.

My charger was onboard - and I had a towel instead and were doing advertising for NCL. They had my credit card number if they like to charge.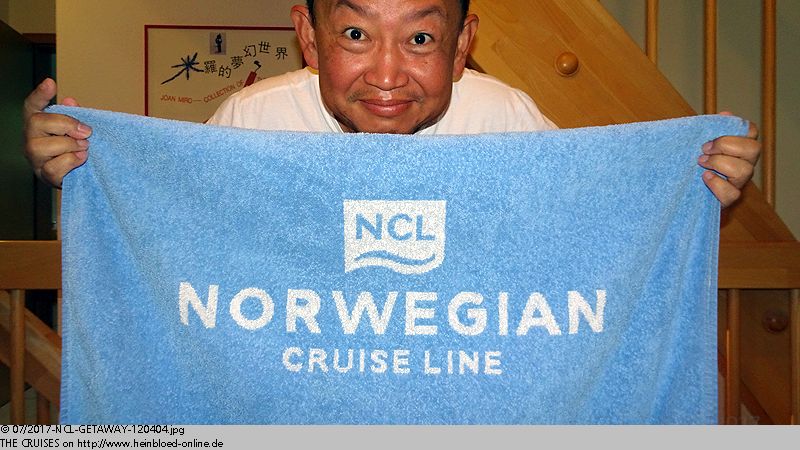 Mein Ladegerät ist an Bord - und ich habe dafür ein Handtuch und laufe Werbung für NCL. Sie haben ja meine Kreditkartennummer, wenn sie es berechnen wollen.
Zu Hause wartet eine große Überraschung auf mich: "
Schläft das Personal auch an Bord?
" von Andreas Lukoschik erschien während wir auf der
ZAANDAM 2012
waren. Wir waren in Asien und er damals auch. Wir haben uns ein paar E-Mails ausgetauscht und er hat sich erinnert: so liegt bei mir zu Hause sein neues Buch: "
Ist das Schiff schon mal untergangen?
" Es hat mir sehr geholfen, den Schienenersatzverkehr zwischen Rastatt und Baden-Baden gut zu überstehen. Sehr kurzweilig geschrieben und manchmal musste ich in ICE so laut lachen, dass sich die anderen Fahrgäste umgedreht haben.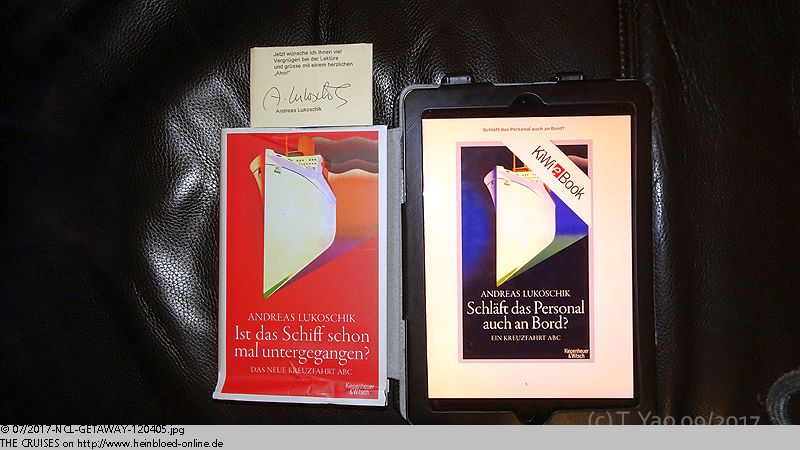 At home a nice surprise was waiting for me: The German book "Schläft das Personal auch an Bord?" (= Does the crew also sleep onboard?) of the Swiss author Andreas Lukoschik was released while we were on a href="https://heinbloed-hal.blogspot.com/2012/03/tagday-11-auf-deron-zaandam-in.html">ZAANDAM 2012. We were in Asia and him too. We exchanged some e-mails, and so he remembered me: so his new book was at home: "Ist das Schiff schon mal untergangen?" (= Did the ship ever sink before?). It helped a lot to survive well the rail replacement service by bus between Rastatt, Germany and Baden-Baden, Germany. It was written quite diverting and sometimes I need to laugh so loud in the train that other passengers turned around.

Although I had a hand-signed and dedicated copy: I loaded it down as an eBook because it was more practical if you are on your way. I am using tram and bus for going to work in Basle, Switzerland.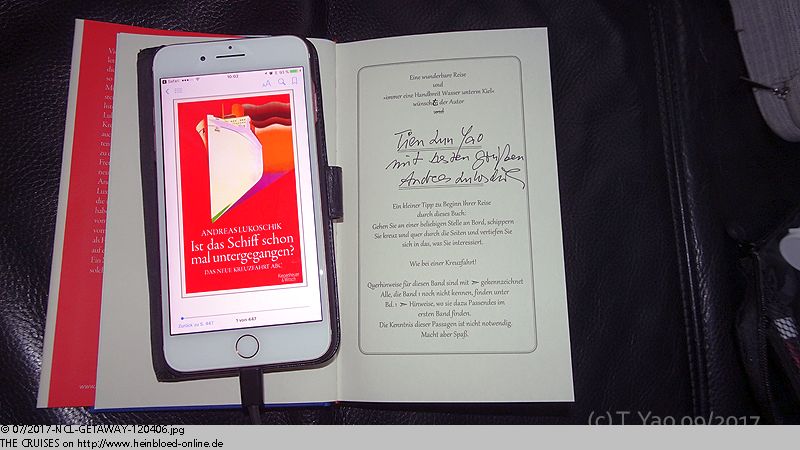 Obwohl ich eine handsignierte Ausgabe mit Widmung habe: ich lade mir noch ein eBook herunter, weil es einfach praktischer ist, wenn man unterwegs ist. Ich fahre ja in Basel mit der Straßenbahn und Bus zur Arbeit.
Der Fragebogen kommt. Bruno füllt ihn aus. Leider wird nicht mehr gefragt, welches Crew-Mitglied uns positiv aufgefallen ist. Man interessiert sich nicht für Details. Die Fragen sind so formuliert, dass man eigentlich NCL mögen soll.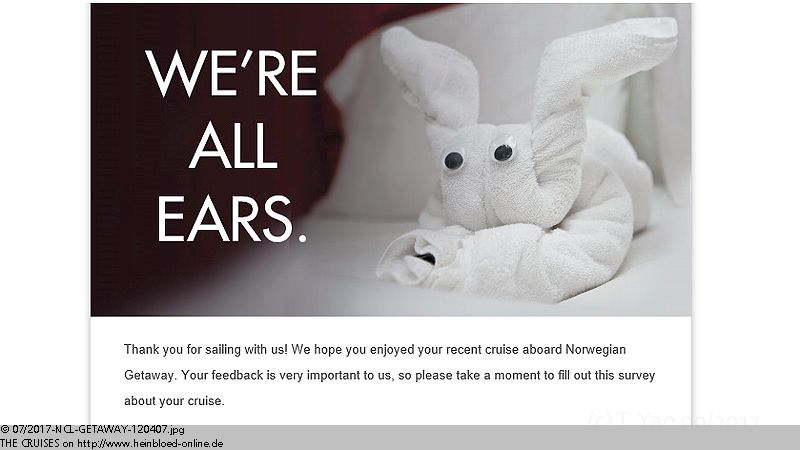 The questionnaire came. Bruno answered. Unfortunately, they did not ask anymore for the names of crew members who positively attracted our attention. They did not care much of details. The asked a way that you should like NCL.

At home, I used Celebrity-NCL-Jacket. Now I knew why it was reduced: the processing was bad. Same I would say like NCL itself, but you could also find in the board shops of Cunard, HAL, and Princess a lot of scraps. And it was my own fault. I could have better checked it while I was in the shop. I also knew the sister ship NORWEGIAN BREAKAWAY 2013, and I knew what I should expect. Now we were looking forward to NORWEGIAN SPIRIT, NORWEGIAN JADE, and NORWEGIAN SUN. Other ships, other itineraries, other crew: it could be totally different. But we were also looking forward to MSC MERAVIGLIA, GRAND PRINCESS, BRITANNIA and MSC SEAVIEW. I was so fascinated on the itinerary in the Baltic Sea that I was already started to plan: By Birka our roundtrip out of Stockholm, Sweden. By Viking Line to Helsinki, Finland. Both of them leaves from Stadsgården. And from here further to St. Petersburg, Russia by St. Peter Line. With a hotel booking and a voucher instead of a visa or Tour Ticket. I wrote to hotels in St. Petersburg and they confirmed that the 72-hours-rule was existing: So next time we simply book a hotel room in St. Petersburg overnight and then later return to the ship: apply only to cruise ships and for the ferry of St. Peter Line. Or simply going on COSTA MEDITERRANEA. Anyhow, I would not wait another eleven years before returning to the Baltic Sea. And NCL would be again the only one going from Warnemünde, Germany to Warnemünde and calls Stockholm directly: why not? It must not be a Breakaway-Class or Dawn-Class ship and not NORWEGIAN EPIC either. They could use the SS UNITED STATES. Everything else will be handled by the fantastic crew. Like they did this time too.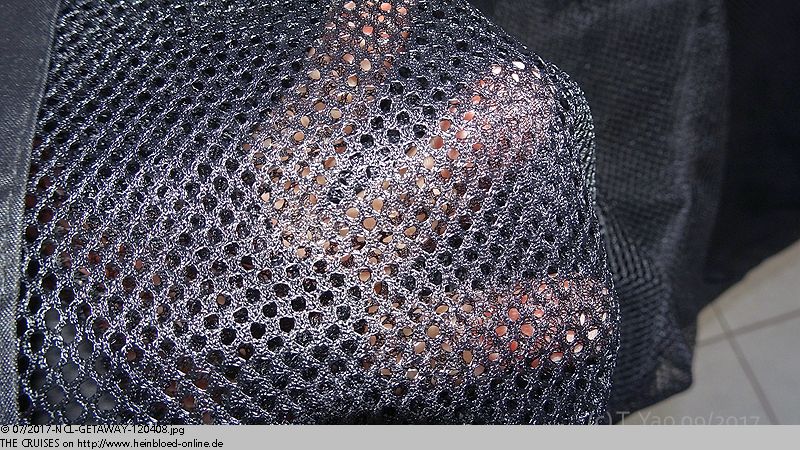 Zu Hause nutze ich dann auch die Celebrity-NCL-Jacke. Nun weiss ich auch, warum sie heruntergesetzt war: die Verarbeitung ist schlecht. Eigentlich so wie NCL selbst würde ich sagen, aber auch in den Bordshops von Cunard, HAL und Princess bieten sehr viel Schrott. Aber das ist meine eigene Schuld. Ich hätte sie mir ja besser im Shop ansehen können. Ich kannte ja auch das Schwesterschiff
NORWEGIAN BREAKAWAY 2013
und wusste ja, was mich erwartet. Nun freuen wir uns auf die NORWEGIAN SPIRIT, NORWEGIAN JADE und NORWEGIAN SUN. Andere Schiffe, andere Routen, andere Crew: es kann komplett anders sein. Wir freuen uns aber auch auf MSC MERAVIGLIA, GRAND PRINCESS BRITANNIA und MSC SEAVIEW. Die Route in der Ostsee hat mich so fasziniert, dass ich bereits plane: Mit
Birka
eine Runde ab Stockholm. Mit
Viking Line
nach Helsinki. Sie fahren beide ab Stadsgården. Und von hier weiter mit
St. Peter Line
nach St. Petersburg. Mit einer Hotelbuchung und einem Gutschein statt Visum oder Tourticket. Ich habe Hotels in St. Petersburg angeschrieben und die haben bestätigt, dass es diese 72-Stunden-Regelung gibt: Das nächste mal also: Ein Hotel in St. Petersburg über Nacht buchen und dann zurück auf das Schiff: gilt nur für Kreuzfahrtschiffe und für die St. Peter Line-Fähre. Oder doch mit COSTA MEDITERRANEA. Auf jeden Fall werden nicht wieder elf Jahre warten, bevor es zurück in die Ostsee geht. Und wenn NCL der einzige wieder ist, der von Warnemünde nach Warnemünde fährt und auch direkt Stockholm anläuft: warum nicht? Es muss aber nicht wieder ein Breakaway-Klasse oder Dawn-Klasse-Schiff sein - und auch nicht die NORWEGIAN EPIC. Von mir aus auch die SS UNITED STATES. Alles andere wird die fantastische Crew richten. So wie dieses Mal auch.