Wir sind zu schnell: gestern gab es eine Ansage, wann wir die Höhe von Helsingør/Helsingborg passieren. Deswegen habe ich den Wecker gestellt und bin trotzdem zu spät. Wir sind schon durch.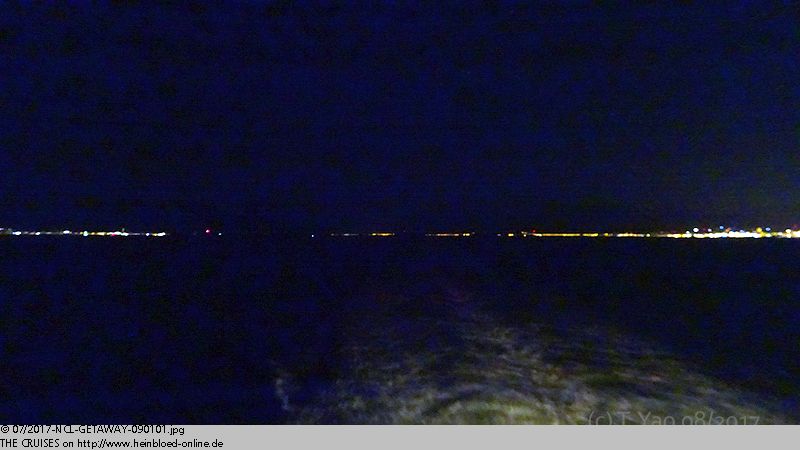 We were too fast: the day before they made the announcement when we should pass Helsingør, Denmark/Helsingborg, Sweden. So I set the alarm but I was too late. We passed already.

A surprise was waiting for me: even I spend a lot of care to prepare: somehow I did not have her on my screen: ZUIDERDAM.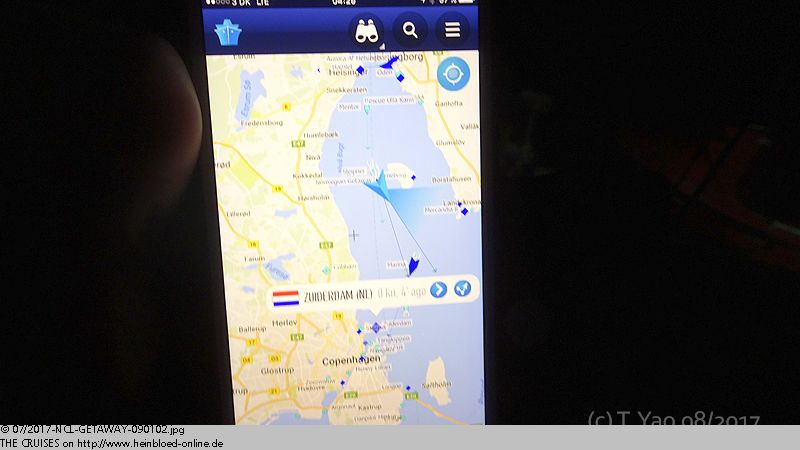 Eine Überraschung erwartet mich: trotz sorgfältiger Vorbereitung: irgendwie habe ich sie gar nicht auf dem Schirm: ZUIDERDAM.
Zunächst aber vor uns fährt MARINA die an der Langelinie direkt neben der Kleinen Meerjungfrau anlegen darf.

But for now MARINA was sailing just in front of us and was allowed to dock at Langelinie just next to the Little Mermaid.

Yesterday I was told that it would not make for me any sense not to buy some Cruise Next Rewards for us. I knew exactly what was best for us. I did not think that the conditions were good. But just to save money now onboard and later to be tight up against flexible without disadvantages felt more sympthic to me. That was why liked more HAL, Princess and Cunard: we pay immediately. When we do not go we just got the money back. With NCL you can only do it the first 30 days. So ZUIDERDAM came at the right time at the right place and was MY SIGN - like in the movie "Sleepless in Seattle" (Tom Hanks and Meg Ryan): ZUIDERDAM reminded me what I really want. I also like to have NCL but I will decide myself what and how I book and not because my Cruise Next Reward expires. And I do not want a loud ship again.

Gestern wurde mir nochmals erklärt, dass es gar keinen Sinn macht, dass wir keinen Cruise Next kaufen für uns kaufen. Ich weiß eigentlich schon am Besten, was gut für uns und was nicht. Ich halte die Konditionen für nicht gut. Nur jetzt an Bord sparen und hinterher gebunden sein gegen jetzt zahlen und flexibel ohne Nachteile bleiben ist mir lieber. Deswegen HAL, Princess und Cunard zahlen wir sofort. Wenn wir nicht fahren, dann bekommen wir das Geld einfach zurück. Das geht bei NCL nur in den ersten 30 Tagen. Deswegen kommt die ZUIDERDAM zum richtigen Zeitpunkt am richtigen Ort und ist MEIN ZEICHEN - so wie im Film "
Schlaflos in Seattle
" (Tom Hanks und Meg Ryan): Die ZUIDERDAM erinnert mich daran, was ich wirklich will. Ich will auch NCL, aber ich will selbst entscheiden, was und wie ich buche, und nicht weil mein Cruise Next ungültig wird. Und ich will kein so lautes Schiff mehr.
"Wonderful,
Wonderful Copenhagen
, Salty Old Queen of the Sea - Once I sailed away - but I'm home today singing Copenhagen, Wonderful, Wonderful Copenhagen for me" - wieder zurück seit
NORWEGIAN SUN 2012
.

"Wonderful, Wonderful Copenhagen, Salty Old Queen of the Sea - Once I sailed away - but I'm home today singing Copenhagen, Wonderful, Wonderful Copenhagen for me" - back again since NORWEGIAN SUN 2012.

So sad that we could not sit outside at the aft. Here with a view on ZUIDERDAM I really would like to have breakfast. So went again to the Main Dining Room. The Italian orange marmelade ran out. Although we were not debarking we got only a reduced selection. When we supposed to debark the next day the others got the full selection. This restriction was only with NCL. With others I got always the full selection. To my surprise it happened something what I only knew from RCI/X: moving back my used silverware to the table.

Schade, dass wir am Heck nicht draußen sitzen können. Hier mit Blick auf die ZUIDERDAM hätte ich gerne gefrühstückt. So gehen wir wieder ins Hauptrestaurant. Die italienische Orangenmarmelade ist alle. Obwohl wir nicht ausschiffen, bekommen wir auch nur ein eingeschränktes Angebot. Wenn wir am nächsten Tag ausschiffen, bekommen die anderen das vollständige Angebot. Diese Einschränkungen gibt es eigentlich nur bei NCL. Bei den anderen bekomme ich am Ausschiffungstag das vollständige Angebot. Zu meiner Überraschung passiert etwas, was ich sonst nur von RCI/X kenne: mein gebrauchtes Besteck wird wieder auf den Tisch gelegt.
Die Ausschiffung läuft über zwei Terminals. So sind auch die zwei Treppenhäuser für die unterschiedlichen Terminals. Für Transitgäste gibt es ein kleines Ausflugsprogramm.

Debarkartion went over two terminals. So the two stairways were for different terminals. For transit guests they offered a small tour programme.

That was how the new Cruise Terminal at Oceankaj looked like at the Northern part of Copenhagen. Three new terminals.

So sieht also das neue
Kreuzfahrtterminal am Oceankaj
im Norden von Kopenhagen aus. Drei neue Terminals.
Und von hier schon gut zu sehen der
Bus 27
, der jeden Tag als "Lumpensammler" mit Umwegen zum Bahnhof Østerport fährt (Hier kommt man gut zur kleinen Meerjungfrau oder muss umsteigen, um weiter in die Innenstadt, zum Hauptbahnhof oder zum Flughafen zu kommen) und
Bus 25
, der als Expressbus mit einem Halt am Bahnhof Østerport bis zum Bahnhof Nørreport fährt und das liegt am westlichen Rand der Innenstadt. Man muss hier dennoch umsteigen, wenn man weiter zum Hauptbahnhof oder Flughafen will. Bus 25 fährt jedoch nur, wenn auch Schiffe im Hafen sind. Eigentlich ist der Bus noch gar nicht voll, aber es geht nicht weiter, weil alle außer uns wieder die Fahrkarten in bar lösen und nach dem Weg fragen. Wir haben jedoch die App von
Din Offentlige Transport
. So können wir hinten einsteigen und uns auf freie Sitze setzen. Die Fahrt kostet 24 DKK (für 2 Zonen - 2017).

Already good to be identified was Bus 27 which was the local bus which went on a detour to Østerport Station (from here you can easily walk to the Little Mermaid or to transfer for city center, central station and airport) and Bus 25 which was operating as express bus with one stop at Østerport Station to Nørreport Station which was at the Western edge of the city center. You still need to transfer here for getting to central station or airport. Bus 25 only operates when there are ships in port. Actually the bus was not full but we could not head on because everyone but us were buying tickets in cash and ask for their ways. We had again the App of Din Offentlige Transport. So we could easily boarded at the aft door and took vacant seats. The ride was 24 DKK (for 2 zones - 2017).

We get off at Nørreport Station. The bus turned around and went empty back.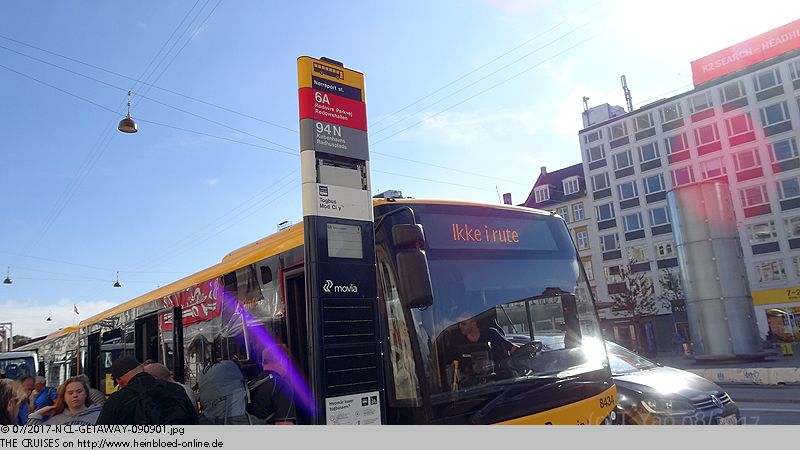 Am Bahnhof Nørreport steigen wir aus. Der Bus wendet sofort und fährt leer zurück.
In der Mitte halten die
Regionalbahnen
und
Metro
zum Flughafen sowie die
S-Bahnen
.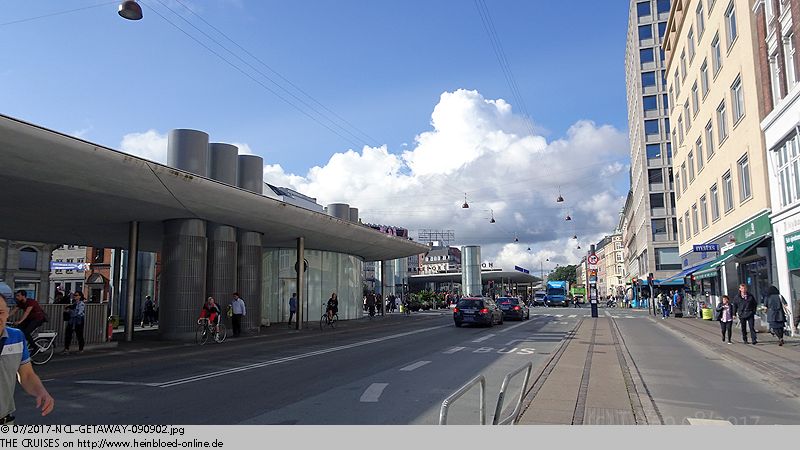 In the center the regional trains and metro were stopping for getting to the airport and further more the commuter trains (S).

You need to cross the road when you disliked to descent by stairs.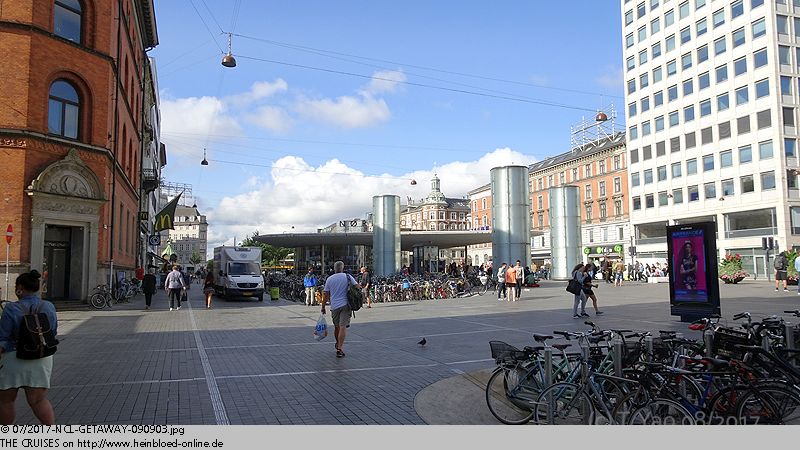 Man muss allerdings noch über die Straße, wenn man nicht die Treppe runter will.
Auch wenn man zum Hauptbahnhof will, muss man Regionalbahn oder S-Bahn nehmen.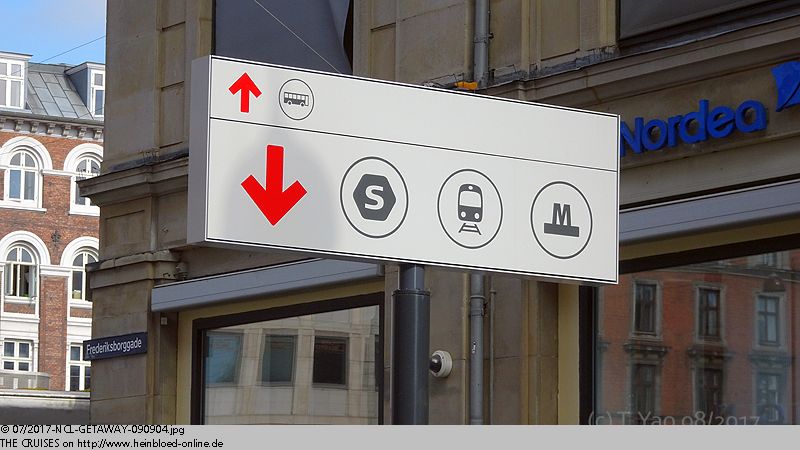 Even you want to get to central station: you need to transfer to the regional or commuter trains (S).

In Frederiksborggade we found a branch of Joe & The Juice. Bruno was happy to have a fresh juice and a good coffee. I was happy to read again the Danish newspaper Berlingske. It was so long ago when I learned Danish so I did not understand too much anymore.

In der Frederiksborggade finden wir eine Filiale von
Joe & The Juice
. Bruno freut sich über einen frischen Saft und guten Kaffee. Ich freue mich darüber mal wieder die dänische Tageszeitung
Berlingske
zu lesen. Da es aber schon ewig her ist, dass ich Dänisch gelernt habe, verstehe ich nicht mehr sehr viel.
Wir laufen noch ein wenig durch die Frederiksborggade und Købmagergade. Viele königliche Hoflieferanten. Ob wir die Königin hier beim Shopping treffen?

We walked a little longer through Fredriksborggade and Købmagergade. Many appointed supplier of the Danish Court. Maybe we would meet the Queen while she was shopping?

Here for the third time: Rundetårn (round tower). The first time with Cissandra and later again with Bruno. Again a very nice place to look over the roofs of Copenhagen. A long ramp took you upwards and a little narrow stairway followed. Earlier an observatory until the 19th century and connected to the Trinity Church. Here it was only gorgeous. Another reason to sing again: "Wonderful, Wonderful Copenhagen - Friendly old girl of a town - 'Neath her tavern light - On this merry night - Let us clink and drink one down".

Zum dritten Mal hier:
Rundetårn
(Runde Turm). Das erste Mal damals mit Cissandra und später nochmals mit Bruno. Immer ein sehr schöner Ort, um über die Dächer von Kopenhagen zu gucken. In einer langen Rampe geht es hoch und dann noch eine enge Treppe. Früher mal Observatorium bis ins 19. Jahrhundert und mit der
Dreifaltigkeitskirche
verbunden. Hier ist es nur schön. Ein guter Grund wieder zu singen: "Wonderful,
Wonderful Copenhagen
- Friendly old girl of a town - 'Neath her tavern light - On this merry night - Let us clink and drink one down".
Weiter laufen wir auf dem Strich: Strøget. Spitzname für einen Straßenzug mit mehreren Straßennamen und Teil der Fußgängerzone. Wir gucken weiter in den Geschäften. Ich würde gerne shoppen, aber leider sind wir verabredet und müssen schnell weiter.

We were continuing with our walk on a stroke (means in German - walking around like a prostitute and offer services): Strøget. Nick name for an assembly of roads with different names and part of the pedestrian zone. We did a lot of window shopping. I would really like to shop but unfortunately we had an appointment and need to head on quickly.

But with Skagen I need to stop by.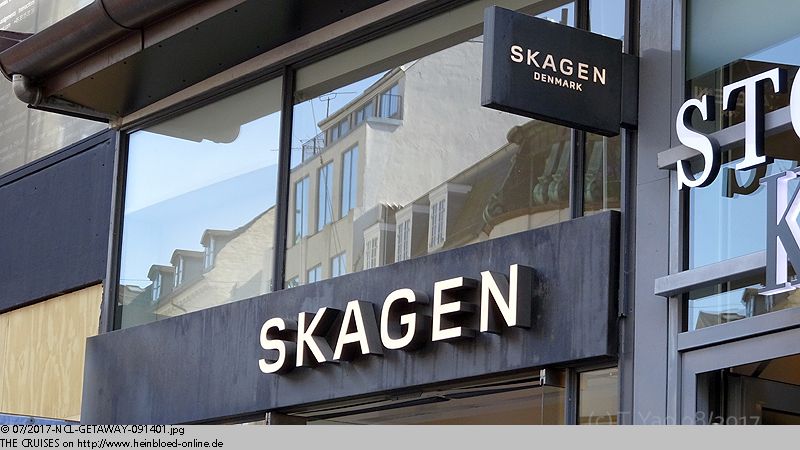 Bei
Skagen
muss ich mal kurz rein.
Es geht um meine Armbanduhr, die ich seit ca. zehn Jahren trage.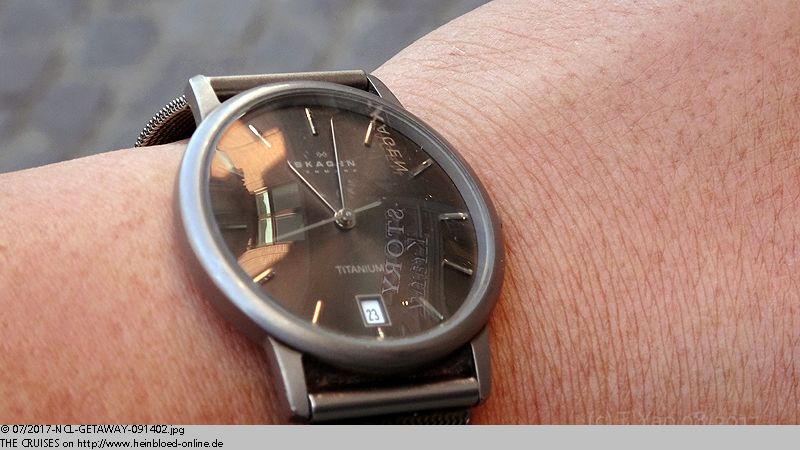 It was about my watch which I was wearing for about ten years.

But they had no more arm wrist for my watch. So I need to wear it until it will break. There was no successor in the same combination of colors.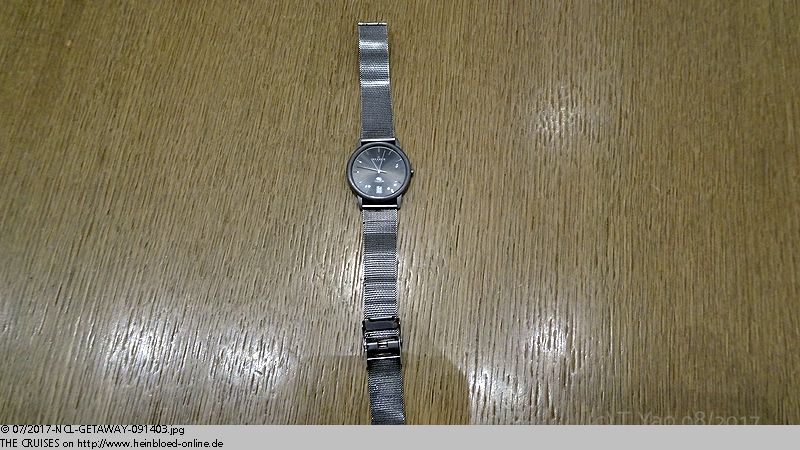 Aber es gibt leider kein neues Armband mehr für meine Uhr. Also muss ich sie tragen, bis dass sie auseinanderfällt. Es gibt leider kein Nachfolgemodell in dieser Farbkombination.
Obligatorisch in Dänemark: Rød pølse (Rote Würstchen) - allerdings nehme ich mittlerweile lieber die Fransk (französische) Hot Dog Version. Kleckert man nicht so.

Mandentory in Denmark: Rød pølse (Red sausage) - but meanwhile I prefered the Fransk (French) Hot Dog version. Not so much spilling anymore.

We were heading to Town Hall Square. And still I have never made it to see the Town Hall from inside and get up the tower.

Weiter geht es zum Rathausplatz. Und immer habe ich es noch nie geschafft das
Rathaus
von innen zu besichtigen und hier in den Turm hochzusteigen.
Früher mal einer der ersten Häuser am Platz. Konnte ich mir als Student nie leisten: als es noch das SAS Royal Hotel war. Heute das
Radisson Blu Royal Hotel
. Aber immer noch mit dem SAS Logo auf dem Gebäude.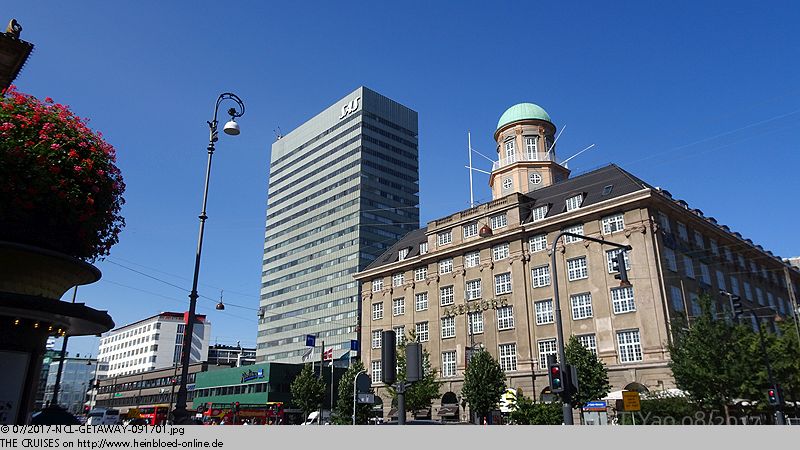 Then it was one of the best hotels in town. I never could afford it when I was student: when it was the SAS Royal Hotel before. Today it is the Radisson Blu Royal Hotel. But still the SAS logo was on the building.

Close to reach our final destination: København H (= Hovedbanegård / Copenhagen Central Station). Unfortunately I did not have the time to walk in and to check what was changed inside.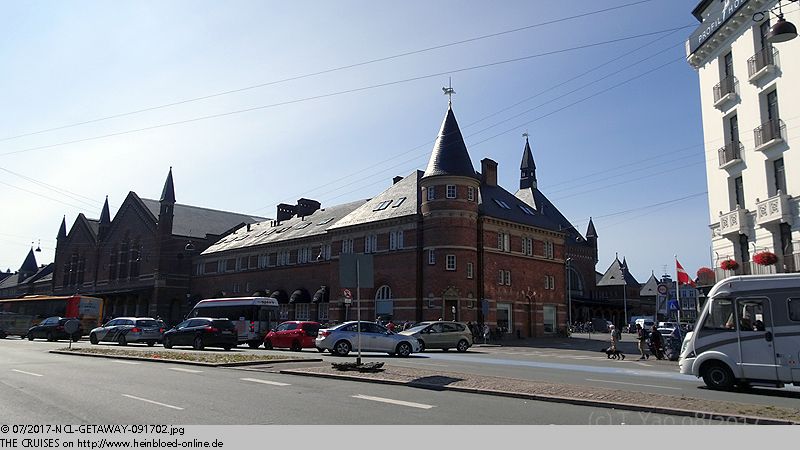 Wir sind fast am Ziel:
København H
(= Hovedbanegård / Kopenhagen Hauptbahnhof). Leider fehlt mir die Zeit, um Reinzulaufen, um mal zu sehen, was sich drinnen alles verändert hat.
Gegenüber zwischen Hauptbahnhof und Rathaus liegt
Tivoli
. Einer der ältesten Vergnügungsparks der Welt. Kein
Disneyland in den USA
- kein
Europapark in Deutschland
. Klein aber fein. Es geht um kleine Freuden und das mitten in der Stadt.

Opposite between Central Station and Town Hall there was Tivoli. One of the oldest amusement parks in the world. No Disneyland in the United States - no Europapark in Germany. Small but beautiful. It was to have the small pleasures and in the heart of the city.

Then when I was student I worked in the China department of the department store KaDeWe Berlin. There I met many years ago Kirsten who was porcellain painter with Royal Copenhagen. I was still friend with her and her family and somehow we always met when I was in Copenhagen. Last time it was before our voyage on NORWEGIAN SUN 2012. So I was very happy to met her, her husband and her son Hans-Henrik again. We were appointed to a lunch in Tivoli. So sad that Chanida could not join.

Früher habe ich als Student in der Porzellanabteilung im
KaDeWe Berlin
gearbeitet. Dort habe ich vor sehr vielen Jahren Kirsten kennengelernt, die damals Porzellanmalerin bei
Royal Copenhagen (Königlich Kopenhagen)
war. Mit ihr und ihrer Familie bin ich immer noch befreundet und wir treffen uns irgendwie immer wieder, wenn ich in Kopenhagen bin. Zuletzt vor der Kreuzfahrt auf der
NORWEGIAN SUN 2012
. So freue ich mich auch heute sie, ihren Mann Ove und ihren Sohn Hans-Henrik wieder zu treffen. Wir sind zum Mittagessen im Tivoli verabredet. Schade, dass Chanida nicht dabei sein konnte.
Wir gehen im Restaurant
Promenaden
essen. Hier gibt es ein typisch dänisches Frokostbuffet (Mittagsbüffet). Man baut sich damit schöne Brote. Ich habe mich sehr darüber gefreut, wieder mal typisch dänisch zu essen.

We went for lunch to Promenaden Restaurant. Here they had a typical Danish Frokostbuffet (Lunch Buffet). You were building your own open face sandwiches. I was very happy to have again some typical Danish food.

Unfortunately we had to bid farewell soon after a short walk in Tivoli. By Bus 26 we went close to the Little Mermaid. Actually we need to get off at Indiakaj but not every ride called this stop. We did not understand and just followed the instructions of the driver and get off at Søndre Frihavn (which was existing multiple times). We walked for three minutes to Indiakaj.

Leider müssen wir uns auch bald nach einem Spaziergang im Tivoli verabschieden. Mit
Bus 26
fahren wir noch fast bis zur kleinen Meerjungfrau. Eigentlich müssen wir nach Indiakaj, aber nicht jede Fahrt führt dahin. Wir blicken auch nicht durch, sondern steigen auf Weisung des Fahrers bei Søndre Frihavn (die es anscheinend mehrfach gibt) steigen wir aus. In drei Minuten laufen bis zum Indiakaj.
Die Fahrt bis dahin ist aber sehr schön. Wir kommen an vielen Sehenswürdigkeiten vorbei.

The ride to the place was very nice. We passed many of the sights.

We went quickly to Langelinie Pier. Unfortunately the RedGreen-Outlet was not there anymore. Then when we came on MEIN SCHIFF 2 2012 we could make a lot of great bargains. Here MARINA was docking. The pictures were above in the slide show. Here were also waterplanes were landing. You can make great shots of cruise ships with it...

Wir gehen kurz zum Langelinie Pier. Leider gibt es den
RedGreen
-Outlet nicht mehr. Schade. Damals als wir mit der
MEIN SCHIFF 2 2012
hier waren, konnten wir tolle Schnäppchen machen. Hier liegt heute die MARINA. Die Bilder sind weiter oben in der Diaschau. Hier landen auch Wasserflugzeuge. Damit kann man bestimmt tolle Bilder vom Kreuzfahrtschiff machen...
Aber von hier sehen wir die NORWEGIAN GETAWAY und die ZUIDERDAM.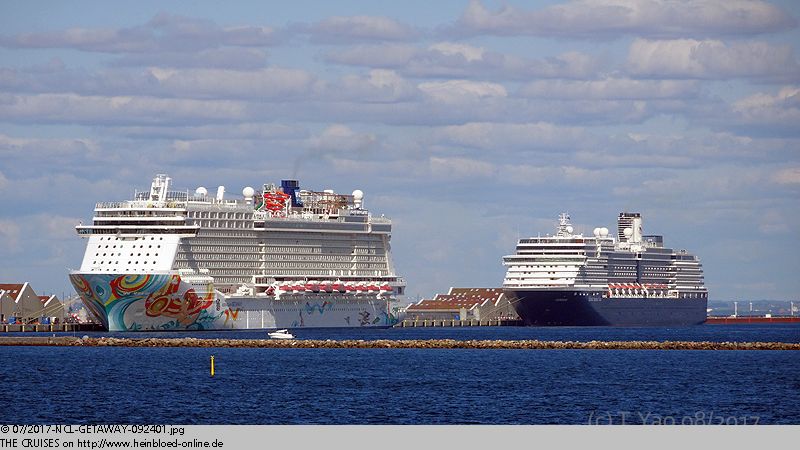 From here we could see NORWEGIAN GETAWAY and ZUIDERDAM.

It looked only so close.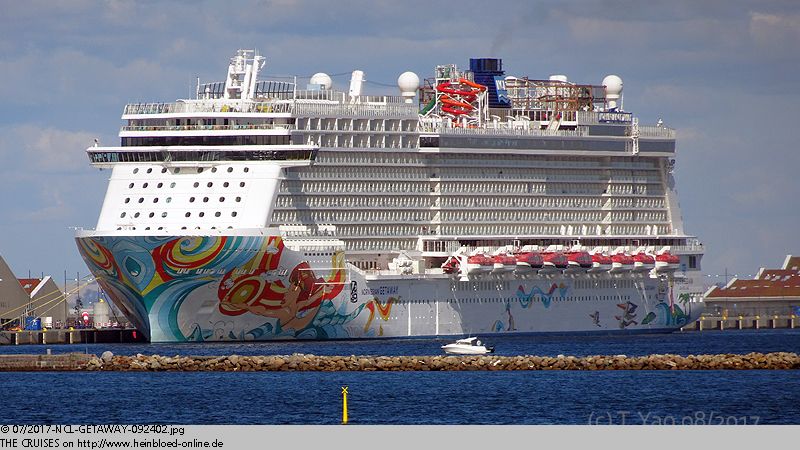 Es sieht nur so nahe aus.
Aber wir müssen noch ein Stück fahren, um zum Schiff zurückzukommen.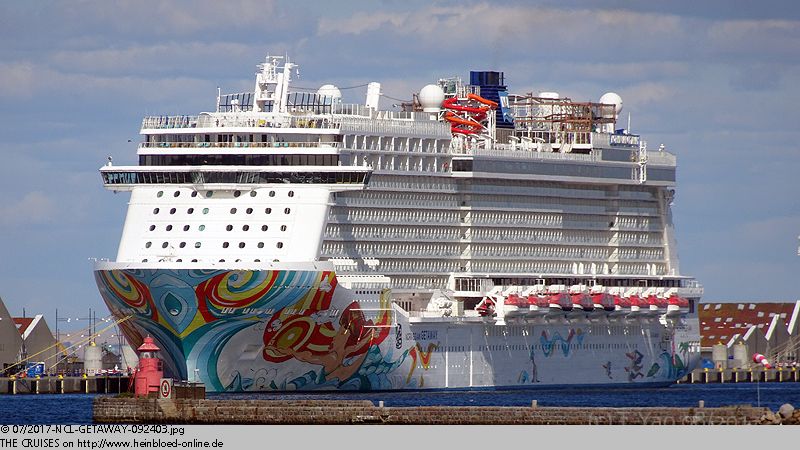 But we need to move a while to get back to the ship.

We went quickly to see the Little Mermaid.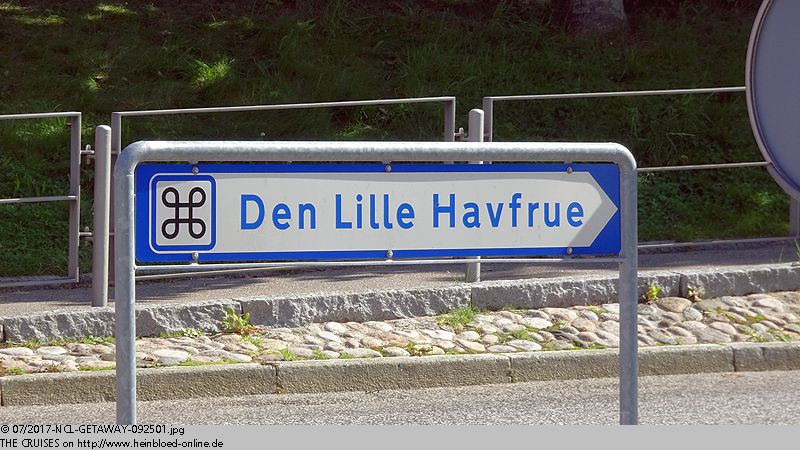 Wir laufen doch kurz zur kleinen Meerjungfrau.
Obwohl schon so häufig gesehen: es ist ein Pflichtbesuch in Kopenhagen.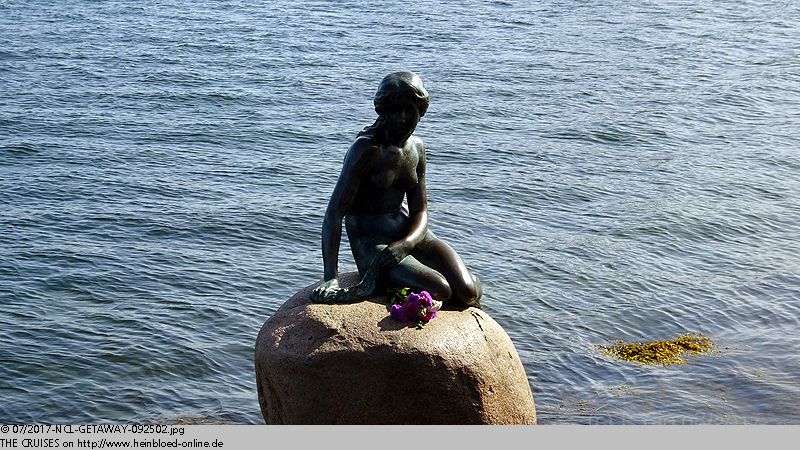 Although we saw it many times: it was a mandetory visit when you were in Copenhagen.

Going by boat was always very nice.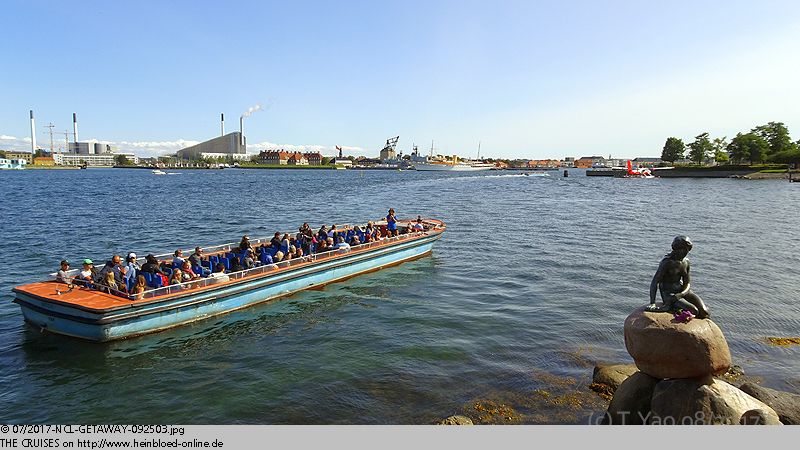 Auch mit dem Boot vorbeizufahren ist immer toll.
Ein Selfie muss sein.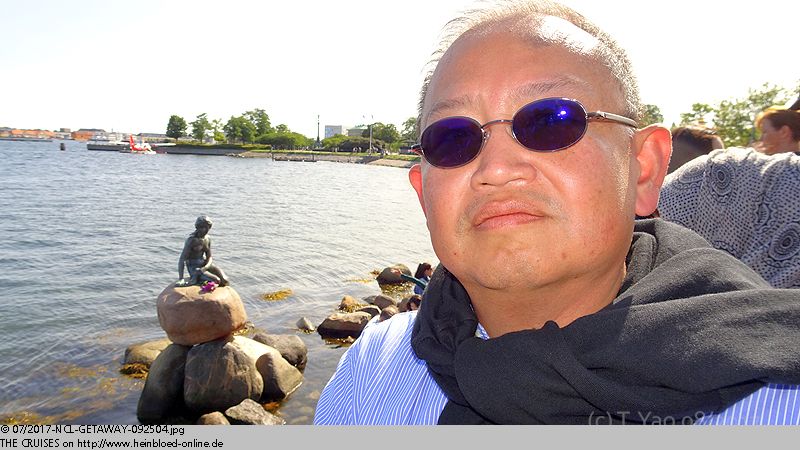 A selfie must be.

Also with both of us.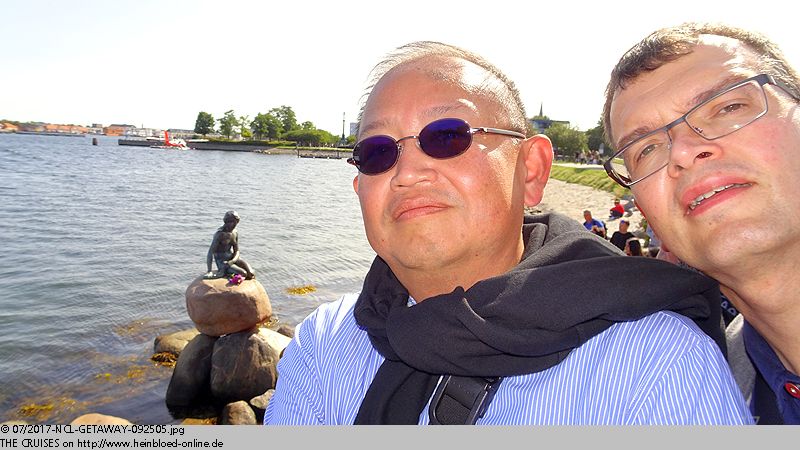 Auch zu zweit.
Wir laufen einfach zum Bahnhof Østerport. Man muss links unten runter.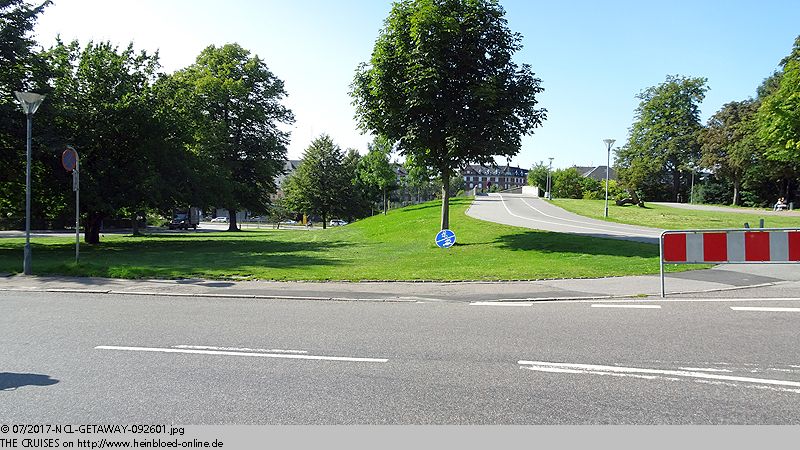 We just simply walked over to Østerport Station. You need to walk left downwards.

The bridge will take you over the street and tracks only.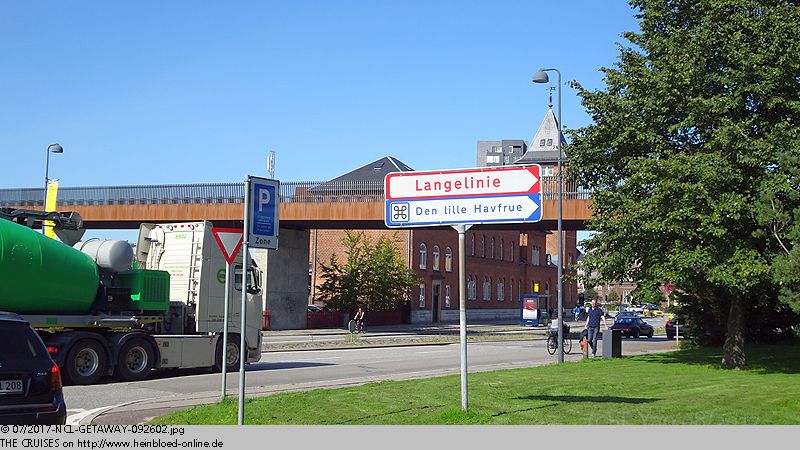 Die Brücke führt nur über die Straße und die Gleise.
Da vorne sehen wir auch die Haltestelle Søndre Frihavn an der wir vorhin aus dem Bus 26 ausgestiegen sind.

Just saw the stop Søndre Frihavn where we exited off the bus 26 before.

We had to turn left for bus, commuter train and regional train.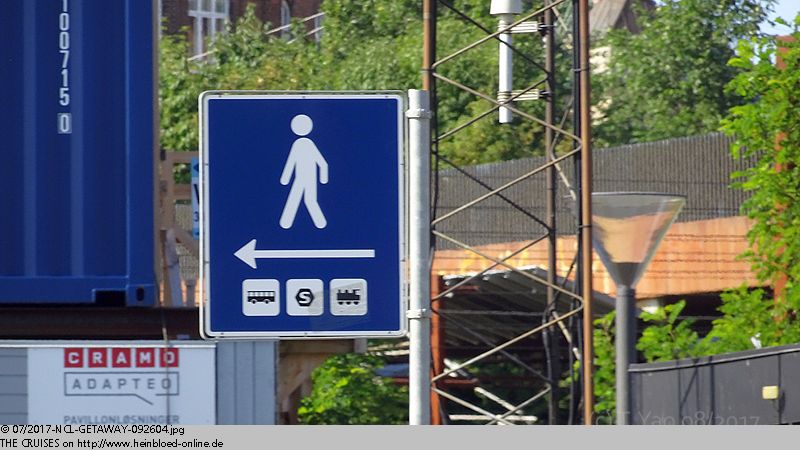 Wir müssen nach links zum Bus, zur S-Bahn und zur Regionalbahn.
Es geht am
Kastell
vorbei.

Passing the Castle (more fortress but palace).

Here bus 25 and bus 27 were leaving. But no bus 25 so we took the local bus 27 back.

Hier fahren sowohl Bus 25 und Bus 27 ab. Es kommt aber kein Bus 25, so nehmen wir den "Lumpensammler" Bus 27 wieder zurück.
Unterwegs bekomme ich eine Nachricht von der Deutschen Bahn: Die Streckensperrung zwischen Rastatt und Baden-Baden dauert mindestens bis zum 07.10.2017. D. h. ich bin doch betroffen. Alles sch... Ich will nicht zurück zur Arbeit in die Schweiz... Autofahren und Fernbusfahren sind auch keine Lösungen.... Homeoffice auf einem Kreuzfahrtschiff und bezahlt werden...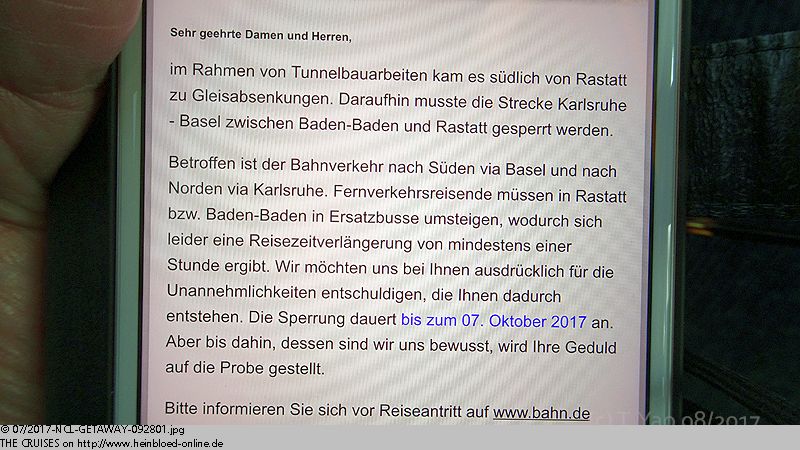 On my way I got a message from German Railways: the railline closure will be extended to October 7, 2017. I.e. I was impacted. Everything sh... I did not to return to my work in Switzerland... Driving by car or taking the coach were no options either... Homeoffice from a cruise ship and getting paid...

Back on board: on request we got the yellow tags for the Latitudes Gold and Platinum-Members.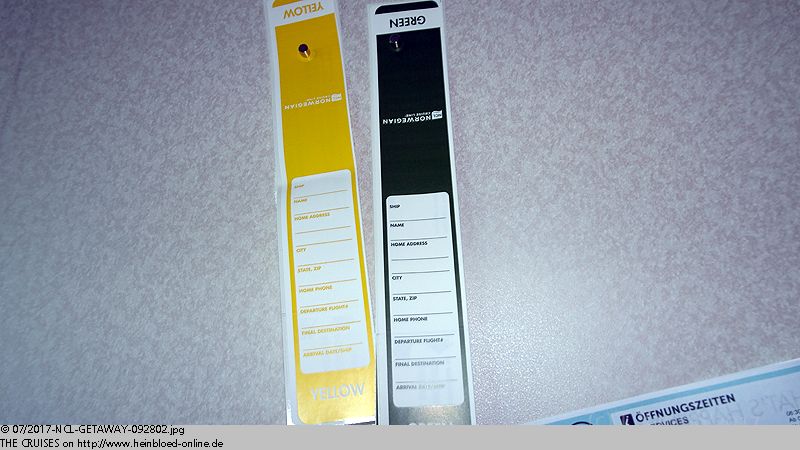 Zurück an Bord: Auf Anfrage bekomme ich die gelben Gepäckanhänger für die Latitudes Gold und Platin-Mitglieder.
Bruno will zum Fitnessstudio und ich ins Vibe. Wir nutzen die Aufkleber und werden in der Tat nicht aufgefordert zur Seenotrettungsübung zu gehen.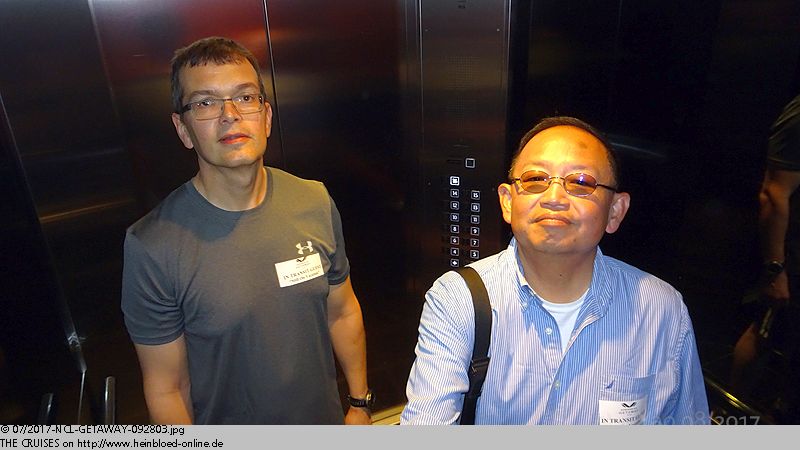 Bruno wanted to see the gym and me the Vibe. We used the stickers and indeed we were not anymore asked to join the life drill.

In Warnemünde, Germany none of the Copenhagen-guests had to wear this.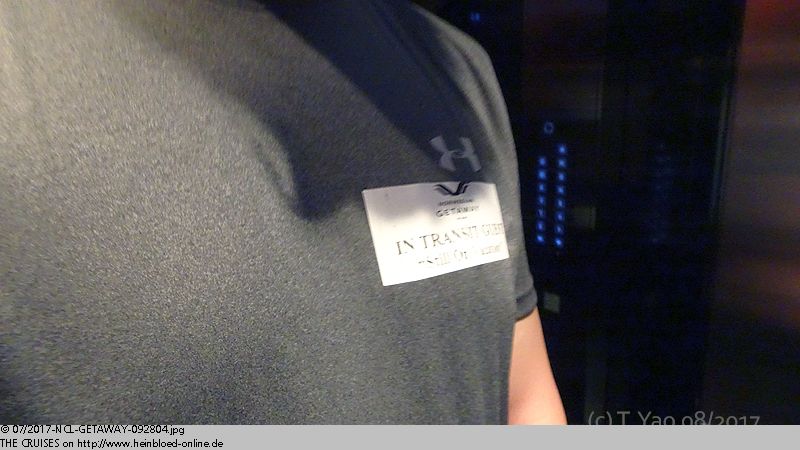 In Warnemünde musste das keiner von den Kopenhagen-Gästen tragen.
Es ist so sonnig und warm. So nutze ich nochmals die Zeit, um mich im Vibe zu entspannen. Hier kann es gut aushalten.

It was sunny and warm. So I used the time to relax in Vibe. Here you can stand here very well.

Warnemünde guests were allowed to join at the last day of their cruise the welcome party on the open deck in Copenhagen. Somehow it was very sad that there was no similiar offer when we embarked in Warnemünde.

Warnemünder Gäste dürfen am letzten Tag ihrer Reise an der Willkommensparty auf dem offenen Deck in Kopenhagen mitmachen. Irgendwie sehr schade, dass es für uns in Warnemünde bei unserer Einschiffung nichts vergleichbares gab.
Dann legen wir auch schon ab und fahren wieder um Dänemark außen herum. Die Ausfahrt ist sehr schön.

Then we set sail and went all the way around Denmark again. The set sail was very beautiful.

As there was still some time until we reach Helsingør/Helsingborg I went to Shanghai to have a small bite. It was more American but Chinese. But it was complimentary. And very popular with Asians. Immediately all seats were gone. I did not find it really comfortable here since you were next to the casino and had to see the wall. Somehow I was a little angry: guests who did not get a table immediately they offered a pager. I should stand and wait the day before until a table was available.

Da es noch ein wenig Zeit ist, bis dass wir Helsingør/Helsingborg erreichen, gehe ich doch mal ins Shanghai eine Kleinigkeit essen. Ist mehr amerikanisch als chinesisch. Aber es ist kostenlos. Und besonders bei Asiaten beliebt. Sofort sind alle Plätze weg. Besonders gemütlich finde ich es nicht, vor allem, wenn man direkt neben dem Casino sitzt und die Wand angucken muss. Mich hat es schon geärgert: Gäste, die keinen Tisch sofort bekommen, wird heute ein Pager angeboten. Ich sollte am Tag davor stehen und warten, bis dass ein Tisch frei wird.
Dann erreichen wir die Höhe von Helsingborg. Hier haben zuletzt vor der Reise auf der
NORWEGIAN SUN 2012
übernachtet.

Then we reached the altitude of Helsingborg. Here we stayed overnight before we joined NORWEGIAN SUN 2012.

And then finally we made it to pass Kronborg Palace in Helsingør. Hamlet's castle: "To be or not to be, that is the question..." Also here we were before our sailing on NORWEGIAN SUN 2012 with Frances and Eddie. Thereafter we met Kirsten and her family.

Und dann geht es doch an
Schloss Kronborg
in Helsingør vorbei. Hamlets Schloss: "Sein oder nicht sein, das ist hier die Frage...". Zuletzt waren wir vor der
NORWEGIAN SUN 2012
-Reise hier mit Frances und Eddie. Anschließend hatten wir dann Kirsten und ihre Familie getroffen.
Beim Duschen stellen wir fest, dass das Wasser nicht schnell genug abläuft. So müssen wir die Überschwemmung im Bad stoppen.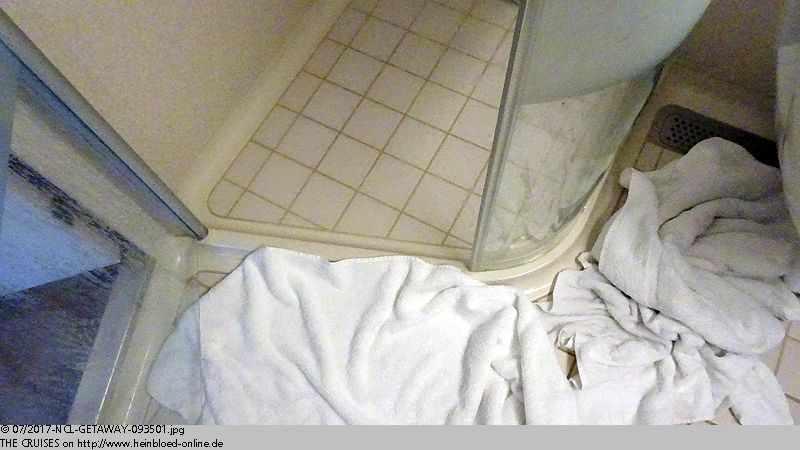 While taking the shower we noticed that the water did not drain off fast enough. So we need to avoid a flood desaster.

The location just in front of the Waterfront was quite practical.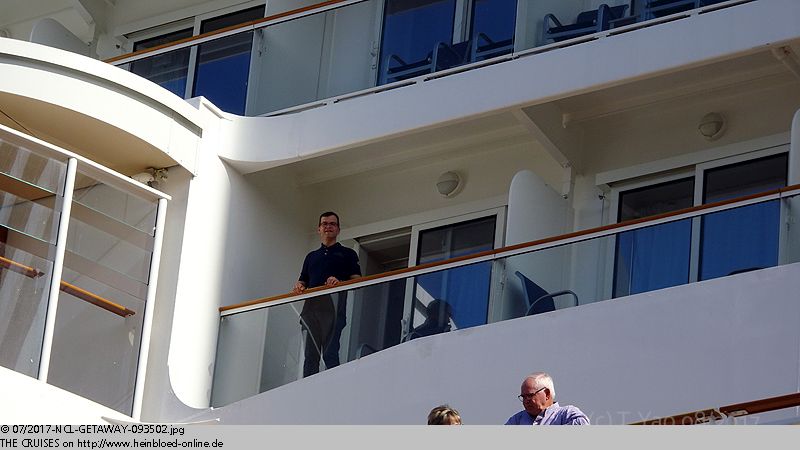 Die Lage direkt am Ausgang zur Waterfront ist schon sehr praktisch.
Unser letztes Handtuchtier.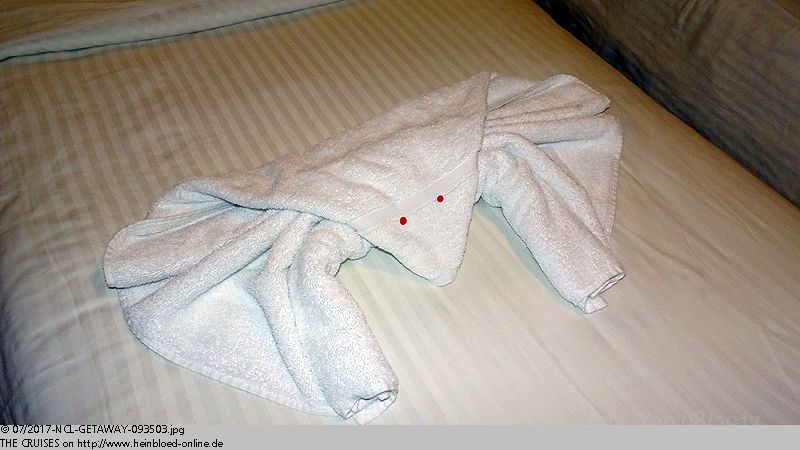 Our last animal towel.

Starting with packing.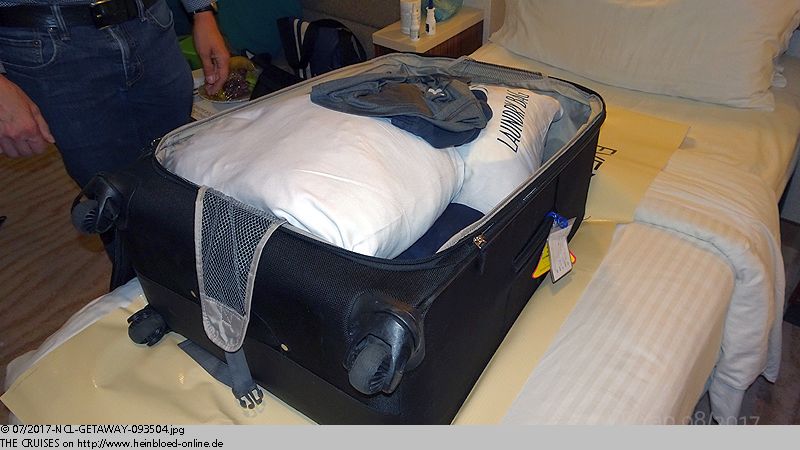 Das Packen beginnt.
Ein letzter Rundgang. Zum letzten Mal versucht man mir zu erklären, warum ich Cruise Next Rewards für nur 500 USD netto kaufen sollte: Wert 1.000 USD. Speziell mit meiner Anzahl von Kreuzfahrten mit NCL würde ich ja sowieso wieder bei denen buchen und es würde absolut Sinn machen, keine zu kaufen. Ich nutze die Chance und zähle nach und stelle fest, dass ich nur selten auf langen Fahrten mit NCL unterwegs sind. Man darf es ja nicht mehr für Kurzkreuzfahrten nutzen, und damit man viel davon hat, muss man 6 Monate vor Abfahrt einen Balkon buchen muss, um zwei Anzahlungen verwenden zu können. Normalerweise buche ich durchaus bis zu zwei Jahre vorher. Aber ich will buchen, weil ich buchen will und nicht, weil sonst der Cruise Next Reward verfällt. Rückgabe ist nur innerhalb von 30 Tagen möglich. Sorry - ich kann damit nichts anfangen.

A very last tour. Again they tried to explain me why I should buy Cruise Next Rewards for only 500 USD: Value 1,000 USD. Especially since I had such a high number of cruises with NCL I would book anyway again with them and it would not make any sense not to buy. I used the chance and counted and found that I was really not many time with NCL on longer cruises. You are not allowed to use them for short cruises and to have the most benefit you must book at least a balcony six months in advance to use two deposits. Normally I book upto two years in advance. But I would like to book because I would like to book and not because the next Cruise Next Reward expires. Refund was only possible upto 30 days only. Sorry - not my style.

I wanted to buy a souvenir and was surprised: Celebrity Cruises?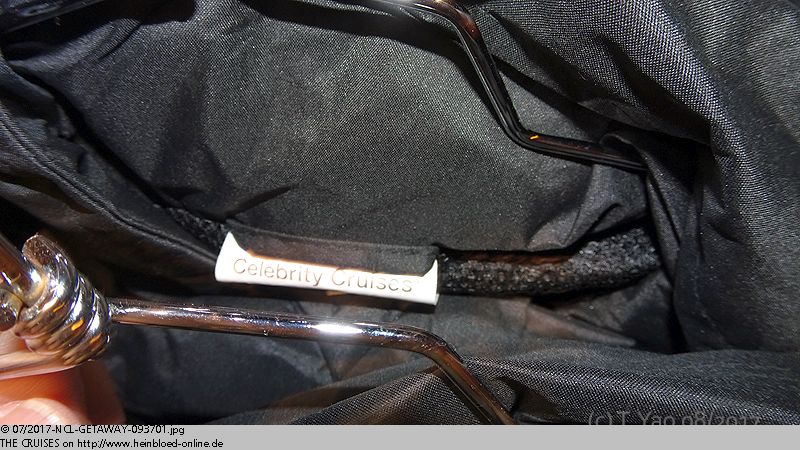 Ich will doch ein Souvenir kaufen und bin überrascht: Celebrity Cruises?
Tatsächlich: ich habe mich nicht verguckt.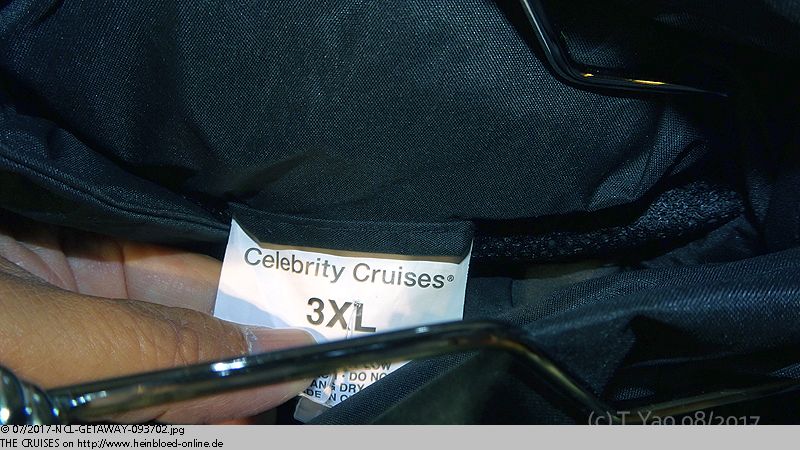 It was real: I did not see something wrong.

But it was really NCL printed on.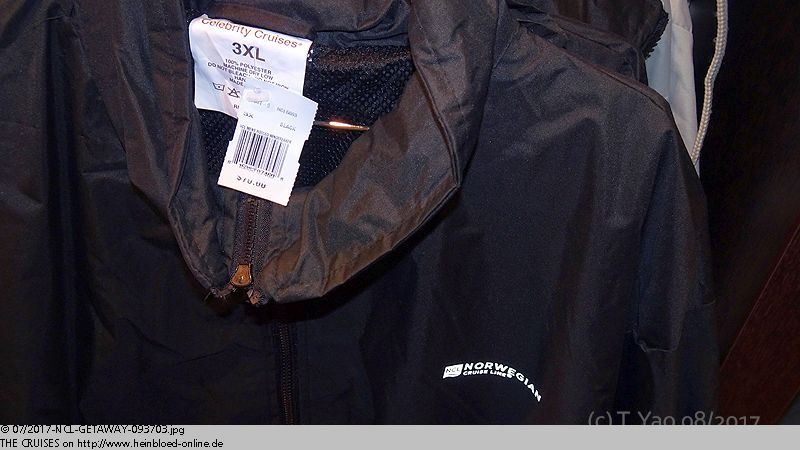 Aber es ist tatsächlich NCL aufgedruckt.
Leider wird meine Karte nicht mehr für weitere Umsätze akzeptiert. Kein Anruf in der Kabine. Keine Nachricht an der Tür. Stattdessen muss ich am Tag vor der Ausschiffung in Warnemünde und direkt nach der Einschiffung in Kopenhagen zur Rezeption. Jeder kann sich die Schlangen ausmalen. Jetzt machen sich die Berliner bemerkbar, die ich an Bord gebracht habe. Ich werde aus der Schlange aussortiert und an die Seite geführt. Man hat zwar die neue Karte eingelesen aber nicht sofort authorisiert, weil wir uns ja immer noch in den vorauthorisierten Rahmen bewegt haben.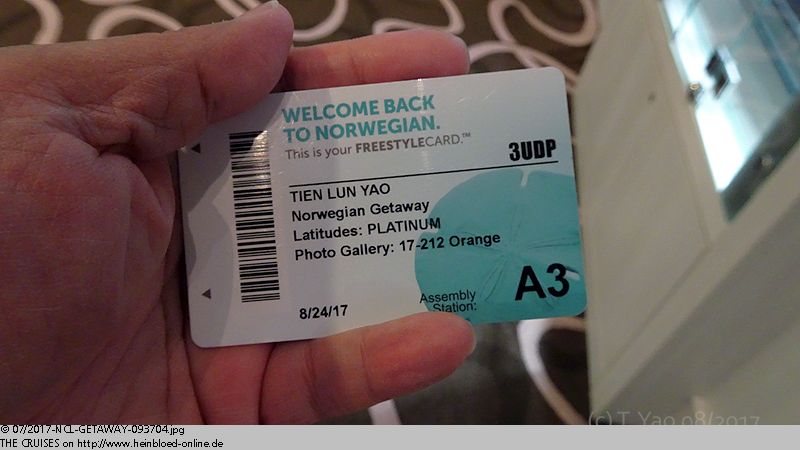 Unfortunately my card was not accepted anymore for any further revenue. No call in the cabin. No message at the door. Instead I need to see the front desk the day before debarkation in Warnemünde and just right after embarkation in Copenhagen. You can picture yourself the long queues. Now you could simply notice why you should carry Berlin Doughnuts onboard. I was sorted out from the queue and escorted to the side. They recorded the new card but did not authorized it immediately as we were will moving in the pre-authorized limit.

For farewell we did not just get a welcome party but also a welcome show.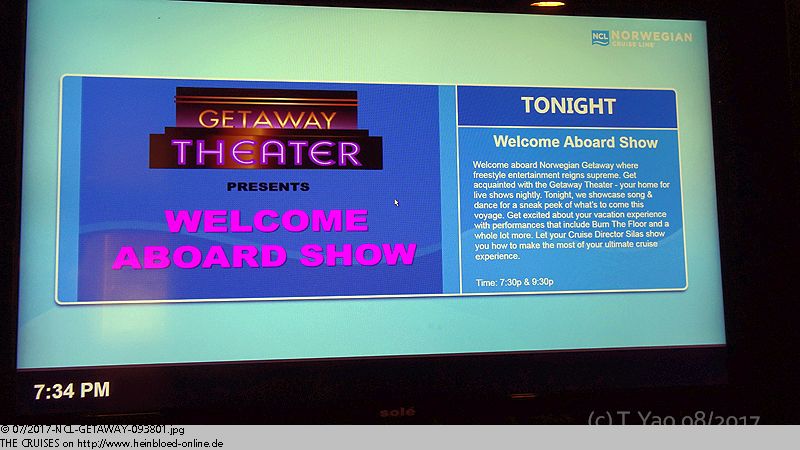 Zum Abschied bekommen wir nicht nur die Willkommensparty an Deck sondern auch eine Willkommensshow.
Schon wieder "Million Dollar Quartet".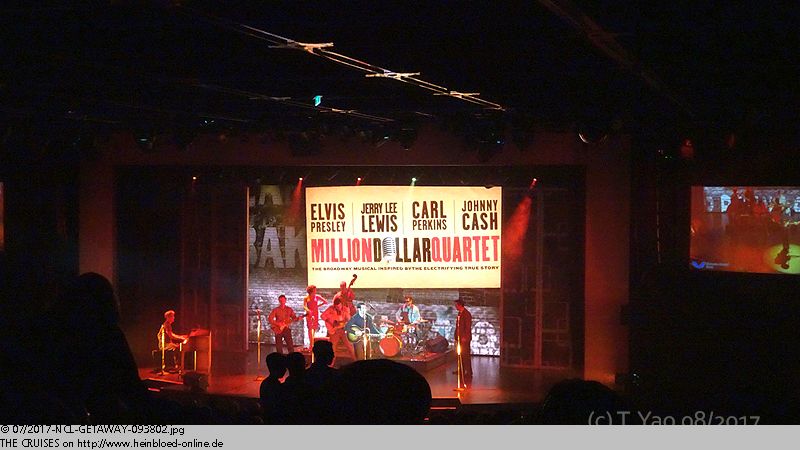 Again "Million Dollar Quartet".

We quickly escaped before it became loud again.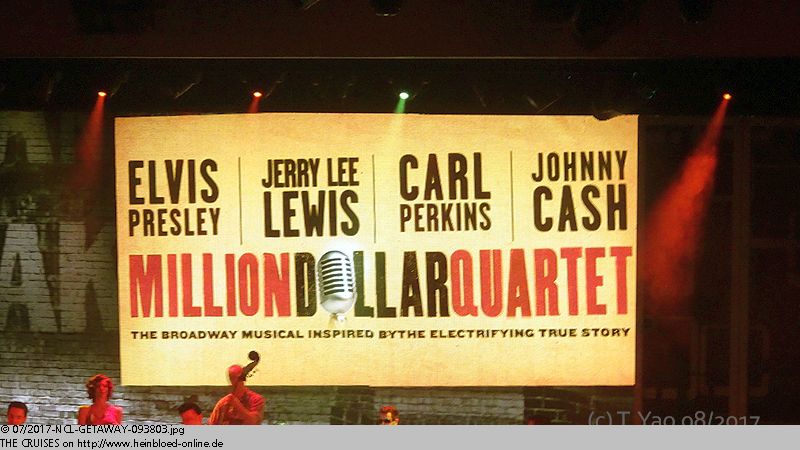 Bloß schnell raus, bevor es wieder richtig laut wird.
Schade, dass wir die Speisekarte von The Raw Bar zu spät entdecken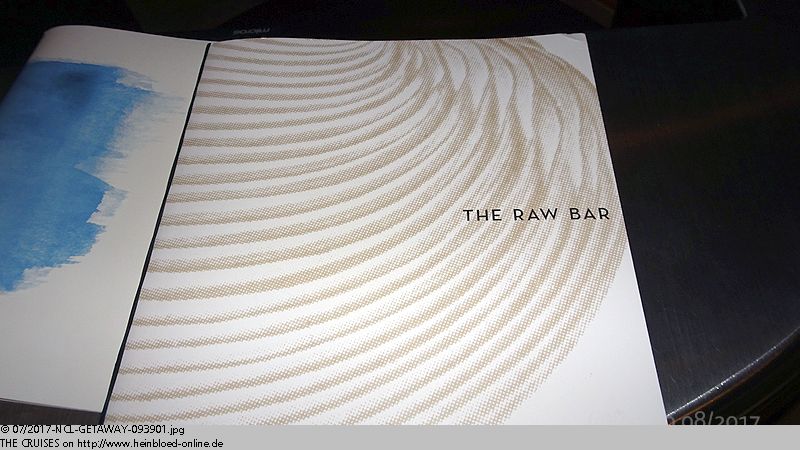 Sad that we discovered too late the menu from The Raw Bar.

Sad that we now discovered too late that they had more but oysters.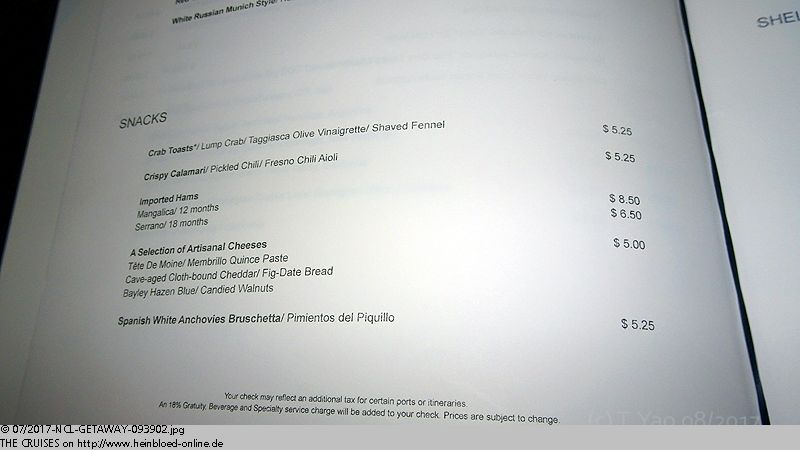 Schade, dass wir zu spät entdecken, dass es nicht nur Austern gibt.
Schade, dass wir zu spät entdecken, dass es hier einer meiner Lieblingsgerichte gibt: Lachstartar. Wobei Thunfischtartar finde ich noch einen Tick besser.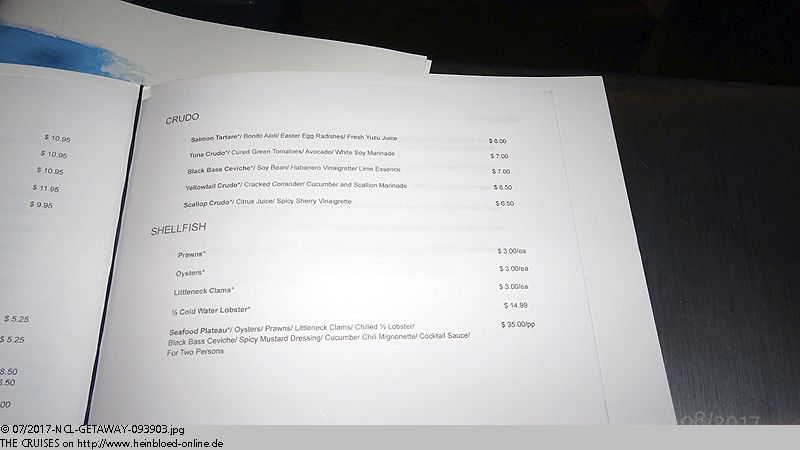 Sad that we now discovered too late that they had one of my favorite dishes: salmon tartar. Although I loved tuna tartar a little bit more.

Also the Bergamont Tea Pann Cotta attracted my attention. So few reasons found to go again on NORWEGIAN GETAWAY? It was not all bad on NORWEGIAN GETAWAY. In total it was a wonderful voyage.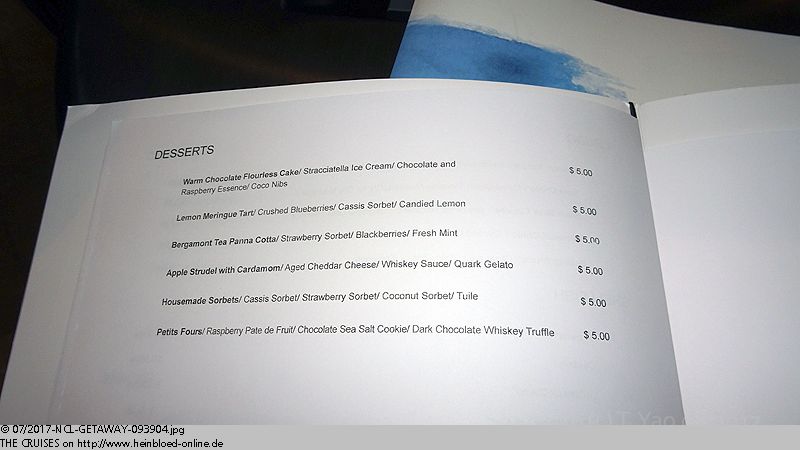 Auch der Bergamont Tee Panna Cotta reizt mich sehr. Gibt es doch noch Gründe NORWEGIAN GETAWAY zu fahren? Es ist nicht alles schlecht an Bord der NORWEGIAN GETAWAY. Insgesamt ist die Reise doch sehr schön.
24,95 USD plus 18% Service-Charge (2017) kostet der Besuch des Moderno. Das Büffet sieht immer noch sehr gut aus. Aber wir heben uns das für die NORWEGIAN SUN in Südamerika mal wieder auf. Das passt sehr gut.

24.95 USD plus 18% Service-Charge (2017) was the visit in Moderno. The buffet still looked very good. But we will save the chance to have it in Southameric again. That would fit perfectly.

On our last night we were guests of Chandra. We said that we were recently before on NORWEGIAN JADE 2017 in Cagney's. But Chandra explained that the selection on Breakaway-Class and Jewel-Class was different. Something I noticed: I had the impression that they were undermanned. A real nice service between your waiter and his guests did not came because everytime a different person appeared. It came to strange situations which I never experienced before: Someone came to the table and had to ask who should getting what and need to have a sheet of paper to doublecheck. Never we had experienced before in an alterantive dining. Unfortunately they had the lobster only as lobster bisque. Surf and Turf was only offered with shrimps. But anyhow the food was very good. Here we need to come back when we are on NORWEGIAN SUN and could have four (us as Latitudes Platinum Plus in total six) meals in alternativ dining venues.

Am letzten Abend sind wir Gäste von Chandra. Wir hatten zwar gesagt, dass wir erst vor kurzem auf der
NORWEGIAN JADE 2017
im Cagney's waren. Aber Chandra erklärt uns, dass sich das Angebot auf der Breakaway-Klasse vom Angebot auf der Jewel-Klasse unterscheiden. Hier fällt mir etwas auf: irgendwie habe ich den Eindruck, dass sie unterbesetzt sind. Einen echt schönen Service zwischen einem Kellner und seinen Gästen kommt nicht auf, weil immer jemand anders vorbeikommt. Das führt eigentlich zu einer skurillen Situation, die ich noch nie erlebt hatte: Man fragt am Tisch nach, wer was bekommt oder führt einen Zettel mit. Das haben wir in der Form bisher noch nie in einem Zuzahlrestaurant erlebt. Leider gibt es hier Hummer nur als Hummercremesuppe. Surf und Turf besteht nur noch aus Shrimps. Ansonsten das Essen ist hier sehr gut. Hier müssen wir auch wieder hin, wenn wir auf der NORWEGIAN SUN unterwegs sind und viermal (wir dann insgesamt sechs Mal durch den Latitudes Platin Plus Status) in Zuzahlrestaurants essen dürfen.
Durch die vorherige Diskussion beim Future Cruise Consultant-Schalter, musste ich doch mal nachzählen. Dort hatte ich ca. 18-20 gesagt. Tatsächlich sind es 24 und somit ist diese Reise meine 25. Reise mit NCL.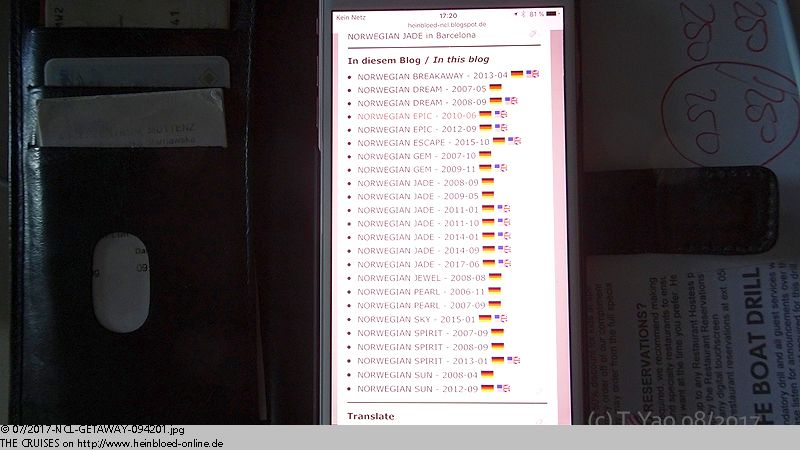 Due to the earlier discussion at the Future Cruise Consultant Desk I had to count again. There I said about 18-20. But it was 24 and so this voyage was my 25th voyage with NCL.

So I got a small cake to celebrate this event.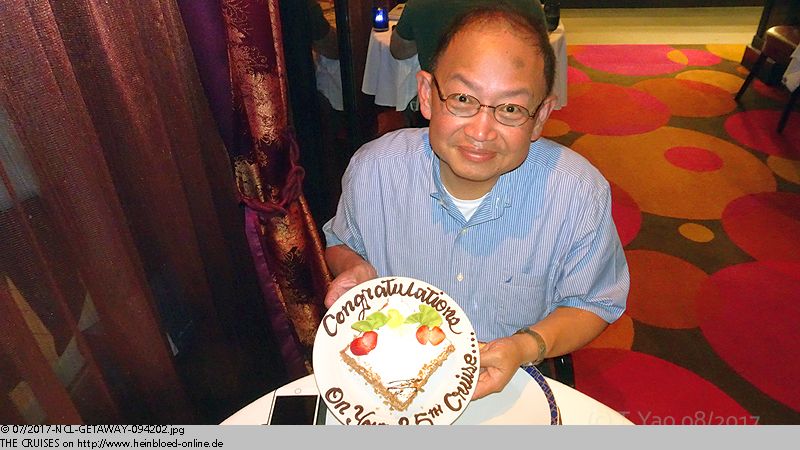 Dafür kommt eine kleine Torte, um das Ereignis zu feiern.
Und ein paar Gratulanten kommen vorbei: Rashida Victoria, Shenny und Silas. Hierüber habe ich mich sehr gefreut. Das Schiff selbst hat nicht so viele Gründe, um gerne wieder zu kommen, aber viele, viele Crew-Mitglieder, die ich seit meiner Einschiffung in Warnemünde kenne, aber auch von den anderen 24 Reisen vorher, sind für mich immer noch die Hauptgründe, weiterhin NCL treu zu sein. Die Herzlichkeit der Crew-Mitglieder WAR bisher unschlagbar. Nach so vielen Jahren gab es aber auch die ersten beiden Fälle, bei denen ich mich nicht mehr willkommen fühlte. Eine Folge sicherlich des Managements und der Geldgeber: Private Equity. Ich darf darüber schimpfen: ich erlebe es an jedem Tag bei meiner Arbeit und möchte eigentlich das im Urlaub nicht erleben. Ich habe zwei alte Gründe weniger mitzufahren, dafür habe ich mindestens 20 neue Gründe mehr, weiter mit NCL zu fahren. So weit ist alles gut und ich freue mich auf die nächsten Reisen mit meinen Lieblingsschiffe: NORWEGIAN SPIRIT, NORWEGIAN JADE und NORWEGIAN SUN. Und ich warte schon mit Spannung auf das Programm 2019. Nur ich buche nicht wegen eines Cruise Next Rewards, sondern weil ich es will.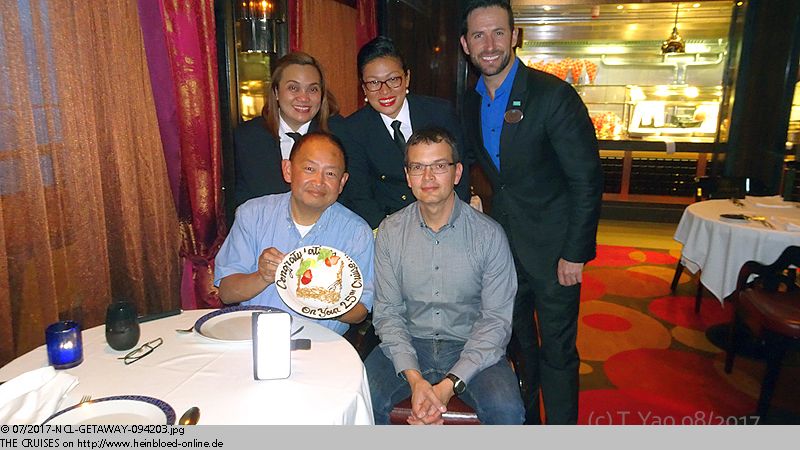 And some came by to congratulate: Rashida Victoria, Shenny and Silas. I was very happy of that. The ship itself had no so many reasons to return with joy but many many crew-members whom I knew since my embarkation in Warnemünde but also from my earler 24 voyages. They are the main reasons to be loyal to NCL. The cordiality of the crew-members WAS so far unbeatable. But after so many years I had the first two cases when I did not feel welcome anymore. A consequence of the management and the investors: Private Equity. I may say this: I do experience it on every day of my work and I do not want to experience it on my vacation. I have two older reasons not to return but I have minimum 20 new reasons for going still with NCL. So far everything was good and I was looking forward for my next voyages: NORWEGIAN SPIRIT, NORWEGIAN JADE and NORWEGIAN SUN. And I am wainthing impatiently for the itineraries 2019. But I do not book it because of a Cruise Next Reward but because I want to book it.