Morgens zum Frühstück im Garden Café. Es gibt zwar keine Drachenfrüchte, aber es gibt Congee. Nicht so perfekt wie auf der
KONINGSDAM 2016
, aber immerhin. Es ist sehr neutral. Das, was ich gestern im Ocean Blue an Gewürzen zuviel hatte, hätte ich gerne heute im Congee gehabt. Außerdem merke ich zu spät, dass es bei einer Zutat sich um gerösteten Knoblauch handelt. Die anderen werden heute ihre Freude an mir haben. Man kann auch draußen im Margharitaville frühstücken, aber das ist nicht dasselbe wie im Great Outdoors auf der Jewel-Klasse. Man sieht sehr wenig vom Meer. Ja damals eine Nacht auf der
NORWEGIAN PEARL 2006
: Liebe auf den ersten Blick.

Heading for breakfast to the Garden Café. They had no Dragon Fruits but Congee. Not as perfect as on KONINGSDAM 2016 but they had it. It was very neutral. Those spices I got too much in Ocean Blue I would have here in the congee. Furthermore I noticed too late that one of condiments was roasted garlic. The others would have their pleasure with me. You could have also have breakfast outdoor in Margharitaville but it was not the same like on the Jewel-Class. You did not see too much of the sea. Yes one night on NORWEGIAN PEARL 2006: Love at the first sight.

We tried the breakfast in Moderno. But they had a reduced offer! To get some hard-boiled eggs you need to ask the Maître for. I used as usual to blow out the egg off the shell. As usual only couplewise. Luckily no potatoes.

Wir versuchen das Frühstück im Moderno. Aber das ist ein eingeschränktes Angebot! Um hartgekochte Eier zu bekommen, muss man schon sich einen Maître schnappen. Ich versuche mich wie üblich, sie aus der Schale zu pusten. Wie üblich gibt es sie paarweise. Zum Glück ohne Kartoffeln.
Der Vorteil: man kann immer schnell seitlich rausspringen und fotografieren.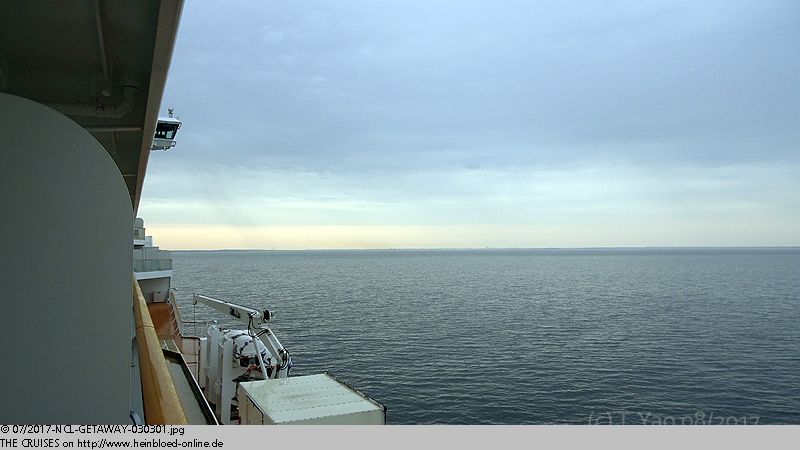 The advantage: you could easily get out at the side and took pictures.

Expecting the approach of Tallinn, Estonia.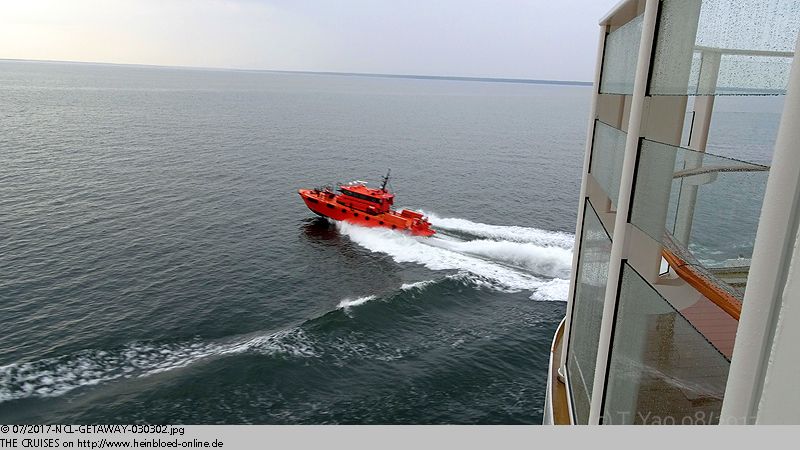 Die Ankunft in Tallinn zeichnet sich ab.
Der Lotse ist jetzt an Bord.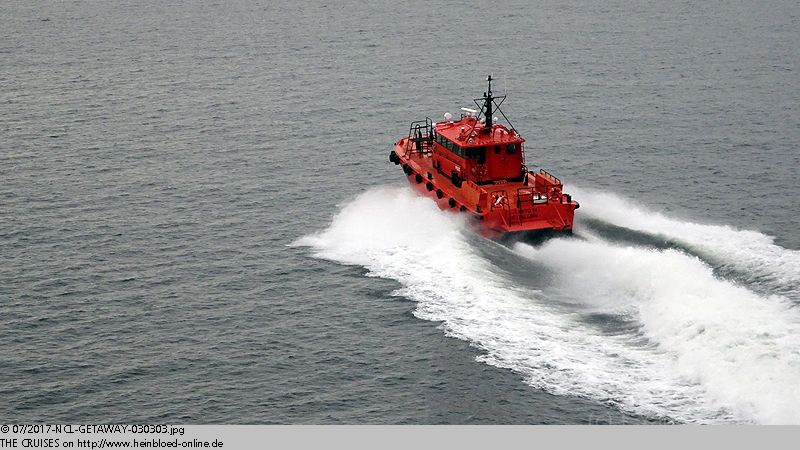 The pilot was now onboard.

And there was Tallinn.

Und da ist schon Tallinn.
Und auch die VIKING STAR ist hier. Hier freuen wir uns sehr, dass wir kurz am Pier Kapitän Mikael Hilden treffen, der leider NCL vor kurzem verlassen hat. Wir kennen ihn noch von der
NORWEGIAN JADE 2014 (2)
. Aber ein Grund mal mit Viking zu fahren, wenn die nicht immer jahrelang vorher schon auf vollständige Bezahlung der Reise bestehen würden. Ich war noch nie gut in "Schiffe versenken". Hier treffe ich wieder daneben. Wieder geht ein Gruß für Cherryl hin, aber wieder ist sie nicht an Bord. Sie ist auf dem dritten Schiff der Viking-Flotte: VIKING SKY. Hier finde ich aber auch heraus, was passiert ist. Ich habe mir die letzten Bilder aus Barcelona angesehen, die ich von der
COSTA FAVOLOSA 2017
und stelle fest, dass ich die Bilder in ein falsches Album eingeordnet hatte.

Also VIKING STAR was here. Here we were more than happy to meet Captain Mikael Hilden quickly who recently quitt NCL. We knew him from NORWEGIAN JADE 2014 (2). But a reason to with Viking if they would not insist full payment of the voyages years ago. I was never good playing "Battleship". Here I did not hit again. Again some greetings for Cherryl but again she was not onboard. She was on the third ship of the Viking-Fleet: VIKING SKY. Here I found out what happend. I checked my last pictures from Barcelona which I took from COSTA FAVOLOSA 2017 and I noticed that I sorted the pictures into the wrong album.

In the port: WIND SURF.

Im Hafen: WIND SURF.
Und sehr schade: eine Runde zu "früh": COSTA MEDITERRANEA. Eine Runde später und wir hätten hier unsere Taxi-Fahrerin Chantal getroffen, die wir von unseren Reisen auf der
NORWEGIAN EPIC 2012
und
MSC PREZIOSA 2013
her aus Marseille kennen. Auf der
COSTA FAVOLOSA 2017
haben wir sie verpasst, weil sie selbst im Urlaub war. Nächster Versuch MSC MERAVIGLIA im Herbst.

And very sad: one round too "early": COSTA MEDITERRANEA. One round later and we would have meet here our taxi-driver Chantal from Marseille, France whom we knew from NORWEGIAN EPIC 2012 and MSC PREZIOSA 2013. On COSTA FAVOLOSA 2017 we missed her because she was on vacation herself. Next trial MSC MERAVIGLIA in fall.

We browsed again on our ship.

Wer gucken wir uns auf dem Schiff um.
Wir sehen uns auf dem Pier um. Sie haben viel getan. Wir waren hier auf unserer allerersten Kreuzfahrt auf der
LILI MARLEEN 2006
. Man kann direkt am Pier einkaufen und etwas essen und trinken. Oder eben davor ist direkt ein Einkaufszentrum für finnische und schwedische Tagestouristen, die mit der Fähre kommen:
SadaMarket
. Hier gehe ich in eine Apotheke, weil Estland ein Paradies für Hypochondras ist: Die Preise sind echt gut.

We looked around on the pier. They did a lot. We were here with our very first cruise on LILI MARLEEN 2006. You could make your purchases directly at the pier and have some drinks and food. Or just in front the shopping center for Finnish and Swedish day-visitors whom came by ferry: SadaMarket. Here I went to a pharmacy because Estonia was a paradise for hypochondriacs: the prices were really good.

Few pictures of us and the ship.

Ein paar Bilder von uns und unserem Schiff.
Wie damals auf der
LILI MARLEEN 2006
: Sigrid ist wieder unsere Fremdenführerin und so kann sie uns zeigen, wie sich die Stadt verändert hat. So ähnlich wie die Docklands in London oder HafenCity in Hamburg: auch hier gibt es ein Stadtentwicklungsprojekt im alten Hafen- und Industrieviertel von
Rotermann City
.

Like then on LILI MARLEEN 2006: Sigrid was again our tour guide and she could show us how the city had changed. Similiar like the Docklands in London, England or HafenCity in Hamburg, Germany: here they had a city development project in previous port- and industry quarters of Rotermann City.

Time for the first break. If birds liked it... we should like it too...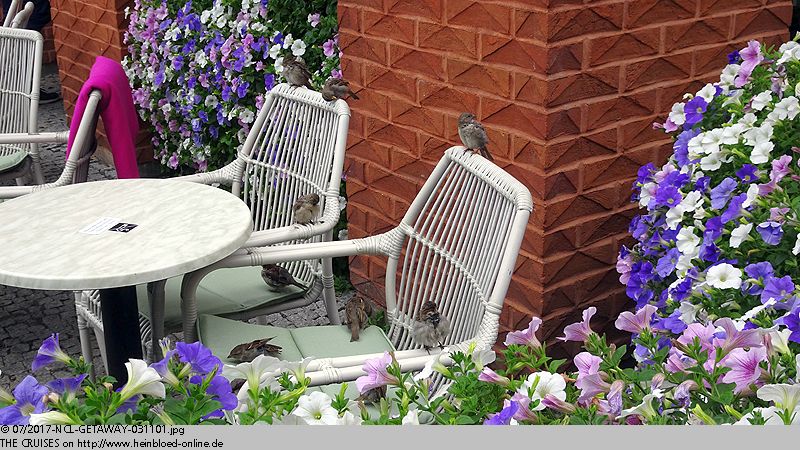 Zeit für die 1. Pause. Wenn es den Vögeln hier gefällt... dann sollte es uns hier auch gefallen...
Carmen Café
im Rotermann City.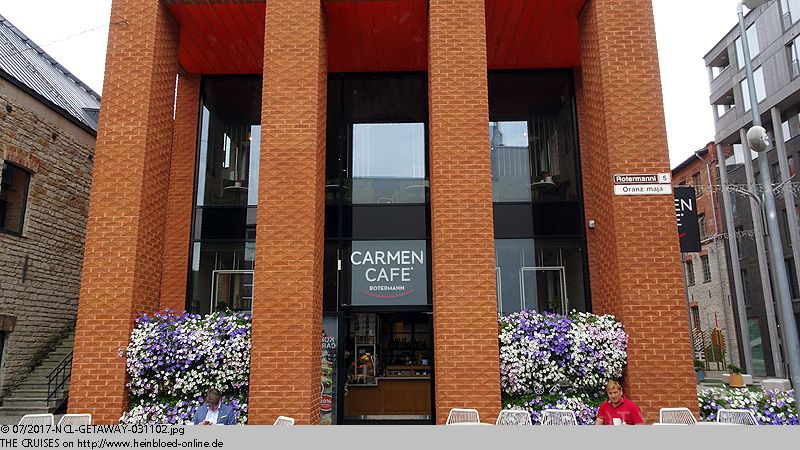 Carmen Café in Rotermann City.

Here they had Hommikupuder. An eastonian breakfast mash. I was so full that I did not try it.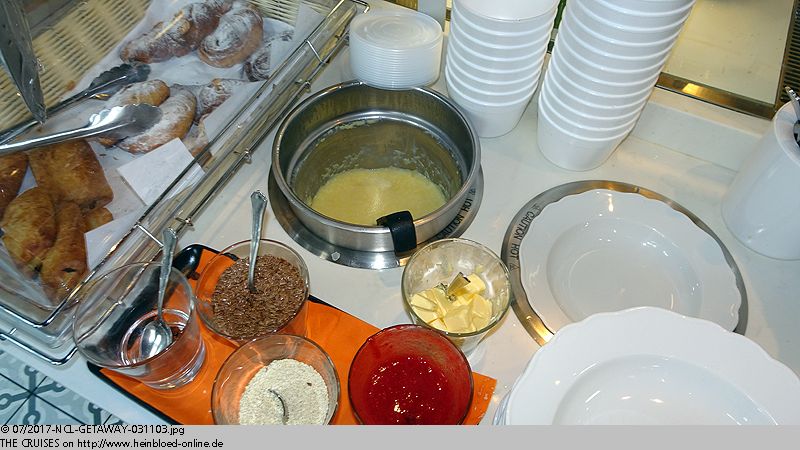 Hier gibt es Hommikupuder. Ein estnischer Frühstücksbrei. Ich bin satt, so dass ich es nicht versuche.
Sie haben Mandarinen Limonade von
Fentiman's
. Erinnert mich an das Ende unserer Reise auf der
QUEEN MARY 2
in Greenwich mit Ulla.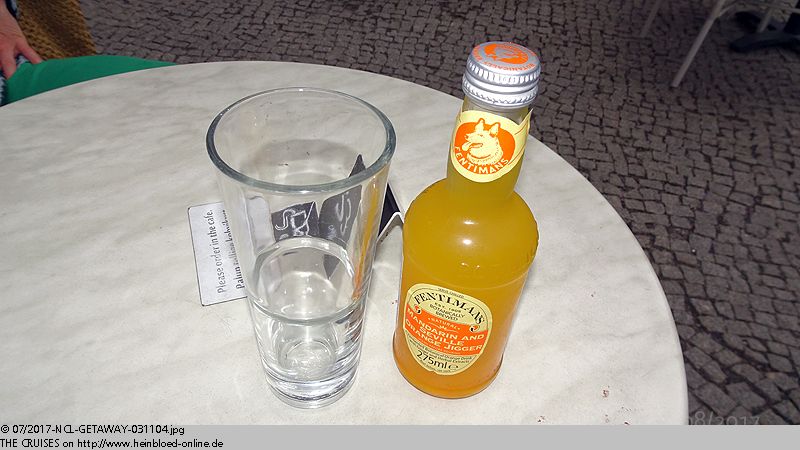 They had tangerine lemonade of Fentiman's. Reminded me to the end of our voyage on QUEEN MARY 2 in Greenwich, England with Ulla.

Breaks were important on such a tour.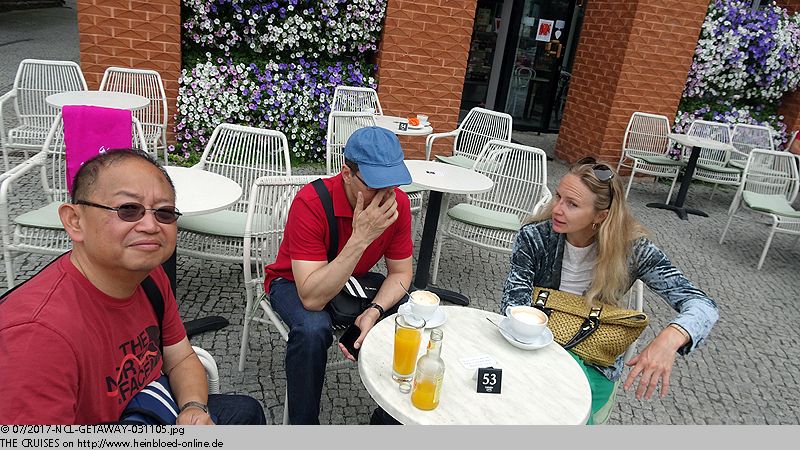 Pausen sind wichtig auf einer Tour.
Es geht weiter. Die Sowjet-Zeit ist in der Stadt noch präsent. Nicht jeder Hammer und Sichel wurde entfernt. Außerdem gibt es immer noch eine russische Minderheit in Estland, die aufgrund der Abkommen mit Russland ihre Kultur weiterhin öffentlich pflegen dürfen. Fahrerlose Transportsysteme werden auf einer unterbrochenen Straßenbahnlinie getestet. Wir laufen in die Altstadt und kaufen ein paar Kleinigkeiten bei
Hää Eesti Asi
. Vor elf Jahren fielen mir die tollen "Norweger"-Pullover auf. Damals habe ich geärgert, dass ich keinen gekauft habe. Heute hole ich es jedoch nach. Man merkt, dass mehrere Schiffe in der Stadt sind. Schlimmer ist es nur noch in Dubrovnik wie damals auf der
NORWEGIAN JADE 2011 (2)
und
NORWEGIAN JADE 2014 (2)
.

We headed on. The Soviet times was still present in the city. Not all hammers and crescents were removed. There was still a Russian miniority and due to an agreement with Russia they were still allowed to maintain their culture in the public. Driver-less transport systems were tested on a tramline which was suspended. We went to the old town and bought some small items with Hää Eesti Asi. Eleven years ago the nice "Norwegian" sweater attracted my attention. Then I was upset that I did not buy one. Today I caught up. You could fee that several ships were in town. Worse was only Dubrovnik, Croatia like then on NORWEGIAN JADE 2011 (2) and NORWEGIAN JADE 2014 (2)

We came to the next break. In a kids' theater and playing house Piip ja Tuut Mängumaja around the corner of the last observation point they had the Café Koogel Moogel. Here they had finally an Estonian beverage: Juniper Juice... It was served in kids' cups... we were in a kids' theater.

Die nächste Pause steht an. In dem Kindertheater und Spielhaus
Piip ja Tuut Mängumaja
um die Ecke vom letzten Aussichtspunkt gibt es das
Café Koogel Moogel
. Hier gibt es auch endlich mal ein estnisches Getränk: Juniper Juice... (Wacholderbeerensaft). Es wird in einem Kinderbecher serviert... wir sind ja in einem Kindertheater.
Weiter geht es zu einem sehr vollen Aussichtspunkt über der Altstadt. Hier spielt ein Straßenmusiker, der allerdings im wirklichen Leben wohl ein bekannter Sänger ist. Er spielt immer Lieder aus Ländern an, dessen Sprachen er gerade bei den vorbeilaufenden Touristen raushört. Ich bekomme trotz Kleingeld weder deutsch noch chinesisch. Da die Schlangen jetzt immer noch nicht kürzer sind, verzichten wir auf den Besuch der Alexander-Newski-Kathedrale. Und wir lernen, wie man eine Regenrinne gegen Eis vorbereitet.

We headed to a very crowded observation point over the old town. Here a street musician played who was in real life a popular singer. He always played the song in the languages of the tourists who were passing by. Although I gave some change neither I got a German song nor a Chinese. As the queue was not shorter anymore we withdrew our visit in the Alexander-Newski-Kathedrale. And we learned to how prepare a downspout against icing.

U need medical assistance.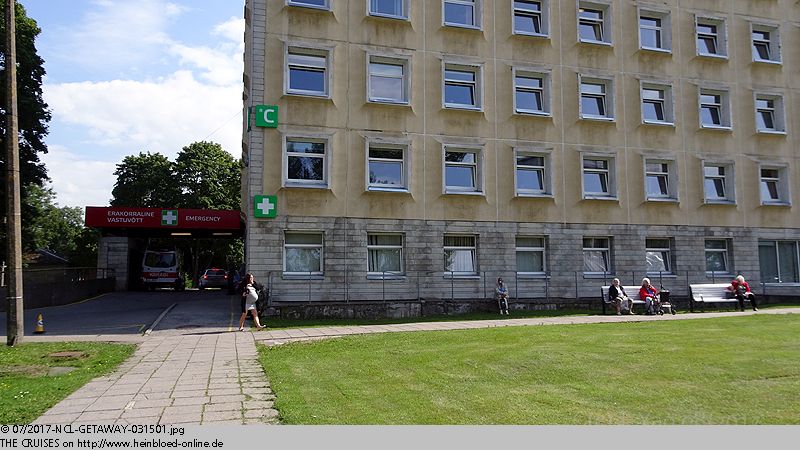 Ich brauche Medizinische Hilfe.
Trotz EU-Sozialabkommen: ich darf nicht einfach zum Arzt, sondern muss die Notfallstation eines Krankenhauses aufsuchen.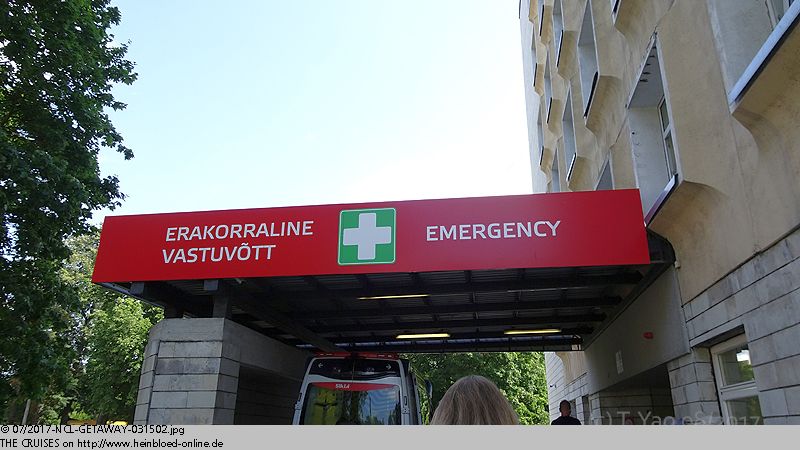 Athough there was an EU-health-agreement: I was not allowed to see any doctor and need to see the emergency room of a hospital.

To have a thread removed was 25.00 EUR and it took 15 minutes. Sigrid took us back to the port. See you hopefully in eleven years again - or hopefully much more earlier.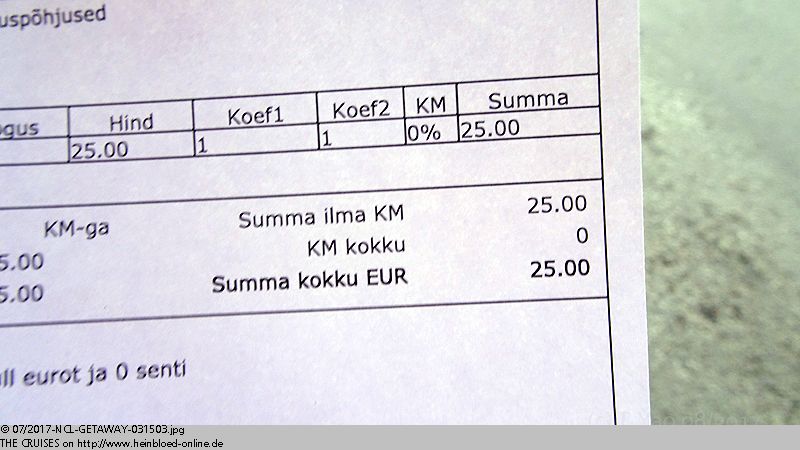 Mir einen Faden ziehen zu lassen kostet mich 25,00 EUR und dauert 15 Minuten. Sigrid begleitet uns zum Hafen zurück. Bis spätestens in elf Jahren - oder hoffentlich früher.
Ich stelle heute erst unseren Kabinensteward vor, weil ich seine Karte mit deinem Namen nicht finden kann und nicht weiß, wie ich ihn vorstellen soll: Kiran Rane. Ich kann die Karte nicht finden, weil es gar keine Karte gibt, sondern der Name nur auf dem Fernseher erscheint, wenn man ihn einschaltet. Wir werden informiert, dass wir in Stockholm später anlegen. Im eigenen System wird das nicht geändert. Dort steht immer noch 08.00 Uhr statt 10.00 Uhr. Zu diesem Zeitpunkt wissen wir allerdings nicht, dass die wichtigste Information auf dem Schreiben fehlt. Die Information ist aber wichtig für Gäste, die unabhängig die Stadt sehen wollen. Die haben keinen Stellenwert bei NCL. Deswegen wird auch ein wenig gelogen: Man soll lieber einen Flughafentransfer buchen, weil öffentlicher Verkehr und Taxis in Kopenhagen nur begrenzt verfügbar wären. Unser Balkon ist grauenhaft: Wenn man auf dem Balkon sitzt, hat man die Beine direkt an der Glasscheibe. Er ist nur zum Stehen oder Sitzen geeignet. Als Sparvorschlag für den nächsten Neubau: Französische bzw. Berliner Balkone wie bei der
MSC FANTASIA 2009
: unser Heckbalkon auf dem obersten Kabinendeck.

Let me introduce our cabin steward now since I could not find the card with his name and did not know how to introduce him. I could not find the card because there was no card anymore since his name appeared on the TV screen if you turn it on. We were informed that we would arrive later in Stockholm. In there own system they did not make any updates. There it was still 08.00 hrs instead of 10.00 hrs. At this time we did not know that the most important information was missing in the letter. This information was very important for guests who were doing tours independently. They had no value with NCL. That way why they love to tell little lies: You should book an airport transfer because public transport and taxis would be only available very limited. Our balcony was terrible: if you sit on the balcony you had your legs just at the glass wall. It was only good to stand or to sit. As suggestions for more savings for the next newbuild: French or Berlin balconies like the had on the top cabin deck of our aft balcony on MSC FANTASIA 2009.

That night they had as special offer: In O' Sheehan's you could get beef sirloin and in the Garden Café: Pub Night (typical English food).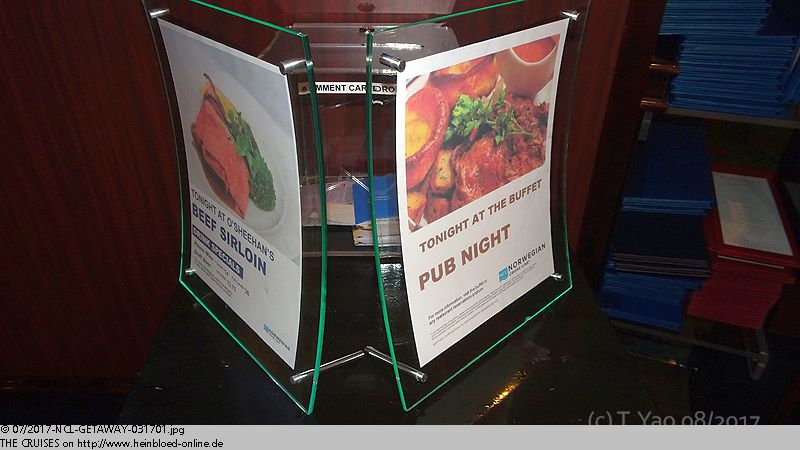 Heute Abend gibt es als besonderes Angebot: Im O' Sheehan's Rinderlende und im Garden Café: Pub Night (Typisch englisches Essen).
Bruno hat sich etwas mexikanisches bestellt.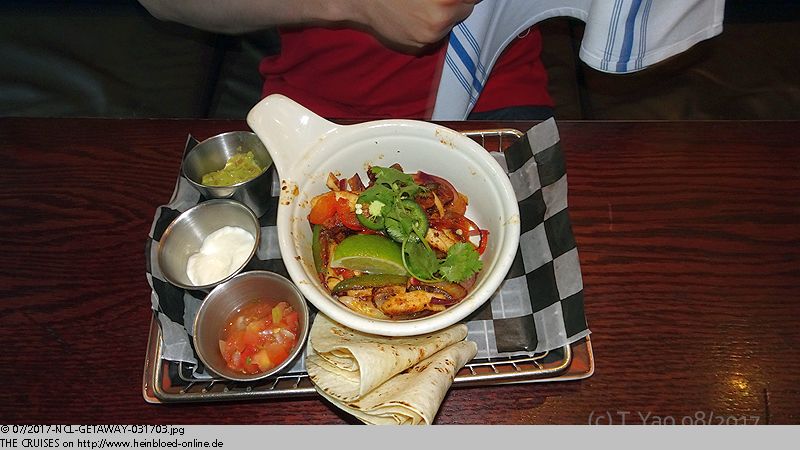 Bruno ordered something Mexican.

I took a pastrami-sandwich. My favorite rye-bread with careaway which I could not get on NORWEGIAN JADE 2017 was back again.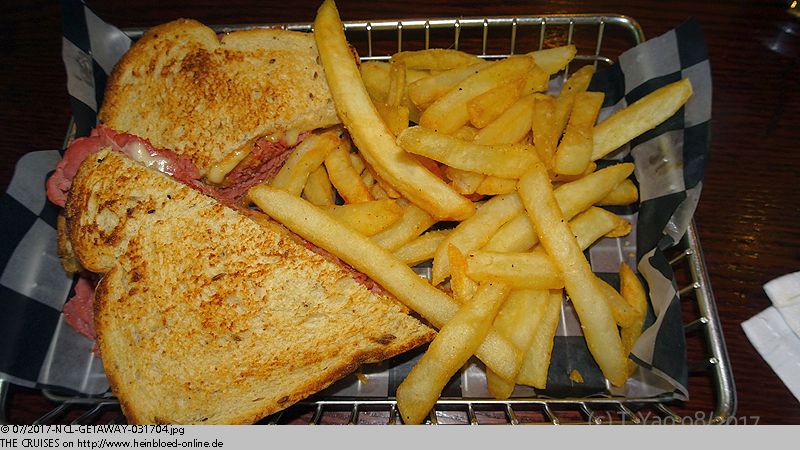 Ich nehme ein Pastrami-Sandwich. Es gibt wieder mein geliebstes Kümmelbrot, das ich auf der
NORWEGIAN JADE 2017
nicht bekommen konnte.
Beim Treffen für Silber-Latitudes-Mitglieder und höher treffen wir auf Dori und Rick wieder und unterhalten uns. Sie reichen jetzt Käsewürfel, Stückchen für Stückchen. Es wird für Cruise Next Rewards geworben. Und für die neuen Schiffe, die wieder kleiner werden und bei Fincantieri, Italien gebaut werden.

We met Dori and Rick again on the meeting for Latitudes Silver-Tier and higher. They offered now cheese bites, bite by bite. They advertised for Cruise Next Rewards. And for the new ships which should become smaller and should be build by Fincantieri in Italy.

You should make hay while the sun shines. So went that night to the Sushi Bar. As we expected that one meal of the dining package would be charged tonight we did not ordered something extravagang. So were angry that you had to pay for every "complimentary" item of a good Japanese restaurant like a Miso-Soup. The offer was quite americanized. So we only ordered two rolls, some seaweed salad and few Yakitori to share. Finally we took one scope of the yesterday's sherbet. Now we had a big misunderstanding. NCL understood something different as redress: sow were tonight again guests of NCL. In case: you do not like the food: do not pay and be upset but tell it your Maître. They find a way to satisfy you. I remember very well when we were on NORWEGIAN DREAM 2008. Then they told us what we like to have and then they prepared all to make us happy. Then unforgotten: Thoams Russegger, whom we met many years later on DISNEY DREAM 2015. No need to return home frustrated and to make later a claim. It might be too late anyway when you are back home. As all was good again we could take a nice picture of the crew to have a nice memory of our restaurant visits of the last two days: Sipriana Betty, Immaculate Deja, Cher Fuentes, Jennifer Ballesteros.

Man sollte das Eisen schmieden, so lange es heiß ist. Deswegen gehen wir heute Abend zur Sushi Bar. Da wir davon ausgehen, dass wir heute ein Essen unseres Dinnerpaketes abgerechnet bekommen, bestellen wir nichts Extravagantes. So ärgern wir uns schon, dass man jetzt auch selbst "kostenlose" Elemente eines guten japanischen Restaurants, wie z. B. Miso-Suppe berechnet werden. Die Angebote sind sehr amerikanisiert. So bestellen wir uns nur zwei Rollen, ein bisschen Seetang-Salat und noch ein paar Yakitori, die wir uns teilen. Am Schluss nehmen wir aber noch eine Kugel vom Sorbet von gestern. Nun liegt ein großes Missverständnis vor. NCL versteht unter Wiedergutmachung etwas anderes: auch jetzt sind wir wieder Gäste von NCL. Deswegen: wenn etwas nicht schmeckt: nicht einfach zahlen und sich ärgern, sondern es dem Maître sagen. Sie machen es wieder gut. Das können sie sehr gut: ich erinnere mich sehr gut damals an
NORWEGIAN DREAM 2008
zurück. Damals sollten wir ihnen sagen, was wir mögen, und das haben sie für uns gekocht, damit wir glücklich sind. Damals unvergessen: Thomas Russegger, den wir dann viele Jahre später auf der
DISNEY DREAM 2015
wiedergetroffen haben. Man muss also nicht nach frustriert nach Hause fahren und sich dann nachträglich beschweren. Dann ist es eh zu spät, wenn man wieder zu Hause ist. Da jetzt alles wieder gut ist, können wir noch ein schönes Bild von der Crew machen, das die Restaurantbesuche der letzten zwei Tage zusammenfasst: Sipriana Betty, Immaculate Deja, Cher Fuentes, Jennifer Ballesteros.