Der schreckliche Tag beginnt: Ankunft in Warnemünde. Zeit für die Ausschiffung. Hier begann unsere Leidenschaft für die Kreuzfahrten auf der
LILI MARLEEN 2006
. Leider kann ich nicht mein Auto sehen, das hinter die
Neptun Werft
geparkt ist. Hier werden auch Flusskreuzfahrtschiffe gebaut. Übrigens eine Tochter der Werft, die die NORWEGIAN GETAWAY gebaut hat:
Meyer Werft
.

The terrible day began: arrival in Warnemünde, Germany. Time for debarkation. Here our passion for cruising started on LILI MARLEEN 2006. Unfortunately I could not see my car which was parked behind Neptun Shipyard. Here they built river cruise ships. By the way subsidiary of the shipyard which build NORWEGIAN GETAWAY: Meyer Shipyard.

Before we docked we went first further to the Rostock Seaport, Germany and turned around. Single ships had also to dock here at LP31 and LP41. Also NORWEGIAN GETAWAY had to do it this season. But we decided to have a round with sailing off and to Warnemünde.

Bevor wir anlegen, fahren wir zunächst fast weiter bis zum
Seehafen
und drehen. Einzelne Schiffe legen hier auch mal LP31 und LP41 an. Auch die NORWEGIAN GETAWAY gehört in dieser Saison dazu. Aber wir haben uns bewusst für eine Runde entschieden mit Abfahrt und Ankunft in Warnemünde.
Unsere "Stalkerin" MARINA. Wie oft hat sie uns während unserer
KONINGSDAM 2016
-Reise "verfolgt"?

Our "stalker" MARINA. How many times she "followed" us during our voyage on KONINGSDAM 2016.

They were cleaning everywhere.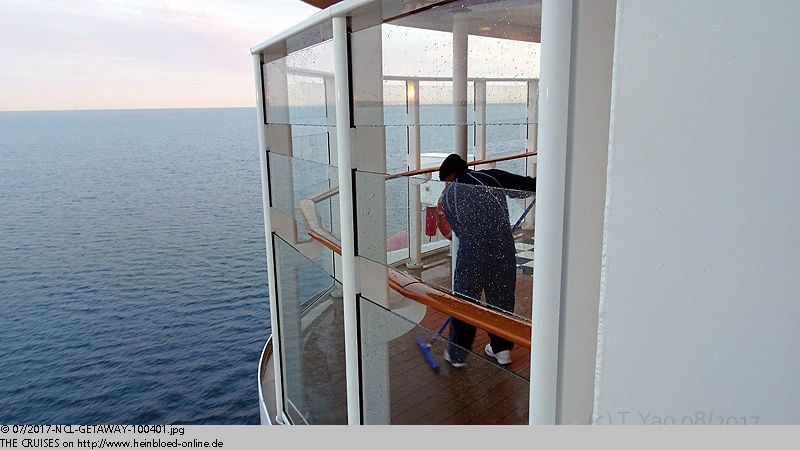 Geputzt wird überall.
Übrigens die einzigen Meter, in der man nach vorne gucken kann: 1/2 Deckbreite. Für ein Schiff dieser Größe und keine Lounge innen.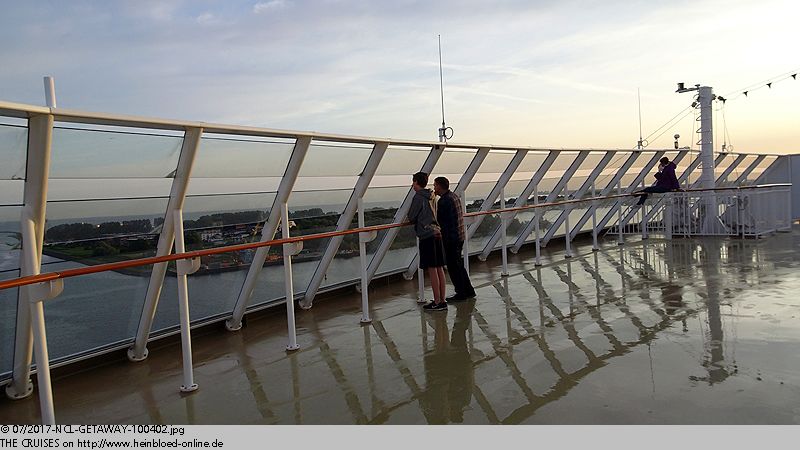 The only feet you could see forward: 1/2 width of deck. For a ship of this size and no lounge inside.

The other half was for the guests of The Haven.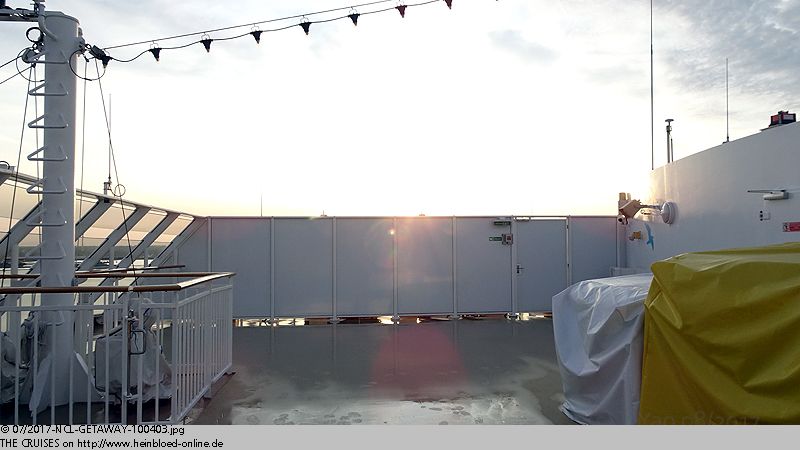 Die andere Hälfte ist für The Haven-Gäste.
Und ein Smiley.

And a smiley.

The bill came. Of that 500 USD was for a Cruise Next Reward which we bought for a cruise-friend and the service charge was included as we had a promo.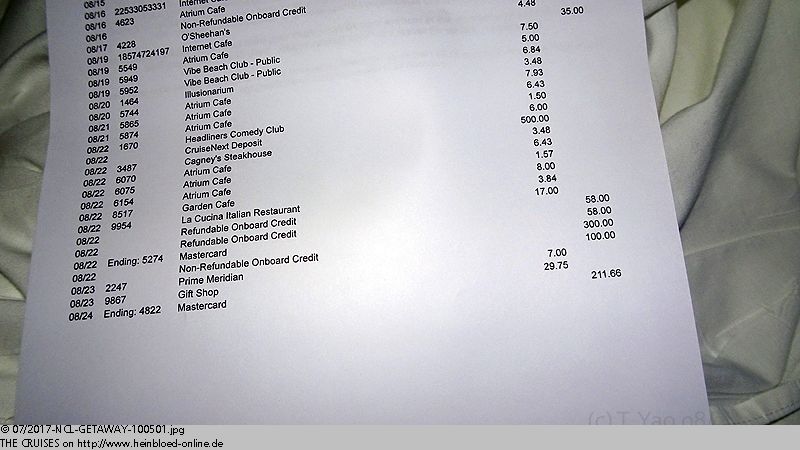 Die Rechnung kommt. Davon sind ja 500 USD für einen Cruise Next Reward, den wir für einen anderen Kreuzfahrer besorgt haben und die Trinkgelder sind im Rahmen einer Promo auch inkludiert.
Im Bad finden wir die Sachen für den "normalen" Gast. Die rote Box benötige ich gar nicht mehr, da ich ja kein Insulin mehr spritze und daher auch keine Nadeln entsorgen muss.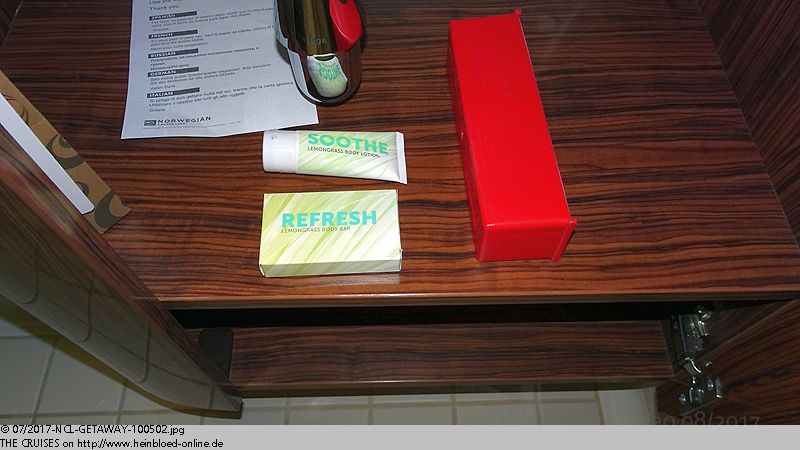 In the bathroom we found the items for the "standard" guest. The red box I did not need anymore as I was not injecting insuline anymore and did not need to dispose needles.

A very last time having breakfast. And the last day Bruno finally got his single egg!!! So far he always got it couple wise. Emmanuel Romero was Bruno's hero. Unusual: to rinse the eggs in cold water. That something we had to do now. Luckily we had ice water. We did not want to leave the ship without saying good-bye to Chandra and Niño. So we also made acquaintance with Mehmet Muscali. Just few minutes ago Mahmut wrote me that I should say hello and I would get everything what I want. The Turkish hospitality always included: "Your friends are also my friends".

Noch ein letztes mal Frühstücken. Und am letzten Tag bekommt Bruno tatsächlich ein einzelnes Ei!!! Bisher gab es sie immer nur als Paar. Emmanuel Romero ist Brunos Held. Unüblich: das Abschrecken der Eier. Das müssen wir immer noch vor Ort machen. Dafür gibt es zum Glück das Eiswasser. Wir verlassen nicht das Schiff, ohne dass wir uns noch von Chandra und Niño verabschieden. Dabei lernen wir noch Mehmet Musacali kennen. Gerade wenigen Minuten vorher hat mir Mahmut geschrieben, dass ich ihn grüßen soll und ich bekomme alles, was ich will. Die türkische Gastfreundschaft schließt immer ein: "Deine Freunde sind auch meine Freunde".
Wir kommen wieder am P8 an. Damals sind wir mit der Bahn angereist. Und dafür ist Warnemünde echt praktisch. Schade, dass es kaum Fernverbindungen gibt, weil es so nah am Bahnhof liegt.

We arrived again at P8. Then we came here by train. And it was very practical in Warnemünde. So sad that they did not have so many long-distance connections anymore since it was so close to the station.

Just when we need to leave Shenny and Rashida came finally to the pier to say good-bye. Somehow we were happy to be off the ship but it was hard to say good-bye to the great crew. But after cruise is before the cruise. Curious to know who would be on NORWEGIAN SPIRIT. I hoped that Armando might be onboard. Ana and Bon will be on vacation again when we will embark.

Und als wir losmüssen, kommt tatsächlich Shenny und Rashida noch an die Pier, um uns zu verabschieden. Irgendwie sind wir zwar froh, dass wir von Bord sind, aber uns von der tollen Crew zu verabschieden, fällt uns doch sehr schwer. Aber nach der Reise ist vor der Reise. Mal sehen wer uns alles auf der NORWEGIAN SPIRIT erwartet. Hoffentlich ist Armando an Bord. Ana und Bon haben leider dann wieder Ferien, wenn wir an Bord gehen.
Wir können bis zum
Hotel Belvedere
rübergucken. Die haben uns versprochen, dass wir unser Gepäck hinbringen dürfen, damit es später von
Hermes
abgeholt wird. Wegen der Zeitfenster wieder bei der
Deutschen Bahn
gebucht.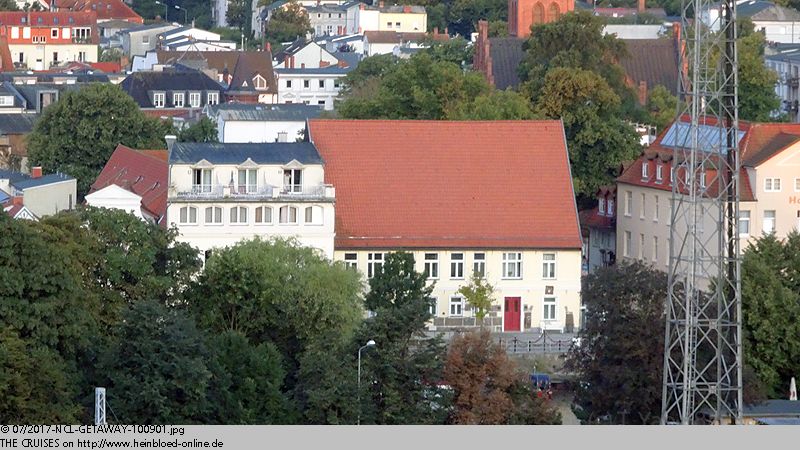 We could see over to Hotel Belvedere. They promised us that we may take our bags to them that later that day could collect it by Hermes Courier Service. Again due to the time slots booked again with Deutsche Bahn (German Railways).

Thanks again to Mr Herter of easyParken, who gave us a lift to the hotel to drop off our bags. He also removed my concerns if we caught a round and we would start in Warnemünde and return in Rostock. They also provide that service even we would go Rostock to Rostock. For the same price.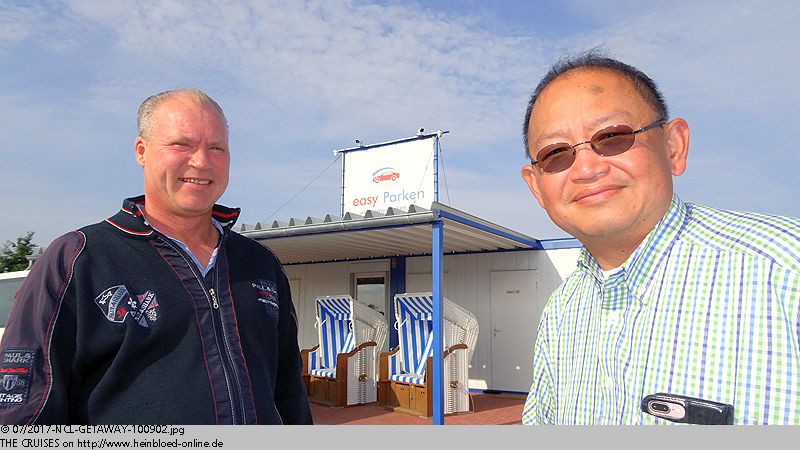 Vielen Dank nochmals an Herrn Herter von
easyParken
, der uns zum Hotel gefahren hat, damit wir schnell das Gepäck dort abgeben können. Er hat mir übrigens alle Sorgen genommen, falls wir doch mal eine Runde erwischen und beispielsweise in Warnemünde starten und in Rostock ankommen. Auch dann wird der Service angeboten, sogar wenn von Rostock nach Rostock gefahren wird. Zum gleichen Preis.
Übrigens haben sich die Bordfotografen gerächt, weil ich ja keine Einschiffungsbilder wollte. So haben sie die Stadt Rostock engagiert, die dann von mir Ausschiffungsbilder macht.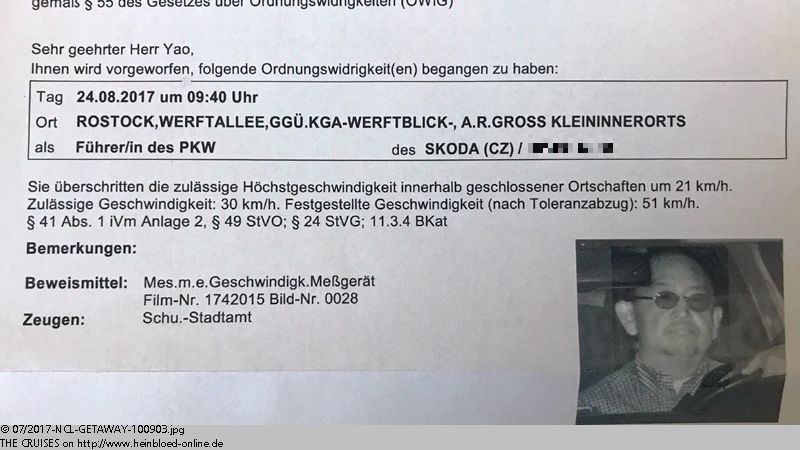 By the way the ship's photographer took revenge because I did not want any embarkation pictures. They hired the City of Rostock who made some debarkation pictures of me.

Including fee for delivery the debarkation photo costed roughly 125 USD. I left a lot of money in Rostock... also money for my car's new wind screen...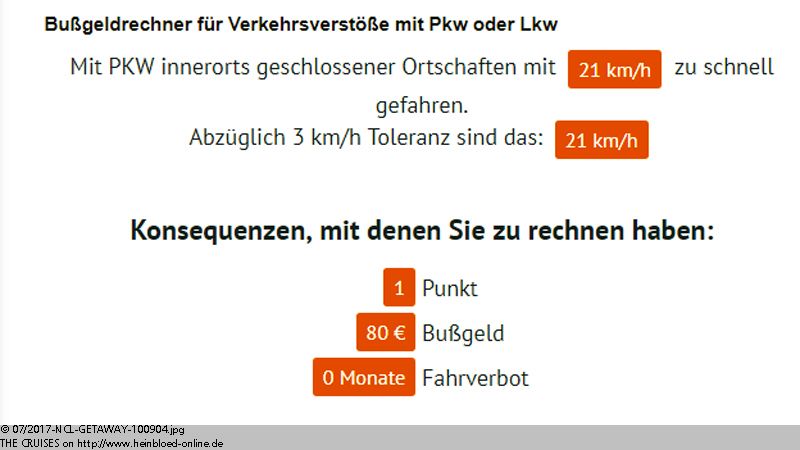 Mit Zustellgebühren hat mich das Ausschiffungsfoto 108,50 EUR gekostet. Ich habe viel Geld in Rostock gelassen... auch noch meine neue Windschutzscheibe...
Wir fahren nach Kühlungsborn. Hier hatten wir ja zwischenzeitlich Brunos Eltern untergebracht, die sich hier ein paar Tage an der Seeluft erholt haben.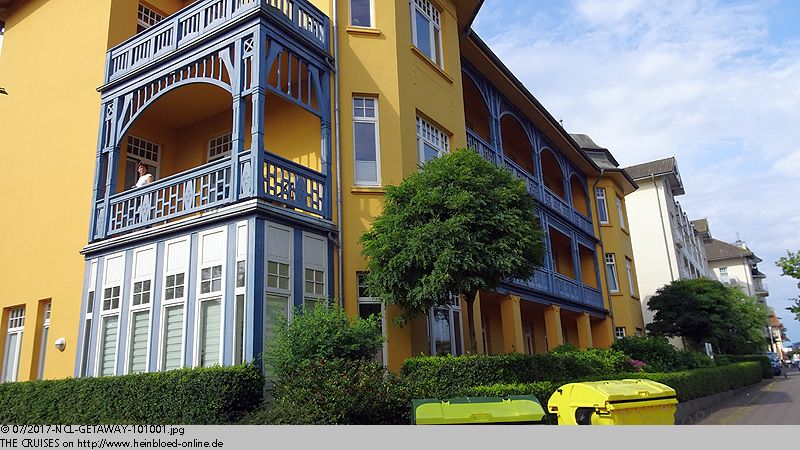 We went to Kühlungsborn, Germany. Here we allocated Bruno's parents in between who stayed here to relax few days at the sea air.

It was really a nice spot in Germany. Here we rented a flat for them.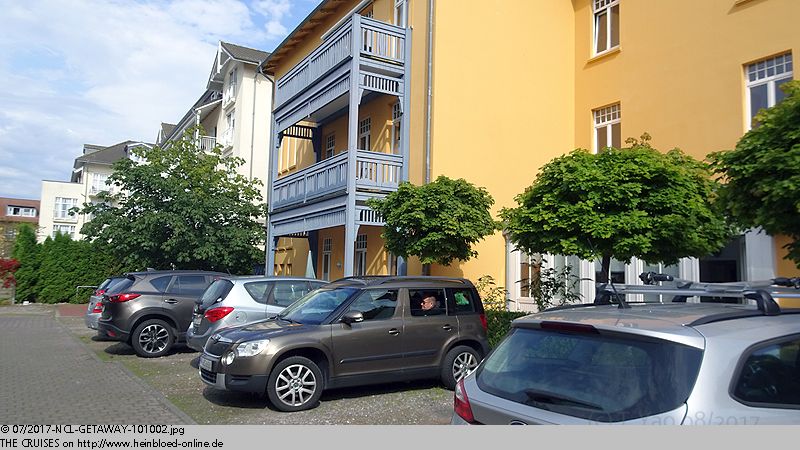 Ist echt ein schönes Fleckchen Deutschland. Hier hatten wir eine Ferienwohnung angemietet.
Mit der
Molli-Bahn
noch zu fahren, schaffen wir leider nicht mehr.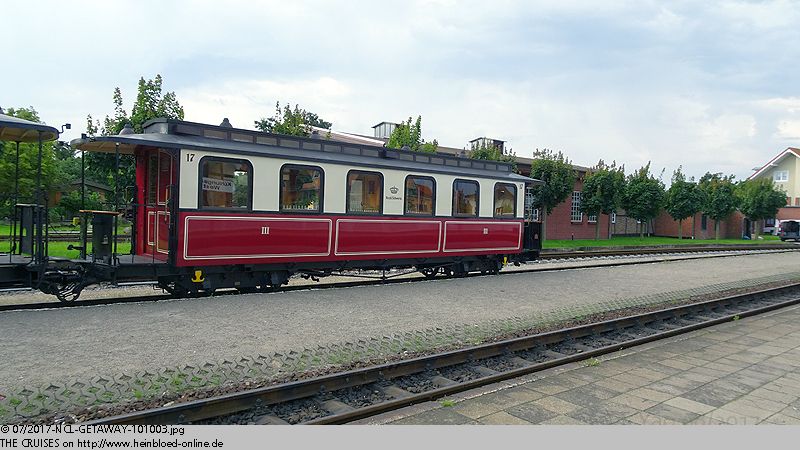 We could not made it to have a ride by Molli-Train.

Sad: next time again.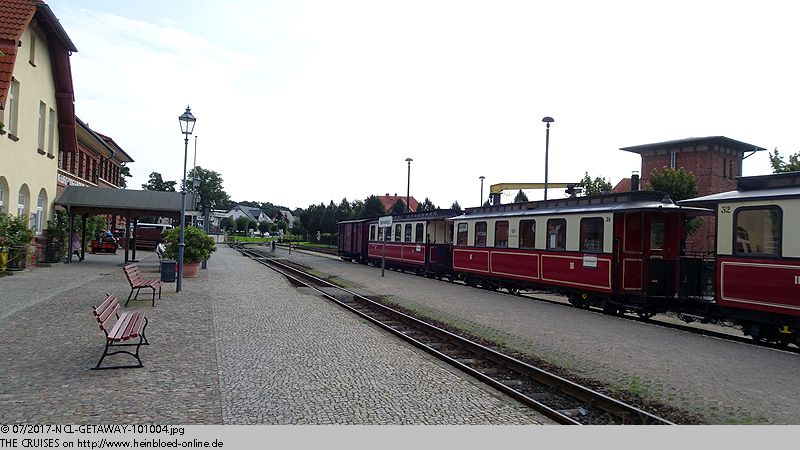 Schade: beim nächsten Mal wieder.
Wir müssen nach Bad Doberan zurück und damit wir die Molli-Bahn in guter Erinnerung behalten, fährt sie genau vor uns.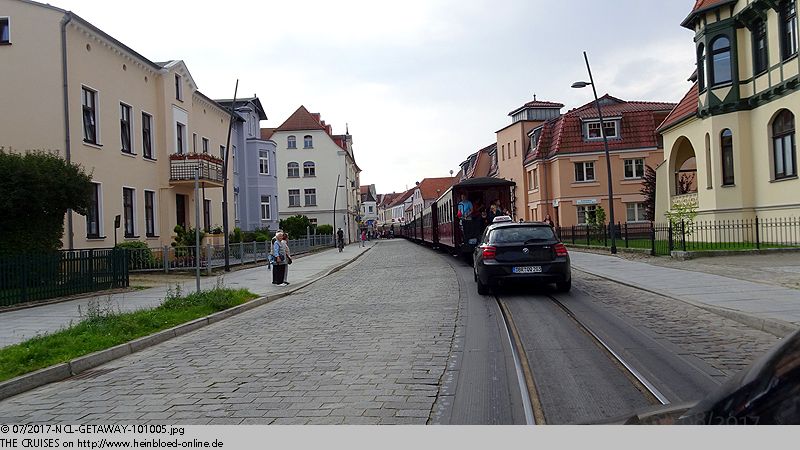 We need to return to Bad Doberan, Germany and to keep Molli-Train in good memories she just went in front of us.

First stop on our way was Schwerin, Germany. Unfortunately we did not have so much time to walk around in the palace's park or in the city center. As the Prime Minister (= Ministerpräsident) of the State of Mecklenburg-Western Pommerania Manuela Schwesig did not want to see us for lunch we need to eat by us alone.

Erster Unterwegshalt ist Schwerin. Leider haben wir nicht viel Zeit, um noch im Schlosspark oder in der Stadt noch herum zu laufen. Da uns die Ministerpräsidenten von Mecklenburg-Vorpommern Manuela Schwesig nicht zum Mittagessen empfangen will, müssen wir wohl auf ihre Gesellschaft verzichten.
Wir essen eine Kleinigkeit im
Café Prag
. Sehr nett, sehr lecker und auch viele Kreuzfahrer. Geflügelsalat wie zu DDR-Zeiten. Nur der Toast von damals fehlt. War damals einer meiner Lieblingsessen, um die 25 Mark der DDR wieder loszuwerden. Nur damals war er nicht so schön garniert. Meistens eine Kirsche in der Mitte. Der Kuchen ist auch klasse.

We had a small bite with Café Prag. Very nice, very yummy and also many cruisers. Chicken salad East German style. Only the toast from then was missing. It was then one of my favorite dishes to spend the 25 East German Marks (it was mandetory to exchange 25 Deutsche Marks for coversion rate of 1:1 when you visited East Germany). But then it was not decorated so nice. Mostly a cherry in the center. The cake was also delicious.

TomTom Mobile Go guided us away off the interstate because it was partly congested. We went via Salzwedel, Germany. That we used to have some nostalgy in East Germany... Baumkuchen (= Tree cake / but it is baked like a skewer on open fire oven - layer by layer to add until the cake is completed) from Salzwedel. Because I did not want go through the city center we went quickly to Ersten Salzwedeler Baumkuchenfabrik (= First Salzwedel Baumkuchen Manufactury). While they understood properly in Kühlungsborn how to treat tourists and what service and friendliness to tourists mean you could easily feel that the area of Altmark, Germany was not ready yet. But you need to say: they really knew how to prepare yummy Baumkuchen!

TomTom Mobile Go
hat uns weg von der A7 geleitet, weil sie streckenweise dicht ist. Wir fahren über Salzwedel. Und das nutzen wir auch immer für ein wenig (N)ostalgie... Baumkuchen aus Salzwedel. Weil ich nicht in die Stadt will, fahren wir kurz bei der
Ersten Salzwedeler Baumkuchenfabrik
vorbei. Während man in Kühlungsborn sehr gut verstanden hat, was man als Tourist erwartet und was Service und Freundlichkeit gegenüber Touristen bedeuten, merkt man schon, dass man in der Altmark noch nicht so weit ist. Eines muss man ihnen jedoch lassen: Der Baumkuchen, den sie machen ist lecker!
Wieder in Goslar. Dieses Mal übernachten wir im
Niedersächsischen Hof
. Hier habe ich oft mittags gegessen, als ich noch hier in Goslar gearbeitet habe. In seltenen Fällen auch mal übernachtet.

Again in Goslar, Germany. That time we stayed overnight in Niedersächsischen Hof (= Lower Saxony Court). Here I went frequently for lunch when I was working in Goslar. Few occasions I also stayed here overnight.

Here we met for dinner Angela and Ingrid whom we went together on DELPHIN VOYAGER 2010 and NORWEGIAN JADE 2014 (2). We talked about the good old times in the company. About changes. As both of them were not working anymore for the company they could talk more frankly as they did not need to expect any consequences. We enjoyed the typical Highland Harz portions who were created to feed mining workers. But the last mine closed in 1988. The portions were the same. My "Köhlerteller" (= Plate for a cole maker)
was made for family of four. With a good meal in Goslar you need digestif of Wöltingerode Monastery. We had to buy it the next day as souvenirs. The good-bye with Angela and Ingrid was very cordial again. Let us see if they might join us again in future. I would be very happy.

Hier treffen wir dann zum Abendessen Angela und Ingrid, mit denen wir auf der
DELPHIN VOYAGER 2010
und
NORWEGIAN JADE 2014 (2)
unterwegs waren. Wir sprechen über alte Zeiten in der Firma. Über Veränderungen. Da beide nicht mehr in der Firma sind, können sie befreiter sprechen, da sie ja keinen mehr auf den Deckel bekommen können. Wir genießen die typisch harzerischen Portionen die dafür gedacht sind, um die Bergleute sattzubekommen. Nur das letzte Bergwerk in Goslar schloß 1988. Die Portionen sind geblieben. Mein Köhlerteller reicht ja für eine vierköpfige Familie. Zu einem guten Essen in Goslar gehört ein Absacker vom
Kloster Wöltingerode
dazu. Der wird am nächsten Morgen als Souvenir besorgt. Der Abschied von Angela und Ingrid erfolgt wieder sehr herzlich. Mal gucken ob sie auch mal wieder in der Zukunft mit uns unterwegs sind. Ich würde mich freuen.