Der schönste Tag der Reise beginnt um 04.15 Uhr. Deswegen haben wir diese Reise mitten in den Sommerferien gebucht: Dienstag bis Donnerstag kommender Woche ab Warnemünde und nach Warnemünde zurück. Nur damit wir gemütlich mit dem Auto an- und wieder abreisen können. Stockholm und nicht
Nynäshamn
. Und jetzt beginnt die Einfahrt in die Schären. Wir dürfen erst mit Sonnenaufgang reinfahren. Deswegen die späte Ankunft in Stockholm. Und wir müssen wieder raus sein, bevor die Sonne untergeht. Deswegen können wir nicht später stattdessen aus Stockholm raus. Es hat sich gelohnt, den Wecker zu stellen. Den Schlaf kann ich in ein paar Tagen im Büro nachholen. Der Büroschlaf soll ja eh der gesündeste sein.

The nicest part of the voyage started at 04.15 hrs. That was why booked the voyage in the middle of school vacations: Tuesday to Thursday the week after from Warnemünde, Germany and back to Warnemünde. Just to have a relaxed outbound and return journey home by car. Stockholm, Sweden and not Nynäshamn, Sweden. And now we entered the archipelago. We were allowed to enter with sunrise. That was why we had the late arrival in Stockholm. And we need to be out before sunset. That was why we could not leave Stockholm later. It was worth to the set the alarm. I could catch up the sleep in a few days in the office. The sleep in the office should be anyhow the most healthy one.

We went for breakfast. Tons of bacon I was not used anymore to have. And the Italian marmelade of Menz & Gasser should be better (it tasted more fruity) than the American of Smucker's which was full of High Fructose Corn Syrup. Unfortunately there was no more information on the Italian on if they used sugar or corn syrup. We ate very fast and left very quickly once the sun came out.

Wir gehen zum Frühstück. Berge von Speck bin ich nicht mehr gewohnt. Und die italienische Marmelade von
Menz & Gasser
scheint besser zu sein (sie schmeckt fruchtiger!) als die amerikanische von
Smucker's
, die voll Maissirup ist. Leider steht auf der Verpackung der italienischen nicht, ob hier Zucker oder Maissirup verwendet wird. Wir essen ganz schnell und sind sofort weg, weil draußen jetzt auch die Sonne scheint.
Wir sind schnell wieder draußen. Es ist wirklich eine Schande, dass dieses Schiff keine Lounge mit Blick nach vorne hat, in der man in Ruhe bei einer Tasse Tee die Einfahrt sehen kann. Es ist wirklich eine Schande, dass es kein The Great Outdoors gibt, in der man jetzt schön nach hinten hin am Heck sitzen könnte, um hätte den tollen Anblick zu genießen. Es ist viel Verkehr in den Schären. Hinterter uns fährt die SILJA SERENADE, die uns aus Helsinki gefolgt ist. Hier auf der Waterfront treffen wir Shenny. Sie versteht mittlerweile, warum ich nicht nach Nynäshamn will. Auch sie genießt diese Passage. Und extra für Shenny: ich trage ein NCL T-Shirt, um ihr zu zeigen, wie sehr ich die Kreuzfahrt genieße.

We were quickly again outside. It was really a shame that this ship had no lounge with a forward view nor where you could sip your tea while seeing the entry. It was really a shame that they had no The Great Outdoors where you could sit at the aft to enjoy the breathtaking view. There was a lot of traffic in the archipelago. Behind us there was the SILJA SERENADE who followed us out of Helsinki. Here on the Waterfront we met Shenny. She understood meanwhile why I did not like to go to Nynäshamn. She also enjoyed the passage. And extra for Shenny: I wore an NCL T-Shirt just to show her how much I enjoyed the cruise.

Unfortunately we made suddenly a right turn. That would mean unfortunatley: we would not dock at Stadsgården but at Frihamnen (Freeport)! Certainly I checked it before where we supposed to dock and according to that I prepared everything for our shore trip. It made me upset that such an important information like the change of terminal was not mentioned in the letter. Here you could see: the guests who do their tours independently do not play any role for NCL. No need to them to know that you need to be collected somewhere else. Why should they? He could easily book a tour with NCL then it would not play any role where ship finally docked. I was trying to find out how we should get into the city center. Stadsgården would be in the heart of the city. You could easily do everything by waling. Frihamnen was far outside. Not as bad as Nynäshamn but quite bad for us. Later I learned that it was easier to dock in Frihamnen but at Stadsgården and might otherwise loose more time.

Leider biegen wir auf einmal nach rechts ab. Das bedeutet leider: wir legen nicht
Stadsgården
sondern
Frihamnen
(Freihafen) an! Selbstverständlich habe ich vorher geprüft, wo wir anlegen und entsprechend alles für den Landgang vorbereitet. Das ärgert mich jetzt, dass so eine wichtige Information, wie ein Terminalwechsel nicht im Brief erwähnt wurde. Daran sieht man auch wieder: der Gast, der unabhängig seine Touren macht, spielt für NCL keine große Rolle. Er muss ja nicht wissen, dass er beispielsweise woanders abgeholt werden muss. Wozu auch? Er hätte ja auch bei NCL eine Tour buchen müssen, dann spielt es ja keine Rolle, an welchem Terminal angelegt wird. Ich versuche jetzt herauszufinden, wie wir in die Innenstadt kommen. Stadsgården liegt im Herzen der Stadt. Man kann alles zu Fuß machen. Frihamnen liegt eben weit draußen. Zwar nicht so schlimm wie Nynäshamn, aber für uns ärgerlich. Hinterher erfahre ich, dass wir einfacher im Freihafen anlegen können als Stadsgården und sonst noch mehr Zeit verloren hätten.
Leider haben wir Gäste ohne Verstand an Bord! Sie haben wohl das halbe SB-Restaurant ausgeräumt und locken damit die Vögel an, um sie zu füttern. Als ich einen Schmerzensschrei höre, hoffe ich, dass es weh getan hat, als ein Vogel zubeißt. Sie sind absolut rücksichtslos, solange sie ihren Spaß haben: es ist doch egal, ob die Gäste, die sich weiter unten befinden, die ganze (Brot und Kot) auf den Kopf bekommen. Leider interessiert es die Schiffsführung sehr wenig. Von sich aus machen sie nichts. Ich rufe an und man schickt einen der Security Mitarbeiter mit einer Pfeiffe, der es schafft, das zu unterbinden.

Unfortunately we had guests without brain on board! They must removed half of the self-service restaurant to attrack the attention of the birds and to feed them. When I heared a cry of pain I truly hoped that it was really hurting when a bird bit. They were totally ruthless as long as they had their fun: they did not care of the guests who were below them and got all (bread and shit) on their heads. Unfortunately the ship's management did not take care very much. They did not start any action. I called and they sent a security man with a whistle who managed it to prevent.

The prepared everything at the pier. Here they had the right infrastructure (tourist information and shops). Later we were watching how Errol and Silas saw how to get quickly all the guests onboard so that we finally could set sail.

Am Pier wird alles vorbereitet. Hier ist auch eine entsprechende Infrastruktur (Touristeninformation und Läden). Später gucken wir zu, wie Errol und Silas gucken, dass alle Gäste schnell an Bord kommen und wir endlich loskommen.
An Bord wird ja wieder der Shuttle angeboten. Wieder 15 USD (2017). Heute wäre es vielleicht das Geld Wert gewesen, aber dafür hätten wir vorher wissen müssen.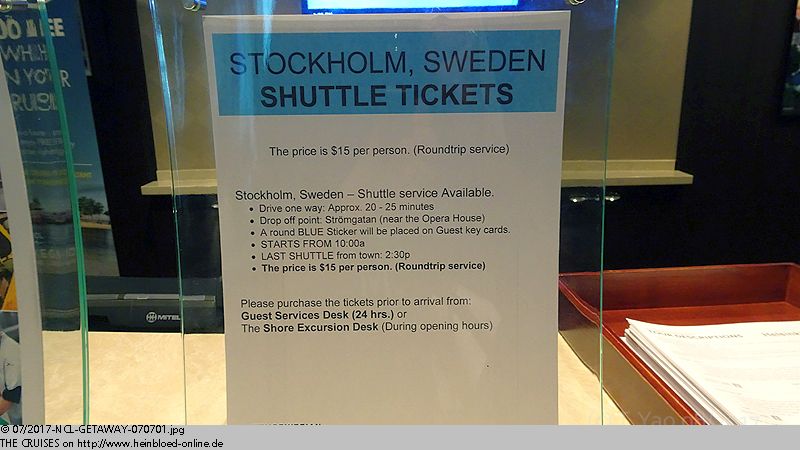 They offered again a shuttle onboard. Again 15 USD (2017). That day it might be worth the money. But we should have known that earlier.

Our destination was close by the Vasa-Museum. So we took the price of 200 SEK (2017) as orientation for our destiantion..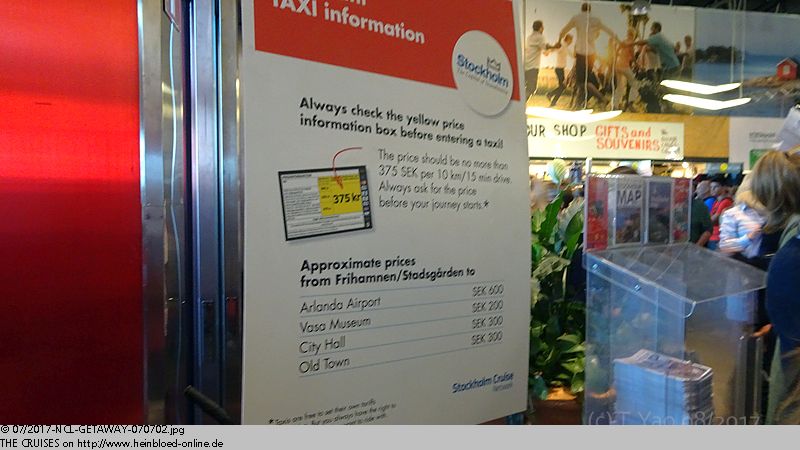 Unser Ziel liegt in der Nähe des Wasa-Museums. Den Preis von 200 SEK (2017) nehmen wir als Orientierung für unser Ziel.
Der Interessensverband
Cruise Baltic
heißt uns willkommen.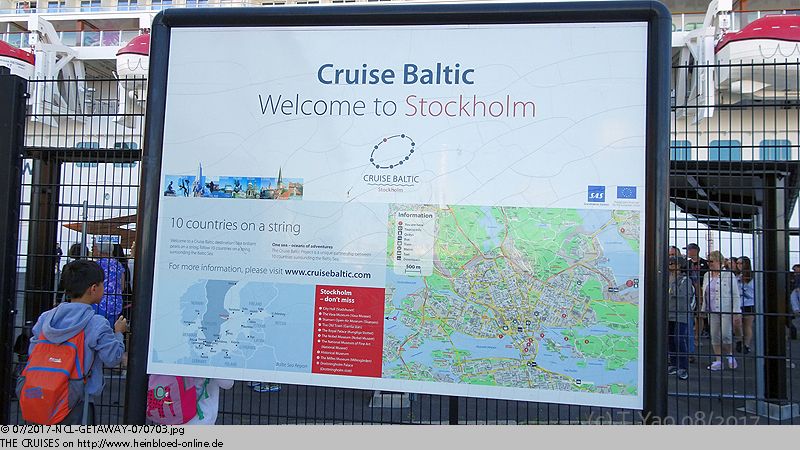 The Cruise Baltic-Lobby welcomed us.

Heading with the taxi. We need to catch up time. The taxi driver indeed did not know the location where we wanted to go. We should find out the name of street that he could enter it to his GPS.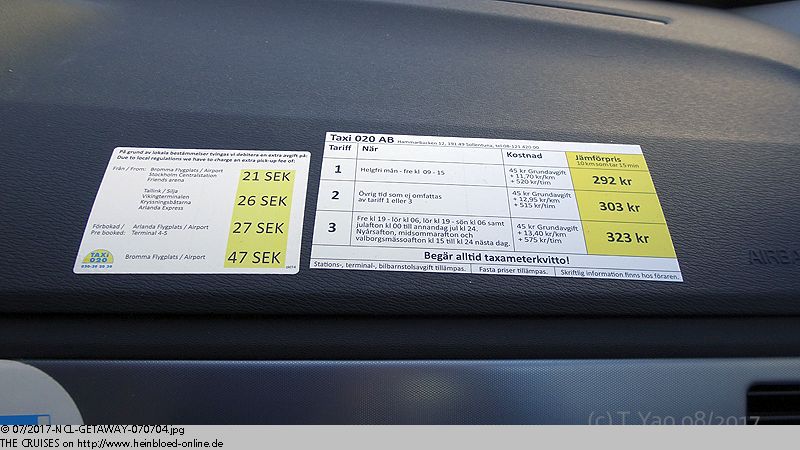 Auf mit dem Taxi. Wir müssen Zeit aufholen. Der Taxi-Fahrer kennt tatsächlich nicht unser Ziel. Wir müssen ihn für sein Navi die Straße heraussuchen.
ABBA-The Museum
. Ich habe Karten vorbestellt, ABER ich konnte sie nicht bezahlen. Verzweifelt habe ich oft bei der Schwedischen Eisenbahn SJ angerufen, die für Online-Ticket-Verkauf zuständig waren. Und bei dem Zahlungsdienstleister. Und Museum. Keiner konnte helfen: Keine Kreditkarte ging. Weder eine deutsche, noch eine schweizerische. Weder eine MasterCard noch eine VISA. Weder eine Prepaid noch eine klassische Kreditkarte. Unsere Zeit ist sehr begrenzt und ich konnte keine Online-Tickets haben und ich soll mich anstellen und Zeit verlieren. Ein paar böse Mails und Anrufe gingen hin und her. Heute hat das Museum einen neuen Dienstleister für den Verkauf der
Online-Tickets
für Einzelbesucher und einen neuen Dienstleister für die Zahlungsabwicklung. Und zum Glück nur noch für den Tag, aber nicht mehr mit Zeitfenster. Kein Wunder, dass niemand mehr helfen wollte, die Lösungen zu finden und die Probleme zu lösen. Nur noch die Familienkarten gibt es über SJ. Es gibt nur Kartenzahlung. Meine Buchung wird im System von SJ gefunden und wir können vor Ort zahlen und sofort rein. Der Inhalt der Ausstellung sorgt direkt dafür, dass man den gesamten Ärger vergisst. Jede Zeile von "
Mamma Mia
" und "
Dancing Queen
" usw., die ich mitsinge, verbessert meine Laune. Und ich bin auch nicht der einzige. Später mache ich mich zum Narren, in dem ich auf die Bühne gehe... Es macht Spaß. Jeder tut es. Und jeder hat gute Laune danach. Ein ABBA-Kreuzfahrtschiff und ich wäre der erste Gast der bucht!!!

ABBA-The Museum. I booked tickets BUT I could not make the payment. Desperately I called the Swedish Railways SJ who were in charge for Online-Ticket-Sales. And with the payment service provider. And in the museum. Nobody could help: No credit card worked. Neitehr a German nor a Swiss. Neither a MasterCard nor a Visa. Neither a prepaid nor a classical credit card. Our time was very limited and I could buy any online-tickets and I should queue up and loose time. Few mails and calls went forth and back. Today the museum has a new service provider for the sales of Online-Tickets for individual visitors and a new service provider for the payments. And happily only the day you need the book but not anymore with a time slot. No wonder that none wanted to help to find the solutions and solve the problems. Family tickets were still available with SJ. They had only card payment. They found my booking in the system of SJ and we could pay there and got in immediately. The contents of the exhibition made you forgetting all the anger you had so far. Every line of "Mamma Mia" and "Dancing Queen" etc I was singing along improved my mood. And I was not the only one. Later I made myself to a fool by entering the stage... It was fun. Everybody did it. And everyone was happy thereafter. An ABBA-cruise ship and I will be the first guest to book!!!

The Concours Grand Prix de l'Eurovision de la Chanson - not Eurovision Song Contest like it was called nowadays. With my first public performance on a little stage singing "Sattelite" by Lena. Unfortunately there was no song I really loved to sing more: the selection was very fixed to Scandinavia (entries or venues). And all historical clips they played: I was in heaven. How much more I would like to sing "Hold me now" by Johnny Logan or "Ne partez pas sans moi" by Céline Dion or "Eres Tú by Mocedades or "Love shine a Light" by Katrina and the Waves. With the quiz I really was not super but also not really bad. I was becoming older and more forgetful and I could not react so fast anymore.

Der
Concours Grand Prix de l'Eurovision de la Chanson
- nicht Eurovision Song Contest, wie er heute heißt. Mit meinem ersten öffentlichen Auftritt als Lena mit "
Sattelite
" auf kleiner Bühne. Einmal Narr - immer Narr. Leider gab es kein Lied im Angebot, das ich lieber gesungen hätte: die Auswahl ist sehr Skandinavien bezogen (Beiträge oder Übertragungsorte). Und all die historischen Clips die eingespielt wurden: ich bin im Himmel. Wie gerne hätte ich lieber "
Hold me now
" von Johnny Logan oder "
Ne partez pas sans moi
" von Céline Dion oder "
Eres Tú
" von Mocedades oder "
Love shine a Light
" von Katrina and the Waves gesungen. Beim Quiz bin ich nicht super aber auch nicht so schlecht. Ich werde halt älter und vergesslicher und kann nicht mehr so schnell reagieren.
Am Ende gibt es noch eine Ausstellung über die schwedische Pop-Musik.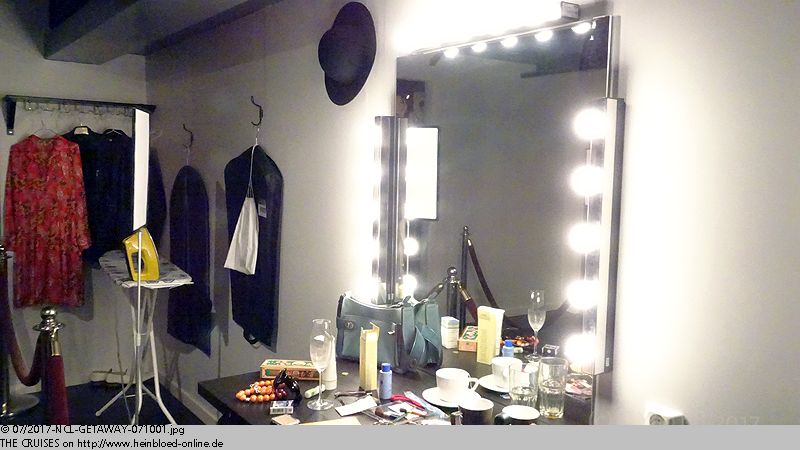 At the end they had an exhibition on Swedish pop music.

As many of the artists were not popular in Germany we only quickly stopped by.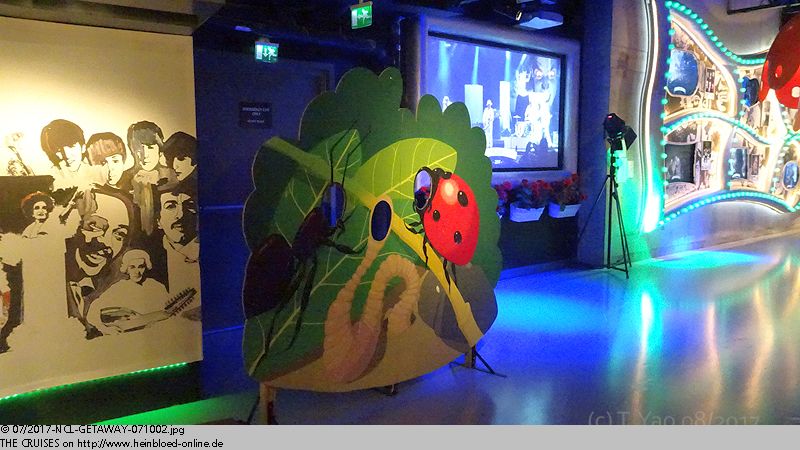 Aber da viele der Künstler in Deutschland unbekannt sind, laufen wir nur schnell durch.
Uns fehlt einfach der Bezug.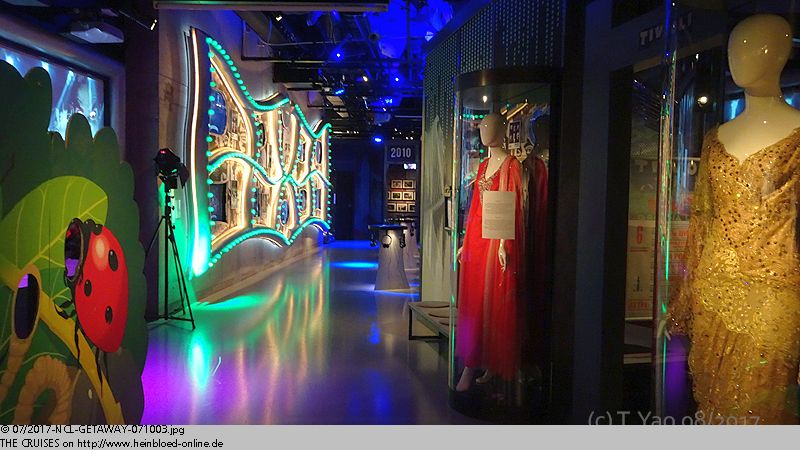 We had no relationship to the exhibits.

But it was made very nice optically.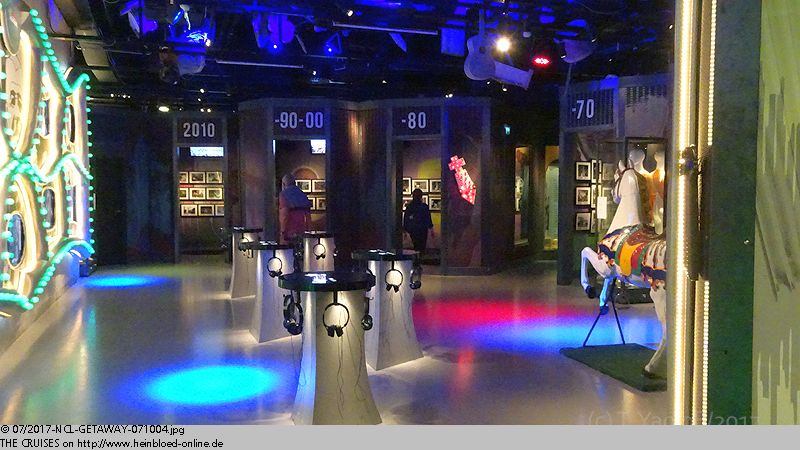 Optisch aber toll gemacht.
Ein toller Aufenthalt, den wir leider schneller beenden müssen, als wir ursprünglich geplant haben.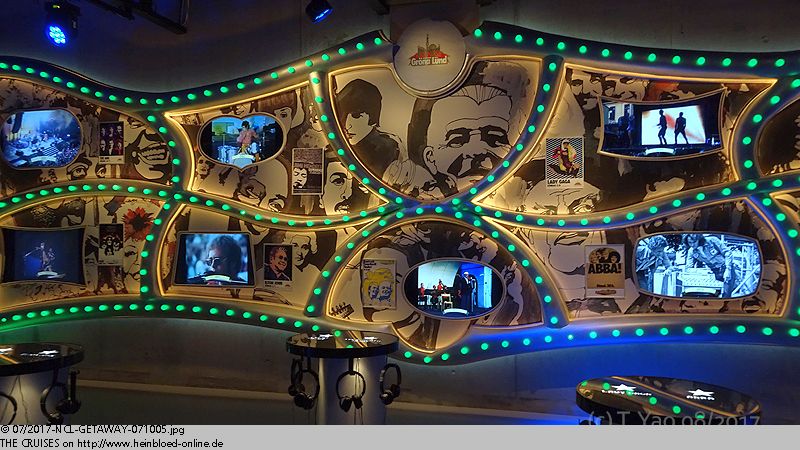 A great stay which we quickly need to finish as we originally scheduled.

On Ferry 82 of the public transport company Storstockholms Lokaltrafik SL we went from Djurgården to Slussen. The ferry pier was more or less just behind the ABBA-Museum. I downloaded the app before so that we simply could buy mobile tickets on my iPhone. You need to scan the barcode at the counter. A very nice ride which was simply too short.

Mit der
Fähre 82
der öffentlichen Verkehrsbetriebe
Storstockholms Lokaltrafik SL
fahren wir von Djurgården nach Slussen. Der Fähranleger liegt quasi hinter dem ABBA-Museum. Ich habe auch hier die App heruntergeladen, so dass wir einfach auf meinem iPhone mobile Tickets kaufen können. Den Barcode muss man am Schalter am Scanner vorbeiführen. Eine schöne Fahrt, die zu kurz ist.
"Und das wäre Ihr Preis gewesen":
Stadsgården
. Hier hätten wir ursprünglich anlegen sollen!!!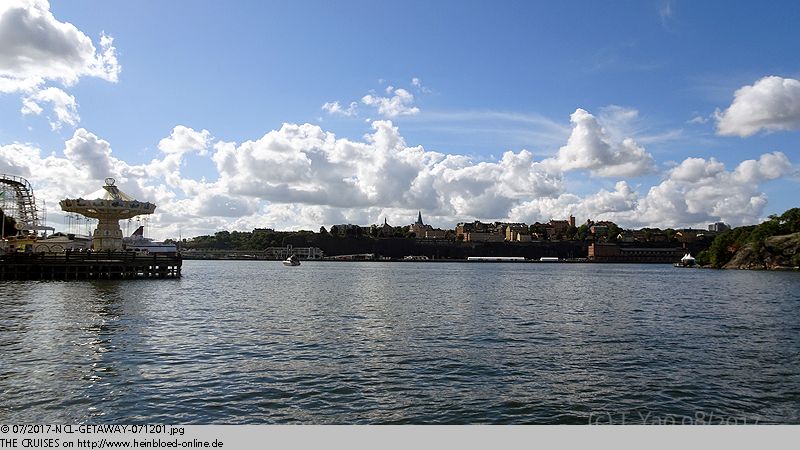 "This could have been ours": Stadsgården. We should originally docked here!!!

And now we were so far outside...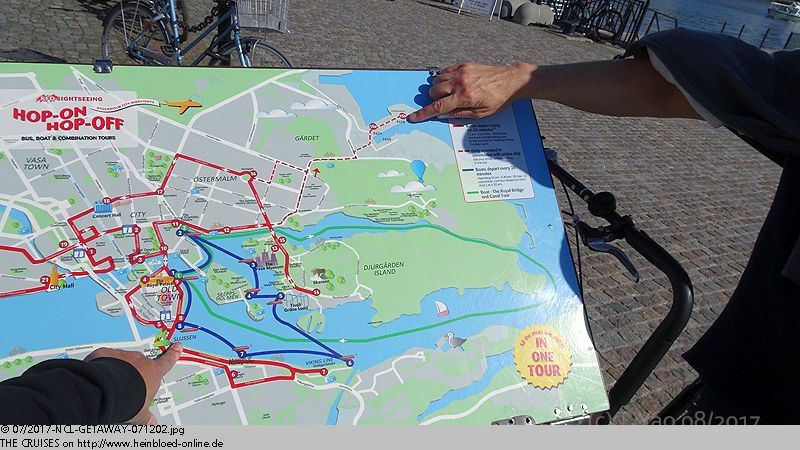 Und jetzt sind wir so weit draußen...
Nach dem wir die Fähre verlassen haben, sind wir mitten in der Altstadt. Wir laufen herum. Hier fahren auch HoHo-Busse los. Und ein schöner Obststand... und wieder Farb- und Aromatherapie. Und wieder keine Pittahaya.

After we left the ferry we were in the center of the Old Town. We walked around. Here you had also HoHo-Buses leaving. And a very nice fruit stand... and again color and aroma therapy. But again no dragon fruit.

As we had little time only we went to have a small bite in Espresso House. A must to have some shrimps when you were in Sweden. Here I learned: all our SEK-changes were not valid anymore.

Da wir wenig Zeit haben, gehen wir nur eine Kleinigkeit im
Espresso House
essen. Ich muss zumindest ein paar Krabben haben, wenn ich schon in Schweden bin. Hier lerne ich: unsere ganzen SEK-Münzen gelten nicht mehr.
Wieder mit dem Segway unterwegs. Zum dritten Mal nach San Francisco nach der
CARNIVAL SPIRIT 2011
und früher dieses Jahr in Palma de Mallorja auf der
COSTA FAVOLOSA 2017
. Dieses Mal mit Frederick von
DayTrip Stockholm
. Gebucht waren wir für 10.30 Uhr. Durch die späte Ankunft und Terminalwechsel war das nicht zu schaffen. Sie bieten uns aber einen Wechsel auf eine Extra-Tour um 13.00 Uhr an. Das passt gerade, weil wir ja um 15.30 Uhr zurück sein müssen. Es sind noch mehr von der NORWEGIAN GETAWAY dabei, die davon betroffen sind. So starten wir pünktlich, auch wenn immer noch welche fehlen. Die Tour macht wieder richtig Spaß: eine tolle Tour in einer tollen Stadt bei tollem Wetter. Was will man mehr? Und sie kostet nur die Hälfte wie in Palma de Mallorca. Die Stadt ist einfach traumhaft. Hier kommen wir auf jeden Fall wieder.

Again on our way by Segway. The third time after San Francisco, CA after CARNIVAL SPIRIT 2011 and in Palma de Mallorca, Spain earlier this year on COSTA FAVOLOSA 2017. This time we had Frederick of DayTrip Stockholm. We were originally booked for 10.30 hrs. Due to late arrival and change of terminal we coould not make it. They offered us to switch to an extra-tour at 13.00 hrs. That would fit perfectly because we need to be back at 15.30 hrs. There were few more from NORWEGIAN GETAWAY who were affected. So we started on time even few still were missing. The tour was fun again: a great tour in a great city while we had great weather. What else you do need? It costed only half of the price we paid in Palma de Mallorca. The city was just a dream. We must come back another time.

During the Segway-Tour we saw BIRGER JARL which was in use as hotel ship nowadays. So we had already the perfect stop to stay here overnight in case we should come back to Stockholm.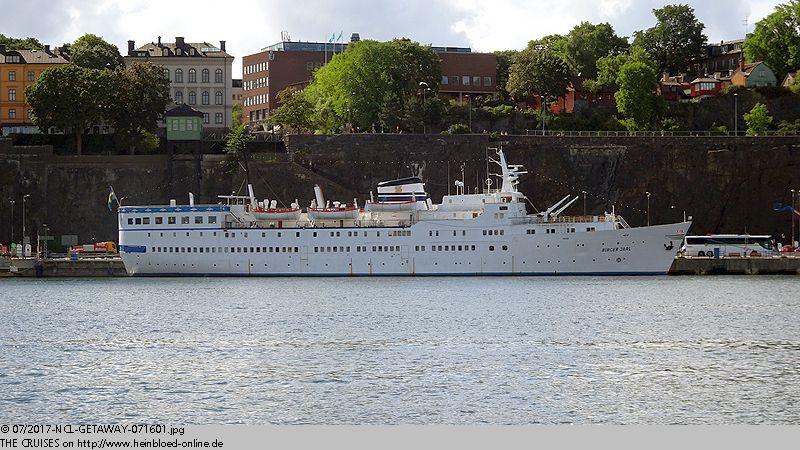 Während der Segway-Tour sehen wir die
BIRGER JARL
, die heute als Hotelschiff dient. Also schon mal der perfekte Ort, um zu übernachten, falls wir wieder nach Stockholm kommen.
Und wir sehen auch die
BIRKA STOCKHOLM
. Nicht nur hier in
Stadsgården
- sondern auch später fährt sie vor uns die Schären wieder raus. Ein Traum. So könnten wir also sicherstellen, dass wir in Stadsgården anlegen und durch die Schären fahren. Übrigens auch die Fähren der
Viking Line
nach Helsinki legen in Stadsgården an und fahren somit durch die Schären. Mal sehen, wie wir so eine künftige Reise arrangieren. Chantal ist ja auf der COSTA MEDITERRANEA. Diese Fahrt ist in Deutschland unbekannt, weil sie dort nicht vermarktet wird: Beginn und Ende in Stockholm mit Übernachtung an Bord am Anfang und am Ende. Nur leider ab Freihafen. Auch
St. Peter Line
fährt aus dem Freihafen nach St. Petersburg. Dort könnten wir dann bis 72 Stunden visumfrei uns aufhalten, wenn wir uns ein Hotelgutschein besorgen. Nun müssen wir mal in Erfahrung bringen, wie das geht.

And we saw BIRKA STOCKHOLM too. Not just here at Stadsgården - but also later when she sailed in front of us out of the archipelago. A dream. So we could secure to dock at Stadsgården and to sail through the archipelago. By the way also the ferries of Viking Line to Helsinki, Finland dock at Stadsgården and set sail through the archipelago. Let us see how we arrange a future voyage. Chantal was on COSTA MEDITERRANEA. This itinerary was in Germany unknown because it was not sold there: Start and end of the cruise in Stockholm incl. overnight stay at the start and end of the cruise. But in the Freeport. Also St. Peter Line goes from Freeport to St. Petersburg, Russia. There we could stay upto 72 hours without visa if we could get a hotel voucher. Now we need to find out how it works.

By Bus 76 (2017) we would normally reach directly the Freeport from the Old Town Räntmästartrappan. You should not get off at Frihamnen (Here also the buses 1 and 91 terminate / 2017) but that was not the next stop to the Cruise Terminal but Frihamnens färjeterminal (Ferry Terminal) was not the next stop. It was still a certain distance apart from the Cruise Terminal: behind the silos. We gave the bus another 5 minutes. But Bus 76 did not came. We took a taxi which we shared with other cruisers. It was not cheap but still cheaper than two train- or air-tickets to Copenhagen, Denmark. Around 15.20 hrs we arrived at the pier. When they moved away the gangway someone ran from the silos to the terminal. No idea if he caught the ship. Obviously the ship arrived now.

Mit
Bus 76
(2017) wären wir in den Freihafen aus der Altstadt an der Haltestelle Räntmästartrappan gekommen. Man darf allerdings nicht Frihamnen aussteigen (Hier enden auch die Busse 1 und 91 / 2017), aber das ist gar nicht die nächste Haltestelle zum Cruise Terminal, sondern Frihamnens färjeterminal (Fährterminal) ist die nächste Haltestelle. Es ist allerdings noch ein Stück vom Cruise Terminal entfernt: hinter den Silos. Die Tickets haben wir bereits gekauft, aber der Bus kommt nicht. Wir geben dem Bus noch 5 Minuten. Aber Bus 76 kommt nicht. Wir nehmen ein Taxi, das wir mit anderen Kreuzfahrern teilen. Billig ist es nicht, aber billiger als zwei Bahn- oder Flugtickets nach Kopenhagen. Gegen 15.20 Uhr sind wir tatsächlich am Pier. Als die Gangway eingezogen wird läuft jemand von den Silos kommend noch zum Terminal. Keine Ahnung, ob er das Schiff noch bekommen hat. Offensichtlich ist wohl der Bus jetzt erst angekommen.
Wir müssen direkt ins Vibe und uns erholen. Kailash hat schon Obstspieße für uns zur Erfrischung bereit.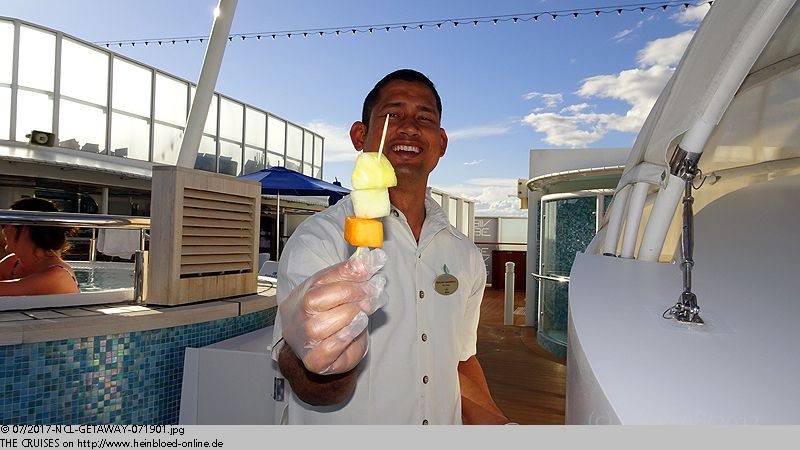 We need to go immediately to Vibe and to recover us. Kailash kept the fruit kebab ready as refreshment for us.

We enjoyed the stay.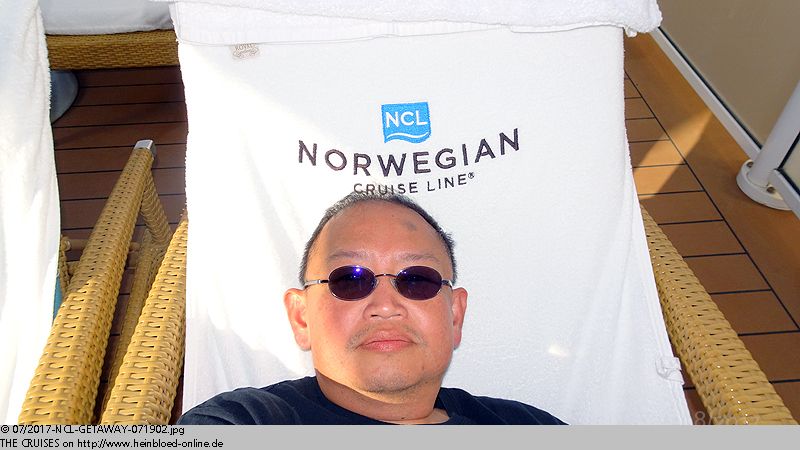 Wir genießen den Aufenthalt.
Und so machen wir auch für NCL und den Vibe gerne Werbung.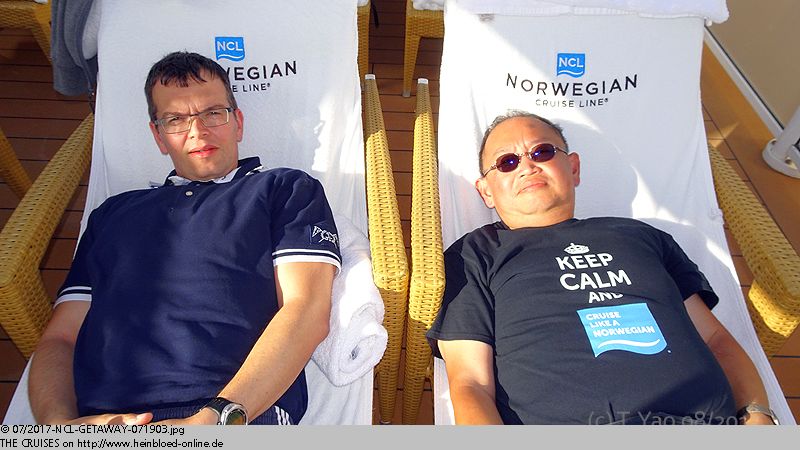 And so we made some advertising for NCL and Vibe.

Also the set sail was only gorgeous. Here few more impressions without BIRKA STOCKHOLM.

Auch die Ausfahrt ist nur schön. Hier noch ein paar Ansichten ohne BIRKA STOCKHOLM.
Sonderessen im O'Sheehan's Cajun Shrimps und Short-Rip und oben wird gegrillt. Die Shanghai Nudelbar. Ein wenig in die Ecke geklatscht. Komplett offen. Direkt am Ende des Casinos. Mittags gibt es nichts mehr. Und es ist kostenlos.

Special meal at O'Sheehan's Cajun Shrimps and Short-Rip and they had barbecue upstairs. The Shanghai Noodle Bar. Somehow clapped into the corner. Completely open. Directly at the edge of the casinos. Noon you did not get anything anymore. And it was complimentary.

We were no big fans of the Manhattan Room or Tripincana as it was called here onboard of NORWEGIAN GETAWAY. It was too loud to us. So we went there when it openend. The band did not play from the beginning and there were not so mayn guests inside. We had a lot of luck with the service:
at the reception we ran into the arms of I Wayan Agustama and we requested to have a table with his service station. We got a nice table at the window and Daniel Tresham was also part of the team. We experienced again a very nice service - actually on a level like in an alternative dining venue. And we had also great exclusive food: they had Cajun Shrimp and Short-Ribs and mixed grill... should these not be available exclusively in O'Sheehan's and Garden Café? The short-rib was so tender and soft: ich could eat it with a tea-spoon and the sauce... only delicious.

Wir keine großen Fans vom Manhattan Room bzw. Tropicana, wie es hier an Bord der NORWEGIAN GETAWAY heißt. Uns ist es zu laut. So gehen wir direkt zur Öffnung hin. Da spielt die Band noch nicht von Anfang an und es sind noch nicht viele Gäste drin. Mit dem Service haben wir sehr viel Glück: beim Empfang laufen wir direkt I Wayan Agustama in die Arme und wir äußern den Wunsch in seinem Bereich zu sitzen. Wir bekommen einen schönen Tisch am Fenster und auch Daniel Tresham ist auch mit im Team. Wir erleben wieder einen sehr sehr schönen Service - eigentlich schon auf einem Niveau wie in einem Zuzahlrestaurant. Und dazu noch tolles exklusives Essen: es gibt Cajun Shrimps und Short-Ribs und Grillteller... sollte das nicht exklusiv im O'Sheehan's und Garden Café geben? Das Short-Rib ist so zart und weich: ich kann es mit dem kleinen Löffel essen und die Sauce... Nur lecker.
Abends gibt es das "Million Dollar Quartet".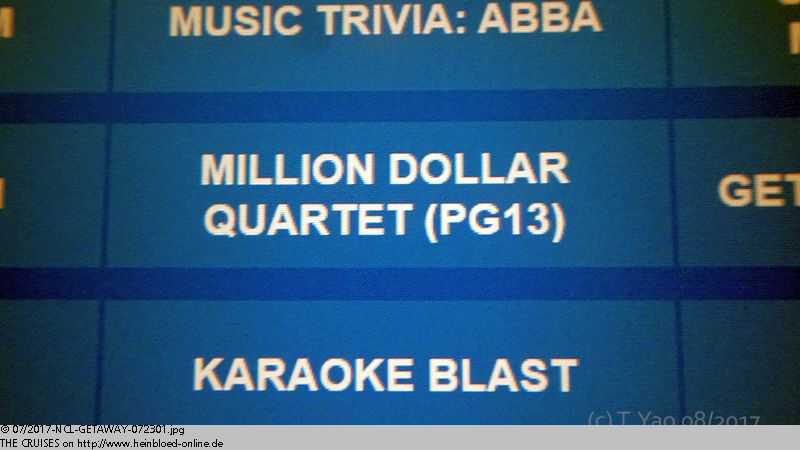 The night they had "Million Dollar Quartet".

The show was about a jam session in 1956 with Sun Records. It was Elvis Presley, Jerry Lee Lewis, Johnny Cash and Carl Perkins whom I never heard about before.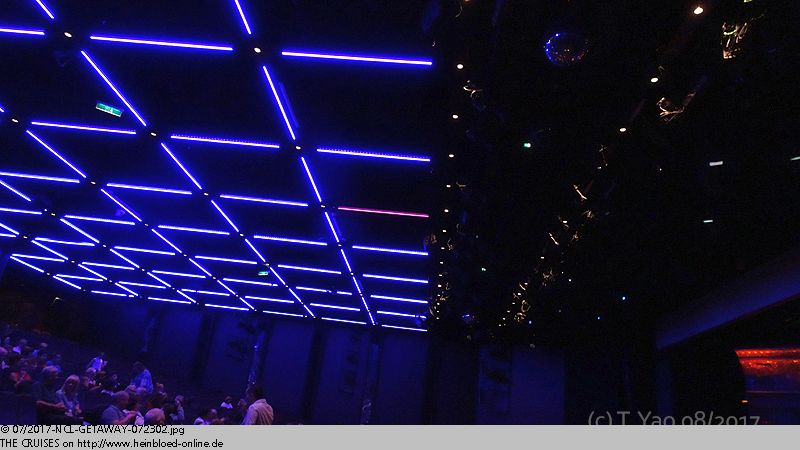 Die Show handelt von einer Jam-Session im Jahre 1956 bei den Sun Records. Dabei waren Elvis Presley, Jerry Lee Lewis, Johnny Cash sowie Carl Perkins, der mir allerdings nichts sagt.
Komisch: das kommt mir irgendwie bekannt vor. Auch wieder ein 2. Versuch nach
NORWEGIAN ESCAPE 2015
.

Funny: looked familiar to me. Again a second try after NORWEGIAN ESCAPE 2015.

Then we left prematurely. It was too loud and we did not like the music.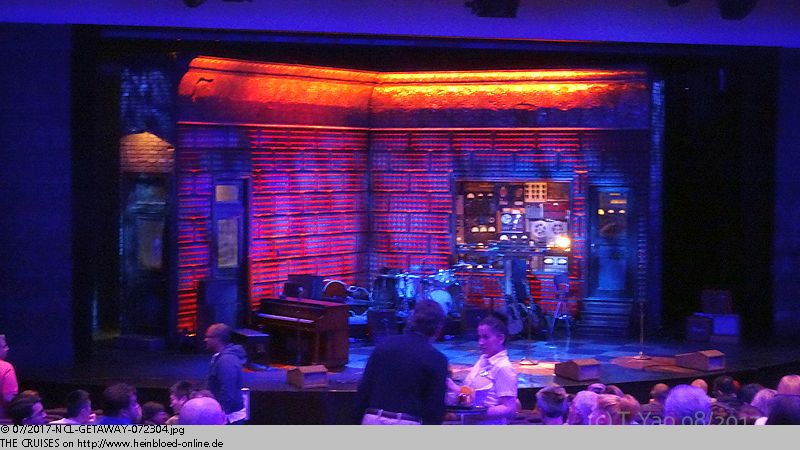 Damals sind wir vorzeitig gegangen. Es war zu laut und die Musik sagte uns nicht zu.
Und auch heute wiederholt sich das. Wenn auf allen Schiffen immer die gleichen Shows stattfinden, fallen die Gründe wegen der Shows mitzufahren weg. Für mich sind die Shows wichtig.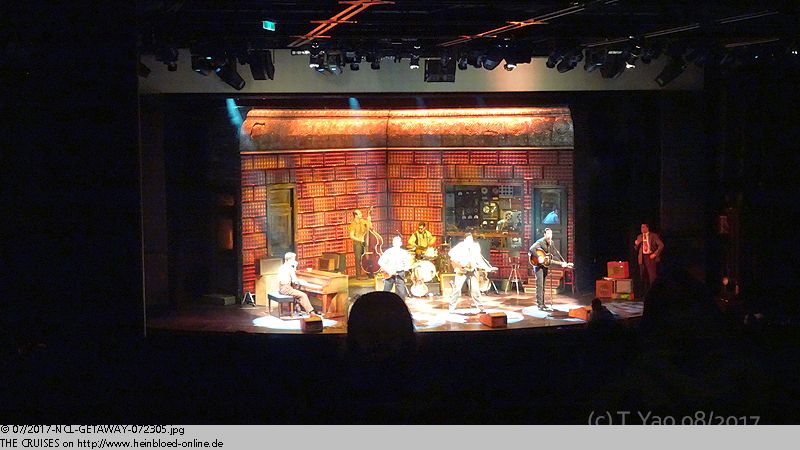 And it repeated again that day. If on all ships they present the same show reasons to book again because of the show. For me the shows are very important.

We discovered always something new. Bruno tried to pose as grid girl on the round sofa. And why Nynäshamn, Sweden?

Wir entdecken immer etwas neues. Bruno versucht sich als Boxen-Luder auf dem runden Sofa. Und wieso Nynäshamn?
Zurück in unserer Kabine. Unsere täglichen Grüße.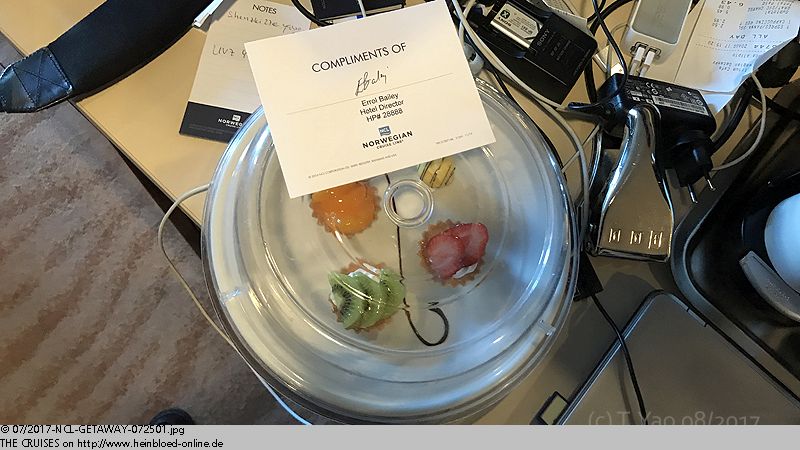 Back in our cabin. Our daily greetings.

Wo got back laundry: but it was not ours... Ladies' underwear was listed... Well... we did not check anymore... curious to know who had our laundry... The number on the list was our cabin number...

Wir bekommen Wäsche zurück: es ist nur nicht unsere... Damenwäsche steht auf der Liste... Nun gut... wir sehen uns das nicht näher... mal gucken, wer unsere Wäsche hat... Die Nummer auf dem Zettel ist unsere Kabinennummer...
Programm für den Seetag... ENDLICH... und Fragebogen.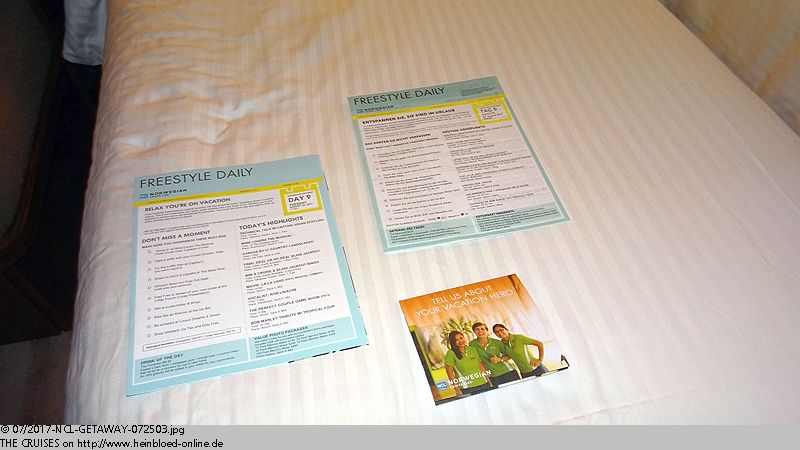 Programme for the day at sea... FINALLY... and questionnaire.

And a greeting for a Good Night.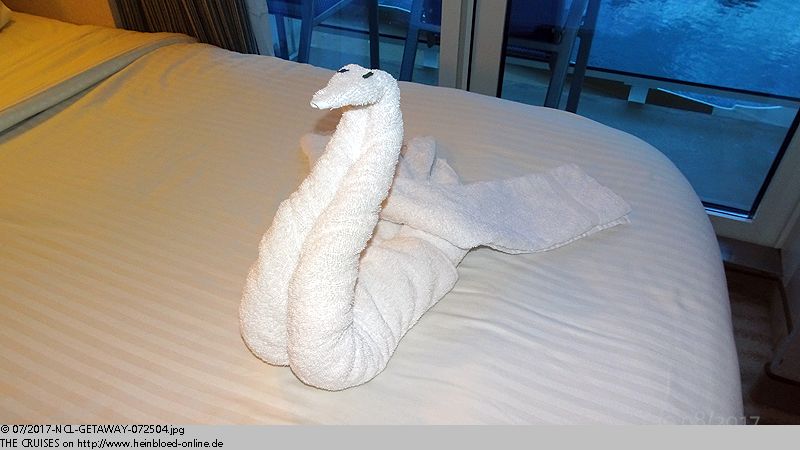 Und ein Gruß zur Guten Nacht.