MAGELLAN... haben wir ja noch vor wenigen Tagen in Warnemünde gesehen. Wir hören extra früher mit unserem Ausflug auf, damit ich die schöne Ausfahrt sehen kann. Der Sonne entgegen.

MAGELLAN... we saw few days ago in Warnemünde, Germany. We stopped earlier with our tour that I could see the beautiful set sail. Towards the sun.

Same for MONARCH which was waiting for us already in St. Petersburg, Russia.

Gleiches gilt für die MONARCH, die bereits in St. Petersburg uns erwartet.
Die Sonne geht über St. Petersburg auf. Wir kommen am "neuen" (seit 2008)
Cruise Terminal
auf der Wasiljewski Insel an. Auf der
LILI MARLEEN 2006
-Reise haben wir an einem alten Sowjetbau angelegt. Von hier aus sehen wir die Baustelle vom
Lakhta Center
, die unter anderem die neue Konzernzentrale von Gazprom beherbergt. Außerdem sehen wir von Bord aus die neue
Piter-Arena
, das neue Fussball-Station für die Fußball-WM 2018 in Russland.

The sun rose over St. Petersburg. We arrived at the "new" (since 2008) Cruise Terminal on Vasilyevsky Island. On our LILI MARLEEN 2006-voyage we docked at an old Soviet Building. From we could see the construction site of the Lakhta Center which hosts also the new corporate office of Gazprom. Further we could see from the ship the new Piter-Arena the new Soccer-Stadium for the Soccer World Cup 2018 in Russia.

We were at Terminal 4. They had Duty Free Sales in the terminal. Even to be used without visum and immigration. Immigration took a little longer the 1st day. On the 2nd day it went very fast. Even there was a public bus. It would be introduced the following day as we will use it.

Wir sind am Terminal 4. Es gibt zollfreien Einkauf im Terminal. Sogar ohne Visum und Einreise nutzbar. Die Einreise zieht sich doch am 1. Tag etwas hin. Am 2. Tag ging es sehr schnell. Es fährt sogar ein öffentlicher Bus. Der wird morgen vorgestellt, da wir ihn nutzen werden.
Zunächst müssen wir aber unsere Wäsche abgeben.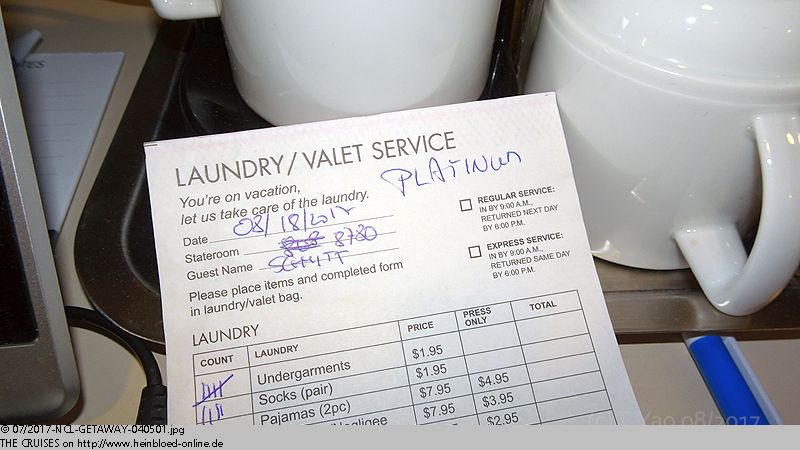 First of all we need to prepare our laundry.

Let us see if they would attend to the remarks...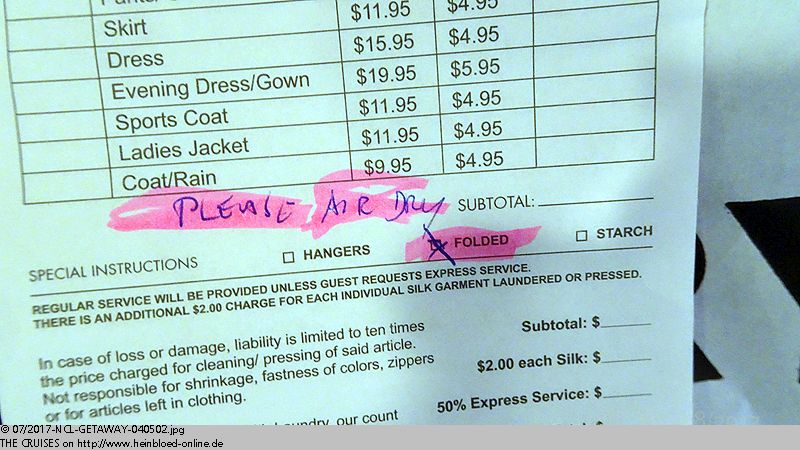 Mal gucken, ob das beachtet wird...
Es geht wieder zum Frühstück. Bruno wird verwöhnt. Er bekommt alles, was er für sein Frühstück braucht. Und ich bekomme mein Kümmelbrot. Wir genießen den tollen Service von Daniel Tresham und I Wayan Agustama.

We went again for breakfast. Bruno was pampered. He got every everything he loved to have for breakfast. Und I got again my ryebread with careaway. We enjoyed the great service of Danien Tresham and I wayan Agustama.

We did not need a visa because we had tour tickets. I contacted all popular tour agents. The decision was made because one agency met my individual requests and the quotation was not totally overdrawn. I did not want to join a group to get discounts and wanted to be squeezed into a bus. We got an immigration card which must stay in the passport. We decided deliberately for a later start of our tour. We did not want to leave with a the tons of guests. But it took longer unfortunately. So I wrote a text message to the number which I got from Best Guides St. Petersburg. I did not aware since we were Lord of the tour of our own. Das I learned some Russian for a one year during I went to school I still could say some words in Russian like Good Morning/Afternoon (Здравствуйте), Please (пожалуйста), Thank you (спасибо), Good Bye (До свидания). Obviously Mrs Lipa tought me very well that I had such a great pronounciation that they thought it might be my mother-tongue and asked in Russian. Never again I want to be polite and speak Russian when entering or exiting Russia!!! So we were totally surprised when we asked after immigration inspection why we came out so late. I have to amit that I was very upset because I liked to have the number of the tour guide better to discuss directly. So I had the impression for a short moment that maybe my ideas were not communicated properly. We claried very quickly that we were not under time pressure to come through all items on our itinerary as originally scheduled. At the beginning of the tour we got a presentation of the Romanows so we knew whom was talking about during the explainations.

Wir brauchen kein Visum, weil wir Tour Tickets haben. Ich hatte alle bekannten Touragenturen kontaktiert. Die Entscheidung fiel, weil eine Agentur am ehesten meinen individuellen Wünschen entgegen gekommen ist und es preislich nicht total überzogen ist. Ich wollte ja mich nicht einer Gruppe anschließen, um Rabatte zu bekommen und möglichst in einen Bus eingepfercht zu werden. Wir wollten nur für uns beide ein Tour in Deutsch. Wir bekommen eine Einreisekarte, die unbedingt im Pass verbleiben muss. Wir haben uns ja bewusst für einen sehr späten Beginn des Ausfluges entschieden. Wir wollten ja nicht mit den Massen aus. Aber leider zieht sich das hin. So schreibe ich eine SMS an die Nummer, die ich von
Best Guides St. Petersburg
bekommen habe, um darüber informieren, dass wir noch ca. 30 Minuten brauchen. Uns ist es ja egal: wir sind ja Herr der eigenen Tour. Da ich früher mal auf dem Gymnasium ein Jahr Russisch gelernt habe, kann ich immer ein paar Brocken, wie Guten Tag (Здравствуйте), Bitte (пожалуйста), Danke (спасибо), Auf Wiedersehen (До свидания). Anscheinend hat Frau Lipa mir das sehr gut beigebracht, weil ich es so gut ausspreche, dass ich für einen Muttersprachler gehalten werde und auf Russisch befragt werde. Nie wieder werde ich höflich sein und Russisch sprechen, wenn ich in Russland ein- oder ausreise!!! Deswegen sind wir verwundert, als wir nach der Einreisekontrolle gefragt werden, warum wir so spät erst rauskommen. Ich gebe zu, dass ich verärgert bin, weil ich schon gerne die Mobiltelefonnummer des Führers hätte, um Sachen direkt besprechen zu können. Daher entsteht bei mir kurzzeitig der Eindruck, dass möglicherweise meine Vorstellungen nicht vollständig kommuniziert wurden. Wir klären dass aber schnell, dass wir jetzt nicht unter Zeitdruck stehen, um alles durch zu ziehen, was ursprünglich geplant war. Am Anfang der Tour bekommen wir erst mal eine Darstellung der Romanows, damit wir wissen, von dem die Rede bei den Erläuterungen ist.
Wir werden von unserer Fremdenführerin Anna und dem Fahrer German abgeholt. Die ersten Eindrück der Stadt sind schon mal sehr gut. German beruhigt mich, als ich mich schon wie damals als Beifahrer, in einen Autounfall verwickelt sehe. German meint nur "Professional Driver". Der erste Eindruck entsteht an der Ufern des Flusses Newa. Von hier sehen wir auf die
Peter und Paul Festung
rüber. Und der nächste Halt in der
Wladimirskaja Kirche
. Da ich kurze Hosen anhabe, darf ich nicht in eine russisch-orthodoxe Kirche rein. Auch ist Fotografieren in den Kirchen verboten.

We were collected by our tour guide Anna and the driver German. The first impression of the ciy was quite nice. German calmed me down when I saw myself involved in a car accidend as co-driver. He only mentioned "Professional Driver". The first impression was made at the riverbanks of the river Neva. From here we could see over to the Peter and Paul Fortress. And the next stop was Vladimirskaya Church. As I weared shorts I was not allowed to enter a Russian-Orthodox church. Also it was forbidden to take pictures in the churches.

On the river Neva there was one cruise ship: just in front of the Blagoveshchenskiy Bridge at the street English Embankment.

Auf der Newa liegt ein Kreuzfahrtschiff: direkt vor der Blagoweschchenskij Brücke an der Straße English Embankment.
AZAMARA JOURNEY.

AZAMARA JOURNEY.

She had the Pole Position: just in viewing distance to Isaac's Cathedrale.

Sie hat die Pole-Position ergattert: In Sichtweite der
Isaaks-Kathedrale
.
Wir lieben Märkte, so gehen wir in die Kuzneschnij Markthalle. Wir mögen es hier. Anna sagt uns allerdings, dass man mehr so am Straßenrand kauft. Dort sieht das Angebot auch sehr gut aus. Ich hätte ja Lust jetzt mir sofort ein paar Pfifferlinge mit Speck in Rahmsauce und Speckknödel zu machen. Was macht man wohl hier in Russland damit? Für Bruno ist der Anblick der Beeren wie eine Farbtherapie.

We love markets so we went to Kuzneshniy Market. We liked it there. Anna told us that it was more popular to buy on the roads. There the offer looked very well. I really liked to have some chanterelles with bacon in a cream sauce and bacon dumplings. Wondering how they would prepare them in Russia? For Bruno the view of the berries was like a color therapy.

We went by Metro in St. Petersburg. You must see the splendor of the Soviet-era. You can easily do it yourself because meanwhile everything was also displayed in English. For only 45 RUB (2017 = 0.65 EUR/0.80 USD) we made a time voyage. As a passenger riding a single voyage you get a token. We went again very deep into the earth - like in London, England. It was a quite small network for such a big city. We went a part from Vladimirskaya via Pushkinskaya and Kirowskiy Zavod to Avtovo and met here German again.

Wir fahren
U-Bahn in St. Petersburg
. Die Pracht der Sowjetzeit muss man einfach mal kurz ansehen. Kann man auch sehr gut selbst machen, weil mittlerweile alles auch in Englisch ausgeschildert ist. Für nur 45 RUB (2017 = 0,65 EUR/0.80 USD) macht man diese Zeitreise. Als Fahrgast auf einer Einzelfahrt holt mal sich ein Wertmünze. Es geht wieder tief in die Erde - so ähnlich wie in London. Es ist ein kleines
Netz
für so eine große Stadt. Wir fahren jedoch ein Stück von Wladimirskaja über Puschkinskaja und Kirowskij Zawod nach Awtowo und werden dort von German abgeholt.
Hier geht es an der St. Petersburger Residenz von Putin vorbei: dem
Konstantinpalast
. Wir fahren kurz für einen tollen Blick über die Ostsee an einen Seiteneingang des Parks. Here machen wir ein paar schöne Bilder wie damals die Zarenfamilie. Anna schlägt vor, dass wir bei Putin zu Mittagessen, aber sein Restaurant hatte geschlossen.

Here we went to the St. Petersburg Residence of Putin: the Konstantin Palace. We went to the side entrace of the park to have a wonderful view on the Baltic Sea. Here we made some nice pictures like the Family of the former Emporor. Anna suggested to eat with Putin but his restaurant was closed.

We went for lunch to Café Wena. Looked very nice and it tasted well too. Again some Solyanka and also Pelmini. Very yummy. But more or less near Western price level.

Im
Café Wena
gehen wir zum Mittagessen. Sieht sehr nett und schmeckt auch. Schon wieder Soljanka und auch Pelmini. Alles sehr lecker. Aber schon fast westliches Preisniveau.
Es geht zum
Peterhof
- dem Versaille des Ostens. Wir sind sehr beeindruckt. Am besten sich das mal selbst unter der fachkundigen Führung von Anna ansehen und sich alles erklären lassen. Ich habe hier soviel an tollen Eindrücken und Informationen mitgenommen, dass ich es nicht wiedergeben kann. Ein wunderschöner Ort. Ich würde sicherlich nochmals wiederkommen und die Innenausstellung mir ansehen und mit dem Tragflügelboot kommen, die von St. Petersburg hierher fahren.

We headed to Peterhof - the Versaille of the East. We were very much impressed. The best would be to see it yourself under the professional guidance of Anna and let her explain everything. I collected here so much on great impressions and information which I could not repeat. A beautiful spot. I would definately return to see the interior exhibition and come by jet foil boats which started from St. Petersburg.

We could even see NORWEGIAN GETAWAY. But I tried to find Peterhof from the ship. I could not find anything. One of the moments I wished I had our binoculars of Princess with me which we got then on OCEAN PRINCESS 2010 for sleeping on a sofa in front of the reception. We got then such a generous OBC that we need to spend on the last day. Normally we had it always with us but nobody had use of.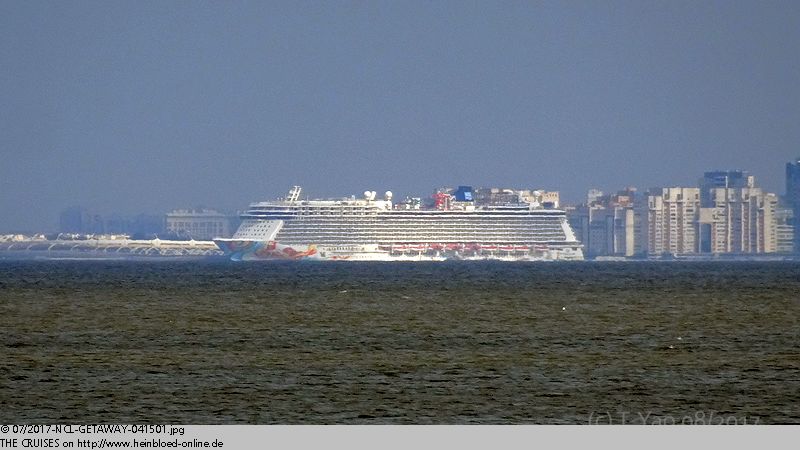 Wir können sogar rüber zur NORWEGIAN GETAWAY gucken. Aber vom Schiff habe versucht etwas vom Peterhof zu sehen. Ich konnte nichts finden. Einer der Momente, wo ich mir gewünscht hätte, dass wir das Fernglas von Princess mitgenommen hätten, das wir damals auf der
OCEAN PRINCESS 2010
quasi für meine Übernachtung auf dem Sofa vor der Rezeption bekommen haben. Wir bekamen damals ein großzügiges Bordguthaben, das wir am letzten Tag aufbrauchen mussten. Sonst habe ich es immer mit und wir haben es nie gebraucht.
Es geht zurück in die Stadt zum Isaaksplatz. Hier waren wir bereits damals während der Reise auf der
LILI MARLEEN 2006
: unsere allererste Kreuzfahrt. Hier ist die Issakskathedrale, die wir auch heute nicht schaffen von innen zu sehen und das
Hotel Astoria
bzw. das angeschlossene
Hotel Angleterre
. Bekannt ist es, weil wohl Hitler schon seine Siegesfeier zur Eroberung der Stadt Leningrad (1924-1991, und 1914-1924 auch Petrograd) hier geplant hatte, aber dann nie stattfand, weil er sie nie erobert hatte. Auch war es wohl das Liebesnest von Rasputin (1869-1916, Geistheiler auf dem Zarenhof, der ermordert wurde). Das Who is Who steigt hier ab. Möglicherweise wie damals Frances sich die Toilette mit Ihrer Majestät Königin Elizabeth II. auf der königlichen Yacht BRITANNIA in Leith, Schottland während unserer
NORWEGIAN SUN 2012
-Reise geteilt hat, habe ich möglichweise 2006 die Toilette mit Prinz Charles geteilt. Für uns viel wichtiger: eine sehr gute Freundin hat hier als Bar-Pianistin gearbeitet und mit ihr haben wir damals Kaffee getrunken. Sie hat mir einen guten Musikgeschmack beigebracht, welche Stücke man von einem Barpianisten sich wünschen sollte, wenn man Eindruck machen will: Cissandra. Auf der
QUEEN MARY 2 2014
habe ich im Commodore Club bei Bernardette immer die Stücke gewählt, die mir Cissandra beigebracht hat. Darauf hin bekam ich immer bei meinen Stücken "My favorite song" und meine Stücke wurden bevorzugt gespielt. Wir freuen uns auf jeden auf die GRAND PRINCESS 2018, die uns nach San Francisco führt. Eine gute Gelegenheit, um sie auf den Weg nach Las Vegas wieder zu besuchen. Und von Cissandra wissen wir auch, wie viel besser das russische Eis gegen über den westlichen internationalen Marken sein kann. Wir erzählen Anna, dass wir in Deutschland die russische Marke
Plombir (Пломбир)
bekommen. Die Homepage gibt es auf jeden Fall auch auf
Russisch
. Da Anna sich nicht vorstellen kann, dass ein russisches Eis aus Deutschland den Qualitätsansprüchen eine Russin genügt, bleibt uns nur eines übrig: selbst testen... Aussehen tut es auf jeden Fall, wie das Plombir in Deutschland. Es schmeckt einen Tick besser, wobei mein kasachischer Mitarbeiter meint, dass es fast so gut schmeckt, wie zu Sowjet-Zeiten. Und für uns bedeutet das, dass wir Anna zum Eisessen einladen müssen, wenn sie ihre Freundin in Darmstadt besucht, was ja direkt für uns um die Ecke liegt.

We went back to Isaac's Square. Here we came on our voyage on LILI MARLEEN 2006: our very first cruise. Here it is the Isaac's Cathedrale which we did not make it again to see from the inside and the Hotel Astoria and the attached Hotel Angleterre. It was known because Hitler scheduled to have his victory party here for conquering Leningrad (1924-1991, and 1914-1924 also Petrograd) but it was never hold since he never conquered the city. It was also the love nest of Rasputin (1869-1916, Spirtual healer in the emporor's court who was murdered). The Who is Who was accomodated here. May be as Frances shared the toilet with Her Majesty Queen Elizabeth II. then on Royal Yacht BRITANNIA in Leith, Scotland during our voyage on NORWEGIAN SUN 2012 I might share the toilet in 2006 with Prince Charles. For us more important: a very good friend worked here as bar-pianist and we had some coffee with her here. She taught me a good taste in music which songs you should request with a bar pianist to impress her: Cissandra. On QUEEN MARY 2 2014 I went to Commodore Club and picked the songs with Bernardette which Cissandra told me I should do. So I always got a "My favorite song" as response and all my songs were played with a certain preference. We are looking forward to GRAND PRINCESS 2018 which will take us to San Francisco. A good opportunity to see her on our way to Las Vegas. And from Cissandra we knew that Russian Ice Cream could be much more better than the Western international branded ones. We told Anna that we get in Germany the Russian brand Plombir (Пломбир). Their homepage was anyhow in Russian too. As Anna could not imagine that a Russian ice cream from Germany can meet the quality demand of a Russian we had only one chance to find it out... It looked like the Plombir in Germany. It tasted indeed a little better although my employee from Kazhachstan said that it tasted as good as it tasted during the Soviet-era. For us it means that we need to invite Anna for an ice cream when she visit her friends in Darmstadt which was around the corner of us.

As our tour tickets were not valid the whole day and we need to "emigrate" to NORWEGIAN GETAWAY within a certain time frame we were taken back to the port. Thanks to Anna we had a Russian SIM card that we could share immediately our impressions from St. Petersburg. During the call in St. Petersburg the use of the bord internet was somehow restricted. So we could had a good time in Vibe and I was taken care very friendly by Kailash Nagarkoti since I was the only guest.

Da unsere Tourtickets nicht den ganzen Tag gelten und wir in einem gewissen Rahmen wieder auf die NORWEGIAN GETAWAY "ausreisen" müssen, werden wir zum Hafen zurückgebracht. Dank Anna haben wir eine russiche SIM-Karte bekommen, so dass wir sofort mit der ganzen Welt unsere Eindrücke aus St. Petersburg teilen können. Während des Aufenthaltes in St. Petersburg ist die Nutzung des Bordinternets stark eingeschränkt. So halten wir es gut nachmittags im Vibe aus und ich werde als einziger Gast sehr freundlich von Kailash Nagarkoti betreut.
In der Kabine erwartet uns wieder ein Gruß von Errol.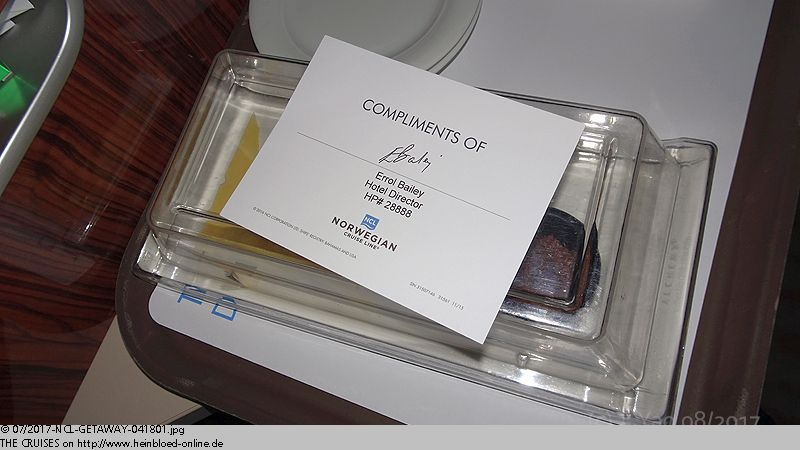 In the cabin we had again a greeting from Errol.

Godiva for Anna.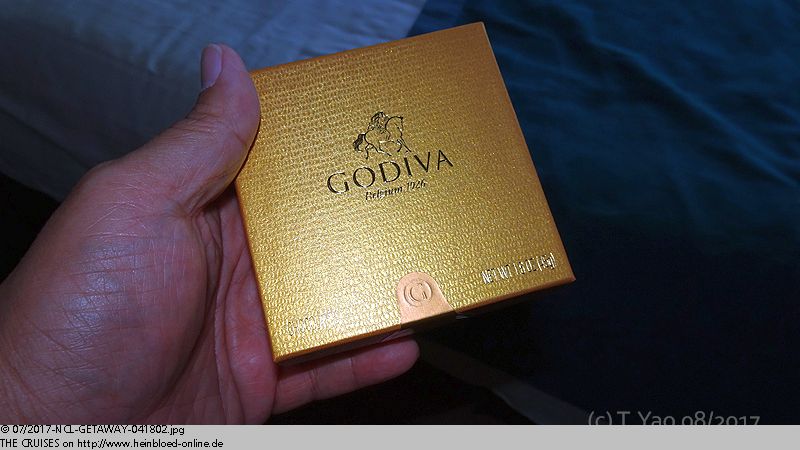 Godiva für Anna.
Abends wieder perfekt hergerichtet: das Angebot für den Wäschebeutel kommt in der St. Petersburg Nacht.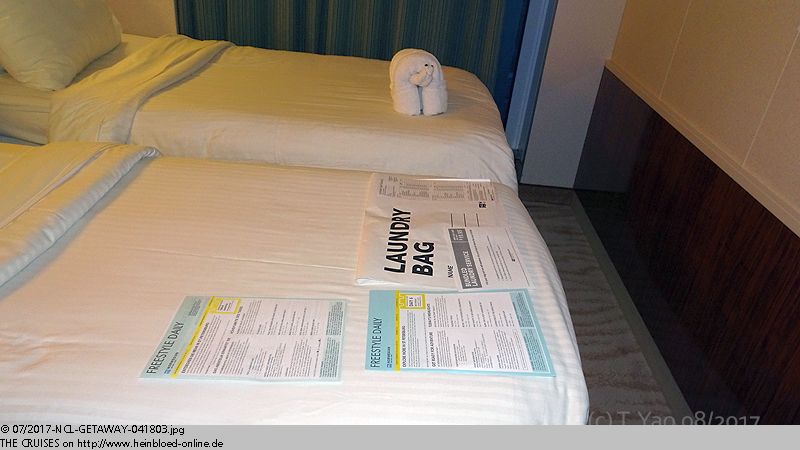 Perfectly arranged for the night: the offer for the laundry bag came in the St. Petersburg night.

What was that? Looked like armadillo.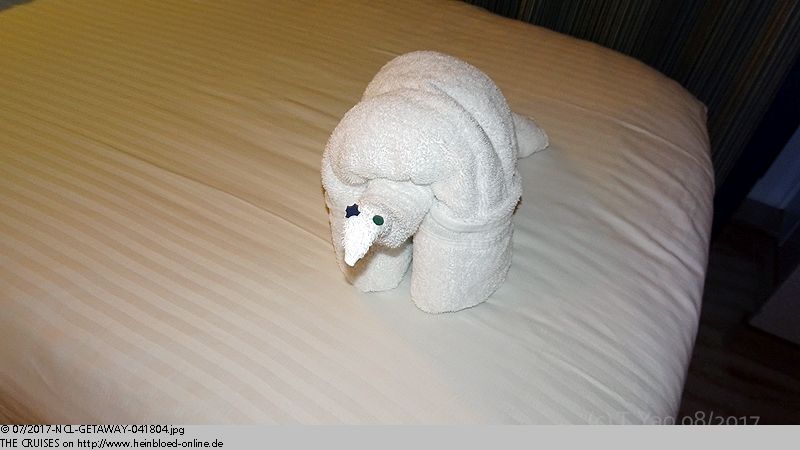 Was ist das? Sieht aus, wie ein Gürteltier.
Bruno auf unserem Balkon. Mit Licht. Auf der
NORWEGIAN ESCAPE 2015
wäre das schon nicht mehr möglich gewesen... Und Kerzen dürfen wir ja auch nicht verwenden. Also packen wir mal LED-Akku-Lampen auf unsere Liste, falls wir je eh im Leben wieder Breakaway-Plus fahren sollten.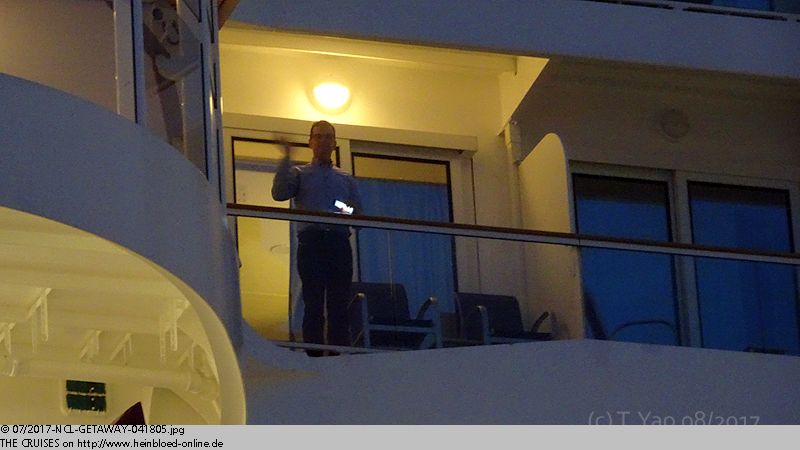 Bruno on our balcony. With light. On NORWEGIAN ESCAPE 2015 it was not possible anymore... And you were not allowed to have candles. So we will add an LED-battery back-lamp on our list should we ever book Breakaway-Plus again.

We used the chance to eat in the Taste. Accidentially we got a table with Niño Isada and Solustio Anggraini and enjoyed a nice evening. Because we had time we could study the wine list. Since visiting Gordon Ramsey at the end of our voyage on QUEEN MARY 2 2017 no price could impress us anymore. We might wanted to book a dinner with a Russian family. But it should be in a certain price level. Next time we will get our own visa and will take a bus to a restaurant.

Wir nutzen die Chance im Taste zu essen. Zufällig bekommen wir einen Tisch mit Niño Isada und Solustio Anggraini und genießen einen schönen Abend. Weil wir Zeit haben, studieren wir die Weinkarte. Seit dem Besuch von Gordon Ramsey in London nach der
QUEEN MARY 2 2017
-Reise, können uns die Preise der Weinkarte nicht mehr beeindrucken. Wir hätten ja noch ein Programmpunkt mit Abendessen bei einer russischen Familie gebucht. Aber das sollte auch in einem preislichen Verhältnis stehen. Nächstes Mal reisen wir mit eigenem Visum an und werden einfach mit dem Bus in ein Restaurant fahren.
Ich nutze die Chance Bilder von der beleuchteten NORWEGIAN GETAWAY zu machen.

I used the chance to take pictures of the illuminated NORWEGIAN GETAWAY.

I was browsing a little on the ship.

Ich gucke mich auf dem Schiff noch etwas um.
Und ich gucke, was es am russichen Büffet gibt.

And I need to check what they have with the Russian buffet.

Looking aroud outside.

Noch ein wenig draußen umsehen.
Und zufällig habe ich Glück und sehe ein Feuerwerk über St. Petersburg. Das Feuerwerk auf hoher See auf der Breakaway-Klasse ist ja abgeschafft worden. Somit gibt es Feuerwerk auf hoher See nur noch bei Disney wie damals auf der
DISNEY DREAM 2014
und
DISNEY DREAM 2015
. So endet der 1. Tag in St. Petersburg sehr schön mit dem Feuerwerk. Auf die russische Folkore-Show an Bord haben wir verzichtet.

And I had accidentially luck and saw a firework over St. Petersburg. The firework on high sea you can only have yet with Disney like then on DISNEY DREAM 2014 and DISNEY DREAM 2015. So the 1st day in St. Petersburg ended very nice with the firework. We did not attend the Russian Folkshow onboard.