Von Zürich geht es mittags weiter nach Hamburg.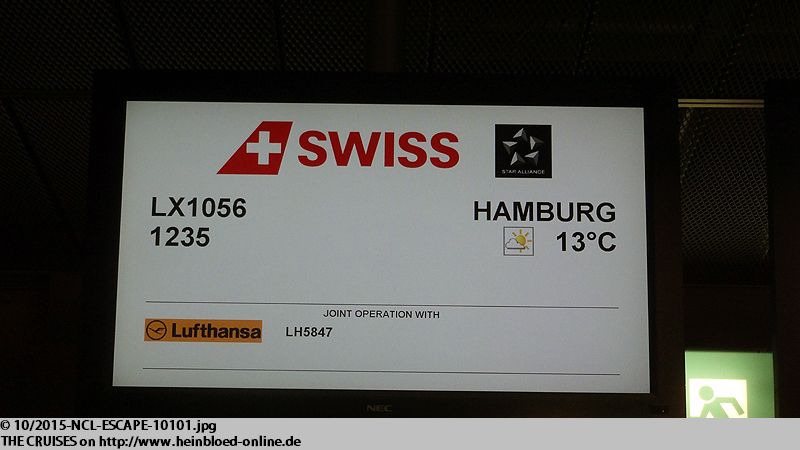 From Zurich, Switzerland we headed to Hamburg, Germany.

At the airport we got something from Starbucks. Since I am working in Switzerland I could pay "normally" in Swiss Francs without any conversion surcharge.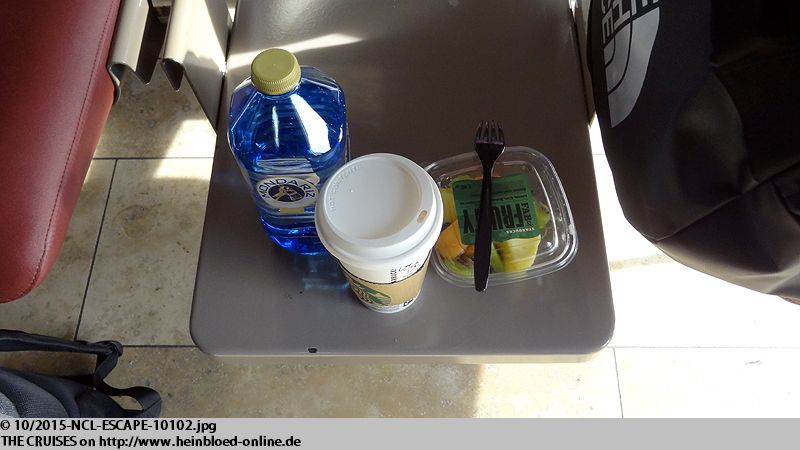 Es gibt am Flughafen etwas von Starbucks. Da ich ja jetzt in der Schweiz arbeite, konnte ich alles "normal" in Schweizer Franken ohne Währungszuschlag zahlen.
Unterwegs gibt es ein Sandwich.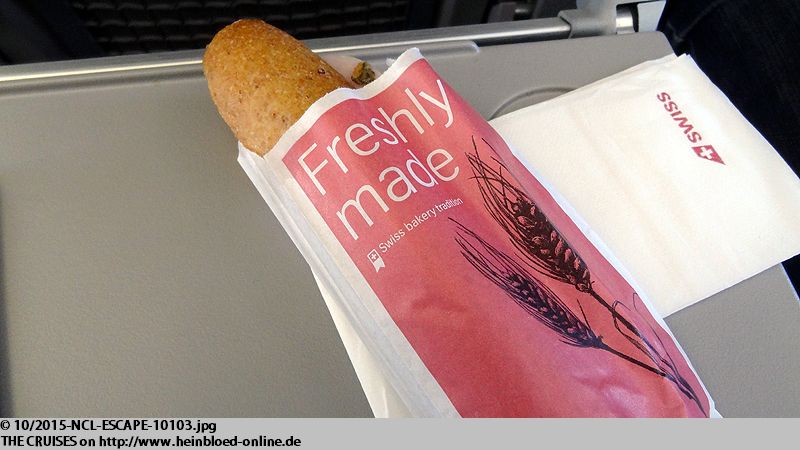 On our way we got a sandwich.

We went to Schönes Leben in der Speicherstadt. The local Apple-Pie with whipped cream... just great!!!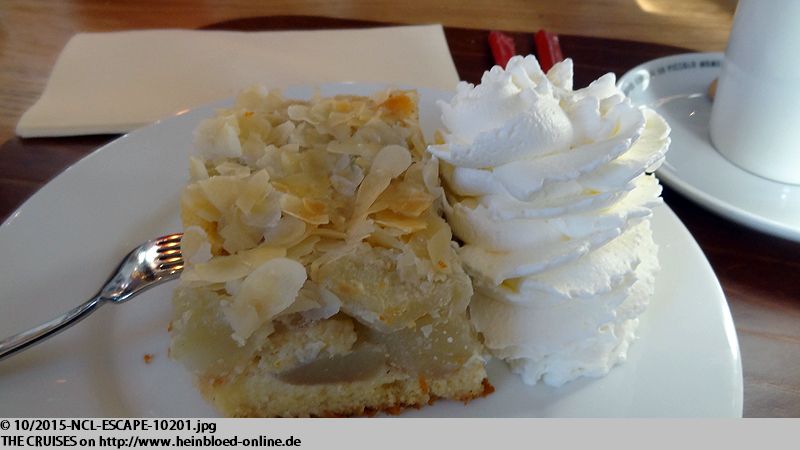 Es geht zum
Schönes Leben in der Speicherstadt
. Altländer Apfelkuchen mit Sahne... einfach klasse!!!
Sigi, die mit uns schon mehrmals unterwegs war, bringt uns zum Cruise Terminal, aber eine Kaffeepause muss schon sein.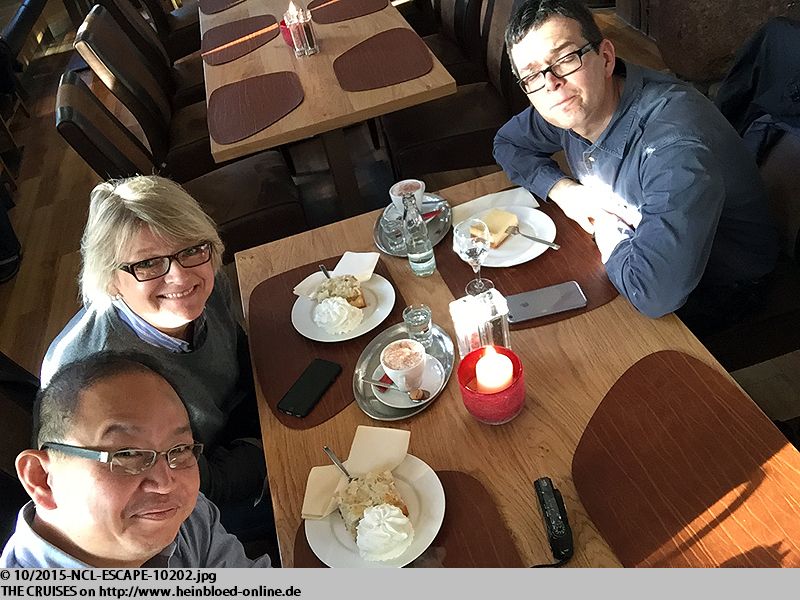 Sigi, who was with us cruising, got us to the cruise terminal but a coffee break ist a must.

Finally I could see NORWEGIAN ESCAPE from Auguste-Victoria-Quay in her full length. Before wehn I was working in Goslar it was easier to get to the other end of the stae of Lower Saxony to see the ships in Papenburg at the shipyard.

Endlich mal sehe ich die NORWEGIAN ESCAPE vom Auguste-Victoria-Kai in ganzer Länge. Vorher von Goslar aus, war es einfacher mal an das andere Ende von Niedersachsen mal zu fahren, um sich in Papenburg die Schiffe anzusehen.
Ein paar Selfies müssen sein.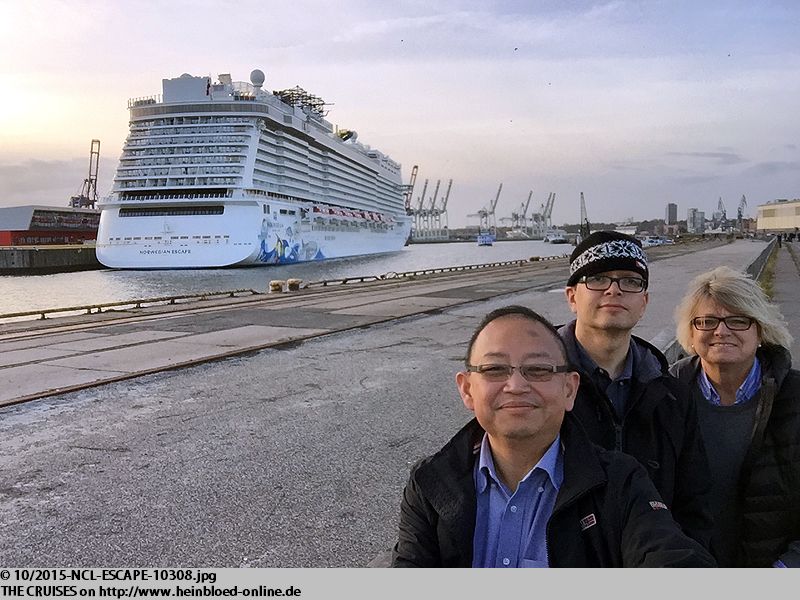 Few selfies had to be.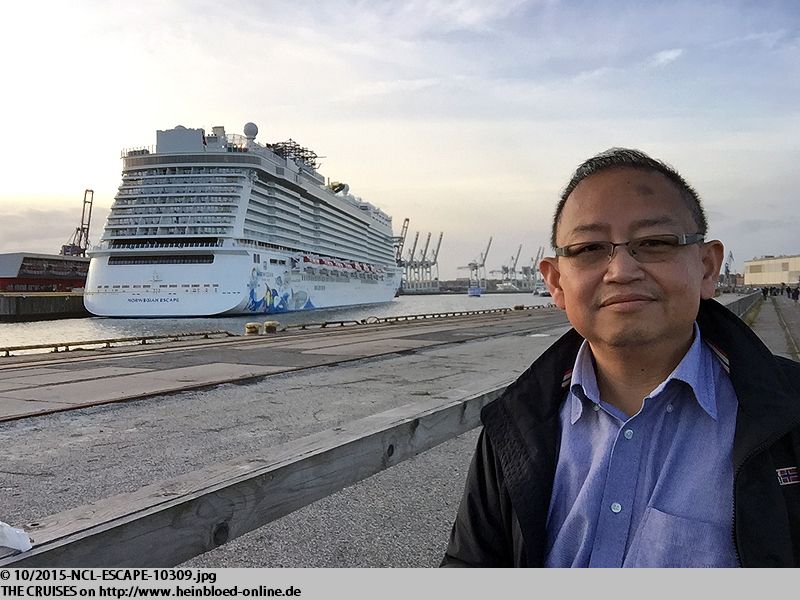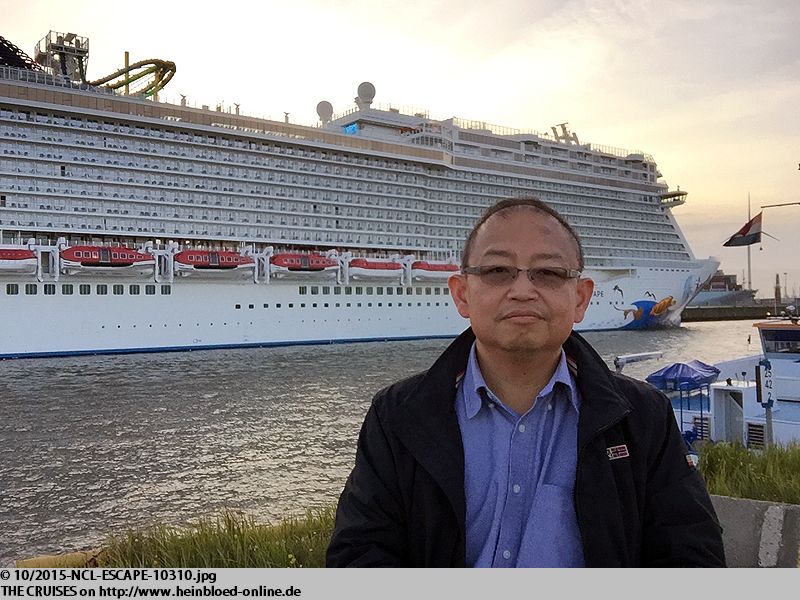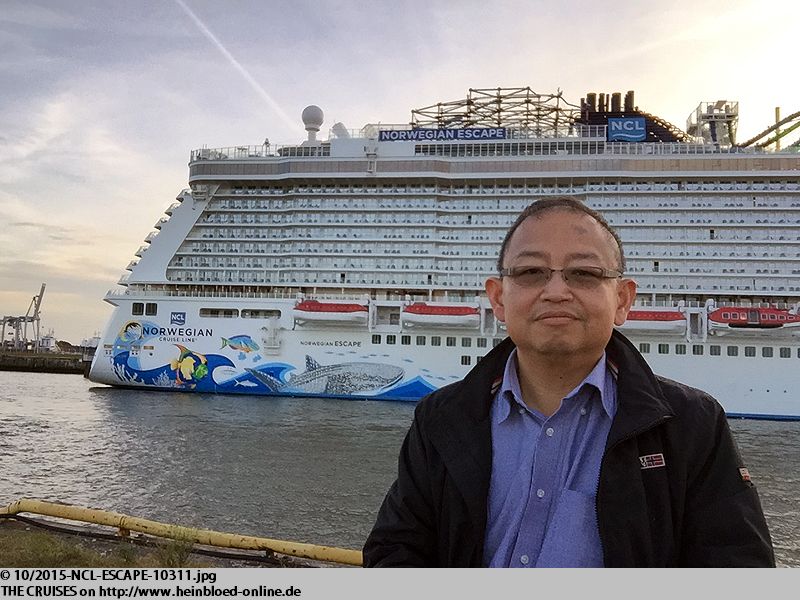 Da wir schon die Ansagen für die Seenotrettungsübung hören, gehen wir lieber schnell an Bord. Offiziell ist Check-In-Ende um 17.00 Uhr.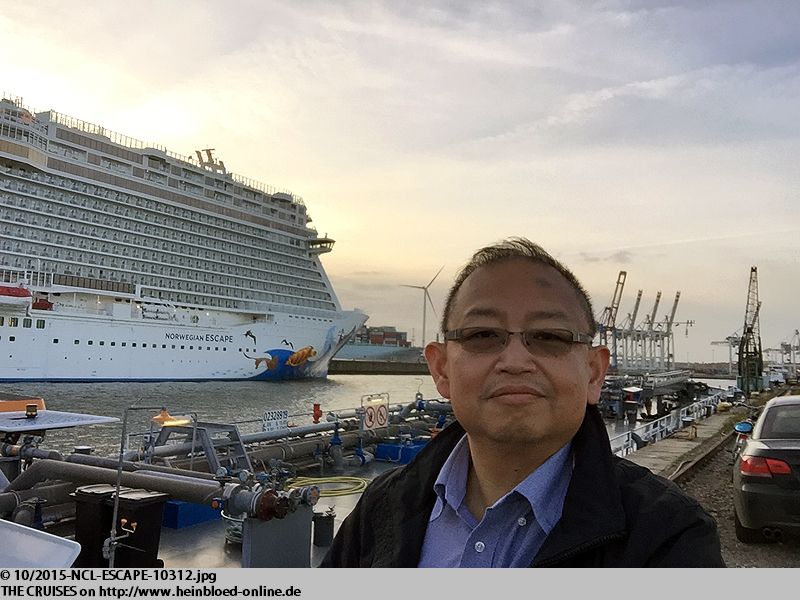 As we could hear the announcements for the life drill we went quickly on board. Offical end of check-in was 17.00 hrs.

You can park upto 20 minutes for free if you want give someone a lift.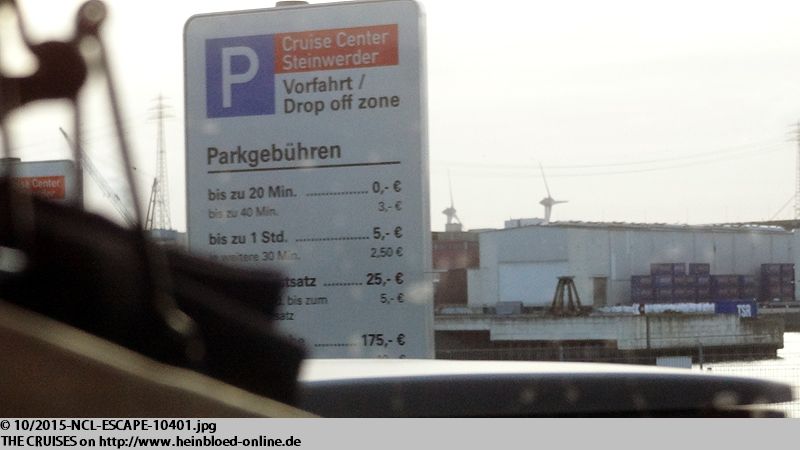 Man kann bis 20 Minuten kostenlos parken, wenn man jemanden absetzen möchte.
Für alle drei Reisen werden Gepäckanhänger vom System produziert. Die kosten Papier- und Farbverbrauch. Nur bei Norwegian hätte man sich die sparen können, weil gar kein Gepäckservice angeboten wird. So entsteht schon der erste schlechte Eindruck - in doppelter Hinsicht: bei Cunard und Royal Caribbean gab es auch für die Kurzreisen einen kompletten Gepäckservice. Und Stammgäste wie uns, kotzt der fehlende Service an, weil es ja besser geht. Und Gäste, die noch mit Norwegian unterwegs waren, bekommen auch einen ersten schlechten Eindruck. Man hat niemals eine zweite Chance einen ersten Eindruck zu machen.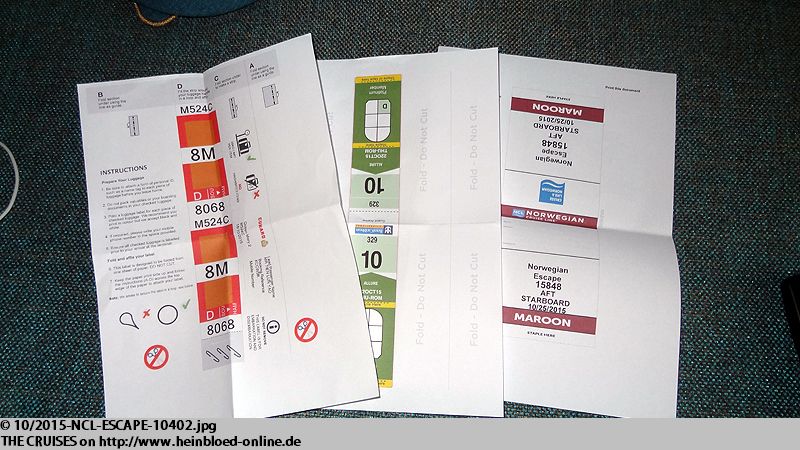 For all three voyages the systems released baggage tags. The occured waste of paper and ink. Only with Norwegian you could easily save this effort because no baggage service was offered. So you had the first bad impression - in a double respect: with Cunard and Royal Caribbean you had also for short cruises a full baggage service. Loyal guests like us were missing the service because it could go better. And guests who have never sailed with Norweigan before had a first bad impression. You never have a second chance to make a first impression.

So we had to haul up our bags ourselves. At Hamburg aiport we wanted to send back one bag home. But you need to book this ahead with German railways. You cannot just order an one-way online from the airport. So had to carry both bags with us. We really would have appreciated some service.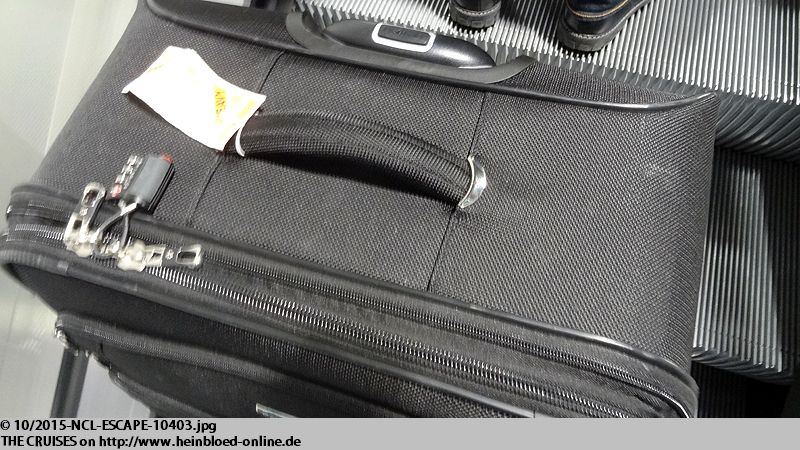 So schleppen wir unser Gepäck selbst rauf. Am Hamburger Flughafen wollten wir eigentlich unser Gepäck nach Hause schicken wollen. Das muss man allerdings beim DB Kuriergepäck vorher anmelden. Bloß für einen Einweg vom Flughafen kann man nicht online eingeben. Deswegen haben wir es aufgegeben und sind mit beiden Koffern angereist. Wir hätten uns sehr über Service gefreut.
Bei Einchecken gab es etwas Probleme. Wir gehen direkt zum Check-In für Platin-Mitglieder. Dort stellen wir fest, dass sie wohl aus England das Check-In-Team geholt haben. Wir haben nach Gesundheitsfragebögen gefragt. Diese hatten wir jedoch am Eingang gar nicht bekommen. Er meint, dass wir zurücklaufen sollten, um sie zu holen. Eine andere Agentin bekommt es mit und holt sie direkt 10 cm von seinem Platz aus einem Fach raus. Ihm ist es nicht mal peinlich. Es gibt bloß einen Zettel, um sich auf dem Schiff zurecht zu finden. Besonders ärgerlich: die Seenotrettungsübung wurde vor dem Ende der Einschiffung abgehalten. Als wir an Bord kamen, waren alle auf dem Weg zurück zur Kabine. Mit Koffern hatten wir kaum eine Chance in unsere Kabine zu kommen, weil wir mit den Koffern kaum in die Lifts kommen. Das Schiff ist zu groß, um eben schnell zu Fuß acht Decks mit Koffern hoch zu laufen. Und der ganze Ärger bloß, weil sie kein Gepäckservice anbieten. Und so ein Riesenschiff und wieder bloß nur zwei Treppenhäuser.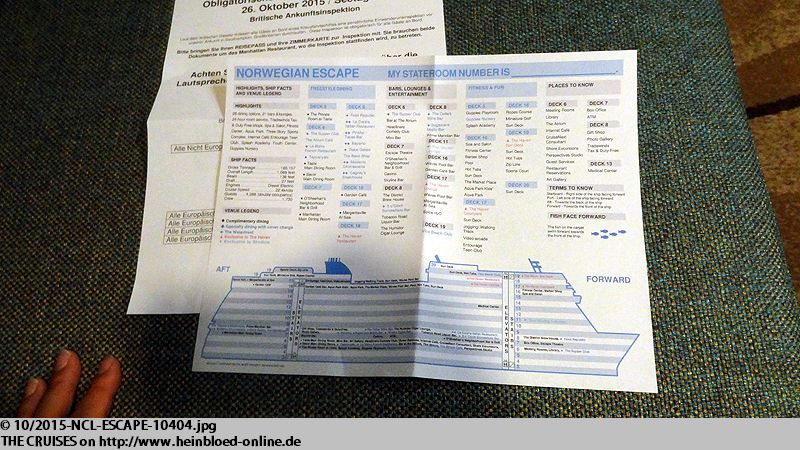 We had some problems with checking in. We went to the check in for Platinum-Members. There we found out that the got the check-in-team from England. We asked for the health questionnaires. We did not get any when we entered the check-in hall. He wanted us to walk back to get them. Another agent noticed it and just 4 inches apart from him she got us some from the drawer. He was not distressed at all. There was only a sheet of paper to find your ways onboard around. Very angry: they conducted the life drill before end of the embarkation. When we arrived on board everyone was on the way back tot he cabin. With suitcases we barely had a chance to get into our cabins because we could not get into the elevators with our bags. The ship was too large to get eight decks up with our bags by walk. And all the problems only because they did not offer any baggage service. And such a giant ship and again only two stairways.

When we went before on NORWEGIAN BREAKAWAY we noticed already: the same cabin category on Jewel-Class ships is smaller. Then we had a suite in The Haven. This time we wanted to have a corner balcony. But we noticed again the narrowness.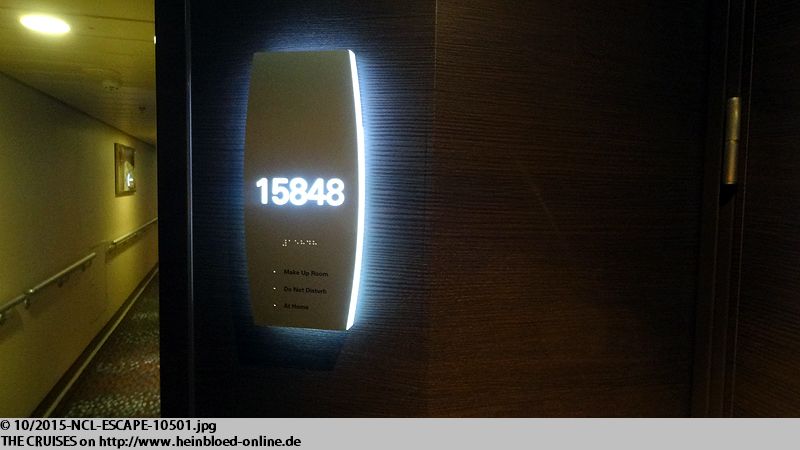 Schon auf der NORWEGIAN BREAKAWAY fiel uns auf: die vergleichbare Kabinen-Kategorie auf der Jewel-Klasse war kleiner. Damals war es eine Suite in The Haven. Dieses Mal wollten wir wieder einen Eckbalkon haben. Uns fällt aber die Enge wieder auf.

Somehow the cabins are beautiful.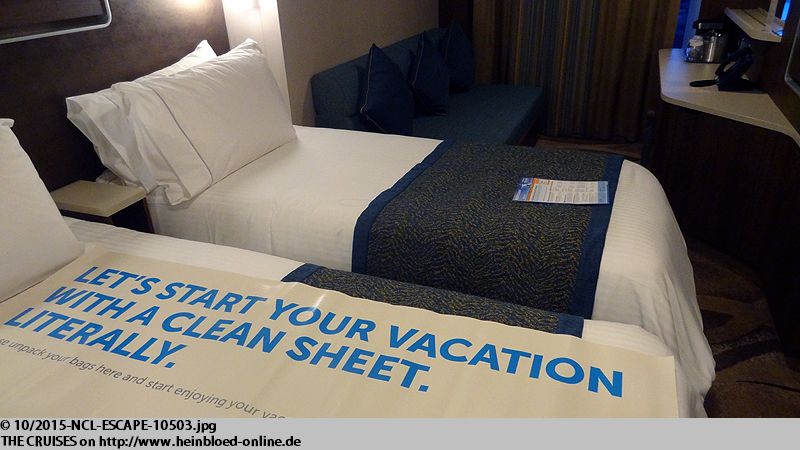 Schön sind die Kabinen ja schon.
Wir sind jetzt zuletzt zu oft mit Princess, Holland America, Cunard, Disney und Royal Caribbean unterwegs gewesen. So auf dem Bett sitzen mit den Knien am Schrank: total blöd. Gut waren allerdings die USB-Ausgänge. Ärgerlich: die unterschiedlich großen "Nachttische". Es wird an jedem Zentimeter gespart. Und dort, wo man es hätte nutzen können, wird es nicht genutzt: Der Sitz unter dem Schminktisch: Hätte man auch zum Aufbewahren nutzen können. Die Mini-Bar wird uns erst auf Anfrage aufgeschlossen. Bloß nicht mehr Service zugestehen als notwendig. Es gibt alternativ auch keinen Kabinen-Service. Wie gesagt: diejenigen, die Norwegian als besseres kennen sind enttäuscht und diejenigen, die bislang Norwegian noch nicht kennen, sind genauso enttäuscht.

We went recently to many times with Princess, Holland America, Cunard, Disney and Royal Caribbean. So sitting on the bed and haveing the knees at the closet: totally stupid. Nice were the USB-outlets. Angry: the diffrent sizes of the "bedside tables". They saved each single inch. And there where you can take advantage of they did not use: the seat under the make-up table: you could have use it to store something. The mini-bar was unlocked on request. Please do not give more service than necessary. There was no cabin service available either. As said before: those who knew Norwegian as something better were disappointed and those who did not know Norwegian yet were disappointed too.

Very angry: 7.95 USD plus 18% service charge for cabin service which was not offered.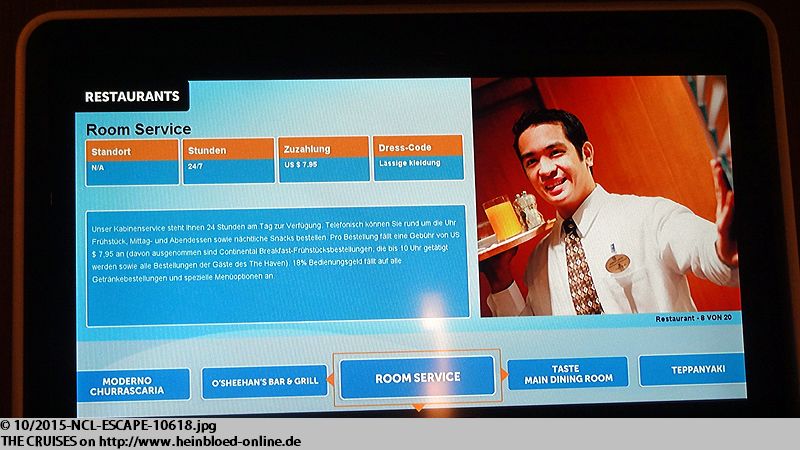 Ganz ärgerlich: 7.95 USD plus 18% Service Charges für Kabinenservice, der ja gar nicht angeboten wird.
Die sind von Norwegian mittlerweile noch schlimmer als Royal Caribbean.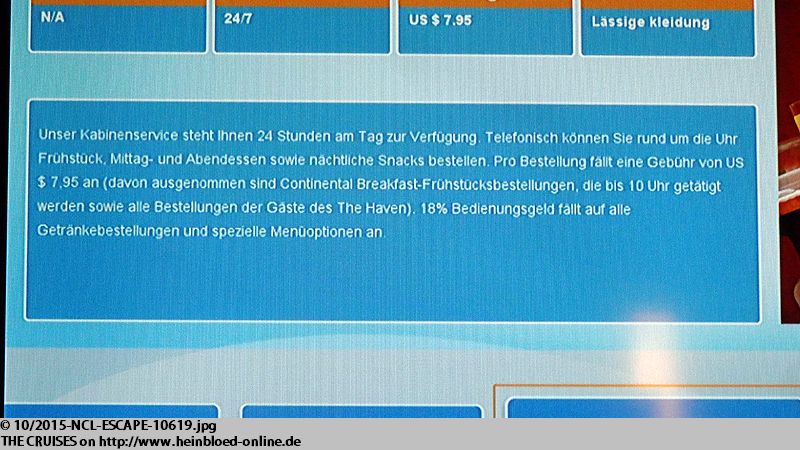 Meanwhile they were worse with Norwegian but Royal Caribbean.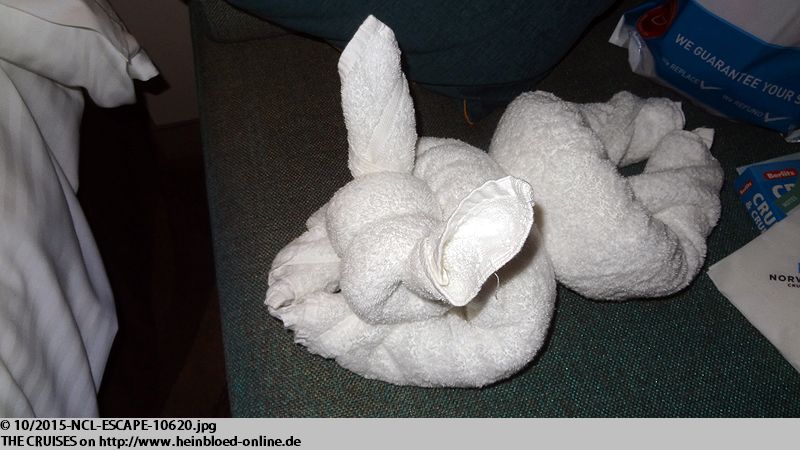 Das Badezimmer ist wieder sehr gut.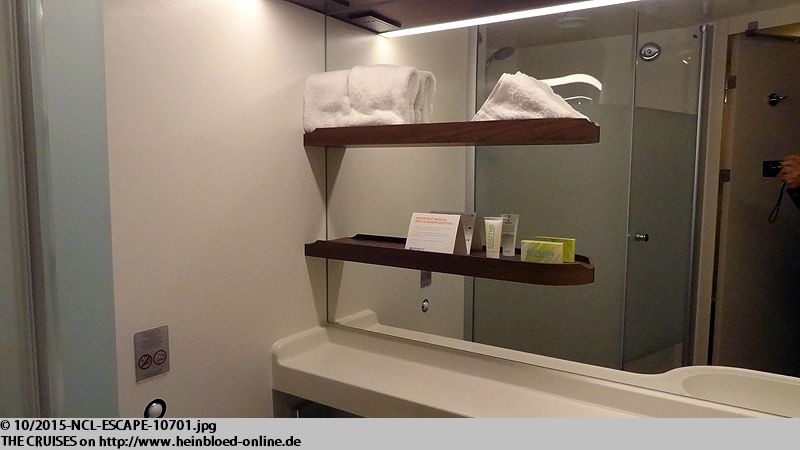 The bathroom was very good again.

They had again body lotion.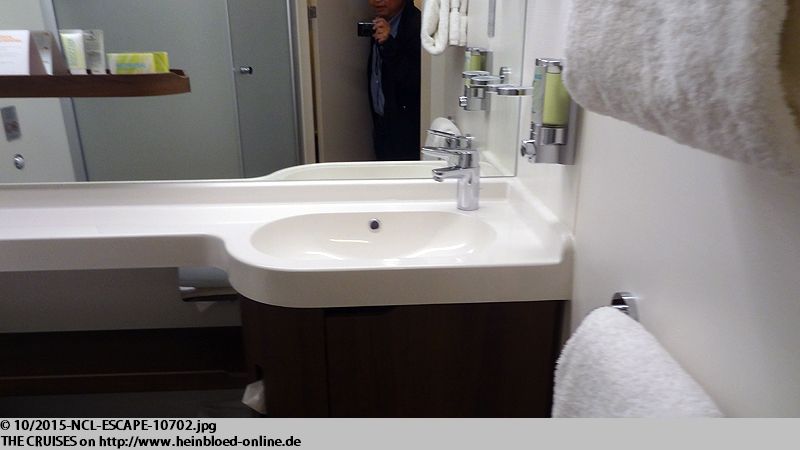 Es gibt sogar wieder Körperlotion.
Alles wieder von Grohe.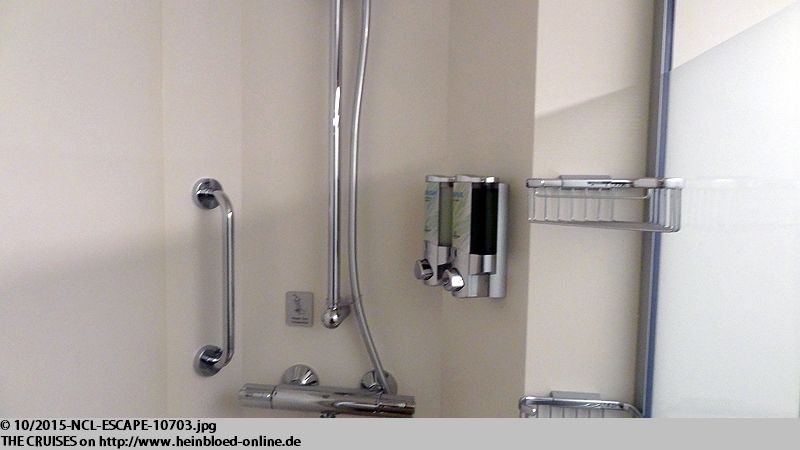 Everything again from Grohe.

Only the glass door of the shower banged against the door of the bathroom. Let us wait for the first who will leave the shower and the glass door cracks.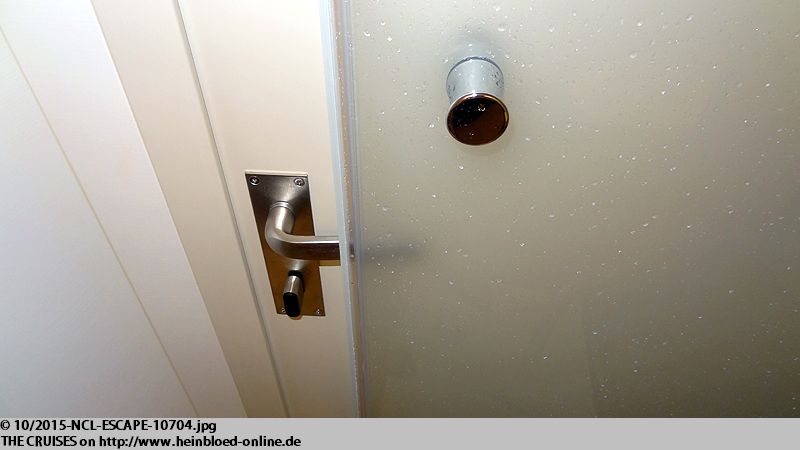 Nur die Dusch-Glastür knallt gegen die Tür des Badezimmers. Mal gucken, wann jemand mit soviel die Dusche öffnet und die Tür auseinanderbricht.
Der Schräg-Balkon.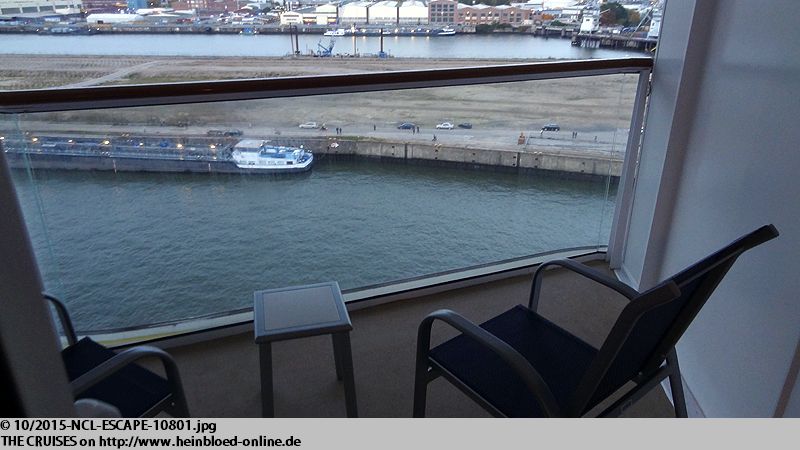 The inclined balcony.

The view was great. To the front and "roofed". To the bottom you were looking to the life boats.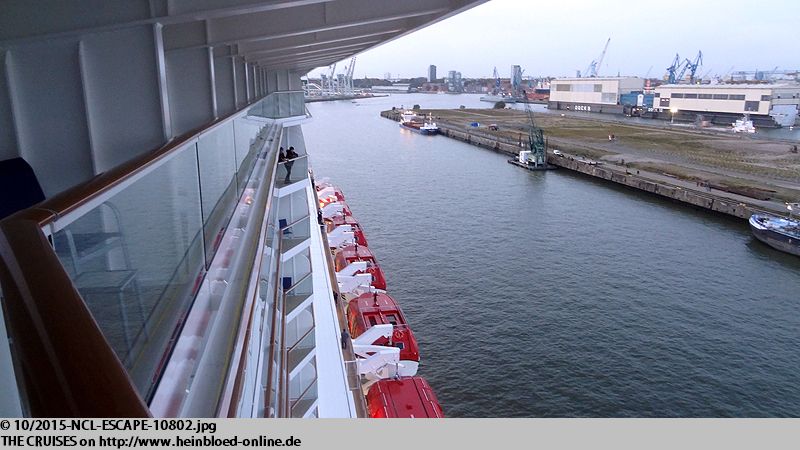 Der Blick ist toll. Nach vorne und "überdacht". Nur nach unten guckt man auf Rettungsboote.
Wieder sehr gut gespart: es gibt kein Licht auf dem Balkon mehr!!! Man kann auch etwas übertreiben???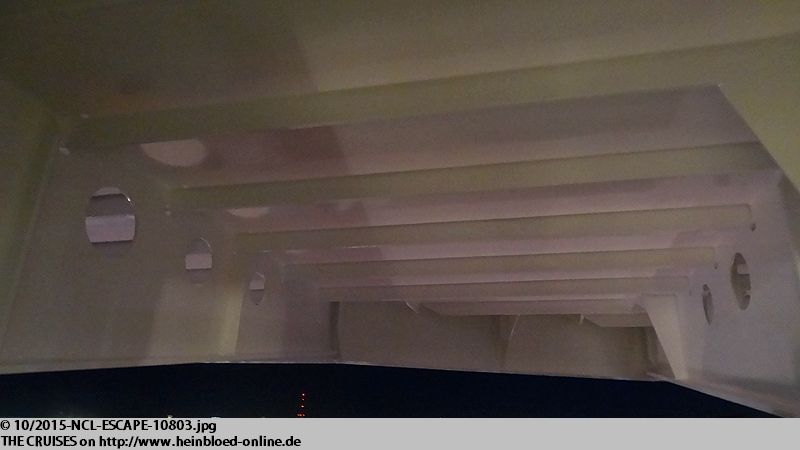 Well done savings: no lights on the balcony anymore!!! You can easily exaggerate.

There up was our balcony.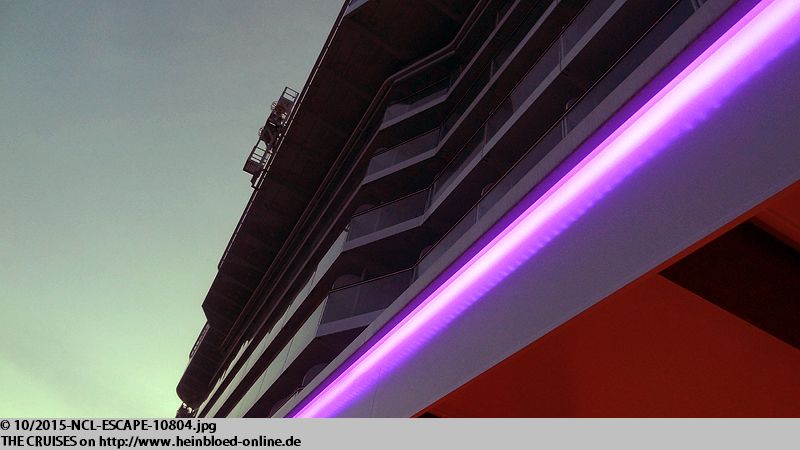 Da oben ist unser Balkon.
Irgendwie war unser Balkon damals auf der NORWEGIAN EPIC größer als der heute auf der NORWEGIAN ESCAPE.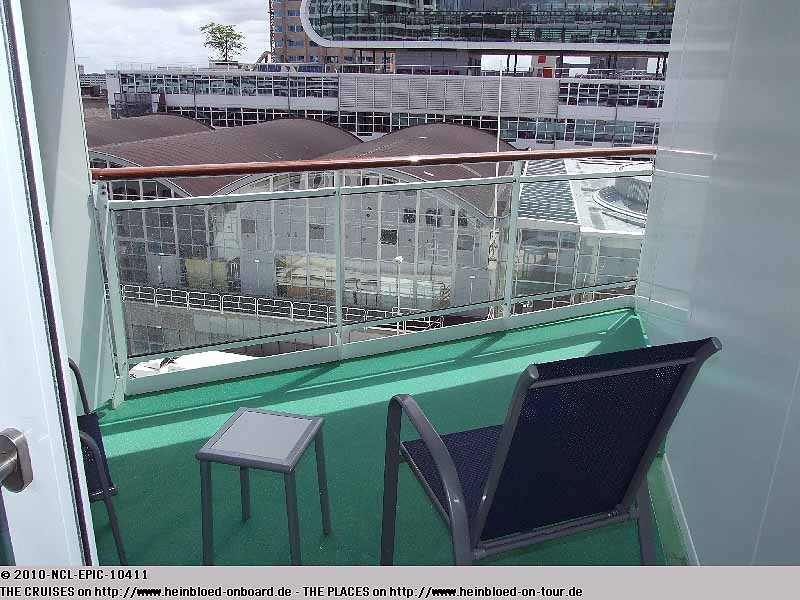 It looked like our balcony on NORWEGIAN EPIC then was larger than today on NORWEGIAN ESCAPE.

Then in Rotterdam we had something special for "PAYING GUESTS" when we set sail and not only for travel agents: NORWEGIAN PEARL, NORWEGIAN EPIC, NORWEGIAN BREAKAWAY.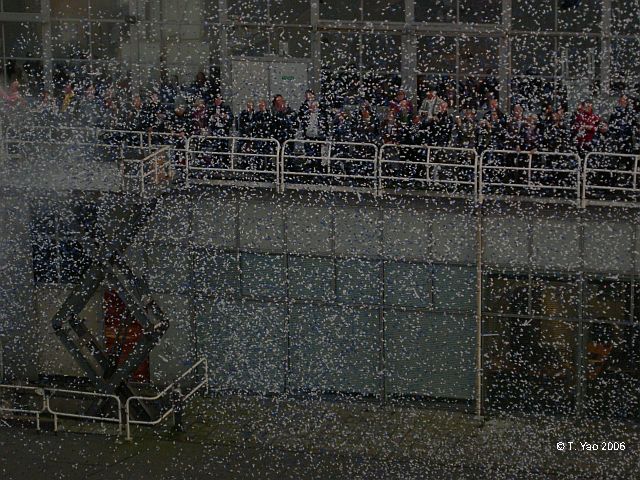 Damals in Rotterdam auf der NORWEGIAN PEARL, NORWEGIAN EPIC, NORWEGIAN BREAKAWAY:
FÜR ZAHLENDE GÄSTE
gab es etwas Besonderes bei der Ausfahrt und nicht nur für Reisebüro-Mitarbeiter.
Damals in Hamburg auf der EURODAM:
FÜR ZAHLENDE GÄSTE
gab es etwas Besonderes bei der Ausfahrt und nicht nur für Reisebüro-Mitarbeiter.

Then also in Hamburg on EURODAM: Something special for PAYING GUESTS and not for travel agents.

It was nice to have a set sail from HafenCity Terminal. Many people at the banks of the river Elbe who were waving. Steinwerder was nice if you had a large ship AND a major passenger exchange. But without any baggage service you cannot call it a major passenger exchange.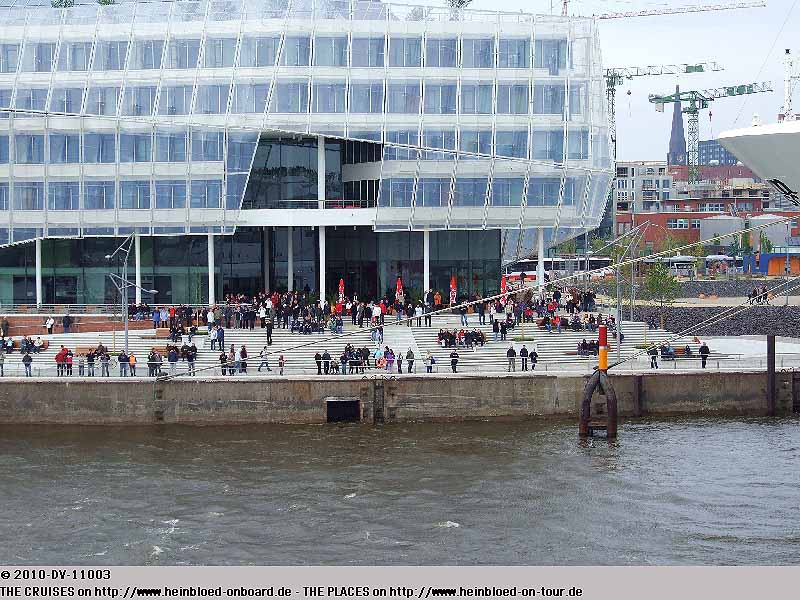 Schön ist auch die Ausfahrt vom HafenCity Terminal aus. Es gibt Menschen am Elbufer, die einem zuwinken. Steinwerder ist gut, wenn man ein großes Schiff hat
UND
einen großen Passagierwechsel. Nun ohne Gepäckservice kann man ja wohl kaum von einem großen Passagierwechsel sprechen.
Die Besonderheit einer besonderen Reise, wie damals die erste Anfahrt auf New York auf der QUANTUM OF THE SEAS: Man wollte den zahlenden Passagieren etwas besonderes bieten. Und obwohl man normalerweise direkt links nach Bayonne, NJ abbiegt, ist man extra einen kleinen Umweg gefahren, um eine besondere Fahrt besonders zu würdigen.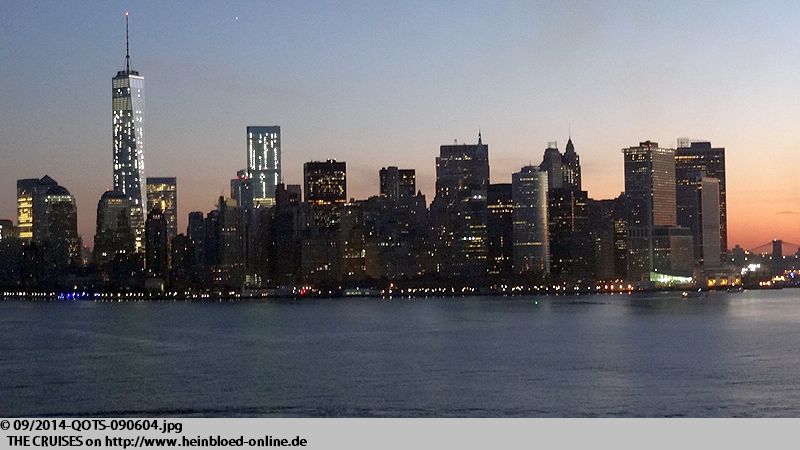 The special feature of a special voyage like then the first call of QUANTUM OF THE SEAS in New York: They wanted to offer something special for the paying guests. And although they normally made an immediate turn left to Bayonne, NJ they did a small detour to honour the special voyage.

And here they offered THE PAYING GUESTS on NORWEGIAN ESCAPE just nothing.

Und hier bietet man
DEN ZAHLENDEN GÄSTEN
auf der NORWEGIAN ESCAPE gar nichts.
Geradeaus bis zur Elbe und links auf der Höhe des Elbtunnels links ab Richtung Nordsee.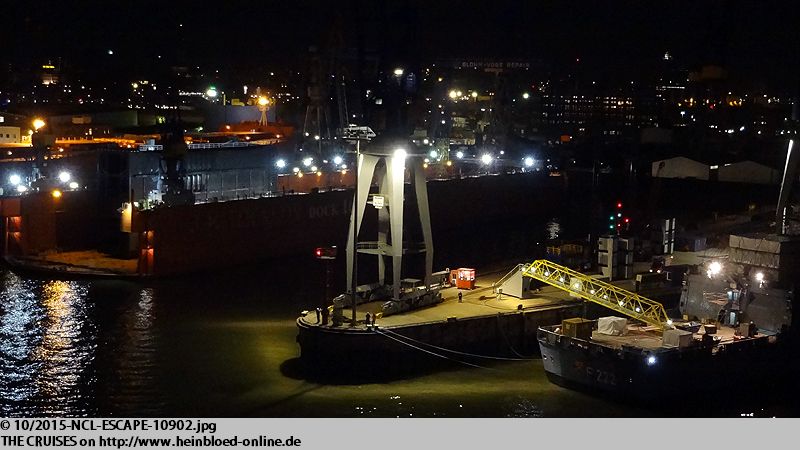 Straight to the river Elbe and left-turn over the tunnel and towards the North Sea.

Nobody was waving. From one garden in the Hamburg suburbs few rockets were started. That was it! Nothing special for guests.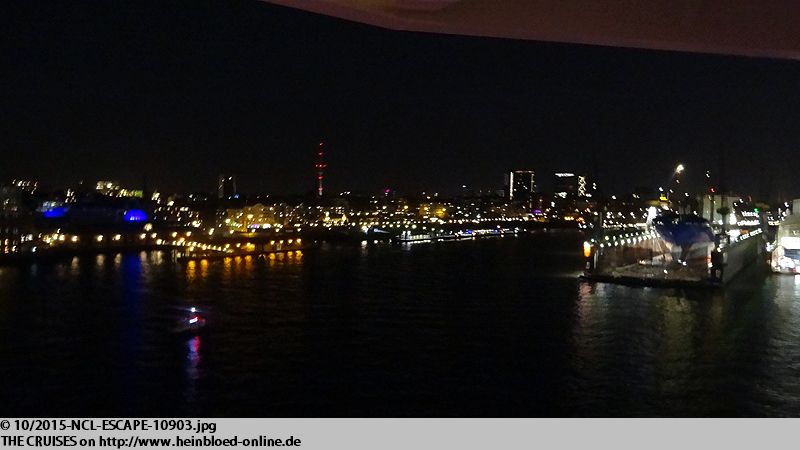 Niemand, der uns winkt. Aus einem Garten in den Elbvororten werden einige wenige Raketen gezündet. Das war es! Nichts besonderes für die Gäste.
Wir gehen zum Abendessen. Wir probieren ein neues Angebot von Norwegian aus: Food Republic. So alles, wofür kein Platz mehr ist, wird hier an einem Ort zusammengefasst. Das Ergebnis ist eine Fusion-Küche. Etwas, was ich persönlich nicht mag. Asiatische Teigtaschen mit Pastrami ist einfach nicht meine Welt. Dass ich trotzdem hingehe, hat sehr persönliche Gründe: ein von mir sehr geschätztes Crew-Mitglied! Diese werden ausnahmesweise Mal en bloc im Blog des folgenden Tages gewürdigt. Wir bekommen sofort einen Tisch und auch werden wir zu einem Cocktail eingeladen. Die Bestellung erfolgt mit dem iPad. Man zahlt bereits bei der Bestellung bevor man überhaupt das Essen gesehen hat. Ich halte es nicht für besonders preiswert! Deswegen heute nur die Bilder vom Essen und vom Restaurant. Die Geschichten zu den Freunden dazu gibt es später! Und auch die Freunde auf der Reise werden am nächsten Tag alle zusammen vorgestellt.

We went for dinner. We tried the new offer by Norwegian: Food Republic. Everything they had more space for was packed here into one location. The result was a kind of fusion kitchen. Something I personally dislike. Asian dumplings filled with pastrami was not just my world. The reason that I went to this place was very personally: a highly appreciated crew-member! Those are honored by exception in one posting on the following day of the blog. We got immediately a table and were invited for a cocktail too. The order was made by an iPad. You were paying when you ordered before you could see any food. I did not think that it was really inexpensive: That is why find here only the pictures of the food and the restaurant. The stories of our friends you find a little later! And also the friends we met here on board will be introduced all together the following day.

We did not take a dessert in the Food Republic. Since my surgery I cannot eat so much anymore. So I have to save capacity. We went for Cagney's. Above the Manhattan Room and half of a part of one larger restaurant venue which was shared with the Moderno. It met my need that they changed to à-la-carte pricing. So I could also take only one dessert without paying the complete cover charge. But it happened also to me before in another alternative dining venue that I got a dessert only without beeing charged... Visiting the Cagney's had very personal reasons which I would like to tell the next day.

Auf ein Dessert im Food Republic verzichten wir. Seit meiner Operation kann ich ja nicht mehr so viel essen. Also muss ich Platz lassen. Es geht zum Cagney's. Überhalb des Manhattan Room und die Hälfte eines Restaurant-Teils, der gemeinsam mit dem Moderno genutzt wird. Es kommt mir sehr entgegen, dass alles auf à la carte-Preise umgestellt ist. So kann ich zum Glück nur ein Dessert auch nur nehmen, ohne dass ich die gesamte Zuzahlung zahlen muss. Allerdings ist es mir auch schon mal in einem anderen Zuzahlrestaurant passiert, dass ich ein Dessert bekommen, ohne dass ich etwas zahlen musste... Der Besuch des Cagney's hatte auch sehr persönliche Gründe, die ich ebenfalls am nächsten Tag vorstellen möchte.
Unsere "Liebe" zu Norwegian begann damals an Bord der NORWEGIAN PEARL im Jahr 2006. Damals hat Norwegian seinen Gästen zur allerersten Fahrt etwas Besonderes geboten. Das ist uns in guter Erinnerung geblieben. Aber mit jedem neuen Schiff und den neuen (negativen) Erfahrungen, verblassen leider diese guten Erinnerungen, wobei es sind die Crew-Mitglieder von damals diese schönen Erinnerungen von Zeit zu Zeit wieder aufleben lassen und uns doch zur Norwegian zurückbringen.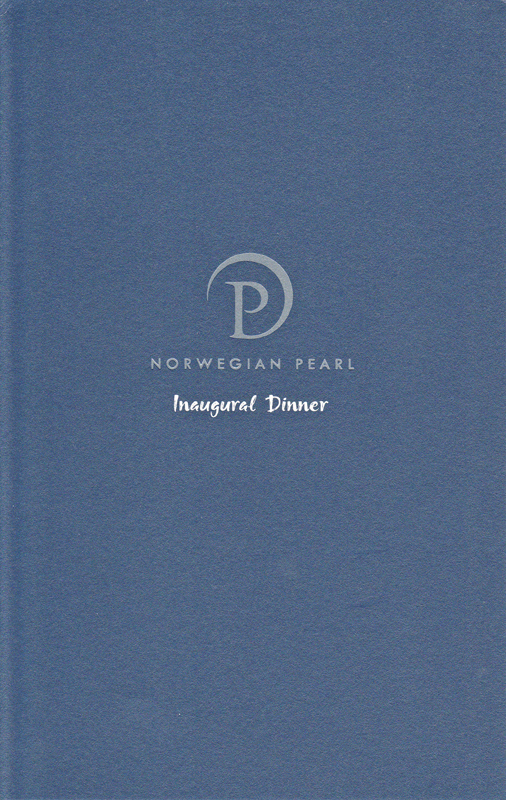 Our "love" with Norwegian started then on board on NORWEGIAN PEARL in 2006. Then Norwegian offered something special for the very first sailing. Something we love to remember. But with every new ship and every new (bad) experience, our good memories were fading, but mostly the crew-members were bringing us the great memories from time to time and getting us back to Norwegian.

For this day I had enough. I refrain to discover more of the NORWEGIAN ESCAPE. After the voyage from ALLURE OF THE SEAS I was only tired! Unbelievable that I had the wish that Norwegian would copy something from Royal Caribbean. Good Night for now and dear friends from crew and cruisemates: your chapter will follow. Promised.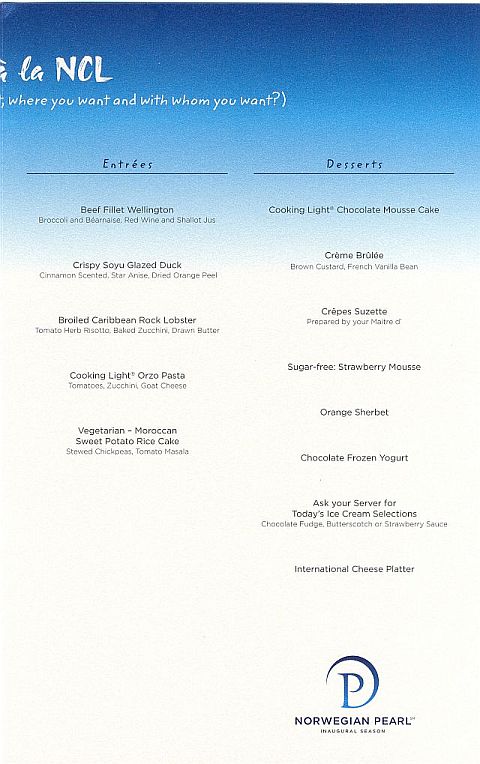 Für heute habe ich genug. Ich verzichte darauf die NORWEGIAN ESCAPE weiter zu entdecken. Ich bin nach der Anreise von der ALLURE OF THE SEAS nur noch müde! Kaum zu glauben, dass ich mir zum ersten Mal wünsche, dass mal Norwegian etwas von Royal Caribbean abgucken sollte. Gute Nacht für heute und liebe Freunde von der Crew und Mitfahrer: Euer Kapitel kommt noch. Versprochen.