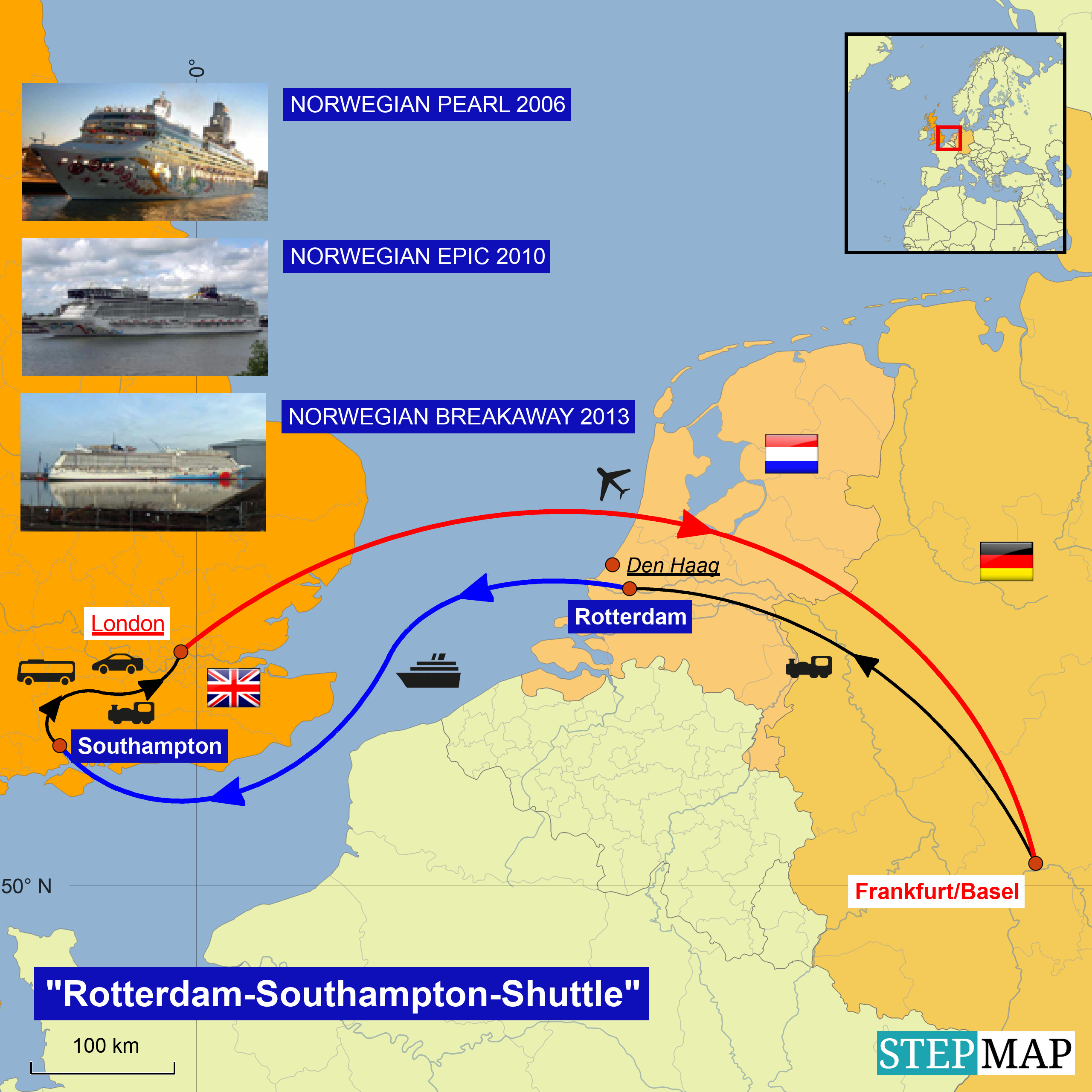 Sag niemals nie. Ja - wir hatten nach der NORWEGIAN BREAKAWAY: Nie wieder NORWEGIAN BREAKAWAY or sisters gesagt. Nach dem dann noch eine saublöde Antwort aus Miami kam, die nur lauter bla-bla-Textbausteine enthielt, bin ich sogar so weit gegangen zu sagen: Nie wieder NCL.
Wir hatten zwischenzeitlich die OASIS OF THE SEAS gebucht und wollten eigentlich NCL den Rücken kehren. Dann kam aber irgendwann die Begegnung mit der NAVIGATOR OF THE SEAS als wir auf der RYNDAM waren und die saublöde Bemerkung eines RCI-Fans auf Facebook, dass ich mit der NAVIGATOR OF THE SEAS fahren soll, um ein echtes Schiff kennenzulernen. Und irgendwie hatte ich nicht mehr das Bedürfnis mehr die OASIS OF THE SEAS kennenzulernen - schon gar nicht zu dem Preis und schon gar nicht unmittelbar vor dem Trockendock-Aufenthalt.
Dann kam eigentlich noch hinzu, dass bis November 2014 wohl noch eine Fahrt wie bisher auf dem Guideca-Kanal in Venedig möglich ist und danach gibt es neue Regelungen. Die NORWEGIAN JADE sollte zwar nie betroffen sein, aber sicher ist sicher. So haben wir die Buchung für September 2014, die zeitgleich zur OASIS OF THE SEAS lief nicht storniert. Zumal jetzt noch Frances und Eddie auch gebucht haben und wir noch mehr Gründe haben mitzufahren.
Auf so vielen Fahrten hat ein Crew-Mitglied mal nicht unseren Erwartungen entsprochen und uns schlecht behandelt. Sollen wir uns von einer Person unsere langjährigen Freundschaften, die wir mit vielen Crew-Mitgliedern von NCL aufgebaut haben, deswegen ruinieren lassen? Damit würden wir uns nur selbst und unsere Freunde bestrafen. Wir sind nicht bereit auf unsere Freunde zu verzichten, also müssen wir lernen, auch mit solchen Crew-Mitgliedern zu leben. Zumal die Wahrscheinlichkeit ja immer nur 1:24 beträgt, sie wiederzutreffen (13 Schiffe, und dann muss sie ja auch an Bord sein...). Ein Risiko, das wir in Kauf nehmen können und dann gäbe es ja immer noch die Box "Dear Hotel-Director", um unsere Probleme zu lösen.
Nie wieder NORWEGIAN BREAKAWAY und Schwestern... Zwischen Mitfahren und Fotografieren besteht ja ein Riesenunterschied. Aber jetzt war sie mal in Deutschland und ich hatte frei, also warum nicht. Ich fotografiere ja auch Schiffe von Gesellschaften, die ich gar nicht mag. Also kann ich auch die NORWEGIAN GETAWAY fotografieren. Zu dem Zweck ging es nach Nordenham.


Never say never again. Yes - we said after NORWEGIAN BREAKAWAY: Never NORWEGIAN BREAKAWAY and sites again. After we received a very damn stupid answer from Miami which only contained blah-blah-text-modules we were ready to say: Never again NCL.

Meanwhile, we booked OASIS OF THE SEAS and wanted to quit our friendship with NCL. But while we were on RYNDAM, we had the call of NAVIGATOR OF THE SEAS in the same port at the same day, and the damn stupid remark of an RCI-Facebook-Fan came that I should sail on NAVIGATOR OF THE SEAS to learn what a real ship is. This made me not any more interesting to make the acquaintance of OASIS OF THE SEAS - especially not as it should be her last sailing before drydock for this amount of money.

Additionally, we learned that only until November 2014 sailings through the Canal of Guideca in Venice, Italy would be possible, and then there should be a new regulation. The new restrictions should not apply to NORWEGIAN JADE, but you never know. So we never canceled our September 2014-cruise which is in the same period like OASIS OF THE SEAS. And finally, Frances and Eddie booked this cruise too, so we have more reasons to go.

On so many voyages we experienced very single crew-members who did not meet our expectations and treated us bad. Should one single person be able to destroy our long-term friendships which we maintain with many many crew-members all over the fleet? We would only punish ourselves and our friends. We are not ready to live with our friends, and so we have to learn to live with such crew-members too. The chance to meet the person again is 1:24 (13 ships in the fleet and the person must be on duty). A risk we think we could live with as there is a box "Dear Hotel Director" to solve our problems.

Never again NORWEGIAN BREAKAWAY and sisters... Between sailing and taking pictures, there is a huge difference. But now she was in Germany, and I had days off - so why not. I also take pictures of lines I do not like. So I can also take photos of NORWEGIAN GETAWAY. For this reason, I traveled to Nordenham.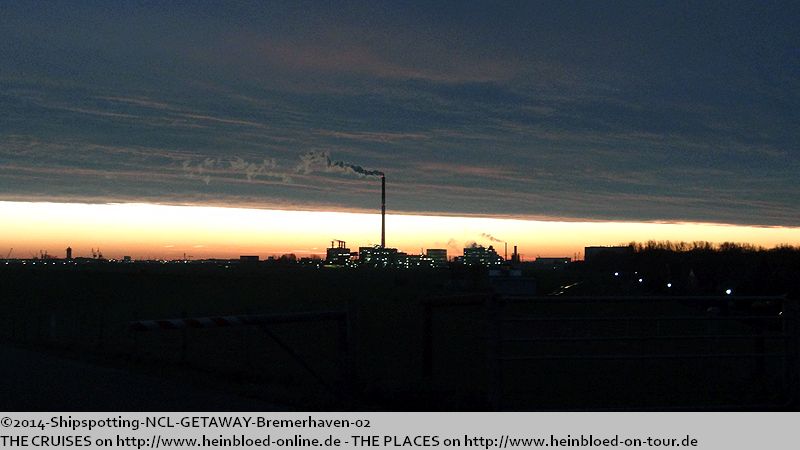 Eine Weserfahrt wie damals bei der NORWEGIAN BREAKAWAY gibt es in dieser Jahreszeit nicht. Mit Hilfe eines schiffsverrückten Taxifahrers finde ich die richtigen Stellen, um zu fotografieren.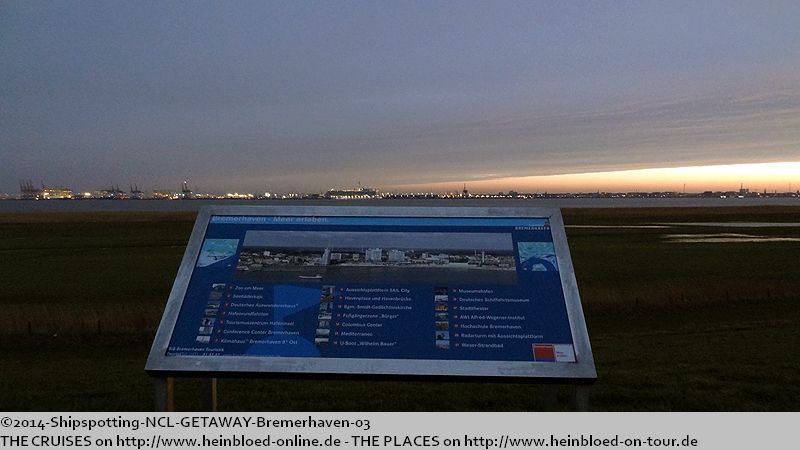 At this time of the year there are no cruises on the river Weser like I had when NORWEGIAN BREAKAWAY was in town. With the help of a taxi-driver, I found the right spots to take some pictures.

Nach einem zweiten Besuch des Aussichtspunktes als es heller war ging es mit der
Weserfähre
von Blexen nach Bremerhaven. Zwischenzeitlich war es aber ziemlich stürmisch in Bremerhaven geworden.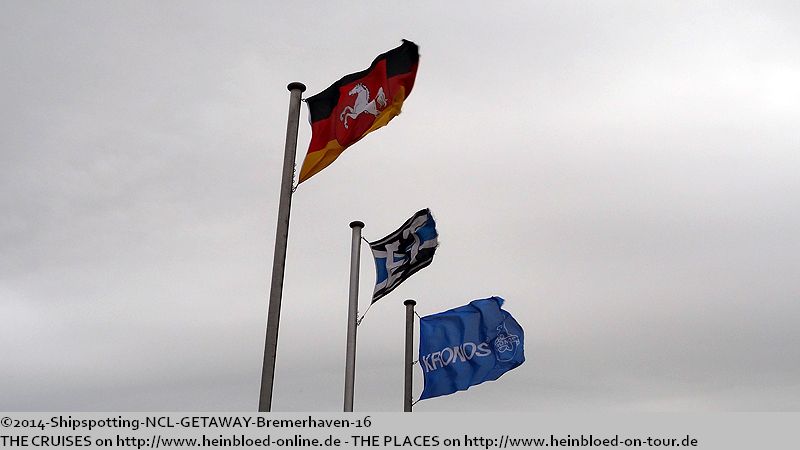 After the second visit of the spot when it was brighter I went on the River Weser Ferry Service from Blexen to Bremerhaven. Meanwhile it became quite stormy in Bremerhaven.

I was not sure anymore if the ferry would still be in operation or if NORWEGIAN GETAWAY will again leave the pier to protect the hull on the open sea as she did some weeks before when we had the Hurricane Xaver in town.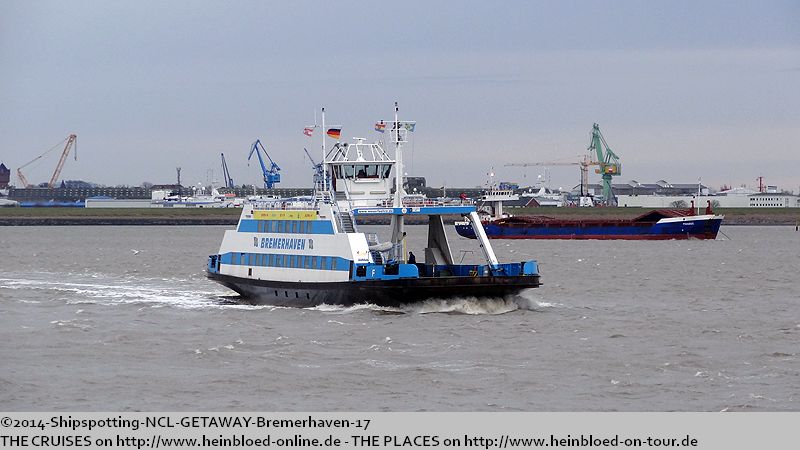 Ich war auf einmal nicht mehr sicher, ob überhaupt noch die Fähre fährt, geschweige denn, ob die NORWEGIAN GETAWAY wieder ablegt, um sich wie beim Orkan Xaver auf offener See vor einigen Wochen zu schützen.
Von dort sind aber bedingt gute Aufnahmen vom Cruise Terminal möglich.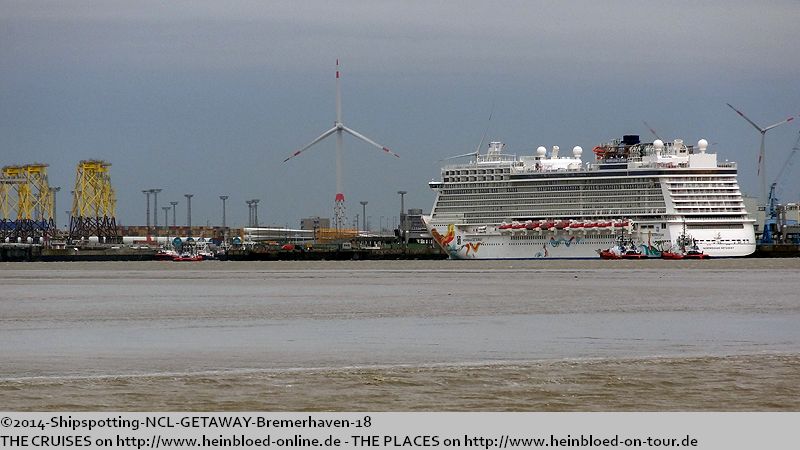 The chances to take pictures from the ferry were somehow limited.

Normalerweise hätte ich diese Aufnahmen von der Aussichtsplatform vom
Atlantic Hotel Sail City
gemacht.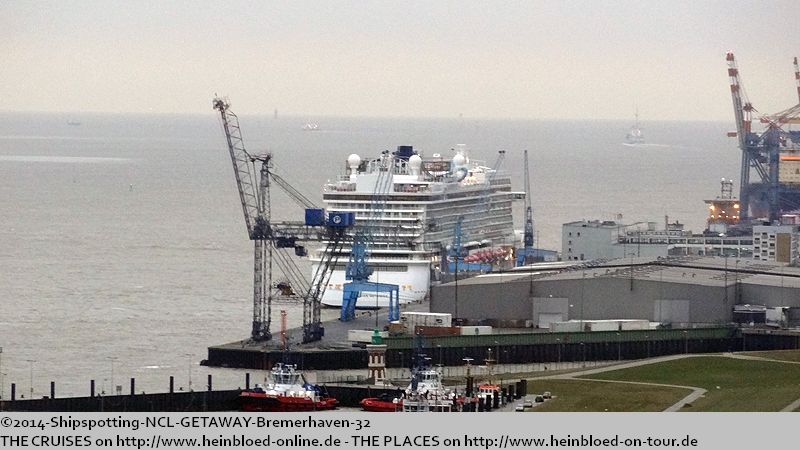 Normally I would have taken some pictures from the observation platform of the Atlantic Hotel Sail City.

But unfortunately, it was closed due to the weather condition.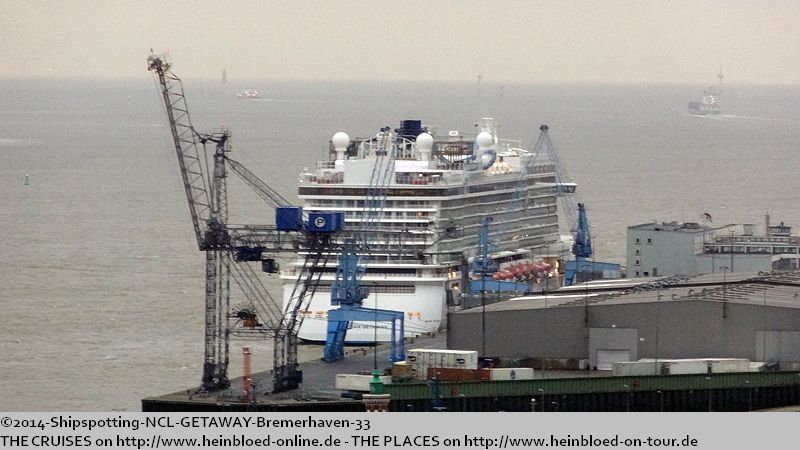 Aber leider war es aufgrund der Wetterlage geschlossen.
Ich hatte aber das Glück dort einen Engel an der Rezeption zu treffen. 2012 habe ich hier mal dienstlich übernachtet. Mir hatte es sehr gut gefallen und ich habe damals eine gute Kritik in Tripadvisor reingesetzt. Und da wollte ich einfach mal diejenige sprechen, die mir damals auf meine Kritik geantwortet hat. Frau Nieschlag war aber so nett, und hat mich einfach in die Captain's Lounge raufgeführt und mich fotografieren lassen. Ich war richtig begeistert. Und sollte ich mal ab Bremerhaven fahren, dann werde ich bestimmt hier übernachten und gucken, wie die Schiffe morgens einlaufen.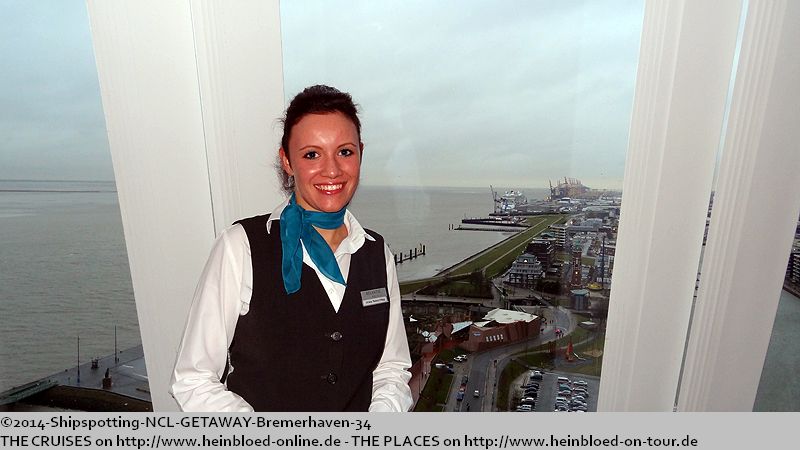 I had luck to meet an angel at the front desk. I stayed there before in 2012 for business purposes. I liked it very much, so I posted something nice on Tripadvisor. So I was interested in having few words with the lady who answered to my post. Miss Nieschlag was so kind and took me up to the Captain's Lounge and gave me the chance to take a few pictures. I was very excited. Should I ever sail out of Bremerhaven, I would stay here again and see how the ships are coming in in the morning.

We a cab I wanted to be much closer to the ship.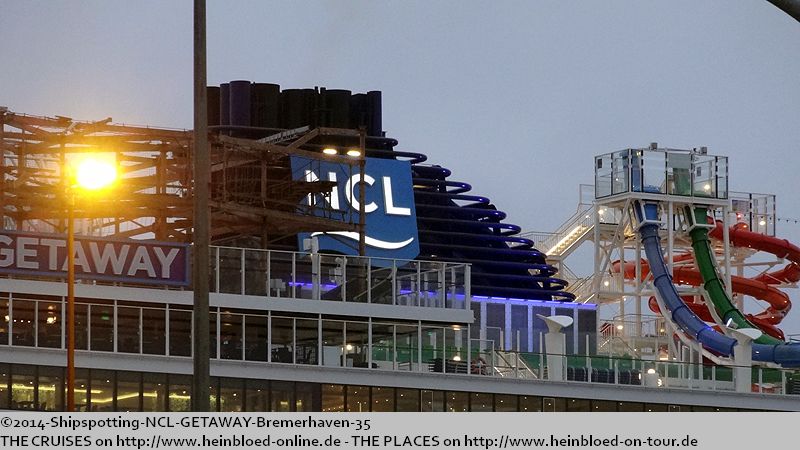 Mit einem Taxi ging es dann in den Hafen, um doch mal dem Schiff näher zu sein.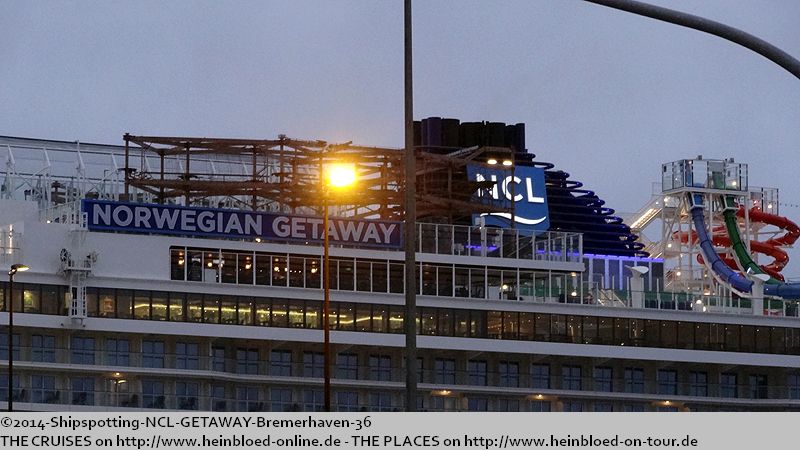 Wondering if the pipes were directed to the open sea...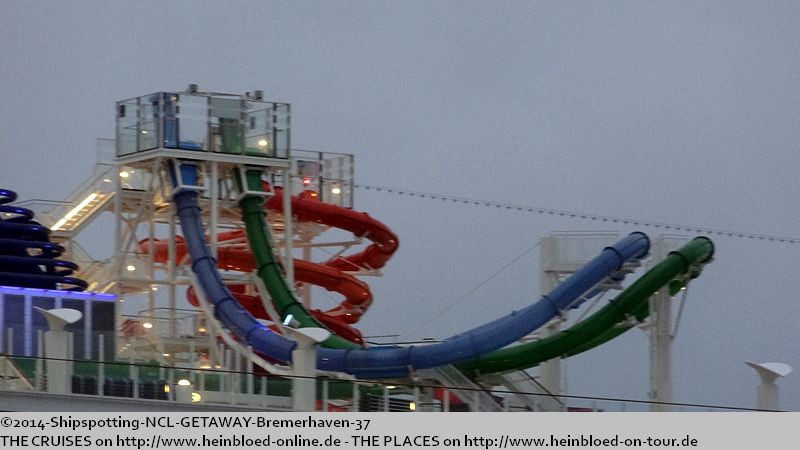 Führen die Röhren der Rutsche ins Meer?
Mein Taxi-Fahrer fährt mich einfach in die Einfahrt zum Ausrüstungskai. Die Sicherheitsheitsleute gucken zwar etwas irritiert, dass ich einfach an der Schranke fotografiere, aber halten mich für mögliches Crew-Mitglied.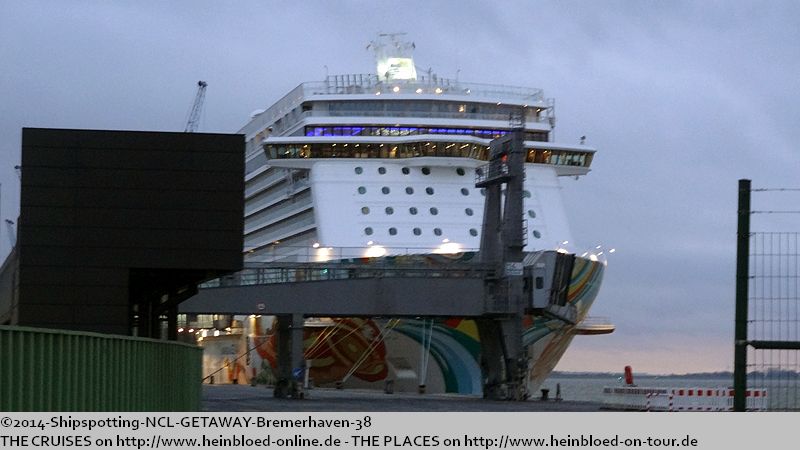 My taxi driver took me to the entrance of the equipment quay. The security guys looked somehow irritated, but maybe they thought that I was a possible crew-member and let me take pictures at the barrier.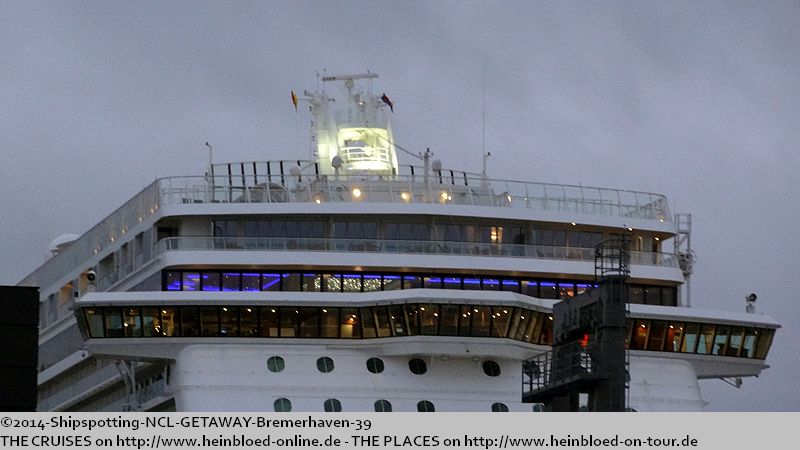 Lediglich von der Container-Plattform kann ich nicht fotografieren, weil sie von November bis Februar aus Sicherheitsgründen geschlossen ist.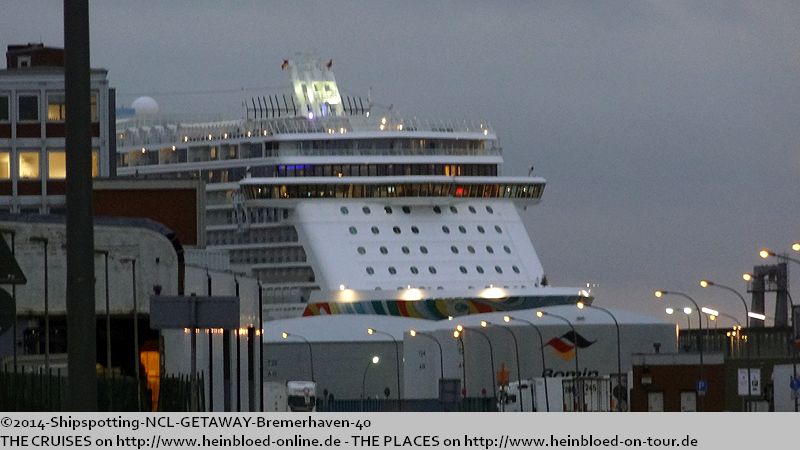 Only from the container platform I was unable to take any pictures as it is closed from November to February due to safety reason.

By using the old Southern entrance to the Cruise Terminal, you can get to the visitor's terrace, and from here you can quickly take pictures close to the ship.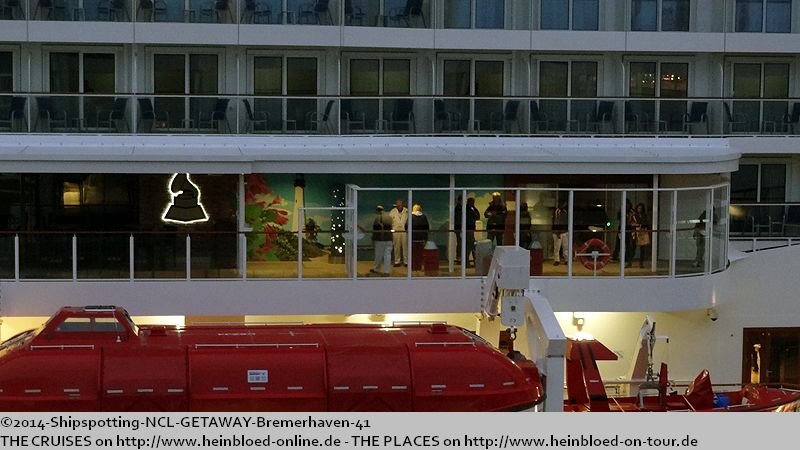 Über den alten Südzugang zum Cruise Terminal gelangt man zur Aussichtsterrasse und kann dann näher dran fotografieren.

No pictures from the inside. I asked someone who asked me after the incidents on NORWEGIAN BREAKAWAY if he could do something good to me and I mentioned that would be something I am interested in but I got only the information that the ship does not belong to NCL but still to Meyer-Shipyard. I am just wondering how the pictures appear in the net... Who cares.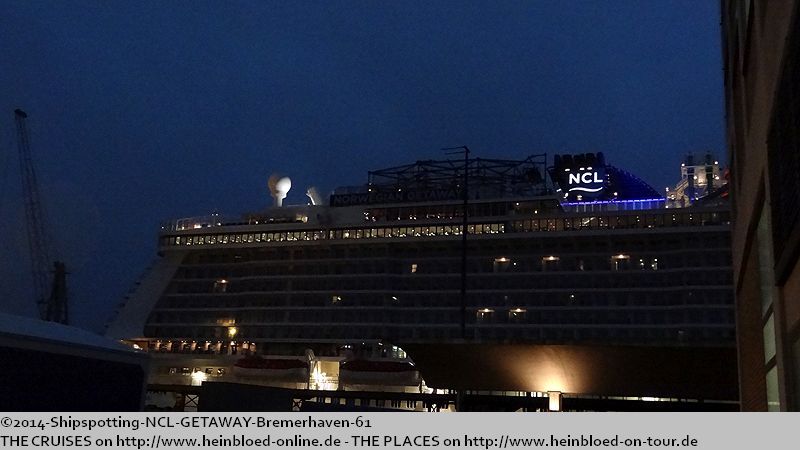 Bilder von innen gibt es nicht. Ich hatte bei jemandem angefragt, der mich wiederum nach den Ereignissen auf der NORWEGIAN GETAWAY gefragt hätte, was man mir gutes tun könnte und gesagt, dass mich das interessiert, aber da hieß es bloß, dass das Schiff dann noch gar nicht NCL gehört sondern der Meyer-Werft. Ich frage mich bloß, woher die ganzen Bilder aus dem Netz auftauchen... Egal.
Ich bekam ein persönliches Programm: Der Nachteil von Facebook: jeder bekommt auf der Welt alles mit. Der Vorteil von Facebook: jeder bekommt auf der Welt alles mit. So blieben meine Pläne nach Bremerhaven zu fahren nicht unentdeckt. So wie damals in New York mit Aimee Oltea Ospiru, die wir von der NORWEGIAN JADE kannten und zum gleichen Zeitpunkt wie ich mit der NORWEGIAN GEM in der Stadt war.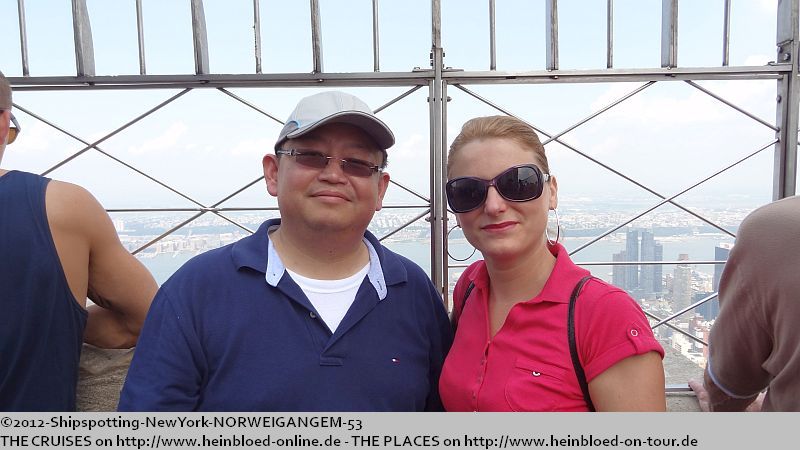 I got a more personal program: The disadvantage of Facebook: the whole world knows what you are doing. The advantage of Facebook: the entire world knows what you are doing. So my activities for Bremerhaven were not undiscovered. Like before in New York with Aimee Oltea Ospiru whom I knew from NORWEGIAN JADE, and she was same time on NORWEGIAN GEM in the city.

And now again: I was in Bremerhaven and Elena Bodi whom we knew from NORWEGIAN JADE and NORWEGIAN SUN. She was also in Bremerhaven. So we could meet and do something together. So we headed to Bremen.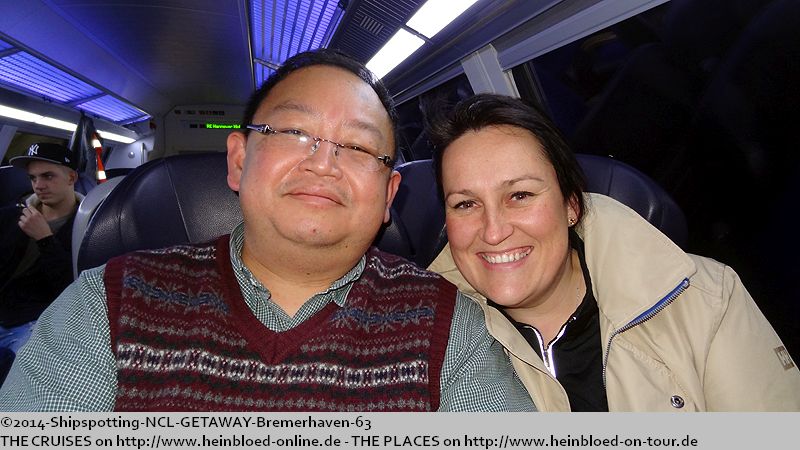 Und jetzt wieder: ich war in Bremerhaven und Elena Bodi, die wir von der NORWEGIAN JADE und NORWEGIAN SUN kennen, war in Bremerhaven und dann tut man sich zusammen. Wir sind dann nach Bremen gefahren.
Und bei NCL läuft es so: meine Freunde sind auch deine Freunde. Also hat Elena auch jemanden noch mitgebracht: Sax bzw. Samuel Anria. Er war auch im Herbst 2012 auf der NORWEGIAN SUN. Nun besuchen wir die Disco nicht und daher haben wir ihn auch damals als DJ nicht wahrgenommen... Wir besuchen ja bloß die Disco bei Holland America, weil es dort ja etwas gemächlicher und ruhiger zugeht.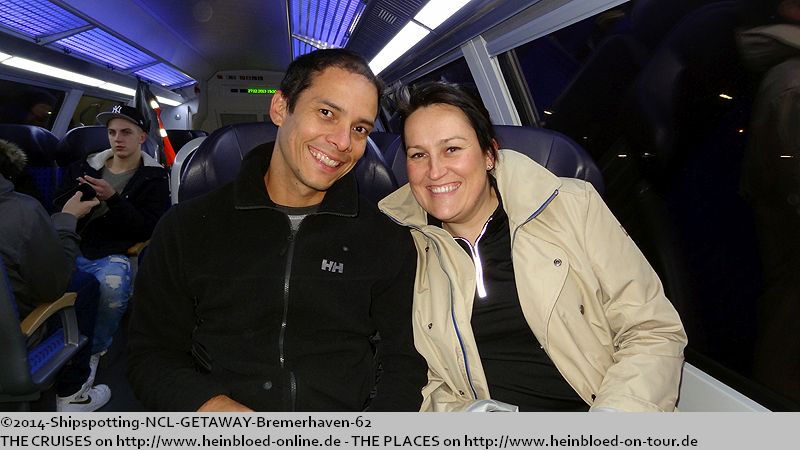 With NCL it goes this way: my friends are also your friends. So Elena took somebody with her: Sax or Samuel Anria. He was also in fall 2012 on NORWEGIAN SUN. But we never see the disco, so we did not notice him as DJ... We only see the disco with Holland America because it is some little slower and calmer there.

My newest discovery: Miku in Bremen's Bahnhofstrasse just adjusting to the train station. Within 48 hours I was eating there three times. The night before I had 56 minutes transit times which I used to dine there. And for lunch, I went from Bremerhaven to Bremen just to eat there.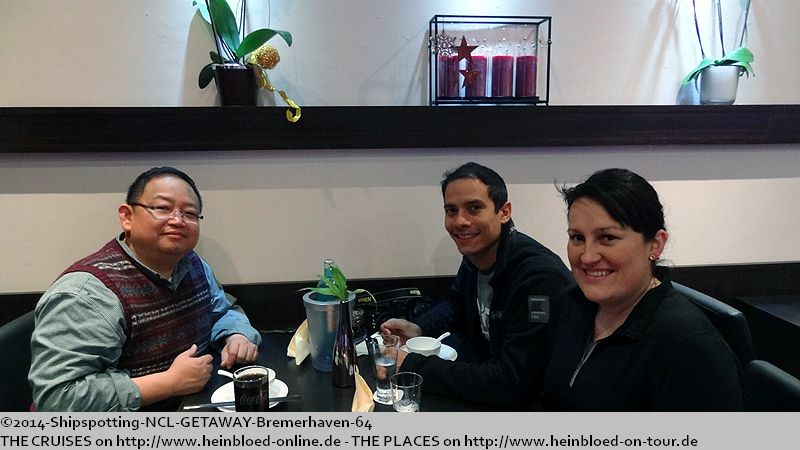 Meine neueste Entdeckung:
Miku
in der Bahnhofstraße in Bremen. Innerhalb von 48 Stunden bin ich zum dritten Mal dort essen. Gestern Abend hatte ich 56 Minuten Umsteigezeit, die ich genutzt habe, um dort zu essen. Und mittags bin ich auch extra von Bremerhaven hierher gefahren.
Nach den Fiaskos in München und Düsseldorf bin ich froh, dass es hier richtig lecker ist. Kantonesisches Essen so wie ich es mag.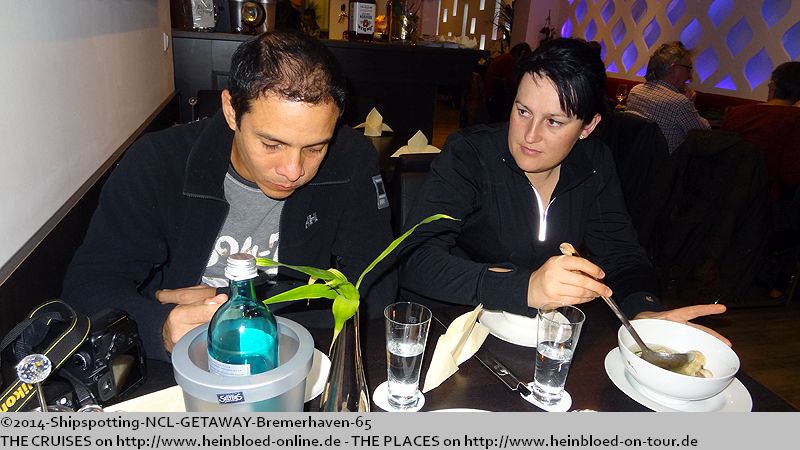 After the disasters in Munich and Dusseldorf I was quite glad that everything was yummy here. Cantonese food in the way I love it.

For lunchtime, I was one Chinese of many Chinese here in the restaurant.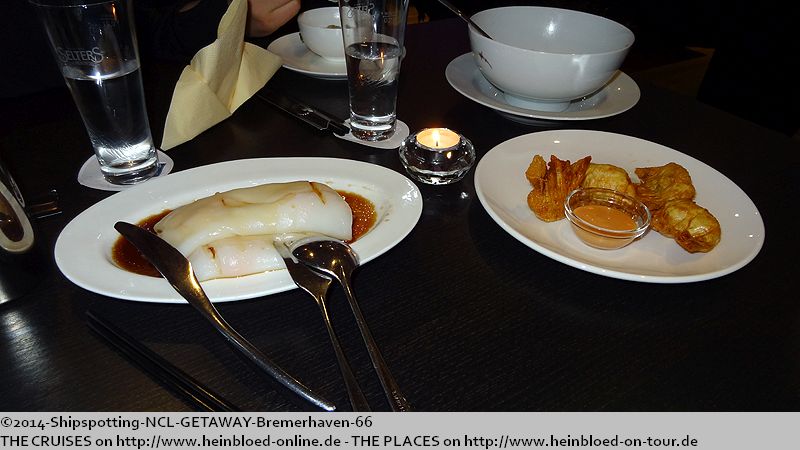 Mittags war ich sogar ein Chinese unter vielen Chinesen.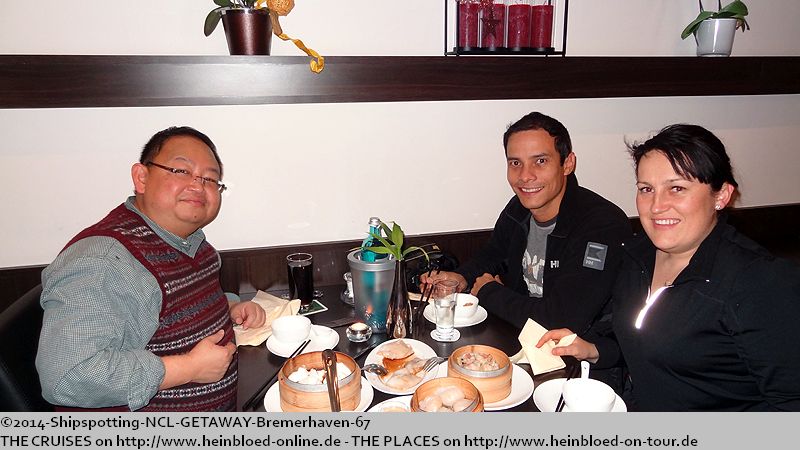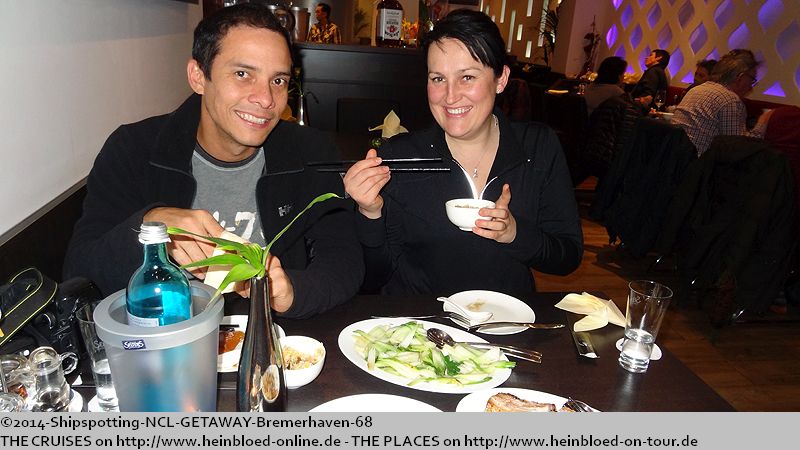 Von Elena erfahre ich, dass des diesen kross gegrillten Schweinebauch auch in Rumämien gibt. Lecker...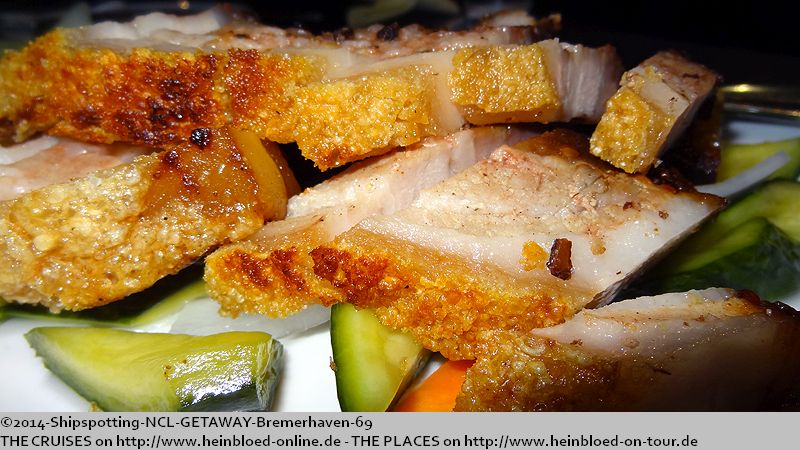 From Elena I learned that the crispy roasted pork belly is also popular in Romania. Yummy...

Facebook means that all friends are with you. I got a message from another Facebook friend who sailed with us on our very first cruise on NORWEGIAN PEARL. He was wondering what I was doing something together with crew members. He experienced the crew as very reserved... Maybe he encountered our concierge on our last voyage too... No - many of them are like family to us or better we participate in their family life - even they are no more with Norwegian: Philmore and Monica Harrison - when they had their baby: we really loved to send them a gift home because they treated us on board like their very best friends.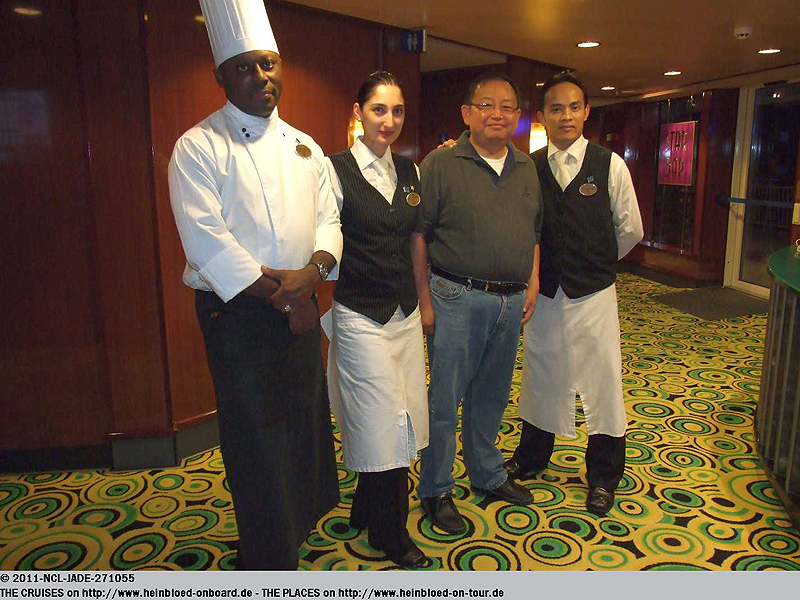 Facebook bedeutet, dass alle Freunde sind dabei. Ich wurde von einem Facebook-Freund gefragt, der mit uns schon auf der NORWEGIAN PEARL unterwegs war, wie es kommt, dass ich mit der Crew unterwegs bin. Er hat die Crew nur als reserviert erlebt... Wahrscheinlich hat er unseren Concierge auf unserer letzten Reise erlebt... Nein - Viele sind schon fast Familie, bzw. wir nehmen an deren Familienleben teil, auch nach ihrer Zeit bei Norwegian: Philmore and Monica Harrison - als sie ein Kind bekommen haben: gerne haben wir denen ein Geschenk nach Hause geschickt, weil sie uns an Bord immer bedient haben, als ob wir ihre besten Freunde waren.
Joey Lapesana - seine Familie war vom Typhoon Haiyan betroffen. Statt an eine internationale gemeinnützige Organisation zu spenden und es von der Steuer absetzen zu können, bekam er für seine Familie das Geld. Sobald er wieder unser Maître ist, bekommen wir dann nur noch den Kapitänstisch zugewiesen und wenn wir einen Sonderwunsch haben, wird jemand garantiert zum nächsten Supermarkt geschickt. Aber deswegen machen wir es nicht, sondern weil er und sein Team uns immer toll bedient haben.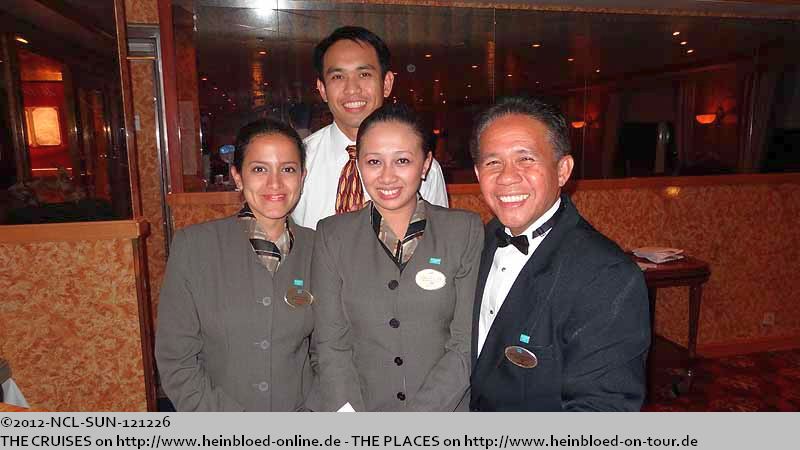 Joey Lapesana - his family was impacted by Typhoon Haiyan. Instead of donating money to an international charity organization and to get a receipt for tax deduction his family got the money. As soon as he is our Maître, we will always get the Captain's Table and even we will have a special request I am sure someone would be sent to the next supermarket. But that are not the reasons why we did it. It's because he and his team always gave us the best service.

Cheryll Reyes-Geronimo was briefed by her husband Noel whom we knew from NORWEGIAN SUN before we came onboard. We had the most beautiful service on NORWEGIAN SPIRIT.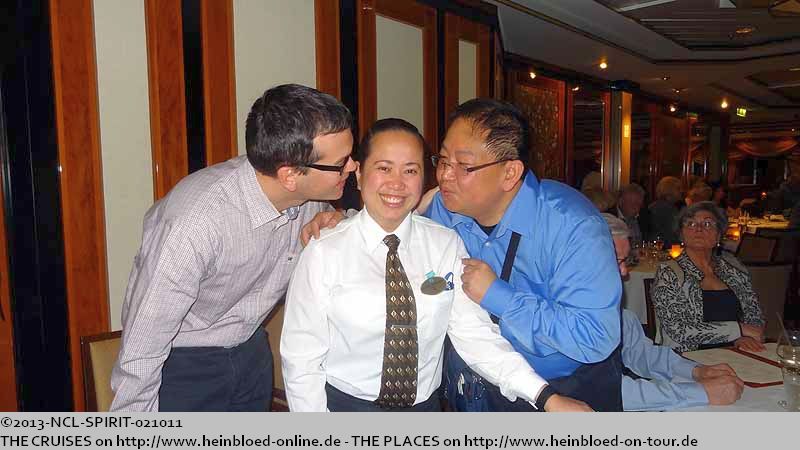 Cherryl Reyes-Geronimo wurde von ihrem Mann Noel, den wir von der NORWEGIAN SUN kennen, vorher gebrieft, wie wir es am liebsten hätten. Wir hatten auf der NORWEGIAN SPIRIT einen traumhaften Service.
Kleine Geschenke erhalten die Freundschaft.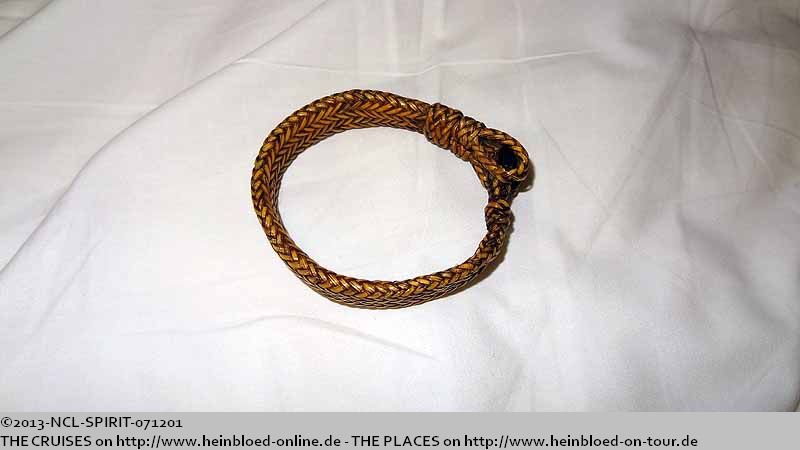 Small gifts keep your friendships alive.

Given by Alain Oliver Oliva - Utility Hotel - usually, none who are dealing with as guest and none you usually would notice. But he cleaned up all the mass we left in the spa, and all I did was to say thank you to him.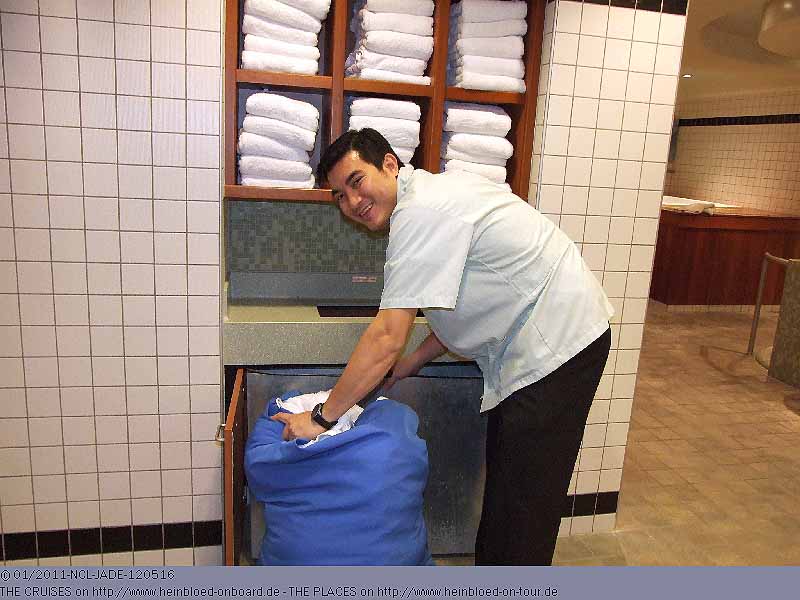 Von Alain Oliver Oliva - von Utility Hotel - normalerweise, mit dem man als Gast wenig zu tun hat und kaum wahrnimmt. Aber er hat unseren ganzen Dreck im Spa weggemacht und dafür habe ich mich halt einfach mal bei ihm bedankt.
Unser Kabinensteward Isagani Jong Camunggol jr. auf der NORWEGIAN SPIRIT, dessen Frau sich bei mir meldet, weil sie sich freut, dass Ihr Mann in meinem Blog auftaucht.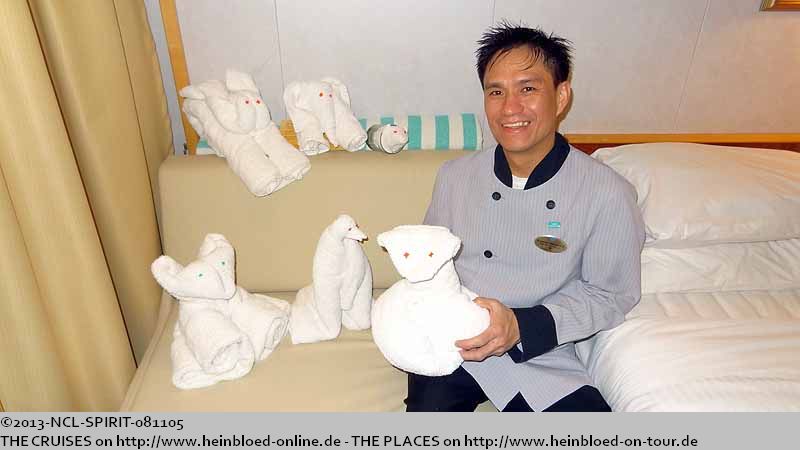 Our cabin steward on NORWEGIAN SPIRIT Isagani Jong Camunggol jr.. His wife contacted how happy she was that her husband appears on my blog.

The Taylor John Giddian Tobierre whom I was looking for in the catacombs of the ship to tell him that I read something on him on someone else's blog. Now the Shore Excursion Manager is upset because John promised that his family will take us around in St. Lucia whenever our ship docks there.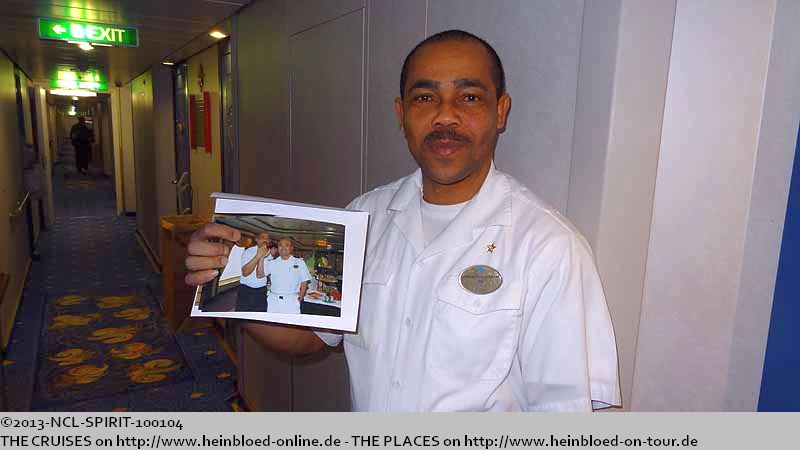 Der Schneider John Giddian Tobierre, den ich in den Katakomben des Schiffs gesucht habe, weil ich einem anderen Blog über ihn gelesen habe und es ihm erzählen wollte. Nun ärgert sich der Shore Excursion Manager, weil John uns versprochen hat, dass seine Familie uns herumführt, wenn wir mal in St. Lucia anlegen.
Valentina Nistor, die uns mit T-Shirts überrascht, weil sie weiss, dass wir sie sammeln. Zuvor schon ihr Freund Andrew Hebbert auch schon. Und es macht Spaß ihn aus der Ferne zu beobachten: Herzlichen Glückwunsch zum Assistant Maître D'.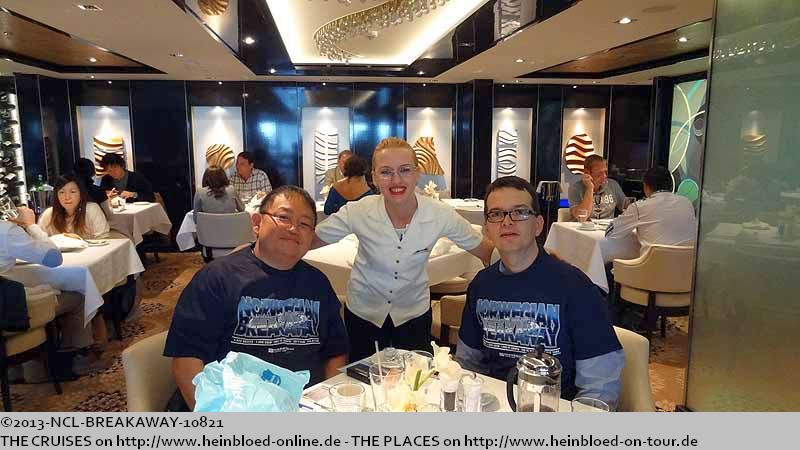 Valentina Nistor who surprised us with t-shirts because she knew that we collect them. Before her friend, Andrew Hebbert did the same. And it makes fun to observe them from a distance:: Congratulations to your Assistant Maître D'.

And now back to Elena Bodi who invited us to see her homeplace in Transylvania, Romania. We will do it when we have a cruise embarking in Istanbul: flying by Tarom via Bucharest and having a stop-over for a couple of days with you in Sibiu. Be sure we will ask long-term for Elena's vacation schedule. And there were so many others we have not mentioned here. Many of them you will see in a few days in the NORWEGIAN JADE-Blog and whom we already included in our hearts. So it would be regrettable not to be their friends anymore because we were upset on one single crew-member. Why do not you just join us on Jan 8 (or Sep 27) on NORWEGIAN JADE or Sep 24, 2015, on NORWEGIAN STAR which we just booked recently? Learn with us how the friendly crew-members will become your friends.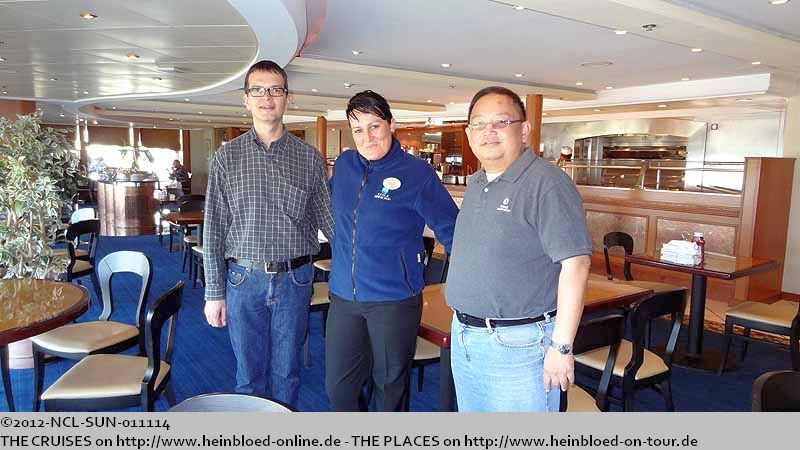 Und jetzt wieder zurück zu Elena Bodi, die uns eingeladen hat, ihre Heimat Transsylvanien (Rumänien) kennen zu lernen. Wir können es mal machen, wenn wir eine Cruise ab Istanbul haben: mit Tarom über Bukarest und dort mal einen Stopp einlegen und weiter nach Hermannstadt für ein paar Tage. Wir fragen rechtzeitig an, ob Elena Urlaub hat, in der Zeit. Und da wären noch viele viele andere, die wir nicht hier erwähnen. Viele werden in wenigen Tag ja im NORWEGIAN JADE-Blog erwähnt und auch ganz viele, die wir auch in unser Herz geschlossen haben. Deswegen: es wäre schade, auf ihre Freundschaften zu verzichten, weil wir uns über ein Crew-Mitglied geärgert haben. Warum kommst du am 08.01.2014 (oder 27.09.2014) nicht einfach mit auf die NORWEGIAN JADE oder 24.09.2015 auf die NORWEGIAN STAR, die wir gerade gebucht haben. Dann lerne gemeinsam mit uns freundliche Crew-Mitglieder kennen, die dann hinterher deine Freunde werden.
Wir gehen noch ein paar Schritte durch Bremen.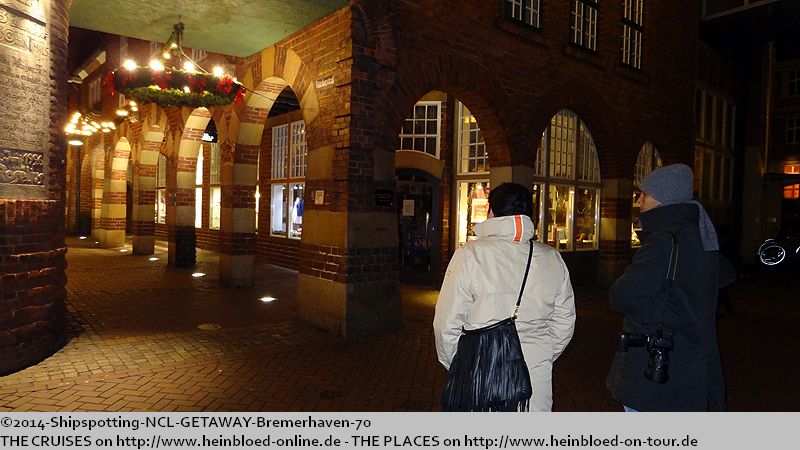 We went for a few steps through Bremen.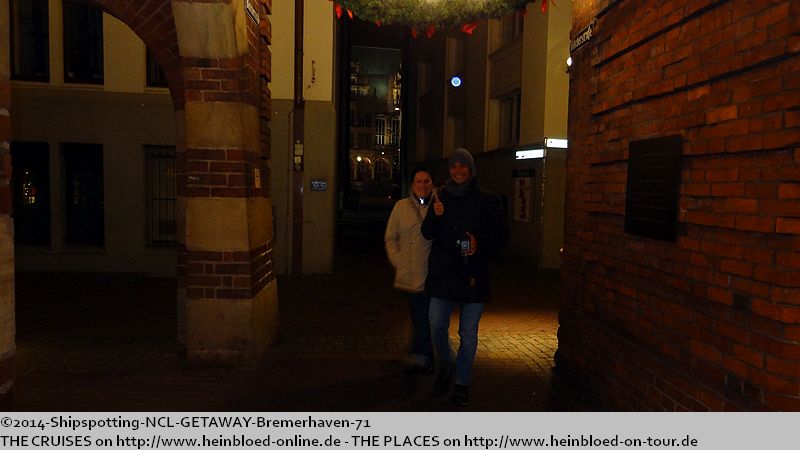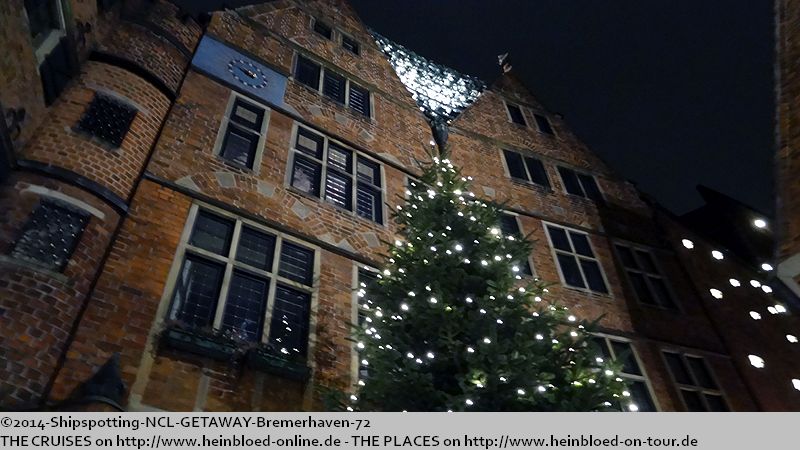 Unfortunately it started to rain.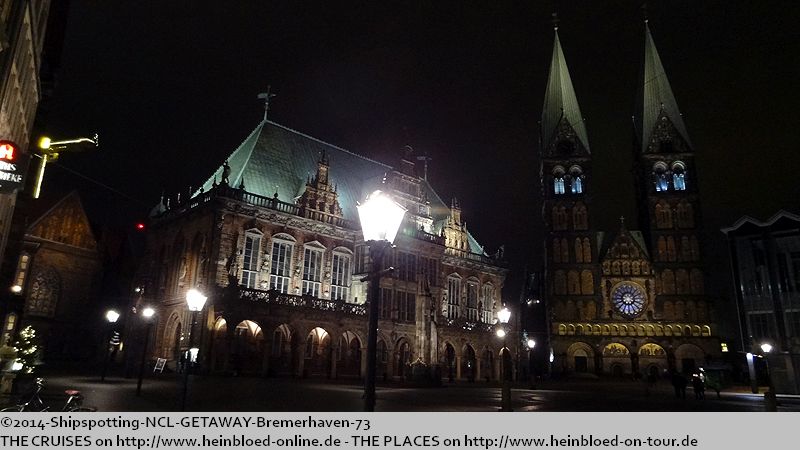 Leider fing es dann an zu regnen.
So beendeten wir den Stadtrundgang und gingen in mein Hotel:
Courtyard by Marriott
.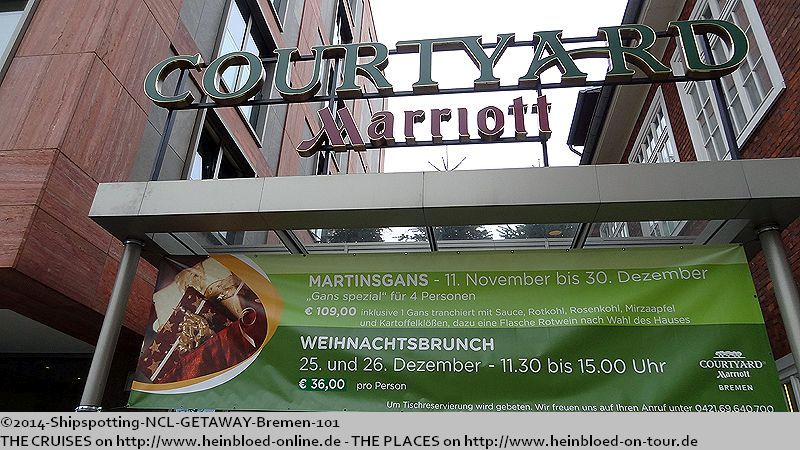 So we terminated the city walk and went to my hotel Courtyard by Marriott.

Great location as it is just on the backside of the Central Station.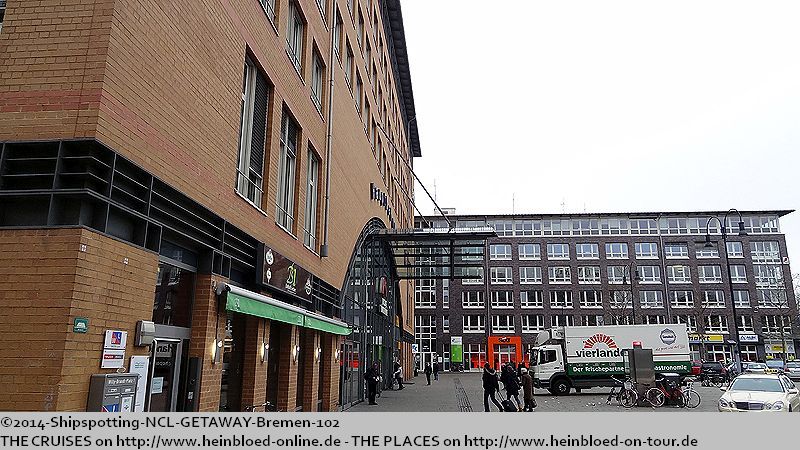 Äußerst praktisch, weil es direkt auf der Rückseite des Hauptbahnhofes liegt.
Zimmer sind wie üblich nett und praktisch eingerichtet.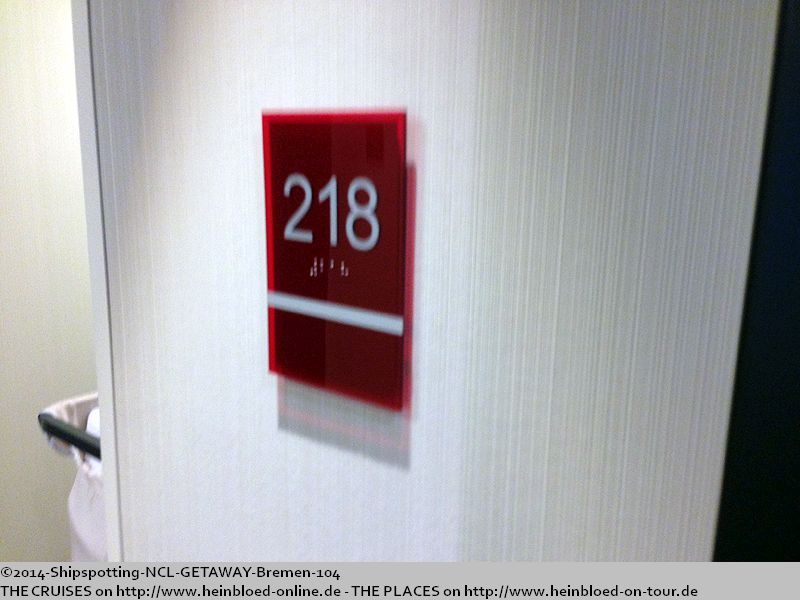 Rooms are nicely decorated and well equipped.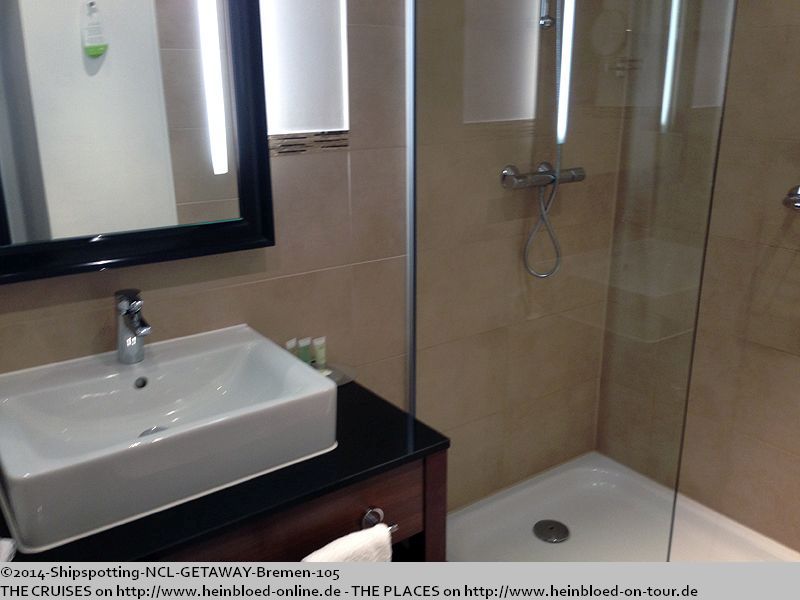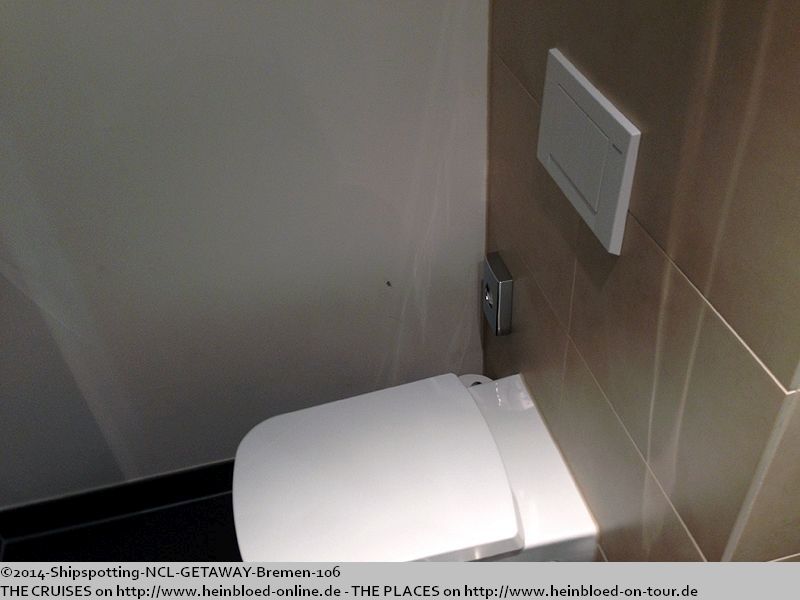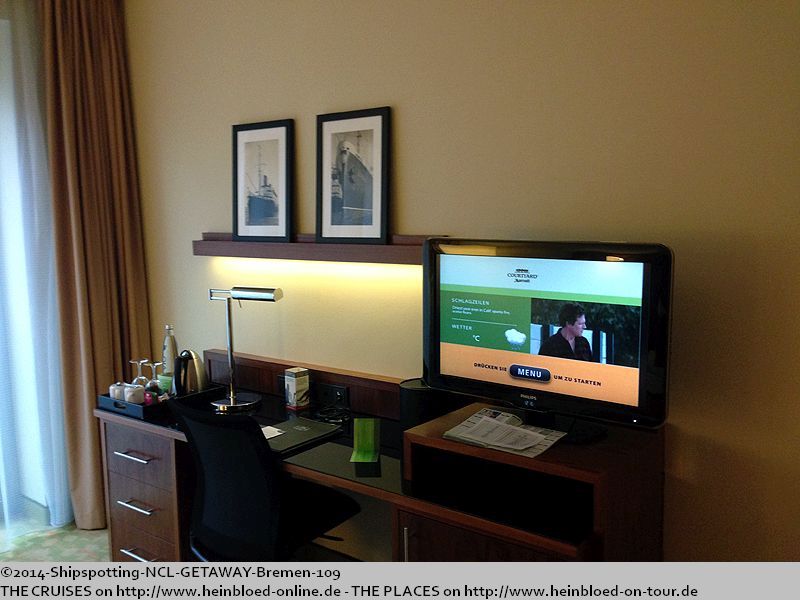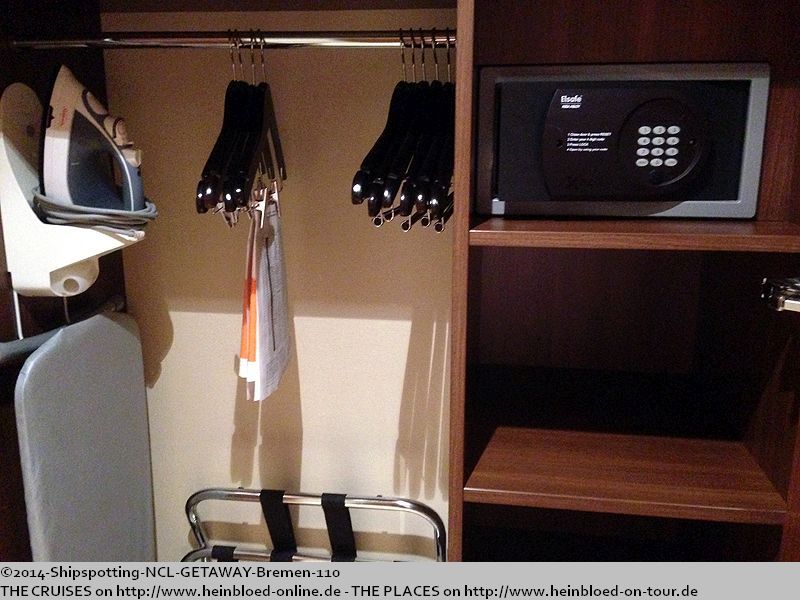 Very nice are the historical items and pictures from the time of the Norddeutschen Lloyd (as famous as United States Lines), so Lloyd as the right part of today's Hapag-Lloyd. The hotel is in in the building of their former corporate office.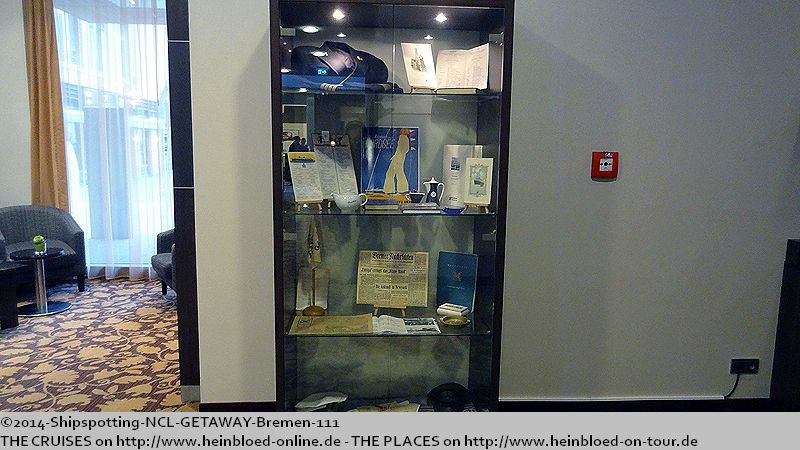 Schön sind jedoch die historischen Fundstücke und Bilder aus der Zeit der Norddeutschen Lloyd, also der heutige rechte Teil von Hapag-Lloyd. Schließlich ist das Hotel in der ehemaligen Zentrale der Norddeutschen Lloyd.
Elena sagte, dass es interessant war, zu sehen, was sie damals zu essen bekamen und was heute so serviert wird.

Elena said that it was interesting to see what kind of food they get and to compare with the menu today is served on ships.

So we had a last drink together before Elena's and Sax' train supposed to leave for Bremerhaven.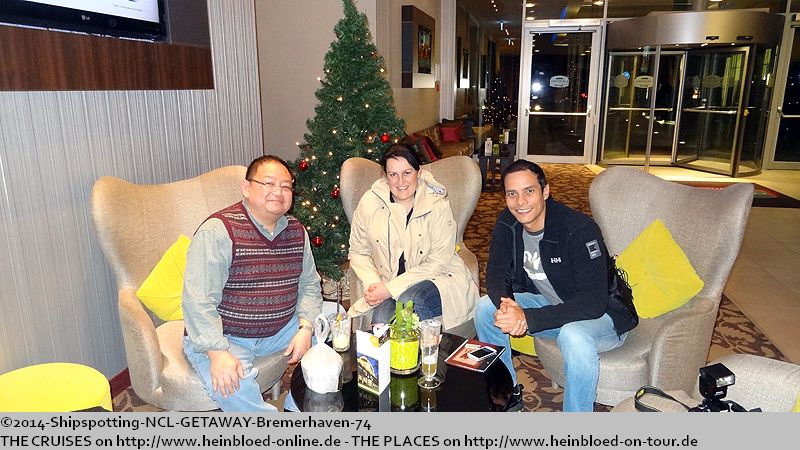 Wir trinken daher noch etwas, bis dass der Zug von Elena und Sax nach Bremerhaven geht.
Wenn sich Elena eines Tages nicht mehr zur See will, dann wäre das doch der richtige Platz für sie: am Empfang des Restaurants Lloyd.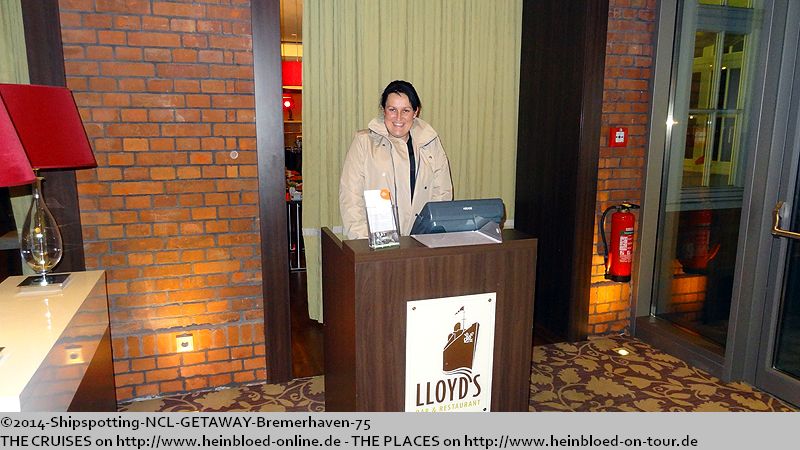 Subject Elena does not like to go on sea anymore that might be the right location for her at the reception of the Lloyd Restaurant.

So I took them to the train and said good-bye. My friends are also your friends - and Elena's friend is by co-incidence the Restaurant Manager on NORWEGiAN JADE... And so again we have new friends before we made it on the ship and many many more we left the ship. In the future, I will also look into the Disco to find Sax therearound.

Because I had more good moments with NCL but bad moments we booked 2015 NORWEGIAN STAR around the British Isles and Ireland. For this item they listened: no boring weekly loop.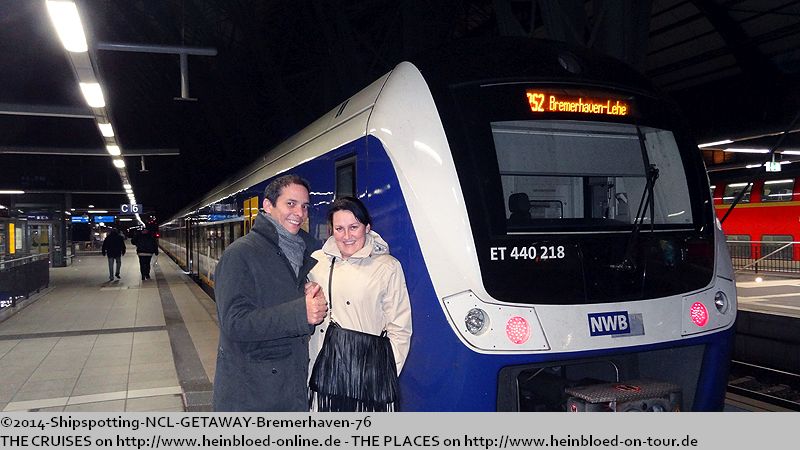 So bringe ich sie noch zum Zug und verabschiede mich. Meine Freunde sind auch deine Freunde - und Elenas Freundin ist zufällig Restaurant Manager auf der NORWEGIAN JADE... Und so haben wir immer schon neue Freunde bevor wir überhaupt auf einem Schiff sind und meistens noch viel mehr, wenn wir wieder von Bord gehen. In Zukunft werde ich dann auch mal immer in einer Disco nachgucken, ob ich Sax auch wiedertreffe.
Weil wir mehr gute Momente als schlechte Momente mit NCL hatten, haben wir dann auch für 2015 die NORWEGIAN STAR rund um Großbritannien und Irland gebucht. In diesem Punkt haben sie ja auch zughört: keine langweilige Wochenrunde.
Und so schön, wie der Tag bisher war, so endete er leider auch mit einer traurigen Nachricht. Wir erfahren, dass unser Freund Guenther verstorben ist. Am 03.01.2015 wollten wir eigentlich noch mit ihm und BJ eine Transatlantik auf der QUEEN MARY 2 machen. Zuvor wollten wir zum Ball-Drop am Times Square. Uns verbinden viele gemeinsame Erinnerungen auf der NORWEGIAN JADE und ZAANDAM. BJ wünschen wir viel Kraft für das Leben ohne Günther und unsere Gedankens sind bei ihm. Schön, dass wir zumindest jetzt noch auf dem Weg von der ISLAND PRINCESS in Denver noch umgestiegen sind und die Zeit genutzt haben, nochmals ein paar Stunden mit ihm zu verbringen. So haben wir leider einen lieben Kreuzfahrer-Freund weniger. Für BJ haben wir immer Platz an unserem Tisch. Zur Not rücken wir zusammen! Solange wir an Bord sind, muss er niemals an einem Einzeltisch essen.

And as lovely as the day was as sad it came to an end as a terrible message arrived. We had to learn that our good friend Guenther passed away. On Jan 3, 2015, we wanted to go with him and BJ on QUEEN MARY 2 for a Transatlantic-Crossing. Before we tried to see the Ball-Drop at Times Square. We share many great memories of NORWEGIAN JADE and ZAANDAM. We wish BJ the power for his future life without Guenther, and our thoughts are with him. We are delighted that we made to Denver on the way from ISLAND PRINCESS and used the time in transit to spend a couple of hours with him. So we have one beloved cruise-friend less. For BJ we will always have a seat at our table. We will squeeze if we need! As long as we are on board, he must never eat at a single table.
Die anderen Reisen in diesem Blog/
The other voyages in this blog: