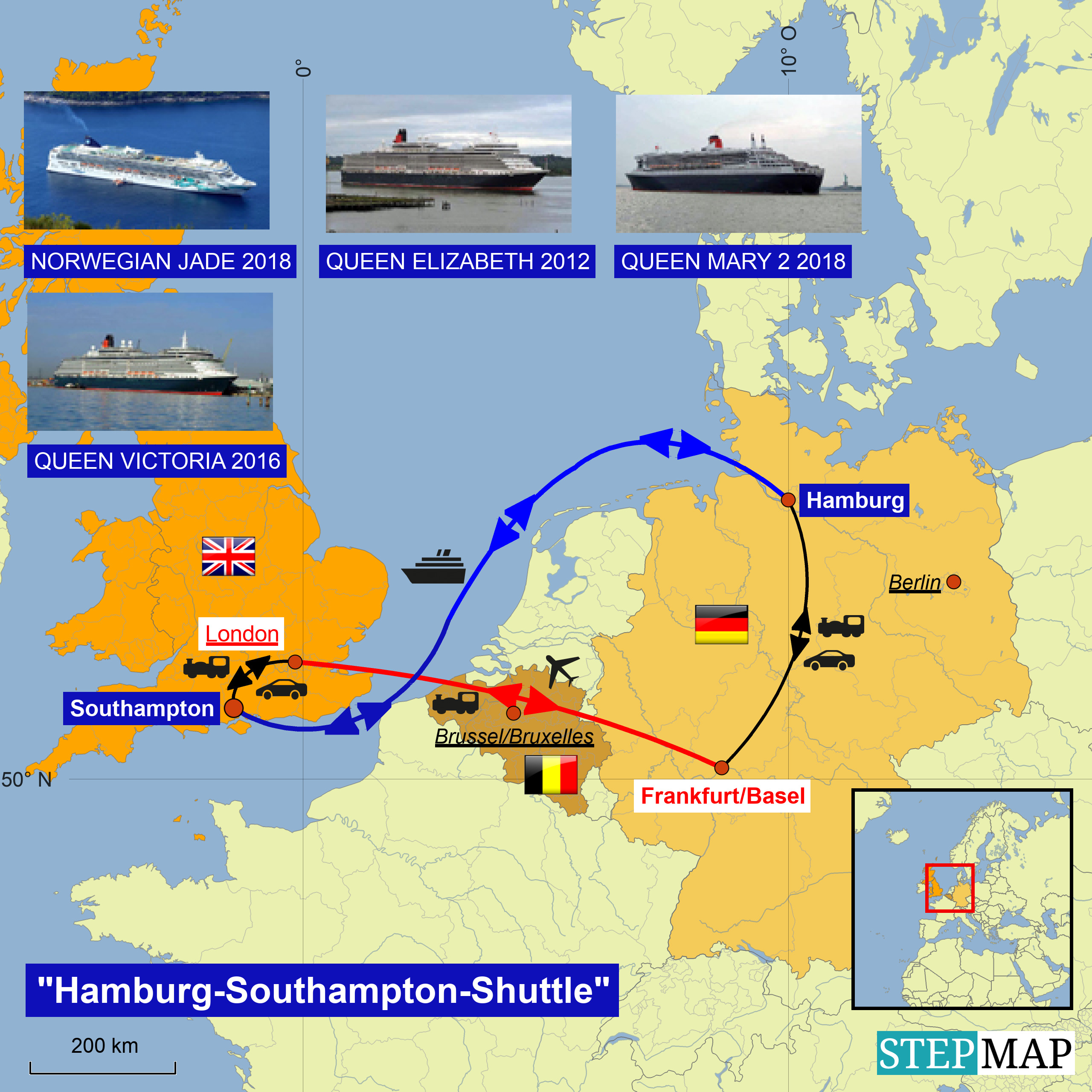 Über
Uber
bestelle ich mir ein Fahrzeug... Tesla X...

On Uber, I ordered a vehicle... Tesla X...

Wow - later when I left the car at the airport the cigarettes of the smokers in front of the terminal felt out of their mouths.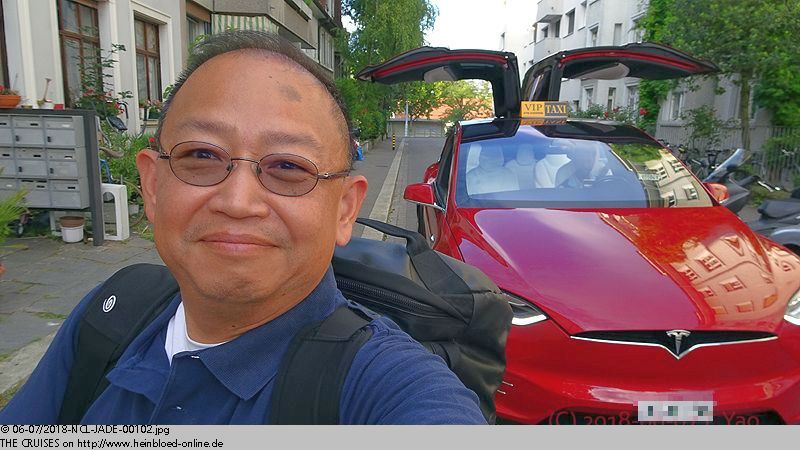 Wow - beim Aussteigen später am Flughafen sind den Rauchern vor dem Terminal die Zigaretten aus dem Mund gefallen.
Und Platz für sechs Fahrgäste aber kaum Platz im Kofferraum.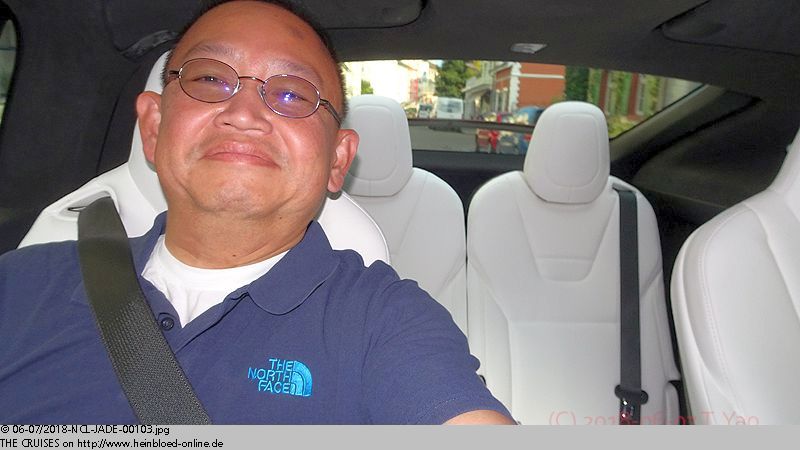 And space for six passengers but barely space in the trunk.

I need to remember the number. But he would only appear on direct call for longer journeys.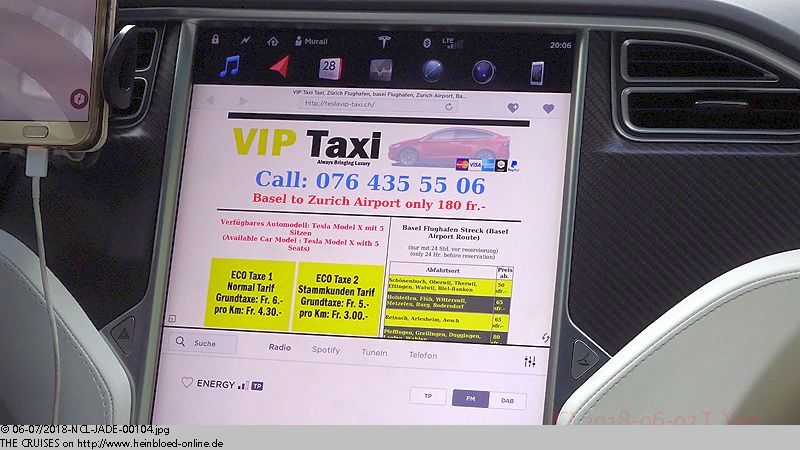 Die Nummer muss ich mir merken. Allerdings auf direkte Bestellung kommt er nur für längere Fahrten.
Mit einem normalen Taxi habe ich zuletzt Sonntagabends fast 50 CHF bezahlt.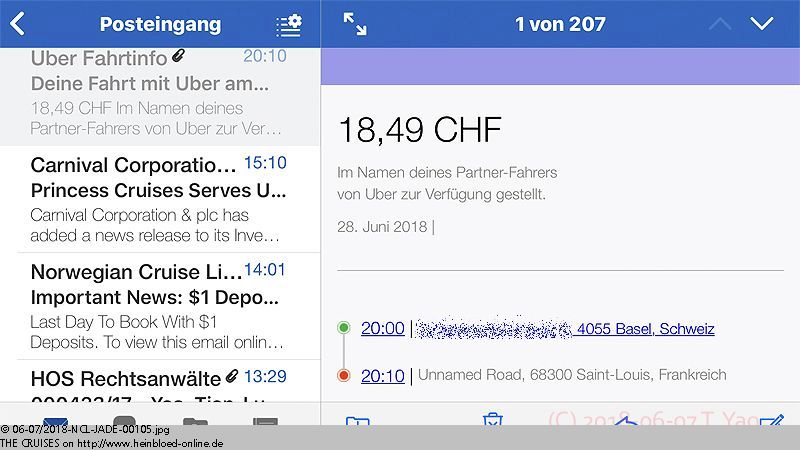 I paid about 50 CHF on a Sunday night when I used a regular taxi.

At the Euroairport Basle, Switzerland/Mulhouse, France: after checking-in I walked up near easyJet. Nobody was there around. I was the only passenger with the security check.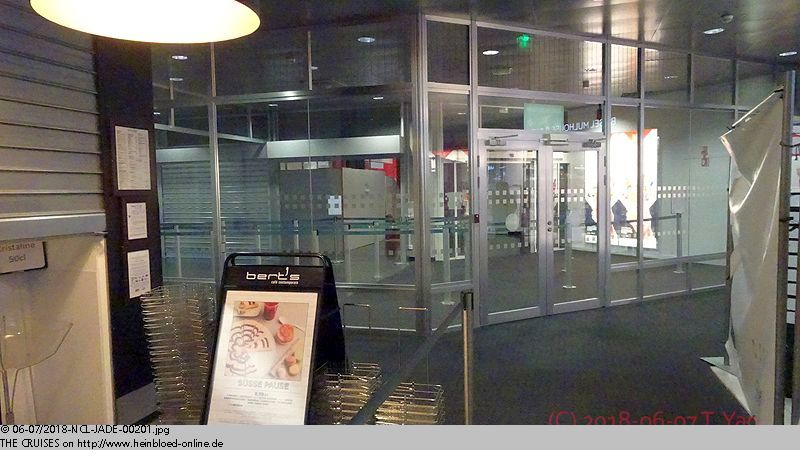 Am
Euroaiport Basel/Mülhausen
: nach dem Check-In gehe bei easyJet hoch. Dort ist absolut niemand. Ich bin der einzige Fluggast bei der Sicherheitskontrolle.
Allerdings bekomme ich nichts mehr zu essen. Mein Flug geht um 22:00 Uhr, aber das stimmt nicht, dass man etwas bis zum letzten Abflug bekommt.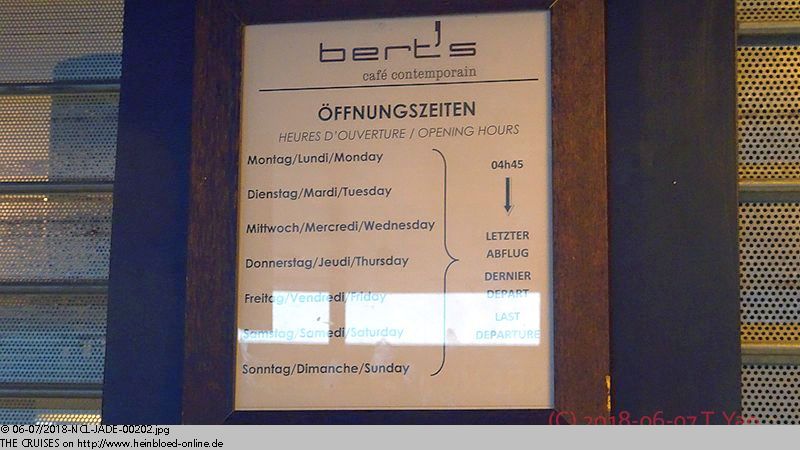 But I could not buy anymore any food. My flight was leaving at 22:00 hrs but it was not correct that you could buy something until the last flight departed.

Also with the other food outlets after the passport check: no more sandwiches, nothing. I bought at the vending machine.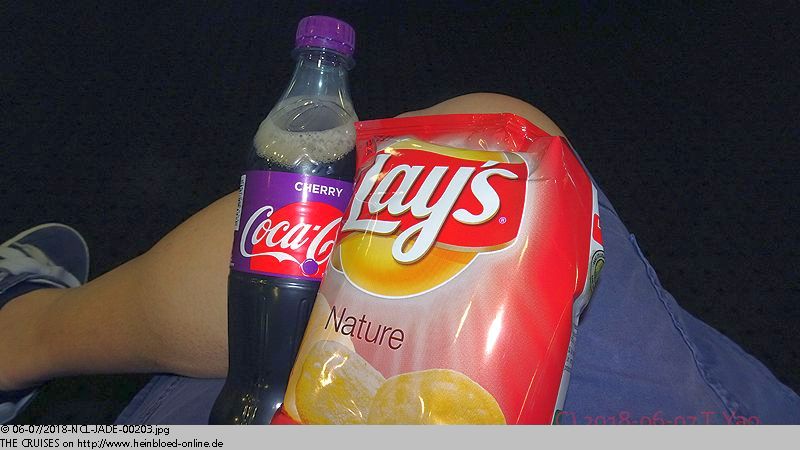 Auch bei den anderen Verkaufsstellen nach der Passkontrolle: kein Sandwich: nichts mehr. Ich kaufe etwas am Automaten.
BA 749 nach London ist pünktlich. Die Kontrollen der Papiere nimmt sehr viel Zeit in Anspruch. Alle Nicht-EU-Bürger müssen mehr Nachweise erbringen, als normalerweise üblich. Und beim Umbuchen war
British Airways
sehr hilfreich: für wenig Geld konnte ich meinen Flug nach der QUEEN MARY 2 2018 nach Berlin umbuchen. Den doppelt gebuchten Flug konnte ich innerhalb von 24 Stunden kostenlos stornieren.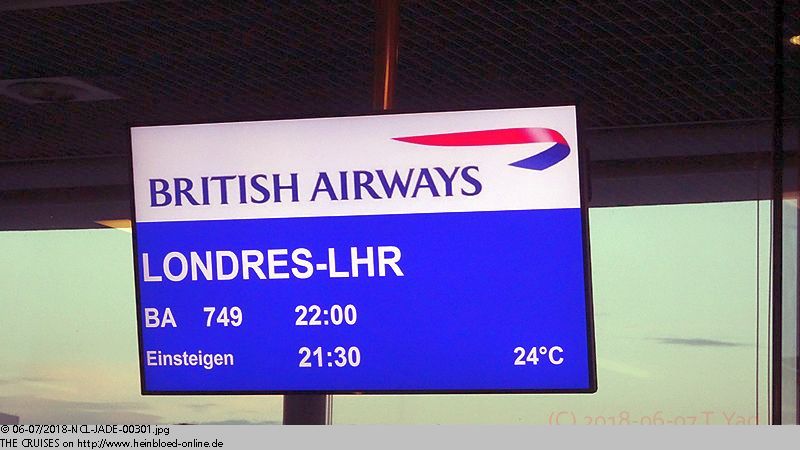 BA 749 to London was on time. The check of the documents took a while. All non-EU-citizens need to proof more permissions than usually. With the rebooking British Airways was very helpful. For little money, I could rebook my flight to Berlin, Germany after QUEEN MARY 2 2018. The flight I booked double I could cancel free of charge within 24 hours.

But everything was fine.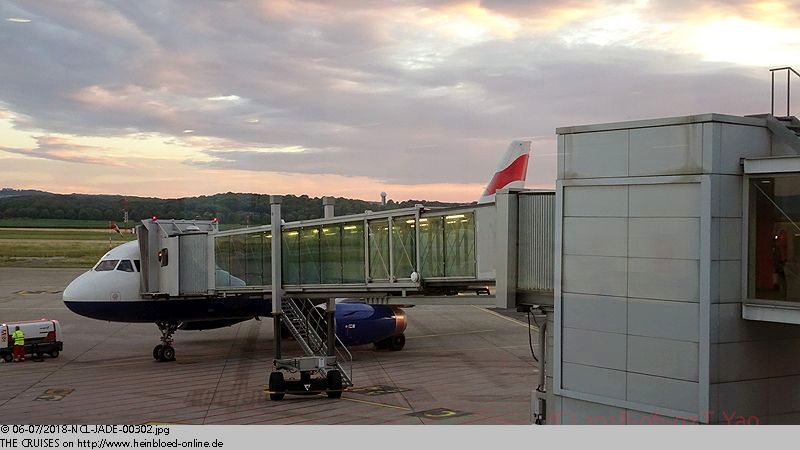 Aber alles gut.
Da ich im Flughafen nichts mehr bekommen konnte, kaufe ich eben hier an Bord.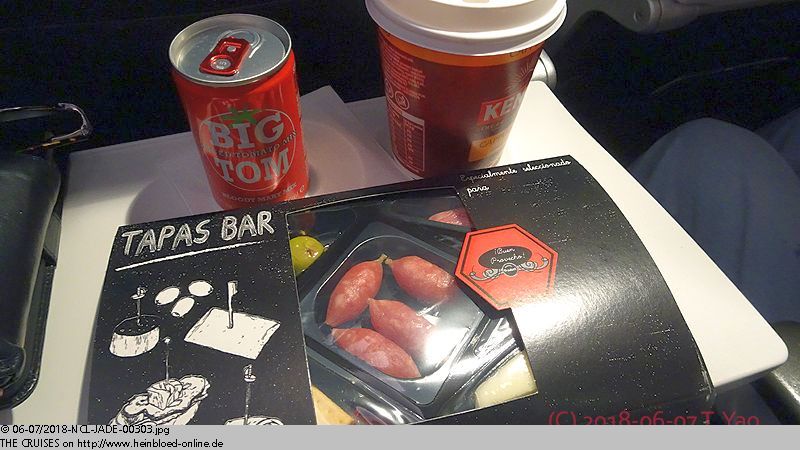 As I could not get anything at the airport I just bought onboard.

The opening of the container was just a mess! Olives and cheese made everything greasy after the foil was removed.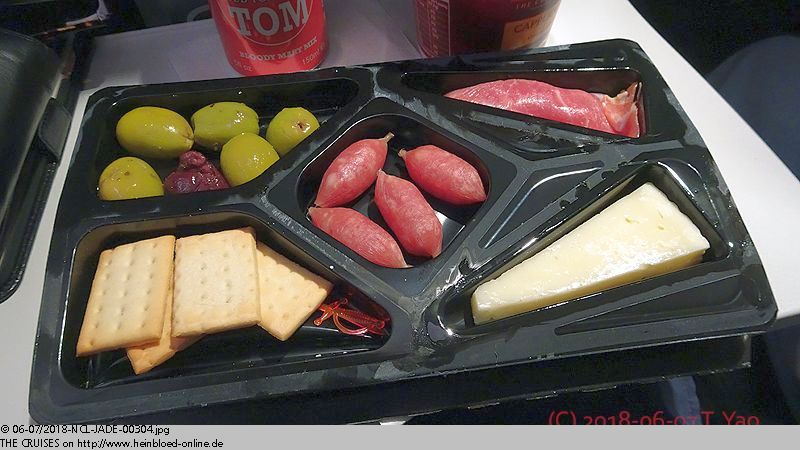 Das Öffnen der Packung ist eine einzige Sauerei! Oliven und Käse sorgen dafür, dass alles schmierig ist, nach dem dem Folie weg ist.
Wir kommen Terminal 5B an. Wir müssen länger auf die Bahn warten, um zum Terminal 5 zu kommen. Dort geht alles aber sehr schnell: Ausweiskontrolle: Sekunden. Gepäck ist schon da, als ich ankomme: 22:50 Uhr habe ich bereits alles. Offiziell war Ankunft 22:30 Uhr! Ich habe leider nicht bei
AVIS
bestellt. Sie übergeben ihre Autos im Terminal 5.
Sixt
auch, aber nur bis 23:00 Uhr. Leider habe ich bei
Hertz
gebucht. Um 23:00 Uhr fährt kein Shuttle mehr. Man muss anrufen. Ärgerlich: während der Wartezeit kommt drei Mal
Enterprise
vorbei. Nur sie sind nicht mehr in der Innenstadt von Southampton vertreten. Und
Europcar
ist einfach richtig teuer. Bruno hätte vor mir da sein sollen, aber er ist nach mir da. Ich hole ihn später am Terminal 2 ab, weil er Probleme aus dem Flugzeug ins Terminal zu kommen und auch später bei der Gepäckausgabe dauert es sehr viel länger als bei mir. Er war mit Lufthansa unterwegs.

We arrived at Terminal 5B. We need to wait a little longer for the train to get us to Terminal 5. There everything went very quickly: passport-check: seconds. Baggage already arrived when I arrived: 22:50 I had already everything. Offical arrival was 22:30 hrs. Unfortunately I did not order with AVIS. They handed over their cars in Terminal 5. Sixt too but only until 23:00 hrs. Unfortunately I booke before with Hertz. From 23:00 hrs they had no shuttle anymore. You need to call. Somehow angry: while I was waiting three times Enterprise came by. But they were not anymore in the city center of Southampton. And Europcar was really expensive. Bruno was scheduled to arrive ahead of me but he arrived after I arrived. I picked him up later from Terminal 2 because they had problems to get from the aircraft to the terminal and later with the baggage claim, it took much longer than expected.

After two calls and twenty minutes waiting, the bus from Hertz arrived. At this time only one bus was on the way which connected all terminals. When I arrived in the counter hall I had to enter my reservation number. I was no. 4 in the queue. Then some came out of the office and escorted me to the gold-service-counter. Again Hertz changed the App and the homepage. Again some details disappeared. I got a Honda civic.

Nach zwei Anrufen und zwanzig Minuten Warten kommt der Bus von Hertz. Es ist um die Zeit nur noch ein Bus unterwegs, der alle Terminals verbindet. Als ich in die Schalterhalle reinkomme, gebe ich meine Reservierungsnummer ein. Ich bin Nummer 4 der Schlange. Dann kommt aber jemand aus dem Büro und führt mich direkt zum Gold-Service-Schalter. Wieder hat Hertz die App und die Homepage geändert. Wieder mal sind einzelne Daten verschwunden. Ich bekomme einen Honda Civic.
Gegen 01:30 kommen wir im
Boathouse
an. Unser Stammhotel war laut Buchungsmaschinen ausgebucht. Wir werden von dem Sicherheitsmitarbeiter mit dem Schlüssel und der Parkkarte erwartet. Einen Fahrstuhl gibt es, aber wir bleiben stecken und wir kommen zum Glück wieder raus. Hoch in die 2. Etage auf einer engen Treppe. Der Fahrstuhl wäre eh nur zur 1. Etage gefahren. Im Zimmer nett. Nur eine große Matratze und eine Decke. Wir sind aber so müde, dass wir eh nichts mehr merken. Leider keine Klimaanlage, dafür unter dem Dach mit Südbalkon. Und es war heiß in den letzten Tagen. Ansonsten sehr nette Lage. Nur etwas zu teuer.

Around 01:30 hrs we made it to the Boathouse. Our favorite hotel was sold out on booking engines. The guard was waiting for us with our keys and parking pass. They had an elevator but we got stuck and luckily we could get out again. Up to the 2nd floor through a narrow stairway. The elevator would go to the 1st floor only. The room was very nice. Only one large mattress and one large blanket. We were so tired that we did not notice anything. Unfortunately, no air-condition but under the roof with a South-facing balcony. And the last days were very hot. But it was a very nice location. It was a little too pricey.

The next morning you could see that we were located in a very nice corner of Hythe. It was low tide. It was beautiful to see the sunrise and how Hythe awoke. The pier-train of Hythe Ferry just resumed the service. The swans took a bath in mud.

Am nächsten Morgen hat man erst gesehen, dass wir wirklich in einer schönen Ecke von Hythe wohnen. Es ist gerade Ebbe. Es ist schön, den Sonnenaufgang zu sehen und auch zu sehen wie Hythe aufwacht. Die Pier-Bahn der
Hythe Ferry
nimmt den Betrieb auf. Die Schwäne nehmen ein Schlammbad.
Die ersten Bilder
MEINER
NORWEGIAN JADE entstehen vom Balkon des Zimmer 7 aus. Und obwohl ich bereits bestimmt ein paar Hunderte Bilder von
MEINER
NORWEGIAN JADE habe. Ich springe nach dem ich sie vom Balkon nicht mehr sehen kann ins Auto, um sie ein paar Meter weiter zu beobachten, wie sie vor dem
City Cruise Terminal
dreht. Für diese Momente fahre ich lieber nachts noch nach Southampton.

The first pictures of MY NORWEGIAN JADE were taken from the balcony of room 7. And although I have already taken hundreds of pictures of MY NORWEGIAN JADE. I jumped into the car after I could not see her anymore from the balcony to see few yards away how she turned around in front of the City Cruise Terminal. For these moments I preferred to drive the night before to Southampton, England.

While I was watching MY NORWEGIAN JADE I could see how they operated the lock.

Während ich
MEINE
NORWEGIAN JADE beobachte, wird die Schleuse in Betrieb genommen.
Frühstück ist genau dann fertig, wenn ich zurück bin. Im Zimmerpreis ist nur Continental Breakfast inkludiert. Man kann typisch warmes englisches Frühstück dazu bekommen - für 9,50 GBP (2018). Es hätte für zwei gereicht. Leider hat das Bild den Crash auf der SD-Karte nicht überlebt.

Breakfast was just ready, when I returned. In the room rate, only continental breakfast was included. You could get typical hot English Breakfast - for 9.50 GBP (2018). It would be enough for two. Unfortunately, the picture did not survive a crash on the SC-card.

We went quickly to the village. We need to see the post. The letter to the Cunard board. I need to choose: 1st class or 2nd class: you wanted to have it next day across the river or in two up to three days. We went to buy some cherries and some other goodies. On the way back we quickly drove by in Marchwood. I lost the orientation. The previous cruise parking right at the waterfront moved. Around the corner, another one was just installed but without access to the waterfront and so not suitable for ship spotters. But in autumn I would park there with Penguin Parking.

Wir gehen kurz ins Dorf. Wir müssen kurz zur Post. Der Brief an den Vorstand von Cunard. Ich muss mir aussuchen: 1st Class or 2nd Classs: am nächsten Tag auf der anderen Flussseite zustellen oder erst in 2-3 Tagen. Wir gehen Kirschen kaufen und ein paar andere Kleinigkeiten. Auf dem Weg zurück fahren wir in Marchwood vorbei. Ich verliere die Orientierung. Der bisherige Cruise Parkplatz direkt am Flussufer ist umgezogen. Dafür ist um die Ecke ein anderen entstanden, allerdings ohne direkten Zugang zum Wasser und für Shipspotter nicht so gut geeignet. Aber im Herbst parke ich dort bei
Penguin Parking
.
Am Wasser erlaubt man uns zum Fotografieren das alte Pier der alten kleinen Werft zu betreten (Für mich und alle anderen Shipspotter, die mit Auto unterwegs sind: Cracknore Hard in Marchwood). Von hier entstehen nochmals ein paar Bilder von
MEINER
NORWEGIAN JADE.

At the waterfront they allowed us to enter the pier of the little shipyard (For me and all other ship-spotters who had a car: Cracknore Hard in Marchwood). From here we could make some more pictures of MY NORWEGIAN JADE.

On the way to Hertz we filled up the car we could drop-off our bags. This time they offered a baggage service. Actually Hertz (and Europcar) were just in front of the City Cruise Terminal. Unfortunately, there was a parking and a wall in between. So we had to walk a little detour across the parking of Holiday Inn. Then there was the parking of AVIS and later Enterprise. Unfortunately, both were not anymore here. You could simply walk through Gate 8 to the ship. Unfortunately, Mayflower Park was closed due to an event so I was not able to take any pictures. Happy to see: Hertz was now open on Sundays (only in the Summer season) but they still did not offer any shuttle service to the port and seagulls right above the parking of Hertz adjusted their colors to the corporate colors of Hertz.

Auf dem Weg zu
Hertz
betanken wir noch den Wagen und wir geben das Gepäck noch ab. Dieses Mal gibt es einen Gepäckservice. Eigentlich ist Hertz (und
Europcar
) direkt vor dem City Cruise Terminal. Leider ist ein Parkplatz und eine Mauer dazwischen. So müssen wir einen kleinen Umweg über den Parkplatz vom Holiday Inn laufen. Hier war früher mal AVIS und danach Enterprise. Leider sind beide nicht mehr da. Man kommt direkt über Gate 8 zum Schiff. Leider ist der Mayflower Park wegen einer Veranstaltung geschlossen, so dass ich von hier nicht fotografieren kann. Erfreulich: Hertz hat jetzt auch (während der Sommersaison) sonntags geöffnet, allerdings bieten sie immer noch keinen Abholdienst im Hafen an und die Möwen, die über dem Parkplatz von Hertz hocken, haben sich den Hausfarben von Hertz angepasst.
Direkt gegenüber von Hertz die Carnival Academy: was bekommt man hier beigebracht?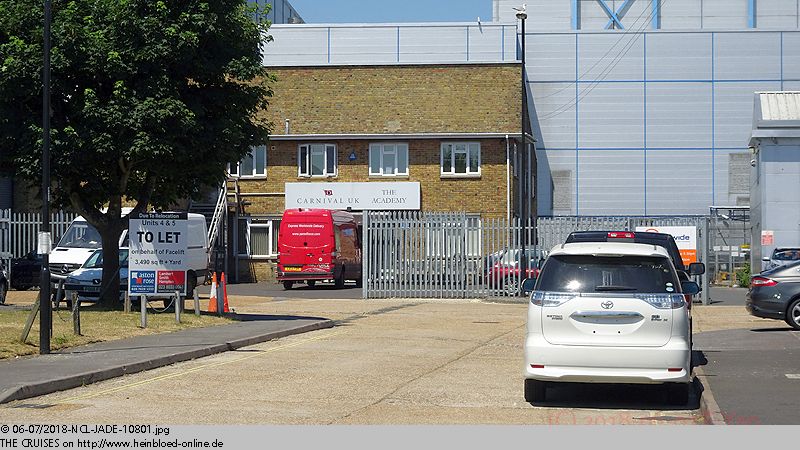 Just opposite of Hertz there was Carnival Academy: wondering what they teach here?

We could deliver our letter directly with Carnival UK and saved 69 Pence... but it looked a little stupid and you pay a lot for a voyage and saved for the stamp. So I saved about 15 US-Cent postage by sending from Hythe, England but from Germany. A penny saved is a penny earned... and we need to finance our next voyage too...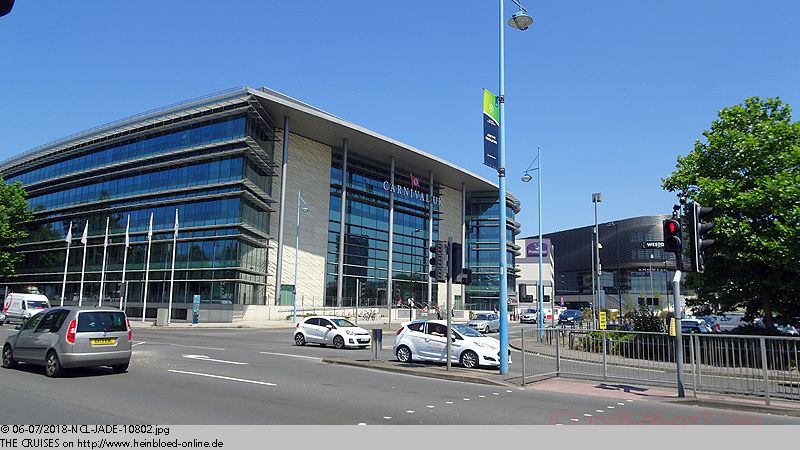 Wir hätten ja den Brief auch direkt bei Carnival UK abgeben können und uns 69 Pence sparen können... aber das sieht ja so blöd aus, aus wenn man für viel Geld eine Reise macht und dann hinterher am Porto spart. So habe ich 12 Euro-Cent Porto gespart, weil ich den Brief in Hythe statt in Deutschland aufgegeben hatte. Aber wer den Cent nicht ehrt ist des Euros nicht Wert... und die nächste Reise muss ja auch finanziert werden...
Während wir ja sehr strikt auf der
NORWEGIAN SPIRIT 2018
bezüglich Wasser kontrolliert wurden und es auch abgenommen wurde, haben wir heute hier Glück: sowohl die halbe Flasche im Handgepäck und auch die halbe Flasche im aufgegebenen Gepäck erreichen unsere Kabine. Es ist eigentlich nur das schlechte Gefühl, dass man es mit den Kontrollen bei NCL etwas zuviel ist, so streng wie es gehandhabt wird. Wir haben kein Problem damit für Wasser an Bord zu bezahlen, aber es sollte zu einem fairen Preis sein und nicht das Gefühl hängen bleiben, dass man von einem Monopolisten genötigt wird. Ich würde gerne die Marke trinken, die ich mag. So trinke ich bei Cunard immer die teuerere Coca-Cola statt Pepsi: aber das ist meine Entscheidung. Wir haben auch ausgedruckte Anhänger dabei. Nur wir bekommen die Schrauben von den Gepäckanhänger-Halter nicht mehr auf. Deswegen müssen wir uns Anhänger geben lassen. Im Cruise Terminal geht alles sehr schnell. Wir müssen uns nicht anstellen und müssen aber während des Check-Ins am Schalter stehen. Wir bekommen noch nicht einmal ein paar Häppchen und etwas zu trinken, als wir beim Concierge unsere Bordkarten abholen, weil sie uns so schnell wie möglich an Bord bringen wollen. Als wir im YachtClub bei
MSC MERAVIGLIA 2017
waren, beginnt das YachtClub-Erlebnis bei der Gepäckübernahme am Auto. Man wird platziert und ein Getränk wird gereicht, während man sich um das Einchecken kümmert. Man kann also sogar noch etwas von MSC lernen.

While we were strictly controlled for water on NORWEGIAN SPIRIT 2018 and it was confiscated then, we had that day luck: the half bottle in the hand baggage but also the half bottle in the checked baggage reached our cabin. It was only the bad feeling that it was too much to control as strict as NCL did it. We do not mind to pay for water but it should be a fair price and you should not have the feeling to be forced by a monopolist. I want to consume my preferred brands. So with Cunard, I always drink the more expensive Coke but Pepsi: but this is my choice. We had also printed labels with us. But we could not get open the screws of the tag holders anymore. So we had to ask for other baggage tags. In the cruise terminal, everything went very fast. No need to queue up and we had to stand during the check-in-procedure. No snacks or refreshments were served while we were collecting our ship's card with the concierge because they wanted to get us as fast as possible onboard. When we were on the way with MSC MERAVIGLIA 2017 the Yacht-Club experience started with the collection of baggage right at the card. You were seated and a refreshment was handed over while they took care of checking in. You could even learn from MSC.

We should pay originally for an inside stateroom 249.00 USD plus plus (taxes and service charge without beverage, internet etc.). That was more than for some short trips with Cunard. There I would love to pay it since I had a different price-ratio-value. Finally, you could go for 49.00 USD a guarantee cabin. We usually used such occasions to book a real expensive cabin for little money. So we booked rebooked for a Mini-Suite at the aft. But then we had to book the bargain to have a Penthouse at the bow. They were only available for two days. Then they were gone. We declined the offer to bid for an upgrade. Since MSC MERAVIGLIA 2017 we were not so much interested to see The Haven anymore and we did not need an additional inside cabin with the suite. But we used the chance to pre-pay our service charges. They charged only for the service charges which applied at the time of booking. Meanwhile, they were higher than with Cunard. As usually we booked with Dorothy who arranged everything for us.

Wir sollten anfangs für eine Innenkabine für 249,00 USD plus plus (Steuern und Trinkgelder ohne Getränke, Internet usw.) zahlen. Das ist mehr als manche Kurzreise mit Cunard. Da zahle ich es aber gerne, weil ich da ein anderes Preis-Leistungs-Verhältnis habe. Am Schluss hätte man sogar für 49,00 USD in einer Garantiekabine fahren können. Wir nutzen das i.d.R. um dann günstig sehr teure Kabinen nutzen zu können. Zunächst hatten wir dann wieder umgebucht und eine Mini-Suite am Heck. Dann musste ich aber zuschlagen, als es ein Penthouse am Bug gibt. Es gab sie auch nur für zwei Tage. Dann ist auch sie weg. Das Angebot für ein Upgrade zu mitzubieten, schlagen wir aus. Seit der
MSC MERAVIGLIA 2017
haben wir kein Interesse mehr an The Haven und eine zusätzliche Innenkabine innerhalb der Suite brauchen wir nicht. Wir nutzen allerdings das Angebot die Servicegelder im Voraus zu entrichten. Es werden dann die berechnet, die zum Zeitpunkt der Buchung gelten. Zwischenzeitlich sind sie noch höher als bei Cunard. Wie üblich haben wir bei
Dorothy
gebucht, die alles für uns abgewickelt hat.
Etwas ist anders als sonst: dieses Mal sind alle Türen zu den Kabinen verschlossen und wir können kein Gepäck bereits in die Kabine stellen. Das kennen wir so nur von Royal Caribbean. Dieses Mal wird wieder eine Gepäckaufbewahrung in der Bliss Lounge angeboten. Mia Pringgadani hat den Auftrag uns zum Cagney's zu begleiten. Sie arbeitet im Alizar und ich mag leider lieber das Grand Pacific. Deswegen haben wir leider keine Chance sie im Service zu erleben. Trinkgeld gibt es trotzdem. Nur die Leckerlis sind im Gepäck.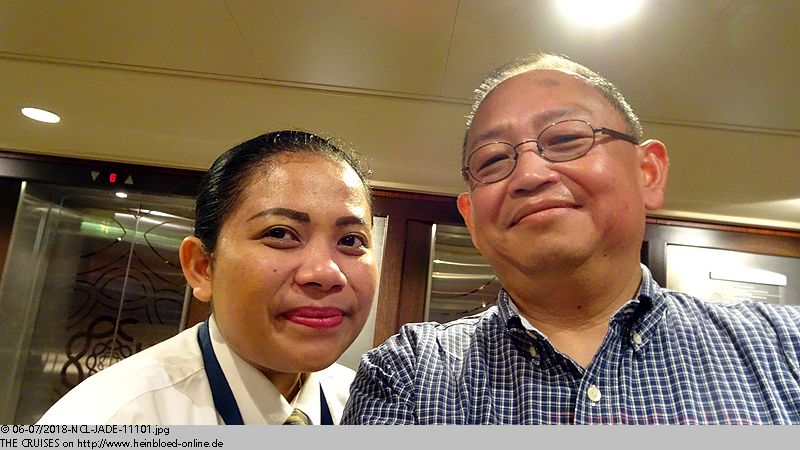 Something was different compared to elsewhen: that time all doors to the cabins were closed and there was no chance to place some handbags into the cabin. Something we knew only from Royal Caribbean so far. That time they offered again a baggage storage in the Bliss Lounge. Mia Pringgadani had the order to escort us to Cagney's. She worked in Alizar and I liked more the Grand Pacific. So we had no time to experience her with her service. But we still tipped. Only the sweets were in the bags.

Above they had already party time. We normally disliked it since it was too loud. So you would never meet us on the pool deck.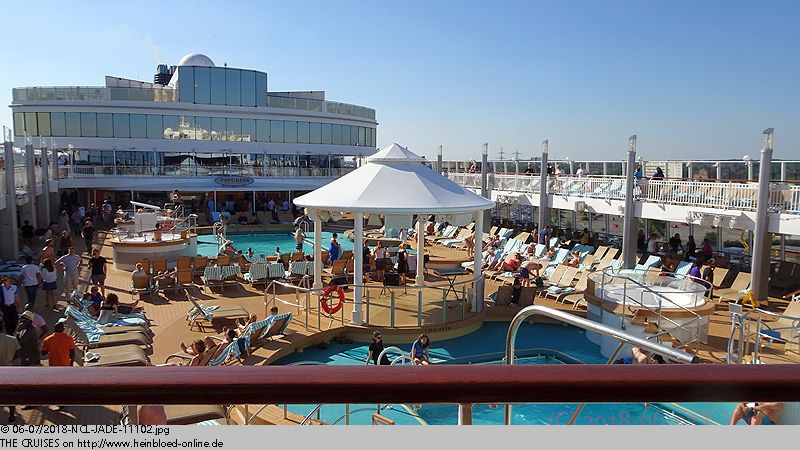 Oben ist bereits Ramba-Zamba. Uns ist das in der Regel zu laut. Uns trifft man eh nie auf dem Pooldeck an.
Es geht daher zum Cagney's. Später treffen wir hier auch Valeria Herrera wieder, die auf der NORWEGIAN JADE 2017 beim Ständchen anlässlich des Geburtstages von Bruno mitgesungen hat. Neben ihr steht Jade Hao. In chinesisch würde ich sie Hao Jade ansprechen, so wie ich auch Yao Tien Lun von anderen Chinesen angesprochen werde. Hao Jade steht für die GUTE JADE. Wer sollte daher besser für
MEINE
NORWEGIAN JADE geeignet sein, als sie. Ich frage mich natürlich, ob sie nach dem Schiff oder das Schiff nach ihr benannt wurde. Mittags werden von Concierge Carlos Zarate, Restaurant Hostess Cheika Watts, Assistant Maître D' Petar Zunic und Kellner Suresh Renganathan betreut. Letzterer erfüllt mir den Wunsch nach "Surf and Turf". Bruno hat allerdings ein Problem mir die Muscheln zu "klauen". Die sind mitlerweile so klein, dass man einen kleinen Löffel bräuchte. Mit der Gabel eine zu erwischen, gestaltet sich als schwierig. Die Shrimps sind echt gut: richtig lecker und saftig und weich und nicht mehlig: Genauso wie ich sie mag. Ich bin normaler kein Freund von Pommes Frites mit Trüffelöl und Parmesan. Aber das ist das erste Mal, dass ich sie mag. Was ich allerdings überhaupt nicht mag: Hier sitzen ja die VIPs zum Mittagessen und die Karte ändert sich nie... schon seit Jahren... Deswegen essen wir am nächsten auch nicht im Cagney's zu Mittag.

So we went to Cagney's. Later we met here Valeria Herrera again who was singing on NORWEGIAN JADE 2017 for Bruno's birthday. Next to her was Jade Hao. In Chinese, I would address her Hao Jade as I would be addressed as Yao Tien Lun by other Chineses. Hao Jade stands for GOOD JADE. Who should be a better crew member for MY NORWEGIAN JADE but her? Certainly, I asked myself if she was named after the ship or the ship named after her. For lunch Concierge, Carlos Zarate, Restaurant Hostess Cheika Watts, Assitant Maître D' Petar Zunic and Waiter Suresh Renganathan was taking care of us. The last mentioned fulfilled my wish to have "Surf and Turf". Bruno had problems to "steal" a scallop. To catch one with a fork was somehow quite difficult. Meanwhile, they were so tiny that you would need a teaspoon. The shrimps were really good: extremely yummy and juicy and soft and not mealy: exactly the way I liked it. Normally, I was not a big friend of French Fries with truffles oil and parmesan. But it was the first time that I liked them. What I totally disliked: Here they had all VIP guests sitting together and the menu was never changed... for years. That was why we would have our next lunch not at Cagney's anymore.

I was shocked last year on NORWEGIAN JADE 2017 after the drydock stay.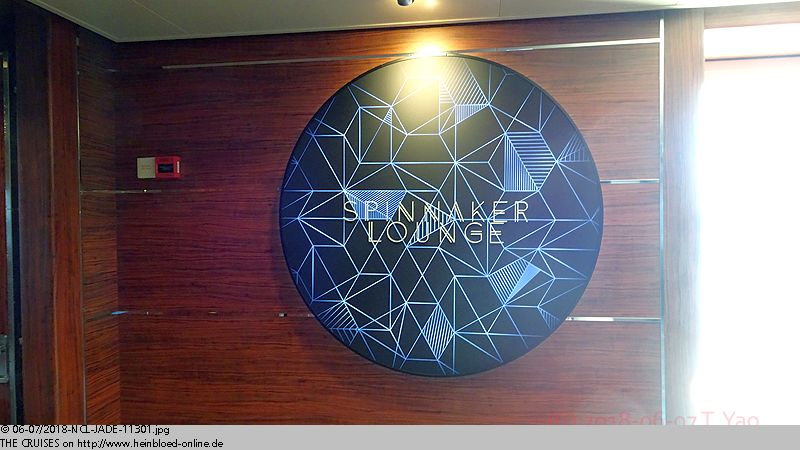 Ich war ja letztes Jahr nach dem Trockendockaufenthalt auf der
NORWEGIAN JADE 2017
entsetzt.
Aber zwischenzeitlich hat sich etwas getan und die neue Bestuhlung ist da.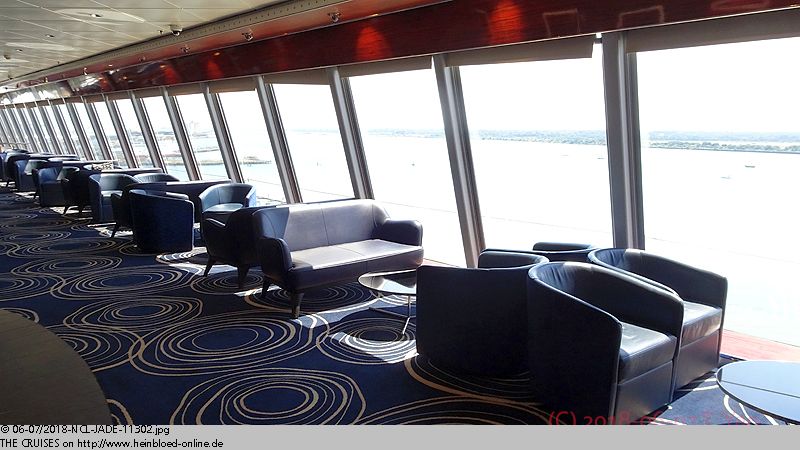 But meanwhile a lot has changed and the new seating was there.

It was more decent and darker and plainer now.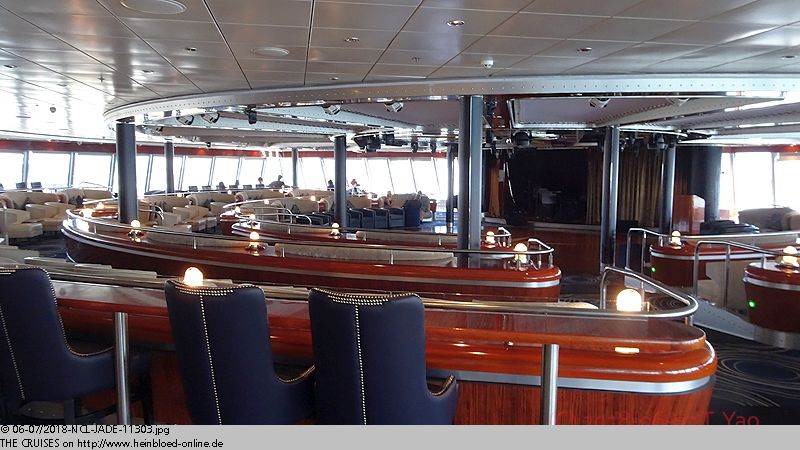 Das ist jetzt alles dezenter und dunkler und schlichter.
Das bunte Sammelsurium ist weg.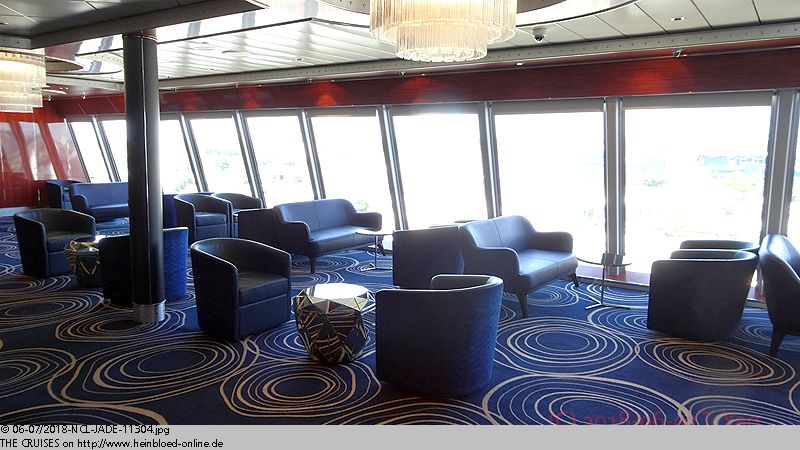 The colorful collection was gone.

Our Penthouse 9000. Our (NORWEGIAN) PEARL, our (NORWEGIAN) GEM, our (NORWEGIAN) JUWEL Gina! Somehome NORWEGIAN JADE did not fit into this scheme. The beds in the Penthouse could not be separated as it was one common mattress.

Unser Penthouse 9000. Unsere Perle (NORWEGIAN PEARL), unser Schatz (NORWEGIAN GEM), unser Juwel (NORWEGIAN JEWEL) Gina! Irgendwie passt die NORWEGIAN JADE da nicht in das Schema rein. Die Betten im Penthouse sind nicht trennbar, weil es eine durchgehende Matratze ist.
Unser Balkon ist der Traum. Platz ohne Ende. Tolle Bestuhlung. Tolle Lage. Einzige Auflage: wir müssen an Seetagen die Tür zum Balkon schließen, bevor wir die Tür zum Gang öffnen. Zum Glück finden überall Arbeiten statt, damit das Schiff schön bleibt. Leider finden überall Arbeiten statt, damit das Schiff schön bleibt. Denn nachmittags ist der Boden voll mit trockenen Farbresten auf dem Boden, weil über uns auch gearbeitet wird. Bei dem tollen Wetter und dem langen Aufenthalt bietet sich das an. Nur uns hätte man vielleicht warnen können.

Our balcony was a dream. Space unlimited. Great seating. Great location. Only duty: on days at sea we need to close the door to the balcony before we open the door to the gangway. Luckily they worked everywhere to maintain the beauty of the ship. But in the afternoon the floor was full of dry paint waste because they also worked here around. It was perfect to do those works since you had great weather and the long stay. But they could maybe warn us.

The only difference in the bathroom: we had a bathtub instead of a shower.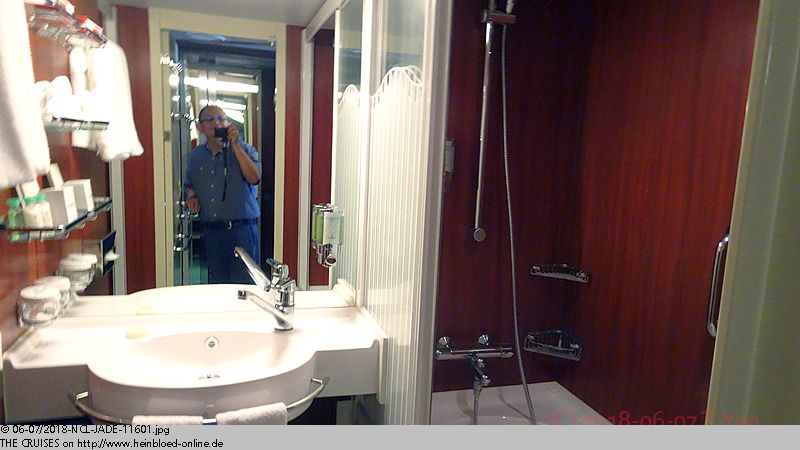 Der einzige Unterschied im Bad: wir haben eine Badewanne statt einer Dusche.
Sonst sind Toiletten und Dusche genauso getrennt, wie in einem Standardbad.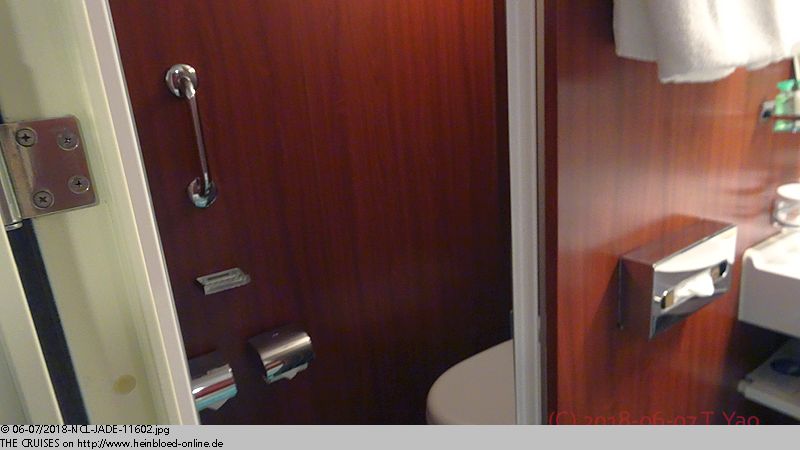 Apart of that the toilet and shower was same way separated like in a standard bathroom.

We were ungrateful: the bottle of sparkling wine... we did not drink any... and we could not use it as a gift since the label was damaged. Well, actually it was nice that they were thinking of us. The mini-bar was on pay in our booking class. Only in The Haven, the first set up was complimentary. Except you had unluck to have a concierge who was now retired and said that you were not entitled to receive anything on short cruises. She let us died on thirst without further ado in The Haven Suite on NORWEGIAN BREAKAWAY 2013! In this regard, we preferred the Yacht-Club: on MSC MERVAVIGLIA 2017 they set up the mini-bar every day free of charge. Apart from that, you could get water for 5.50 USD plus 20% service charge. But they had only Aquafina although they advertised for Aqua Panna. Table water (Purified water) against mineral water from a source. On QUEEN MARY 2018 we got for less money and for less service-charge more water too! (17.40 USD for 6 litre with NCL (= 2.90 USD/litre incl. service-charge) vs. 22.94 USD for 9 litre with Cunard (= 2.54 USD/litre incl. service charge). The Pepsi-Cola was obviously older. Very historical: the logo was in use between 1975 and 1991. I was wondering if the Pepsi was of this period? At least they had a Nespresso-Coffee-Machine. But the tea from Tea Forté did not fit into... Great: a closet you could walk through. And finally, I did not need to work at the beauty desk as it was separated. To have it double made it safer: In case we would block again the safe like we did on MEIN SCHIFF 2 2012 we could use the second one. Unfortunately, they did not improve the situation with the power outlets. Only 110 V as US main electric power outlet was available. Luckily, we had a PowerCube. Now they had USB-Ports at the night light.

Wir sind undankbar: die Flasche Sekt... wir trinken eh keinen... und weiterverschenken kann man ihn auch nicht, weil das Etikett beschädigt ist. Trotz allem: nett, das sie an uns gedacht haben. Die Mini-Bar ist in unserer Buchungsklasse kostenpflichtig. Nur in The Haven ist die Erstausrüstung kostenfrei. Außer man hat Pech, dass man einen Concierge erwischt, der zum Glück im Ruhestand ist und eben meinte, dass einem auf Kurzkreuzfahrten gar nichts zusteht. Sie hat uns auf der
NORWEGIAN BREAKAWAY 2013
kurzerhand in The Haven Suite verdursten lassen! Aber diesbezüglich ziehen wir den Yacht-Club vor: auf der MSC MERAVIGLIA 2017 wurde täglich die Mini-Bar neu kostenlos bestückt. Ansonsten kostet eine Flasche Wasser 5,50 USD plus 20% Service-Charge. Es gibt allerdings nur Aquafina obwohl für Aqua Panna geworben wird. Tafelwasser (gefiltertes Leitungswasser) gegen Mineralwasser aus der Quelle. Auf der QUEEN MARY 2 2018 gab es für weniger Geld und für geringere Service-Charge auch noch mehr Wasser! (17,40 USD für 6 l bei NCL (= 2,90 USD/l inkl. Service-Charge) gegen 22,94 USD für 9 l bei Cunard (= 2,54 USD/l inkl. Service-Charge). Die Pepsi-Cola ist anscheinend schon älter. Schon historisch: das Logo wurde zwischen 1975 und 1991 verwendet. Ob die Cola aus dem Bestand dieser Jahre ist? Wenigstens gibt es eine Nespresso-Maschine. Aber die Teebeutel von Tea Forté passen nicht... Klasse: der Kleiderschrank, in dem man durchlaufen kann. Und endlich muss ich nicht am Schminktisch arbeiten, da er getrennt war. Doppelt hält besser: Falls wir wieder irrtümlich selbst den Tresor blockieren, wie auf der
MEIN SCHIFF 2 2012
, können wir unseren Zweittresor verwenden. Leider beim Umbau nicht verbessert: die Steckdosensituation. Nur 110 V steht als US-Hauptstromsteckdose zur Verfügung. Zum Glück haben wir einen
PowerCube
. An den Nachttischlampen gibt es auch hier jetzt USB-Ports.
Der Kabineservice ist ja sehr teuer bei NCL. Für uns Suitengäste ist das allerdings kostenlos. Man darf aber nicht beim Room Service am Telefon anrufen: es wird mitgeteilt, dass man seinem Butler anrufen
MUSS
, statt einfach weiterzuverbinden oder die Taste am Telefon entsprechend umzuprogrammieren. Wenn ich die Dose Pepsi aus der Mini-Bar nehme zahle ich 3,45 USD plus 20%. Wenn ich allerdings meinen Butler anrufe und bei ihm bestelle nur 2,95 USD plus 20%. Hier gibt es noch die gute alte Hühner-Nudel-Suppe. Ich mag sie und muss eine bestellen. Neu hat sie so viel frisches Gemüse. So nehme ich die Dienste unseres Butlers I Putu Suardika in Anspruch.

The cabin service was quite expensive with NCL. For us suite guests it was actually free of charge. You were not allowed to call the Room Service at the phone: you were that you MUST call your butler but to connect to him simply or to re-programme the key on the phone. If I took the can of Pepsi from the Mini-Bar I had to pay 3.45 USD plus 20%. If I would call my butler and order with him only 2.95 USD plus 20%. Here they still had the good old chicken-noodle-soup. I liked it and had to order one. New it had so many fresh vegetables. So I used the service of our butler I Putu Suardika.

We went for life drill. We loved to go a little earlier because we hate to stand there since it could take a while. But would we knew that it was only conducted in English we would go later and could stand. Originally we were afraid that it would be conducted in multiple languages and so it would take longer. No need to have the life west with us. When we arrived at the muster station we found out: everything was closed. The crew was not ready yet. Here we experienced also the best crew-member on all life drills so far: I was reprehended because I was using my smartphone and everyone who did not move up was reprehended too. In a friendly but very stated. Normally she was working for the spa. We were at station A9. Unfortunately, I did not take a picture and noted her name. She really deserved to be mentioned. It is good to know that there was someone on board who was caring for my safe. No German announce were made: there was no German-speaking guests service agent onboard. With so many German-speaking cruise guests on a cruise to Germany. They did everything that guests without English language skills would miss NCL when they will not offer anymore cruises out of Hamburg, Germany and Warnemünde, Germany.

Wir gehen zur Seenotrettungsübung. Wir gehen immer gerne vorzeitig dahin, weil wir es hassen, dabei zu stehen, weil es oft länger dauern kann. Aber hätten wir gewusst, dass sie nur in Englisch abgehalten wird, dann wären wir später hingegangen und hätten auch stehen können. Wir hatten ursprünglich die Befürchtung, dass sie mehrsprachig abgehalten wird und daher es länger dauern würde. Ohne Rettungsweste müssen wir dahin. Als wir an der Sammelstation ankommen, stellen wir fest: noch alles geschlossen. Die Crew ist noch nicht so weit. Hier erleben aber auch das beste Crew-Mitglied auf allen Seenotrettungsübungen soweit: Ich werde gerügt, weil ich zwischendurch mit dem Smartphone spiele und jeder andere, der nicht aufrückt, wird auch gerügt. Freundlich, aber sehr bestimmt. Sie arbeitet wohl normalerweise im Spa. Wir gehören zur Station A9. Leider habe ich kein Bild gemacht und ihren Namen gemerkt. Sie hätte es verdient, erwähnt zu werden. Es ist schön zu sehen, dass es jemand gibt, der sich um meine Sicherheit Sorgen macht. Deutsche Ansagen gibt es nicht: es ist keine deutschsprachige Betreuung an Bord. Auf einer Reise nach Deutschland mit vielen deutschsprachigen Gästen. Sie tun alles, damit niemand ohne English-Kenntnisse NCL vermisst, wenn sie keine Kreufahrten mehr ab Hamburg oder Warnemünde anbieten.
Ich richte mir während der Seenotrettungsübung meinen Internetzugang ein und werde wie bereits beschrieben dafür gerügt. Zunächst werde ich allerdings mit meinen alten Zugangsdaten erkannt und ich erfahre, dass meine Minuten aufgebraucht sind. Keine Hinweise, wie ich meine Freiminuten buchen kann. Erst als ich mich abmelde und neu registriere, werde ich mein Anspruch als Latitude Platin Plus-Mitglied anerkannt, aber ich muss 3,95 USD (2018) für die Aktivierung zahlen. Das finde ich auch bei Cunard und Princess schöner: Meine kostenlosen 240 Minuten kann ich auch kostenlos nutzen - d. h. ohne Aktivierungsgebühr. Und auch ärgerlich: Eine reine Registrierung ist nicht möglich. Mit der Bestätigung surft man sofort in die 1. Minute. Aufgrund der kostenlosen Minuten macht es keinen Sinn, Flatrates zu buchen. Aber die Leitungen stehen eher als dass sie laufen. Daher buchen wir nicht mehr als die 60 Minuten. Ansonsten kann ich auch Telekom über das Landnetz nutzen. Und auch Sunrise funktioniert gut. Nur meine 3 Austria-Karte reagiert erst, als ich Guthaben aufbuche.

During the life drill I was setting up my internet access and therefore I was reprehended accordingly as above mentioned. First I was identified with my previous access and told that all my minutes were used. No information how I could book to my free minutes. But after logging out and a new registration they accepted my claim as Latitude Plus Platinum member but I had to pay 3.95 USD (2018) for the activation. That was nice with Cunard and Princess: My complimentary 240 minutes I could use complimentary - i.e. without an activation fee. And also angry: It was impossible to do just a registration. When you confirmed you were browsing immediately into your first minute. Due to the complimentary minutes, it did not make sense to book a flat rate. But the lines were more standing still but running. So we did not book more but the 60 minutes. Furthermore, I could use T-Mobile via the land-based network. And also my Swiss Sunrise worked pretty well. Only my 3 Austria-card reacted after I topped up credit.

In the Java Café, I checked the goodies in the display.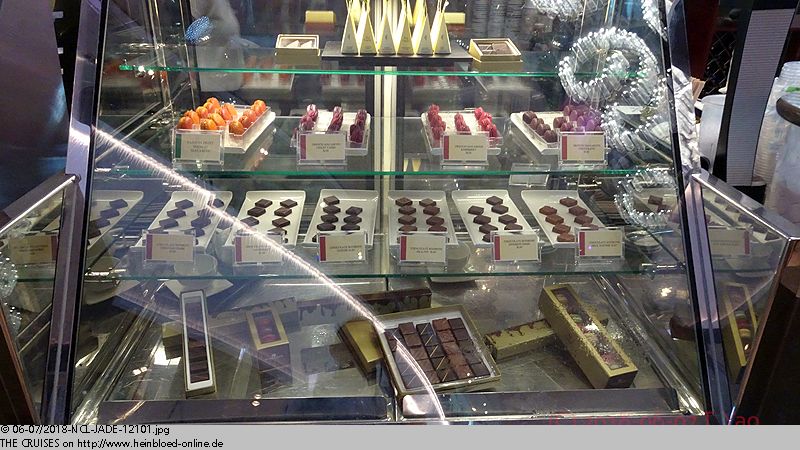 Im Java Café gucke ich mir die Leckereien in der Auslage an.
All around the World (Alles um die Welt): interessantes Angebot für Weintrinker.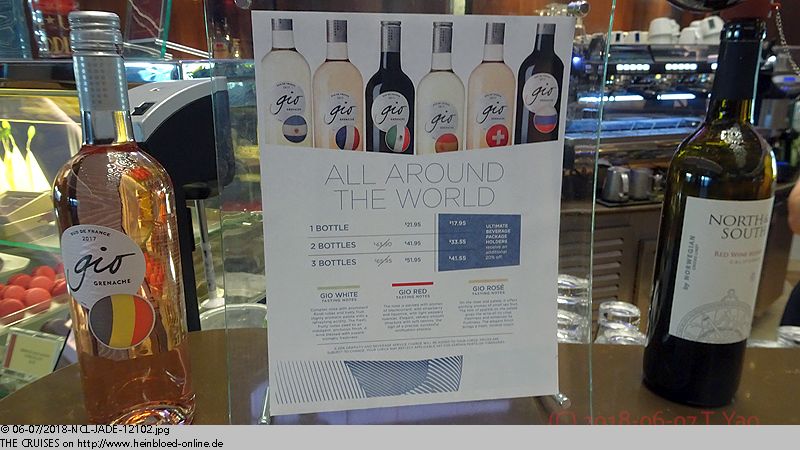 All around the World: interesting offer for wine drinkers.

Somehow it did not fit to NCL...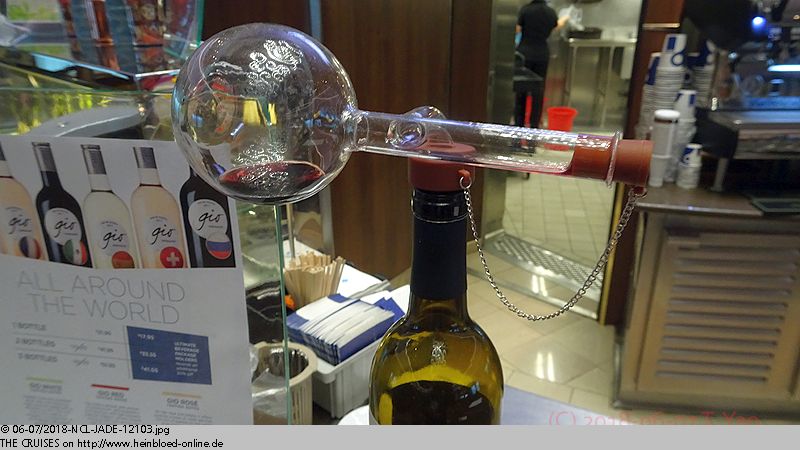 Irgendwie passt das nicht zu NCL...
Jetzt sind die Verkaufsangebote im Java Café schon teurer als
Luxemburgerli bei Sprüngli
in der Schweiz. Das gilt auch für Restaurants: Zuzahlung war früher. Heute zahlt man Straßenniveau in vielen Fällen.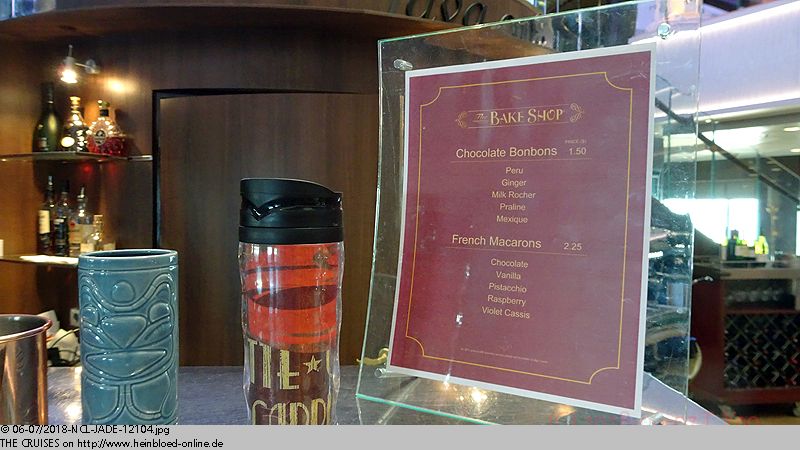 Now they the items for sale in Java Café more expensive than Luxemburgerli (Macarons) with Sprüngli in Switzerland. That applied also to all restaurants: cover charge was then. In many cases, you pay street level.

Actually, I wanted to have lactose-free milk and ordered it appropriately. But I doubt that I got some. Later when I was trying to order some more I was told that there was not any lactose-free on obard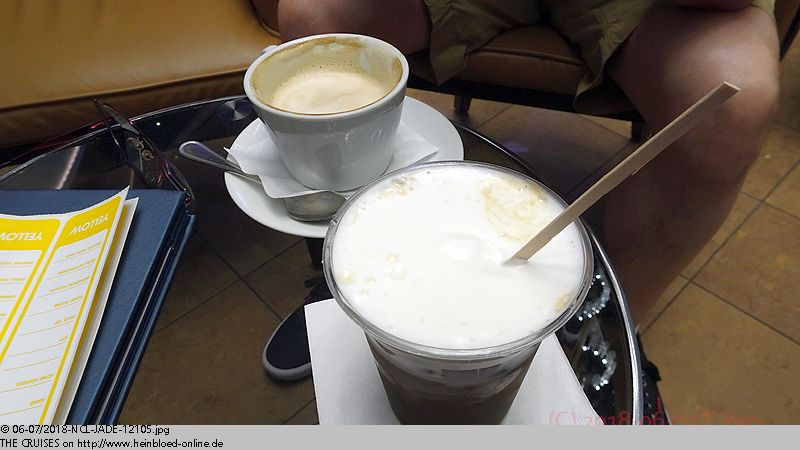 Ich wollte eigentlich laktosefreie Milch und es entsprechend bestellt. Aber ich habe wohl keine bekommen. Denn später, als ich das bei anderen Kellnern bestellen will, sagt man mir, dass sie gar keine laktosefreie Milch an Bord hätten.
Neu ist das kostenlose Angebot im Jasmine. Wir haben früher auf der
NORWEGIAN JADE 2011 (1)
schon chinesischen Feuertopf und japanisches Shabu-Shabu gegessen. Dafür haben wir gerne bezahlt. Wir haben auch schon tolle Nudelsuppen bekommen, für die wir gerne extra bezahlt haben. Man sollte nichts bestellen, was man sonst bei seiner Mutter isst. Die Teigtaschen sind grauenhaft. Meine Sauer-Scharf-Suppe ist so scharf gewürzt, dass man es kaum essen kann. Den Wakame-Salat sollte man besser Krautsalat nennen: Bruno und ich hatten gerade mal einen Biss. Das Hühnchen: knochentrocken und hart wie (Thyssen-)Krupp-Stahl (Gruß nach Essen... schade, dass du nicht dabei sein konntest). Und auch die Shrimps: genau das Gegenteil von heute Mittag im Cagney's. Lieber Geld nehmen und etwas Gutes mit Liebe gekocht anbieten, als so ein Mist!!!

New was the complimentary offer in Jasmine. We had here before on NORWEGIAN JADE 2011 (1) Chinese Hot Pot and Japanese Shabu-Shabu. For that, we liked to pay for. We also had great noodle soups for which we liked to pay extra. You should not order anything what you normally eat with your Mother. The pot stickers were terrible. My Hot and Sour Soup was so spicy that you barely could eat it. You should call the Wakame-(Seaweed)-Salad better coleslaw: Bruno and I had just one bite. The chicken: bone-dry and solid like a rock. And the shrimps too: just the opposite of the lunch at Cagney's. Better to take some money and offering something prepared with love and passion but such a bad staff!!!

From 19:45 hrs we found ourselves back on our balcony to see the set sail. Until we reached the Isle of Wight we enjoyed our departure. After that it was not fun anymore: we found out that we were living right on top of the stage and so we could get notice of the whole show in the theater. The sparkling wine we shared with our guests whom we knew personally: We knew Verena and Dennis from QUEEN ELIZABETH 2012. Nils we knew from DELPHIN 2008 - in which we did not make personal acquaintance but later found out that we have mutual friends because I was working for the same shipping line, he was still working for nowadays. He came with his permanent cabin-mate Jürgen. Jan Geerd and I exchanged subjects by Facebook on cruises and on electrical household appliances. He had his friend Janna with. They were shortly ahead of us on NORWEGIAN GETAWAY 2017 and had to experience how she arrived with a delay of one day in Warnemünde, Germany and how NCL dealt with it.

Ab 19:45 Uhr finden wir uns auf unserem Balkon wieder, um die Ausfahrt zu sehen. Bis zur Isle of Wight genießen wir bis 21:30 Uhr die Ausfahrt. Danach wird es nicht mehr lustig: denn wir stellen fest, dass wir direkt über der Bühne wohnen und daher die komplette Show im Theater mitbekommen. Den Sekt teilen wir mit unseren Besuchern, die wir bereits persönlich kennen: Verena und Dennis kennen wir von der QUEEN ELIZABETH 2012. Nils kennen wir von der DELPHIN 2008 - wobei wir uns damals nicht persönlich kannten, aber dann allerdings festgestellt haben, dass wir gemeinsame Freunde haben, weil ich für die selbe Reederei tätig war, für die er heute noch tätig ist. Er kommt mit seinem Dauer-Mitfahrer Jürgen. Jan Geerd und ich tauschen uns auf Facebook über Kreuzfahrten und elektrische Haushaltsgeräte aus. Er bringt seine Freundin Janna mit. Sie waren kurz vor uns auf der NORWEGIAN GETAWAY 2017 und mussten erleben, wie sie damals mit einem Tag Verspätung in Warnemünde reinkam und wie NCL damit umgeht.
Die anderen Reisen in diesem Blog/
The other voyages in this blog: