Ich habe so Probleme mit NCL. 8 x NORWEGIAN JADE in 10 Jahren bedeuten eine sehr viele Erinnerungen. Die weniger schönen, an die ich mich im Laufe der Zeit immer weniger erinnere und die sehr schönen, die ich bewusst nicht vergessen möchte. Und wenn es mich doch für NCL entscheide, dann wird die Entscheidung auf der NORWEGIAN JADE fallen. Denn diese Erfahrungen hier möchte ich eben auf jeder Reise erleben. Denn diese Crew-Mitglieder und diese Erlebnisse sind Gründe NCL zu fahren.
Das wichtigste: Unsere Familien wurden immer wie genauso gut behandelt, wie wir selbst. Unsere Familien sind immer auch deren Freunde.
Von Anfang an durften immer unsere Familien zu allen Veranstaltungen, zu denen wir eingeladen waren.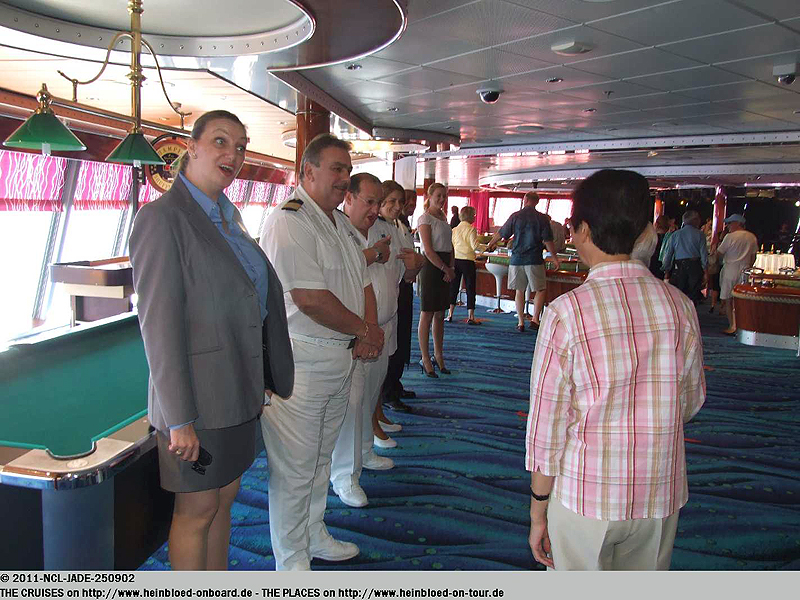 I have my problems with NCL. 8 x NORWEGIAN JADE in 10 years means many memories. The less nice, which I do not remember less and the very nice which I do not like to forget. And whenever I will decide again to go on NCL, the decision will be made on NORWEGIAN JADE. Those memories here I want to experience on every voyage. These crew-members and theses memories are reasons to go with NCL.

The most important: our families were treated as well as ourselves. Our families were always their friends.

From the beginning, our families were always allowed to join us for all the events we were invited to.

That was always a great feeling: when we had a special request, we enjoyed that our families got the benefits.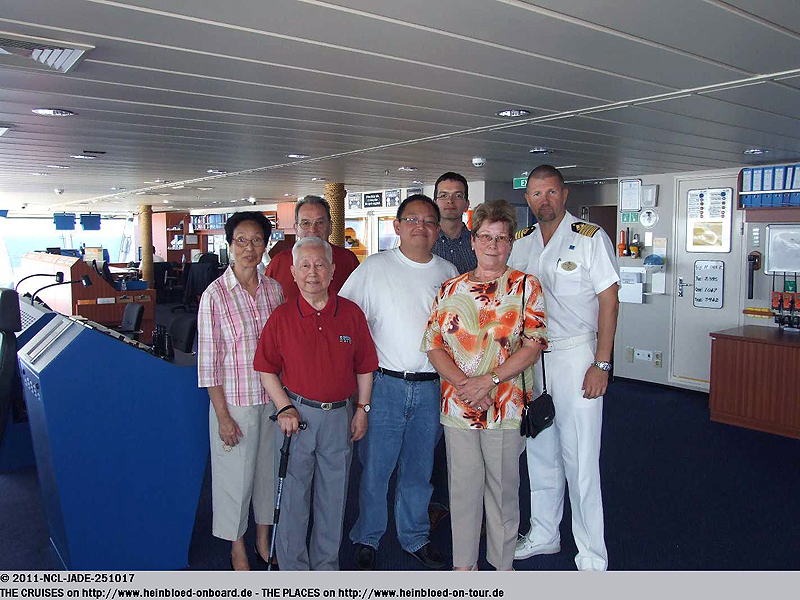 Das war für uns immer ein tolles Gefühl: wenn wir einen besonderen Sonderwunsch hatten, dann haben wir es genossen, dass unsere Familien davon profitiert haben.
Gibt es leider nicht mehr: Dinner mit Senioroffizieren. Hoteldirektor Armando, der es sehr toll fand, dass wir unsere Eltern mitgenommen haben, und uns unterstützte, damit unsere Eltern und wir auch noch heute über die Reise sprechen.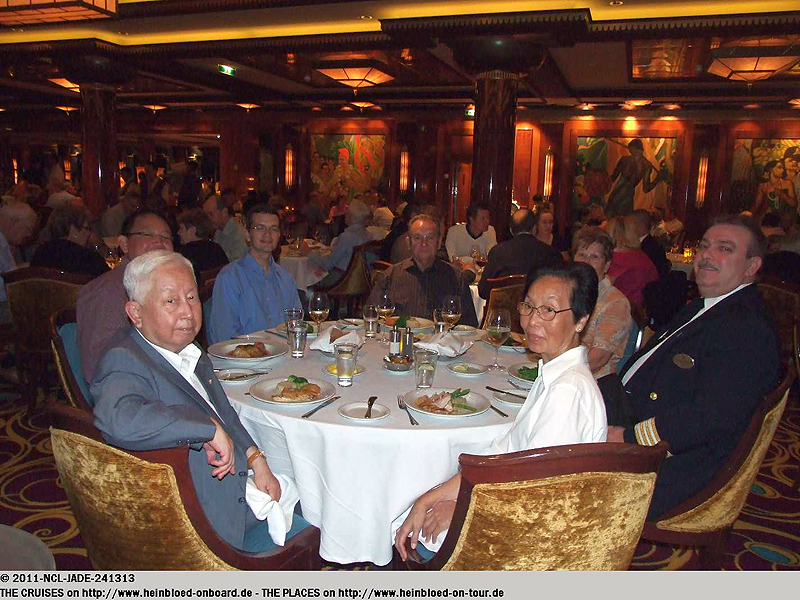 Not anymore available: Dinner with Senior Officers. Hotel Director Armando who liked the idea that we took our parents with us and supported us that our parents and we are still speaking high on this voyage.

One of the greatest experience of all my cruises: Me as Charlie and Cruise Director Jill, F&B Manager Vesna, and Guest Service Manager Shenny as my Charlie's Angels.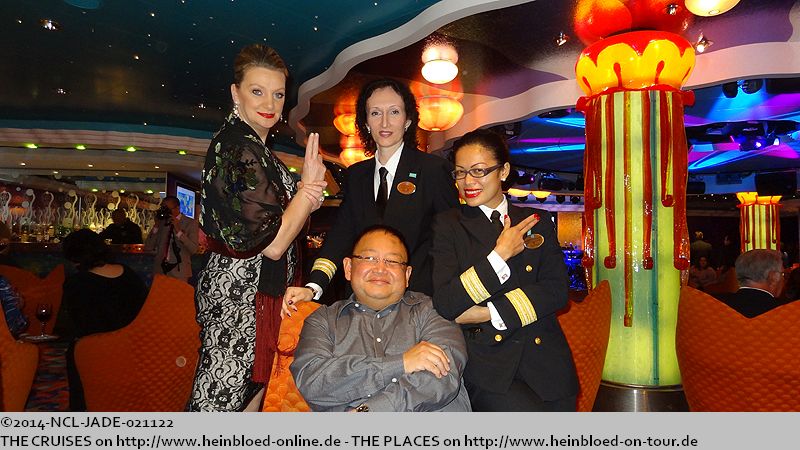 Einer der tollsten Erlebnisse aller meiner Kreuzfahrten: Ich als Charlie und Jill, Vesna und Shenny als meine drei Engel für Charlie...
Andrew, der mir ein T-Shirt von sich schenkt, weil er nicht will, dass ich für andere Gesellschaften Werbung macht.

Andrew, who gave mir one of his T-Shirts because he did like me to advertise for other cruise companies.

Many times, I was identified as a crew member. I thought that they identified me as a crew member of the laundry. I got from Orlando a t-shirt for crew members of the laundry.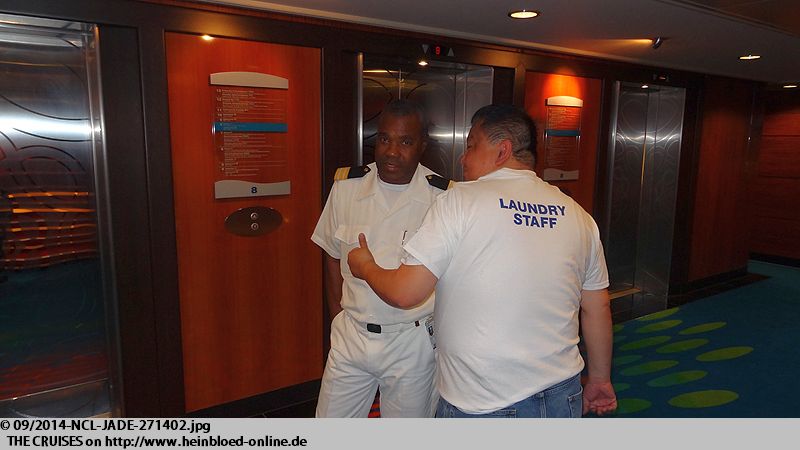 Ich wurde ja oft mit ein Mitglied der Crew gehalten. Ich nahm an, dass ich für ein Mitglied der Wäscherei gehalten wurde. Von Orlando bekomme ich ein T-Shirt für Crew-Mitglieder der Wäscherei.
Für Kapitän Kim galt das nicht nur für unsere Familien, sondern auch für unsere Freunde.

For Captain Kim it did not apply only to our family but also to our friends.

I liked very much the open presence of Captain Mikael.

Ich mochte die offene Präsenz von Kapitän Mikael.
Oft habe ich mir gewünscht so zu sein, wie Alleskönner und Kreuzfahrtdirektor Gary, der soviele Sprachen fließend sprach und selbst als Musiker einspringen konnte.

Many time I wished I could be like multi-talent and Cruise Director Gary who spoke so many languages fluently and was able to replace musicians.

Unforgettable: Pedro and Jean-Michel,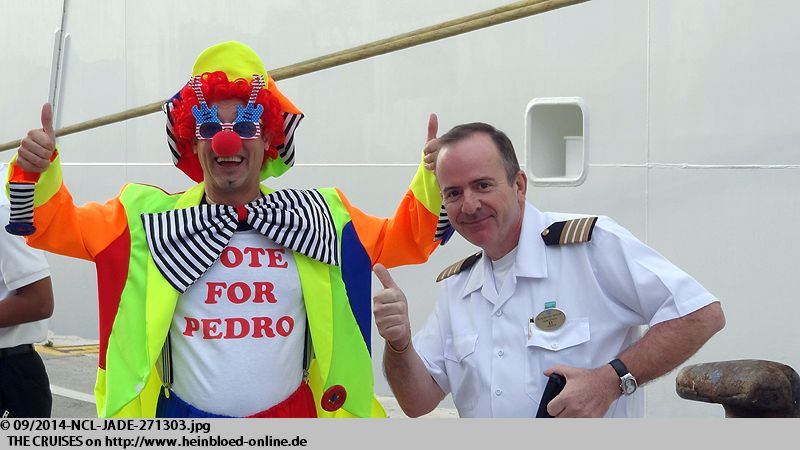 Unvergesslich: Pedro und Jean-Michel,
Luiza,

Luiza,

Valentina who did everything for me - even she was not onboard.

Valentina, die für mich alles tat, auch wenn sie gar nicht an Bord war.
Monica und ihr Mann Philmore. Man fühlte sich toll, wenn man sogar Wasser und Brot bestellt hat.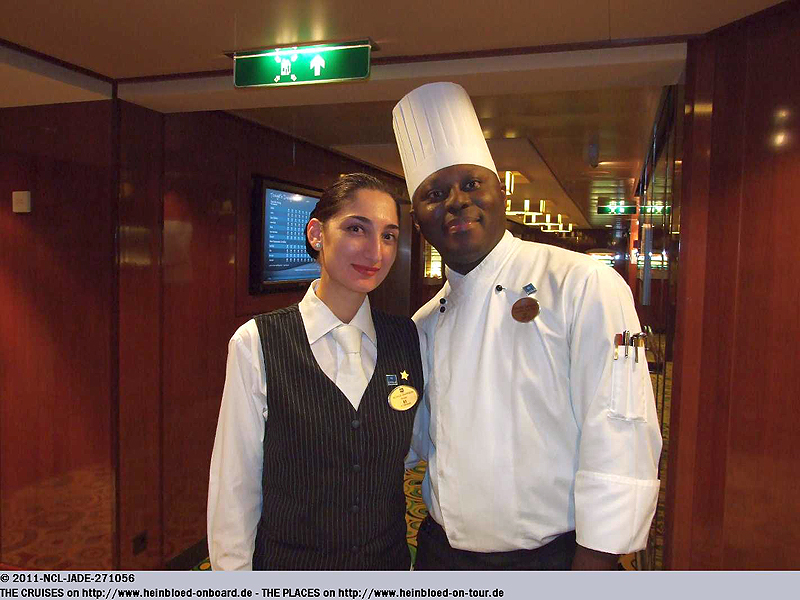 Monica and her husband Philmore. You felt so great even you ordered water and bread only.

Elena who sang together with Vikesh and Ana-Maria a song in Le Bistro although we had no reason, but the table next table was waiting for the cake...

Elena, die gemeinsam mit Vikesh und Ana-Maria damals in Le Bistro ein Ständchen gesungen hat, obwohl wir hatten gar keinen Anlass hatten, aber der Nachbartisch hatte einen und wartete auf die Torte...
Ein Ort, den es auf der NORWEGIAN JADE nicht mehr gibt: Mahmut und Paniolo Team. Und Mahmut hat uns mittags in Kusadasi seiner Familie vorgestellt und uns zum Essen an Land eingeladen: Türkische Gastfreundschaft bei NCL: "Sie sind ein Freund von Frances? Dann sind Sie auch mein Freund!"

A place which you do not have anymore on NORWEGIAN JADE: Mahmut and the Paniolo Team. Und Mahmut took us in Kusadasi Turkey for lunch ashore and introduced us to his family: Turkish hospitality with NCL: "You are a friend of Frances? Then you are my friend too!"

The man of our first hours with NCL and who always treat us well: Furtoso.

Der Mann unserer allerersten Stunde mit NCL und uns immer toll behandelt: Furtoso,
Chandra,

Chandra,

Ronnie,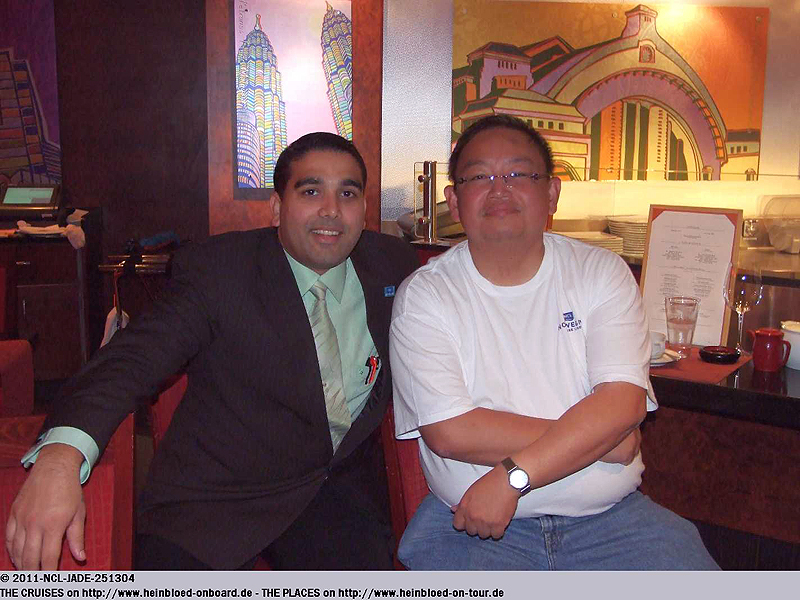 Ronnie,
Daniel, Thomas mit Jesus und Rewiwat und deren besonderer Willkommensgruß in Neapel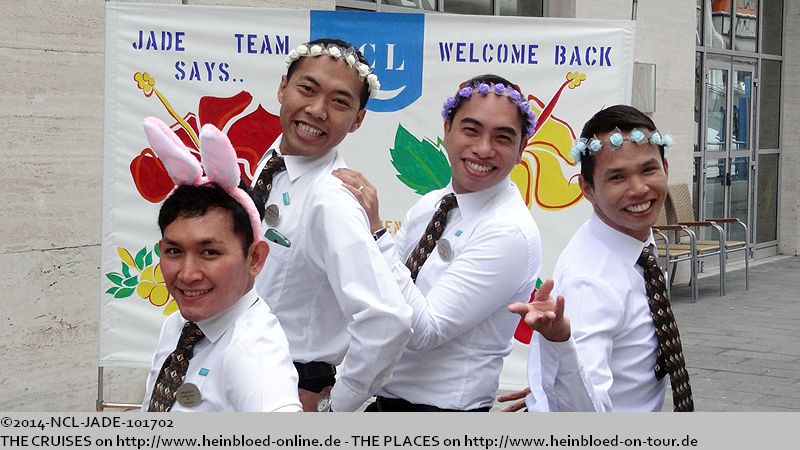 Daniel, Thomas with Jesus and Rewitat with a special welcome greeting in Naples, Italy.

Valeria,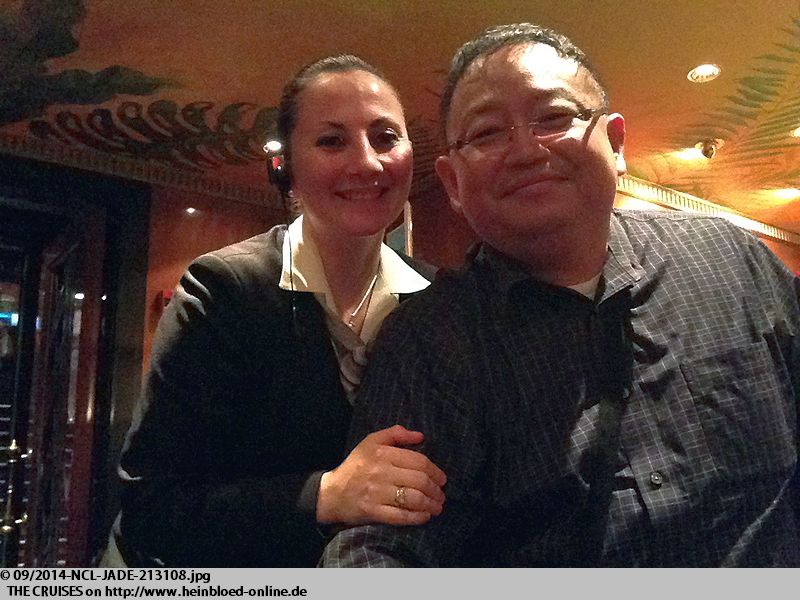 Valeria,
Muthu,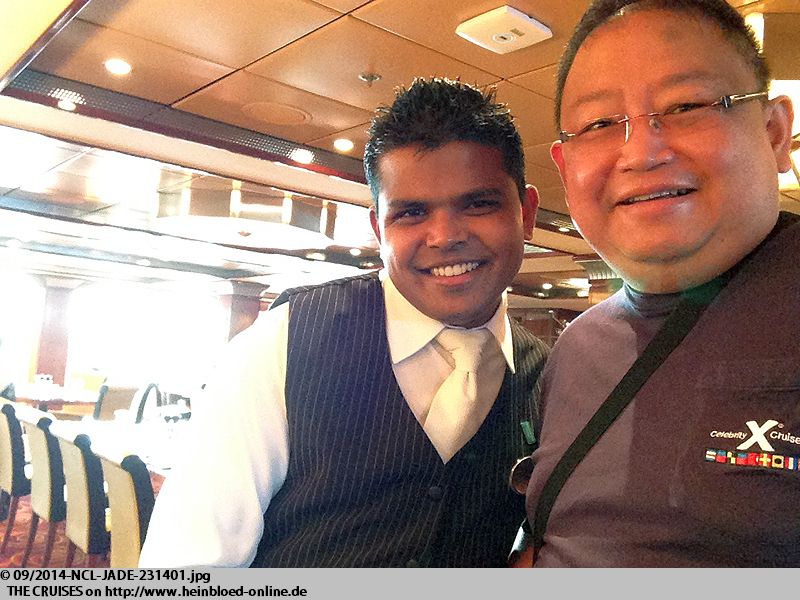 Muthu,

David,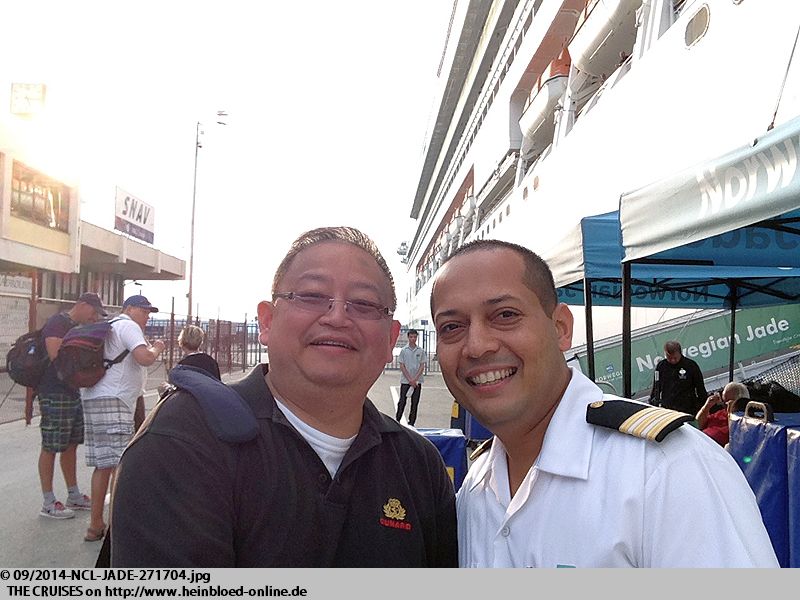 David,
the Cagney's Team mit I Nyoman, Subhash, Valeria zum Brunos 49. Geburtstag.

the Cagney's Team with I Nyoman, Subhash, Valeria due to Bruno's 49th birthday.

Amor with Rosvy,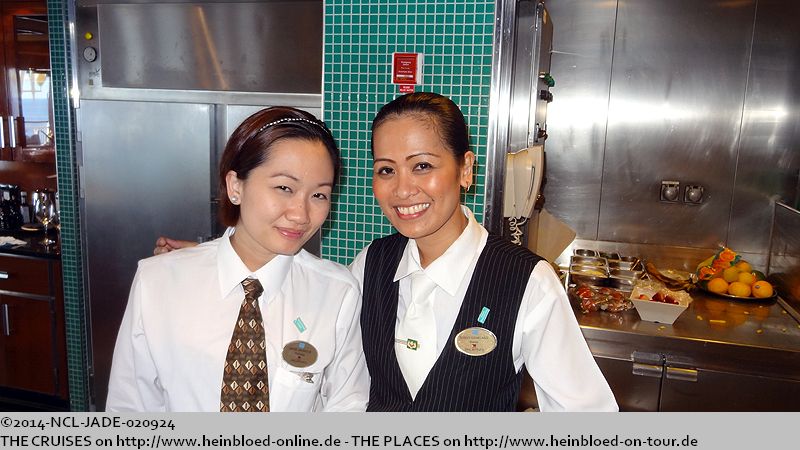 Amor mit Rosvy,
Lloyd mit Kadek.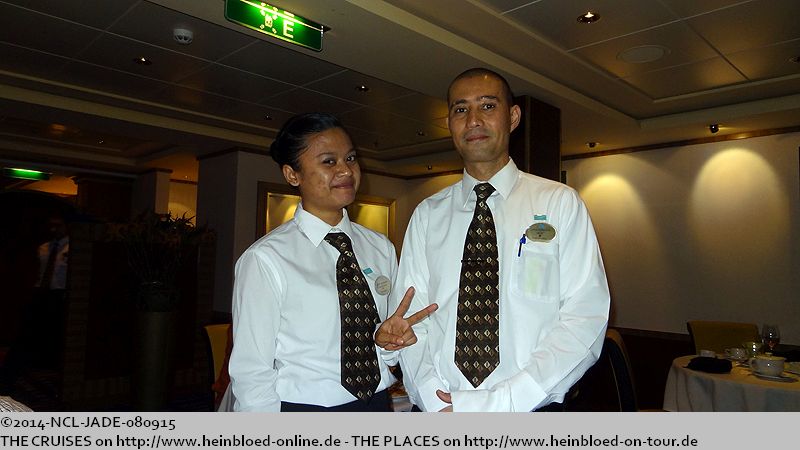 Lloyd with Kadek.

Our personal interpreter Admir who was ordered to escort our parents for a personal Galley-Tour.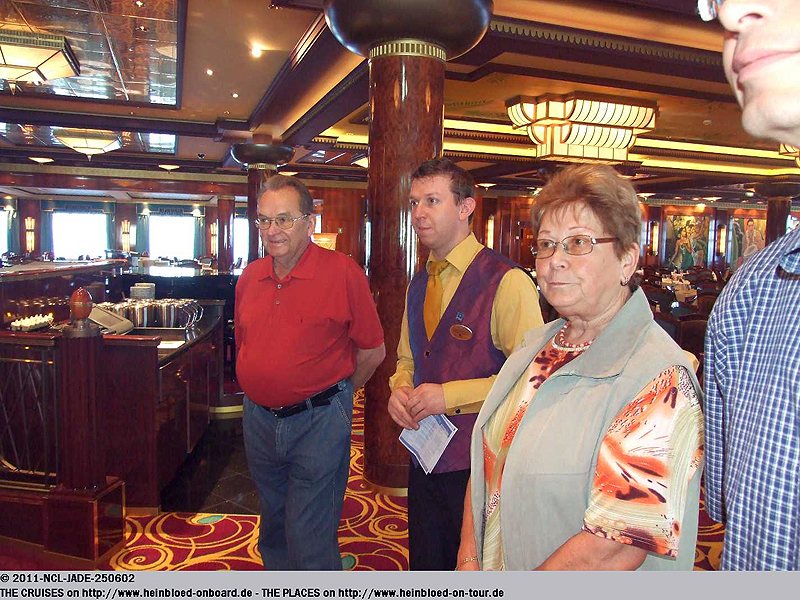 Unser persönlicher Übersetzer Admir, der damals dazu verdonnert wurde die persönliche Galley-Tour für unsere Eltern zu begleiten.
Viorica gemeinsam mit Mahmut,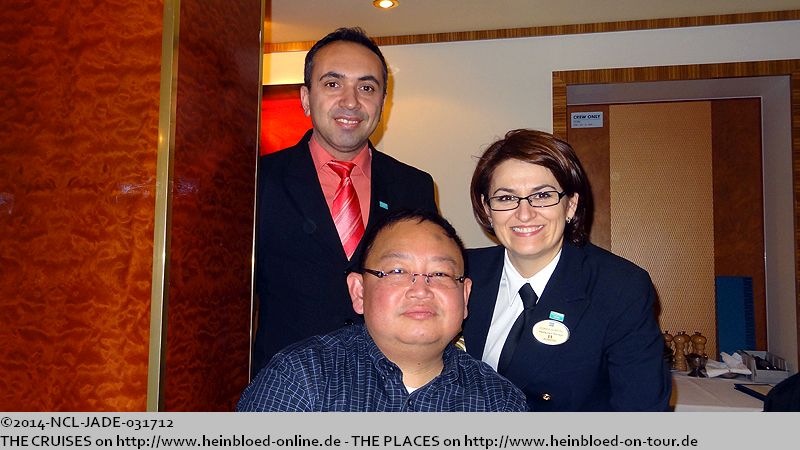 Viorica together with Mahmut,

Seepa (her sister Deepa was never on NORWEGIAN JADE with us),

Seepa (ihre Schwester Deepa war nie auf der NORWEGIAN JADE mit uns),
Alina,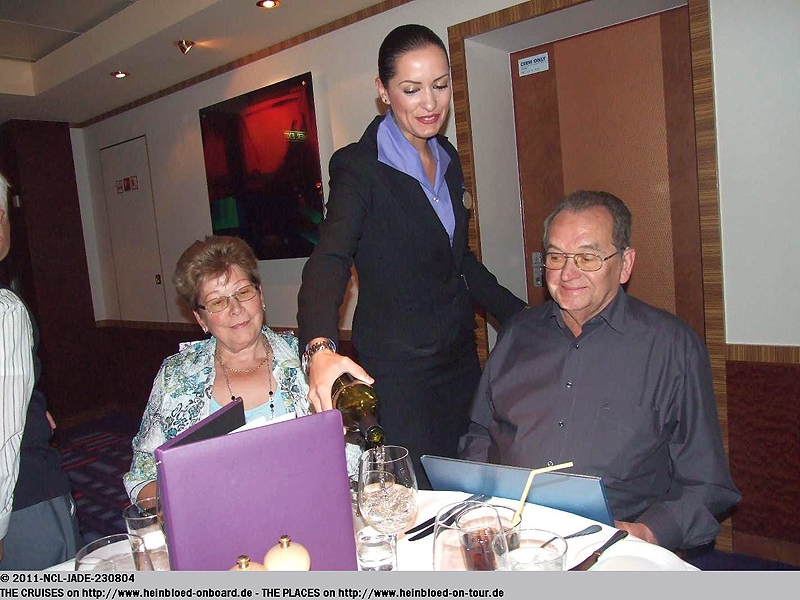 Alina,

Dhuri.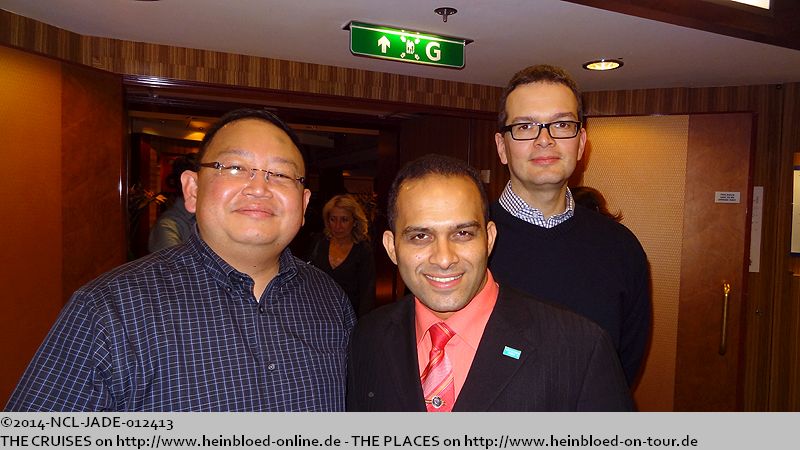 Dhuri.
Kellner der alten Schule: Aydin

Waiter of the sold school: Aydin

and Ernesto.

und Ernesto.
Meine Grundschullehrerin Frau Pannen fand einen Kuchen im Papas Italian Kitchen so toll, dass wir nach dem Rezept fragten. Das Crew-Mitglied aus der Galley hat sich sehr über unsere Rückfrage gefreut und sofort für uns das Rezept aufgeschrieben:

My Elementary School Teacher Mrs. Pannen liked a cake in Papa's Italian Kitchen so much that we asked for the recipe. The crew-member from the galley was so happy to be requested by a guest and wrote down the recipe:

James, Maria, Peter, Andrean, Krystoffer, Prabakar, who fulfilled for us our most exotic special requests: like ginger-peppermint-lemon-tea.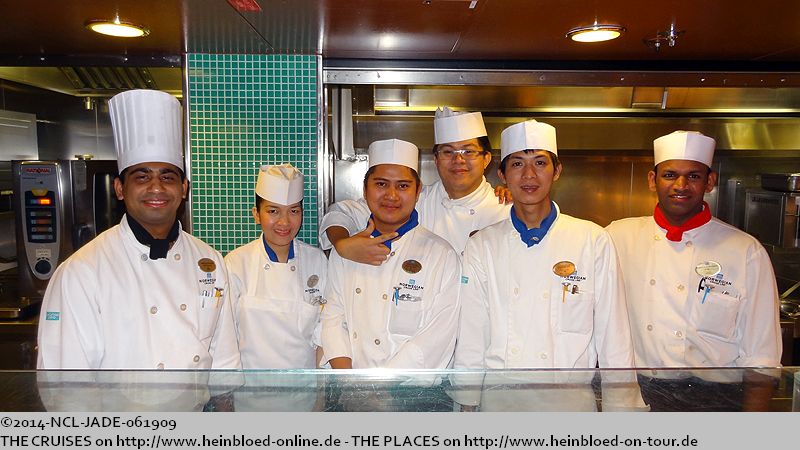 James, Maria, Peter, Andrean, Krystoffer, Prabakar, die uns jeden noch so exotischen Sonderwunsch erfüllt haben: z. B. Ingwer-Pfefferminz-Zitronen-Tee.
Dave Austin, der für mich immer sofort mein Lieblingsfrühstück gemacht hat.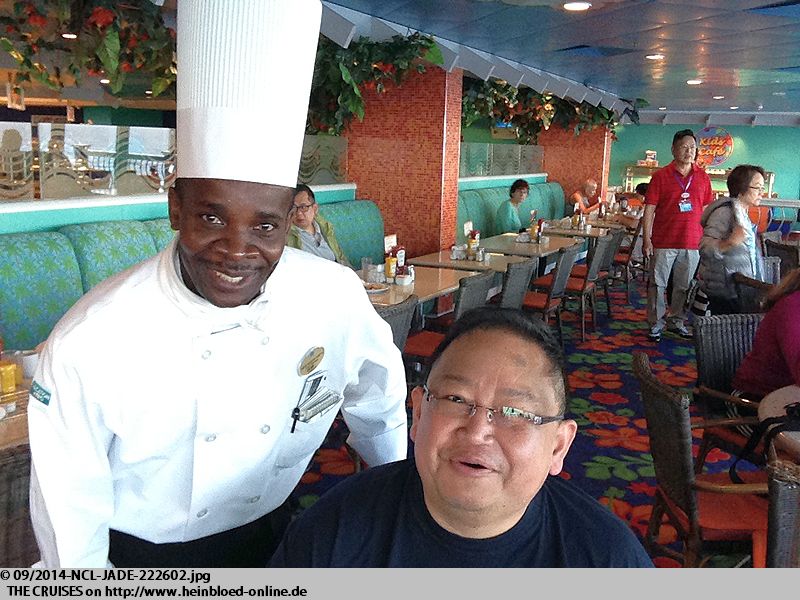 Dave Austin who made my favorite breakfast for me.

Executive Chef Messiah from Bavaria (he insisted not to be from Germany... a great entertainer on stage too when they had the crew show).

Chefkoch Messiah aus Bayern (er legt darauf großen Wert, dass er nicht aus Deutschland sei... und auch ein großartiger Entertainer auf der Bühne, als es noch die Crew-Show gab).
Das war lecker und das gibt es alles nicht mehr an Bord der NORWEGIAN JADE: Wan-Tan-Suppe im Blue Lagoon Café

That all was yummy and you cannot get it anymore on NORWEGIAN JADE: Won-Ton-Soup in Blue Lagoon Café.

Fried Noodles with roasted pork Cantonese style also from Blue Lagoon Café.

Gebratene Nudeln mit geröstetem Schweinefleisch kantonesischer Art auch im Blue Lagoon Café.
Mongolischer Feuertopf im Jasmine - dafür haben wir gerne extra gezahlt. Auch für das Shabu Shabu.

Mongolian Hot Pot in the Jasmine - for that we loved to pay extra. Same was for Shabu Shabu.

And even they had lobster tails without an extra charge in the Main Dining Room.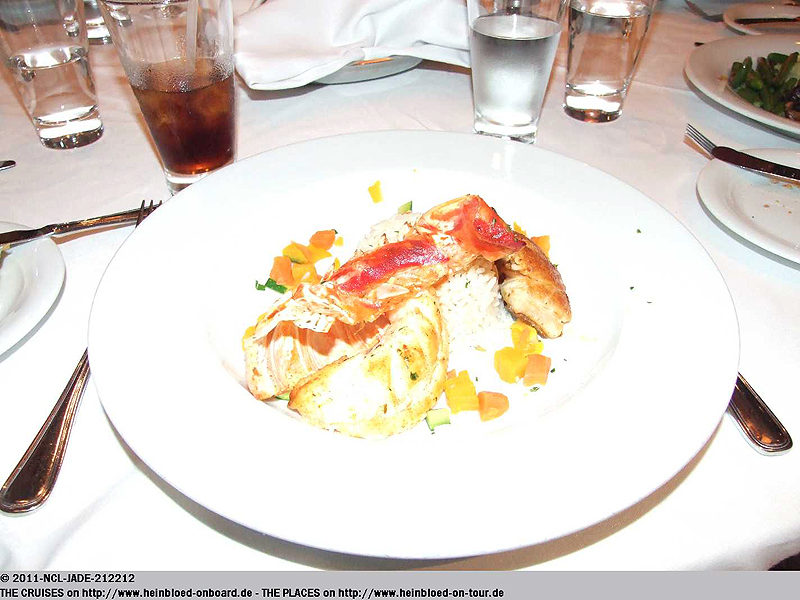 Und sogar Hummerschwänze im Hauptrestaurant ohne Zuzahlung.
Es gab Hummer gegen Zuzahlung im Cagney's.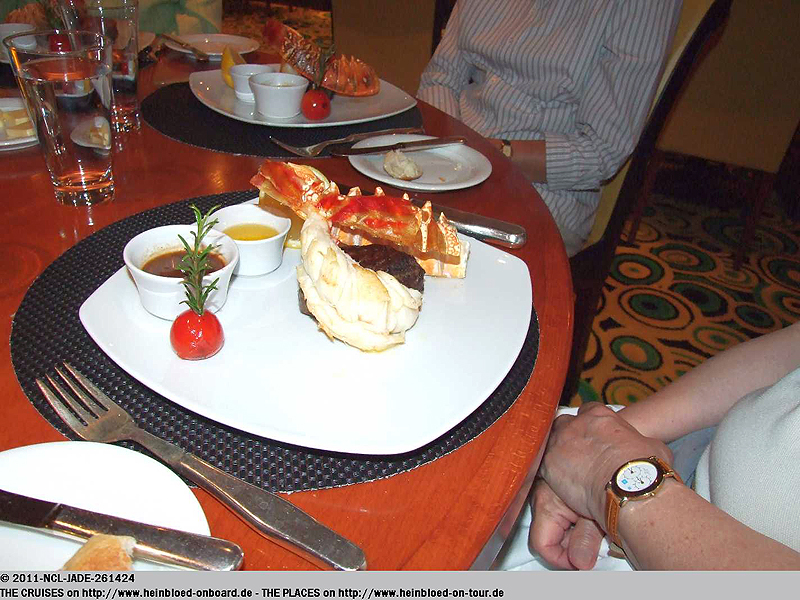 You had lobster against payment in Cagney's.

Lobster in whole big tails with the Teppanyaki-Grill - I had to pay but they had lobster onboard: today not anymore. Even you are willing to pay.

Hummer in ganzen großen Schwänzen beim Teppayaki-Grill - ich musste zahlen, aber es gab Hummer an Bord: Heute leider gar keiner mehr. Auch wenn ich dafür bezahlen will.
Hier gab es noch Jakobsmuscheln, die man nicht mit der Lupe suchen musste...

Here you had scallops you could find without using binoculars...

Alaska King Crabs - even I had to pay extra for them.

Alaska King Crabs - auch wenn ich dafür extra bezahlen musste.
Antipasta aus dem Wagen im Papas Italian Kitchen.

Antipast from the trolley in Papa's Italian Kitchen.

And the cheese trolley.

Und der Käsewagen.
Mexikanischer Fleischspieß

Mexican Meat Skewer.

Once upon a time: complimentary cake in the display instead of overpriced Macarons in Java Café.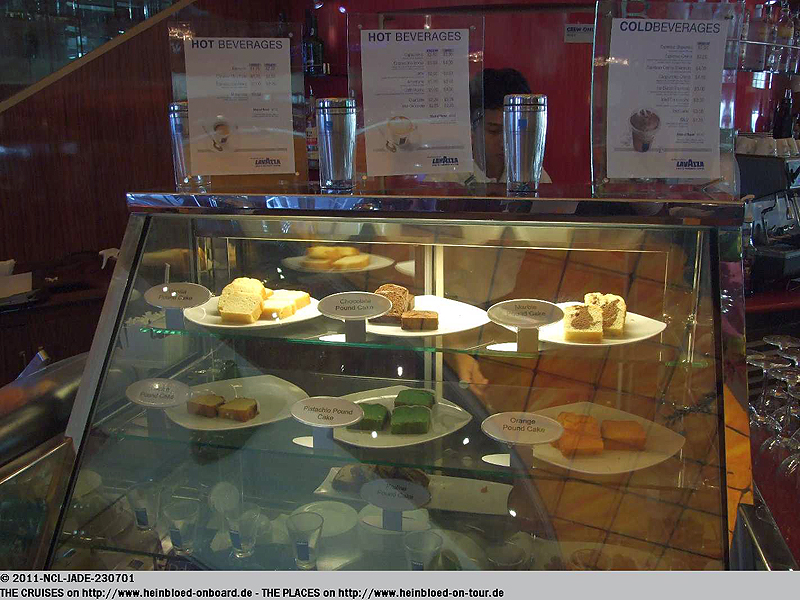 Damals noch: kostenloser Kuchen in der Auslage, statt überteuerte Marcarons im Java Café.
Unser Guest Services: Concièrge Monica, die uns schon toll behandelte, obwohl wir überhaupt den richtigen Status erreicht hatten.

Our guest services: Concièrge Monica, who treated us well although we had not reached the right status.

Concièrge Omar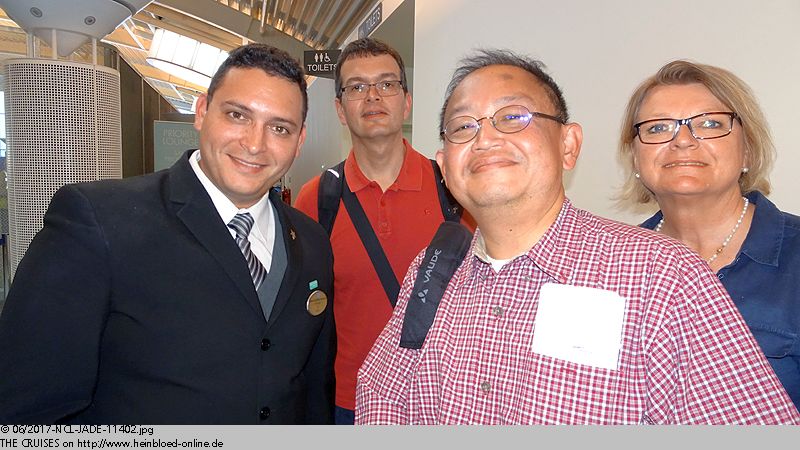 Concièrge Omar
Concièrge Carlos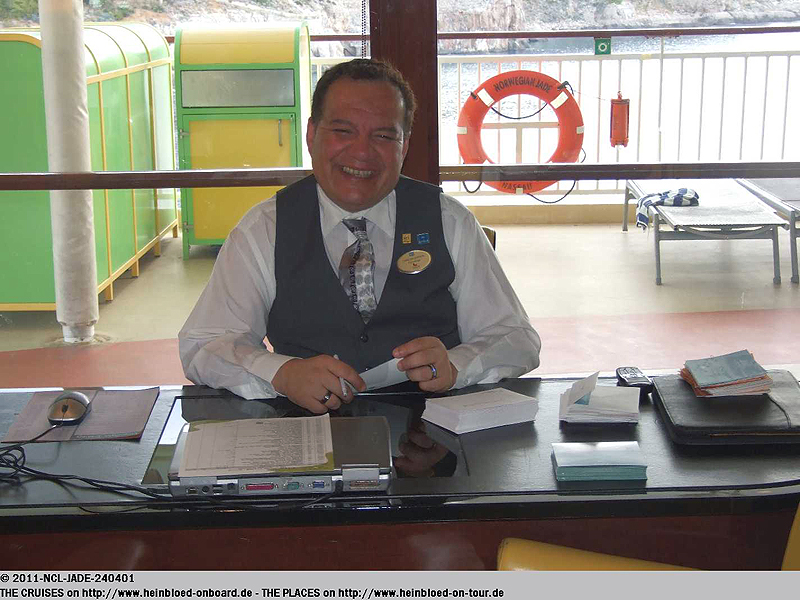 Concièrge Carlos

Concièrge Bruno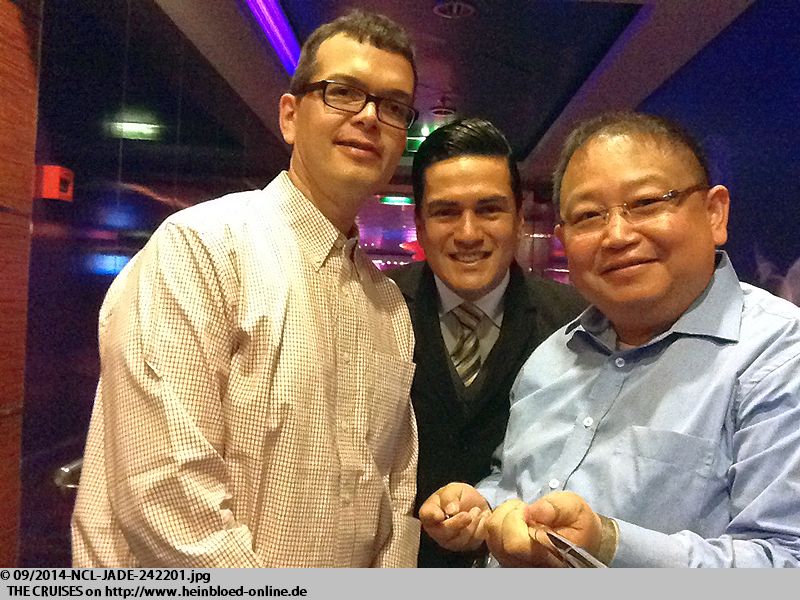 Concièrge Bruno
Concièrge Mark (worüber mag er wohl nachdenken)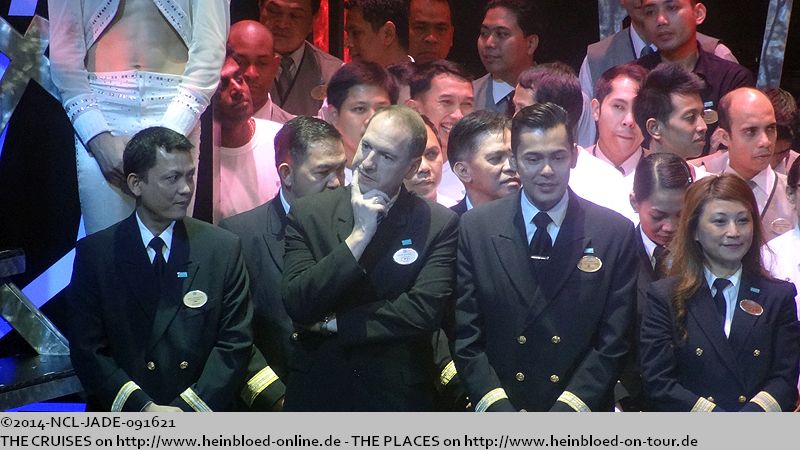 Concièrge Mark (wondering what he was thinking about)

Christine who was able to serve us in Chinese.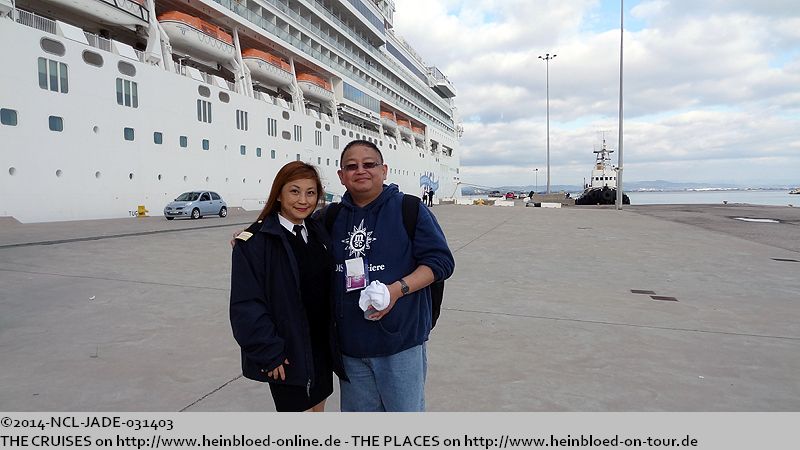 Christine, die uns sogar auf Chinesisch betreuen konnte.
Vom Housekeeping: Maria, die uns betreut hat, wie eine Mutter.

From the Housekeeping: Maria who took care of us like a mother.

Hotel Utility Alain who carried tons of towls from the spa.

Hotel Utility Alain, der tonnenweise unsere Handtücher aus dem Spa schleppte.
Unvergessliche Ereignisse an Bord der NORWEGIAN JADE: Das größte Meet & Greet von cruisecritic.com, das ich je im Leben organisiert habe: hier mit Maria, die mir ein tolles Geschenk gemach that.

Unforgettable events onboard of NORWEGIAN JADE: the biggest Meet & Greet of cruisecritic.com which I have ever arranged: here with Maria who made me a great gift.

Great music entertainment with Daniela and Sabastian.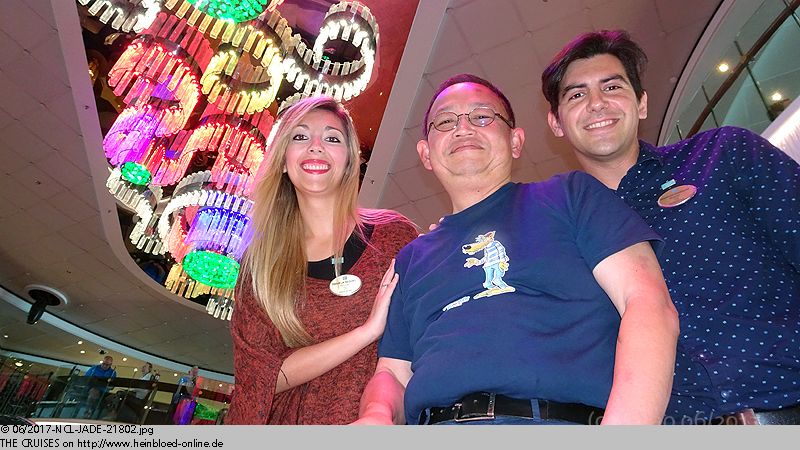 Tolle musikalische Unterhaltung mit Daniela und Sebastian
Future Cruise Consultant Carol, die es damals als Aufgabe verstand Kreuzfahren näher zu bringen und nicht nur Cruise Rewards zu verkaufen.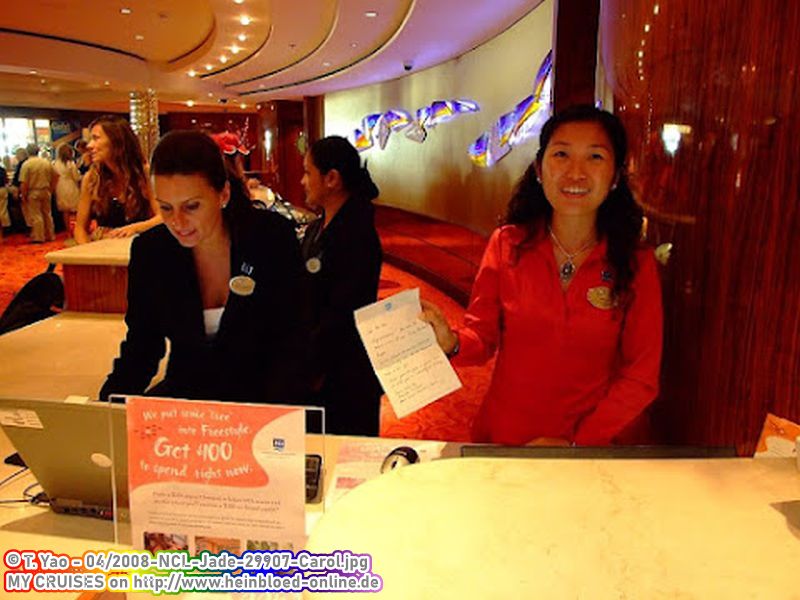 Future Cruise Consultant Carol who understood her job to bring us closer to cruising and not just to sell Cruise Rewards.

A very personal letter from her with a surprise.

Der persönliche Brief von ihr mit einer Überraschung.
Sie haben uns immer unterstützt: selbst als ich auf der NORWEGIAN JADE war und ich T-Shirts von der NORWEGIAN EPIC brauchte: vielen Dank an Valentina und Armando.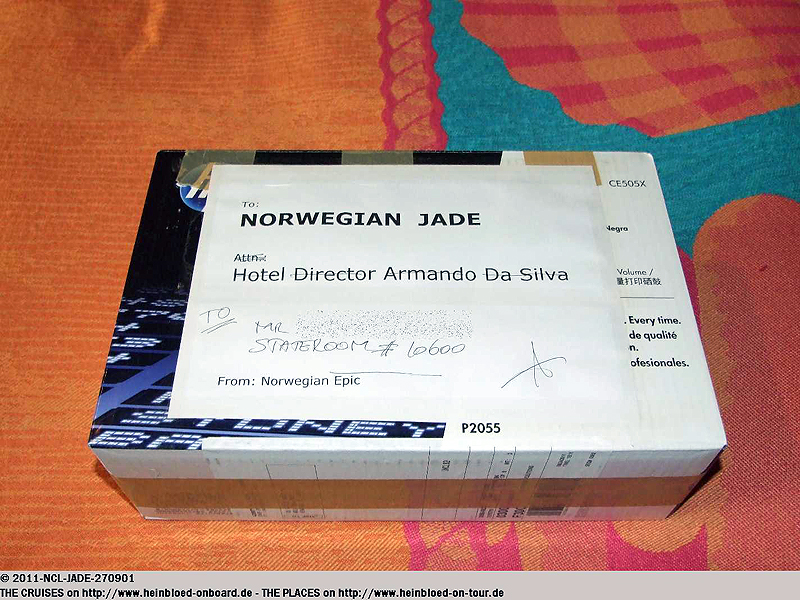 They always supported us: even I was on NORWEGIAN JADE and I need to have T-Shirts of NORWEGIAN EPIC: thanks to Valentina and Armando.

The confiscated mix grill from Split, Croatia which was eaten by the security team himself because it was smelling so well.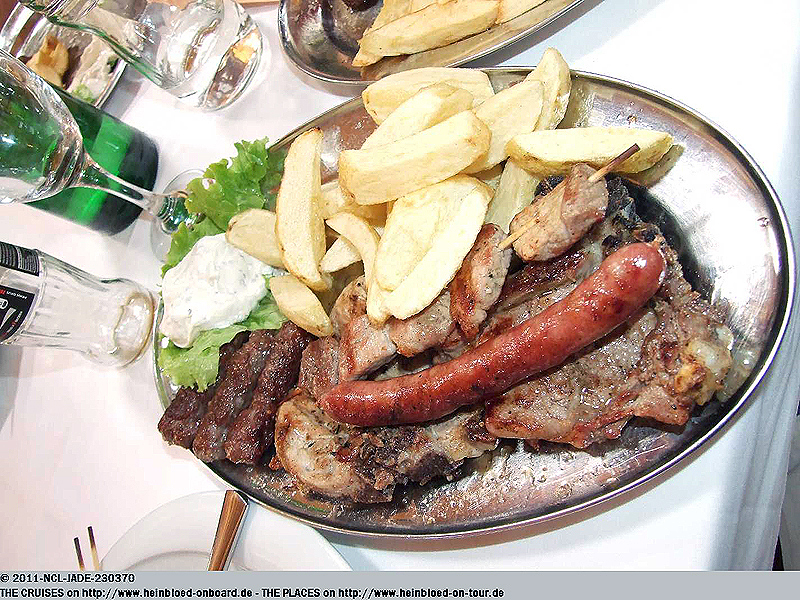 Der beschlagnahmte Grillteller aus Split, Kroatien, der bestimmt von der Sicherheitstruppe selbst aufgegessen wurde, so toll wie der roch.
Sachen, die es leider das alles nicht mehr gibt: "Sir, wir haben noch nicht geöffnet, aber ich mache Ihnen trotzdem gerne einen Kaffee!": Damals noch... Jose von der Aloha Bar. Heute hört man auch schon mal "Nein", "Sie müssen schon selbst...", "Wir öffnen erst in 6 Minuten..." - gab es früher nicht an Bord, da ist fast jeder eine Extra-Meile für uns gelaufen.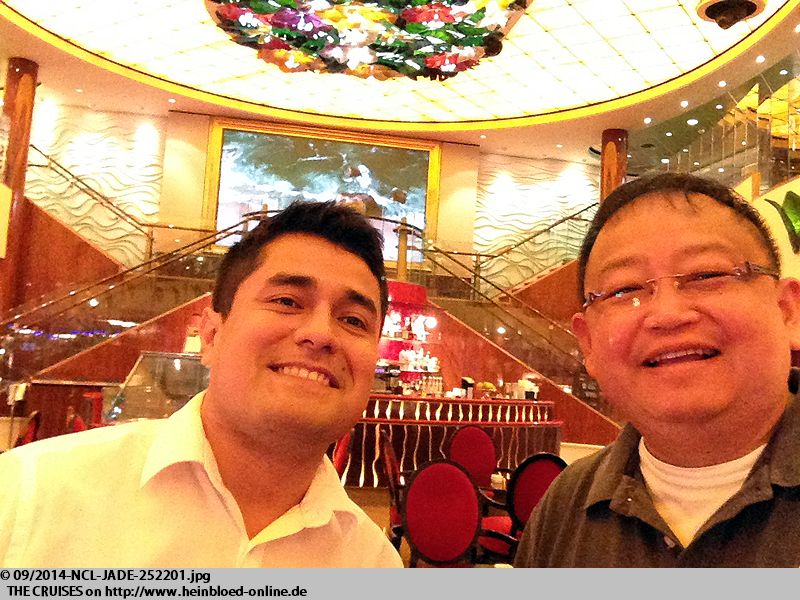 Something which does not exist anymore: "Sir, we have not open yet but I can prepare some coffee for you!" Then it was Jose from the Aloha Bar. Today you can hear "No", "You must do yourself...", "We open in 6 minutes..." - then you did not have it onboard and most crew members were walking an extra mile for us.

One of the nicest event: The Jazz-Brunch.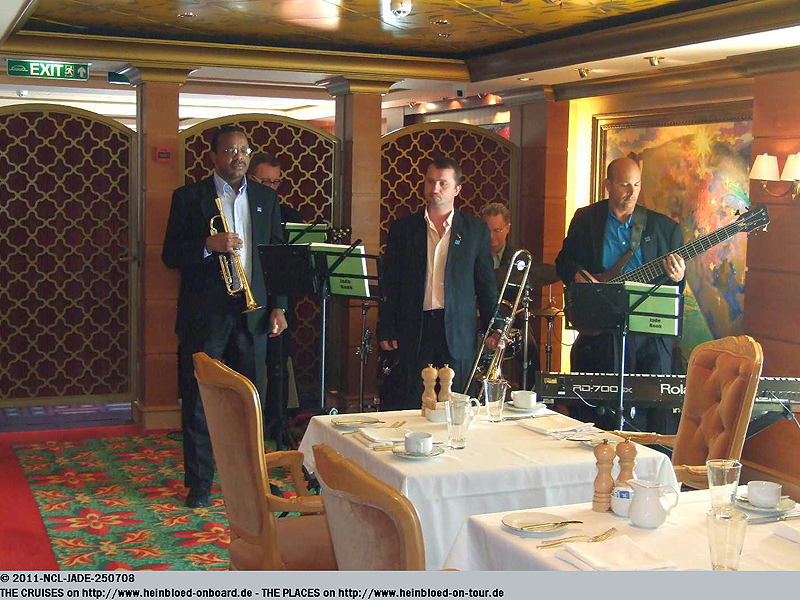 Einer der schönsten Veranstaltungen: Der Jazz-Brunch.
Und Elemis für alle. Nicht nur die Suiten.
Diese Menschen und Ereignisse machen NCL für mich immer unvergesslich und speziell die NORWEGIAN JADE. Einen Cruise Reward haben wir nicht mehr. Eine neue Reise mit der NORWEGIAN JADE ist nicht gebucht. Noch eine Reise mit der NORWEGIAN SUN und dann?
Auf der NORWEGIAN SUN 2019 wird uns das gleiche passieren, wie damals auf der NORWEGIAN SUN 2012: wir erwarten niemanden an Bord, den wir kennen und keine fünfzehn Minuten an Bord wird der erste auf mich zukommen und sagen "Welcome Back Mr. Tien" und am Ende werden unsere Freunde, die uns begleiten sagen, was für tolle Freunde wir von der Crew haben und spätestens dann gucken wir auch wieder bei den NCL nach, was sie im Angebot haben. Hoffentlich wieder NORWEGIAN JADE. Die 10 würde ich ja gerne voll machen und Luiza schuldet mir immer noch einen Cesars Salad...
Übrigens: wir kennen noch sehr viel mehr Crew-Mitgliedern von den Reisen auf der NORWEGIAN JADE und auch von vielen anderen NCL-Schiffen. Diese Menschen und Ereignisse stehen stellvertretend für sehr viel mehr tolle Erinnerungen, die wir von NCL kennen und auch vermissen.

And Elemis for everyone. Not only for suites.

The people and the events make NCL unforgettable forever and especially NORWEGIAN JADE. We have no more Cruise Reward. A new voyage on NORWEGIAN JADE has not been booked until today. One more voyage on NORWEGIAN SUN and then?

On NORWEGIAN SUN 2019 it would happen exactly the same what happened on NORWEGIAN SUN 2012: we did not expect anyone onboard whom we knew and no longer than 15 minutes onboard the first would come and say "Welcome Back Mr. Tien" and at the end our friends who are joining us will say that e have great friends with the crew and that would be the latest time I will check with NCL again what they will offer. I hope again on NORWEGIAN JADE. I really would love to complete the 10 and Luiza was still owing me a Cesar's Salad...

By the way: We know many more crew-members from our voyages on NORWEGIAN JADE and from other NCL-ships. Those people and events are just representing many great experiences we know from NCL and we miss too.
Die anderen Reisen in diesem Blog/
The other voyages in this blog: