Unsere Abrechnung kommt. Bis auf die Mehrwertsteuer stimmt eigentlich alles. Insgesamt finde ich jedoch Norwegian zu teuer durch die 18% und vor allem die 18% noch auf die Zuzahlung drauf und auf die 7,95 für den Kabinenservice usw. usw..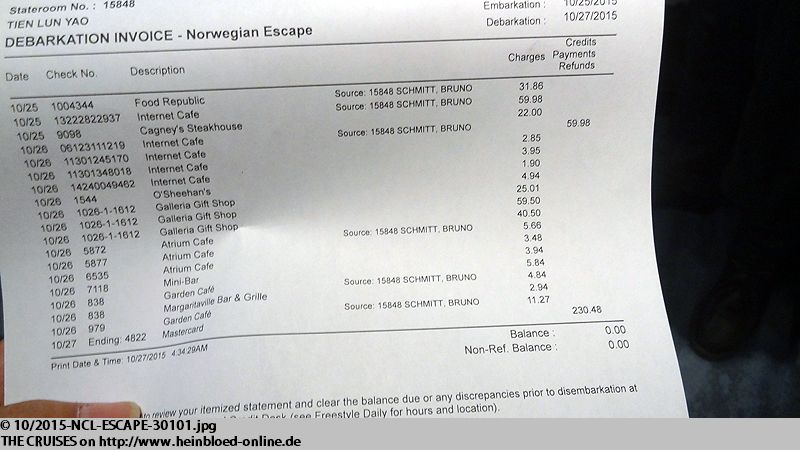 Our final bill came. Except for the tax actually it was correct. Overall, I found, however, Norwegian too expensive due to 18 % and in particular the 18 % on top of the cover charge on it and due to 7.95 for the cabin service, etc., etc..

There was Egg Benedict at day of disembarkation available. And who could read had a clear advantage. The son, who was sitting at the next table the day before, had so bitterly complained that was no bagel served for salmon anymore. But that actually looked as before. Only the daily special was not served that day. And also this morning cranberry juice was on the menu. And I got it too. It was a little sad that we had to sit in Savor. But Taste would open a little later this morning. This morning, there had already other teas compared to the day before. Since we knew about, we asked directly for some cottage cheese for our fruit plate. Always the milk into the cup ahead of the tea ... but why was there a need to have ice cold milk? One last Egg Benedict for me - even it was not on salmon. And again a "pair" of boiled eggs for Bruno. Again with potatoes too. Just typical American.

Es gibt Egg Benedict am Ausschiffungstag. Und wer lesen kann ist klar im Vorteil. Der Sohn, der gestern am Nachbartisch saß, hatte sich ja bitterlich beklagt, dass kein Bagel zum Lachs mehr serviert wird. Aber das sieht eigentlich so aus, wie früher. Nur die Tagesangebote gibt es heute nicht. Und auch heute Morgen steht der Cranberry-Saft auf der Karte. Und ich bekomme ihn auch. Wobei ich es schade finde, dass wir jetzt im Savor sitzen. Aber das Taste wird heute Morgen erst etwas später geöffnet. Heute Morgen gibt es schon andere Teesorten als gestern. Da wir Bescheid wissen, bitten wir direkt um Hüttenkäse zum Fruchtteller. Immer erst die Milch in den Tee... warum muss aber die Milch so eiskalt sein? Noch ein letztes Egg Benedict für mich - auch wenn nicht auf Lachs. Und nochmals ein Paar gekochte Eier für Bruno. Auch wieder mit Kartoffeln. Eben typisch amerikanisch.
Wir fahren in Hythe vorbei und dort winken uns ein paar zu.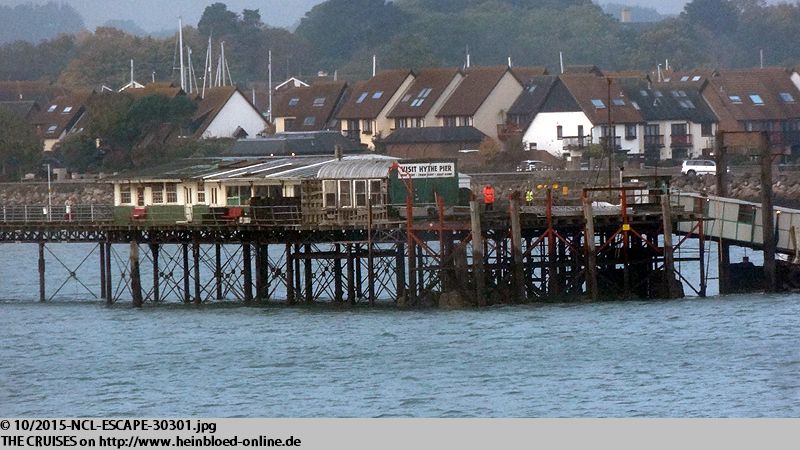 We passed in Hythe and there few were waving to us.

From NORWEGIAN ESCAPE we looked to ANTHEM OF THE SEAS. The trip I had canceled in April. Later we took pictures of the ship from different locations.

Von der NORWEGIAN ESCAPE gucken wir auf die ANTHEM OF THE SEAS. Die Fahrt hatte ich ja im April abgesagt. Später nehmen wir das Schiff noch von verschiedenen Stellen auf.
Die Ausschiffungsinformationen.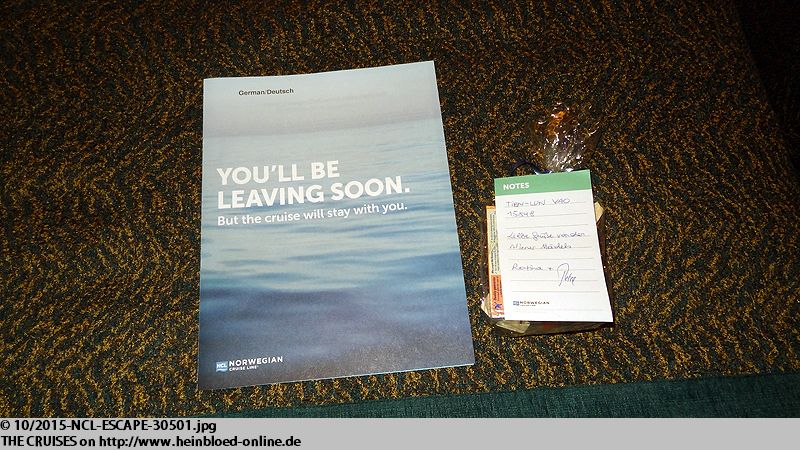 The disbarkation information.

Looked so empty since they did not offer any baggage service.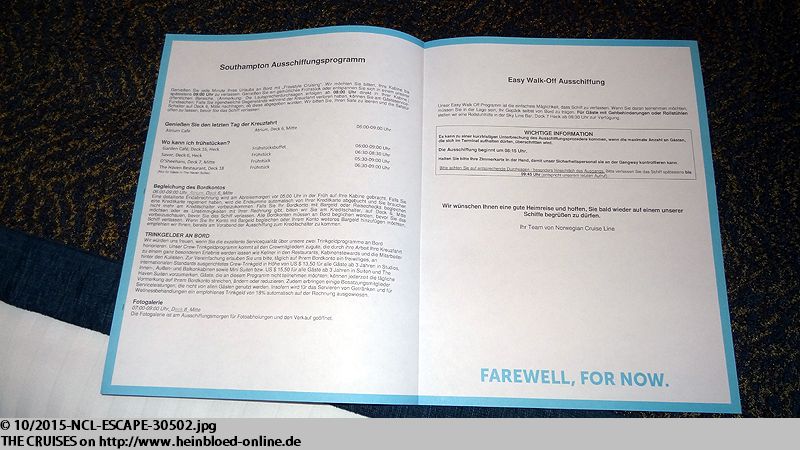 Sehen so leer aus, weil ja kein Gepäckservice angeboten wird.
So können wir die Koffer zum ersten Mal am Morgen packen. Und eines stellen wir noch fest: unser neuer Koffer geht hier sogar unter das Bett.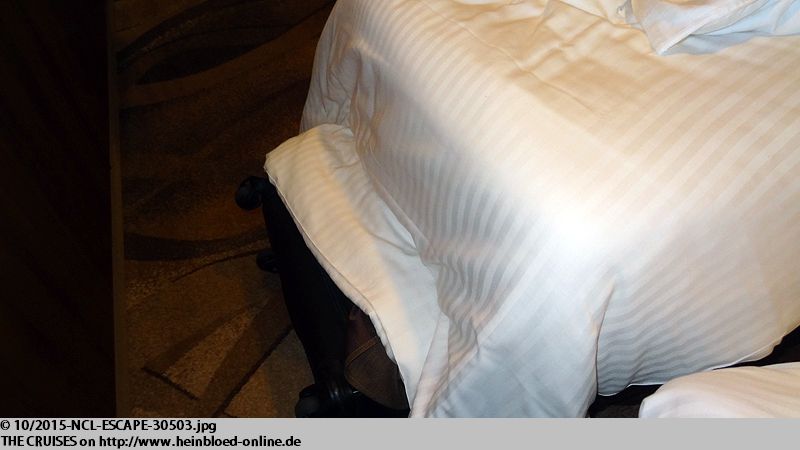 So the very first time we could pack our bags the same morning. And we found out: our new suitcase fitted under the bed.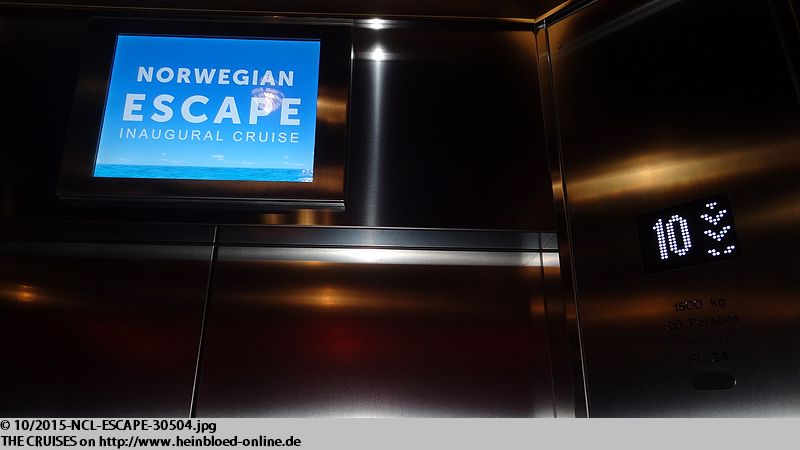 Informationen für den Fahrstuhl sind wohl noch nicht zu Ende programmiert. Mir erzählte ein Techniker von der Meyer-Werft, dass sie noch mit ca. 100 Personen von der Werft und Subunternehmer an Bord sind und noch etwa drei Monate an Bord noch bleiben werden.
Oh... jemand hat den Gangway-Knopf von der ALLURE OF THE SEAS geklaut. Aber auch der Knopf hilft nichts: Weil eben jeder das Gepäck selbst schleppen muss, kommen wir nicht aus dem Fahrstuhl und können ihn nur blockieren, damit wir nicht wieder nach oben fahren. Ich bleibe einfach zwischen den Türen minutenlang stehen und alle anderen machen das auch.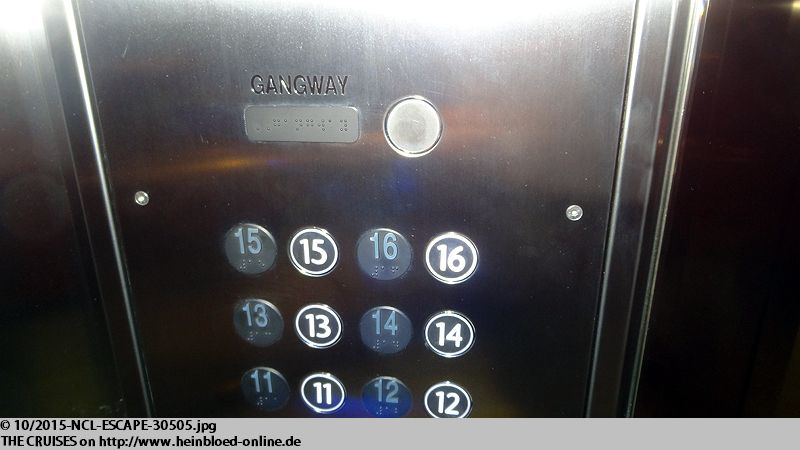 Information for the elevator were probably not yet programmed to the end. I was told by a technician of the Meyer shipyard, that there were still with about 100 men from the shipyard and subcontractors on board and still nee need about three moths to finish the work.

The greatest insolence followed. The announcement that everybody should use the aft stairway. However this was a steep staircase. They had only three assistants for baggage there. And the gangway was really steep.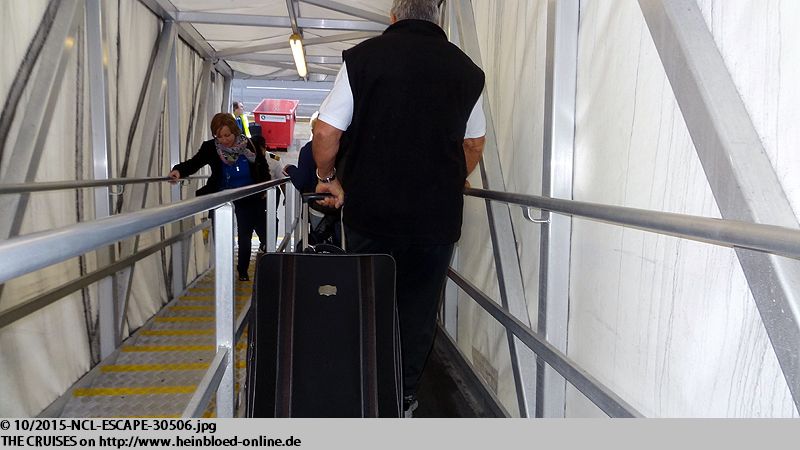 Die größte Unverschämtheit kommt noch. Der Ansage nach sollen alle zum Heckausgang. Das ist jedoch eine steile Treppe. Nur drei Hilfen für Gepäck gibt es. Und die Treppe ist wirklich steil.
Ich bin schon beinahe gestolpert. Ich möchte lieber nicht wissen, wie es älteren ergangen ist.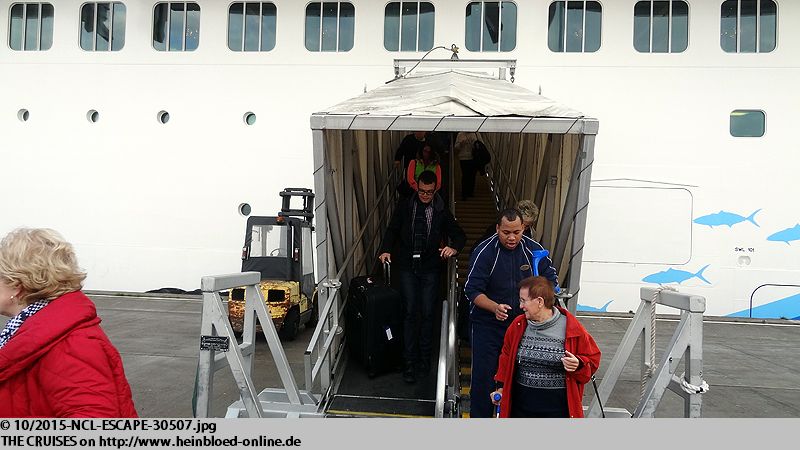 I was already almost tripped. I did not know how older guests managed it.

The fixed bridge has not been advertised by Norwegian. Probably only for guests who booked transfers. The could use an even level and with escalators and elevators. So far I recently had scolded a customer-unfriendly disembarkation only with Celebrity. Norwegian was now just as bad or good as Celebrity? (A rhetorical question onlyy).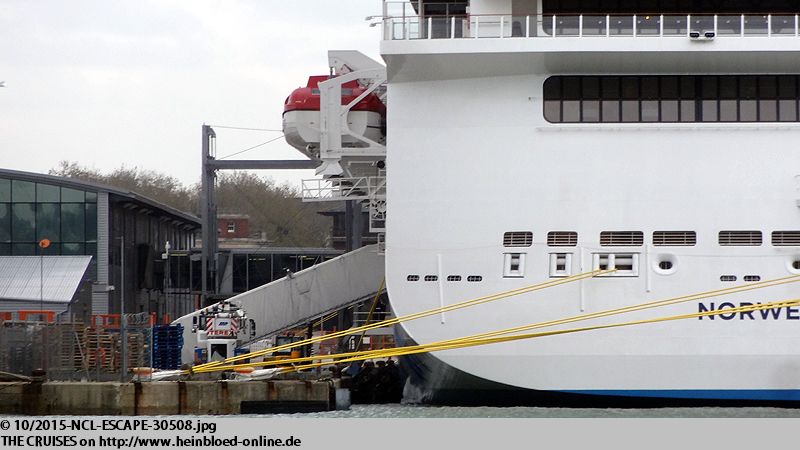 Die feste Brücke hat Norwegian nicht beworben. Vermutlich nur für Gäste, die Transfers gebucht haben. Die konnten ebenerdig und mit Rolltreppen und Fahrstühlen benutzen. Zuletzt hatte ich bloß bei Celebrity über so eine kundenunfreundliche Ausschiffung geschimpft. Hält sich Norwegian für genauso schlecht oder gut wie Celebrity? (Eine rein rhetorische Frage).
Der Transfer hat mal 35,00 EUR vor Wochen gekostet, als wir ihn gebucht hatten. Ich hatte ihn aber im letzten Moment abgesagt, um unabhängiger zu sein.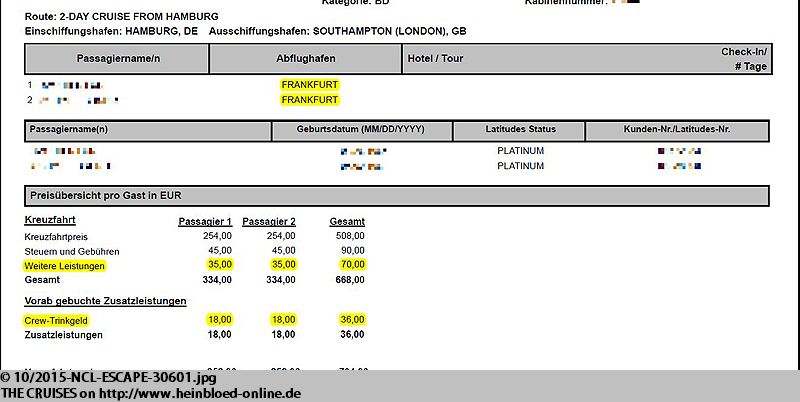 The transfer was once offered for 35.00 EUR (40.00 USD) weeks ago, when we booked it. I canceled it at the last moment in order to be more independent.

Meanwhile the price increased to 75.00 USD. That was almost usury!!! Cunard takes only 59.00 USD.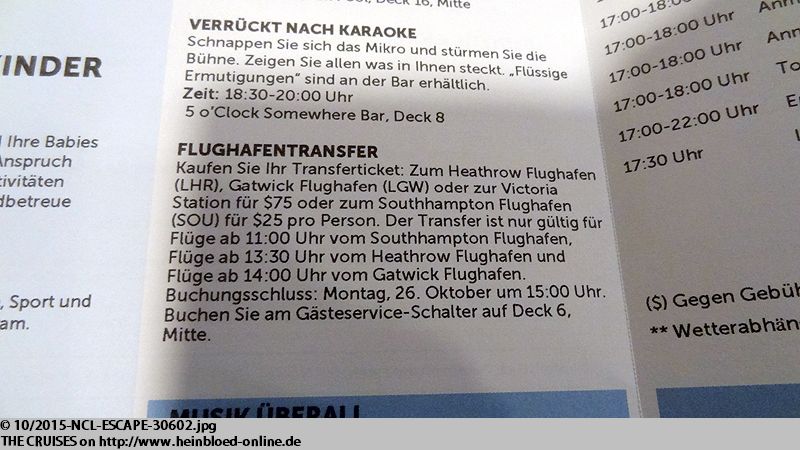 Mittlerweile haben sie den Preis auf 75,00 USD erhöht. Das ist ja schon fast Wucher!!!
Cunard nimmt nur 59,00 USD.
Dadurch, dass wir individuell nun nach Heathrow fahren, können wir noch ein paar Bilder von der NORWEGIAN ESCAPE machen.

The fact that we went individually now to Heathrow, we could take few pictures more of NORWEGIAN ESCAPE.

They always compared ANTHEM OF THE SEAS with NORWEGIAN ESCAPE which one is better. Here I had both in unity on a picture which you can easily take good from the Hythe Ferry. My votes went to... JEWEL OF THE SEAS and NORWEGIAN SPIRIT... Sorry, but I could neither deal with QUANTUM OF THE SEAS nor with NORWEGIAN ESCAPE.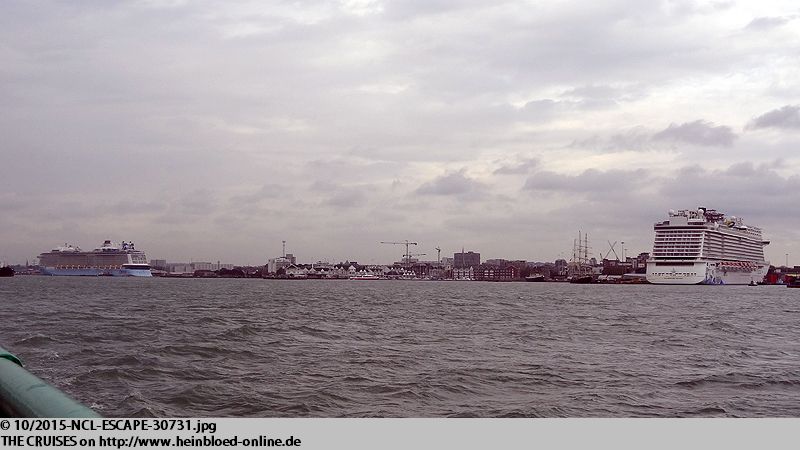 Es wird ja immer die ANTHEM OF THE SEAS mit NORWEGIAN ESCAPE verglichen, welches besser ist. Hier habe ich sie mal in Eintracht auf einem Bild, das man gut von der
Hythe-Fähre
aufnehmen kann. Und mein Votum geht an... JEWEL OF THE SEAS und NORWEGIAN SPIRIT... Sorry, aber ich konnte mit der QUANTUM OF THE SEAS nichts anfangen und hier mit der NORWEGIAN ESCAPE auch nichts.
Ein letztes Selfie mit der NORWEGIAN ESCAPE.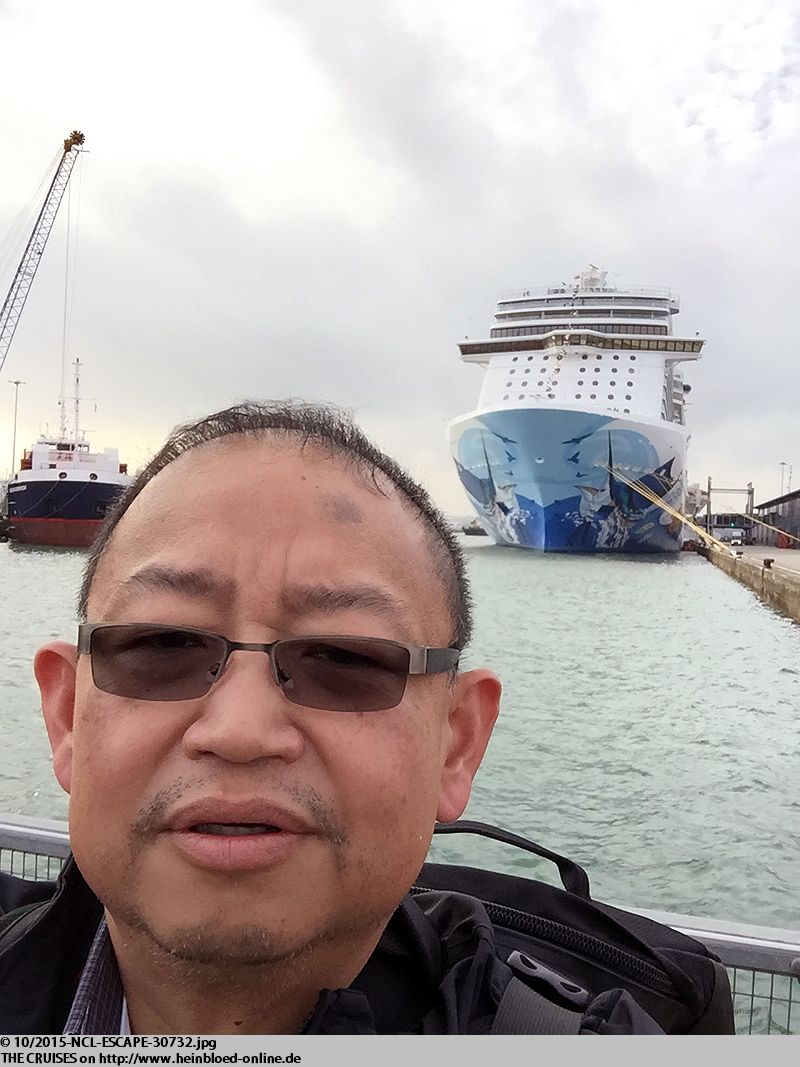 A very last serfie with NORWEGIAN ESCAPE.

We drove over to take pictures on the other side of the river Solent and and to see the high tide. We booked at short-notice a rental car from Hertz through ADAC (The German counterpart of AAA). And Hertz (because we stupidly arrived at OCEAN TERMINAL. Tony took us Clifford Cars, whom indeed had already driven us to QUEEN MARY 2 a few days ago and was surprised that we now arrived by NORWEGIAN ESCAPE.)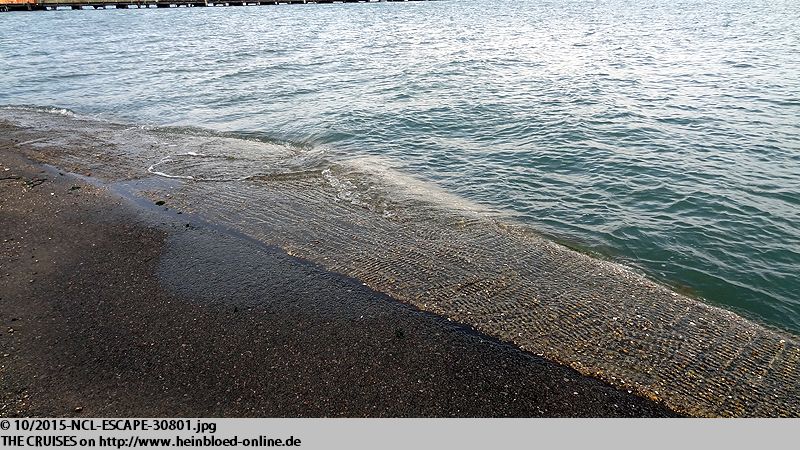 Wir fahren zum Fotografieren rüber auf die andere Uferseit der Solent und sehen, dass wir wohl Flut haben. Kurzerhand haben wir nämlich über den
ADAC
wieder einen Mietwagen von Hertz gebucht. Und zu Hertz (weil wir ja blöderweise am OCEAN TERMINAL angekomemn sind, hat uns wieder Tony von
Clifford Cars
gebracht, der vor wenigen Tagen uns ja schon zur QUEEN MARY 2 gefahren hatte und sich gewundert hatte, dass wir jetzt mit der NORWEGIAN ESCAPE gekommen sind.)
Shirley und Godfrey haben sich zur Ruhe gesetzt und ihr Hotel verkauft. Ich will da nicht wieder wohnen, weil ich mir es ohne Shirley und Godfrey gar nicht vorstellen kann. Wir haben sie im Sommer in Schottland getroffen. Deswegen gucke ich einfach mal von außen.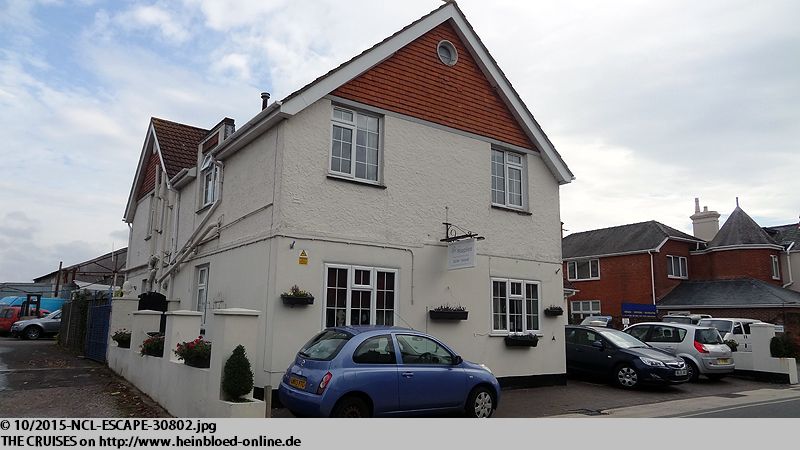 Shirley and Godfrey had retired and sold her hotel. I did not want to stay there again, since I could not imagine the hotel without Shirley and Godfrey. We supposed to meet in the summer in Scotland. That was why I had a sneak view from the outside.

A new sign.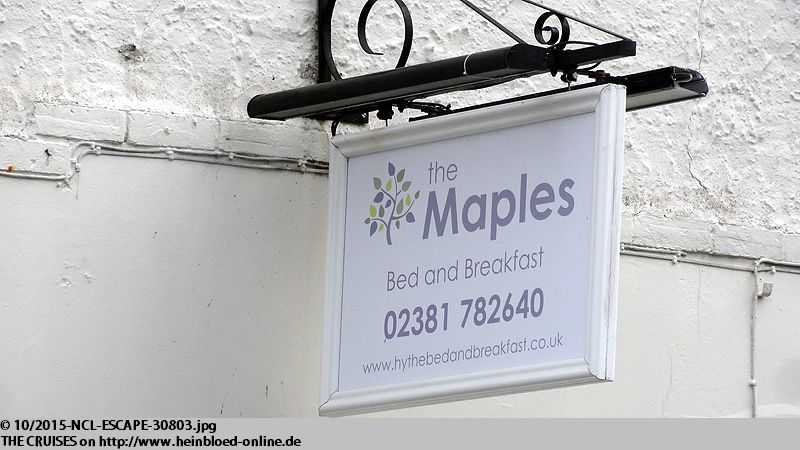 Ein neues Schild.
Na ja... mein Tripadvisor-Eintrag bezog sich ja auf Shriley und Godfreys Gastfreundschaft. Dürfen sie mit den Empfehlungen überhaupt dann werben???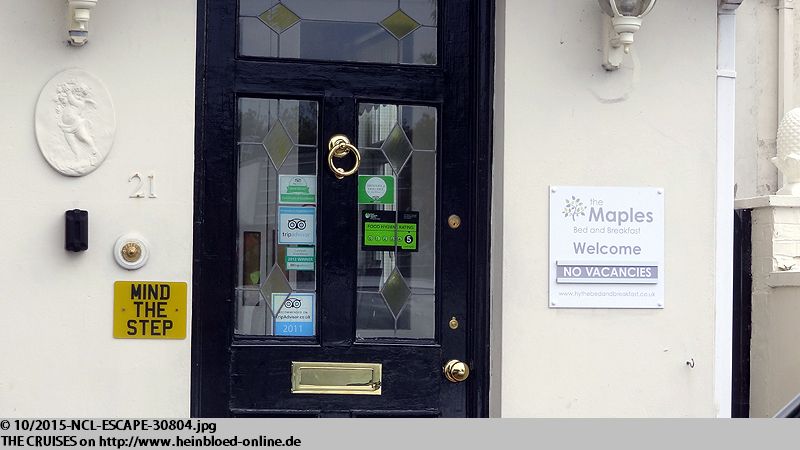 Well... my rating on Tripadvisor based on Shriley and Godfrey's hospitality. Can the just advertise with this recommendations???

We went over to take pictures. Great: finally you can pay by credit card.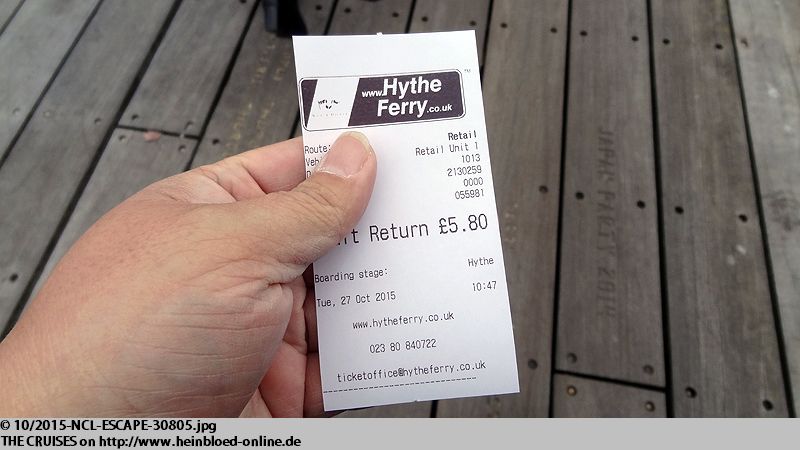 Wir fahren rüber zum Fotografieren. Klasse: man darf endlich mit Kreditkarte zahlen.
Nr. 1... 1992... 23 Jahre...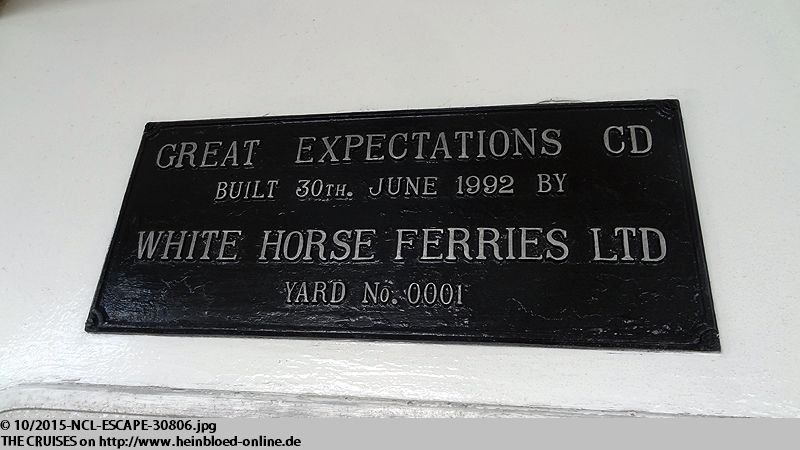 No. 1... 1992... 23 years...

Before we hurried to the airport we went quickly in Hythe to have a bite.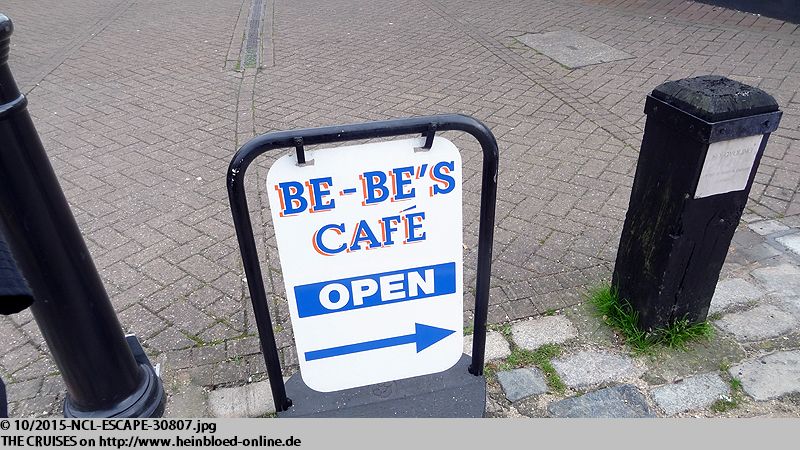 Bevor wir zum Flughafen eilen, gehen wir schnell noch etwas in Hythe essen.
In das Be-Be's Café haben wir bisher noch nie geschafft zu gehen.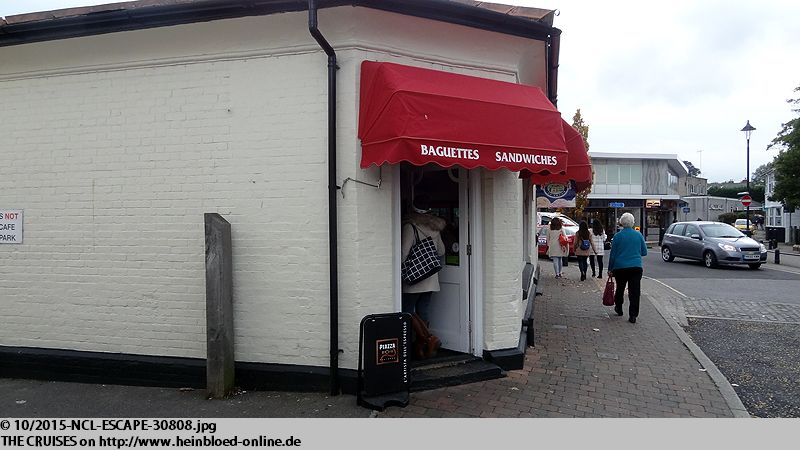 We never made it so far to eat with Be-Be's Café.

Everything homemade.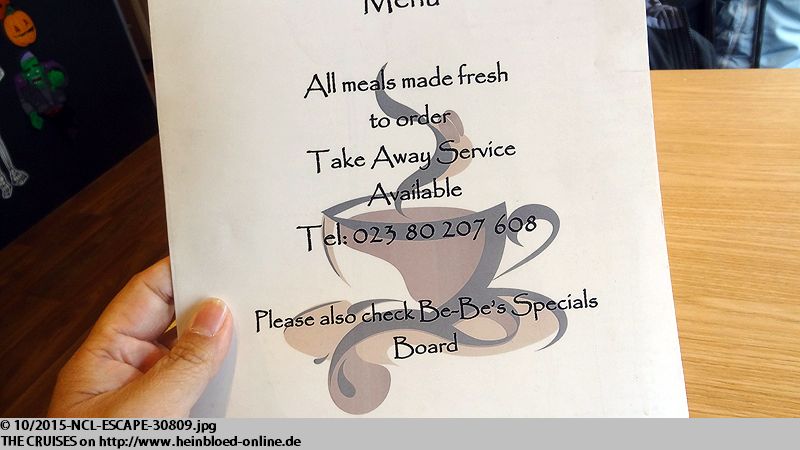 Alles hausgemacht.
Die Sandwiches sehen auch köstlich aus.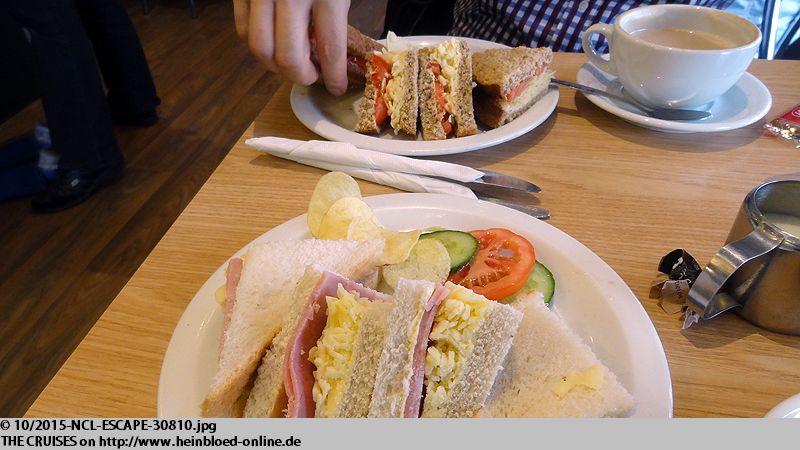 The sandwiches looked delicious.

Somehow they became very thick and with the grated cheese it was somehow not very easy to eat.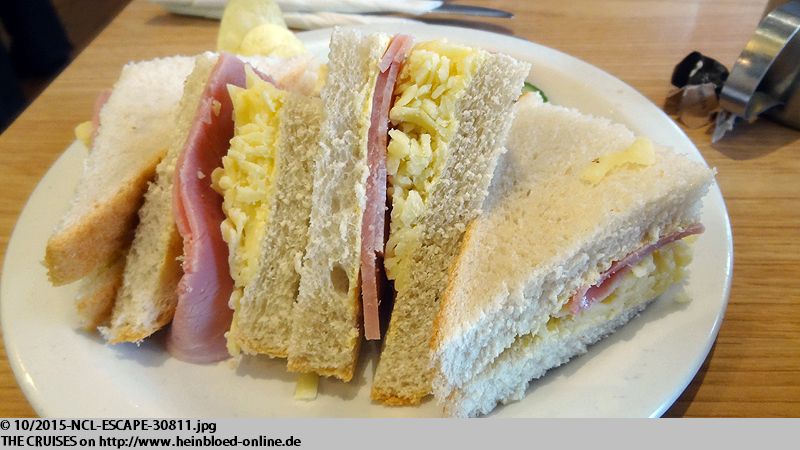 Nur sind sie etwas dick geraten und mit dem geraspelten Käse auch nicht unbedingt einfach zu essen.
Über die Autobahn geht es schnell zurück nach Heathrow.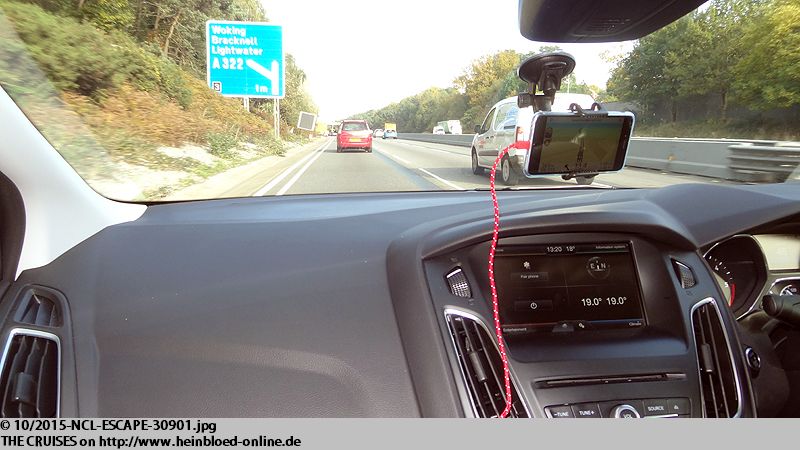 On the highway we could get quickly back to Heathrow.

Quickly filling up with Shell in Heathrow.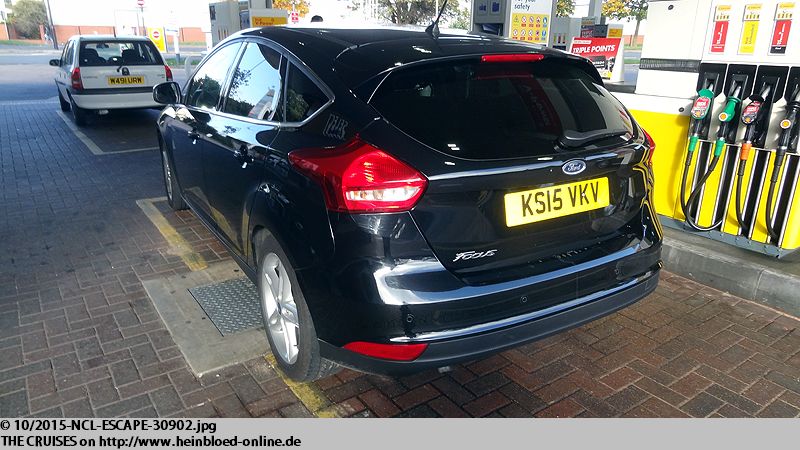 Schnell noch an der Shell in Heathrow aufgetankt.
10 GBP. Ist doch echt günstig.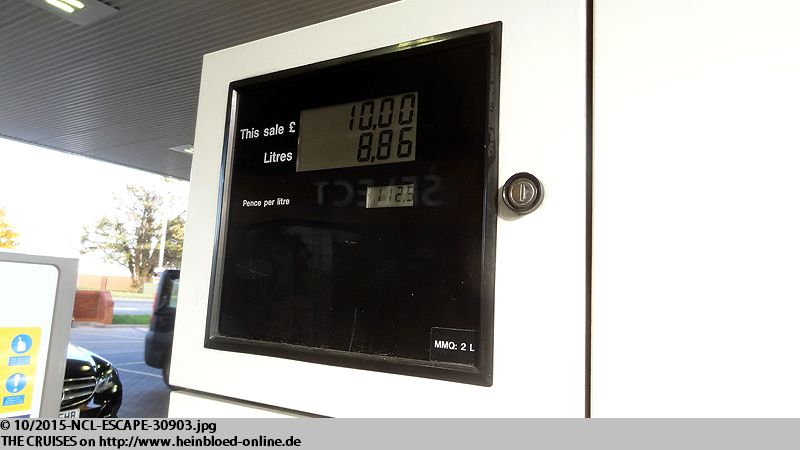 10 GBP. That was really great value.

Quickly we were guided to the shuttles.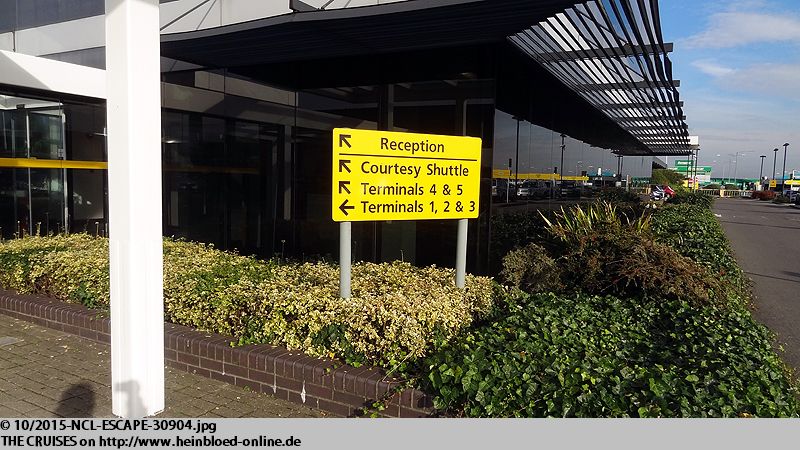 Schnell werden wir noch zu den Shuttles geführt.
Wobei man aufpassen muss, dass man den richtigen Shuttle erwischt.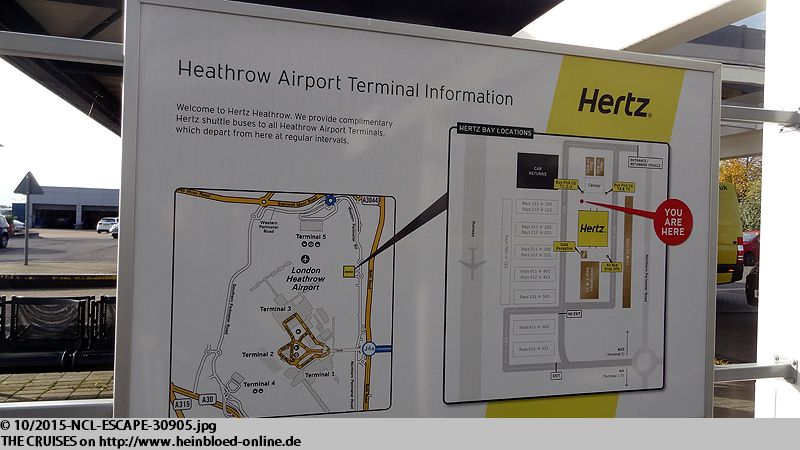 But you need to take care to get the right shuttle.

Another 41.66 GBP (2015) one-way fee we had to pay on the spot. Unfortunately ADAC forgot to mention that a service charge applied, so it was 49.99 GBP at the end.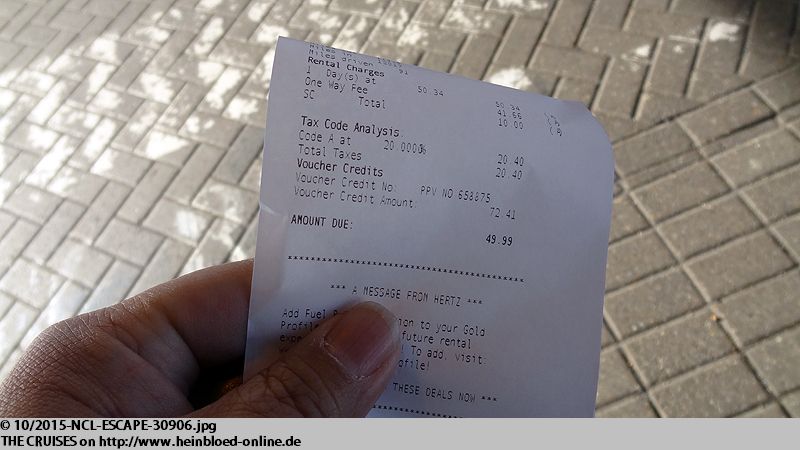 Noch 41,66 GBP (2015) Einweggebühren müssen wir vor Ort zahlen. Leider vergisst immer der ADAC zu erwähnen, dass noch eine Service Charge drauf kommt, so dass es am Schluss 49,99 GBP wird.
Endlich lernen den neuen Terminal 2 Queen's Terminal kennen. Lufthansa und die Star Alliance Partner sind hierher umgezogen. Terminal 1 ist geschlossen. Die Arbeit muss man schon selbst machen... Genial: Man soll seine Wasserflaschen nicht wegwerfen, sondern leeren und nach der Sicherheitskontrolle darf man sie wieder befüllen. Da wir die Sachen von Lufthansa mittlerweile nicht mehr mögen, versorgen wir uns selbst. Einen Gordon Ramsey gibt es leider nicht im Terminal 2. Und dann geht es auch schon bald zum Flug. Man muss ganz schön weit nach unten...

Finally we learned the new Terminal 2 also known Queen's Terminal. Lufthansa and the Star Alliance partners moved here. Terminal 1 was closed down. You had to work yourselves ... Ingenious: You should not throw away your water bottle, but empty and after the security check you may refill. Since we no longer like the food of Lufthansa meanwhile, we supply ourselves. A Gordon Ramsey there was unfortunately not in Terminal 2. And then it was too soon to our flight. You had to walk pretty far down...

Airborne we began to eat our sushis.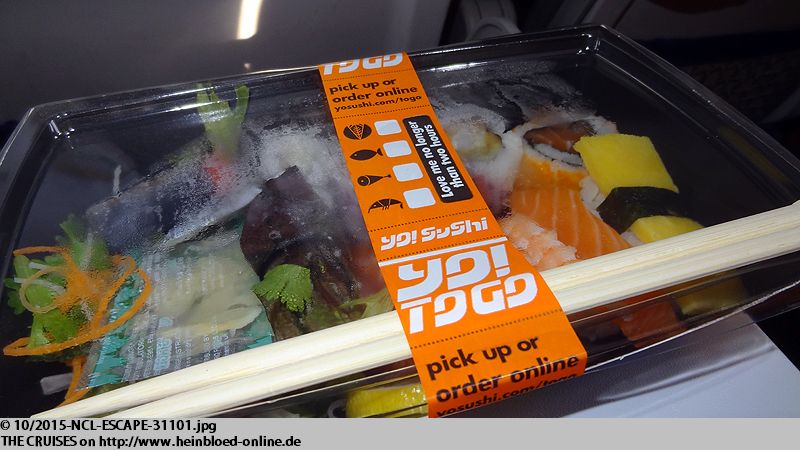 Im Flugzeug fangen wir dann an unsere Sushis zu essen.
Es ist auf jeden Fall besser als der Kuchen, den Lufthansa um diese Zeit immer serviert.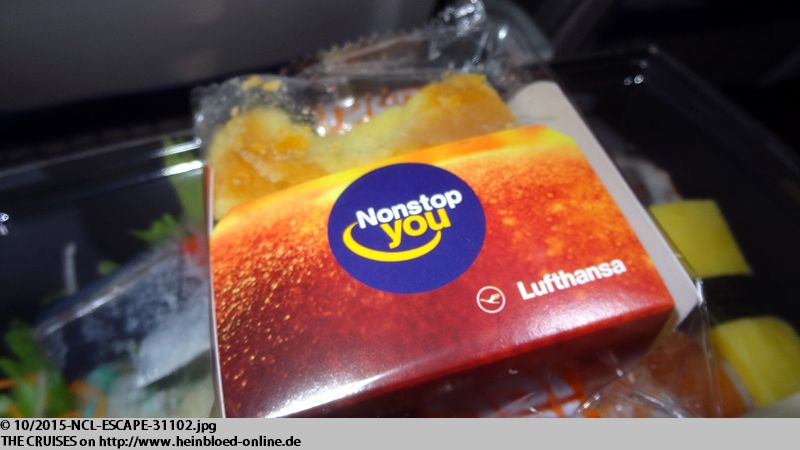 It was definitely better than the cake, Lufthansa always served at this time of the day.

The biggest fun we had upon arrival in Frankfurt when I turned on my iPhone again. They told us that they could not deliver the same evening. Allegedly until the next evening. But it came to our surprise the next morning. After delivering Bruno home I had to head to Basle, Switzerland for work. The Shiphopping was indeed stressful... but it was fun... 2006 WASA QUEEN - STAR PISCES, 2007 COSTA CLASSICA - JEWEL OF THE SEAS, 2007 GOLDEN PRINCESS - NORWEGIAN PEARL, 2008 QUEEN VICTORIA - CARNIVAL FASCINATION - CENTURY, 2010 BOUDICCA - QUEEN MARY 2, 2012 NORWEGIAN SUN - MIDNATSOL - NORWEGIAN SUN, 2014 QUANTUM OF THE SEAS - DISNEY DREAM - QUEEN MARY 2, 2014 AMELIA - ARTANIA, 2014/15 EURODAM - NORWEGIAN SKY - DISNEY DREAM and now QUEEN MARY 2 - ALLURE OF THE SEAS - NORWEGIAN ESCAPE. We are crazy - crazy cruisers. But somehow it is fun - only in the triangle Hamburg - Civitavecchia - Barcelona - Hamburg it was quite extreme, but still nice. And the direct comparison QUEEN MARY 2 (a Queen), ALLURE OF THE SEAS (the Largest), and NORWEGIAN ESCAPE (the Latest) was somehow also very exciting. Saw especially so many friends on QUEEN MARY 2 and NORWEGIAN ESCAPE again and made new friends on all three ships. In January we go again... again with Cunard.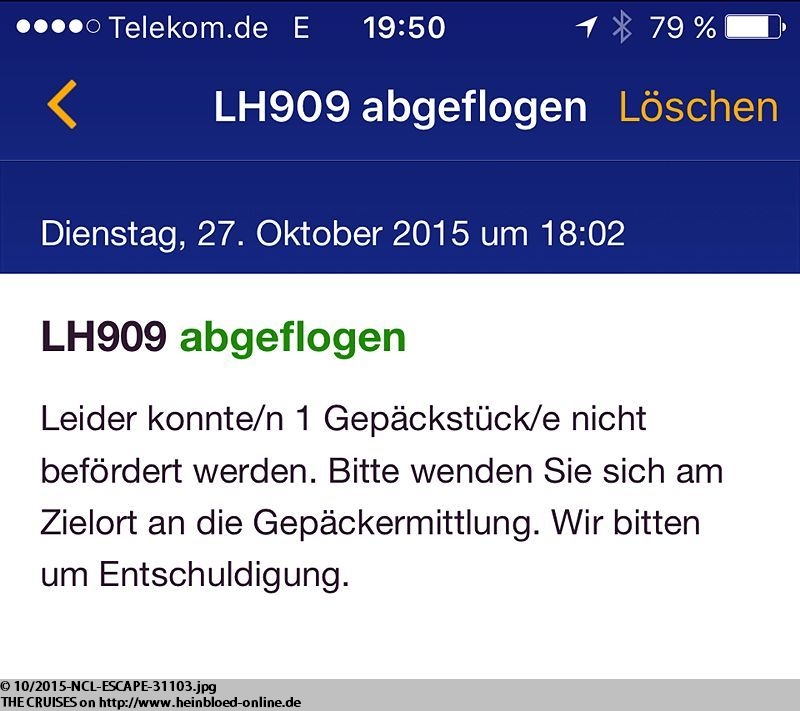 Die größte Freude kam dann bei Ankunft in Frankfurt als ich mein iPhone wieder eingeschaltet habe. Das wollten sie am gleichen Abend nicht mehr zustellen. Angeblich erst am nächsten Abend. Aber kam zu unserer Überraschung doch bereits am nächsten Morgen. Ich musste nach dem ich Bruno zu Hause abgesetzt hatte, noch weiter nach Basel zur Arbeit. Das Shiphopping war zwar stressig... aber es hat Spaß gemacht... 2006 WASA QUEEN - STAR PISCES, 2007 COSTA CLASSICA - JEWEL OF THE SEAS, 2007 GOLDEN PRINCESS - NORWEGIAN PEARL, 2008 QUEEN VICTORIA - CARNIVAL FASCINATION - CENTURY, 2010 BOUDICCA - QUEEN MARY 2, 2012 NORWEGIAN SUN - MIDNATSOL - NORWEGIAN SUN, 2014 QUANTUM OF THE SEAS - DISNEY DREAM - QUEEN MARY 2, 2014 AMELIA - ARTANIA, 2014/15 EURODAM - NORWEGIAN SKY - DISNEY DREAM und nun QUEEN MARY 2 - ALLURE OF THE SEAS - NORWEGIAN ESCAPE. Wir sind verrückt - kreuzfahrtverrückt. Aber irgendwie macht es Spaß nur im Dreieck Hamburg - Civitavecchia - Barcelona - Hamburg war es schon ganz schön extrem, aber trotzdem schön. Und der direkte Vergleich QUEEN MARY 2 (eine Queen), ALLURE OF THE SEAS (das Größte) und NORWEGIAN ESCAPE (das Neueste) war ja irgendwie auch sehr spannend. Vor allem die vielen Freunde von der QUEEN MARY 2 und NORWEGIAN ESCAPE wieder zu sehen und neue Freundschaften auf allen drei Schiffen zu schließen. Im Januar geht es weiter... dann wieder mit Cunard.