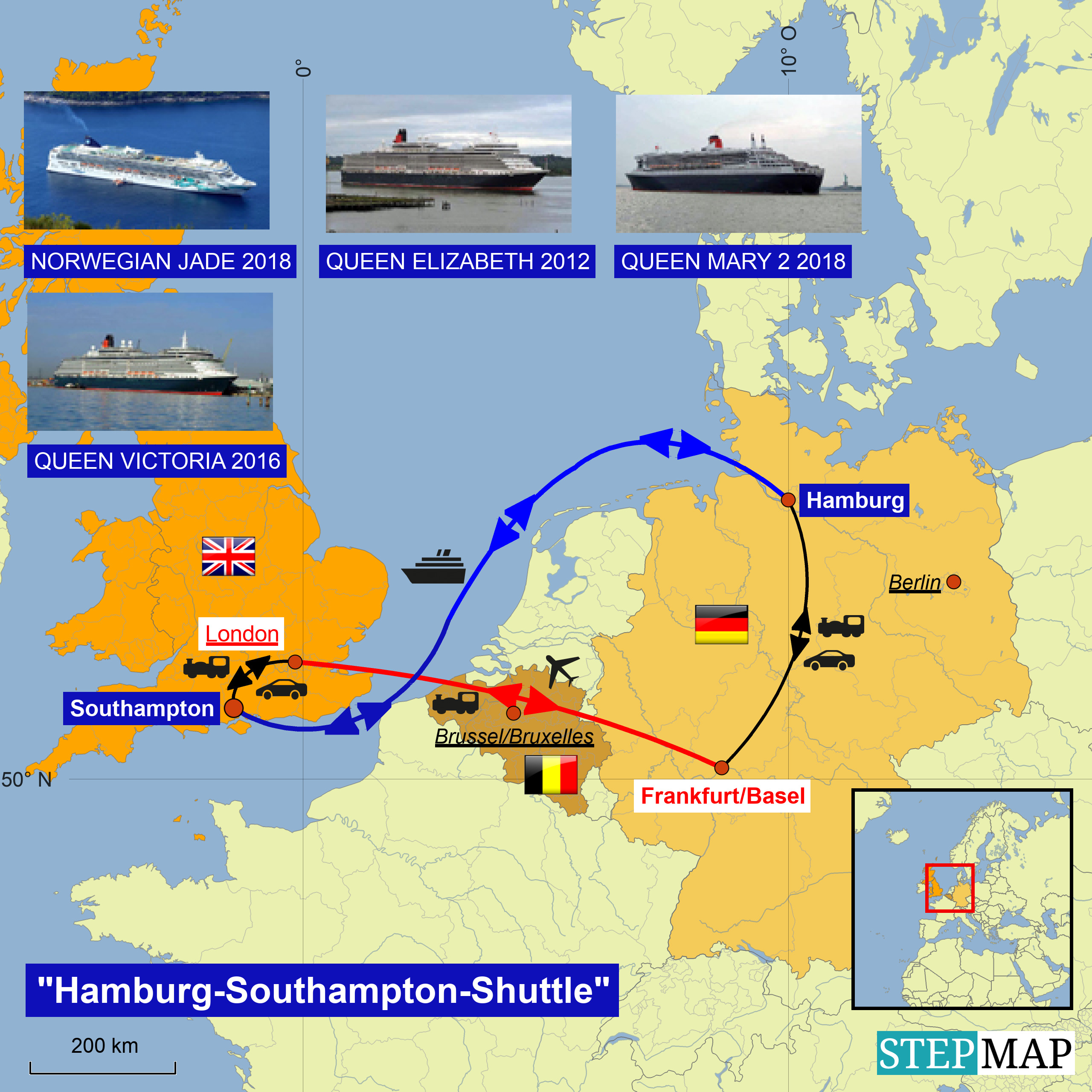 Gegen 04:45 Uhr wache ich auf. Wir haben Wedel erreicht. Es ist kalt, aber ein wunderschöner Morgen erwartet uns. Ich denke an die
WESTERDAM 2010
: Da wurde für die Gäste der Bugbereich der Crew geöffnet. Eine Getränketheke mit Gebäck und Heißgetränken (mit und ohne Alkohol) aufgebaut und ein Lektor erläuterte die Schönheit des Geiranger- bzw. Sognefjords. Das ist zwar kein norwegischer Fjord, aber die Elbe hat an dieser Stelle bis Hamburg sehr viel zu erzählen.

Around 04:45 I woke up. We reached Wedel, Germany. It was cold, but a beautiful morning was expecting us. I thought of WESTERDAM 2010: They opened for guests the bow area of the crew. A bar was set up with pastries, and hot beverages (with and without alcohol) and a lector explained the beauty of the Geiranger- or Sognefjord. That was not a Norwegian Fjord, but the river Elbe had a lot tell from here to Hamburg, Germany.

Normally I could leave Bruno just in the bed and let him sleep. But even him did not want to miss the arrival. We saw how the pilot joined when we reached the Hamburg neighborhoods of Blankenese or Finkenwerder. We saw our last hotel Strandhotel Blankenese where we stayed ahead of our voyage on QUEEN MARY 2 2018 and we noticed: it was still hot. All windows were open. In the FischClub we dined outside and waved farewell to MSC MERAVIGLIA. The next day it was raining dogs and cats, and they were waving for us good-bye. But today none was available to welcome us.

Normalerweise kann ich Bruno getrost noch im Bett lassen. Aber auch er lässt sich die Einfahrt nicht entgehen. Wir sehen zu, wie der Lotse zusteigt, als wir auf der Höhe von Blankenese bzw. Finkenwerder sind. Wir sehen uns unser
Strandhotel Blankenese
an, dass wir vor der
QUEEN MARY 2 2018
-Reise bewohnt haben und stellen fest: immer noch zu heiß. Alle Fenster stehen offen. Im
FischClub
haben wir draußen gesessen und die MSC MERAVIGLIA verabschiedet. Und am nächsten Tag wurden wir trotz strömenden Regens ganz toll verabschiedet. Aber heute ist keiner da, um uns zu begrüßen.
Wir fahren bei
Airbus
vorbei. Ein A350-1000 ist zu sehen und die vielen halbfertigen A320 neo, die alle auf die Triebwerke warten. Ein paar historische Airbus-Flugzeuge sehen wir. Und den Pier, als wir hier mit der
HAMBURG 2014
ablegen mussten. Wir kommen am Hotel
The Rilano
vorbei. Gegenüber ist das Gasthaus Engel. Dort waren wir am Vorarbend anlässlich der Reise auf der
QUEEN VICTORIA 2018
.

We passed Airbus. We could see an A350-1000 and many semi-finished A 320 neo who were all waiting for the engines. A few historical Airbus-planes we could see too. And the pier where we had started our voyage on HAMBURG 2014. We passed by The Rilano hotel. On the opposite side, there was the restaurant Gaushaus Engel. There we stayed our pre-cruise night before QUEEN VICTORIA 2018.

The sun rose above the skyline of Hamburg. We had the most perfect place to experience our arrival in Hamburg. In the background, you could see the silhouette of the Elbphilharmonie-Concert Hall Building, the St. Michael-Dome, the Landing Stages and the shipyard Blohm and Voss. I was wondering when they will destroy the Bridge over Köhlbrand. In the district of Altona and St. Pauli you could hear very loud some music of dance-parties which were still alive.

Die Sonne geht über der Skyline von Hamburg auf. Wir haben den perfekten Ort, um unsere Einfahrt in Hamburg zu erleben. Im Hintergrund taucht die Silhouette der
Elbphilharmonie
, dem
Michel
, den
Landungsbrücken
und
Blohm und Voss
auf. Mal sehen, wann endlich die Köhlbrandbrücke abgerissen wird. Im Bereich Docklands und St. Pauli Fischmarkt hören wir laut die Musik einiger Dance-Parties, die noch am laufen sind.
Wir gehen zum Frühstück.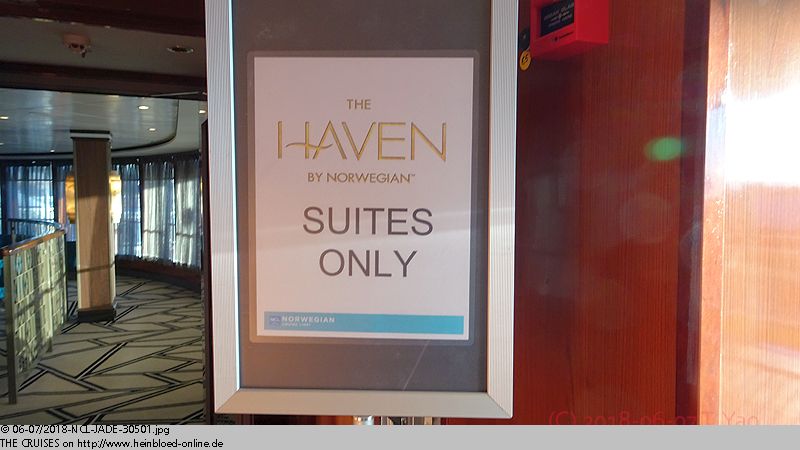 We went for breakfast.

Bruno was happy to get his papayas.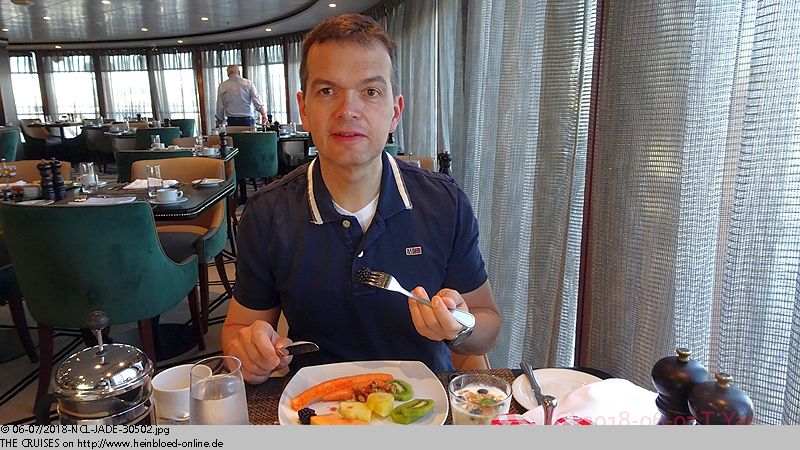 Bruno freut sich über seine Papayas.
Und ich mich über das Graubrot.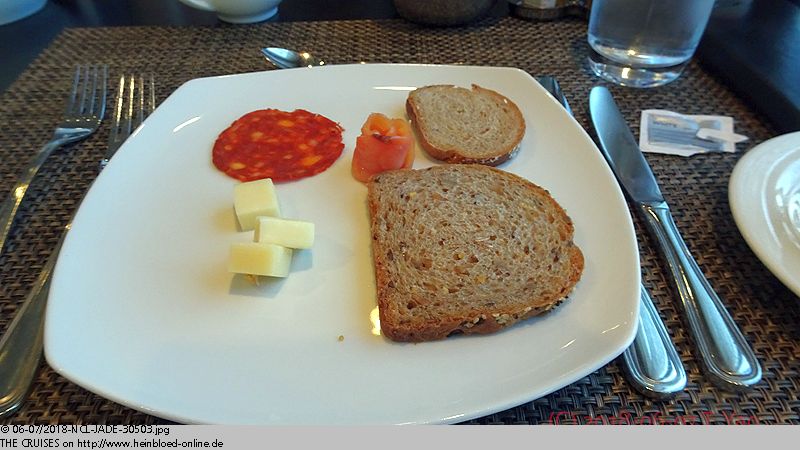 I was happy to get some rye-bread.

For safety reason, I ordered some fried eggs. Since poached eggs were not prepared freshly anymore but kept in ice water and reheated again, you could not get them hot from time to time.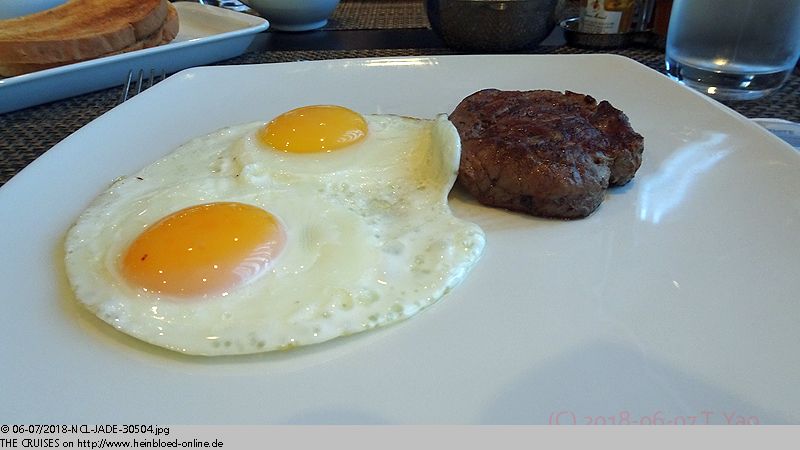 Sicherheitshalber bestelle ich mir heute Spiegeleier. Seitdem ja pochierte Eier nicht mehr frisch zubereitet werden, sondern oft in Eiswasser baden und nur noch erhitzt werden, kommen sie ja nicht immer heiß an den Tisch.
Leider fahren wir am
Kreuzfahrtterminal Altona
vorbei. Hier hätten wir eigentlich anlegen sollen. Ein anderer aus dem cruisecritic.com-Forum hat mich angesprochen, der am 01.07.2018 ab Hamburg fährt und nachgefragt, weil seine Tickets auf
Steinwerder
lauteten.

Unfortunately, we passed by Altona Cruise Terminal. Here, we should dock originally. Another cruiser from cruisecritic.com contacted me that he should sail out of Steinwerder on July 1, 2018, which was shown on his tickets.

I promised him to double check for him. The consortium Cruise Net Hamburg confirmed that they decided short-notice to switch from Altona to Steinwerder. I called NCL on their German number in Wiesbaden: I could speak with an English-speaking agent. That would be faster. I was connected to Malta. I had more the impression that she was talking in Phonecian but in English with me. There they had no further information. In their computer, arrival in Hamburg only was mentioned. No name of a terminal. Next trial and that time I let it ring until a German-speaking agent picked up the phone... in Southampton, England. Wiesbaden, Germany did not exist anymore for the customer care of individual guests. She could not say anything either. In the computer, she could not find anything, and she heard the very first time that there was more than one cruise terminal in Hamburg. And actually, the Captain would decide the same morning which terminal he would call... Well: does he drive around to find a parking lot until he finds a vacant one??? Glad that I know that Kim Karlsson was actually on NORWEGIAN SUN otherwise I would have asked him, which criteria he was using to find a pier... I was so happy that I had no need to deal with this customer service and only was asking on behalf of others.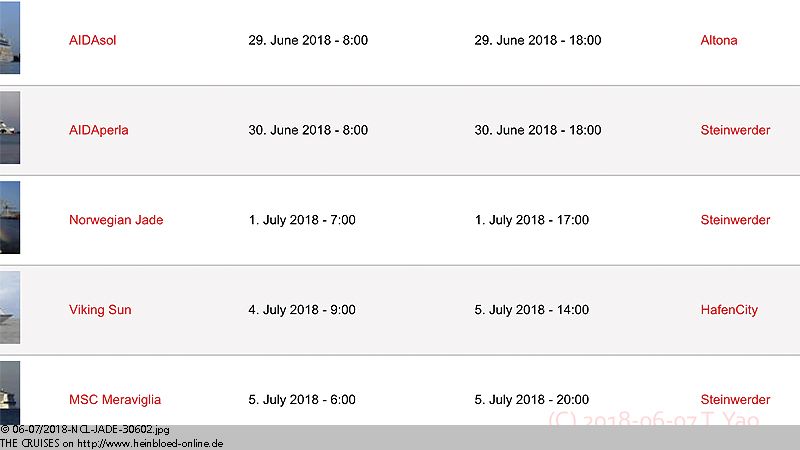 Ich habe ihm versprochen, dass ich nachfrage. Das Konsortium
Cruise Net Hamburg
bestätigt, dass das kurzfristig von Altona auf Steinwerder geändert wurde. Ich rufe bei NCL mit der Wiesbadener Nummer an: ich könnte mit einem englischsprachigen Mitarbeiter sprechen. Das würde schneller gehen. Ich werde nach Malta verbunden. Mein Eindruck ist, dass sie mehr Phönezisch statt Englisch mit mir spricht. Dort wüsste man von nichts. In deren Computer steht Ankunft Hamburg. Keine Terminalbezeichnung. Neuer Versuch und dieses Mal bleibe ich dran, bis dass sich eine deutschsprachige Mitarbeiterin meldet... in Southampton. Wiesbaden gibt es nicht mehr, um Individualkunden zu betreuen. Sie kann auch nichts sagen. Im Computer steht nichts und im übrigen hört sie jetzt zum ersten Mal, dass es in Hamburg mehr als ein Kreuzfahrtterminal gibt. Und wenn, dann würde der Kapitän morgens spontan entscheiden, welches Terminal er anläuft... Sucht er spontan eine Parklücke und fährt so lange im Kreis, bis etwas frei wird??? Wenn ich nicht genau wüßte, dass Kim Karlsson auf der NORWEGIAN SUN ist, dann hätte ich ihn direkt gefragt, nach welchen Kriterien er gedenkt, anzulegen... Bin ich froh, dass ich selbst nicht auf diese Gästebetreuung angewiesen bin und jetzt nur im Auftrag anderer frage.
Und leider ist das dann unser neues Ziel: Kreuzfahrtterminal Steinwerder mitten in der Pampa.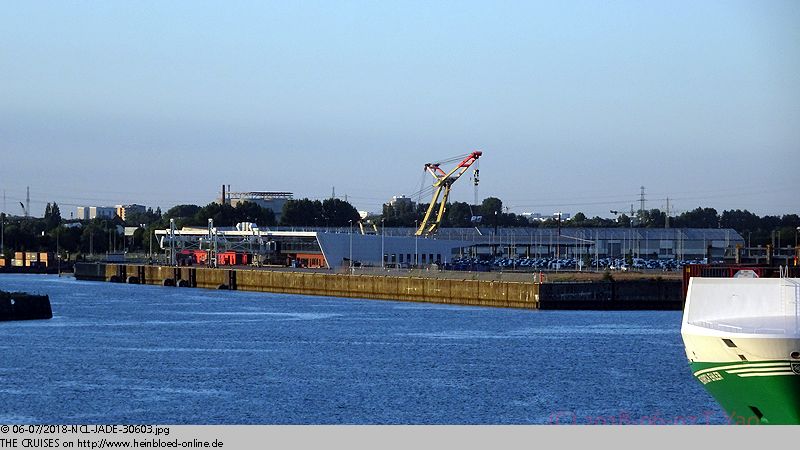 And unfortunately, that was our new destination: Cruise Terminal Steinwerder in the center of nowhere.

We could have done nude bathing on our balcony. But not in the lee.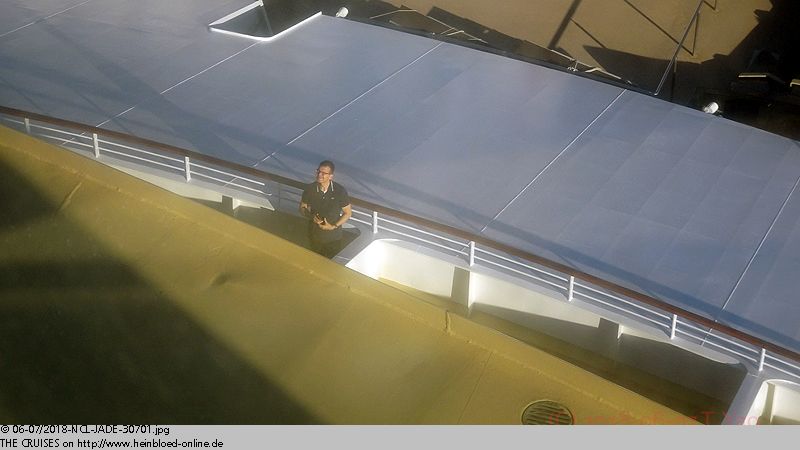 Wir hätten doch FKK bei uns auf dem Balkon machen können. Nur eben nicht im Windschatten.
Man sieht ja doch so gut wie nichts von Deck 13.

There was not so much to see when you watched from Deck 13.

I spoke with Vesna that it was somehow a little irritating to advertise for Acqua Panna (Italian Mineral Water from an Alpine source) and you get Aquafina (Purified Tap Water). Now they had a different brand. But it looked like 1.5 l (51 fl. oz.). That was o.k. for 5.50 USD. But not for 1 l (34 fl. oz.) of Aquafina. That was a rip-off.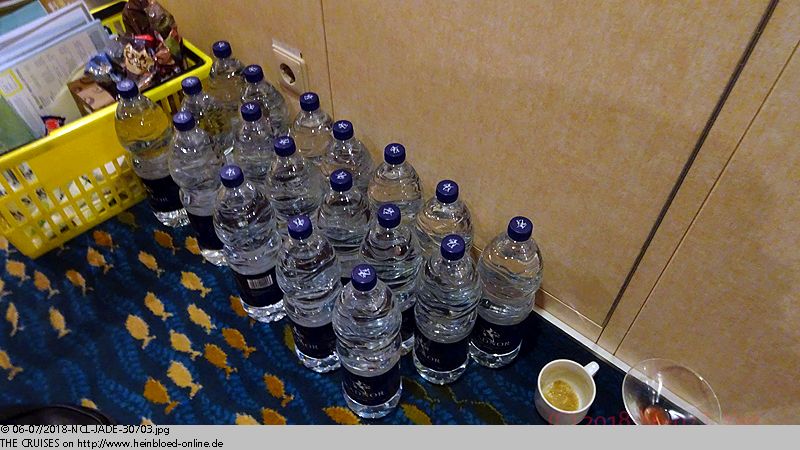 Ich hatte ja mit Vesna gesprochen, dass ich es unglücklich finde, wenn man für
Acqua Panna
(Mineralwasser aus einer Quelle in den Alpen) wirbt und dann
Aquafina
(behandeltes Leitungswasser) bekommt. Nun gibt es eine ganz andere Marke. Aber anscheinend 1,5 l Flaschen. Das für 5,50 USD fände ich schon o.k.. Aber nicht 1 l Aquafina. Das ist Abzocke.
Zwei Mitglieder von cruisecritic.com haben 9004 bewohnt. Nun sind sie weg und wir sehen uns mal ein wenig um... Dafür hätten wohl 50,00 USD Gebot nicht gereicht.

Two members of cruisecritic.com stayed here in 9004. Now they left already so we could look a little around... I think the bidding of 50.00 USD would not be enough.

And 9005 yet.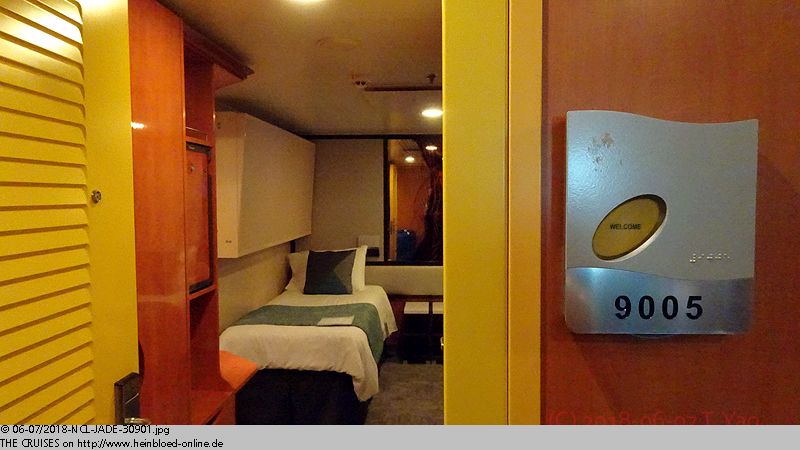 Und noch 9005.
Eine klassische Innenkabine.

A classical inside cabine.

We were asked to leave the ship by 09:00 hrs. We need to leave the ship on Deck 7. Very stupid: the elevators of the forward ship did not stop on Deck 7 during the debarkation. So we need to walk to the midship or walking by stairs for two decks. At the Jasmine, Carlos was waiting for us to escort us on a short-cut directly to the exit. There was anyway nobody around I really would love to say good-bye. Now we were facing NORWEGIAN SUN 2019 in Buenos Aires, Argentina. No short cruises so far published by NCL for 2019. But NORWEGIAN EPIC.

Wir sollen bitte bis 09:00 Uhr das Schiff verlassen. Das Schiff müssen wir über Deck 7 verlassen. Ganz blöd: Die Fahrstühle im Vorschiff halten dann während der Ausschiffung nicht auf Deck 7. So müssten wir bis zum Mittschiff laufen oder zwei Decks mit Gepäck zu Fuß runter. Am Jasmine werden wir von Carlos erwartet, der uns direkt über eine Abkürzung zum Ausgang führt. Es ist aber eh niemand an der Gangway da, von dem ich mich gerne noch verabschiedet hätte. Und jetzt blicken wir auf die NORWEGIAN SUN 2019 in Buenos Aires. Kurzkreuzfahrten mit NCL gibt es 2019 bislang noch nicht auf dem Markt. Außer NORWEGIAN EPIC.
Unser Gepäck erwartet uns unten. Wir gehen noch in die Abfahrtshalle, um dort an der Cruise Bar noch etwas zu trinken. Es hätte kostenlos Internet gegeben, aber dazu hätten wir wissen müssen, dass sich das Netz "
MobyKlick
" nennt. Auf die Toilette werde ich allerdings nie wieder gehen: sie haben den ganzen Juni hier nicht gereinigt...

Our bags were waiting for us downstairs. We went to the departure hall to have something to drink at the Cruise Bar. They supplied free internet if we would have known that the network called "MobyKlick". On this toilet I would never go again: they did not clean the whole month of June...

At the time when I called NCL on Malta and in Southampton, England, they could offer me only a city tour which would terminate at the airport for 69.00 USD. Onboard you could read in the Atrium that we would arrive in Steinwerder. NEVER, anyone gave OFFICIAL information. It worked with our cruise terminating in San Antonio, Chile but Valparaiso, Chile. Why did not it here too? They offered us a transfer to the airport (without sightseeing tour) for 29.00 USD or Central Station for 25.00 USD. That was not very nice because the connection with public transport in the desert of the port area was horrible, especially at the weekend when nobody was working around. And the taxis from here had an incredibly long way towards the city center, and therefore they were extremely pricey. We booked seats in the high-speed-train out of Altona, and so I booked very early seats with HCT in their shuttle for the Veddel commuter train station for 2.50 EUR (2018). Disadvantage: it only ran every hour. Only 24 seats were sold per ride. You need to pre-book the trip. No refund of tickets or rebooking options. I called them multiple time because someone from cruisecritic.com booked by mistake one seat less than needed. But I saw that they overbooked the bus due to a database problem. So they used a larger vehicle that day. They also accepted guests without bookings after the guests with reservations got their seats. Two Englishmen who had no Euros with them got 5 EUR from me for 4 GBP. Shit... I should have asked for 4.50 GBP. From another cruiser, I got 3 USD for 2.50 EUR. So it was a little imbalanced. Despite my helpfulness, we could afford our next cruise.

Zum Zeitpunkt der Anrufe bei NCL auf Malta und in Southampton konnte man mir nur einen Stadtrundfahrt mit Ende am Flughafen für 69,00 USD anbieten. An Bord konnte man dann im Atrium lesen, dass wir in Steinwerder ankommen. Ansonsten hat es NIE eine OFFIZIELLE Information gegeben. Es hat ja auch geklappt, uns darüber zu informieren, dass unsere Kreuzfahrt in San Antonio, Chile statt Valparaiso, Chile. Warum also nicht hier auch? Sie bieten einen Transfer zum Flughafen (ohne Stadtrundfahrt) für 29,00 USD bzw. Hauptbahnhof für 25,00 USD an. Das ist nicht besonders nett, weil die Anbindung an öffentliche Verkehrsmittel in der Wüste mitten im Hafen sehr schlecht ist, besonders am Wochenende, wenn nicht gearbeitet wird. Und die Taxen von hier einen besonders langen Weg in die Stadt haben und daher besonders teuer sind. Wir haben Sitzplätze im ICE ab Altona gebucht und so habe ich frühzeitig bei
HCT
Plätze im Shuttle zum S-Bahnhof Veddel für 2,50 EUR (2018) gebucht. Nachteil: er fährt nur stündlich. Er hat nur 24 Plätze pro Fahrt zum Verkauf. Man muss ihn im Voraus buchen. Keine Rückerstattung von Tickets oder Umbuchung. Ich habe zwischenzeitlich mehrfach telefoniert, weil jemand von cruisecritic.com irrtümlich einen Platz zu wenig gebucht hatte. Dabei fiel auf, dass sie den Bus wegen eines Datenbankfehlers überbucht hatten. Daher wurde heute ein größerer Bus eingesetzt. Es kommen auch Leute ohne Reservierungen mit, nach dem erst mal alle Gäste mit Reservierungen einen Platz gefunden haben. Zwei Engländer, die keine Euros mit sich führen bekommen 5 EUR von mir gegen 4 GBP. Mist... ich hätte 4,50 GBP verlangen sollen. Von einer anderen Kreuzfahrerin habe ich 3 USD für 2,50 EUR bekommen. Also hat sich das ein wenig ausgeglichen. Die nächste Kreuzfahrt können wir uns also trotz Hilfsbereitschaft leisten.
Wir fahren in wenigen Minuten nach Veddel.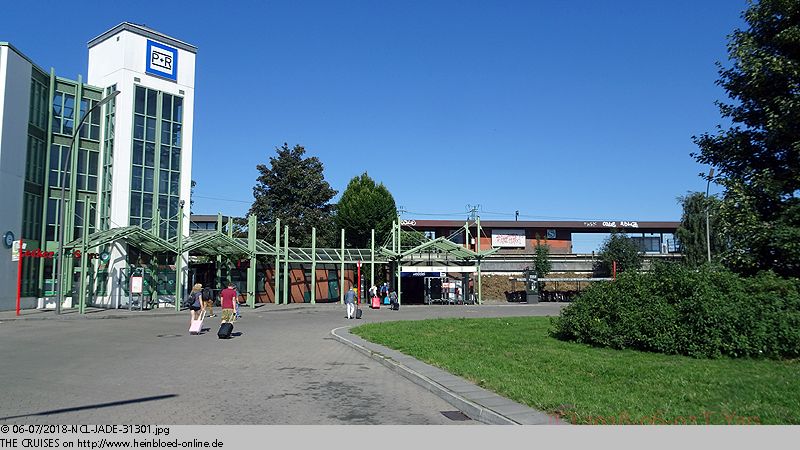 It took few minutes to get us to Veddel.

Looking over from the platform: the bus stopped under the trees.

Vom Bahnsteig aus gesehen: der Bus hält unter den Bäumen.
Direkt an der
Ballinstadt
.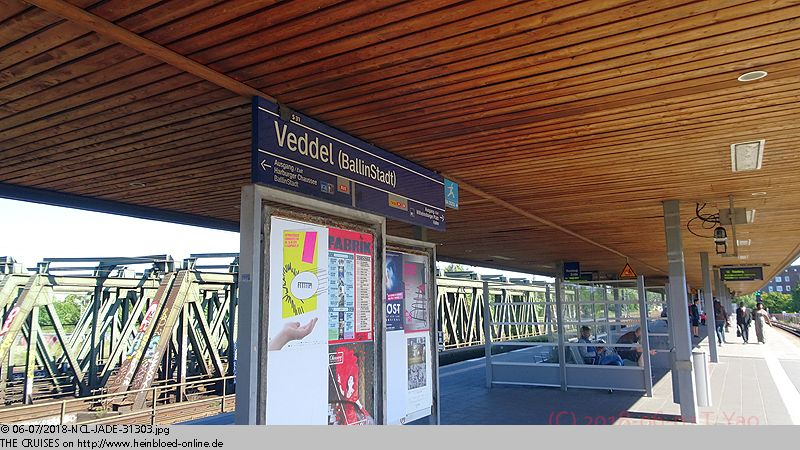 Right at Ballinstadt (Emigration Exhibition).

Taking S3 towards Pinneberg you can get of at Central Station (Hauptbahnhof - you can transfer here to the airport-bound S1-trains), Jungefernstieg (Town Hall and Lake/River Alster), Landing Stages (Landungsbrücken - Ferry to the Elbphilharmonie Concert Hall, bus and ferry for Altona Cruise Terminal), Reeperbahn (St. Pauli Redlight and Amusement district), Königstraße (Fish market) and Altona (for long distance and regional connections). We could easily board our high-speed train ICE at Central Station, but that meant in Hamburg always a lot of stress...

Mit der
S3
Richtung Pinneberg geht es zum Hauptbahnhof (Umstieg zur S1 zum Flughafen), Jungfernstieg (Rathaus und Binnenalster), Landungsbrücke (Fähre zur Elbphilharmonie, Bus und Fähre zum Kreuzfahrtterminal Altona), Reeperbahn (St. Pauli), Königstraße (Fischmarkt) und Altona (Fern- und Regionalverkehr). Wir hätten ja auch am Hauptbahnhof in unseren ICE einsteigen können, aber das bedeutet in Hamburg immer wieder Stress...
Deswegen fahren wir nach Altona. Hier sehe ich: die Deutsche Bahn bietet keine Autoreisezüge mehr an. Aber es gibt wohl private Anbieter, wie
Urlaub-Express
.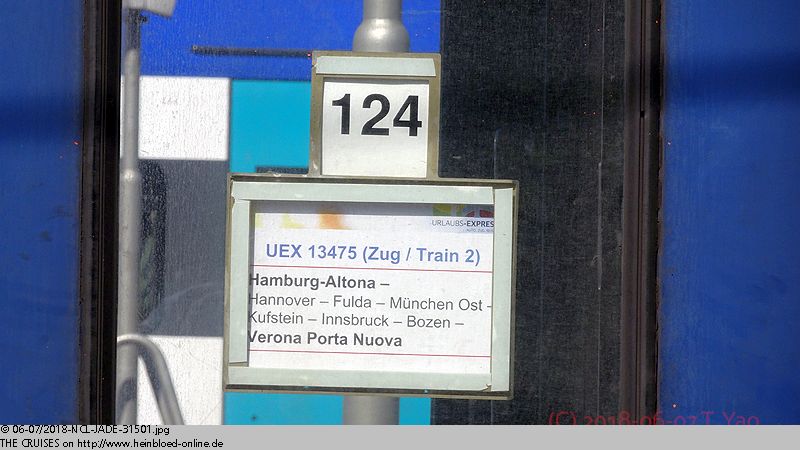 That was why we went to Altona. Here I could see: the German Railways did not offer any AutoTrain service anymore. But there were private providers like Holiday-Express (Urlaub-Express).

OMG: Scrapyard or museum?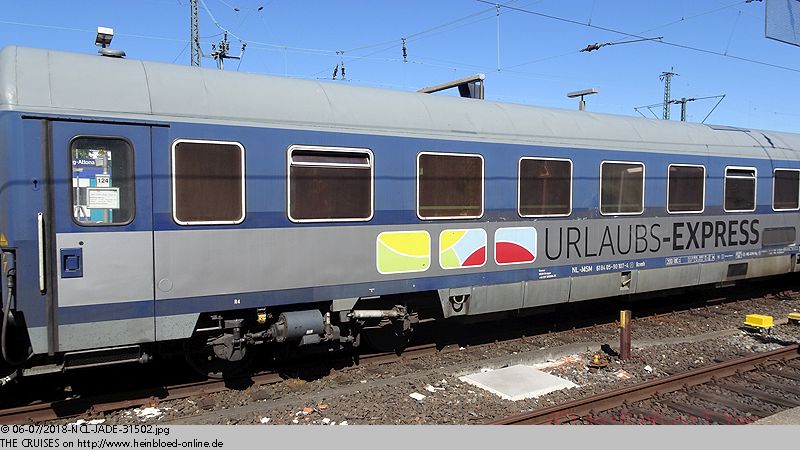 Oh weia: Schrottplatz oder Museum?
Wo mögen die Wagen wohl her sein?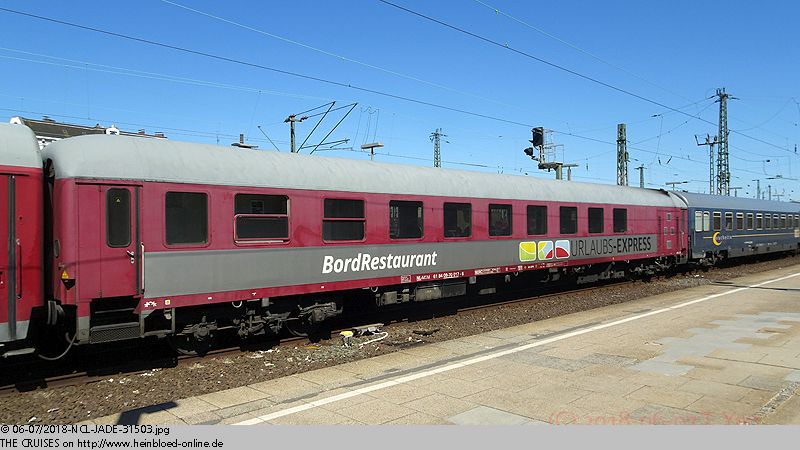 Where did they get those coaches from?

I doubted that I really liked to travel with them.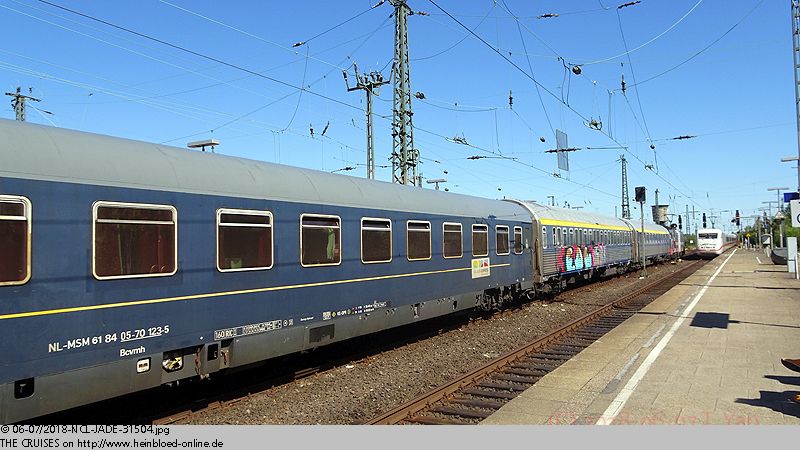 Ich glaube nicht, dass ich damit fahren möchte.
Dann lieber ein nagelneuer ICE 4. Mit Gepäckfächern. Von der letzten Meckerei habe ich Verzehrsgutscheine vom Vorstand der Deutschen Bahn. Die löse ich für einen Hühnereintopf ein. Sie stinkt, als ob sie aus Schlachtabfällen gemacht wurde. Sogar der Nachbartisch beklagt sich über den Gestank. Wir bekommen als Trost ein paar Süßigkeiten. Der Am-Platz-Service konnte sonst nichts für uns tun und wir bekamen die Gutscheine auch prompt zurück und mussten auch nichts für die Getränke bezahlen. Zum Glück hatten unsere Gäste nicht so viele Süßigkeiten und Knabbereien gegessen. Und ich hatte noch die Kekse von Carlos eingepackt. Für die Geschenke für die Crew haben wir immer Tupperdosen dabei. Die erweisen sich jetzt als sehr nützlich. Zum Glück habe ich noch von der
GRAND PRINCESS 2018
Pepto Bismol
dabei, die ich mal vorsorglich schlucke.

I preferred to go on a brand new ICE 4 trainset. With baggage compartments. The last time I claimed with the board of German Railways I got some dining vouchers. So I ordered a chicken soup pot. It smelled bad like they used the slaughterhouse waste. Even the next table noticed how bad it smelled. For compensation, we got some sweets. You could not blame the service at your seat, and he gave us our vouchers back and did not charge for the beverages. We had the luck that our guests did not take so much of my sweets and snacks. And I also wrapped Carlo's cookies and had them with me. For the gifts for the crew, we always had Tupperware containers with us. Luckily I had some Pepto Bismol with I took to be safe and which I bought during our voyage on GRAND PRINCESS 2018.

We could go directly to Frankfurt Airport Long Distance Train Station. Here we only need walk up the escalator towards The Squaire.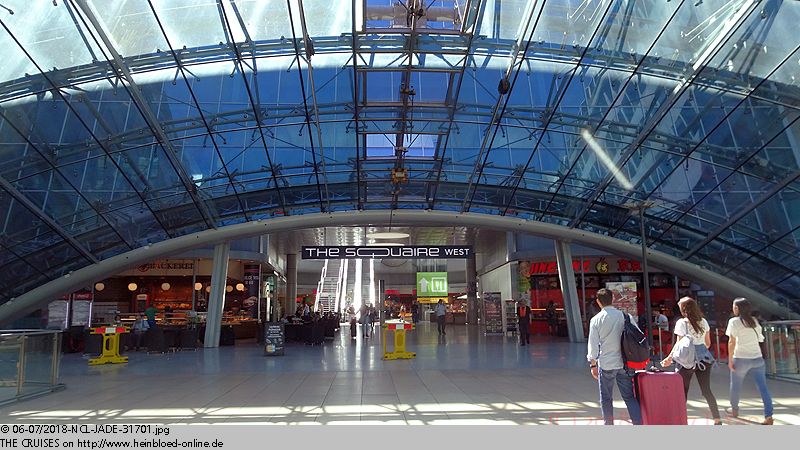 Wir können direkt bis Frankfurt Flughafen Fernbahnhof fahren. Hier müssen wir nur noch hoch zu
The Squaire
.
Dort haben wir mittlerweile eine Parkkarte, die uns erlaubt mit Rabatt zu parken. Es ist auf jeden billiger als im Terminal selbst. Das nächste Mal melde ich mich erst im Oktober von der VENTURA wieder. Eine gute Zeit bis dahin!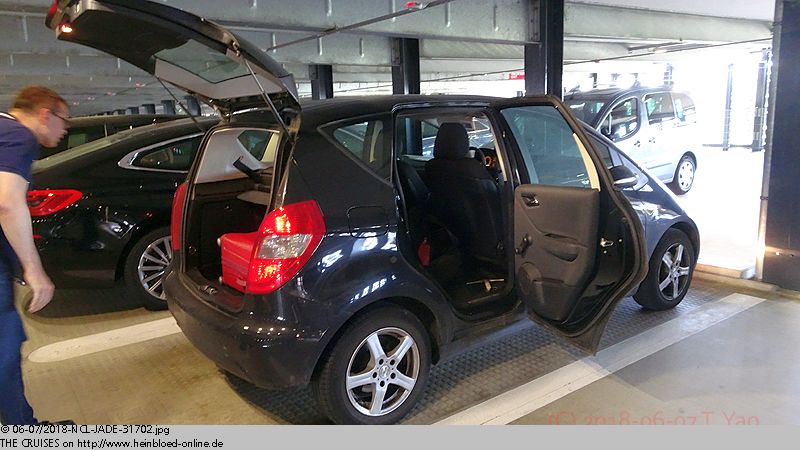 There we had meanwhile a parking ticket which allowed us to park at a discounted price. It was cheaper than parking in the terminal. I am back the next time from VENTURA in October. Having a good time so long!
Die anderen Reisen in diesem Blog/
The other voyages in this blog: