Vor uns erreicht NORWEGIAN SPIRIT Piräus.

Ahead of us NORWEGIAN SPIRIT reached Piraeus, Greece.

Another Norwegian-Ship was approaching Piraeus - correctly a former Norwegian-Ship. Then NORWEGIAN MAJESTY, today THOMSON MAJESTY and if you looked properly you could see her past with Norwegian.

Ein weiteres Norwegian-Schiff ist im Zulauf auf Piräus, korrekter ein ehemaliges Norwegian-Schiff. Damals NORWEGIAN MAJESTY, heute THOMSON MAJESTY und wenn genau hinguckt, sieht man ihr noch die Vergangenheit bei Norwegian an.
Eine liegt bereits lange vor allen anderen im Hafen: CELEBRITY REFLECTION.

Another one was arriving long time before in port: CELEBRITY REFLECTION.

Why did we need to be the last...?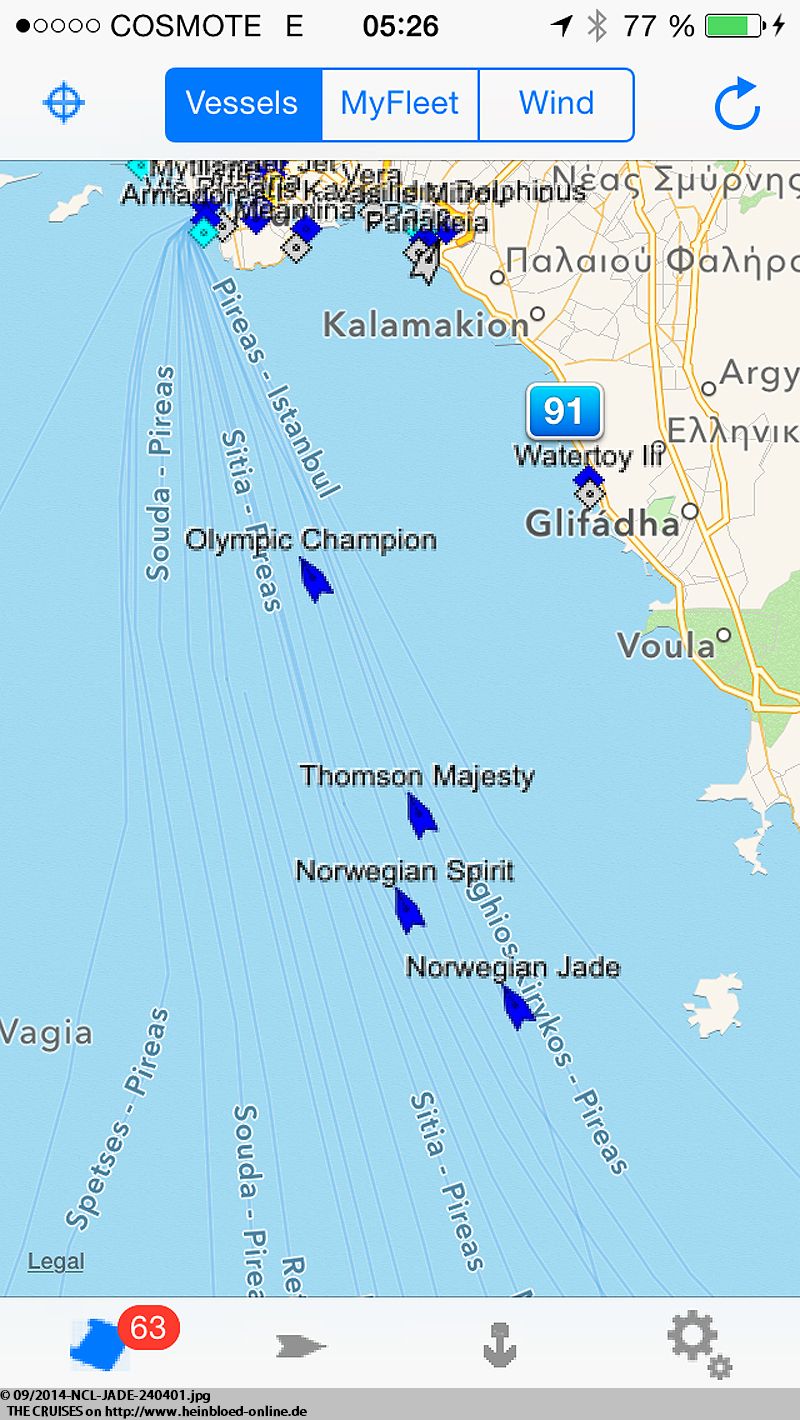 Warum mussten wir wieder die letzten sein...?
Könnte das das oben die Akropolis sein?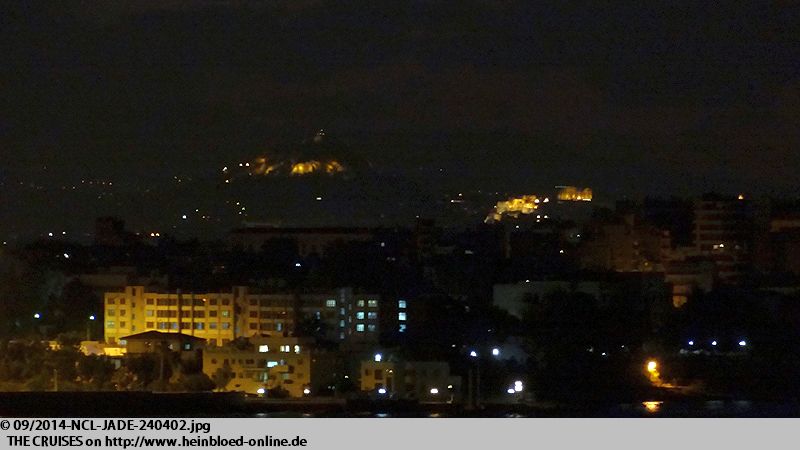 Might it be the Acropolis there up?

Here I was last time to have an espresso: at the Lion of Piraeus... it was a bargain compared to St. Mark's Square...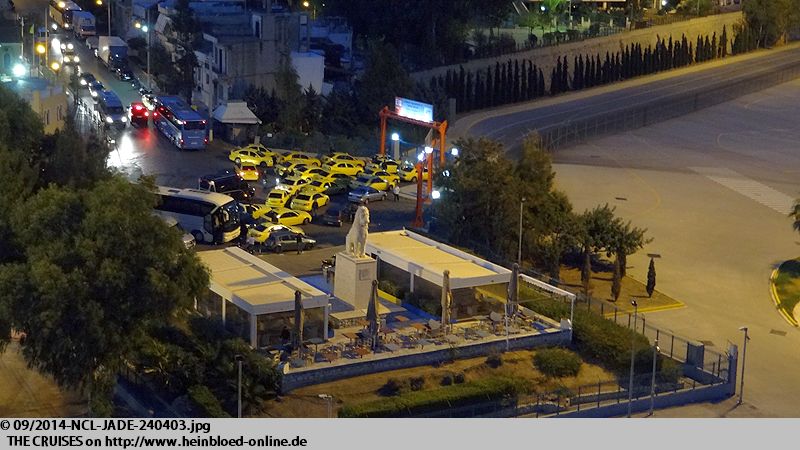 Hier war ich letztens Espresso trinken: beim Löwen von Piräus... war aber ein Schnäppchen im Vergleich zum Markusplatz...
Ankunft in Piräus...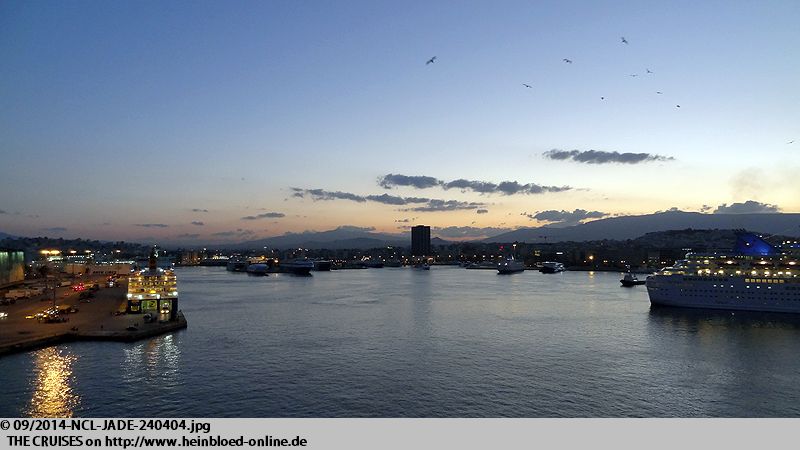 Arrival in Piraeus...

I could not believe it: what kind of pier is it. We did pass the other ships to take pictures.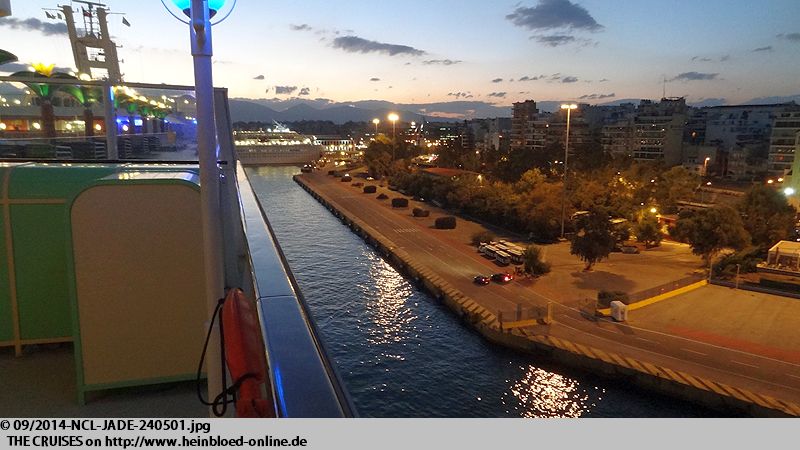 Ich glaube es nicht: was ist das für ein Pier. Wir kommen ja gar nicht an den anderen noch vorbei, um sie fotografieren.
In Piräus schläft alles noch.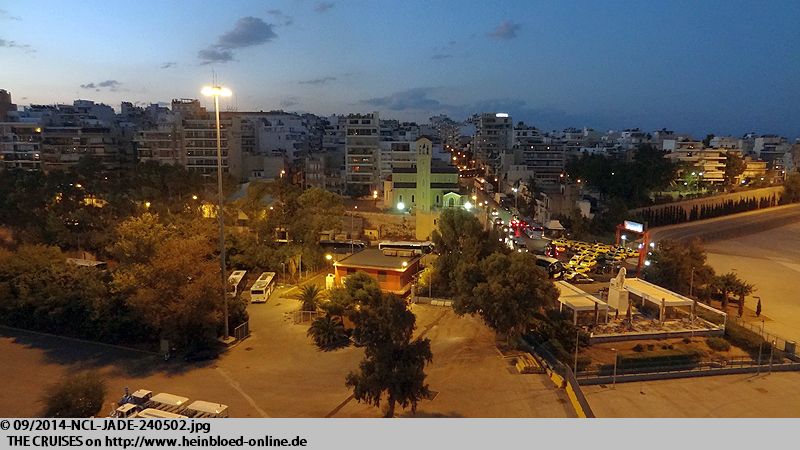 In Piraeus everything was still sleeping.

The passage to Terminal B was open. So we would be immediately at Gate 12. Unfortunately it was guarded.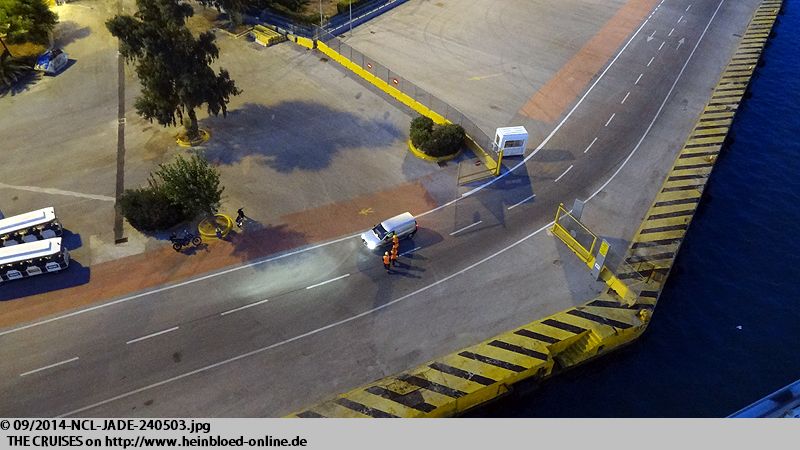 Der Übergang zum Terminal B ist offen. Sofort wären wir am Tor 12. Aber leider ist er bewacht.
Der Shuttle führt nämlich von Terminal A zu Terminal B innerhalb des Hafens.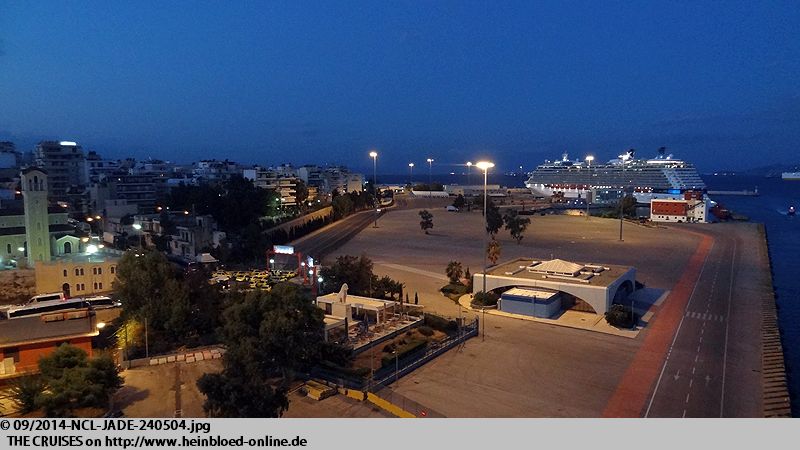 The shuttle took someone from Terminal A to Terminal B within the port.

That was good that we did not need to walk because they provided shuttle buses for us.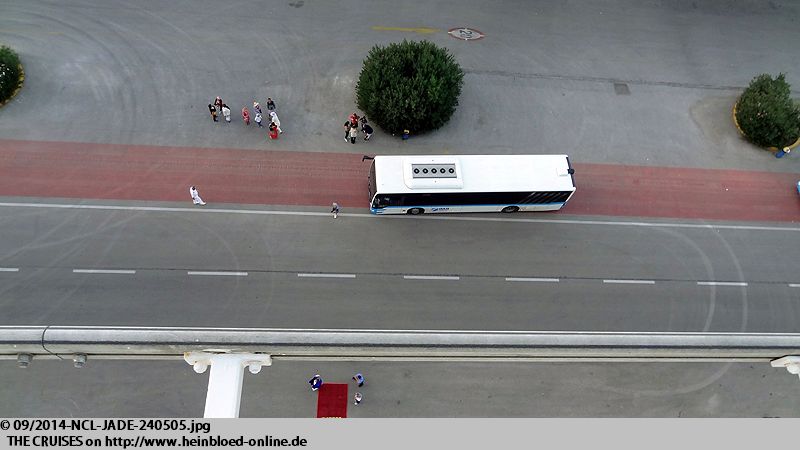 Das ist schon mal gut, dass wir nicht laufen müssen, sondern Shuttle-Busse auch für uns bereitstehen.
Die Sonne geht jetzt über Piräus auf.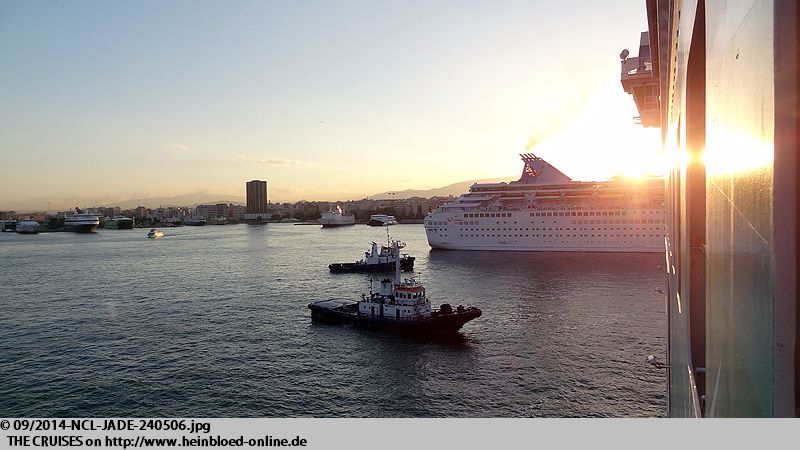 The sun rose oveer Piraeus.

Had not hear a long time "The Children of Piraues" (from the movie "Never on Sunday").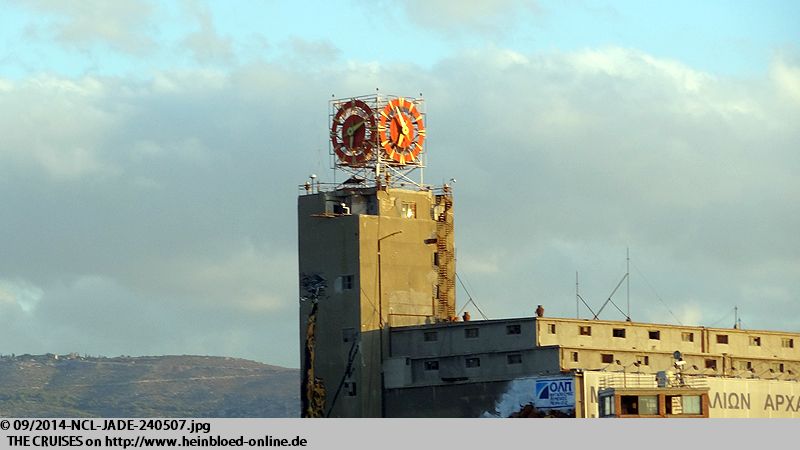 Schon lange nicht mehr "
Die Kinder aus Piräus
" (aus dem Film "Niemals am Sonntag") gehört.
So werden wir und die Gäste der CELEBRITY REFLECTION direkt vor Terminal A abgesetzt.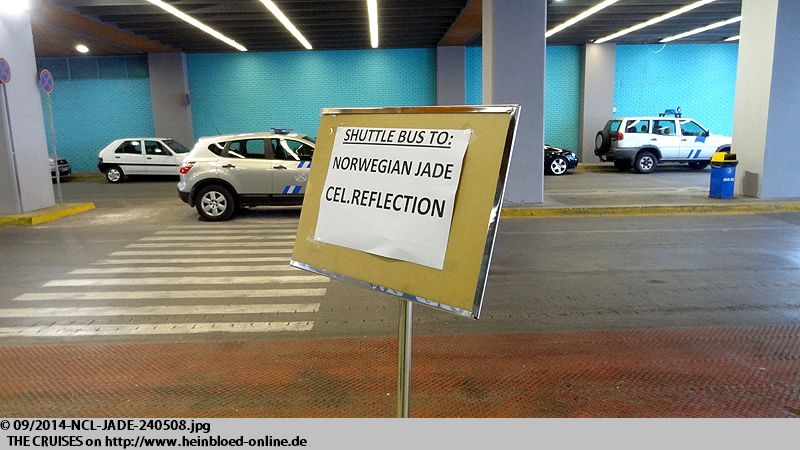 We we and the guests of CELEBRITY REFLECTION were dropped off in front of Terminal A.

The guests of THOMSON MAJESTY discovered the city by bikes.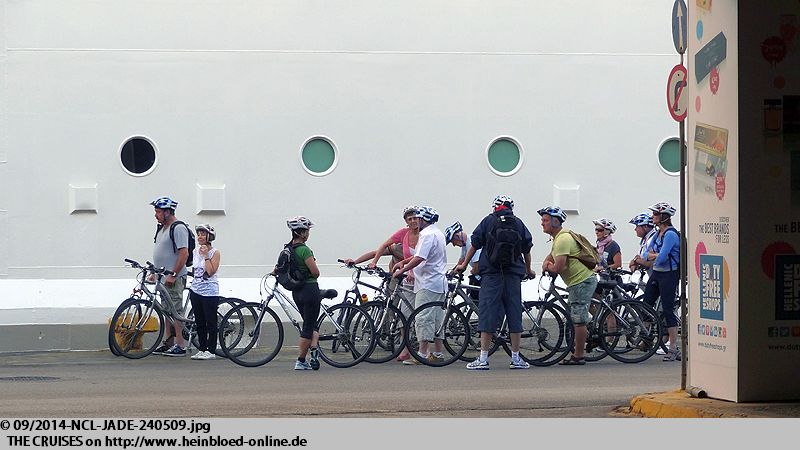 Die Gäste der THOMSON MAJESTY erkundigen die Stadt auf dem Fahrrad.
Ein paar Bilder zur Orientierung. Zum Vergrößern einfach auf das Bild klicken.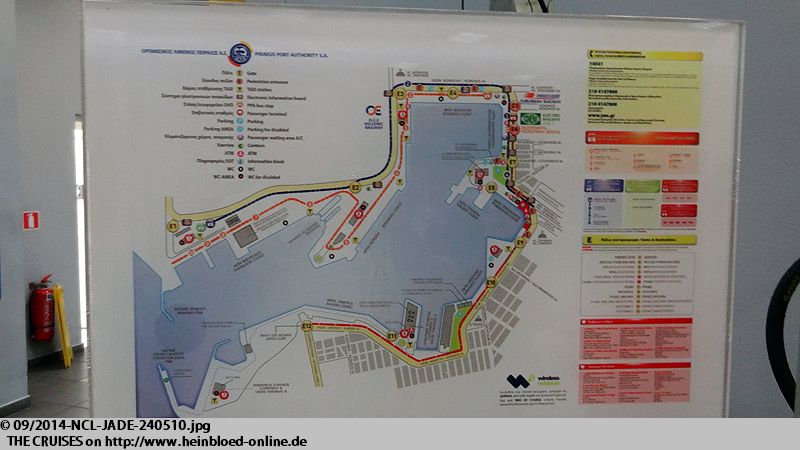 Few pictures for orientation. To enlarge just click on the picture.

According to the board there should be an express bus X80 which connected the Cruise Terminal with the Acropolis an Syntagma. But I have never seen or use it before. But according to OASA it should exist.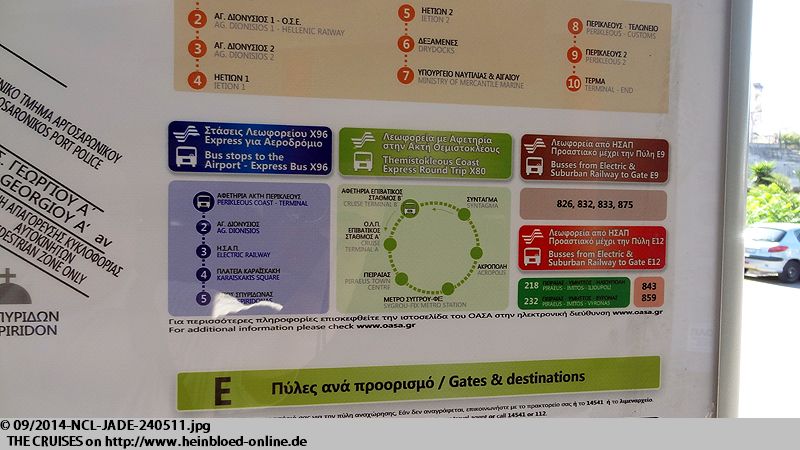 Laut dieser Tafel gibt es einen Express-Bus X80 der die Cruise Terminals und die Akropolis und Syntagma verbindet. Ich habe ihn allerdings noch nie gesehen und benutzt. Aber laut
OASA
gibt es sie tatsächlich.
Die Richtwerte für Taxipreise gibt es nicht mehr, aber einige Hinweise.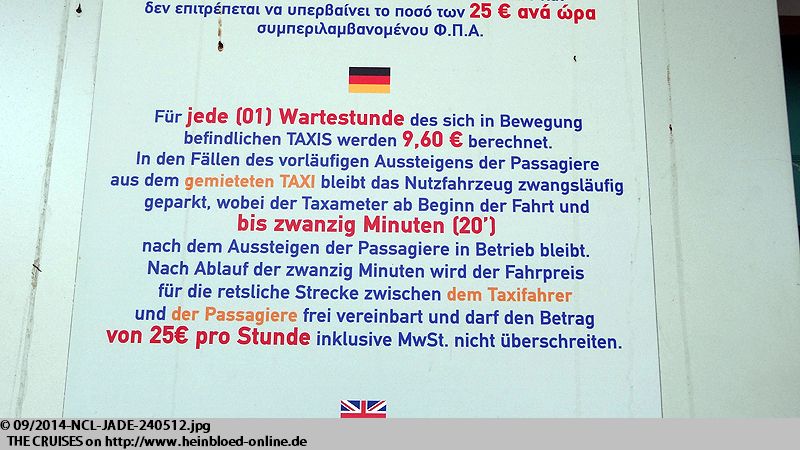 The guidance for taxi rates were not anymore available but some advises.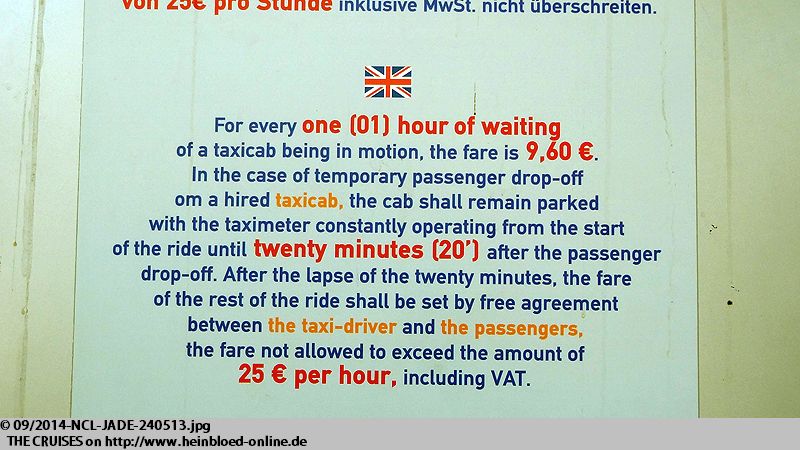 Und ein paar Limousinen warten wie immer auch vor dem Terminal.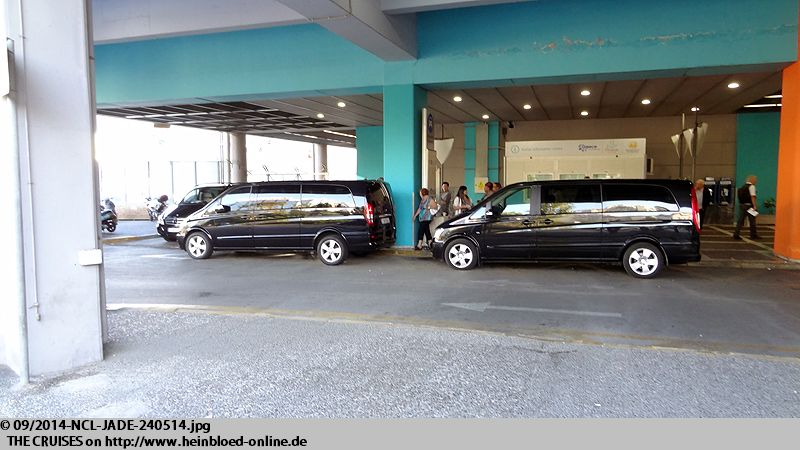 And also few limousines were waiting in front of the terminal.

Great they had now the new display boards in the terminal.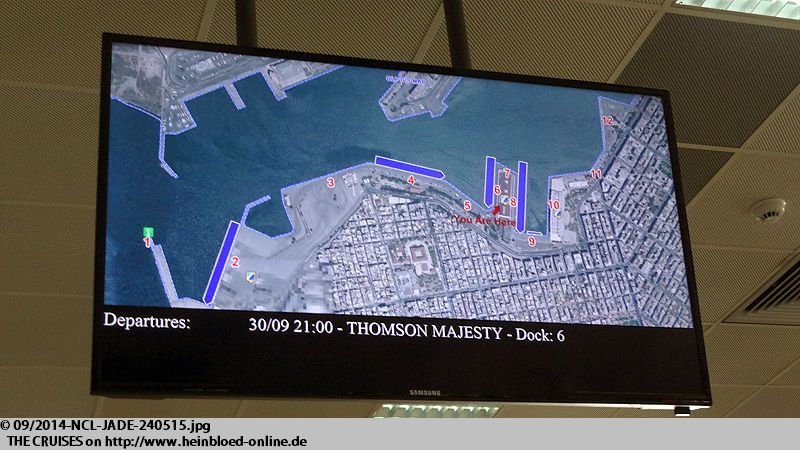 Toll sind jetzt die neuen Anzeigetafeln im Terminal.
Und man weiss sofort, ob man laufen muss, oder gefahren wird.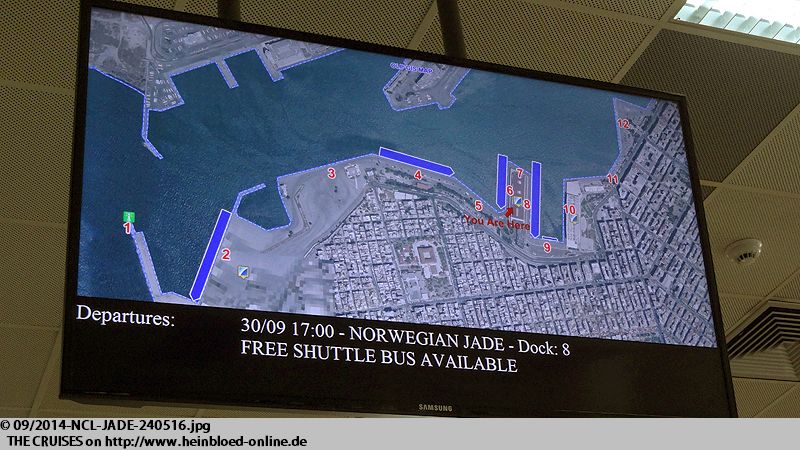 You knew immediately if you need to walk of if your were shuttled.

Quickly we went for breakfast but they really annoyed me with their motivation to clean and me and my camera (just fixed after getting wet) wet. Without taking any care they sprinkled by tube with checking if there were passengers around. Such work should be made at times when not just the operation started because everybody came out to have breakfast.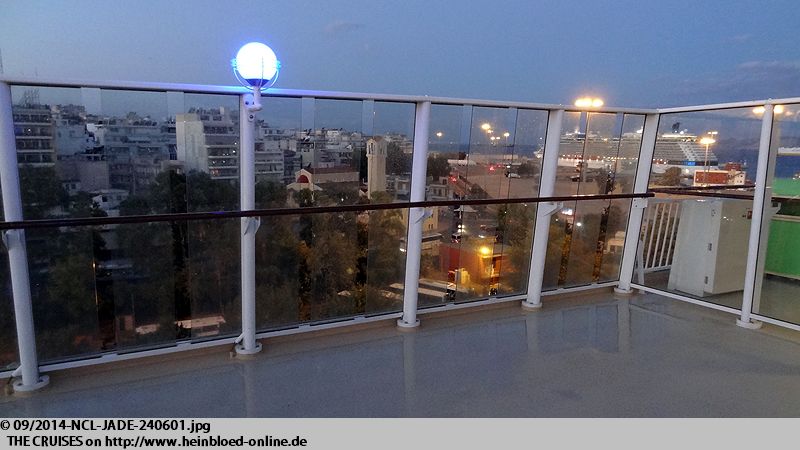 Schnell geht es zum Frühstück, allerdings machen die mich mit Ihrem Putzfimmel wahnsinnig und vor allem meine Kamera (frisch von der Reparatur wegen Feuchtigkeitsschaden) und mich naß. Rücksichtslos wird mit dem Schlauch abgespritzt: egal wie weit man eigentlich als Passagier da steht. Das gehört doch eigentlich zu Zeiten gemacht, wenn jetzt nicht gerade der Betrieb losgeht, weil jetzt alle rauskommen und zum Frühstück wollen.
Ich gönne mir die letzten Erdbeeren und wir sind verdammt früh im Cagney's. Irgendwie klappt es mit dem Auffüllen nicht. Oft sind Schalen lange, lange, lange leer...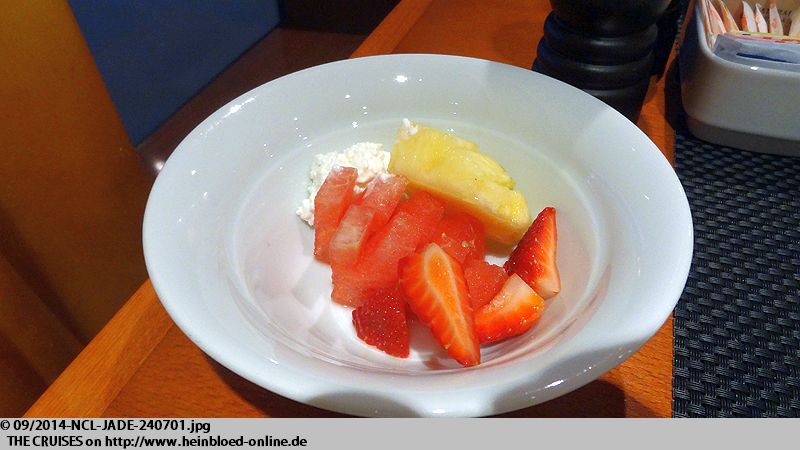 I took for myself the last strawberries and we were quite early in Cagney's. Somehow it did not work with the refill. Very often the bowls very empty for a long long long time.

At least it worked with my Frittata with cubes of ham.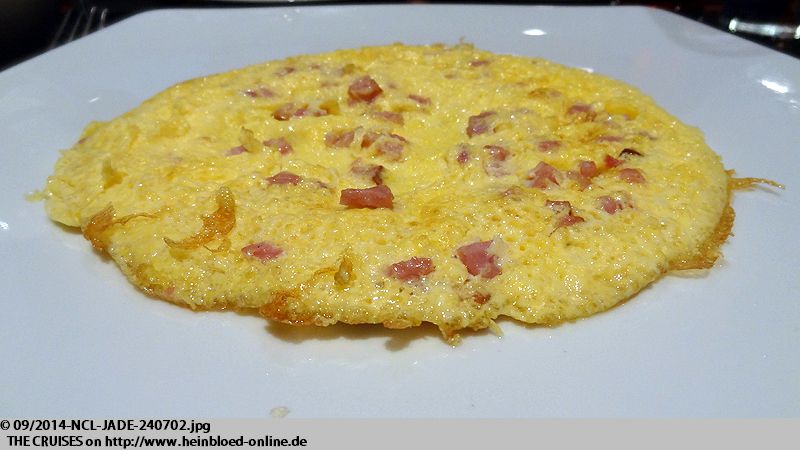 Wenigstens klappt es mit meiner Frittata mit Schinkenwürfel.
Und es klappt mit dem Roggen-Kümmel-Brot. Das einzige, was nicht klappt: Bevor der Toast nicht serviert wird, gibt es nirgendwo Butter: weder auf dem Tisch noch am Büffet. Wenn man sich also vorher schon etwas vom Büffet nimmt, gibt es das nur ohne Butter. Möglicherweise im Zuge der Umstellung der Speisekarte: man achtet auf eine gesündere Ernährung.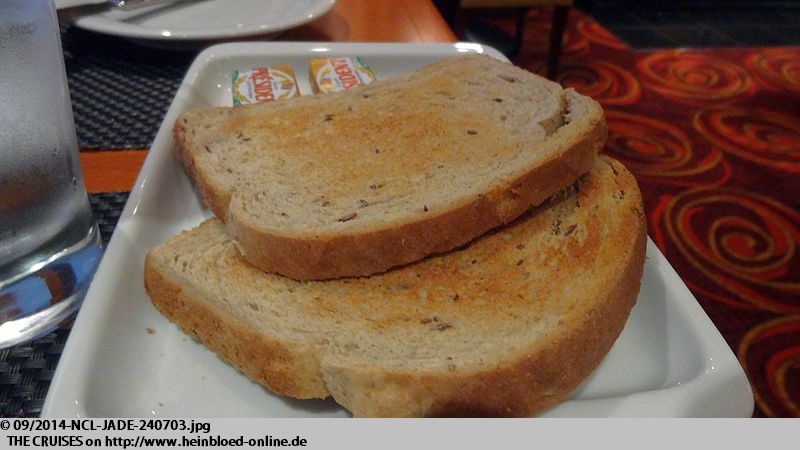 And it worked with the rye-bread. The only what did not work: before no toast was served no butter was available neither at the table nor at the buffet. So if you take anything earlier from the buffet you can only have it without butter. Maybe while changing the menu: they took care of a healthier nutrition.

I prepared again my green iced idee and I could also get my Craberry-Water-mixture.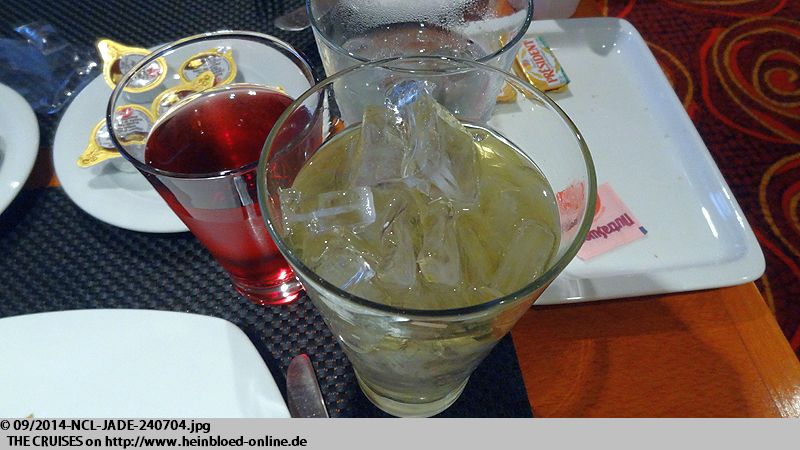 Ich stelle mir wieder meinen grünen Eistee her und es gibt auch meine Cranberry-Saftschorle.
Unser Weg zurück in die Kabine: wenn man vom Moderno/Blue Lagoon kommt: ein echter Zickzack-Kurs.

Our way back to the cabin: if you cam from Moderno/Blue Lagoon: a real zick-zack course.

As reward you get a little animal in the evening.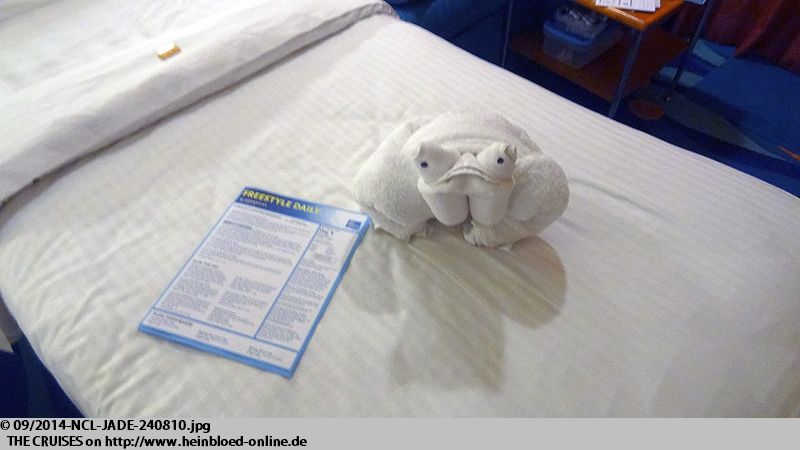 Zur Belohnung gab es abends wieder ein Tierchen.
Draußen einen Blick auf die NORWEGIAN JADE.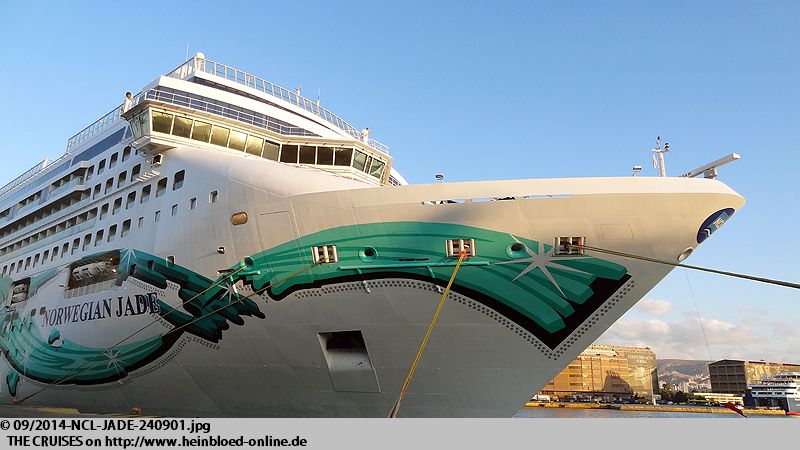 Outside a look on NORWEGIAN JADE.

I walked off in front. On the on hand to take pictures of THOMSON MAJESTY and on the other hand I hoped that maybe Hotel Director Armando de Silva and Guest Relation Assistant Manager Christine Chang might be in front of NORWEGIAN SPIRIT to say hello. Armando we knew from our sailing on NORWEGIAN JADE 2011 (2) from Venice, Italy to Civitavecchia, Italy and he liked it that we took our parents on cruise. And Christine knew us from our sailing on NORWEGIAN JADE 2014 (1). Unfortunately I had unluck and could only leave a message that I would try it later or the next day in Kusadasi, Turkey. That was why the other came by shuttle bus after me. And meanwhile Johanna and Niko arrived to collect us for our tours.

Ich bin voraus gelaufen. Einerseits um die THOMSON MAJESTY zu fotografieren und andererseits in der Hoffnung, dass vielleicht Hotel Director Armando de Silva und Guest Relation Assistant Manager Christine Chang vielleicht vor der NORWEGIAN SPIRIT stehen und ich zumindest mal Guten Tag sagen kann. Armando kennen wir unserer Fahrt auf der
NORWEGIAN JADE 2011 (2)
von Venedig nach Civitavecchia und er fand das damals gut, dass wir wir unsere Eltern mit auf Kreuzfahrt nehmen. Und Christina kennt uns von der Fahrt auf der
NORWEGIAN JADE 2014 (1)
. Leider habe ich Pech und kann nur beiden eine Nachricht hinterlassen, dass ich es später nochmals probiere oder morgen in Kusadasi. Daher kommen die anderen mit dem Shuttle-Bus hinterher. Und zwischenzeitlich sind auch
Johanna
und Niko eingetroffen, um uns zu unseren Touren abzuholen.
Ingrid, Angela und Thomas waren zuvor noch nicht Athen und so macht Johanna mit ihnen die Tour "Athen für Dummies" in Deutsch. Da Frances und Eddie kein Deutsch sprechen und sie auch so wie wir schon in Athen waren, gehen wir auf die englischsprachige Tour mit Niko.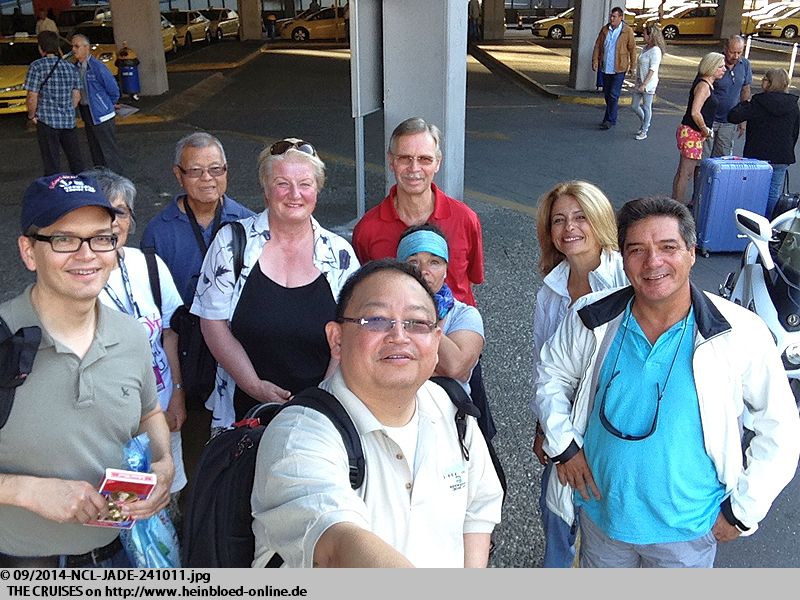 Ingrid, Angela and Thomas were never before in Athens, Greece and so Johanna was doing the tour "Athens for Dummies" in Germany. As Frances and Eddie did not speak any German and knew Athens from previous voyages we went with them on an English speaking tour with Niko.

At Cap Sounion (about 1 hour Southbound at the Southern tip of the peninsular Attika) you had the archaeologic venue of the Temple of Poseidon. My first MSC shore excursion on MSC MUSICA 2007 took us to this place. I only remembered that I was totally annoyed.

Am Cap Sounion (ca. 1 Stunde an der Südpitze der Halbinsel Attika) gibt es die
Ausgrabungsstätte des Poseidon-Tempels
. Mein erster MSC-Schiffsausflug auf der
MSC MUSICA 2007
führte uns hierher. Ich erinnere mich nur daran, dass ich komplett genervt war.
Dieses Mal sieht man mir wohl meine Begeisterung an. Wir waren fast die einzigen Gäste zeitweise! Wir hatten wunderschön blauen Himmel und strahlenden Sonnenschein.

That you could see how exited I was. For a certain time we were the only guests! We had a beautiful blue sky and bright sunshine.

Here we had to indulge us with a drink. The coffee drink was very yummy. Greeks and Nestlé had a fight who was inventing this coffee drink: Frappé!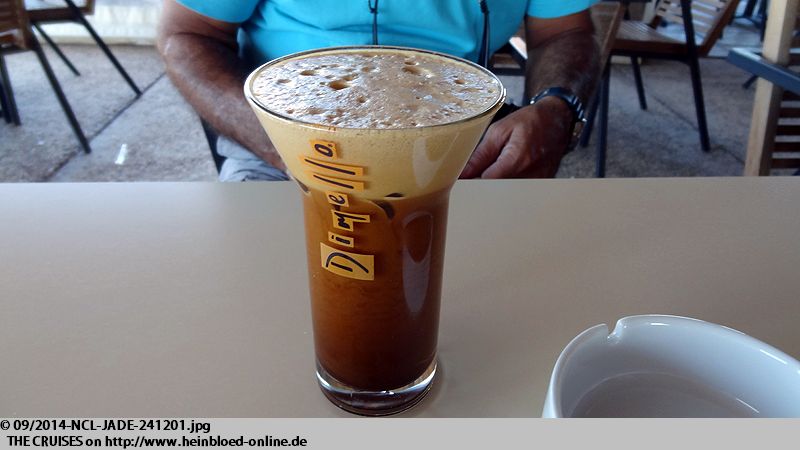 Hier gönnen wir uns erst mal etwas zu trinken. Dieses Kaffeegetränk war lecker. Griechen und Nestlé streiten sich darum, wer das Kaffeegetränk erfunden hat: Frappé!
Frances und Eddie bekommen hier ihren Granatapfelsaft.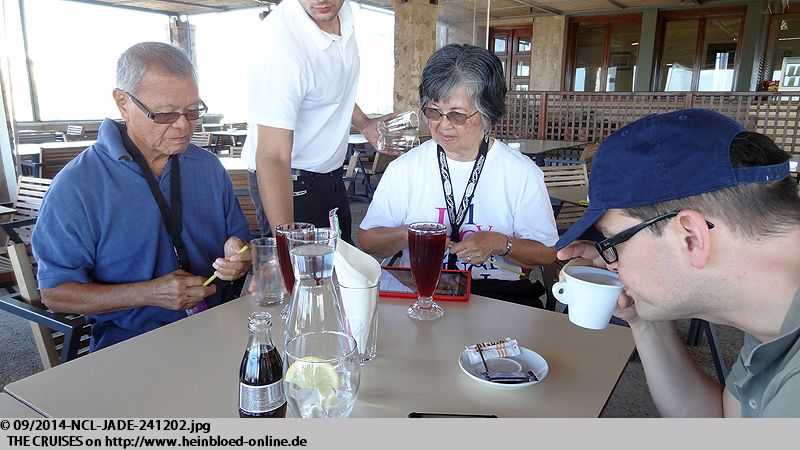 Frances and Eddie got their pommegranate juice.

And without any competition you had here the Athens price level.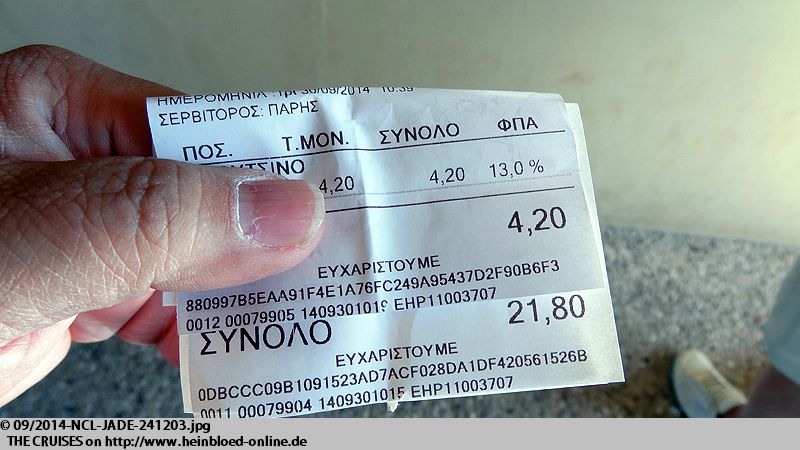 Und ohne Konkurrenz zahlen wir schon genauso viel, wie in Athen.
Aber wir haben Urlaub und so gönnen wir uns das alles Mal...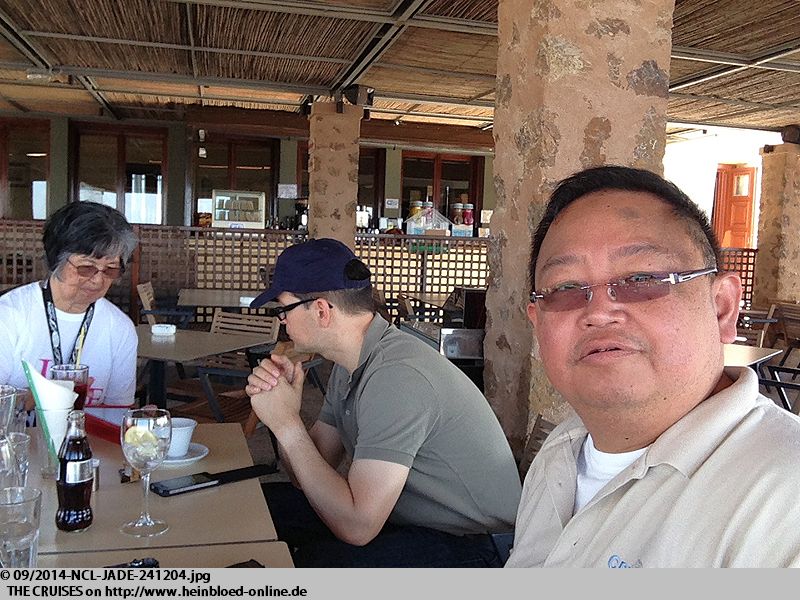 But we were on vacation and so we pampered us with that...

We wanted to buy something. Frances and Eddie wanted to have a Greek spinach-pocket and we some repellent before we reach Split, Croatia. Niko stopped in front of a fruit and vegetable shop and inside it looked so delicios and it was so cheap that we consodering to buy some home to Germany. Left of the fruit shop they had a great bakery "O Drodos" and we were also so exited that we also bought something. It smelled and looked so great. And right of that there was a pharmacy.

Wir wollten etwas kaufen. Frances und Eddie wollten grichiesische Spinat-Taschen und wir noch ein paar Mückenmittel bevor wir in Split sind. Niko hält vor einem Obst- und Gemüsegeschäft, in dem das Obst so toll aussah und billig war, dass wir uns überlegt hatten, etwas davon mit nach Hause in Deutschland zu nehmen. Links vom Obstgeschäft gibt es einen tollen Bäcker "O Drodos" und wir waren auch so begeistert, dass wir auch etwas gekauft haben. Es roch einfach zu gut und es sah einfach zu toll aus. Und rechts daneben gab es eine Apotheke.
In Glyfada (Südlicher Stadtteil von Athen - mit der Straßenbahn zu erreichen - auf dem Weg zum Flughafen und daher auch mit dem
Expressbus X96
- während der Olympischen Spiele 2008 Austragungsstätte für die Segelwettbewerbe und daher mit schönen Stränden) - müssen wir zunächst
COSMOTE
aufsuchen und bekommen sofort eine neue SIM-Karte. Anschließend wollen wir etwas essen. Nur direkt am Parkplatz duftete es so herrlich und es sah so einladend aus, dass wir gar nicht weiterkamen und direkt hier einkehrten: Gyro Gyro Oloi. Es war lecker, es war viel, es war billig, es war urig und es gibt eine Filiale auch in Piräus.

In Gyfada (Southern neighbourhood of Athens - simply to reach by tram - on the the way to the airport and so also by express bus X96 - during the Olympic Games of 2008 venue of the yachting competitions and so with my nice beaches) - we need to see COSMOTE to get a new SIM-card. Thereafter we would like to have a bite. Just around the parking it was smelling so well and it looked so inviting that we did not head on and just went in: Gyro Gyro Oloi. It was yummy, it was a lot, it was cheap, it looked authentic and they also had a branch in Piraeus.

Few selfies were a must.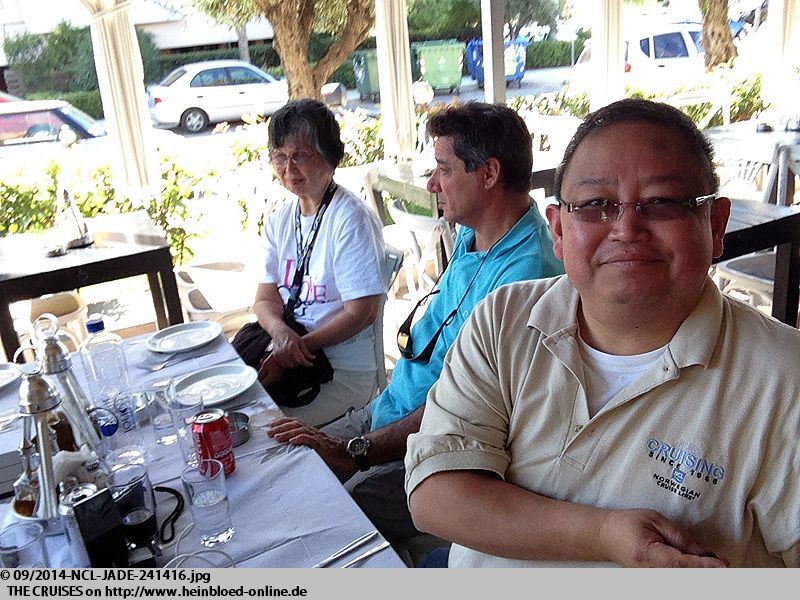 Ein paar Selfies müssen noch sein.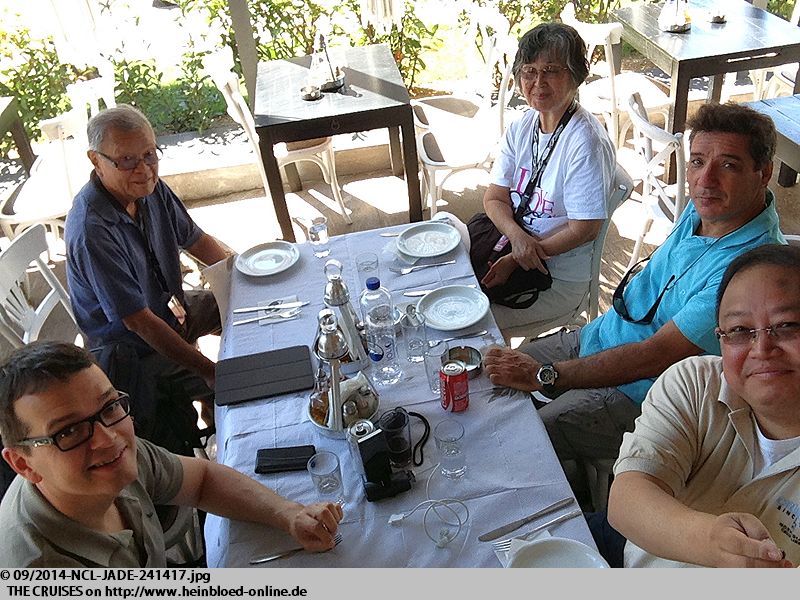 And I was more than happy with my Souvlaki-skewer. It was again a great tour with Niko. The other just said that they came as customer and left Athens as friends of Johanna.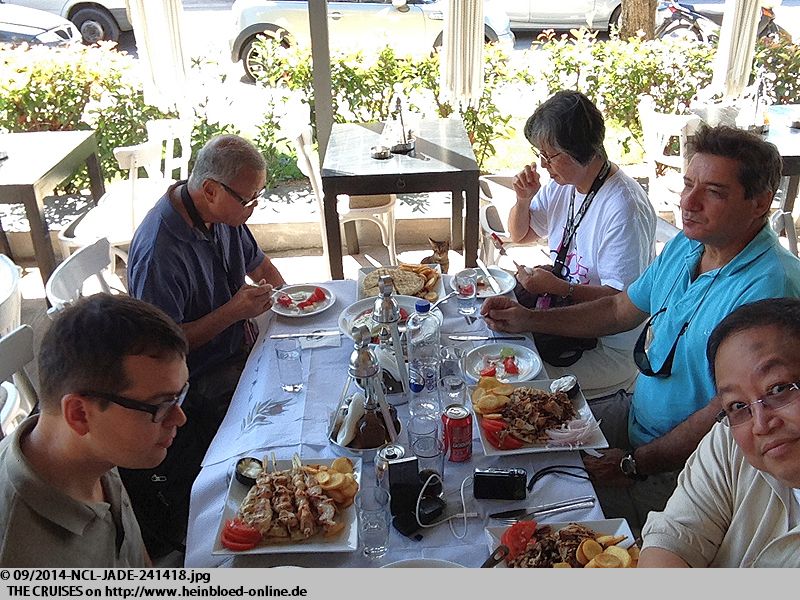 Und ich war überglücklich mit meinem Souvlaki-Spießen. Es war wieder eine tolle Tour mit Niko. Die anderen meinten nur, dass sie als Kunden gekommen sind und als Freunde von Johanna, Athen verlassen hätten.
Zurück an Bord wartete eine böse Überraschung. Irgendwie ist meine Karte abgeknickt.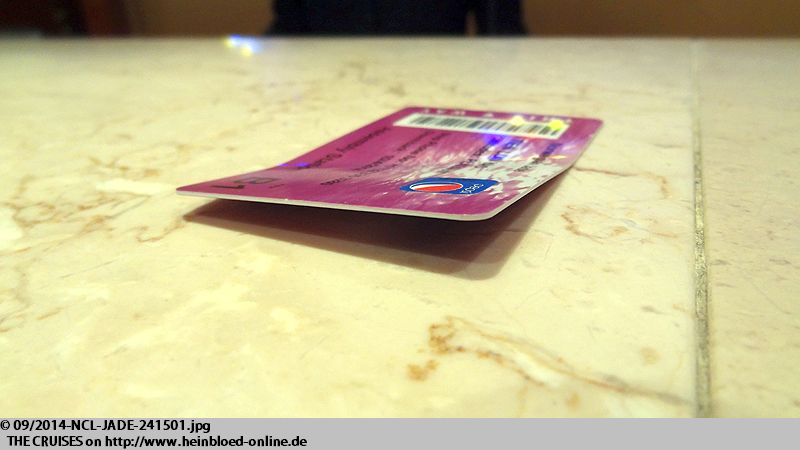 Back onboard I had a bad experience. Somehow my card was crinkled.

I got immediately a new one. To get a new soda-pass-sticker I got a copy of my revenue which I need so present at the Aloha-Bar.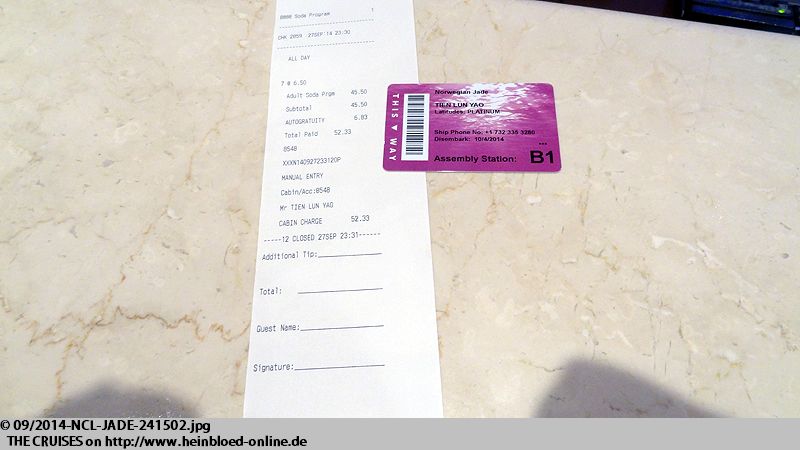 Ich bekomme sofort eine neue. Um einen neuen Soda-Pass-Sticker zu bekommen, wird mir eine Kopie des Umsatzes ausgedruckt, den ich an der Aloha-Bar vorzeigen muss.
Mein Douglas Ward kommt auch zurück.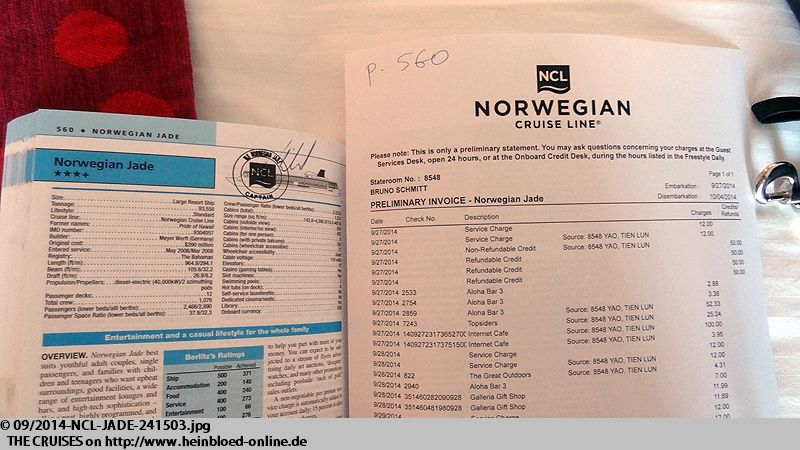 My Douglas Ward came back too.

I did not go on my journey to Salamina, Greece because I wanted to try to meet Armando and Christine. But again without luck. On the balcony I experienced again the set sail of NORWEGIAN SPIRIT. See her the next day in Kusadasi, Turkey.

Auf meine Fahrt nach Salamina hatte ich verzichtet, weil ich versuchen wollte, doch nochmals versuchen wollte, Armando und Christine zu treffen. Aber wieder ohne Glück. Auf dem Balkon erlebe ich die Ausfahrt der NORWEGIAN SPIRIT. Bis morgen in Kusadasi.
MEINE
NORWEGIAN SPIRIT.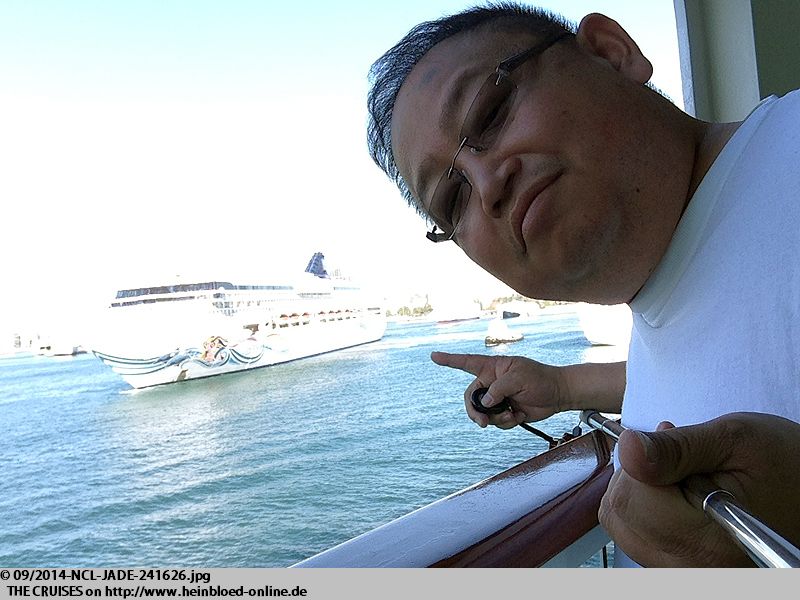 MY NORWEGIAN SPIRIT.

More pictures of THOMSON MAJESTY I could not make because we were setting sail backwards. It would simply go straight to the ferry port and than backwards to the bay where NORWEGIAN SPIRIT docked before and then straight forward to make great pictures of THOMSON MAJESTY and CELEBRITY REFLECTIONS.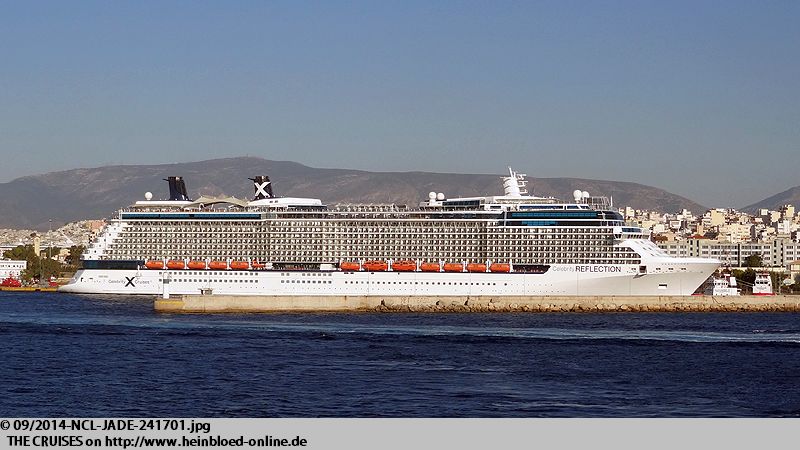 Weitere Bilder von der THOMSON MAJESTY entstehen leider nicht, weil wir rückwärts rausfahren. Er hätte doch eigentlich gerade aus zum Fährhafen fahren können und rückwärts in das Becken reinfahren, in der die NORWEGIAN SPIRIT lag und dann vorwärts raus und dann hätte ich tolle Bilder von der THOMSON MAJESTY und CELEBRITY REFLECTION bekommen.
Da ich keine Lust hatte, wo anders hinzugehen und aus Santorini schon eine Menge toller Bilder der CELEBRITY REFLECTION habe, verzichte ich darauf und genieße einfach die Ausfahrt.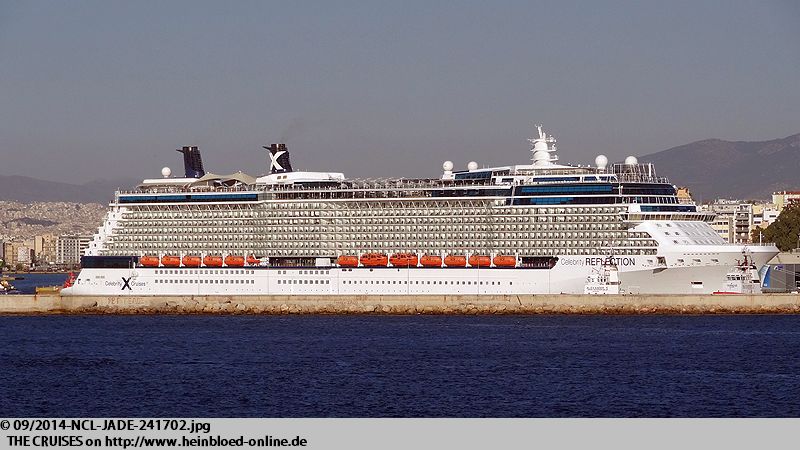 As I did not like to walk to a different place and made before on Santorini, Greece a lot of the great pictures of CELEBRITY REFLECTION I just gave up and enjoyed the set sail.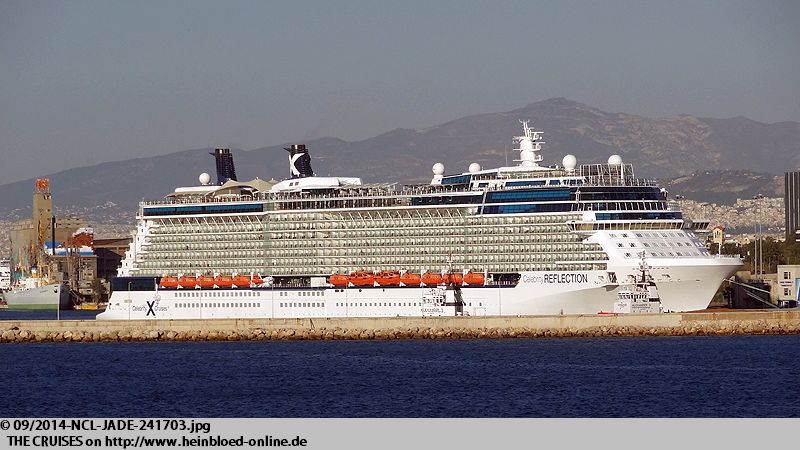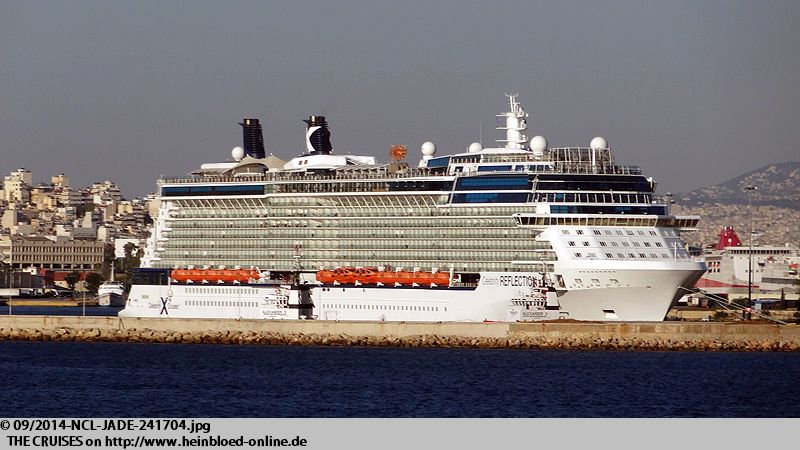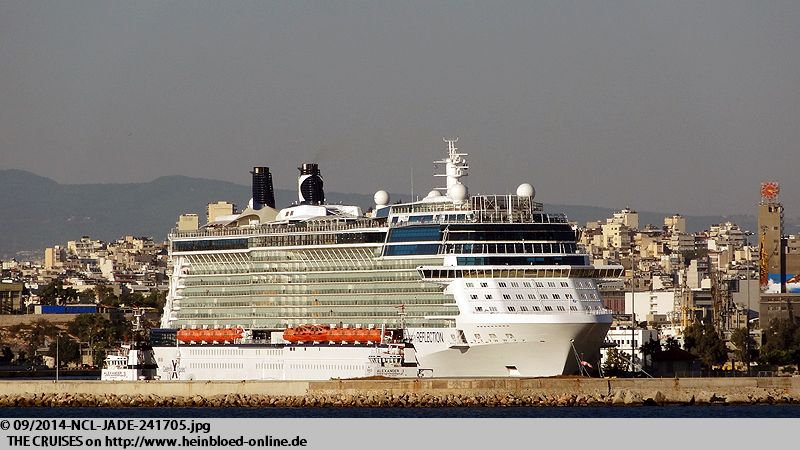 Leider ist es heute Nachmittag zu diesig, um nochmals die Akropolis mit der Linse einzufangen.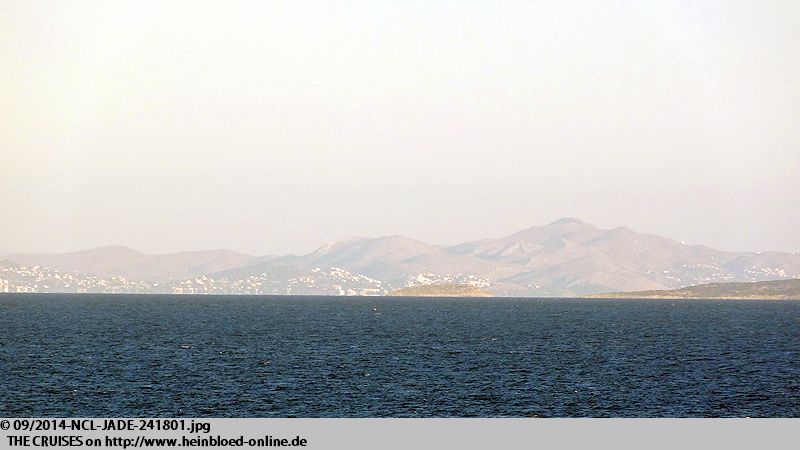 Unfortunately it was too misty that afternoon to see again the Acropolis in the camera.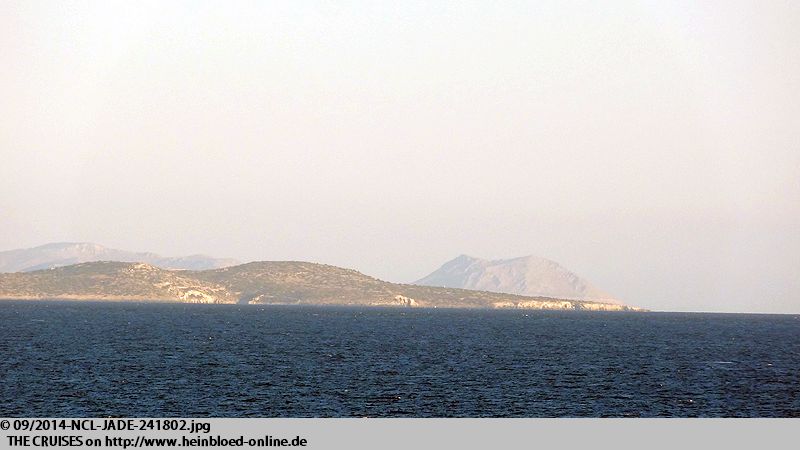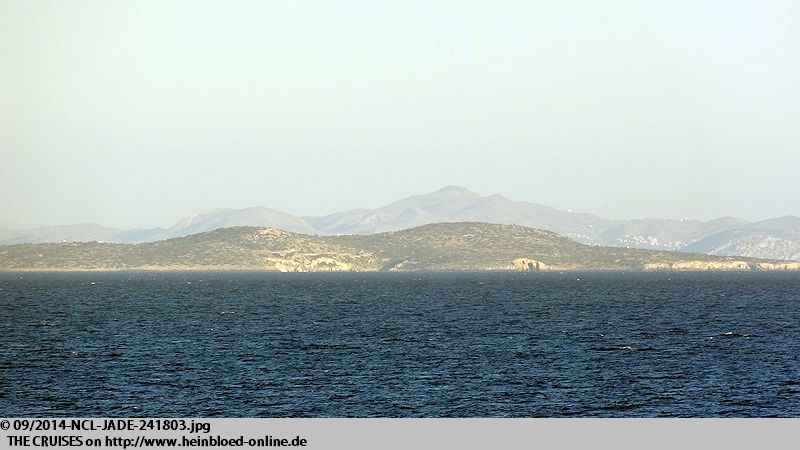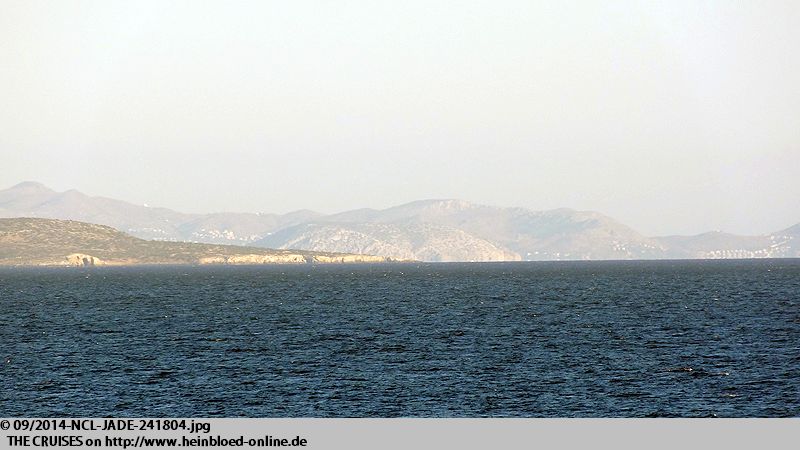 Irgendwo hier müssen wir uns herumgetrieben haben. Irgendwo hier muss Cap Sounion sein. Irgendwo hier muss der Poseidon-Tempel sein.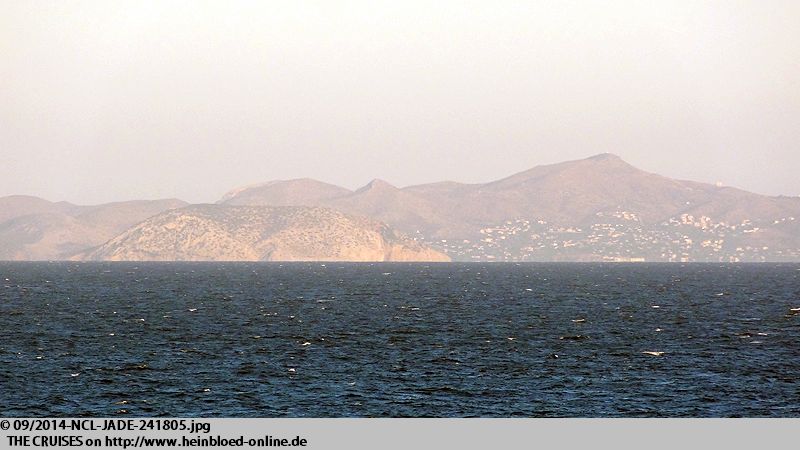 Somewhere here around we must be earlier today. Somewhere around there should be Cap Sounion. Somewhere here there should be the Temple of Poseidon.

We were heading to a VIP-reception. To our surprise it was quite empty.

Es gibt zum VIP-Empfang. Zu unserem Erstaunen ist es extrem leer.
Und weiter in das Il Cucina. Zuletzt waren wir sehr enttäuscht, aber dieses Mal war die Situation anders. Mit der charmanten Betreuung von Seepa schmeckt vermutlich auch dort Wasser und Brot und wir wussten ja, dass ein Koch in der Galley steckt, der mich und meine Fleischmarotten vom Cagney's im
NORWEGIAN JADE 2014 (1)
kennt. Also kann mir doch gar nichts passieren. Hier lernen wir auch: was einmal nicht so gut war, muss nicht dauerhaft nicht gut sein. Eine andere Crew und schon schmeckt es wieder ganz anders.

And we went for Il Cucina. Last time we were quite disappointing but that time the situation was different. With the charming care of Seepa I was sure even simply water and bread would be yummy and I knew that someone was in the galley who knew my preference for meat from Cagney's on NORWEGIAN JADE 2014 (1). So nothing bad could happen. Here we also learned: what was not not one time must not be bad permantly. A different crew and it could be a total different food experience.

We did not want to take Angela with us as Italian... just to compare: my Carpaccio which was prepared by Angela in preparation for this journey.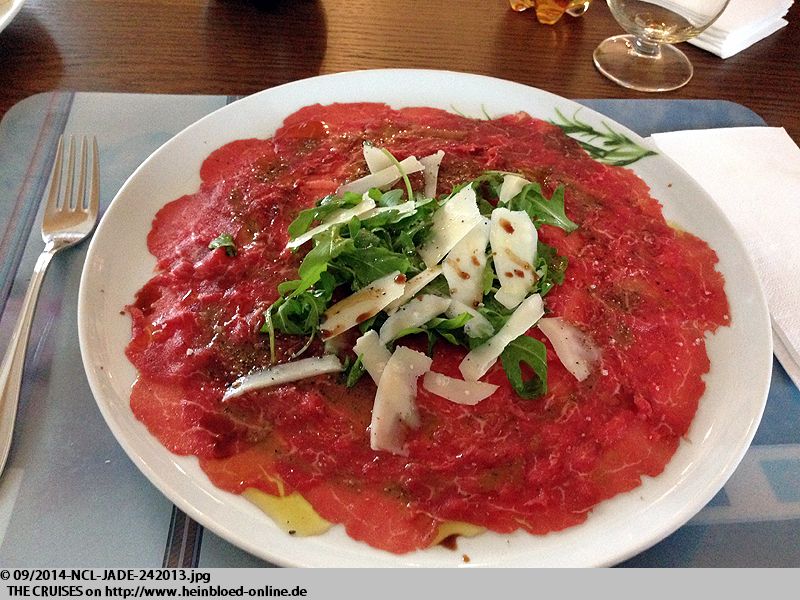 Angela als Italienerin mochten wir nicht hierher mitnehmen... aber mal zum Vergleich: mein Carpaccio, das Angela in Vorbereitung auf die Fahrt gemacht hat.
Für sie, Thomas und Ingrid hatten wir im Teppanyaki gebucht, aber da hatten sie wohl etwas Pech gehabt. Auch sitzen Olivia und unser Concierge Bruno am Tisch, die wohl den Eindruck haben, dass wir versuchen, sie zu fotografieren. So bitten wir Mahmut noch ein paar Bilder zu machen.

For her, Thomas and Ingrid we booked the Teppanyaki but they had a little unluck. Also Olivia and our Concierge Bruno were at the table who had the impression that I was trying to take pictures of them. So we asked Mahmut to make few pictures.

At the end of the day the crew-selfies: 2 x Bruno. Bruno and our Concierge Bruno Dentone.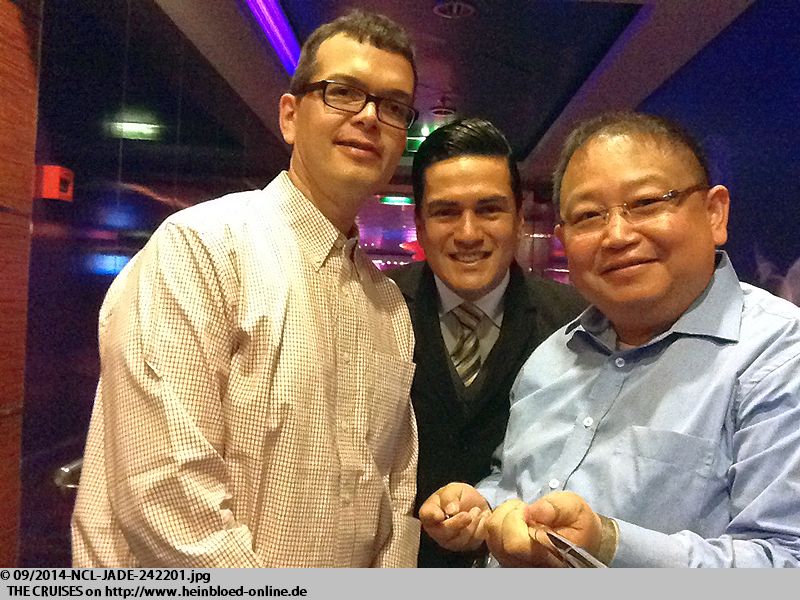 Am Ende des Tages noch die Crew-Selfies: 2 x Bruno. Bruno und unser Concierge Bruno Dentone.
Und dann noch mein "Abschiedsbild". Seepa erklärt mir, dass sie mich wegen eines anderen Mannes verlässt, den sie noch mehr liebt als mich und der auf der NORWEGIAN SPIRIT auf sie wartet und sie wird morgen das Schiff verlassen. Mein Mann in der Galley: Peter Jun Nacino. Heute Abend war es perfekt! Sollen wir in Zukunft Zuzahlrestaurants weiterempfehlen oder nicht? Mal ist es eben gut oder mal nicht. Dieses Mal was Glück auf unserer Seite.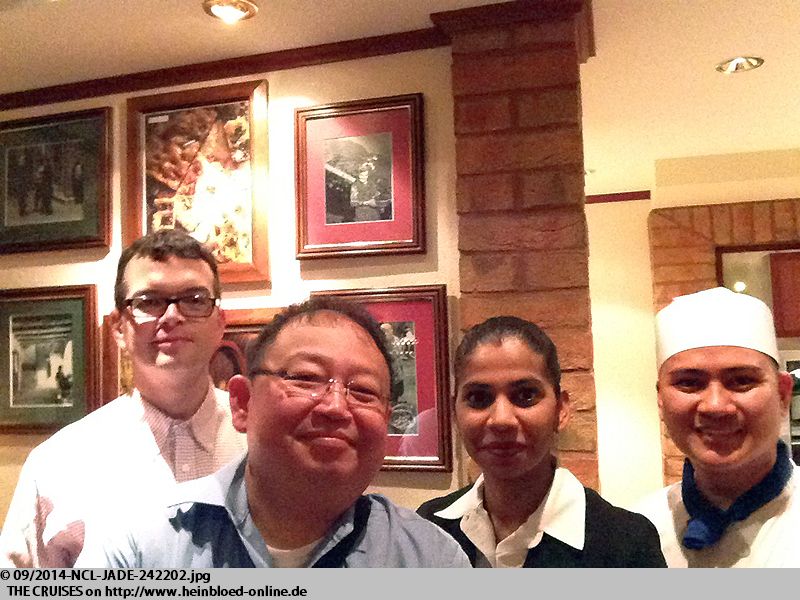 And my "farewell pictures". Seepa explained that she would leave me for another man whom she loved more but me and he would wait for her on NORWEGIAN SPIRIT and would leave the ship the next day. My man from the galley: Peter Jun Nacino. That night everything was perfect! Should we recommend alternative dining venues in the future or should not we? Sometimes it was good and sometimes it was not. That time the luck was on our side.