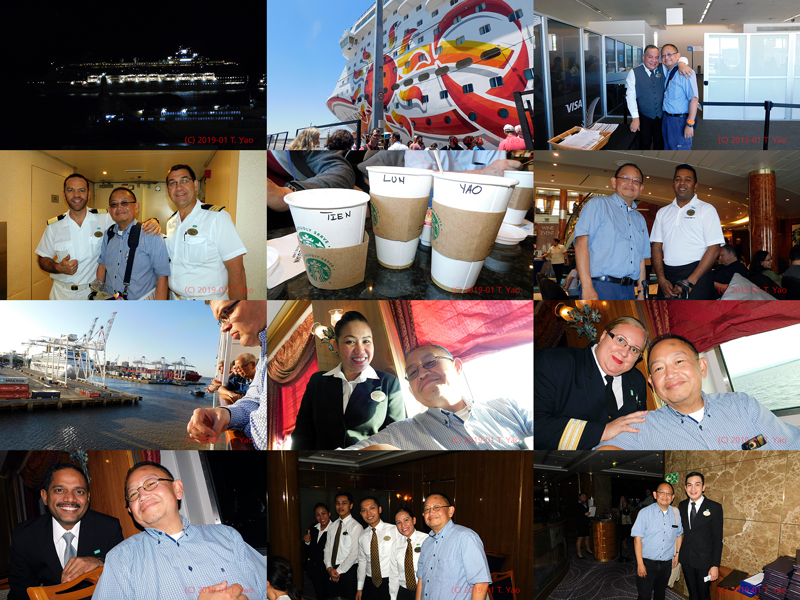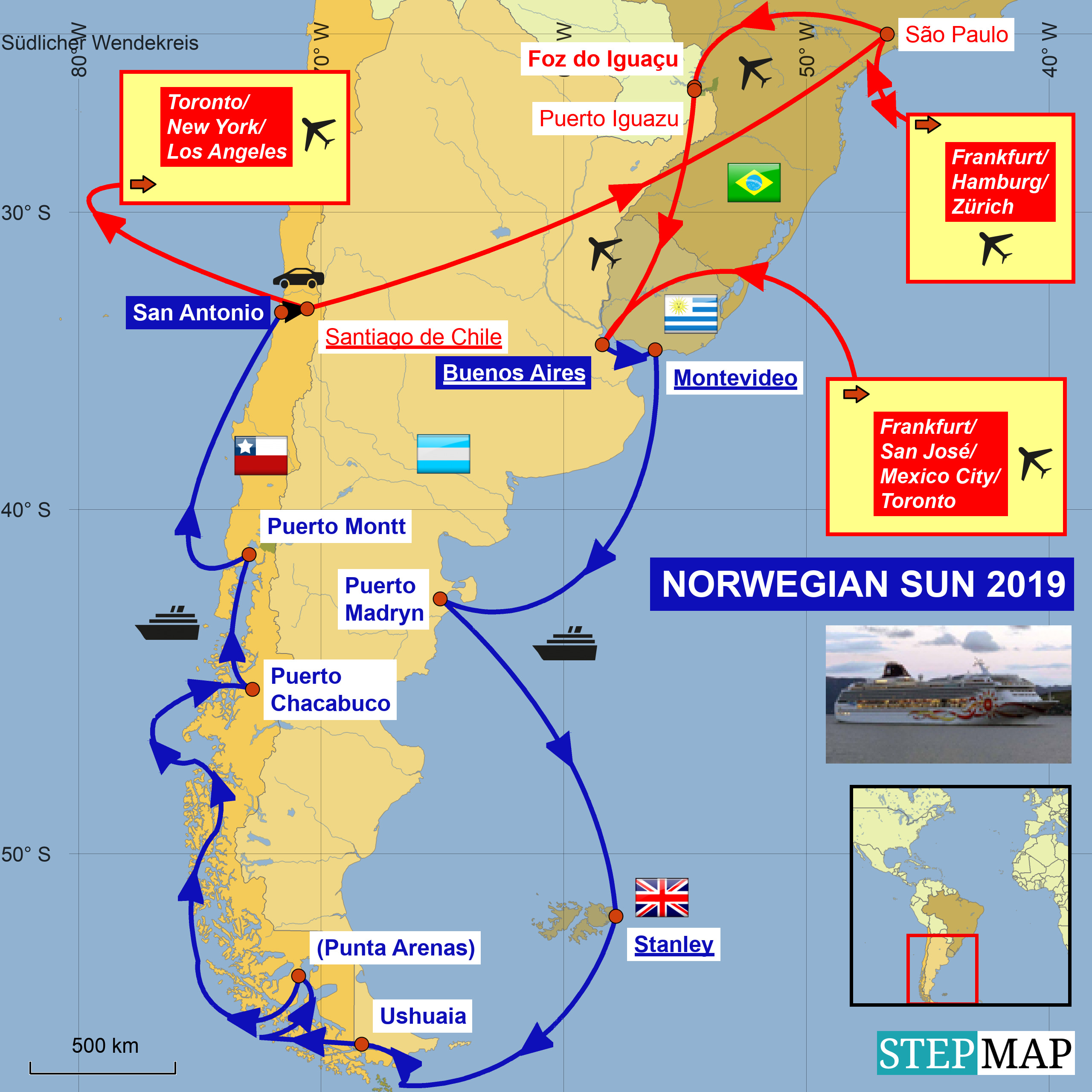 Was mich komplett nervt ist die Preispolitik von NCL. In Europa noch mehr als in den USA. Deswegen sollte das eigentlich unsere allerletzte Reise mit NCL werden. Wir haben dank Dorothy von Cruise Brothers für die OC-Kabine 4.400 USD bezahlt. Inkl. 250 Minuten Internet, 4 Essen im Spezialitäten-Restaurant und 50 USD Bordguthaben. Zusätzlich haben wir vorab schon die Servicegelder entrichtet, weil wir vor zwei Jahren bereits gebucht hatten, und zu dem Zeitpunkt eine günstigere Tagesrate für die Servicegelder bestand und wir noch diese berechnet bekommen hatten. Zwischenzeitlich gingen die Preise in den USA hoch bis 5.953 USD hoch. Und auf Just-Cruise ohne Möglichkeit die Kabine selbst auszuwählen, wollte ich mich nicht einlassen. In Deutschland hätten wir die Kabine zu max. 6.348 EUR bekommen (allerdings inkl. Servicegelder, Getränkepaket (das wir nicht brauchen, weil wir meistens Cappuccino an der Kaffeebar und Wasser aus der Flasche trinken) und 250 Minuten Internet. Eine neue Promo, die genauso aussieht, wie die Promo, die bis gestern galt, war keine echte Promo, weil es nicht unbedingt bedeutet, dass es günstiger wurde. Die guten alten Zeiten, dass NCL das beste Preis-Leistungs-Verhältnis hatte sind vorbei. Princess hätte vom Preis und Leistung sehr gut gepasst: aber die Route und das Schiff gefielen mir nicht so. Und Holland America gab es nur mit dem Schlenker zur Antarktis, aber dann wäre Iguazu nicht möglich gewesen. Durch unsere Reise auf der
ZAANDAM 2012
hätten wir das Schiff geliebt. Und Celebrity wäre frühestens 2022 nach dem Fiasko auf der
CELEBRITY MILLENNIUM 2014
wieder in Frage gekommen.

The price policy of NCL was annoying me completely. More in Europe but in the USA. That was, why this cruise should become our very last cruise with NCL. Thanks to Dorothy of Cruise Brothers we paid for our OC-cabin 4,400 USD. Incl. 250 minutes internet, 4 specialty dinners and 50 USD OBC. Additionally, we prepaid the service charges, because a lower daily rate applied at the time of booking and they would charge this to us. Meanwhile, the price went up to 5,953 USD in the USA. I was not interested in booking under the rules of Just-Cruise without the possibility to pick my cabin myself. In Germany, we would need to pay up to 6,348 EUR (but incl. service charges, beverage package (which we would not need since we mostly drank Cappuccino at the coffee bar and bottled water) and 250 minutes internet. A new promo which looked similar like yesterday's one was not a real one and did not mean that it would become cheaper. The good old days were gone when NCL had the best price-value-ratio. I liked the price and performance of Princess: but I did not like the itinerary and the ship. And Holland America was only available with the Antarctica-detour which would not allow us to see Iguazu. Due to our voyage on ZAANDAM 2012, we would love the ship. And Celebrity would be acceptable for us not before 2022 after the fiasco on CELEBRITY MILLENNIUM 2014.

One year ahead I started to observe the docking locations of NORWEGIAN SUN to find out the situation later at all different places.

Ein Jahr vorher beobachte ich schon die Liegeplätze der NORWEGIAN SUN, um festzustellen, wie die Situation vor Ort wohl später sein wird.
Die Touren habe ich alle selbst geplant. Ich wollte mich nicht bei den
cruisecritic.com
- oder
kreuzfahrten-treff.de
-Mitfahrern anschließen, sondern meine eigene private Gruppe. Es geht nicht um die Kosten und möglichst einen Bus zu füllen, sondern darum eine gute Größe zu haben, die man gut hand haben kann und selbst steuern kann. Dementsprechend wurden diese Touren festgelegt.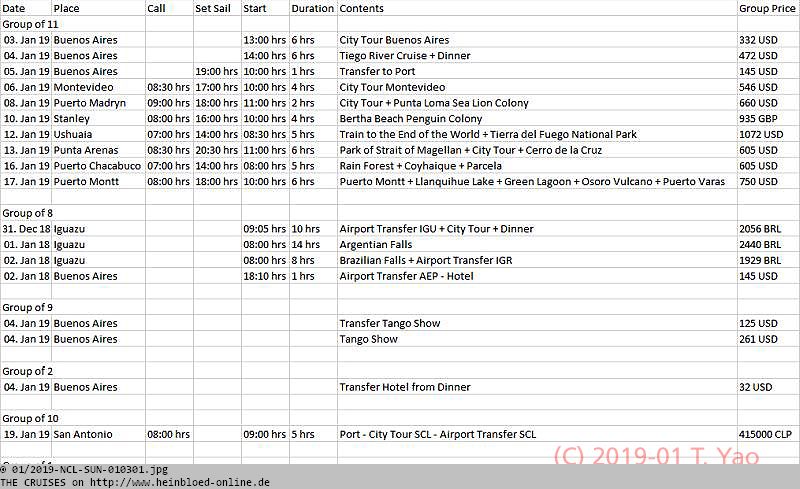 All tours, I planned myself. I did not want to join anyone from cruisecritic.com or the German kreuzfahrten-treff.de-forum but an own private group. It was not about the costs and to fill up a bus, but to have a good size to handle and to control. Under those criteria, the tours were formed.

Additionally, we also need some space for those supporting devices. For transportation but also for the design of the tours - like a minimum of steps, mostly even and not so long ways.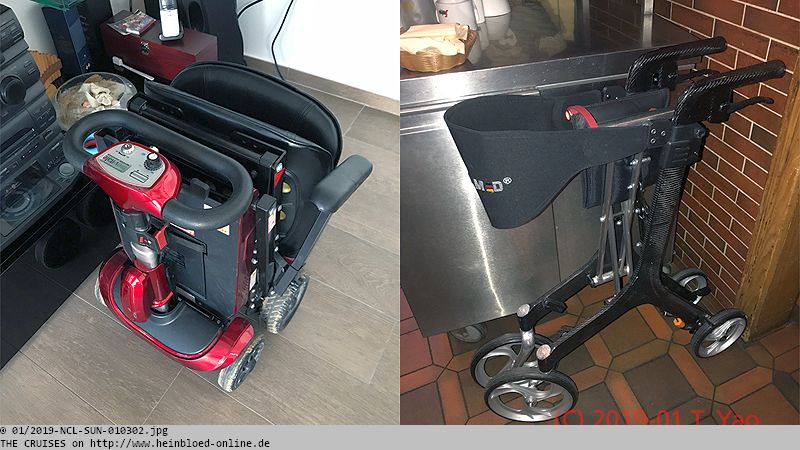 Hinzu kommt, dass wir etwas Platz für diese Hilfsgeräte brauchen. Sowohl transportechnisch, als auch bei der Tourgestaltung - also möglichst wenig Stufen, also möglichst flach und nicht zu lange Wege.
Neu bei NCL: die Frage, ob das Bordkonto in Euro geführt werden soll. Dafür nehmen sie 3% Umrechnungsgebühren. Meine Bank nimmt weniger als 3%. Deswegen haben wir USD angekreuzt.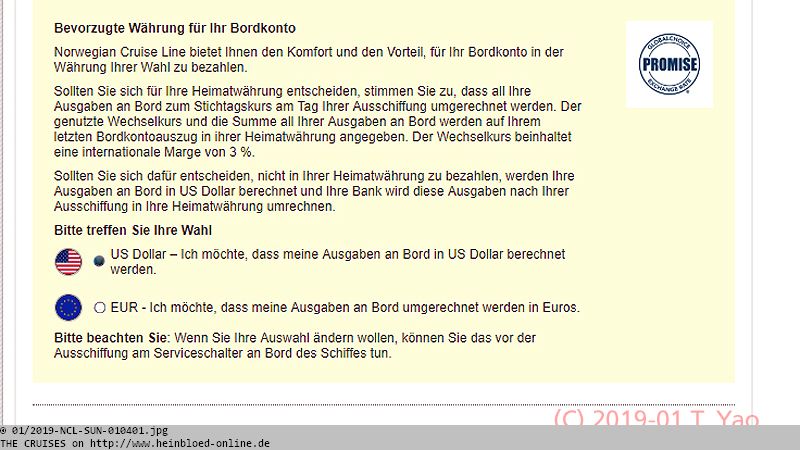 New with NCL: the question if you like to have your board account in Euro (subject to the presentation of a credit card from a bank in the Euro-area). For that, they charged a 3% conversion fee. My bank took less than 3%. So we checked USD.

We did not take the beverage package, which we could get for free. But for that, we needed to pay a 20% service charge on top. Since we barely drank alcohol and mostly only consumed Cappuccino, still water and one cola per day, it was not worth to spend 300 USD for the service-charge.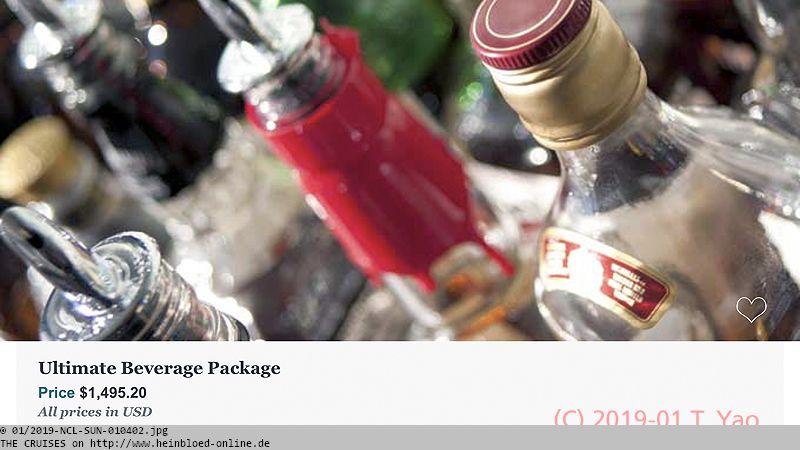 Wir hatten ja auf das Getränkepackage verzichtet: das hätten wir geschenkt bekommen, allerdings hätten wir 20% Service-Charges darauf zahlen müssen. Aber da wir kaum Alkohol trinken und wirklich überwiegend nur Cappuccino, stilles Wasser und eine Cola am Tag trinken, lohnt es sich nicht 300 USD in die Service-Charges zu investieren.
Es wurde mit
Aquafina
Wasserpaket geworben. Aufgrund eines hohen Bordguthabens, haben wir es erst an Bord bestellt.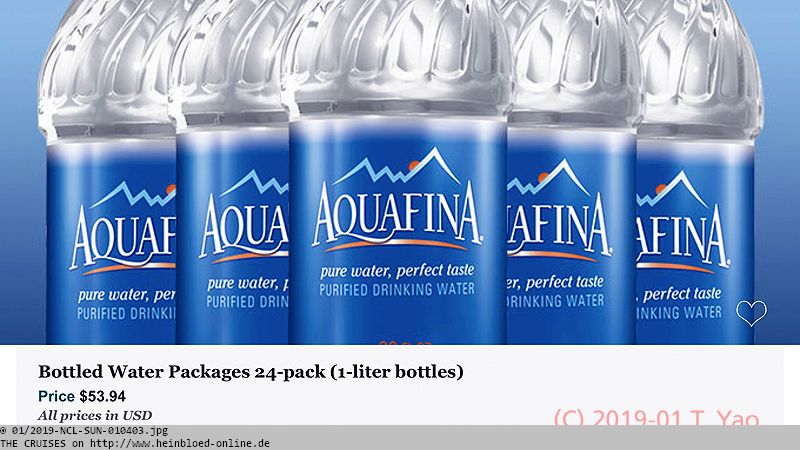 They advertised for an Aquafina Water Package. Due to a high onboard credit, we ordered it once we arrived onboard.

Furthermore, they offered, to bid for an upgrade. But we did not make use of the offer.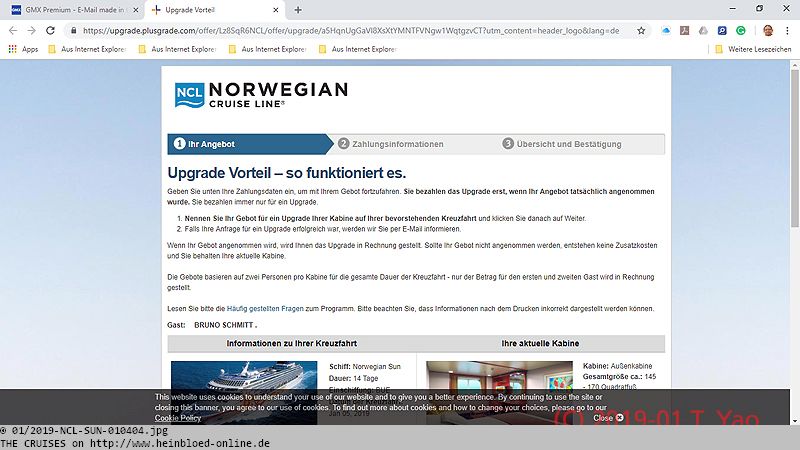 Außerdem wurde uns angeboten, für ein Upgrade mitzubieten. Aber wir lassen es.
Von der Dachterrasse des Hotels kann ich kurz vor 05:00 Uhr bereits die Ankunft
MEINER
NORWEGIAN SUN beobachten. Kapitän Kim gibt mir sogar die aktuellen Positionen durch. Er ist ja eigentlich ein netter Kerl... wenn er nicht auf Facebook festgestellt hätte, dass die Qualität meiner Bilder sehr schlecht sei... Meine GUTE Kamera für die Nachtaufnahmen ist tot! Ich leide eh schon und er lässt mich noch mehr leiden.

From the roof terrace of the hotel I could already see before 05:00 hrs the arrival of MY NORWEGIAN SUN. Captain Kim sent me the current position. He was actually a nice guy... if he would not say on Facebook that the quality of my pictures was bad... My GOOD camera for the night shots was killed! I was suffering, and he let me suffer more.

From my point of view, it was not my fault: he was too early there. I could also make such kind of pictures.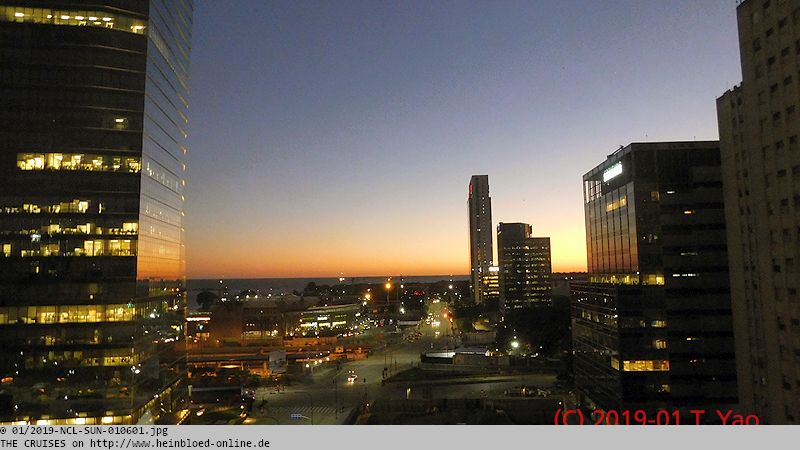 In meinen Augen ist das aber nicht meine Schuld: er war nur viel zu früh da. Ich hätte ja auch solche Aufnahmen machen können.
Oder später hinter dem Rauch der Fährschiffe.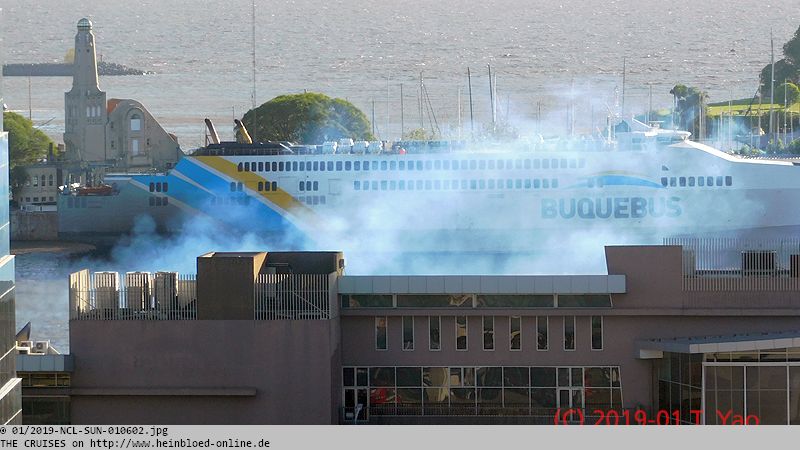 Or later behind the smoke of the ferry ships.

A little later (AT MUCH BETTER LIGHT CONDITION) COSTA FASCINOSA arrived (We saw it recently in November when we were sailing on MSC SEAVIEW 2018 in Marseille, France)...

Etwas später (ZU VIEL BESSEREN LICHTBEDINGUNGEN) kommen die COSTA FASCINOSA (zuletzt noch in November in Marseille bei unserer Reise auf der
MSC SEAVIEW 2018
gesehen)...
... und die AZAMARA PURSUIT (werden wir hoffentlich im Juni 2019 kennenlernen).

... and AZAMARA PURSUIT (which we hopefully will sail in July 2019).

That day it worked without Marina.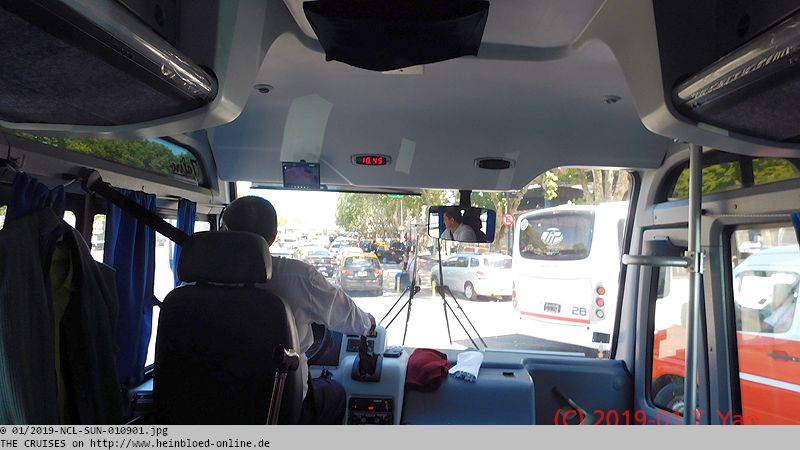 Heute läuft es ohne Marina.
Aber auch heute gilt:
BSAS4U
/
Daytours4U
haben es zuverlässig und super organisiert.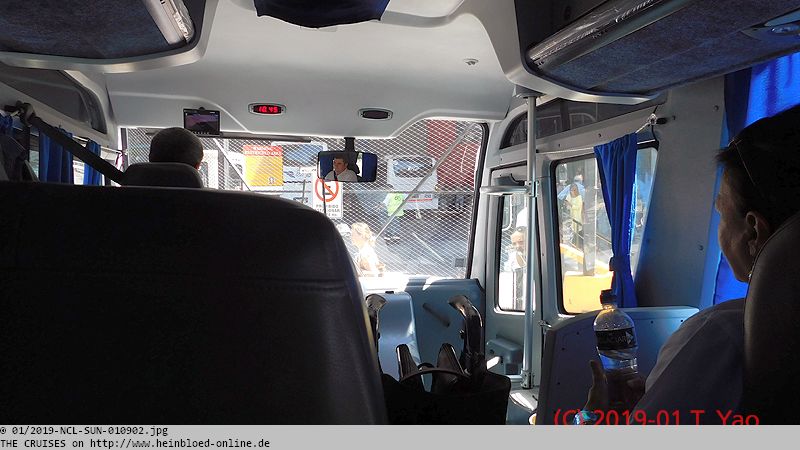 But today I need to say too: BSAS4U/Daytours4U managed it very liable and superb.

Unfortunately, there was nobody from the ship ahead of the check-in area and the hand baggage inspection but only agents from the local agency. It was chaotic since the terminal building was shared by two ships with passenger exchange. So we needed to find our way ourselves before we met Assistant Hotel Director Dieter, who ensured that we would be checked-in all together. That would kill my nerves: Some Platinum or Platinum Plus, Bronze, Newbies with NCL and handicapped and all 11 of us distributed on different counters. Right at the entrance for the check-in, we met Concierge Carlos, whom we knew from NORWEGIAN JADE 2011 (2) and NORWEGIAN JADE 2018. He used the chance to hand us all the paperwork for us but here as well: he noticed on the entire cruise that we did not use his service and so he came and from time to time he knocked at our door and double checked if there would be something he could do for us. We were transferred by bus from the terminal to the ship.

Leider ist das so: vor dem Check-In und der Handgepäckkontrolle ist niemand vom Schiff vor Ort, sondern nur die Mitarbeiter der lokalen Agentur. Es ist chaotisch, weil das Terminalgebäude durch zwei Schiffe mit Passagierwechsel beansprucht wird. So müssen wir uns zunächst alleine durchkämpfen, bevor wir den stellvertretenden Hoteldirektor Dieter treffen, und der dafür sorgt, dass wir zusammen eingecheckt werden. Das hätten meine Nerven nicht mitgemacht: Einige Platinum bzw. Platinum Plus, Bronze, Neulinge bei NCL und Behinderte und alle elf von us auf verschiedene Schalter verteilt. Aber zum Glück hatte Dieter alles in die Hand genommen und wir wurden zusammen eingecheckt. Und direkt am Eingang zum Check-in treffen wir auf Concierge Carlos, den wir von der
NORWEGIAN JADE 2011 (2)
und
NORWEGIAN JADE 2018
her kennen. Er nutzt die Chance uns den ganzen Papierkram zu überreichen und ansonsten fällt auch ihm während der Reise auf, dass wir ihn so selten in Anspruch nehmen und er kommt dann vorbei und hat er immer mal angeklopft und nachgefragt, ob es etwas gäbe, was er für uns tun kann. Mit dem Bus werden wir vom Terminal zum Schiff gefahren.
Wieder zurück bei meiner "Hassliebe"... zuerst habe ich
NORWEGIAN SUN 2008
gehasst und seit der Reise
NORWEGIAN SUN 2012
liebe ich sie.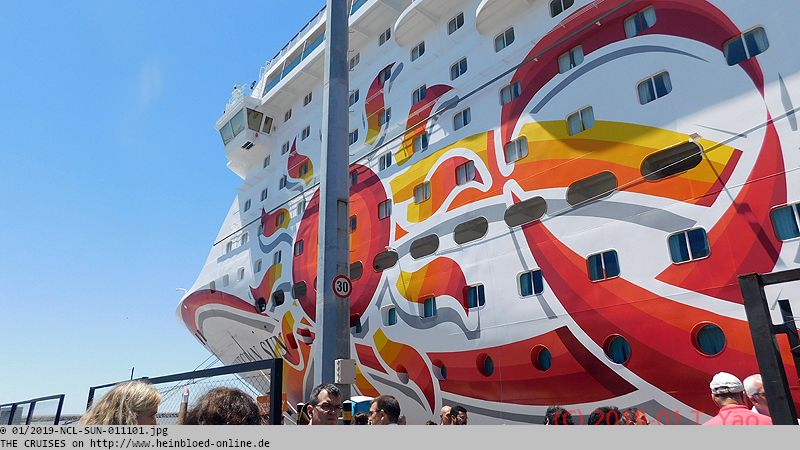 Back again on my "love-hate relationship"... first, I hated my sailing NORWEGIAN SUN 2008, and then I loved her since NORWEGIAN SUN 2012.

And there above, Captain Kim might sit there and see how I was embarking. It was so sad that I could take pictures of him while he was entering the port. Later he called me in the cabin... and he faded out the number... grrr... so I could not call him to give some comments and instructions... cabin service orders...

Und da oben hockt vielleicht Kapitän Kim und guckt mir zu, wie ich einsteige. Schade, dass ich ihn heute Morgen nicht bei der Einfahrt fotografieren konnte. Später hat er mich in der Kabine angerufen... und seine Telefonnummer ausgeblendet... grrr... so kann ich ihn nicht anrufen, um zu kommentieren oder instruieren... auf die Kabine etwas bestellen...
So schöner blauer Himmel... dazu passt NORWEGIAN SUN bestens.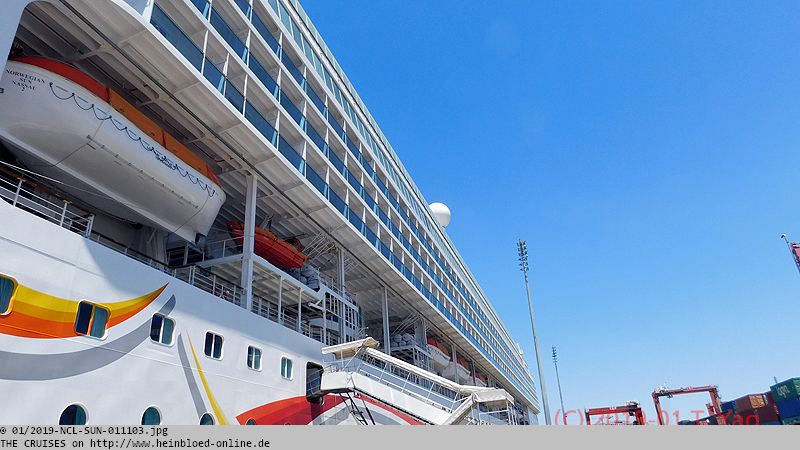 Such a nice blue sky... NORWEGIAN SUN fitted perfectly.

At the baggage storage, we could leave our hand baggage so we could move more relaxed on the ship until the cabins were ready.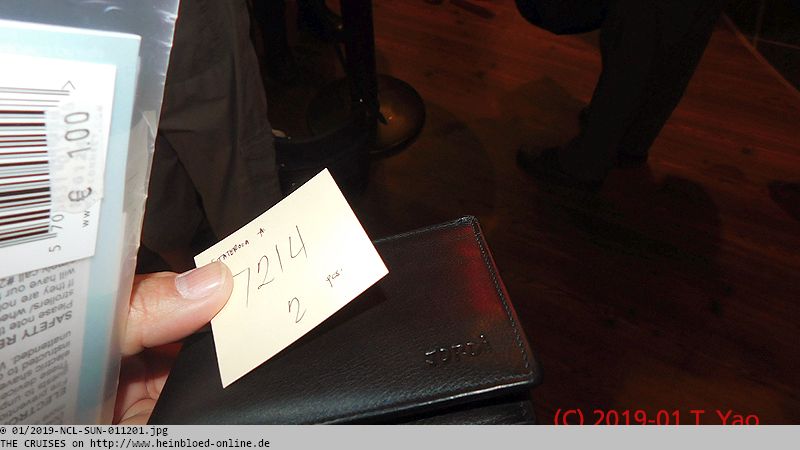 An der Gepäckaufbewahrung können wir zunächst unser Handgepäck abgeben, damit wir entspannter auf dem Schiff uns bewegen können, bis dass die Kabinen bezugsfertig sind.
Wir bekommen quasi einen Sessel zugeteilt, den wir mit unserem Handgepäck gegen Quittung belegen dürfen.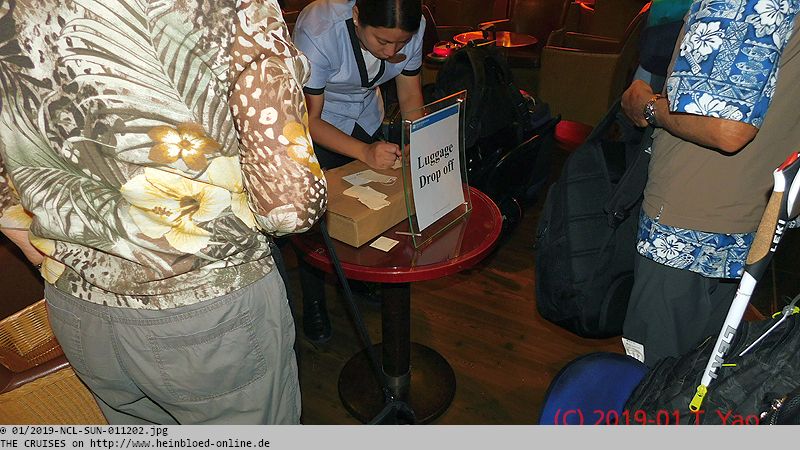 They allocated one chair which we could occupy with our bags against a receipt.

No chance to get more than ten steps onboard and I was welcomed by Hotel Director Igor Futivic. On the right, you see his assistant Dieter Welp. I was very thankful because I really could start vacation very relaxed. Typically, it meant for me as "group-leader" a lot of stress, and the took over the part of the pressure I usually would have onboard. Therefore also thanks again to Klaus Lugmeier in the Corporate Office in Miami, FL and Captain Kim, who helped to set up the contact before the embarkation. My biggest concern was the embarkation, and that went adequately well.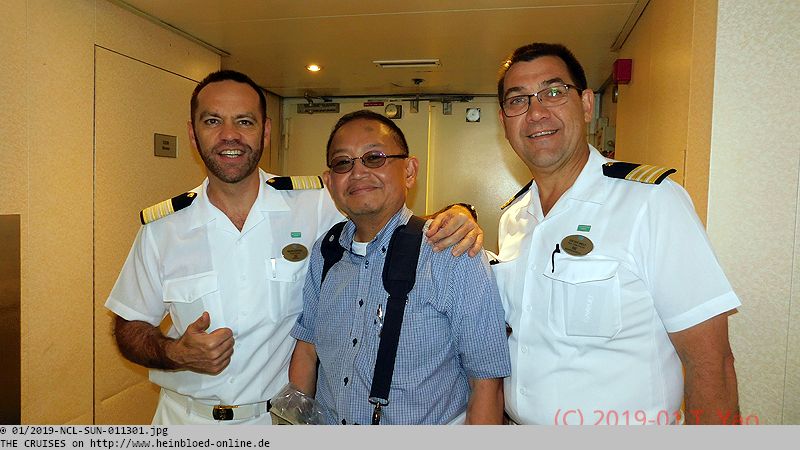 Nach noch nicht einmal zehn Schritten an Bord werde ich von Hoteldirektor Igor Futivic begrüßt. Rechts ist sein Stellvertreter Dieter Welp. Ich bin beiden sehr dankbar, weil ich wirklich entspannt die Reise genießen konnte. Es artet für mich als "Gruppenleiter" immer in Stress aus, aber so haben sie mir oftmals den Stress an Bord zumindest abnehmen können. Dafür auch nochmals vielen Dank an Klaus Lugmeier im Hauptquartier in Miami und Kapitän Kim, die geholfen haben, den Kontakt im Voraus herzustellen. Meine größte Sorge war eben die Einschiffung und die hat wirklich super geklappt.
Wir gehen zum ersten Mittagessen.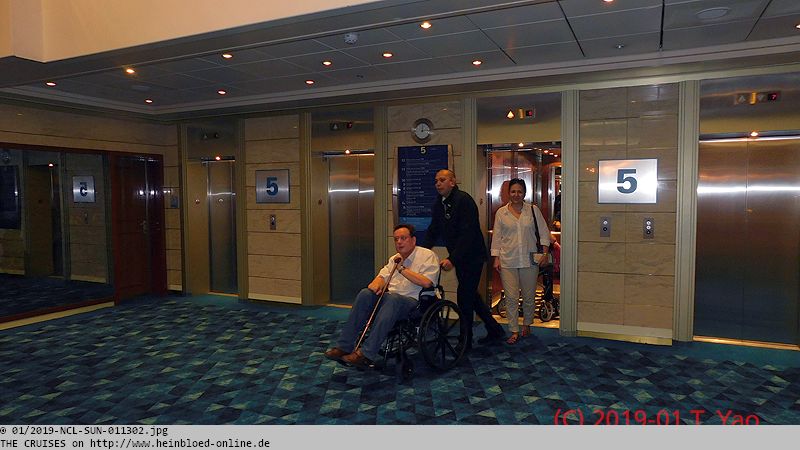 We went for lunch.

They prepared a beautiful table for us in the Seven Seas Main Dining Room.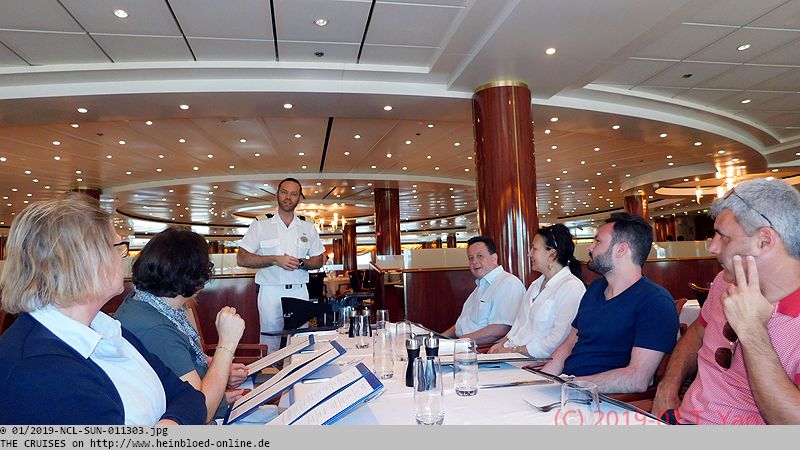 Sie haben einen tollen Tisch uns im Seven Seas Hauptrestaurant vorbereitet.
Das Essen ist gut. Nur gibt es zwei alternative Karten, die sich abwechseln, sowie ein Tagesgericht an Seetagen. Das ist bei einer Fahrt die zwei Wochen dauert, doch etwas eintönig.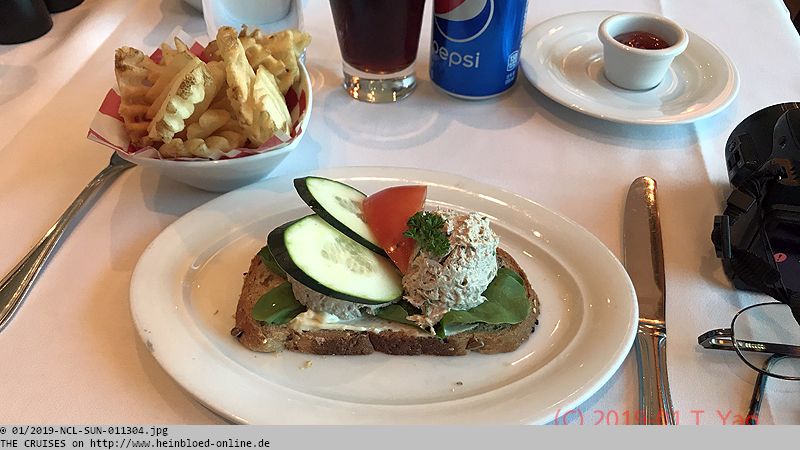 The food was good. Only they had two alternating menus with an additional special on days at sea. For a voyage of two weeks, it was quite monotonous.

Sunny Vaz was our first waiter. If the service level were kept until the end of the cruise, we would have a dream cruise. We experienced already journeys when the crew walked around with unhappier faces, and so it was not so much fun for us either. But to say it ahead: they lived onboard the theme "Happy Crew = Happy Cruise". We delivered a lot make sure that the crew members around us were part of the Happy Crew.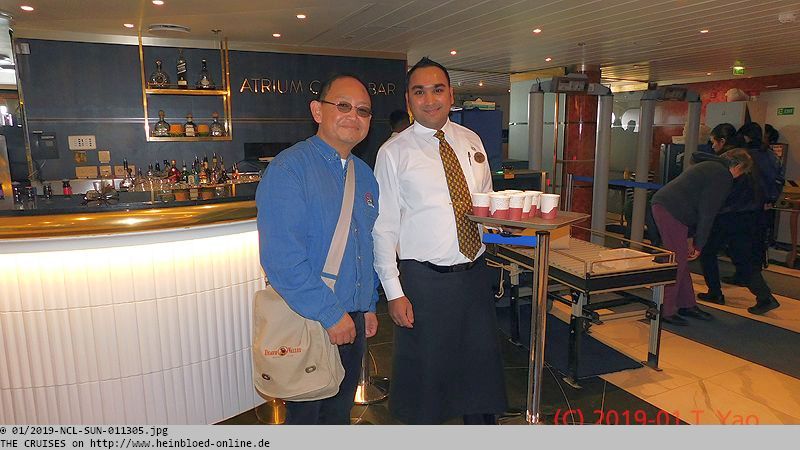 Sunny Vaz ist unser erster Kellner. Wenn wir auf dem Niveau bis zum Ende der Kreuzfahrt bedient werden, dann wird das eine Traumreise. Es gab auch schon Reisen, bei denen die Crew auch schon die Köpfe hingen ließ und es weniger Spaß machte. Aber um es vorweg zu sagen: das Motto "Happy Crew = Happy Cruise" wurde an Bord gelebt. Wir haben aber auch einen großen Anteil dazu beigetragen, dass wir zumindest eine "Happy Crew" rund um haben.
Unsere Kabine 7214. Wir ziehen ja mittlerweile Kabinen vor, die sehr nahe an Treppenhäusern oder Extremlagen haben. In diesem Fall: nahe am Treppenhaus. Erste Kabine. Über uns Kabinen. Unter uns Kabine. Leider: neben uns eine Besenkammer und Treffpunkt für alle Kabinenstewards des Decks und gegenüber ein Crew-Treppenhaus. Aber auch das alles hört man nicht mehr nach drei Tagen. Es hat auch Vorteile: als unser Steward ein Tag außer Gefecht war, konnten wir einfach die Tür öffnen und es stand immer jemand vor der Tür quasi, der uns weitergeholfen hat.

Our cabin 7214. Meanwhile, we preferred staterooms with awkward locations or near the stairways. Here it was: near the stairways. First cabin. Above us cabins. Below us cabins. Unfortunately: next to us a janitor closet and meeting point of all cabin stewards of the deck and opposite of a crew stairway. But after three days, you did not hear it anymore. It also had some advantages: when our stateroom attendant was ill for a day, we could simply open the door, and there was always someone in front of our door and helped.

As usual, we asked to separate our beds for having more space.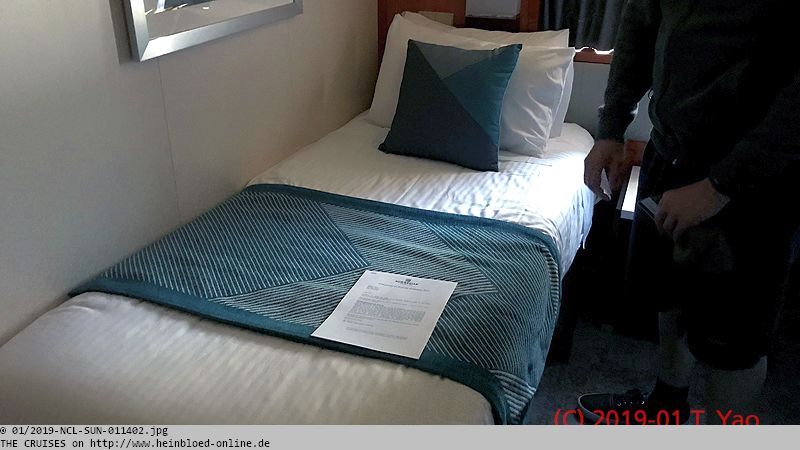 Wie üblich haben wir die Betten auseinander stehen, damit wir mehr Platz haben.
Die Koffer warten vor der Kabine. Alles da!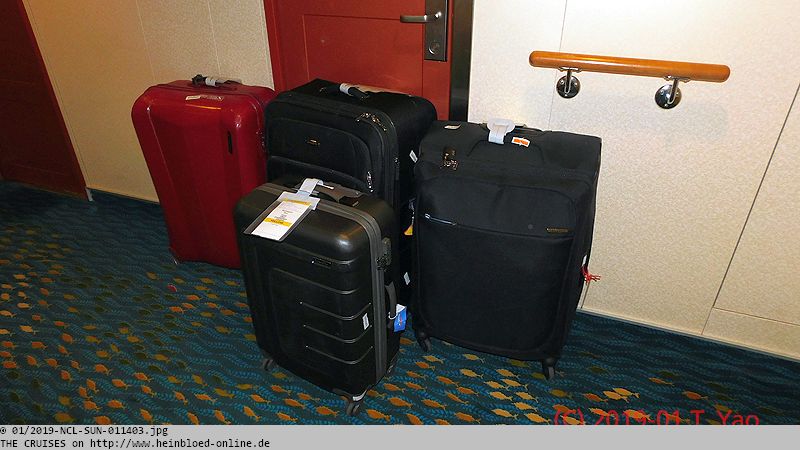 The suitcases were in front of our cabin. Everything arrived!

And every night, we had a towel animal again.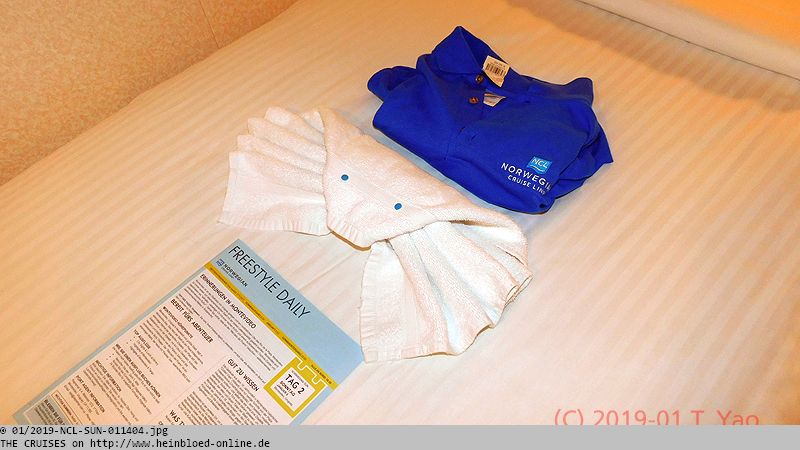 Und es gibt wieder jeden Abend ein Handtuchtier.
Wir lieben die NORWEGIAN SUN: sie stammt noch aus einer Generation, als der Gast im Mittelpunkt der Schiffe stand und man sehr viele Details noch eingebaut hatte, die das Leben in der Kabine erleichtern. Schön ist, dass es jetzt USB-Ports an den Nachttischlampen gibt. Sehr schön ist das hohe Bordguthaben, das wir noch zusätzlich bekommen haben. Dafür hat sich
UNSERE
Dorothy von Cruise Brothers
eingesetzt, dass wir das auf dieser Reise komplett nutzen können. Wie üblich leiten wir die Luft aus der Klimaanlage seitlich um.

We loved NORWEGIAN SUN: she was of a generation when the guest was in the center of attention on the ships, and they included a lot of details to ease the life onboard. It was nice now to have USB-ports at the night lamp. I also got an additional high onboard credit due to other reasons. And OUR Dorothy of Cruise Brothers was fighting for me that I could use it on this voyage. As usual, we diverted the air blow of the air-conditioning to the side.

In the bathroom, we found sufficient space to store our belongings.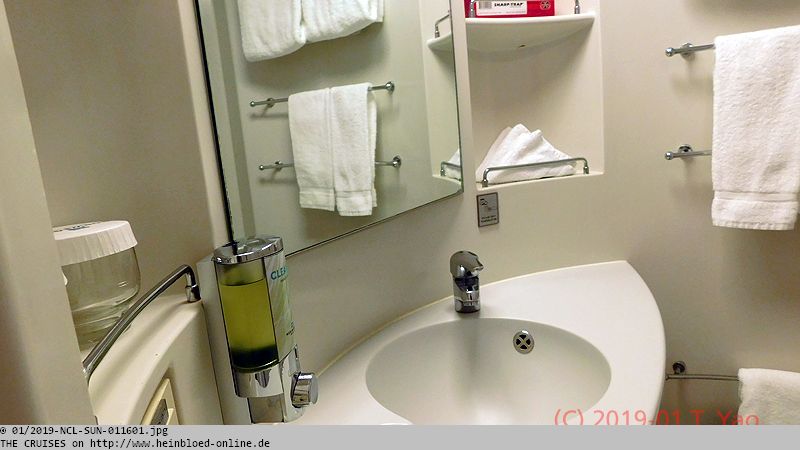 Im Bad sind wieder genügend Ablageflächen.
Nur wenn sie mal eines Tages den Hotelfön gegen einen Friseurfön ersetzen würden, wäre das noch schöner. Aber da ich mich eh nie föne, komme ich persönlich damit sehr gut klar.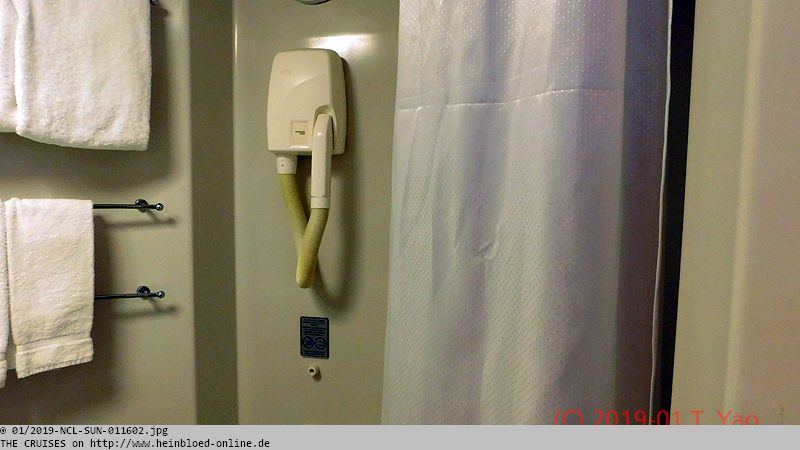 If they would replace one day the hotel hair dryer against a hairdresser style one, it would be nicer. But since I never used the hair dryer, I personally had no problem.

Then on our very first voyage on NORWEGIAN PEARL 2006, you also had a shoe mint. At least the body lotion returned.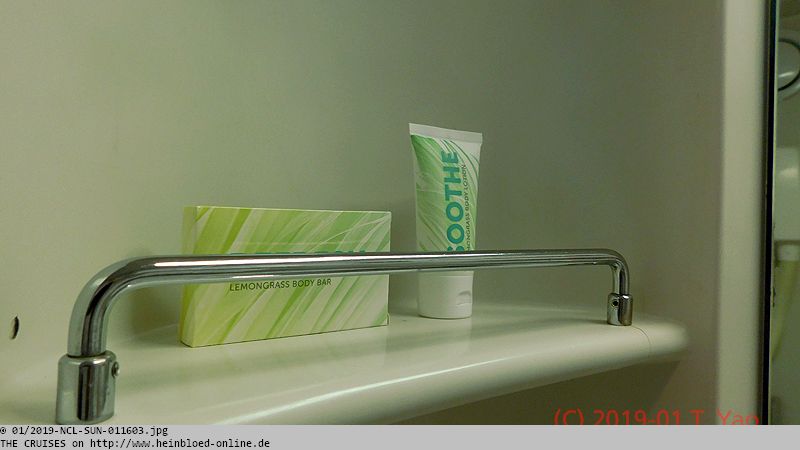 Damals auf unserer allerersten Reise auf der
NORWEGIAN PEARL 2006
gab es noch Schuhschwämmchen. Wenigstens ist die Bodylotion zurück.
Im Atrium Café gibt es kein
Lavazza
mehr, sondern
Starbucks
. Sehr ärgerlich Lavazza bekam man auf Anfrage in Porzellantassen und hier leider alles nur in Pappe. Die arme Umwelt. Allerdings erlauben die Pappbecher auch mal "kreativ" zu beschriften: das ist hier auf jeden Fall gelungen: Vielen Dank für den ersten Lacher Avishek Nunkoo. Ein Grund, warum wir uns von NCL verabschieden wollten und es mal unsere allerletzte Reise mit NCL sein sollte: es wurde immer lauter. Erstmalig nehmen wir klassische Musik auf der NORWEGIAN SUN besser NCL war: die Streicher von Atlantis Strings (Réka Fazekas, Matyas und Ábel Guttman) spielen im Hintergrund. Normalerweise kennen wir nur von Cunard, Princess und Holland America, dass wir regelmäßig auch Klassik hören können. NCL macht es einem auch wirklich schwer, sich von ihnen zu trennen und setzt wirklich "Kampftruppen" ein, um uns zurück zu erobern. Es bleibt jedoch nicht bei der "Kampftruppe": Im Laufe der Reise folgt noch eine ganze "Armee"! Am Schluss haben wir kapituliert und für 2020 wieder unsere NORWEGIAN JADE gebucht (bisher wurden noch keine Sommerreisen für die NORWEGIAN SUN, NORWEGIAN SKY und NORWEGIAN SPIRIT veröffentlicht - schade!).

In the Atrium Café they had no Lavazza anymore but Starbucks. It was very angry because you could get Lavazza in porcelain cups on request and here you had everything in paper cups. Poor environment! But the paper cups allowed to write on creatively: for sure, that they did it successfully: thanks for the first laughter Avishek Nunkoo. One reason, we wanted to bid farewell from NCL, and it should become our very last voyage with NCL: it always became louder. It was the first time that we noticed classical music on NORWEGIAN SUN or NCL: the stringers of Atlantis Strings (Réka Fazekas, Matyas, and Ábel Guttman) were playing in the background. Normally we only knew it from Cunard, Princess and Holland America, that we could regularly listen to classical music on board too. NCL did everything to make it really hard, to separate from them and deployed "battle troops", to capture us with them. It did not stay with one "battle troop": During the cruise, an entire "army" followed! Finally, we capitulated, and for 2020 we booked again NORWEGIAN JADE (so far no summer vacation on NORWEGIAN SUN, NORWEGIAN SKY, and NORWEGIAN SPIRIT were published - very sad!).

The internet... the "stepchild" of NCL unfortunately. During other meanwhile offered better prices and performance on the market, NCL kept the standard, like on our very first cruise on NORWEGIAN PEARL 2006.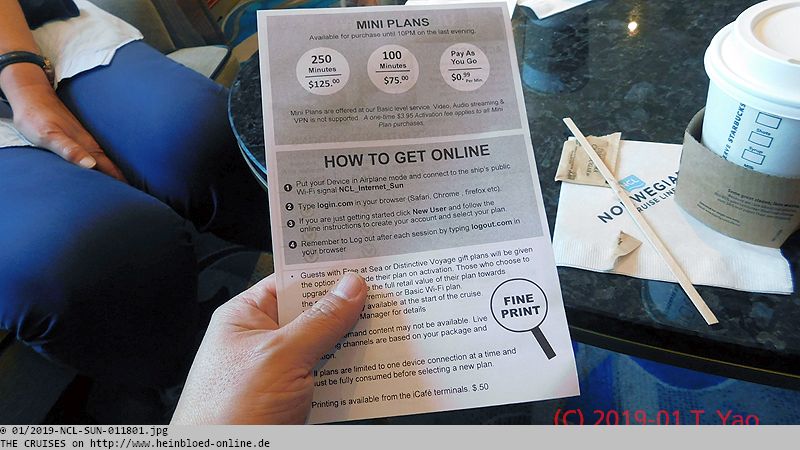 Das Internet... bei NCL leider ein absolutes "Stiefkind". Während andere bessere preislich und leistungsmäßig auf dem Markt bringt, steht NCL immer noch auf dem Stand, wie damals auf unserer allerersten Reise auf der
NORWEGIAN PEARL 2006
.
Was man bei der all-cruise Flatrate wissen sollte: Man muss nicht am ersten Tag einsteigen, allerdings darf man nur bis zum 3. Tag dieses Angebot nutzen und dann anteilig für den Rest bezahlen. Also ist es doch möglich die ersten 250 Minuten nutzen und dann später in eine Flatrate einsteigen.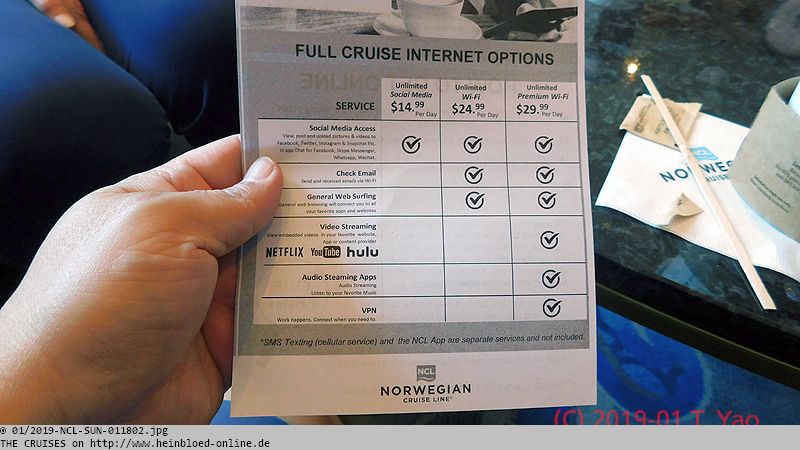 What you should know with the all-cruise flat rate: No need to join the very first day but restricted to participate at the third day to use it and to pay prorated for the remainder. So it was possible to use the 250 minutes first and join later the flat rate.

Next time, we would buy the premium package.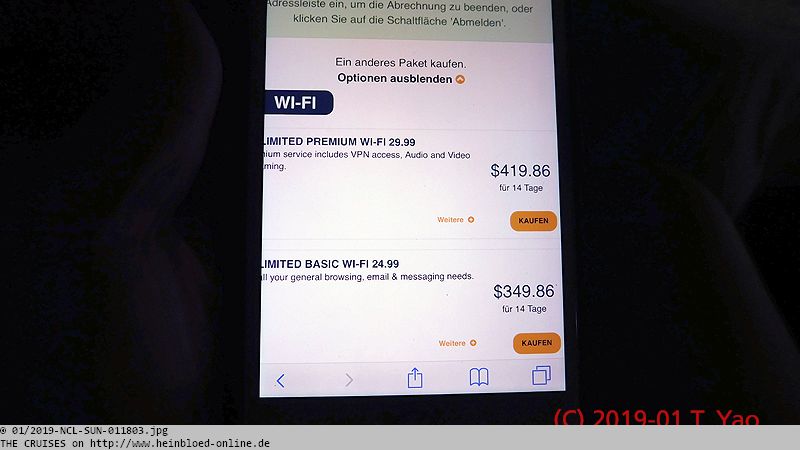 Das nächste Mal wird das Premium Paket gekauft.
Mit dem Social Media komme ich nicht aus.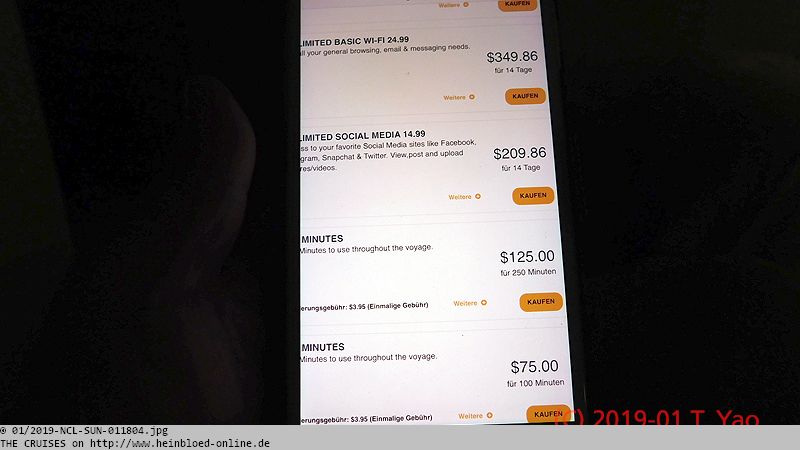 I could not stand with the Social Media only.

We ordered a water package yet.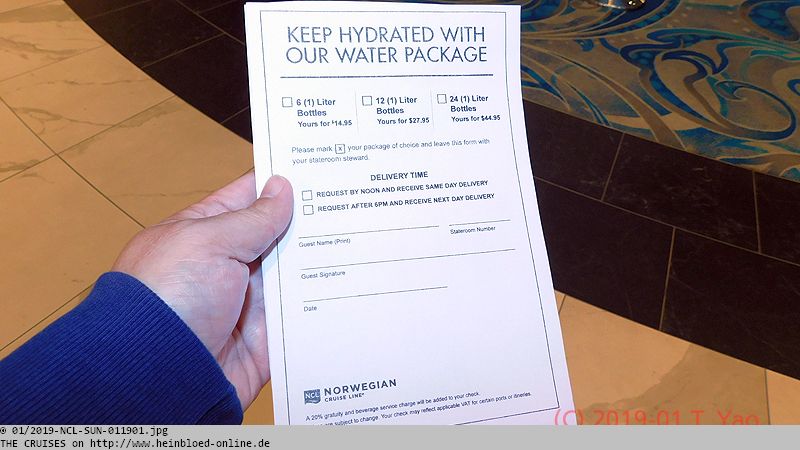 Wir beschaffen uns noch ein Wasserpaket.
Das Wasser wird uns ins Zimmer geliefert. Da muss ich sagen: da mag ich lieber das Angebot von Celebrity, wie wir es auf der
CELEBRITY MILLENNIUM 2014
hatten: Das
Evian
Paket. Einfach an der Bar eine frische Flasche holen. Zumal es jetzt nicht mal mehr
Aquafina
von
Pepsi
ist, sondern eine NCL Eigenmarke, die mir nicht so schmeckt.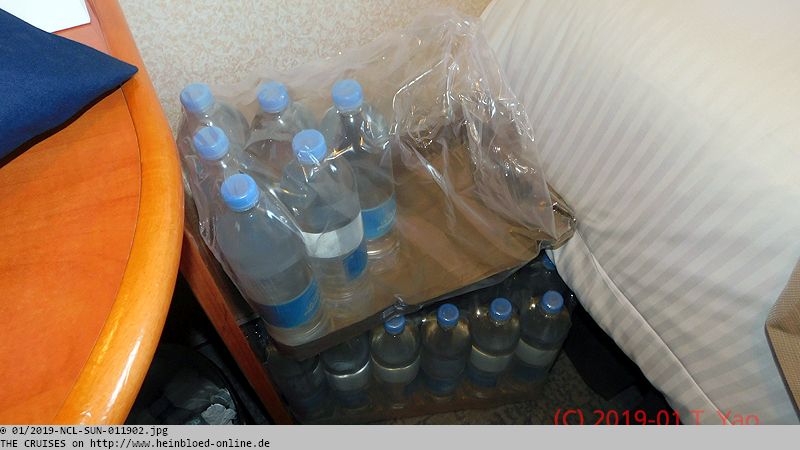 They delivered the water to our cabin. I had to say: I liked more the offer of Celebrity like we had on CELEBRITY MILLENNIUM 2014: the Evian package. Just get a fresh bottle at the bar. Especially as it was not now Aquafina from Pepsi anymore but an NCL own brand, which I did not like so much.

We took a smaller empty bottle onboard. So we could merely refill some.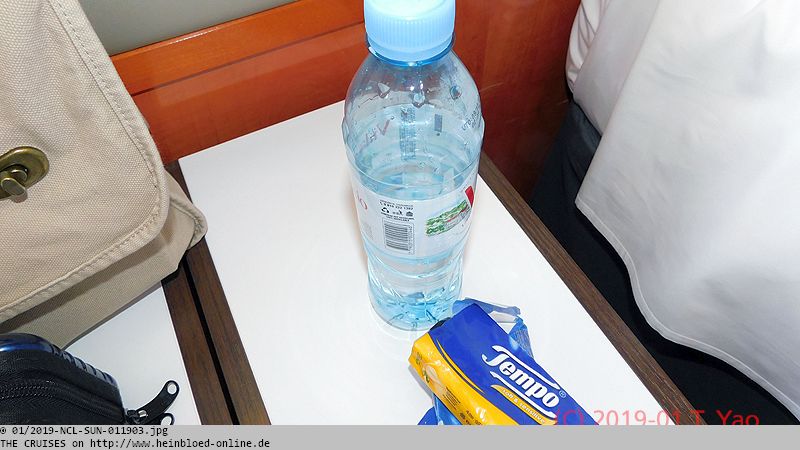 Wir hatten eine kleine leere Flasche mit an Bord gebracht. So können wir immer etwas umfüllen.
Seenotrettungsübung: das ganze findet draußen auf der Sammelstation C statt.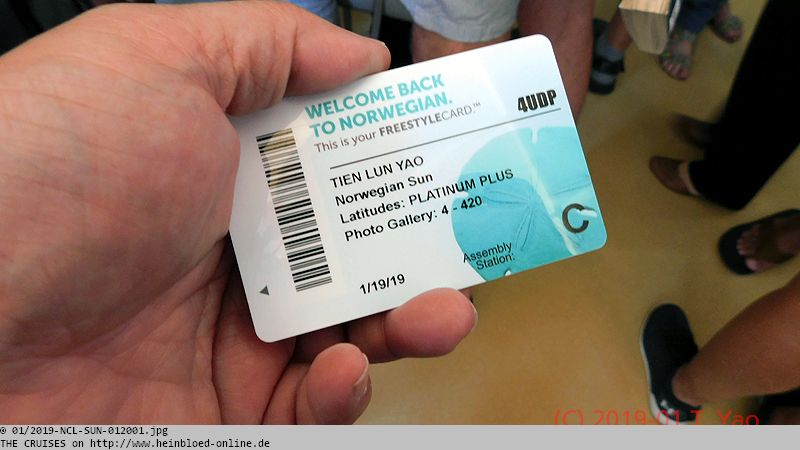 Life drill: was done outside at muster station C.

When we arrived early for the life drill, it was as empty, as on the picture. Then they started to make announcements that everybody should show up. Someone forgot to open the deck after bunkering, so you had chaos as a result.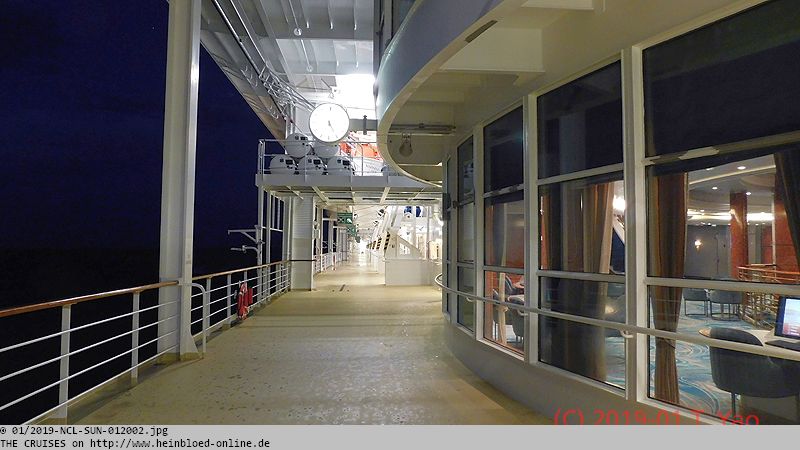 Als wir frühzeitig zur Seenotrettungsübung kommen, ist es hier genauso leer, wie auf dem Bild. Dann starten die Ansagen, dass jetzt alle kommen sollen. Jemand hat vergessen, das Deck nach dem Bunkern wieder freizugeben, mit dem Ergebnis, dass es dann Chaos gibt.
Solange es draußen angenehm ist und es nicht in zu vielen Sprachen abgehalten wird, ist es in Ordnung.

As long as it was convenient outside and it would not be conducted in too many languages, it was fine.

To have everything ruled. Jogging outside and walking inside.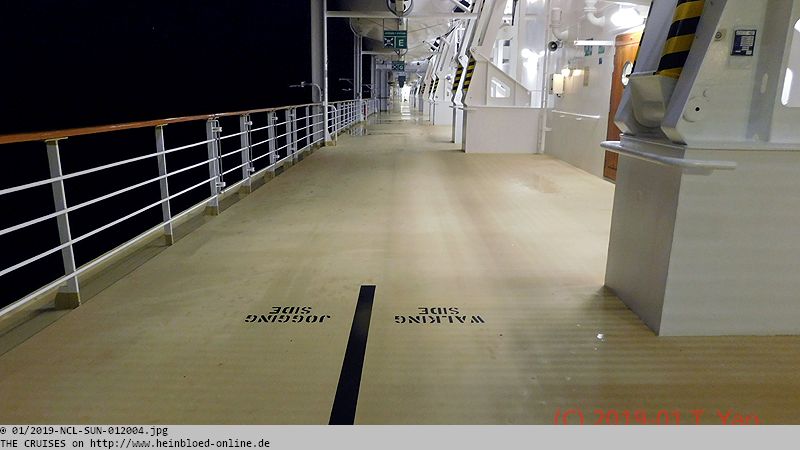 Damit auch das geregelt ist. Läufer außen und Geher innnen.
Ich bin ganz glücklich: frische Kirschen.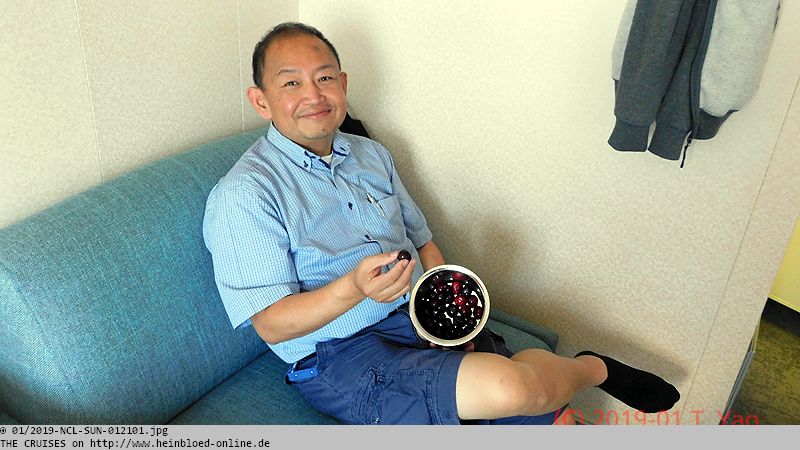 I was totally happy: fresh cherries.

The set sail in Buenos Aires, we experienced from the cabin of Rossita and Ekkehard. But unfortunately, it was not so spectacular, since we were in the middle of an industrial port and were quickly out of town. Since the Rio de la Plata had a width up to 150 miles, you did not have a spectacular exit like you had on the river Elbe between Hamburg, Germany and Cuxhaven, Germany.

Das Ablegen von Buenos Aires erleben wir von der Kabine von Rossita und Ekkehard. Aber leider ist es wenig spektakulär, da wir ja mitten in einem Industriehafen sind und sehr schnell raus aus der Stadt sind. Da der Rio de la Plata bis zu 220 km breit ist, gibt es leider keine spektakuläre Ausfahrt wie auf der Elbe zwischen Hamburg und Cuxhaven.
Ciao COSTA FASCINOSA.

Ciao COSTA FASCINOSA.

And also Ciao AZAMARA PURSUIT. See you in June in Venice, Italy.

Und auch Ciao AZAMARA PURSUIT. Bis Juni in Venedig.
Wir sehen uns mal die Senior Offiziere an, mit denen wir zu tun haben werden. Von der Tafel kenne ich nur Kapitän Kim und Concierge Carlos.

We looked around with the Senior Officers we normally were dealing with. From the board, I only knew Captain Kim and Concierge Carlos.

For dinner, we went to the Four Seasons. It was easier for Ekkehard since the elevator went directly from his deck to here. They prepared two tables for us. The large round table in the center, which we did not take because we would need to walk across with Ekkehard through the entire dining room and you would need some space to store, and it was too loud. And alternatively, we could have the "extension" which was close to the entrance with a lot of space to store, and it was so great since it was so calm here. In the future, I would only ask for a table for 2 in the "extension". The service here was just excellent: the Restaurant Manager Mihaela Mocan: totally great. She moved all the responsibility to Maître D' Wilson D'Souza - but he could not move to someone else because someone from NORWEGIAN SKY 2015 was faster: Revi Languido noticed that we would be on NORWEGIAN SUN and she already gave before instructions to her friends Rodalyn Canaveral and Tommy Pascual to take personally care of me. That was what I loved with NCL: once you entered a ship, on which you did not expect anyone who knew you from the crew. There would always be someone on Facebook noticed that I was there and would tell their friends on the ship: Greetings to Mr. Tien and Mr. Bruno and take care of yourself that they would have a good time on board. So it was not very difficult to find new friends with the crew because we were treated outstanding: Eugenia Caballa, Naili Mahfudi, Muhammad Mulim. If they continued to cook this way and to serve us entirely, I would just get my bedding to here and would stay here 24/7 in the "extension"... Some would need to add a bathroom here... An outstanding beginning of a great cruise came to an end.

Zum Abendessen geht es in das Four Seasons. Es ist einfacher für Ekkehard, da der Fahrstuhl direkt von seinem Deck hierher führt. Für uns wurden zwei Tische vorbereitet: der große runde in der Mitte, auf dem wir gerne verzichten, weil wir dann mit Ekkehard einmal quer durch den Saal müssten und man immer auch einen Abstellplatz braucht und es zu laut ist und alternativ die "Erweiterung", die direkt in der Nähe des Eingangs befindet, jede Menge Platz zum Abstellen hat und vor allem, weil es hier schön ruhig ist. Ich werde künftig immer um einen 2-er Tisch in der "Erweiterung" mir wünschen... denn der Service hier ist ganz toll: die Restaurant Managerin Mihaela Mocan: ganz toll... hat dann die ganze Verantwortung auf Maître D' Wilson D'Souza übertragen... der kam gar nicht dazu, das weiter zu übertragen, weil jemand auf der
NORWEGIAN SKY 2015
schneller war: Revi Languido hat mitbekommen, dass wir auf der NORWEGIAN SUN sind und kurzerhand ihren Freunden Rodalyn Canaveral und Tommy Pascual beauftragt, sich persönlich um mein Wohl zu kümmern. Das ist das schöne bei NCL: auch wenn du auf ein Schiff kommst, bei dem du nicht erwartest, dass jemand dich von der Crew kennt: irgendjemand auf Facebook bekommt mit, dass du auf einem Schiff bist und ein Crewmitglied sagt seinen Freunden auf dem Schiff Bescheid: Grüße an Mr. Tien und Mr. Bruno und kümmere dich persönlich darum, dass sie es gut bei dir haben. So ist es auch nicht schwer, dass wir sehr schnell auch neue Freundschaften mit der Crew schließen, weil sie uns ganz toll behandeln: Eugenia Caballa, Naili Mahfudi, Muhammad Mulim. Wenn weiter so gekocht wird und wir so toll bedient werden, hole ich einfach mein Bettzeug runter und bleibe 24/7 hier in der "Erweiterung"... Jemand müsste mir nur noch ein Bad hier einbauen... Ein toller Anfang einer tollen Kreuzfahrt geht zu Ende.
Die anderen Reisen in diesem Blog/
The other voyages in this blog: