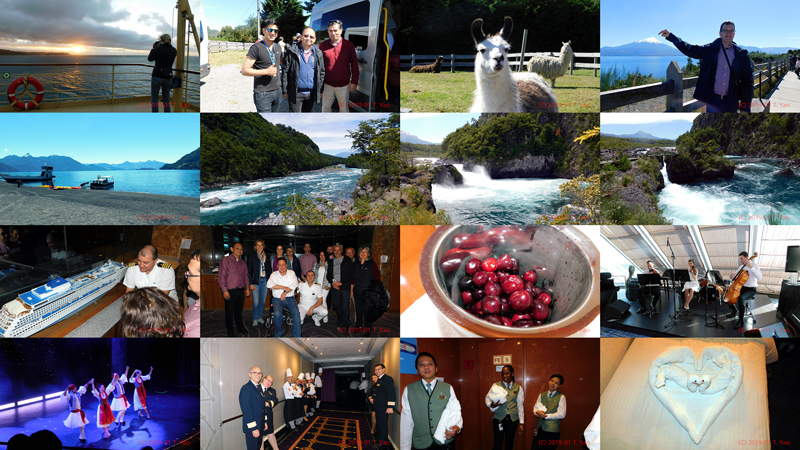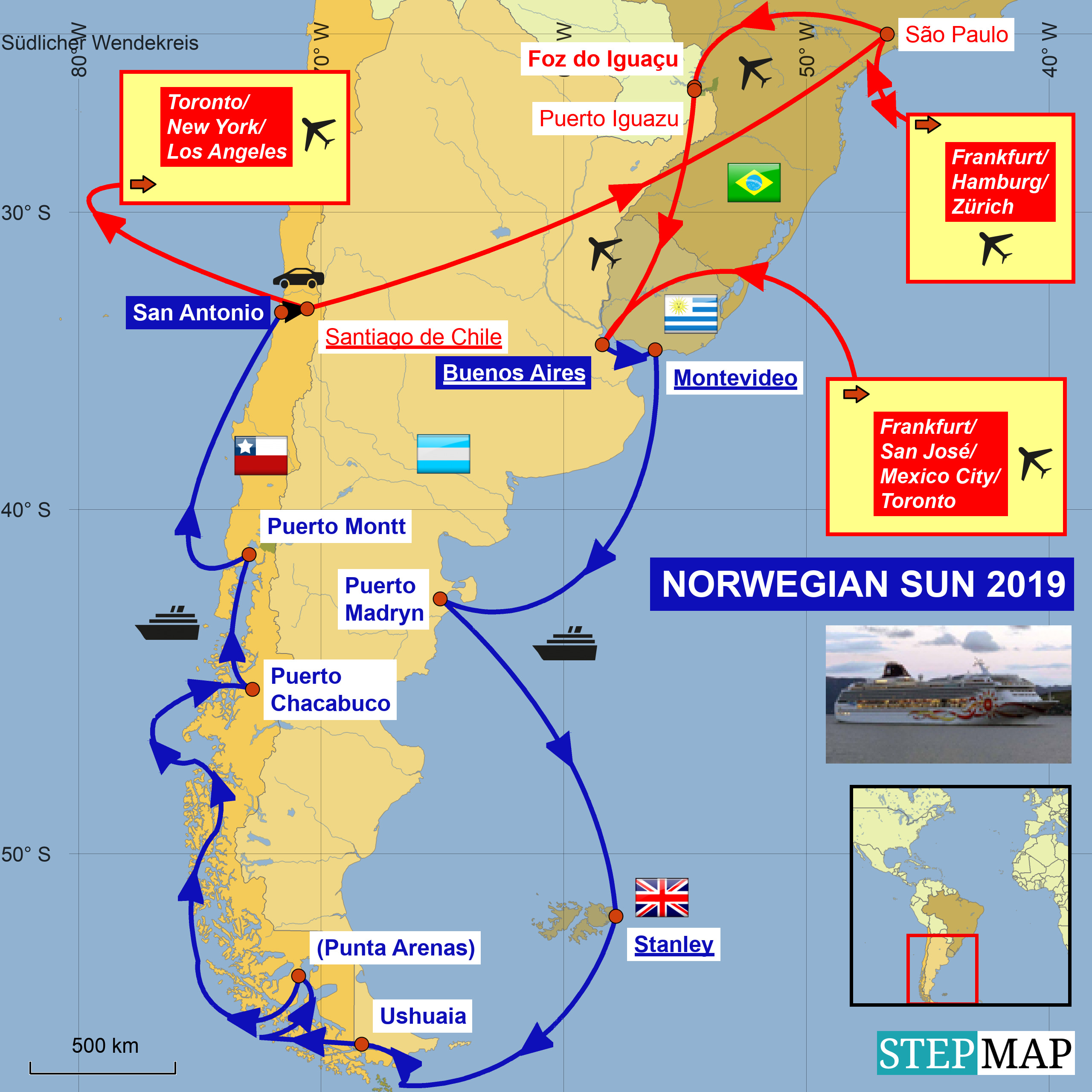 So ein wunderbarer Morgen. Martina und ich können nicht loslassen. Der Sonnenaufgang über Puerto Montt fesselt.

Such a wonderful morning. Martina and I could not leave it. The sunrise over Puerto Montt, Chile, was arresting.

We went for breakfast.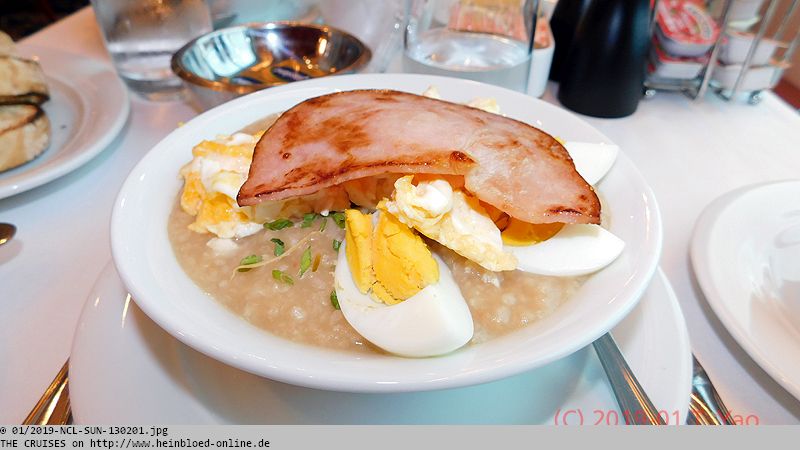 Es geht zum Frühstück.
Wieder etwas Roggenbrot.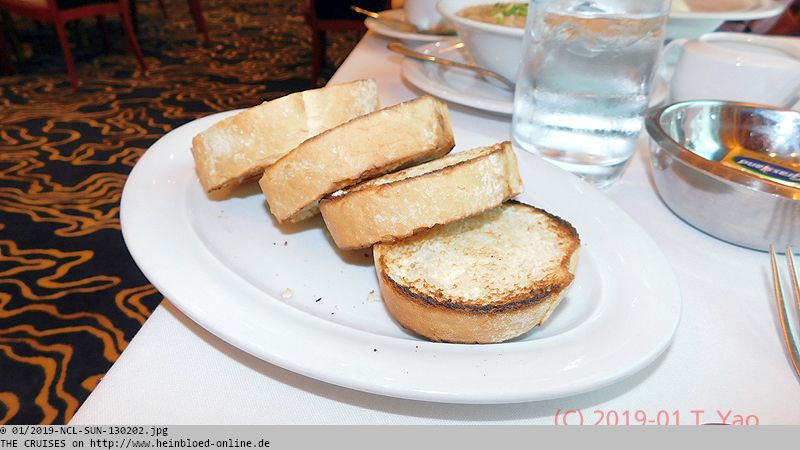 Again, I got some rye-bread.

The baggage tags were available for pick-up. We all got yellow baggage tags, and so we could leave at any time off the ship.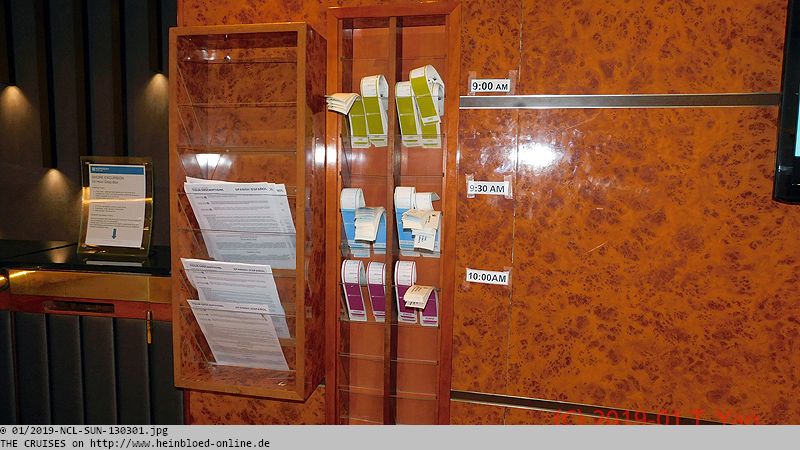 Die Gepäckanhänger stehen zur Mitnahme bereit. Wir alle bekommen gelbe und können so jederzeit von Bord.
Ankunft mit Puerto Montt. Hier werden vor Betreten des Tenders nochmals die Gelegenheit gegeben, nochmals Lebensmittel zu entsorgen. Aber einige kapieren es einfach nicht und werden wieder an der Kontrolle im Terminal erwischt. Da die See etwas unruhig sind, liegen Tüten sicherheitshalber bereit. Im Zelt-"Terminal" ist alles sehr schön vorbereitet.

We arrived in Puerto Montt. Here, they offered again a chance to dispose of food items, before entering the tender. But there were always some, who did not understand and were caught at the checkpoints in the terminal. Since the sea was a little rough, they kept bags available to feel safe. In the tent-"terminal" it was nicely set up.

Although I had many pictures: I had to do it again.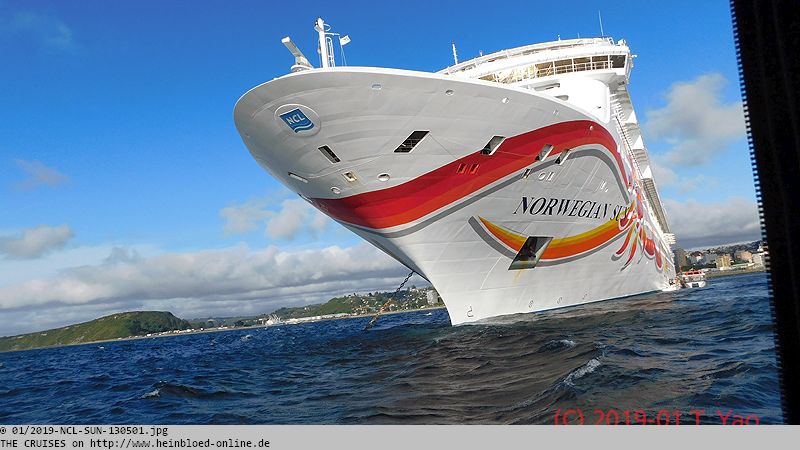 Trotz vieler Bilder: es muss sein.
Vor allem bei dem schönen blauen Himmel.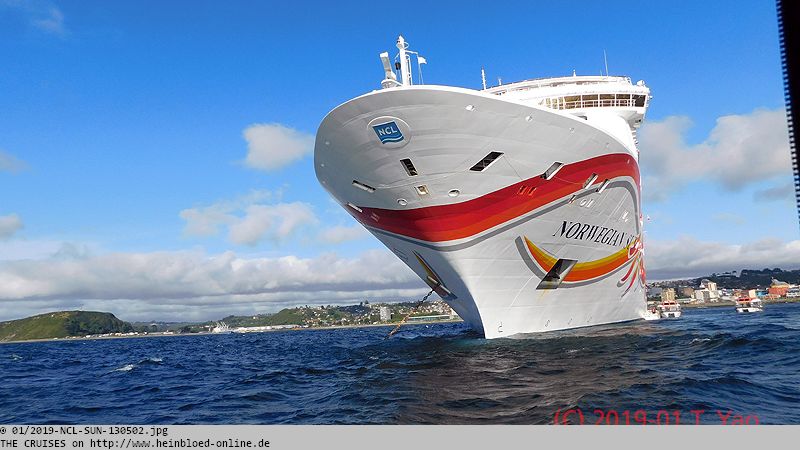 Especially, since we had such a nice blue sky.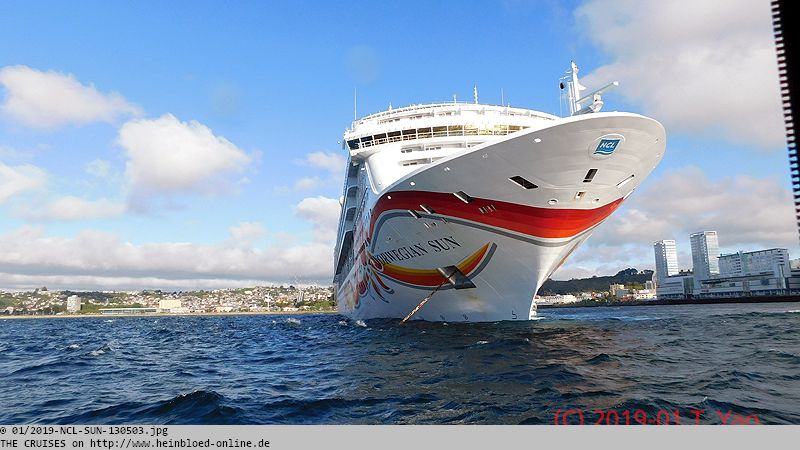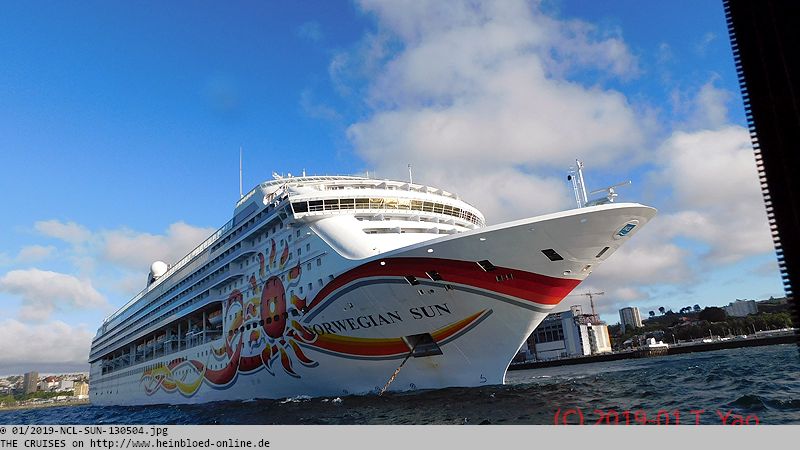 Denis Putrov of Puerto Montt Excursiones arranged the tour for us. Unfortunately, I had no chance to make the personal acquaintance of him and to thank him for all arrangements. He sent us Carlos with driver Jorge. The payment needed to be made here in cash. That was very pleasant for cruisers - no risky deposit. Nevertheless, I transferred the major part of the amount in advance by TransferWise, since I did not like to carry several thousands of dollars with me in different currencies.

Denis Purtov von
Puerto Montt Excursiones
hat die Tour uns arrangiert. Leider habe ich keine Chance ihn persönlich kennenzulernen und für die Arbeit zu bedanken. Er schickt uns Carlos mit Fahrer Jorge. Die Bezahlung erfolgt erst hier in bar. Sehr angenehm für Kreuzfahrer - kein Anzahlungsrisiko. Wobei ich habe meistens den größten Teil habe ich vorab mit
TransferWise
überwiesen, weil ich keine Lust hatte, tausende von Euros in verschiedenen Währung in bar mitzuführen.
Zunächst geht es zu dem Denkmal für die deutschen Einwanderer am Plaza de Armas de Puerto Montt. Kurz geht es in die Kathedrale
Nuestra Señora del Carmen Puerto Montt
rein. Ich gehe zu
LATAM
, die direkt neben der Kirche ihr Büro haben. Hier kann aber keiner helfen. Es geht offensichtlich nur am Flughafen in Santiago de Chile. Wir bekommen eine Mail, dass wir für Business Class-Sitze mitbieten sollen, aber eben auch für den leeren Sitz. Das macht ja absolut keinen Sinn.

First, we went to the memorial for the German immigrants at Plaza de Armas de Puerto Montt. For a quick visit, we stepped into the cathedral Nuestra Señora del Carmen Puerto Montt. I went to LATAM which had an office just next to the church. Here, nobody was able to help. It was only possible at the airport in Santiago de Chile. We got a mail that we could bid for the Business Class-seats, but we had to do it too for the empty seat. That would not make any sense.

We went to an observation point Mirador "Manuel Montt"; we felt like "home" because there were German phrases around.

Es geht hoch zu einem Aussichtspunkt Mirador "Manuel Montt", an dem wir uns auch "heimisch" fühlen, weil es hier einen "Ausblick" am Kiosk gibt.
Am Lago Llanquihue in der Caféteria El Mirador gibt es "Kuchen". Dieser Begriff wurde von den deutschen Einwanderer übernommen. Es ist bloß kein einziger Kuchen zum Verkauf da. Die Toiletten dürfen nur Kunden, die Souvenirs kaufen, kostenlos nutzen. Alle anderen müssen bezahlen. Hier gibt es auch Lamas zu sehen. Für das Füttern sind wieder 2 USD fällig.

At the lake Lago Llanquihue in the Caféteria El Mirador they had "Kuchen". The German expression for a cake was taken from the German immigrants. But there was no singe cake available for sale. Only customers, who bought souvenirs, could use the toilets for free. All others needed to pay. Here we could also see some lamas. For feeding the animals, you needed to pay 2 USD extra.

From here you had a beautiful view of the Osorno Volcano. Due to the time indications which were too optimistic in South America (worse than in Italy!), I did not want to risk to go on top of the volcano and to miss the tender boat later. And I was right: we caught the second but last tender and to sit all the time in the car and be there for ten minutes on the top, it was not worth. In case we would miss the tender boat, we could just get by plane to Santiago de Chile, but I would really like to skip the need to get on the ship to pack quickly. The distance in South America was not 15 minutes away but 30 minutes. As a group leader, I had to be sometimes a spoilsport and use the brake if necessary or to speed up accordingly.

Von hier hat man einen schönen Blick auf den Vulkan Osorno. Aufgrund der zu optimistischen Zeitangaben, die man in Südamerika bekommt (noch schlimmer als in Italien!), riskiere ich nicht, dass wir zum Vulkan rauf fahren und hinterher den Tender verpassen. Und ich behalte Recht: wir erwischen später den vorletzten Tender und nur die ganze Zeit im Wagen sitzen, um später zehn Minuten oben zu sein, ist die Sache nicht Wert. Wenn wir hier den Tender verpassen, kämen wir zwar einfach mit dem Flugzeug nach Santiago de Chile, aber dann an Bord zu kommen, um dann schnell zu packen, muss man tunlichst vermeiden. Es ist eben hier in Südamerika nichts 15 Minuten entfernt, sondern 30 Minuten. Da muss ich als Gruppenleiter auch Spielverderber sein und auf die Bremse treten bzw. Vollgas geben lassen.
Wir sind im
Nationalpark Vincente Pérez Rosales
. Hier geht es kurz nochmals zum Ufer des Lago Llanquihue.

We went to Vincente Pérez Rosales National Park. Here, we went quickly to the banks of the Lago Llanquihue.

On the way back, we went to the green Laguna. I assumed that we saw already too much water: The South Atlantic - the South Pacific - Iguazu... So it could not really make me exciting.

Auf dem Rückweg geht es dann zur grünen Lagune. Wahrscheinlich haben wir schon zuviel Wasser gesehen: Den Südatlantik - den Südpazifik - Iguazu... so wirklich reißt mich das jetzt nicht vom Hocker.
Jetzt probieren wir Kuchen: Es müssen Odenwälder hierher gezogen sein, um die Esskultur zu beeinflussen. Sieht aus wie ein Streuselkuchen aus dem Odenwald.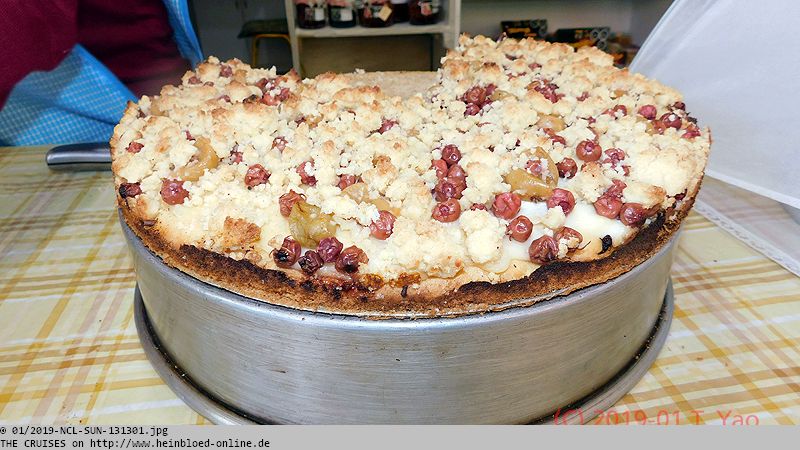 Now we tried the cake: There should some from our region moved to this place to influence the food culture. Looked like a German-style grumble from our area.

And it tasted like a German-style grumble from our area made of yeast dough. Only the berries were from here.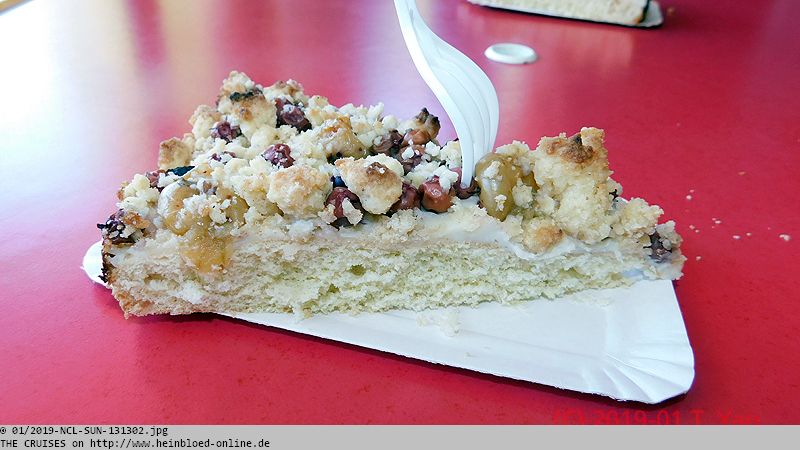 Und er schmeckt auch wie ein Streuselkuchen auf Hefebasis aus dem Odenwald. Nur diese Beeren sind von hier.
Weiter geht es zum Fluss Petrohué. Hier werden wir von RIESIGEN Pferdefliegen (Bremsen) regelrecht angegriffen. Es gibt wohl noch so ganz winzige Mücken (vermutlich Gnitzen/Bartmücken), die auch ziemlich unangenehm zubeißen, und die wir unbedingt vernichten sollen. Leider haben wir keinen Mückenschutz dabei.

We headed to the river Petrohué. Here, we were really attacked by GIANT horse-flies. There were also some very tiny mosquitos (I assume no-see-ums/biting midges) which could bite unpleasantly, and we should kill them accordingly. Unfortunately, we had no repellent with us.

From here, you could see the Osorno volcano again. Here you could also see well the lava cake.

Von hier aus ist nochmals der Vulkan Osorno zu sehen. Bis hierher sieht man auch gut die Lavamassen.
Am Lago Todos los Santos ist es zwar ganz nett, aber die Pferdefliegen vermiesen uns den Aufenthalt. Jeder versucht sich auf seine Art zu schützen.

It was nice at Lago Todos Los Santos but all the horse-flies were ruining our stay. Everyone tried to protect himself in his individual way.

We headed to Saltos del Petrohué. Here the river was guided through ponds and canalas, which were created by the lava. It was nice. And they had smaller waterfalls totally different of those in Iguazu or Coyhaique.

Weiter geht es nach Saltos del Petrohué. Hier wird der Fluss durch Becken und Kanäle geleitet, die durch das Lava gebildet wurden. Ist ganz nett. Und auch kleine Wasserfälle ganz anders als in Iguazu oder in Coyhaique.
Am Schluss halten wir kurz in Puerto Varas, um uns die Füße zu vertreten. Hier kaufe ich schnell ein paar Kirschen und ein paar
Movistar-SIM-Karten
für ein paar verdiente Crew-Mitglieder, damit sie mal mit ihren Familien kommunizieren können, solange wir in Chile sind. Einziges Problem: die Aktivierung der letzten Karte hat erst nach 24 Stunden geklappt. Hoffentlich hat die Crew mehr Glück. Hier sieht man überall die Spuren deutscher Einwanderer.

At the end, we stopped in Puerto Varas for a brief walk. Here, I bought some cherries and a few Movistar-SIM-cards for some crew-members who deserved them to communicate with their families as long as we were in Chile. The only problem: the activation of the last card worked after 24 hours. I hoped that the crew had more luck. Here you could find roots of the German immigrants.

Again back onboard (LAST MINUTE!!!), we got some tutoring. Who else but Chief Engineer Plamen could explain how stabilizers of a cruise ship worked.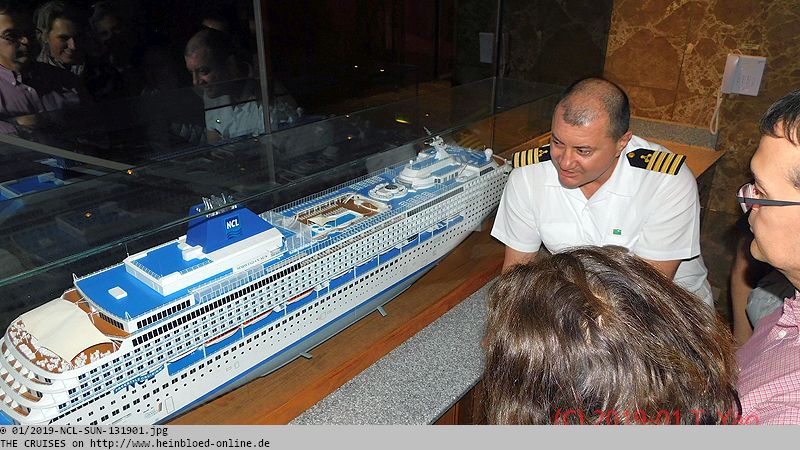 Wieder an Bord (LAST MINUTE!!!) bekommen wir Nachhilfestunden. Wer kann uns besser erklären, wie Stabilisatoren eines Kreuzfahrtschiffes funktionieren als Chefingenieur Plamen.
Vor allem kreuzen sich unsere Wege ausgerechnet vor dem Modell der NORWEGIAN SUN.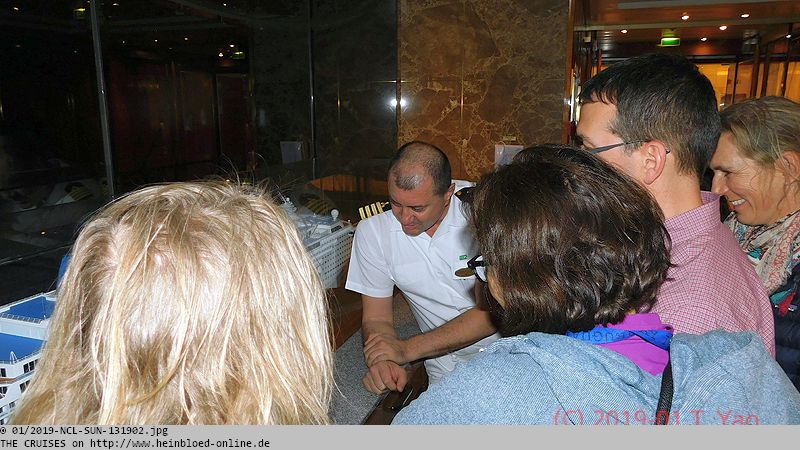 Especially, wenn our paths crossed in front of the model of NORWEGIAN SUN.

Indeed, we took the chance to have one common picture with him. Before, we had also an opportunity when Captain Teo passed to let him explain something technical-nautical. It was sad that this ship had no bridge observation room, like the Jewel-Class-Ships. Otherwise, it would be great to observe Captain Teo working.

Hier lassen wir es uns nicht nehmen, auch ein gemeinsames Bild mit ihm zu machen. Zuvor hatten wir auch die Chance im Vorbeigehen auch etwas Technisch-Nautisches von Kapitän Teo erklärt zu bekommen. Schade, dass das Schiff keinen Brückenbeobachtungsraum hat, wie auf den Schiffen der Jewel-Class. Sonst hätten wir Kapitän Teo auch mal bei der Arbeit zugucken können.
Heute Abend lassen wir es in Ruhe angehen und gehen komplett kreuz und quer essen. Zunächst essen wir bei Vergenia in La Cucina unseren Lieblingssalat als Vorspeise.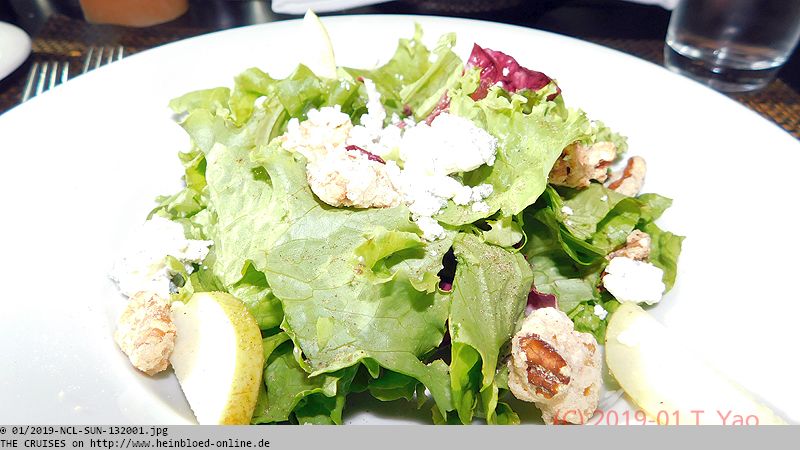 That night, we took it totally calm and went for dining across the ship. First, we had with Vergenia in La Cucina our favorite salad as a starter.

The pear-brie-salad was too yummy. Vergenia offered us again that we should try the steak, but we had no time for it.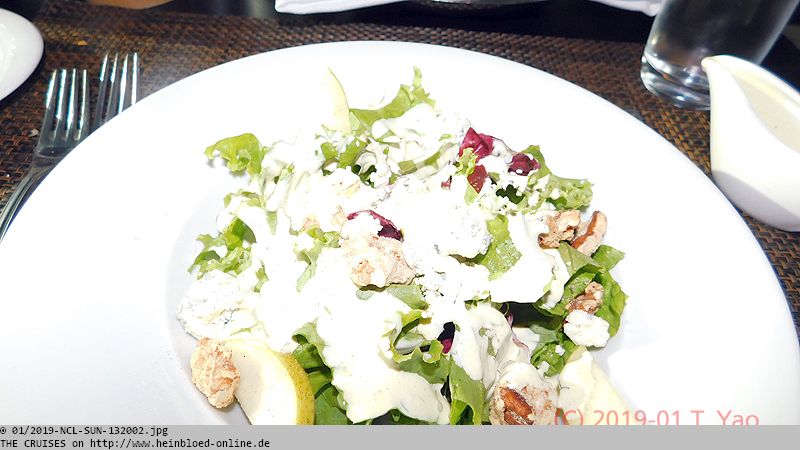 Der Birnen-Brie-Salat ist einfach zu lecker. Vergenia bietet uns nochmals an, dass wir doch unbedingt das Steak hier probieren sollten, aber wir haben dafür keine Zeit.
Es bleibt noch bei einem Espresso Macchiato.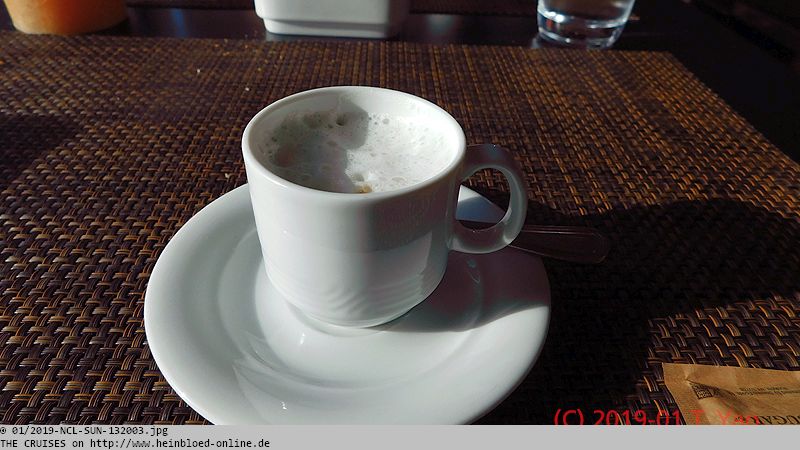 We stayed for one more Espresso Macchiato.

Obviously, the galley did not notice that Captain Kim already left the ship and prepared his favorite food: Finnish Lihamojakka.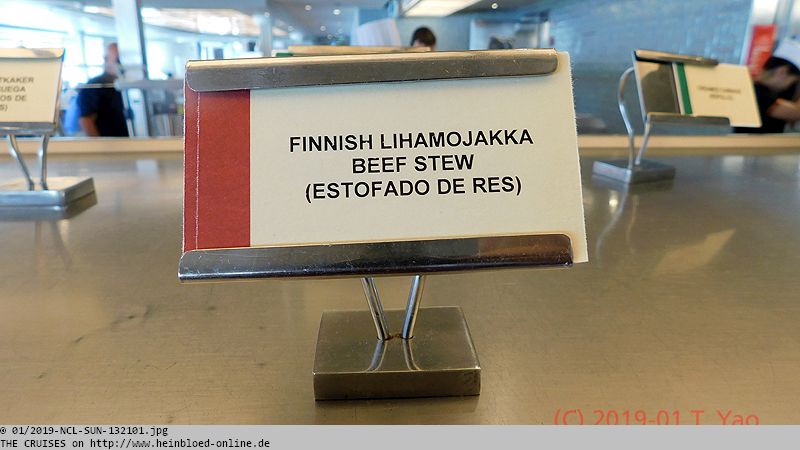 Anscheinend hat die Galley nicht mitbekommen, dass Kapitän Kim bereits von Bord ist und hat für ihn wohl sein Lieblingsessen zubereitet: Finnisches Lihamojakka.
Sieht aus wie Gulasch ohne Paprika. Schade, dass sie nicht für Kapitän Teo gekocht haben: es könnte jetzt Pola-Pola stattdessen geben: Cevapcici und Rasnicij mit viel Ayvar... Lecker...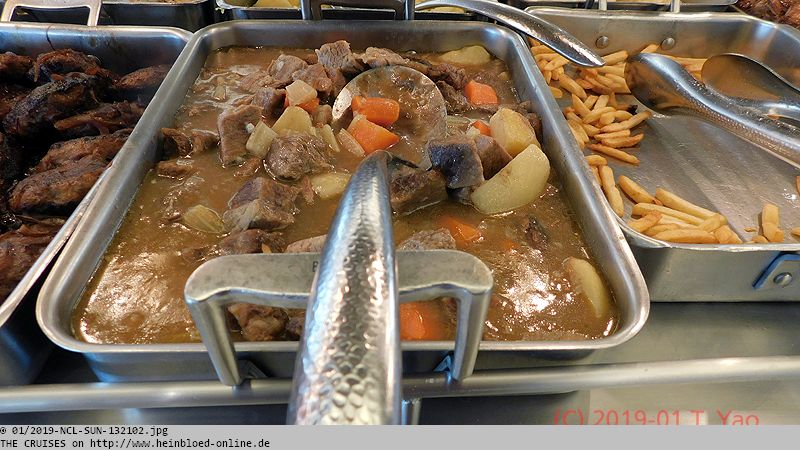 Looked like a goulash without red pepper. It was so sad that they did not prepare food for Captain Teo: we could have Pola-Pola here instead: Cevapcici and Rasnicij with a lot of Ayvar... Yummy...

The selection in the Garden Café for dinner was not bad!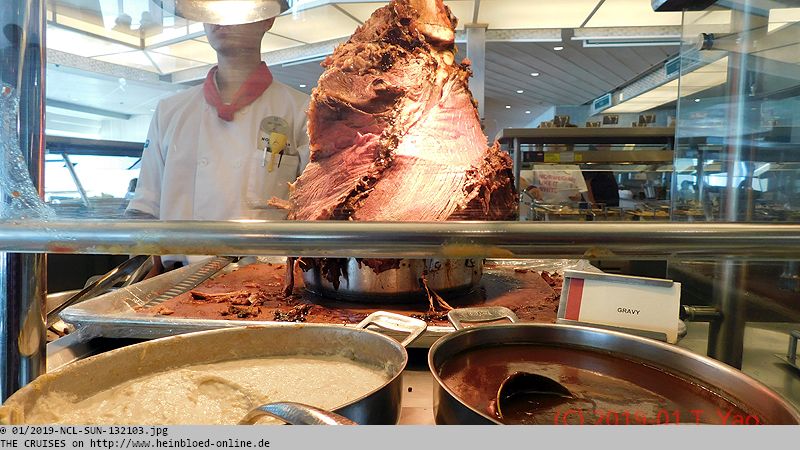 Schlecht ist die Auswahl abends im Garden Café definitiv nicht!
Auch etwas asiatisches.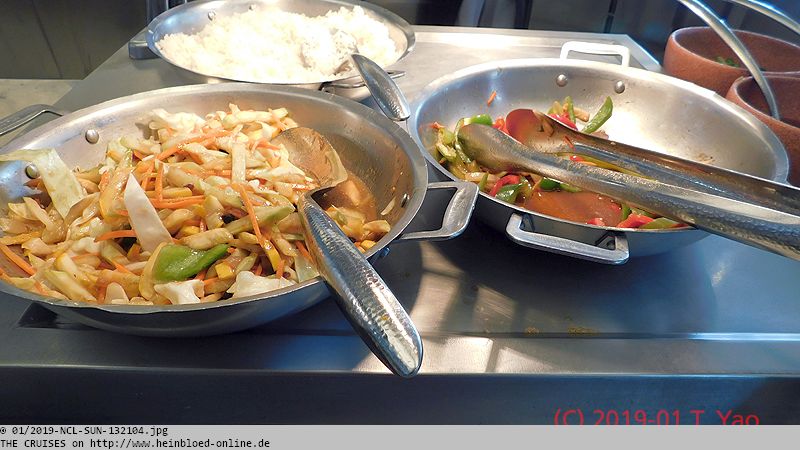 Also some Asian.

In the Spinnaker Lounge, I also got my Clamato Juice, and I was pleased. It was the last one board, which could be obtained from a different bar.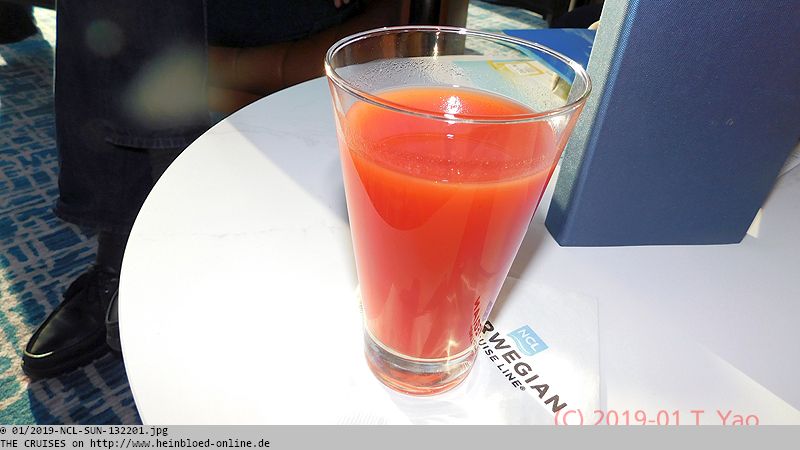 In der Spinnaker Lounge bekomme ich auch meinen Clamato Saft und bin sehr glücklich. Es ist allerdings der letzte an Bord, der mir von einer anderen Bar besorgt wird.
Heute Abend spielen hier wieder Réka, Matyas und Ábel von Atlantis Strings.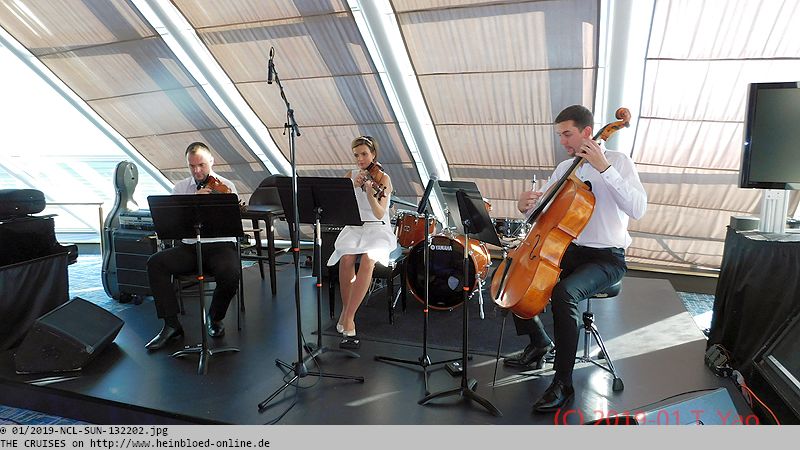 Tonight, Réka, Matyas, and Ábel of Atlantis Strings were playing.

And again, they had no chance to get notice of the sunset.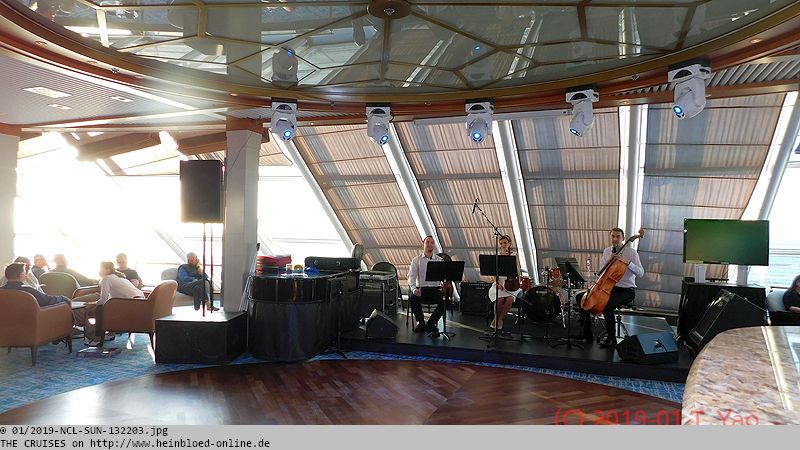 Und wieder bekommen sie nichts vom schönen Sonnenuntergang mit.
Hier auf der Bühnen wird man wohl ziemlich gegrillt.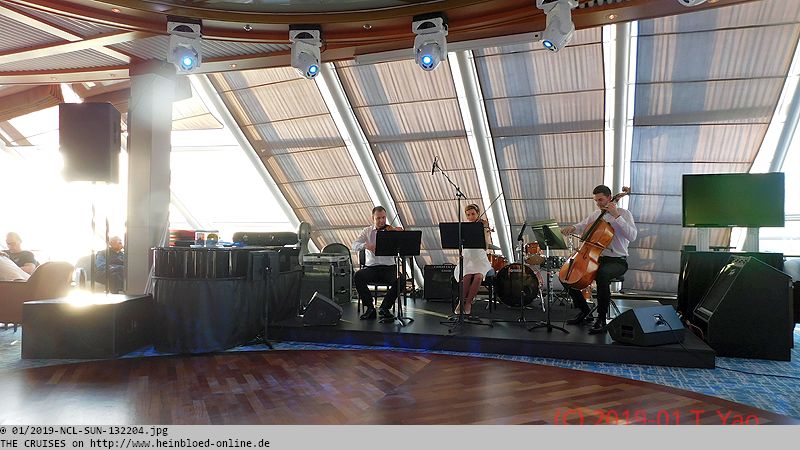 Here on the stage, it was like on a grill.

"World Beat" was the show, we saw the first time on NORWEGIAN GEM 2009. Only, 2/3 of the show, which I knew. Just one of my favorite pieces of music was replaced: they did not sing anymore "Africa" of Toto.

"World Beat" ist die Show, die wir als erstmalig auf der
NORWEGIAN GEM 2009
gesehen haben. Leider sind nur noch 2/3 der Show, wie ich sie kenne. Ausgerechnet einer meiner Lieblingsstücke haben sie ersetzt: es wird nicht mehr "Africa" von Toto gesungen.
Ich gehe ein paar Minuten vorher raus und so kann ich die Vorbereitungen für den Crew-Einmarsch zum Abschied fotografieren. So erwische ich noch bekannte Gesichter wie Edgar, Ferdinand, Cristian, Mihaela, Dieter, Iulia, Sherna und Sarmita. Und übermorgen soll alles vorbei sein.

I went a few minutes early out to see the march of the crew members to bid farewell. So I caught some familiar faces like Edgar, Ferdinand, Cristian, Mihaela, Dieter, Iulia, Sherna, and Sarmita. And the day after tomorrow, everything would be over.

We went quickly into the Seven Seas Main Dining Room to take a desert. That we checked before with Wilson after he was worried that we might have problems again in La Cucina. But we explained that that night it would best for us to cover the show and the performance of Atlantis Strings.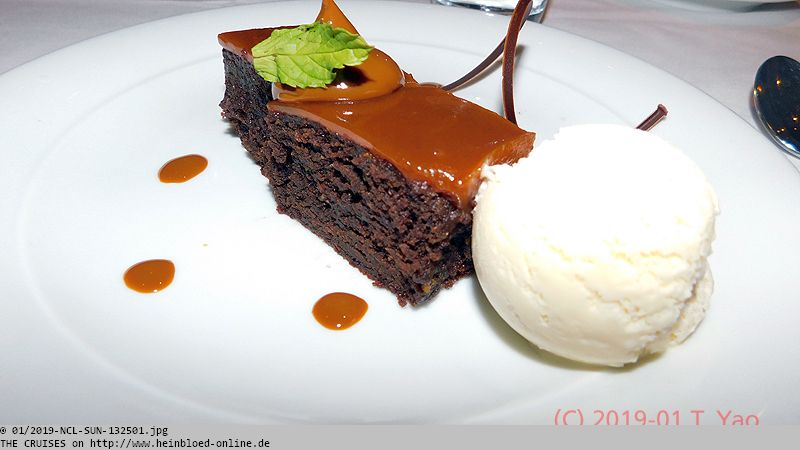 Wir gehen noch schnell ins Seven Seas Hauptrestaurant, um dort einen Nachtisch zu nehmen. Das hatten wir im Vorfeld mit Wilson abgesprochen, nach dem er sich wieder Sorgen gemacht, dass wir wieder Probleme in La Cucina hätten. Aber da haben wir ihm erklärt, dass es so heute am Besten passt, weil wir heute die Show und die Auftritte von Atlantis Strings sehen wollten.
Es geht noch schnell an der Bliss Lounge vorbei.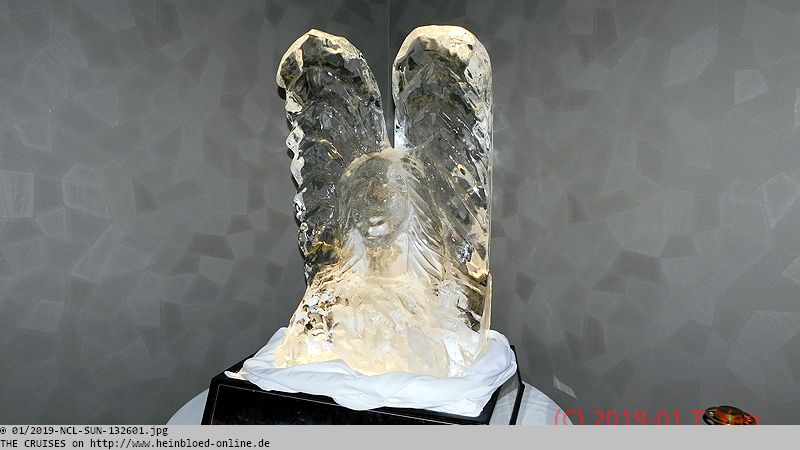 We quickly passed the Bliss Lounge.

Here, they had the ice sculptures for a hot night in white...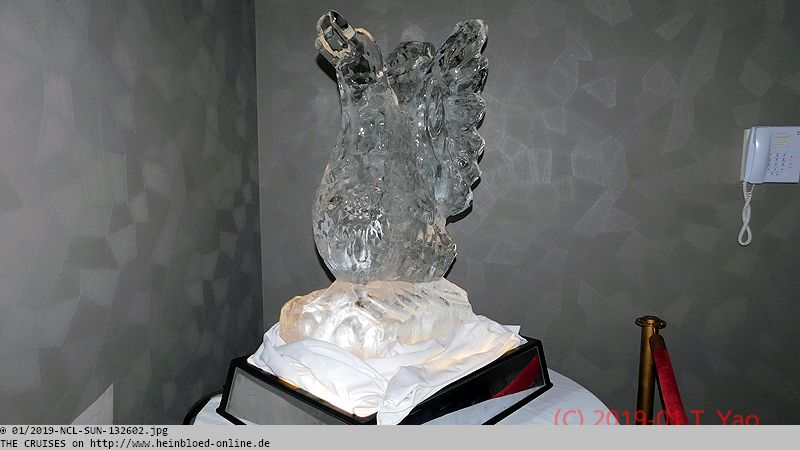 Hier stehen die Eisskulpturen für eine heiße Nacht in weiß...
Und auf der Kabine erfahren wir: sie wollen uns loswerden!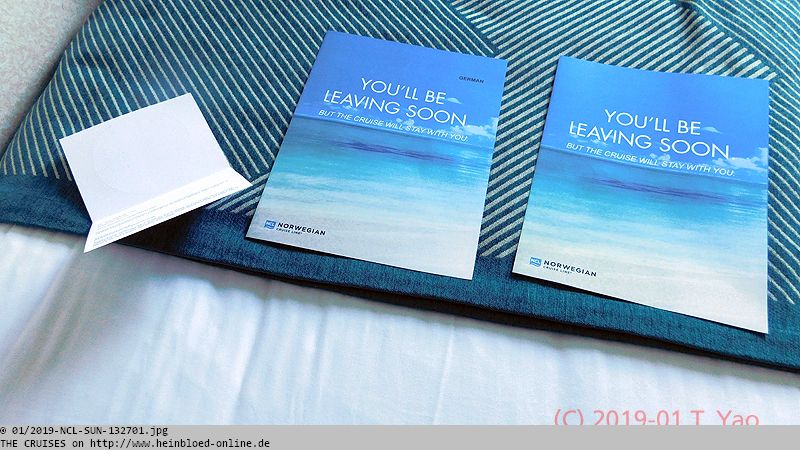 On the cabin we had to learn: they wanted to get rid of us!

Finally, the reminder, that we booked the Jazz Brunch for the next day.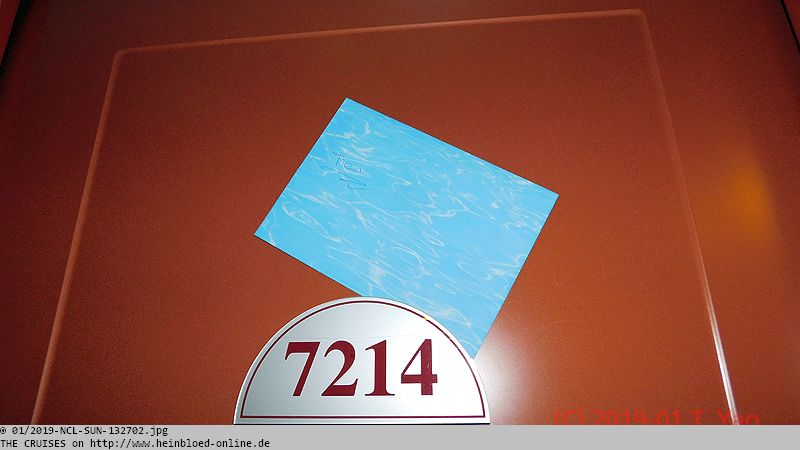 Abschließend noch die Erinnerung, dass morgen der Jazz Brunch stattfindet.
Ein weiteres Handtuchtier.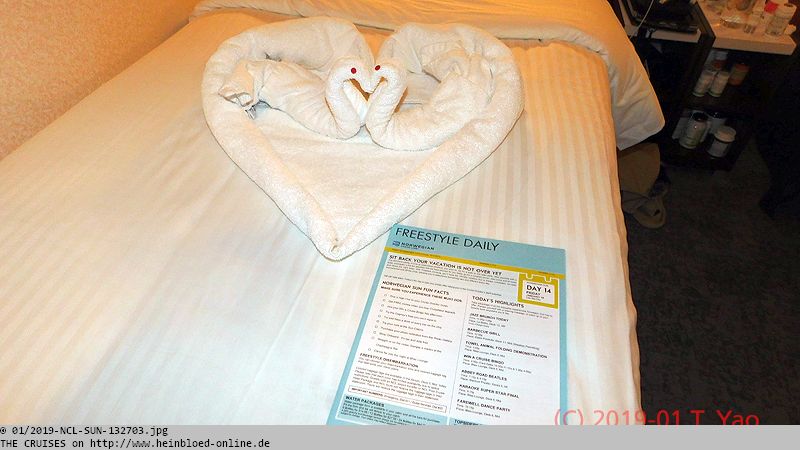 Another towel animal.

It was a pity that they would be abolished soon with NCL. It would not hurt too much for us because we knew them. Maybe, they could install it this way, that only cruise novices and Bronze-members would get them.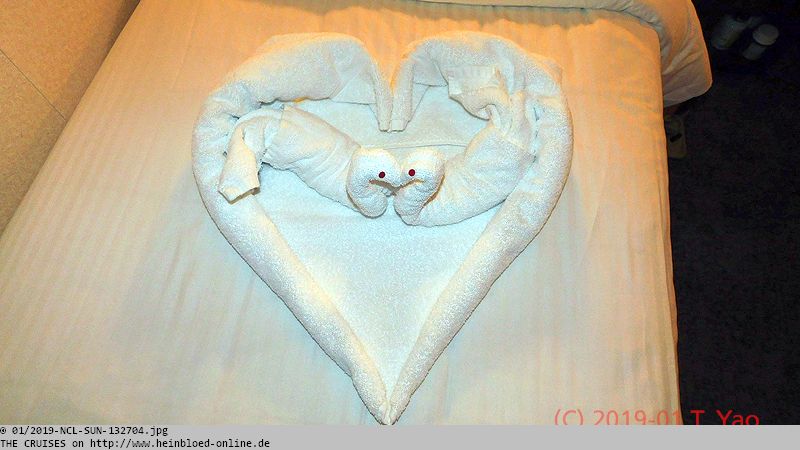 Sehr schade, dass sie bald bei NCL abgeschafft werden. Uns macht es vielleicht nicht so viel aus, weil wir sie kennen. Vielleicht kann man es ja so machen, dass sie Neufahrer und Bronze-Mitglieder sie bekommen.
Die anderen Reisen in diesem Blog/
The other voyages in this blog: